Stay Awhile Sign (plus free printable!)
This post may contain affiliate links. Please see disclosures here.
This stay awhile sign is such a nice thing to welcome guests with or even just a reminder for all to sit and relax for a time. It's made simple by repurposing an old cabinet door and using a free printable!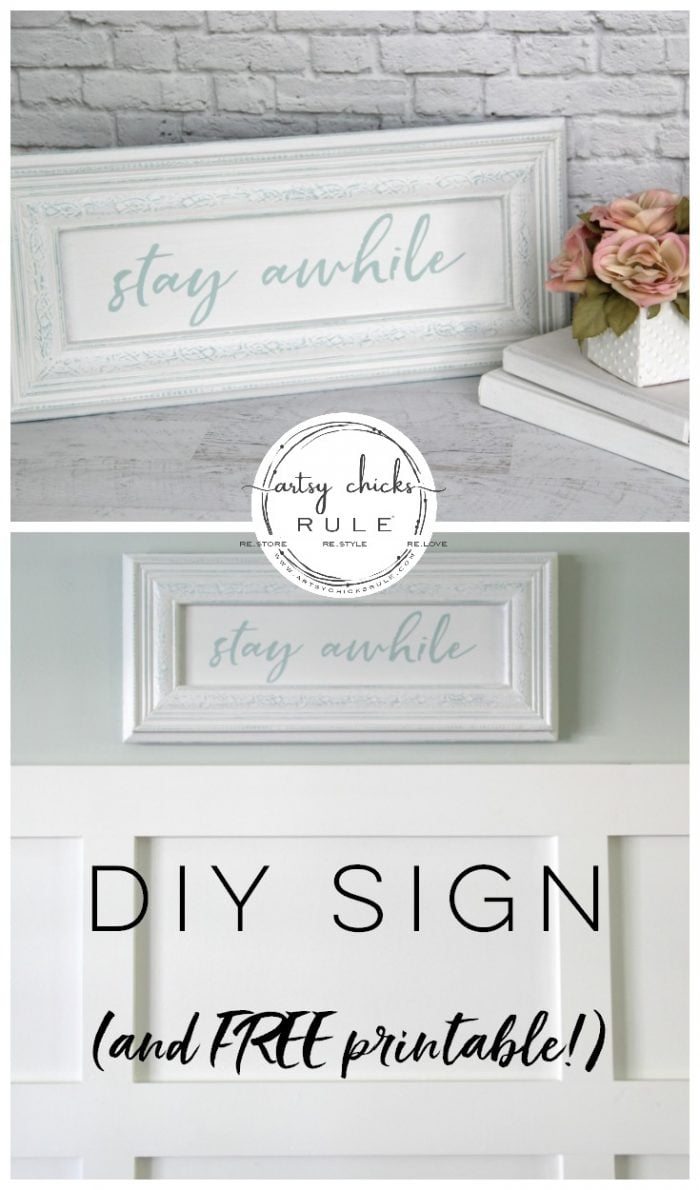 Hey friends!
I've got a super simple little repurpose for you today.
A DIY Stay Awhile Sign.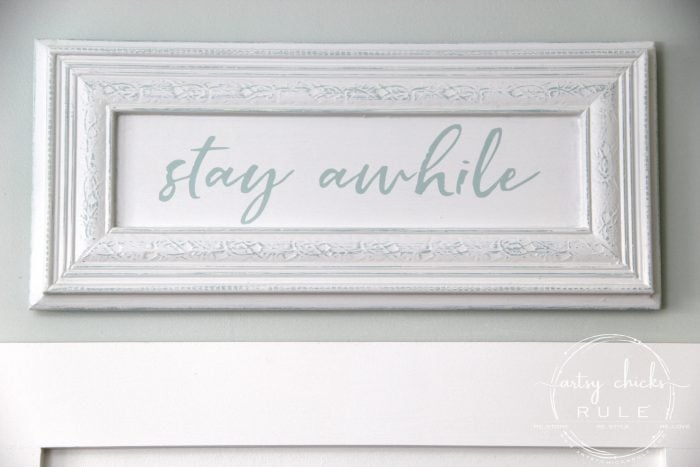 And I made it using one of the old cabinet doors from our kitchen remodel! Win-win! :)
So this is really a repurposed project.
Using something old that's just going to get thrown away, and making something new and useful out of it!
Love that.
I actually saved a few of the doors to do some projects with so you'll be seeing them all soon.
Here's the how the little cabinet door looked before….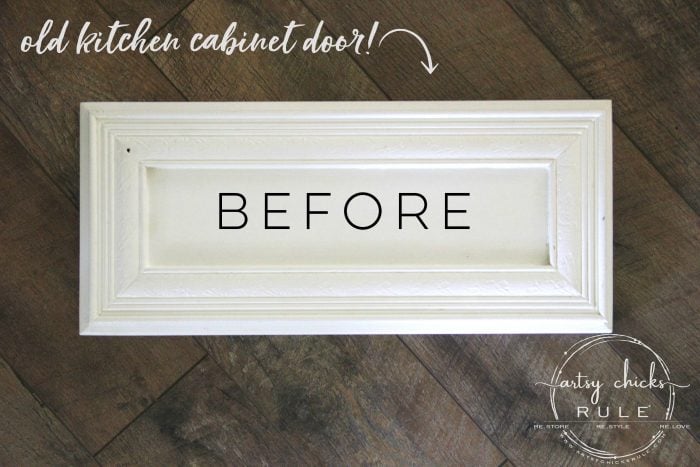 On my pretty new floor. :)
I started out by painting it in >> this awesome color….(it's spray paint in a can and it's probably the prettiest spray paint ever! ;) ) (and filling in that hole)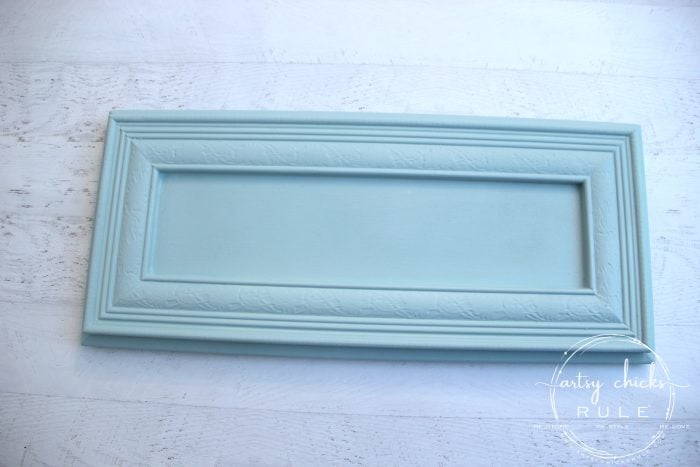 I also used it on this project.
It's just a really nice shade of aqua and who doesn't love the ease of a quick spray of paint?
Anyway, I painted it with that color first because I wanted it to be the under layer for when I distressed later. (I wanted that color to come through)
I usually try to use something like spray paint as an underneath color because it will "stay" a little better when I get to the sanding/distressing phase.
You have to be really careful with other paints, like chalk style paints, because you can end up sanding straight through them both.
This also works well when you want to wet rag distress (instead of sand paper) as the chalk style paint will come off and leave the spray paint underneath unaffected.
Just a few tips for ya! :)
Next I painted it with this white paint. (it's a chalky style paint and what I chose on purpose as it's a bit easier to sand through without sanding down to the actual cabinet)
Then I gave it a bit of distressing to reveal some of that pretty blue.
I actually gave it a coat of poly to seal it because I originally had other plans for this door.
Otherwise, I might have waited until the end to seal it. Either way it's okay since the spray paint is self sealing, so no need to re-poly after.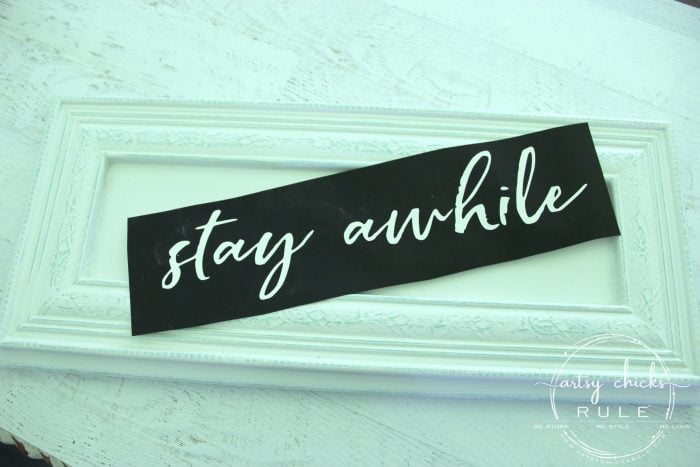 I used my Silhouette Cameo to cut out this graphic I made.
I created a "stencil" with the vinyl.
I created the graphic outside of the Silhouette and transferred it to my Silhouette program.

If you aren't sure how to use your own saved printables/graphics, etc, you can follow along on this simple tutorial I created.
>>> "How To Import Your Own Designs Into Silhouette"

Then used the transfer paper tape to transfer it (and stick it) to the door.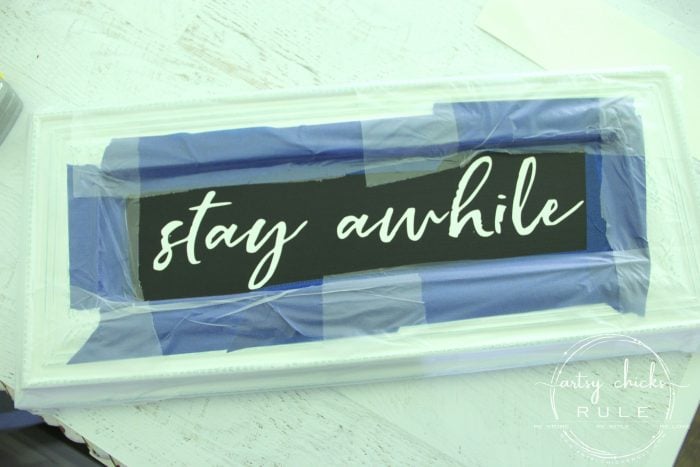 I taped it up and used cling wrap on the rest so I could simple spray the lettering in with the same color blue.
SO easy!
Done!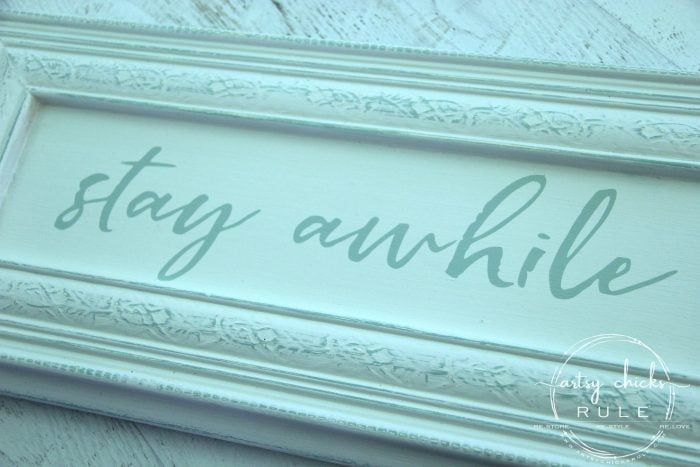 Pretty simple project and fun repurpose.
I love all the stay awhile sign I see here and there and decided to make one too. :)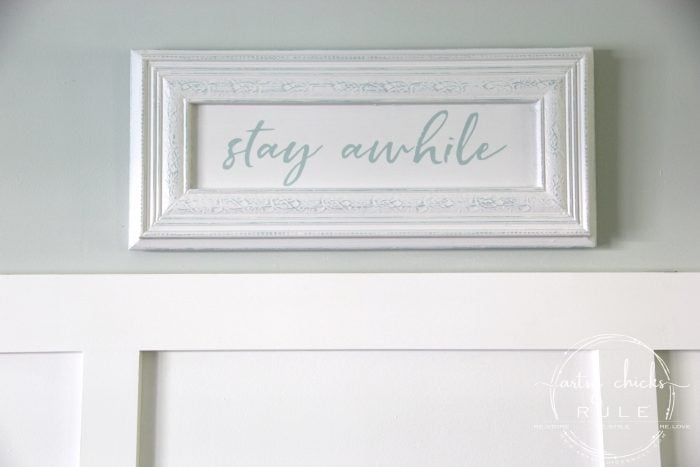 Oh, forgot to say that I added a little hook/hanger on the back.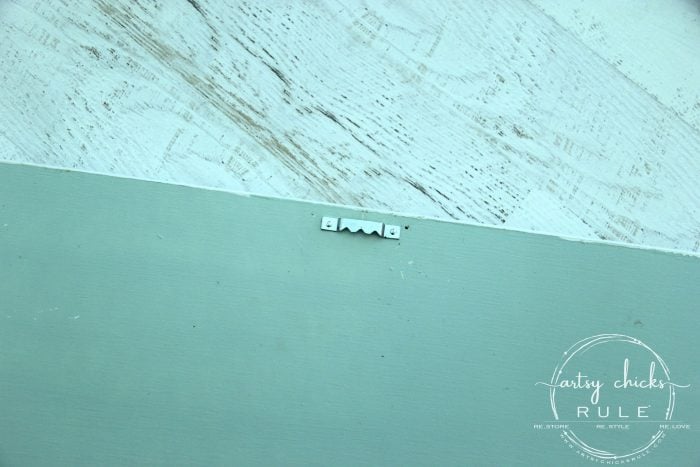 (Forgive the lighting on some of these photos! I have limited photo taking areas right now with all the home remodel stuff going on and this room is notorious for looking "green/yellow" in the early mornings. The sun reflects off the grass and into the room. ;) )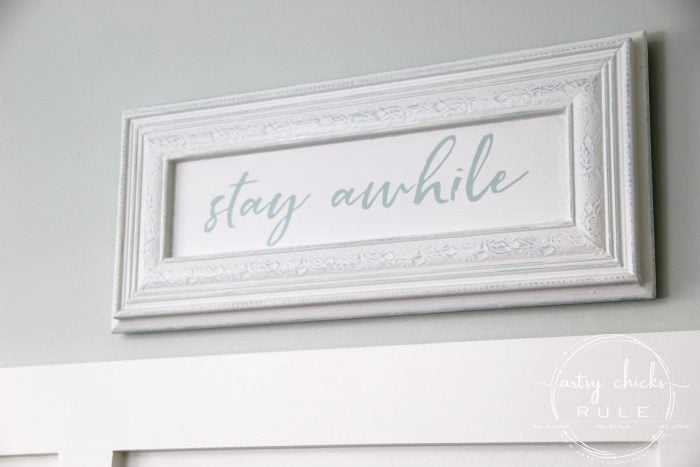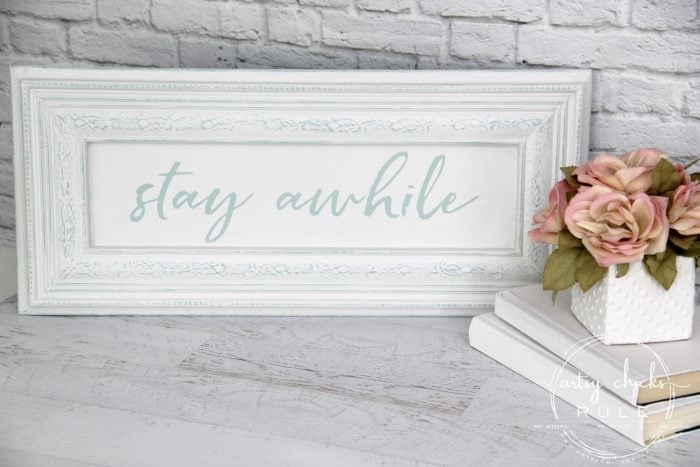 Hanging above all the board and batten I just gave a fresh coat of white paint to. :)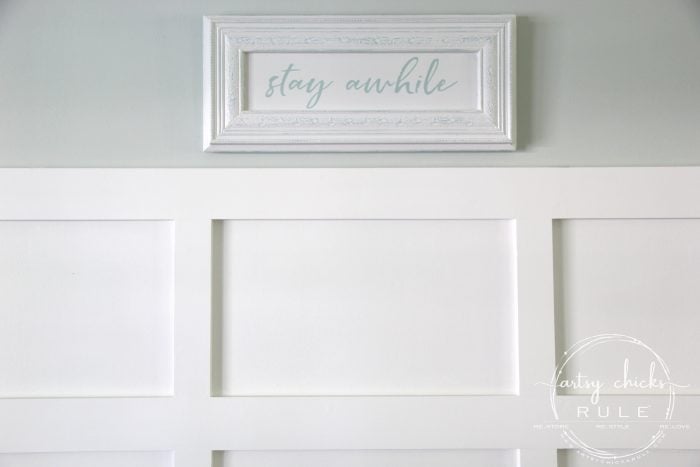 You can find our DIY Board & Batten (faux!) tutorial, here.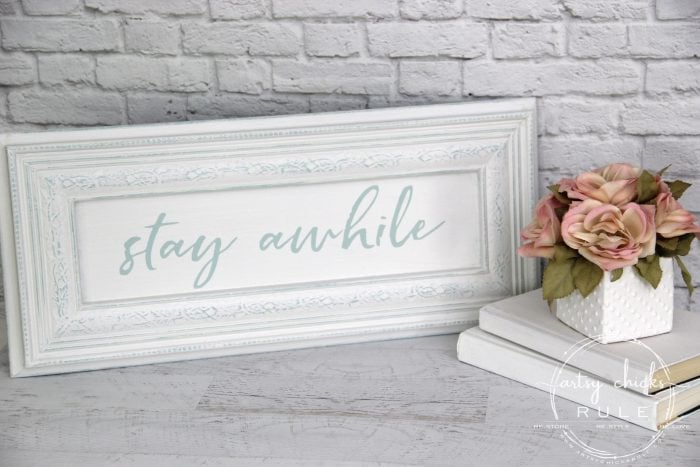 Want to make your own stay awhile sign? Got an old cabinet door laying around?
Or even an old scrap of wood would do!
EDITED: I forgot to tell y'all that I had thought I'd make this into a key rack/holder after my first idea didn't pan out. That's one of the reasons I used the words "stay awhile". You know, hang your keys and stay awhile. ;)
But after I put the words on, I decided to keep it simple and just make it a sign. I may still add some hooks to it.
What do you think?
Keep it a sign or add hooks for keys on the bottom?
PIN it to save it for later! :)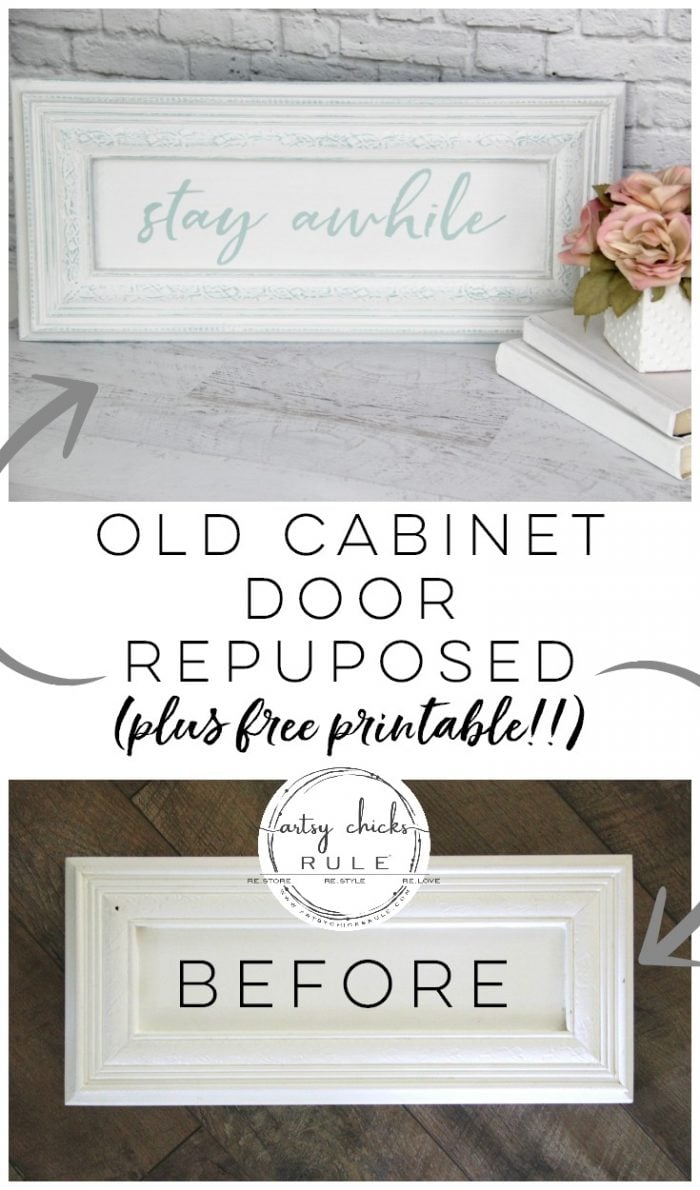 Be sure to pop back in on Tuesday to see what I made using this thrift store find! :)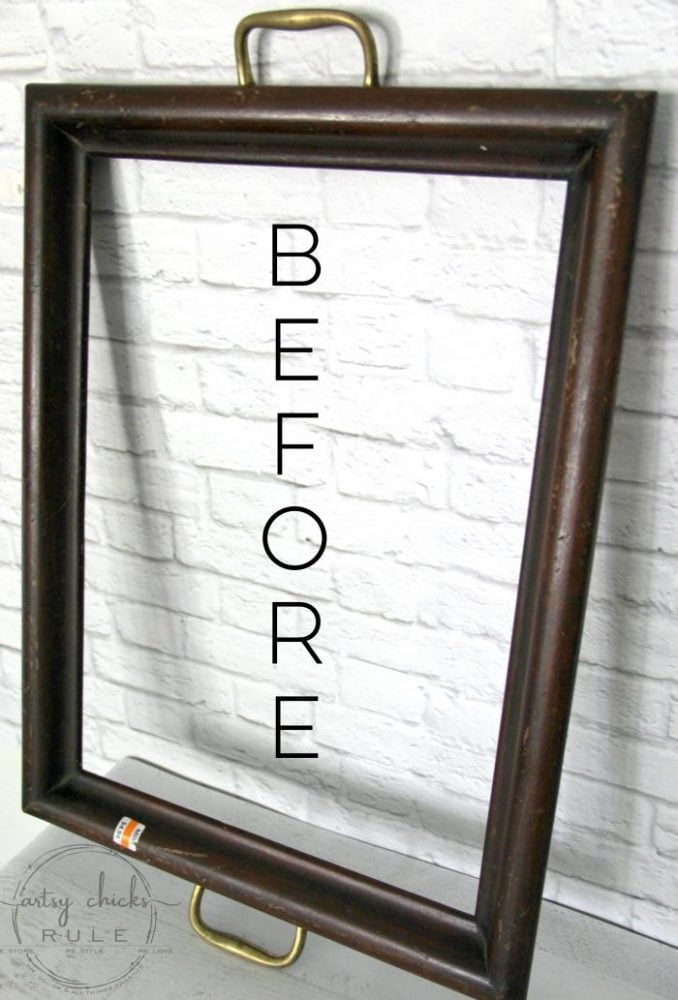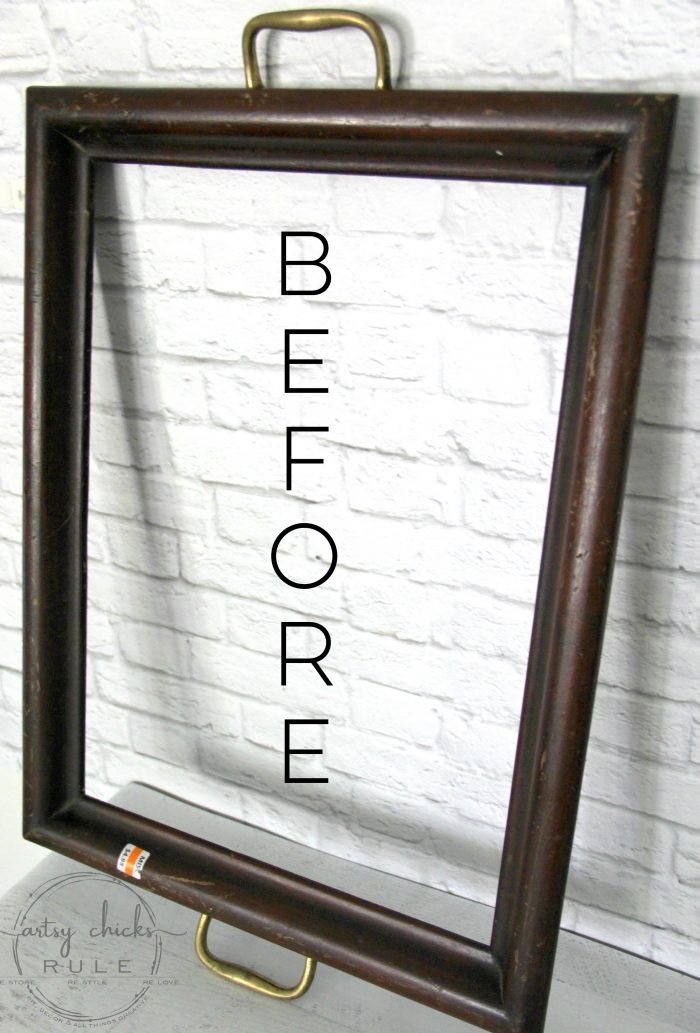 UPDATE!! See it now, here!
Are you inspired to look at the "junk" you might be discarding from your home?
Sometimes it's nothing a little paint can't transform.
Have a great weekend, friends!
xoxo