Outer Banks Places To Eat (and shop!)
This post may contain affiliate links. Please see disclosures here.
A trip to the Outer Banks won't be complete without good eats and shopping! Today I'm sharing Outer Banks places to eat (and shop).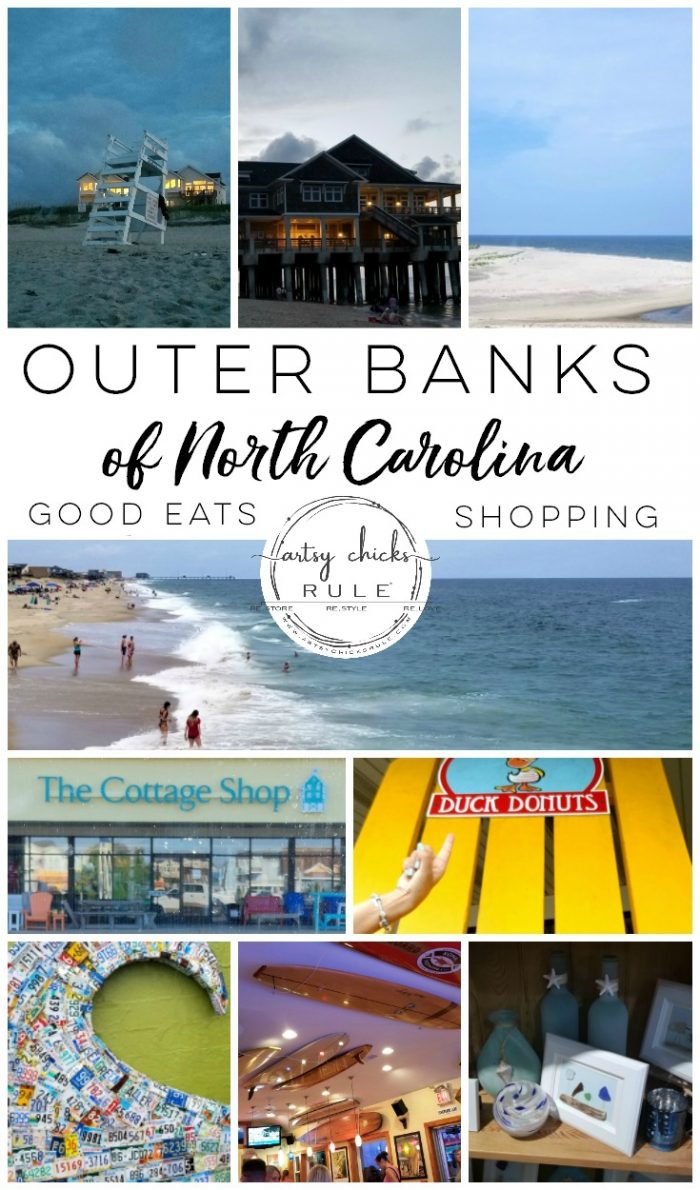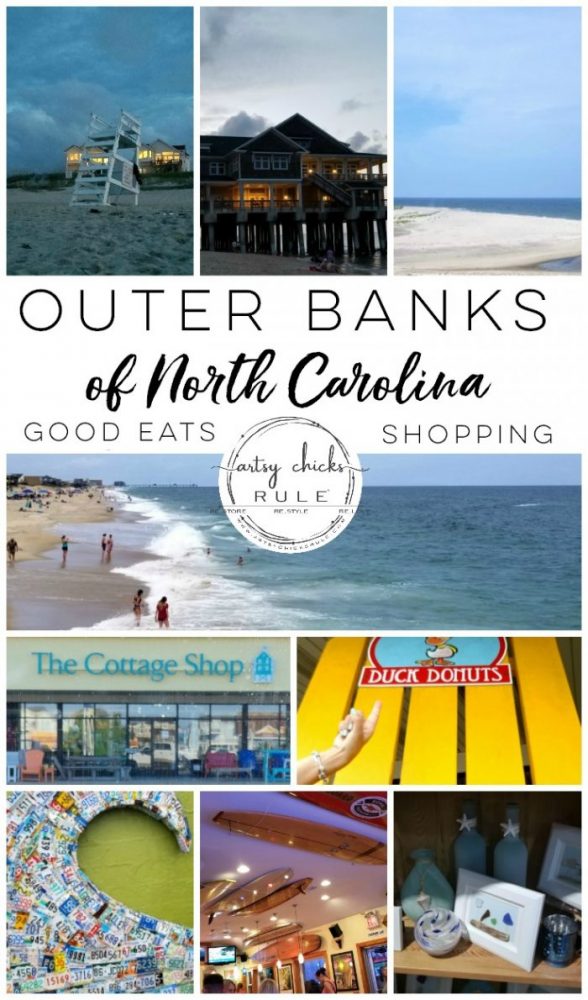 I don't know about you, but the whole vacation thing is not complete until I've found some really great places to eat AND shop.
Because who doesn't do a little shopping on vacation? At least local gift shops and such.
So I'm back today to talk about Outer Banks places to eat and shop. I shared "things to do and see" last week.
If you missed it, you can see it here >>> Outer Banks Things To Do (and see!)
Let's talk about food first. :) Let me mention again that I didn't have any intention to create a post about this when we were there. So these photos are just some I happened to take for us of our trip. I would have taken many more had I thought ahead a little better! ;)
GOOD EATS IN THE OBX (listing our most favorites first)
One of our very favorite Outer Banks places to eat is Mama Kwan's Tiki Bar & Grill
They have the absolute best fish tacos anywhere! That is all I ever get there.
I don't ever try anything else! They are amazing (and well known for them as well).
Blue Moon Beach Grill – Nags Head – Another favorite! They have amazing food. They also have a sister restaurant on Pirate's Cove where we sometimes stay, called BlueWater Grill – Manteo.
Fish Head's Bar & Grill – Nags Head- (on the Outer Banks Fishing Pier) this is an outside eating place (bar area is covered and the other seating on on the pier where there is also music in the evenings. We LOVE heading over there since it's right on the beach and the atmosphere is great!
These photos are from there….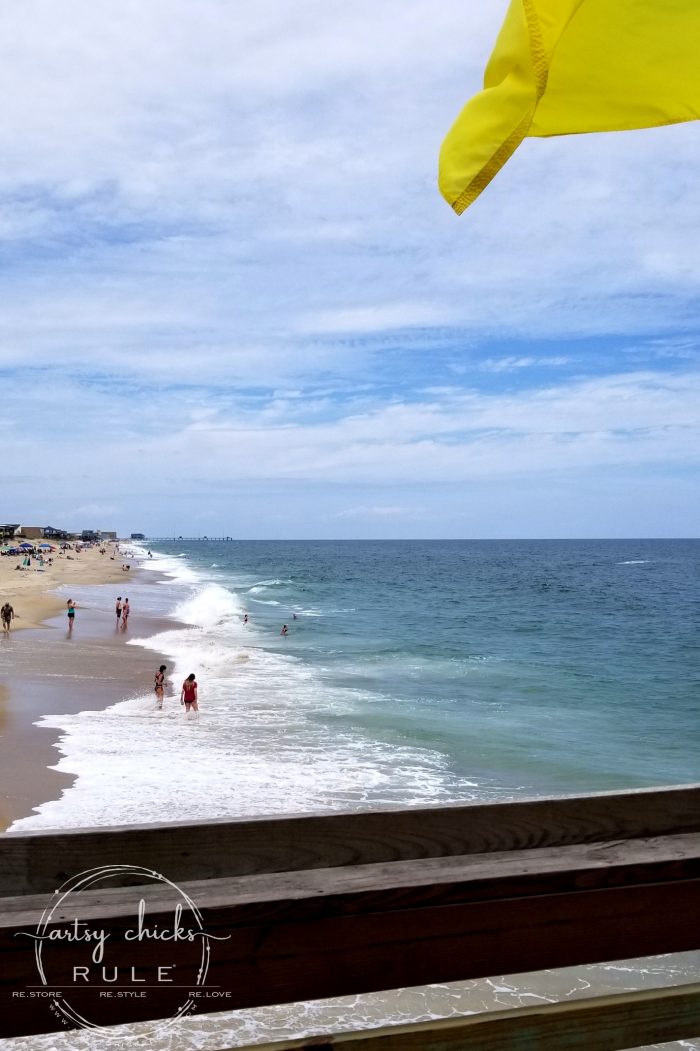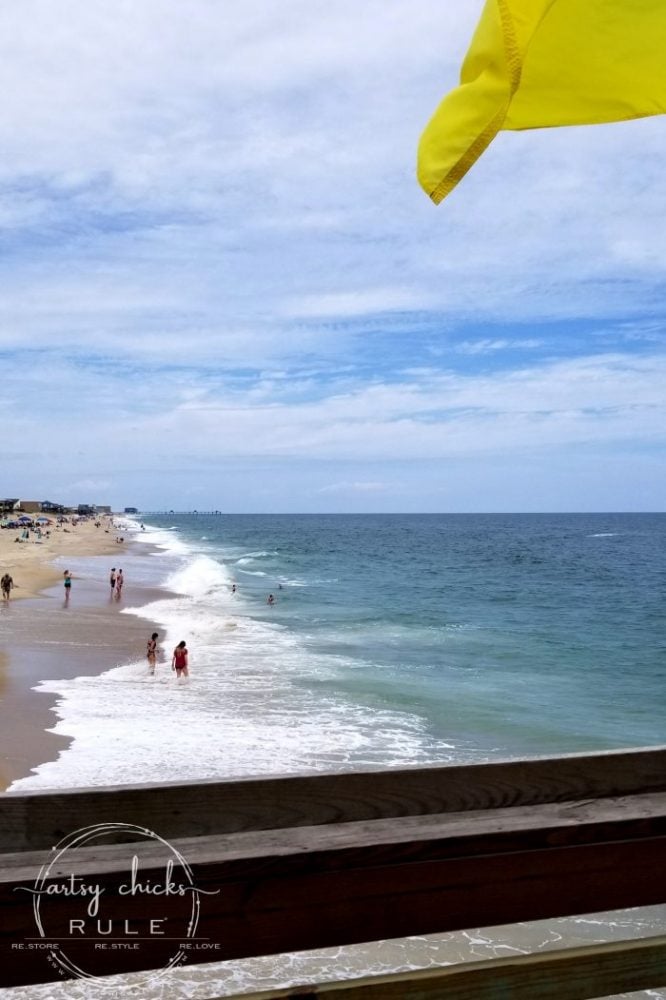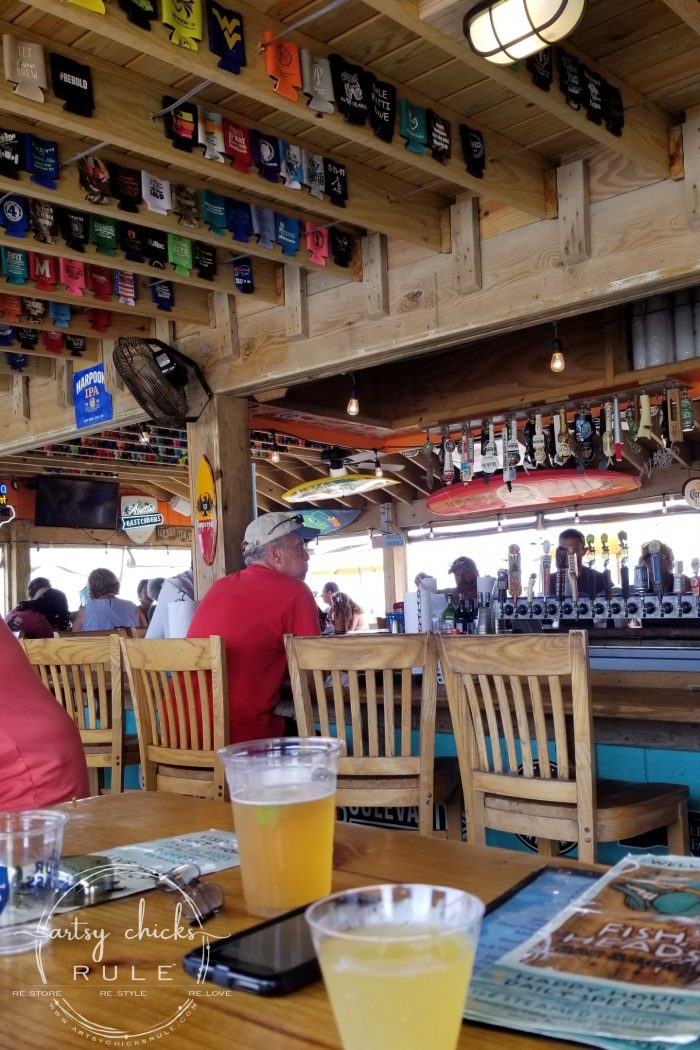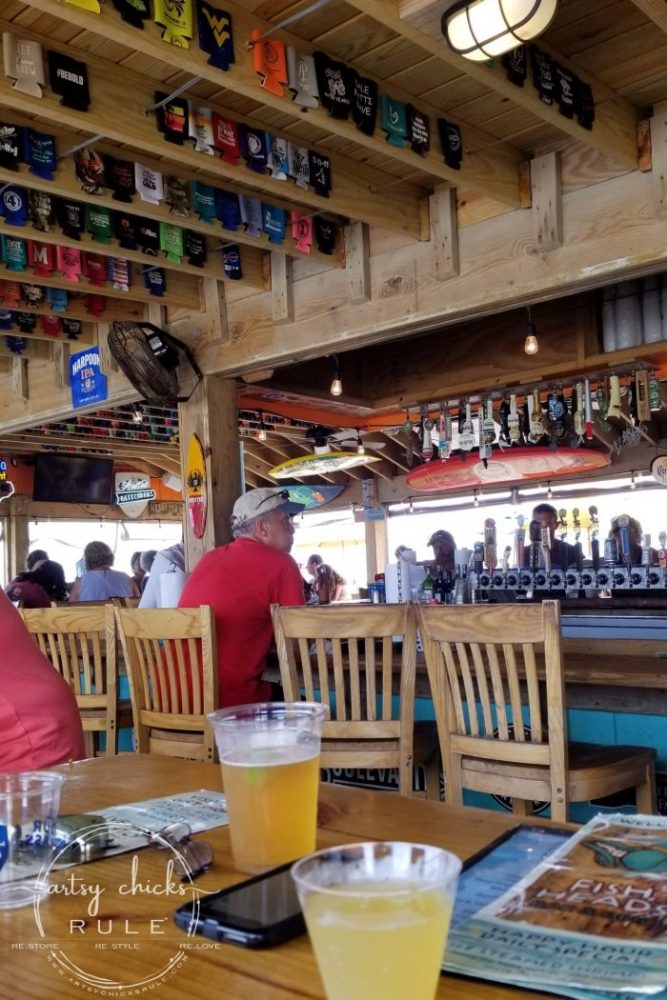 Mulligan's Grille – Nags Head (remember the Cottage Row I mentioned in part 1 last week? This is located in that area)
We love to sit outside, up top. Take a look >>> here.
Sam & Omies – Nags Head- favorite place for breakfast! It's right across from the beach (and Jennette's Pier, which I shared in last week's post)
The Nag's Head Cafe – Nags Head (also in Historic Row) – we've only had breakfast here but it is amazing! This cafe is inside the old grocer's store that served folks up to the 70's.
My breakfast …. (was delicious!)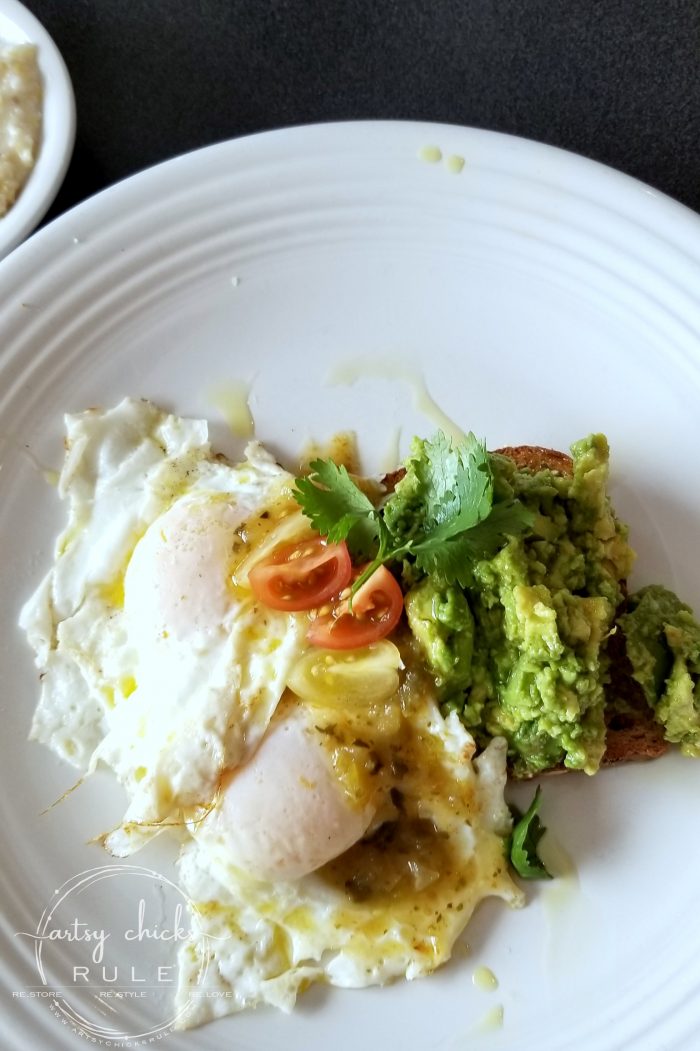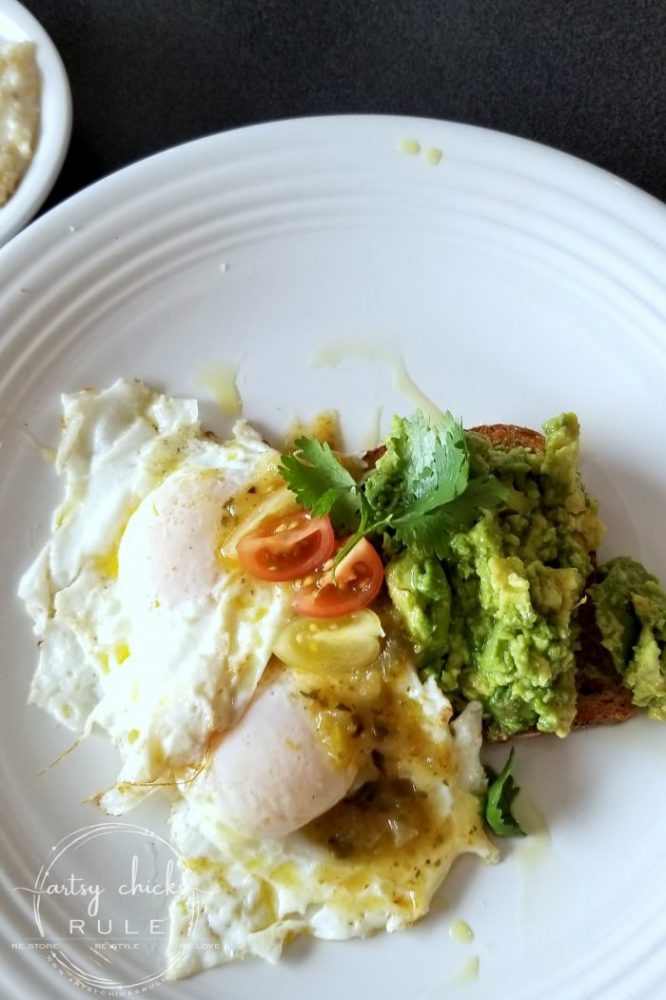 Barefoot Bernie's – Kitty Hawk – Really good food and nice atmosphere.
Rundown Cafe – Kitty Hawk – Great food and really fun atmosphere. On the beach road and has up top seating.
Here's a few photos from up top (inside though).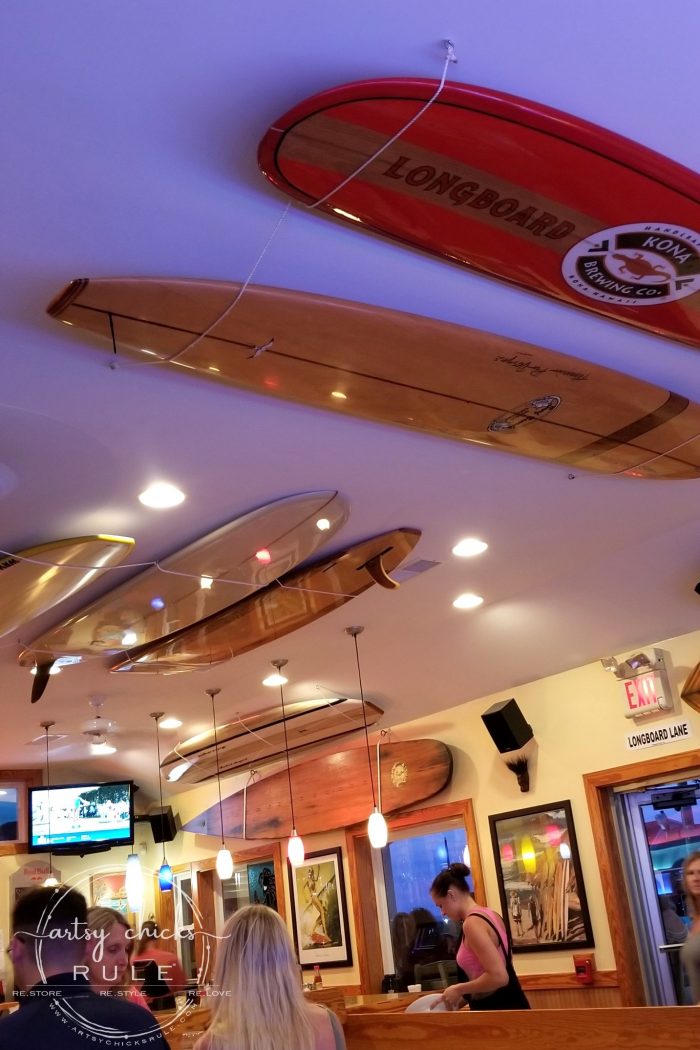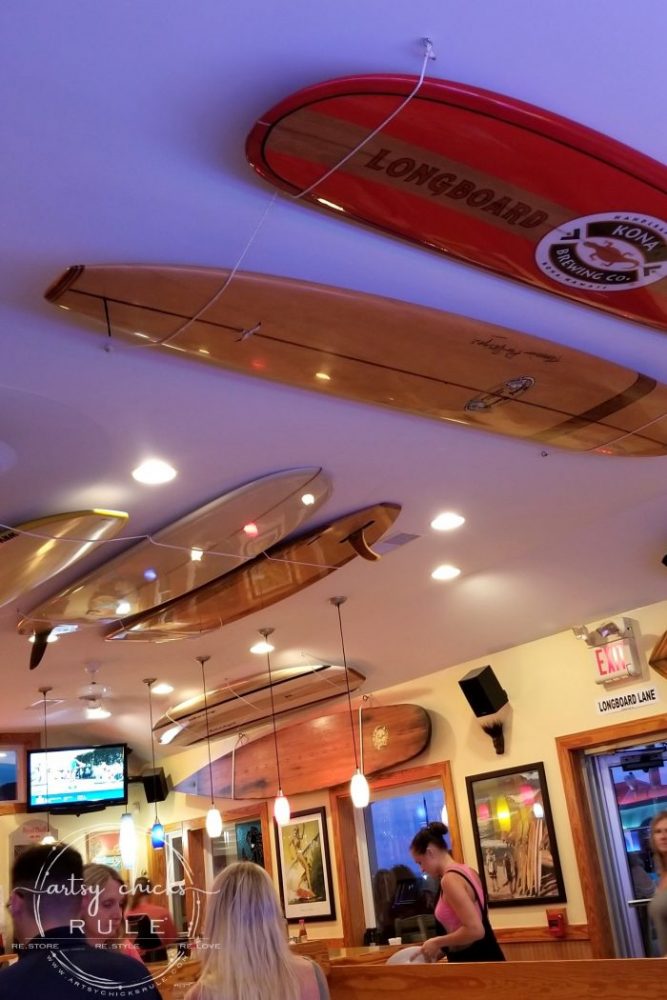 Loved the surf boards on the ceiling.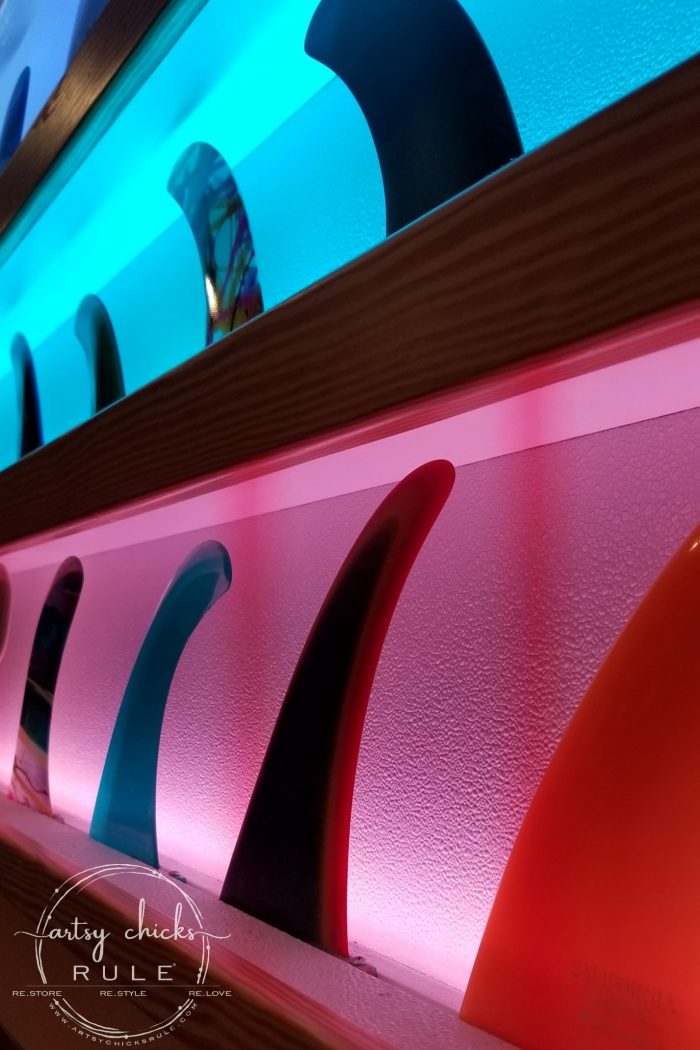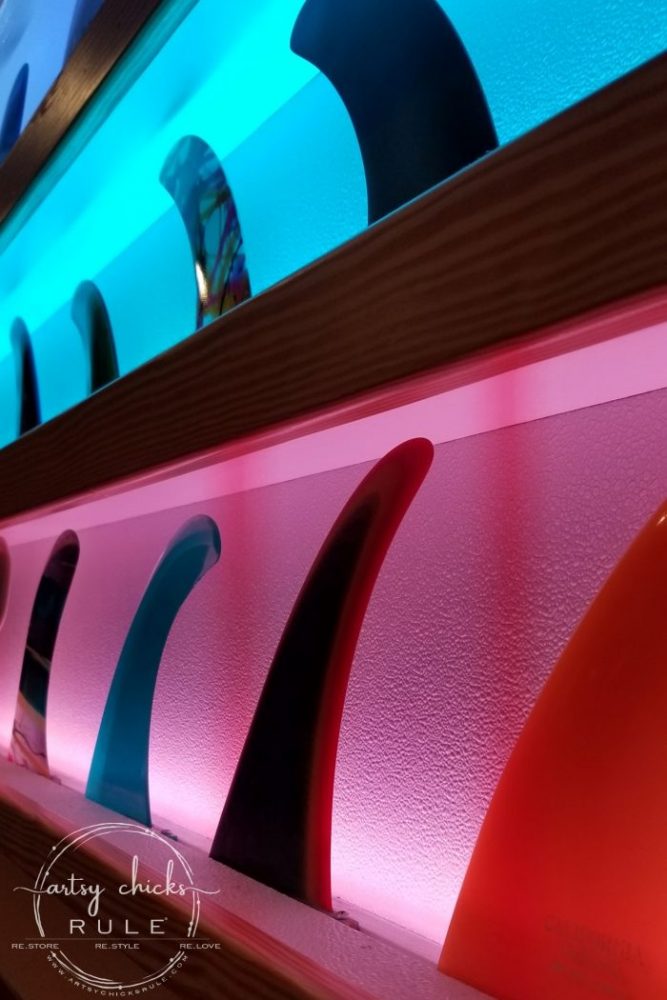 And these fins were on the wall to the right of our table. They had rotating light colors, neat.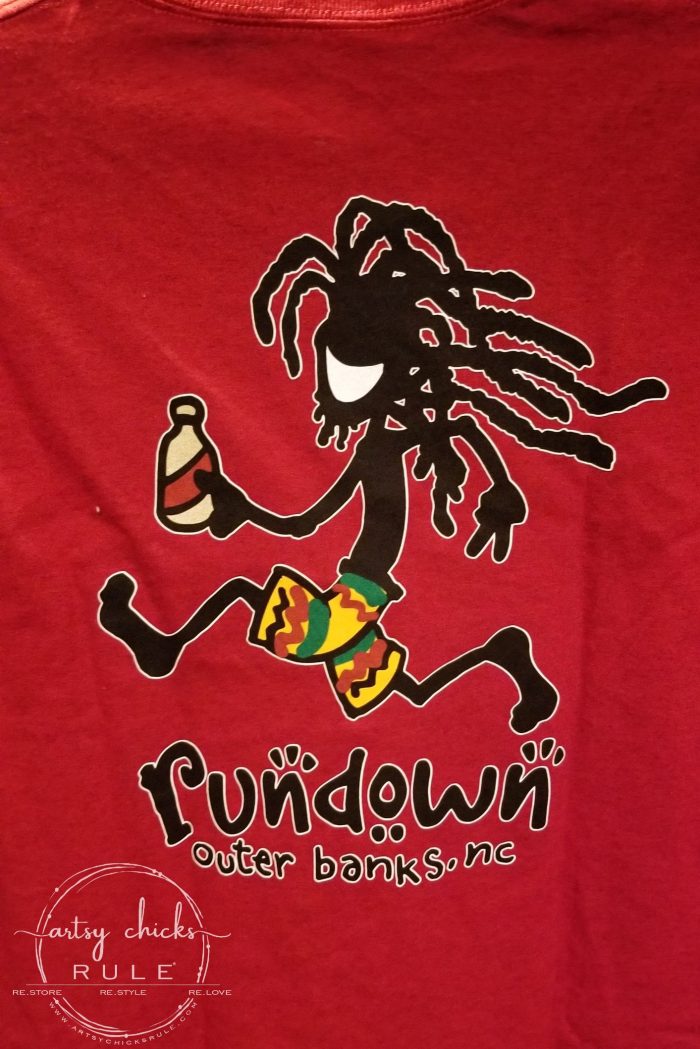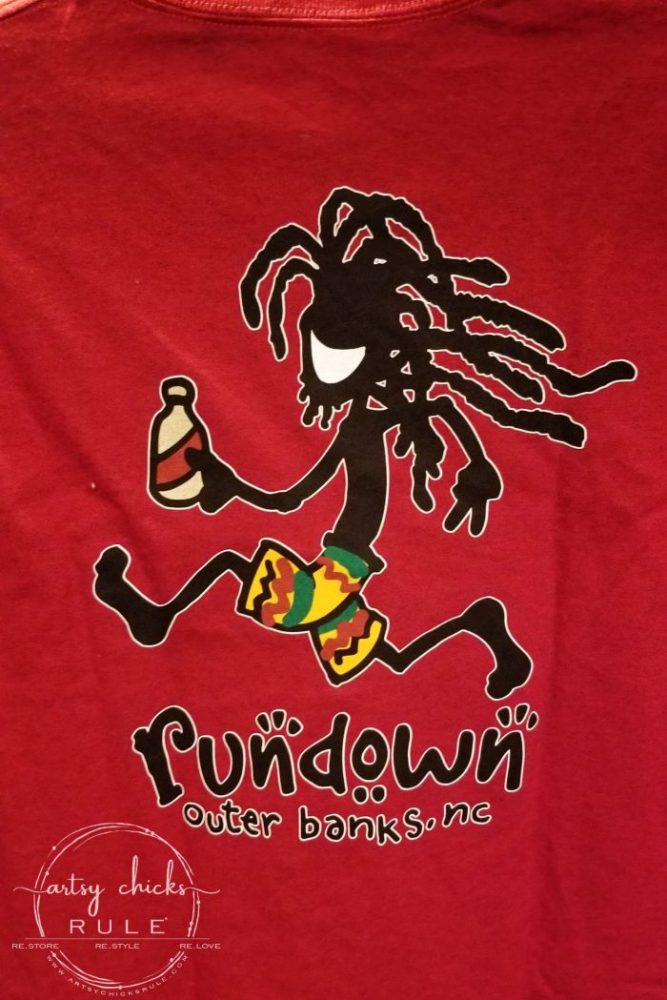 Kill Devils Frozen Custard – Kill Devil Hills – Always a line…for a reason! (I don't/can't eat dairy anymore so I am always sad to miss this)
Duck Donuts – (several locations, even in VA–yippee!! ;) ) – an absolute MUST when visiting. They are SO good.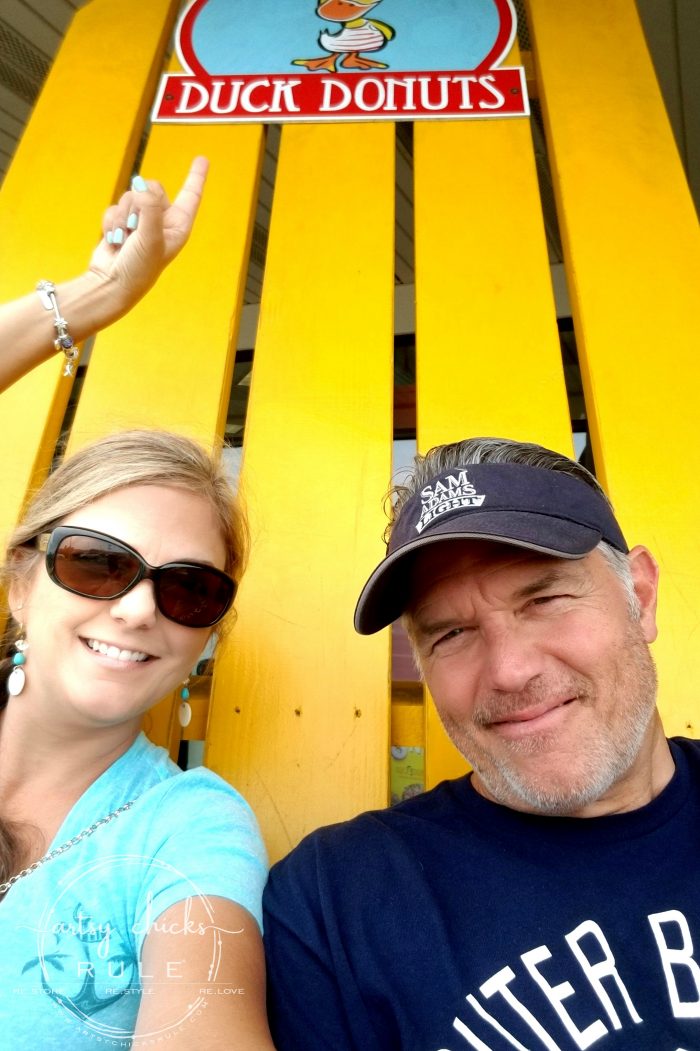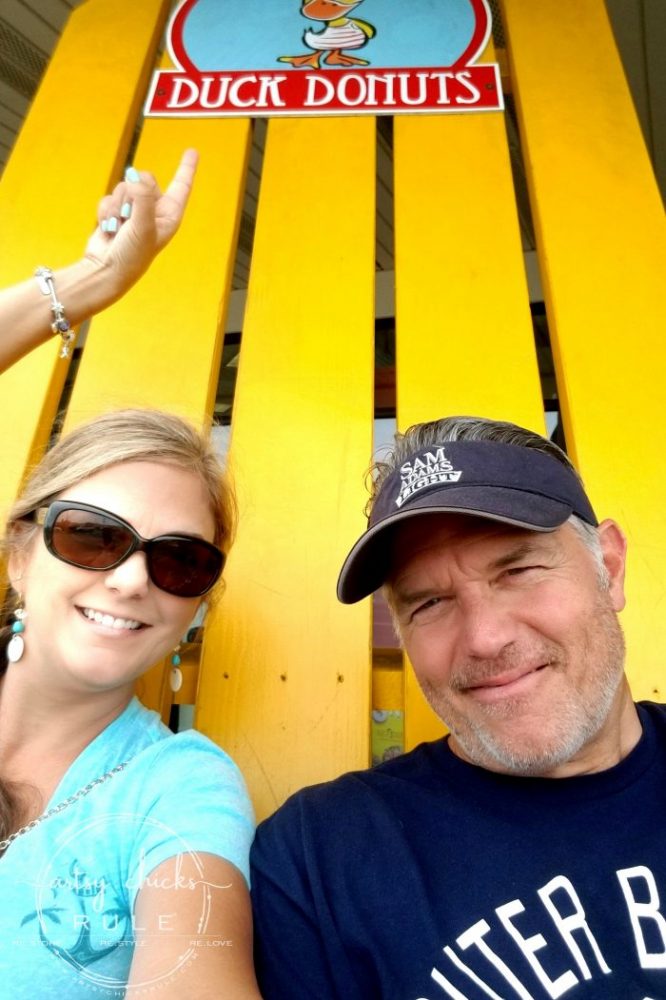 We weren't going to do it….but we did. Haha
Only one though! (and that's a tough feat, I tell ya! ;) )
A few other's to note:
Awful Arthur's – Kill Devil Hills
Black Pelican – Kitty Hawk
Lucky 12 Tavern – Nags Head
Sunset Grille & Raw Bar – Duck (on the sound side)
Owen's Restaurant – Nags Head
Forbe's Candies – (salt water taffy among others – started in Va Beach – several locations)
Now that we've covered a good bit of Outer Banks places to eat….let's talk shopping!
SHOPPING
We'll start with my favorite. :)
The Cottage Shop – Nags Head – love coastal? You'll love it then!
Here's a few snaps from in there….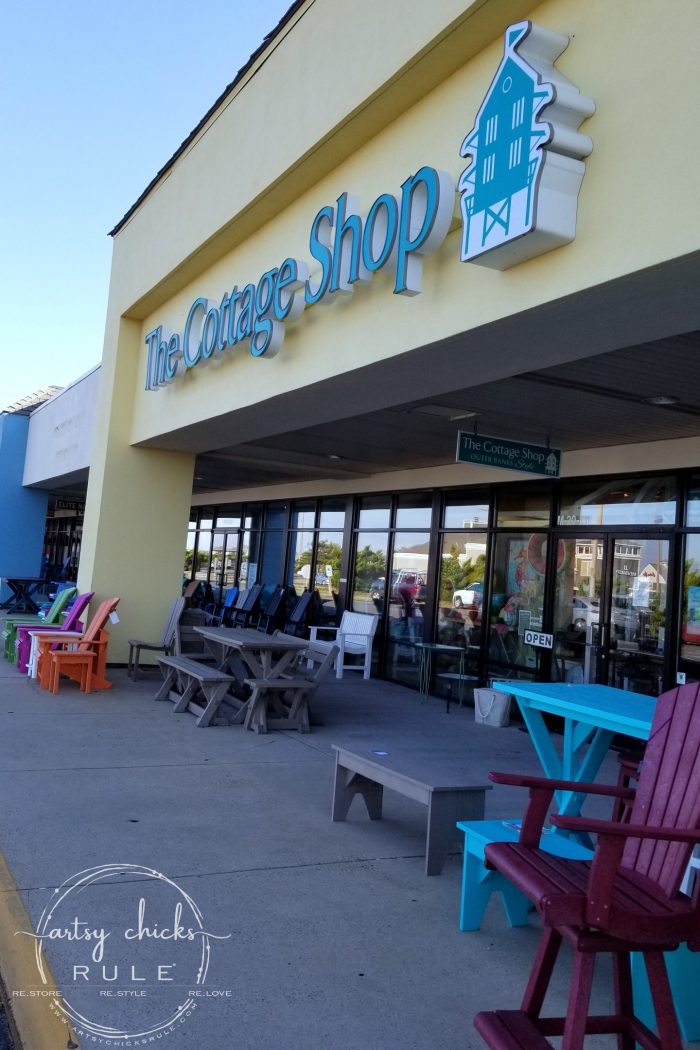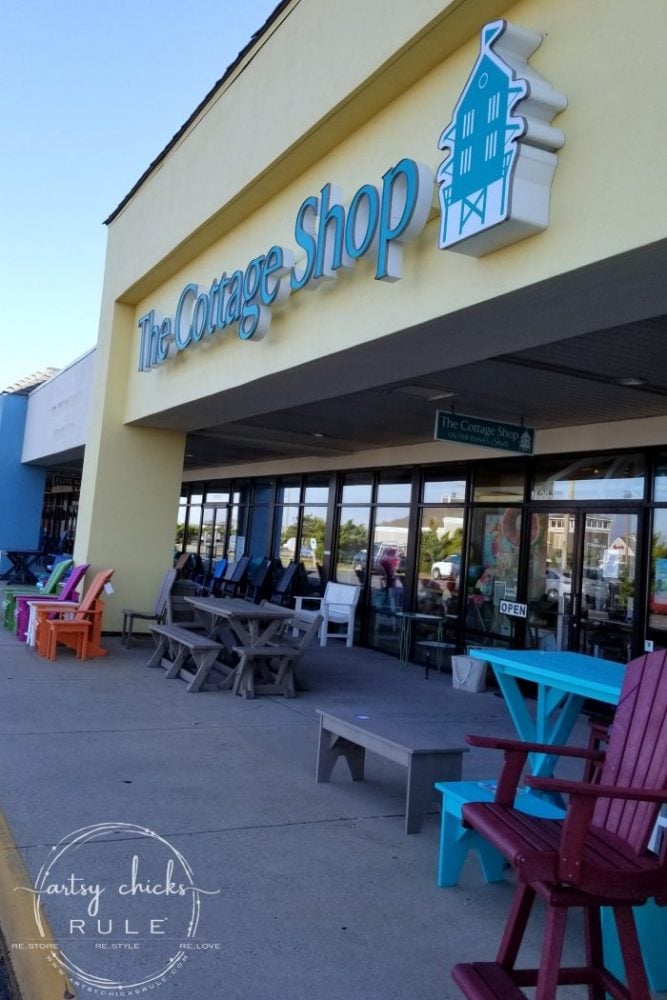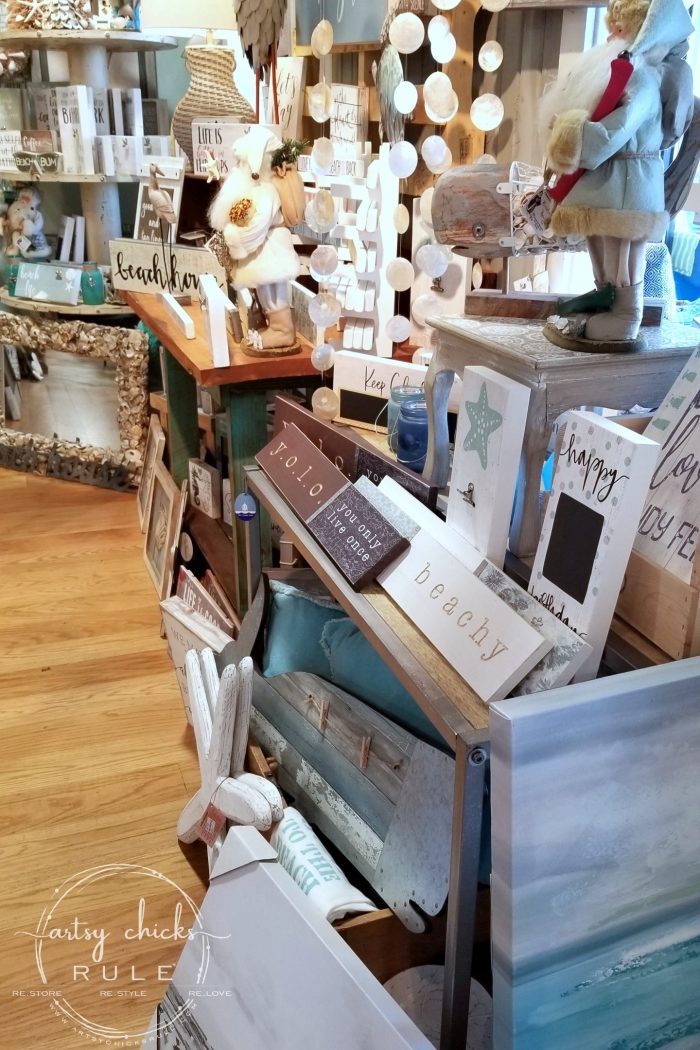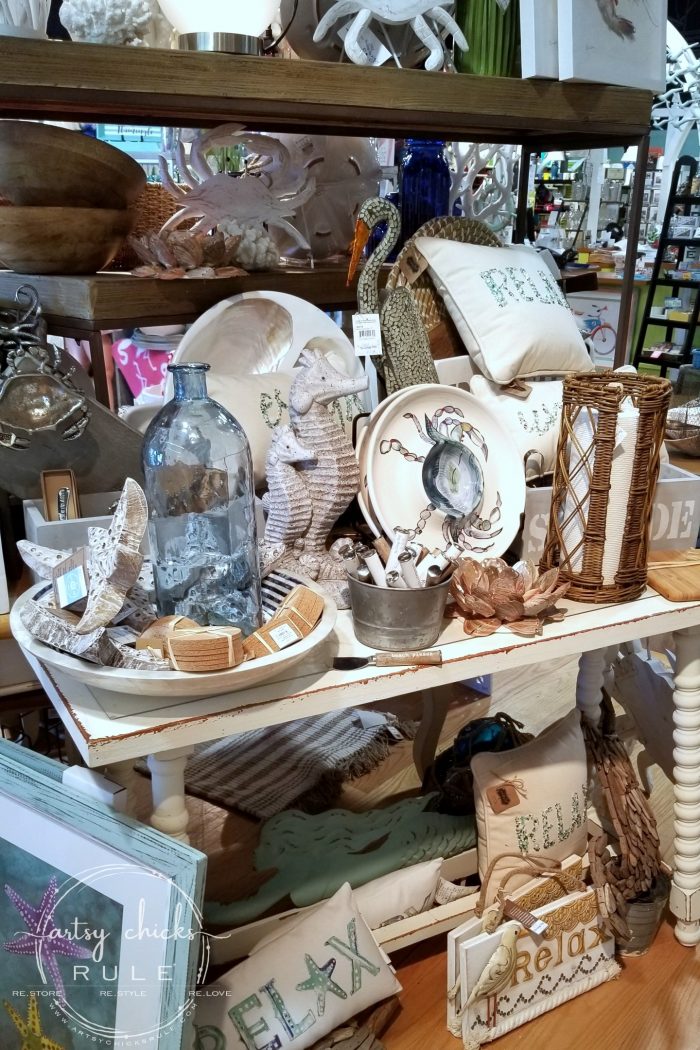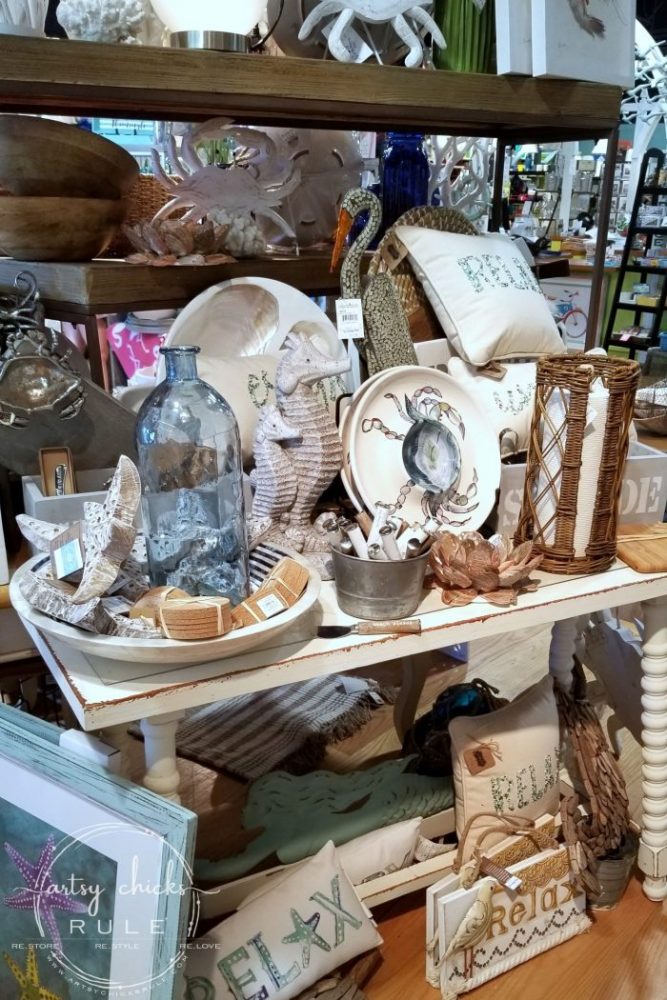 And this pillow I ended up bringing home with me. :)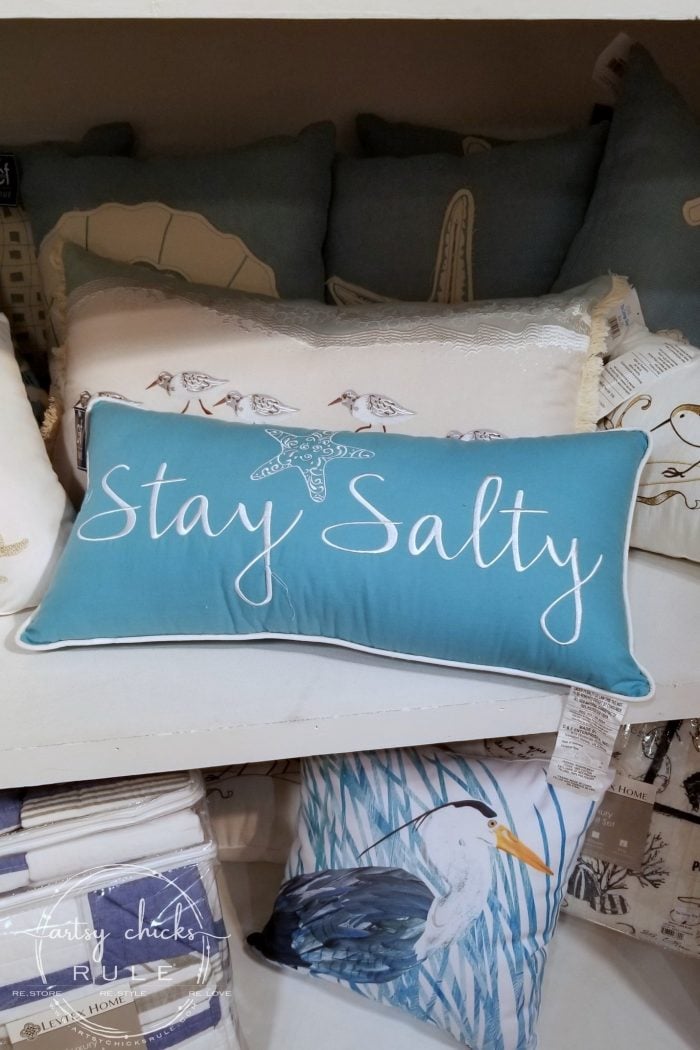 I got some really pretty coasters and seagull decor from here too. (no pictures but you will see them soon!)
Morris Farm Market – Barco – Okay, so this one is not in the Outer Banks but it's on the way, so I'm listing it. AND it's a must stop for us every single trip so I wanted to share it with you. (if you are coming from the North, you will pass by here on your way to the OBX)
We LOVE this place. They have so many wonderful home made goodies and tons of fresh fruit and veggies. (and more!)
The Cotton Gin – Jarvisburg- (another favorite "on the way down" must stops) – Be prepared to spend at least an hour here browsing. So many nooks and crannies in this store it seems to go on forever! (and so many fun & unique things to see here)
There are a few other locations in Corolla, Duck & Nags Head but this one is my favorite.
Parrot Bay – Kill Devil Hills- We always stop in to see what they have new!
Seagreen Gallery – Nags Head – What an absolutely fun place to browse around in. So many unique and vintage items. I found a few more antique blue bottles to bring home with me from here. :)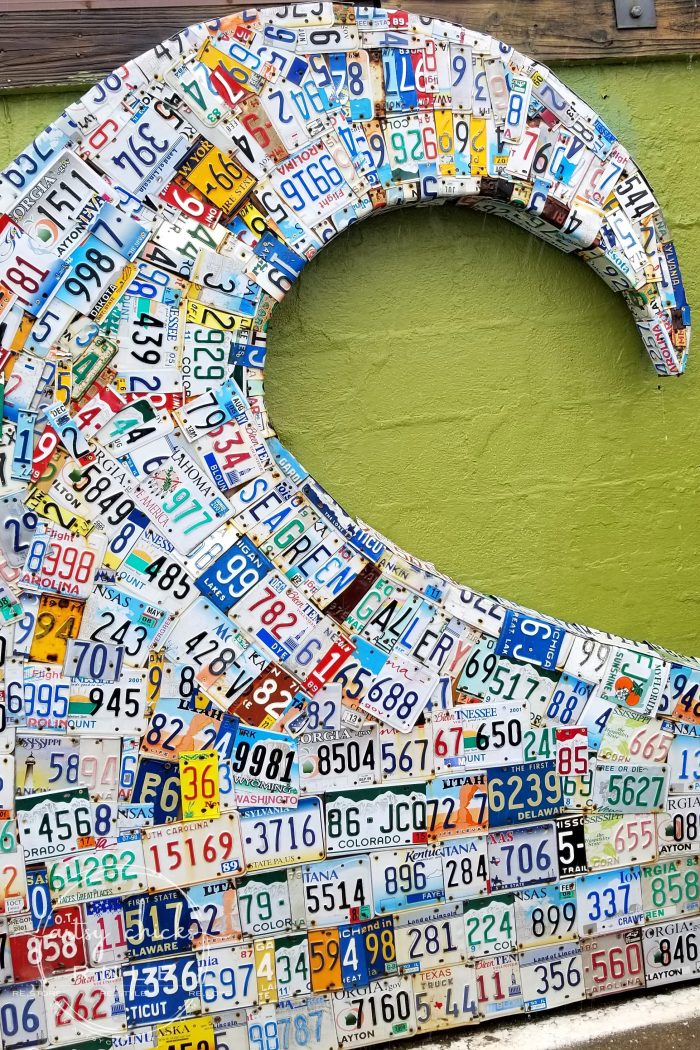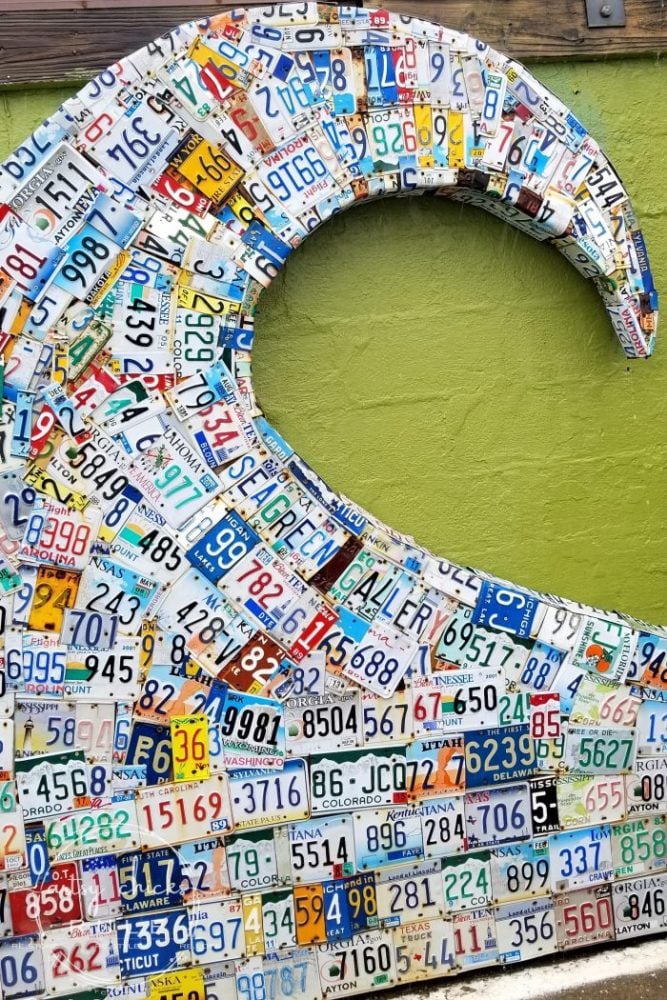 Nags Head Hammocks – (several locations) – Fun store to walk around and try out.
The Mystic Jewel – (several locations) – Unique jewelry using shells and stones.
Secret Spot Surf Shop – Nags Head – Just a neat old style surf shop, if you like that sort of thing.
He's greeting you as you come in…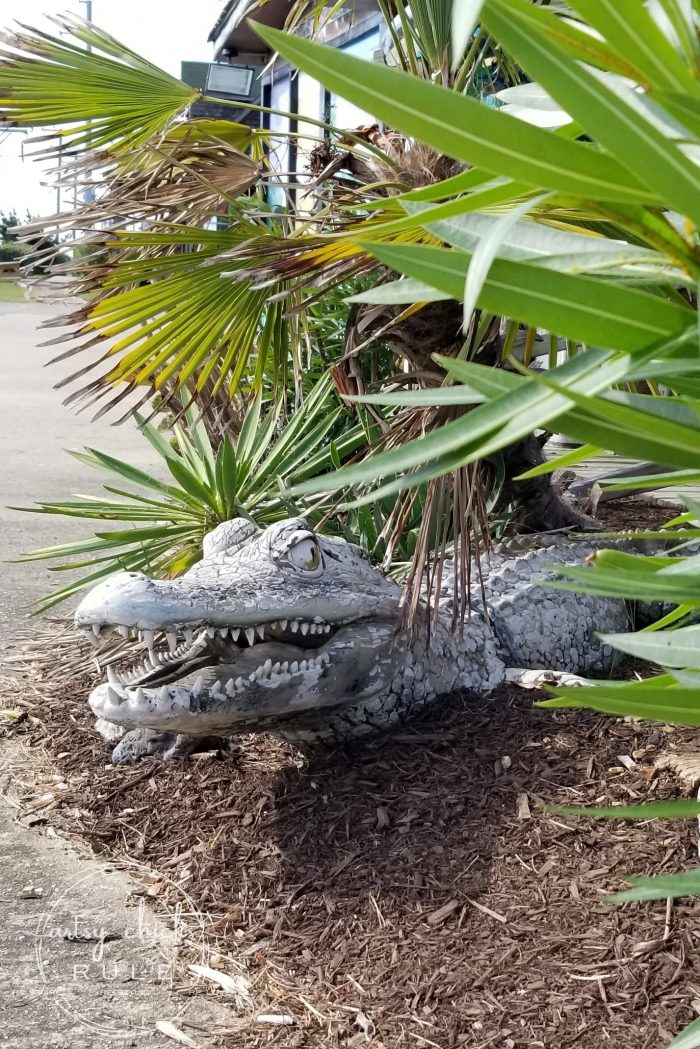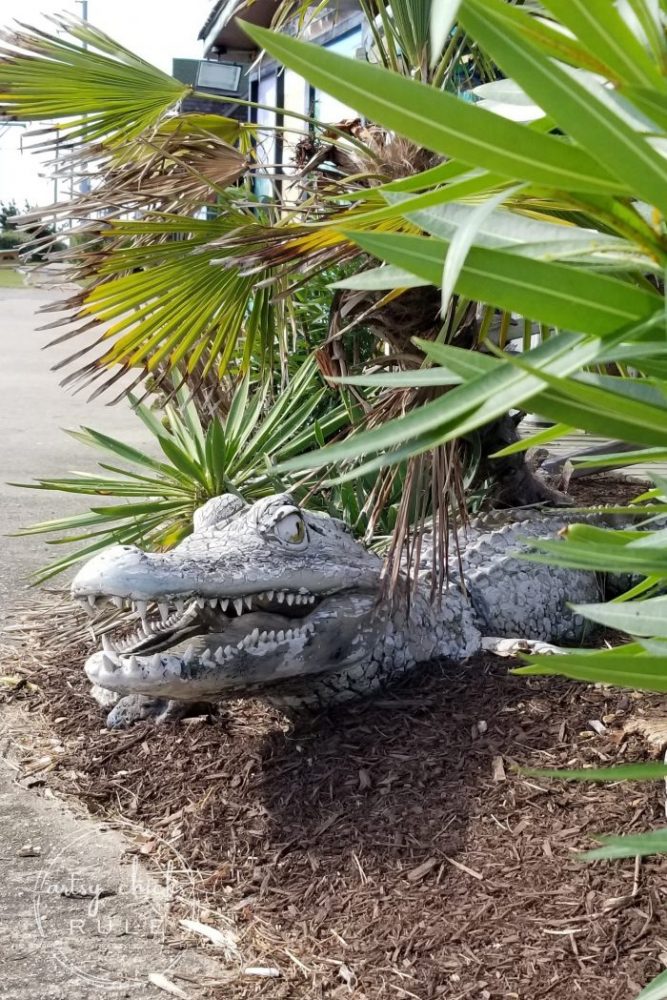 The Christmas Mouse – Nags Head and The Christmas Shop in Manteo – These are pretty popular but I have to be honest, I never shop there! I'm not thinking Christmas when I'm in the OBX. ;)
Tanger Outlet – Nags Head – Just your typical outlets…just at the beach. ;)
HomeGoods (and TJ Maxx) – Nags Head – Because you always have to visit these wherever you go! ;) They have different merchandise at all the stores so you never know what you will find. I found 2 of these at HG….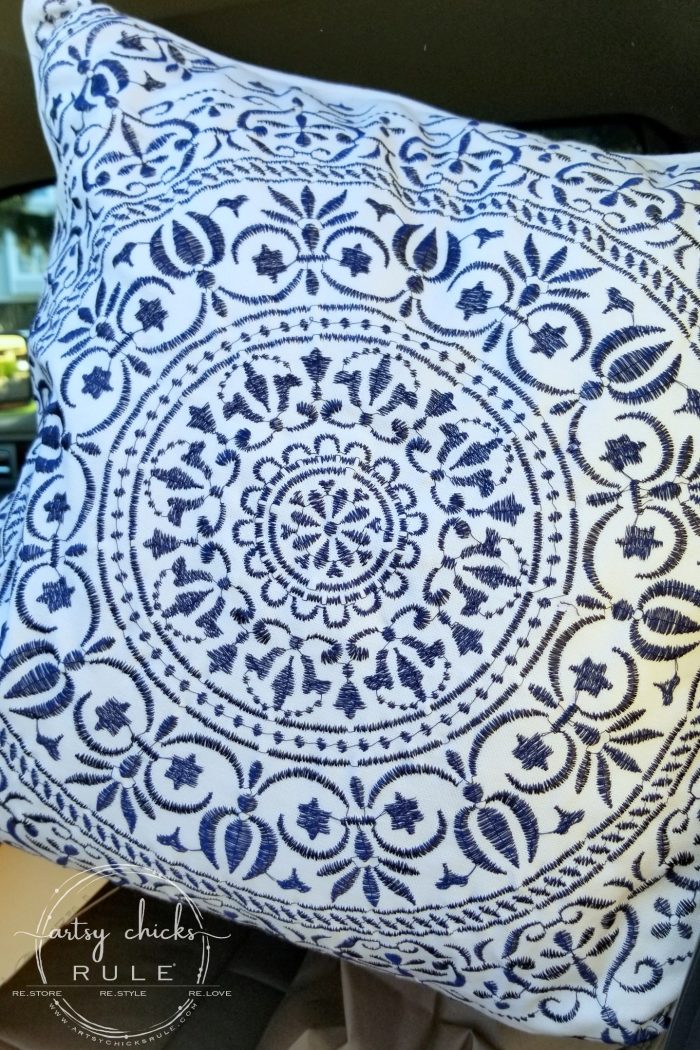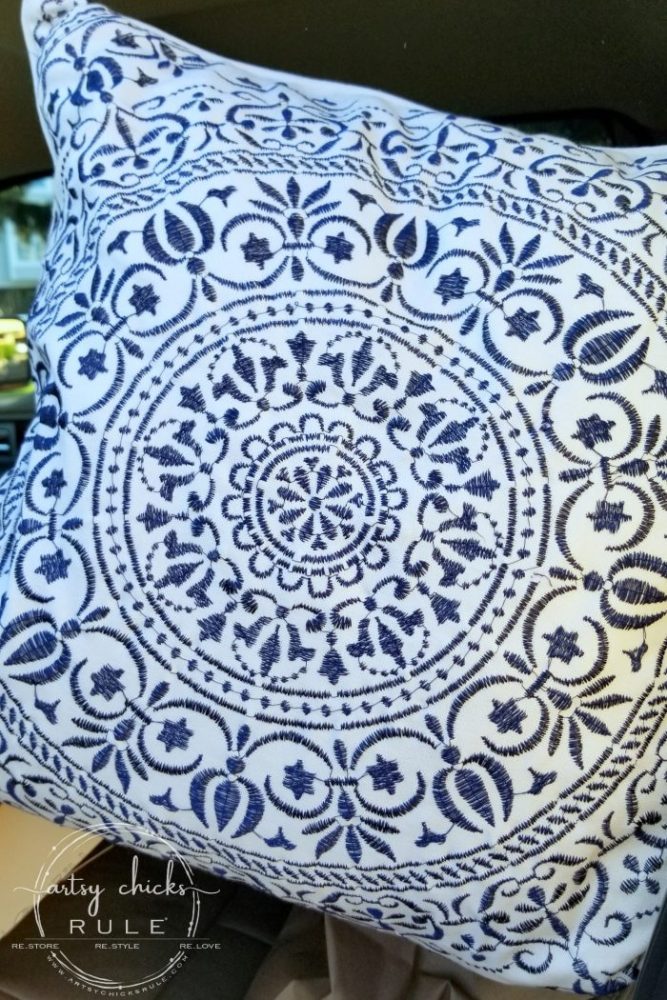 I can't wait to get to the "re" decorating phase on some of my rooms. :)
I saw this unique mirror at HomeGoods too.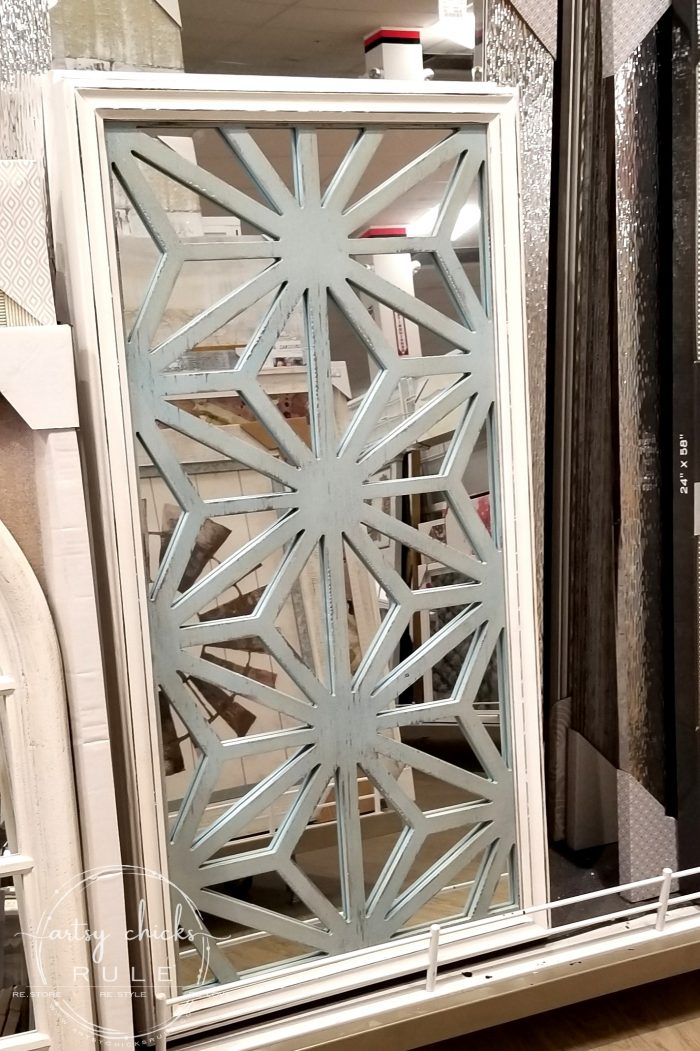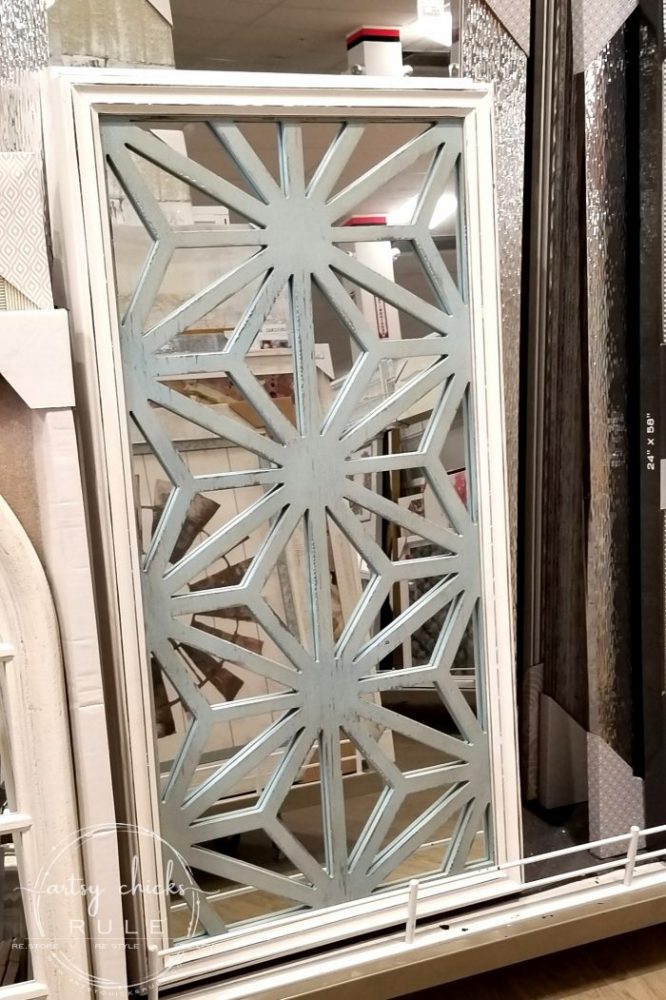 Although it didn't come home with me. ;)
Tuesday Morning – Nags Head – Same thing!! A lot of different items at the different locations.
I found these for $29 each!! Can't beat that! I'd been eyeing 2 mirrors for a certain wall in my home for awhile…but all were much pricier than these.
So happy to have found these on vacation.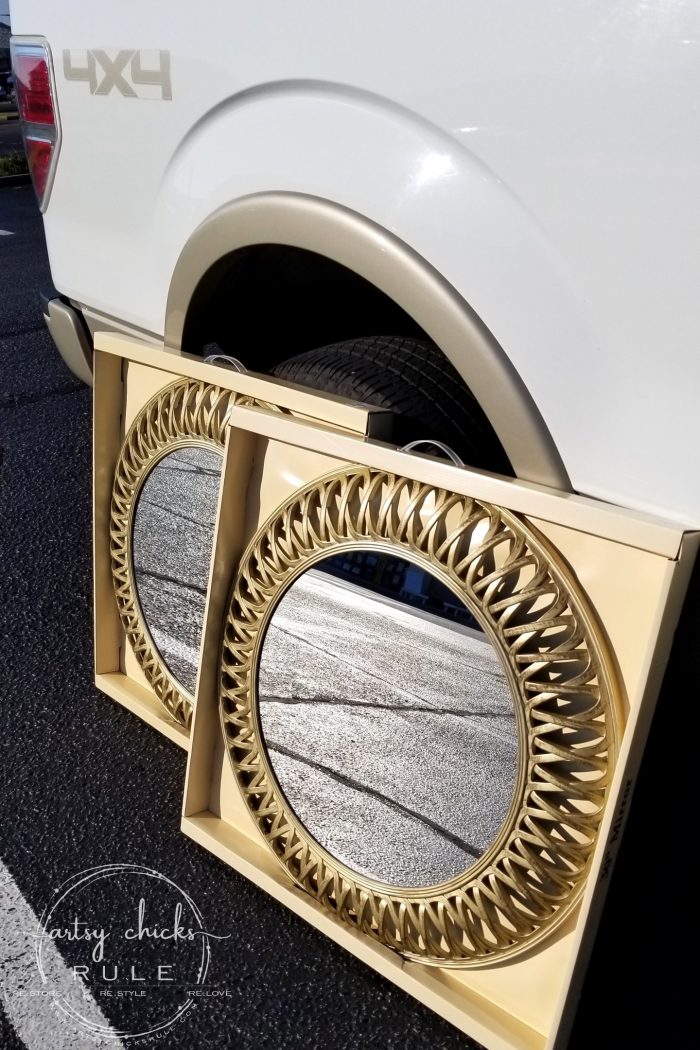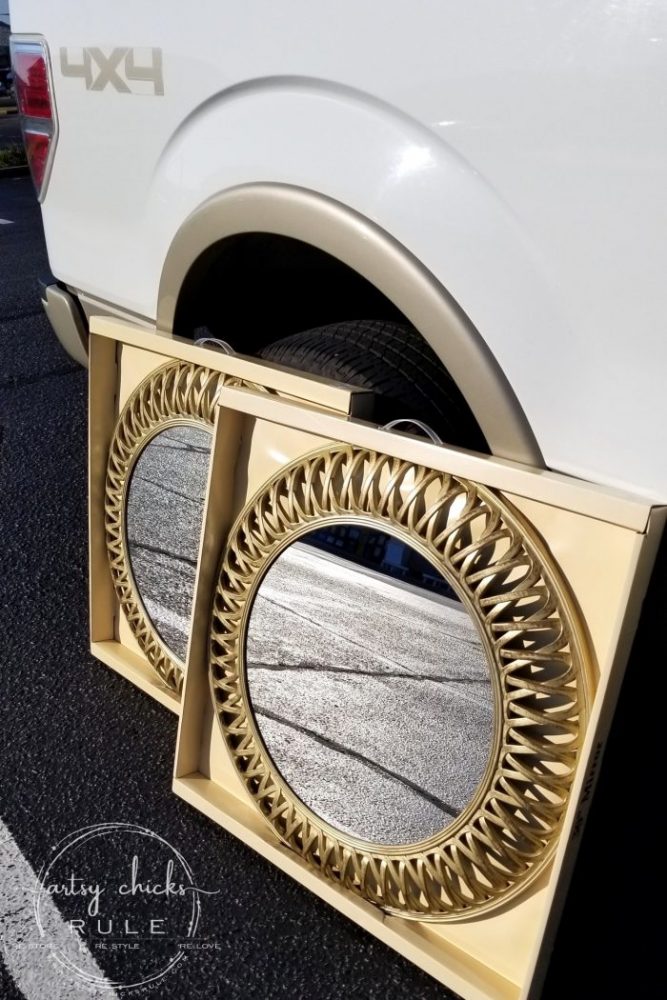 Saw these 2 towels at either The Cottage Shop or a little store on the way to Hatteras. (I don't remember)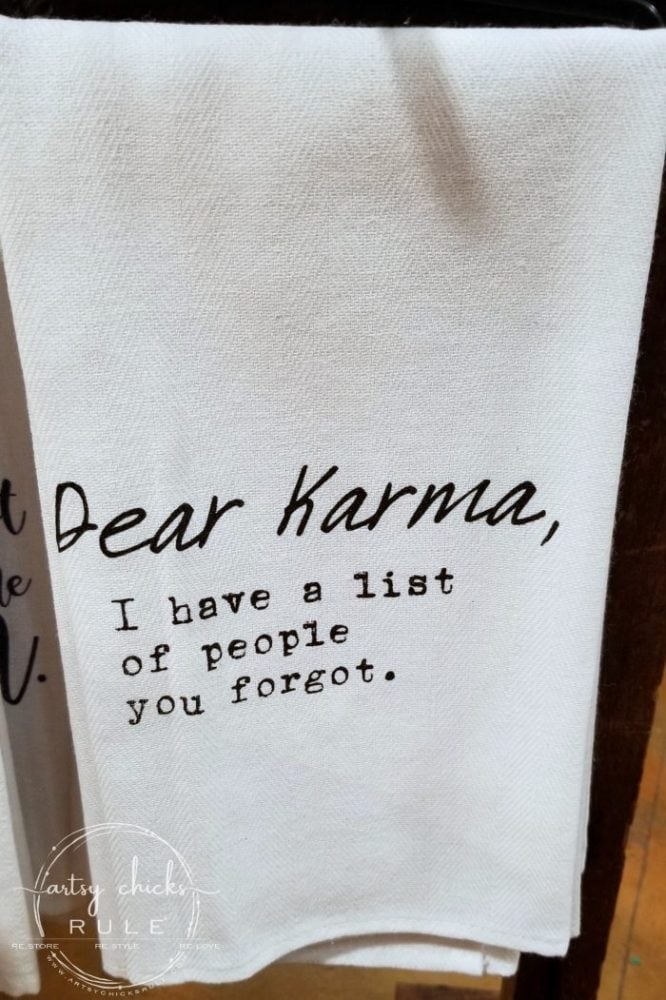 I chuckled when I read that one! ;)
And this one is truth!! lol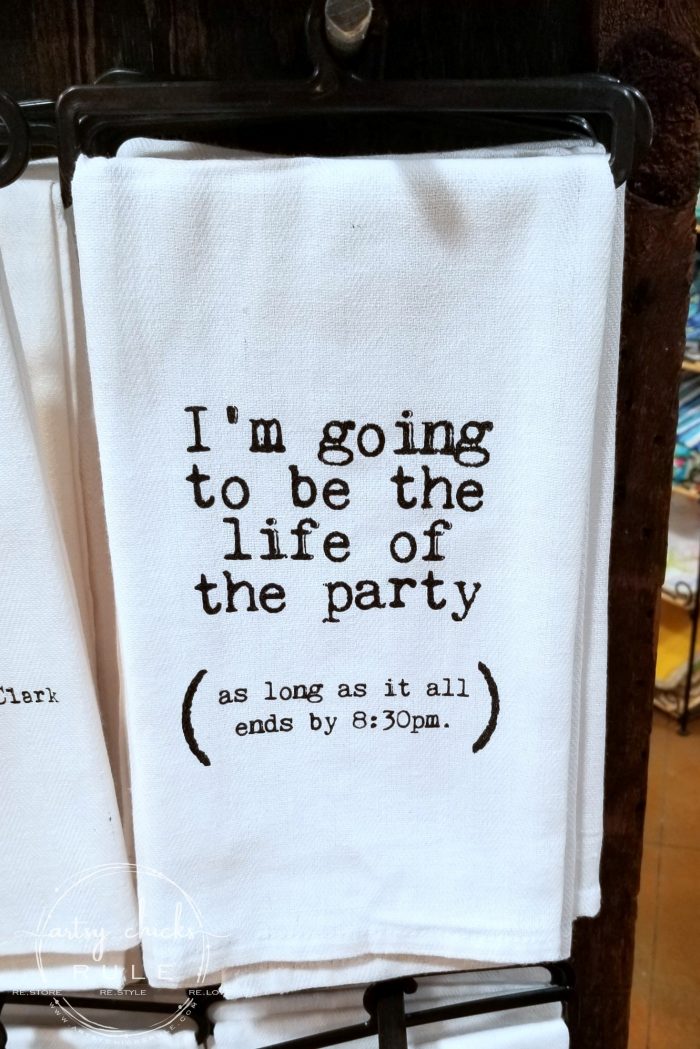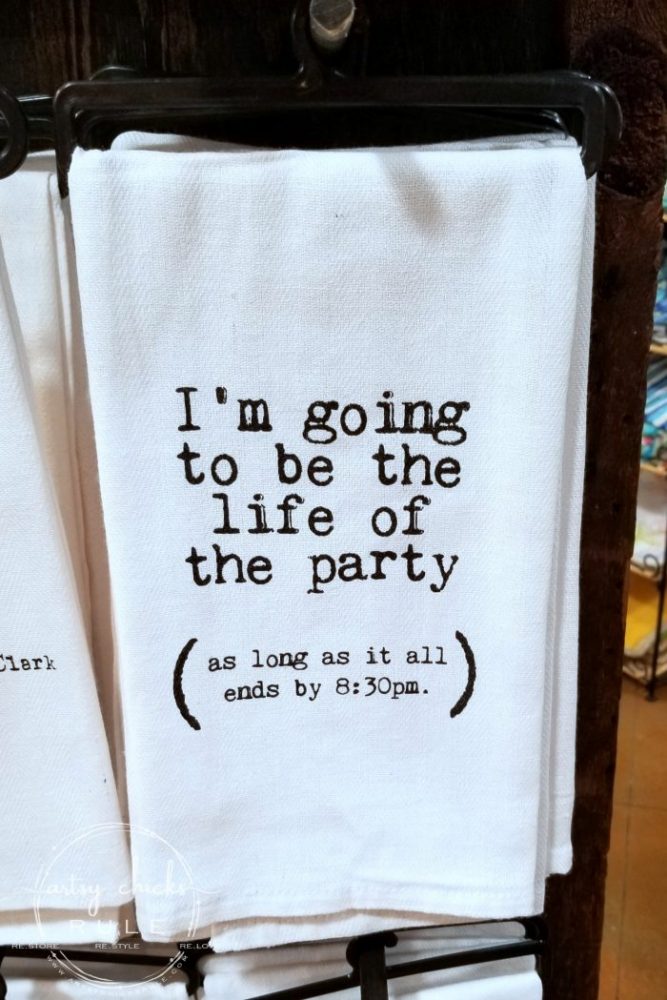 I'm not sure where I saw this either…but thought the sea glass birds were cute.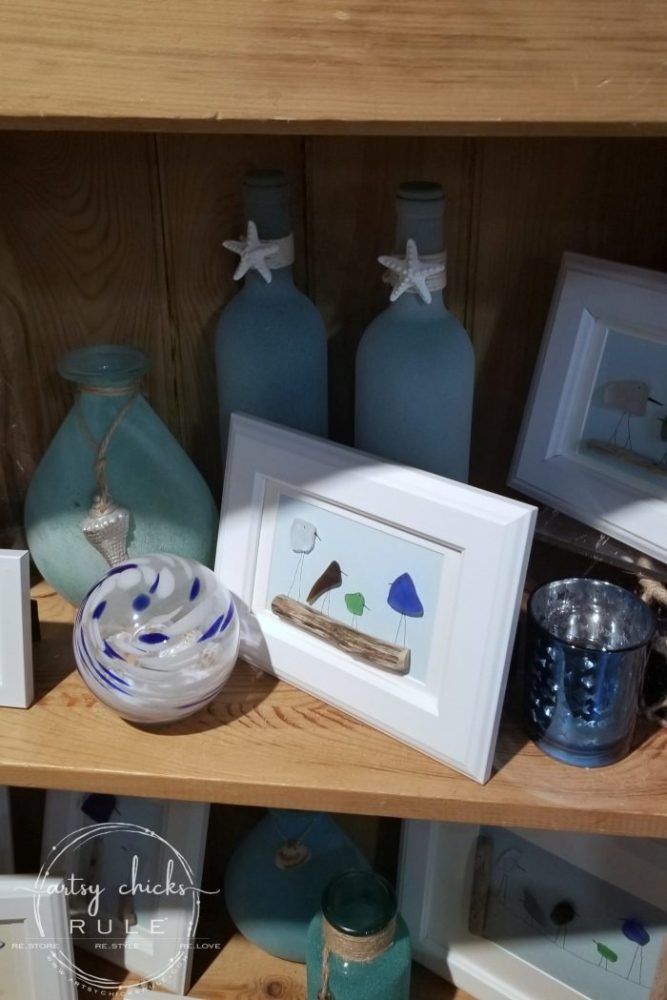 So many great Outer Banks places to eat and shop, I only scratched the surface on both.
There is never enough time to eat and shop them all, sadly! Which means, you just have to go more than once (or twice or 50 times! haha)
Want more eats and shopping?
Here's a few other travel posts I've done in the past, if you are interested in taking a look:
Mount Pleasant & Charleston, SC
Anna Maria Island, FL – (part 1)
Anna Maria Island, FL and Savannah, GA – (part 2)
Page's Thieves Market – Mt. Pleasant (a whole post on this yummy vintage store)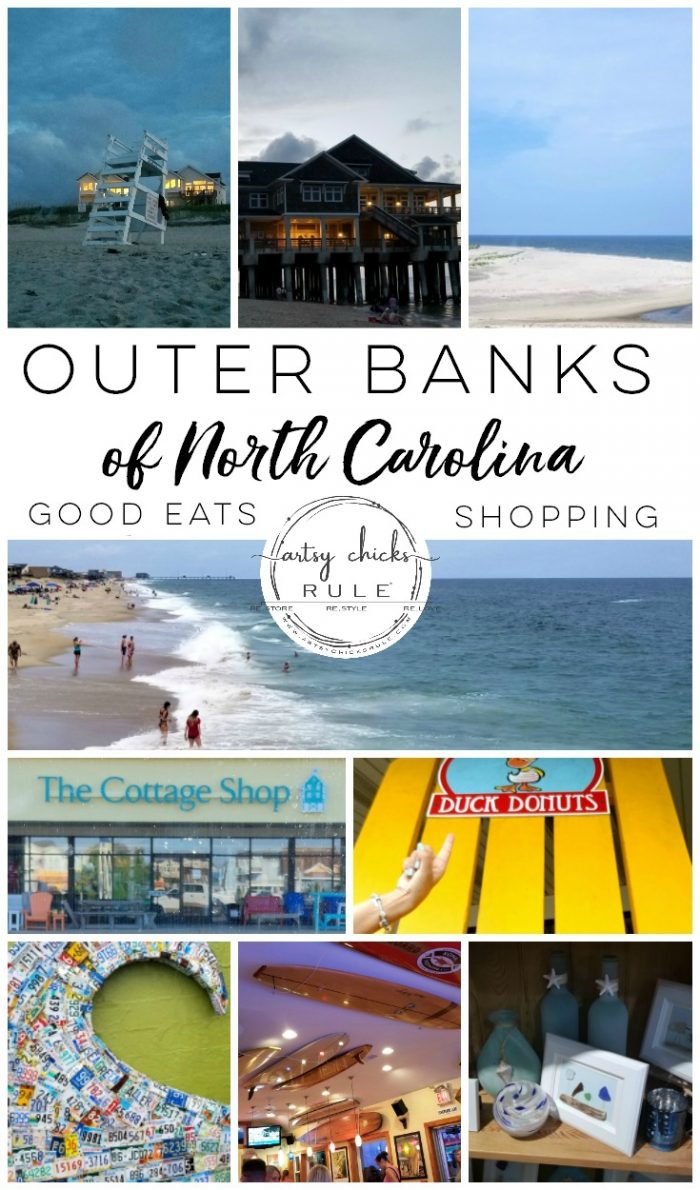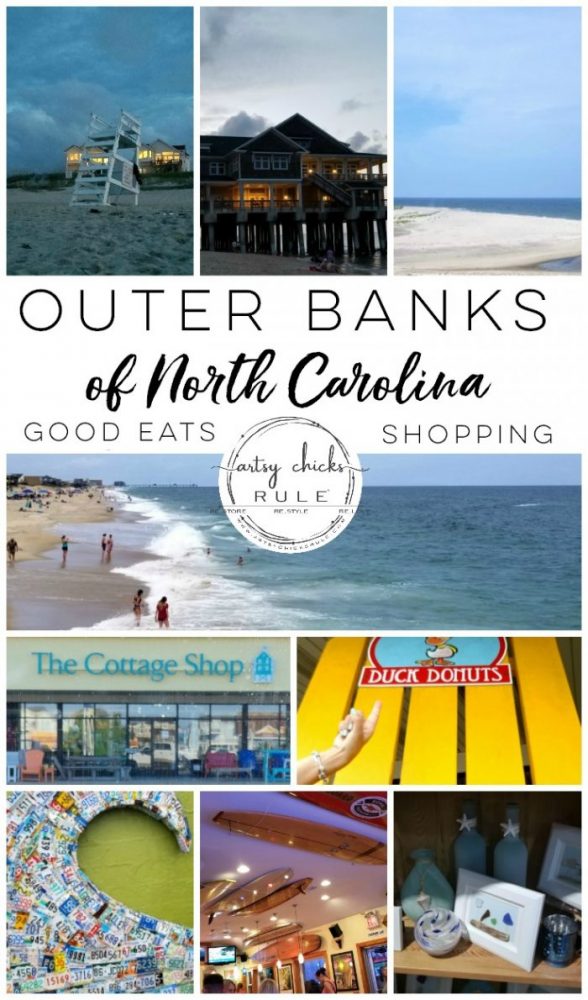 I know I veered off a bit from my regular posting, but I hope you enjoyed today's and last week's posts about the Outer Banks. :)
Have a great week!
xo