We recently got back from a trip visiting my husband's brother, his wife and nephew who live in Mount Pleasant, SC.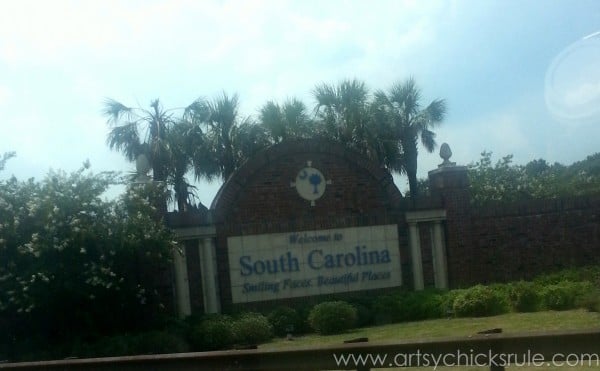 See that menu above where it says "Random Things"?  Yep, this is going to be one of the posts that end up there!
No projects, paint, decor or thrifting today…just a little bit of random, food and fun to share with you all.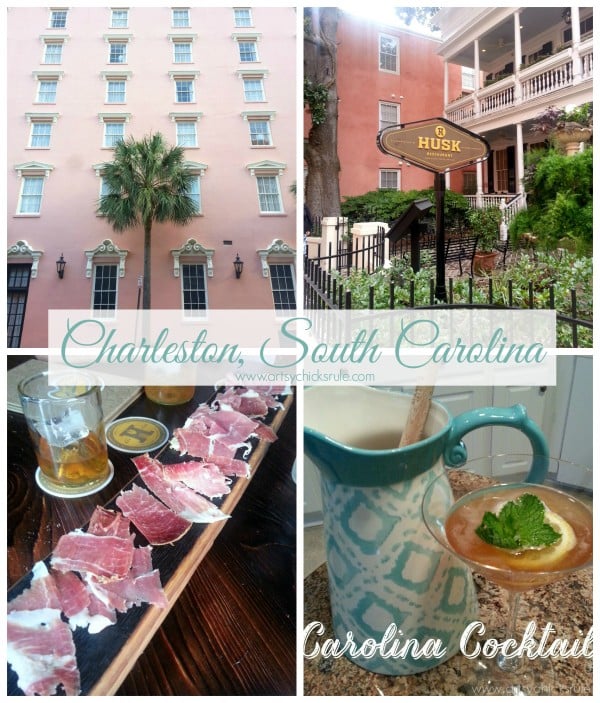 We visit SC once or twice a year and I thought I'd share a few photos of the places we visited while there this time.
I wrote another post last year about our visit at that time with different things/visits…you can see it here –> "Road Trip! …. Charleston, SC"
We also visited Asheville, NC for a 50th fraternity reunion while we were down that way. (my husband's college fraternity) We had a few hours to spare so visited the downtown Asheville area.
Lots to see and be entertained by there! I can't wait to share all of it with you (that will be another post)…and the story of the evening too.
It's a "look back and laugh" kinda story.
Although, I'm not looking back and laughing too much just yet!! ;)
AND lastly…we visited my favorite, "Page's Thieves Market", in Mount Pleasant again on this trip. I'll also be sharing all the amazing things I saw in that store in another post.
SOOOO much goodness. I wish I could have brought it all home with me! Talk about great finds…and all in one place. Wow.
If you follow along on Instagram I gave a peek or two of some things I've mentioned here.
So first up…this is what we were greeted with upon our arrival……
…and a fabulous meal to go along with it! My sister in law is a fabulous cook and great host!
Another photo… :) Isn't it pretty?
Firefly Sweet Tea Vodka….lemonade, muddled mint and…triple sec I think!
Anyway, it was yummy.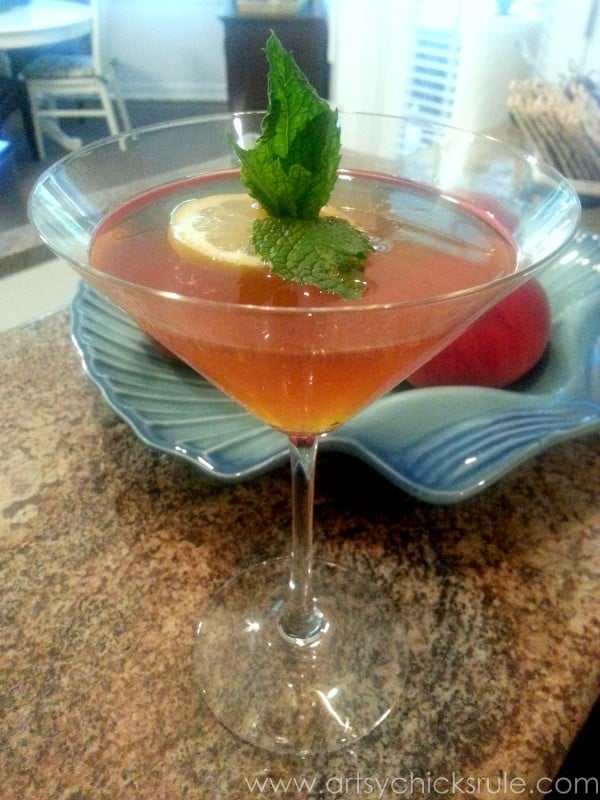 All of the photos are with the camera on my phone so the quality is not the best. I always bring my "real" camera (Canon 60D) but never end up pulling it out.
I'm lucky to get the photos I do because we are always on the go….and I'm lagging behind saying "wait, wait gotta get a photo!"
Ha! All of the bloggers out there understand that I am sure! Thankfully my family is patient with me. ;)
We were also greeted by this sweetie who I swear I'm going to kidnap one of these days.
Love her!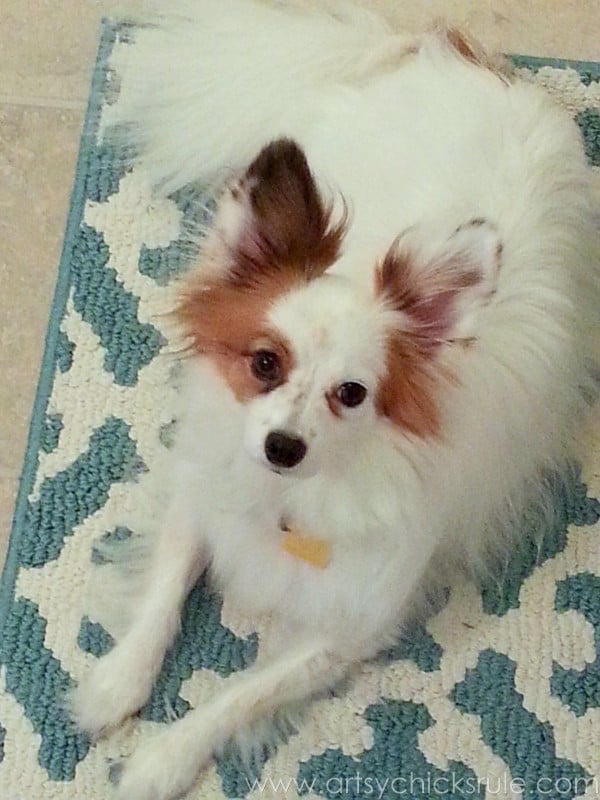 We go out riding a bit and on a trip over to Sullivan's Island (or Isle of Palms…one or other!) we saw this home…..
…had to get a shot of it. It's a waterfront "dome"! How unique is that????
And we love to eat at all the fabulous places too. One of these days we'll get to them all.
Since we knew we wouldn't be able to eat at them all we decided to have drinks or drinks and appetizers at a few on our last day here.
Here are a few we visited….
The Fish House – Bridge Bar (in the entrance on the floor)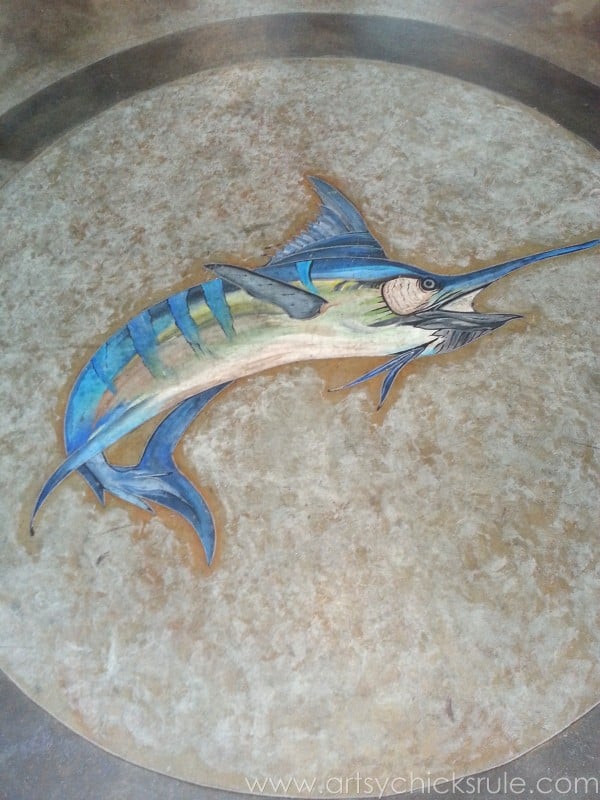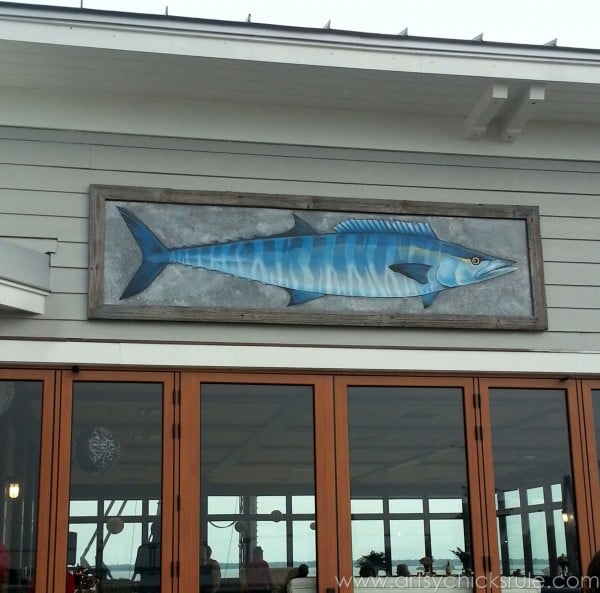 The view from the Bridge Bar up top…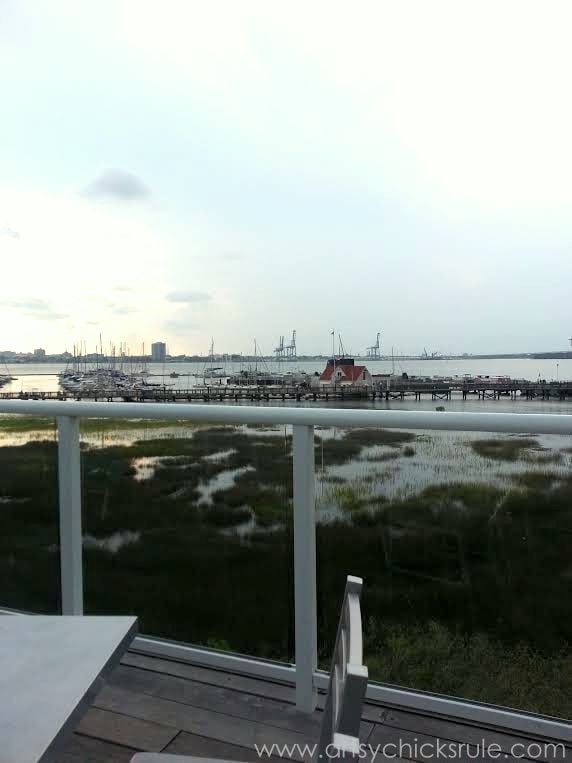 ..and these, the one in back is the  USS Yorktown. You can read about them both –> here.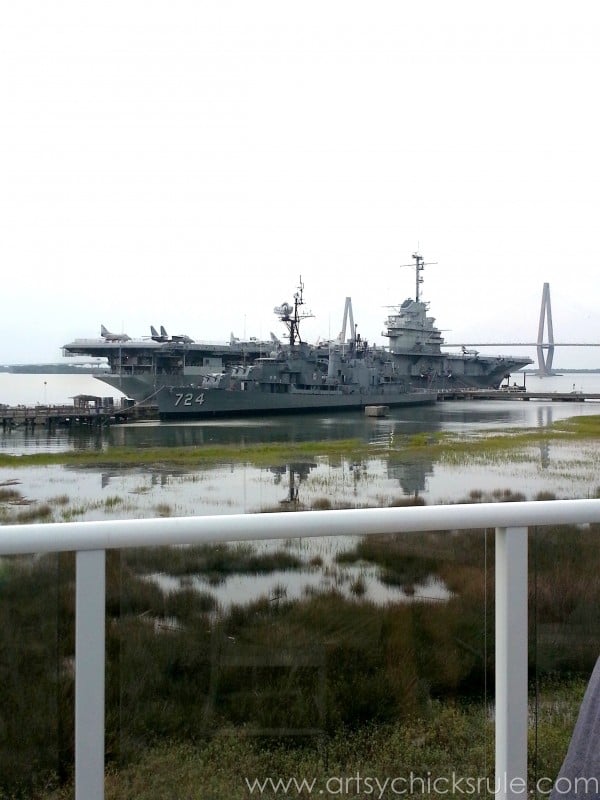 I have to mention another restaurant we went to while here…..Graze.
I don't have photos but the food was FABULOUS! A must try for sure.
After a couple days here we left to head to Asheville, NC for the night. (post coming soon on that "adventure") When we returned we resumed our "restaurant" hopping. ;)
My husband, son and brother in law did enjoy a little SUP-ing Sunday morning though.
My son saw a dolphin and a squid by his board.
First stop back was the Rooftop Bar in Charleston. (love those dark gray clouds in front of the bright white ones)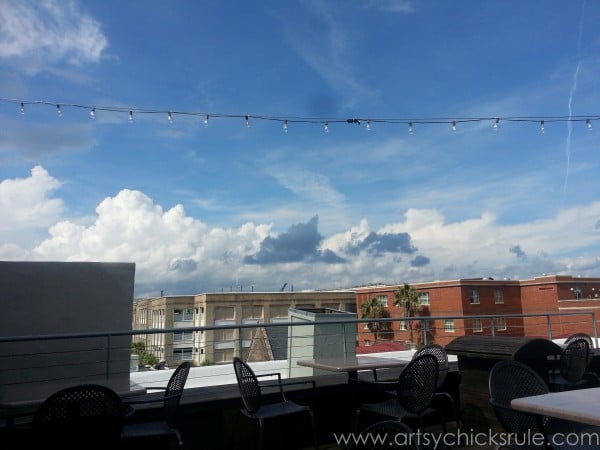 Cool lighting here…
Downstairs from the Rooftop Bar is this….The Drawing Room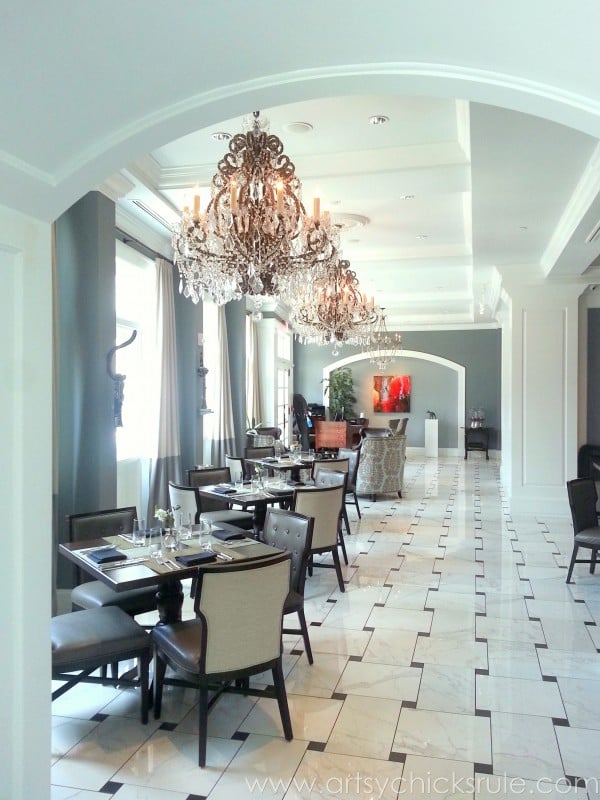 How gorgeous are those chandeliers???
Another pretty chandelier in the lobby…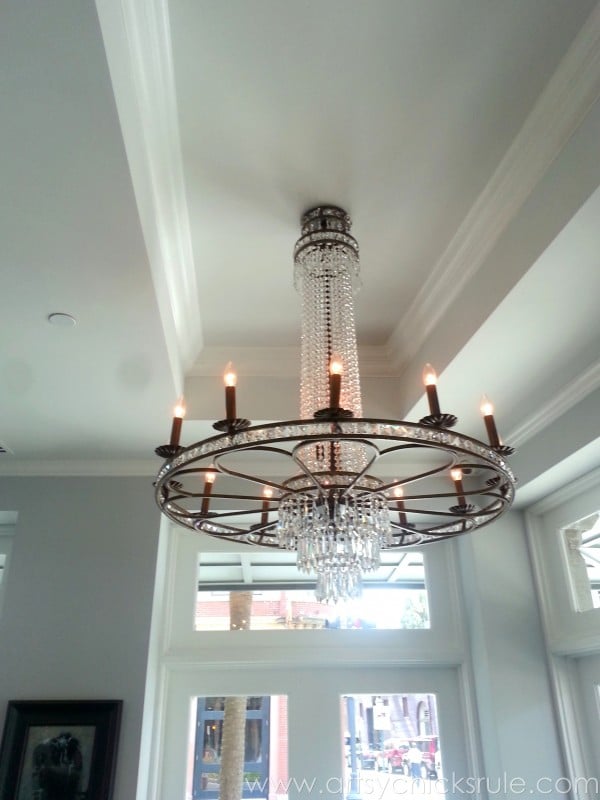 We had some interesting (very unique!) drinks at The Gin Joint….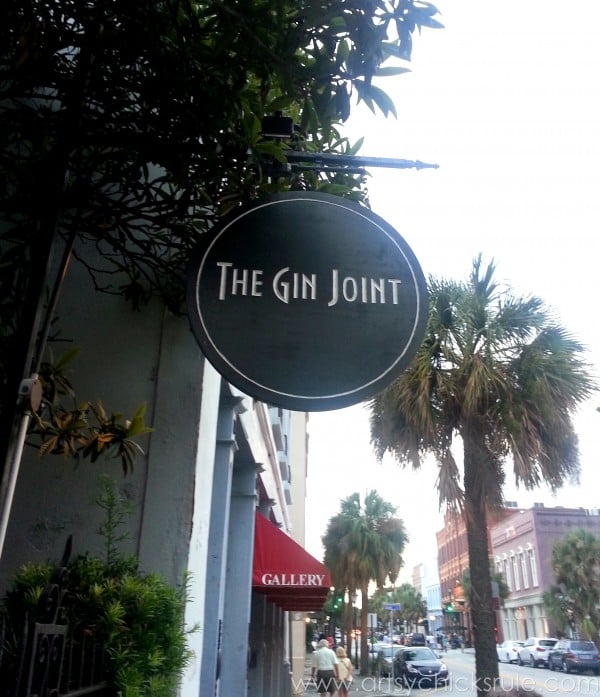 And HUSK…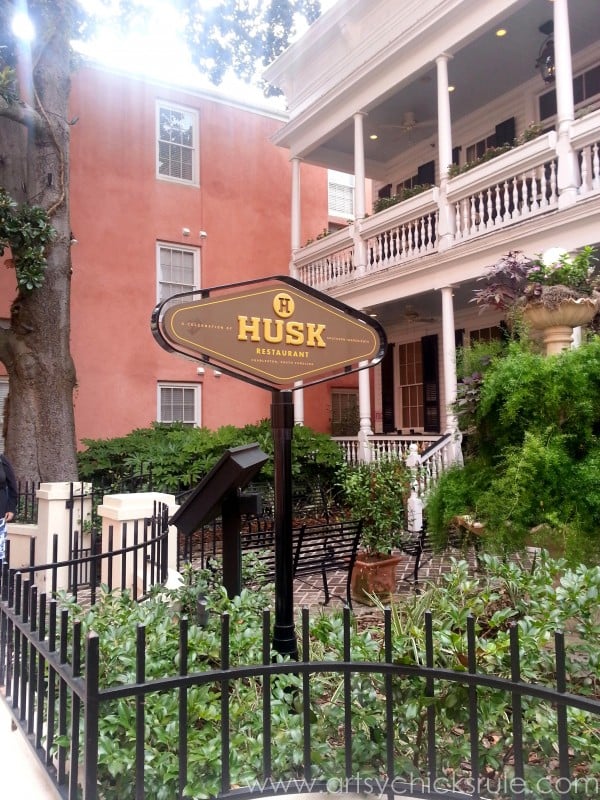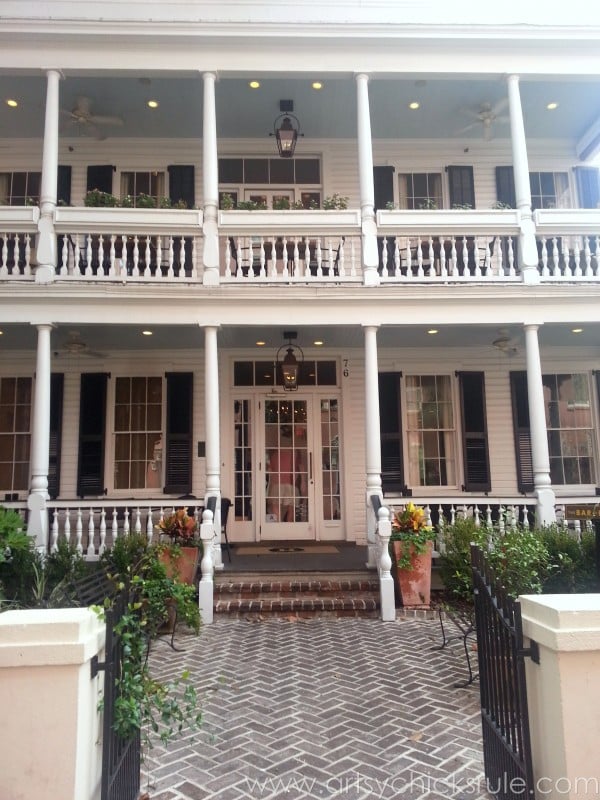 My brother in law and sister in law have eaten here but we didn't have reservations and couldn't get in that evening.
We did visit their bar next door though.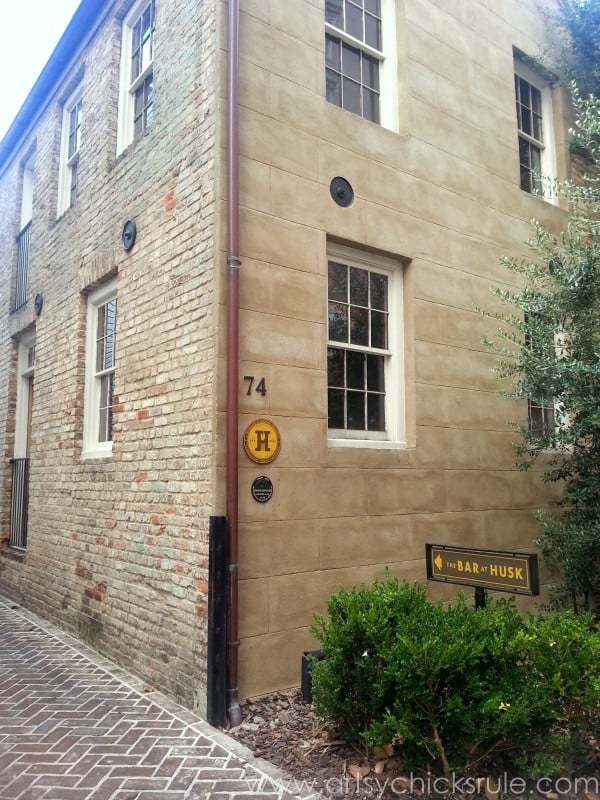 Such a cool place!
It's an old carriage house and retains a bunch of the old features inside.
Had drinks and a "ham plate". (it's a whiskey/bourbon bar) I don't drink bourbon … those would be the men's drinks. ;)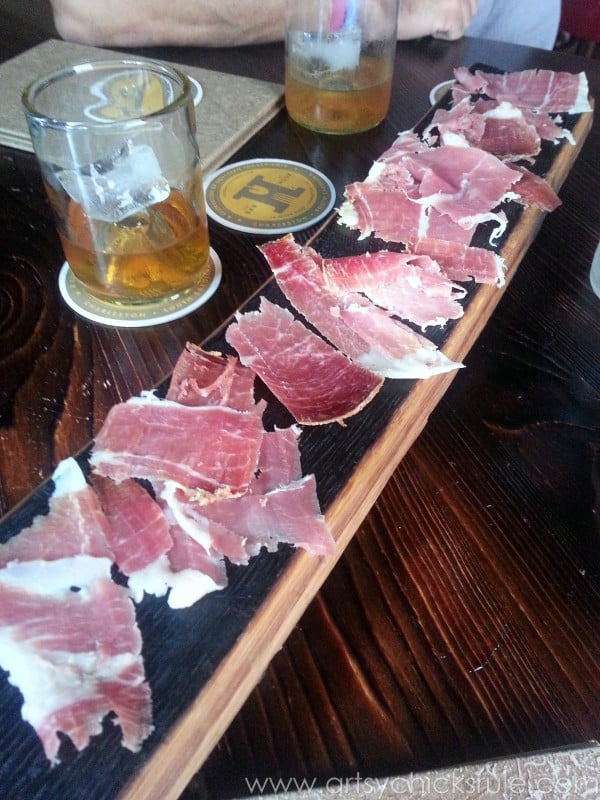 Pretty building and palm tree …across the street from Husk.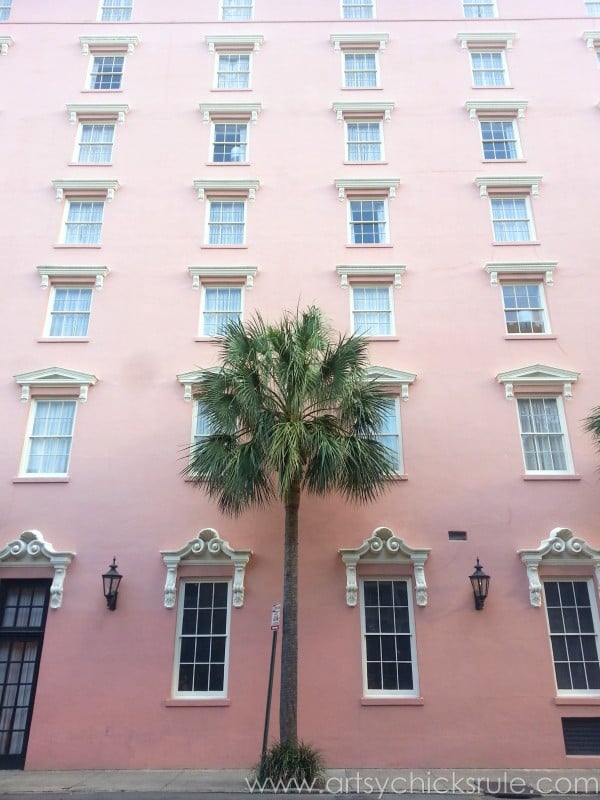 Walked by this one (loved the sign :) ) …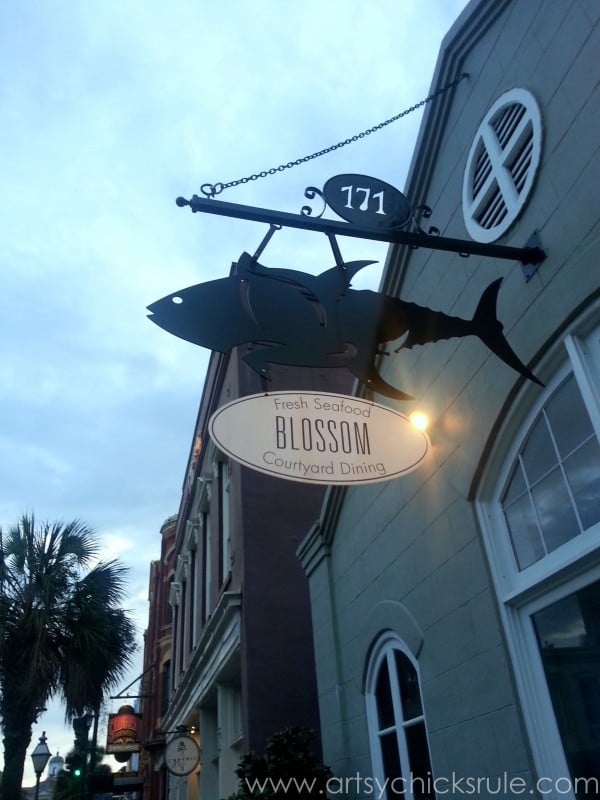 But ended up eating at Cypress…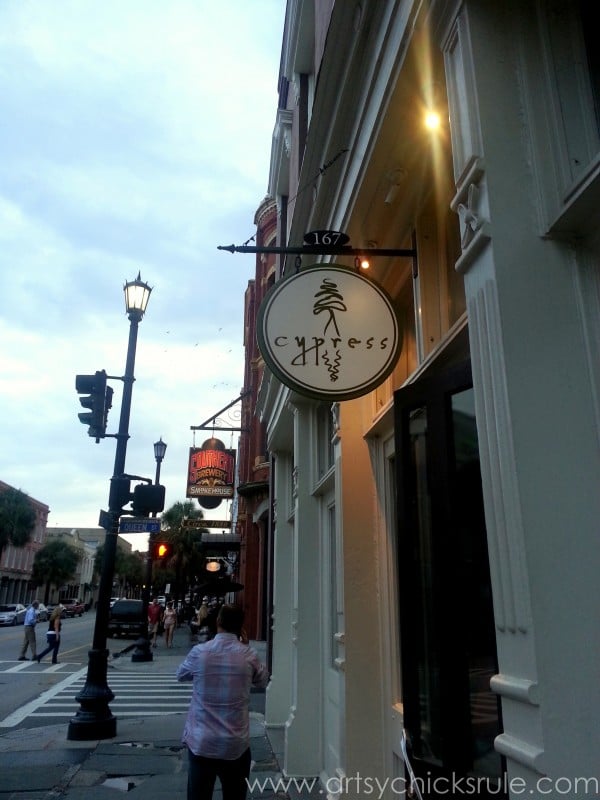 They had a really big "wall-o-wine"…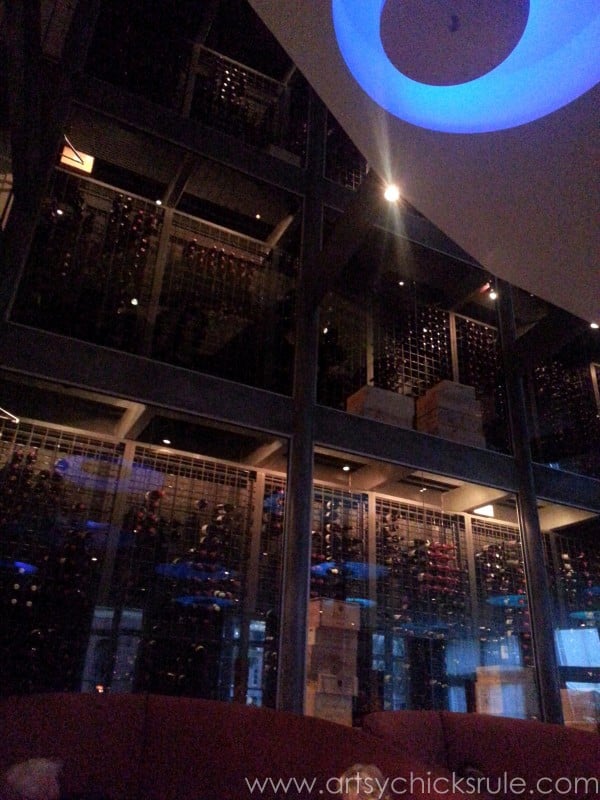 Of which we didn't have! But it was impressive to look at anyway.
And some really fabulous food. I tried to take photos but it was too dark inside.
Just trust me on that. ;)
Hope you all enjoyed seeing the photos of Charleston and surrounding areas. I'll be sharing our trip to Asheville, NC next week….plus it's "themed furniture" week too!
I'll be sharing a piece that I've decoupaged along with my blogger friend's pieces too.
Be sure to stop back by!
Happy weekend to you all!
xo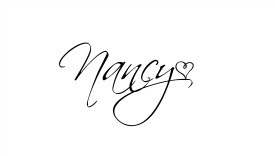 Be sure to follow me on Instagram and Facebook if you don't already!
I always post projects and things I'm working on
long before it hits the blog…..
….plus lots of fun random daily things too. 


Follow Along Here!