Outer Banks Things To Do (and see!)
This post may contain affiliate links. Please see disclosures here.
Ever considered going to the Outer Banks of North Carolina? If so, I'm sharing Outer Banks Things To Do (and see!) today!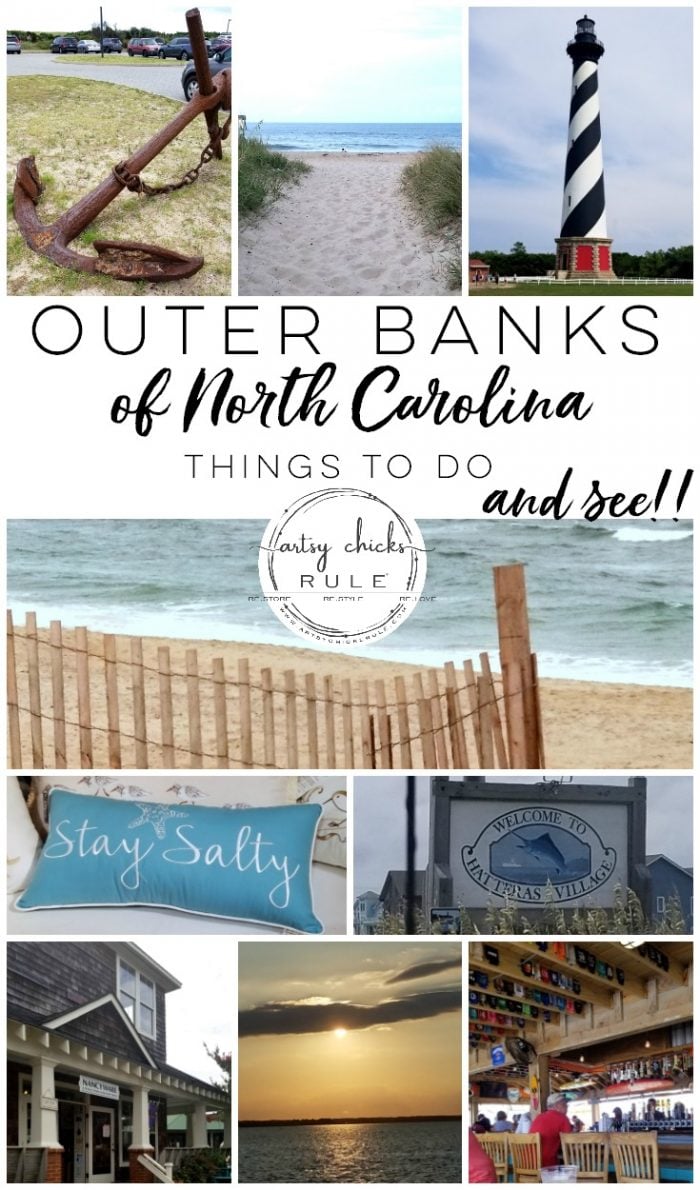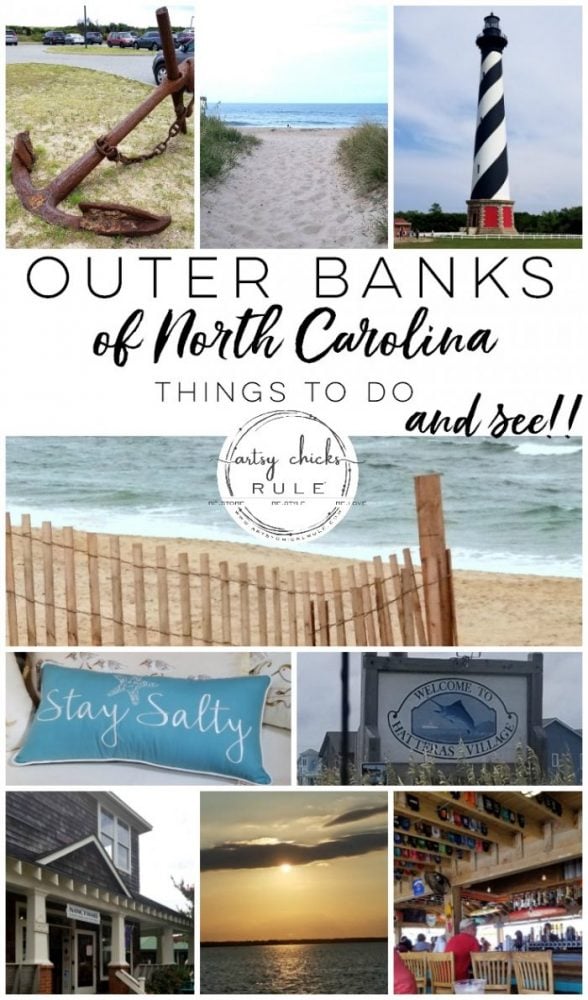 Hey friends!
I'm back today sharing photos and lists of my favorite Outer Banks things to do (and see!).
I hadn't planned on doing a post while we were there so these are just photos I took with my cell phone as we went along our vacation. ;)
And I didn't take photos of so many things that would have been wonderful to share with you here.
But I will include them, with links if I can, anyway.
I don't want you to miss a thing! :)
Outer Banks Things To Do (and see!)
One thing you have to do, of course, is visit the beach.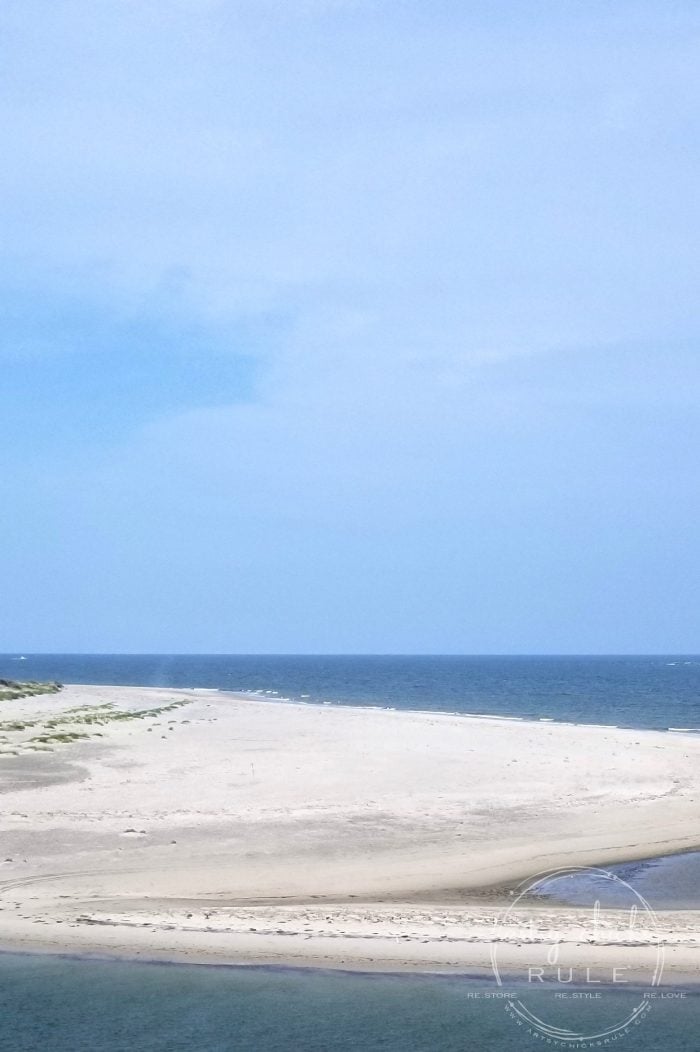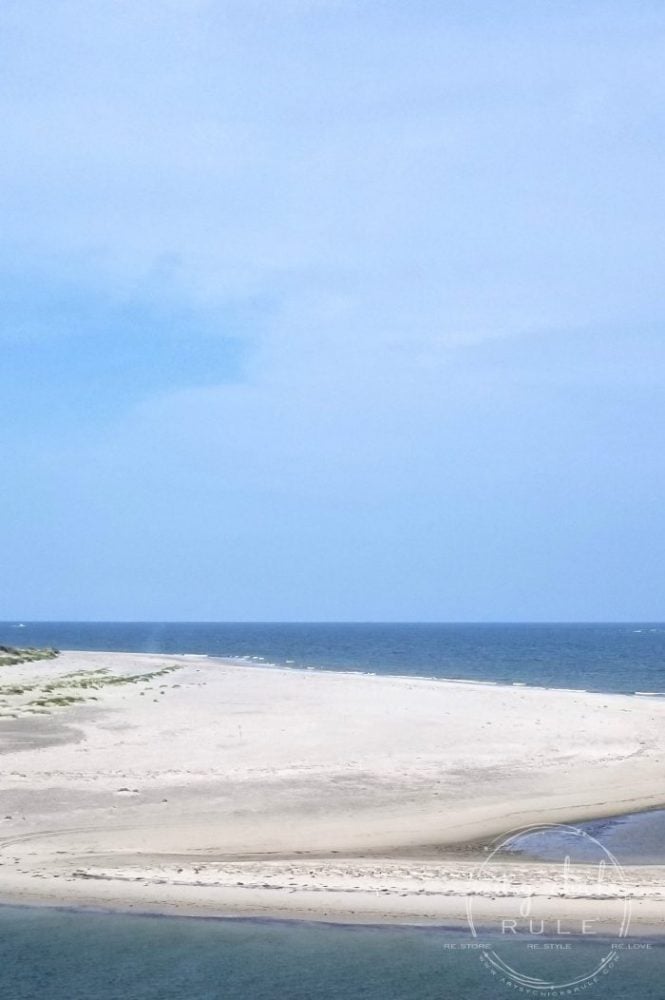 The Outer Banks have some of the most beautiful beaches around.
The water is a gorgeous deep greenish blue color and the waves crashing sound amazing and so tranquil.
My favorite time to go to the beach is in the earliest morning hours. It is SO incredibly peaceful.
I've never felt anything like it. Truly good for your soul.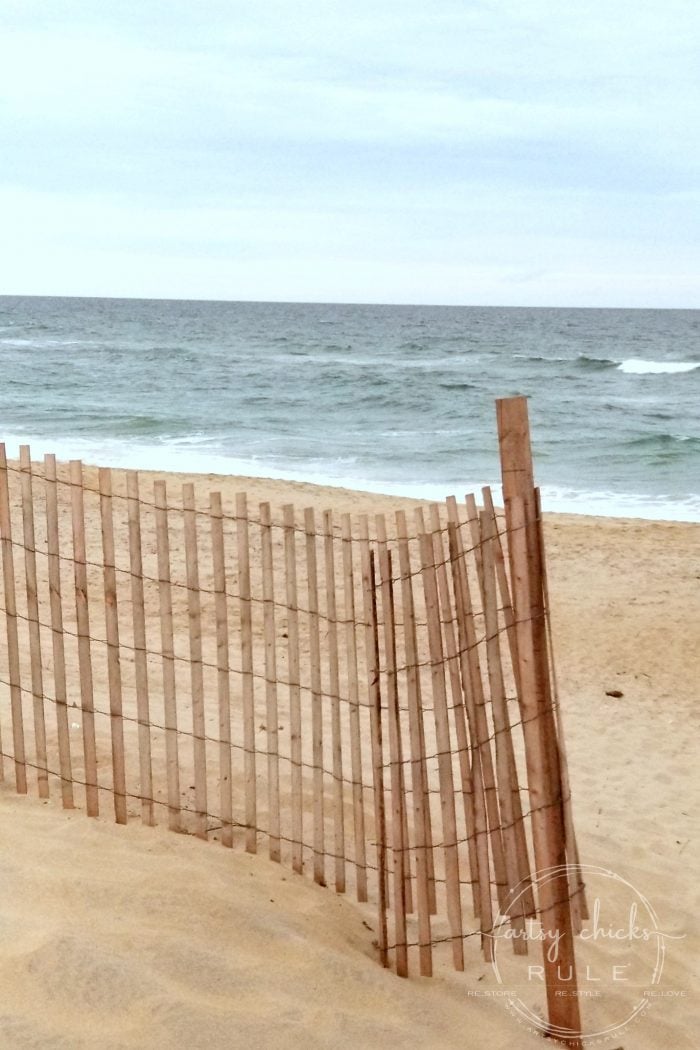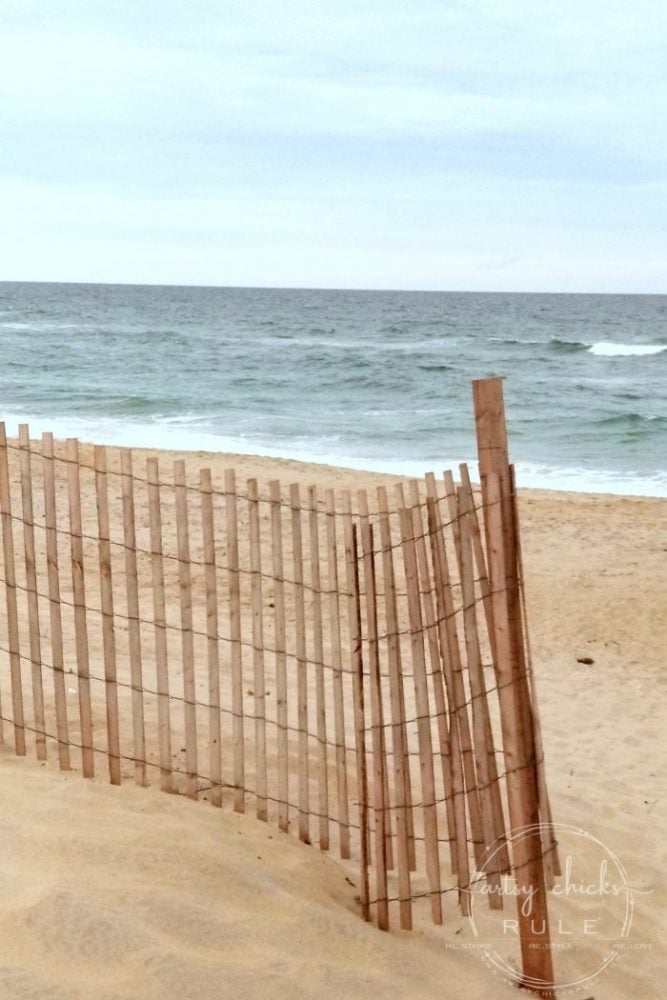 You can go to the beaches up in Corolla (where the wild horses are).
The Outer Banks is comprised of Corolla, Duck, Southern Shores, Kitty Hawk, Kill Devil Hills, Nags Head, Manteo, Wanchese, Rodanthe, Waves, Salvo, Avon, Buxton, Frisco, Hatteras and Okracoke.
I've stayed in more than a few of those over the last 35+ years. Corolla, Duck, Kitty Hawk, Kill Devil Hills, Nags Head, Manteo and Hatteras.
We typically stay in the Kill Devil Hills, Nags Head, Manteo areas though.
This last week we stayed in a place called Pirate's Cove in Manteo. It's 5 minutes from the beaches but inside a beautiful gated community surrounded by the sound.
The sound is on the other side from the beach and it's also lovely.
The beach that is 5 minutes away is where Jennette's Pier is….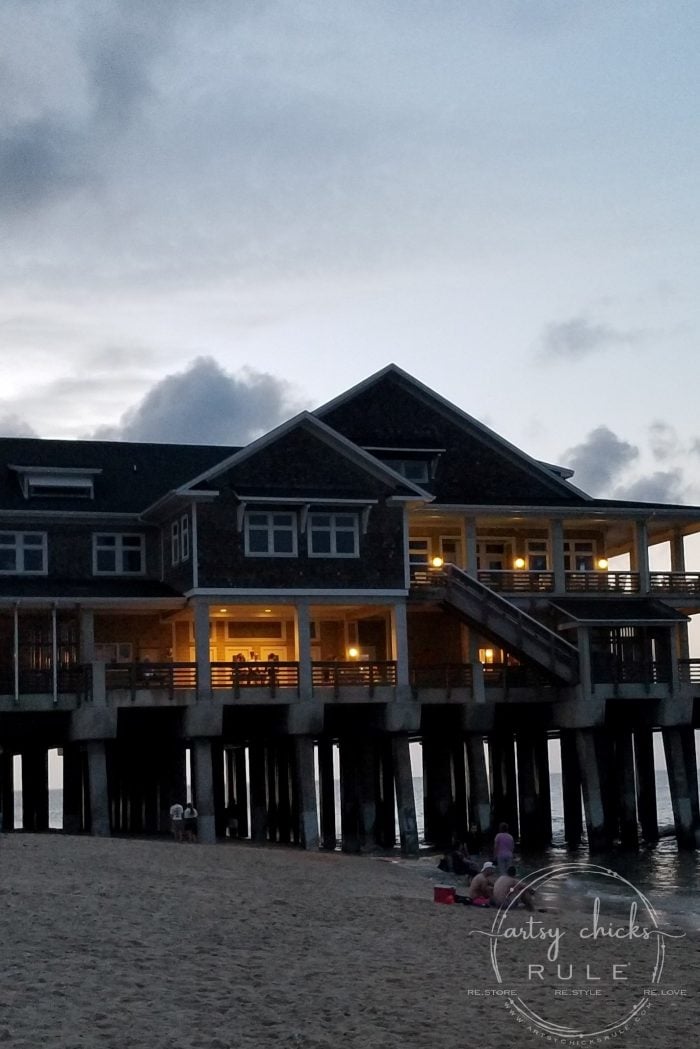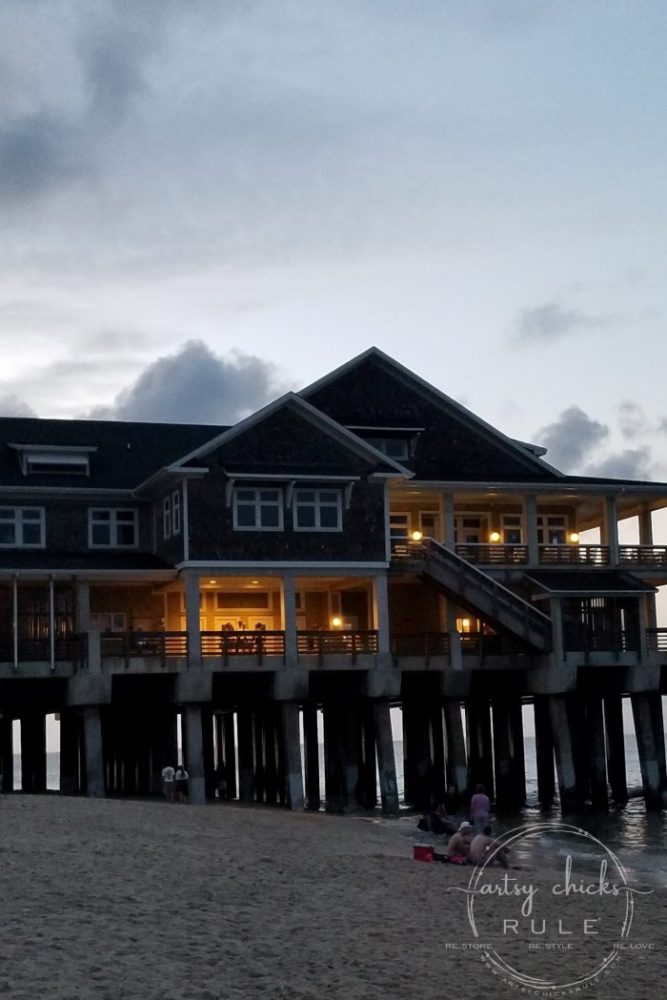 That might look a little familiar to you. ;)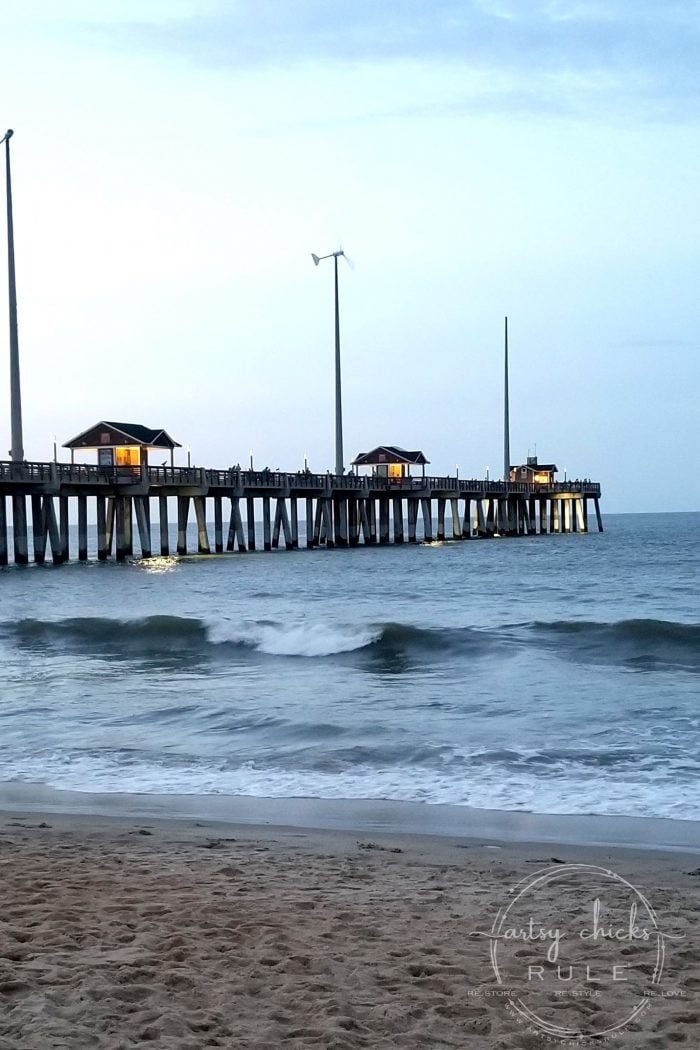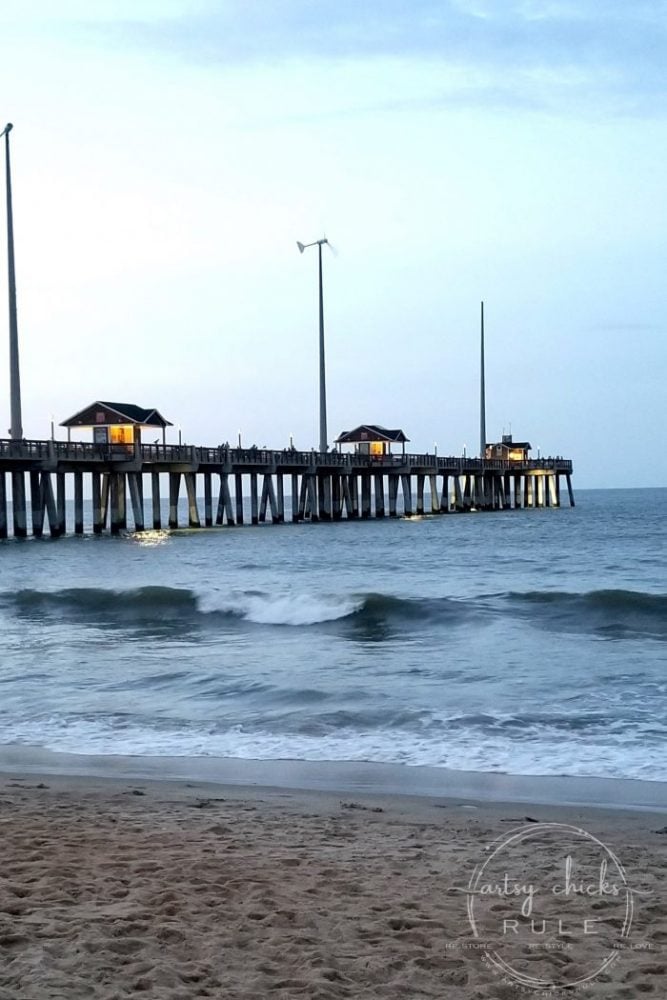 And this….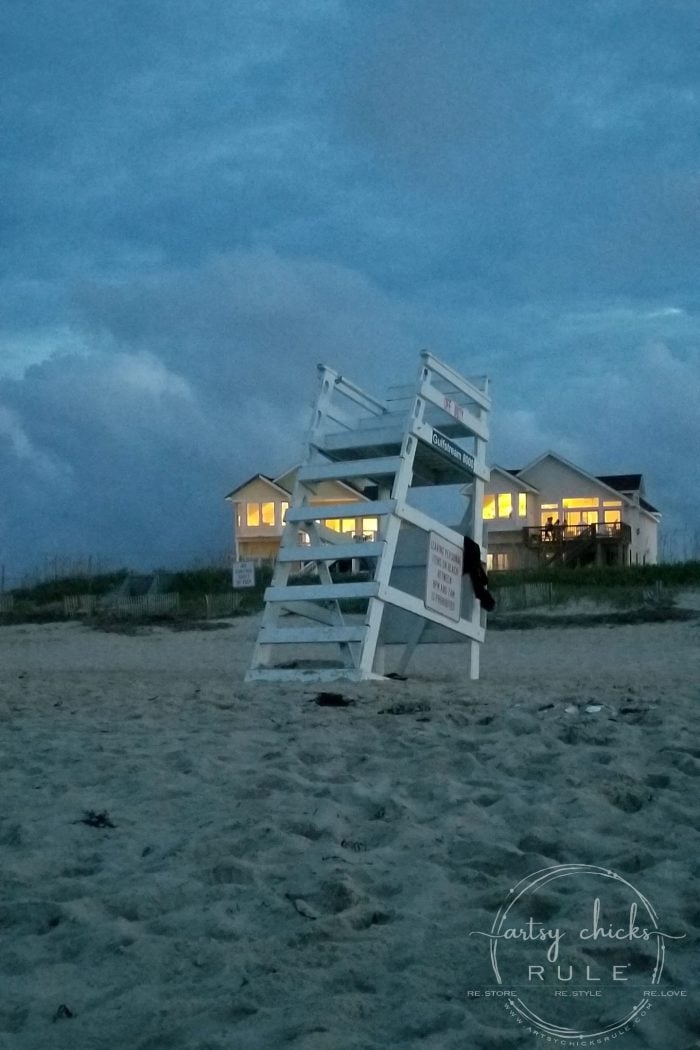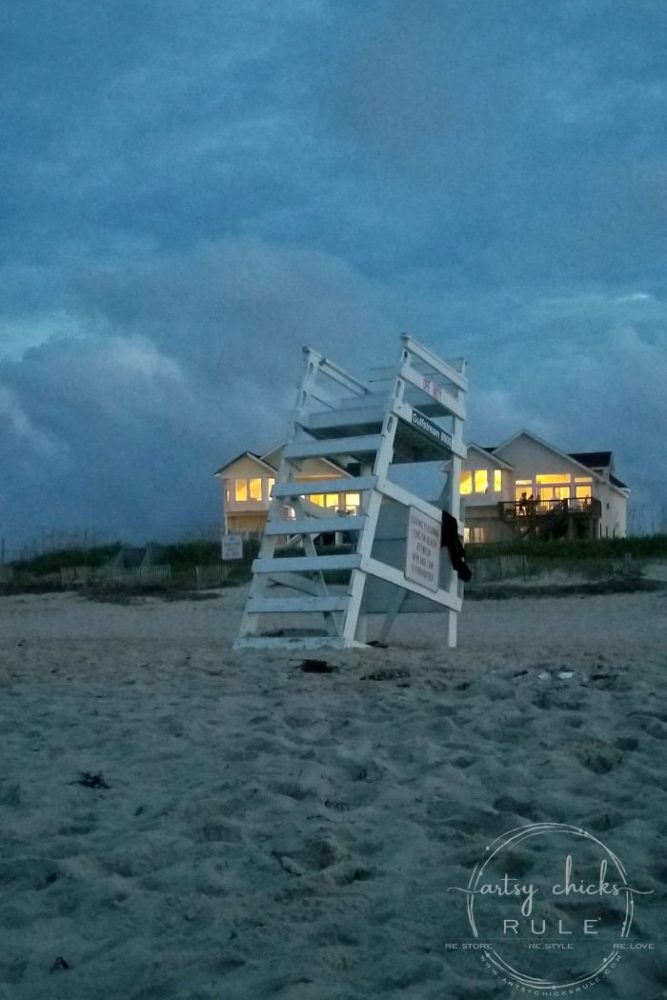 I created 2 prints for our foyer out of both (except this lifeguard stand and view is from the south side of the pier) I took a photo of Jennette's Pier and a life guard stand from the north side in this post here >>> DIY Coastal Prints
(and look at what happened here 2 days after we left due to heavy rains —>>> A 10 ft cliff! )
Wow, that's just crazy!
Take note of the photo in the article with the lifeguard stand. That is likely the same lifeguard stand you see in my post I linked just above, the DIY Coastal Prints as I took a photo of the stand on the north side of the pier which is where this happened.
I love this area of the beach.
I don't go in the water often in the Outer Banks though.
As much as I love it, the water can be rough and the fear of rip tides is always with me! (the rip currents can be really bad in the OBX)
Our daughter and a friend got caught in one when we visited back in 2008. (they were 16 at the time)
It was very scary and could have gone very wrong. Thank goodness we (we as in my husband and some other folks at the beach, thankfully) got them out safely.
But it took awhile and is not something I'd ever want to witness again. Thank goodness they had their boogie boards with them out there.
That helped keep them afloat.
So, dipping my toes in the surf is enough for me. ;)
I just love the serenity of the beach, the sand between my toes and listening to those waves crash. I don't need to be in them. :)
Which brings me back to Pirate's Cove.
We love to stay there because of it's close proximity to the beach (5 minutes) and love that there is a wonderful pool to enjoy.
So no, I don't go in the ocean water much here in the OBX but I do go in the pool! ;)
Plus it's a beautiful community to walk around, bike around or hop in a golf cart to drive around in.
There's a wonderful restaurant there and a little outside tiki hut for drinks and snacks and many piers to walk.
Cute, cute, love it!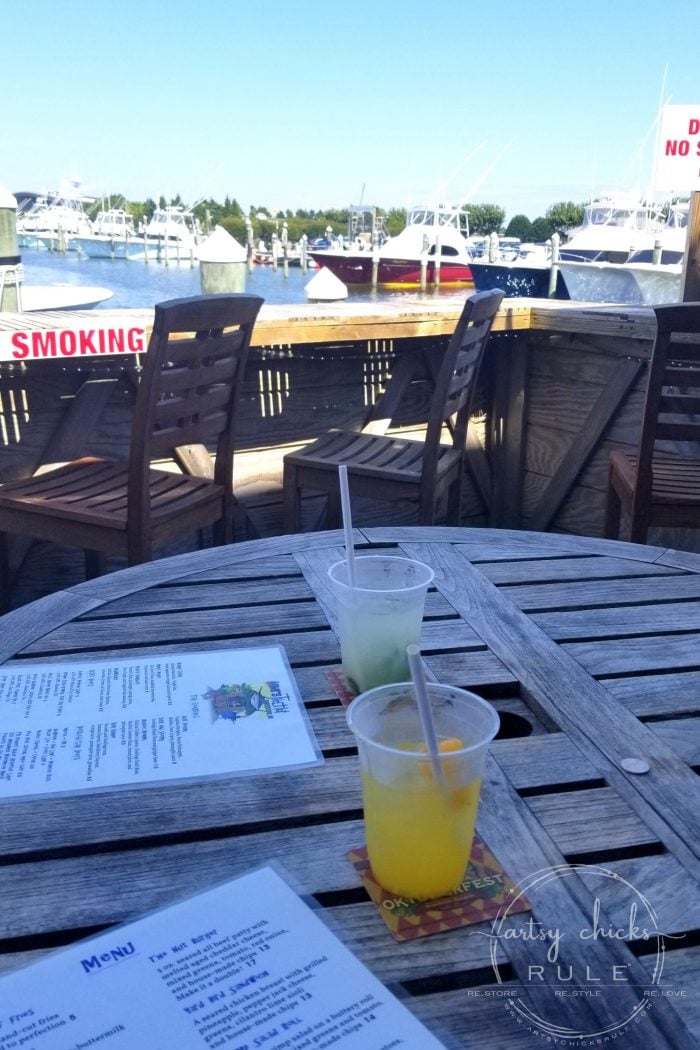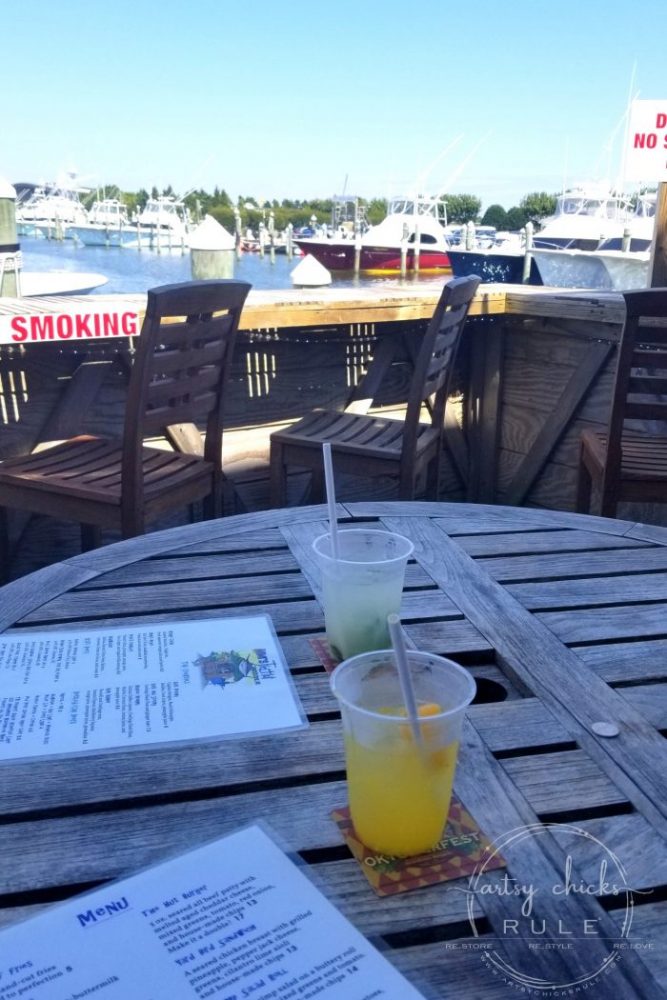 We are considering a house/condo here or possibly a good ole "beach box" in Kill Devil Hills or Nags Head area.
We'll see what happens there. ;)
We've talked about the beaches, that's a given.
But what about other Outer Banks things to do?
The Wright Brother's Memorial.
The wild horses in Corolla.
Just visiting all the cities is a big one.
Historic Old Nags Head Beach Cottage Row (The classic way cottages looked here and how I remember most looking many years ago. Color has painted the landscape in the years since which is also nice but the look of this old classic row will always hold a special place in my heart!)
Visit the town of Manteo (cute, quaint little town and great if you love history) You can learn about The Lost Colony while you are there.
Dune Buggy rentals (really! lol)
Don't own a 4 wheel drive? Rent a Jeep! ;)
Jet ski rentals (my husband and son did this in the sound this trip and had a blast (while I shopped ;) ) )
Several mini golfs, go cart racing and more.
Jockey's Ridge. You've got to take a walk over Jockey's Ridge. Wonderful!
We love going down into Manteo and do every time we visit the Outer Banks.
Love this little gem with my name …. :)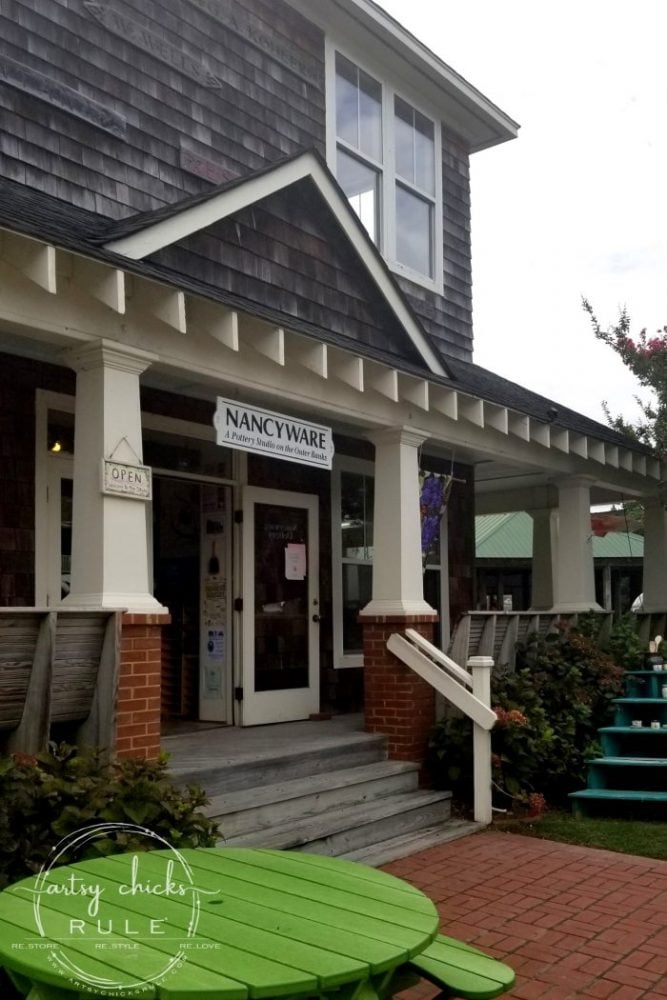 She makes all the pottery in this shop.
Downtown Manteo. (<<<— lots to see and do)
And of course you need to drive down the strip to Hatteras.
You will pass through many of those towns I listed above along the way.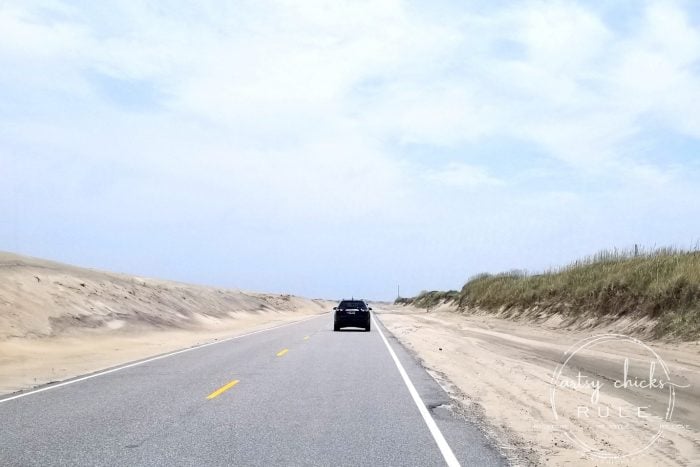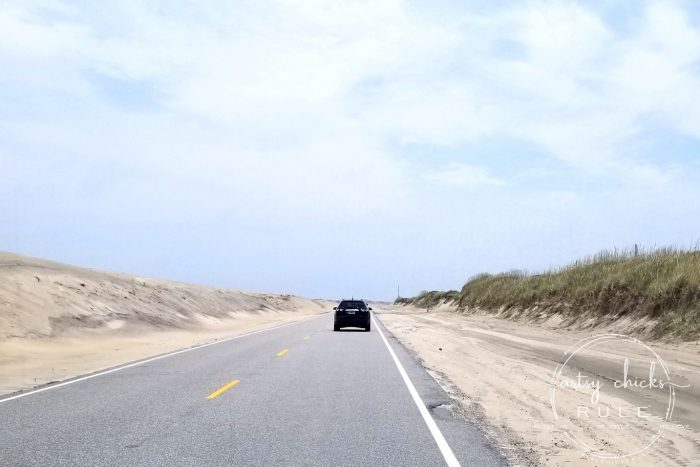 It's a beautiful drive and you can actually drive your vehicle (if you have a 4×4) out on the beaches in many areas here. (or rent one like I mentioned above!)
Here's some of the things you come across. (among many!)
HWY 12 Amusements in Rodanthe.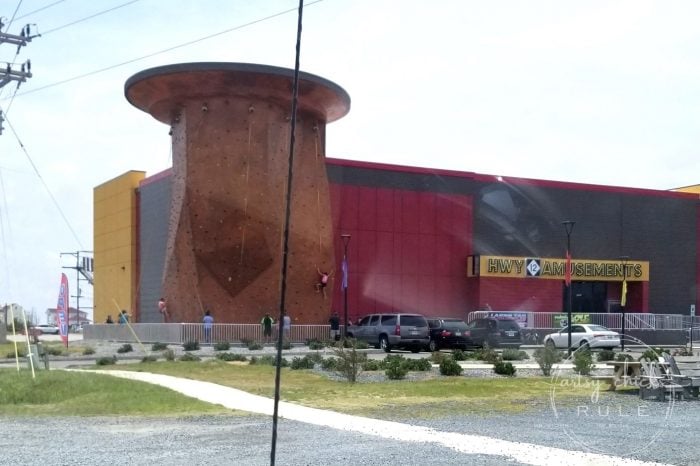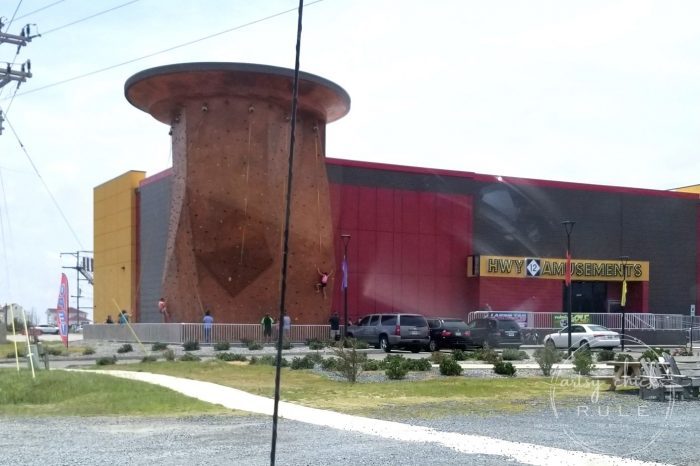 And yep, that's a rock climbing wall. Apparently there's lots of fun inside the building too but we didn't go in. :)
You of course need to visit the Cape Hatteras Lighthouse.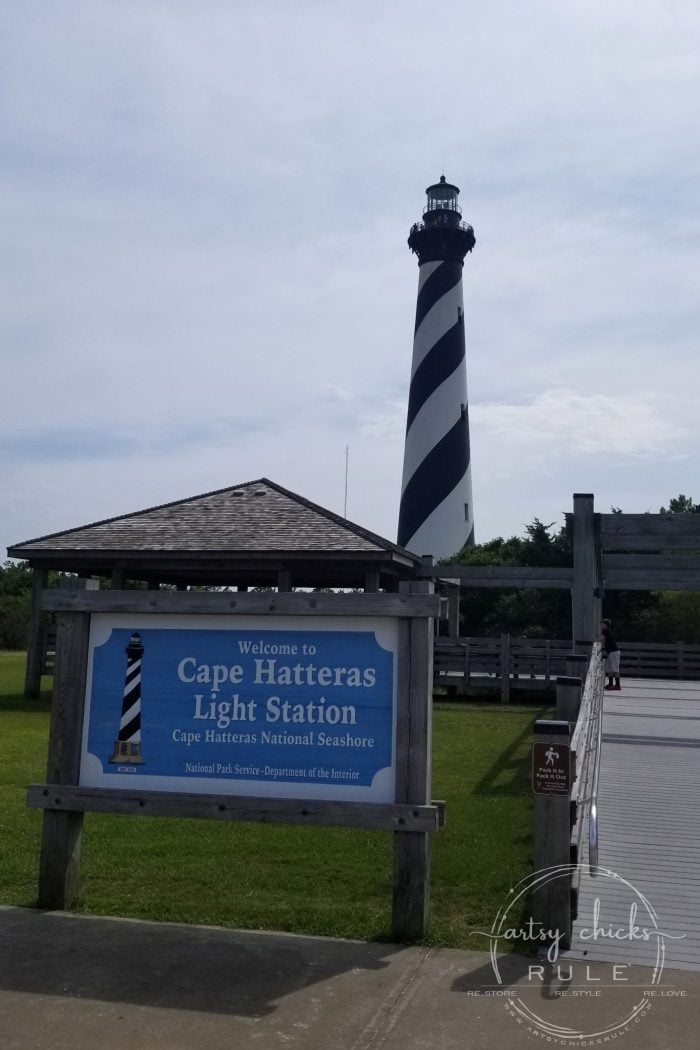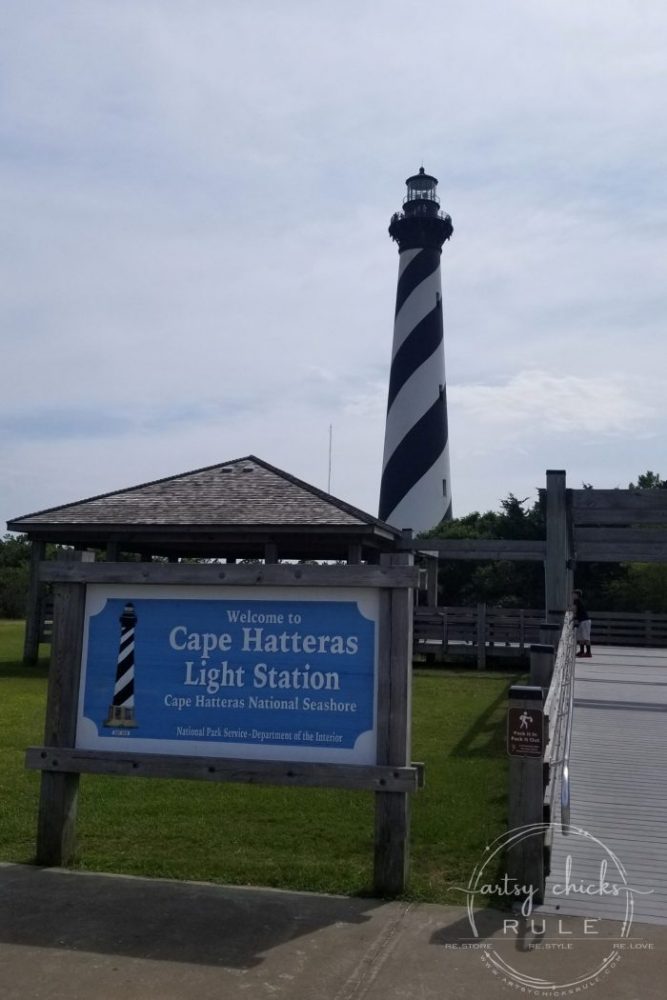 We didn't walk up it but you can. The view is amazing.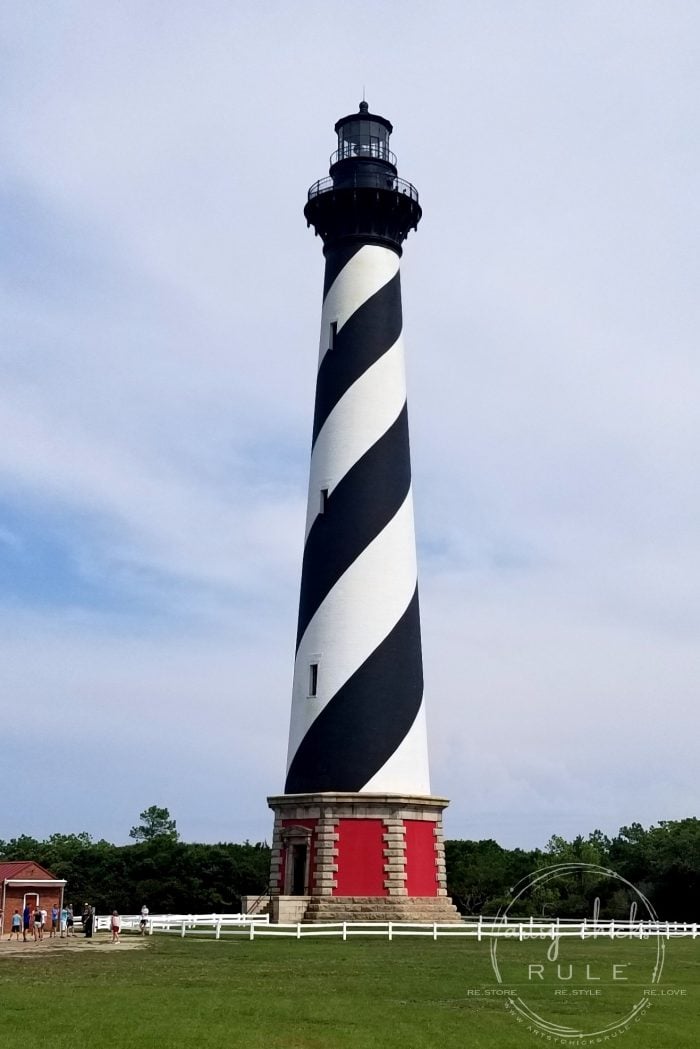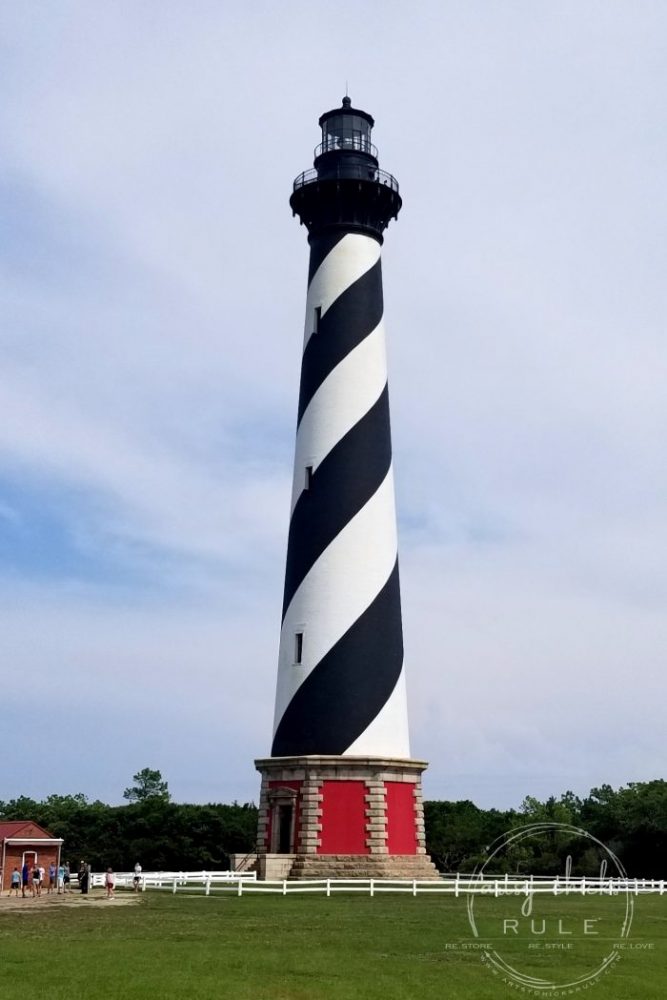 This old house was fun to walk through….. it's part of the old light keeper's quarters…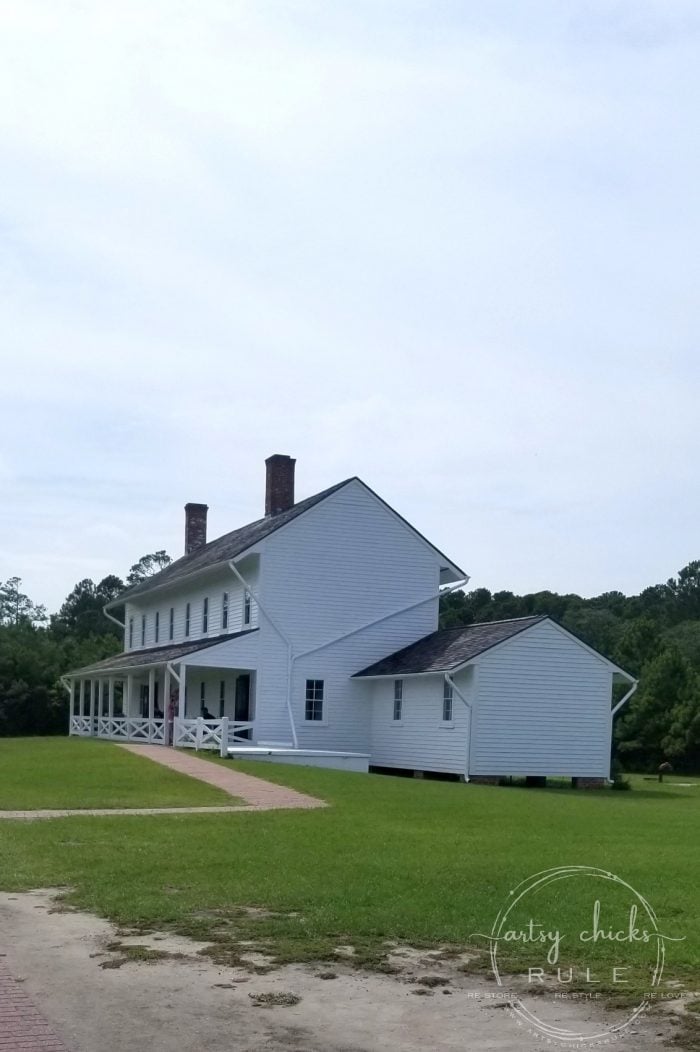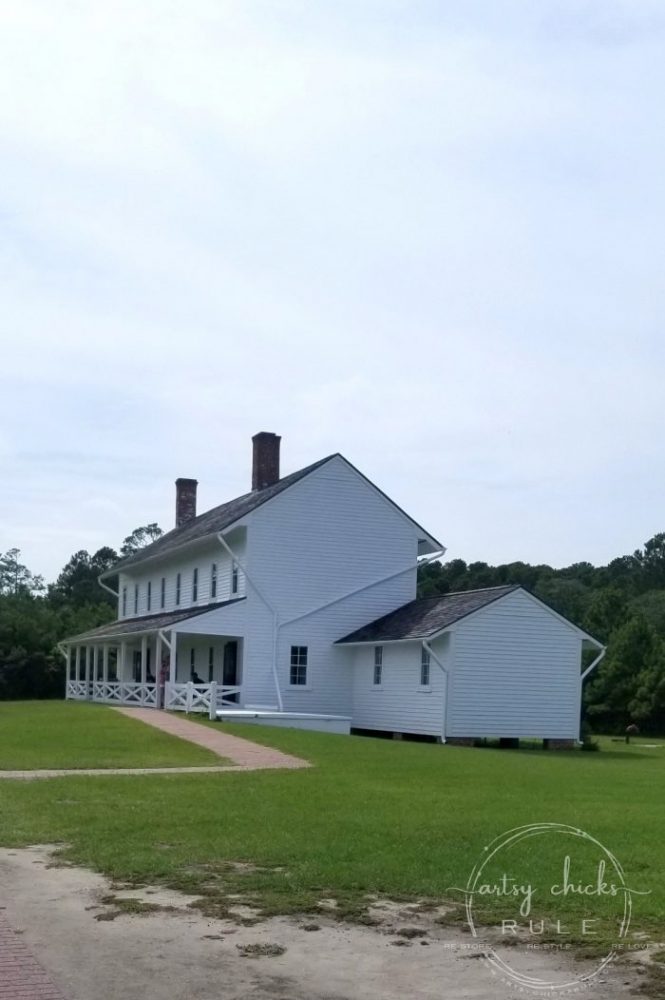 The floors upstairs and railings are original so of course I had to take a shot of those beauties.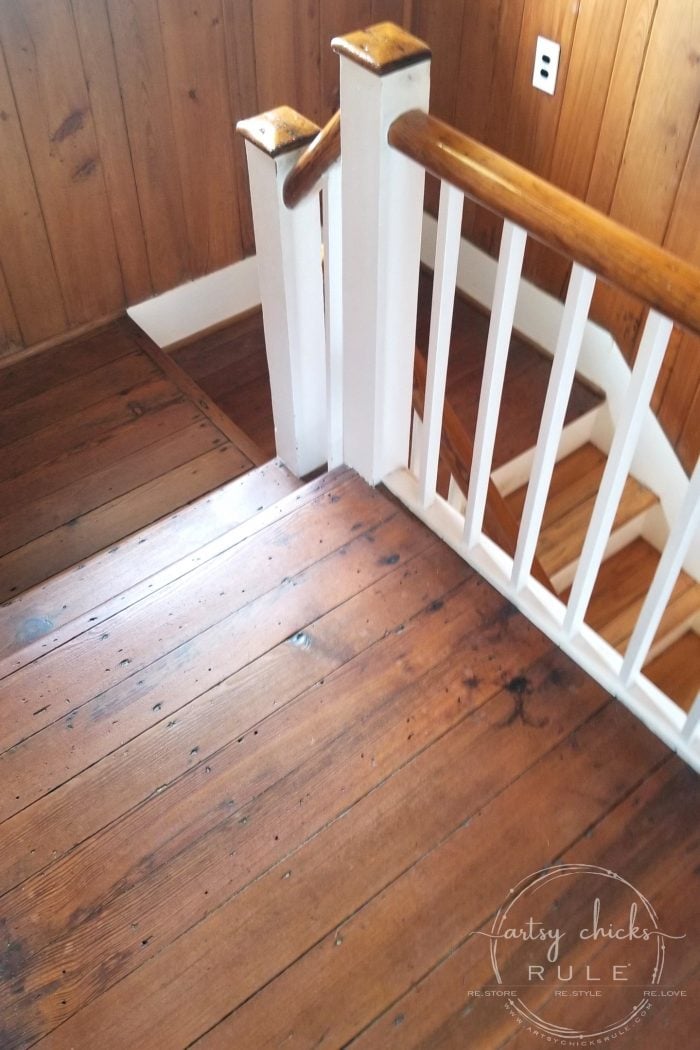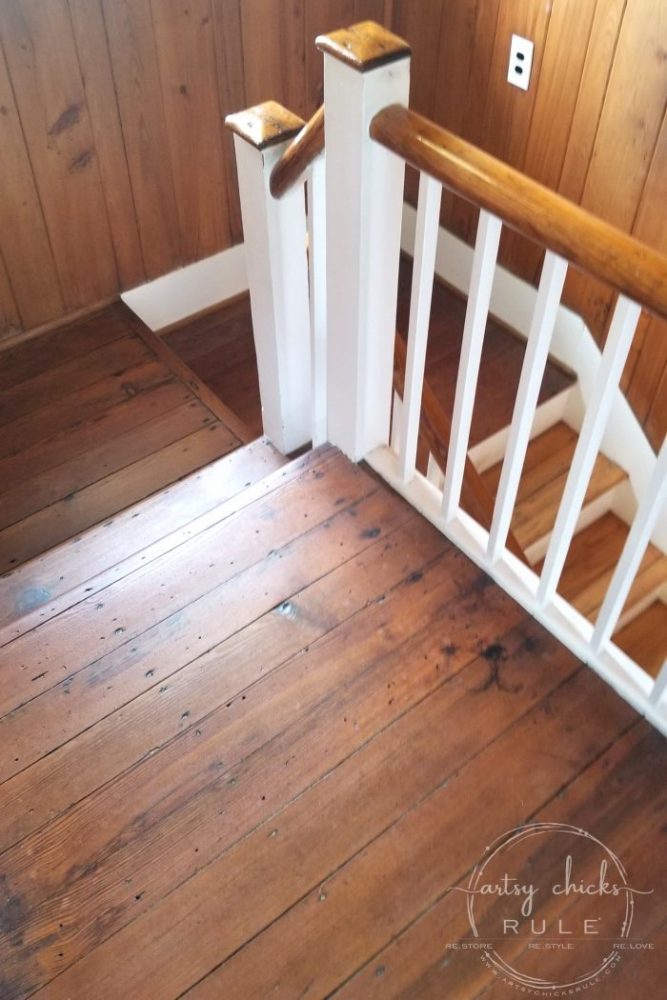 And this vintage doorknob….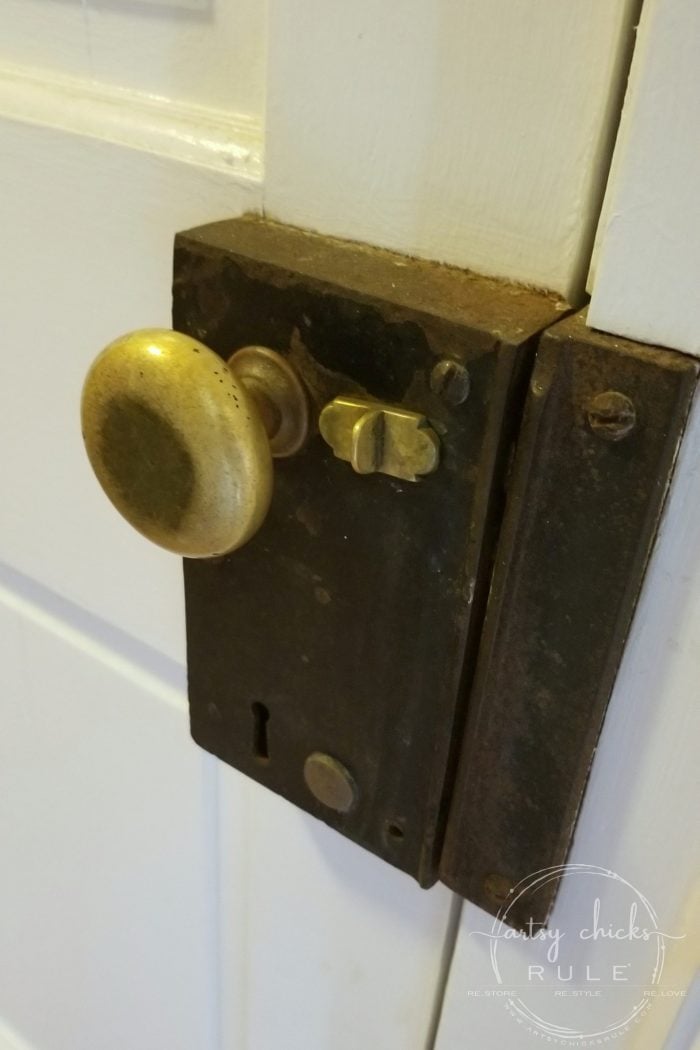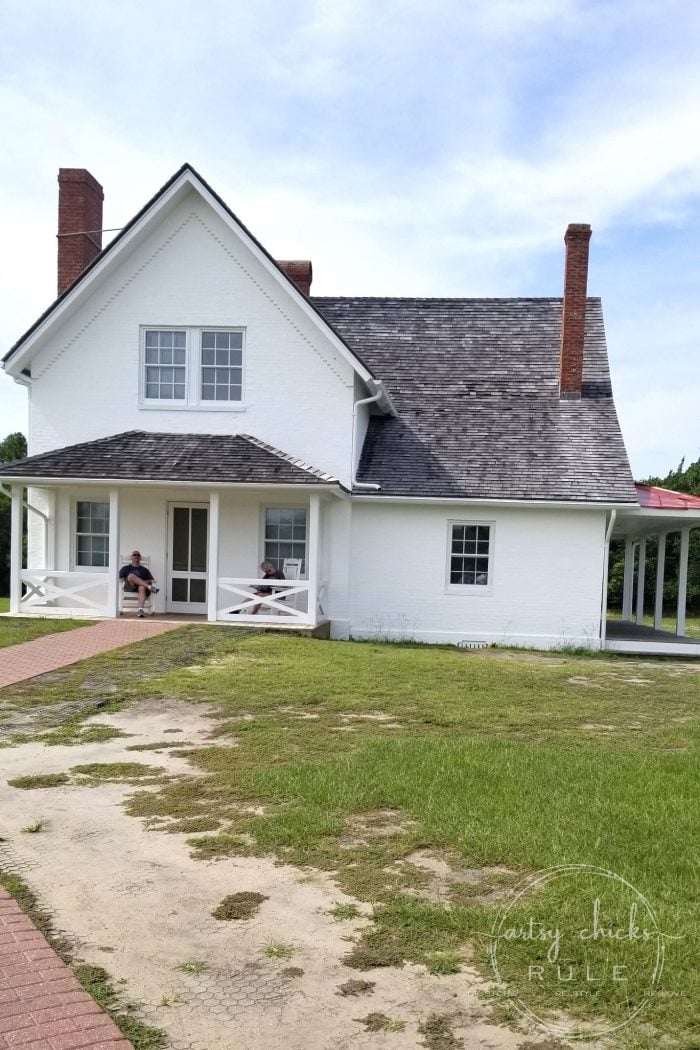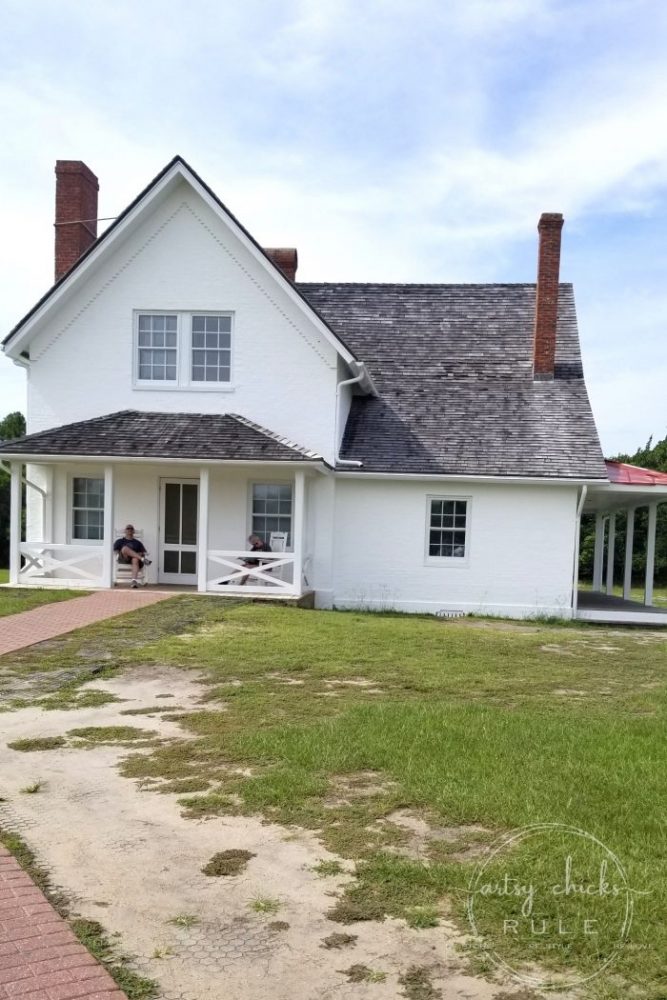 I just love the old stuff and the history of it all.
Which brings me to the Graveyard of the Atlantic Museum in Hatteras….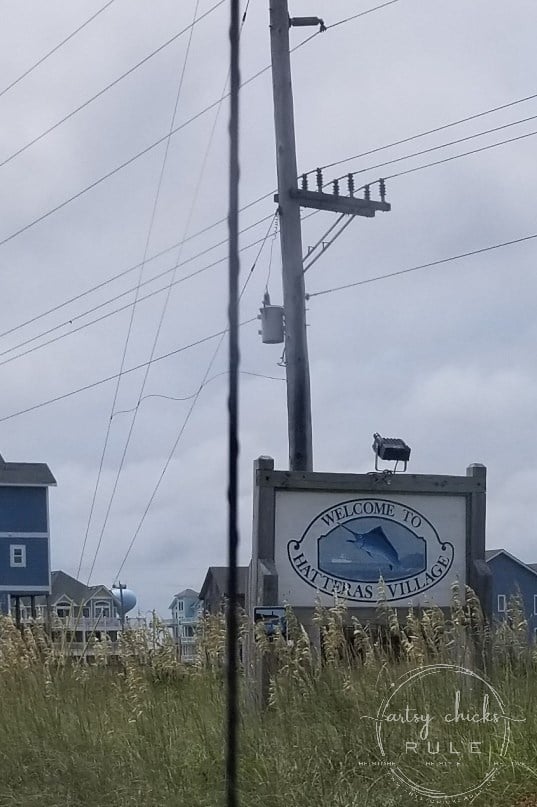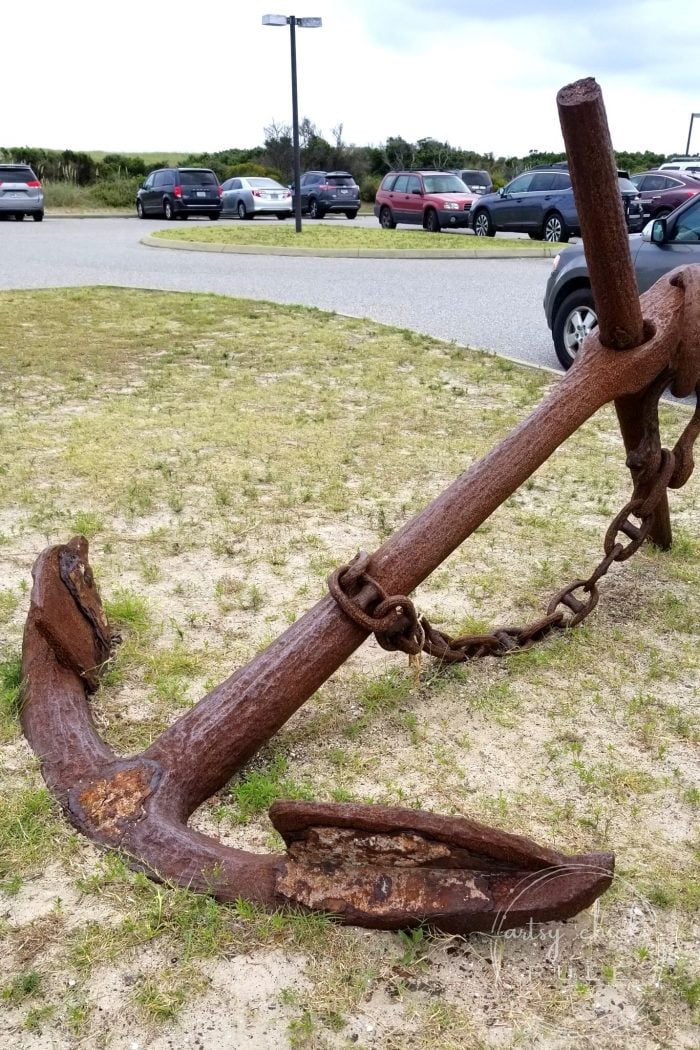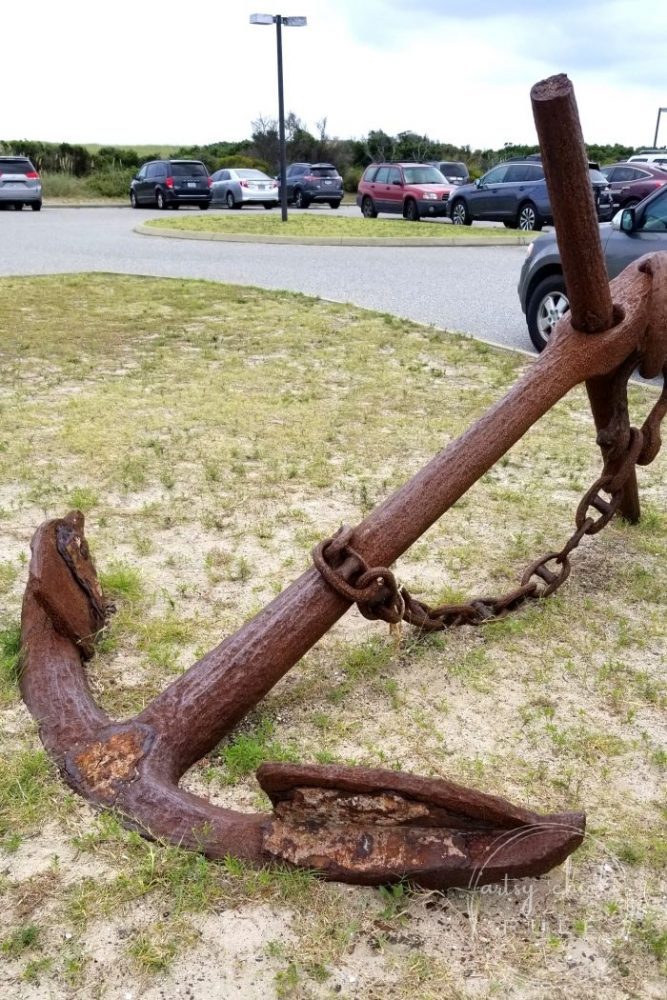 What a great place and it's free admission too. :)
We spent a long time in here.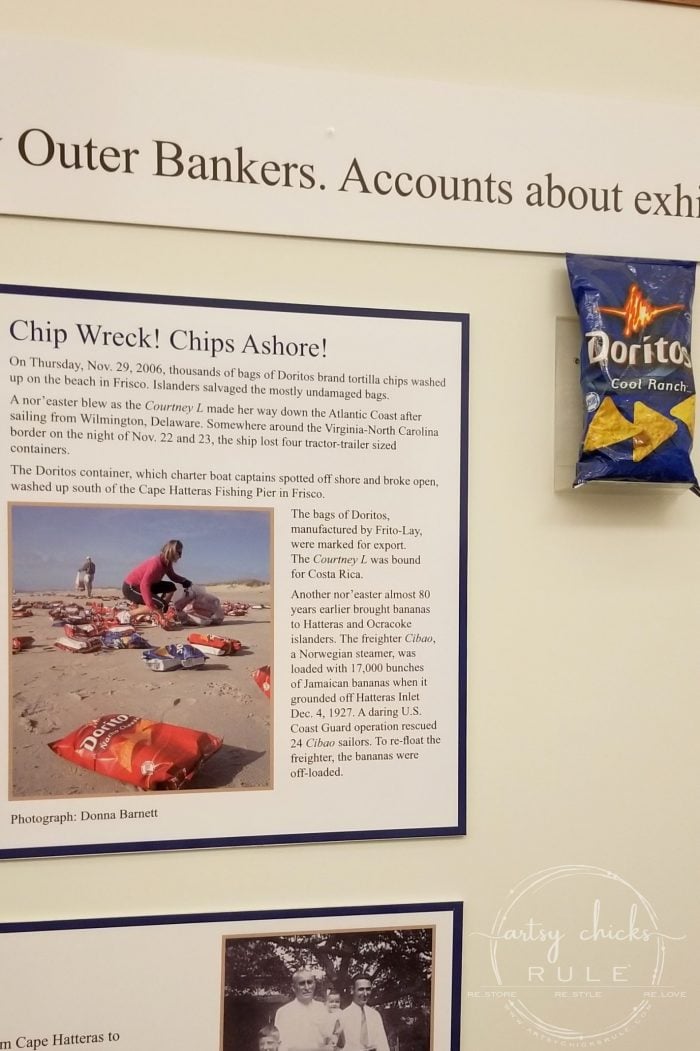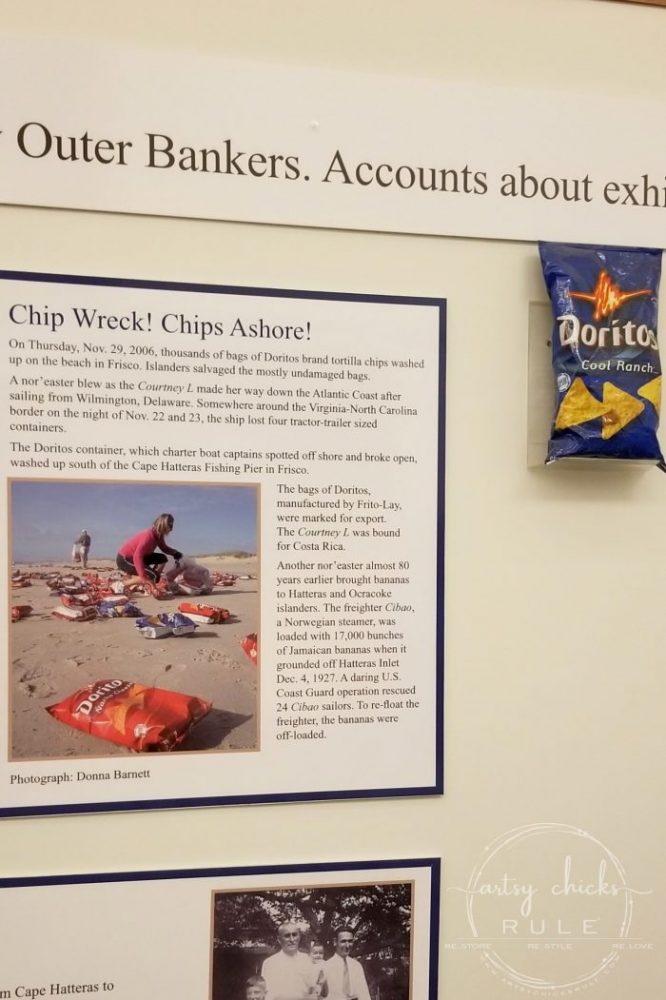 I thought this exhibit was funny.
And this was pretty neat too…..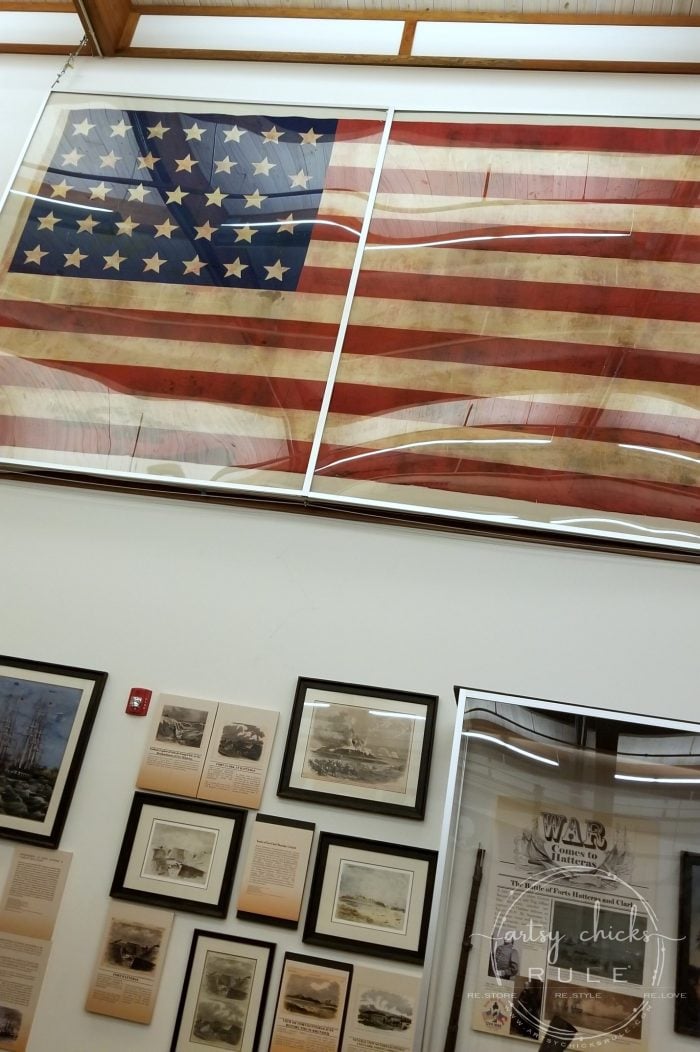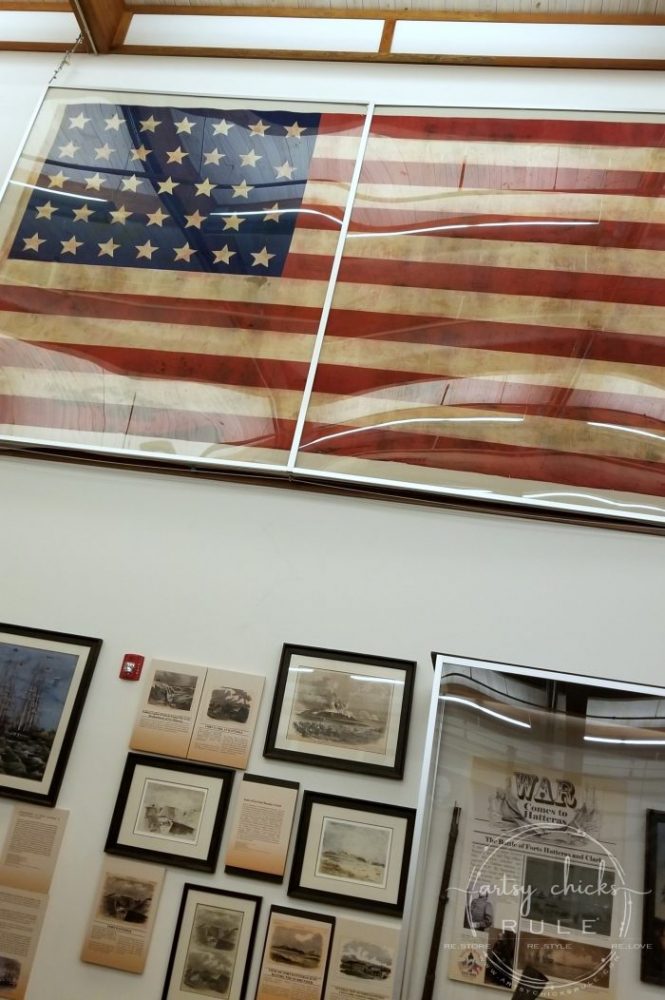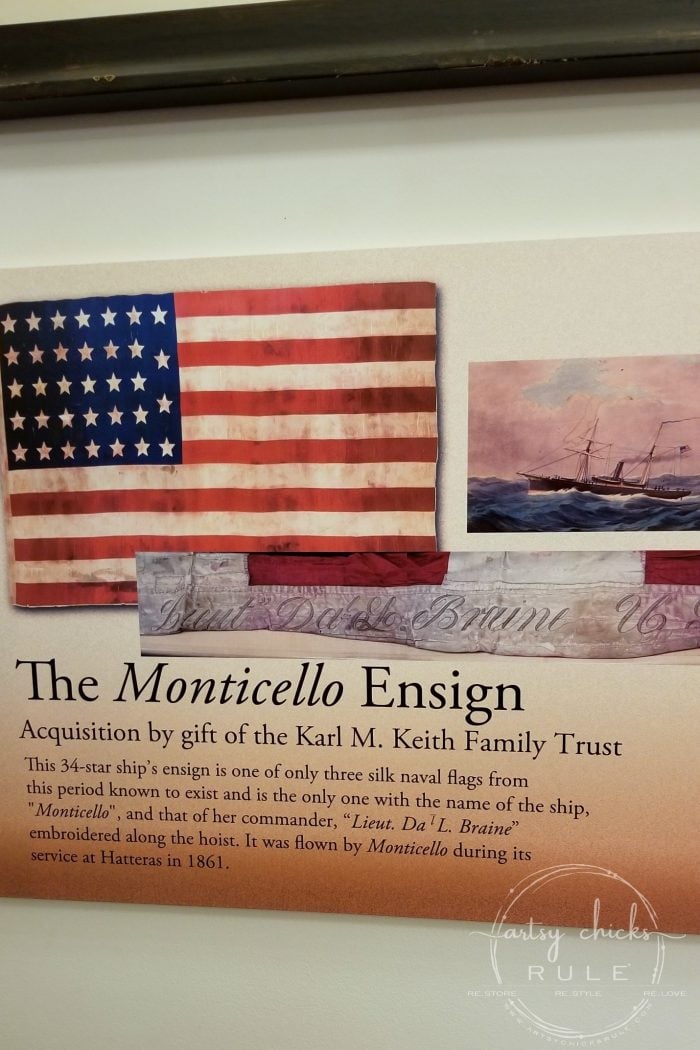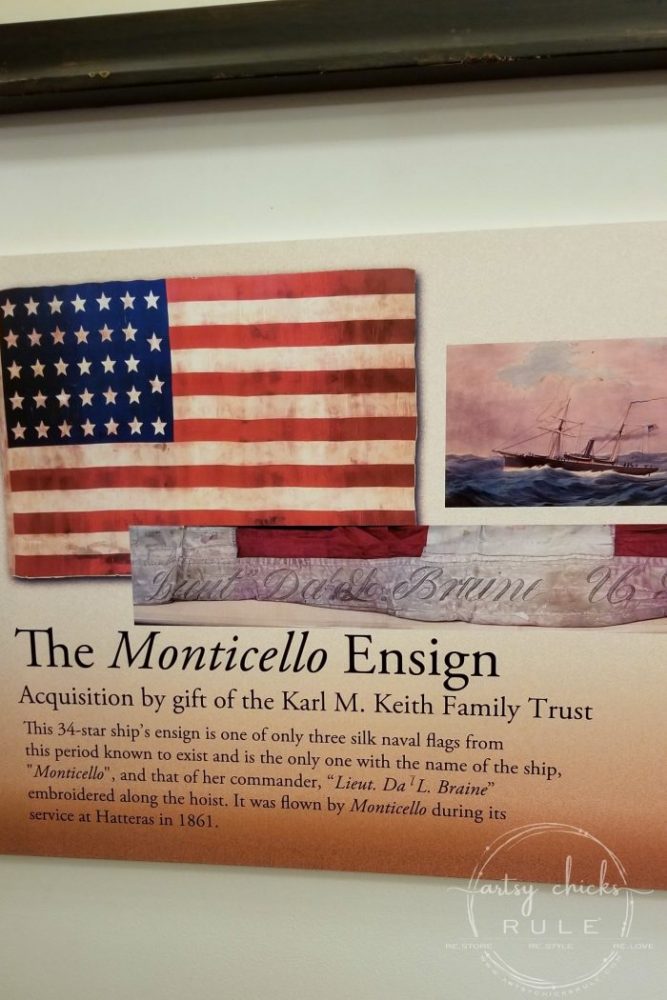 There was SO much more but I didn't spend time taking photos….I was reading and gazing at all the old goodies instead.
I only snapped the shots I did here to share on my Instagram stories (or just for us, family photos).
So if you follow along there you might have seen a few of these photos already. :)
Right near the museum is the ferry over to Okracoke.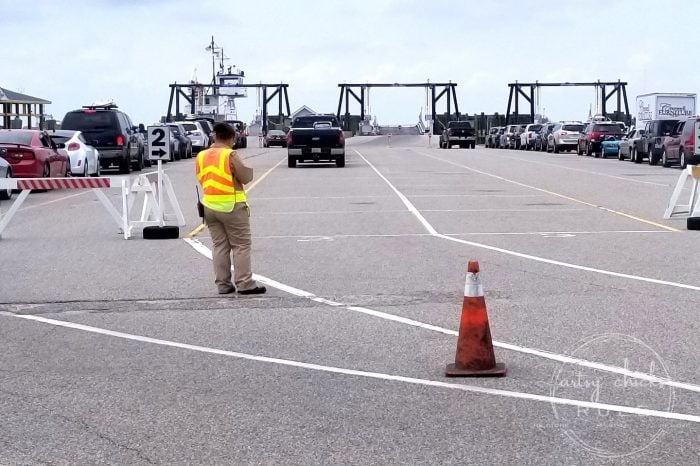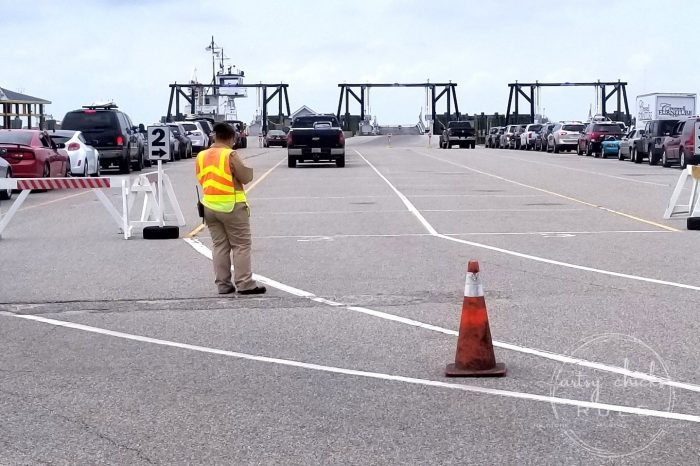 We didn't head over there on this trip.
And here's a sunset shot over the sound. Beautiful!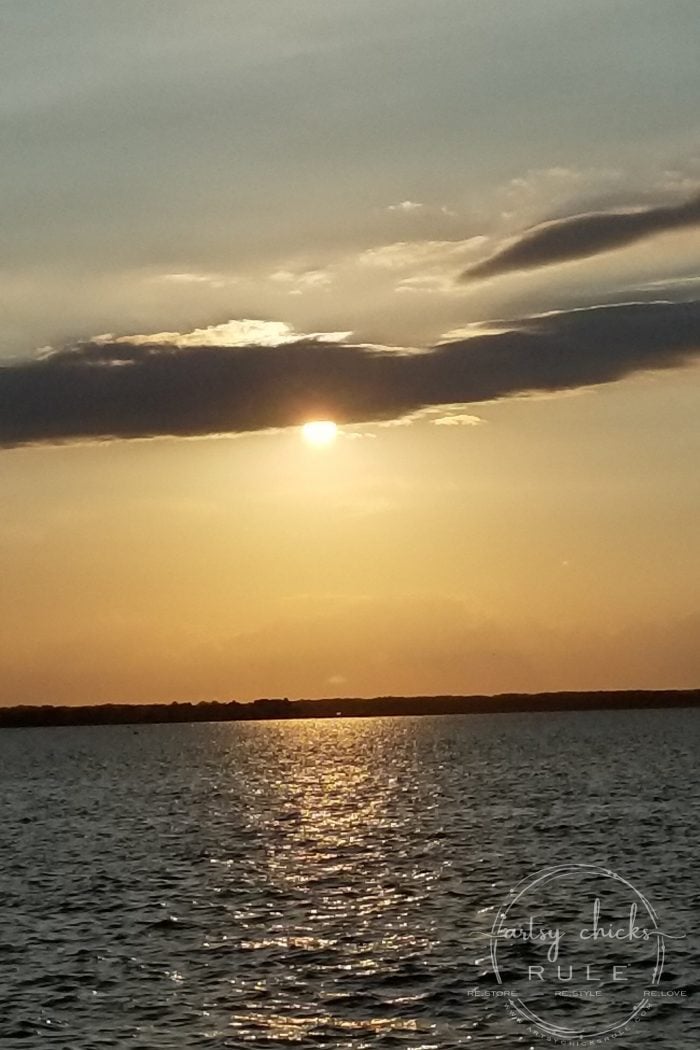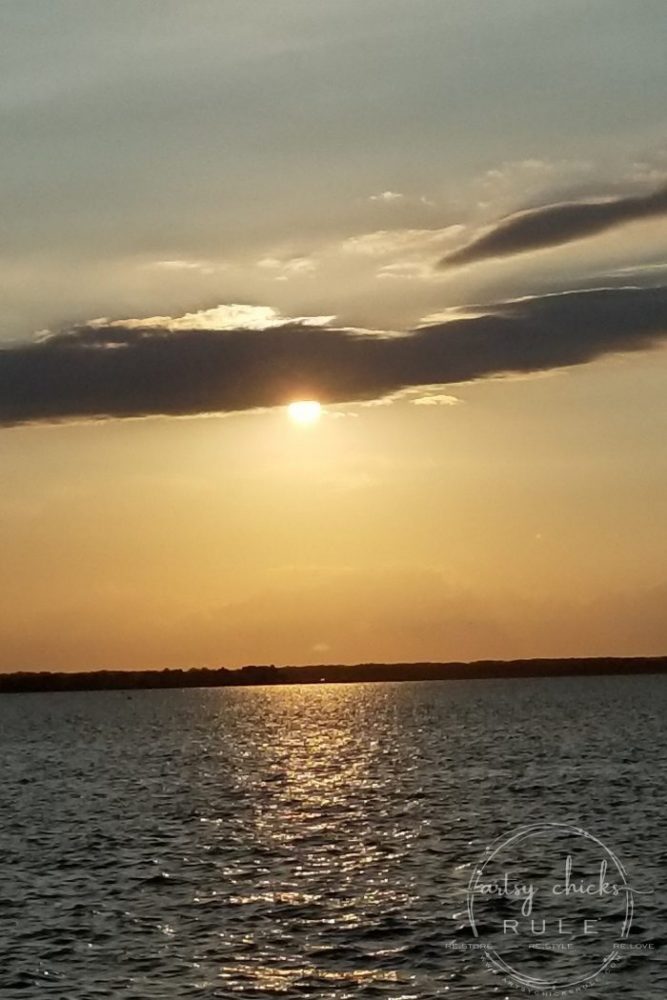 With the Outer Banks, you have the sound side and the beach side.
So take your pick! Both are beautiful in their own right.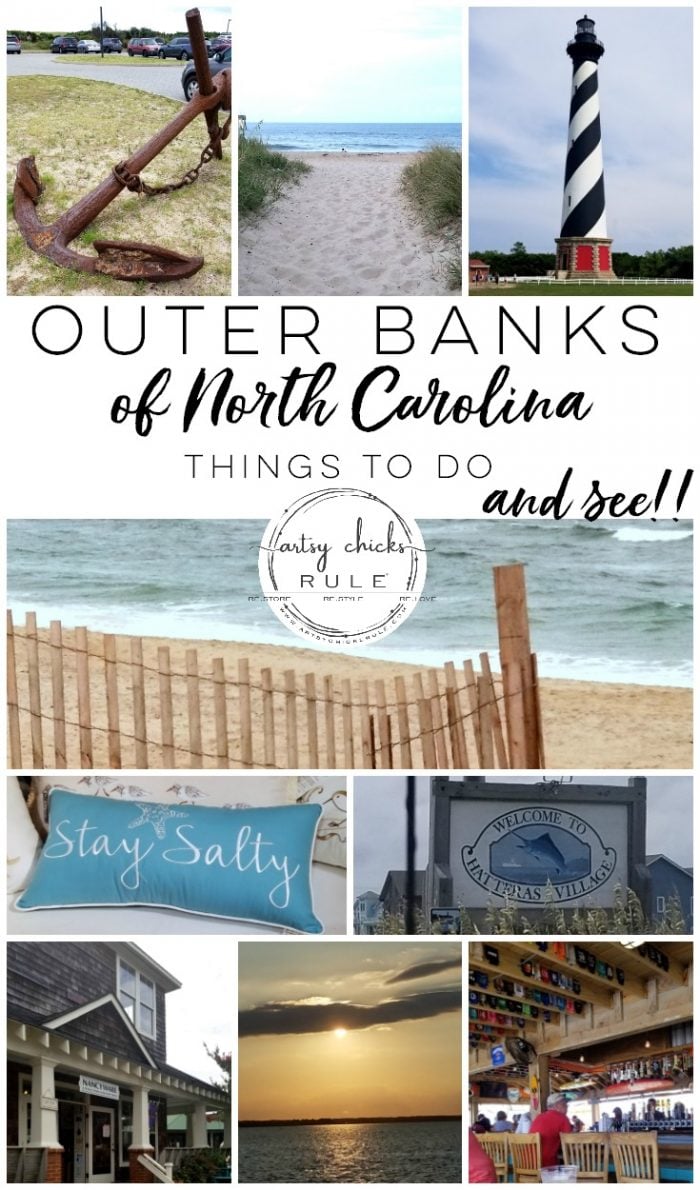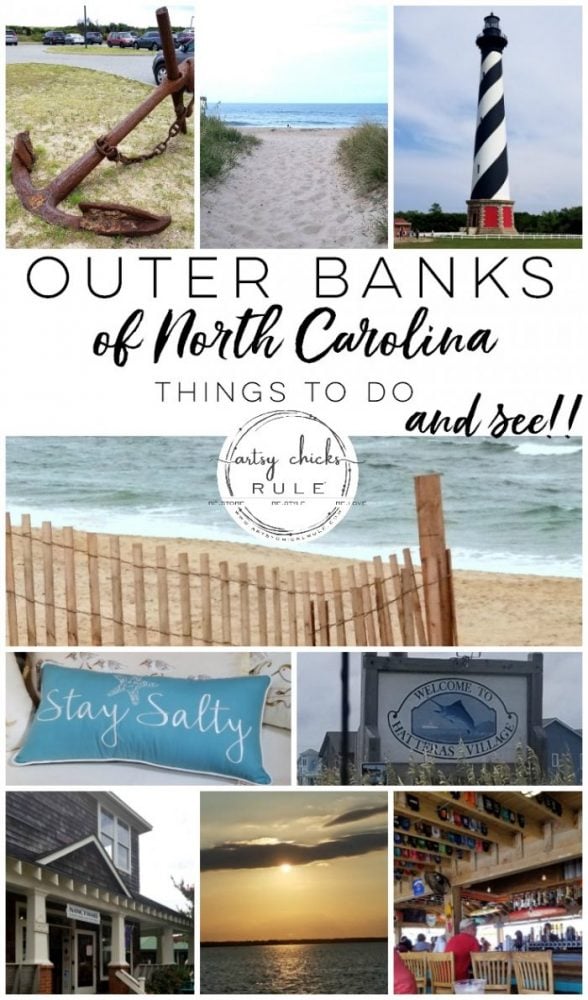 I hope you enjoyed this post of Outer Banks things to do and see. :)
I'll be back next week with Outer Banks good eats and shopping (and what I brought home with me! ;) )!
UPDATE! See my "Outer Banks Places to Eat and Shop" now, here!
Oh and here's a sneak peek of our new kitchen design. I totally forgot to share these in my Home Updates post last week!
This is of course, without the island since we are not replacing that.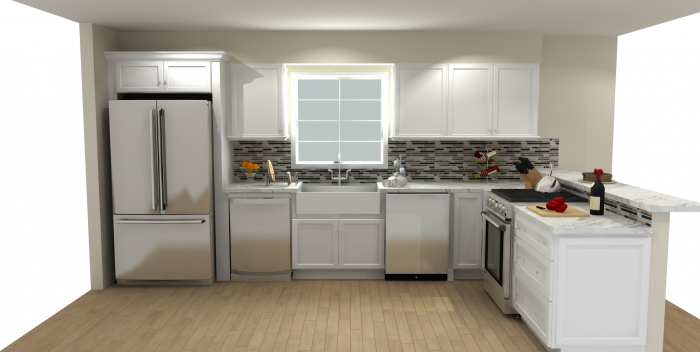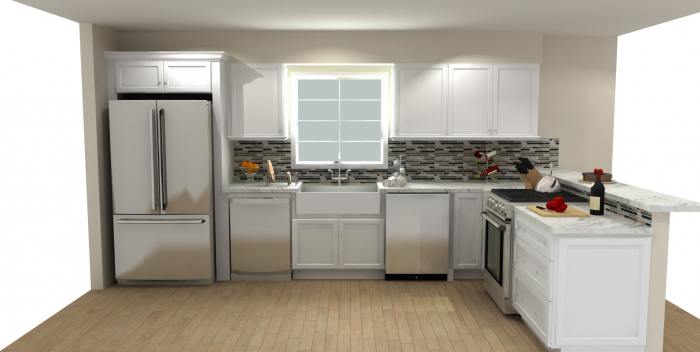 To the right of the sink looks like another dishwasher but there's actually a glass, double doored wine cooler going in there.
You also might notice I will no longer have the open shelved cabinet to the left of the window like I have now.
I went back and forth on that.
I considered doing completely open shelves there but the cabinet space is sparing in here so decided to go with a closed cabinet instead.
I'm being practical, I hope I don't regret that!! ;) I really love the look of at least one open shelved area as a space to display pretty things.
Oh well, practicality wins this round.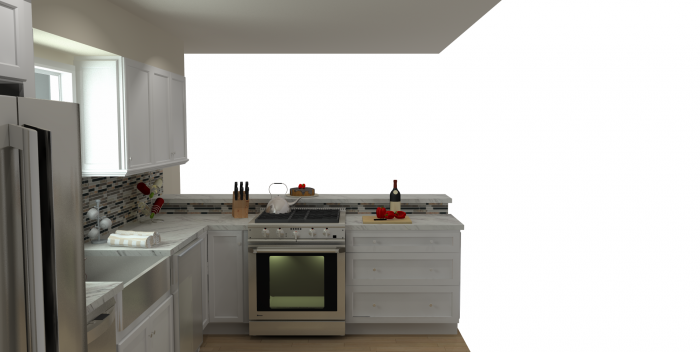 And the other view.
I decided to do all drawers to the right of the range instead of cabinets with doors.
The lazy susan in the corner to the left of the range will be a nice change too.
And getting rid of the black appliances and black counter top on the island is really going to brighten this space!
I'm excited!! (and tired! ;) ) Cabinets are coming today!
See you next week! Have a great weekend!
xoxo