Anna Maria Island (Florida Vacation)
This post may contain affiliate links. Please see disclosures here.
Hey Y'all!
I hope you had a fabulous weekend! The weather has just been mild and gorgeous around here.
So loving it.
And truly not ready for Fall to come just yet….but I know many of you are!
So….I thought I'd share a bit of our vacation in June to Anna Maria Island in Florida.
It's an amazing place that we've enjoyed visiting many times!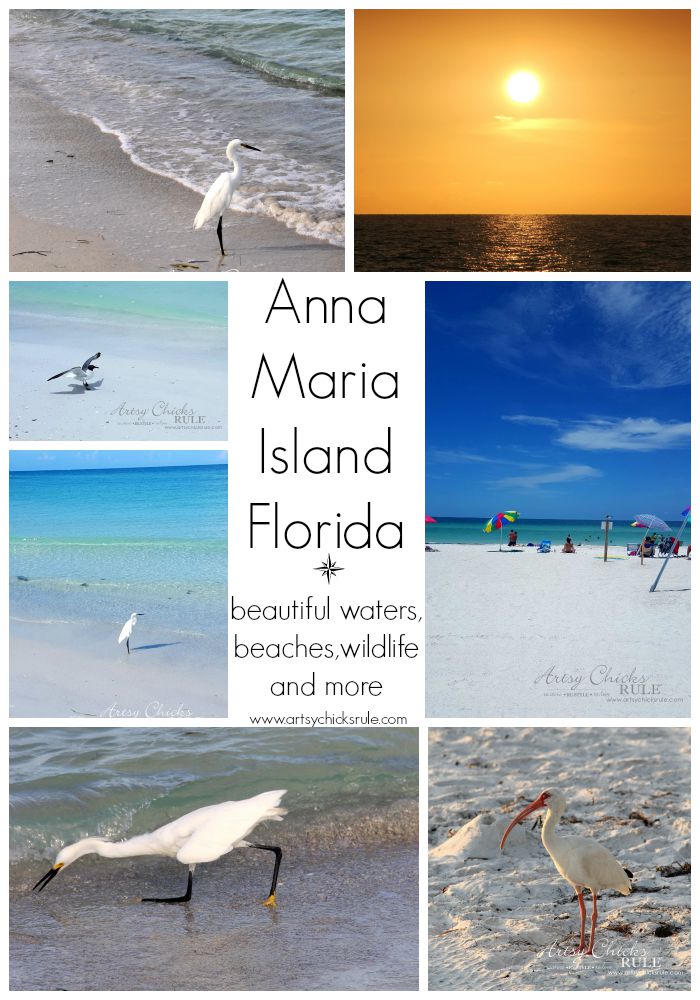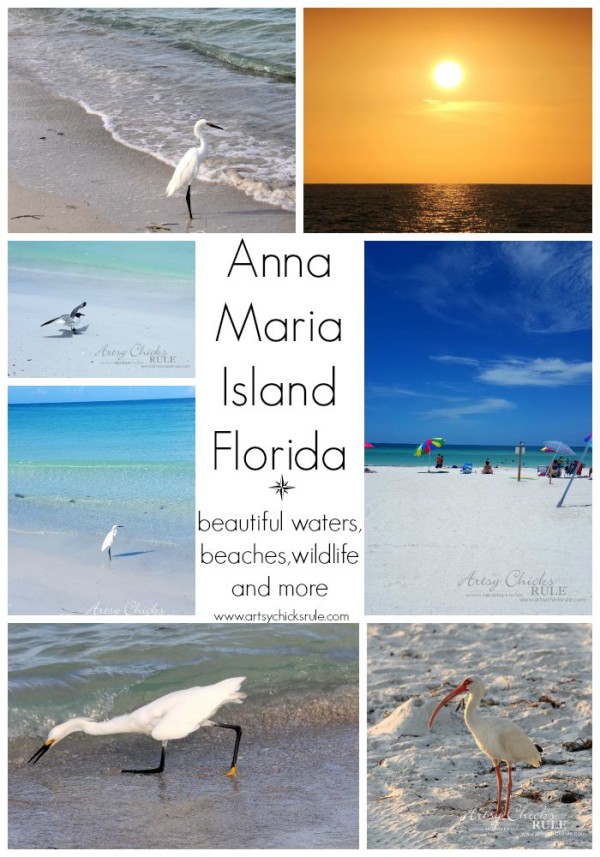 I'm going to have to share in 2 parts because I took a million photos (well, ok, about 500! ;) ) and I had to narrow it way down for you all.
But still a bit much for one posting.
The "part 2" will have photos from Savannah GA, Beaufort SC, Charleston and Mount Pleasant SC and Gainesville FL.
We hit most cities on the way up and down the coast. :)
I should mention that most of these shots were taken with the camera on my cell phone (Samsung Galaxy S6 edge).
Most of my vacation photos end up on my cell phone. It's just so much easier!
A very few were taken with my nice camera (Canon 60D) The sunset beach photos were taken with it.
Hello beautiful……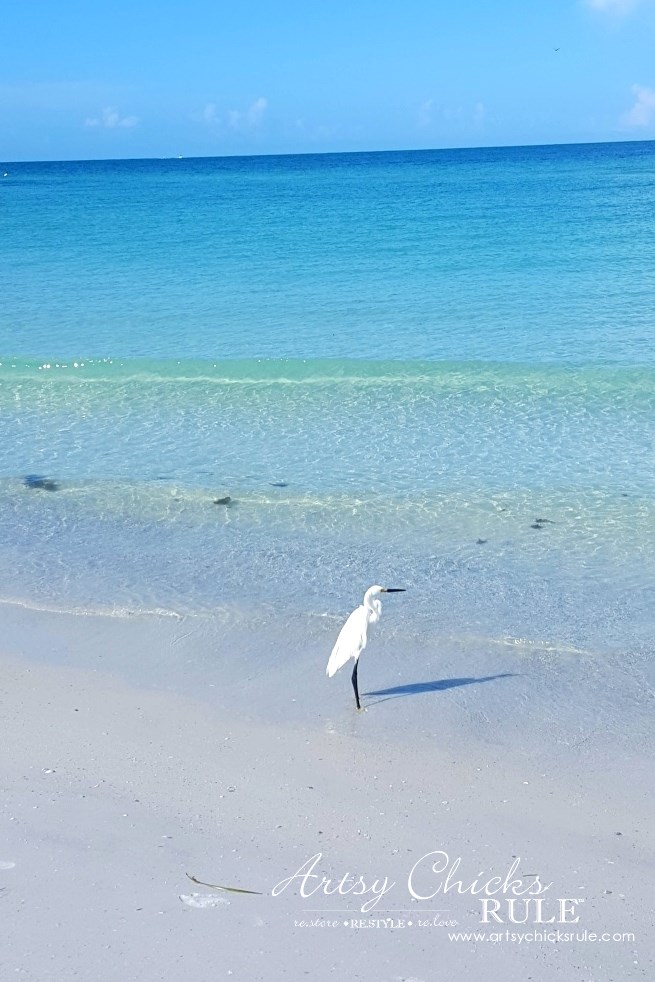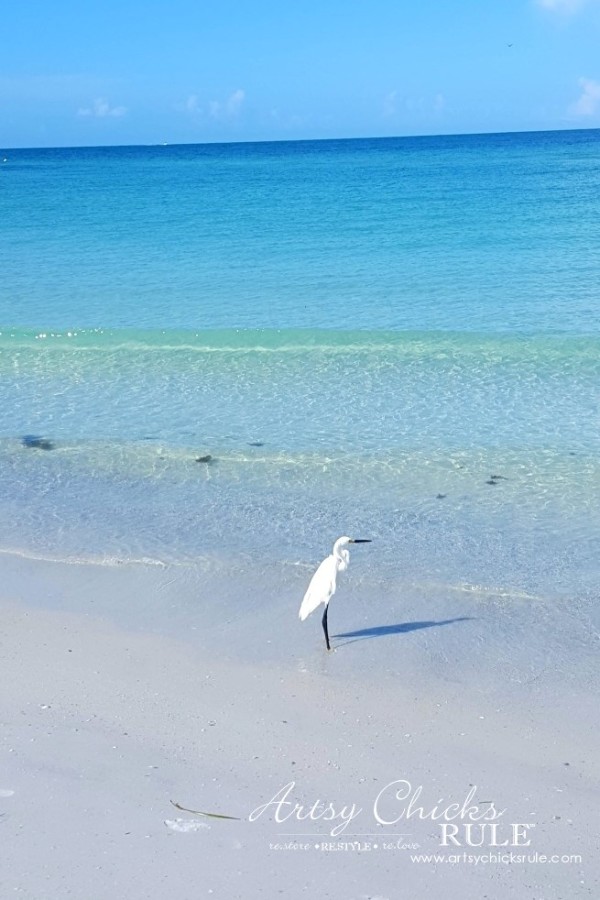 How amazing is that water??
Pretty amazing.
And just take a look at it here in the "deep end". ;)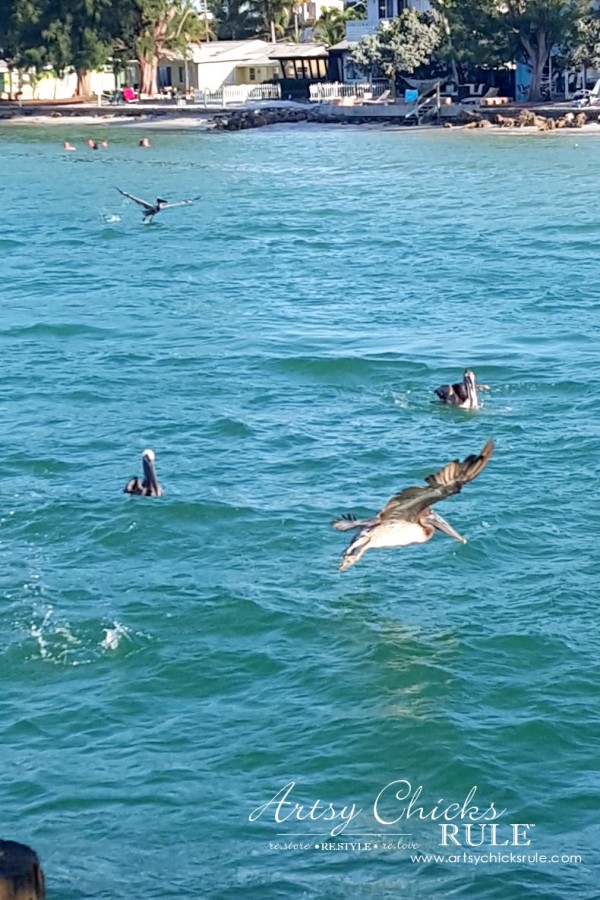 Gorgeous.
Look at those guys darting for fish! So fun to watch.
You can see a video I made of them over on my Instagram.
If you have Instagram, you can follow along as I usually post things in "real time" over there.
LOVE Instagram for that!
For those of you that do have (and love) Instagram like I do…you may have seen quite a few of these photos already as they happened.
The photo above was at the tip of Anna Maria Island at the Rod and Reel Pier (and restaurant).
We went there the first night for dinner.
The wood planks of the dock had donor/sponsor names I am guessing….
Look…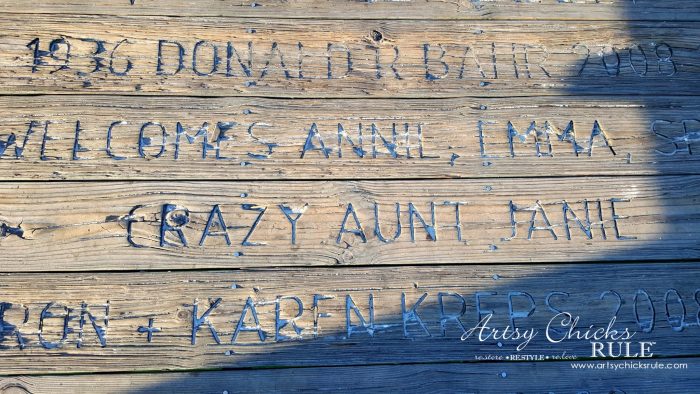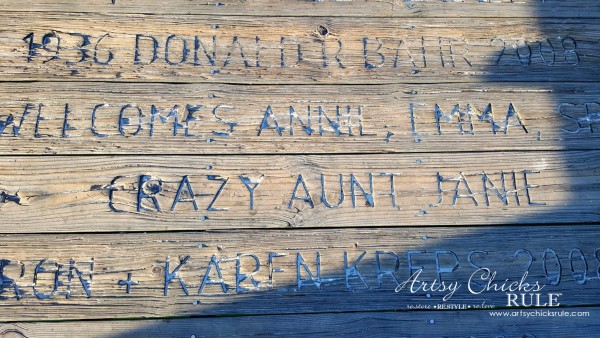 Had to share… "Crazy Aunt Janie". Haha…I love it.
Our sweet little rental was directly across the street from the beach.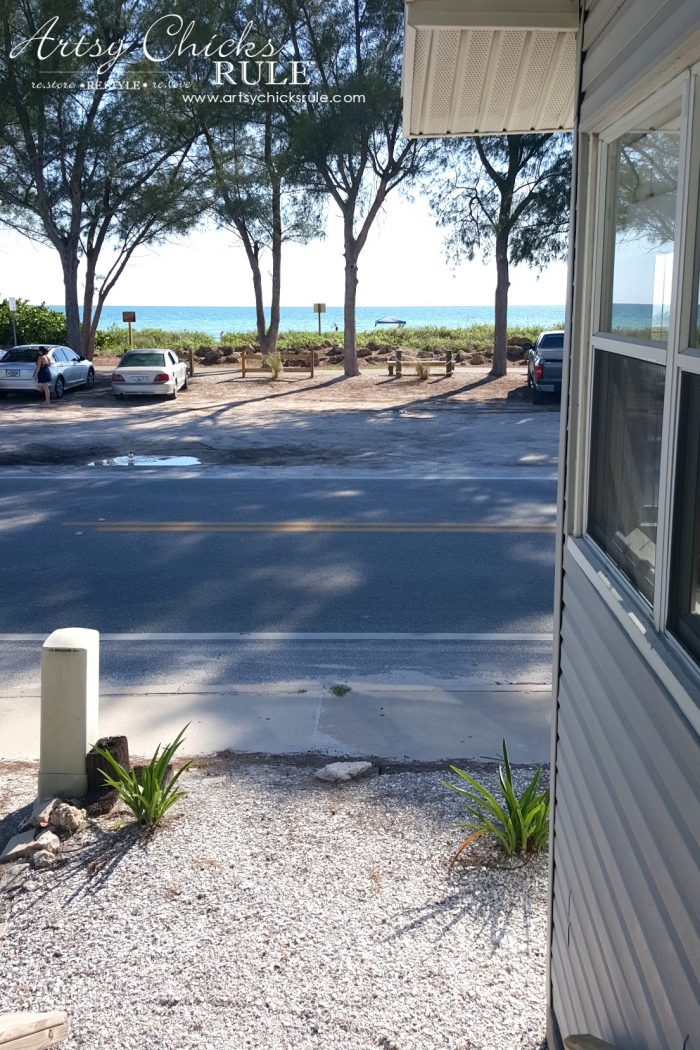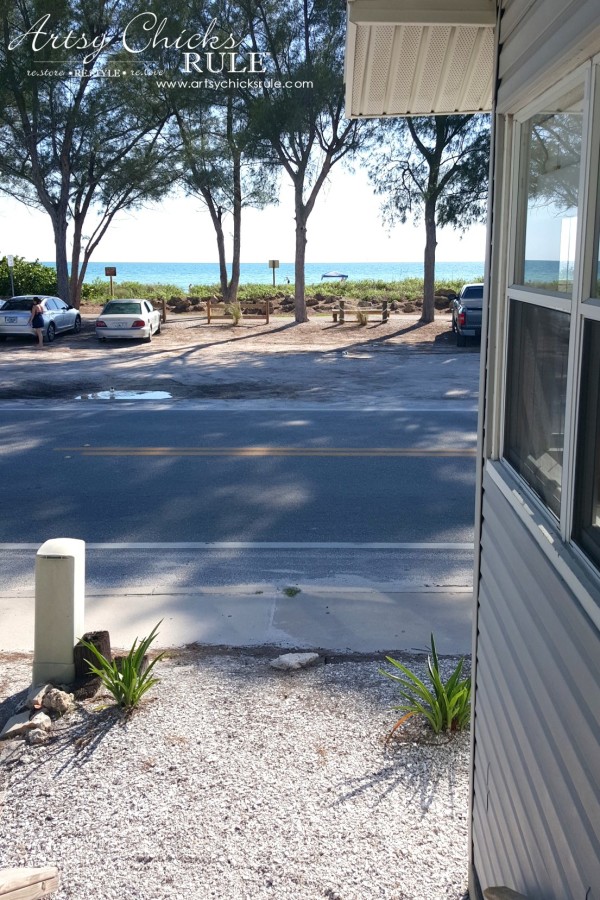 Perfect.
Loved this unique coastal styled mirror in the bath….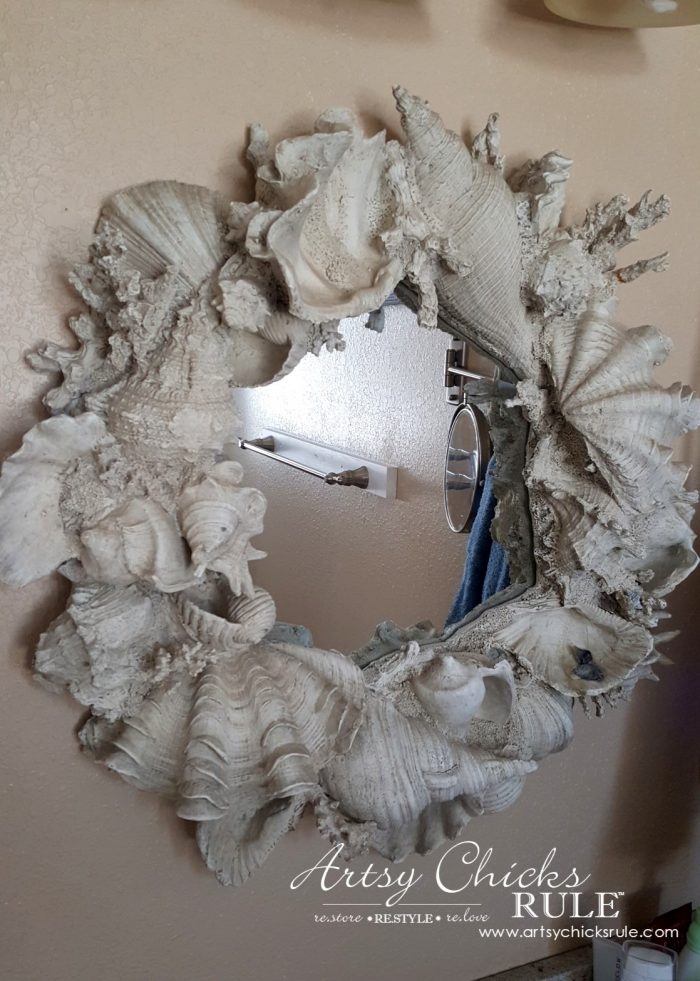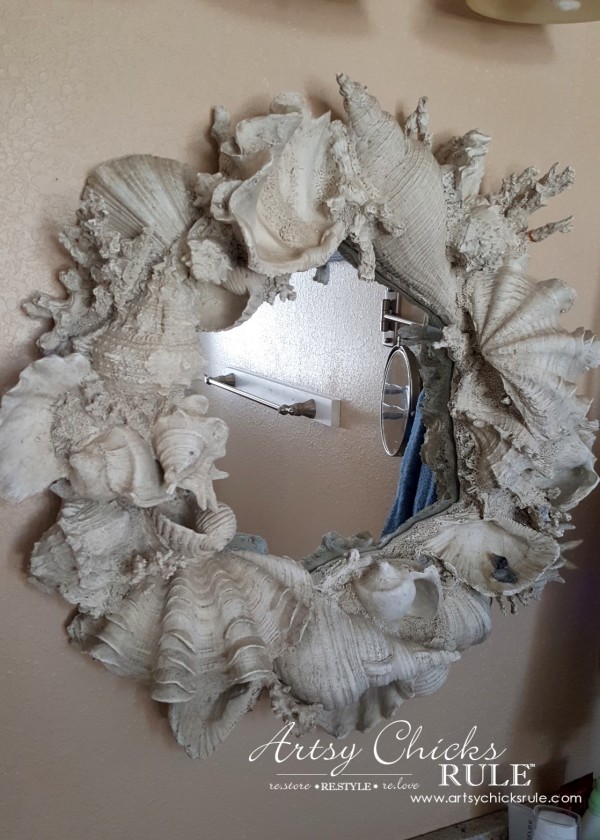 How neat is that?
And it was so amazing how different the water looked depending on the time of day I took the photos.
Take a look…. early morning….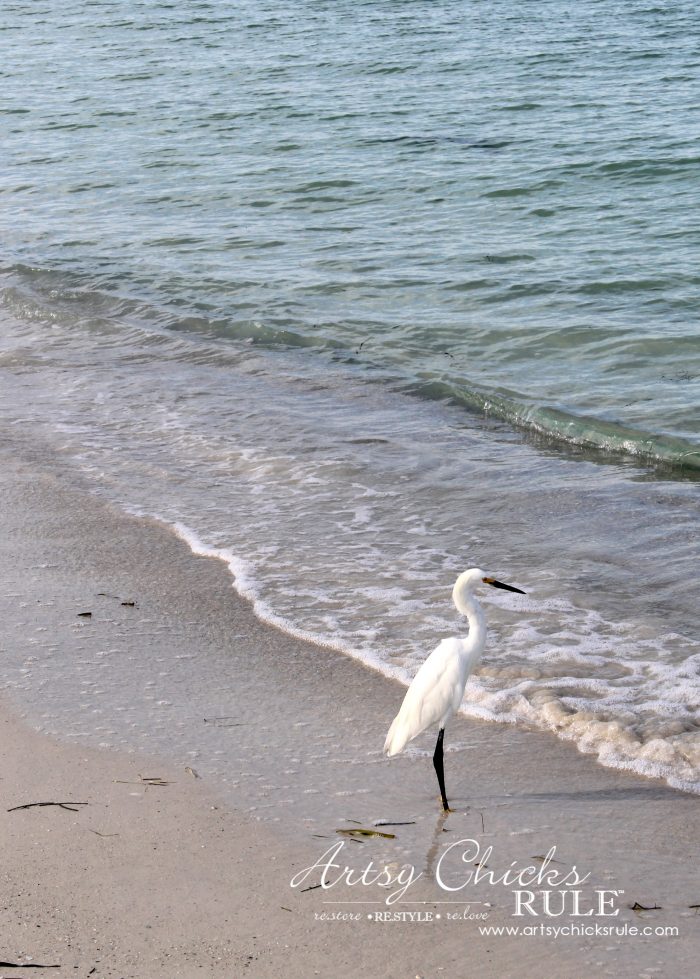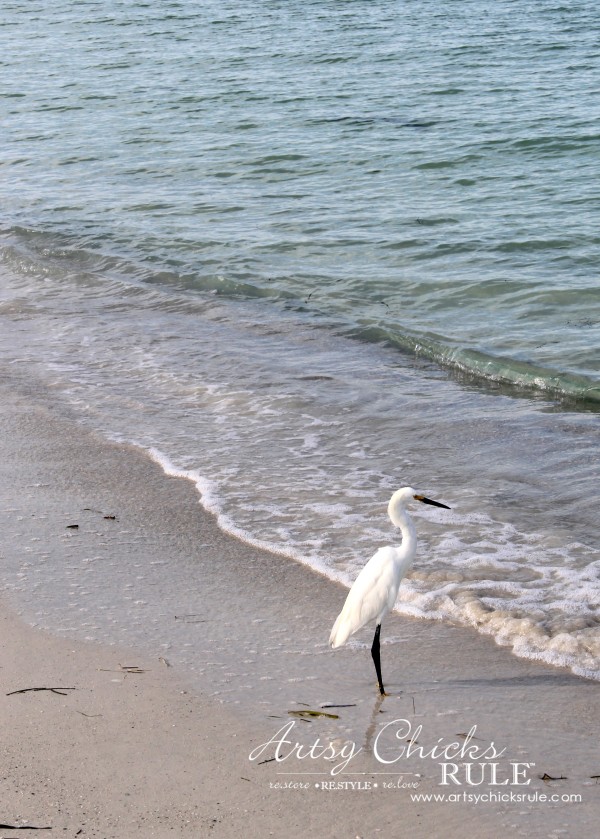 Lots of great photo ops….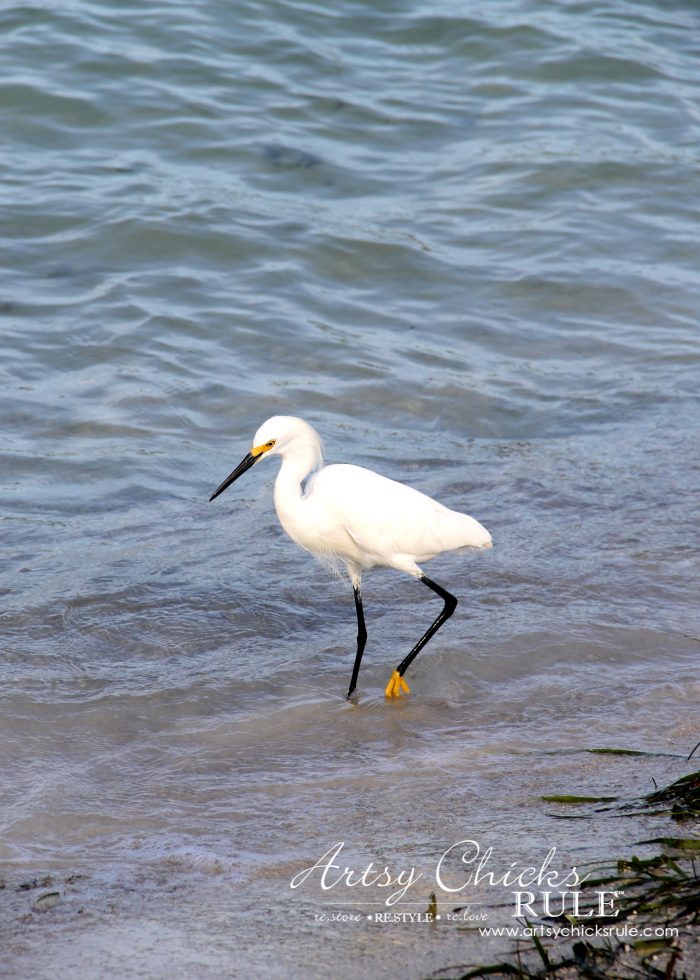 And again… but in action…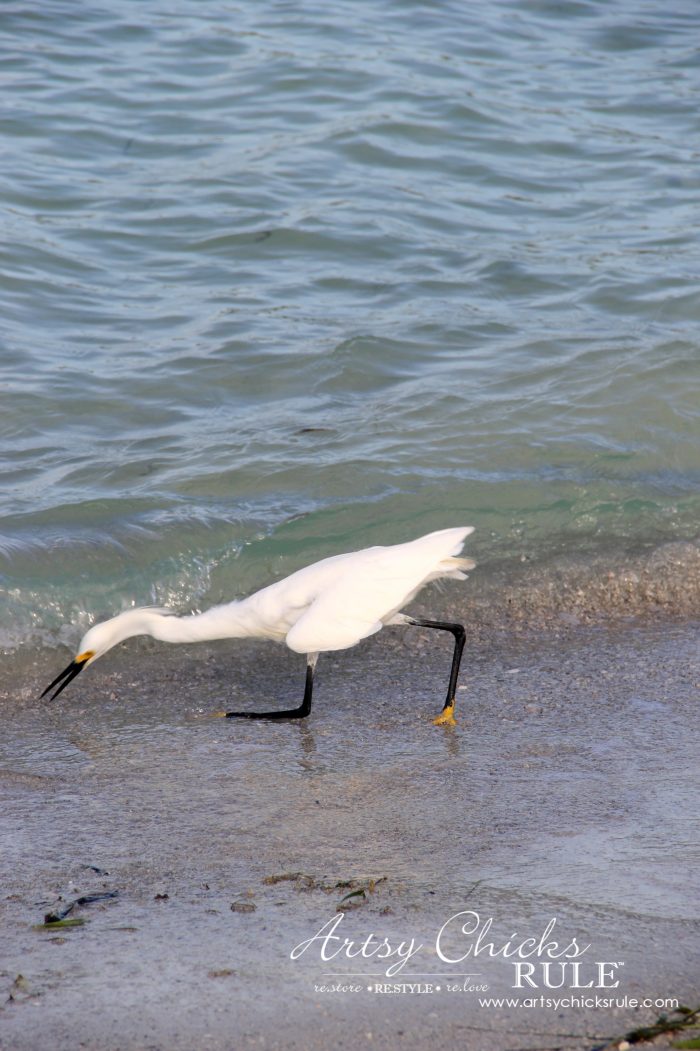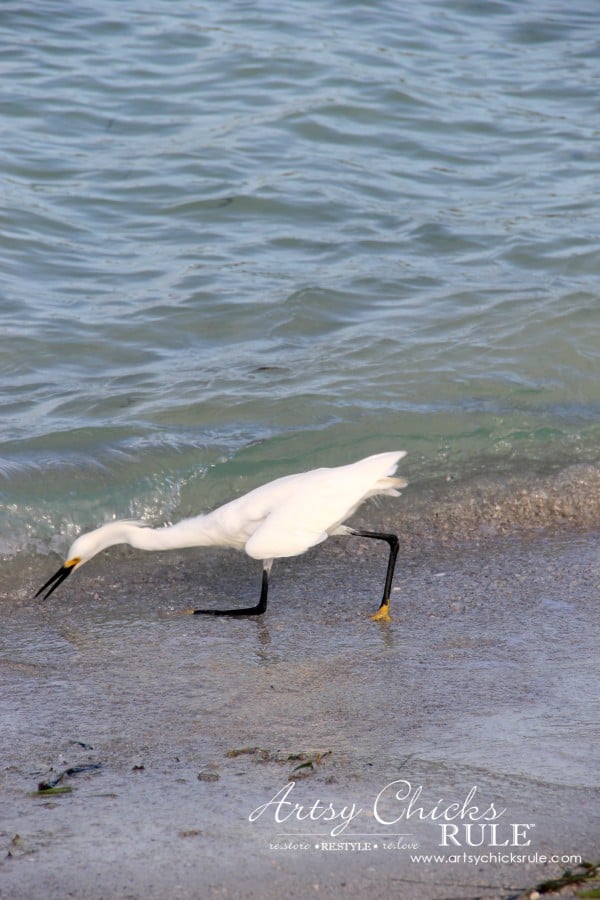 Lots of wildlife.
I loved it!
Like this lil fella….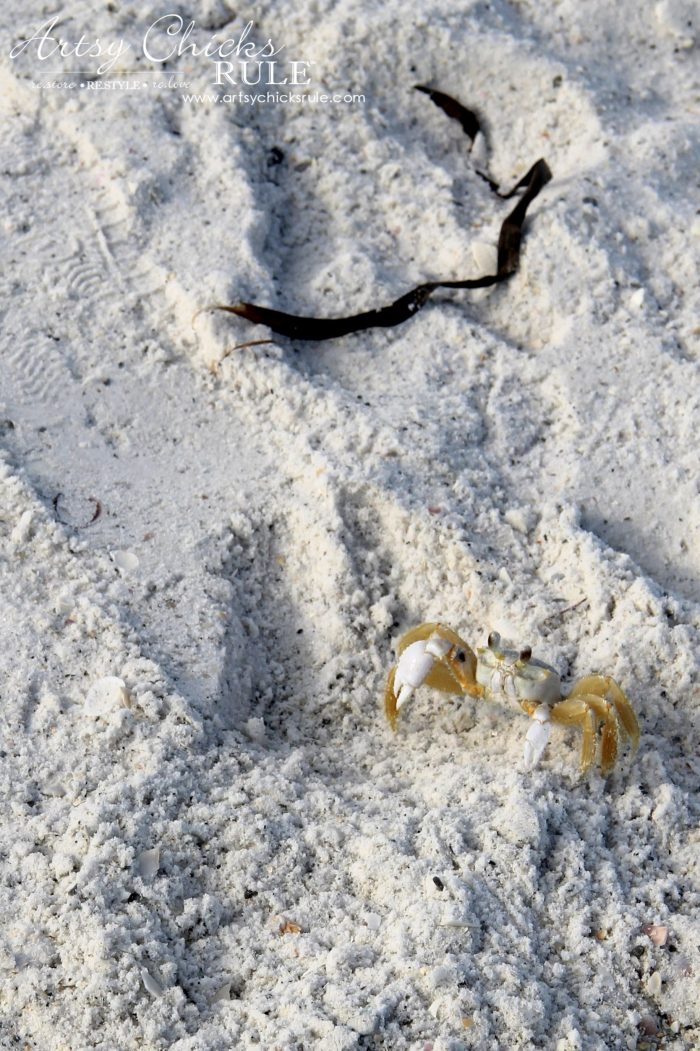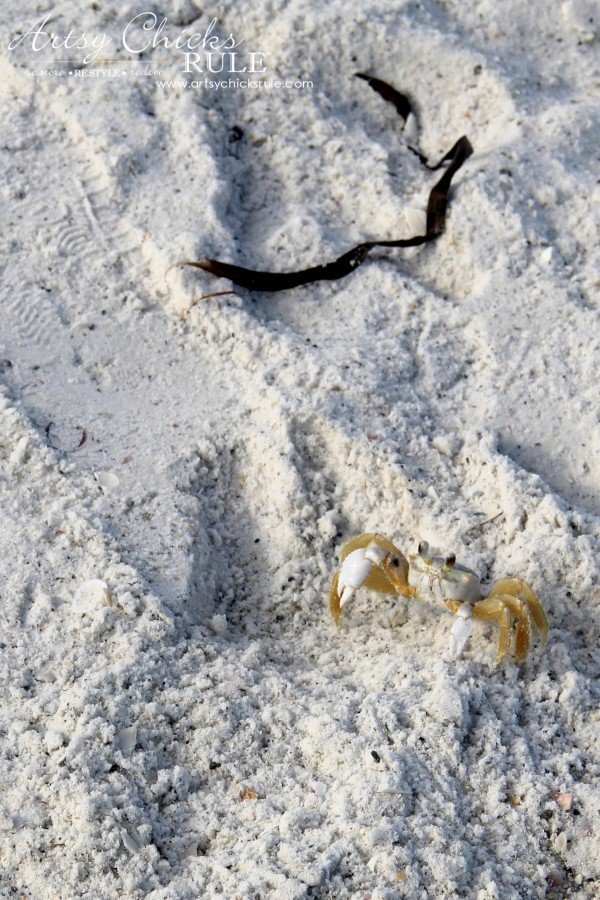 He was watching me….very closely. haha
And this pretty shell I found….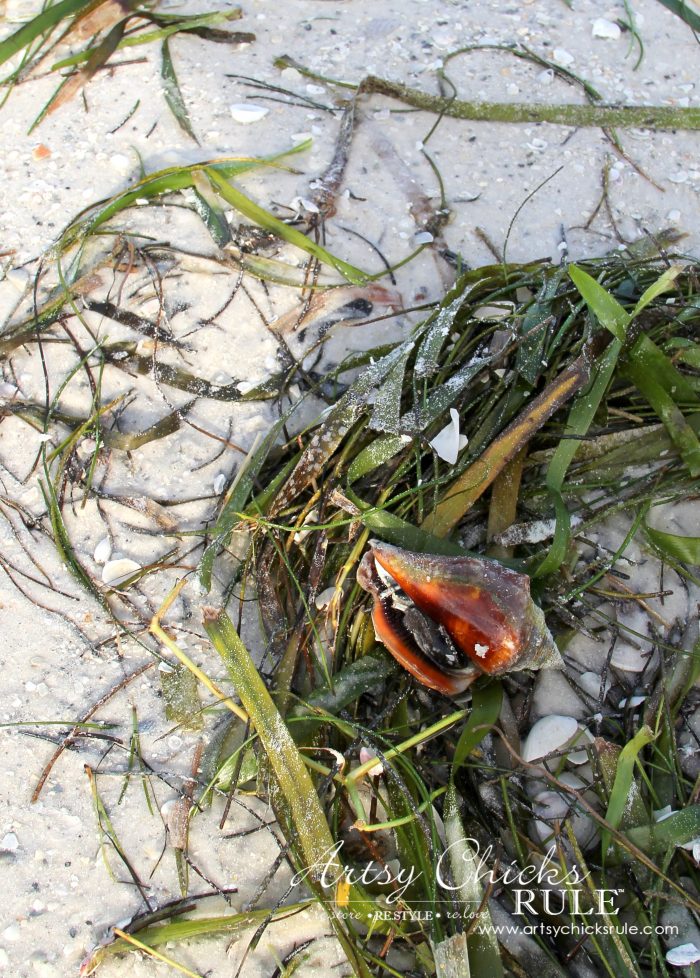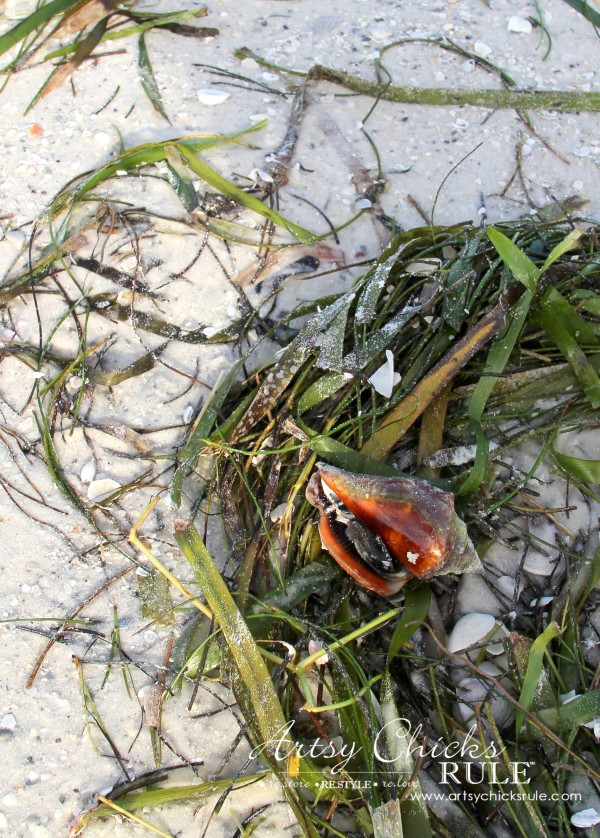 ….that was still inhabited. Darn.
This is late afternoon/early evening….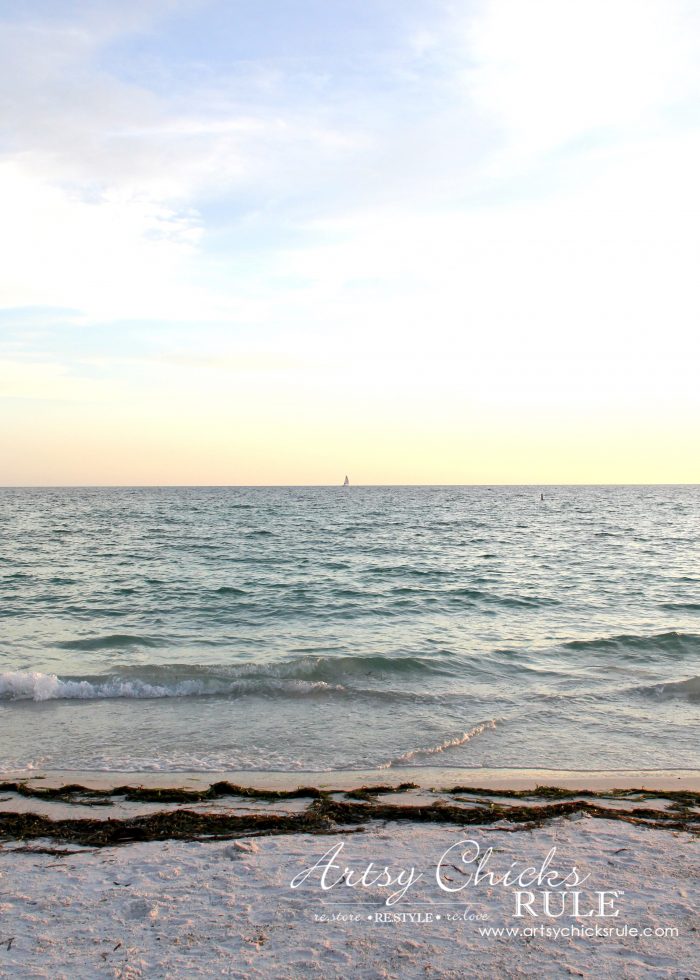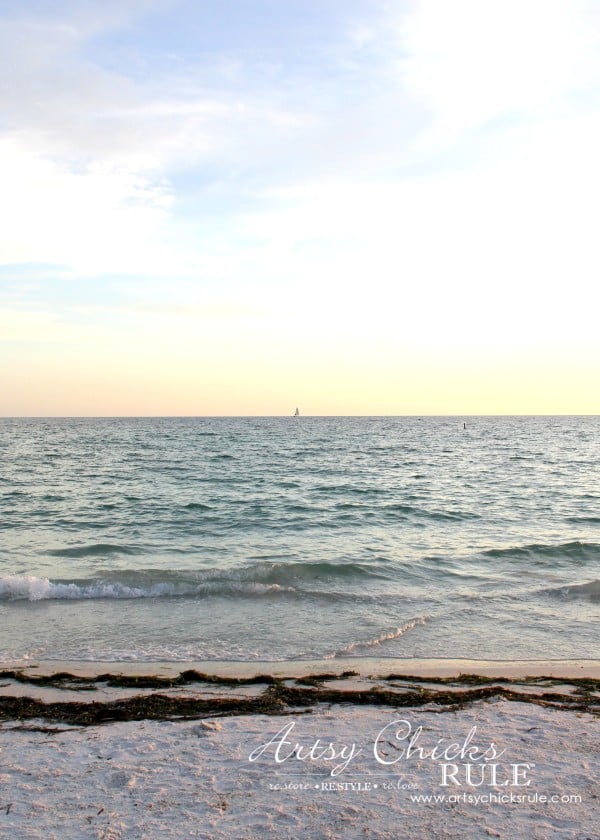 How incredibly beautiful.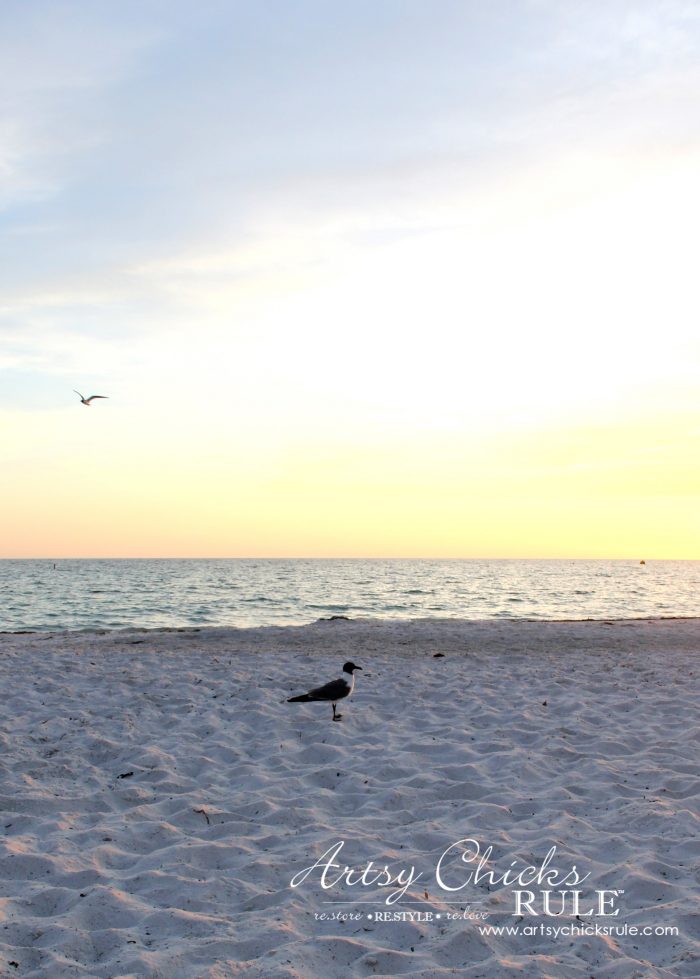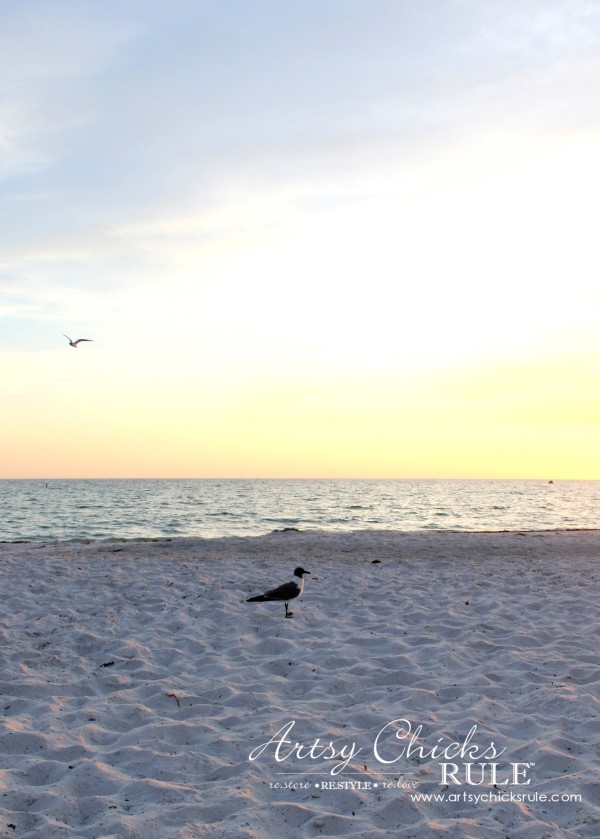 The sunsets are amazing.
The sky just before…..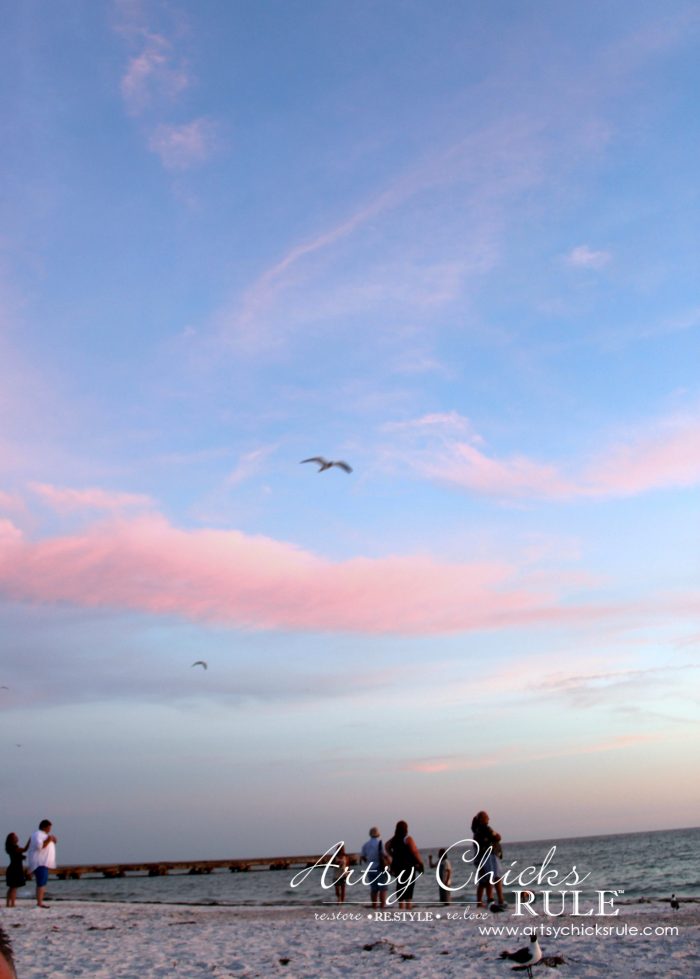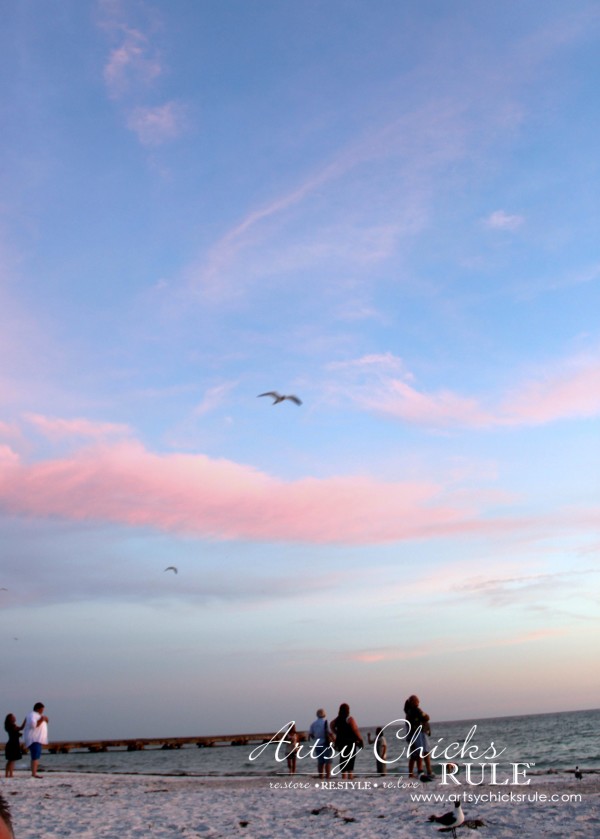 Gathering with everyone on the beach for the sunset.
Have to share this shot I took of my cute, sweet husband.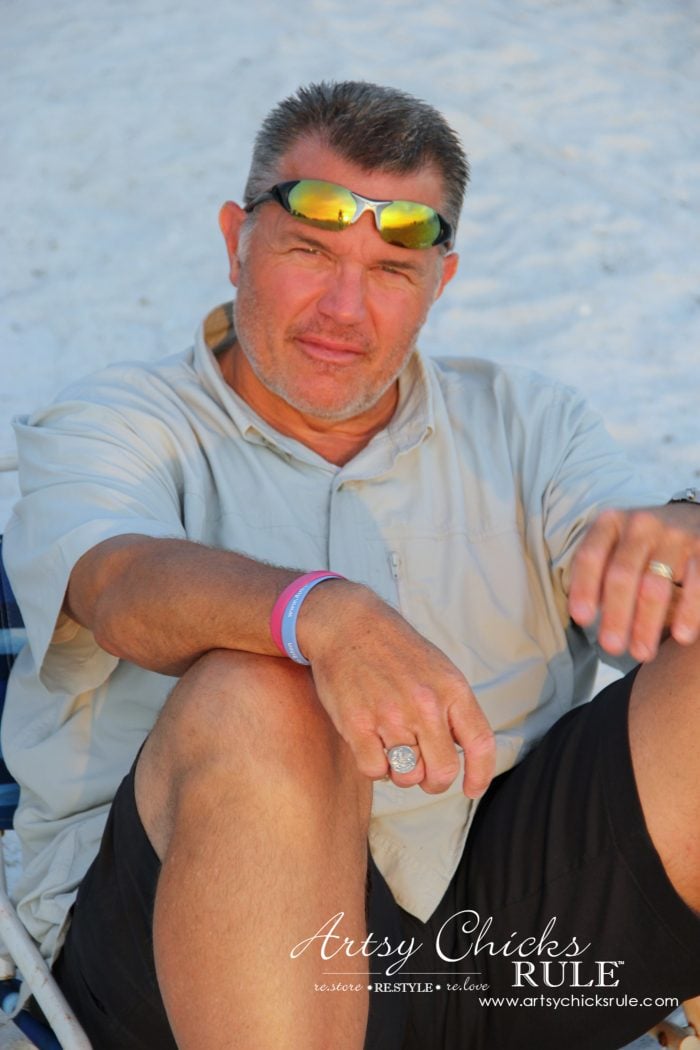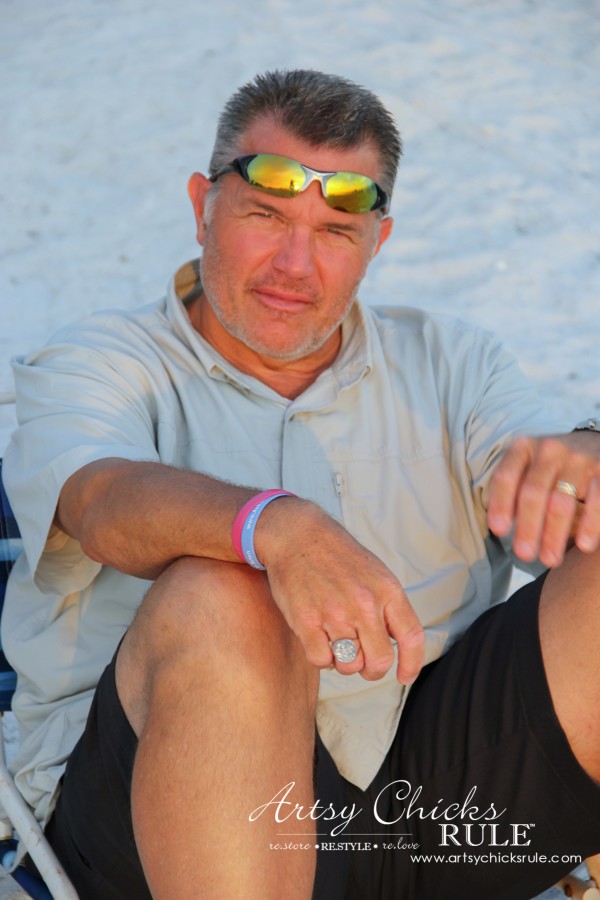 He's gonna kill me, lol.
This little guy came to watch the sunset too.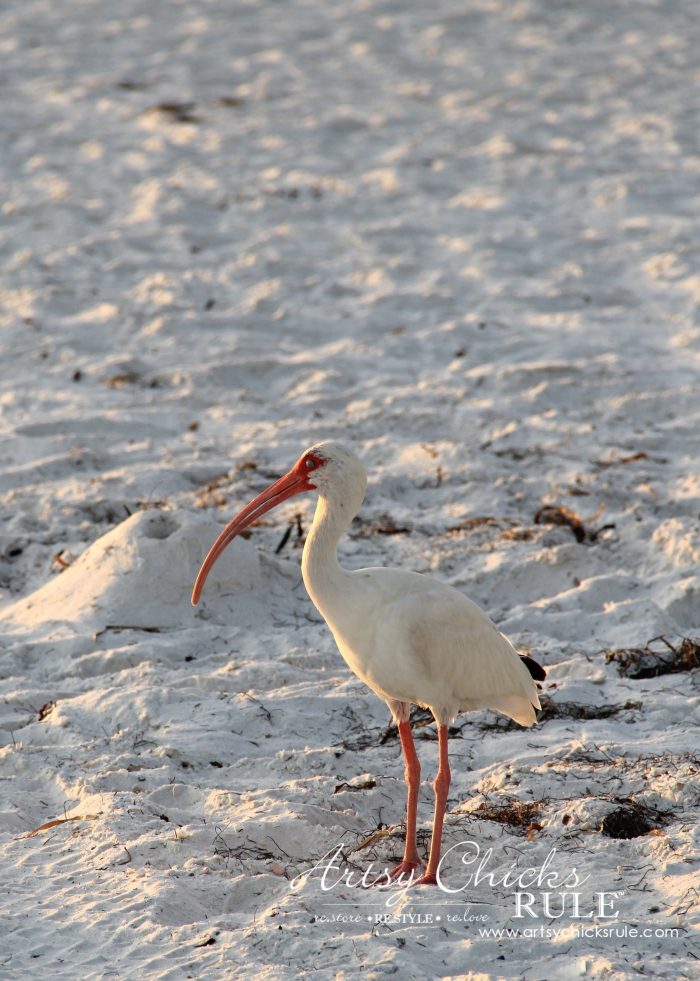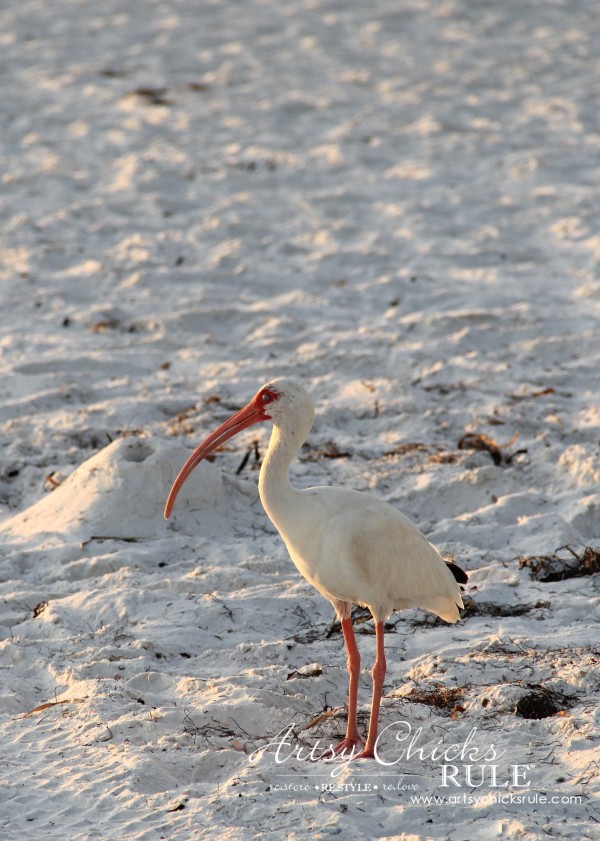 And here is the sky just before the sun is starting to set….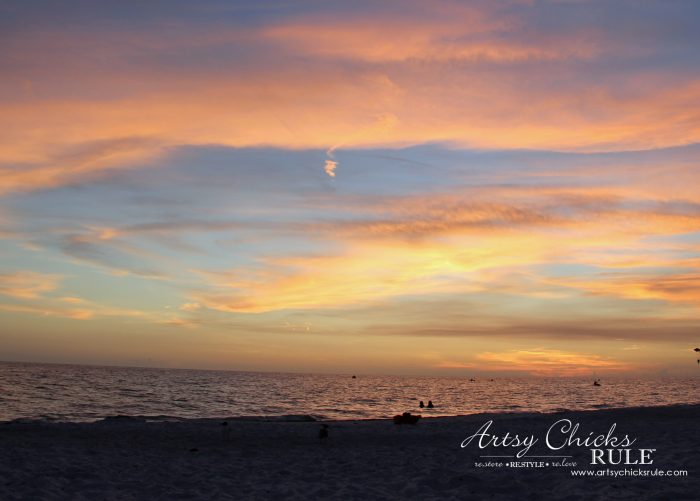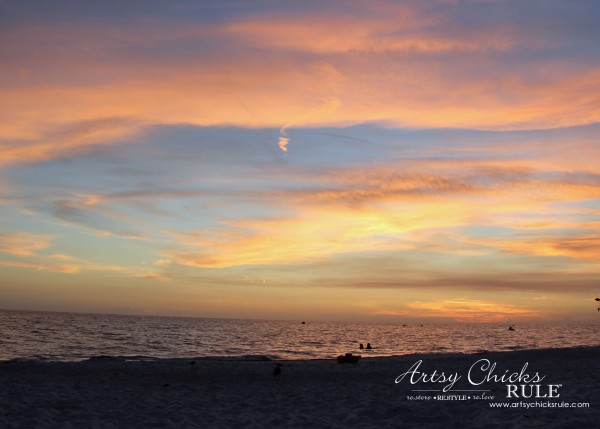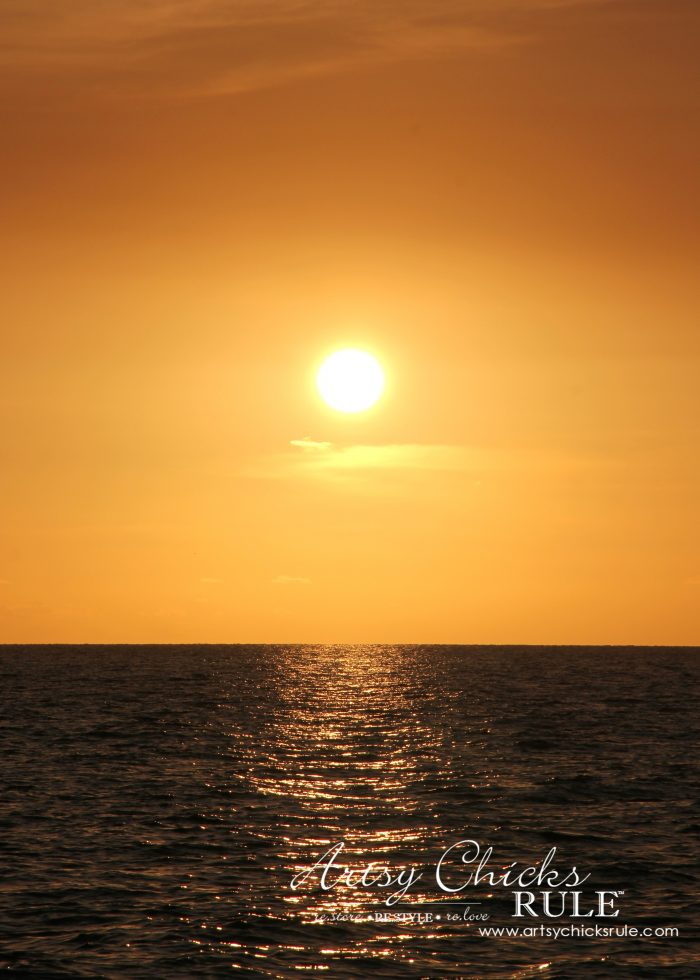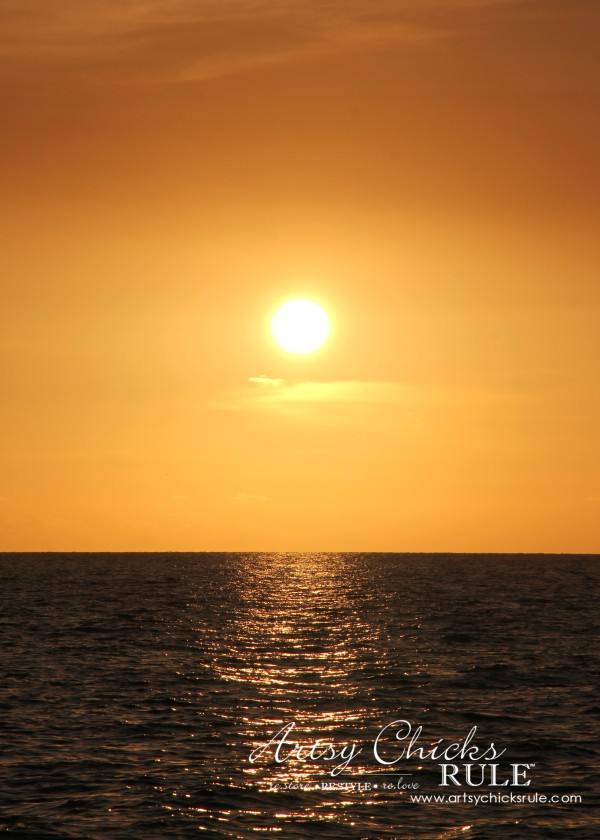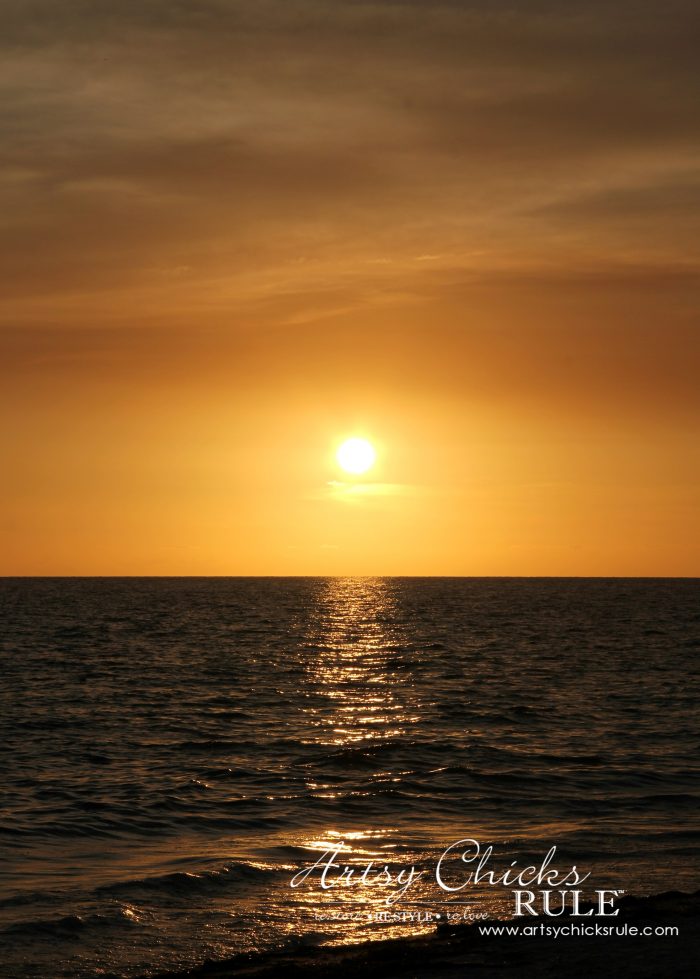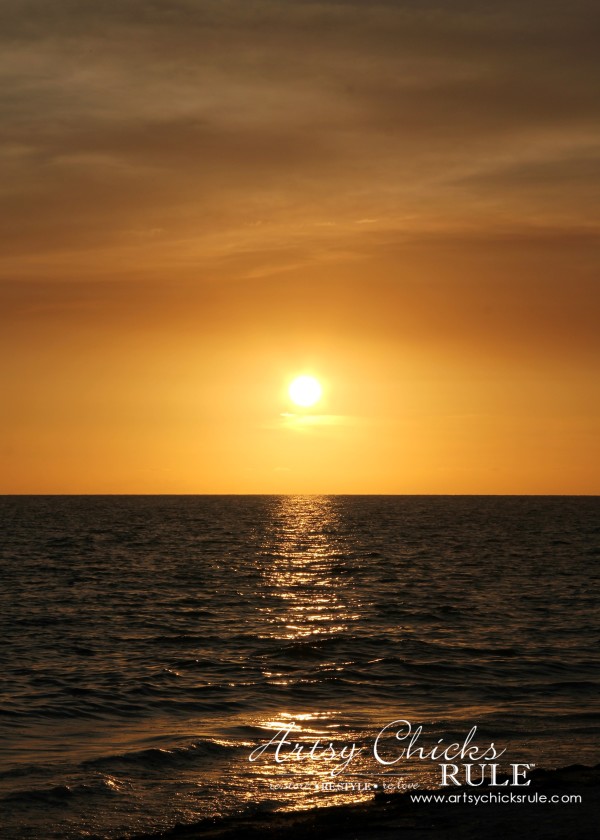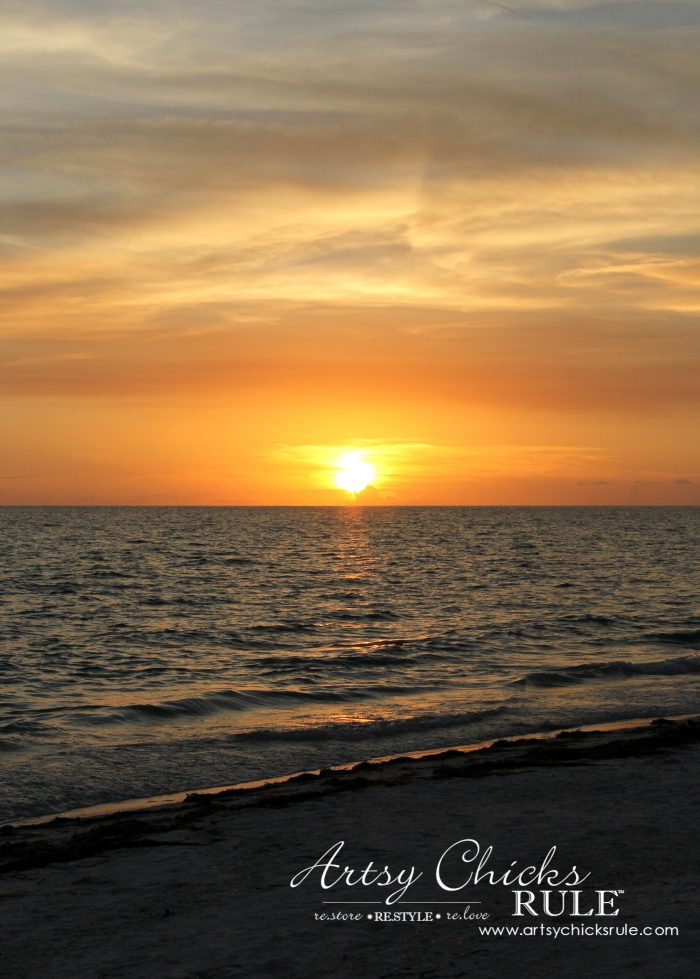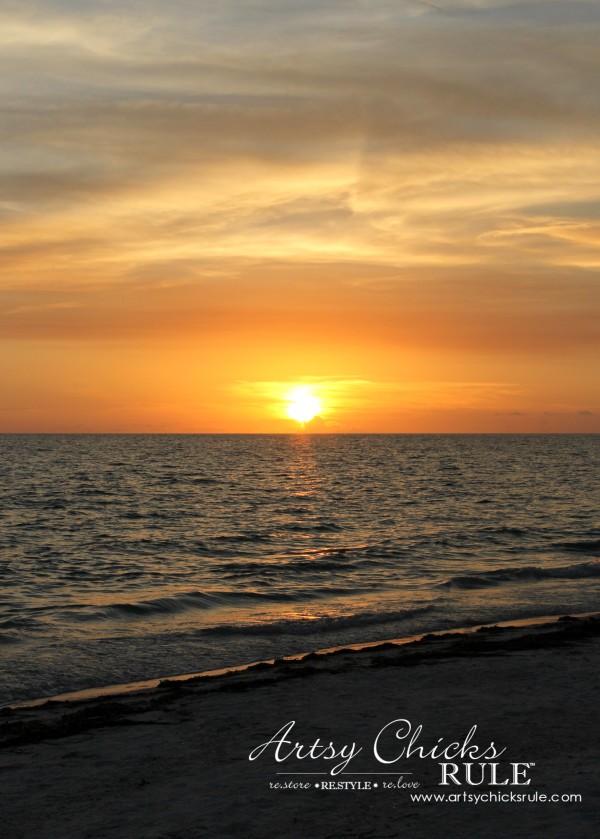 …and done.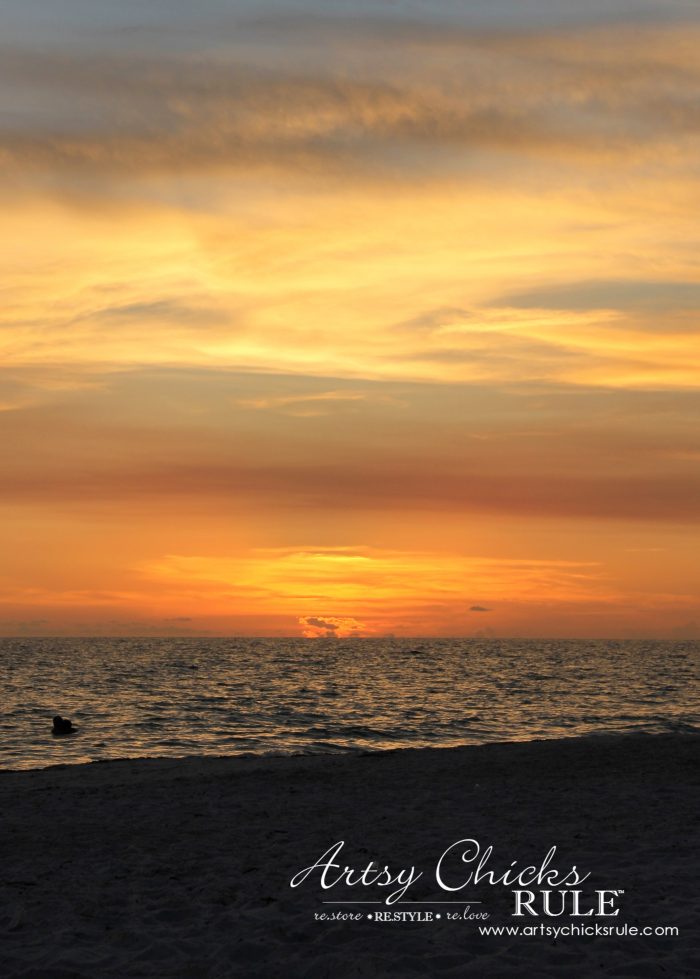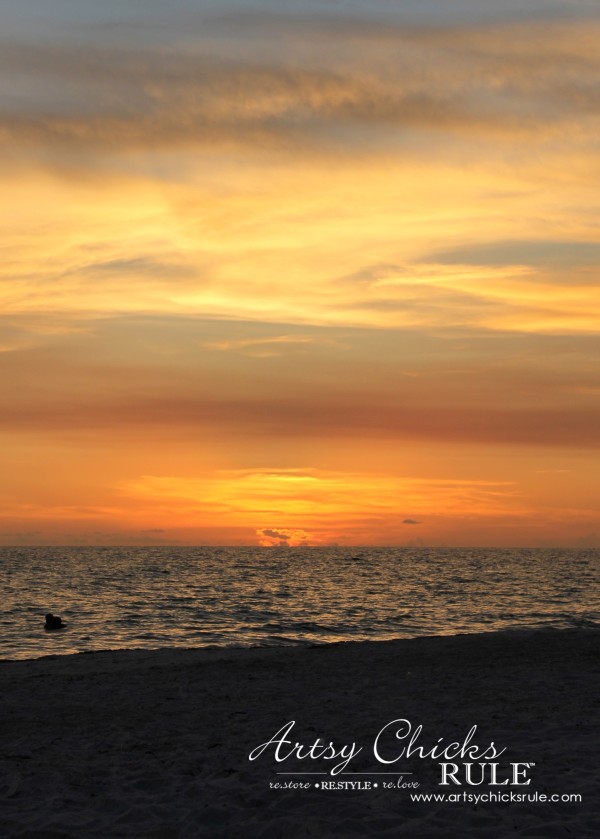 I live on the East Coast so seeing the sun set over the water was magical.
This island is great for walking.
There is even a trolley that travels up and down the island that makes it easy to hop on and off at each destination.
We drove a bit and walked a bit.
Loved this house…. (fun colors)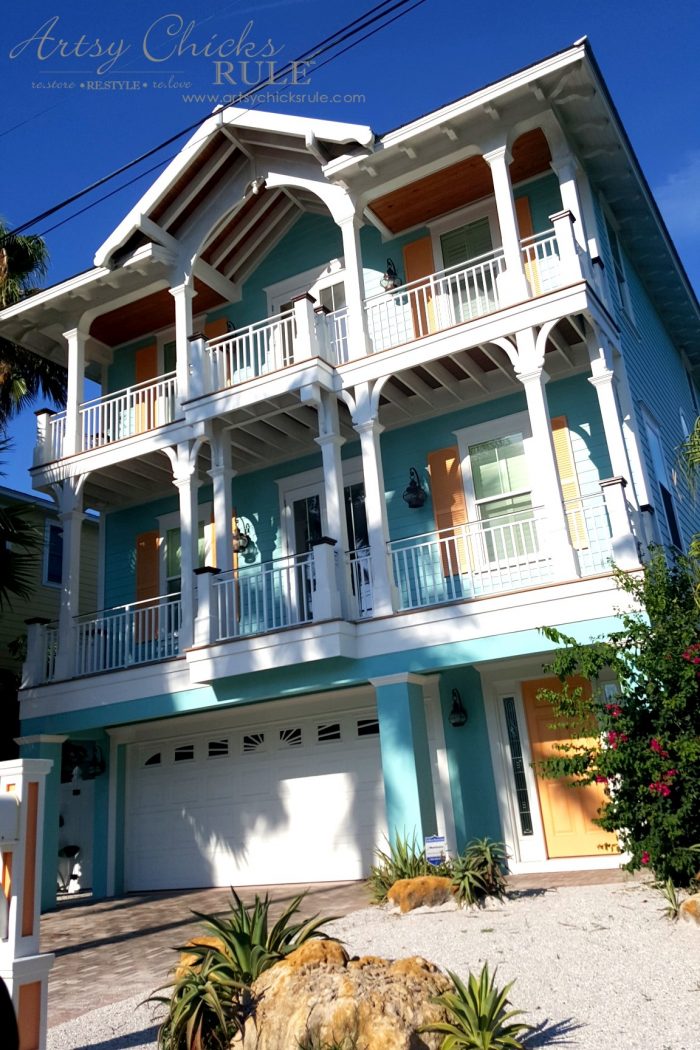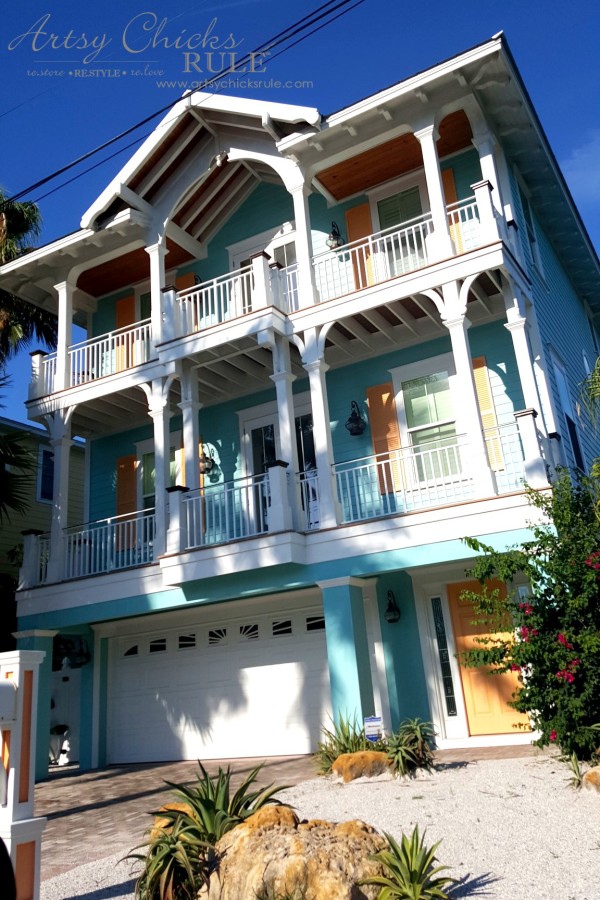 …and all the pretty palm trees and tropical plants.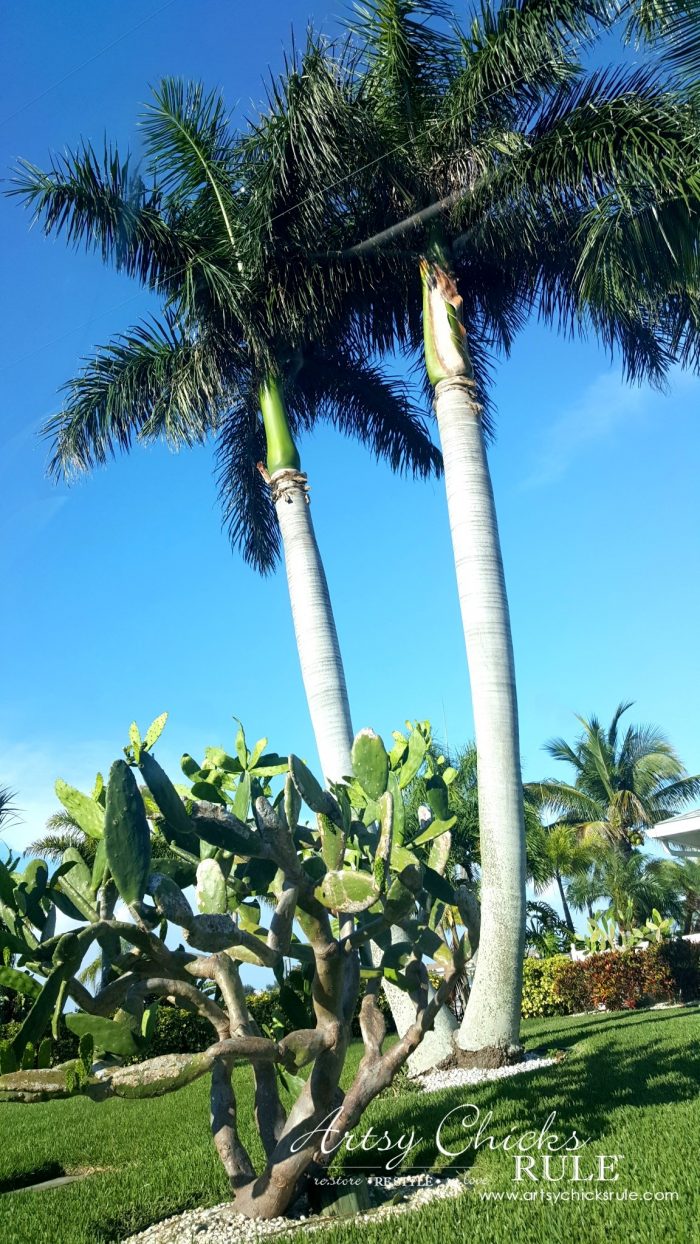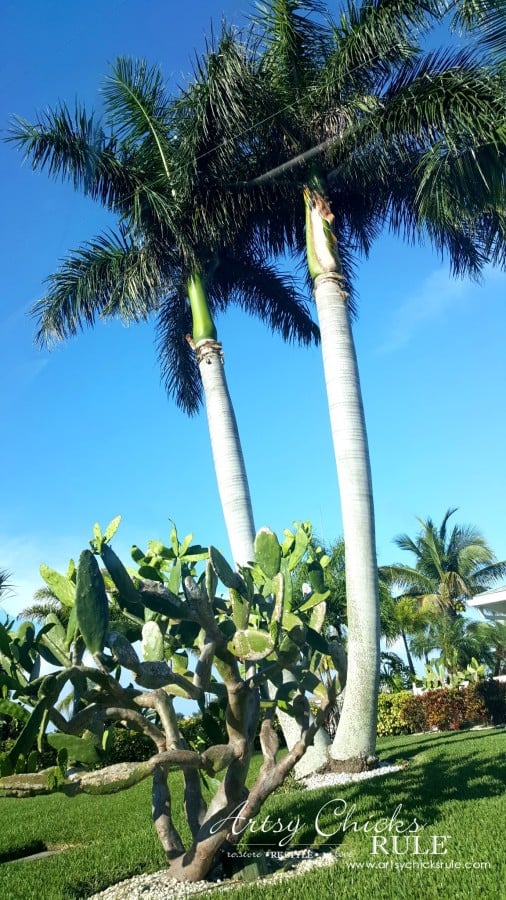 And visited quite a few of the eateries.
Here we are at one…. Island Time Bar & Grill. (Bridge Street and Gulf Drive)
It was a short walking distance from our place.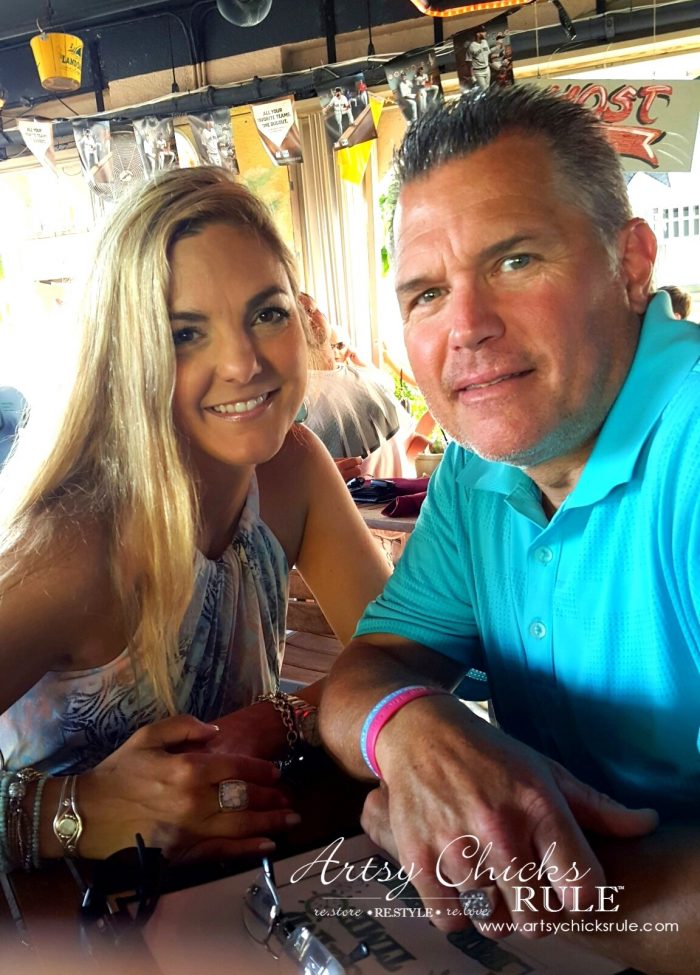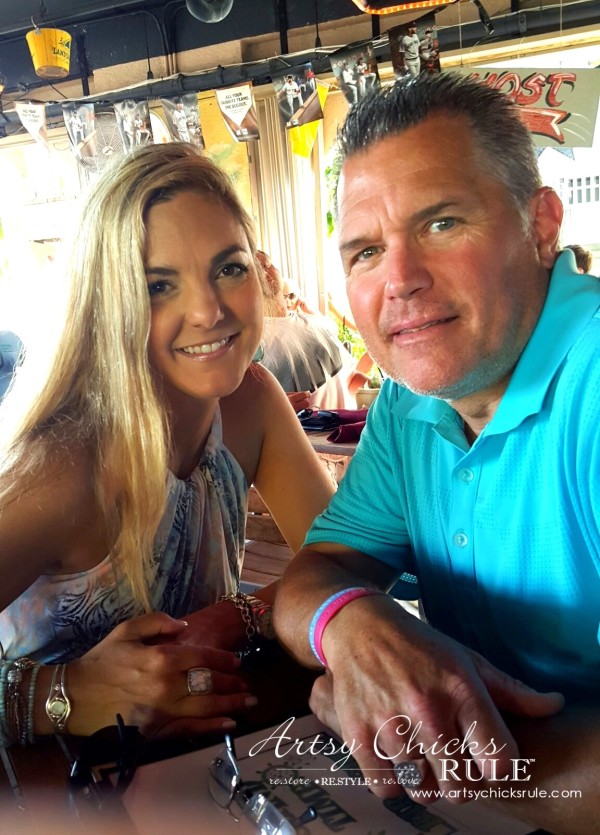 And my boys….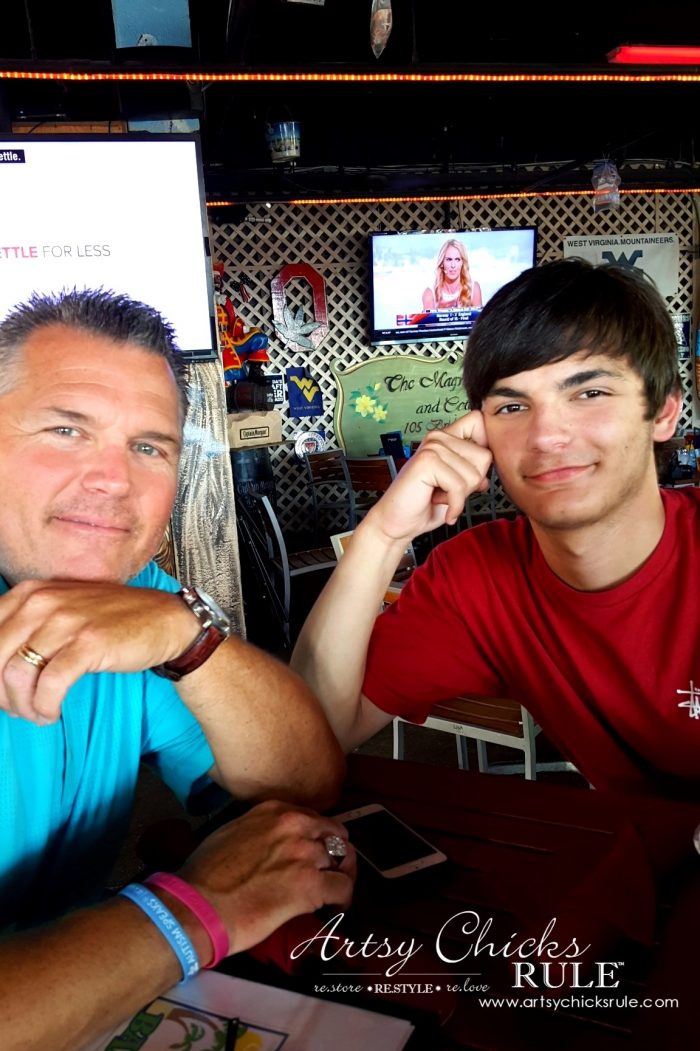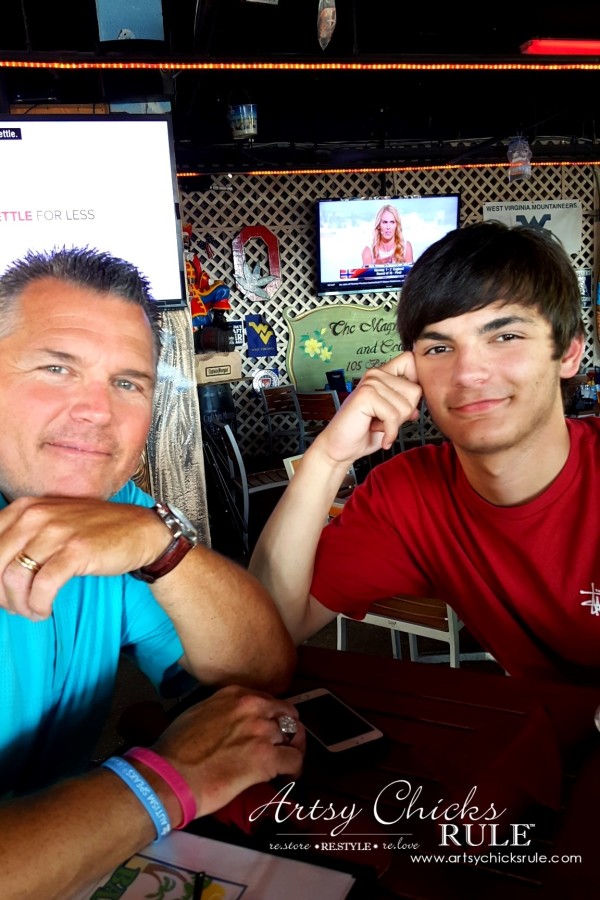 This trip happened to coincide with our 24th wedding anniversary also.
These photos were taken on that day.
Next year is the big 25 and I have some exciting plans rolling around in my head for it!
After dinner we walked over and played miniature golf ….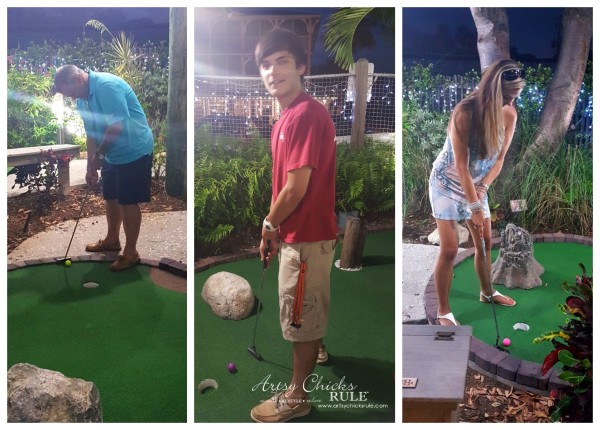 My husband is serious about his sports….(not kidding) …and he won, of course! ;)
I'm so in love with Anna Maria Island and can't wait to visit again.
The beautiful beaches, crystal clear water, wildlife, atmosphere of the island (not too touristy…no high rises) and the overall laid back feel.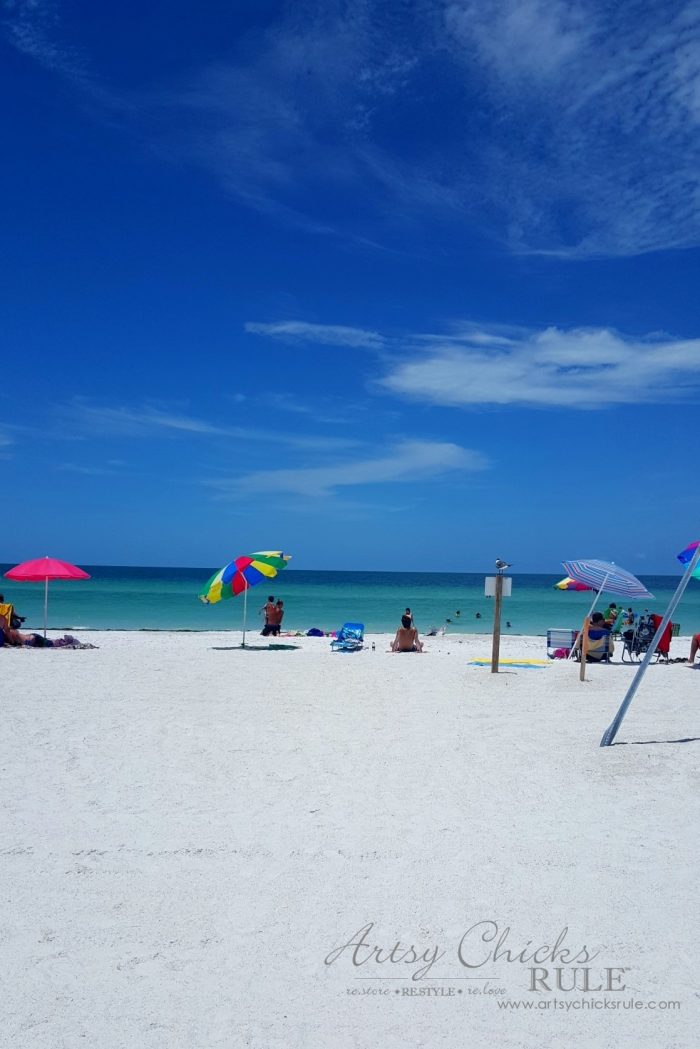 Not to mention those gorgeous skies….here's another sunset.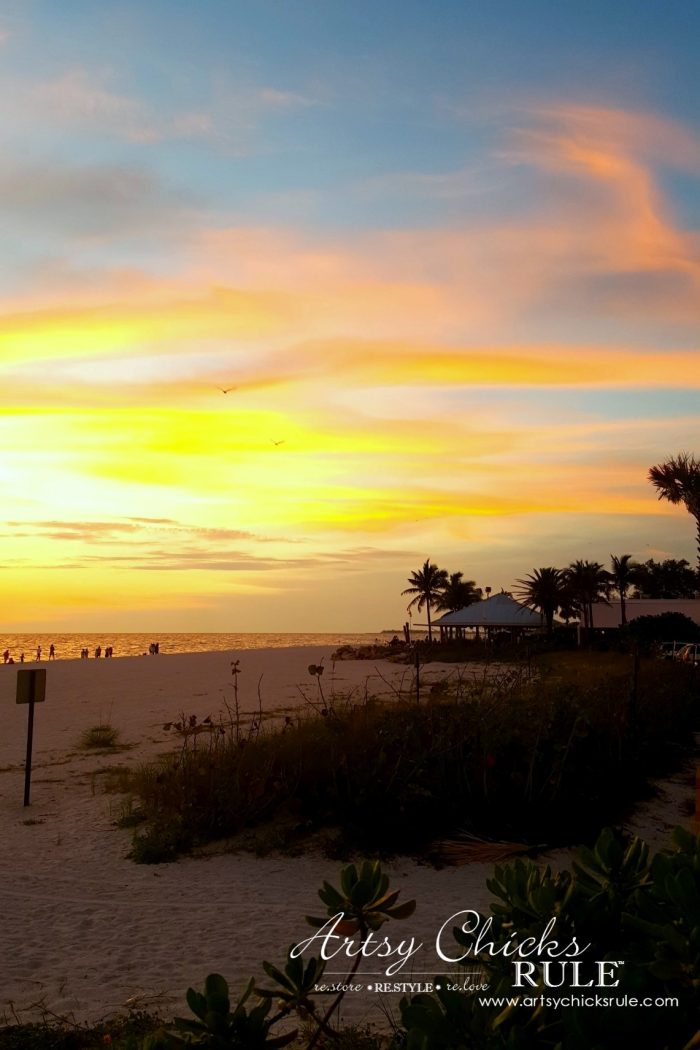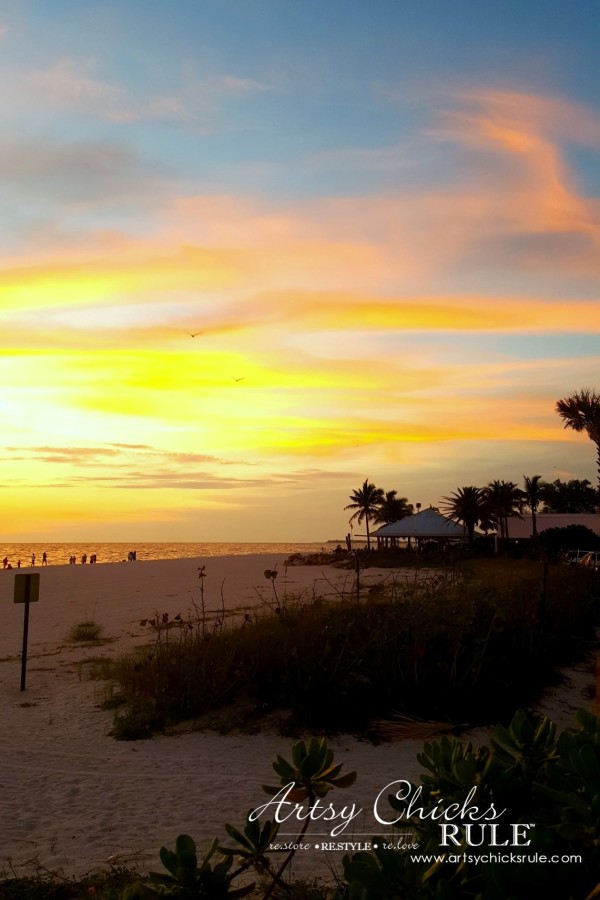 And a few midday shots…..look at that water.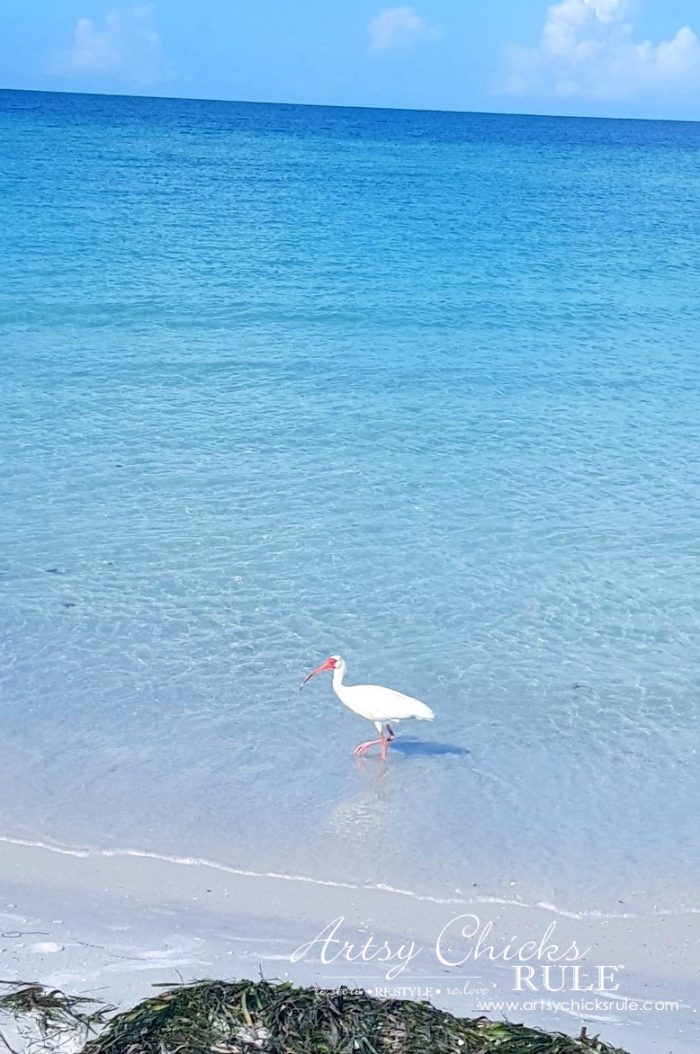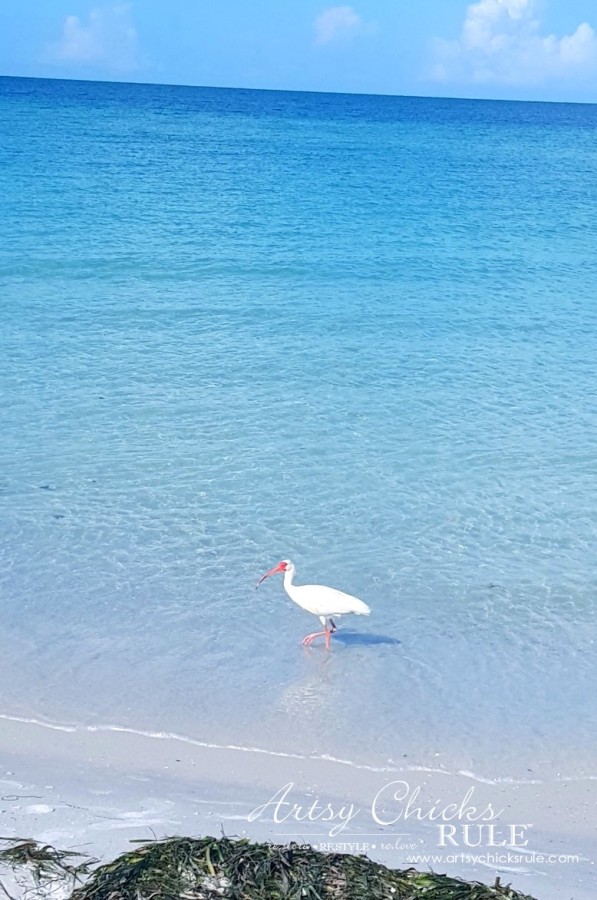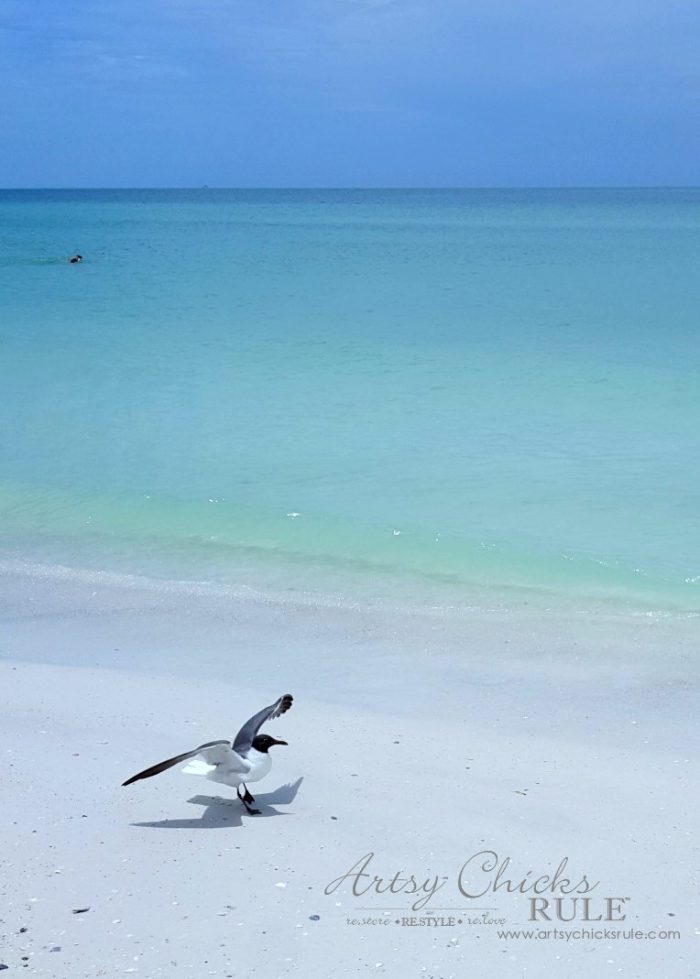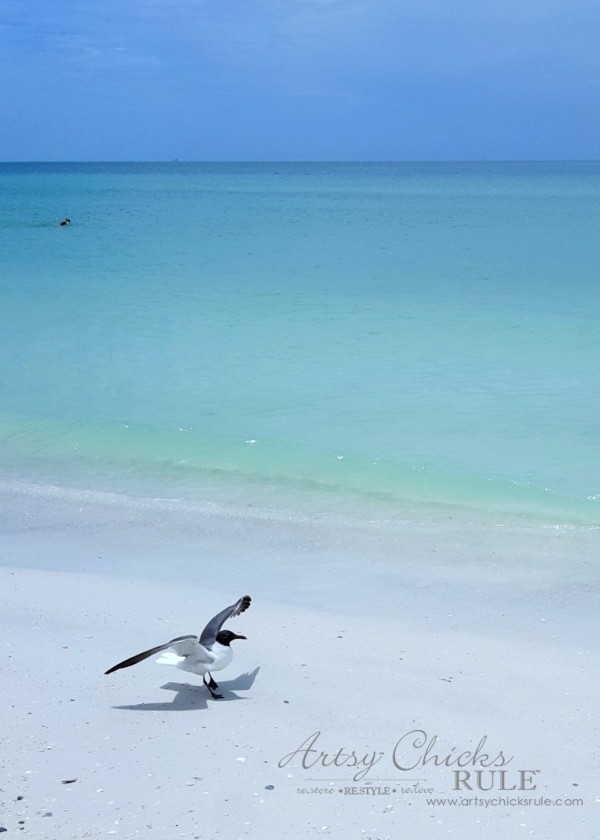 I love seagulls…until they see food.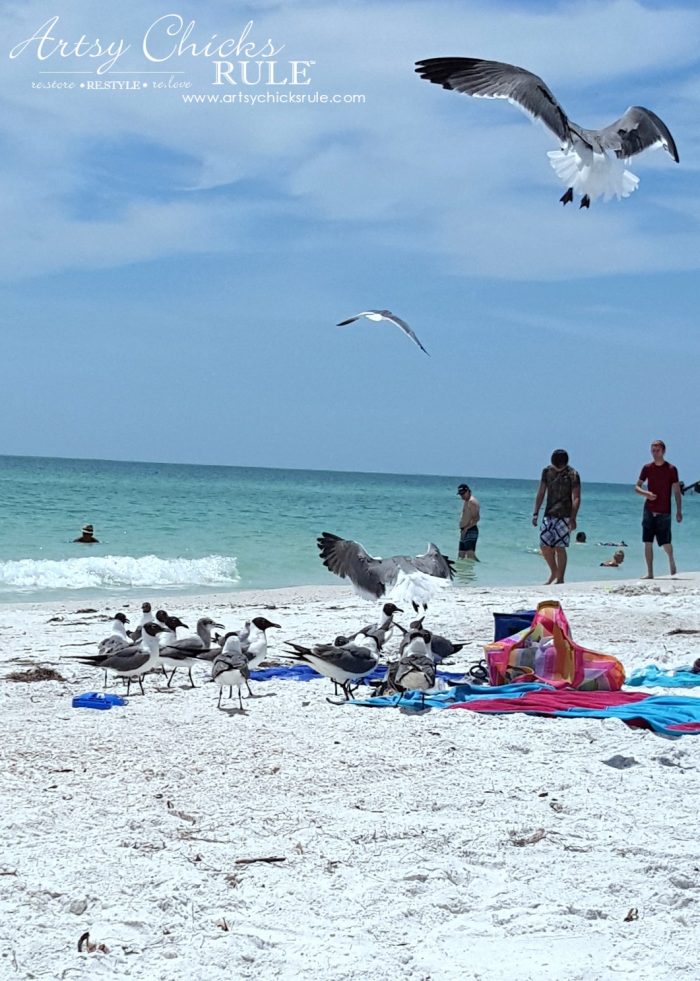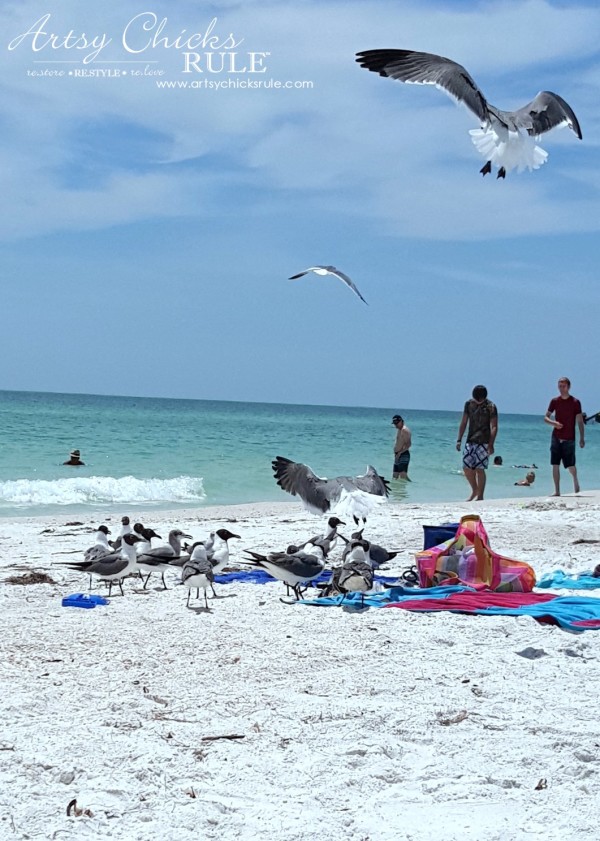 Rule number one of beach going….please don't feed the seagulls, y'all.
OR….leave food out they can get to. ;)
I have been poo'ed on twice in my life. It's not fun. lol
Love the shadow on this one….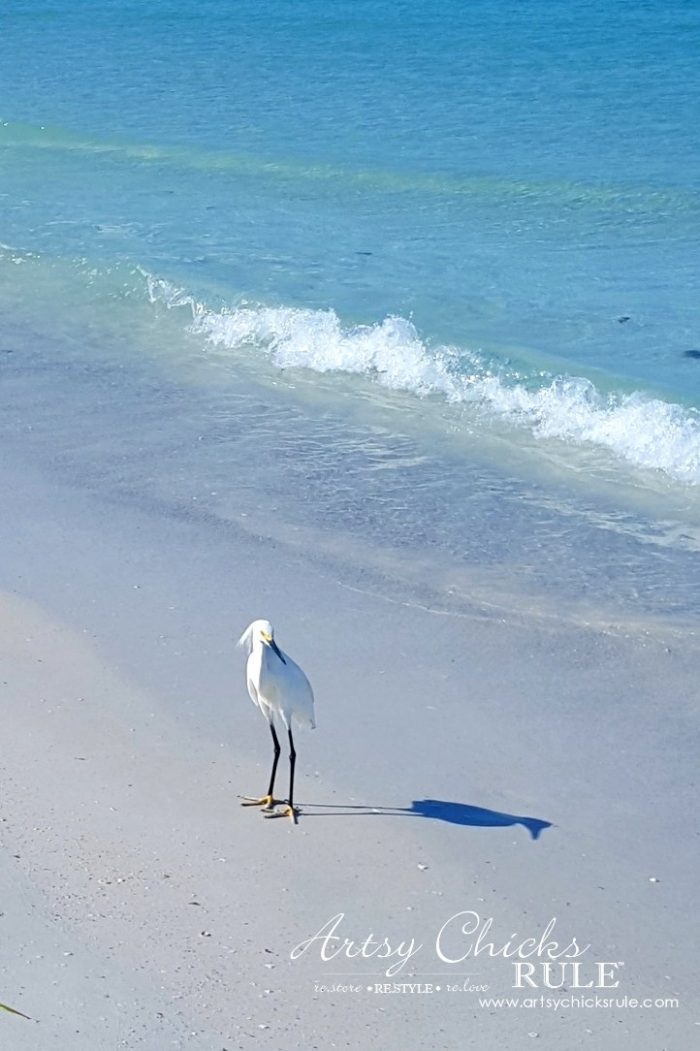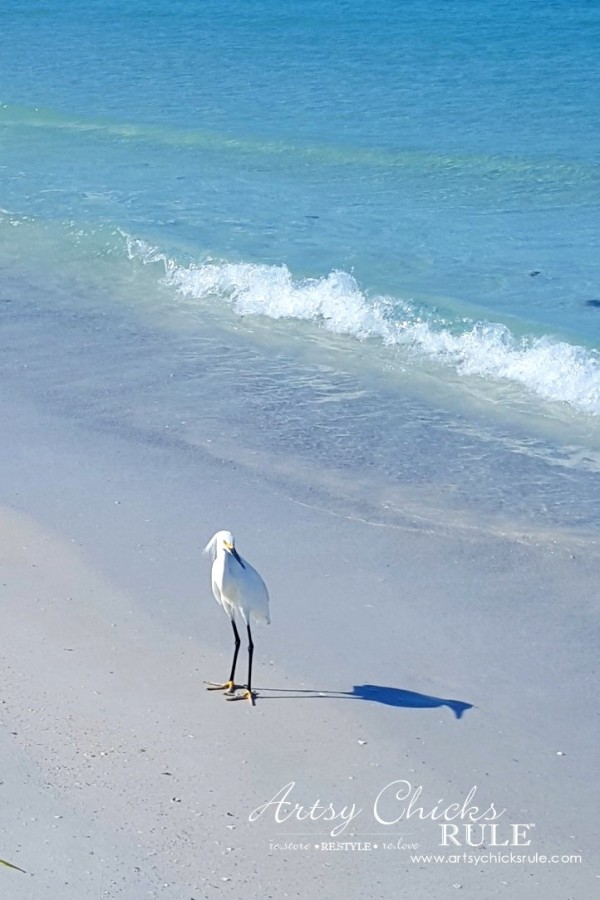 My coastal bedroom makeover is going to be featuring one of the shots I took while in Florida.
It's very similar to the one above. I can't wait to share it and the process with you!
It's going right over our bed and will be perfect for our coastal theme.
And I'll leave y'all with this cute towel I saw while in AMI.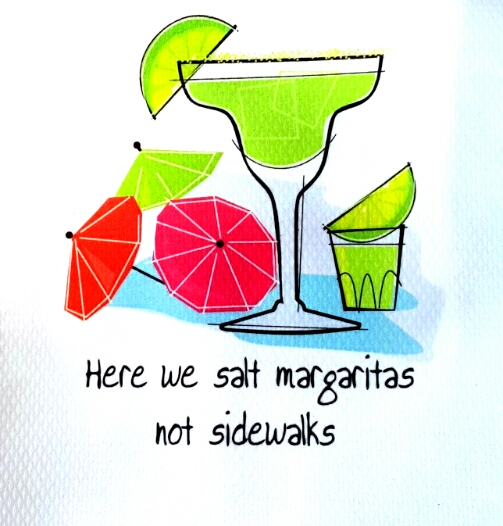 EXACTLY.
Sounds like my kinda place. (no snow, no cold weather..yes!)
Hope you enjoyed seeing a bit of our trip.
I know many of you live all over the country and world, and may not ever be able to visit, so I thought you might enjoy seeing these photos.
I'll be back on Thursday with a new "themed" furniture makeover with you all.
The theme this month is "animal".
And here's >>> Part 2 of the trip photos. :)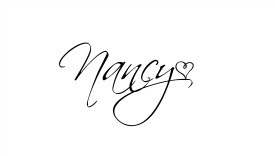 Follow along! –> Instagram ~ Facebook ~ Pinterest ~ Bloglovin