DIY Tiled Frame Criss Cross End Tables
This post may contain affiliate links. Please see disclosures here.
Make your very own DIY criss cross end tables! See the reveal today!
Good Morning Friends!
My Trash to Treasure girls and I are back to share some fun new makeovers with you guys this month.
You might remember some of my previous trash to treasure makeovers here….
"Thrifty Print Turned Tiled Coastal Tray"
and this most recent one…
"Old Frame Turned DIY Tile Tray"
The reason I shared those two specifically is because I used that same idea to create two criss cross end tables for our family room out of these….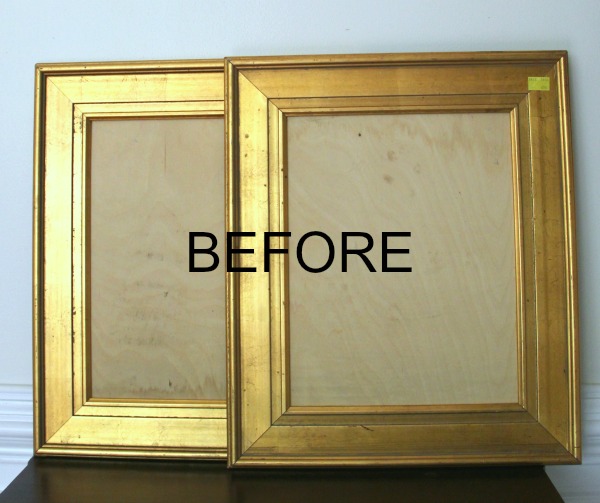 ….two frames I found at the thrift store.
Which, by the way, I totally forgot to take a photo before I got started.
Imagine that! ;) haha
This was after I had glued in the base for the tiles to lay. The frames were empty when I bought them.
Here's the criss cross end tables my husband and I made….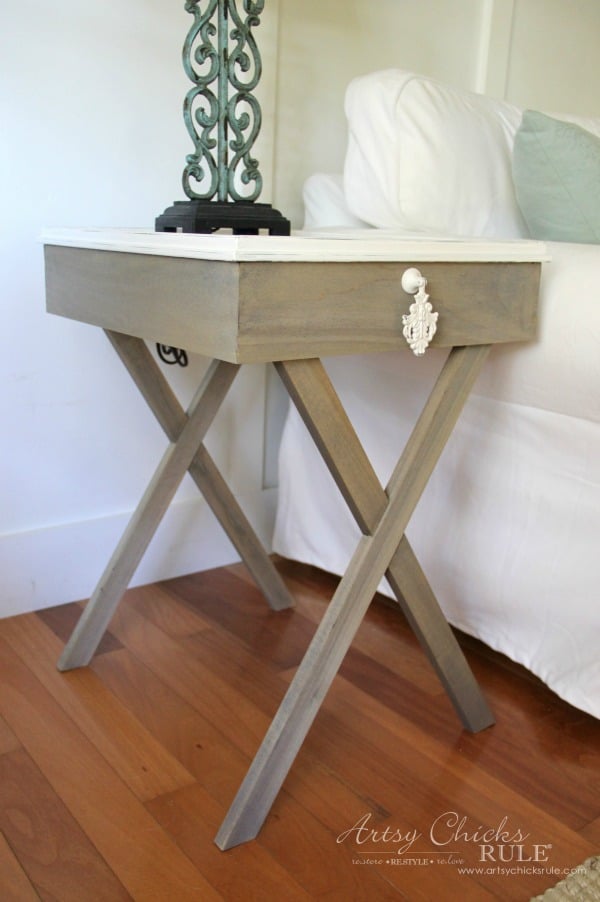 I came up with the plan and idea for these and my sweet husband got to measuring and cutting! ;)
They were pretty simple to make minus angles and such.
That's never fun but it is doable!
I created the tops for these criss cross end tables with the same tile I used in one of my other trays I linked above.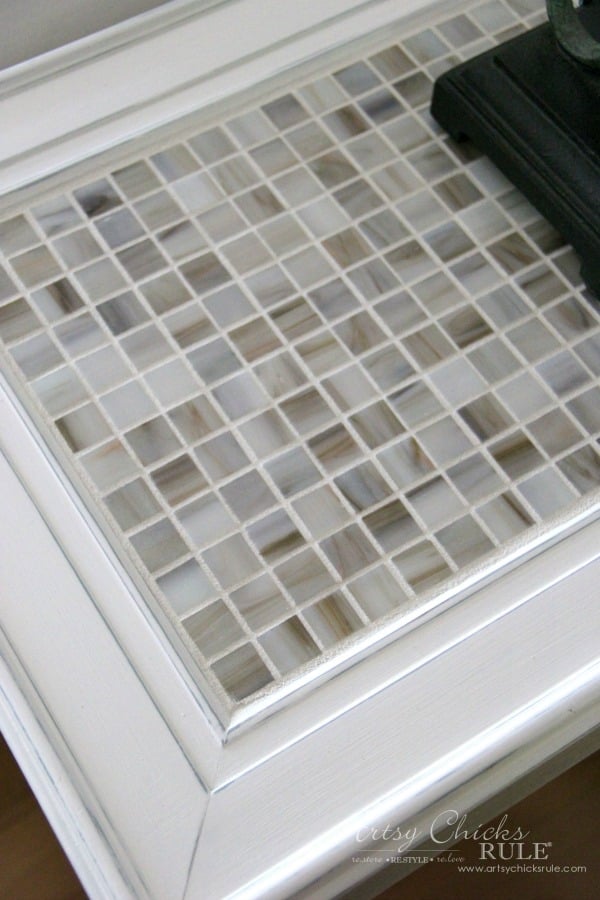 I thought the colors would be perfect for the family room.
Plus they sort of have a "shell" look to them.
Perfect!
As you can also see, I painted the frames too.
If you follow along on Instagram, you saw me as I was doing all of this!
I shared each step in my "story" over there. Sadly those only last for 24 hours so are no longer available.
If you are on Instagram, I'd love to connect with you over there. :) Find me here … Nancy's Instagram
Anyway, I'm giving you the "reveal" today and will come back at a later date and give you all the "make" details so you can make some criss cross end tables too! AND with that fun tiled top. :)
We just finished these up late last night (Sunday night) so it was all I could do to get the photos taken, edited, watermarked, sized, post written, etc. ;)
So be on the lookout for that tutorial post.
UPDATED: You can see it now, HERE!
If you aren't already, you can also sign up to receive my newsletters so you won't miss it.
You can sign up here … Artsy Chicks Rule Newsletter
So for now, it's pretty pictures and a few little details. :)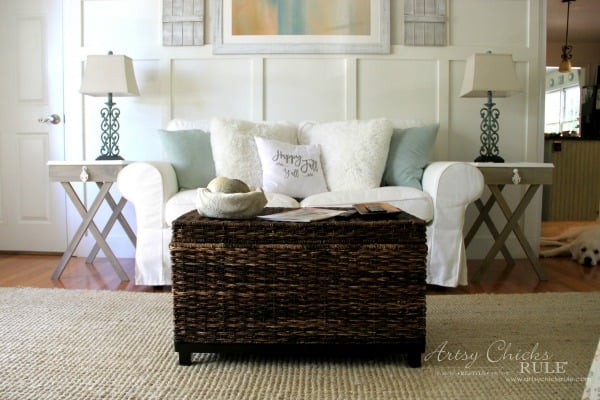 This is one of the reasons I wanted to put a love seat in this space instead of a large couch.
I've never been able to have end tables on each side like so.
I love the new look!
Although, I think the lamps I bought are going back.
They don't seem to work for me in this space. I think the "scroll" pattern is a bit too much with the curtains, etc.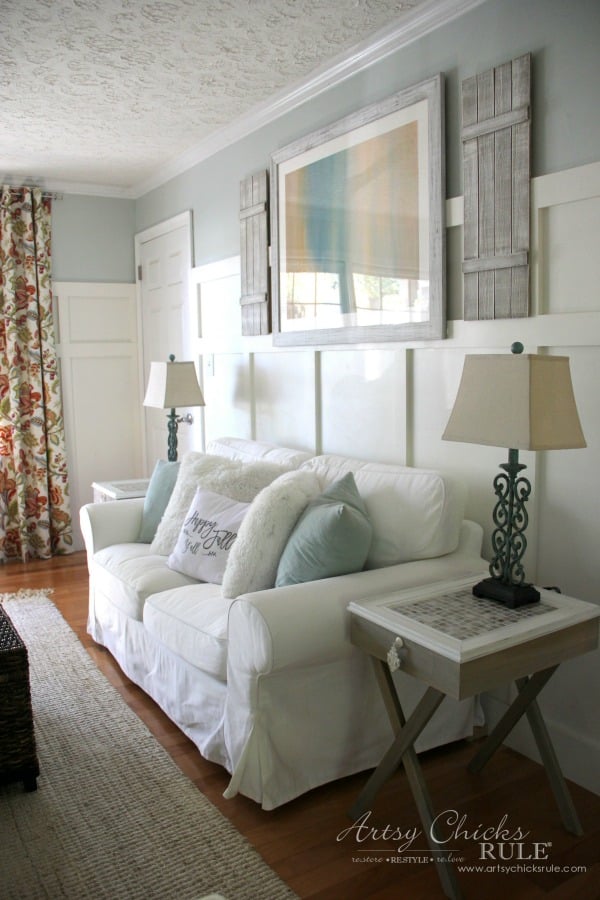 Plus, although I want something a little bit tall, I feel these are a bit too tall and tippy. (I can envision my puppy knocking them over! ;))
I've also considered moving the artwork and shutters down a bit. They seem high since I put in the new couch.
I have also considered putting a long sign just under the artwork too, instead. We'll see!
Probably not until after the holidays.
So, just to give you an idea of what they will look like with lamps, I included them.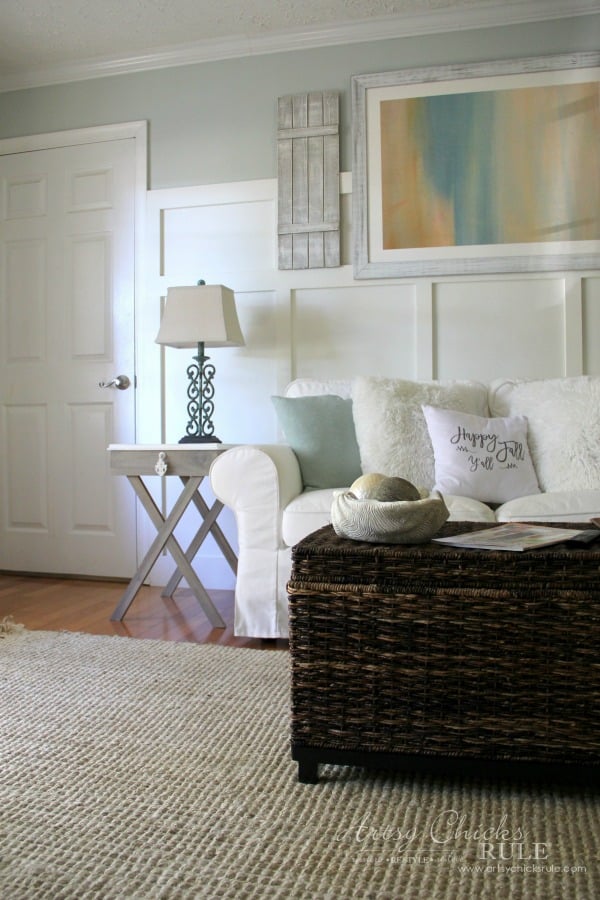 Don't let that sweet little face fool you. ;) He was constantly underfoot while I was trying to take these photos! lol
I finally had to put him in a "down/stay" to keep his blurry self out of the photos as he milled around underneath and around me. ;)
Sweet puppy baby.
And without so you can see the top better…..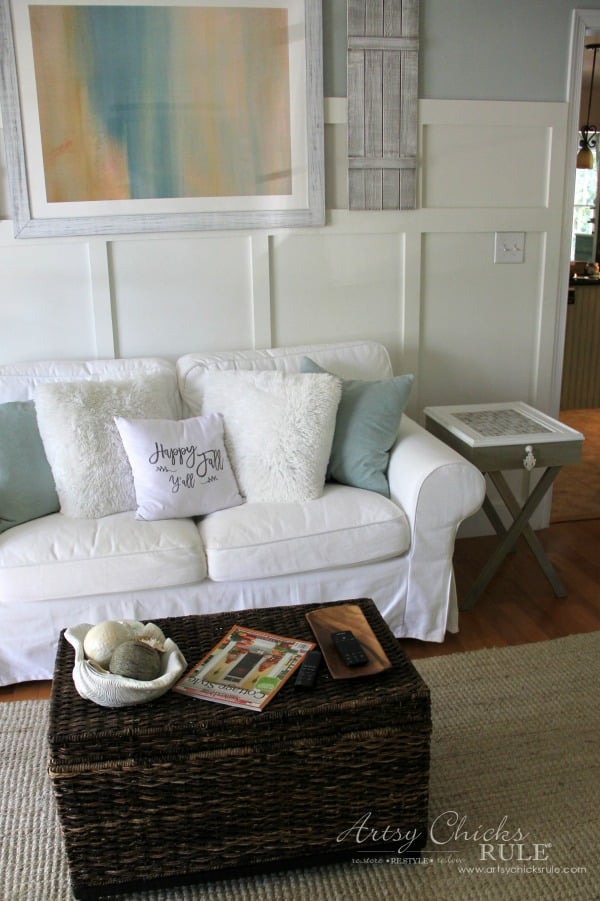 I wanted the base of the tables to look like weathered wood so used one of my favorite products….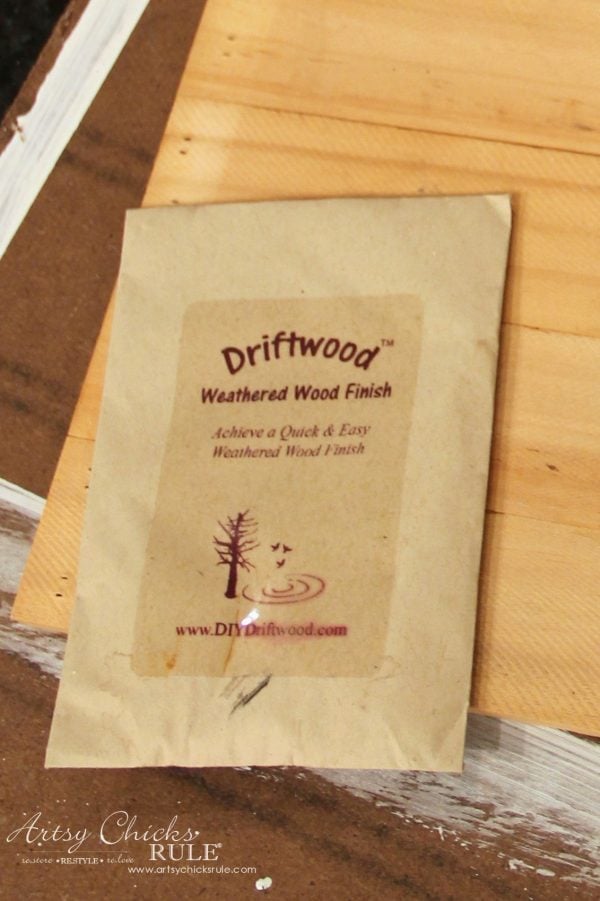 You can find it here …. (affiliate link, disclosure here) …. Best Driftwood Stain Ever!
You can see a few other projects I've used it on here >>>
"Grateful, Thankful, Blessed Sign"
"Give Thanks Sign"
"Weathered Wood Coffee Table"
The base wood you start with will affect the color but that's the fun part! ;)
I also wanted them to be casual and not clunky.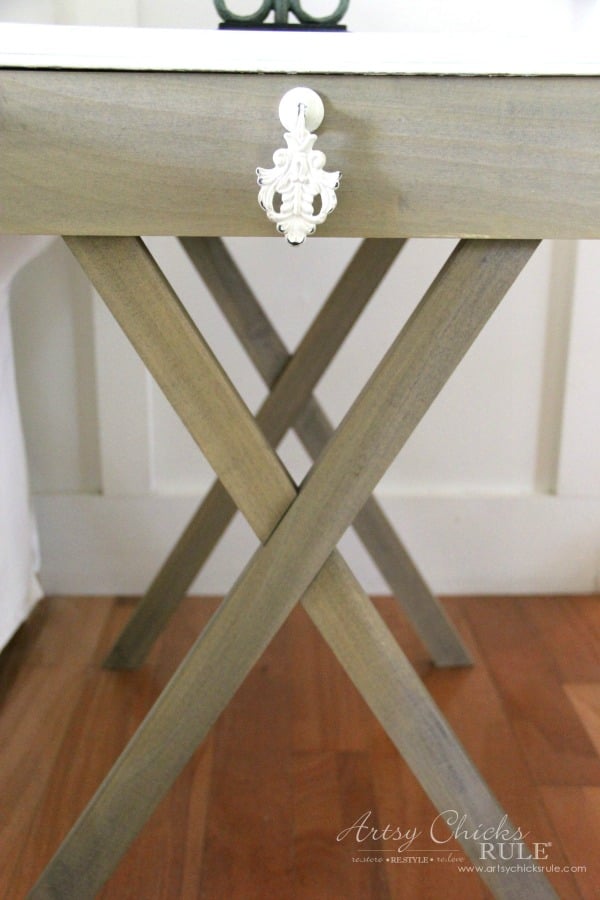 And the reason why I chose criss cross legs giving them a relaxed, open feel.
I originally thought I'd put a drawer in but wanted to keep it simple, so didn't.
But I did include a cute handle so it would mimic a drawer.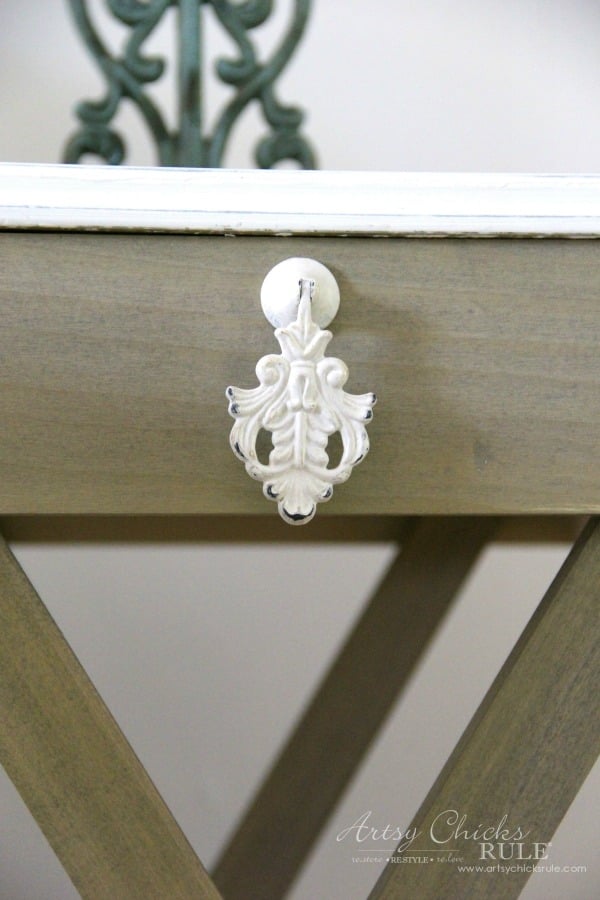 I am SO happy with how these criss cross end tables turned out!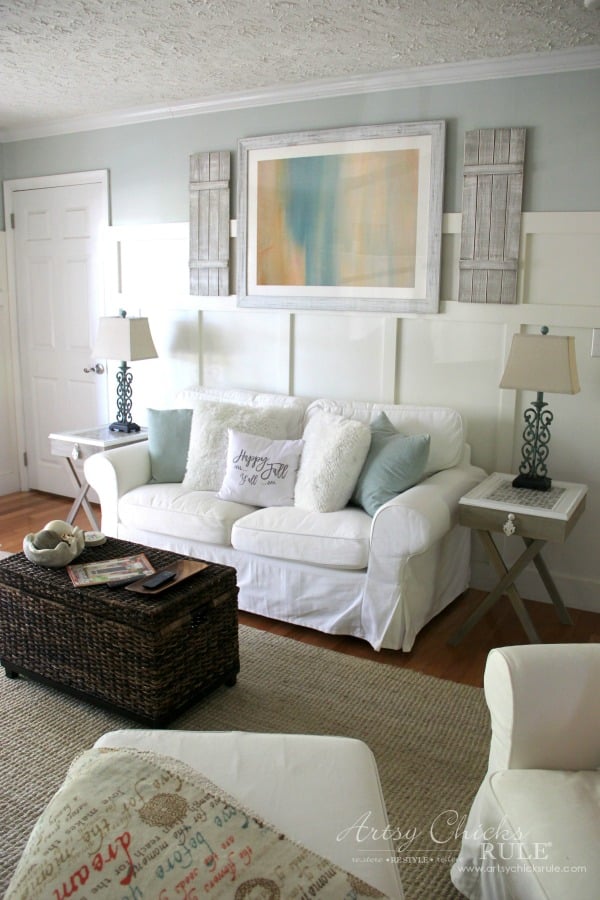 What do you think?
PIN this so you can make some fun new criss cross end tables too! :)
Don't forget, I'll be back with the full tutorial at a later date. :)
UPDATE! You can see the "how-to" now, >>> here!
Now let's see what my friends made over this month ….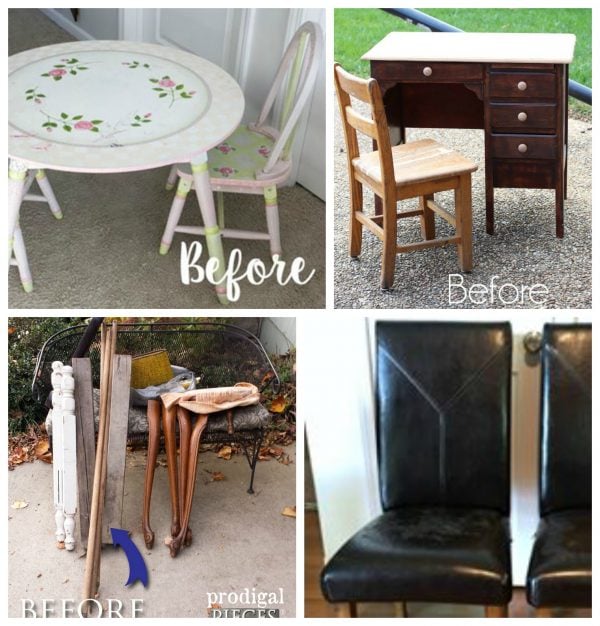 Bless'er House / Confessions of a Serial Do It Yourselfer / Prodigal Pieces / Girl in the Garage
I'll be back on Thursday with my decorating friends. We all have something very helpful for you this week! ;)
See you then!!
xoxo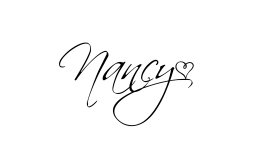 See more Trash to Treasure makeovers here >>> "Trash to Treasure"