Kitchen Tile Backsplash (Do-It-Yourself)
This post may contain affiliate links. Please see disclosures here.
This tile backsplash post is a bit overdue. I've been meaning to get it done for awhile now.
I haven't most likely because I wasn't blogging when I did this project so don't have much in the way of "tutorial" type photos.
I will do my best to try to walk you through the tile backsplash installation a bit instead. I will say it was easy, easy, easy.
Really, it was.
I started this project on a Sunday evening and finished the following evening by 6pm.
I know, I remember vividly. It was my Dad's birthday the following day and we had to be out of the house by 6 to go to dinner.
We made it but not without a little stress on my end. ;)
I was determined to finish before I left. And I did. There are two sides to the back splash.
The one you see here and another on the other side of the sink. You'll see it all in the upcoming kitchen reveal. :)
Here is the tile backsplash ……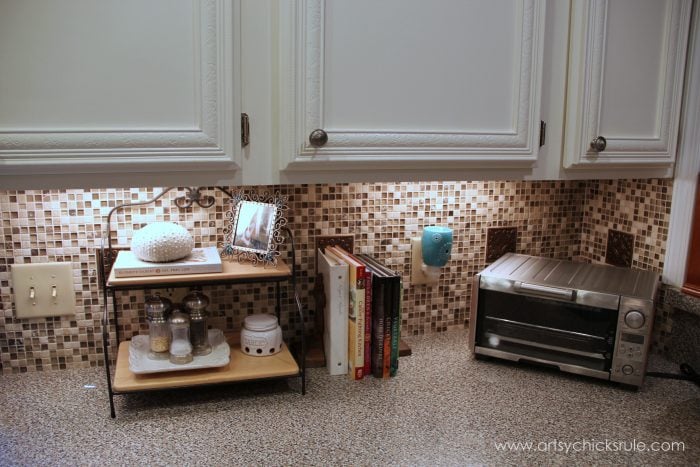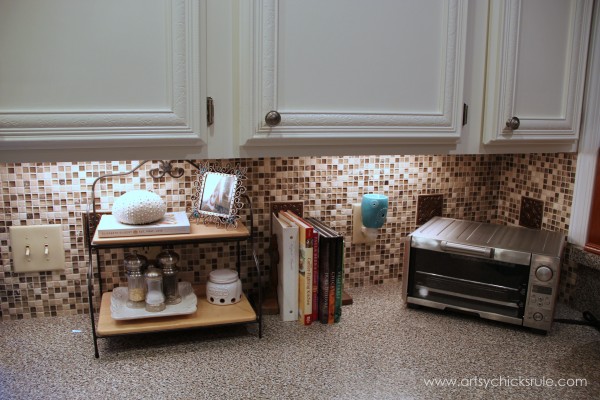 And yes, those are indeed my Chalk Painted cabinets…and the laminate counter top we put in 9 years ago that we are replacing with wood. I think.
That is the plan anyway…but it is ever evolving around here. I just know I'm more than ready to get my farmhouse sink IN!
So let's start with the actual tile I used.
I got it at Lowe's and it used to come packaged like this….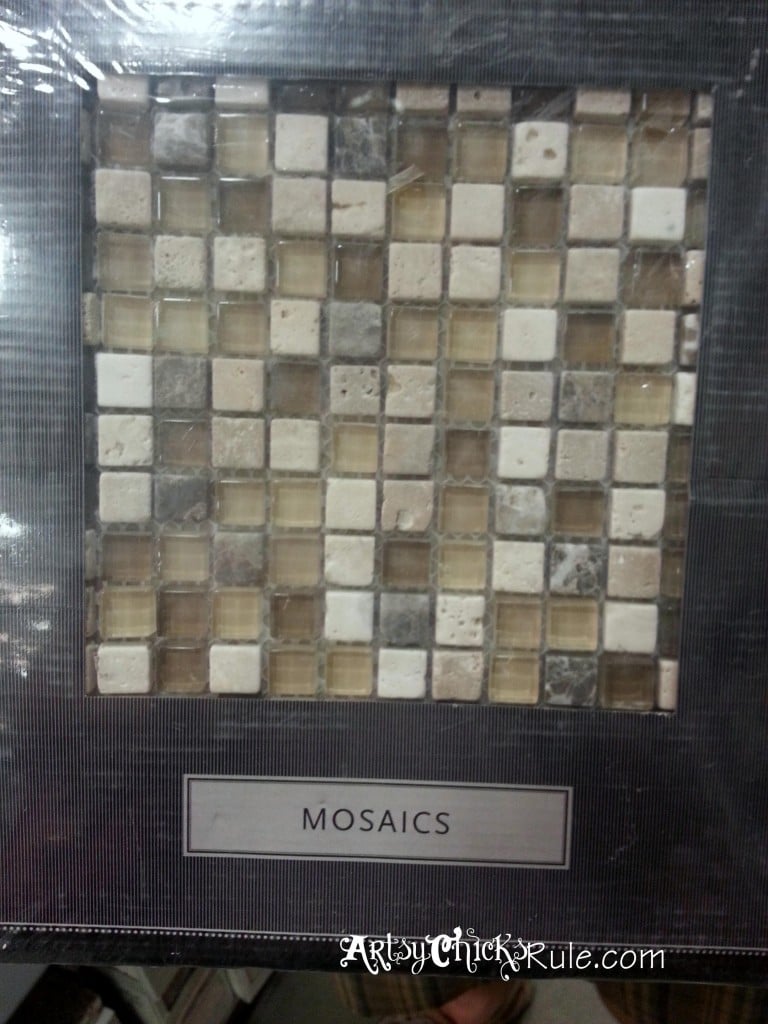 But it seems to be packaged like this now….(without the box). Either way, it's the same product.
Product info in the photo.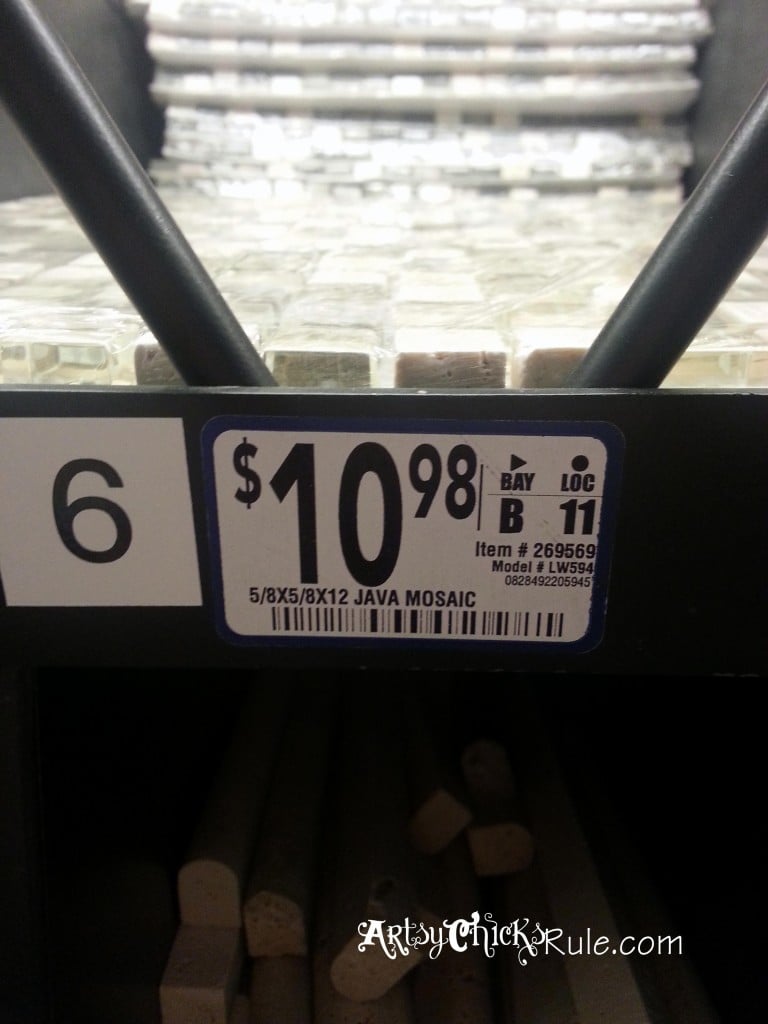 And as you can see from the first picture, I chose to add bronze colored medallions…also from Lowe's.
Here is a sample of the finished tile with grout at Lowe's.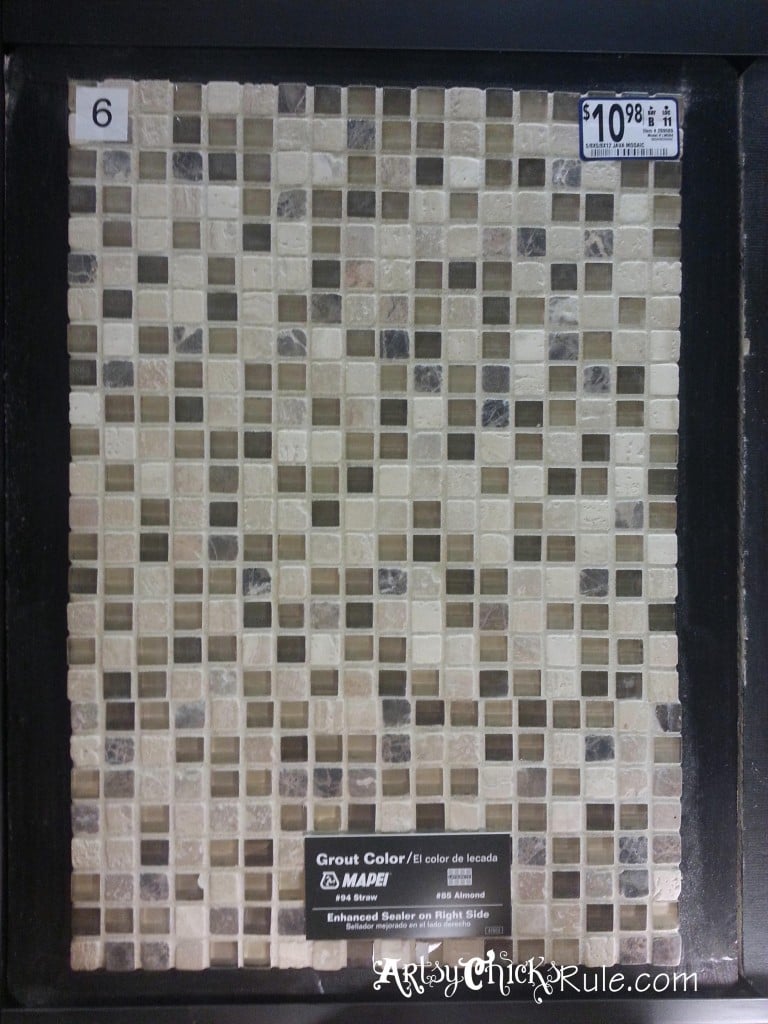 I'm fairly certain this is the grout I used (please forgive me, I don't have any left so I'm counting on memory!)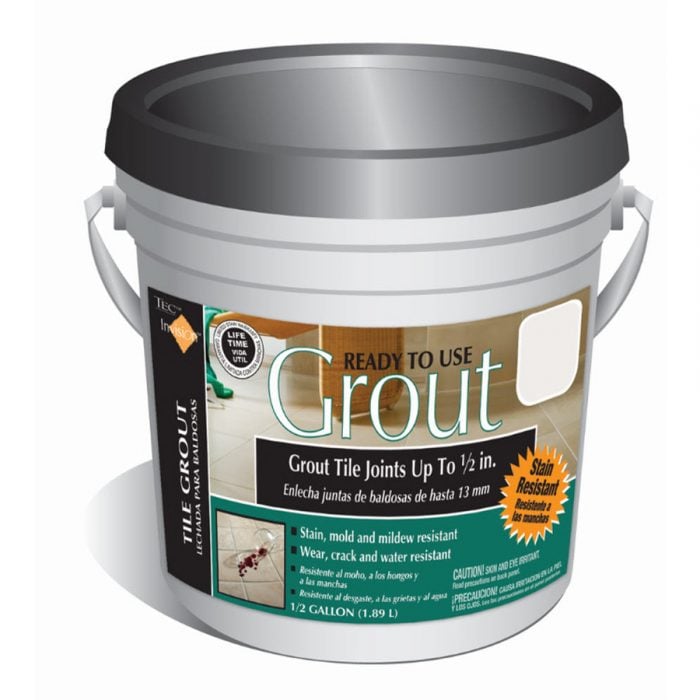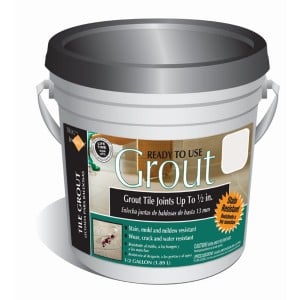 I have no clue what color, but it was pale.
Probably beige, sand or almond in shade. It really made the job easy (I remember that!) because it was ready to use.
No mixing.
Now as I've already warned you, I don't have photos of the actual process but I'm telling you….it was simple, really.
I mean, don't get me wrong, it was work, it was just very do-able work!
And this is the magic.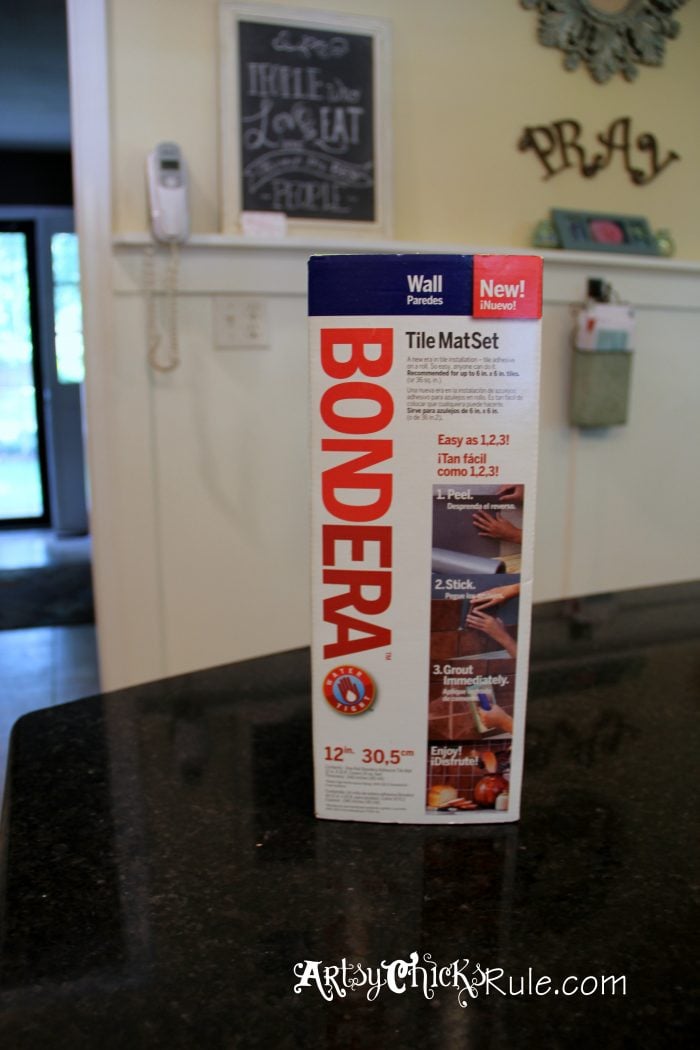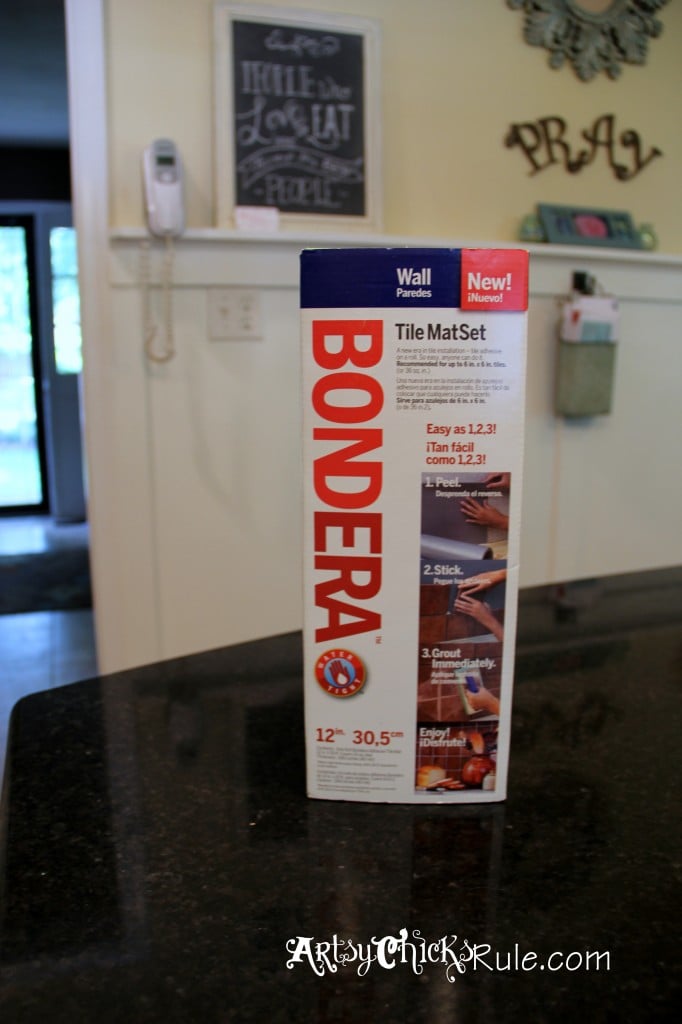 Well, it's not really magic but it IS sticky. Like super, crazy, ridiculously sticky.
As it should be.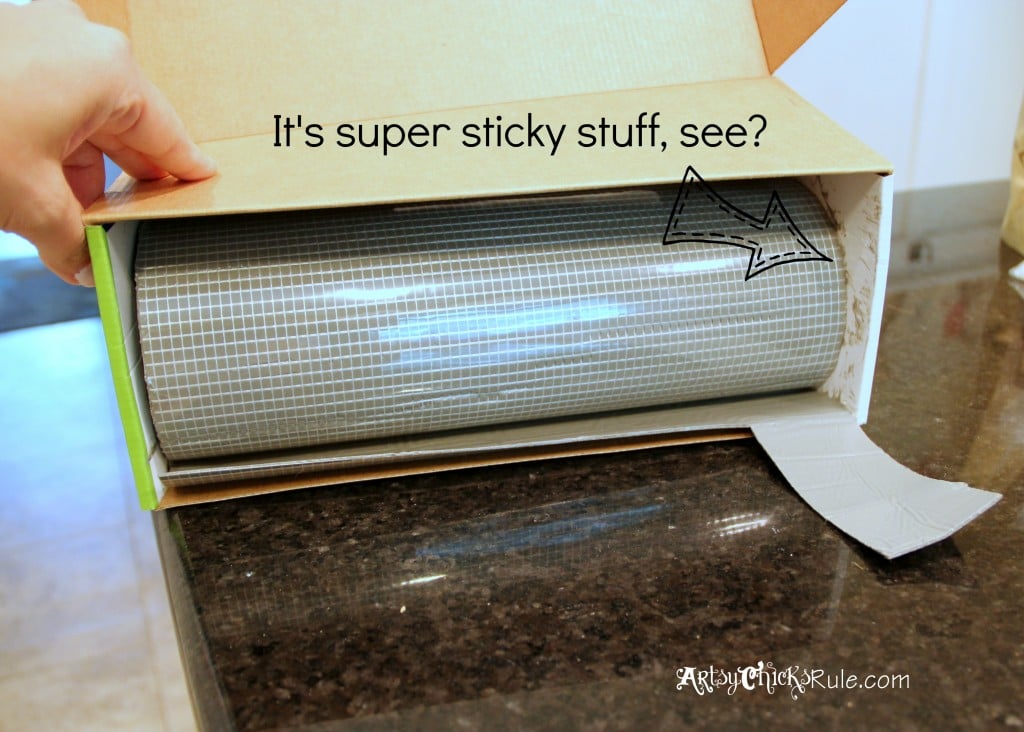 See? I couldn't even pull it out of the box because it was stuck! But it's been there for 2 years like that so it didn't want to budge.
Read the directions on the box.
Cut to fit.
Peel backing.
Apply to wall…that's the gist anyway.
You get the idea.
Easy.
We've used regular mortar and grout to tile a bathroom floor and honestly I did not want to mess with all that again.
So the helpful guy at my local Lowe's showed me this product and I thought I'd give it a try.
And the tile I chose was really easy to work with too since it came in sheets with no large tiles to cut to fit.
The Process:
I cut and measured every single piece the night before. (of the Bondera and the tile sheets) Then I laid them out along the entire counter where they went.
The next morning I started applying.
Now did I mention how incredibly sticky that Bondera stuff is?? Yes, I did, but listen, this is important. ;)
You know that thin little film that is usually attached to the backs of the tiles?
Look, you can see the edge of it on the corner of the large piece of tile below….see it to the left there?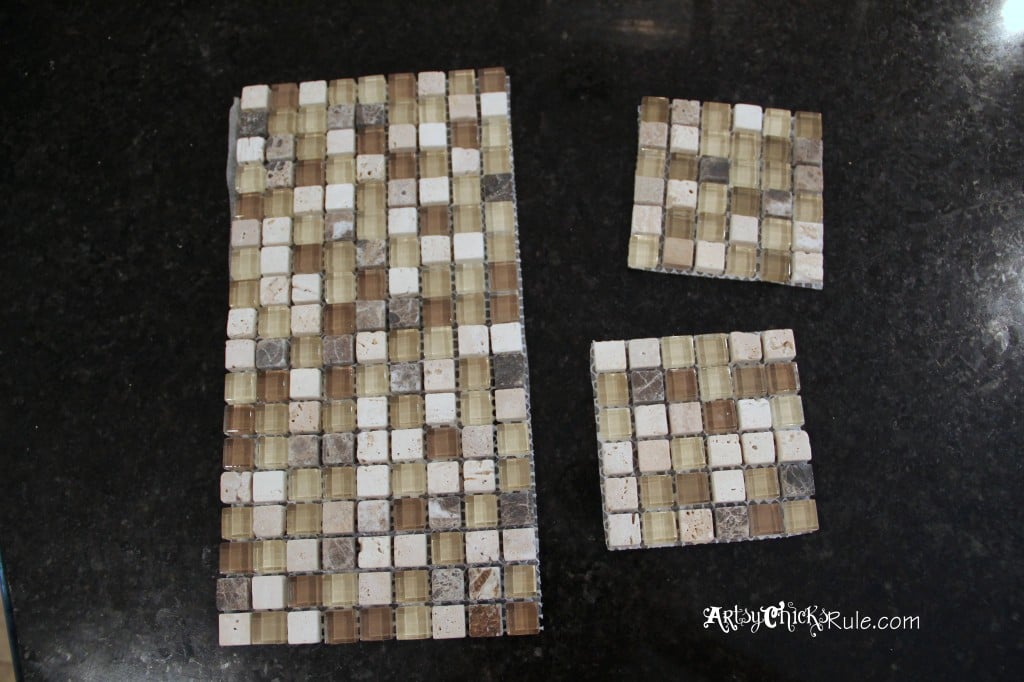 Well, don't put your Bondera on the wall, then remove the plastic film so the sticky is exposed….and then position your tile sheet over it WITHOUT removing the thin film from the back of the tile sheet. Do not do that!!
You know why? Because then you have a really pretty wall of white film instead of tile.
Ask me how I know. Oops.
And because it is pretty much impossible to remove the Bondera to start again…. I probably wasted over an hour fixing that little snafu alone.
At least.
Anyway, you can see in that picture above the squares I cut out for the medallions to fit.
Pretty easy because it's all squares!
Just count and cut.
In my kitchen I did not have an area at the top of the tile that needed to be finished off pretty.
All was hidden under cabinets. But if you do, you can use the long, thin tile strips, or even wood, for a finished look.
Here is a picture of how I worked around the trim of the window…..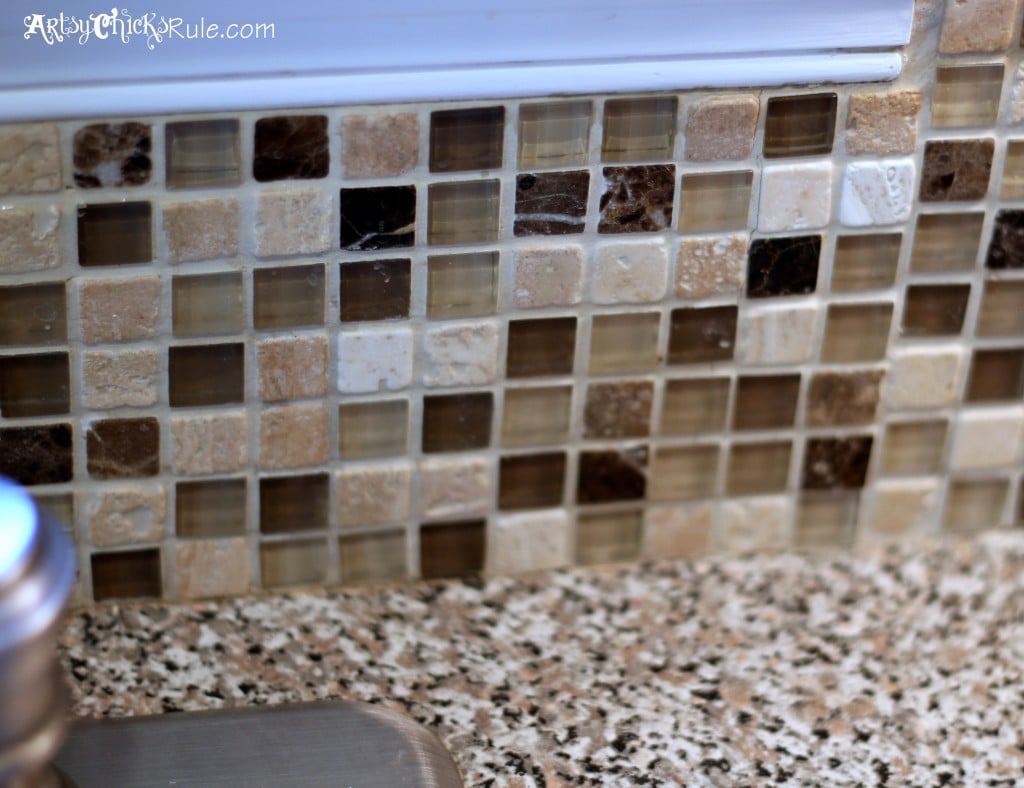 Yes, I know there is a bit of a gap at the corner with a bunch of grout. But trust me, no one notices.
I surely was not going to try to cut a tiny piece of tile to fit there for such a small piece. ;)
As it goes up the wall it evens out since that bottom trim is angled…..as you can see in this photo.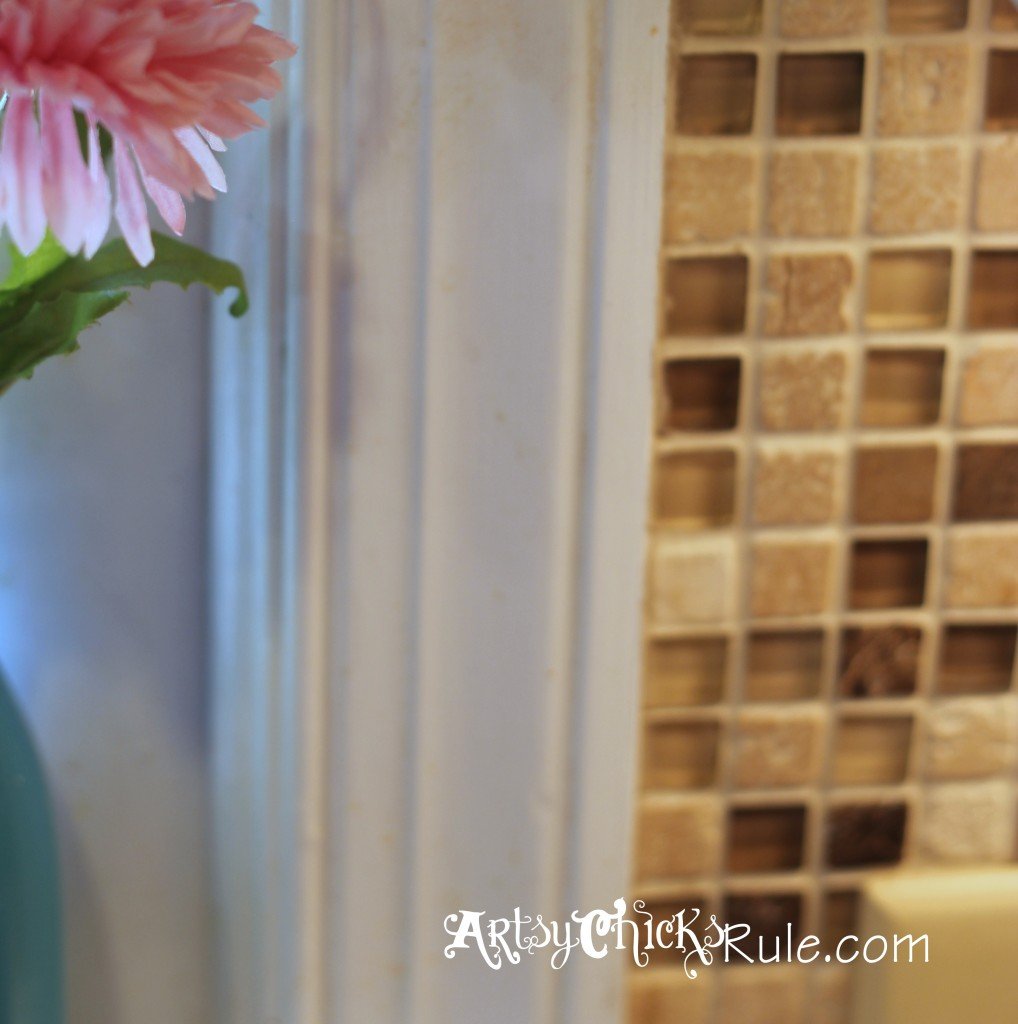 This is the top edge of the tile…..just under the cabinet. There is a slight space because we have under cabinet lighting.
The top edge of the tile cannot really be seen.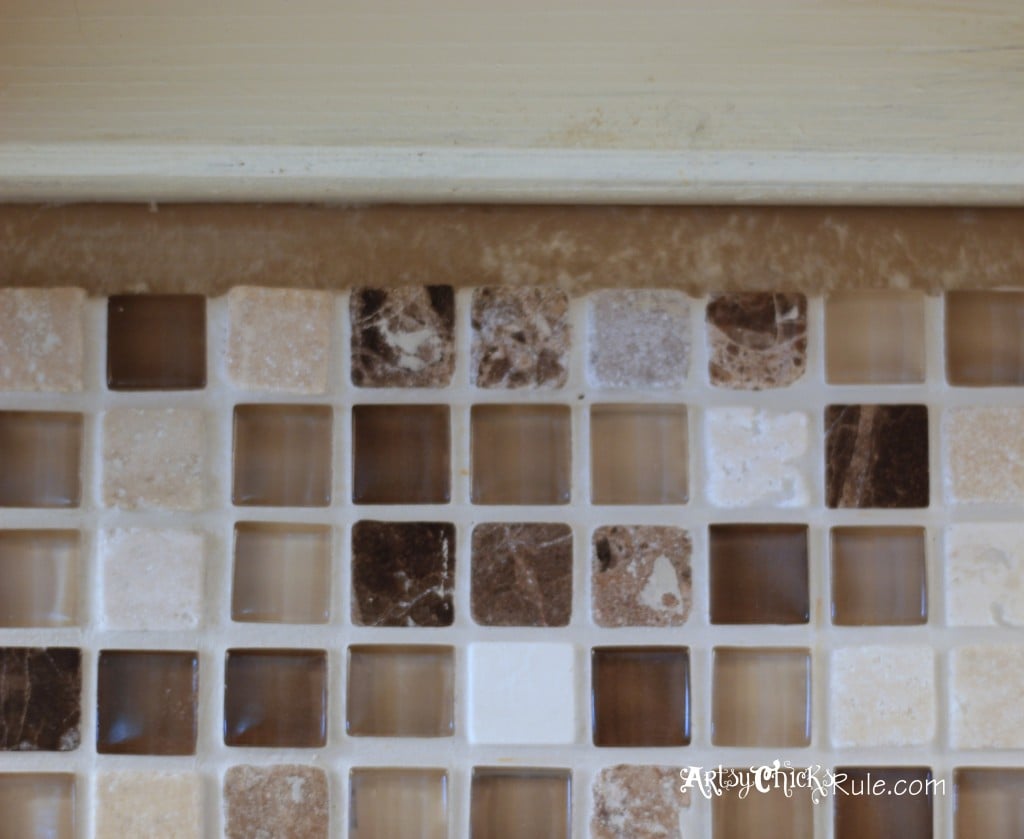 A close up of the medallion and tile…..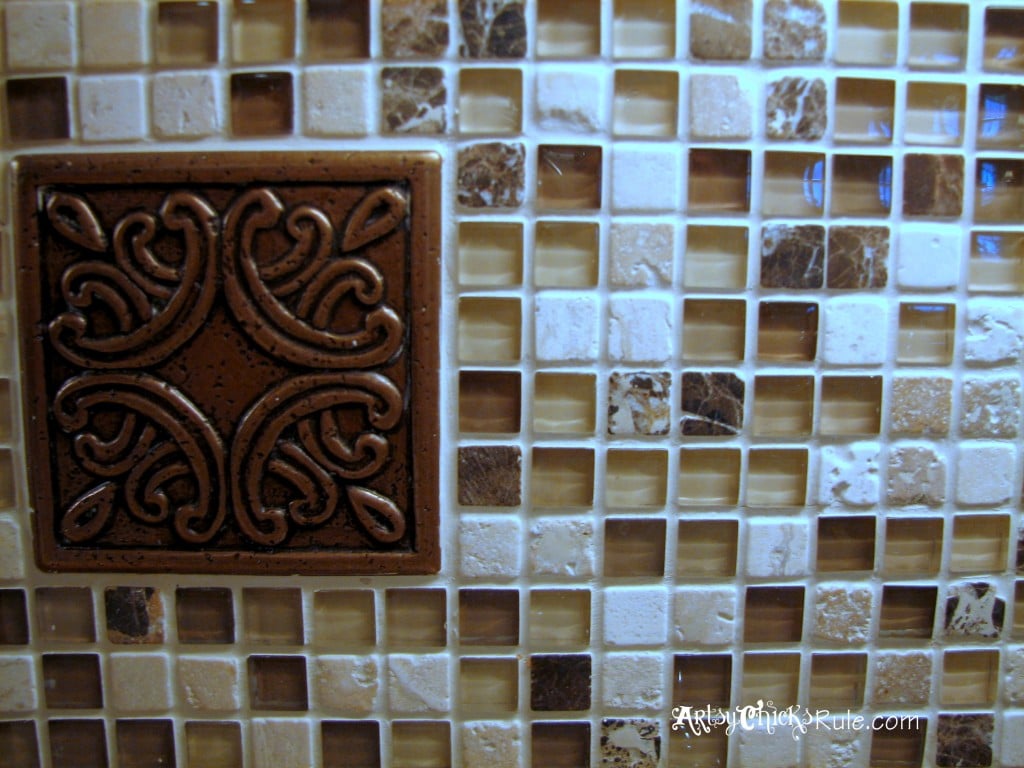 Another….and you can see where I had a little "oopsie" right above the right side of the medallion.
Remember, the Bondera is super sticky stuff so be sure of where you are putting your tiles because they won't really want to move after.
I'm not worried about it because it's not really noticeable, mainly because of the style of this particular tile.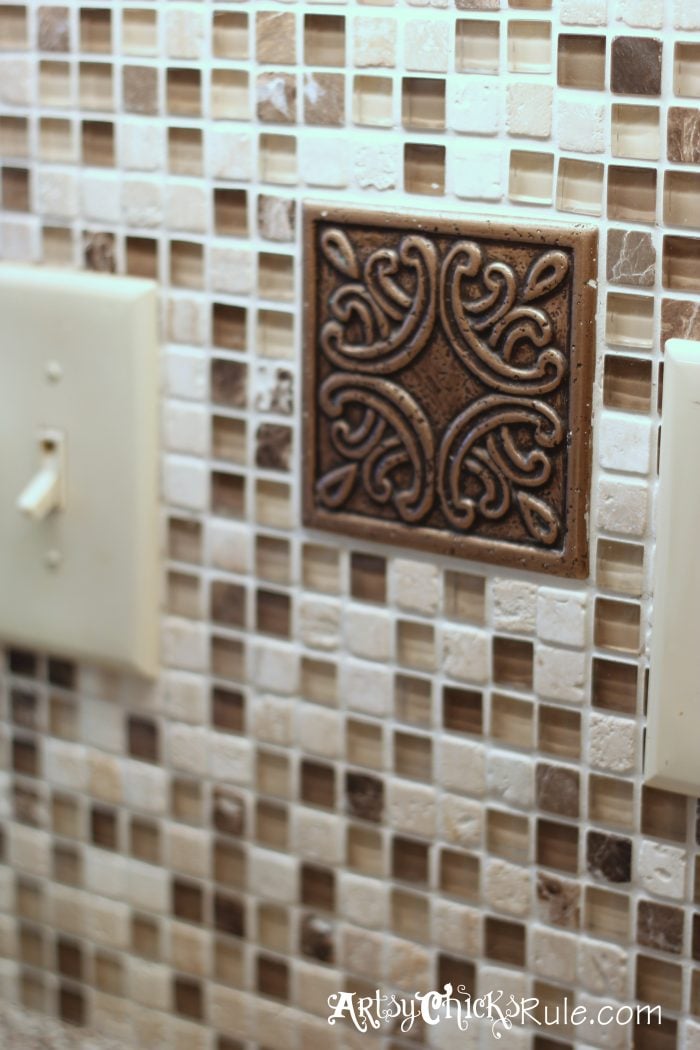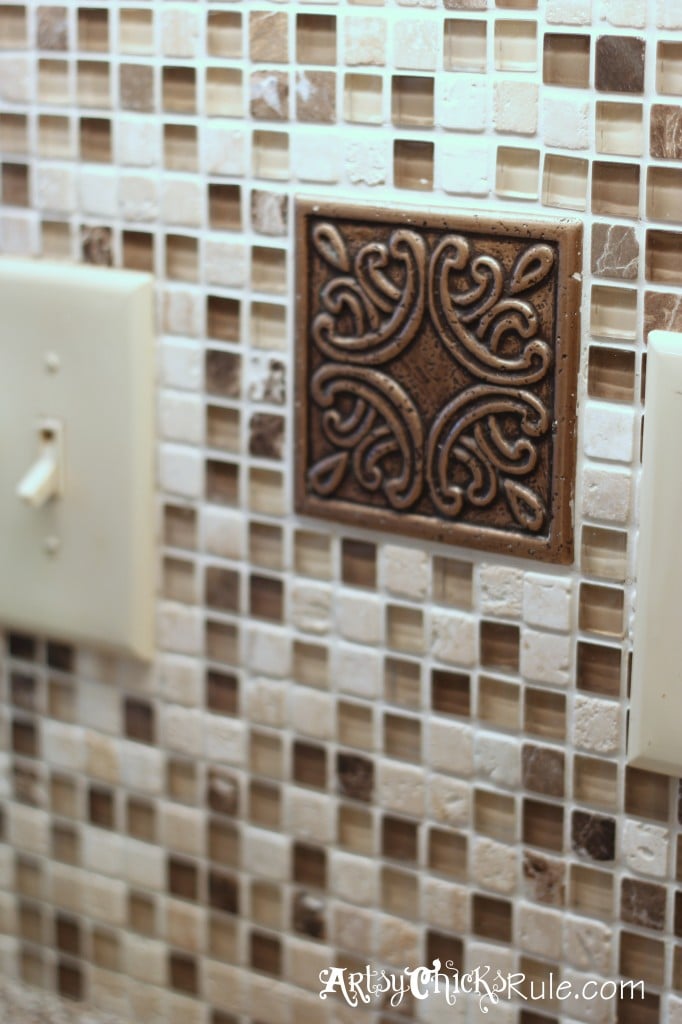 And this is the edge where the tile ends and the bar top begins.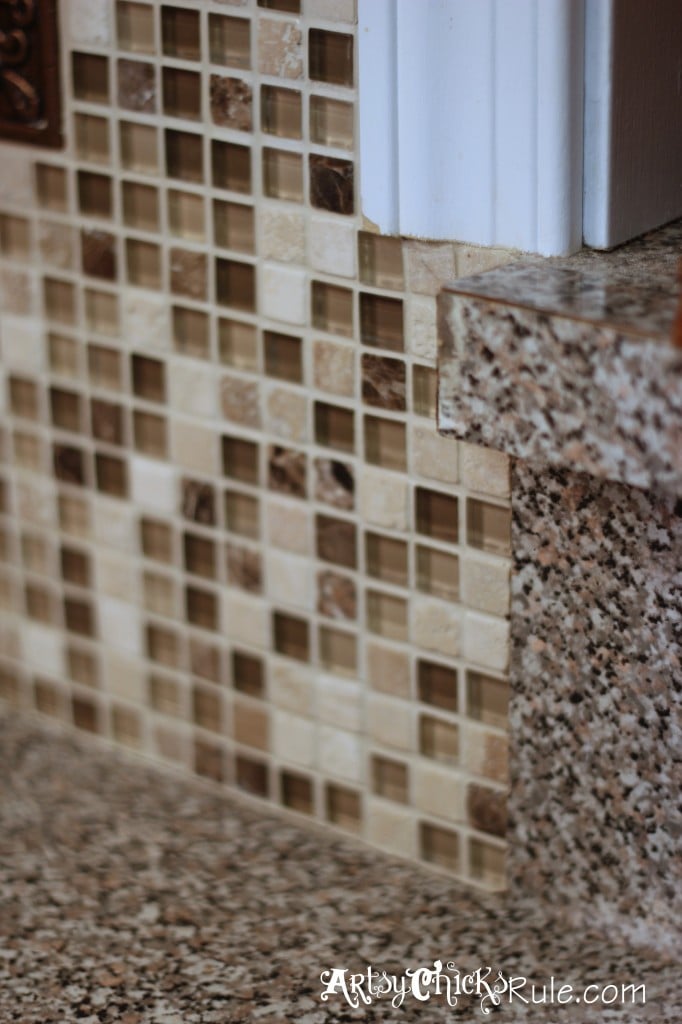 Once you have it all up and stuck to the Bondera you apply the grout. (I think it says you have to apply the grout within 8 hours or something…again, please read the box :) )
After lots of wiping and cleaning the sponge out and wiping some more, you are done!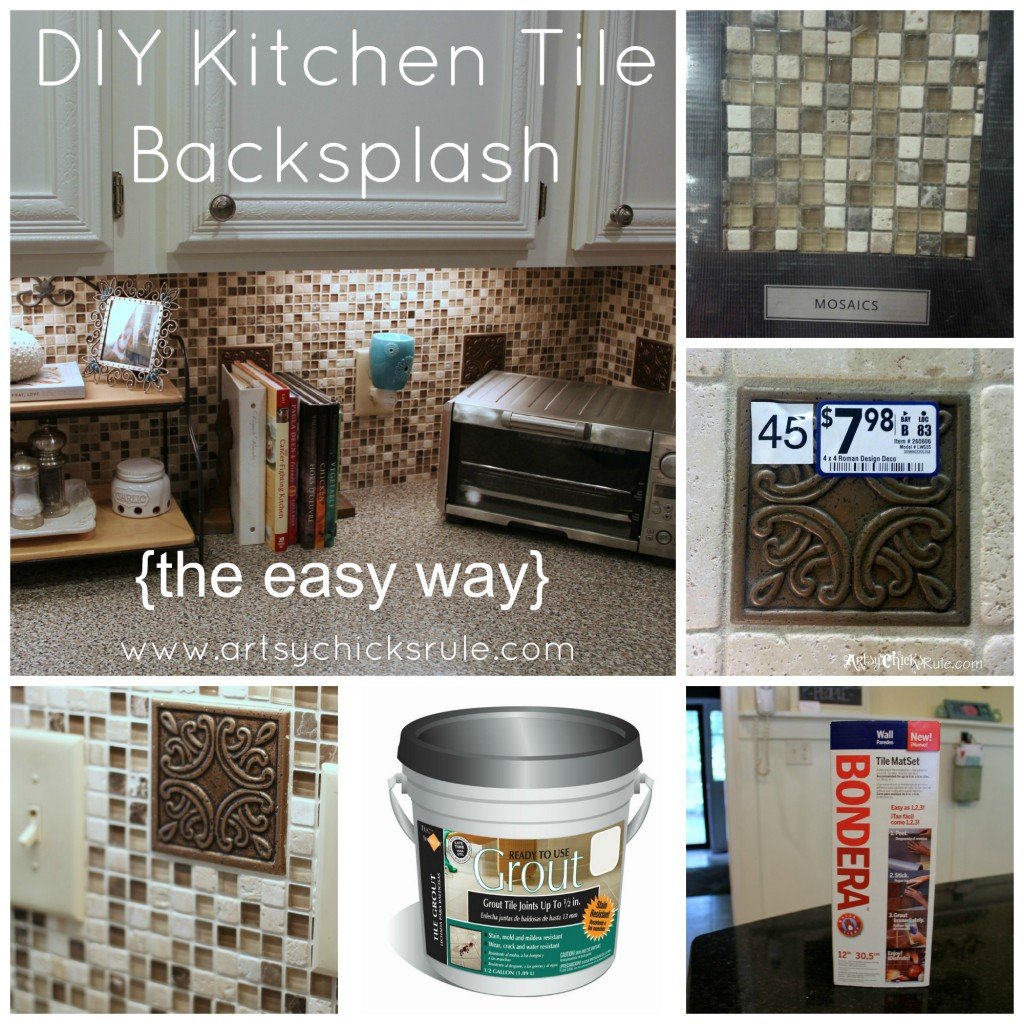 So there you have it.
PIN this tile backsplash for later!!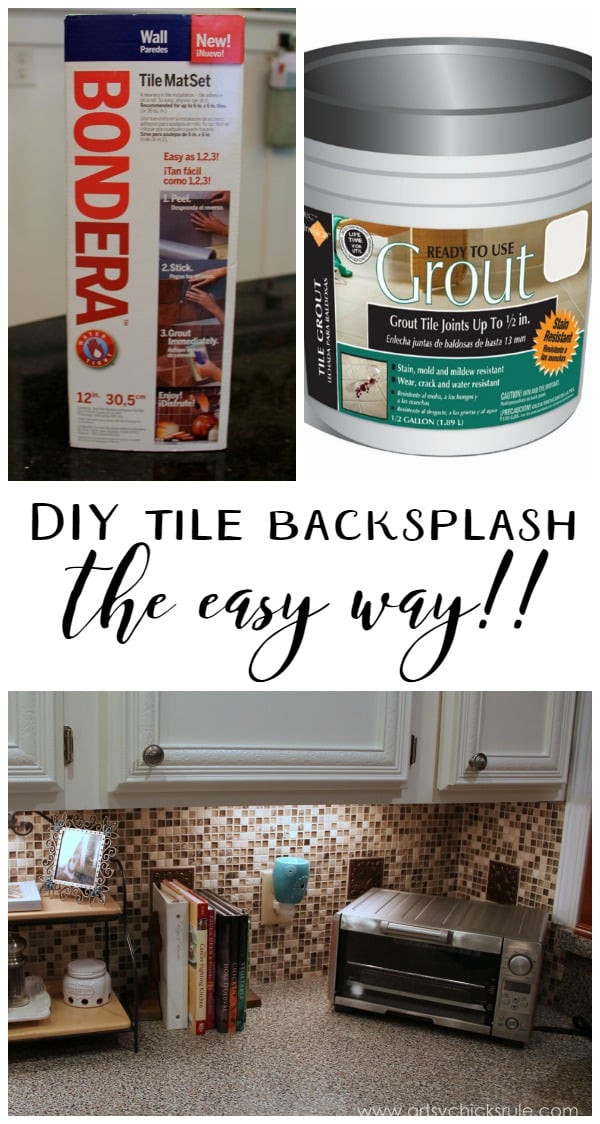 Change the look of your kitchen (or bath) in less than a day (or two) with a new tile backsplash.
What do you think? Is this is a project you would try to tackle? I think anyone can!
EDITED to add, I've since re-tiled this space. See it and all the details, here, "Coastal Inspired Tile Backsplash".