"Coffee Bar" Server w/Shelves – It Moved!
This post may contain affiliate links. Please see disclosures here.
If you read my blog, you might remember this old antique dresser I picked up at the thrift store and turned into a Coffee Bar in this post here.
This one….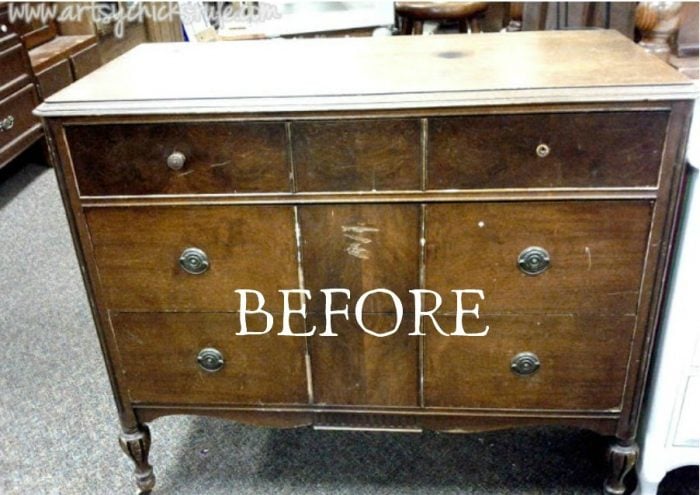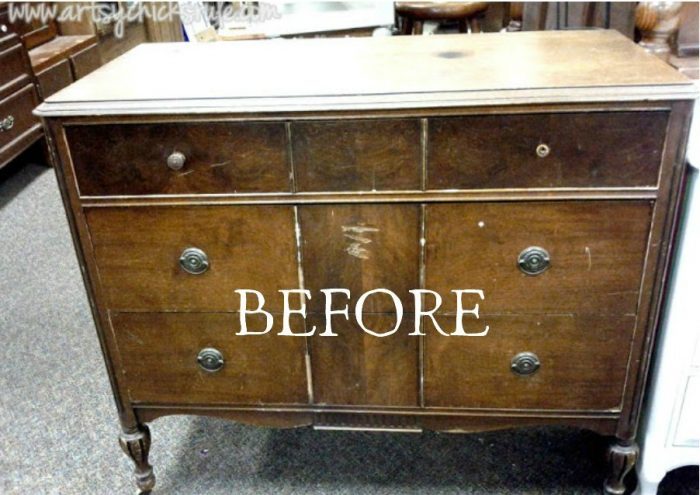 All the details on the actual dresser turned "coffee bar", paint (Annie Sloan Chalk Paint), graphics (The Graphic's Fairy) are on the post in the link above.
So why am I posting about it again? No, I didn't repaint it. Gosh y'all….I don't repaint everything. (Just most things ;) )
BUT I did move it to another corner in the same room, my Dining Room.
And I also removed the framed area around the mirror and mounted the chalk board (formerly the mirror) on the wall above which I like SO MUCH BETTER.
I made & put shelves up for the coffee mugs to go on the wall to the right of the server as well.
I created a graphic on my computer with this cute saying I found online….and hand wrote it onto the chalk board. It's a little crooked…what can I say, it's done by hand. I erased and re-wrote that third line twice…and I still wrote it at an angle…ha!
Oh well, it has character, right?
Anyway, I'm loving it all.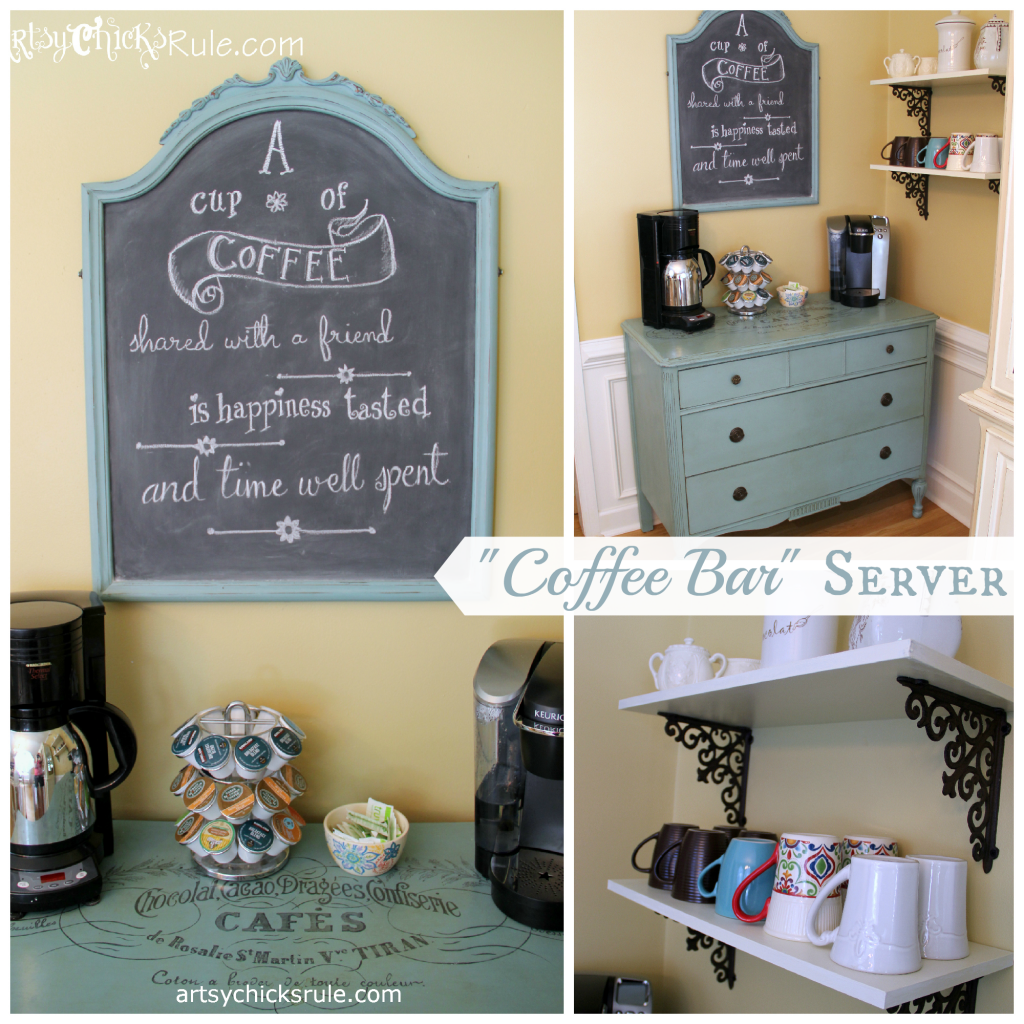 It's amazing what a change moving furniture around in a room can make. And it's also amazing how just changing a few small things can create a big impact.
Here is it before the "move" with the chalkboard/mirror still attached to the frame and dresser…..kinda dresser-ish, huh?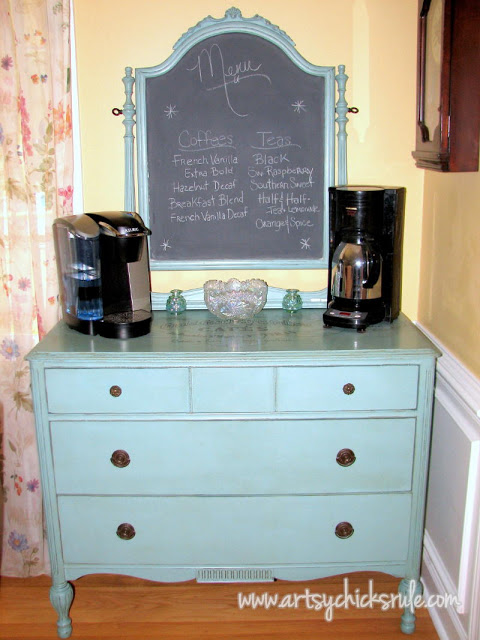 How it looks now with the changes I made….and in the new location of the room. More coffee bar -ish now right?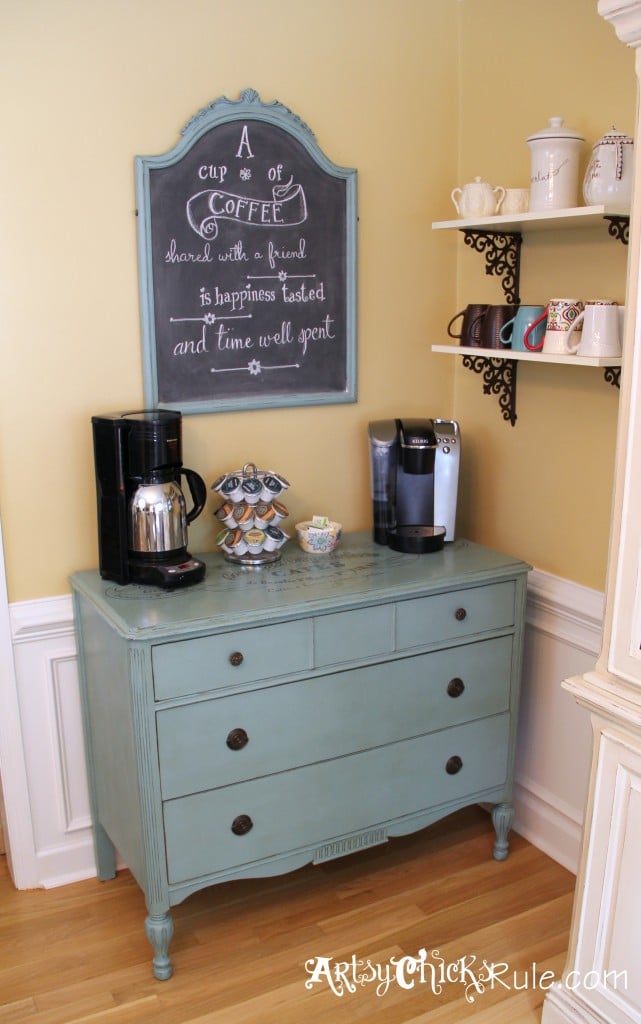 It was originally directly to the right when you walked into the Dining Room from the Kitchen. It now sits in the far left corner by the Study entrance. (straight ahead from the Kitchen by the china cabinet-it now sits where the large green plant was in this post.)
Another view…… (you wanna see what I have in the drawers??? —> look here ;) )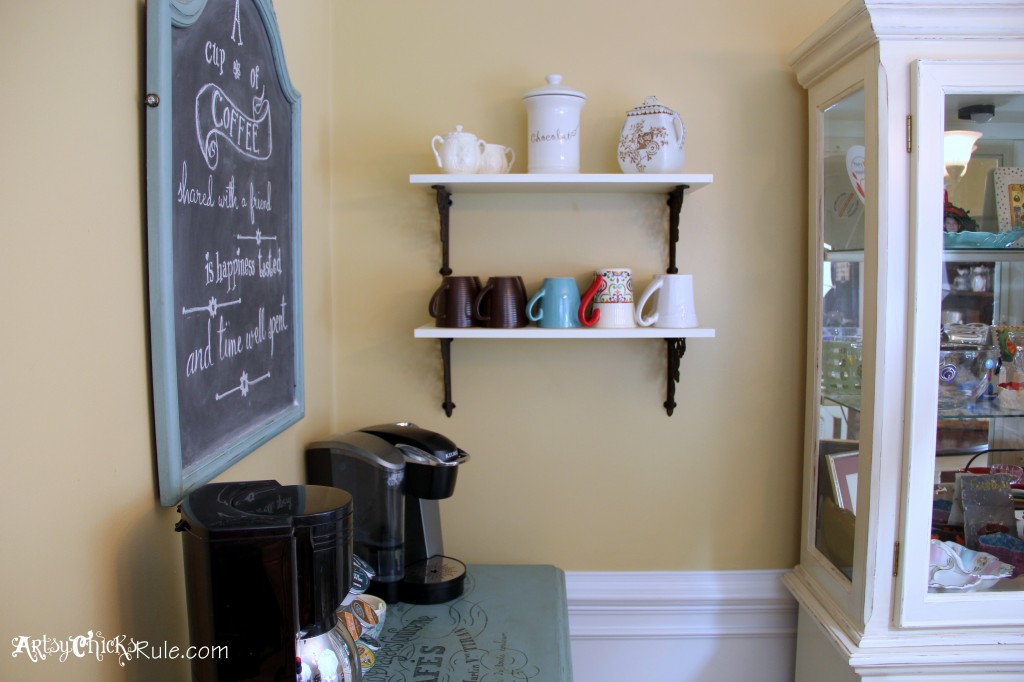 We made shelves and added brackets from Hobby Lobby for the coffee mugs and some thrifty finds. The one on the top right was a $3.50 find, circa mid/late 1800's from England.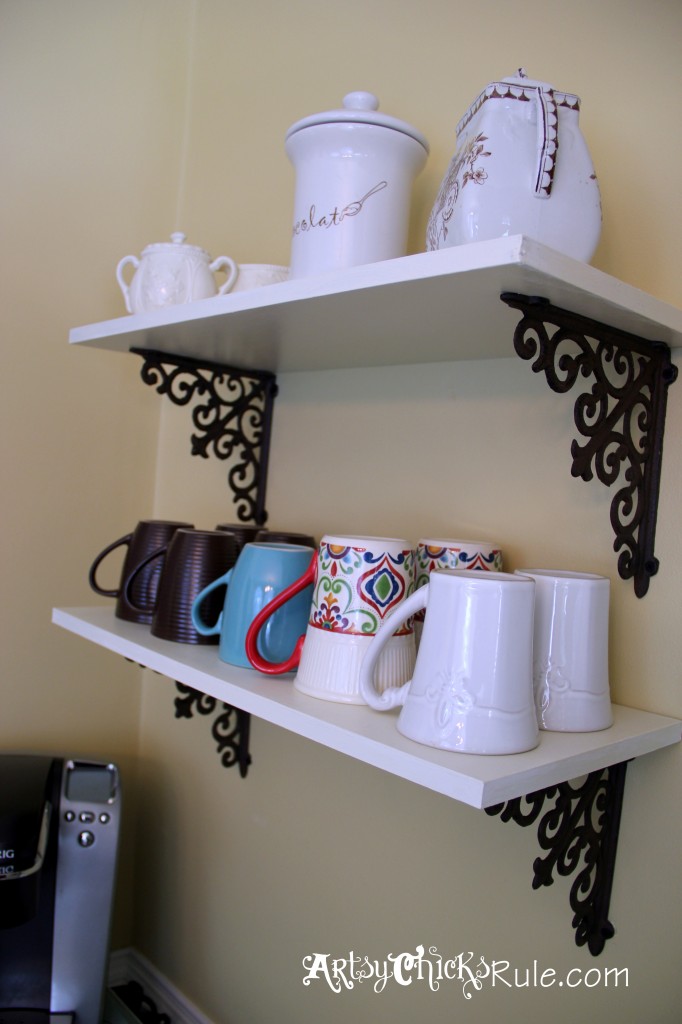 Such a better placement in this room than before….and so much better with the mugs handy. ( I had them in the drawers, I still do actually…extras)
I DO have something planned for the space this used to sit in though. (of course, right? Right. )
….a 'Bakers' hutch. (pictured below-a $35 Craigslist find)
It has yet to get it's "pretty" paint job, but rest assured, it will soon.
And wait til you see all the goodies I've been collecting for it. Lots of fun, great, vintage stuff!
Hint: if you read my blog, you've seen some of it already.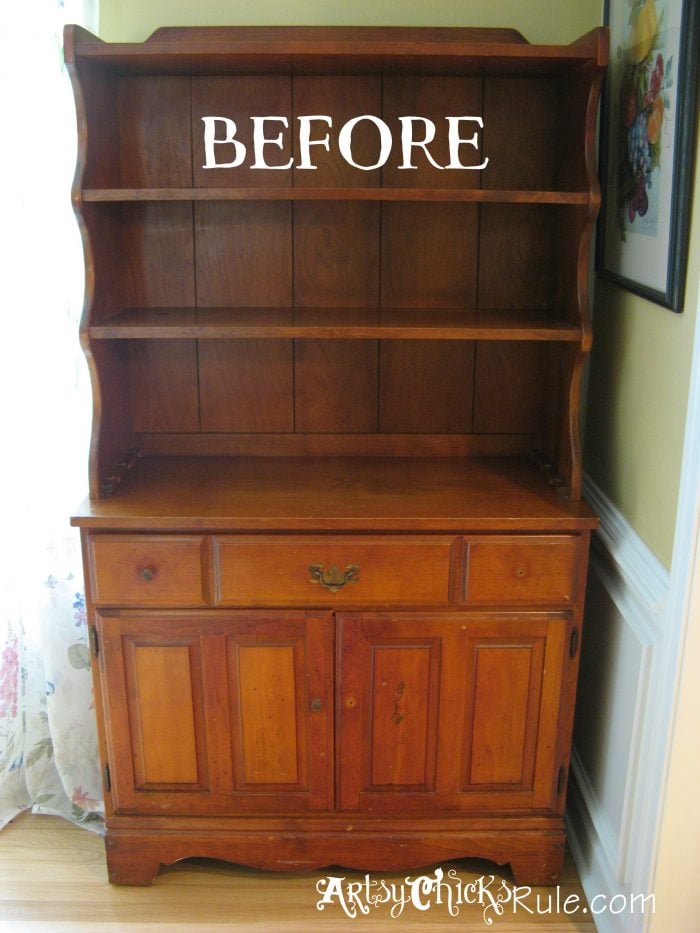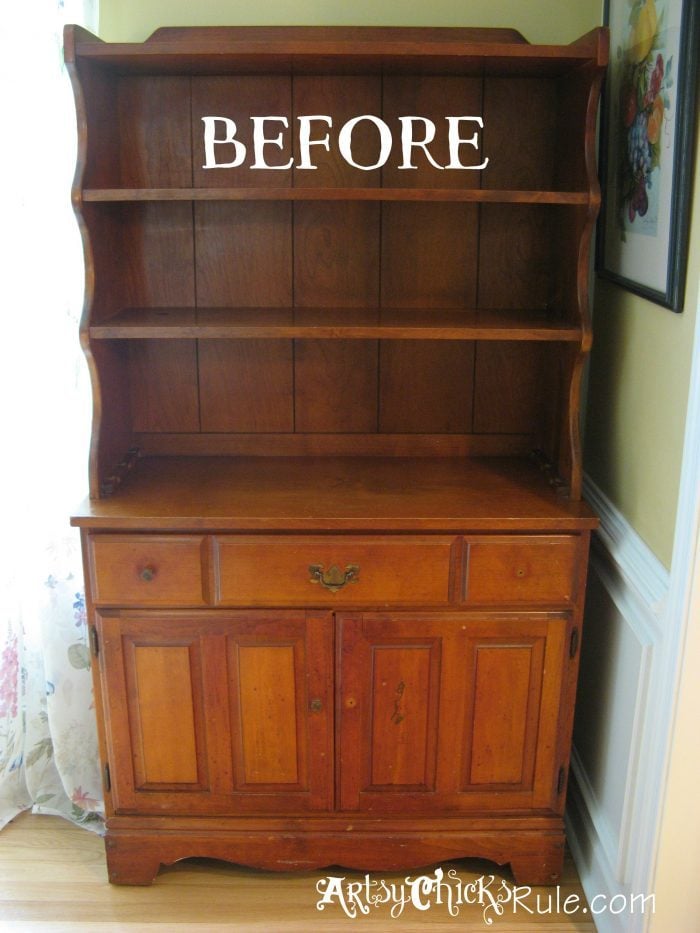 UPDATED: See the hutch makeover now, HERE.
And last one in the new location. New shelves & brackets…..aren't those brackets gorgeous?
PIN this Coffee Bar server to save this idea for later!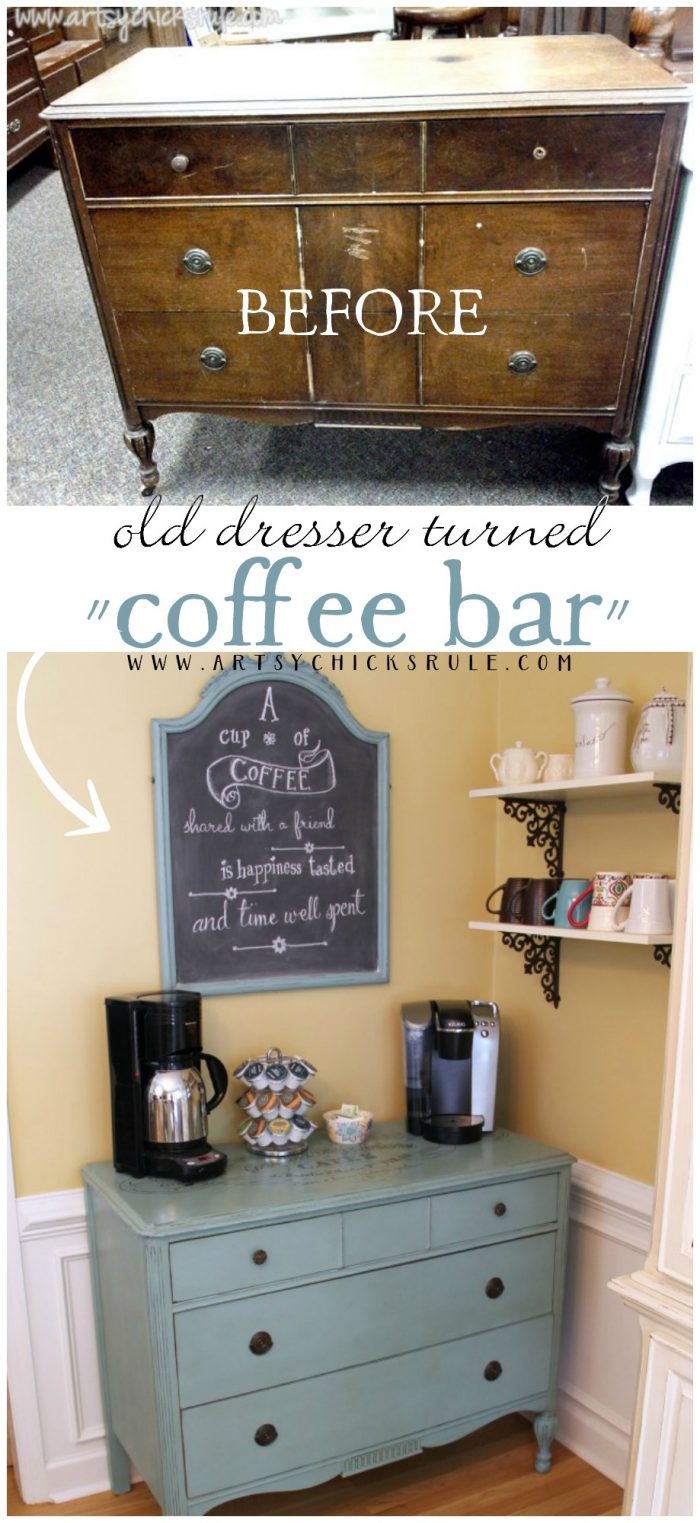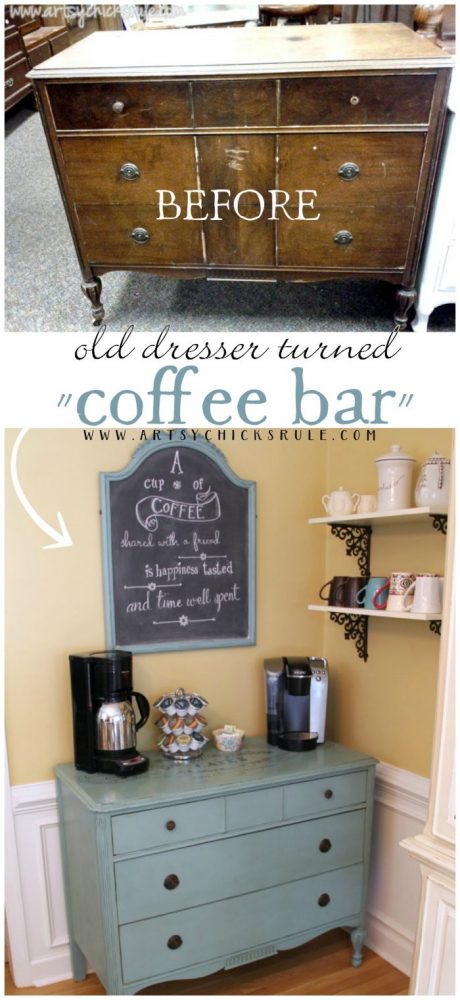 So if you get tired of something…or are feeling something "new", just move your stuff around. (or paint it!)
You can try adding a new element to the arrangement (chalkboard on the wall directly, new shelves, etc).
Small (fairly easy) changes can make a BIG impact.
Which do you like better? The before arrangement or the after?
Be sure to check back in next week to see what I did with this $35 thrift store find! :)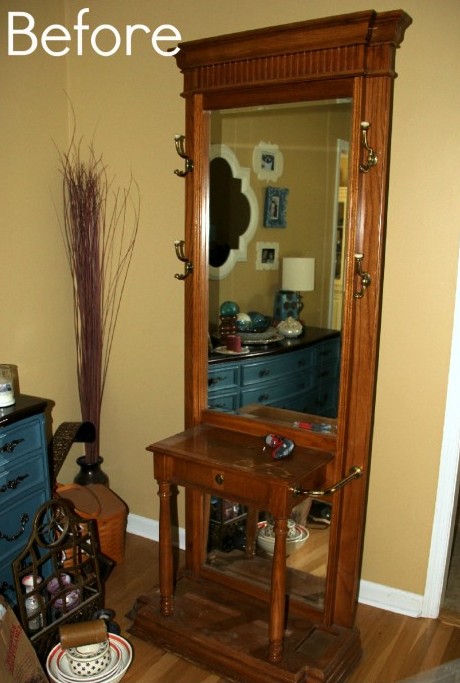 UPDATE!!! See it now, here!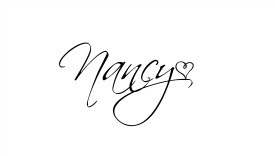 I'm including a few affiliate links to some cute coffee bar signs. :) See my full disclosure here.