Flatware Box Turned Keepsake Box
This post may contain affiliate links. Please see disclosures here.
Old flatware boxes are perfect for making into a keepsake box, jewelry box and more! Perfect for storing important items.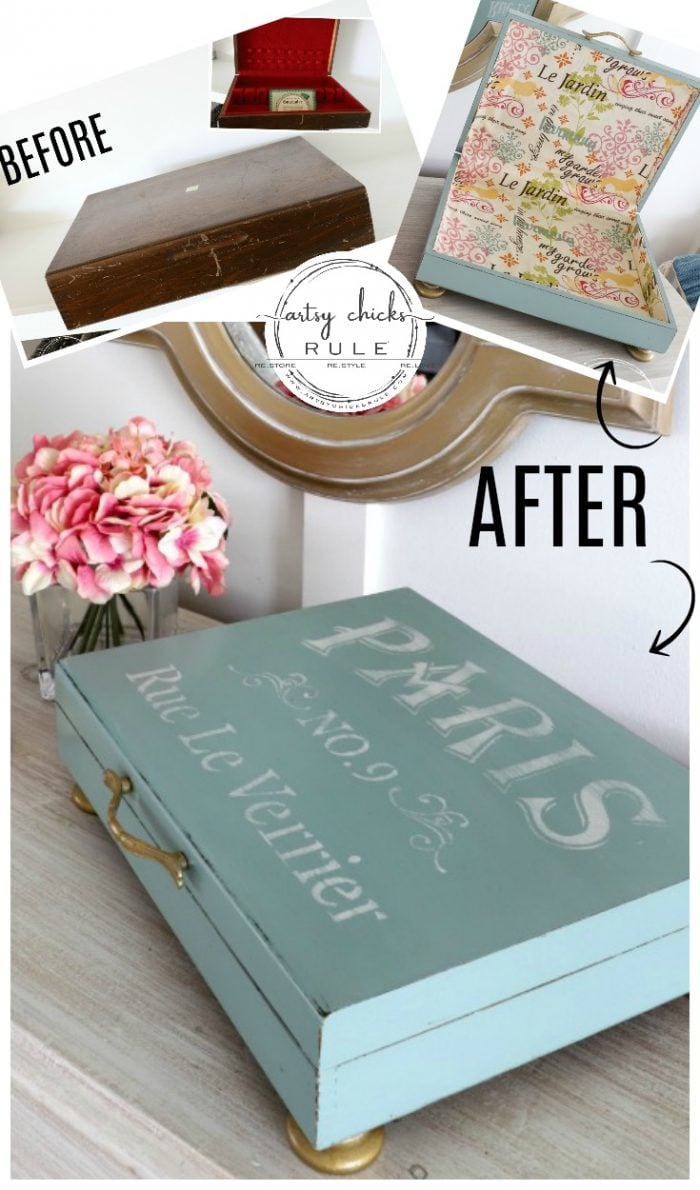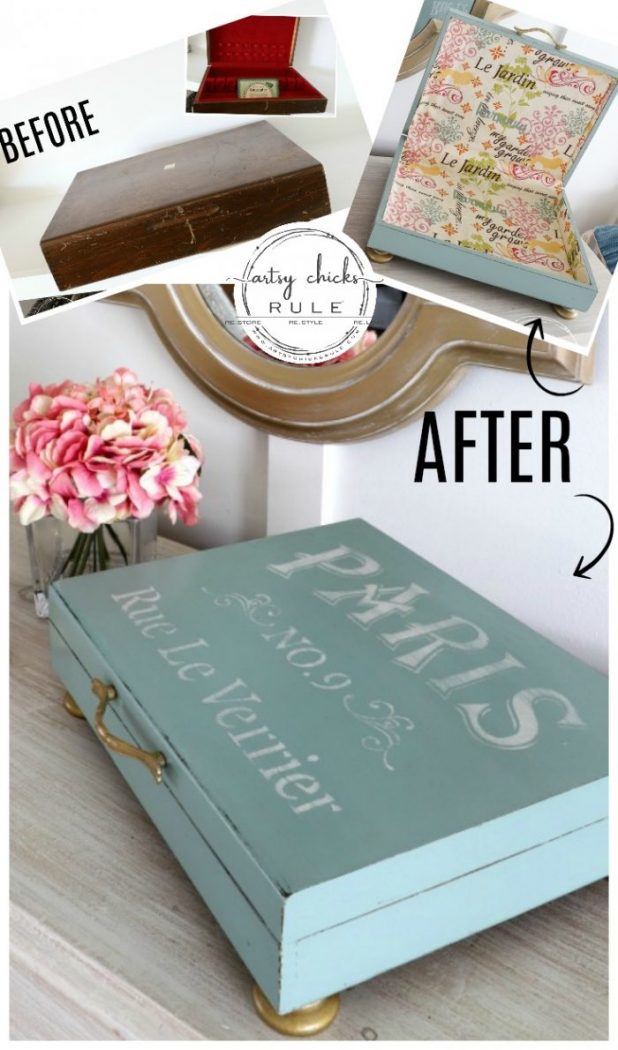 Hey friends! It's trash to treasure Tuesday and my friends and I are sharing our fun new finds with you.
I'm sharing this old flatware box turned keepsake box.
But first…
I hope you had a wonderful weekend.
I had a great one and part of the reason for that was all of you! I am humbled and so grateful for the love and kindness shown to me, by all of you, this weekend.
And if you missed that post, I'm hosting a giveaway for my birthday…with one of you being a lucky winner! So if you haven't already, hop on over and enter to win!
Here's the link to the post all about it >>> ACR's Birthday Giveaway
I can not tell you how much I enjoyed all of the birthday wishes AND seeing how long each of you has been around here. That was really fun to see.
For those of you that don't follow along with me on Instagram, I also decided to step out of my comfort zone and shared a little more about me over there.
Not the easiest thing for me to do. I can write a blog post sharing painting tips, home decor, or room makeovers all day long!
But when it comes to really opening up, well, that's a little bit more than I am usually comfortable with.
So, if you are interested, you can check it out here >>> ACR Instagram
And if you don't already, I'd love to have to follow along with me over there. It's just a different way to connect, more at the moment and a little more personal.
I just love it! It's always been my favorite social media platform.
What I didn't mention in either the blog post or Instagram post, was that my husband and I spent my birthday, Saturday, getting our son moved in at college.
This is his very first semester away and it's been tough!
He's my last "baby" at home, so we are truly empty nesters now! I'm not quite sure how I feel about that yet. lol
My husband asked me jokingly if I liked him enough to just be with him now and I laughed and said, I don't know!! hahaha
Of course, I do, silly man, but I'm feeling all the 'mom feels' right now.
So all of the wonderful birthday wishes, kind comments, thoughtful messages, emails, and inboxes truly made my day, on a day that was hard for me as a mom.
Giving a big ole virtual hug and thank you to each and every one of you. xoxo
…………………………………………………………………………………………
Flatware Box Turned Keepsake Box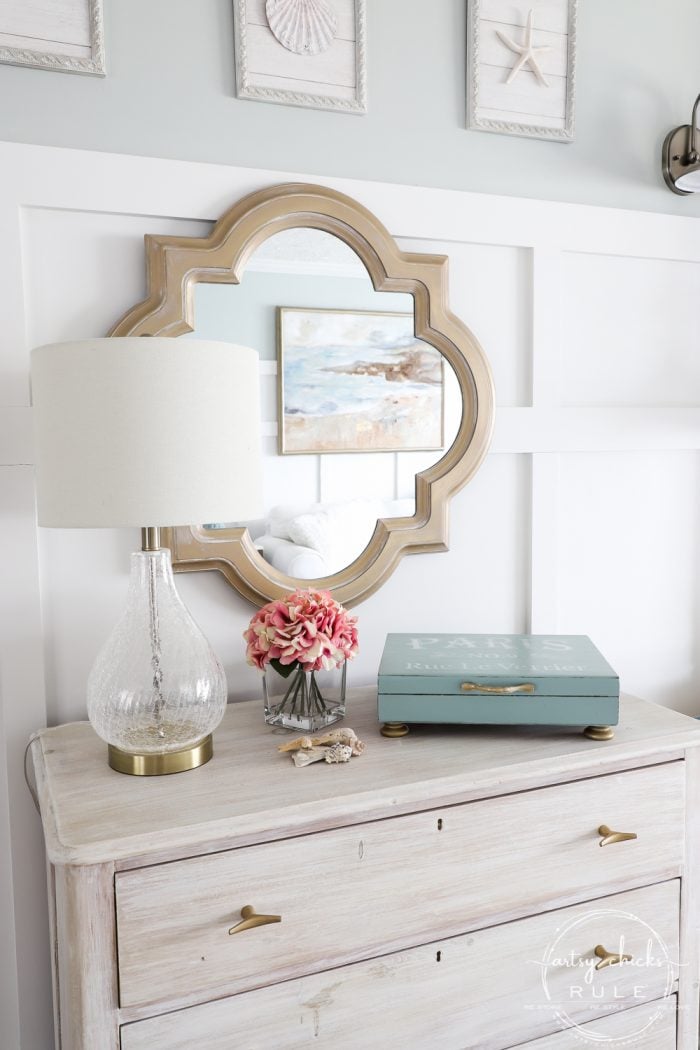 Here's how my flatware box started out…..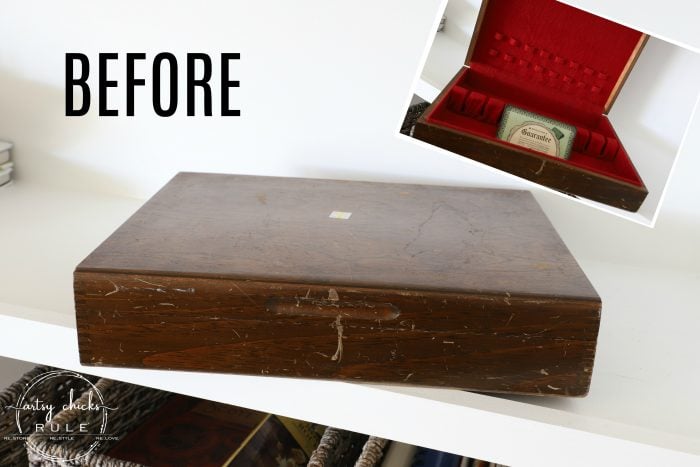 Remember this recent haul of thrift store finds??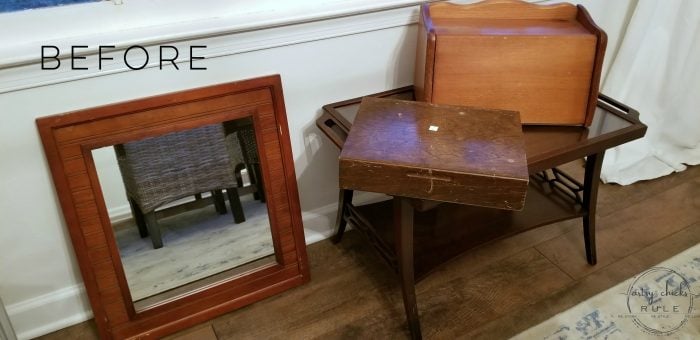 I've already done the mirror, you can see it, here.
And the bread box is done too. You can see that one, here.
Today I'm doing the flatware box turned keepsake box so all that's left is the little table. :) Stay tuned for that one.
Hoping to get started on it soon.
I love flatware boxes!
You can pretty much always find them at the thrift store. Plus they are great to use for keeping things in.
Things like jewelry, important papers, envelopes, etc. So many uses, really.
I turned this one into a keepsake box.
I knew I wanted to put feet and a handle on it to dress it up a little, so I started by filling in this "handle" area.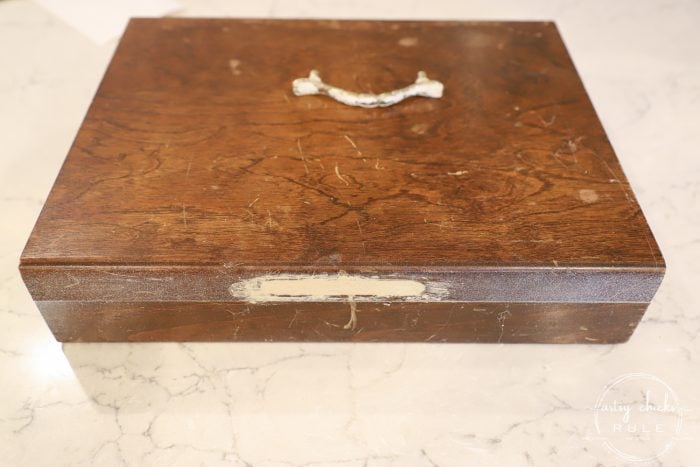 I just used regular ole wood filler.
The handle there is actually one that came off of our bathroom cabinet upstairs, circa 1978. (I pretty much keep everything because you just never know when you may need it!! haha )
And see?? I needed that handle/pull. Good thing I save it.
Once it was dry, I sanded it to smooth it out.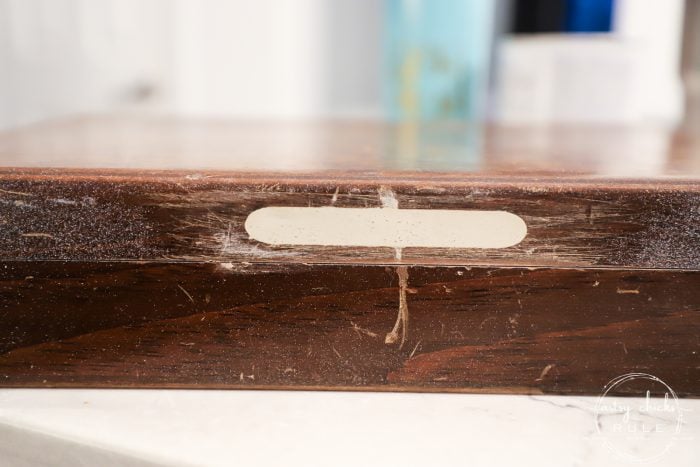 I drilled two holes in the handle.
I was actually able to skip adding screws in the back which was a plus since I had fabric in there!
I pushed the handle all the way in and it was a good and tight fit. And since it's not a "pull" but just a handle to lift the top up and down, this worked out perfectly.
Then I got started on the inside….which is always the most fun. (not!)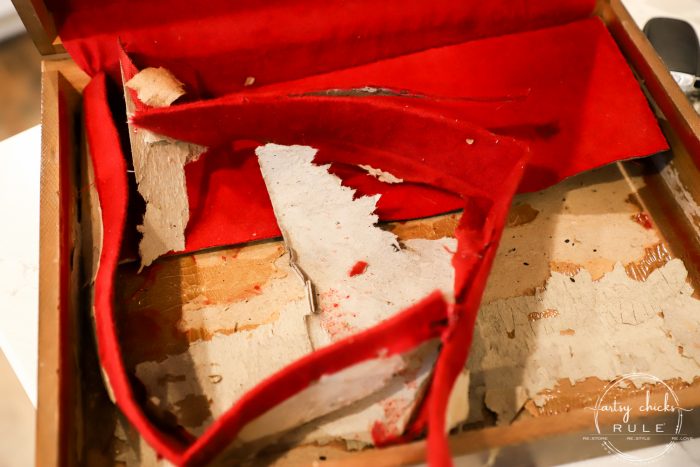 I am telling you, every single flatware box I've ever removed the insides from, was a bear!
They really attach that stuff to STAY.
But I managed to get it all out.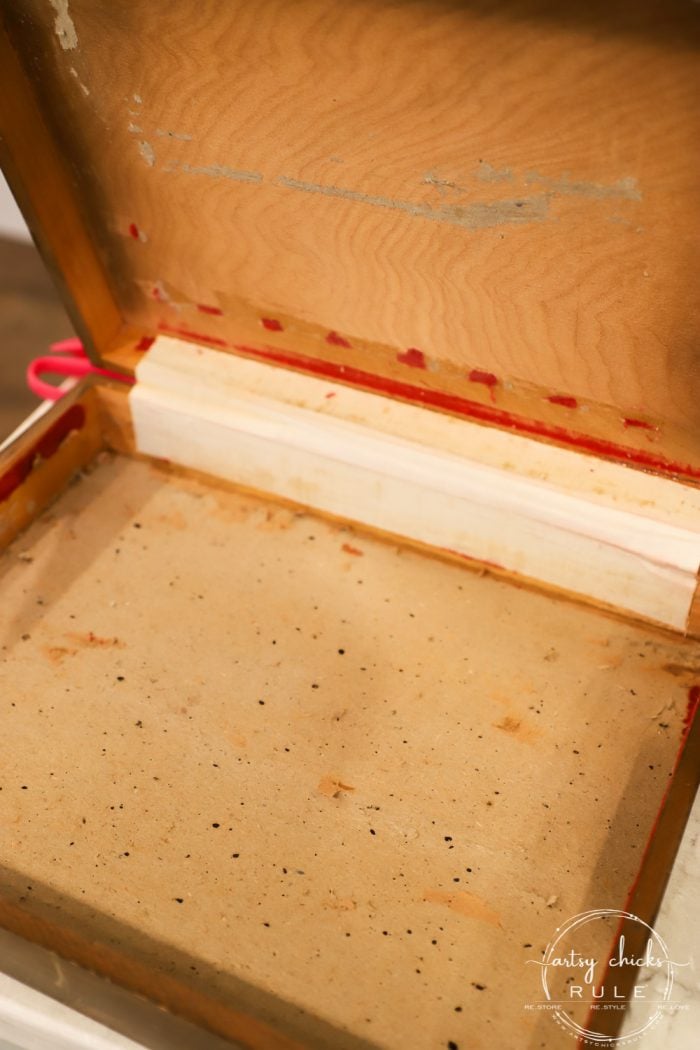 Then I used this cutter tool to cut the fabric for the inside.
I measured cut, and folded, then hot glued them in.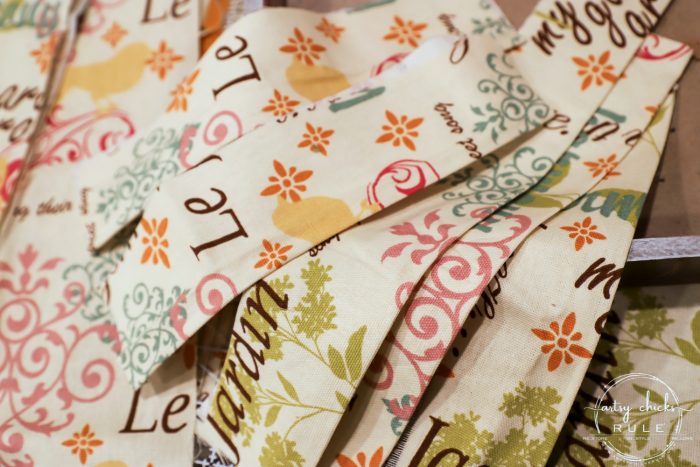 I just got a new hot glue gun and love it. My other one was so old and dripped terribly.
This one doesn't do that. Or hasn't yet anyway!
MATERIALS LIST (Keepsake Box)
I put the sides all in and then made one long piece to go from the top to the bottom.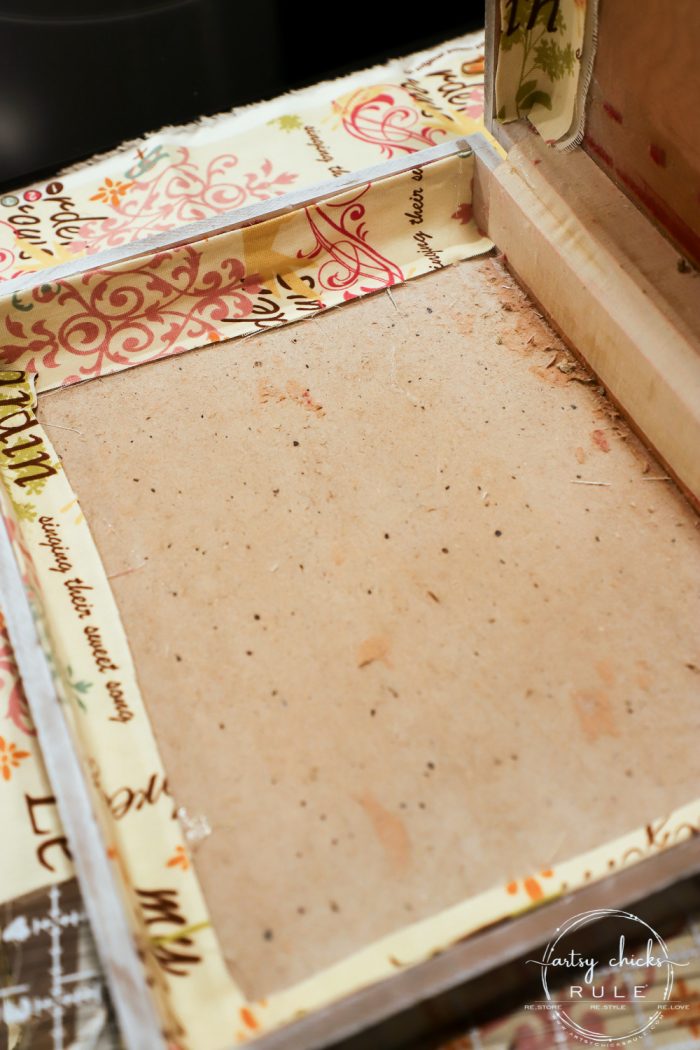 I wish I could link the fabric but this is one I've had for many years. It has long been discontinued, I think.
Here's another project I've used it on >>> Thrifty Makeover with French Fabric
The bottom of the keepsake box got four new "feet".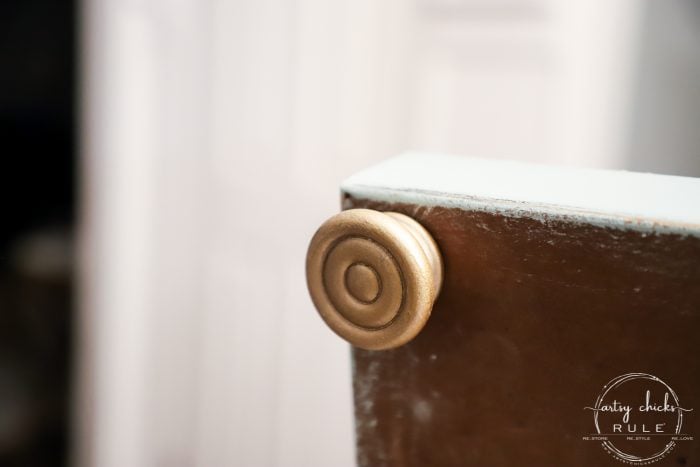 They are actually old, wooden knobs I saved from this dresser below. (the rest were originally on there but I had removed them before taking my "before" photo!)
And of course, I saved them. lol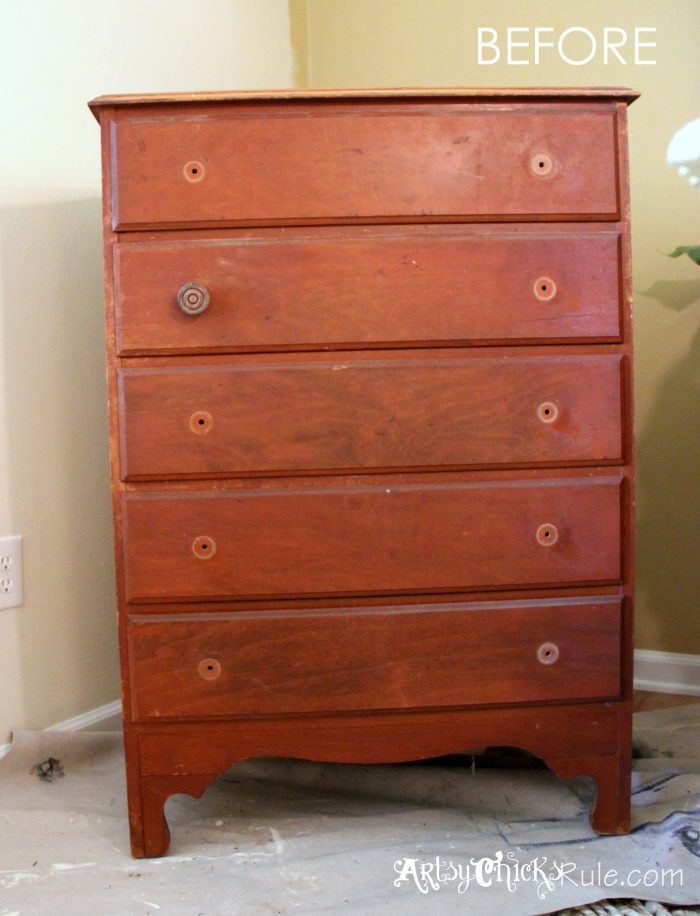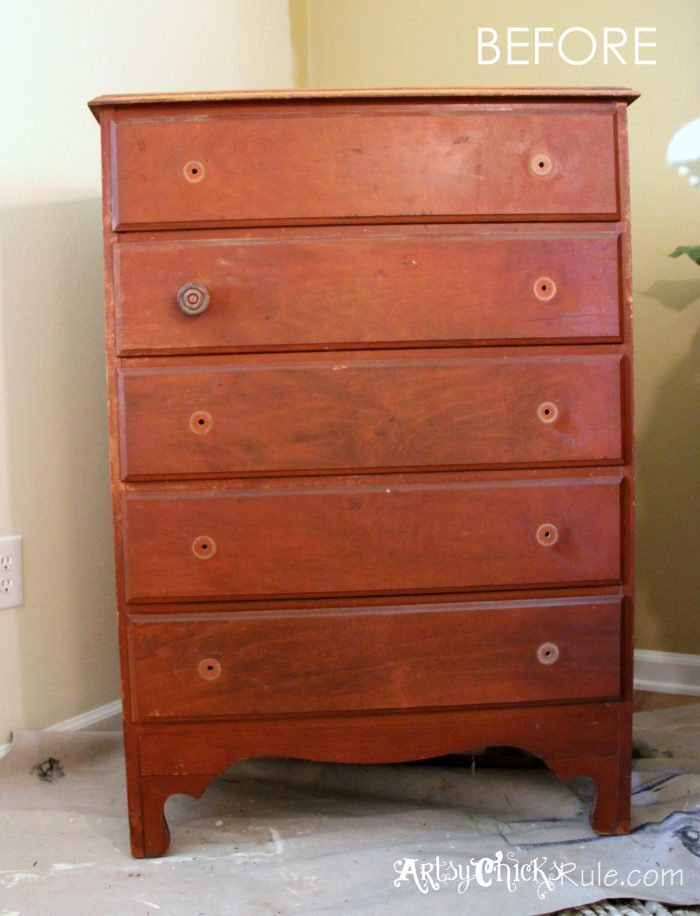 You can see this dresser all done, here >>> Knots Nautical Dresser
The outside got painted in the same Chalk Paint blend I used on this dresser-turned-coffee bar I did recently.
And I decided to use this stencil on the top.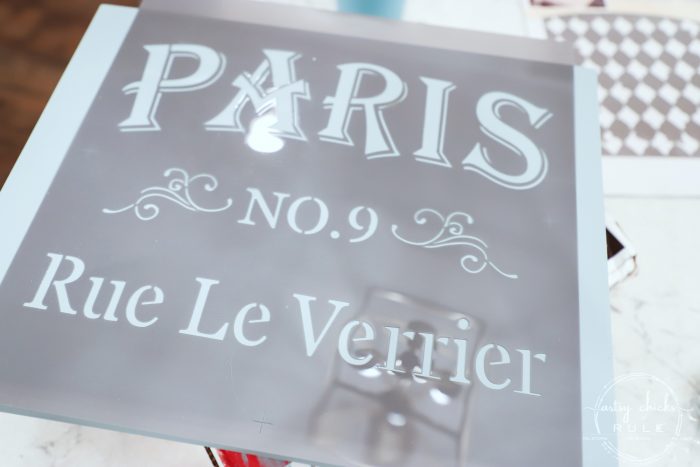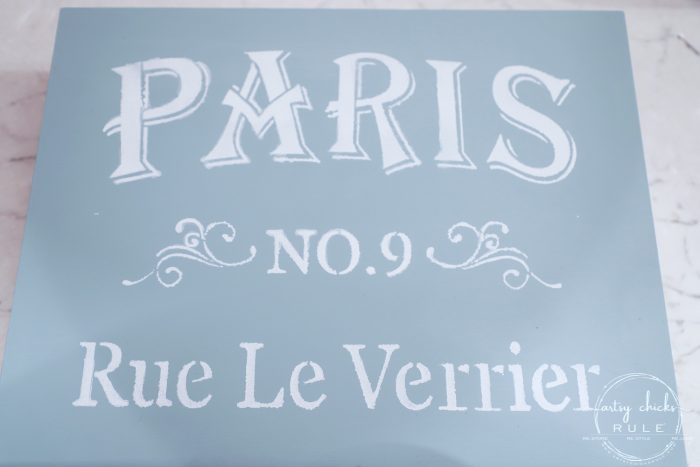 And sanded because I wanted it a bit worn and distressed looking…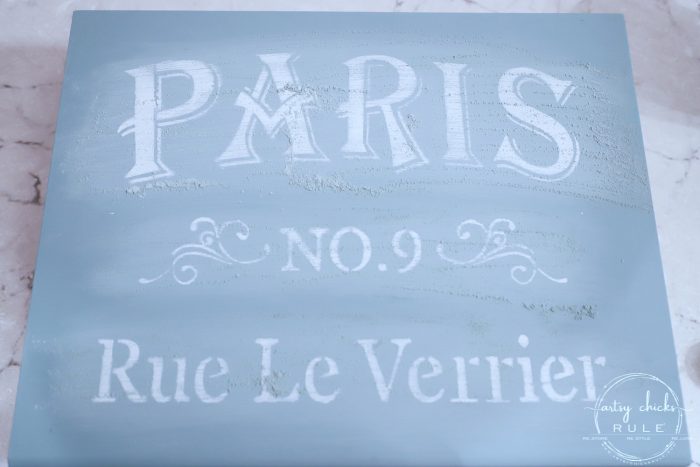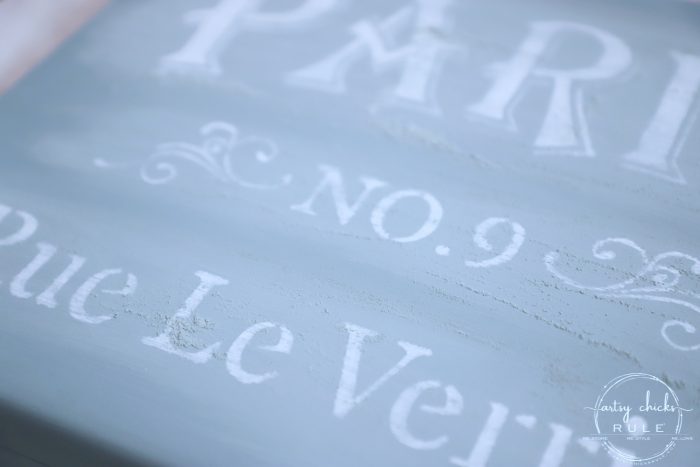 I also distressed the edges of the box, too.
I sealed it with a brand new product (to me!)…. this glaze.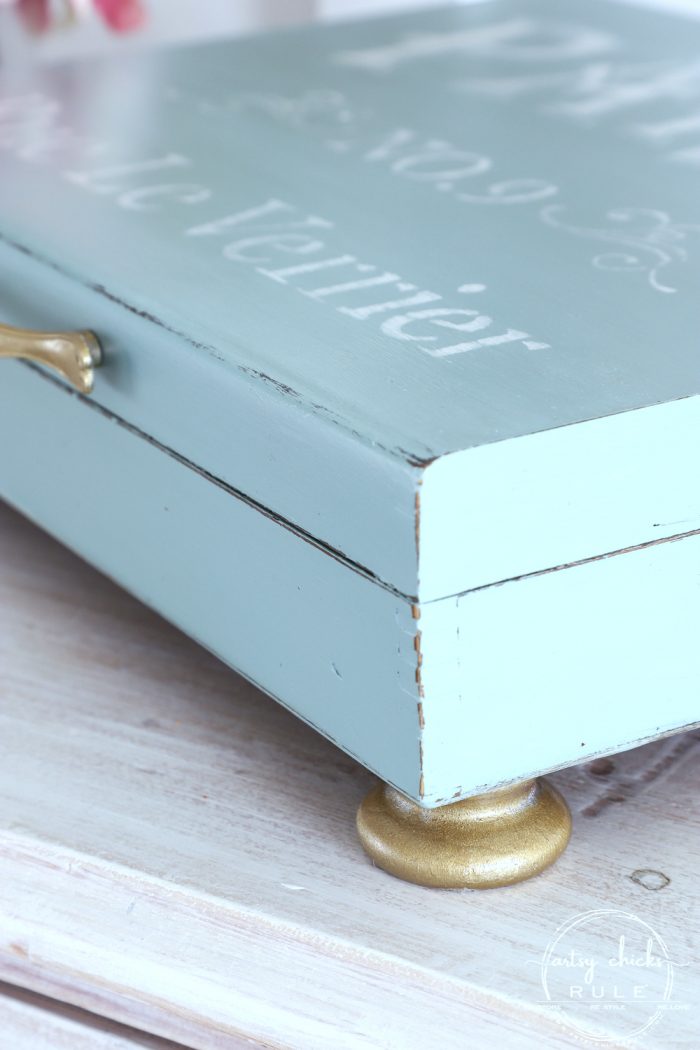 Both the handle and the "feet" got this pretty gold spray paint.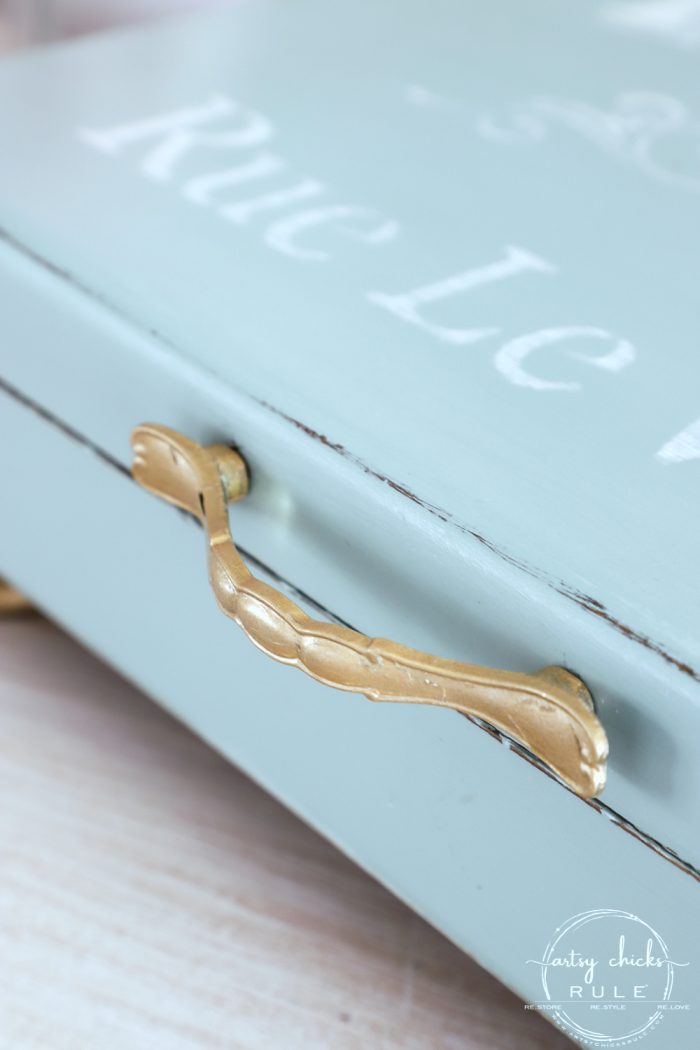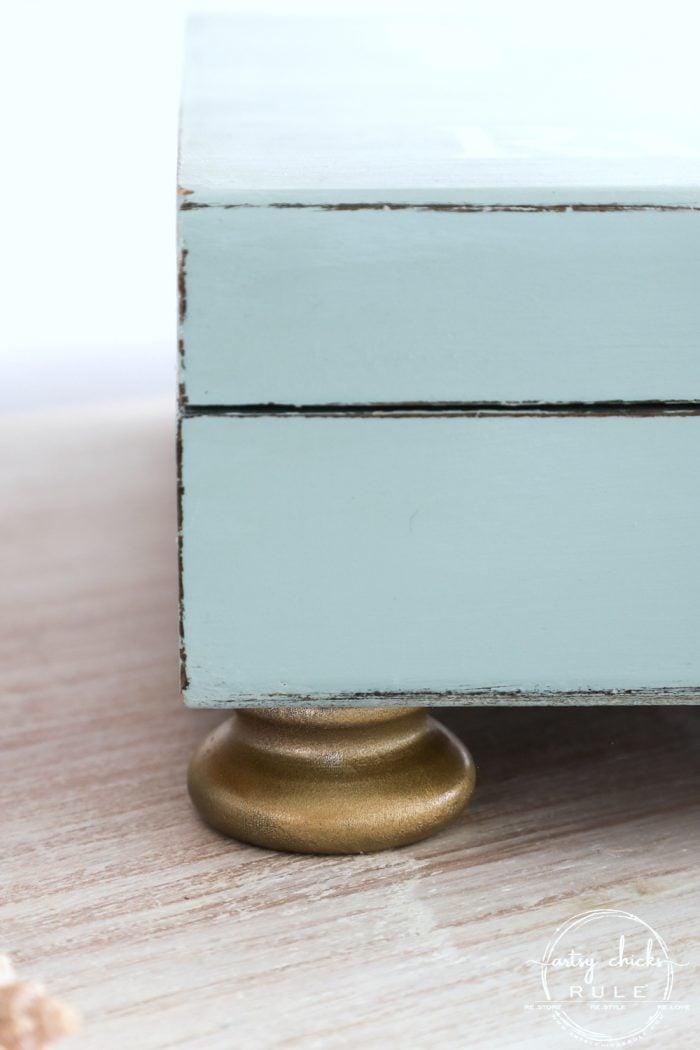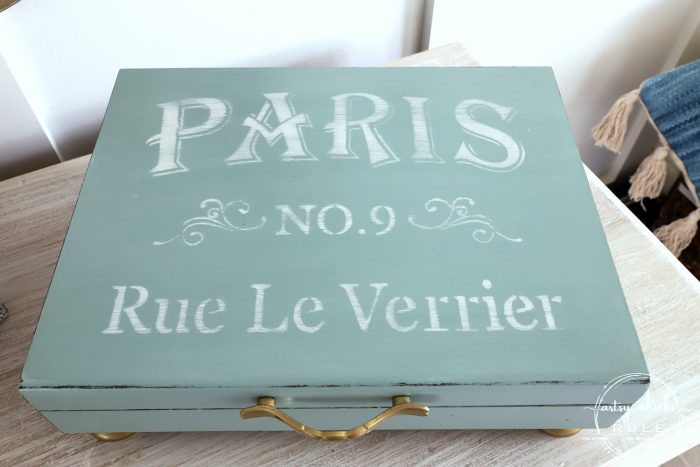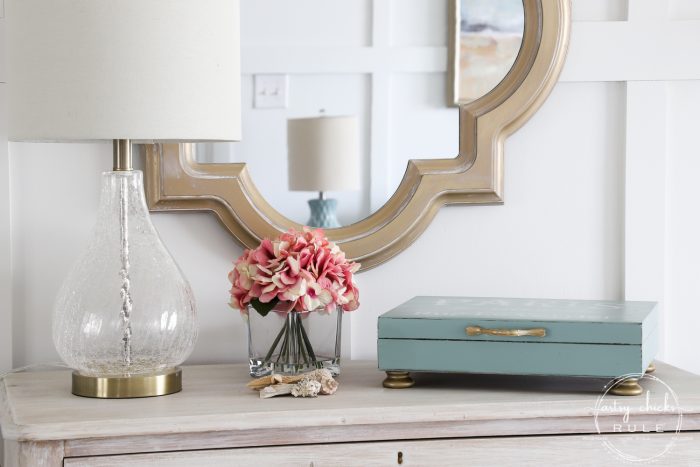 Aren't those the cutest little feet knobs ever??? haha
I think so! They are just perfect for that use.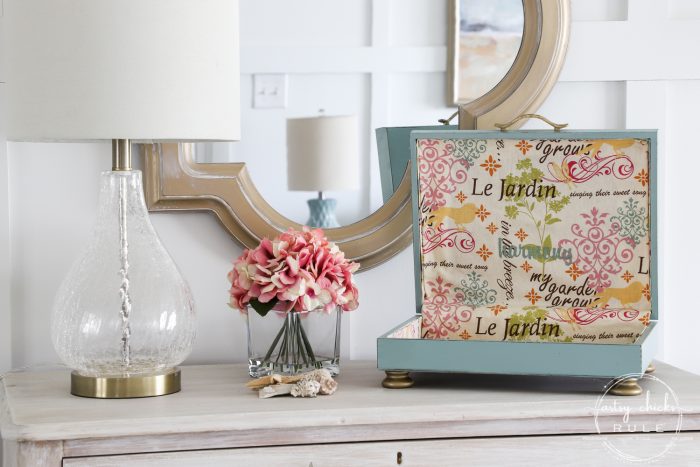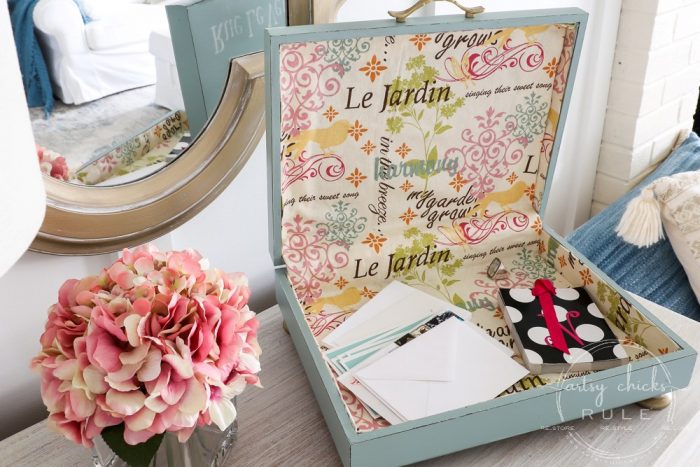 I'm trying to show the shimmer on that glaze I used. It's a new one I've never tried before (it's linked above).
It's called "pearl effects" but the jury is still out on how well I like it. I'll have to try on something else.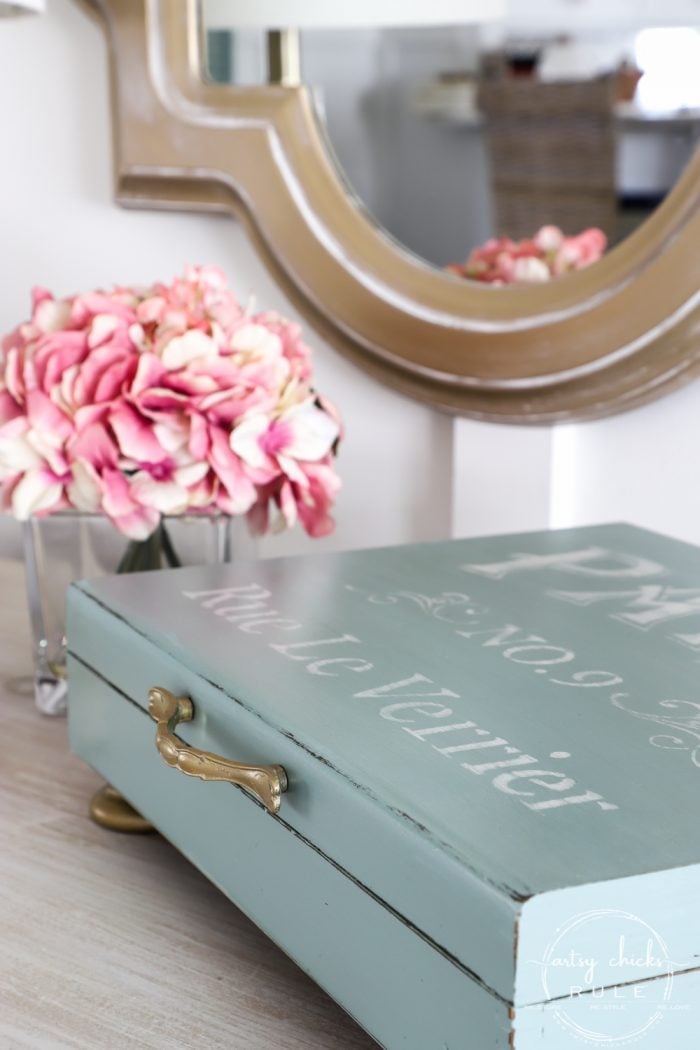 Anyway, it's kind of hard to see in real life…and in photos!
Maybe I will give it a go on a darker color and see how that looks.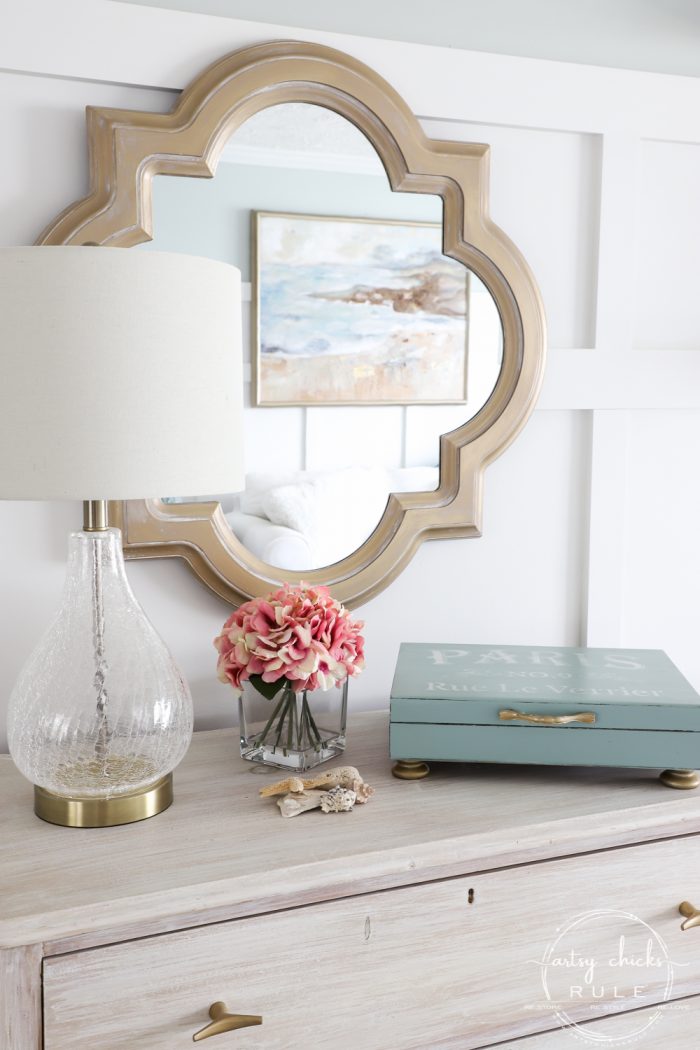 Oh!! And I wanted to report on the white stain dresser here in the photos and the sealer I used on it.
So far, so good on no yellowing. Hoping it continues!
I'll let you know.
You can get all the details on the dresser/stain, etc, here >>> White Stain Dresser
Here are a couple more flatware boxes I've given makeovers to:
Have an old flatware box lying around? Go get it and give it a brand new makeover…and use!
Don't forget to scroll down and check out my friends' "trash to treasure" makeovers below!
PIN it to save it!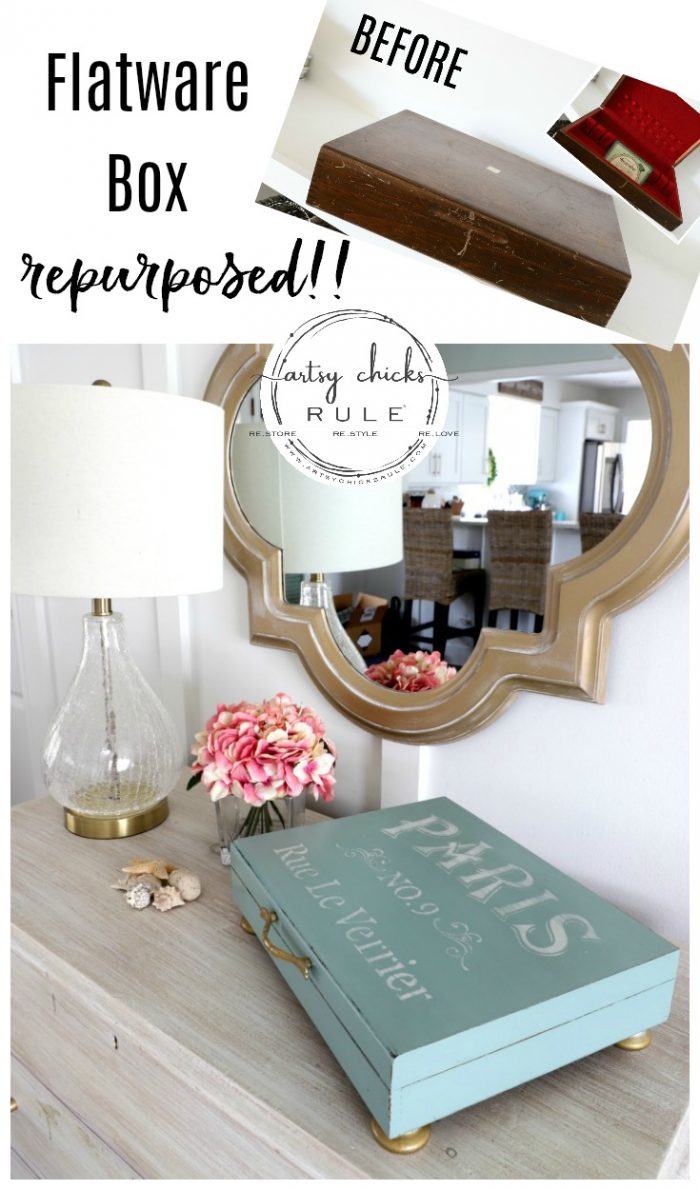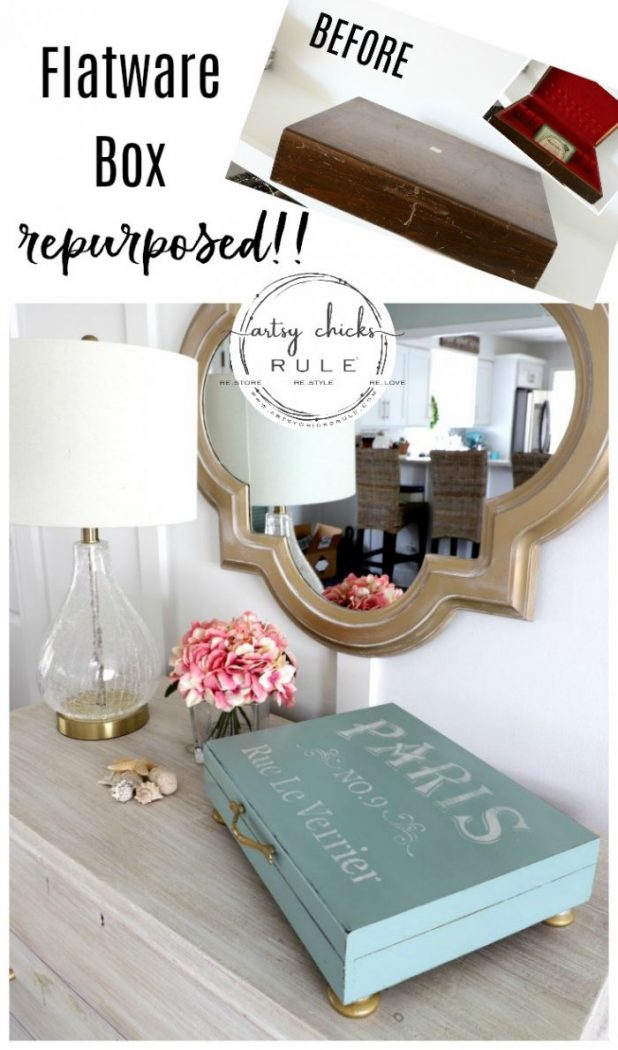 I can't wait to see what my friends did with all these treasures of theirs!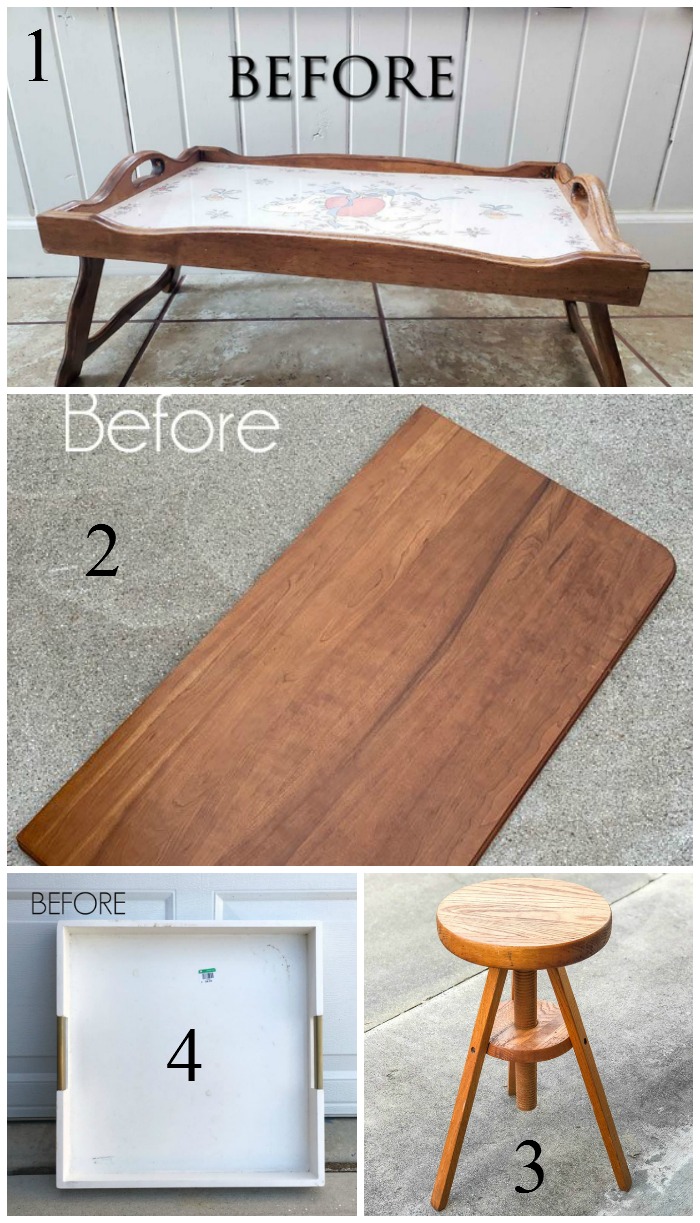 …………………………………………………………………….
I'll see you back here on Thursday with this! I can't wait to show y'all!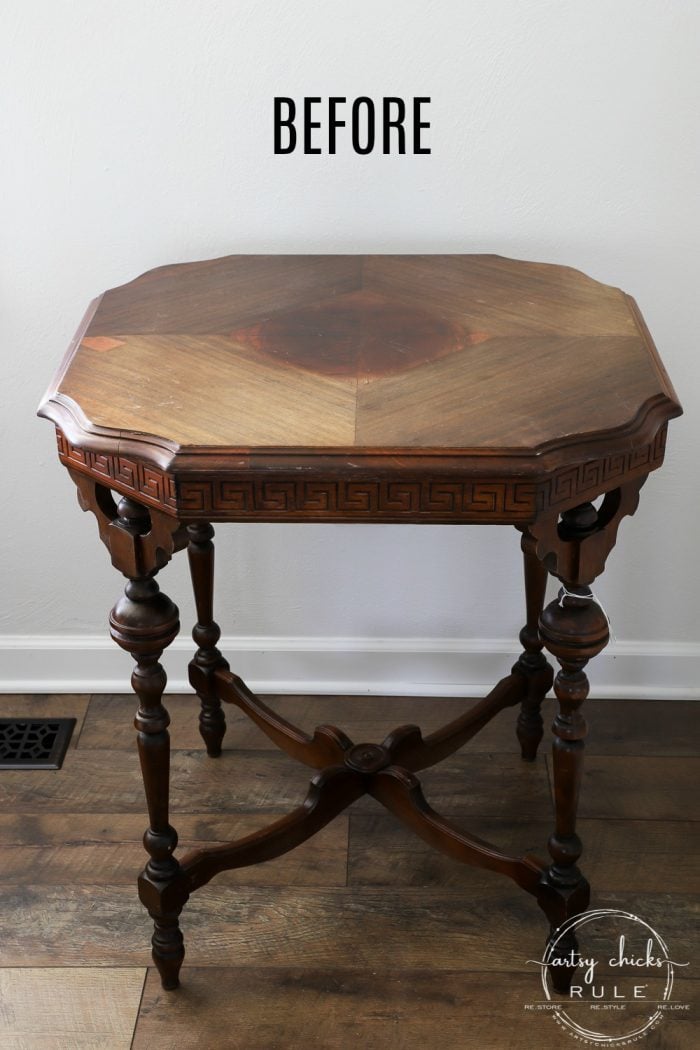 See you then, friends!
xoxo