Rustoleum Chalked Paint Serenity Blue (antique table makeover!)
This post may contain affiliate links. Please see disclosures here.
Today I'm sharing an antique table given a makeover in the beautiful Rustoleum Chalked Paint Serenity Blue!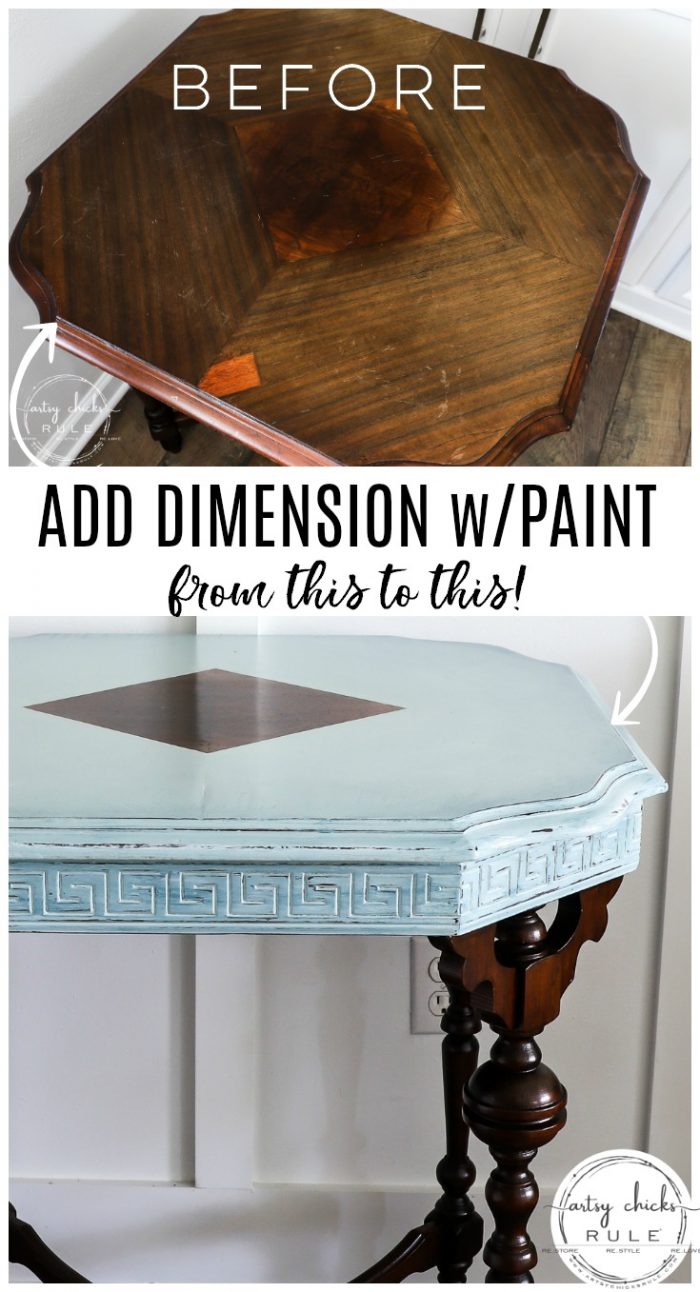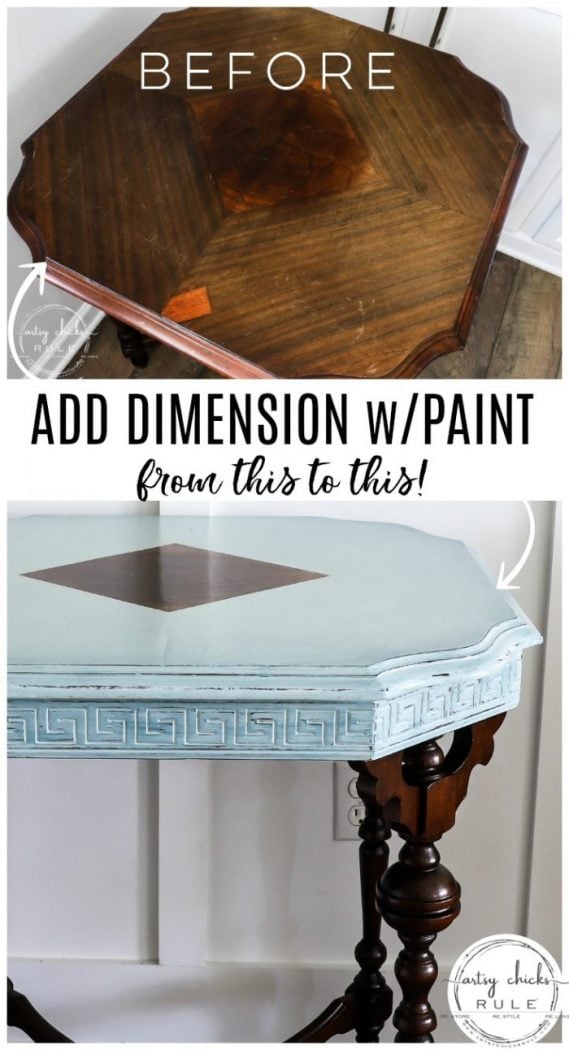 Happy Valentines Day sweet friends!
I hope you have a day filled with love. It's low-key, and always has been, for my hubby and me.
With both of our birthdays during the first part of February, we are usually celebrated out! lol
But I do have an exciting post for you today. I'm sharing this beauty of a table.
My husband and I were out and about a few weekends ago and we happened to drive by an antique/thrift-type store.
Well, they had a few pieces of furniture outside and you just know that means I have to stop and look!
No way can I pass that by. ;)
And I found this table…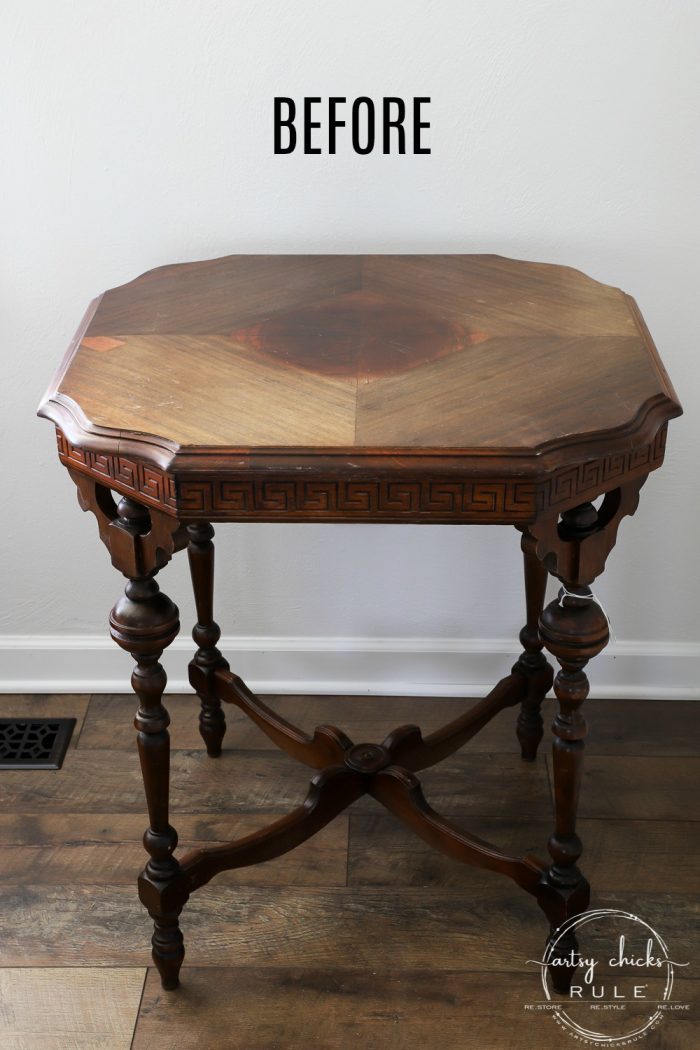 I paid $38 for it.
Can you believe that????
I mean just look at that woodwork down below. Gorgeous!
I snagged it right there and took it home.
Rustoleum Chalked Paint Serenity Blue Antique Table Makeover
Here's the top…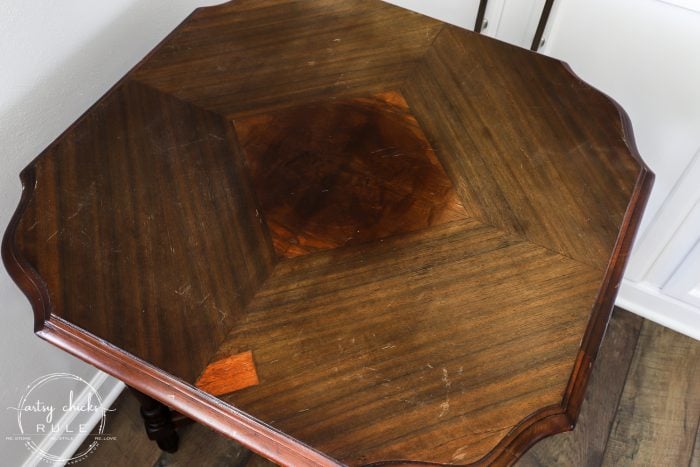 I really wanted to refinish that pretty top but what the heck with the piece of wood there???
A repair, most likely. A very bad one, unfortunately.
I typically will restain or refinish the top of pieces like this and paint the bottom.
But that weird piece of wood, would just just fly with me.
If you follow over on Instagram, you might remember I asked you guys in my stories if I should paint the top and refinish the base instead.
And that was an overwhelming YES!
Want to see some of these projects in "live" time? Hop on over and follow along with me on INSTAGRAM. I'm always sharing in my stories as I'm doing projects, finding new furniture, fun finds….just all the day to day behind the scenes.
Which worked out perfectly, I might add, because I don't think I'd have been able to paint the base of this piece.
I mean, just look at that…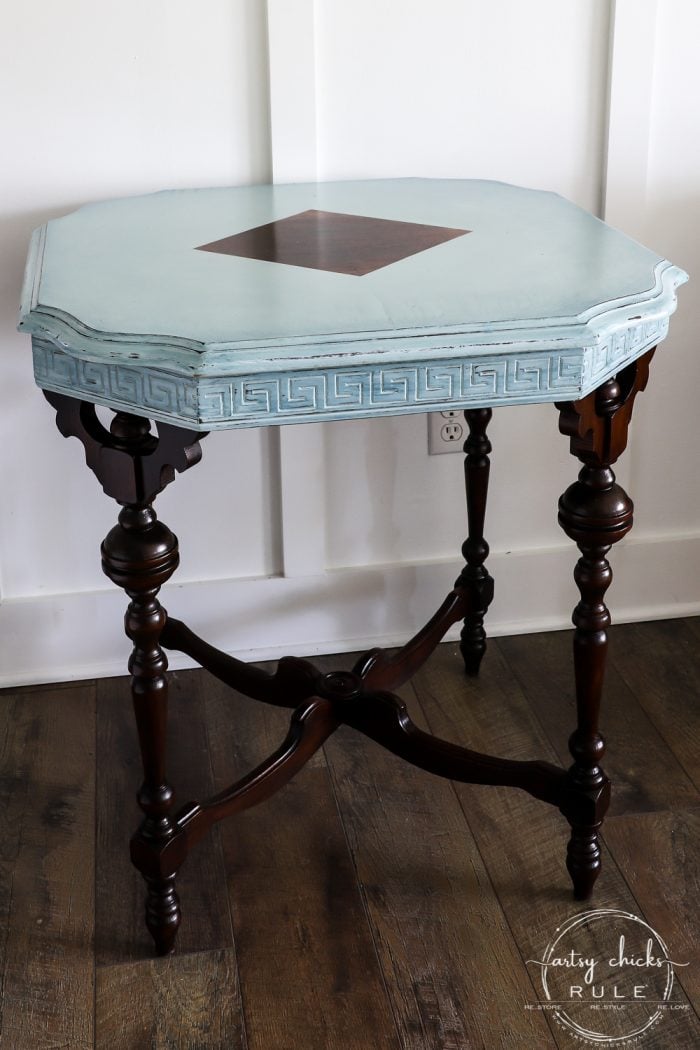 Stunning woodwork.
But I'm getting ahead of myself. :)
One of my followers over on Instagram sent a message to me saying maybe I should leave the square/diamond shape in the middle natural and paint around it.
Well, duh!!! Why didn't I think of that? lol Brilliant!
Really, best idea ever. Thank you, Laurie! xoxo
So that is exactly what I did and I couldn't be more thrilled.
See? I just love this community of crafty people, all of us giving and sharing ideas and inspiration. So good.
I started by wiping the whole thing down very well.
EDIT: OOPS!! I mentioned further down that I let this one sit for a couple of weeks before I added the top coat, etc. So the mind fails after a while! ;)
One of my lovely readers asked me if I needed to seal the wood before painting and ack, it hit me! I totally forgot to include that information.
So, here goes…
I did indeed seal the wood top before I painted it. It's the kind of wood that is notorious for staining and "bleeding".
I used Shellac (in a can) and applied it to everything I was planning to paint. (see below)
It's a good thing too, if you notice some of my up-close photos of the edges further down, where I sanded, etc, you'll see a few tiny bits of brown-red bleed-thru here and there. I am sure it would have been much worse had I not sealed it beforehand.
As far as sanding, I didn't do any. If the wood is in pretty good condition, it's usually best to leave it be and just seal it up. Sanding it can make sealing the wood a little bit tougher. (from the dreaded bleed-thru)
Thank you, Cecilia, for bringing that to my attention.
Below is where I taped off the diamond-shaped area in the middle.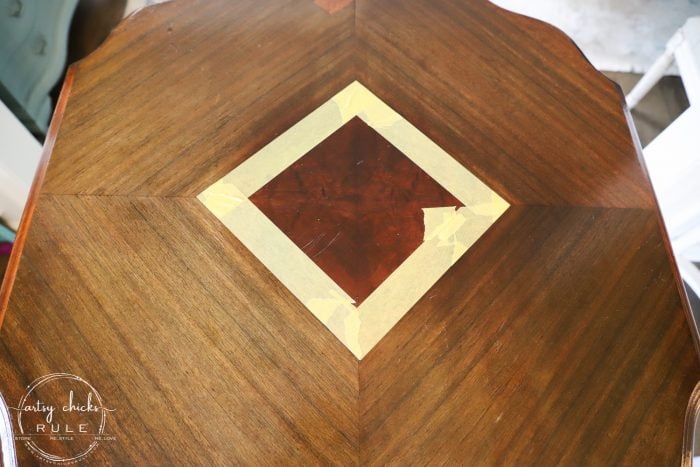 I thought I wanted it very "contrasty", with white paint and that dark wood color.
So I painted it white.
And I hated it!! haha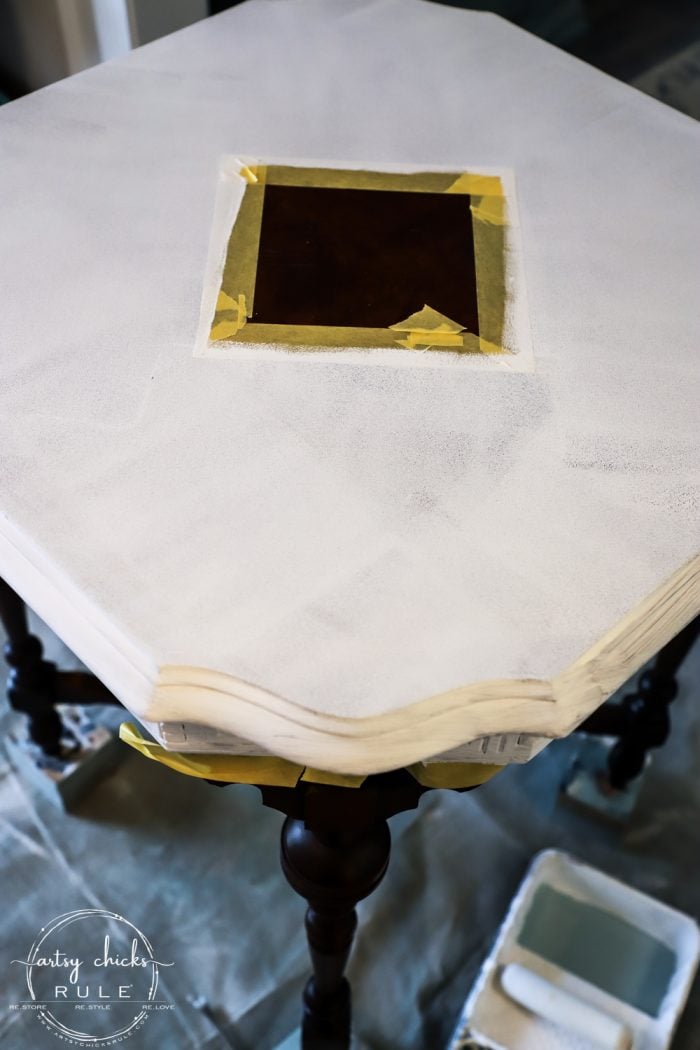 It was all wrong.
Too stark.
Just no.
So I switched gears and painted it in this lovely blue, Rustoleum Chalked Paint Serenity Blue.
I hadn't really tried this color out on a big piece of furniture so thought that'd be a great time to do it.
It's such a lovely color. It's similar to Duck Egg Blue but not exactly the same.
I feel like it's a little softer and bluer.
But just like the Linen White, I use often, (also Rustoleum) this goes on like a dream.
By the way, as you can see there, I decided to use a foam roller to apply the paint.
I really wanted it as smooth as possible.
If that paint is unavailable, you can try this one, French Eggshell. I have switched to mostly Fusion paints (love them!) and also sell them in my shop, here.
I realized that I didn't get a shot of it after I painted it blue. It actually sat almost finished for a couple of weeks.
I wasn't loving how "flat" it was looking.
This table has so much flair and leaves that diamond shape in the middle, even more so.
I felt like the straight Serenity Blue was a little flat for this particular piece.
So I decided to add some dimension to it with a bit darker paint (Aubusson Blue) around the edges. Similar to what I did on our coffee bar.
You can see that project/post, here >>> Aqua Dresser Coffee Bar
Here it is…..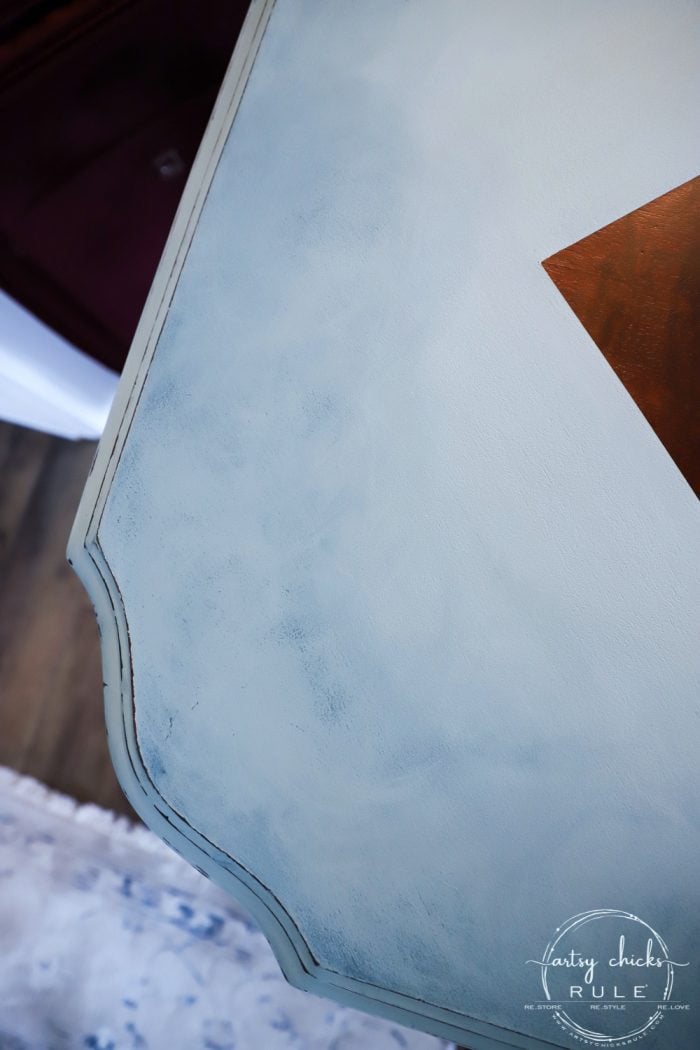 Fail!!! haha
Yep, it was um, not so good on the first go-round.
So just like with the first coat of white paint, I had to back peddle a bit and consider what I needed to do.
By the way, this photo was after I had "worked" it a bit.
I think the problem here was that I went too dark, too fast, and with too much paint.
At this point, I had already been trying to rub away with a damp rag and with a damp clean rag dipped in the Serenity Blue paint.
I should mention that I sealed it before I applied the darker paint so that I'd better be able to wipe and blend, which is definitely what you want for this look.
Long story short (I worked on it for a while), I ended up adding more of the Rustoleum Chalked Paint Serenity Blue paint around the middle.
And then touched up with a darker blue around the edges. (very, very lightly and partially mixed with the lighter blue)
After that dried, I took some fine sandpaper and sort of lightly buffed around in circles, all around the inner edge to soften and remove more of the darker shading/color that was left.
And that did the trick!
I also lightly sanded all the edges to distress and bring out some additional detail.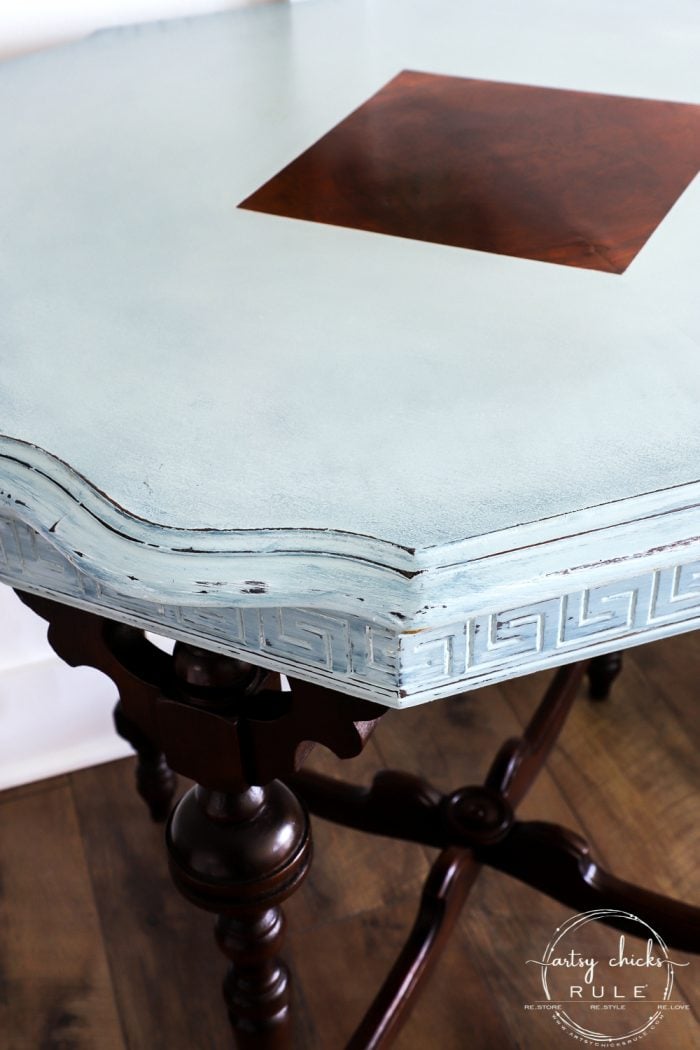 All I really needed on this one was a "hint" of depth.
The star of the show is the diamond in the middle…and that bottom, scroll-y dark goodness!
The Greek key design is pretty cool, too, though.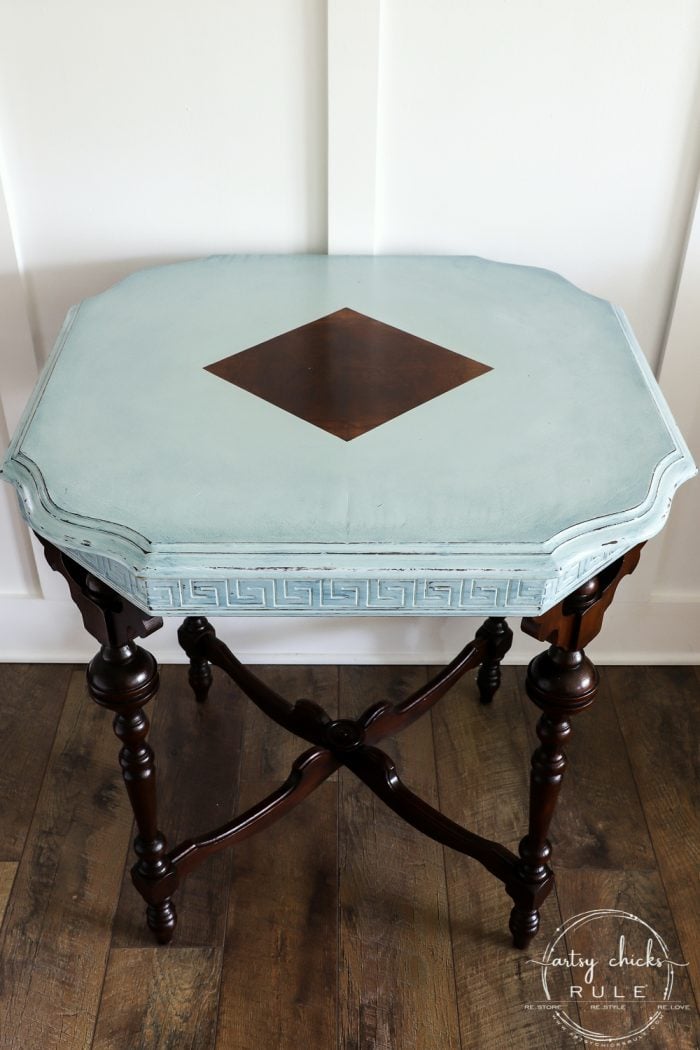 Okay, so let's talk about what I did with the base.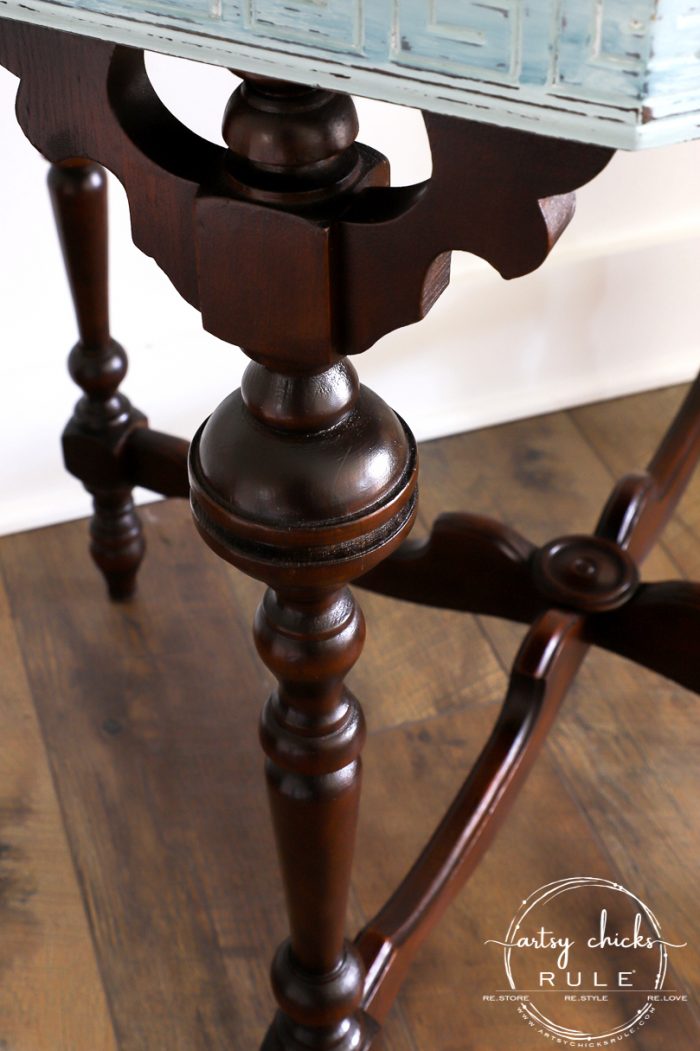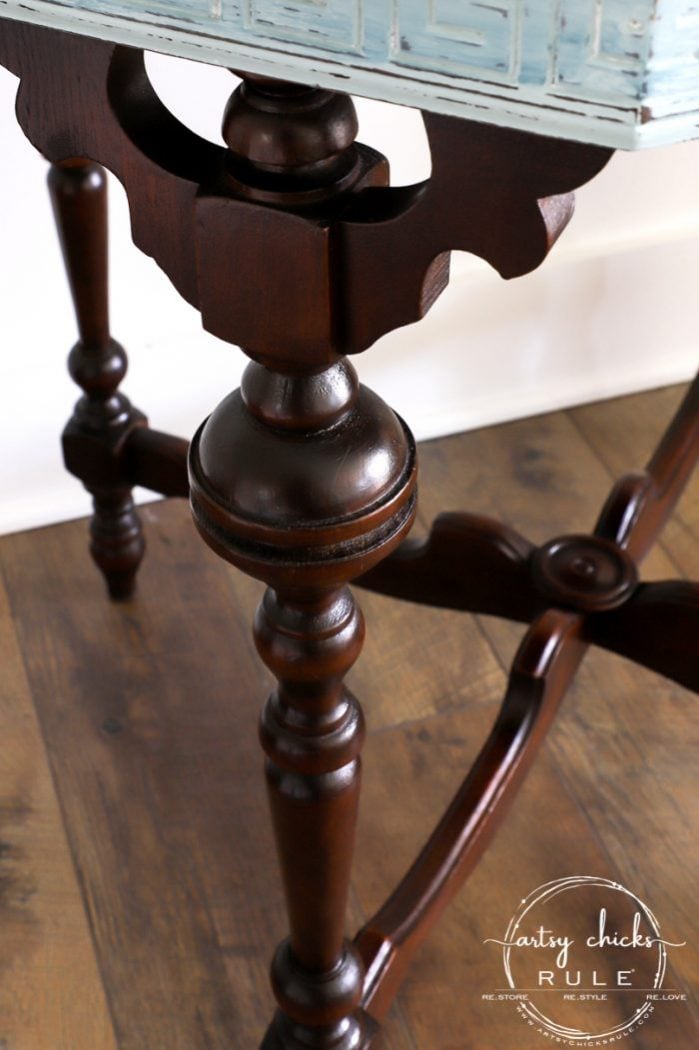 Not a lot!
Restoring that base was as simple as taking a rag, dipping it into my fave gel stain (linked below), and wiping it on!
No kidding.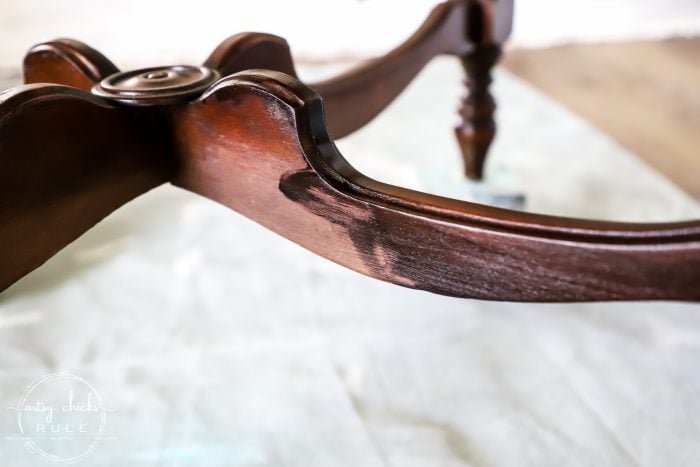 It literally brought it back to life. So gorgeous.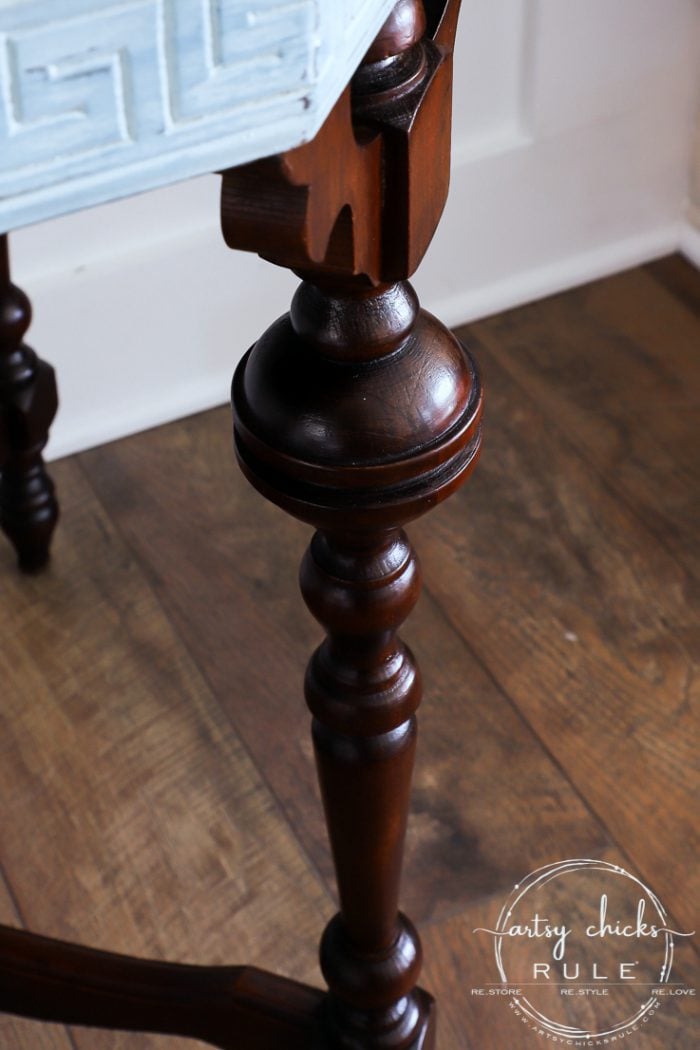 The base and the top got sealed with one of my favorite sealers, still to this day.
High-Performance Top Coat.
OH! And I forgot to mention, I used the same gel stain on the diamond in the middle.
After my paint was dry, I taped it off so I could apply the stain.
By the way, it's totally fine to use this gel stain with the water-based poly I used.
However, you will absolutely need to wait about 3 days to apply it. I like to wait at least that long, sometimes up to about a week.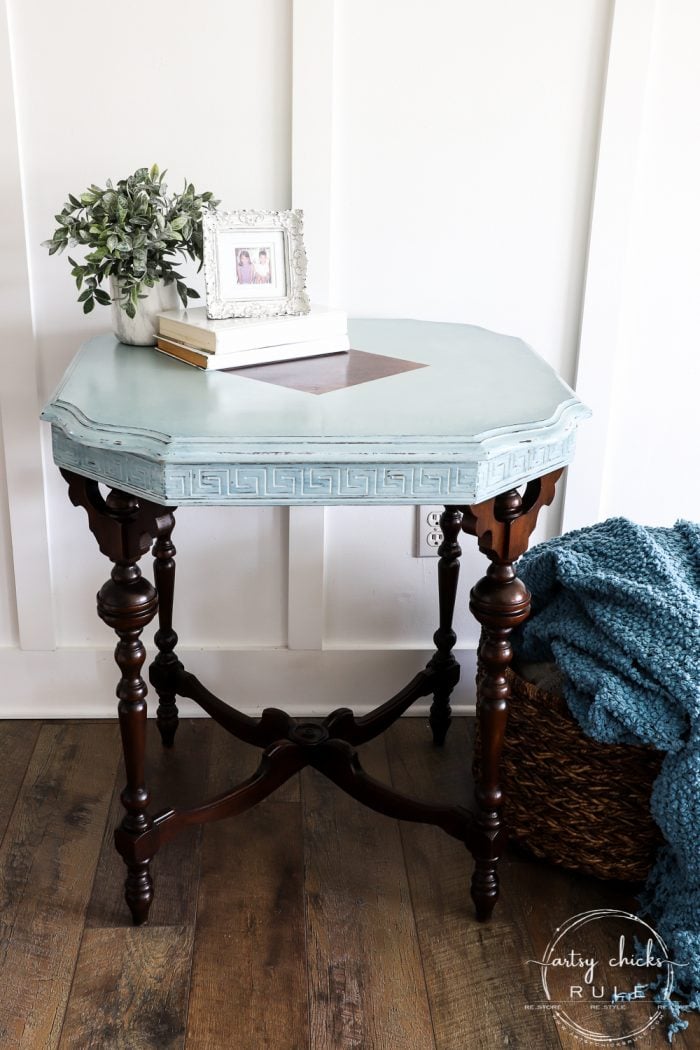 See the subtle shading and dimension?
To me, it just has that little bit of a glowing look. The edges are darker going into a lighter, brighter center area.
Here's some up-close detail on the top.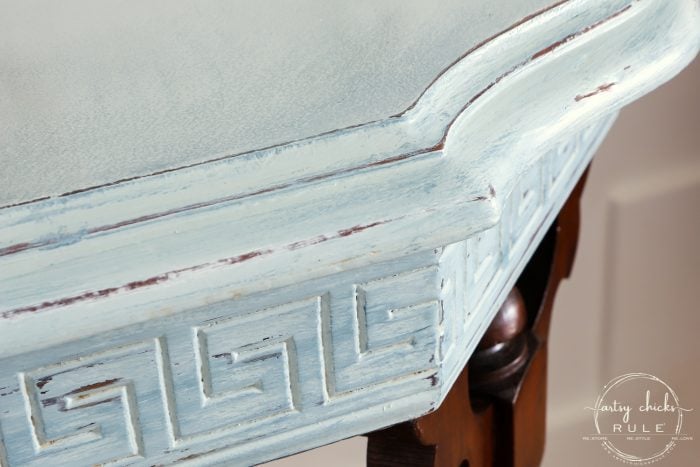 See how little darker blue it took?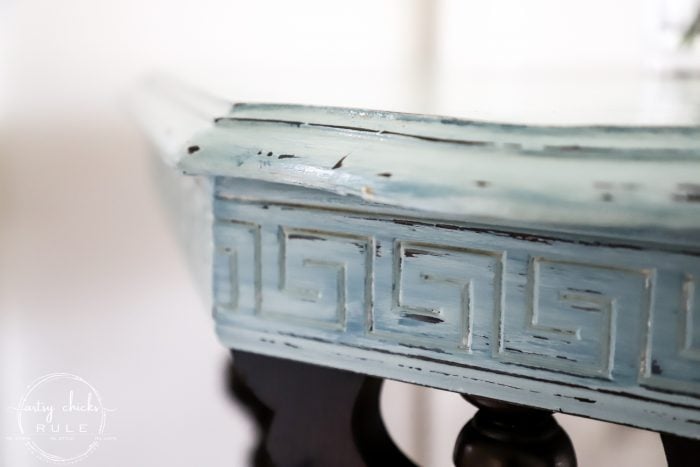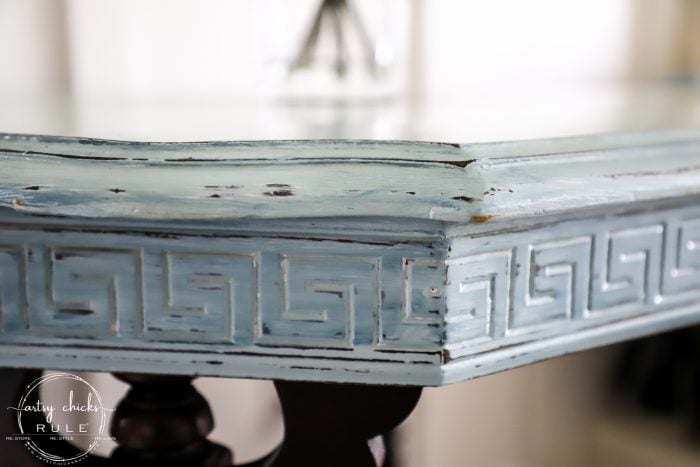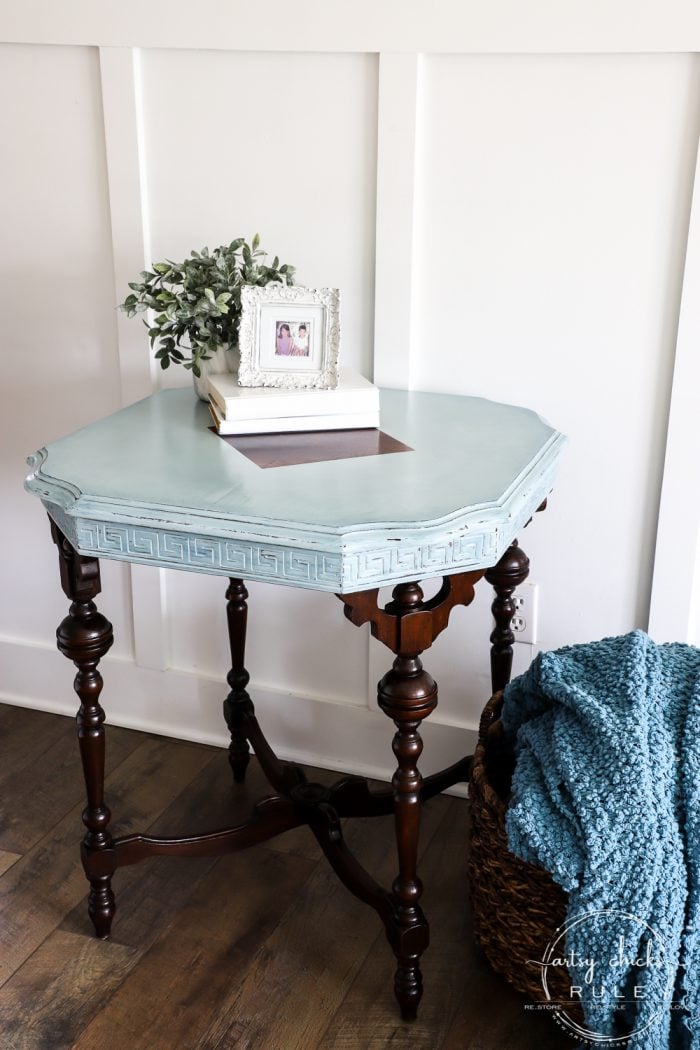 Those cuties of mine, oh, about 16 or so years ago!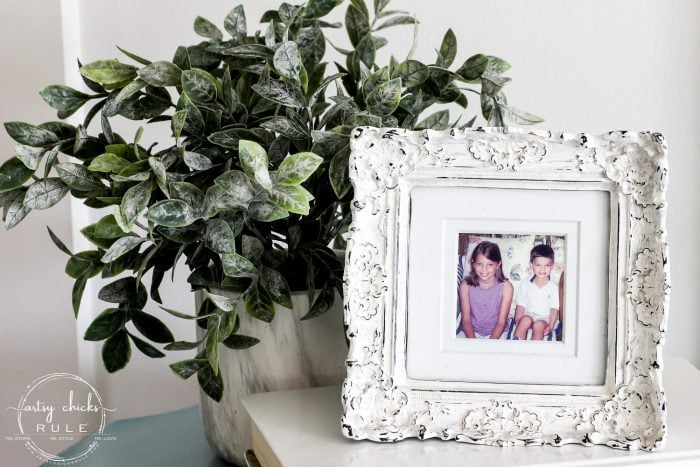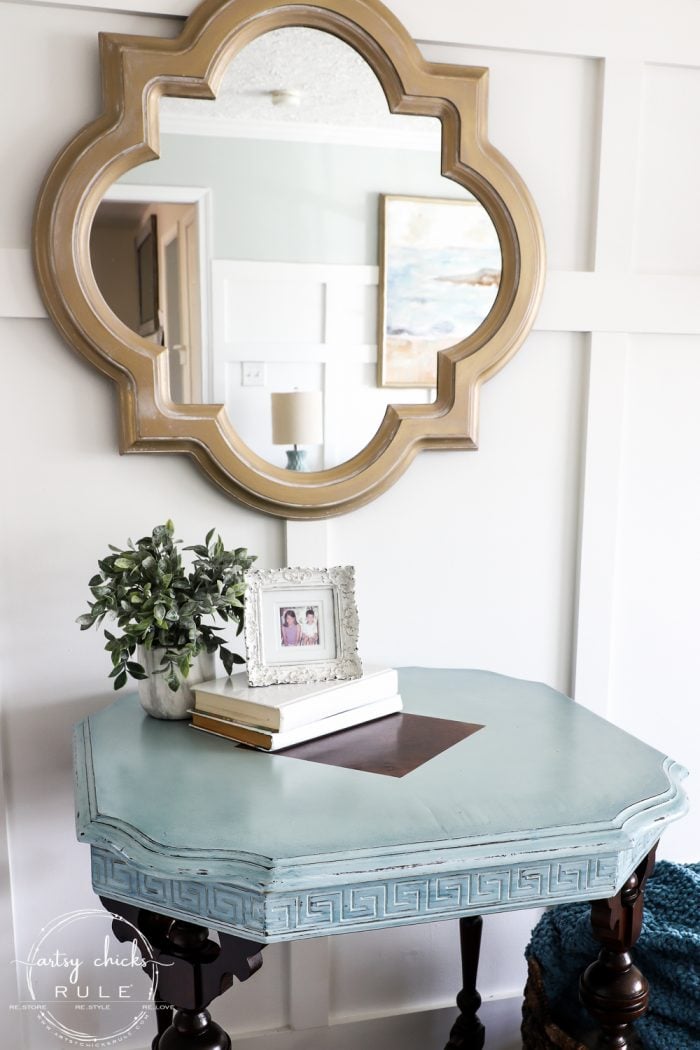 I'm really happy with how this one turned out!
I'm not used to painting the top and staining the bottom of most pieces but I'm really liking the look.
And that pretty diamond in the middle…I am so glad I didn't paint over it.
PIN it to save it!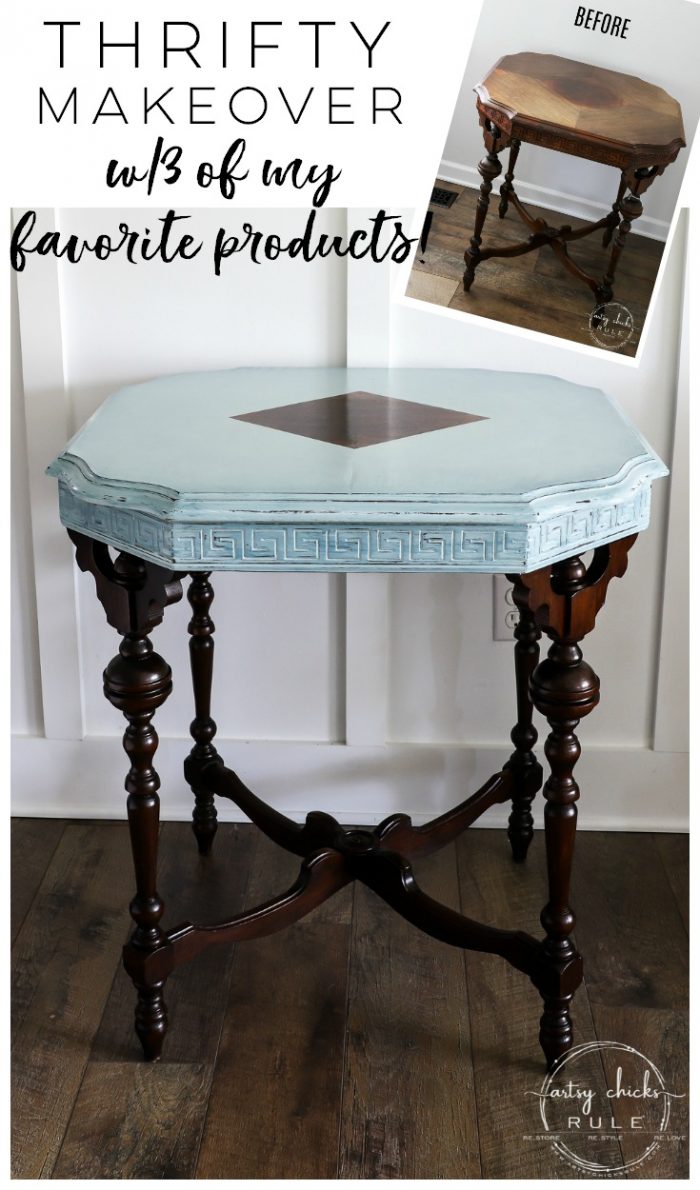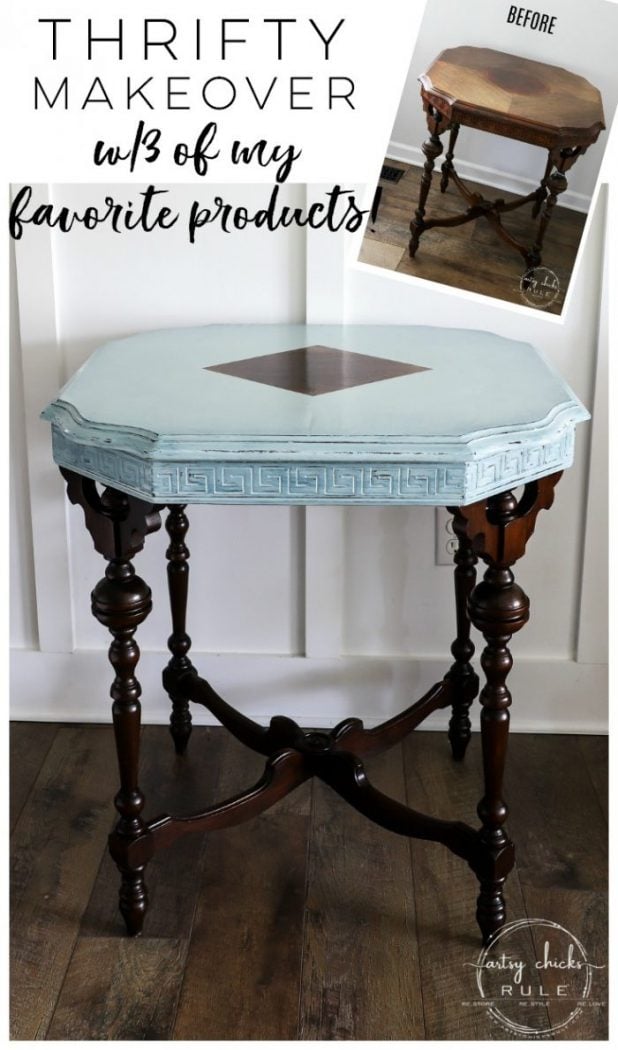 Hope you all have a wonderful weekend!
And remember, sometimes projects take a detour and you just have to roll with it.
It almost always turns out just fine. And sometimes even better than you first imagined.
Be sure to check back in next week when I share this fun makeover (with TILE!!).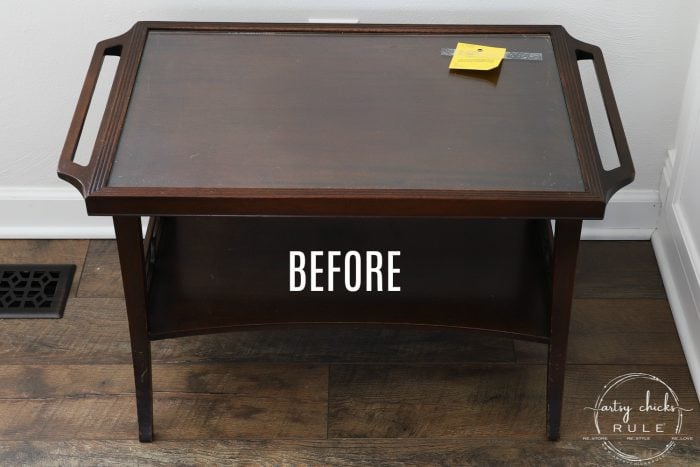 UPDATE!!! See it now, here!!
xoxo