Screened Porch & Patio Makeover
This post may contain affiliate links. Please see disclosures here.
This patio makeover has been a long time coming but I'm finally sharing my back screened porch and patio makeover.
We have lived in this almost 40 year old home for over 12 years now.
Hard to believe really!
Well, in some ways, not so much in others. ;)
Especially when I look back at some of these old photos.
UPDATE 2021!! See our newly decorated screened porch >>> here.
Screened Porch & Patio Makeover
Like this lovely…..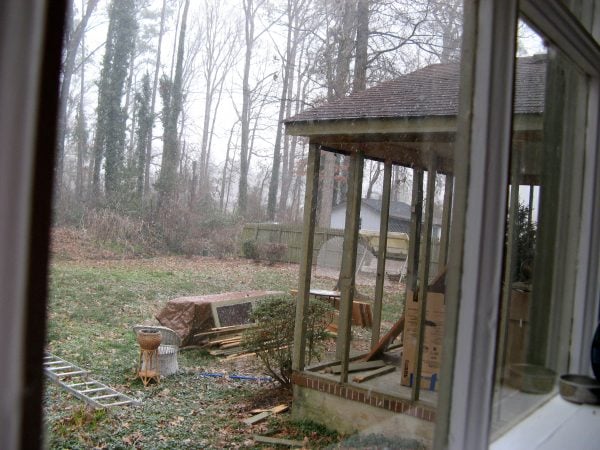 We had so much to do in this house when we moved in.
Our house was a construction zone for years….and years.
I so wish I had taken "before" photos of the porch when we moved in.
The one above (and the same one below) is the only one I really have.
As you can see, the view on the screened porch was obscured by all of the wood slats.
We knew that was one thing we were going to change for sure.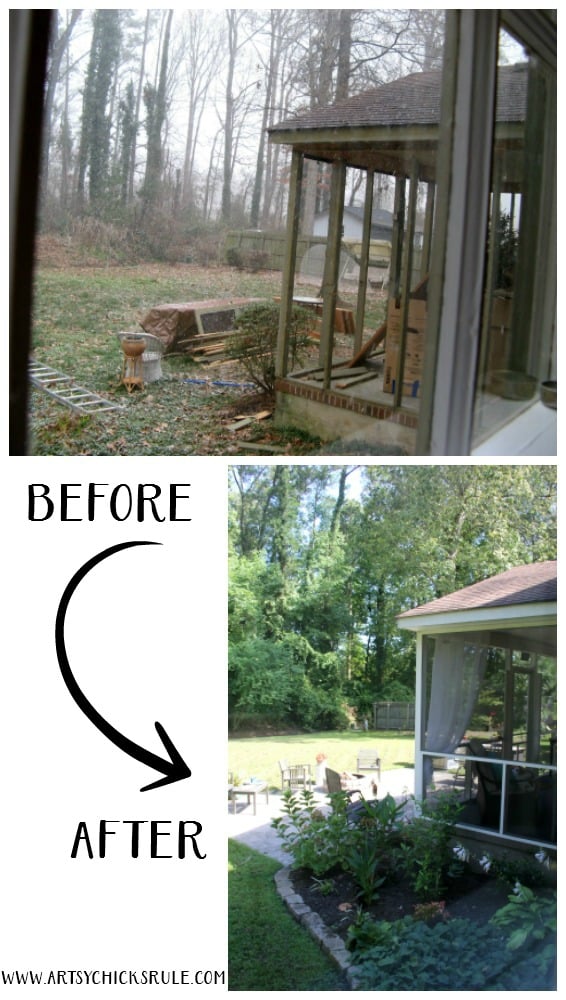 We pulled that all out and replaced it with what you see above, new screens and all.
We also put in a patio and some landscaping.
It was a sad, sad yard. ;)
I'm going to share how I've updated and decorated recently.
This poor porch never really got the proper makeover it deserved until now.
It, by no means, is something that looks like it came out of a magazine, but it is perfect for us. :)
I will, however, show you how you can decorate thriftily.
Let's hop right on inside now…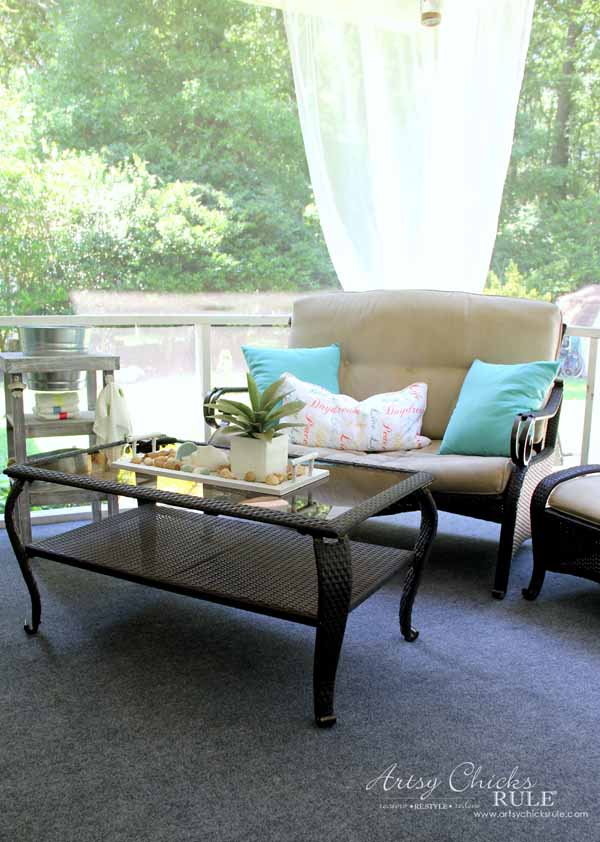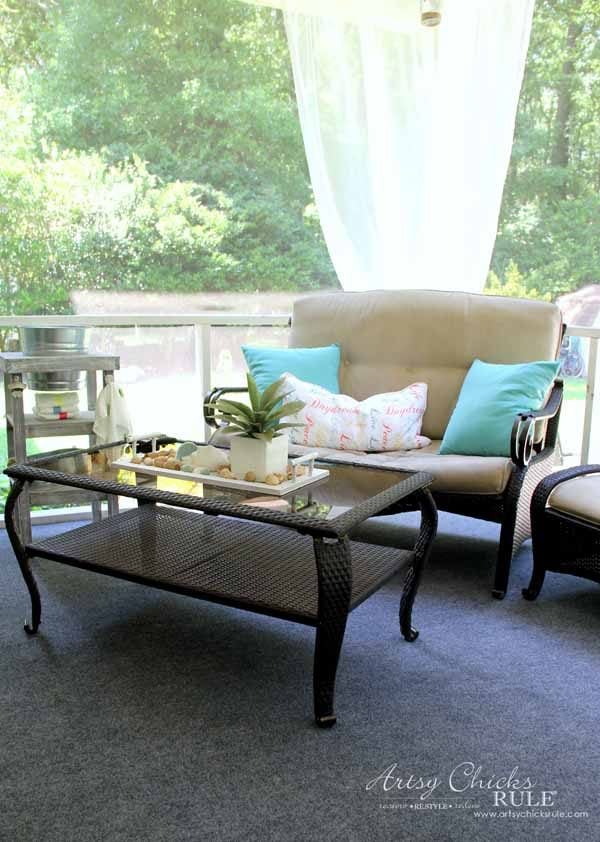 The brown outdoor set you see here came from a yard sale a few years ago.
The owners were getting divorced and let it go for $150.
It was in almost "like-new" shape, so that was a deal!
I picked up the teal pillows at The World Market and the inspirational pillow came from TJ Maxx.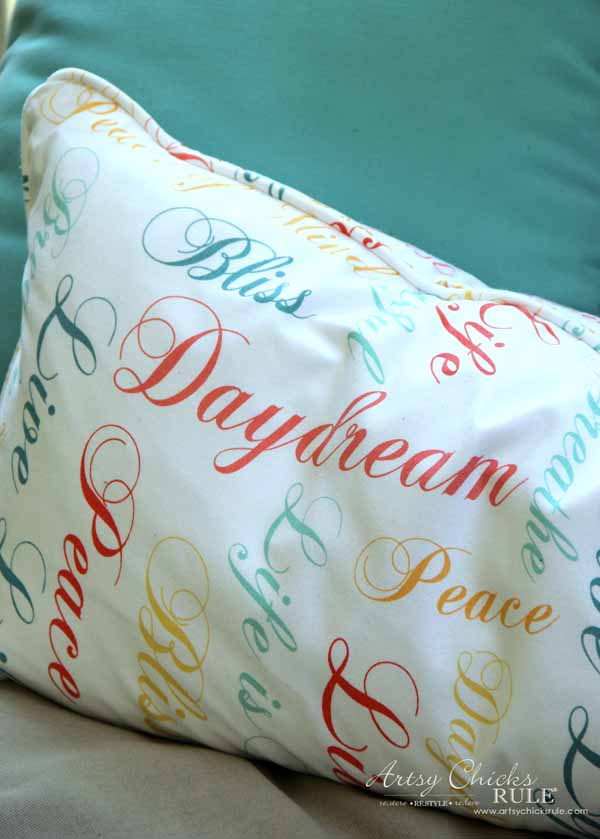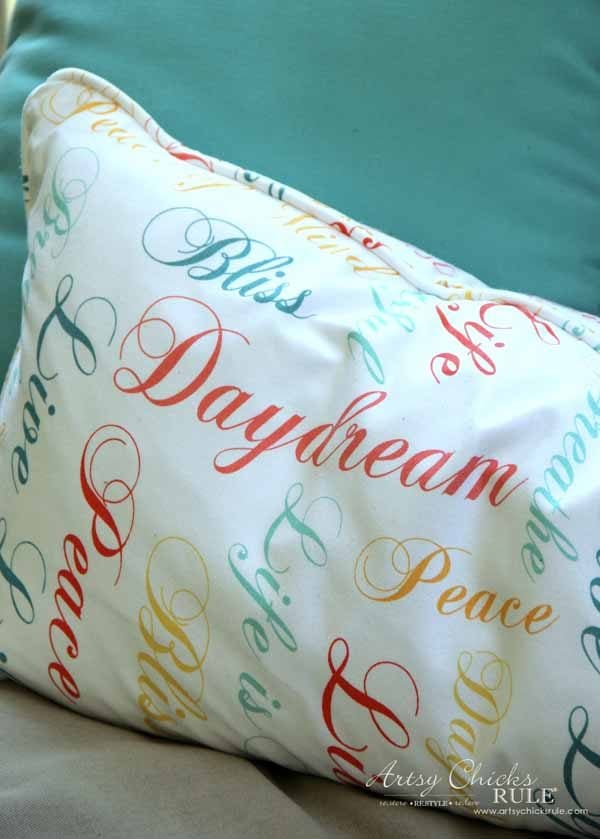 The little tray on the table was a thrift store find that I painted.
The beverage station to the left was made at the beginning of summer…by me. :)
You can read about it HERE.
On the other side of the porch is this…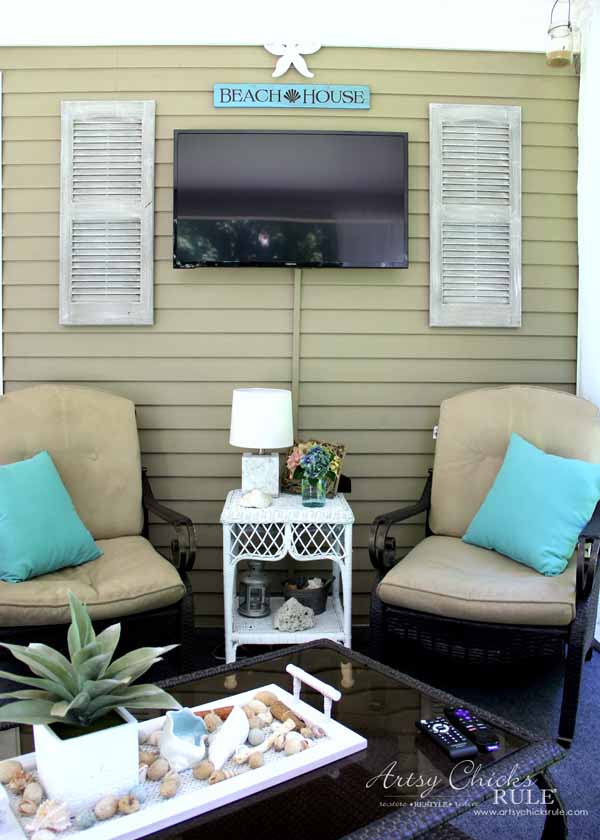 You might remember the shutters.
They were on clearance and I gave them a "weathered wood" appearance.
You can read about how I did that HERE.
The little table came from the thrift store for a few dollars.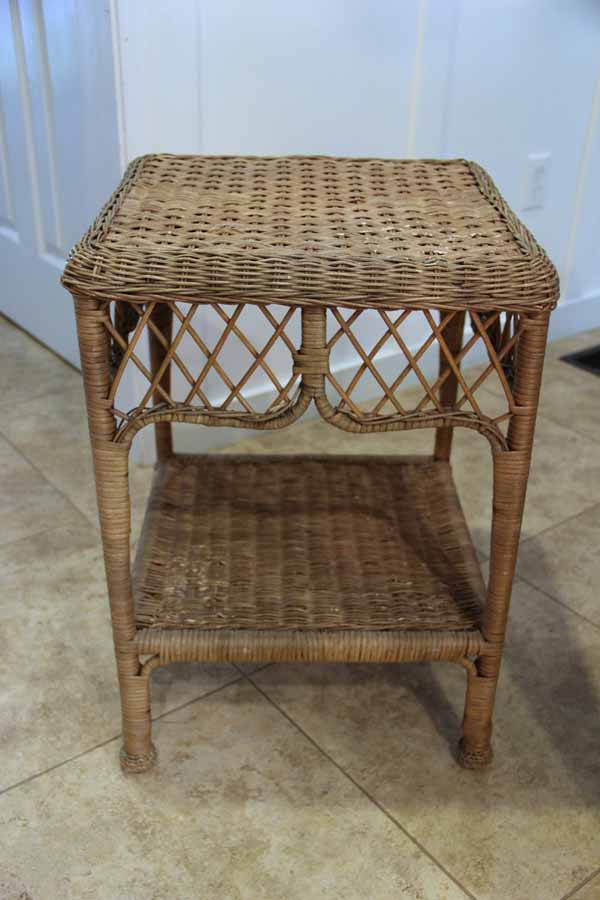 All I did was clean it up and spray it white.
The things on the table…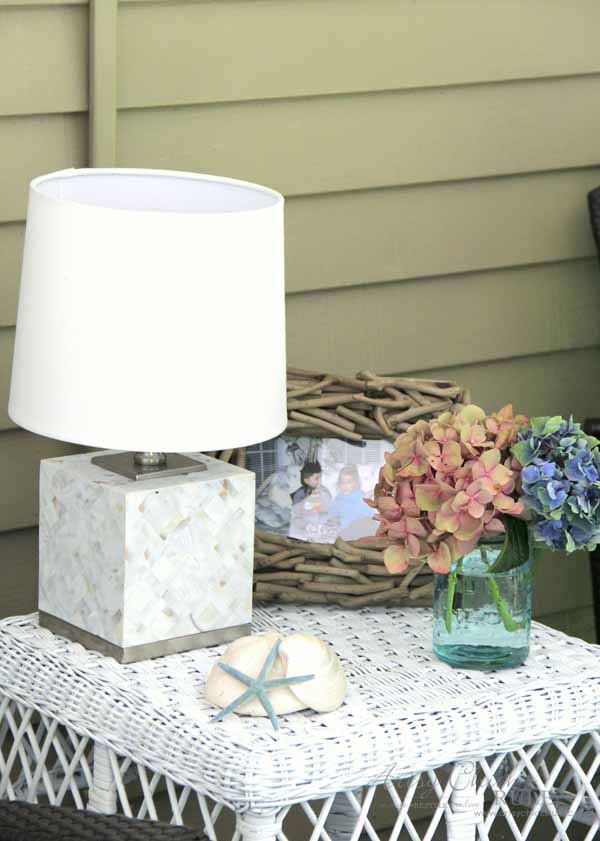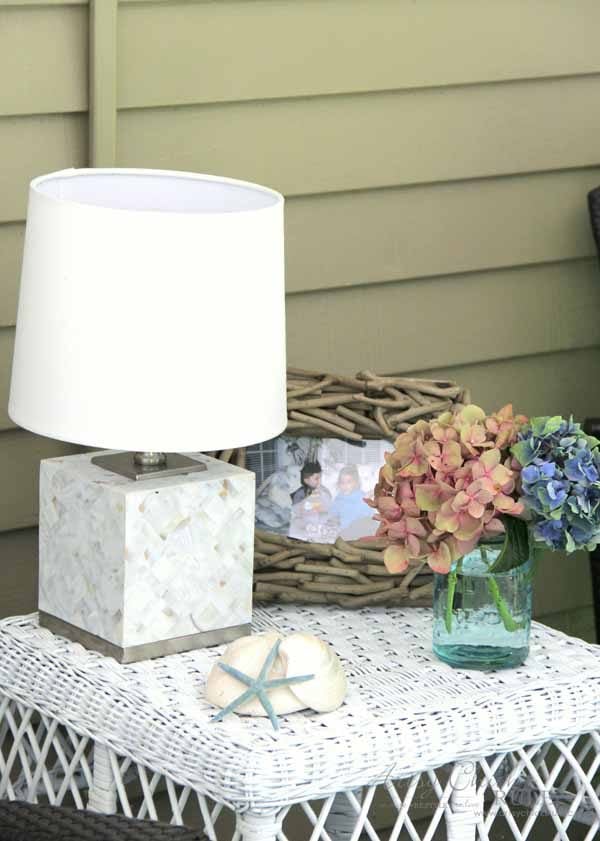 lamp – Target ( I ended up getting the lamp and shade for $19.99)
driftwood frame – Micheal's (with coupon)
And my pretty hydrangeas (from my very own yard!)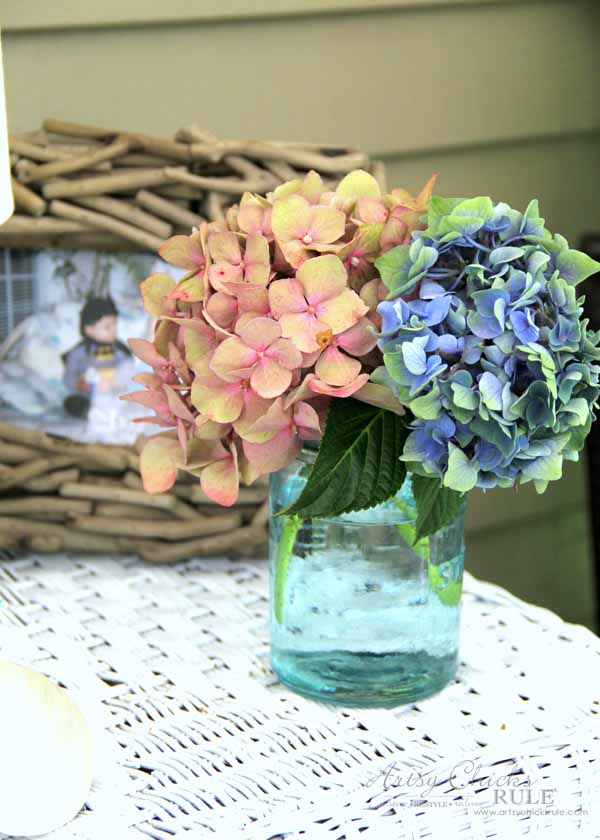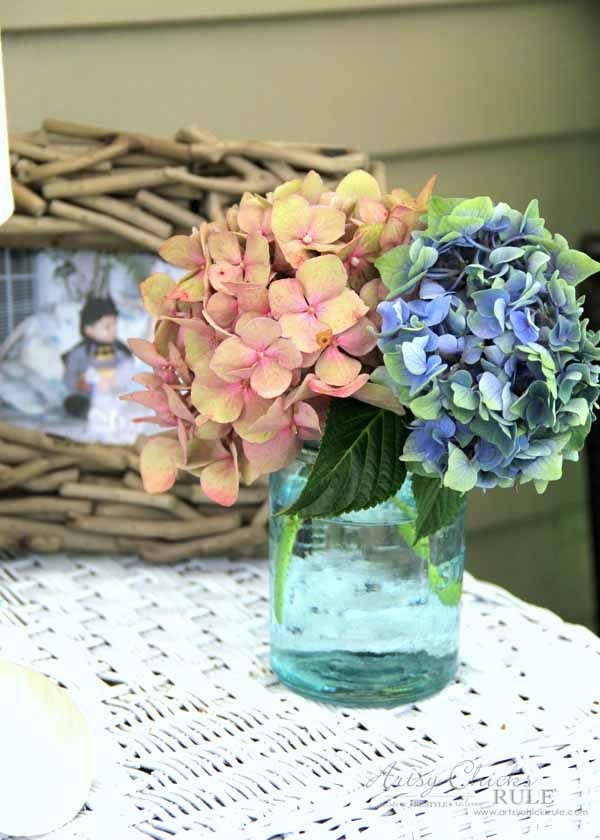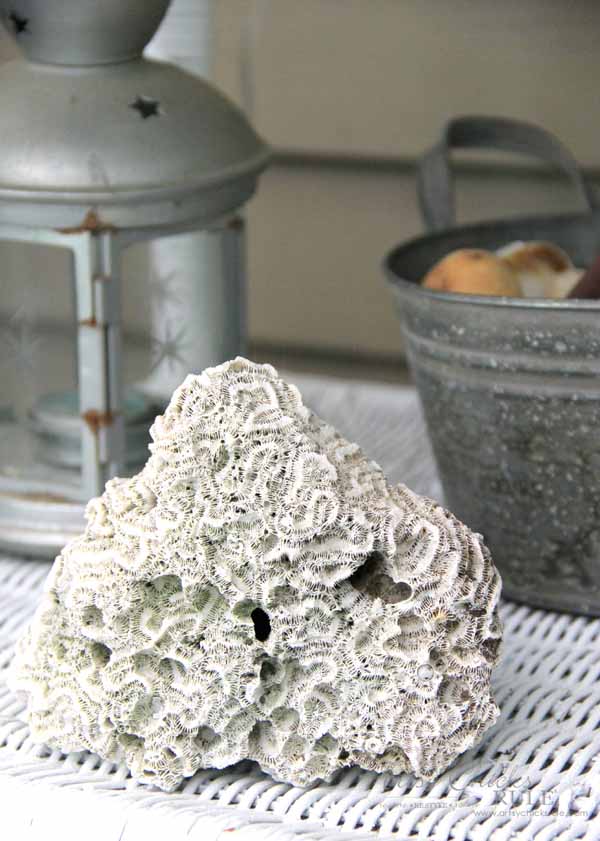 metal pail – Michael's (with coupon)
lantern – thrift store
and other nautical items I picked on the beach and elsewhere.
And yep, my husband finally got his TV out here. :)
The beach house sign and starfish came from Bed, Bath & Beyond.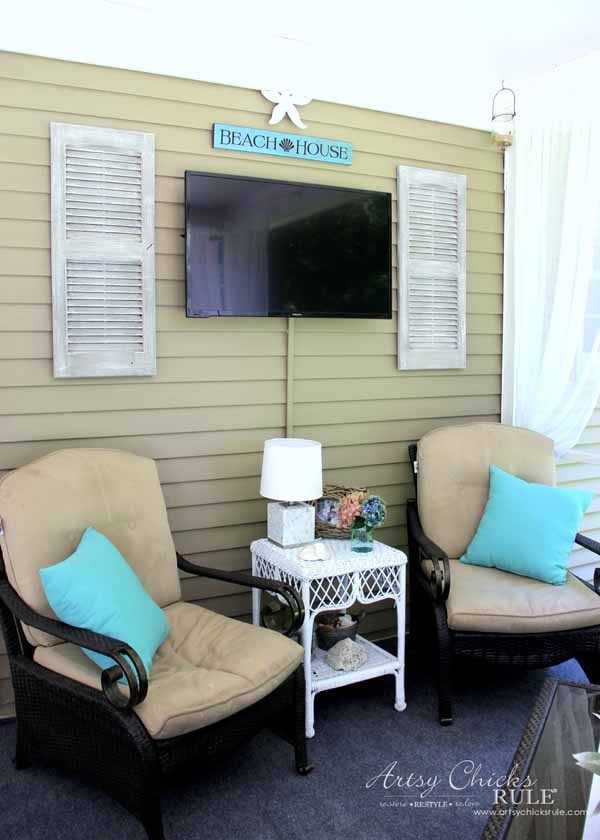 I plan to put a little shelf in that awkward empty space under the TV.
Over on the other side of the porch is this…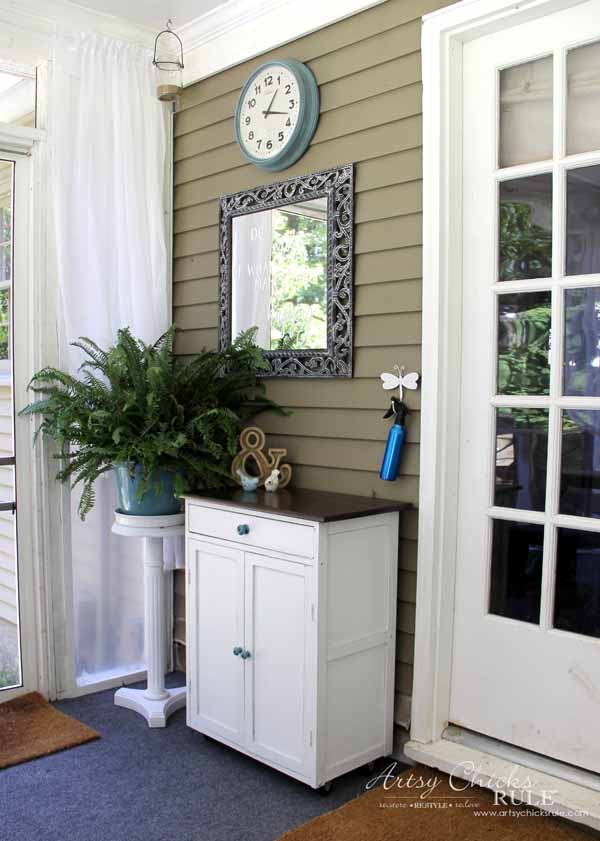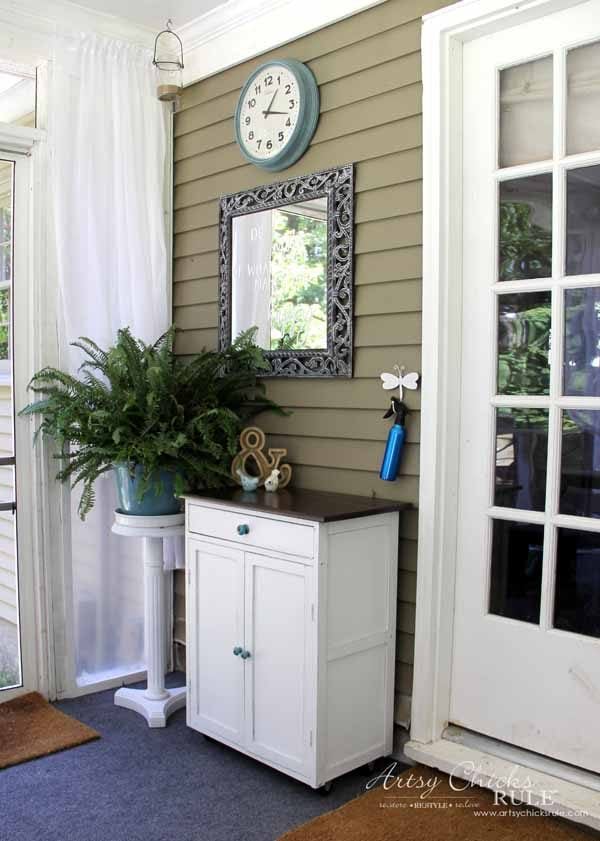 You might remember this one.
The little cabinet got it's second, and probably final, makeover.
You can see all the details on there HERE.
The mirror makeover HERE.
And the clock HERE.
This porch only had one screen door when we moved in.
We decided to put in another, the one you see above, with a fenced-in dog run.
Perfect for our pups to easily pop outside to do their business. (and no worries from me that they will run off while they are doing it! ;) )
Plus, we had little ones when we built that and wanted the back yard to always be "droppings" free! ;)
The gray/black rug came from The Home Depot.
I had two out here previously (seamed together) that were still too small (precut) BUT I really loved them.
So, when I gave this space it's the newest makeover, I decided to buy it off of the roll and make it big enough to fit the entire length.
I LOVE this rug out here.
I know it's not the prettiest but it gives the space such a warm, homey feel.
And I really can't have a nice rug out here since it's so damp and humid where I live.
The plant stand the fern is sitting on was from the thrift store as well.
It was yellow-y oak colored and I sprayed it white. So easy!
Across from that is this old table.
You may remember it's previous sad shape before my husband and I gave it new life.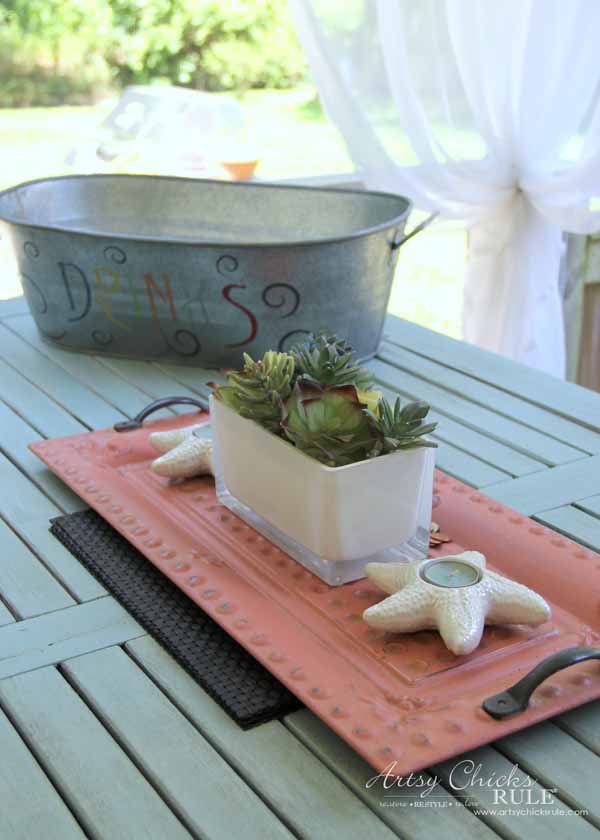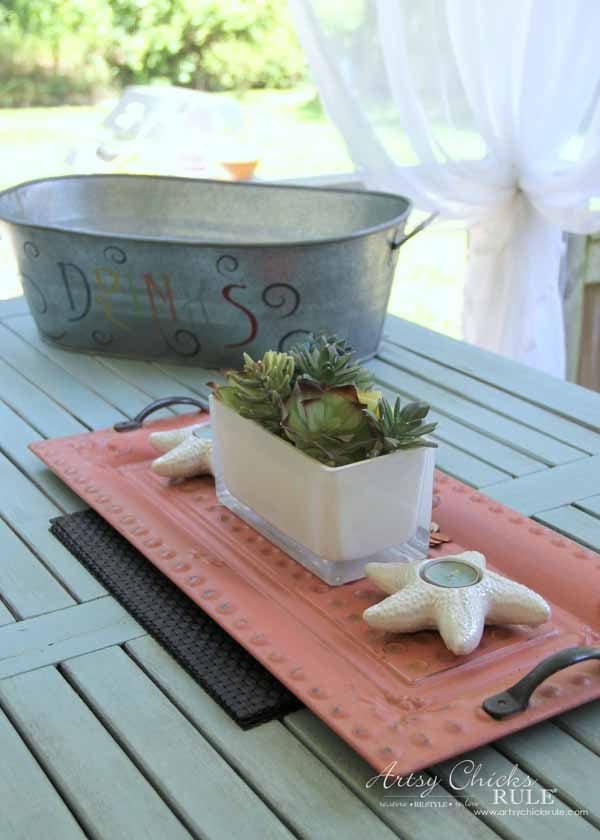 You can read about its makeover HERE.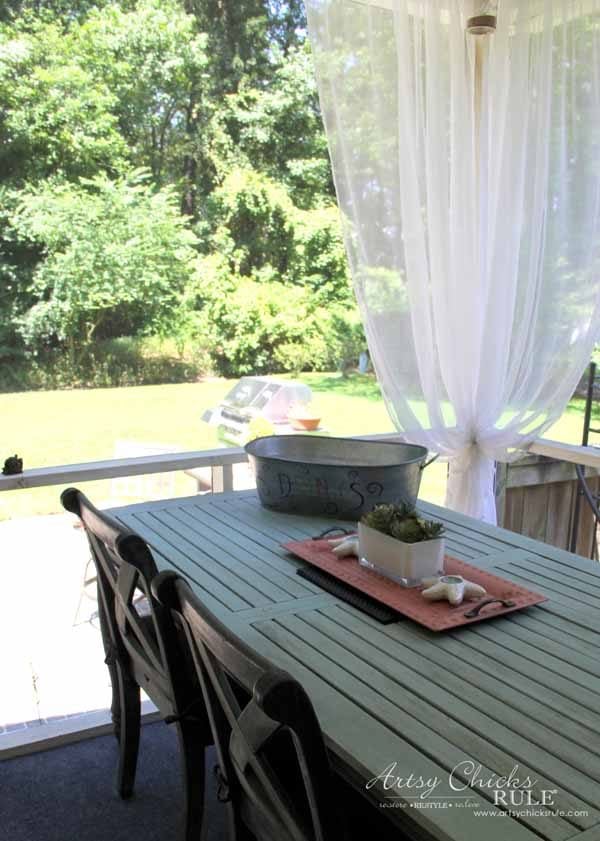 The sheers I put in the corners added a nice, warm, cozy feel too.
And look what else I found…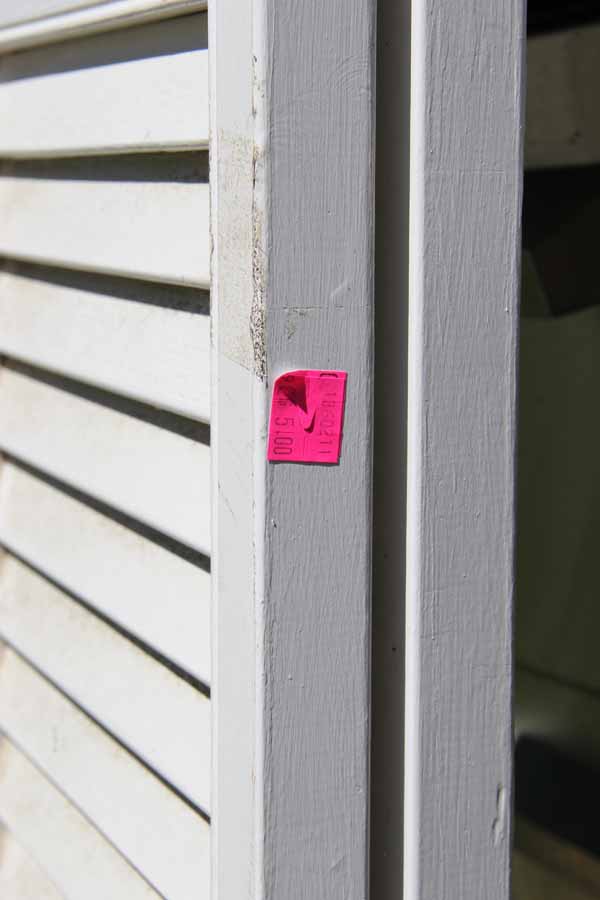 MORE bi-fold doors at the thrift store.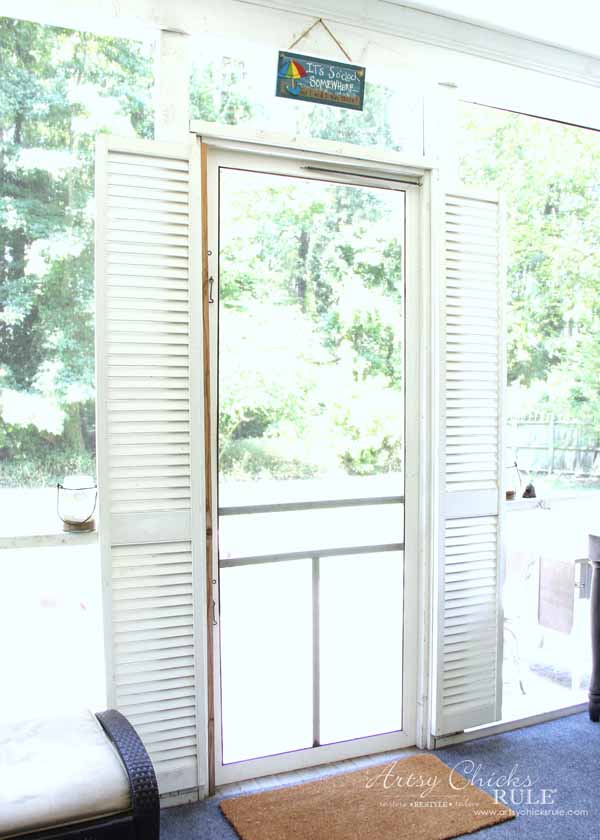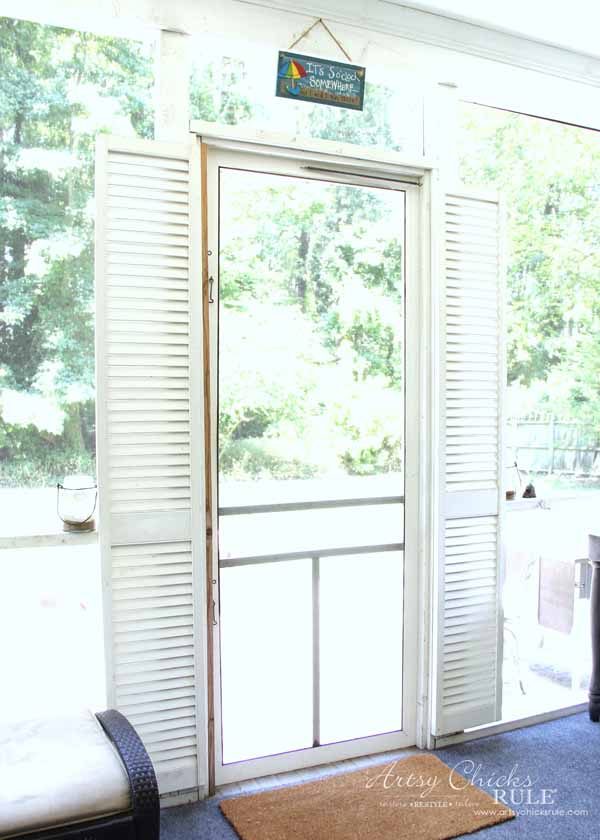 $5 bucks, how can you say no?
I'm a sucker for a bi-fold door or shutter.
Aren't they so cute there?
My husband said, "uh no, they block the view". hahaha
Silly man.
He thinks they look great now. It just takes him a little time.
And yep, up above is some cheapy little sign I picked up some years ago…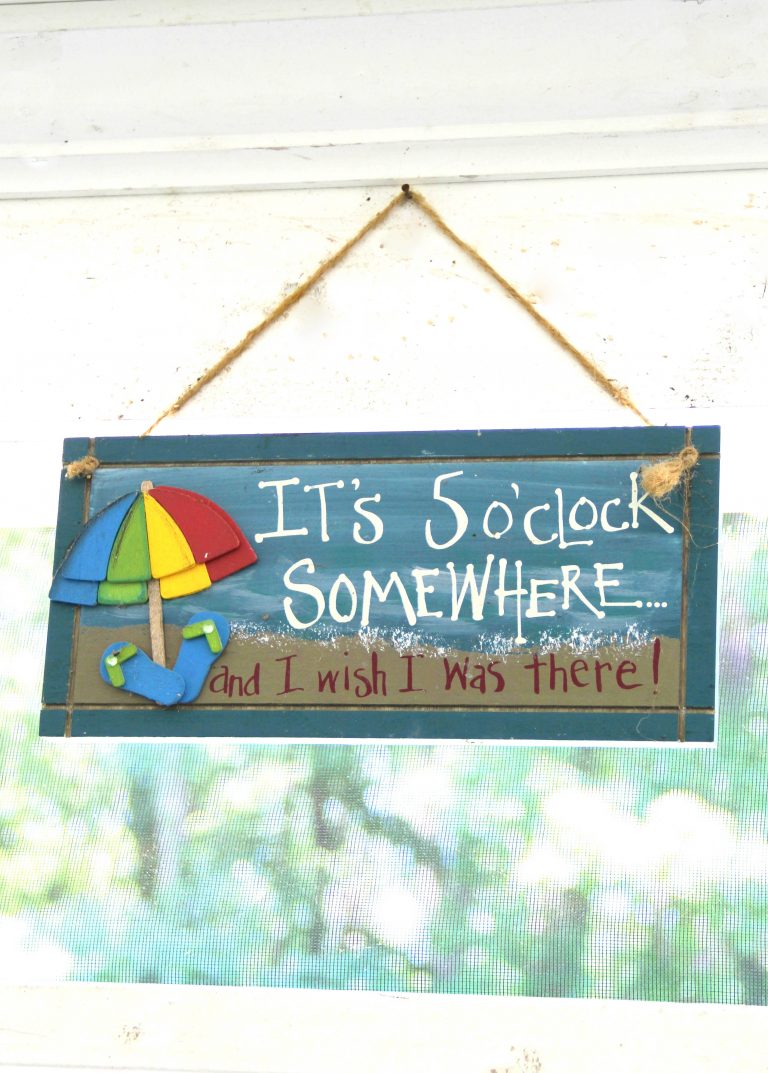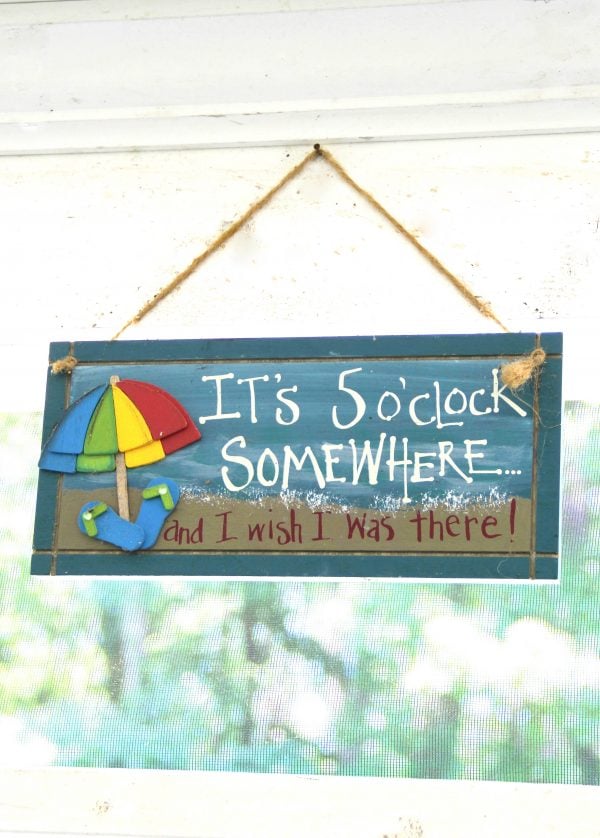 …but I thought it was cute, so I hung it up here….for now anyway.
Now let's see what's lurking just beyond that door…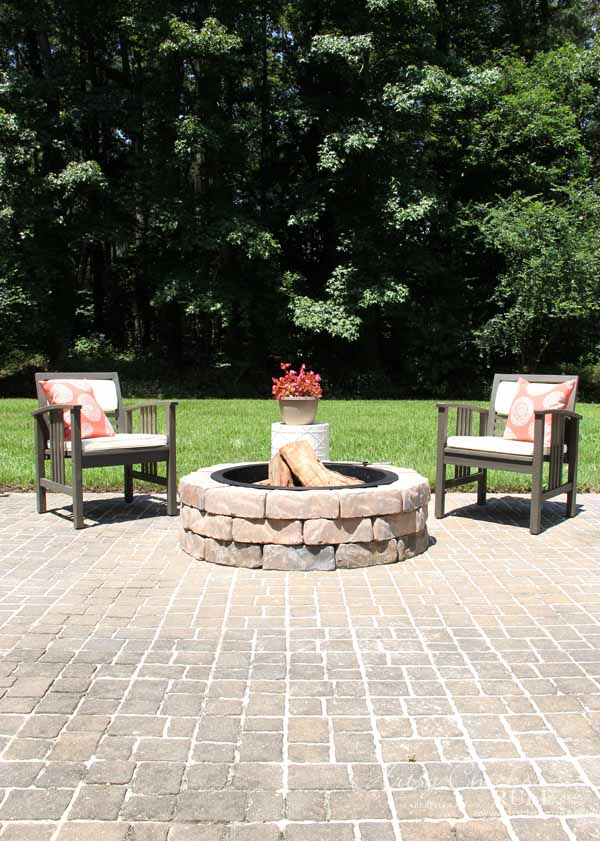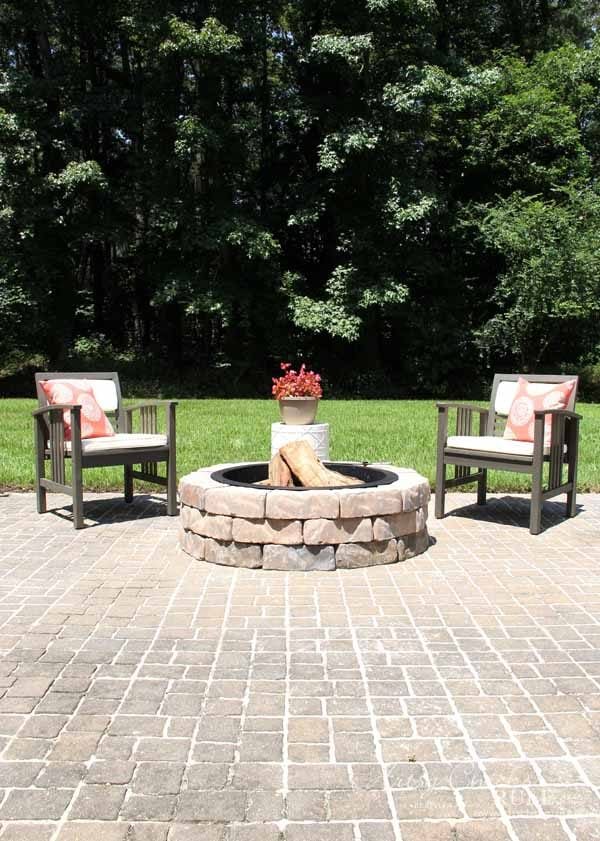 We installed the pavers some years back.
LOVE having a patio!!
We just built the fire pit in June.
It all came from Lowe's and was so easy to build.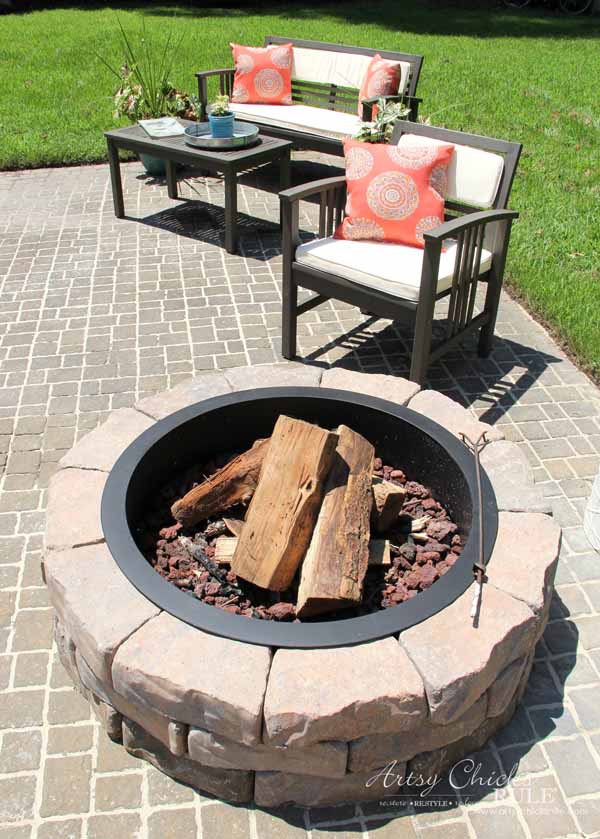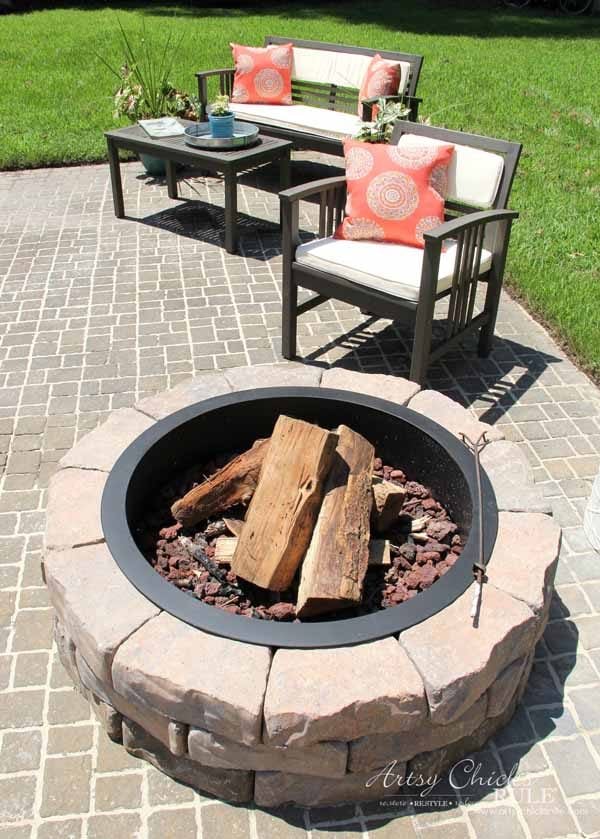 The brown wood patio set came from The World Market and was a steal!
I got it with my "friends and family" 25% off coupon and paid around $150….brand new!
Here's what it looked like semi-before…
…sort of.
We had already started putting in the new screens, etc….and a pool.
But look at the yard and "patio" that is there in the before photo.
We enjoyed the pool for about 6 or so years…then it was just time for it to come down.
I do miss it some days but so enjoy having my pretty yard back.
On the right side of the patio is this…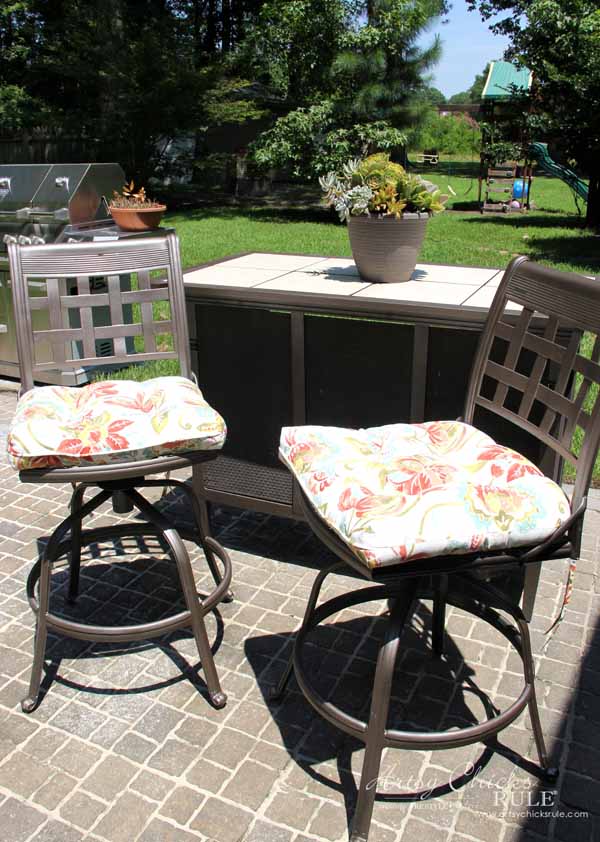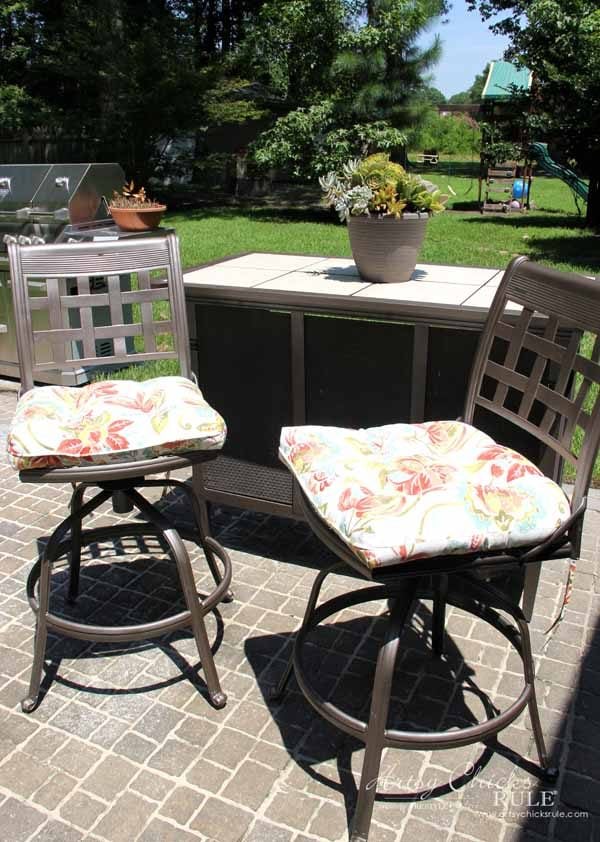 We got this set on clearance from Target at the end of the season for $125 (I think).
We've had it for about 6 or so years. It started out black and gray with gray tiles.
I gave it a repaint this year with new tiles and cushions (TJ Maxx).
I didn't want to bother with removing the fabric on the bar so I sprayed it.
It worked very well!
This is what this side of the yard looked like before…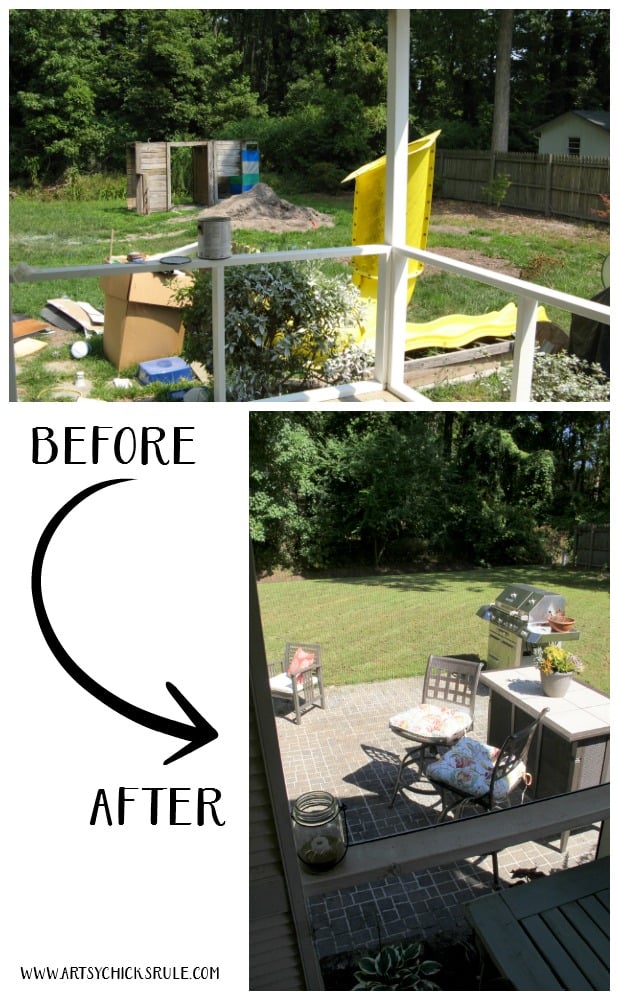 Keep in mind that we were doing all kinds of work on the house (the mess!).
AND I certainly was not taking photos that I thought I'd share with half the world all these years later. ;)
I don't know if you can tell how overgrown the woods look at the back of that photo above.
It was and it felt like it was going to swallow me up! I hated it.
We worked on cleaning it up and having it be nice and tidy.
Now it looks like a beautiful forest and neatly manicured space at the back of our property.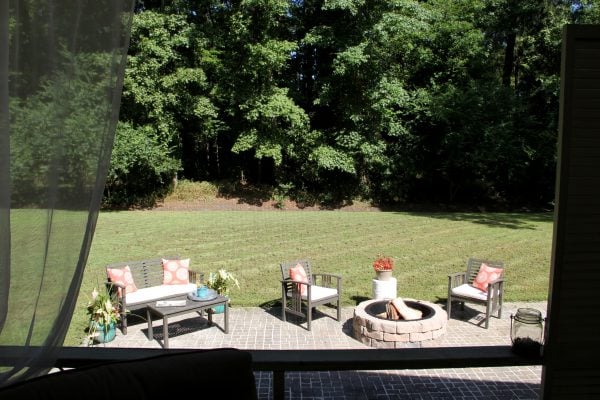 And one more semi-before and after…..the left side…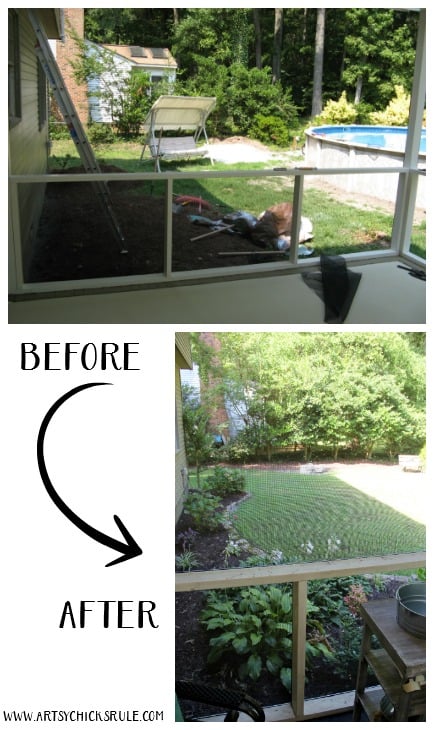 I used to hate coming out back.
It was a dreary, depressing looking space and yard.
Now, I absolutely love it. It looks so happy and inviting to me now.
My own little piece of paradise to go and relax.
Sometimes I see deer and bunnies.
I hear the tree frogs at night and the sweet birds chirping in the morning.
I so love it and just wanted to share it all with you.
And share how I did it all thriftily…as I have the whole house, DIY, and decor.
And you can too. :)
UPDATE 2021!! See our newly decorated screened porch >>> here.
Here are a few more of this home's "before and afters" …..
Family Room Makeover >>> (and how it looks today)
Coastal Kitchen Makeover
Coastal Farmhouse Guest Bath Makeover
Foyer Makeover
Study Turned Dining Room Makeover
I'm so glad you stopped by and I hope you enjoyed seeing how our house looked when we moved in…and what we did to make it our own.
It's been a work in progress…and still is. ;)
But that's okay, we've learned so much in doing it. And it all ended up leading me here to this blog…and all of you!
I hope you have a wonderful rest of the week and the weekend.
xoxo