Blue and Gold Christmas Decor (family room)
This post may contain affiliate links. Please see disclosures here.
I'm dreaming of a blue and gold Christmas. Sounds about right! Blue and gold decor is a beautiful change from the traditional red so well-loved by many.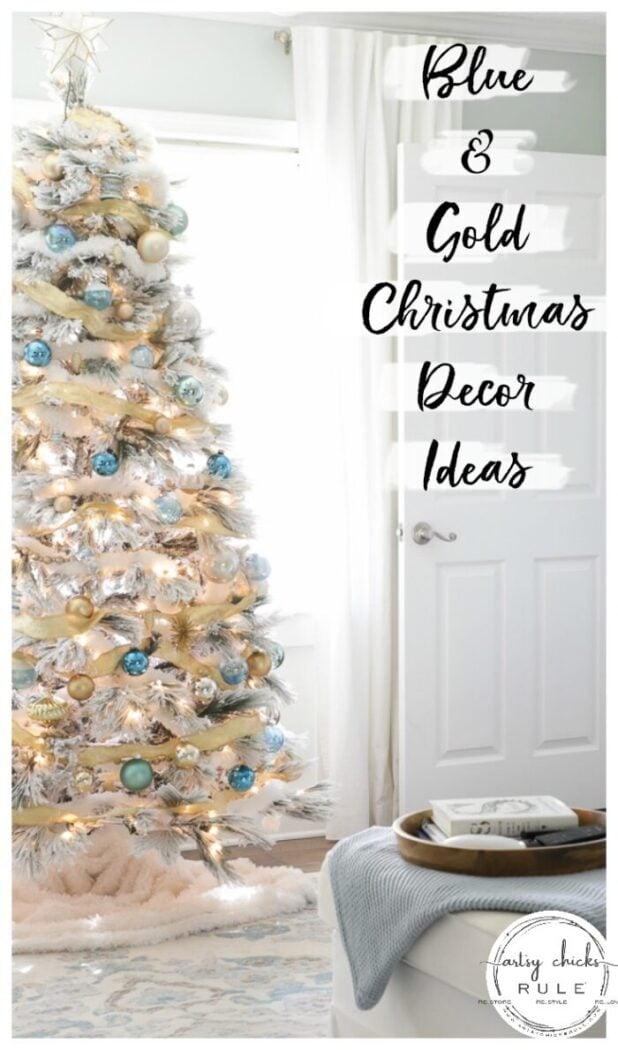 Hello sweet friends!
I hope you had a wonderful Thanksgiving holiday and are well into your way for the holiday season. I surely am. All done over here, whew. I can relax and enjoy now. HAHA What? There'll be none of that! lol No, seriously, I sure hope to be able to wind down, a little anyway and enjoy this beautiful month of December. It's my favorite time of year (except for the cold weather) so I hate that it sometimes gets rushed and hurried…and missed as it flies by! Can't let that happen this year. And neither can you. Stop, relax and enjoy.
I am very thankful that I finished decorating though.
And guess what?? Our master bath is done! Well, almost. ;) The glass shower surround/door is getting installed this Friday. YIPPEE! Then it's done. The closet, however, is still rolling along. All that's left to do in there is to give the IKEA PAX "boxes" their innards. lol And well, crown and base molding, barn doors to the bath and to the closet…and then that's done too.
Then we will continue right on into our master bedroom.
We are planning an entire wall with a built-in wardrobe on the far side where the windows are. (on each side of the double window-extra space for my husband)
Plus new flooring to match what's in the closet and a few other updates as well. (maybe some shiplap, maybe some dark navy paint?? So excited for a change in there)I will share an update on the bath and closet soon (maybe next week). I will also create a mood board with our bedroom design plan too (in January).
But that is all for another day.
Today it's all about Blue and Gold Christmas Decor for the holidays.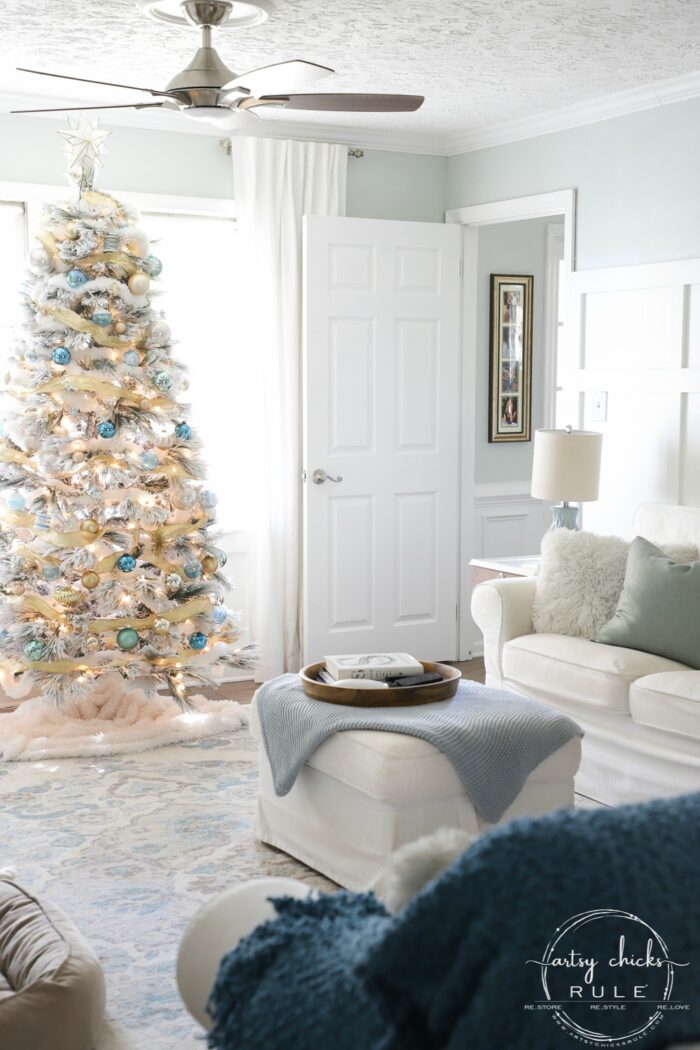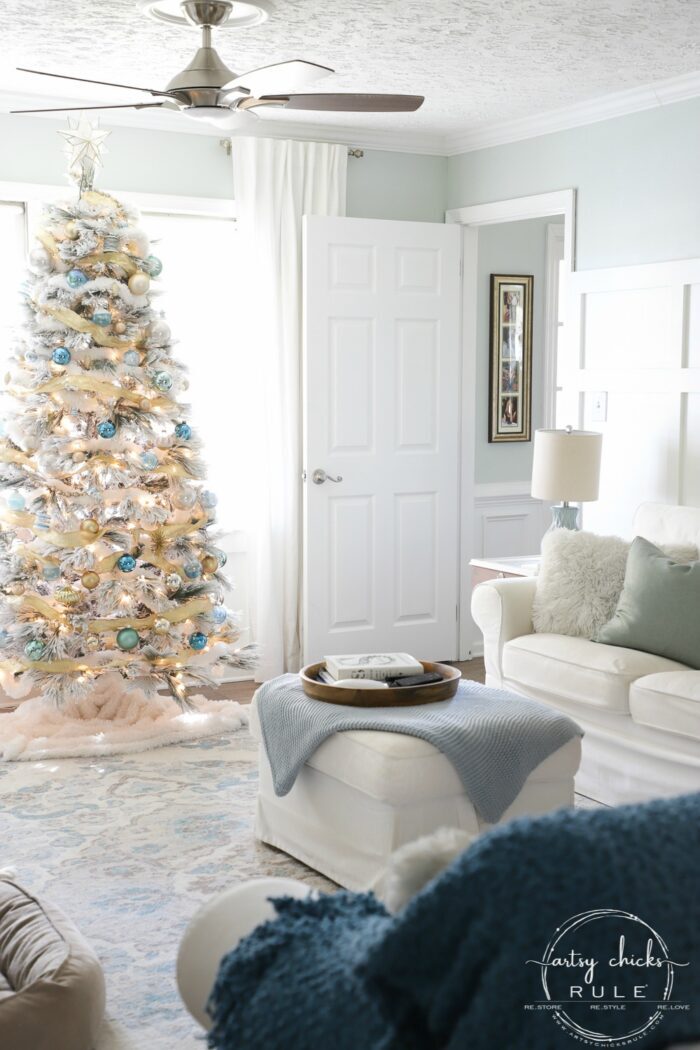 As I mentioned in part 1 of my Christmas home tours this year, I decided to change things up and use different colors in each room than I did last year.
If you missed part 1, you can see it right here >>> White Christmas Decor Ideas.
Blue and gold in the living/family room this year. (last year it was red)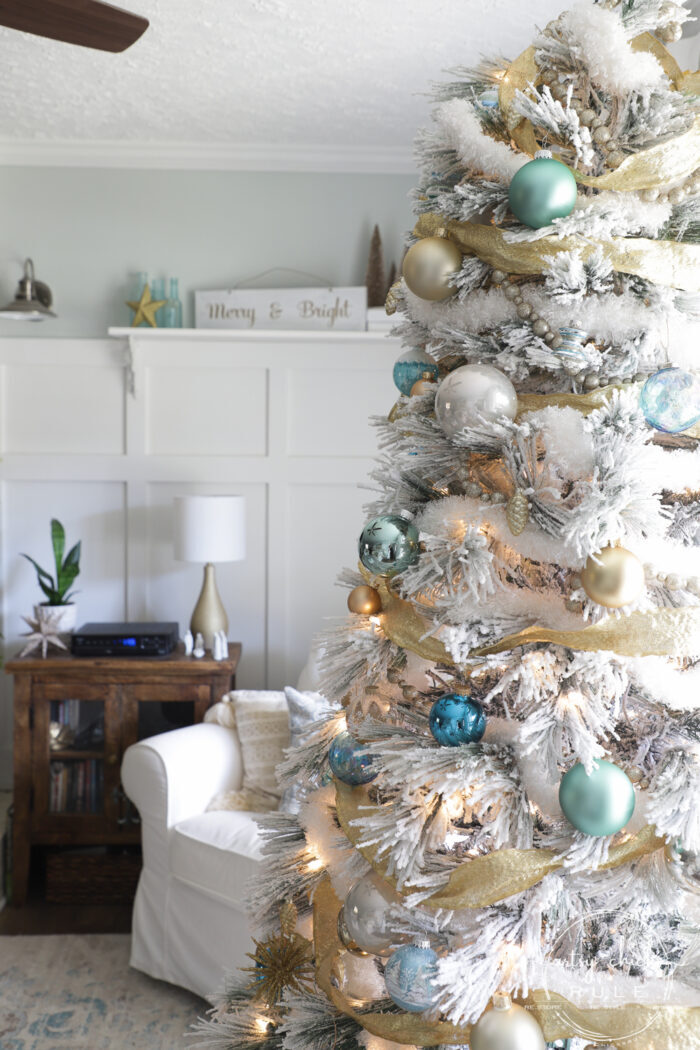 I'm just loving it as the blue and gold decor goes so perfectly in this room.
And goes perfectly with Ryder too. :)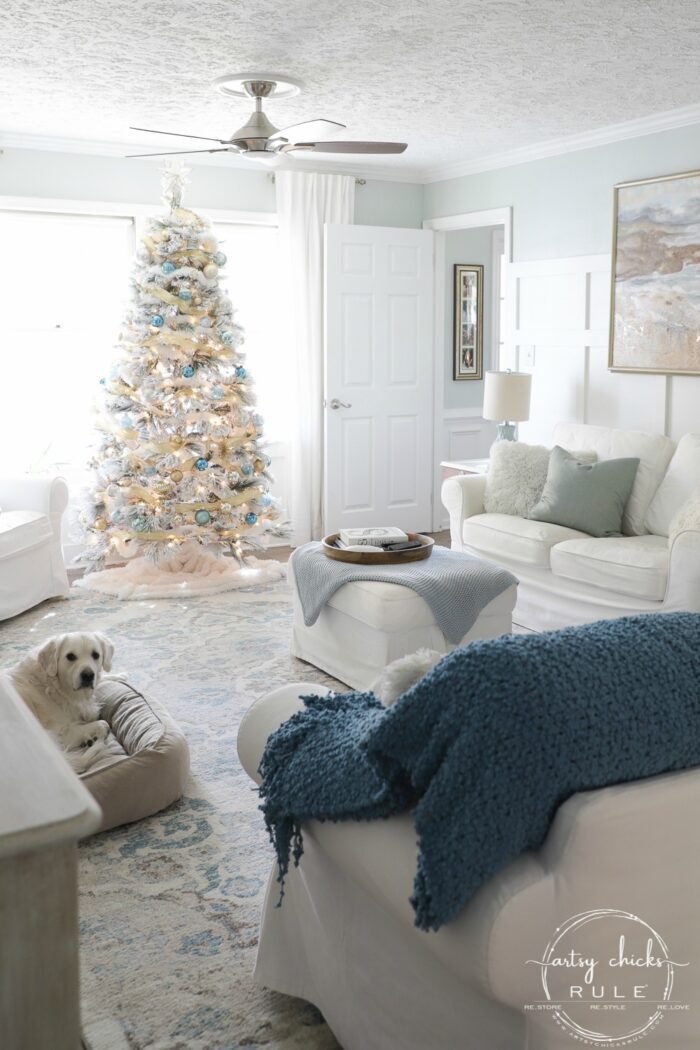 He loves his bed so he obliged me by staying in it for my photos.
But…he can only stay still so long…haha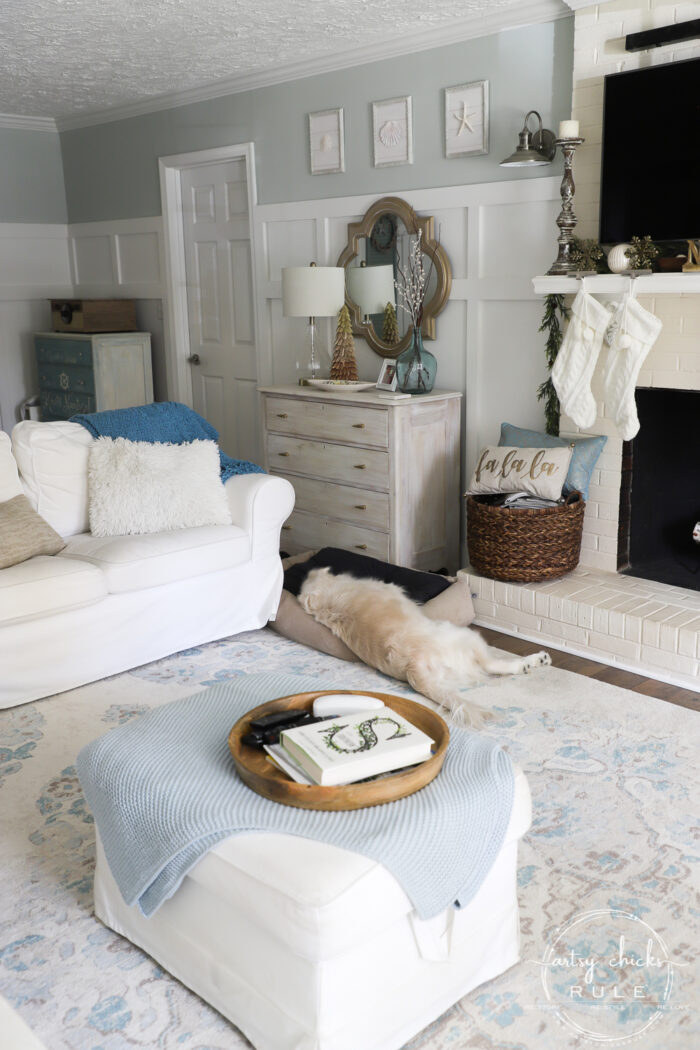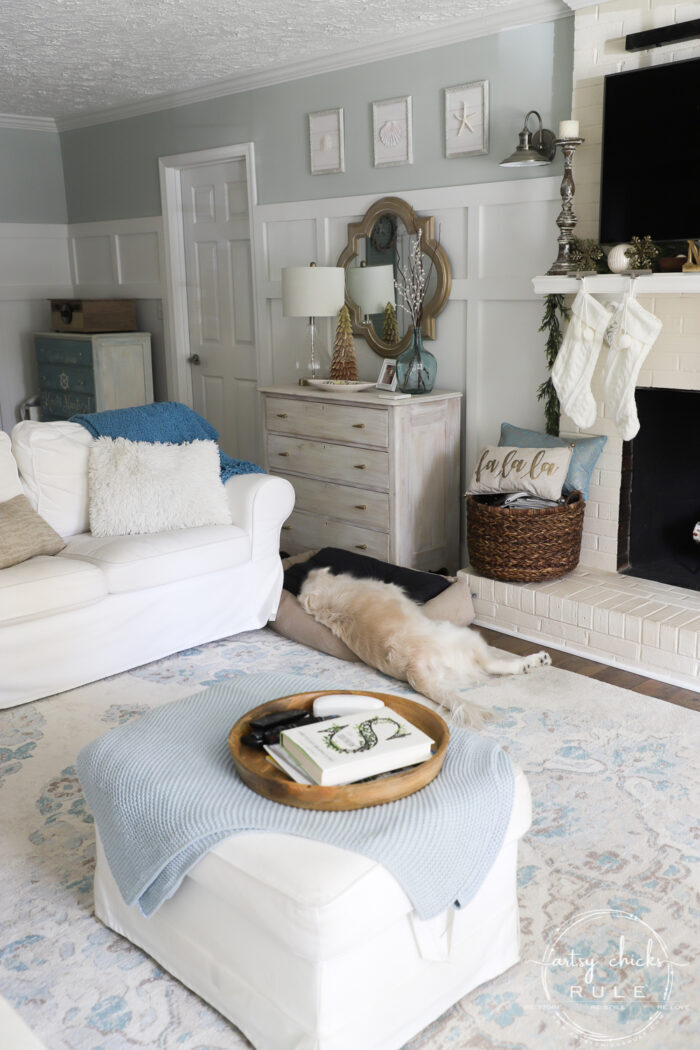 The bed is not only his favorite place to lay and sleep, but it's also a play toy to push/pull around.
Silly dog!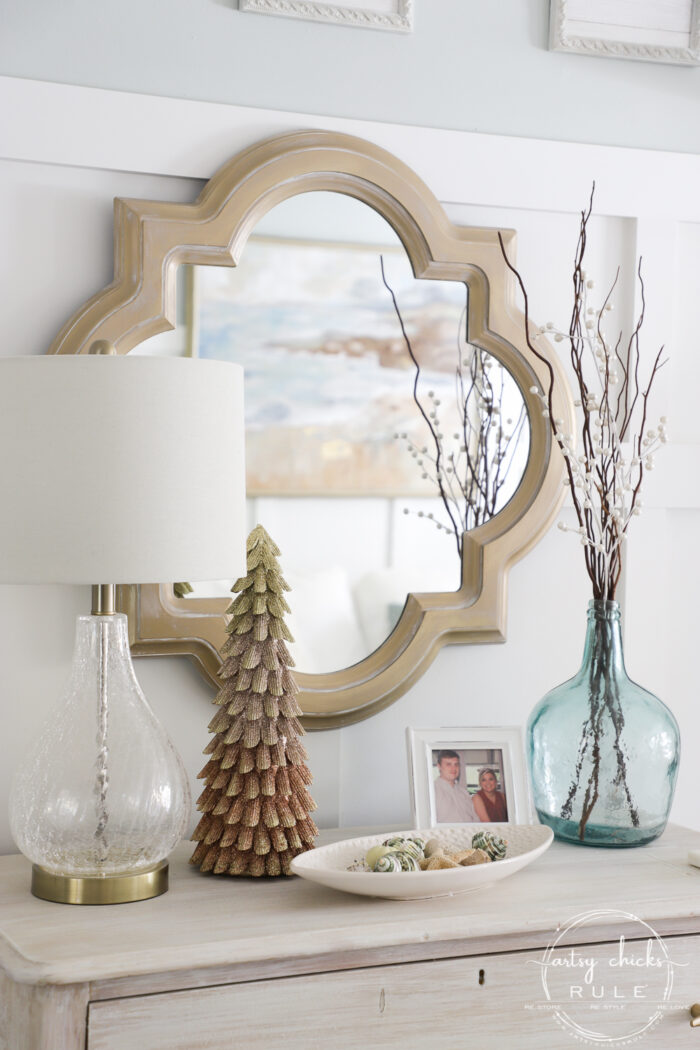 I love this cute fa la la pillow from last year.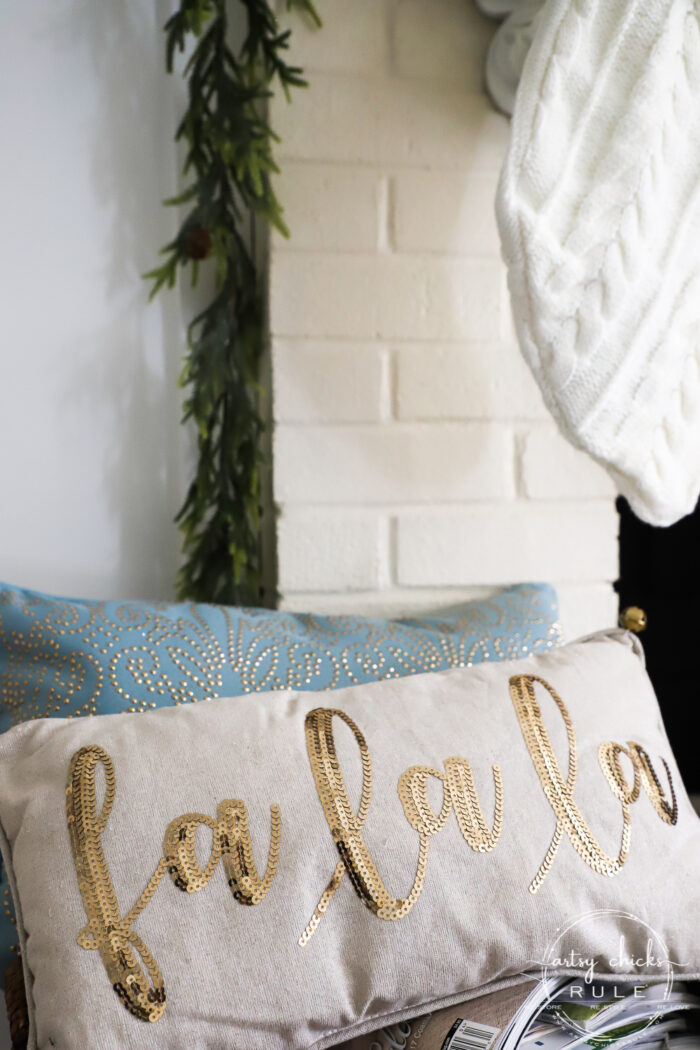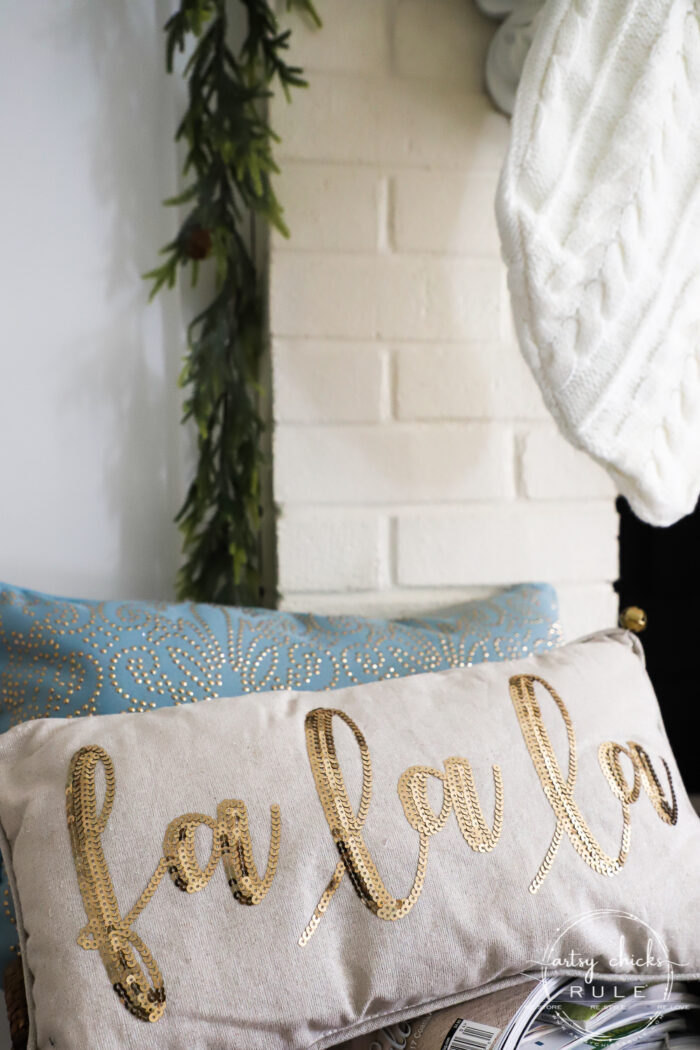 I didn't add the white string lights that I usually do to the mantel this year.
I'm enjoying the simple greenery and NOEL sign though.
The birch logs are perfect in the fireplace this time of year.
Although I love them so much I keep them there all the time.
You can find them, here.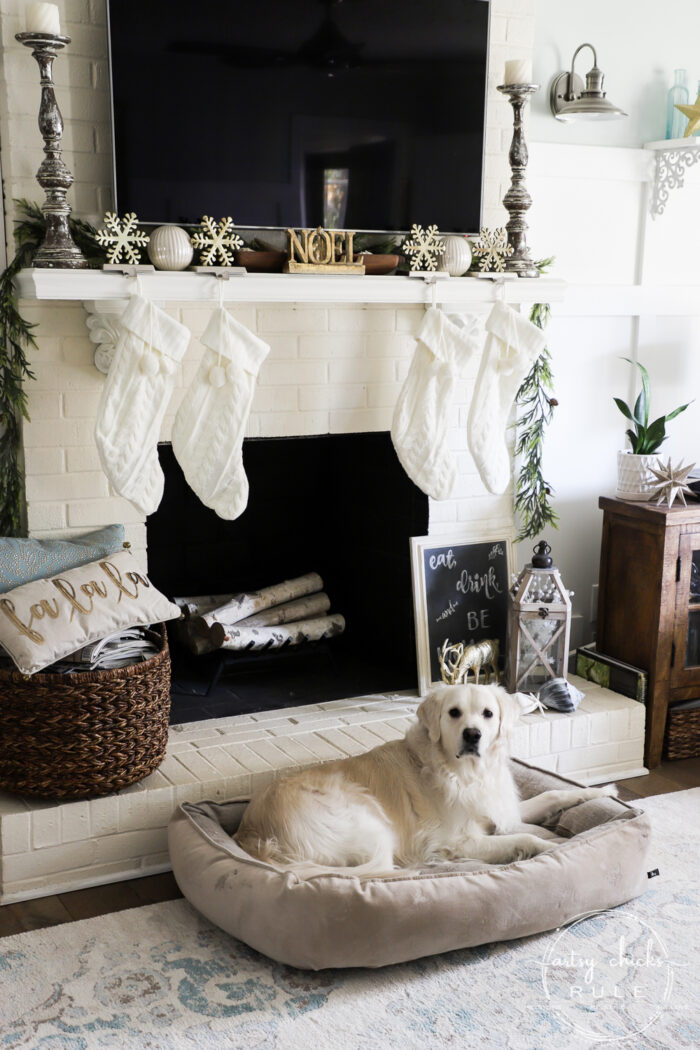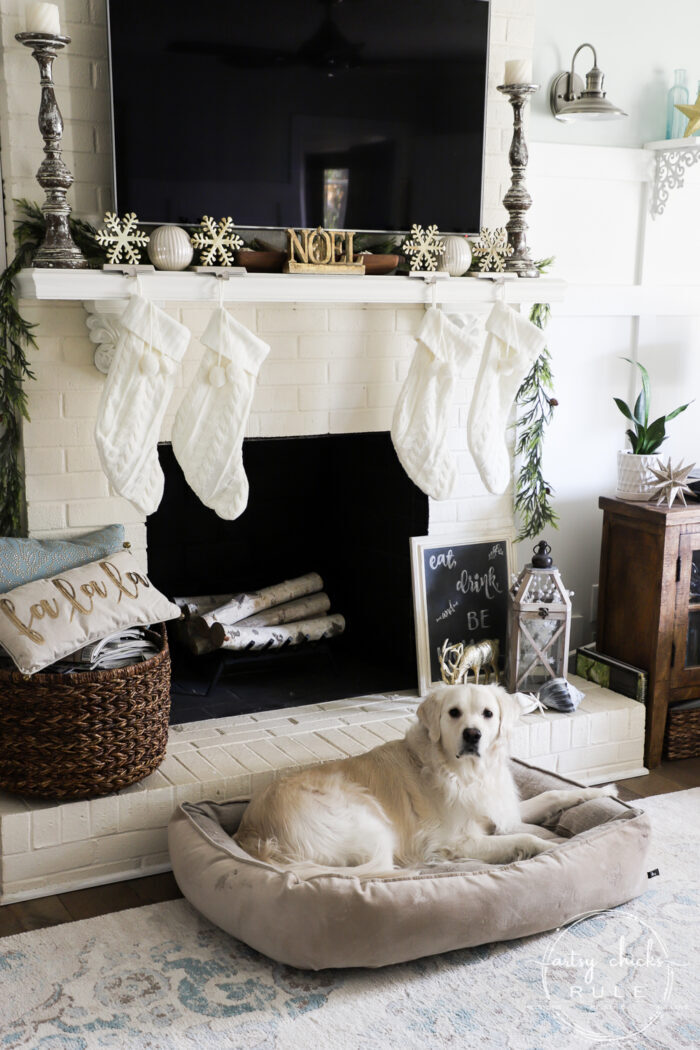 The rug in the photos can be found, here. (I get asked about it a lot)
Info on the Eat, Drink & Be Merry chalkboard sign can be found here.
I have somehow managed to keep that chalk art on there for FOUR years!!
Don't ask me how, it's a Christmas miracle, I think. ;)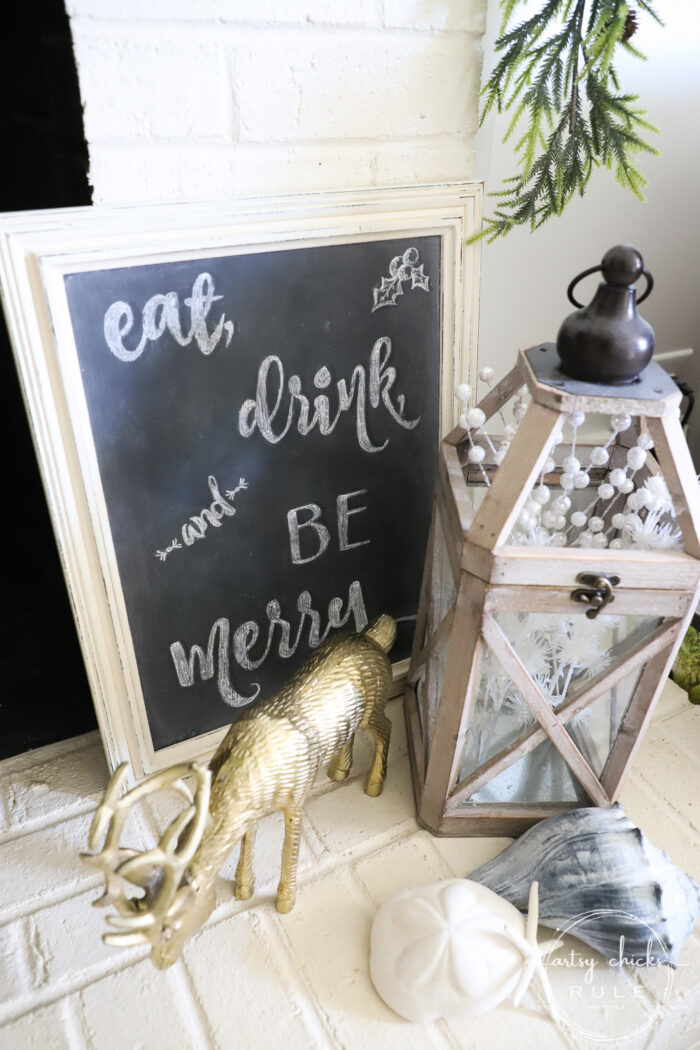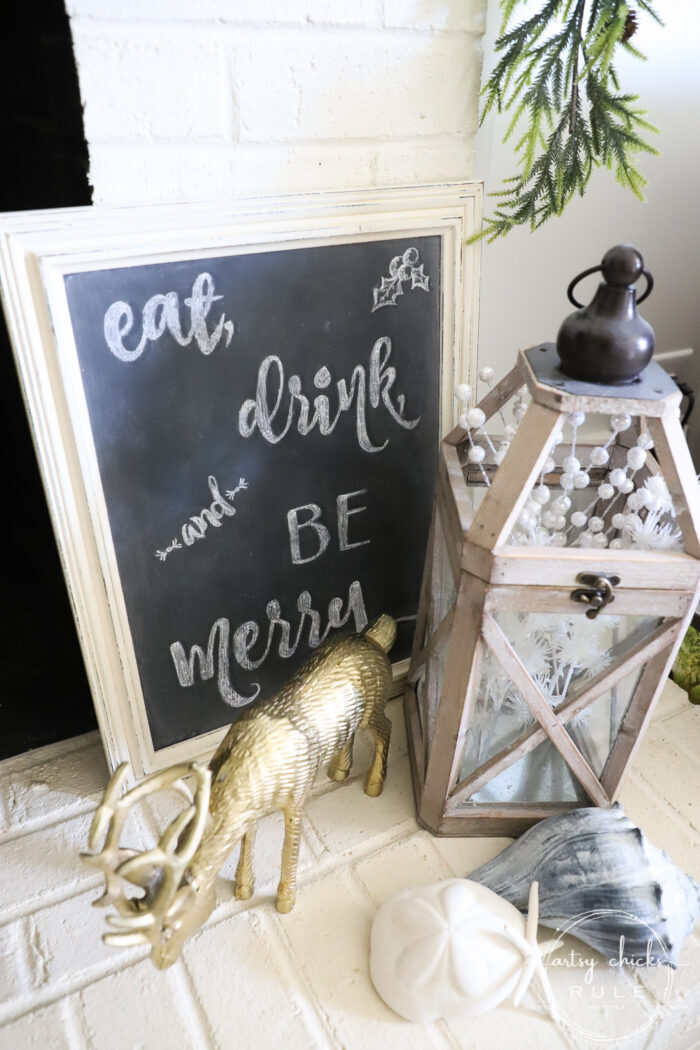 Anything else you might see and like can be found on our >>> "Shop Our Home" page here on the blog.
You will not find this one on our Shop Our Home page though. He is not for sale!! haha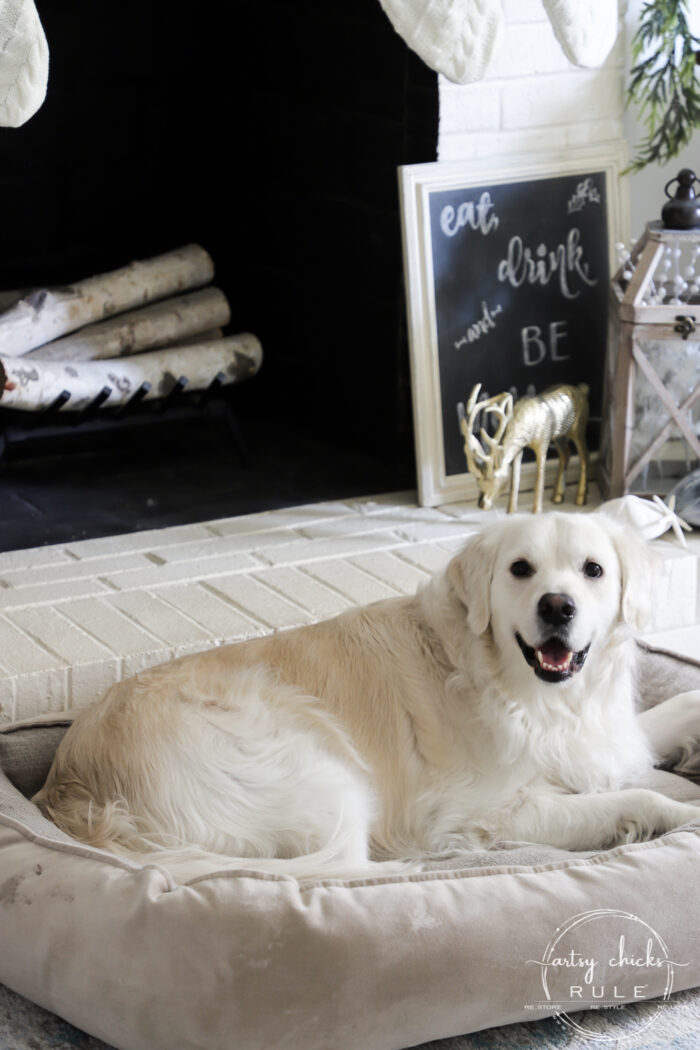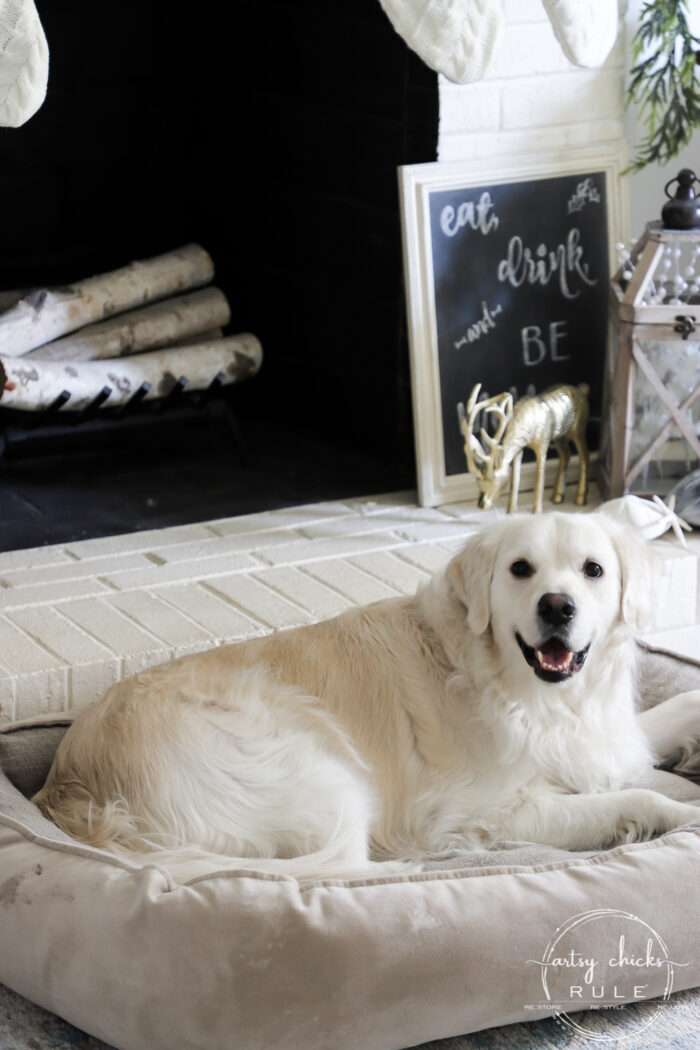 He is so handsome though, isn't he? And so much fun too. He keeps us entertained daily.
I shared some of his goofiness over on Instagram stories this past weekend.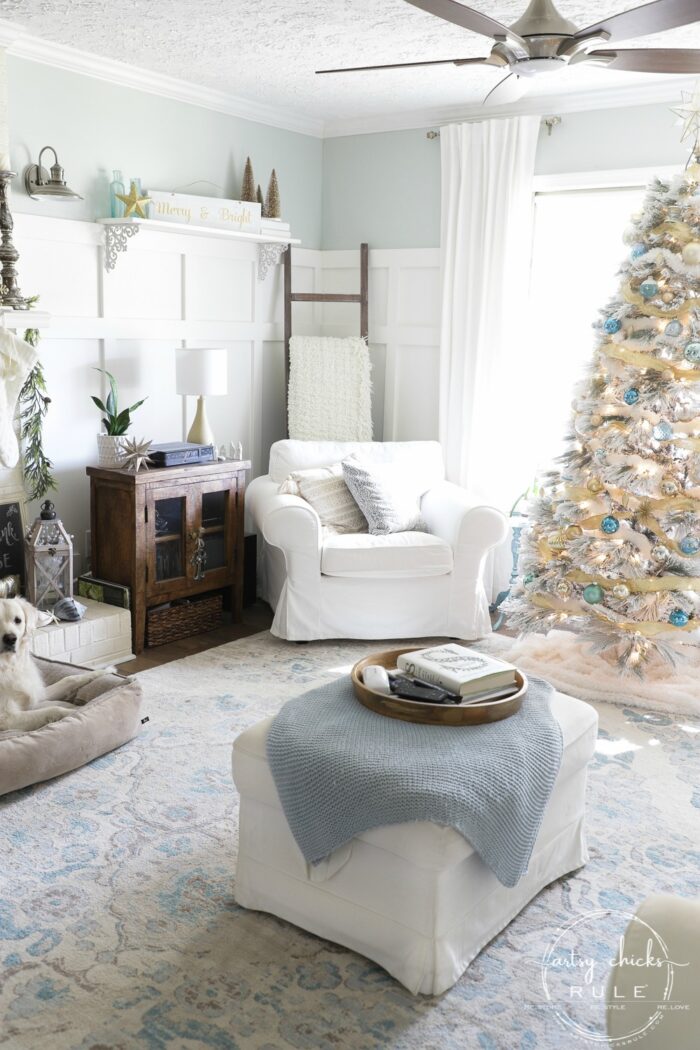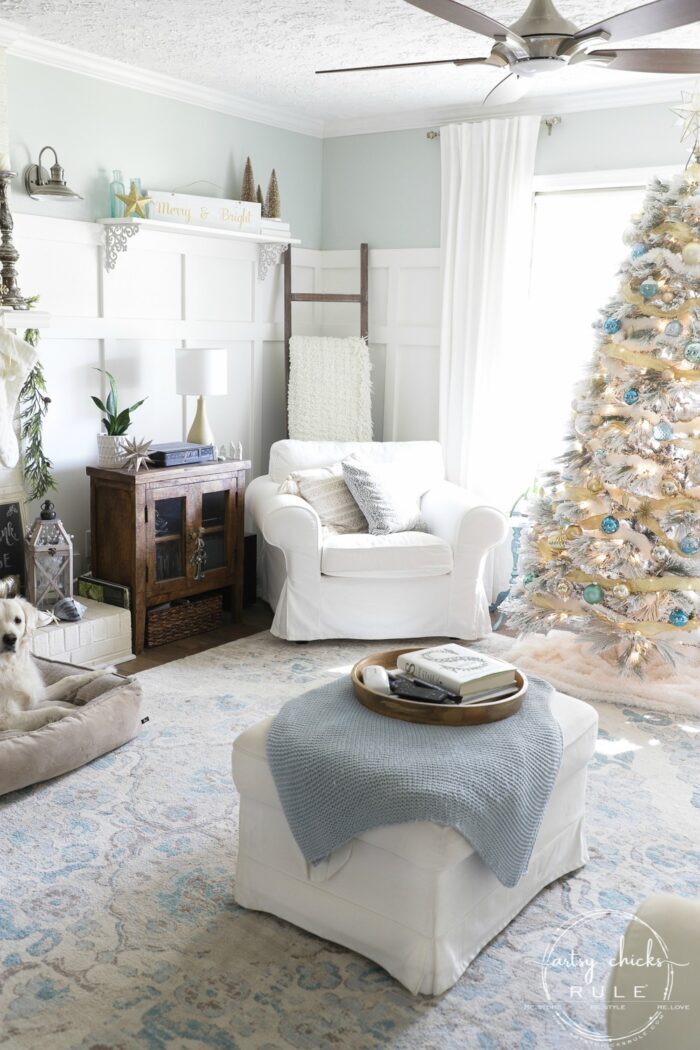 Pretty simple, mostly.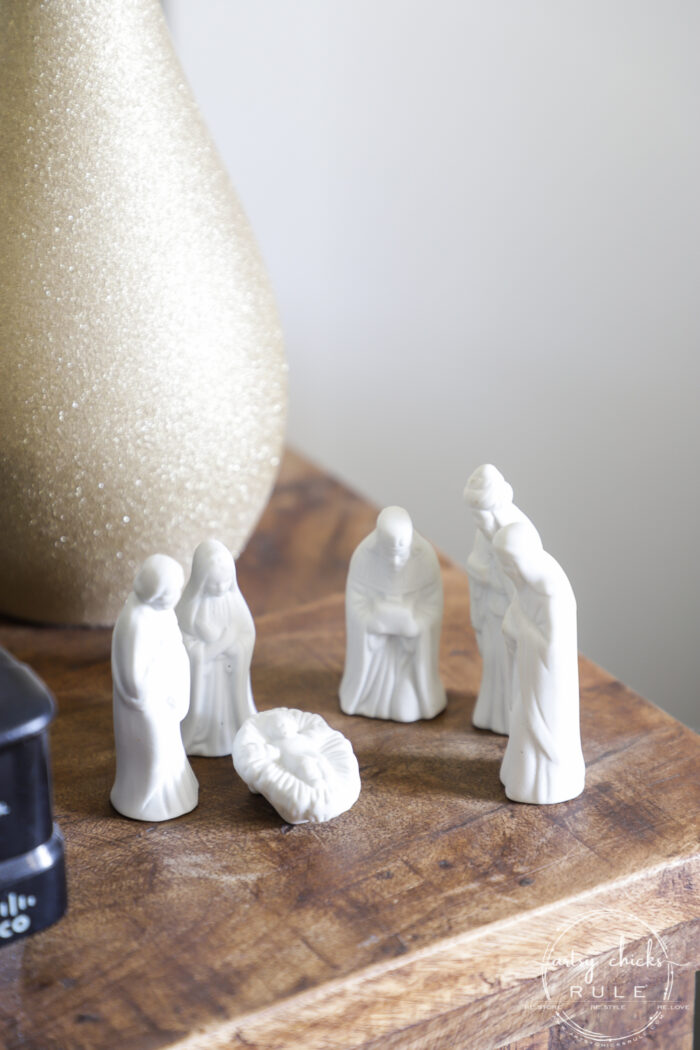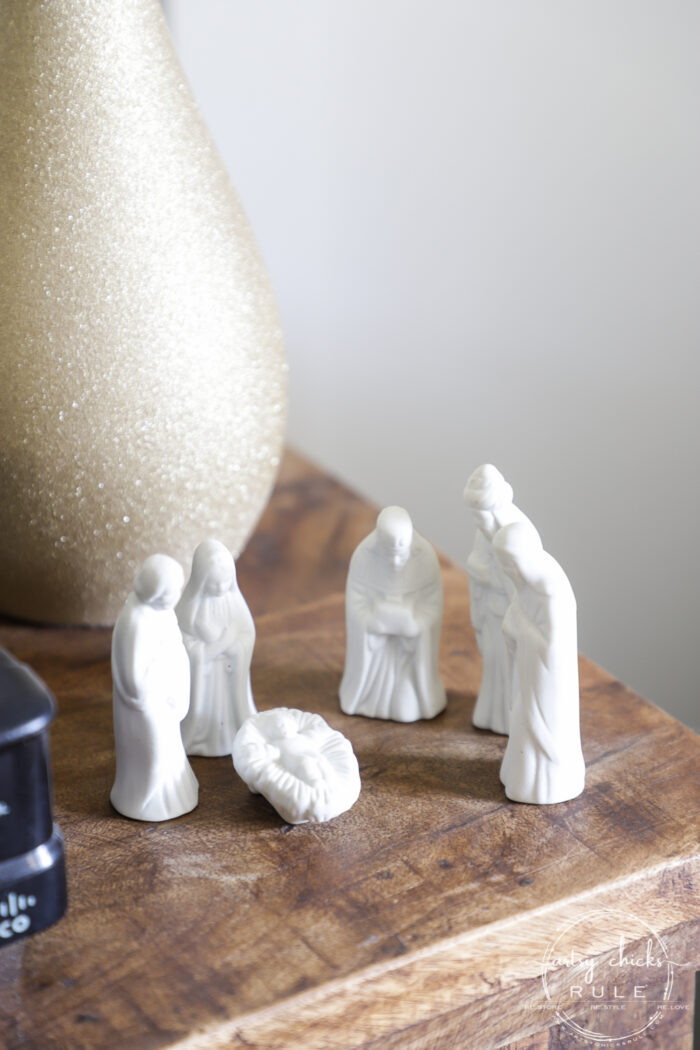 I love this sweet nativity that I bought years ago. Probably within a year or two of our getting married.
It is very special to me.
I added a gold star ornament, the merry & bright sign, and a few gold trees here.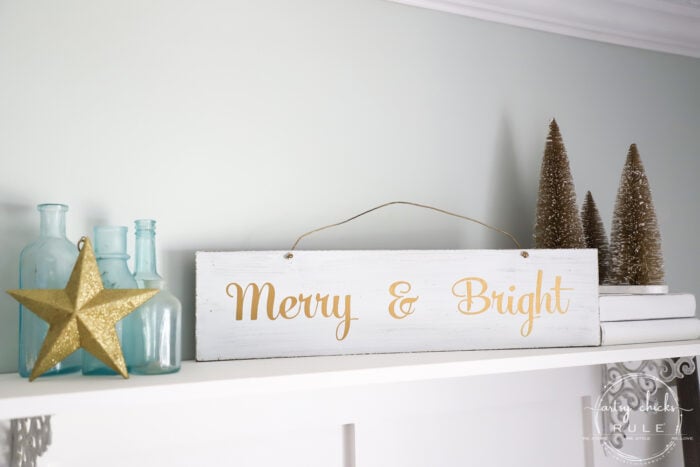 I made the merry & bright sign a few years ago. You can see it, here.
But the star of the show is really the tree.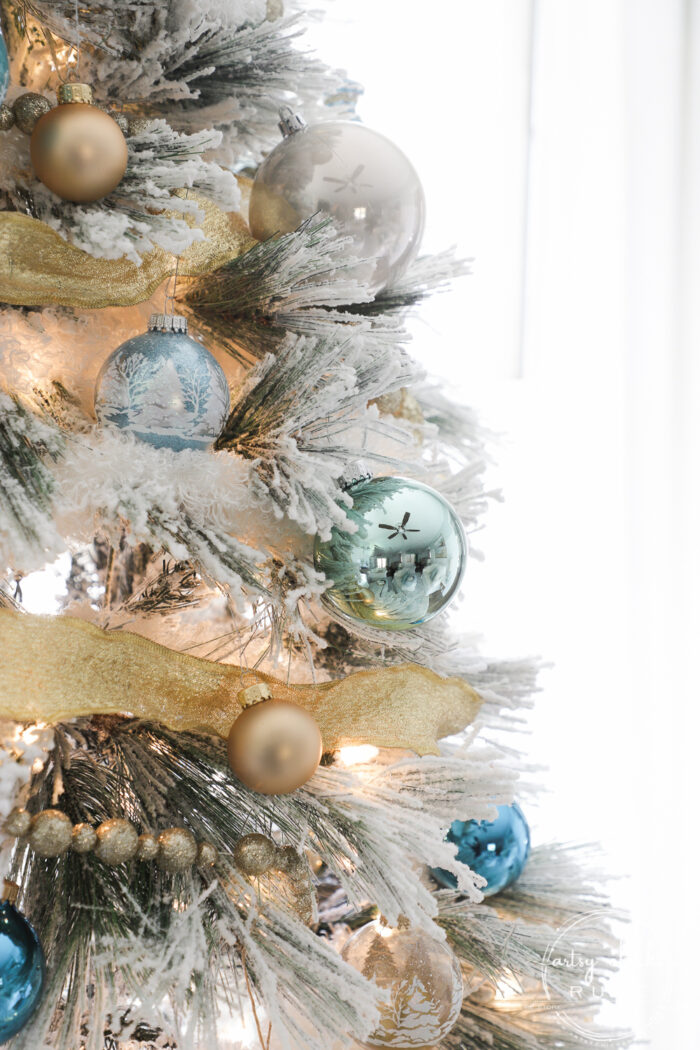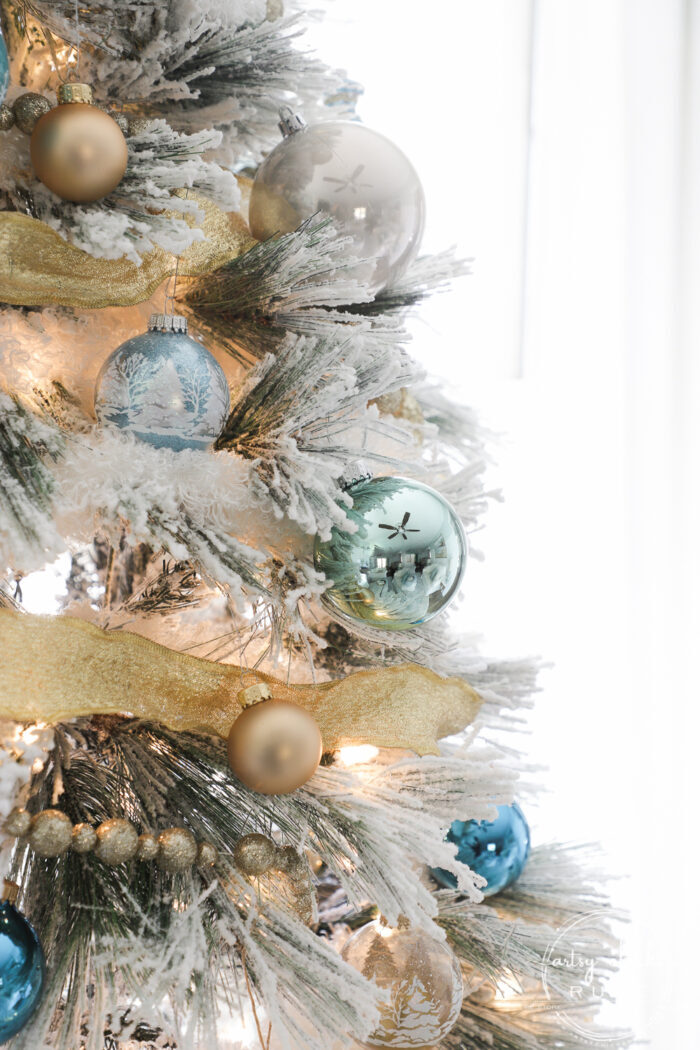 I love these colors together.
There's just something about blue and gold that gets me every time!
And the snow?
I added varying things on each of my trees to get a "snowy" look. This one got fabric (that I cut!). Want to see my other ideas? Check out this post here where I gathered several other inexpensive and simple ways too! >>> Create a Snow Covered Tree (5 simple tips & ideas!)
I didn't do a whole lot in the laundry room or guest bath. But here's a peek at what I did do.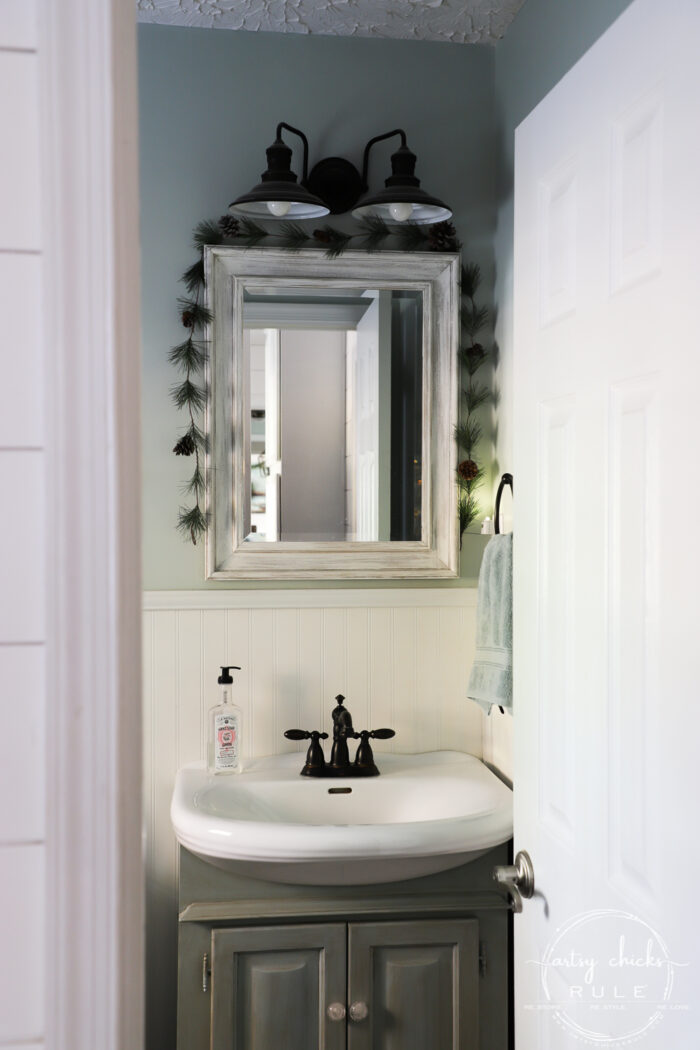 Pretty simple. lol
I'm thinking I'm ready for a little refresh in this bathroom. Not sure just what yet.
But nothing major, just paint and decor.
And the laundry room…shelves.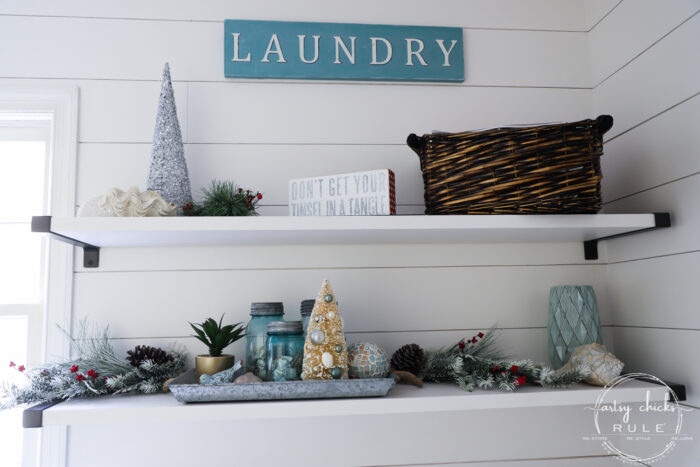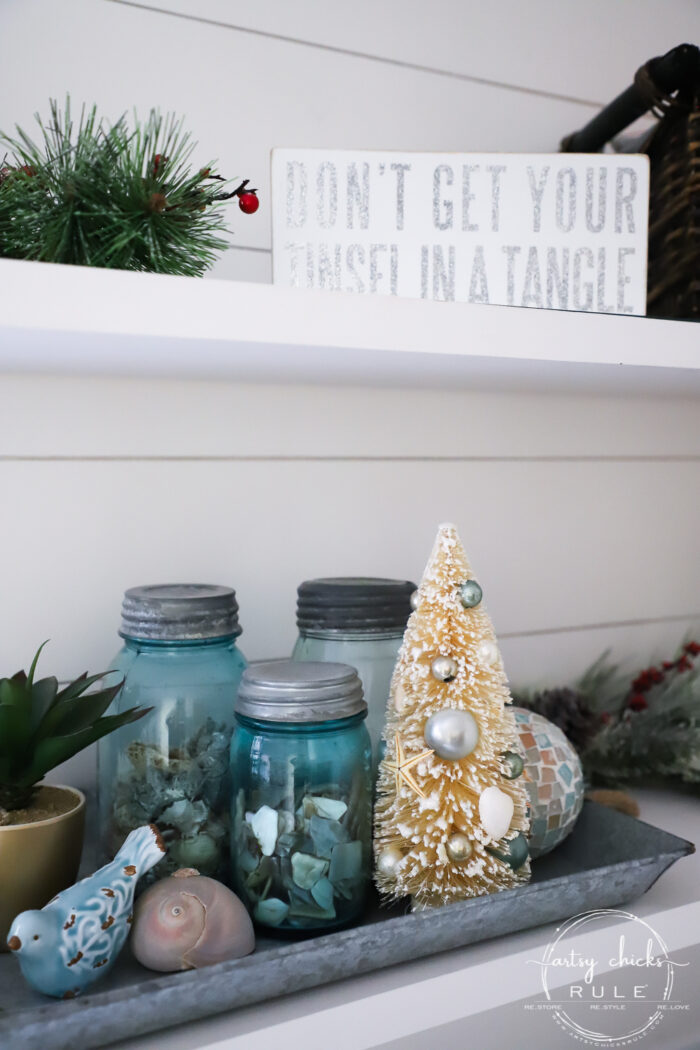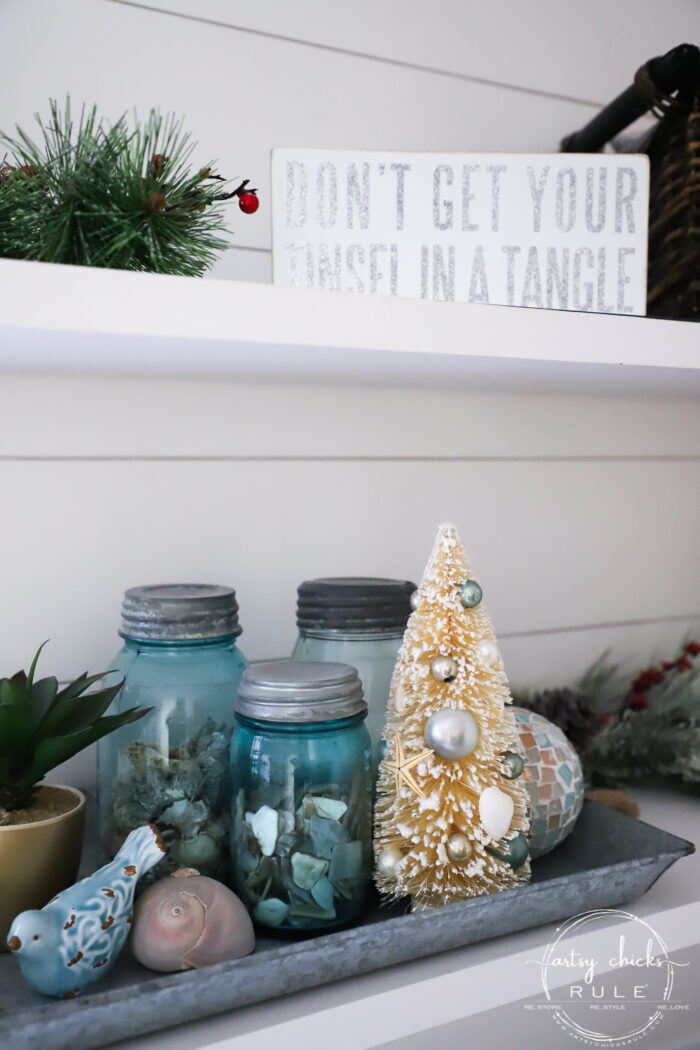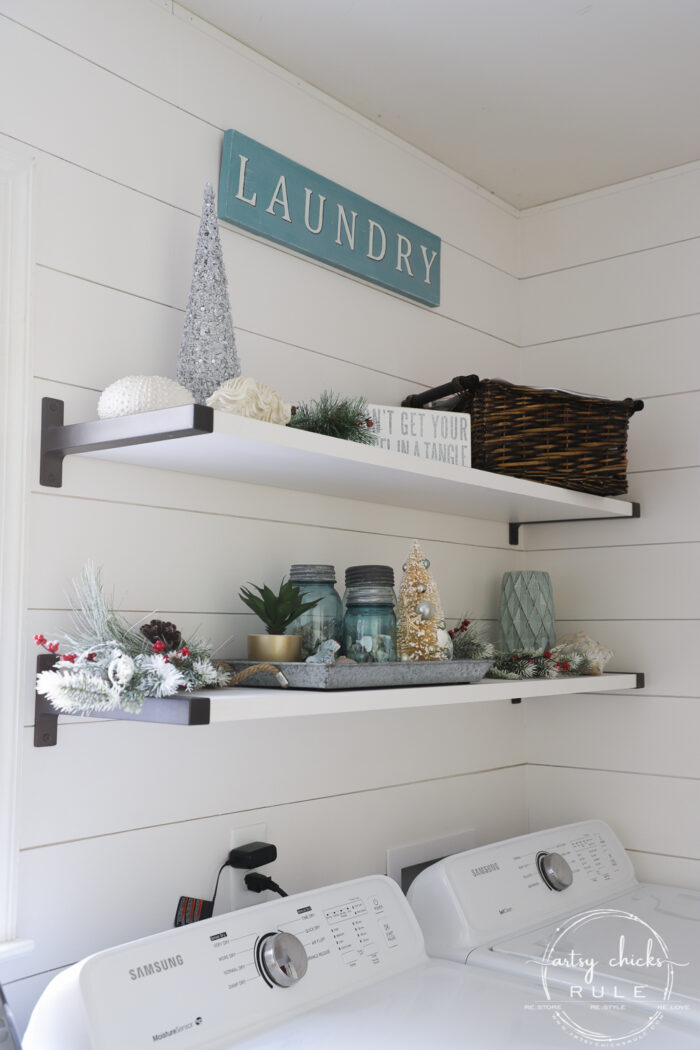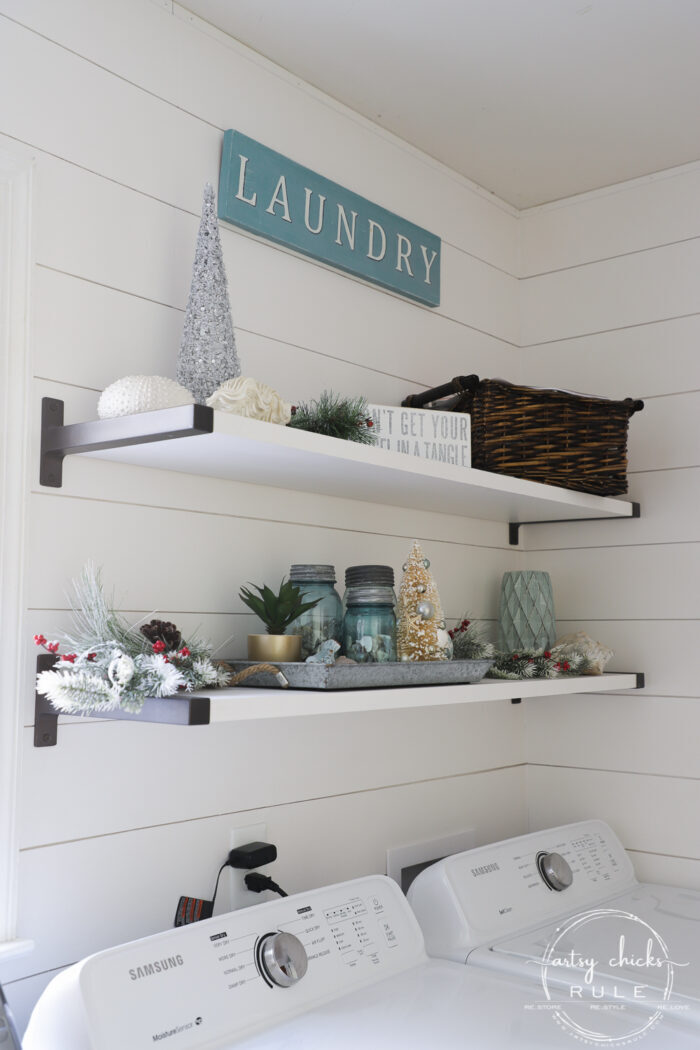 I can't decide which room is my favorite, the white, blue and gold or the red.
The red feels sooo cozy and warm and very Christmas tradition-y.
So it's pulling me in.
But I do love this blue and gold decor too.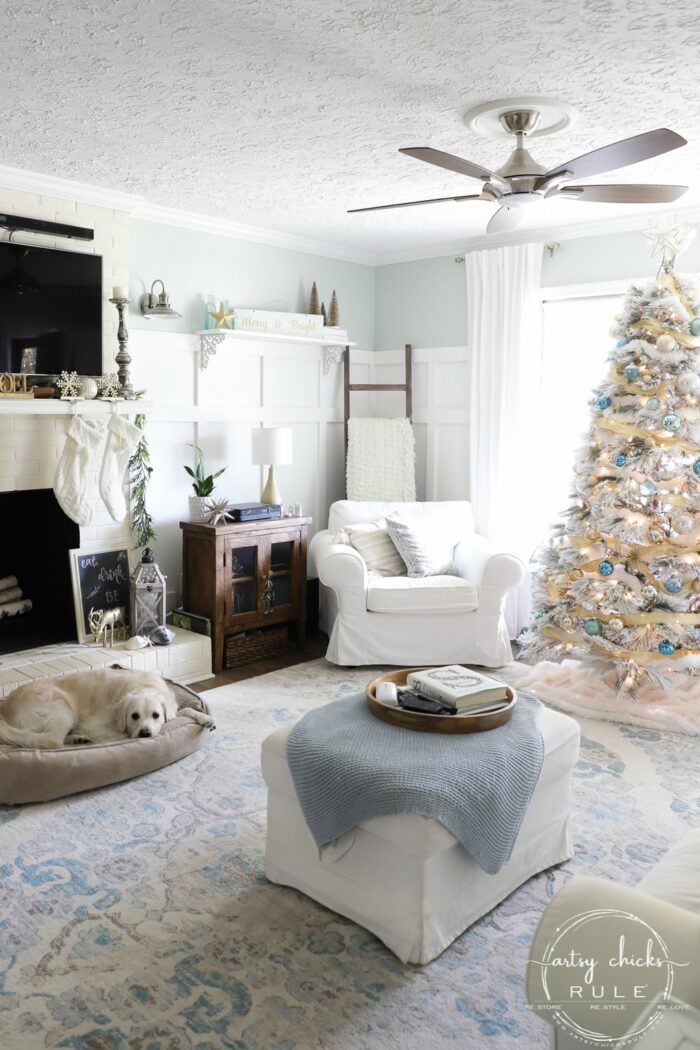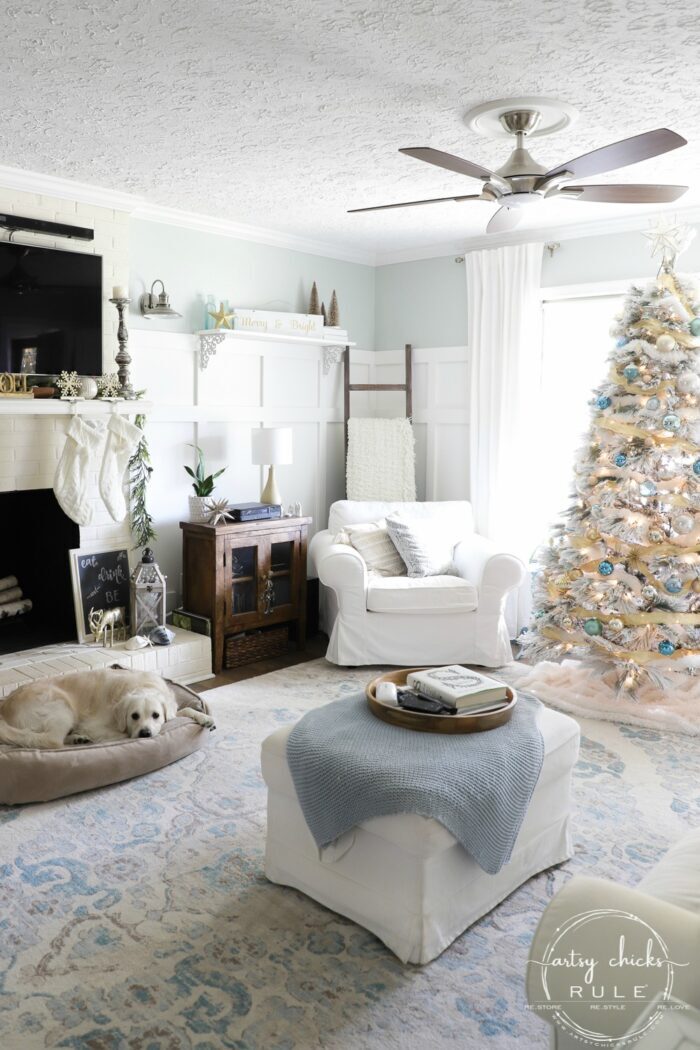 My husband said our decor was very patriotic. I suppose it is…I have a red, white and blue tree/decor! :)
He's so funny.
And have to share this photo I caught of Ryder.
It looks like he is admiring the Christmas tree lights.
So sweet!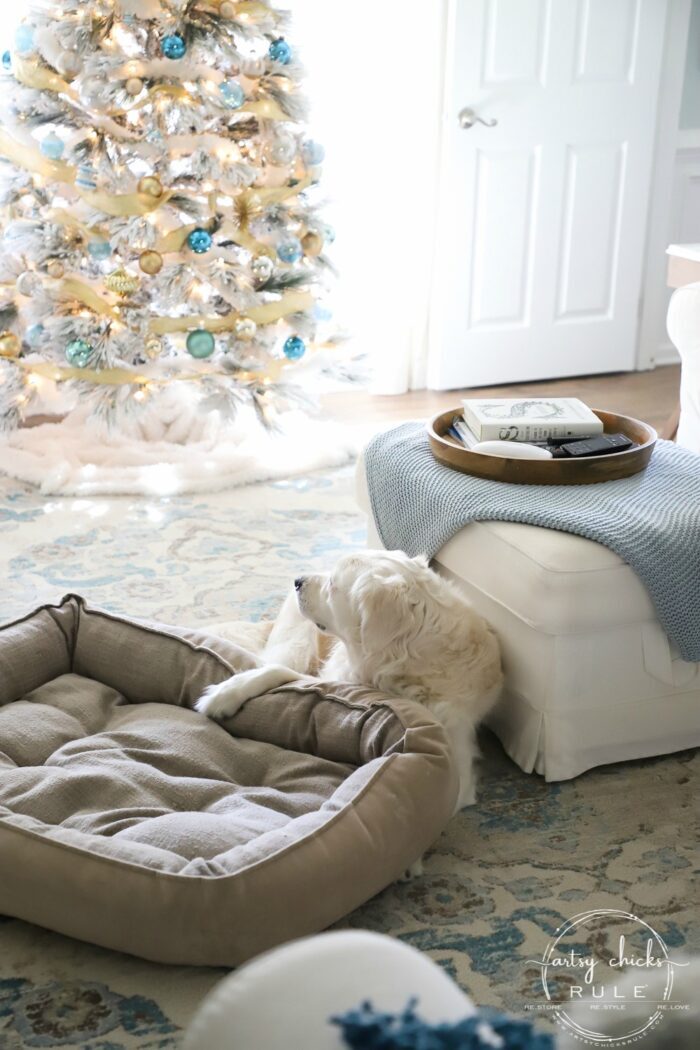 That bed never stays in one place, as you can see.
What you don't see are the 25 toys he usually has lying around too (I put them away for the photoshoot).
It's like having a toddler again. haha
My Lexi girl did not love toys at all like this guy here. He's a hoot and so different than she.
I so miss that sweet girl.
I hope you enjoyed today's part 2 of our Christmas home tour.
All about the blue and gold Christmas decor.
Next, I'll be sharing our traditional red Kitchen and Morning Room.
But you'll have to wait till next week to see it as I have a few other posts planned ahead of it.
One of which will be on Friday this week instead of the usual Thursday. I'm getting together with a few blogging friends and we are sharing all things Christmas.
I'm sharing a fun and thrifty (what else?!) DIY gift idea.
PIN this to save it!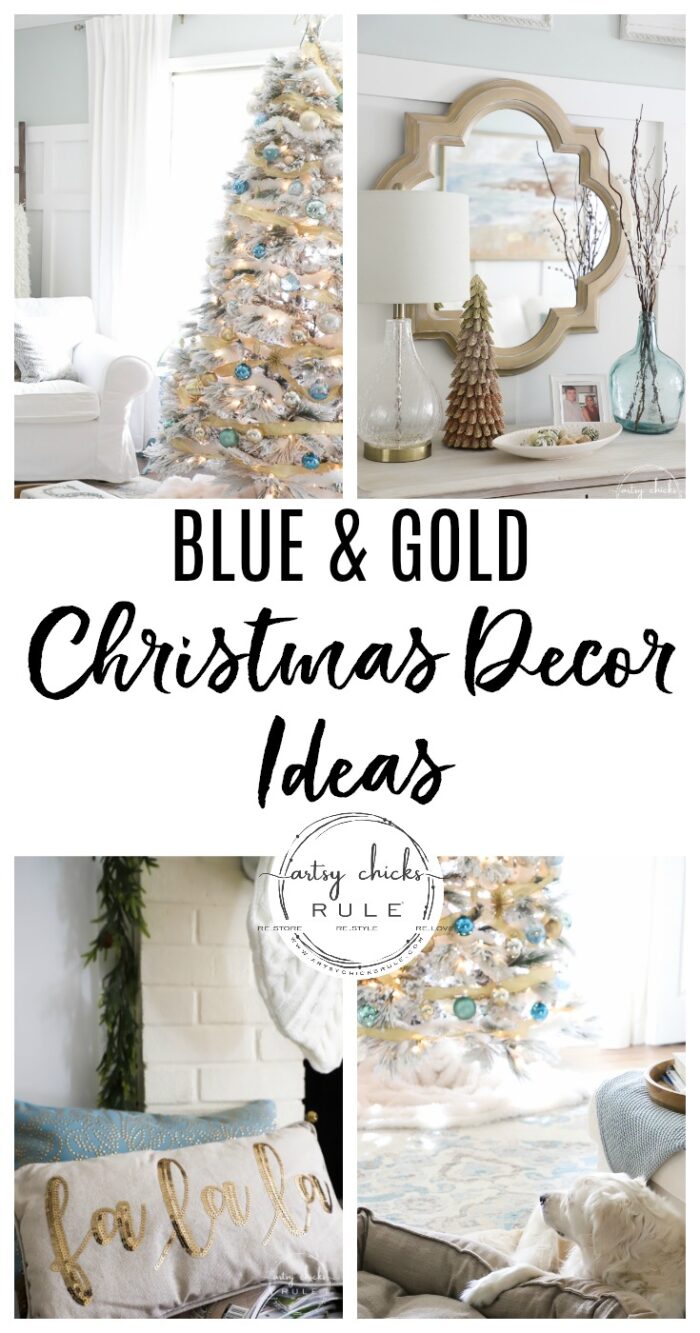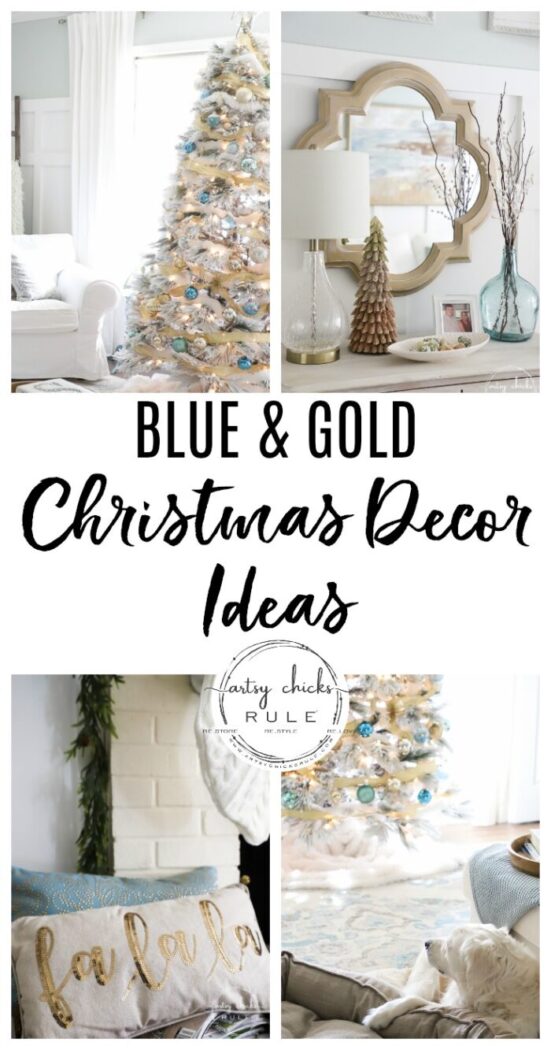 EDITED to add all our 2019 home tours:
I've also recorded a live tour (walk-thru) of our holiday home over on Instagram. Those stories only last 24 hours but I made its own tab to stay. You can see it, here. (click the circle that says "Home Tour")
See you on Friday!
xoxo