Old Basket Makeover (DIY Gift Idea!)
This post may contain affiliate links. Please see disclosures here.
Don't pass up those old baskets at the thrift store! Bring em home and give em a basket makeover they are worthy of. Old is new again!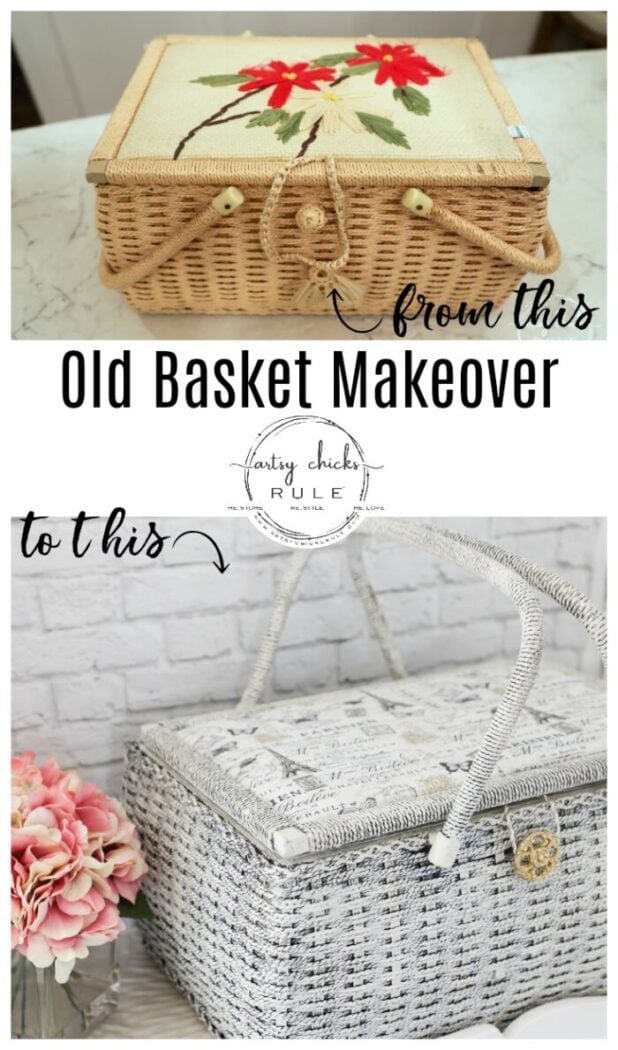 Hello friends!
I'm so excited to be sharing a brand new project with you guys today and joining up with a bunch of fabulous bloggers who are also sharing all kinds of Christmas/holiday goodness! (be sure to scroll all the way to the bottom so you don't miss em) My friend, Leen, from Sand Dollar Lane, put this wonderful tour together and if you are hopping over from KariAnne at Thistlewood Farms, welcome!
Are you ready for the holidays??

Have you bought all your gifts? Do you have someone hard to buy for? Love making homemade gifts? Or maybe just want to keep it budget-friendly.
I've got ya covered today!
Homemade, unique and thrifty. Win!
Old Basket Makeover (great gift idea!)
I found this old sewing basket at the thrift store for $4.25. Here is what it looked like when I found it.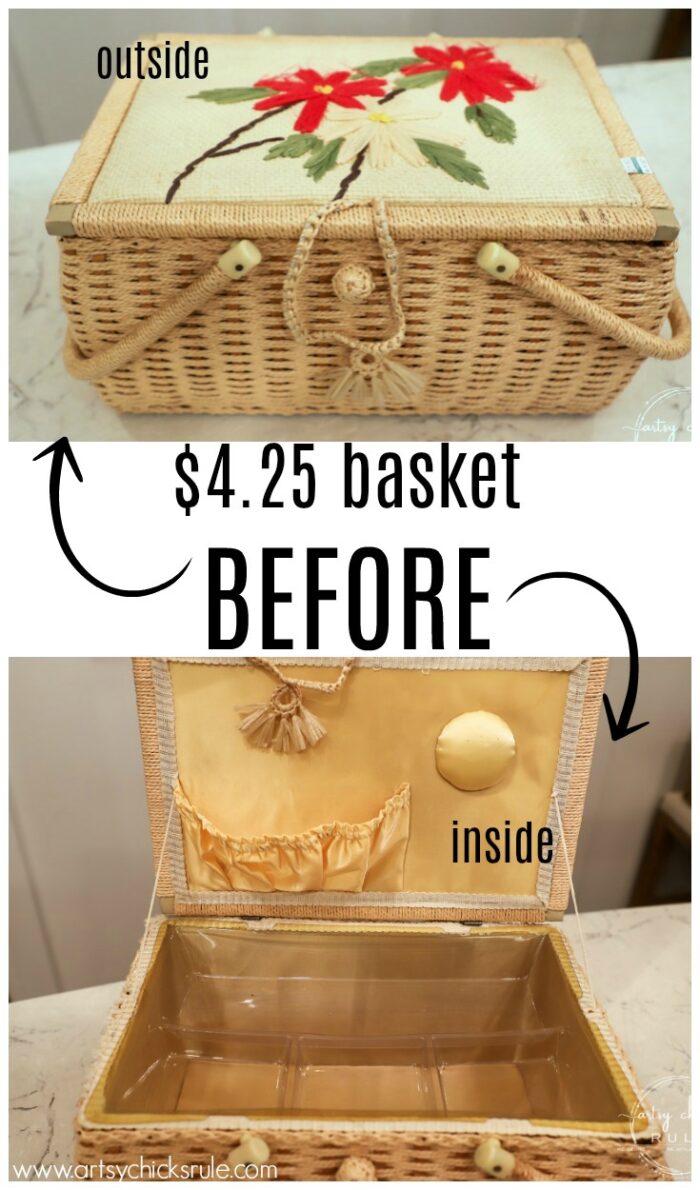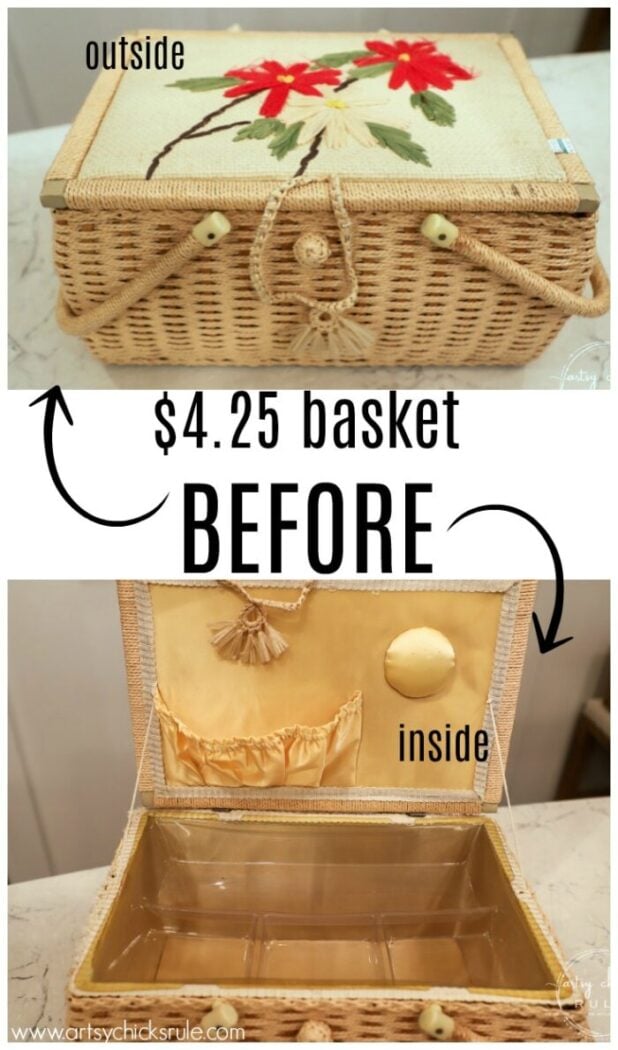 A little worse for wear but hopefully it served its purpose for many years before ending up at the thrift store.
I'd bet whoever owned it would never guess it would end up looking like this.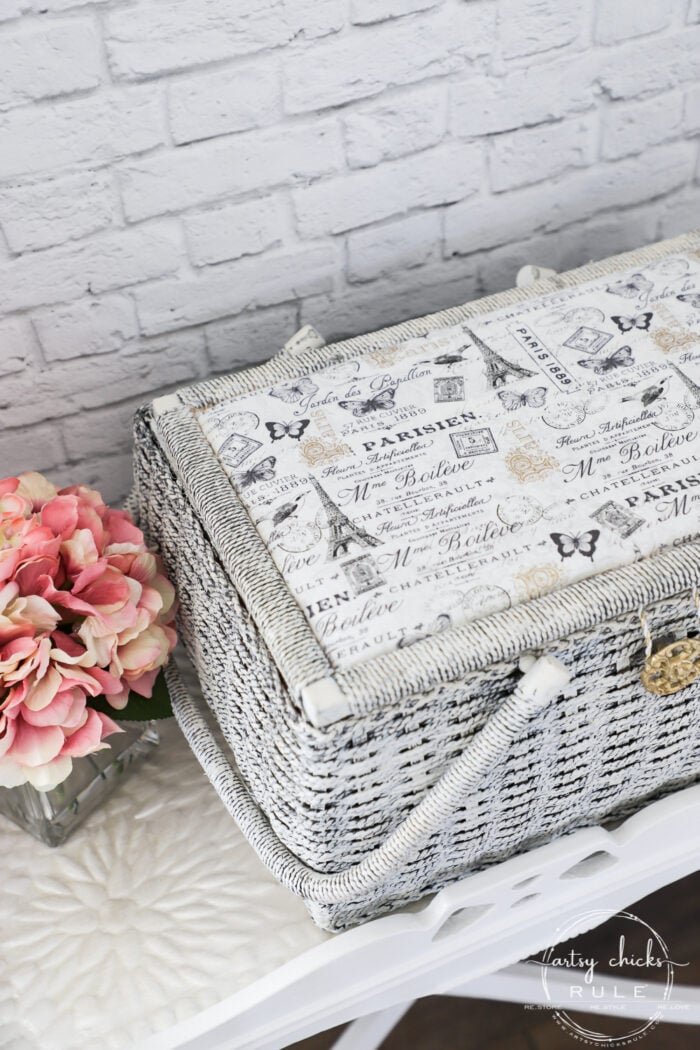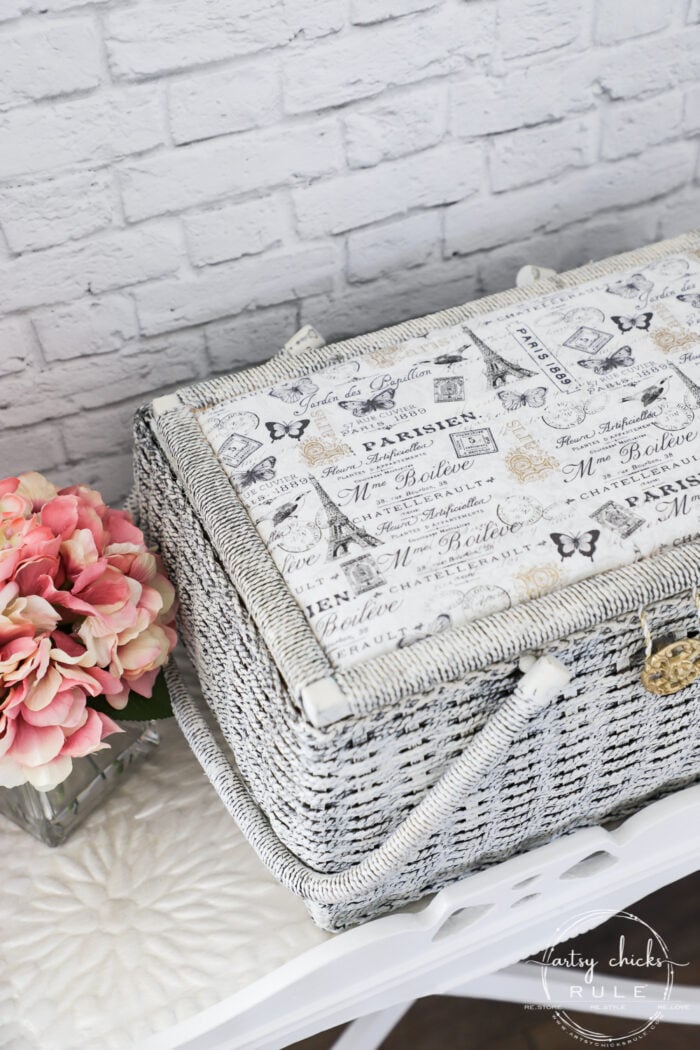 What a difference.
Now, before I begin the full tutorial on how I got it looking like this, let me tell you this one was not one of my usual "quick and easy" projects.
That's not to say it wasn't easy, it was, it just took a little more work than most of the projects I do. It also took more time.
I spent most of this past Sunday afternoon making over this old basket.
I started by trying to find a way to remove the top section so I could recover it with fabric. (top right photo of the inside top, below)
But it just wasn't to be. It was glued in SO well I decided to leave it in.
So I got to cutting the flowers off the top. (top left photo)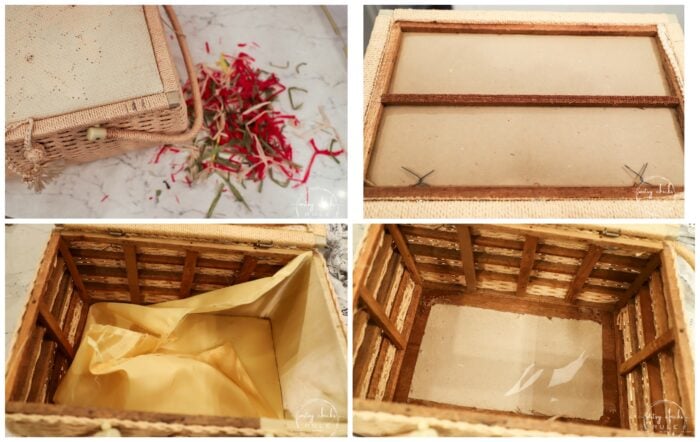 Then I removed the yellow fabric from the inside. That was a little bit of a bear too….glue. Ugh!
But I managed to get it all out.
I rolled around several ideas with what to do with the inside but I'll get to that in a minute.
Let's start with the outside.
I spray painted it one light coat of black.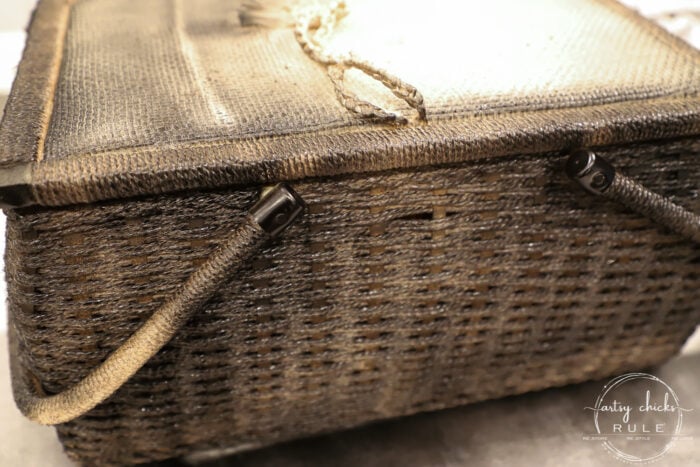 It was actually a little darker than the photo shows. I wanted just enough so that it would look sort of black underneath.
Then I went over the top of that with Dixie Belle's Drop Cloth.
Now let me tell you what I did with that top I couldn't get off/out.
I cut fabric to fit and just stuck it in and around the crease. This worked very well because it was really tight and held it great. And I used a regular kitchen butter knife because I'm fancy like that. Or handy. I use whatever works! ;) And it worked well.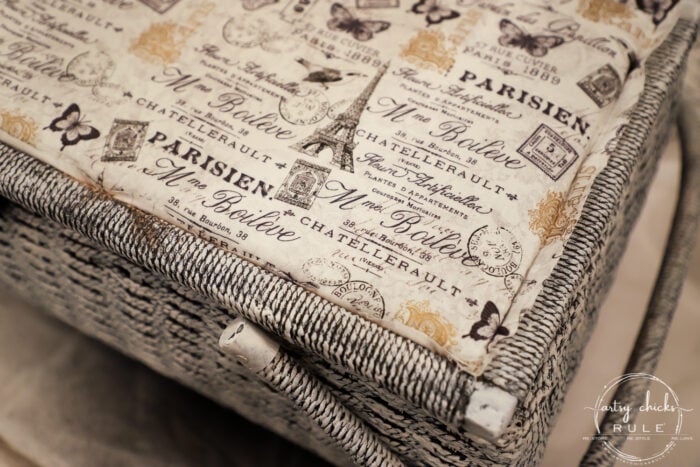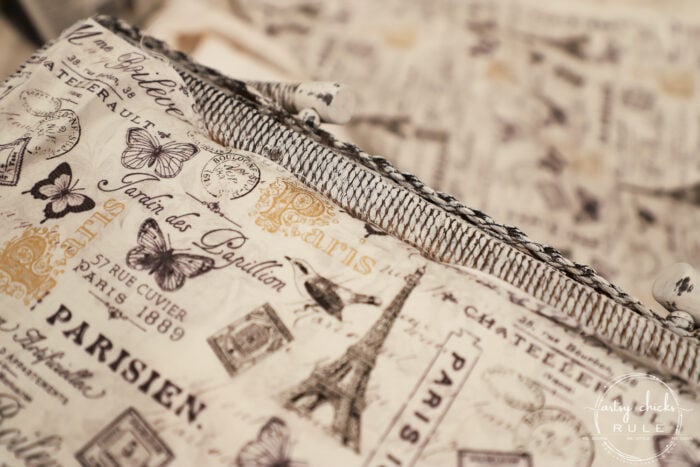 This really did work out so nicely.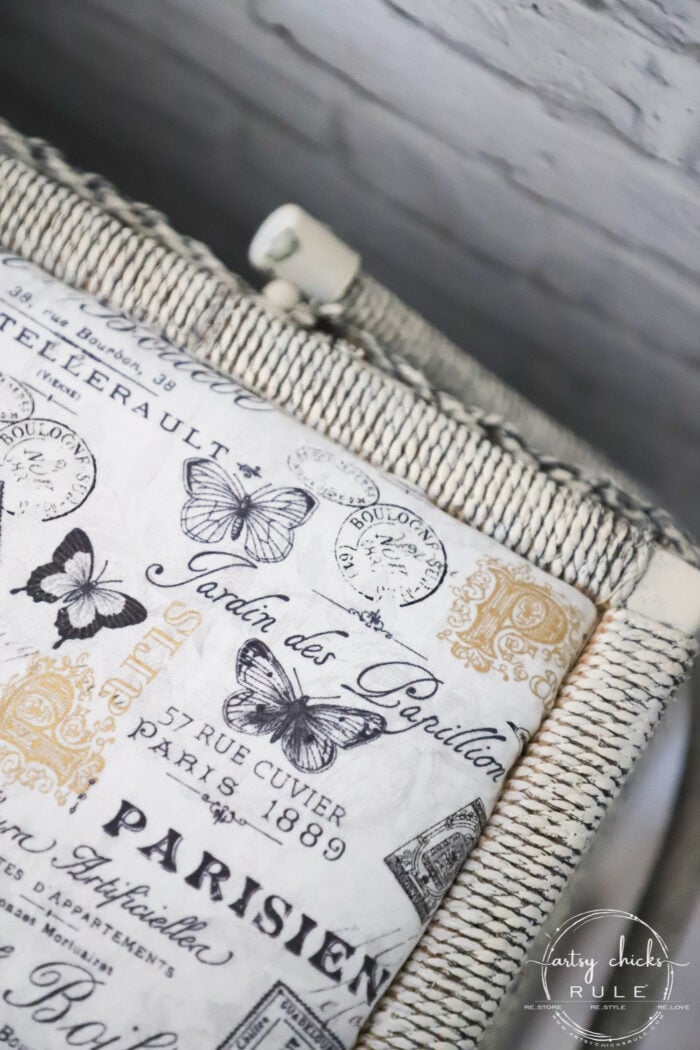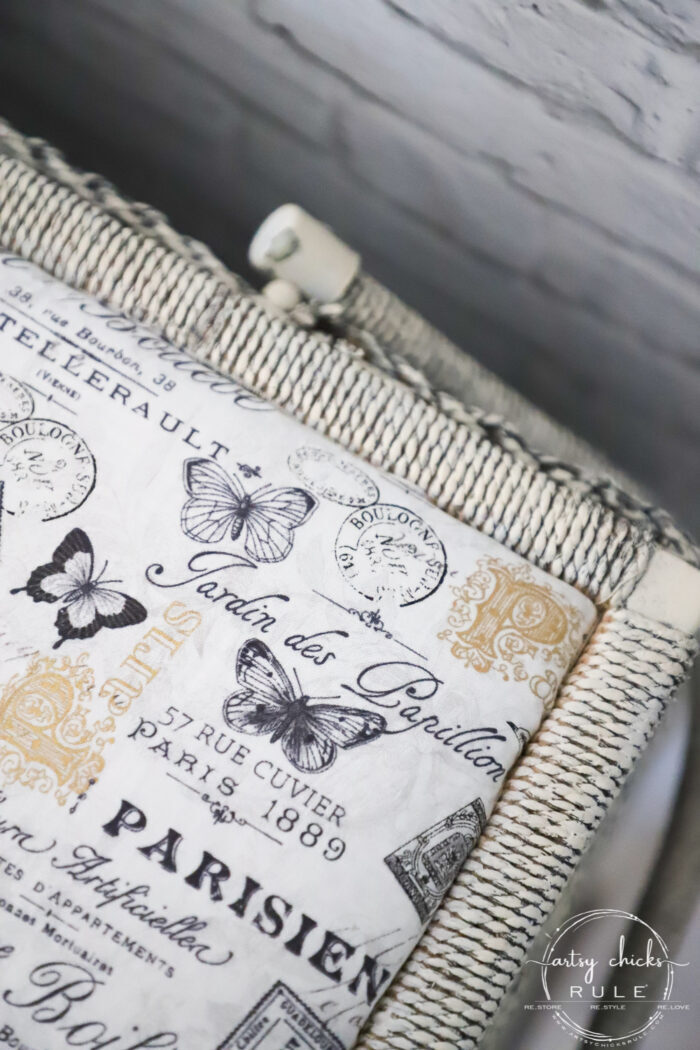 Here's what I did to the inside.
I decided to cover every single side/bottom/top with the same fabric. So I cut the cardboard out of some boxes to fit what I needed. I cut the fabric to fit with enough to overlap and fold over to the back. I then used Mod Podge to attach the fabric. (as shown below)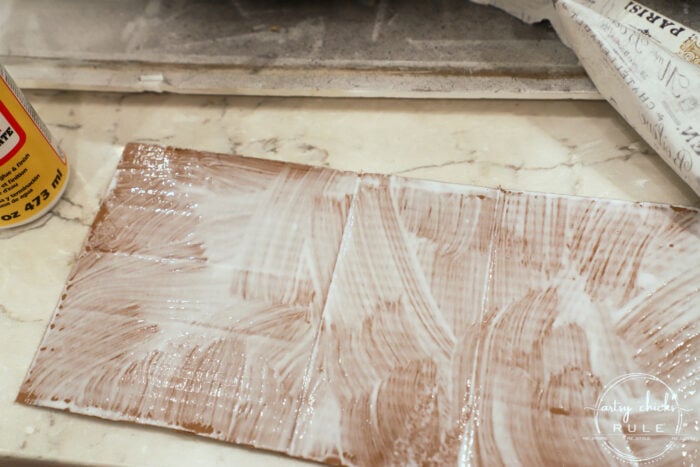 I laid the fabric out and turned the Mod Podge'd side over onto the fabric.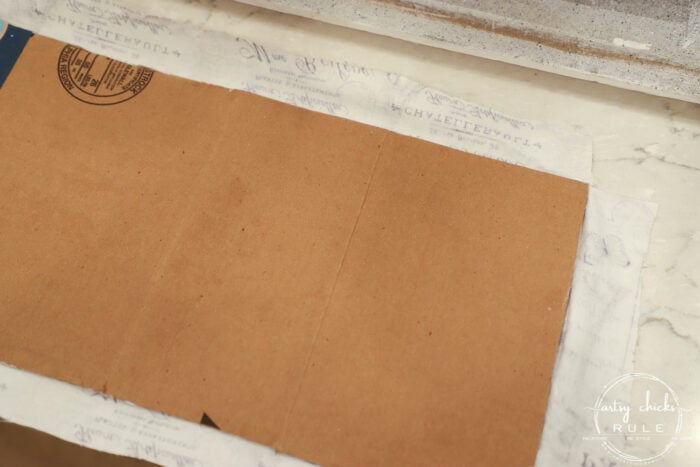 I cut the corners out of the fabric so I could fold them over.
Then I applied more Mod Podge where the fabric was going to fold over.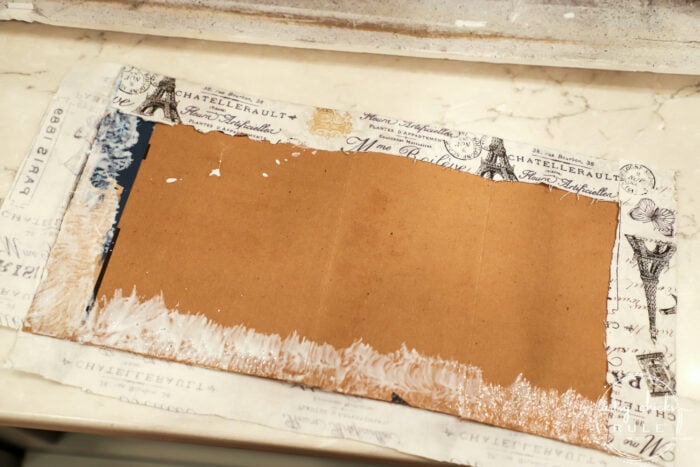 I did this with all 3 sides and the top.
Want to see some of these projects in "live" time? Hop on over and follow along with me on INSTAGRAM. I'm always sharing in my stories as I'm doing projects, finding new furniture, fun finds….just all the day to day behind the scenes.
I considered doing one for the bottom but I figured there was no need. I could just Mod Podge the fabric directly to the bottom of the old basket since the extra fabric around the edges will be covered up by the pieces I made when I put them in.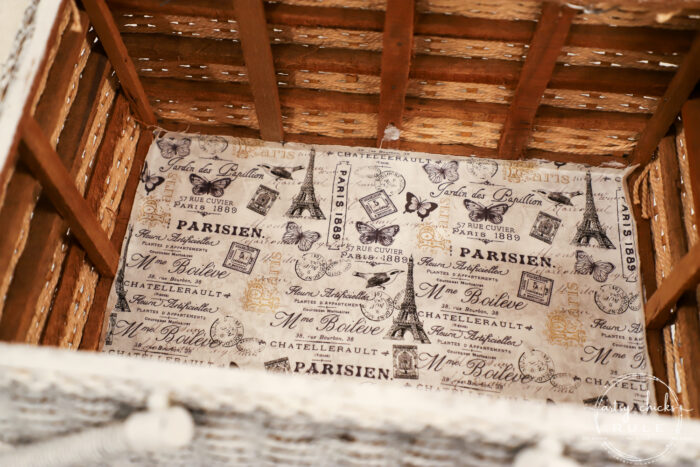 Next, I used a hot glue gun to attach the sides and top.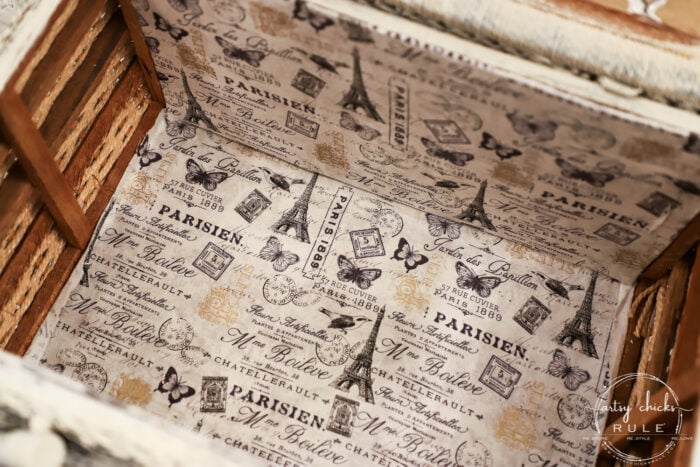 Once I had them all in, I decided to use some pretty ivory and gold ribbon (already had in the same pack with the gold/white cording I used further down) to cover the edges on both sides.
This is the top portion below.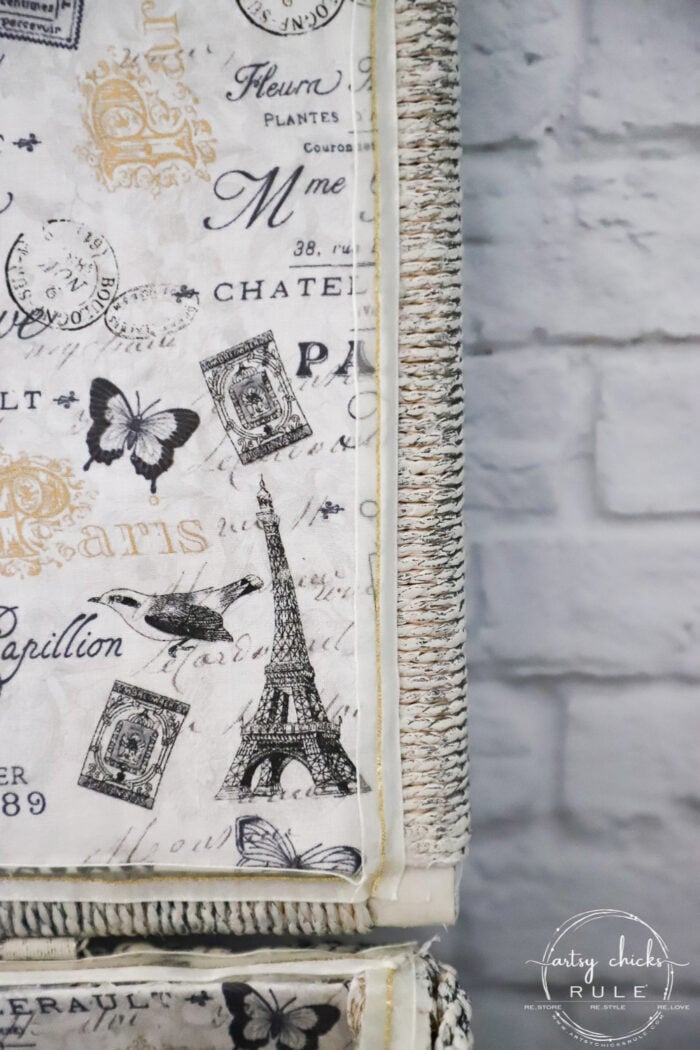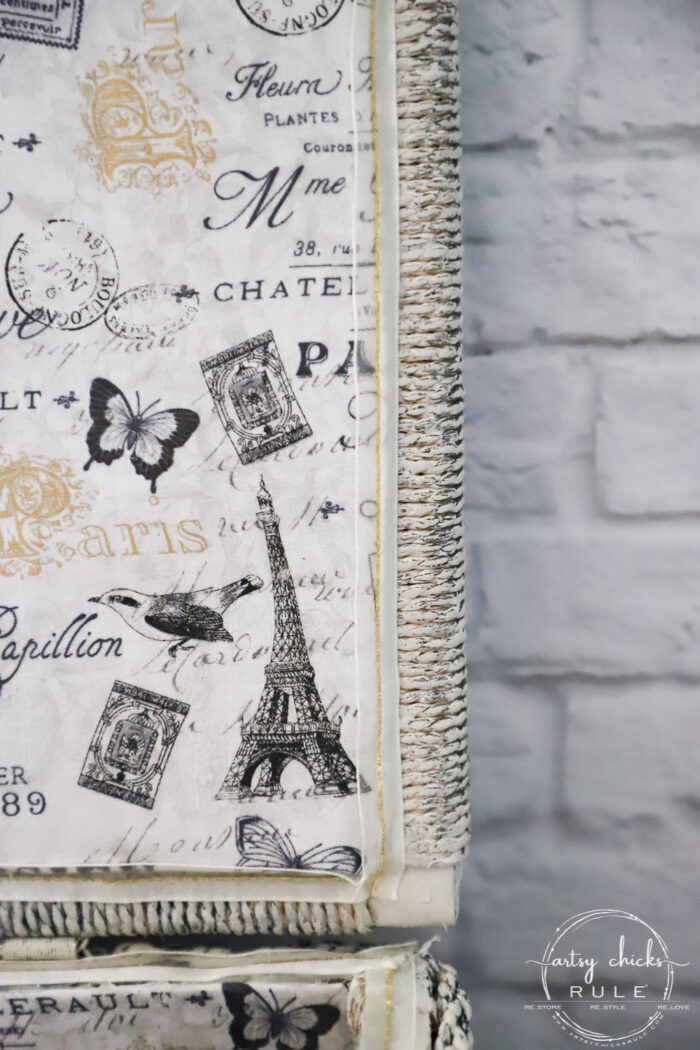 And the base…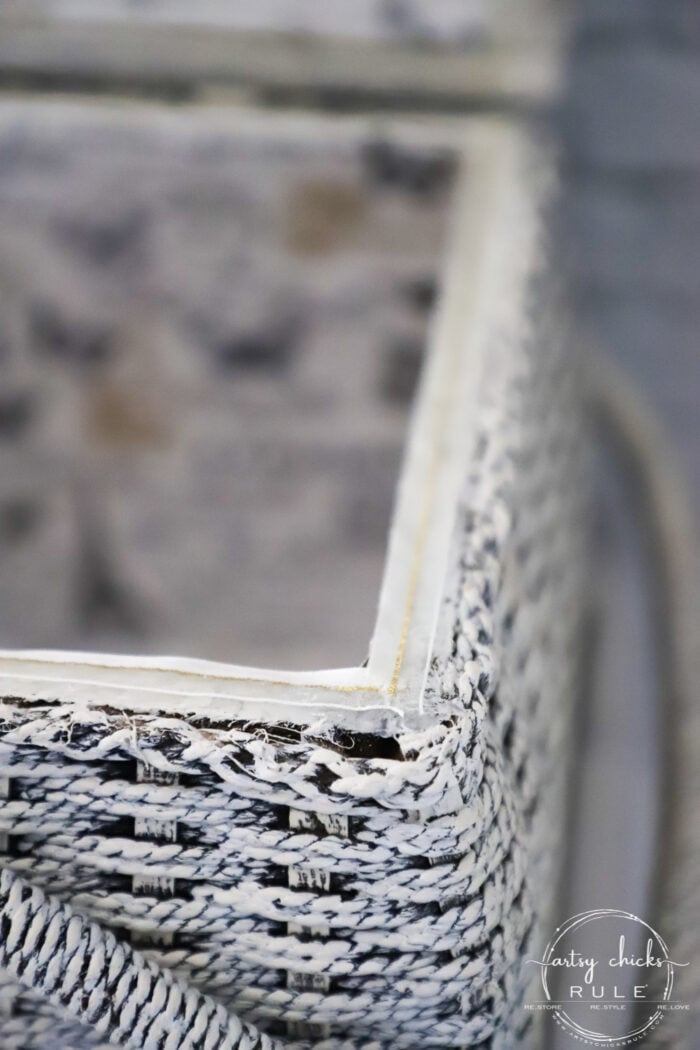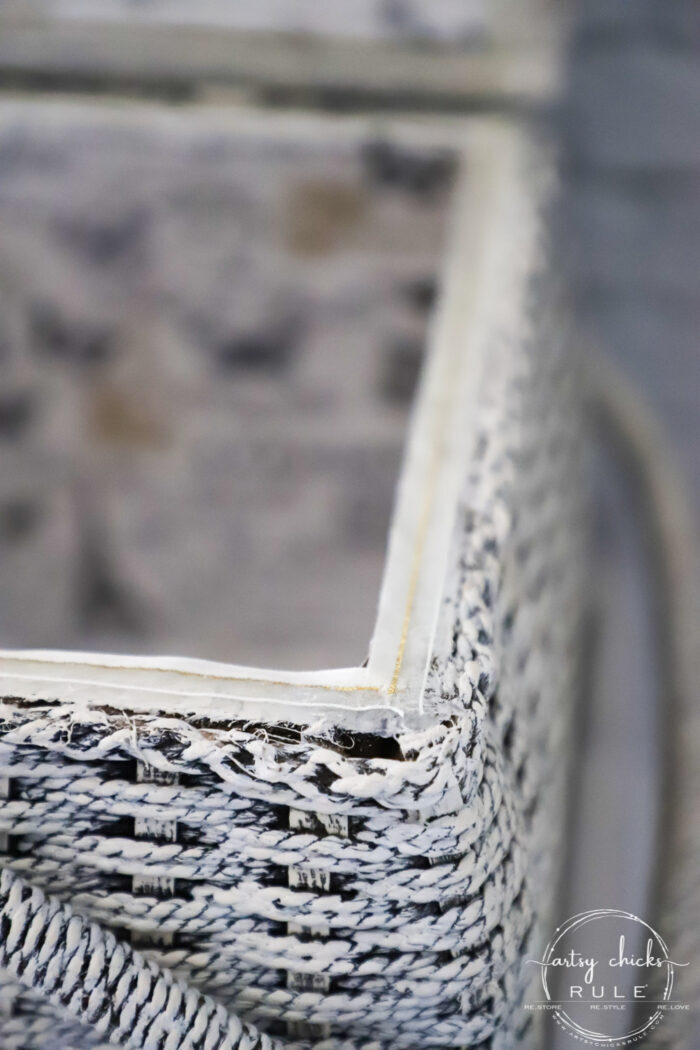 I think that finished it off so nicely.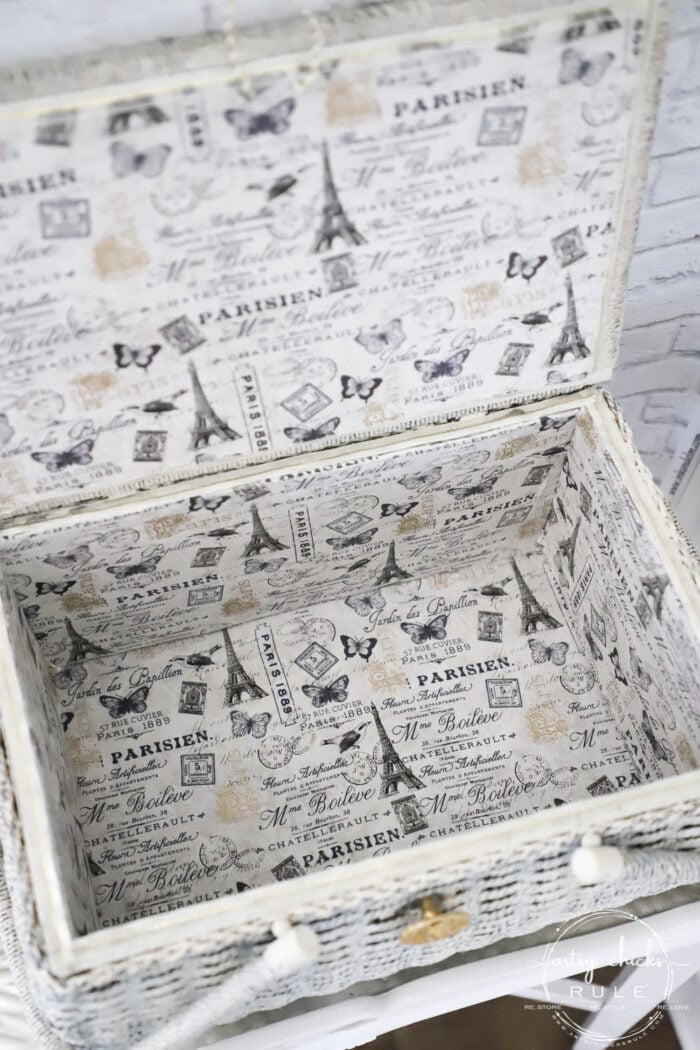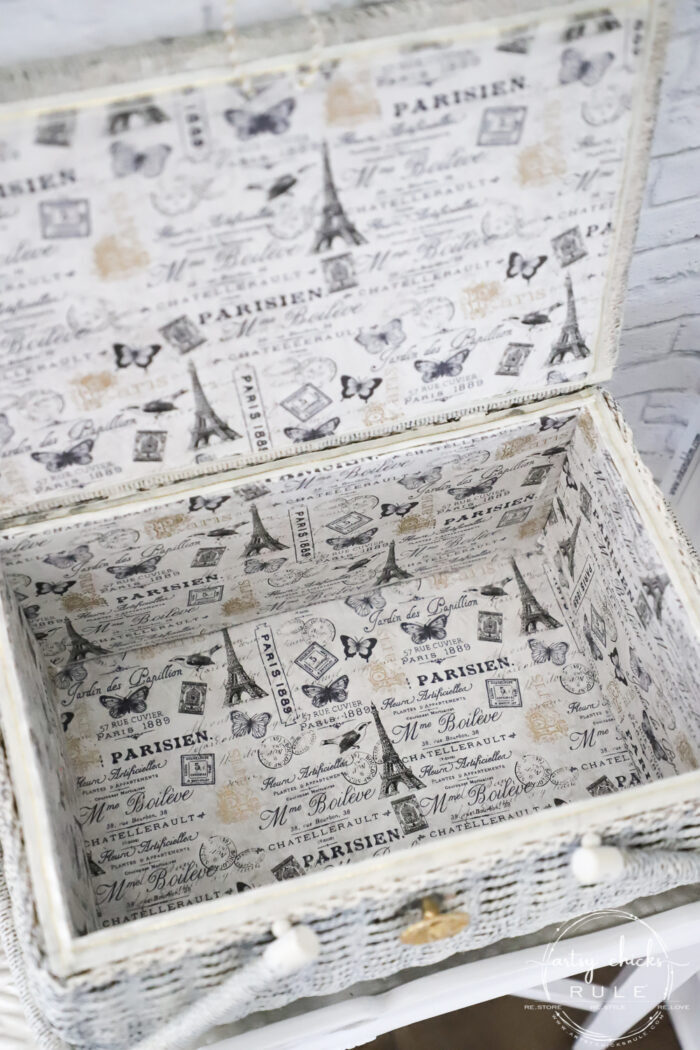 Now if you recall, I had this going on in the front.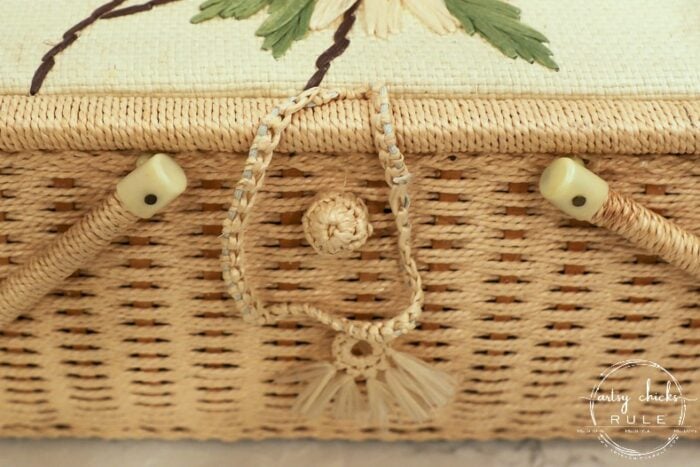 I cut both of those off and added my own.
I tried to get it to loop through from the top outside crease like the one above but I didn't really love the look of it going over the top like that. So since the fabric was pretty thin, and it was only cardboard inside, poking holes through underside of the top was easy. (see them there below)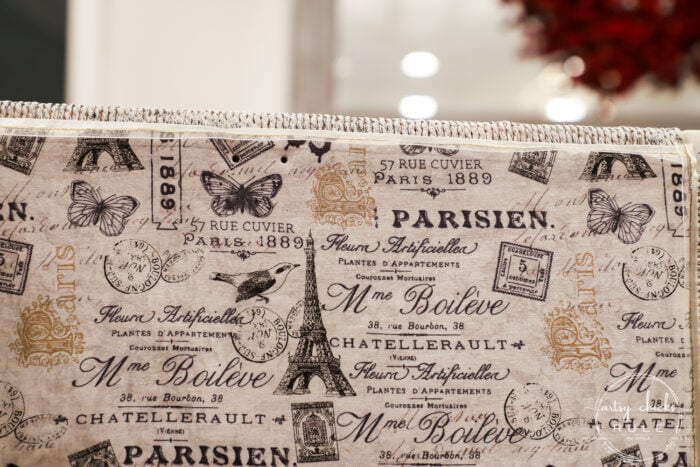 In order to put my pretty gold and white small cording (bought at Michael's last year, it was in with a trio of ribbons) to stay, and to stay put, I stuck my glue gun in the holes and squeezed out a bunch of glue, then stuck my rope in quickly. This worked great! And it's stuck.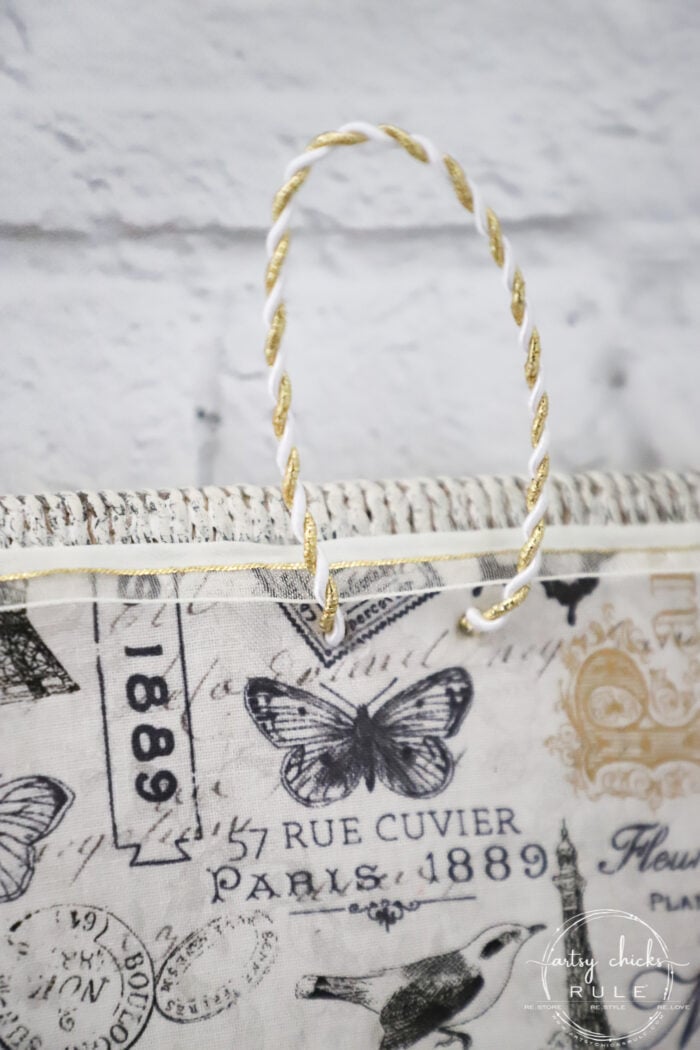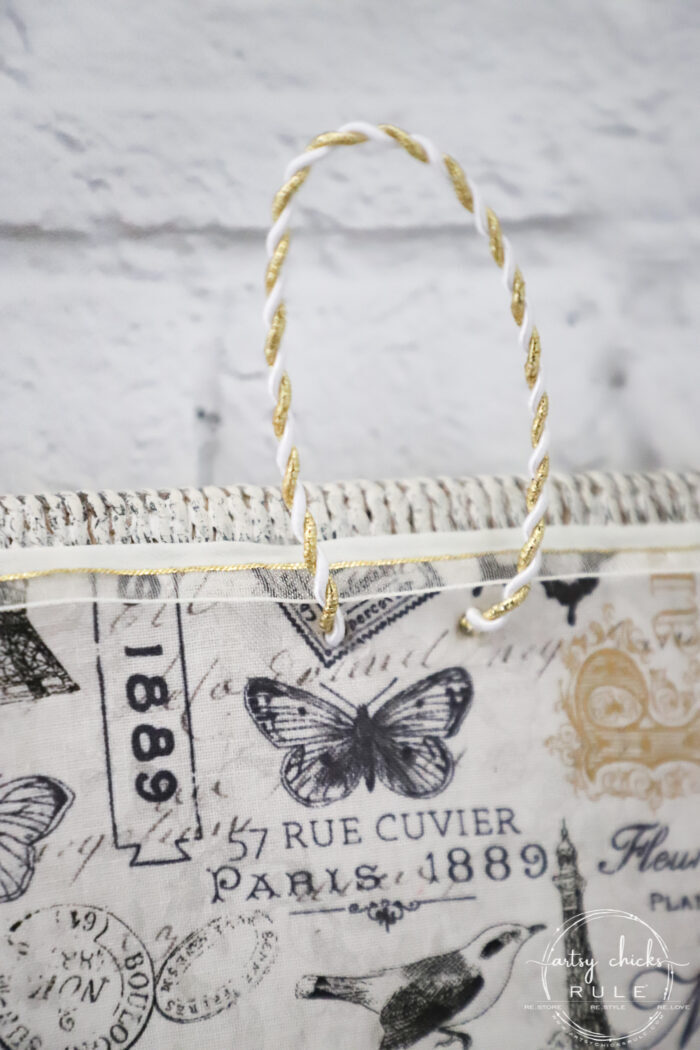 I also used a bunch of hot glue to attach the gold knob (pulled from my stash in the garage) to the front. Remember that wood frame of the basket on the inside of the basket? That is what I glued it to.
It's not just stuck in between the weaving as it looks. Thank goodness for that wood or I'd have had to come up with another solution for this.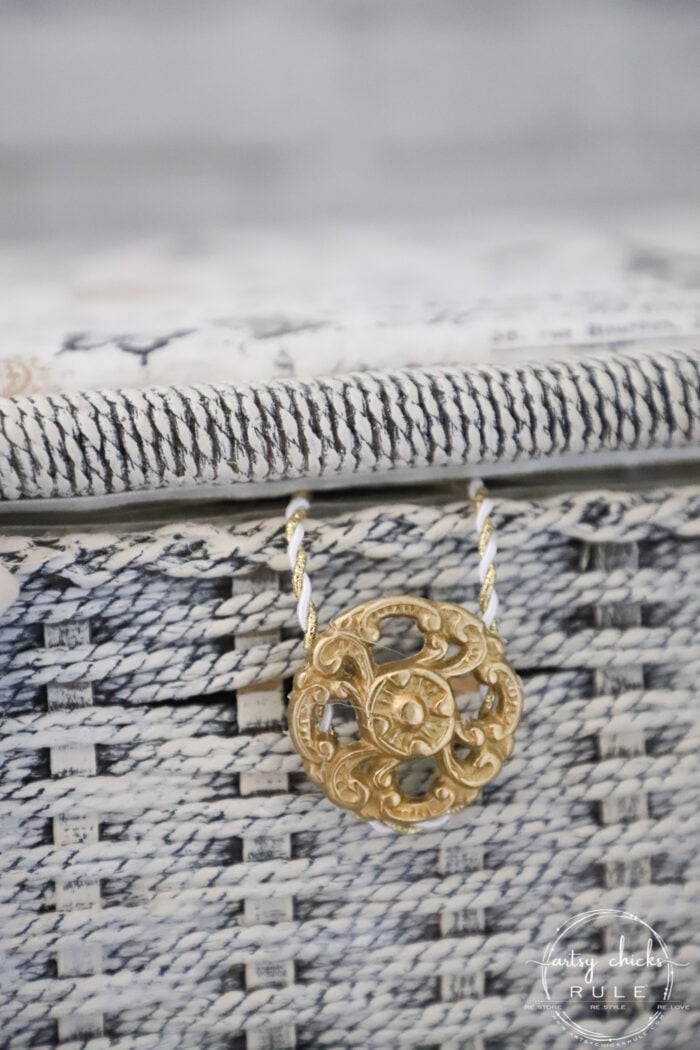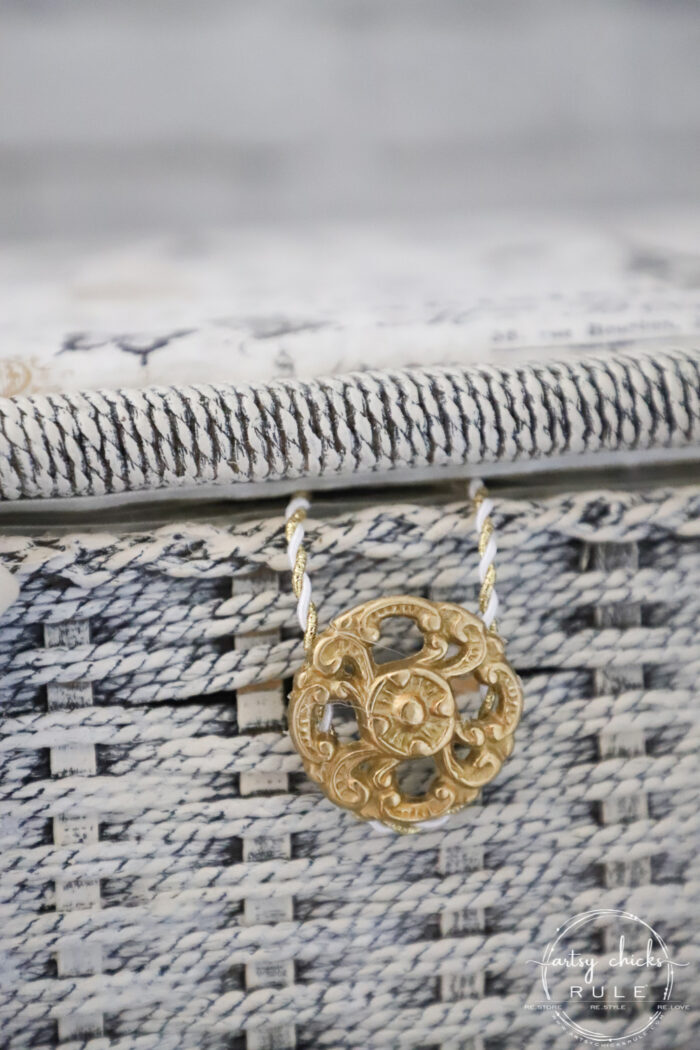 It's stuck pretty darn good too. And really, neither one is meant for heavy-duty holding anyway.
So I think this will suffice.
Then I sealed the whole thing with Rustoleum's Chalk Matte sealer.
I love how it looks "distressed" because of the black underneath even though I really did no distressing on this one.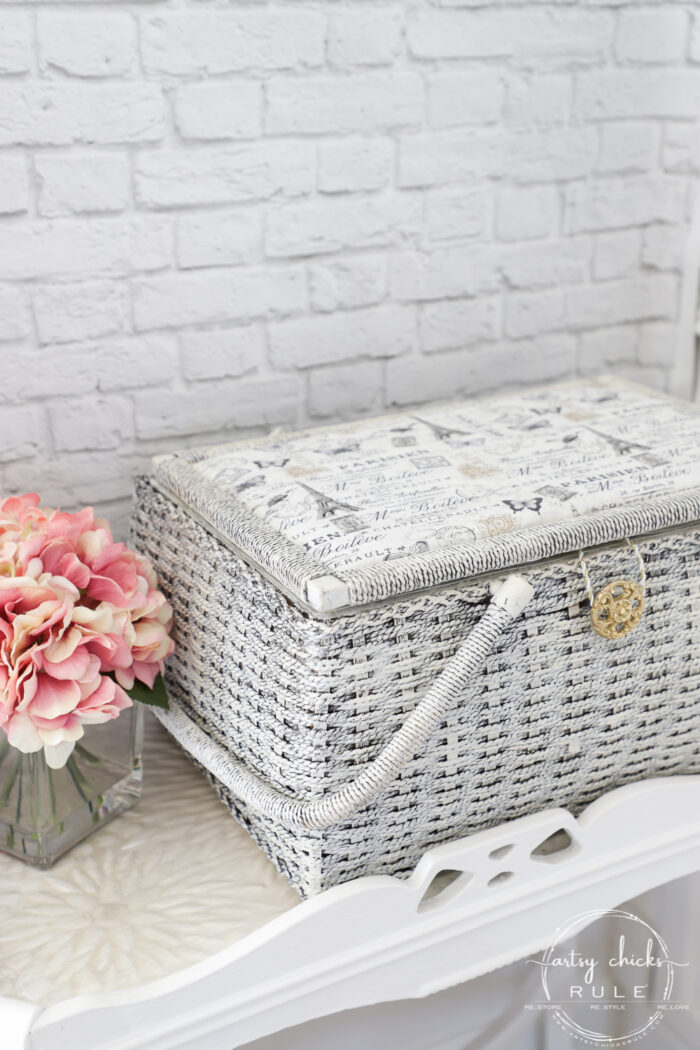 I think it goes so nicely with the French fabric I chose for this one.
I also used this fabric on these projects: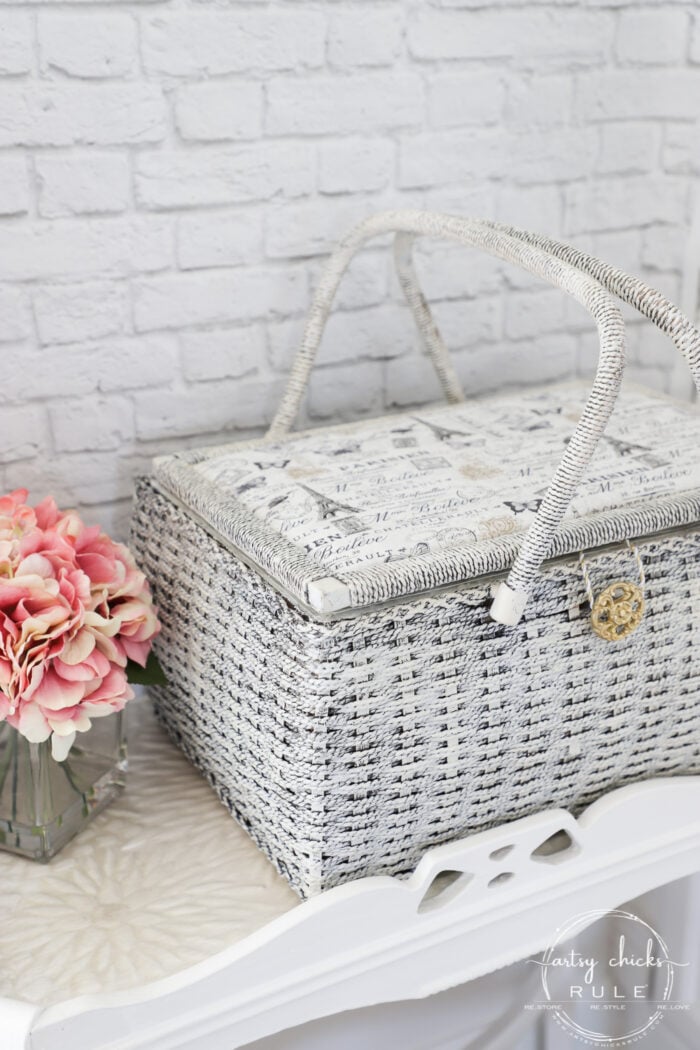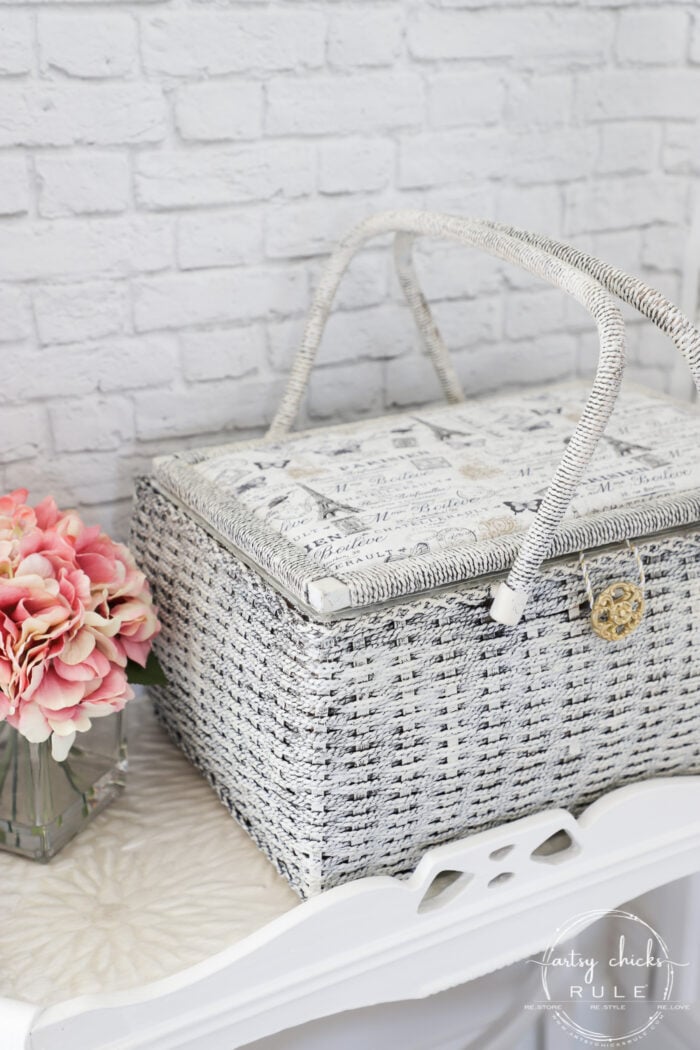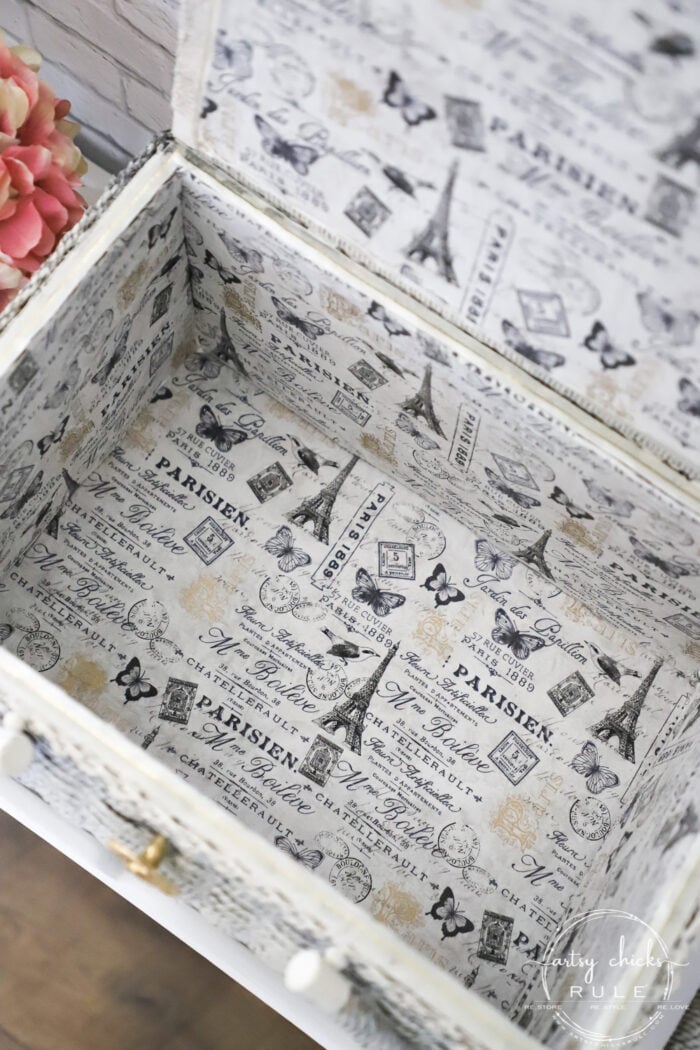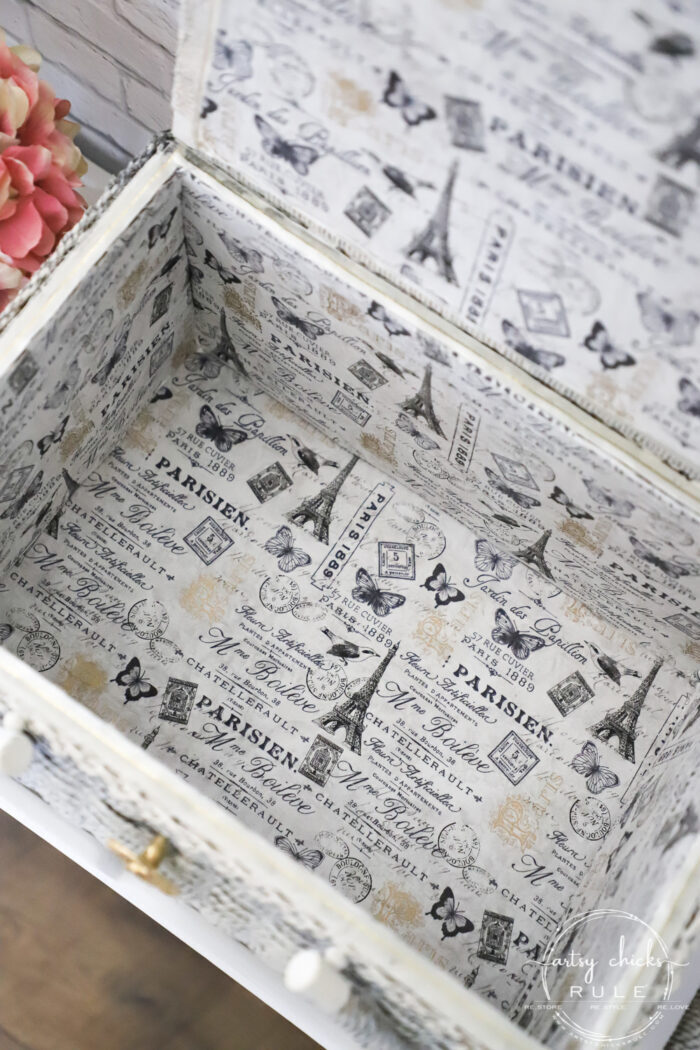 It's such pretty fabric.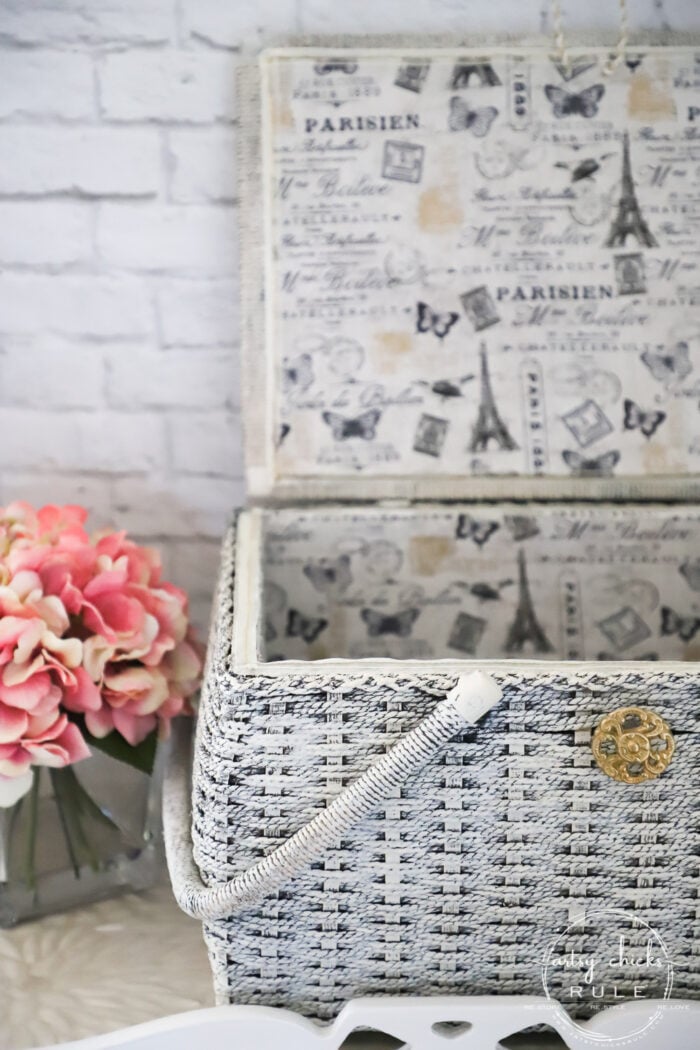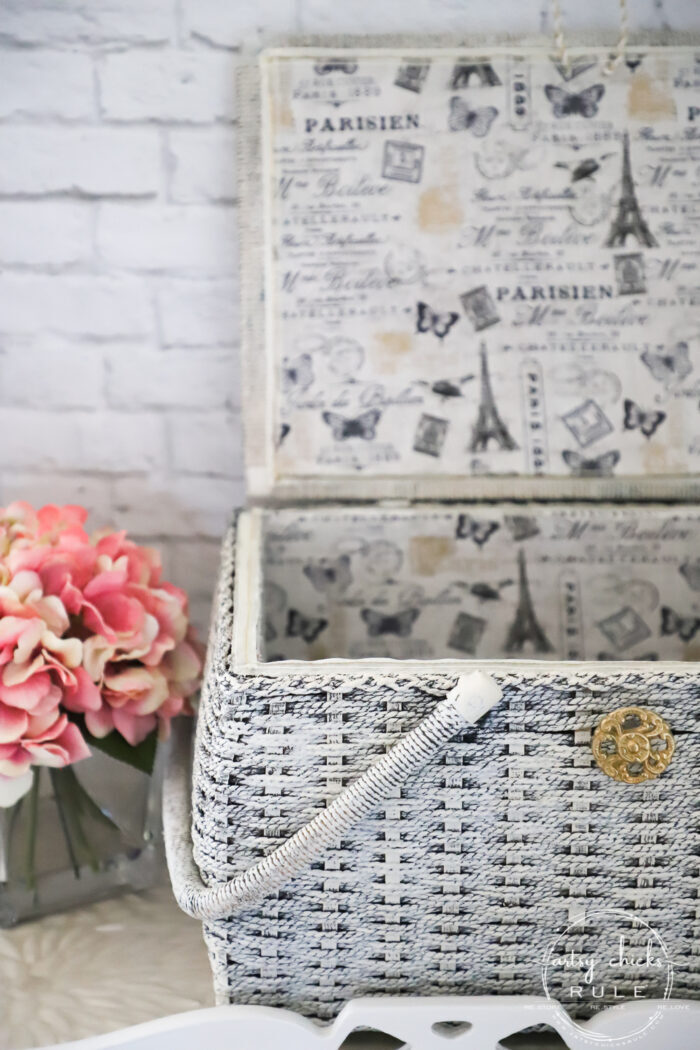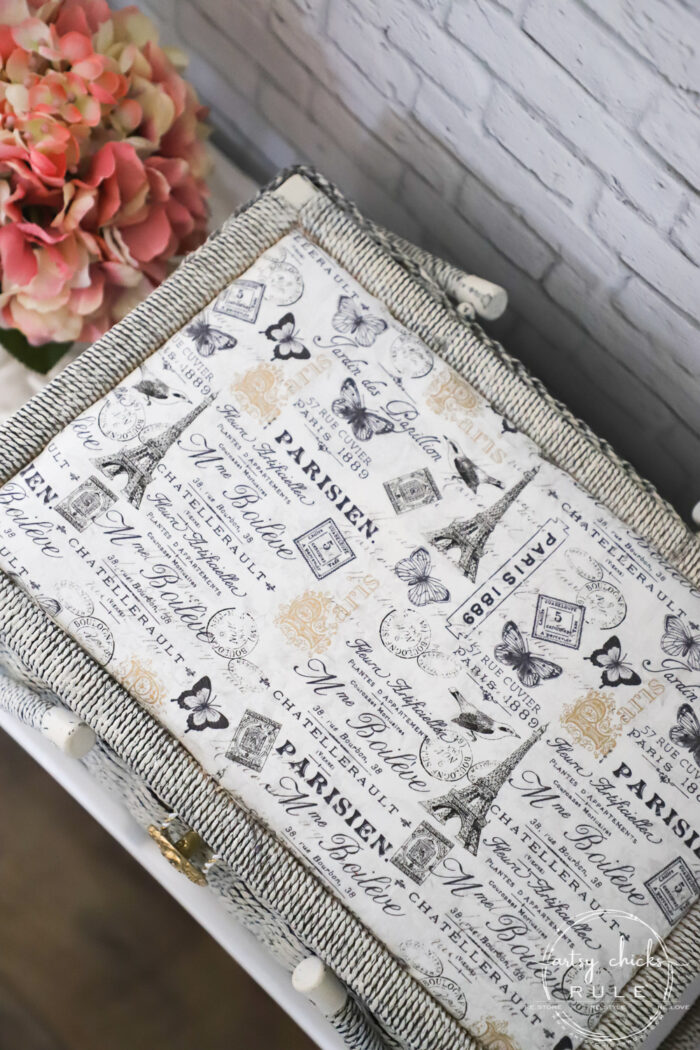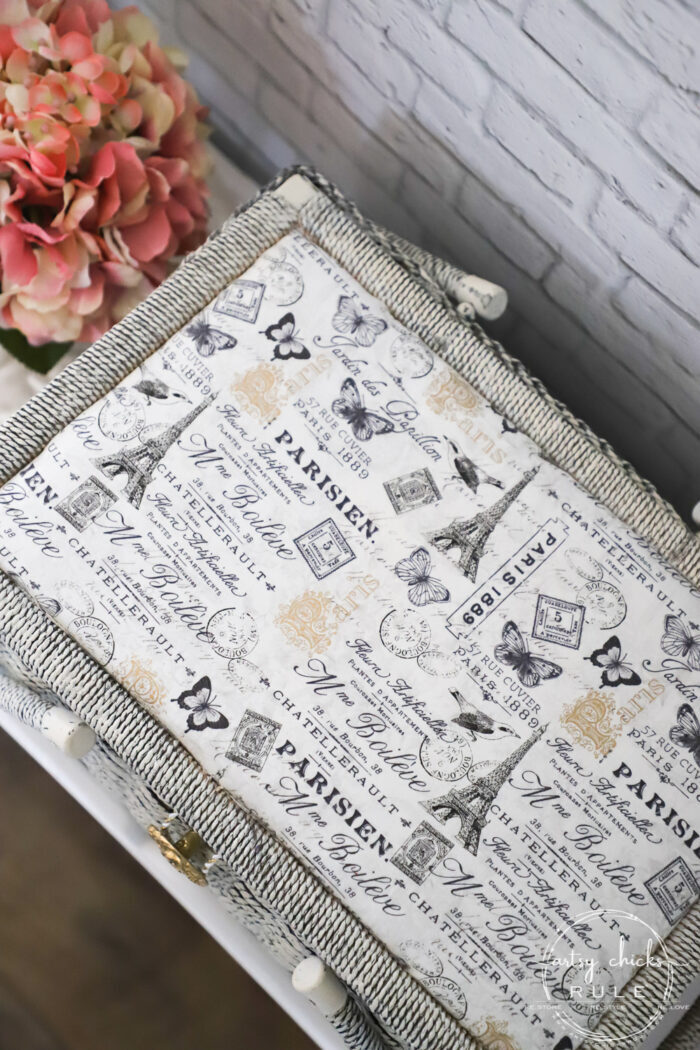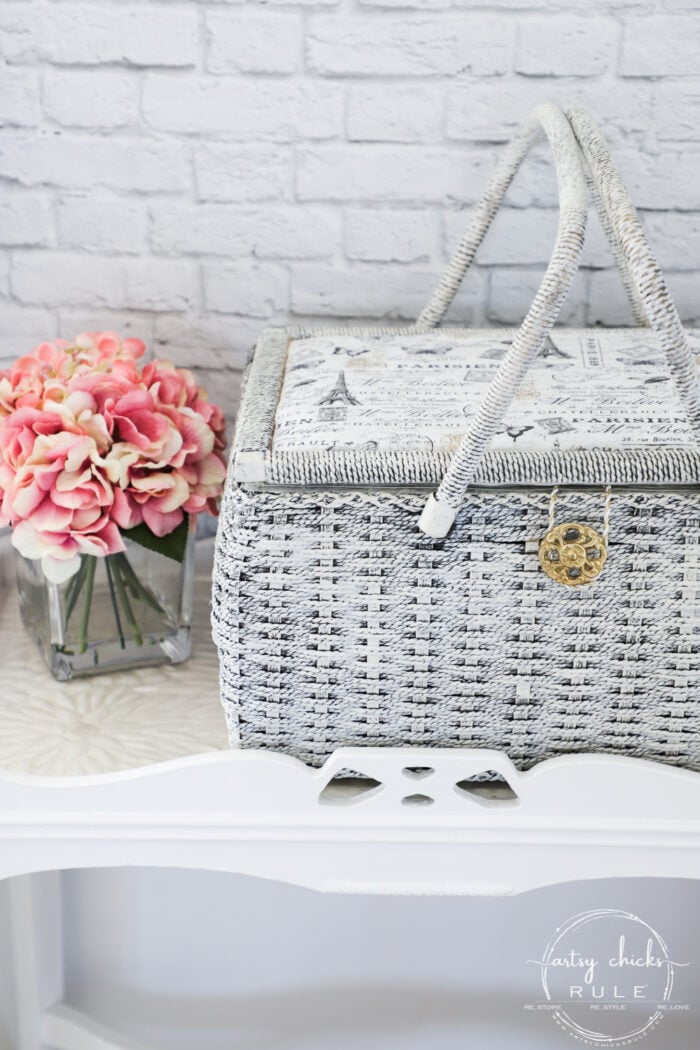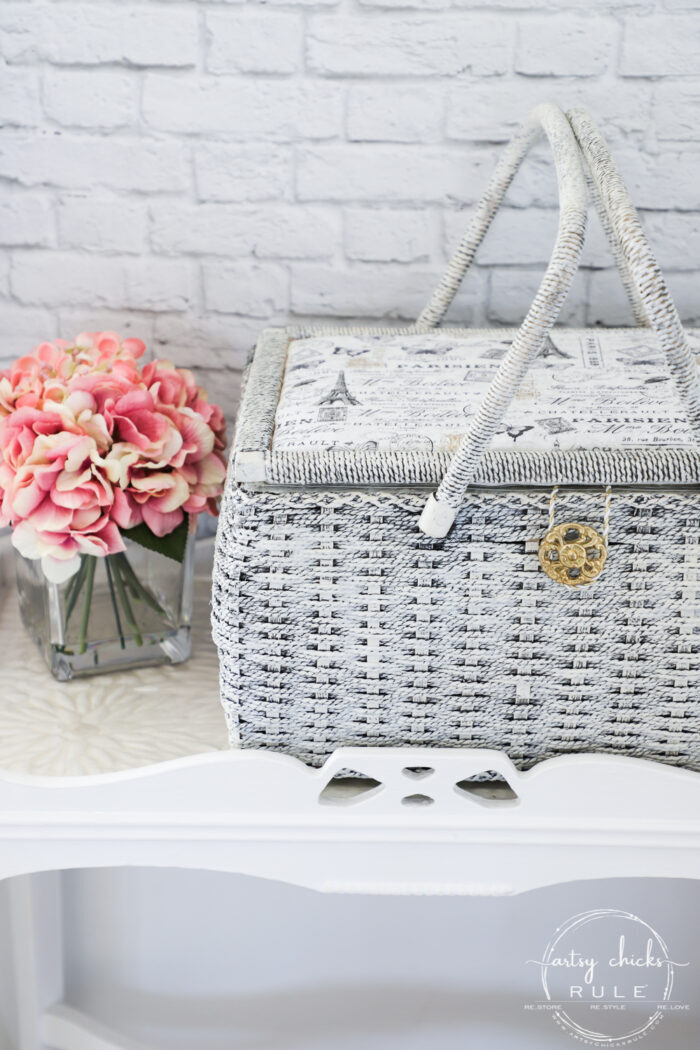 I'm really so thrilled with how it turned out.
And now to figure out who to gift it to! ;)
How about one of you???
Maybe…keep an eye out, you might see something in your inbox this weekend!
Not a subscriber?? If you don't want to miss it, or anything else around here, be sure to subscribe >>> here. (you'll also get my free eBook, "Creating Fabulous Finishes" AND access to my full Printables Resource Library with over 100 graphics!)
PIN it to save it!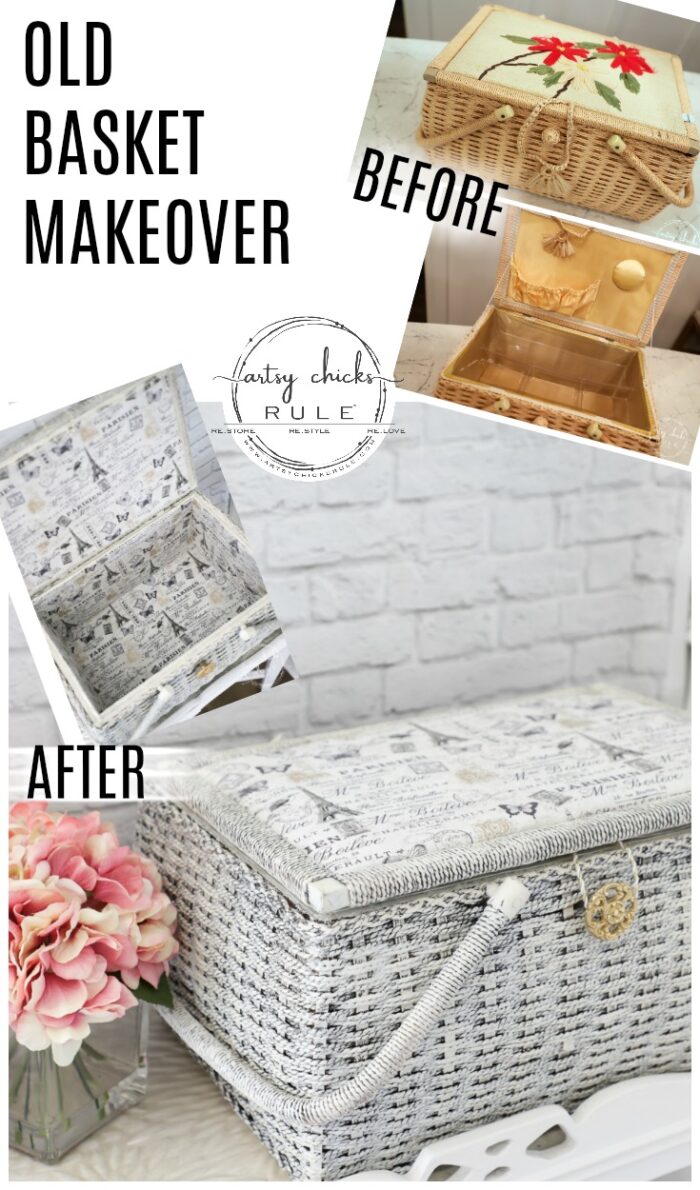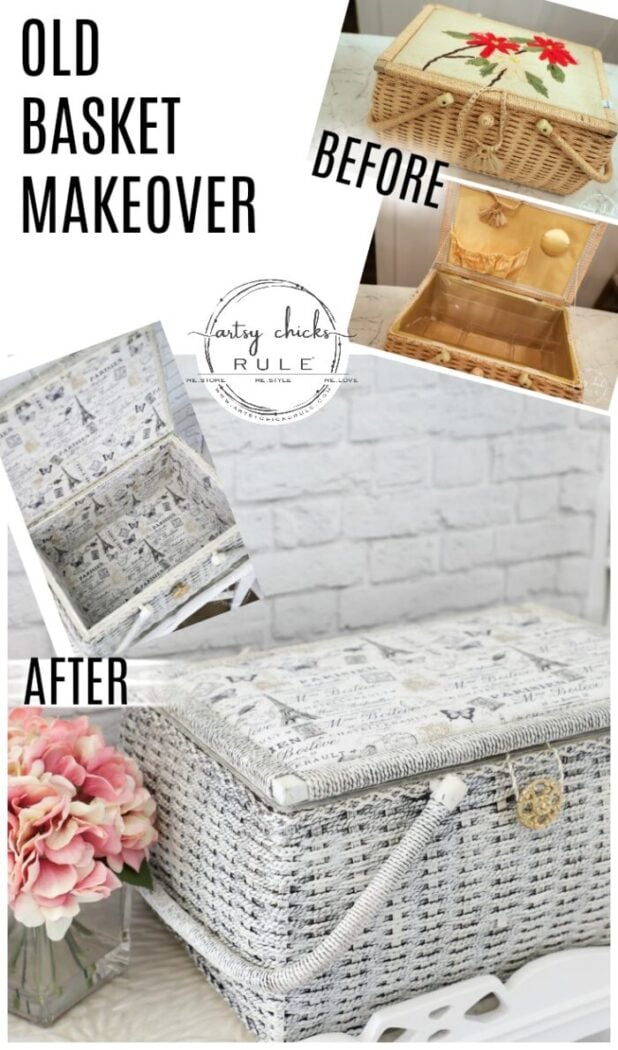 I hope you enjoyed this basket makeover. It sure looks different than when I found it. This is budget-friendly gift-giving at its best. Plus it has that special handmade quality too.
Don't go just yet, hop on over to visit my friends, Vicki & Jennifer, over at 2 Bee in a Pod to see what kind of holiday fun they have for you today! (and for even more, scroll down)
I hope you have a wonderful weekend, my friends!
xoxo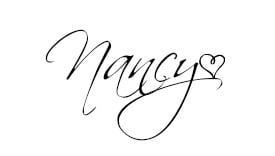 I hope you enjoy visiting all the beautiful inspiration below! (click the links below each grouping to visit a post)


Sand Dollar Lane // Aratari at Home // Postcards From the Ridge // Sweet Pea

Worthing Court // Atta Girl Says // Sonya Burgess // Kippi at Home

White Arrows Home // Cribbs Style // Dabbling & Decorating // One House 2 Barns

My Family Thyme // The February Fox // A Life Unfolding


My Wee Abode // The Tattered Pew // Thistlewood Farms

Artsy Chicks Rule // 2 Bees in a Pod // Zucchini Sisters (not shown) // The Little by Little Home


The French Blue Cottage // Elizabeth Joan Designs // Joy in Our Home