Longaberger Basket Makeover (wall storage)
This post may contain affiliate links. Please see disclosures here.
Have old Longaberger baskets that no longer fit your decor? Change them up and relove them all over again!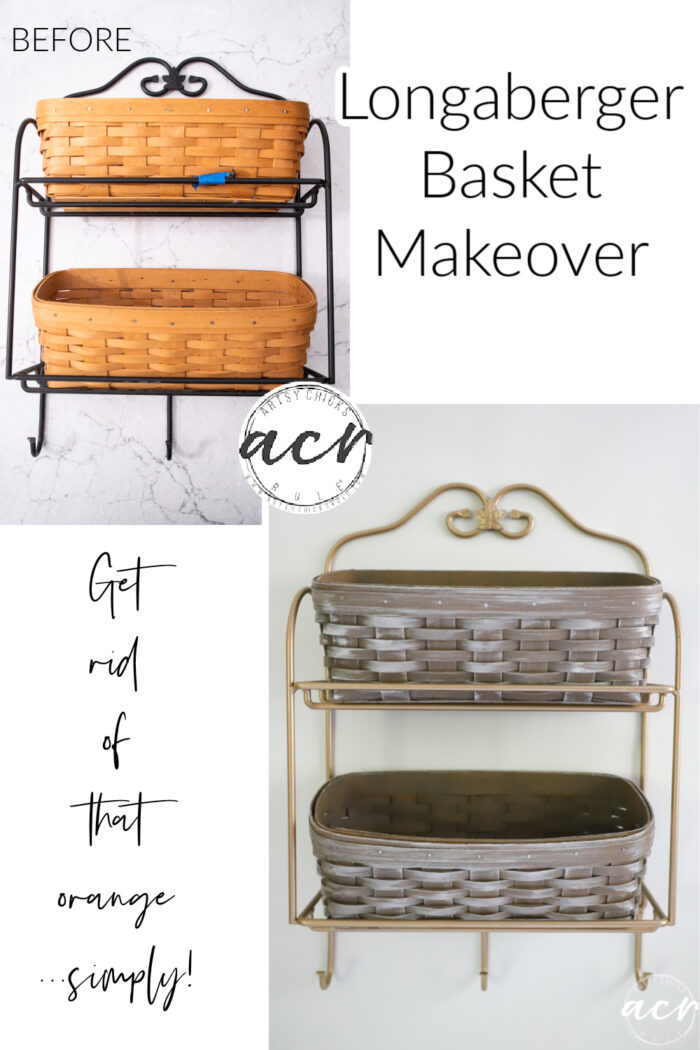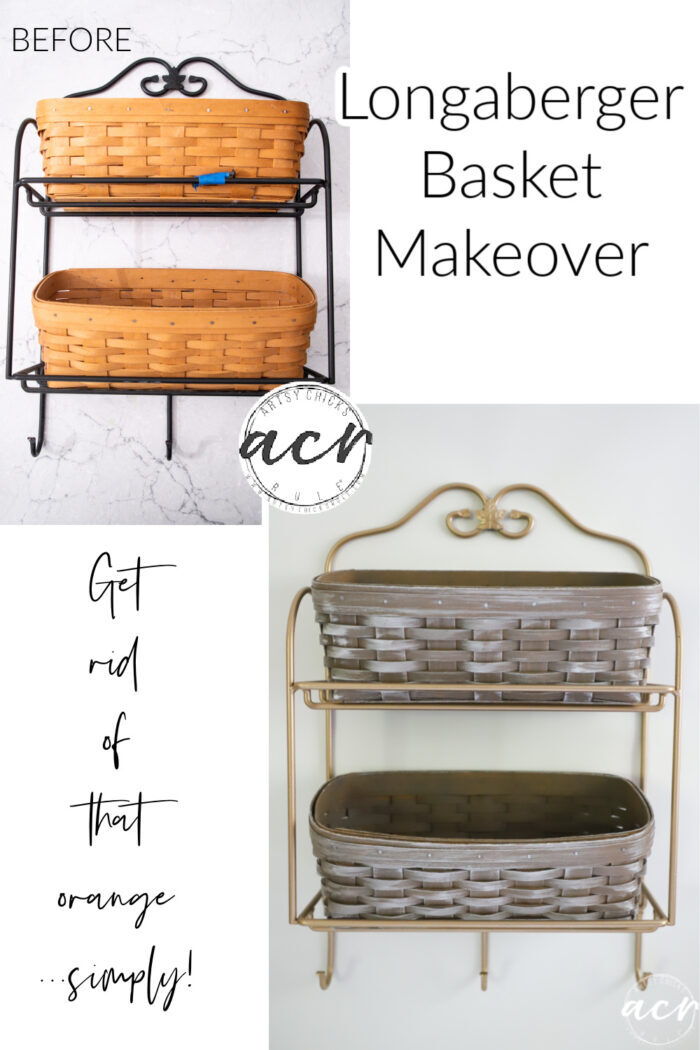 Hello sweet friends!
I hope you had an amazing weekend! We went down to the condo for the first time in over a month. It was glorious…and we didn't lift a finger (work…all play…and relaxation, this trip).
Much needed.
I want to congratulate Kathy C for winning my July giveaway! I missed August's giveaway but no worries! I am keeping to my commitment to doing a giveaway every month of 2021. Do you know what that means?
That means come right back here on Thursday for the chance to win one of TWO giveaways! I'm hosting August and September's giveaways this month with two fun goodie collection.
You won't want to miss it so if you are not already a subscriber, be sure to click here to sign up so you will get notified of the giveaway. :)
Now, let's talk Trash to Treasure!
I'm sharing this "not so much trash" but also not being used by me any longer "before"…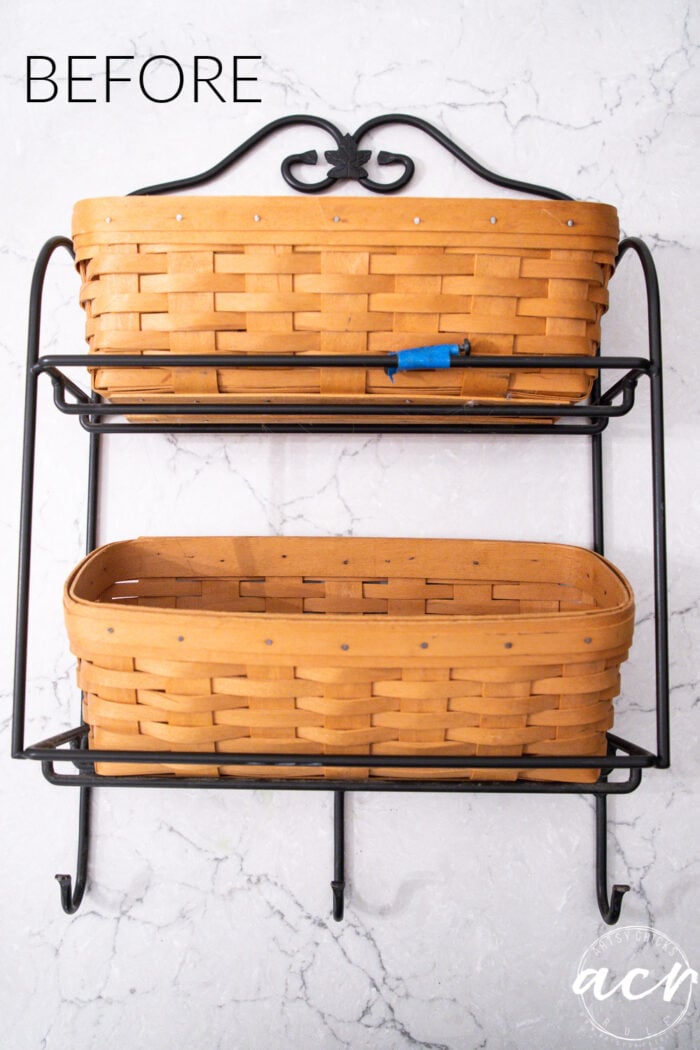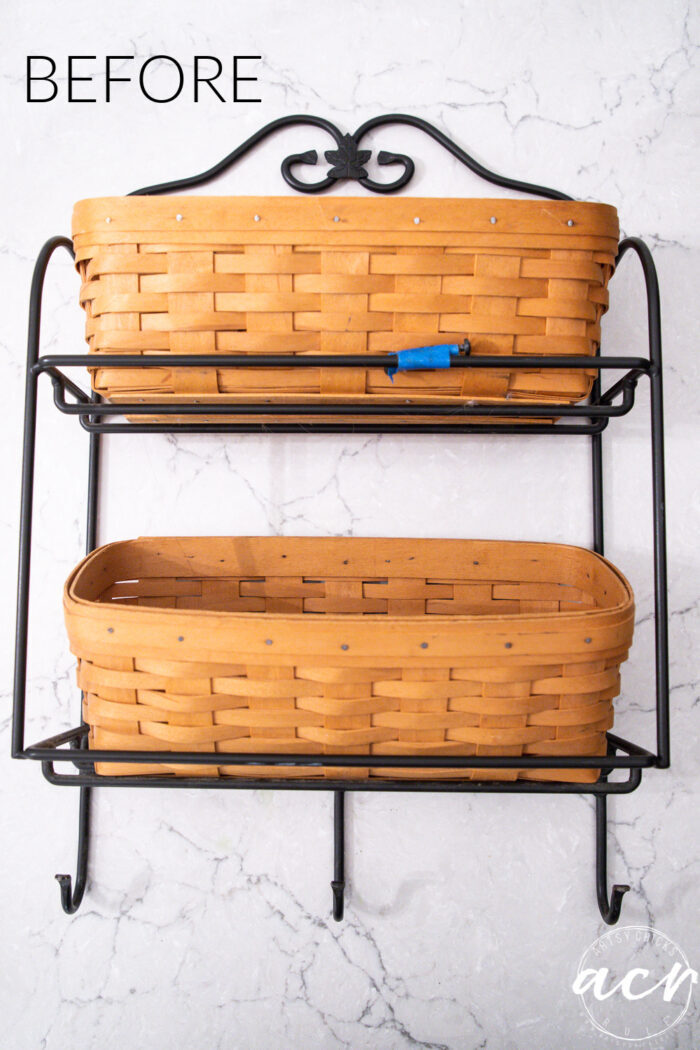 Longaberger Basket Makeover
This had been used by me for many years in the past but it just no longer matched my decor with the orangey orange baskets and black iron color.
So, as I was going through all of my other Longaberger baskets recently, I pulled this set out because I had a great idea for use AND for a brand new look.
And it was a super quick makeover too. (my favorite kind)
I pulled out my favorite Driftwood stain (will add a link for this soon) and got to work applying a light coat to change that orange to this…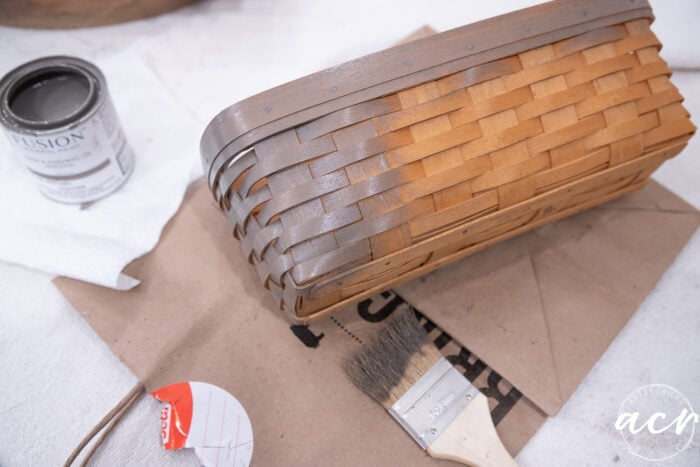 I used a chip brush to apply and it and the stain transformed this basket.
You can find this awesome (I love this stuff) Driftwood Stain in my shop, right here. (other colors available too)
I let it sit over the weekend and then applied a wash of white. (white paint mixed with water, applied sparingly with a most "dry" brush)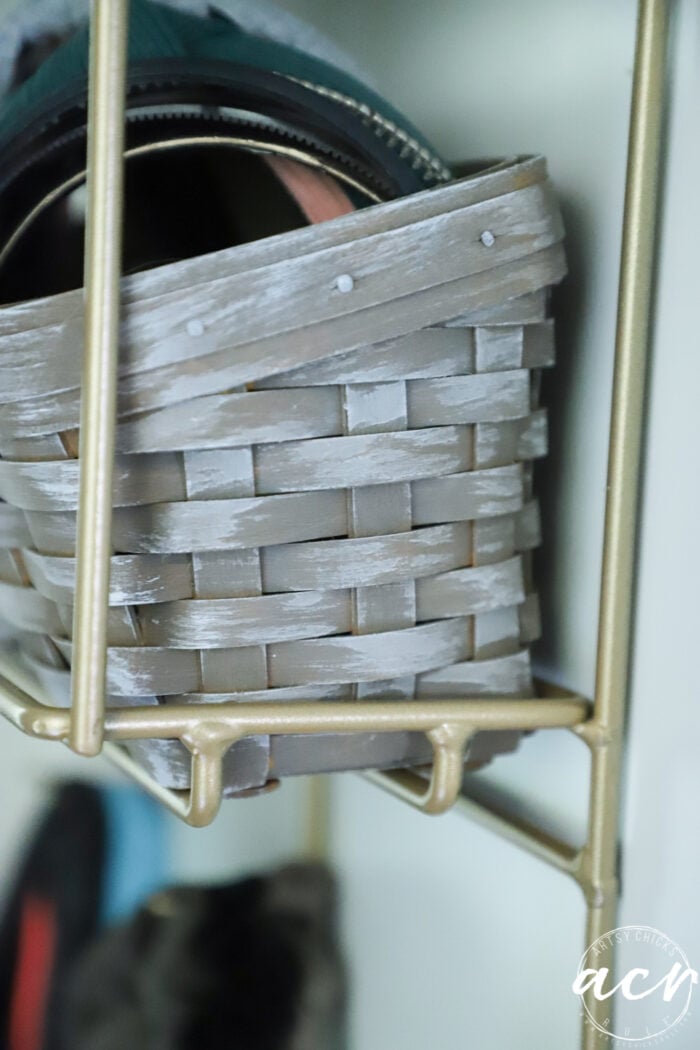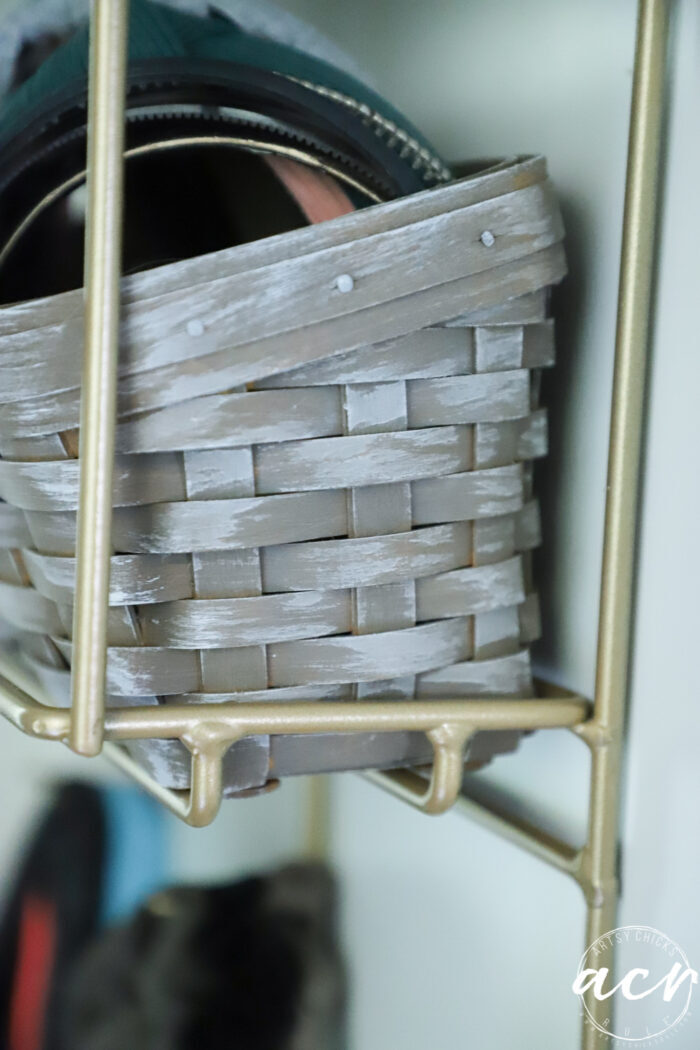 And as you can see above, I took the metal section outside and gave it a quick spray of gold with this paint.
And that's it!
Brand new look for this Longaberger basket…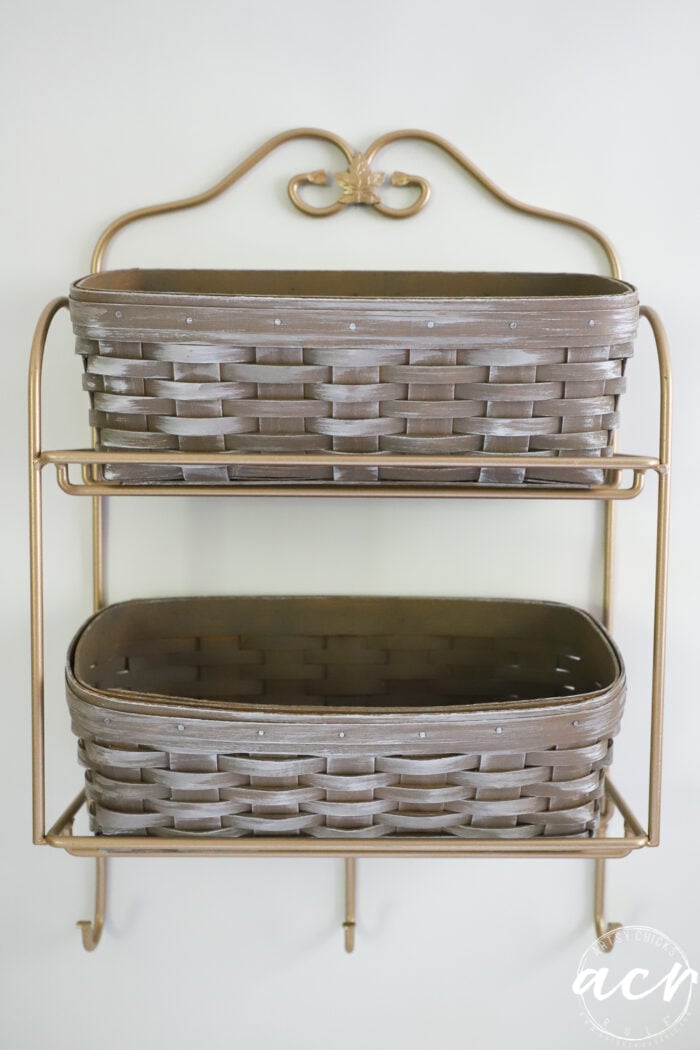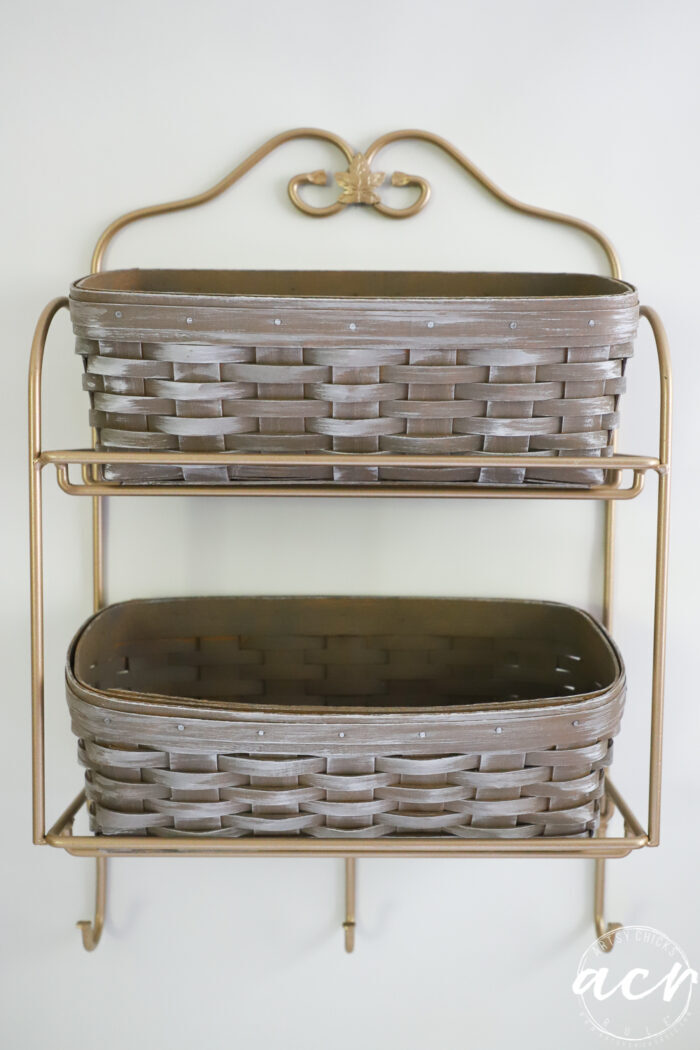 I'm using it in my closet area so went for a "coastal glam" look with the gold and driftwood-ish basket color.
My closet below… (and the little dressing nook on the left where these baskets are now)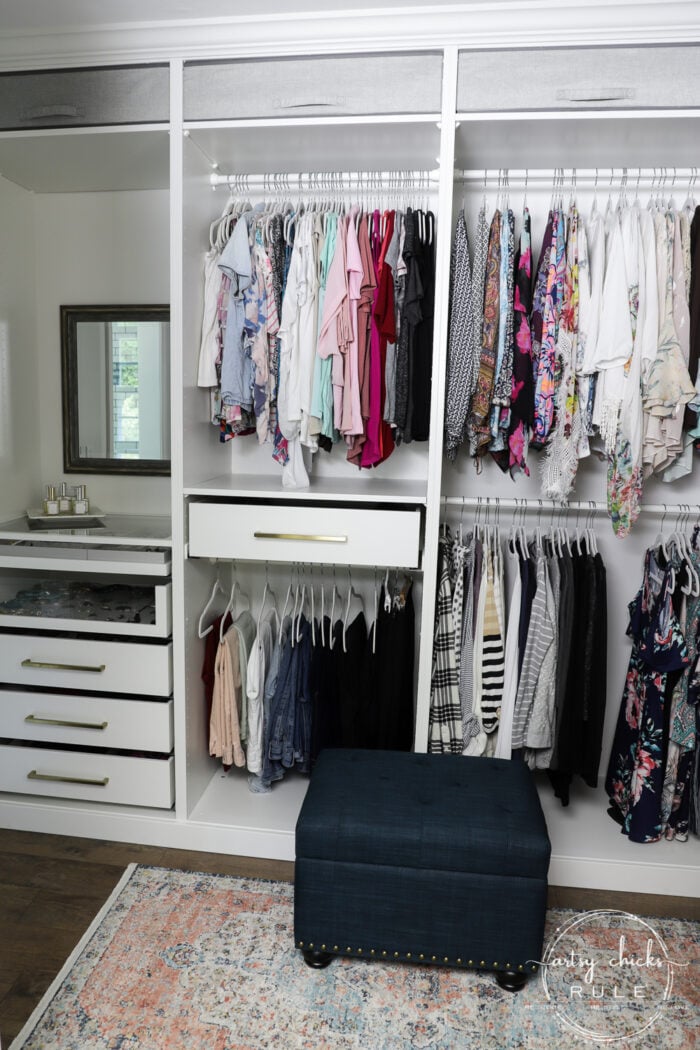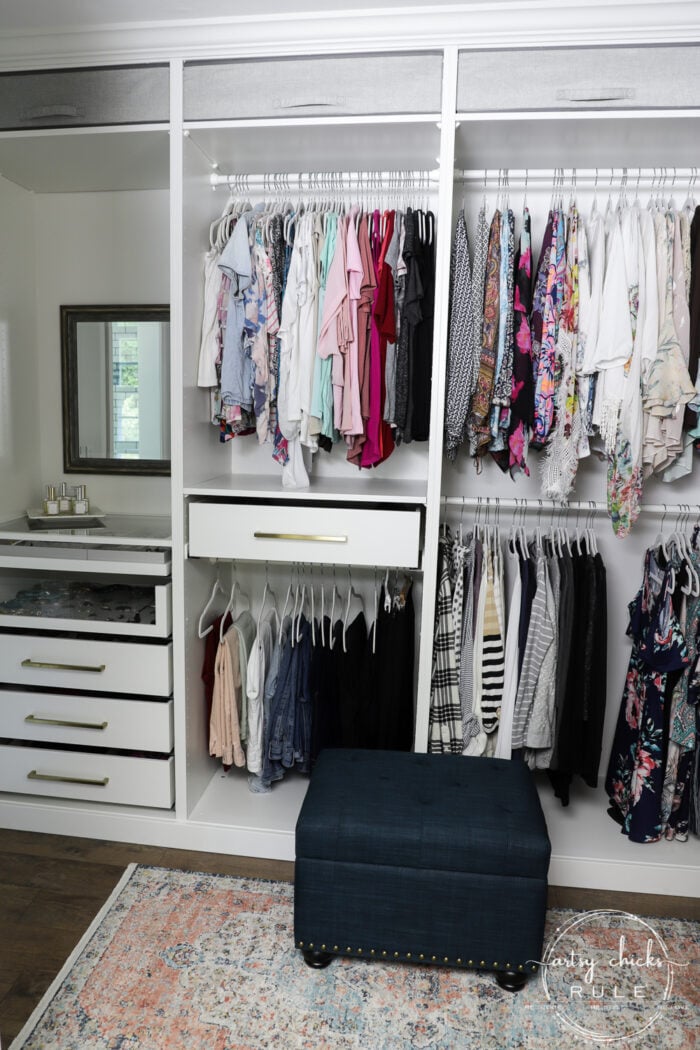 Want to see the whole closet and makeover? (before and after) Check out this post here >>> "Custom" Master Closet Reveal (IKEA Pax Closet Systems)
Since we have a super small (but beautiful :)) ) master bathroom I have to be very creative with storage and such. These baskets hung here in my little dressing area/mirror/jewelry, etc., are the perfect spot for hair ties, headbands, clips, and more.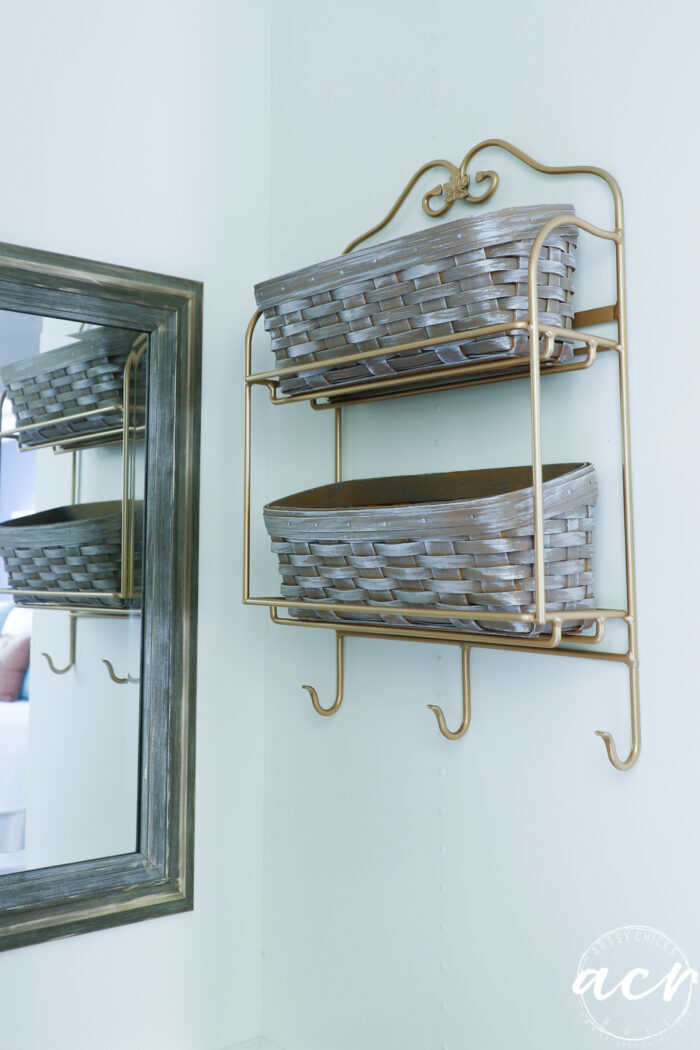 And a sneak of our teeny tiny bath…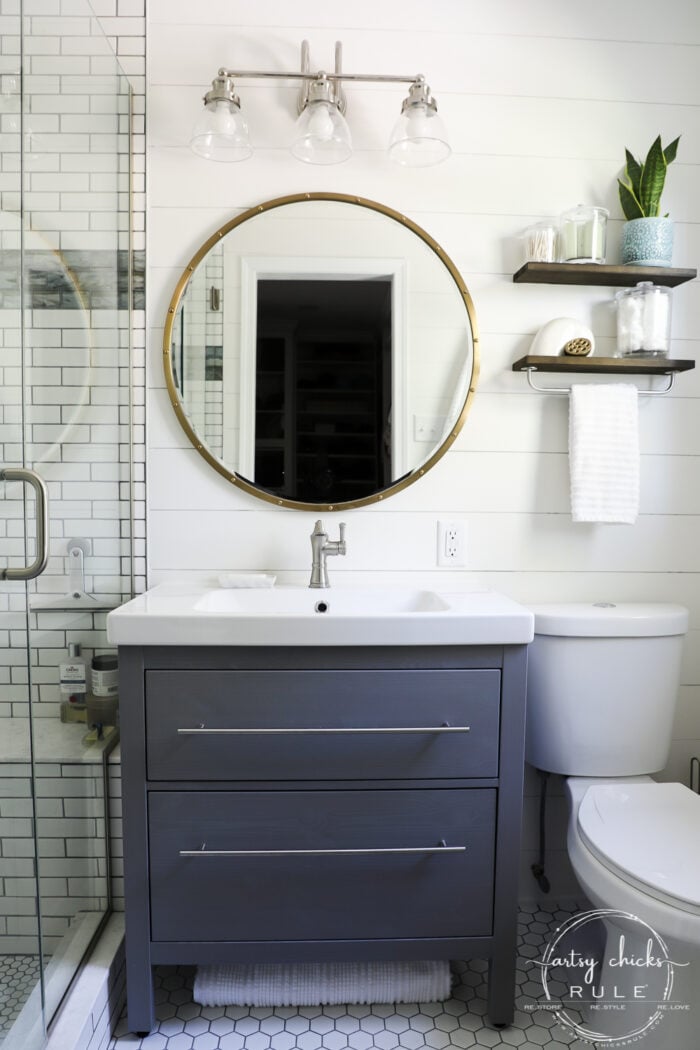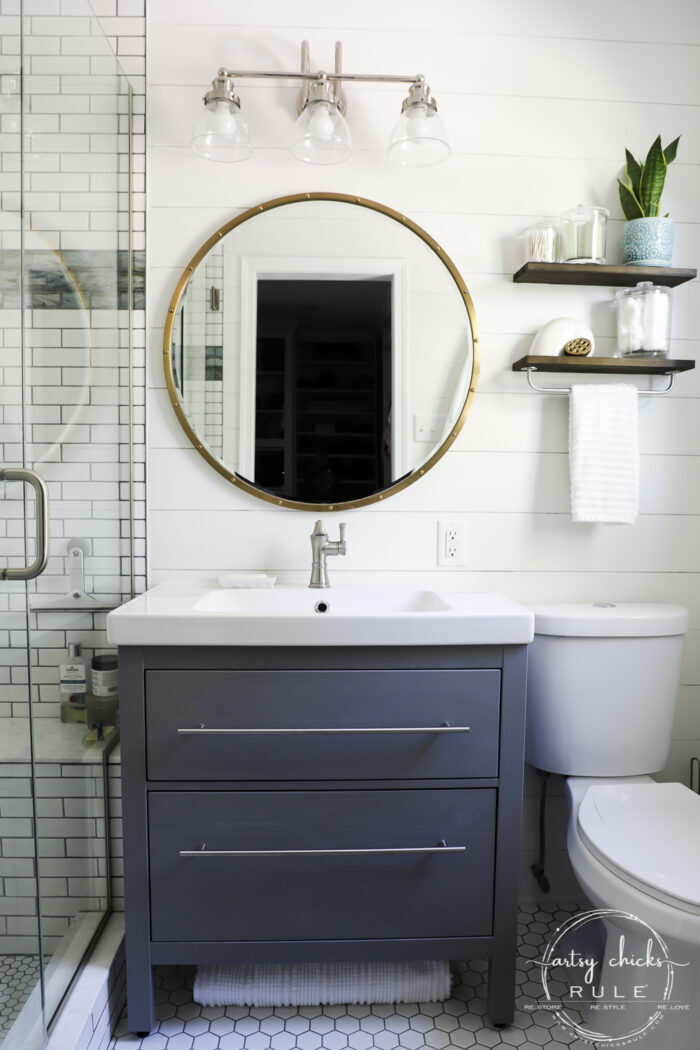 Want to see more of this bathroom makeover adjacent to this closet? (and the before and afters?…they are doozies!) Check out this post here >>> Coastal Bathroom Makeover Reveal
I will store my headbands in the second basket, other hair elastics, and ties on the hooks…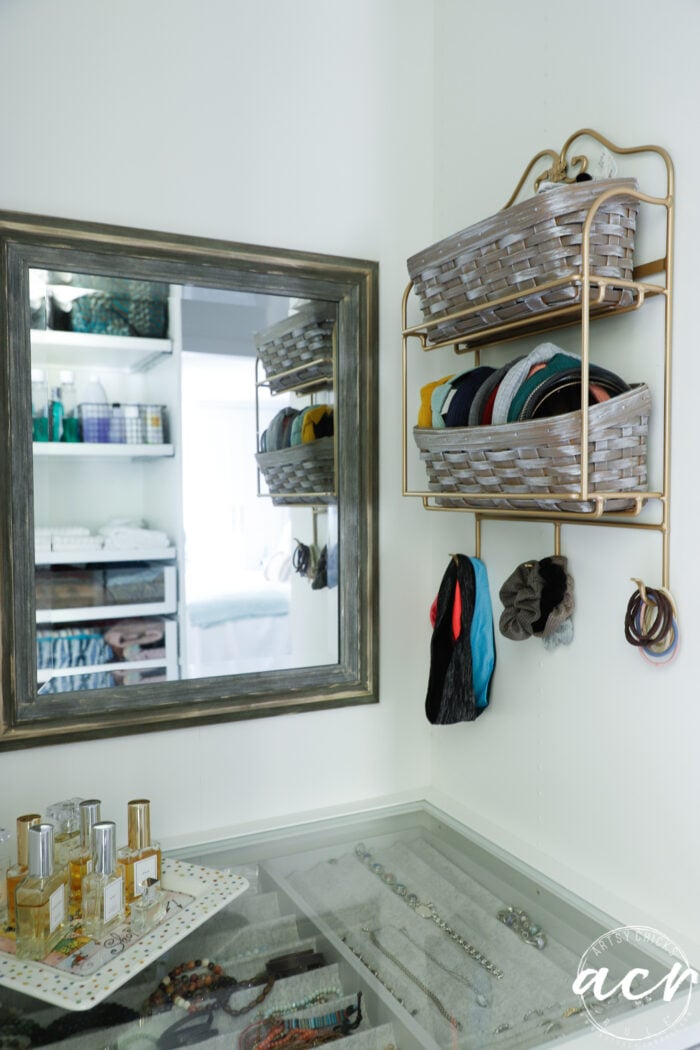 …and clips, barrettes, etc., in the top basket.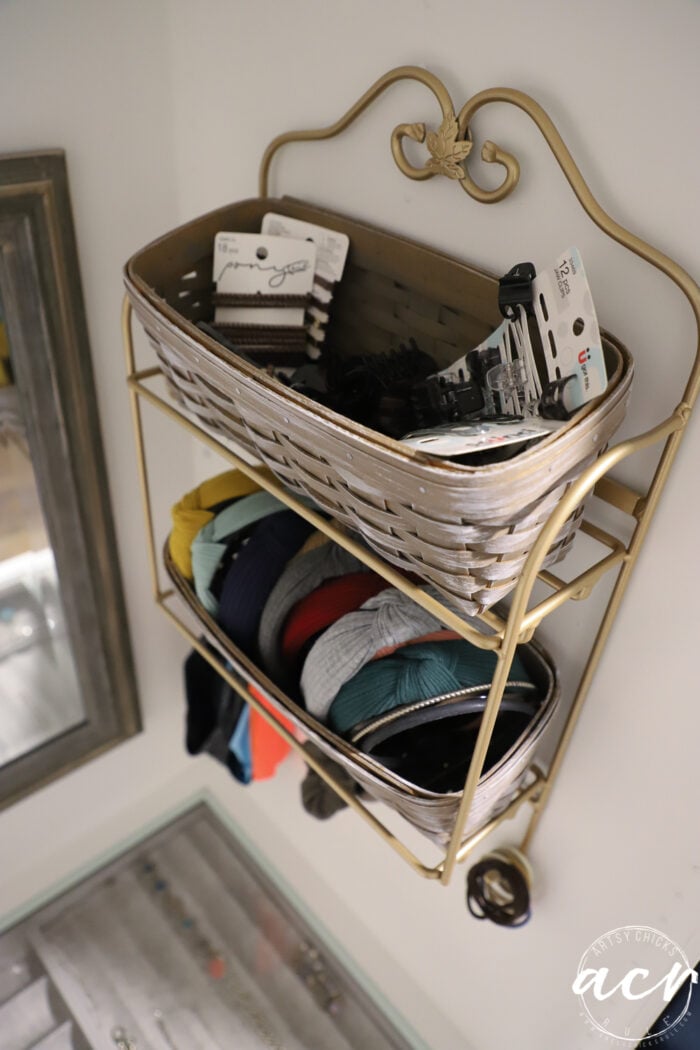 The gold and the weathered, "coastal look" basket go perfectly in here.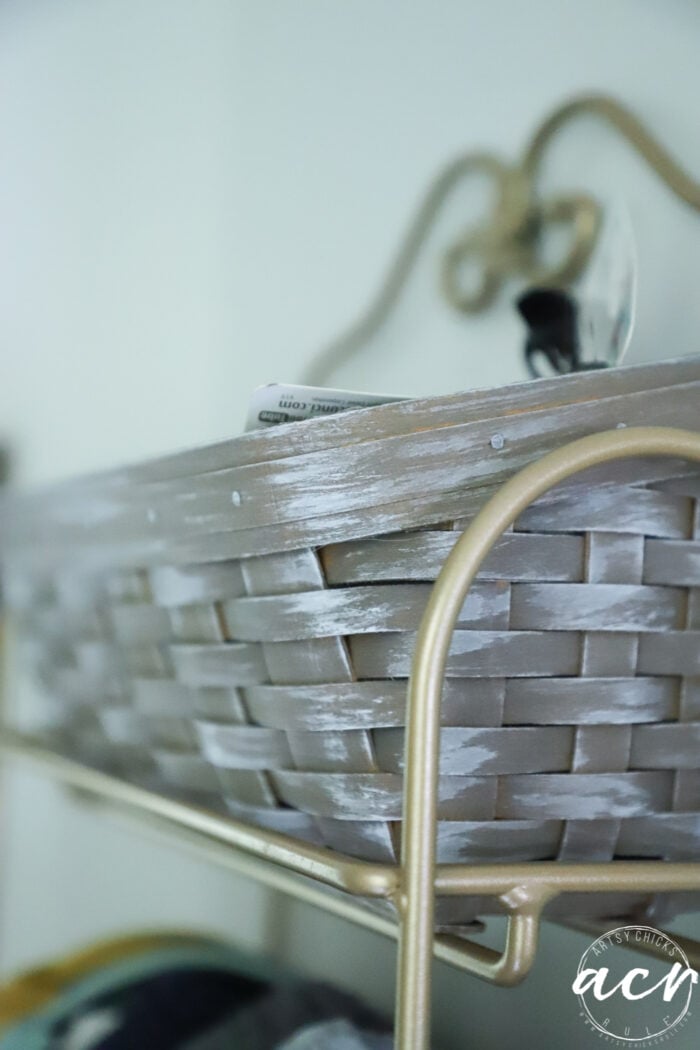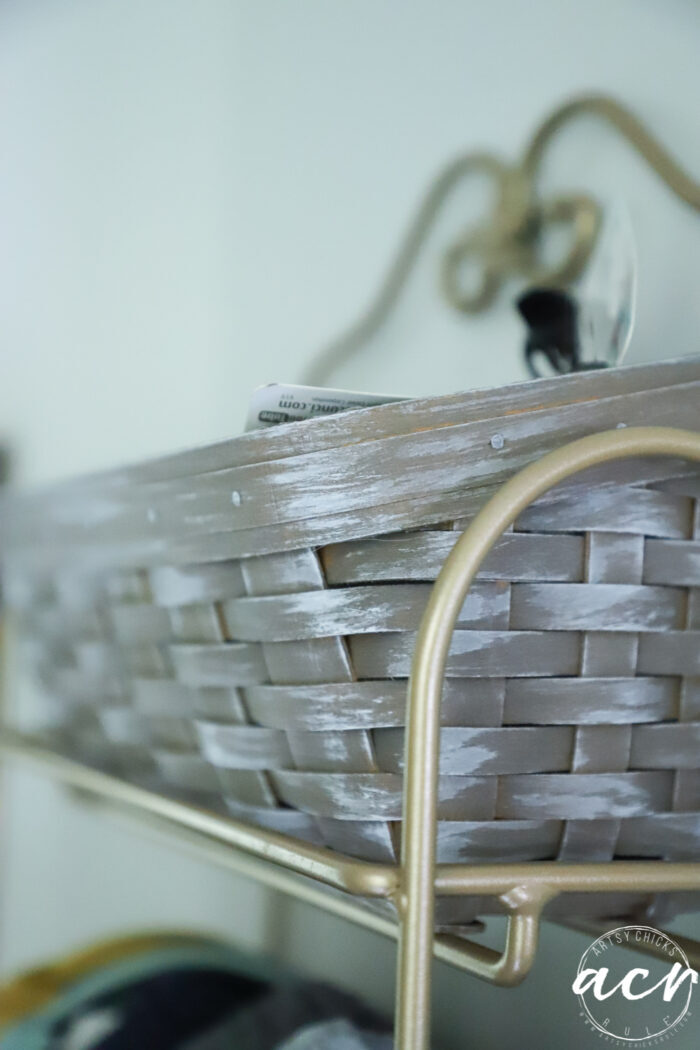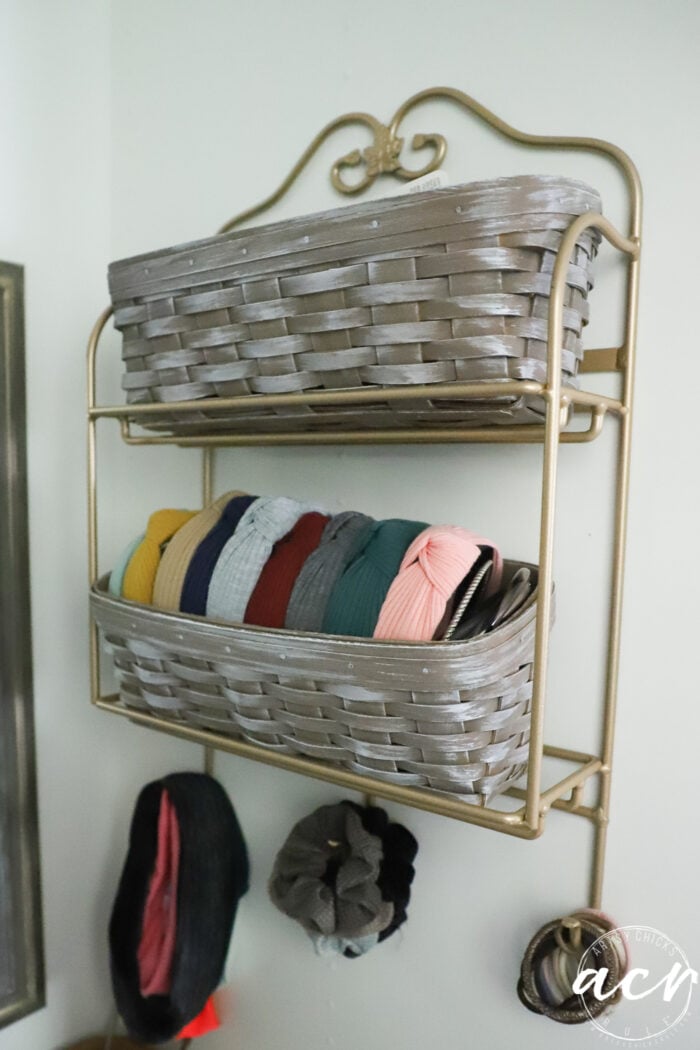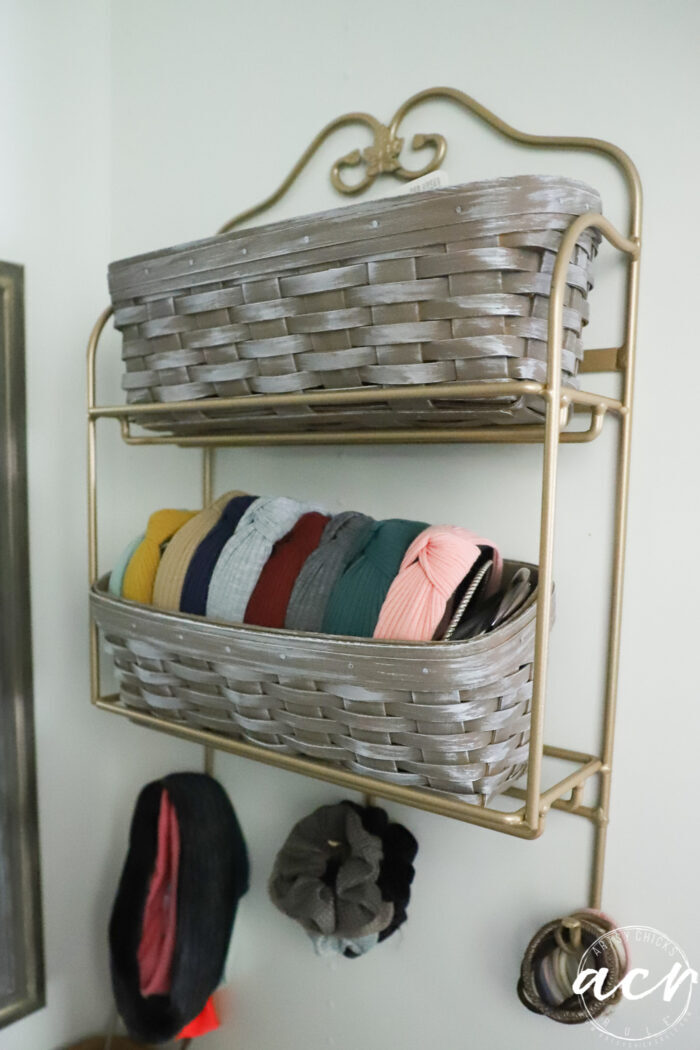 I'm pretty happy to have this extra storage space and to be able to use this pretty Longaberger set again.
Don't forget to scroll down and check out my friends' projects today too!
PIN it to save it!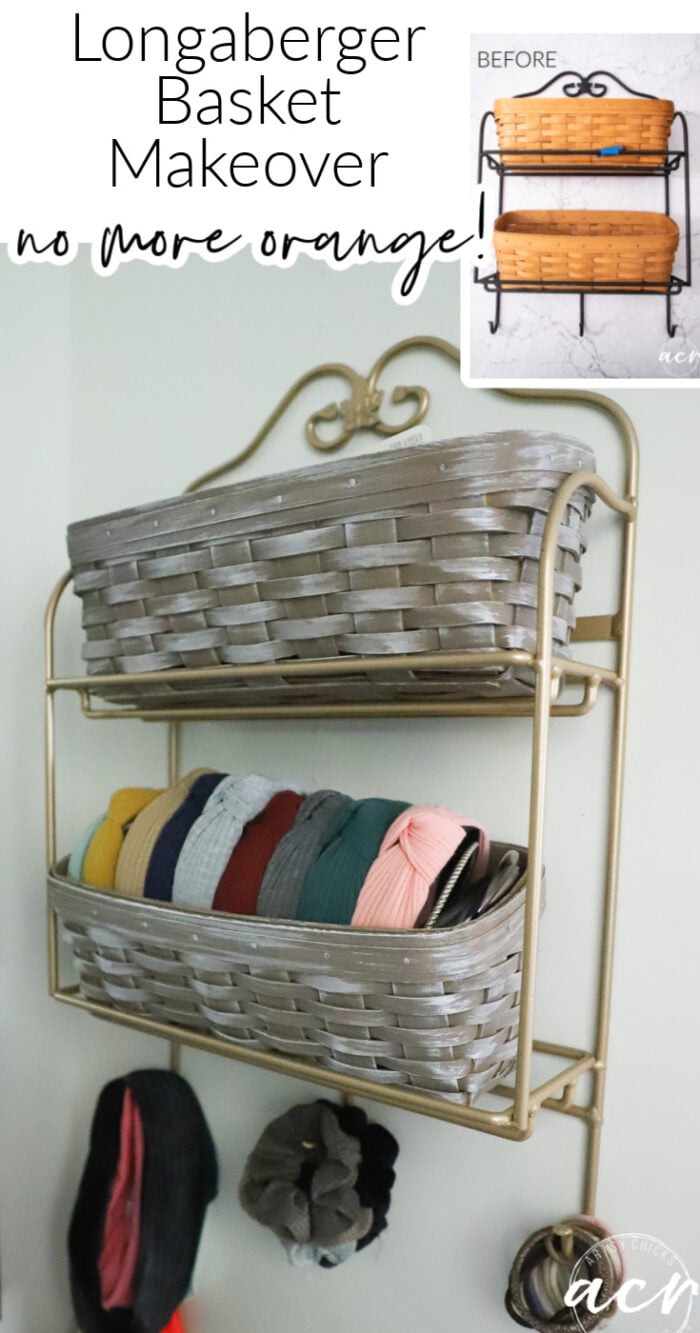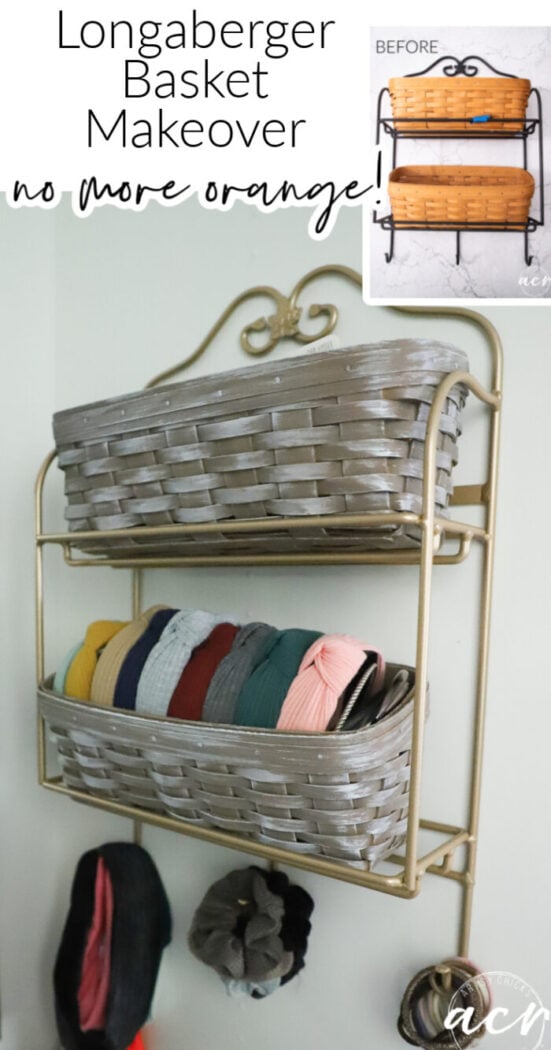 Click the corresponding links below to visit each friend and project!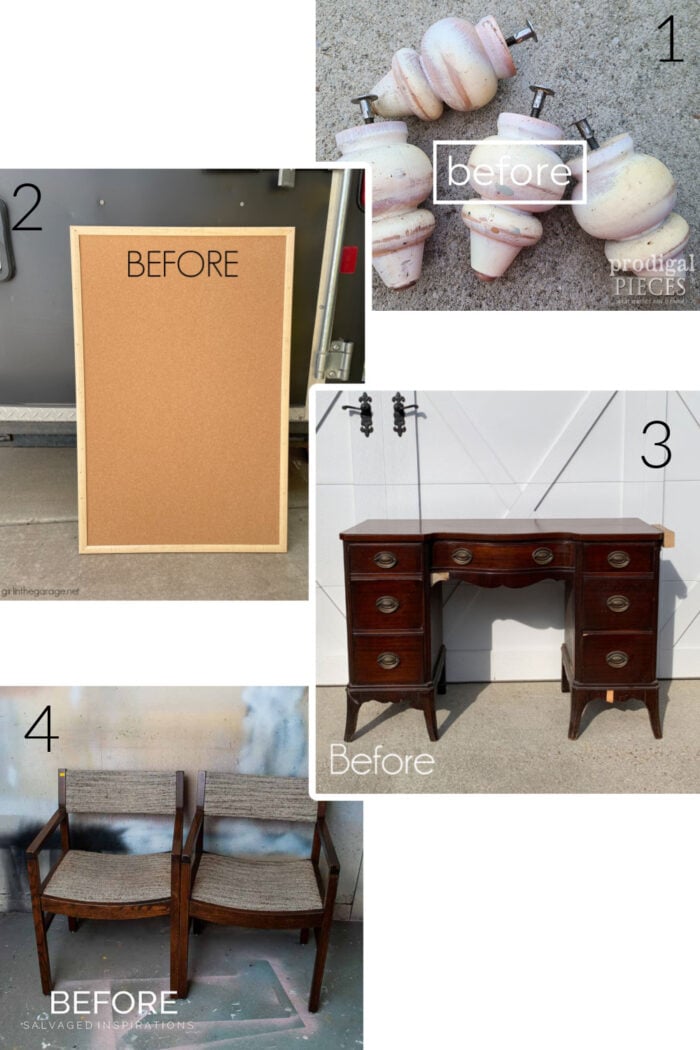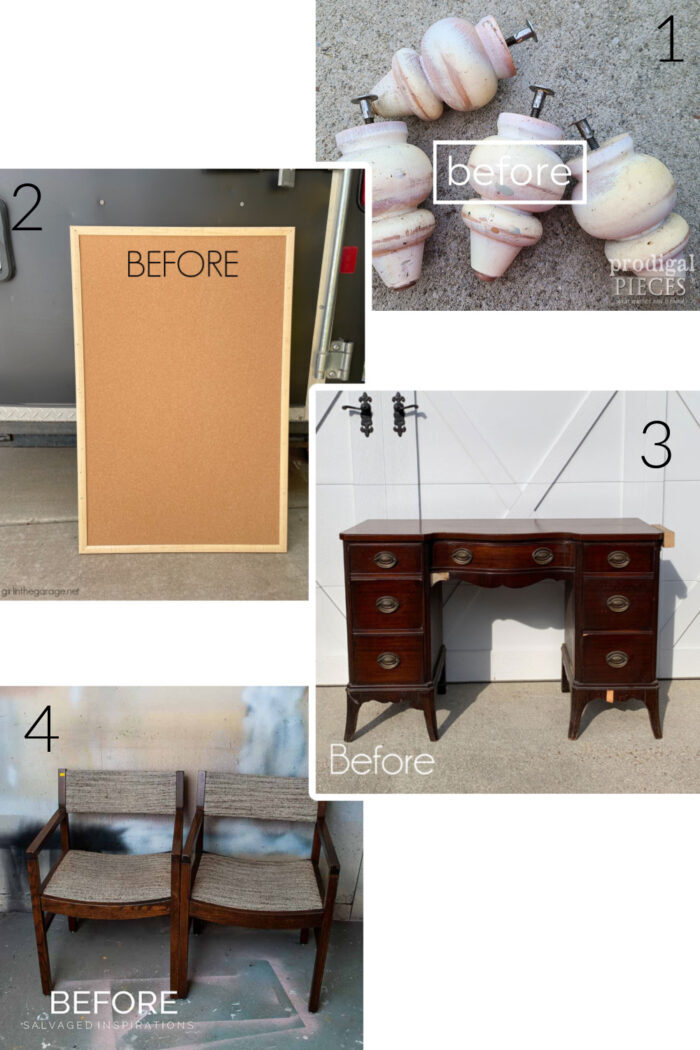 Have an amazing week!
I will see you back here on Thursday!!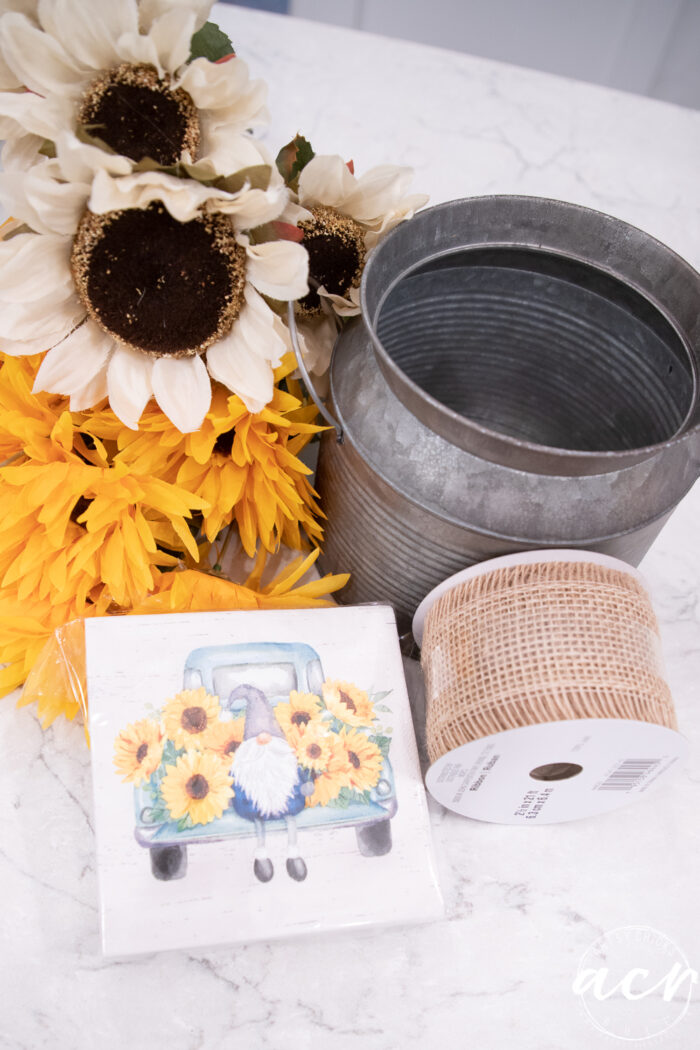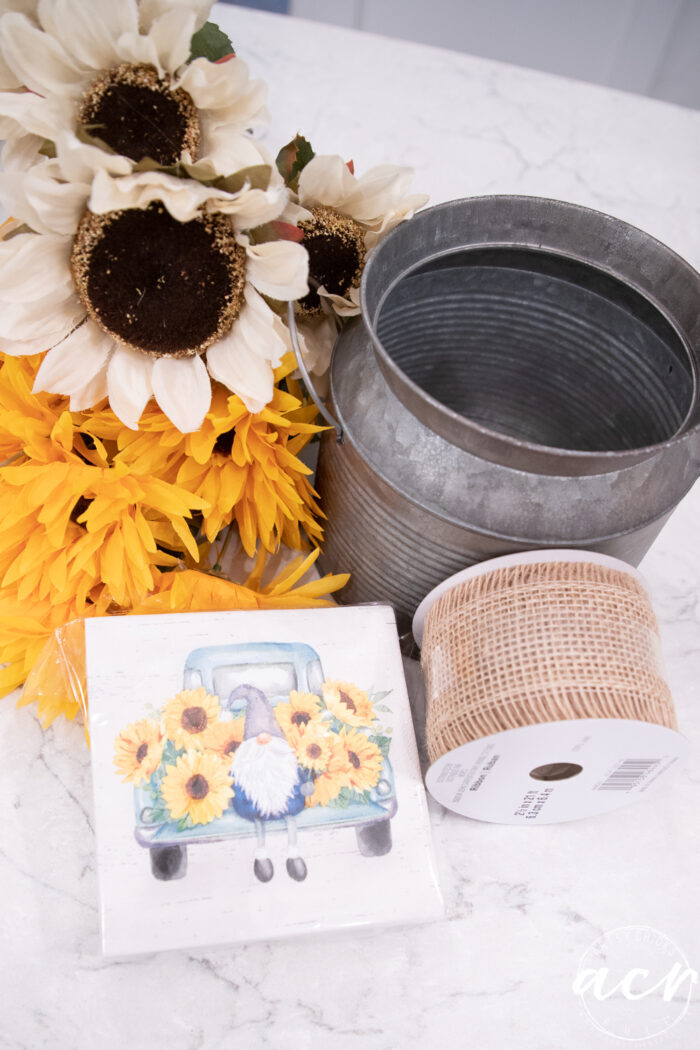 UPDATE! Check out what I did with this here!
xoxo