Retro TV Cabinet Repurposed (Bar Cabinet)
This post may contain affiliate links. Please see disclosures here.
This ReStore retro TV cabinet was recently repurposed into a bar cabinet for storage and serving. The perfect use for it!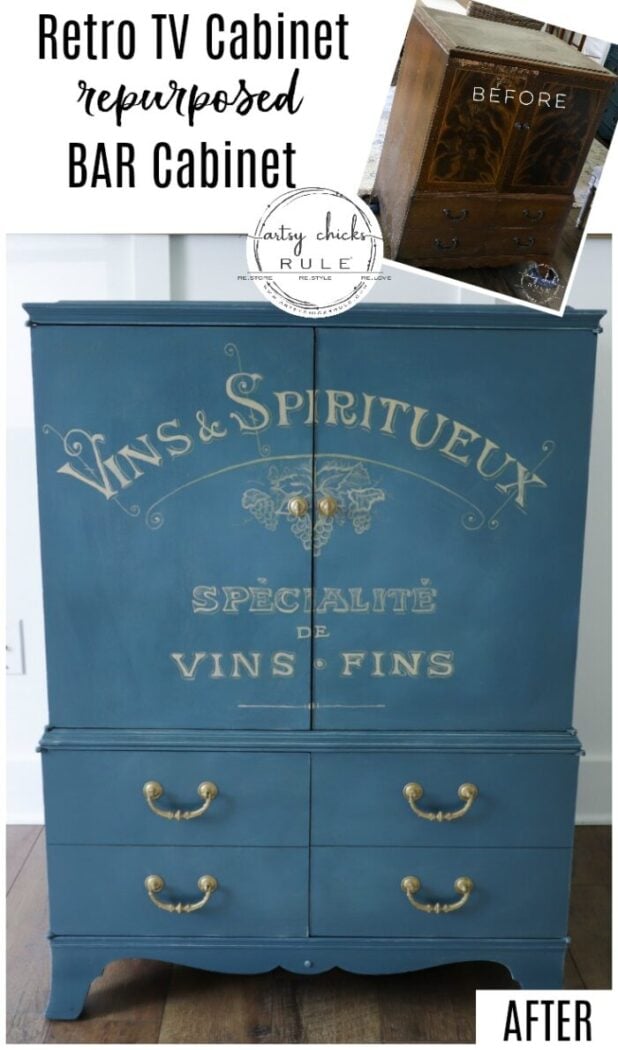 Oh my, this one is finally done! I'm so excited to share it today.
But first, let me say a huge thank you for chiming in on what you think I should do on that little seat turned footstool that I shared on Tuesday.
You guys are the absolute best! You make me see things in a totally different light and also give me feedback with ideas I hadn't considered.
I got some great feedback and it was so appreciated…so, thank you again. :)
……………………………………………………..
Okay, so I've had this one for a couple of years and finally decided to tackle it. I knew when I found this old retro TV cabinet, that I wanted it to be a "bar cabinet".
I mean it was just perfect for that use. Although it really could be used for so many things.
I also knew it would be a little bit more involved makeover.
And that it was! I've been working on it off and on for weeks. (maybe months? lol)
Maybe you saw it over on my Instagram Stories here and there?? I've shared snippets of it as I've been doing it.
Be sure to follow along over there as I share new finds, things I'm working on in real-time and more!
Anyway, I am SO thrilled that it's finally done…because, well, it's done and because it can get it out of the family room. (taking up space I don't have ;) )
This tutorial/post is going to be longer and a little more picture heavy than most, so keep that in mind as you are scrolling/reading.
I had to end up creating collages for a bunch of the process photos to save space and load time.
Retro TV Cabinet Repurposed To Bar Cabinet
Here's how it began…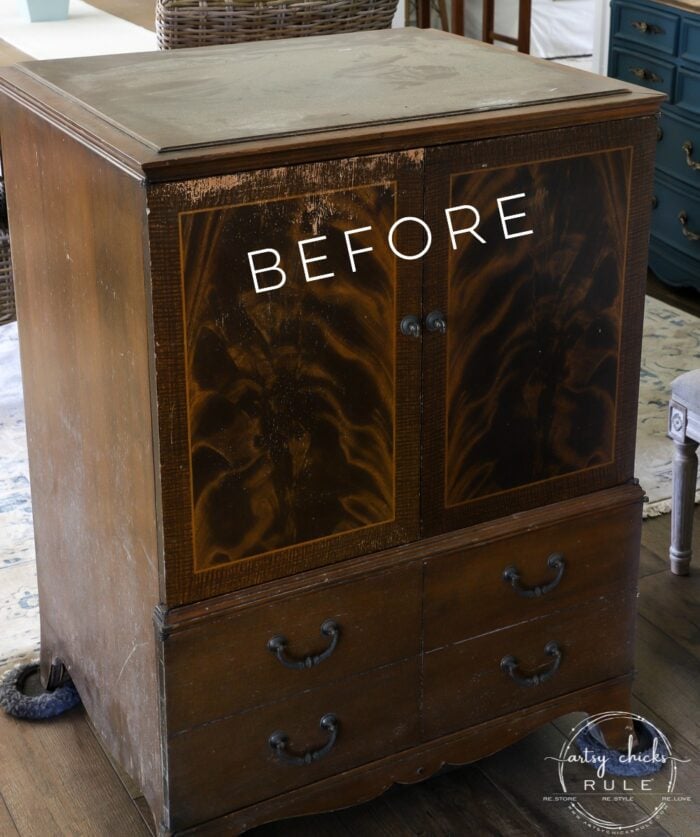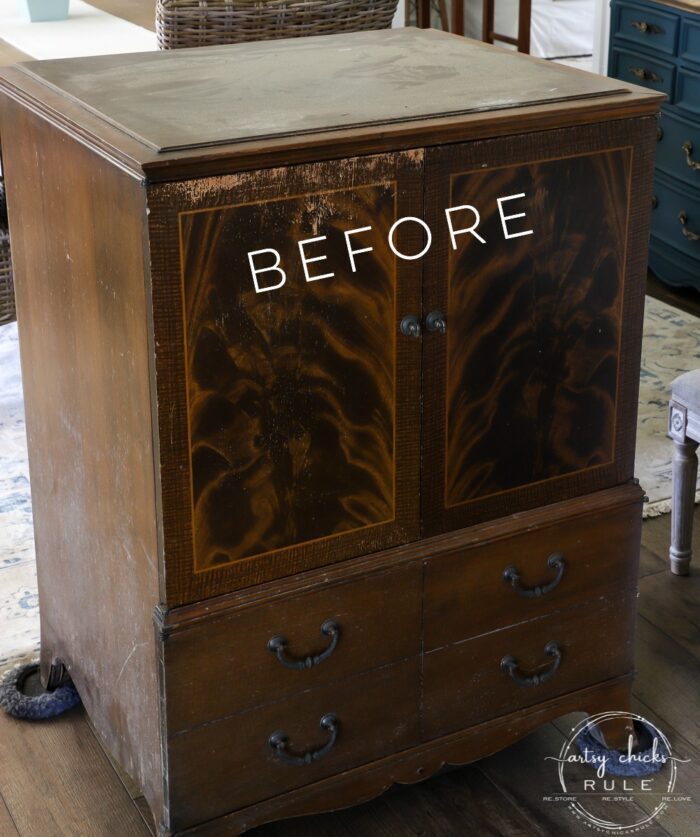 You can see how dirty and gross it was. I think it had been in some water possibly at some point. (check out the side of it there)
Here's why I think that. ;)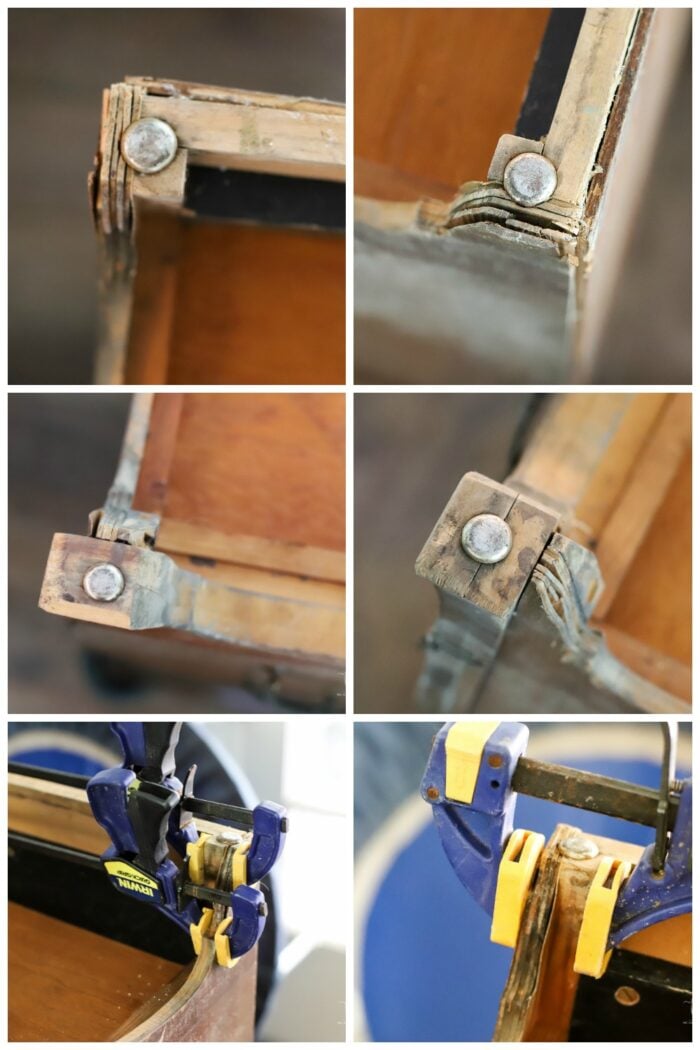 All 4 legs had to be clamped and glued because they were all split.
I also did some filling in with wood filler where it chipped off completely.
Here's the inside…
There were some holes showing through the inside from the back so instead of replacing the whole back piece, we added wood panels from the inside.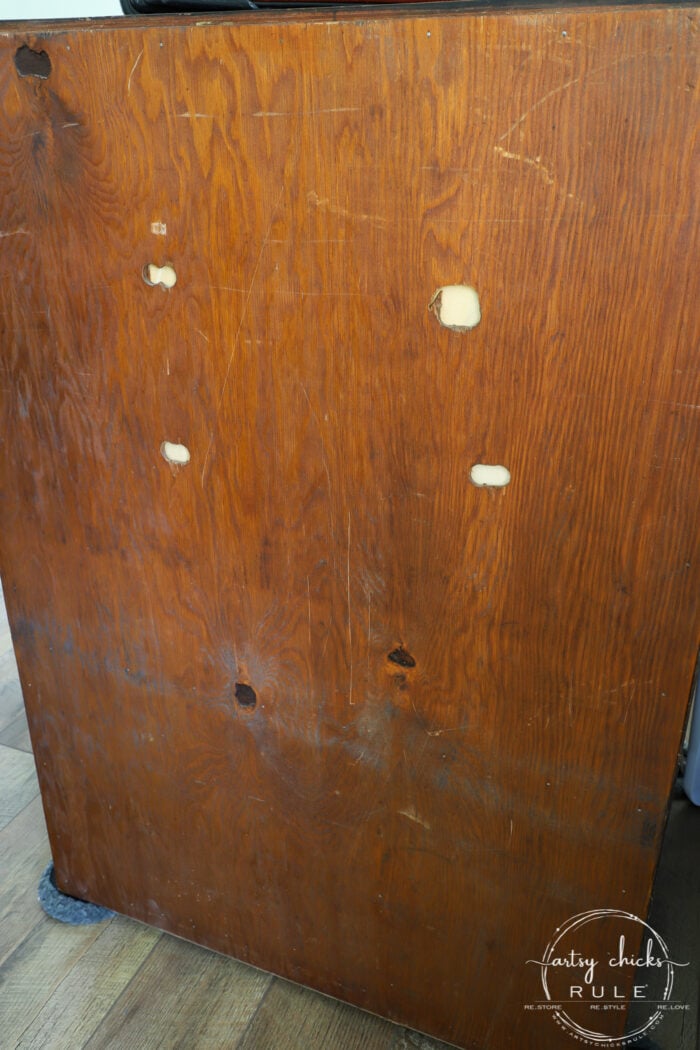 Nice and who cares about what the back looks like, right?? (haha, stay tuned ;) )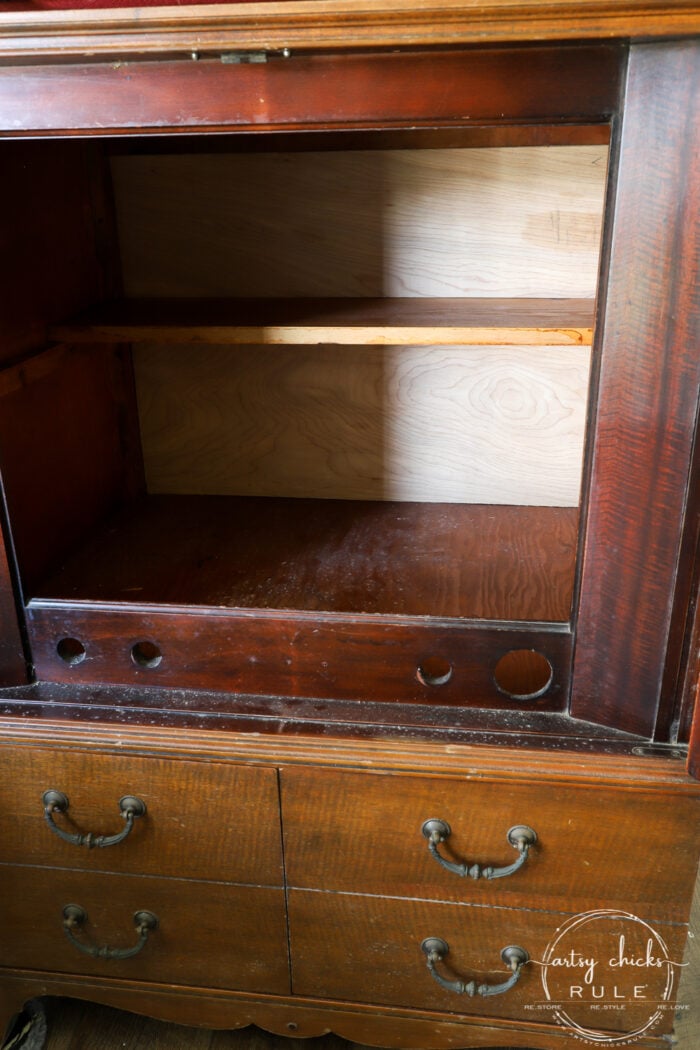 But I hated the way the back looked (even though no one would ever see it most likely). As you can see below…I had already painted the rest but ended up finishing up the back too because YUCK.
So I filled the holes with wood filler, sanded it and painted it too.
You can't do all that work on the rest and leave the back looking like this, y'all.
You just really can't.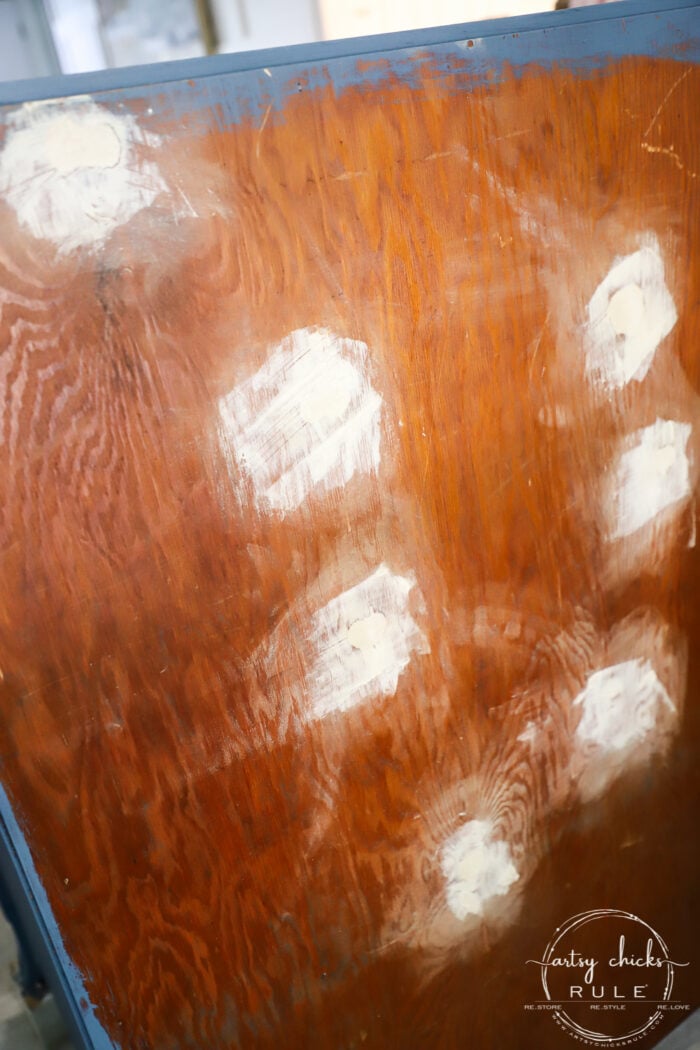 Sadly I forgot to take a photo of the back-painted. But trust me, this thing is blue all the way around. ;)
Want to see some of these projects in "live" time? Hop on over and follow along with me on INSTAGRAM. I'm always sharing in my stories as I'm doing projects, finding new furniture, fun finds….just all the day to day behind the scenes.
I painted the inside first with the black paint (linked above, everything is linked above).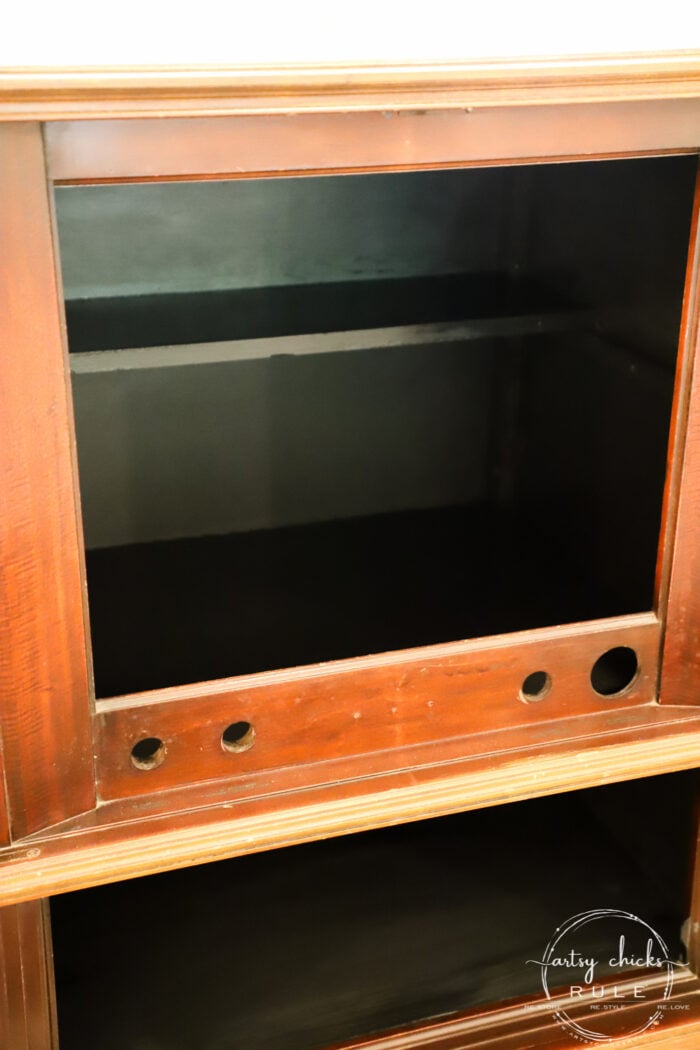 So much better.
And look…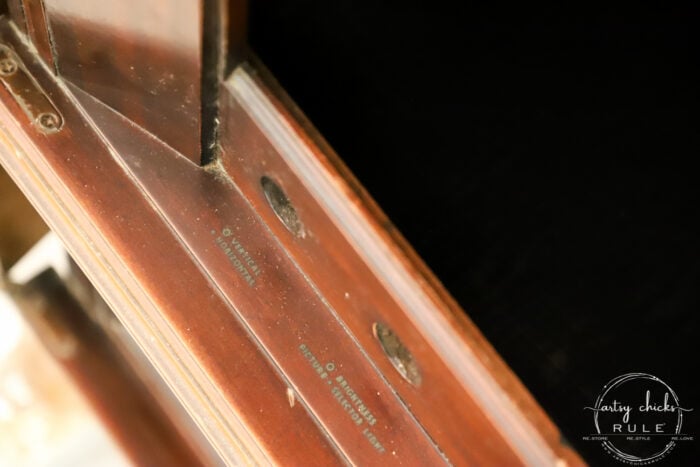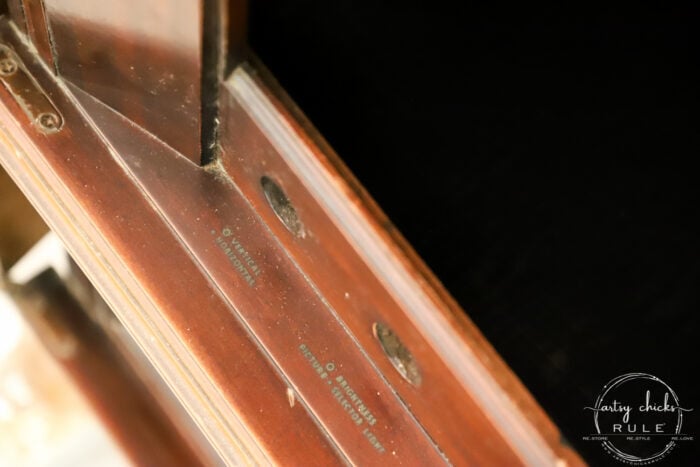 I hated to paint over that but there really was no way to keep it.
I'm a sucker for this kind of stuff so it pained me to paint this.
And before you get upset with me painting that pretty wood finish on the outside…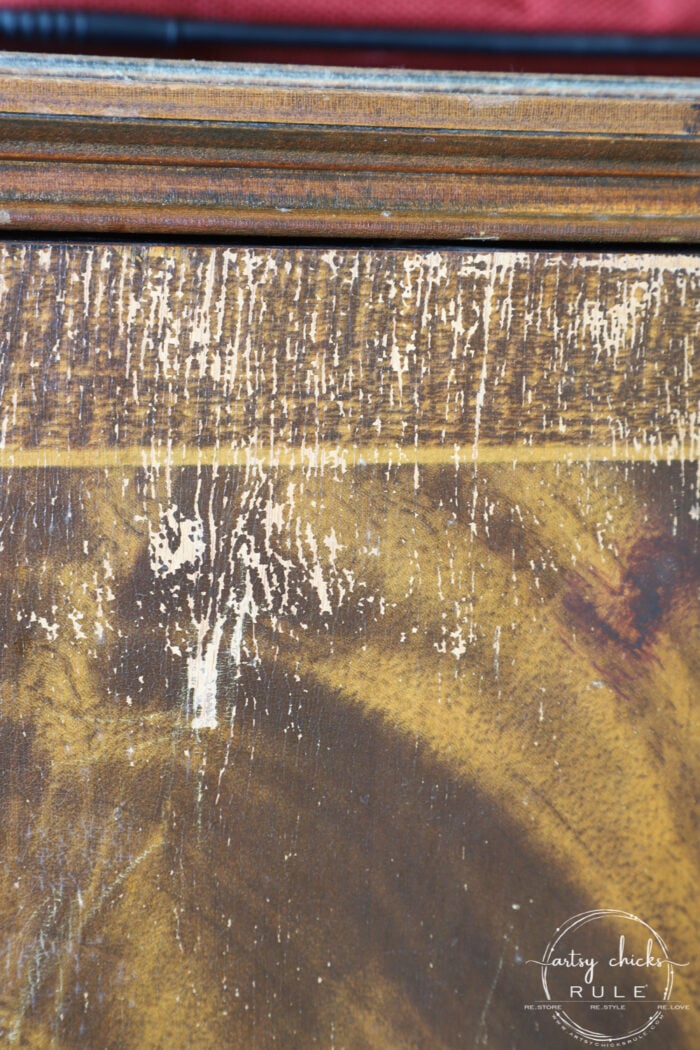 …it was not real. It was a very, very thin veneer (paper??) that mimicked the look.
So, this one was a prime piece for paint. Yep!
And painted…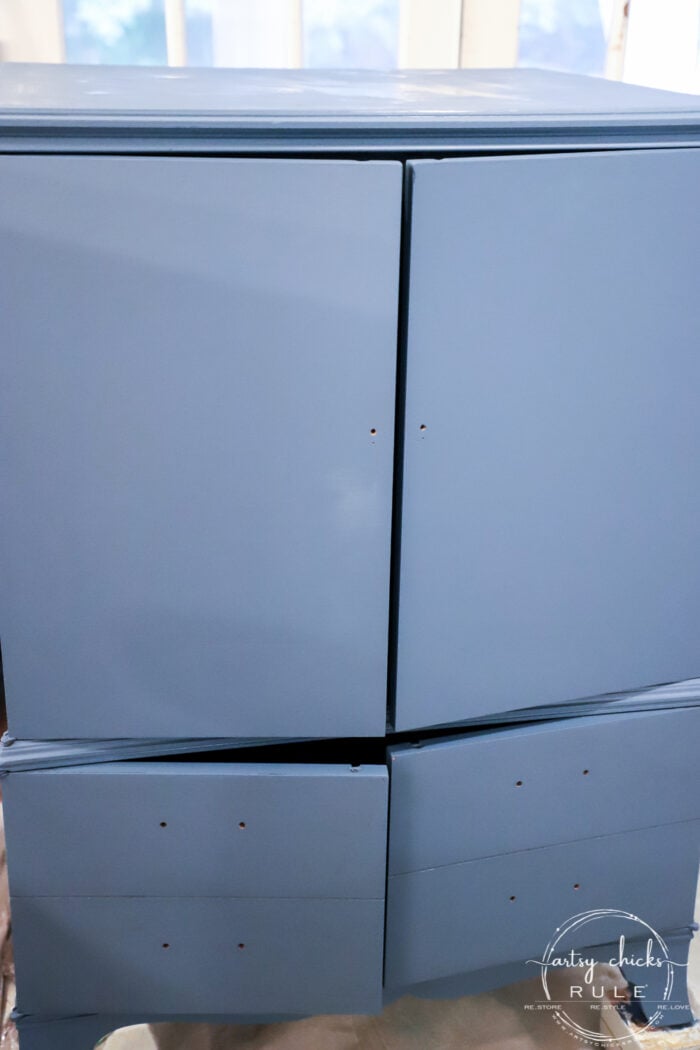 Oh but wait. Let me back up for a minute.
I wanted to paint this Aubusson Blue. Well, I ran out of it.
So I ran down to my local shop and surprise, surprise, it was no longer there! lol
Well, hmm, I was ready to paint and didn't want to wait to drive further or order online so I decided to use some chalky powder I'd bought long ago and never tried yet.
I ran up to The Home Depot and had them match my Aubusson Blue I had left in a small can of FLAT paint then came home and added the chalky powder stuff.
(it's also linked above in the "Materials List" box if you are interested)
I mixed it up per the directions and painted it up….like a dream. Really happy with this paint and chalky powder stuff!
Are you new to chalk painting?? This post might be helpful to you >>> "How To Chalk Paint Furniture & More (tips & tricks I've learned!)"
I loved the blue color but wasn't loving the flat look of it. Nope.
I wanted something with more dimension like this blue armoire I painted years ago.
You can see it here >>> Armoire Transformed Twice … yes, something like this.
So I took some white paint, watered down, and applied it to the center of the doors.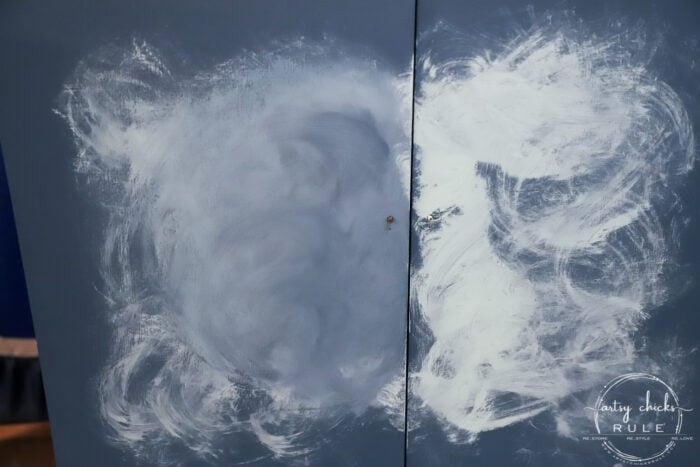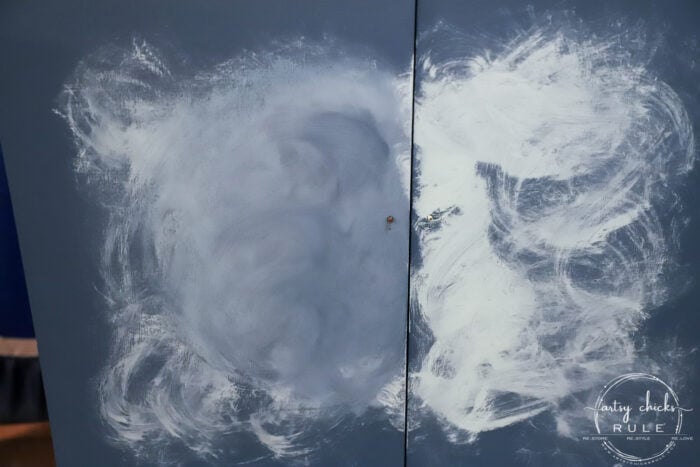 I know it looks crazy but trust me, it will be okay.
Just keep working it in and around, adding water, if needed to thin it out or lighten it up.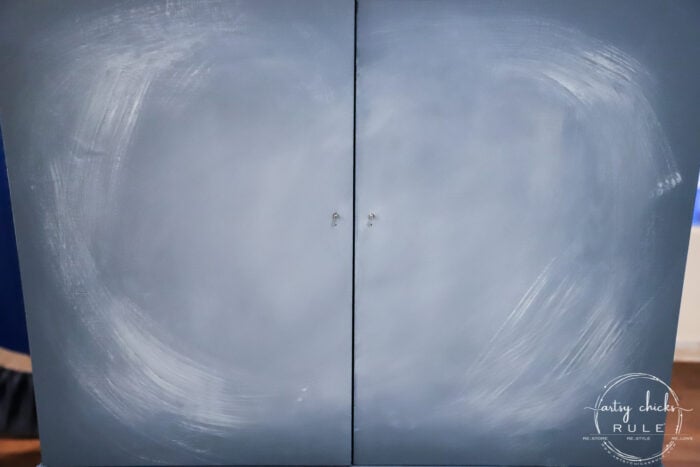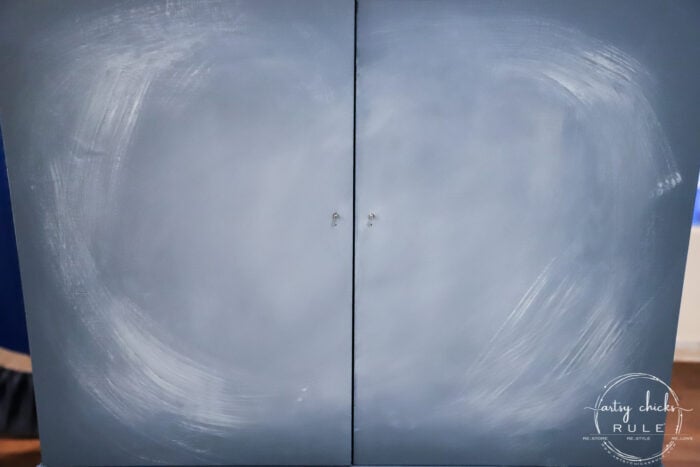 Still looks kind of crazy, but I just kept working it, lighter in the center, darker towards the edges.
I then went back in and added some watered down blue to help blend it where needed.
I didn't take a picture before I started adding the gold graphic lettering so you'll just have to wait to see it all finished to see how this part turned out. ;)
Sorry, it's so hard to do this in live time, stop, grab the camera, take photos, then go back before it all dries up and is unworkable.
I'm hoping to create a way to share these types of tutorials and makeovers with you in a whole new way soon….so stay tuned for that!!
After that was done, I decided to give the rest of this old retro TV cabinet a little more white paint….only the edges though.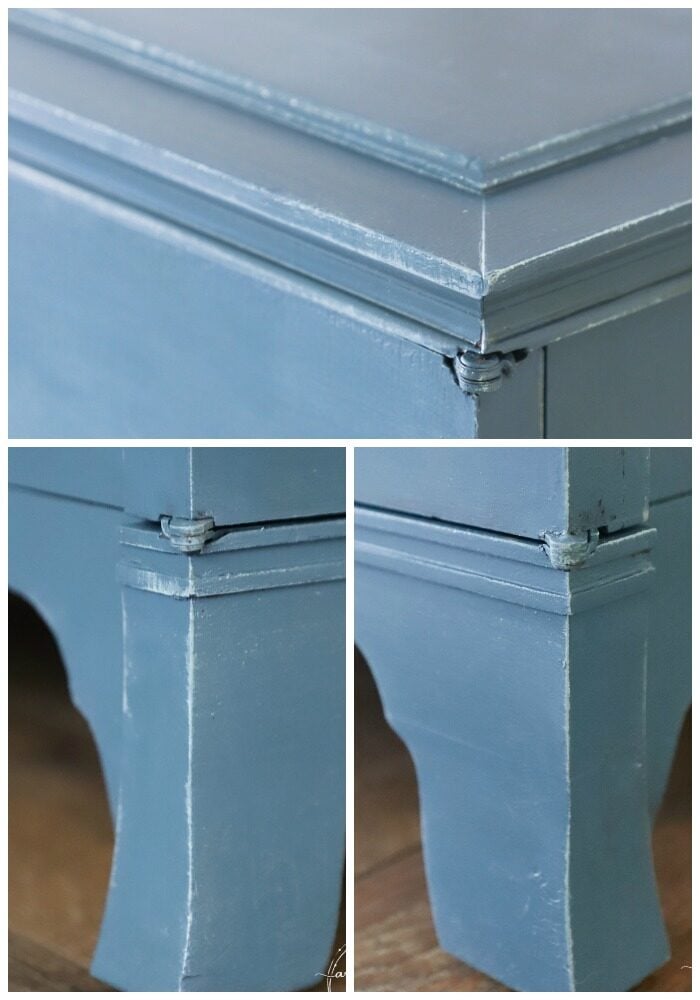 I just simply took the same brush with the watered down paint on it and lightly swiped it over every single edge.
Just a hint of white paint was all I wanted to soften this piece.
While I would love to dissect each and every photo in this collage below, it's just going to make this already long post unbearable to read!
And scroll through with all the photos so follow along below with the corresponding numbers.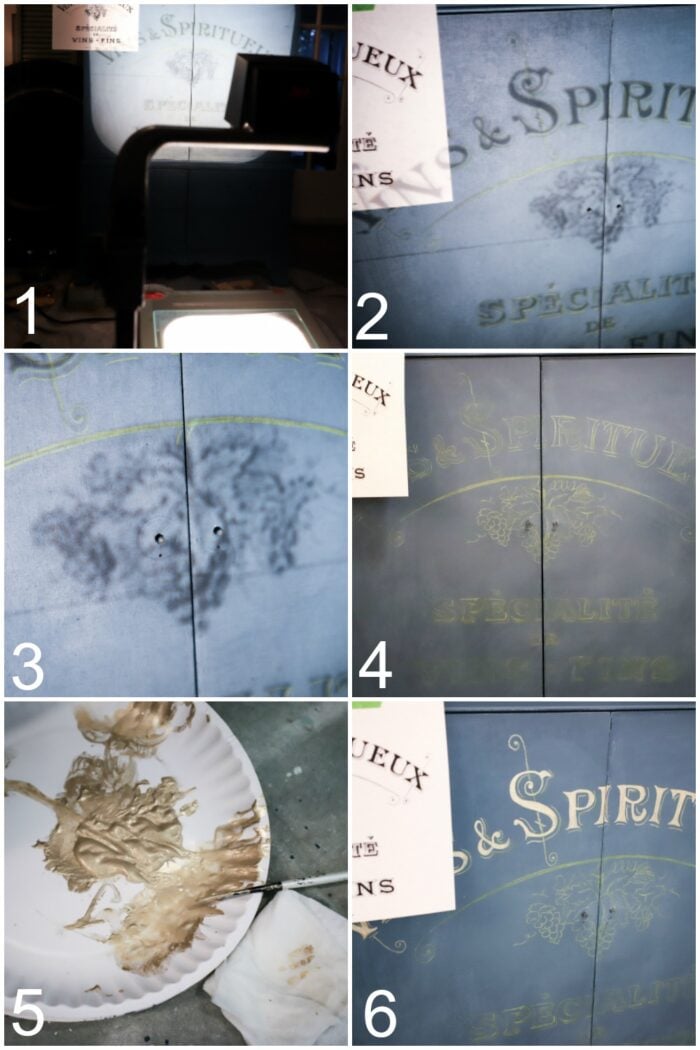 But first, let me link up the graphic I used. You can find it here >>> French "Wine & Spirits" Graphic
I used my $35 Craigslist find (over 8 years now!) used overhead projector to project the image onto the retro TV cabinet. (I printed the graphic out on clear printer paper but you can take it to Office Max and have them print it for you.
I used a yellow watercolor pencil (since I'd be using gold paint) to trace the lettering, etc.
The grapes were blurry so I printed out the graphic on a piece of paper and taped it to the cabinet so I could go by it also. I had to mostly eye those and draw/paint what I saw on the printed paper versus the overhead projector.
All transferred and ready for gold paint.
Using an artist's script liner brush and gold paint to paint in the graphic.
Painting in with the gold paint.
Don't have a projector?? Here are a few other ways you can transfer images >>>> How to Transfer Graphics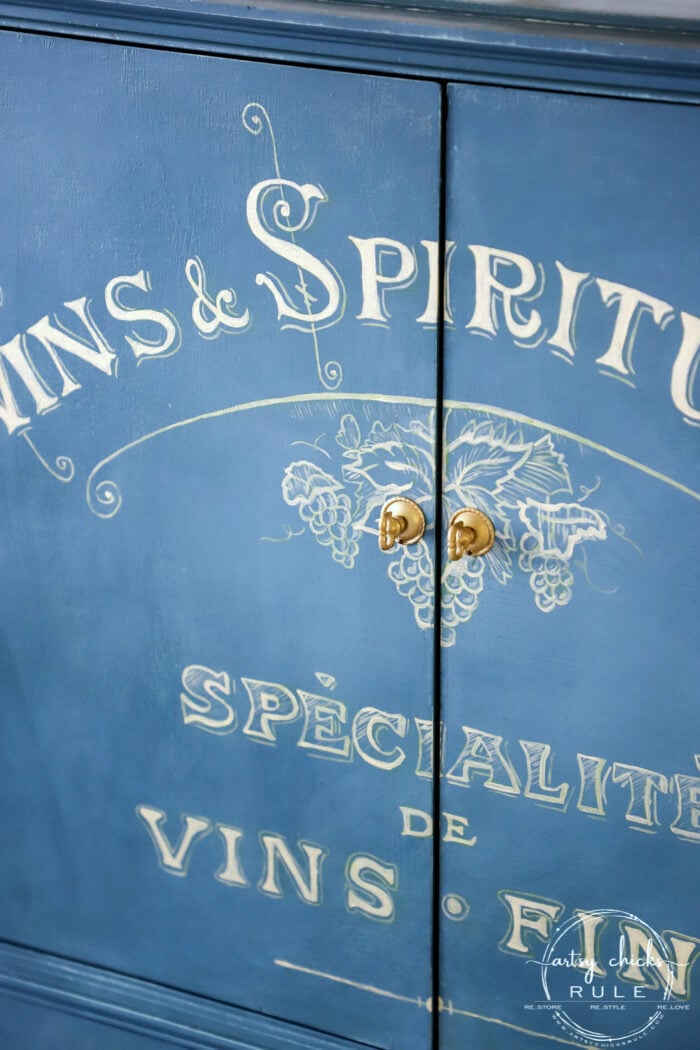 Once that was all dry, I sealed the entire piece up with 2 coats of my favorite top coat.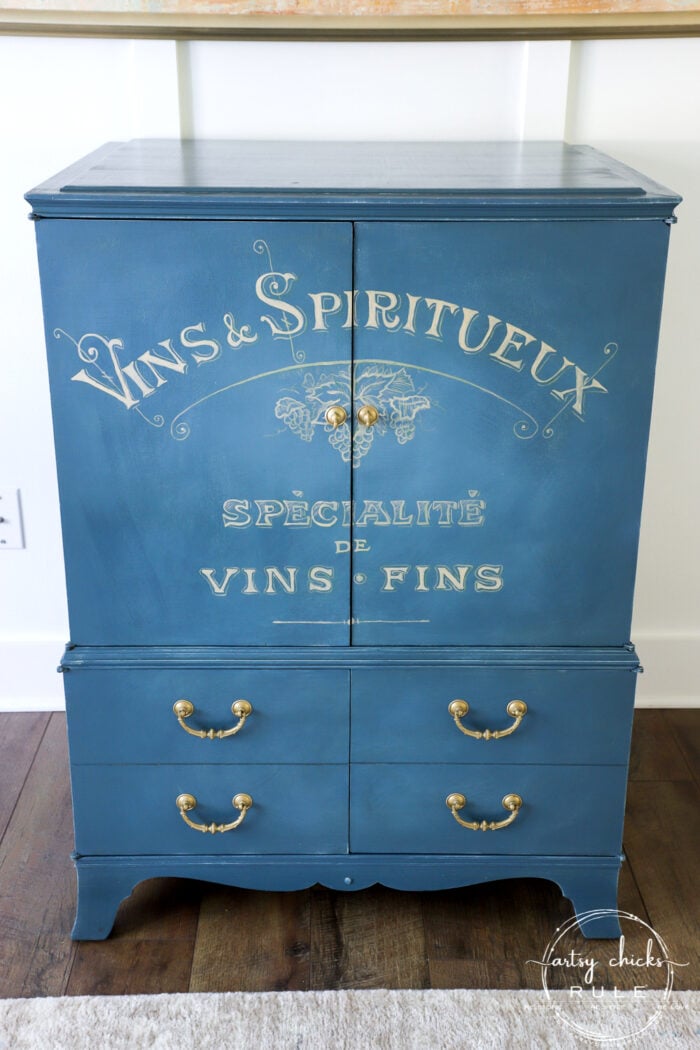 Up next…hardware.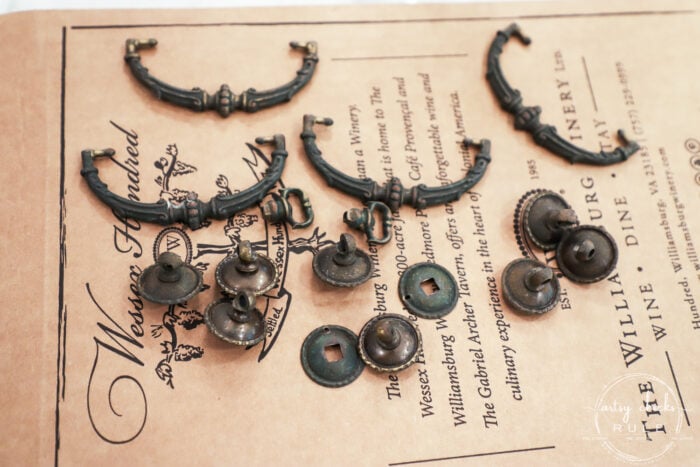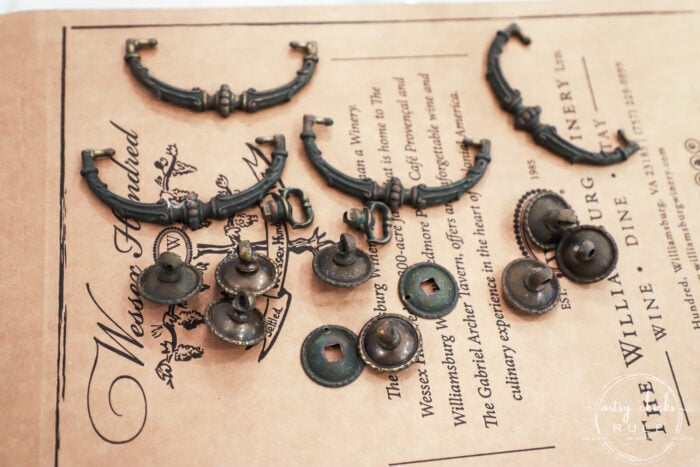 I considered changing it all out completely but actually didn't mind the way these looked.
And the top ones were perfect as they were small and would not really detract from the design there.
I sprayed them with gold spray paint and then went over them with gold gilder's paste.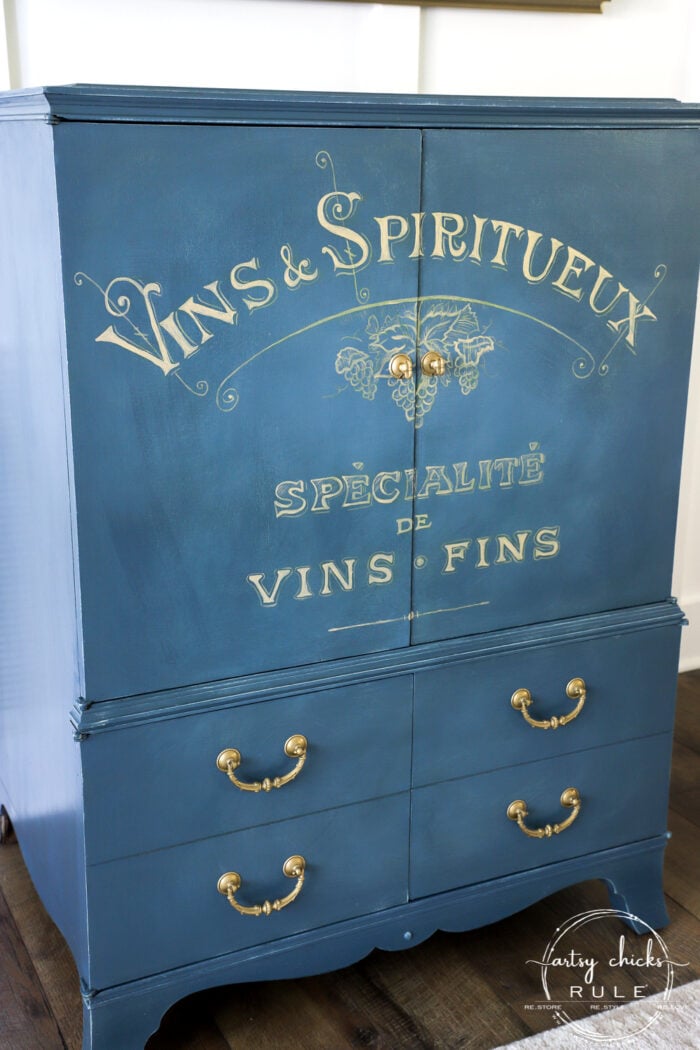 Can you see that yummy dimension I added with that white paint now?? (top and bottom)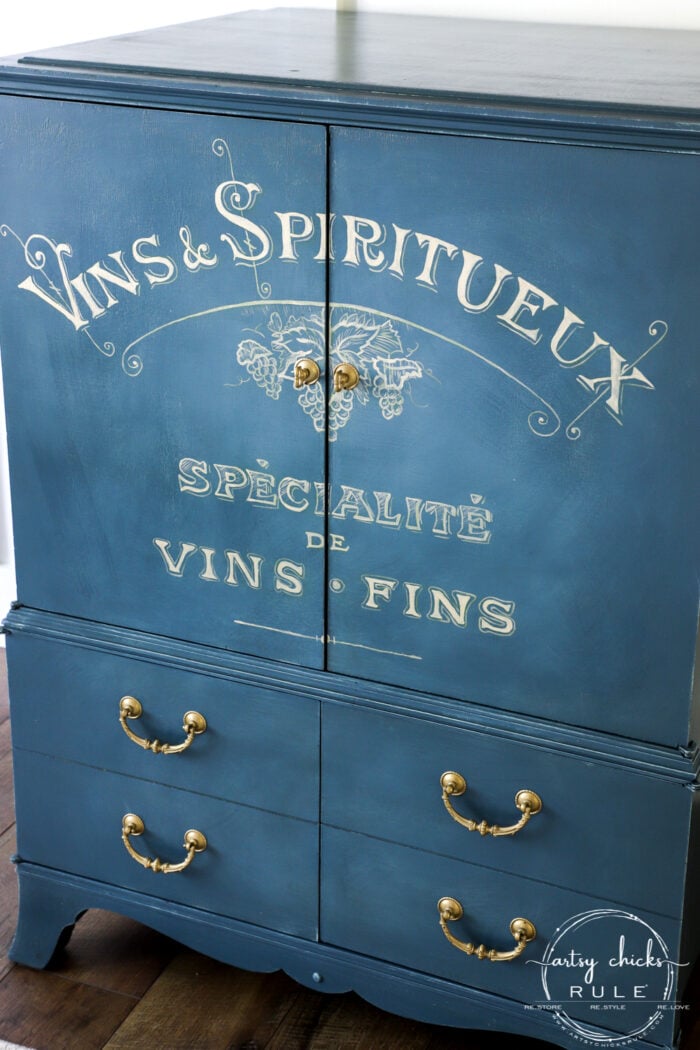 Ready to see the inside??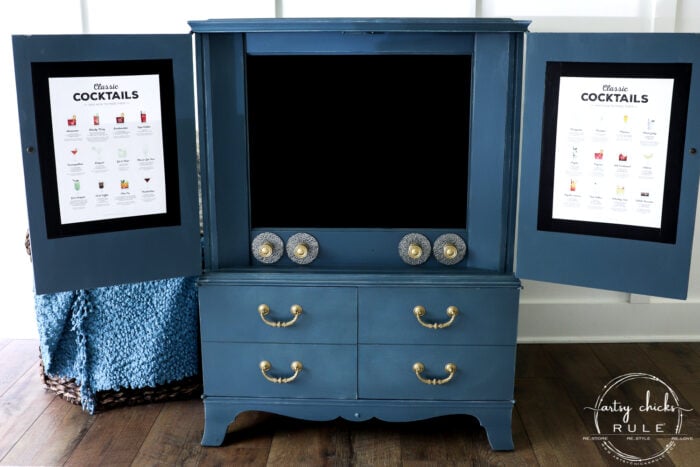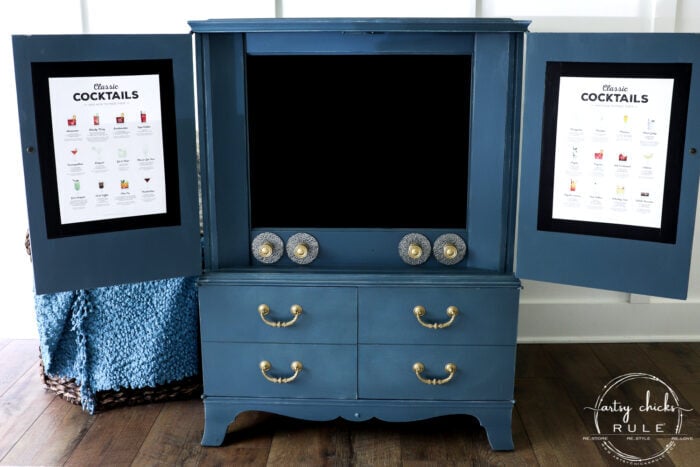 How fun is that??
Okay, so the knobs there. There were holes where the old TV knobs were that I had planned to add some cool crystal doorknobs etc., to.
But, I couldn't find any that would work. And when you close those doors, there is not much space (at all) between the door and the far right and far lift edge of the doors.
So I came up with the idea to decorate the holes up pretty with these…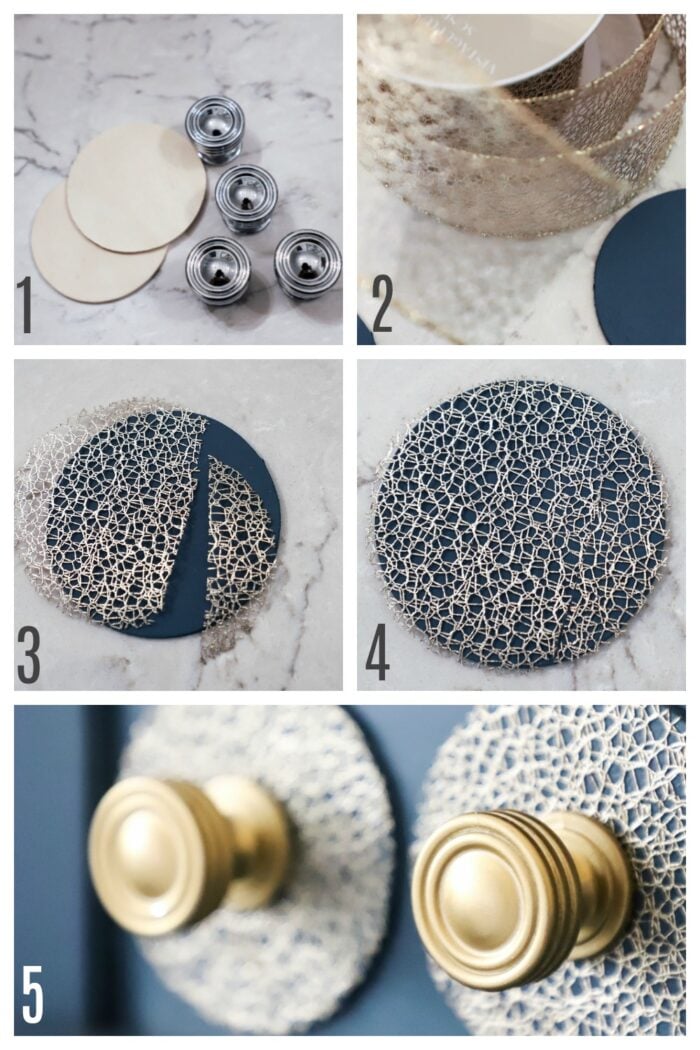 I found some round wood medallions from Michael's and got those silver knobs from ReStore cheap!
I spray painted the knobs with the same gold paint/and gilder's paste I used on the rest of the hardware. Then used this lacy gold ribbon I also found at Michael's to cover the blue painted medallions.
It wasn't wide enough so I simply cut it and used Mod Podge to glue it to the medallions.
Perfect! Once glued you can not even tell.
I glued the medallions and knobs to the retro TV cabinet with this glue.
I laid it on its back so the knobs wouldn't slide around while it was drying. (they're heavy)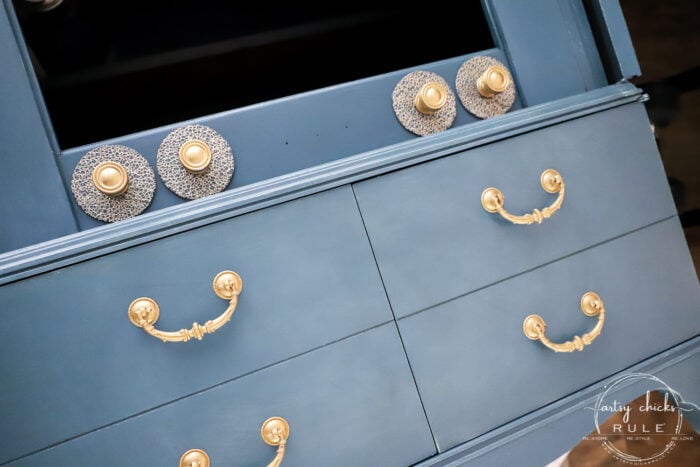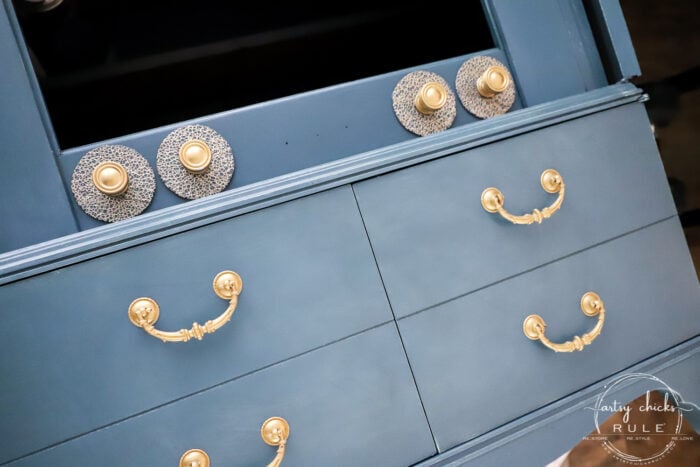 I figure the knobs keep a little of the original "retro TV cabinet" look. Right?
Now let me tell you about those recipe prints.
Well, first, you can find them here >>> Cocktail Recipe Prints
I simply purchased them, downloaded the size I needed to a thumb drive, drove down to Office Max and had them print them out in nice heavy, shiny cardstock paper.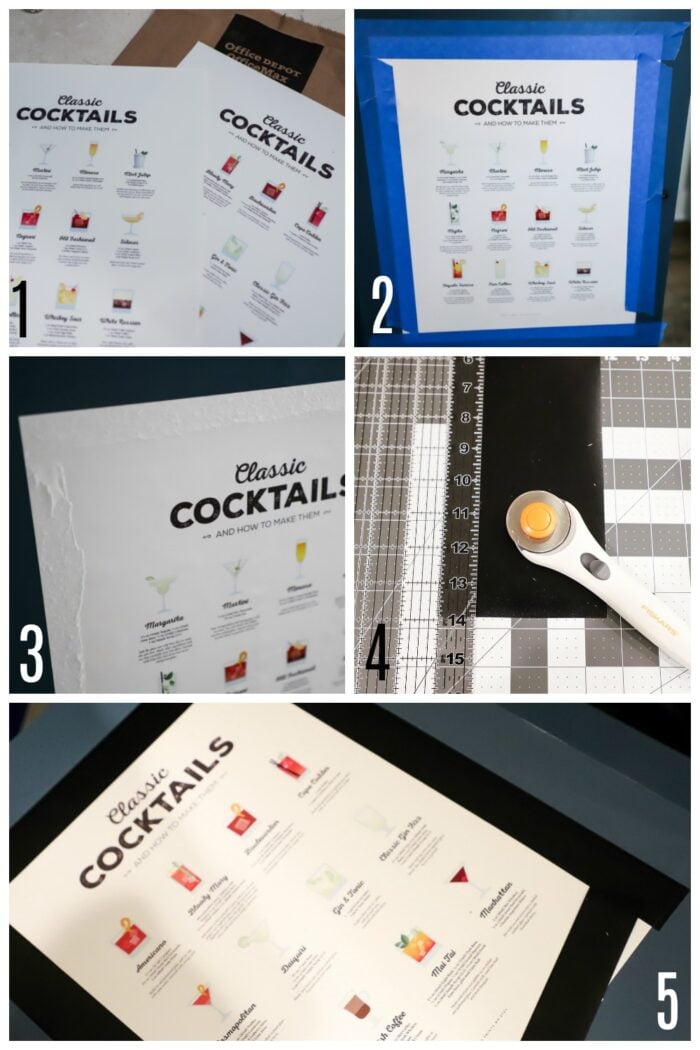 Downloaded and printed prints.
I used Mod Podge to attached them to the doors. Added a little tape to hold them down while they dried.
Oopsy…big ole nope. Not smart as the tape pulled the shiny finish off my nice, heavy paper. I underestimated how tough I guess I thought that paper finish was. Bummer.
I had planned to frame them anyway, but couldn't come up with anything thin enough. (remember I said further up that the space is tight between the door and inside of the cabinet?? And then I came up with the idea to use nice, thin vinyl to mimic a frame. I used my cutting mat to cut the precise size. (this was needed as it cuts them perfectly)
All "framed" out and done. No more ripped "oops" paper showing.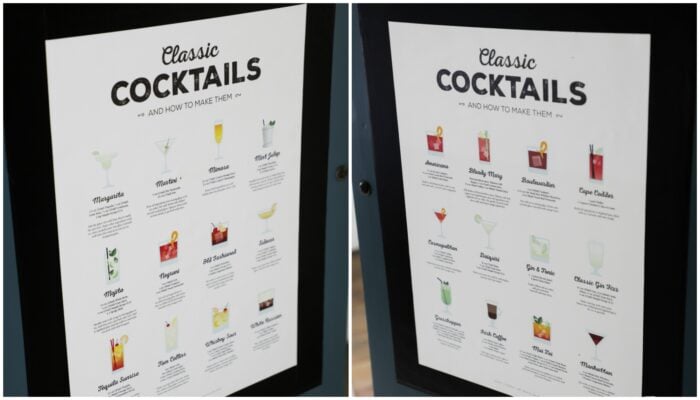 I did have to make the "frame" thicker than I had planned because of that dumb tape mistake but oh well, it all worked out okay in the end.
Plenty of room inside for some glassware on the top shelf and this pretty gold tray filled with whatever you like on the bottom.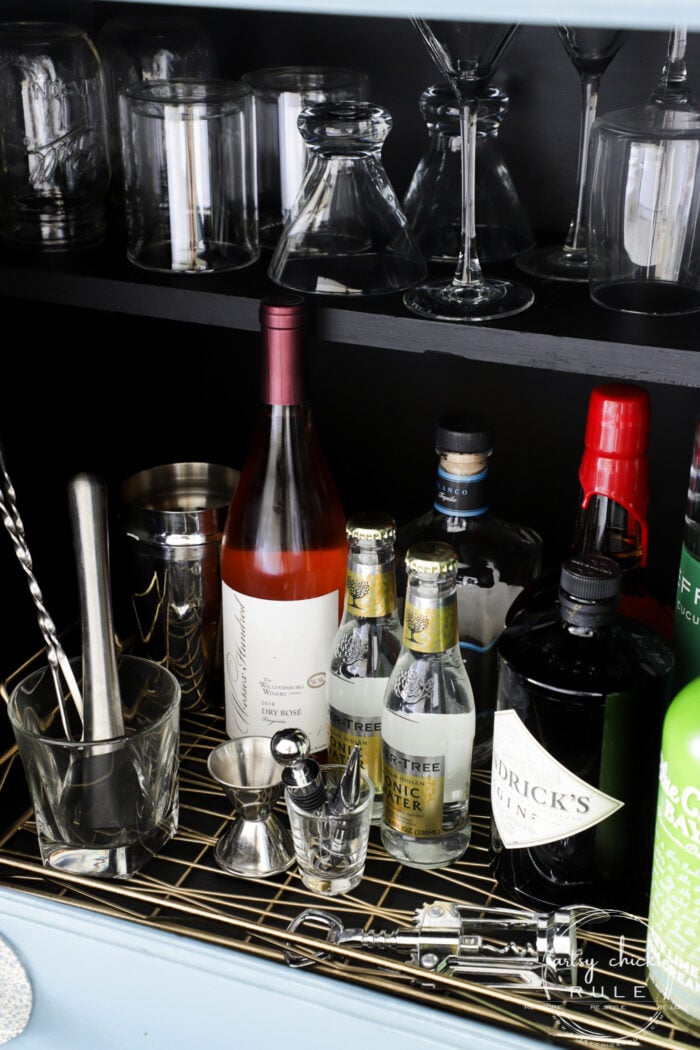 And the bottom doors open to another nice storage area…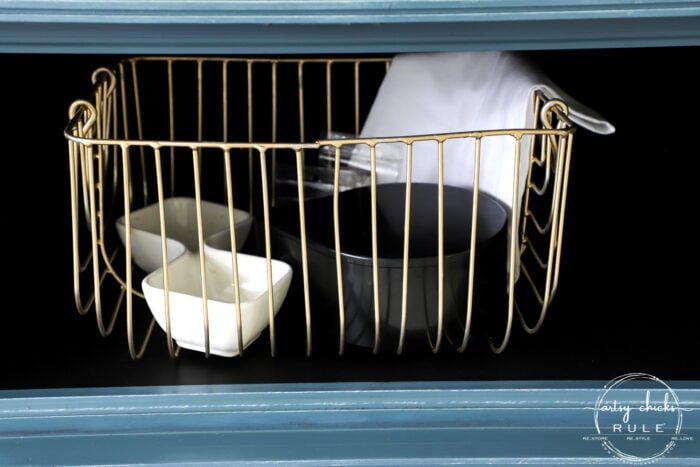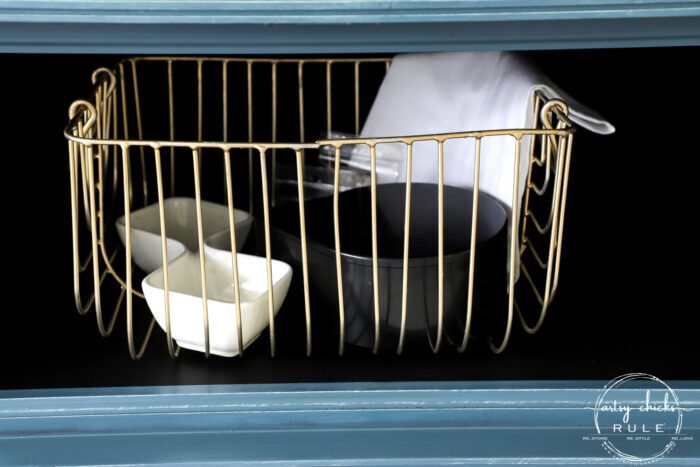 The doors on this old, retro TV cabinet fold all the way back to the sides so it is great for keeping them out of the way when you have company over or if space is tight.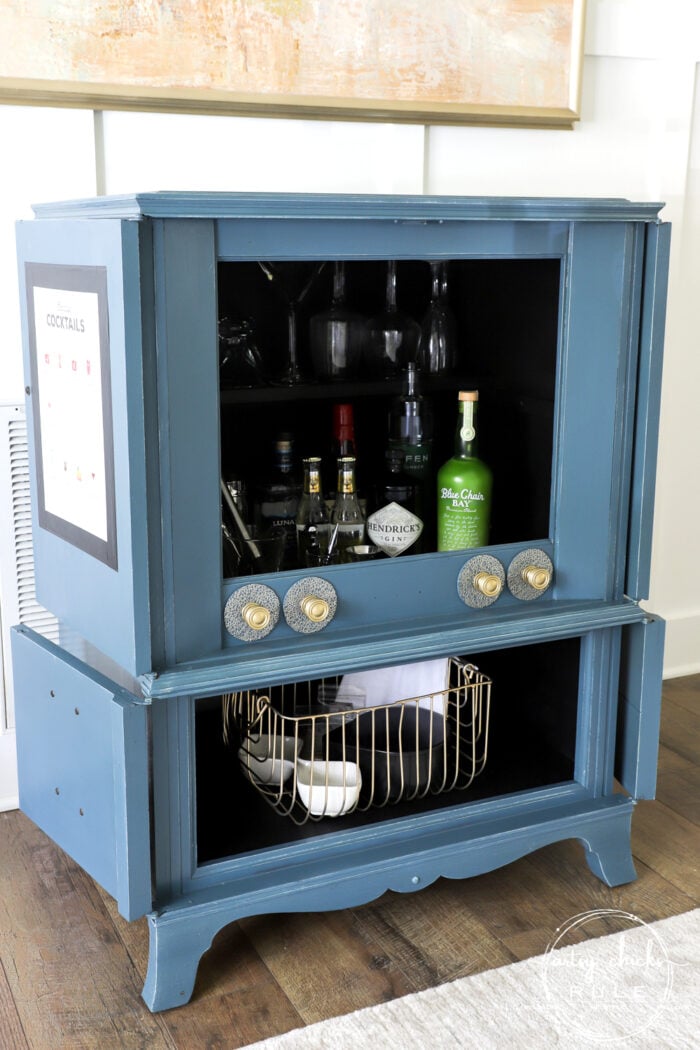 Just pull the door around when you need a recipe to make that special drink.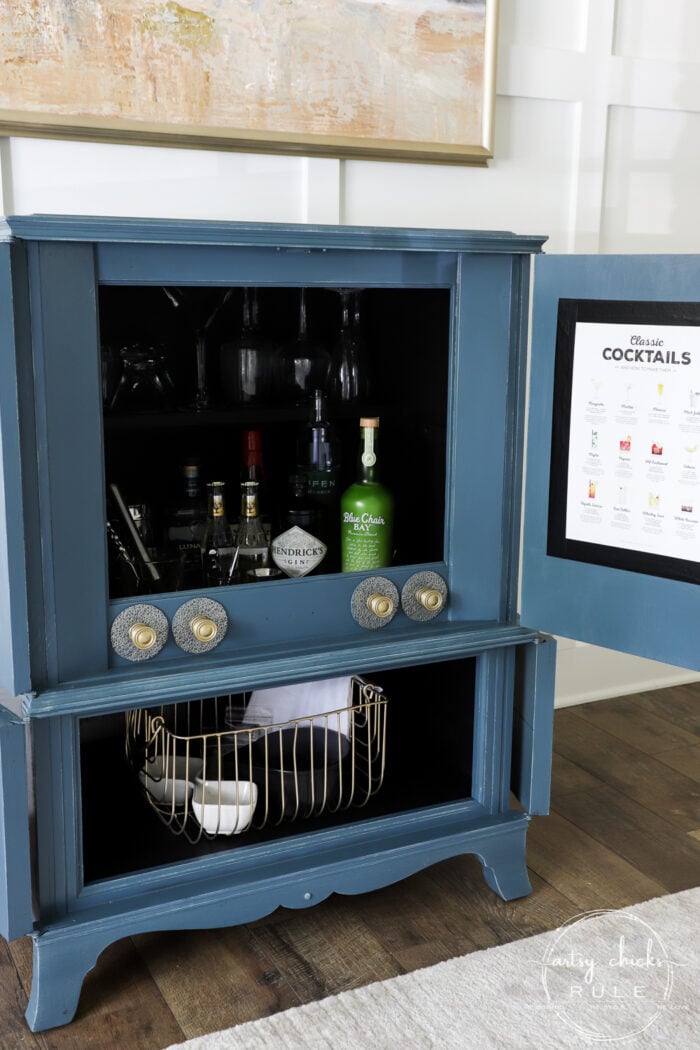 Use the top of the bar cabinet too, it's the perfect height.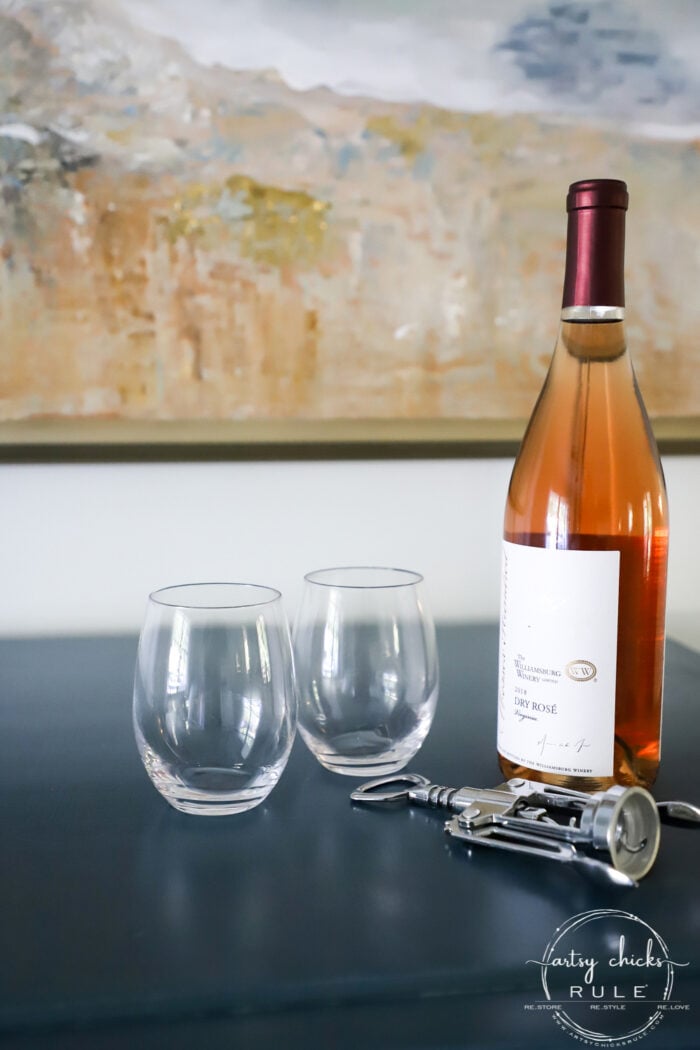 Now a few more finished photos…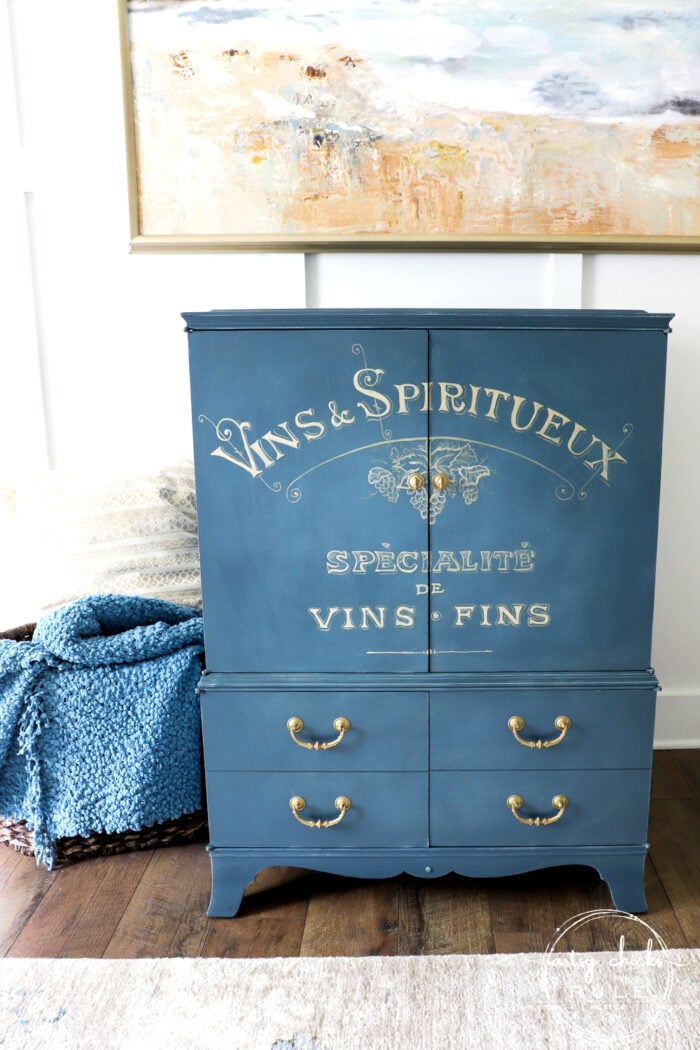 I totally forgot to mention that I have used this graphic before. Have you seen it?
Do you remember which piece??
In case you don't, it's this one right here >>> Estate Sale Sideboard
Go look if you haven't seen it! It's the same….but totally different. hee hee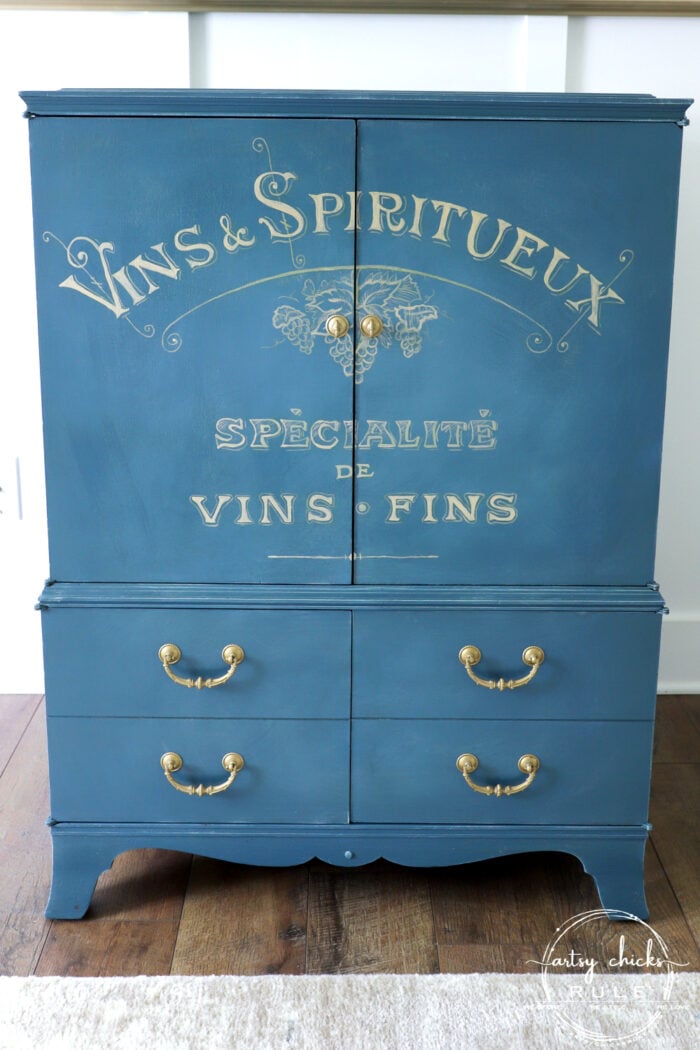 Up close…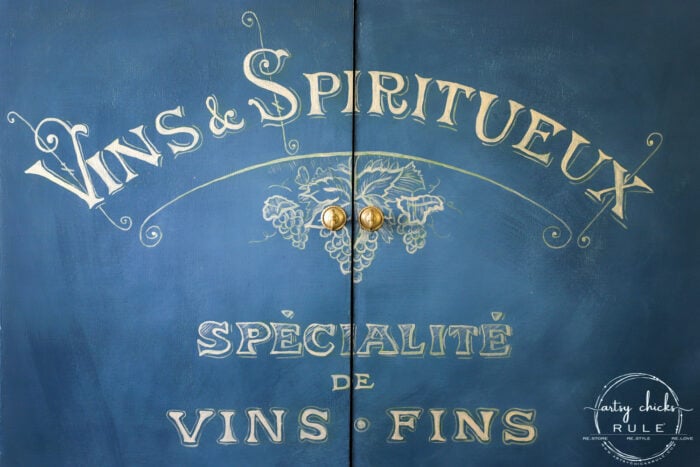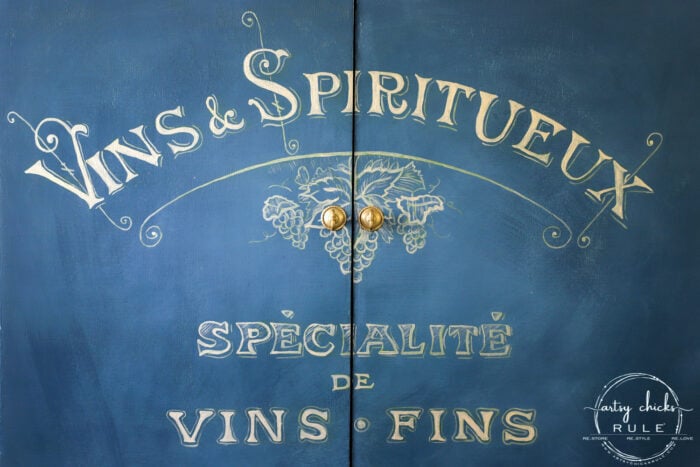 I love the gold and blue. Maybe I should've called this my "glam" retro TV cabinet turned bar cabinet.
Either way, it's a fun one and one I am SO glad to be done with!! haha…no really. ;)
A labor of love was this one for sure. And I am gifting it to my daughter as she moves into a new home she is very excited about.
This will go perfectly with it and I can't wait to see it there.
Be sure to pin this one to save it!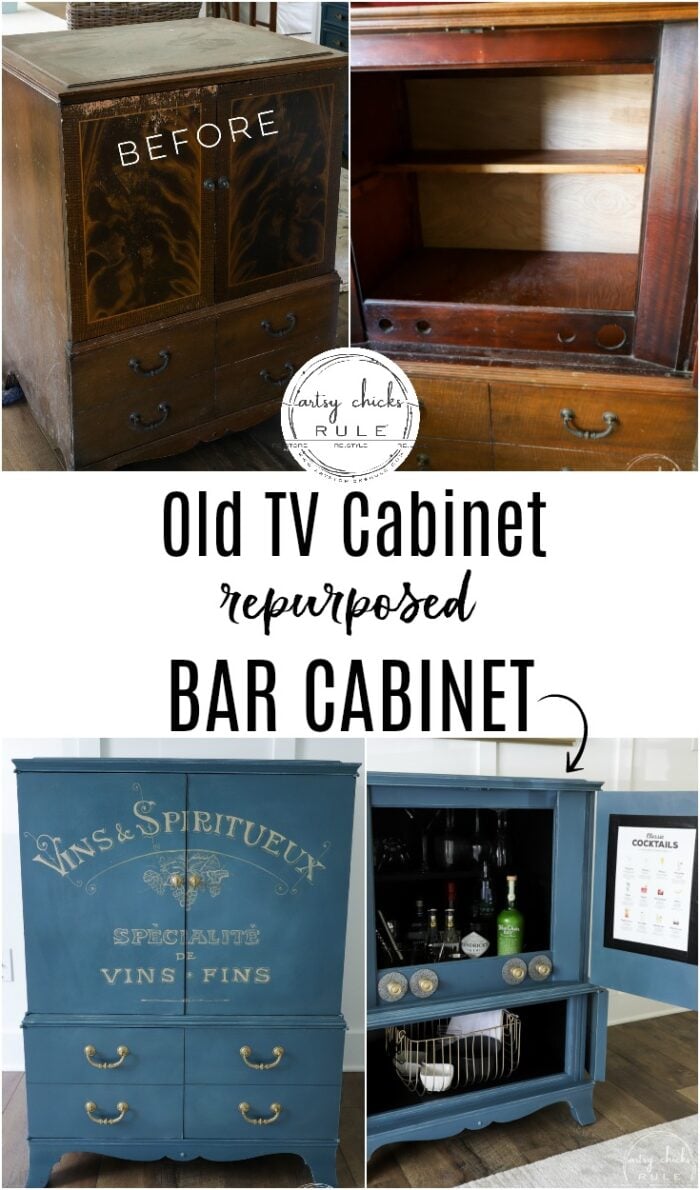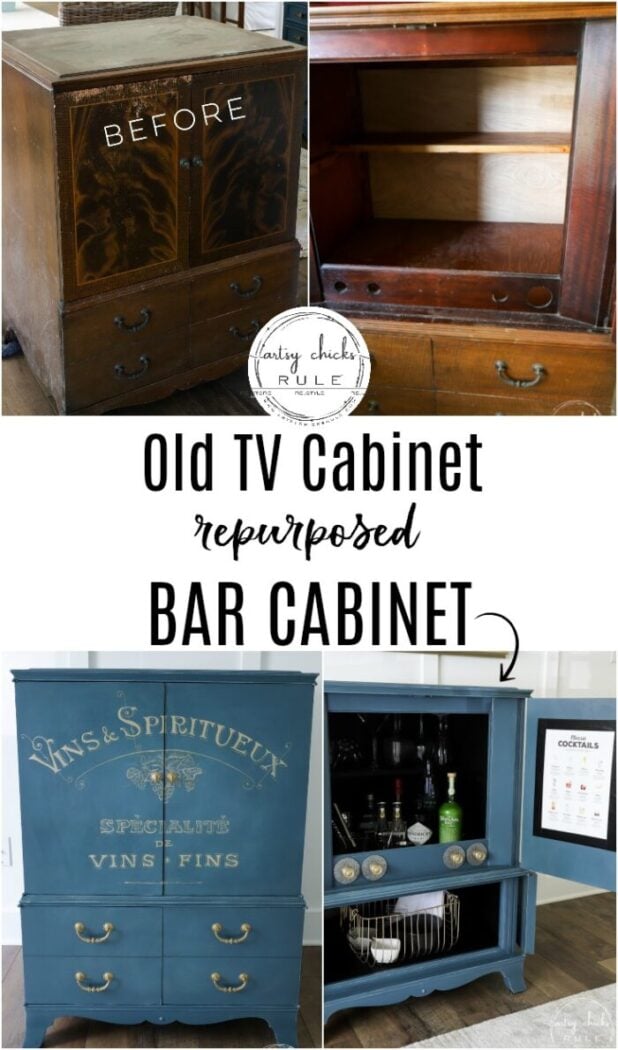 Whew! This one took some time and I had a few hiccups along the way but I think it turned out pretty well.
If you ever come across a retro TV cabinet like this, bring it home and turn it into a designer storage space for whatever you like!
Many uses for an old piece like this. I love that we are able to use it again instead of it ending up in the landfill.
It's all glammed up and ready to be re-loved. :)
Be sure to stop back by next week when I share what I did to this!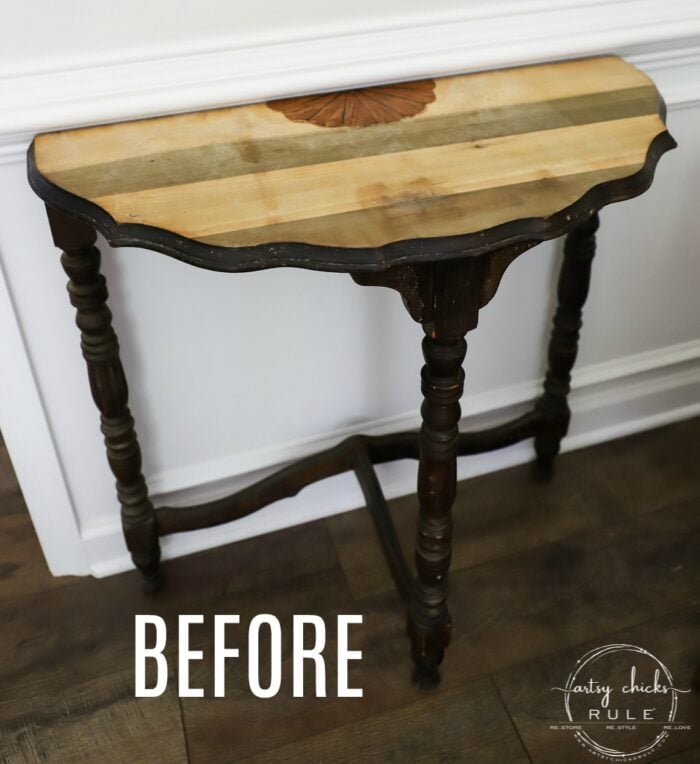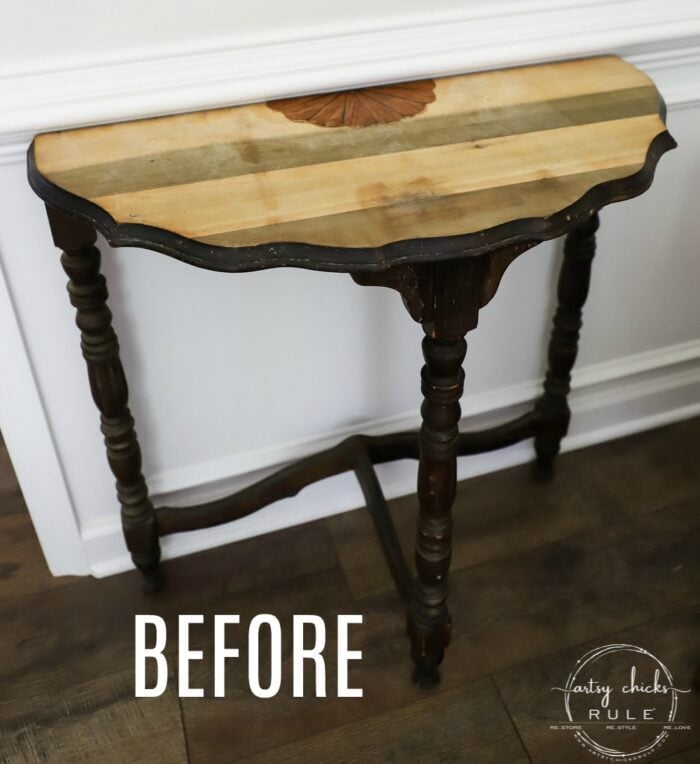 UPDATE!! See it now, here!!
Happy weekend my sweet friends!!
xoxo