How To Tile A Table Top (or other furniture & decor, the easy way!)
This post may contain affiliate links. Please see disclosures here.
Tiling doesn't have to be hard or intimidating. Let me show you how to tile a table top (or any furniture or decor piece) the simple way!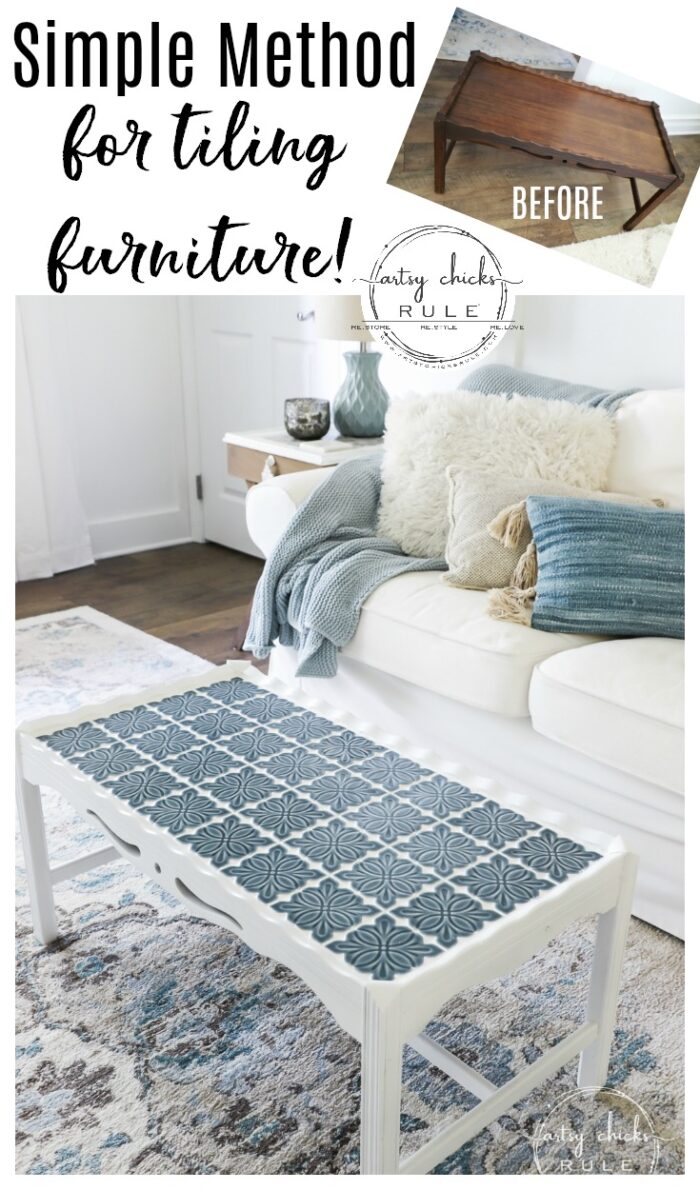 Hello sweet friends! More tiling in store for today. :)
You guys know I'm a sucker for a tiled surface. I've done quite a few tiled projects around here.
And let me tell you, if it weren't fairly simple to do…I wouldn't do it! lol
I like easy.
No one has time for complicated.
Although I have found myself with a complicated makeover from time to time. But hey, that just goes along with this type of work.
Today's makeover was simple though. Not even kidding. You can do this.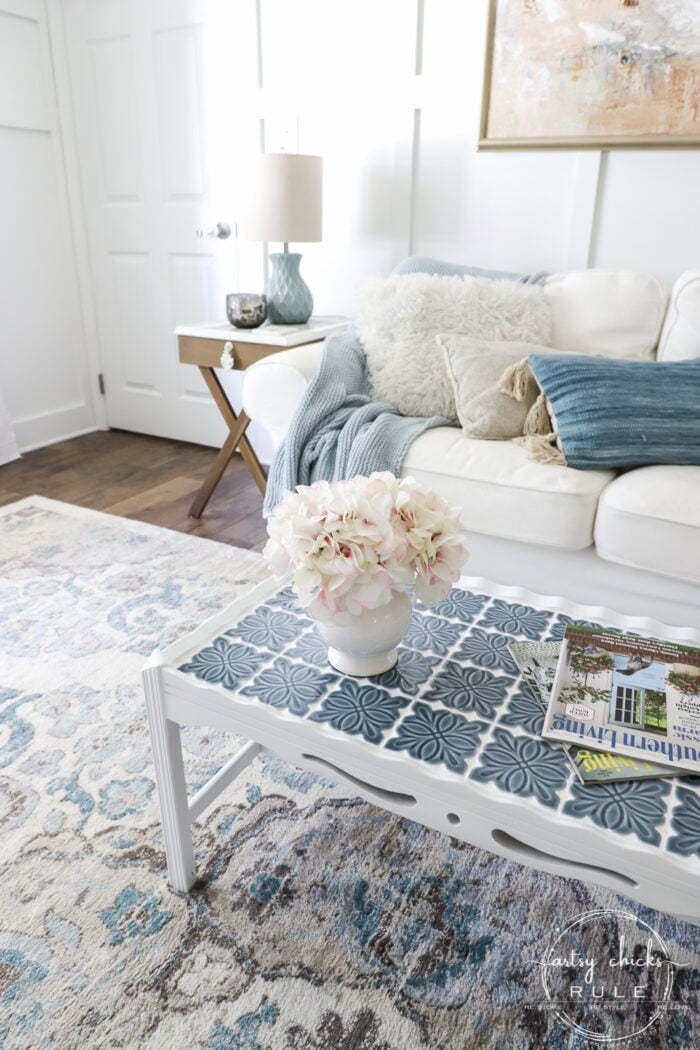 How To Tile A Table Top (and any furniture or decor item…the easy way!)
This makeover started with this gorgeous blue tile I found…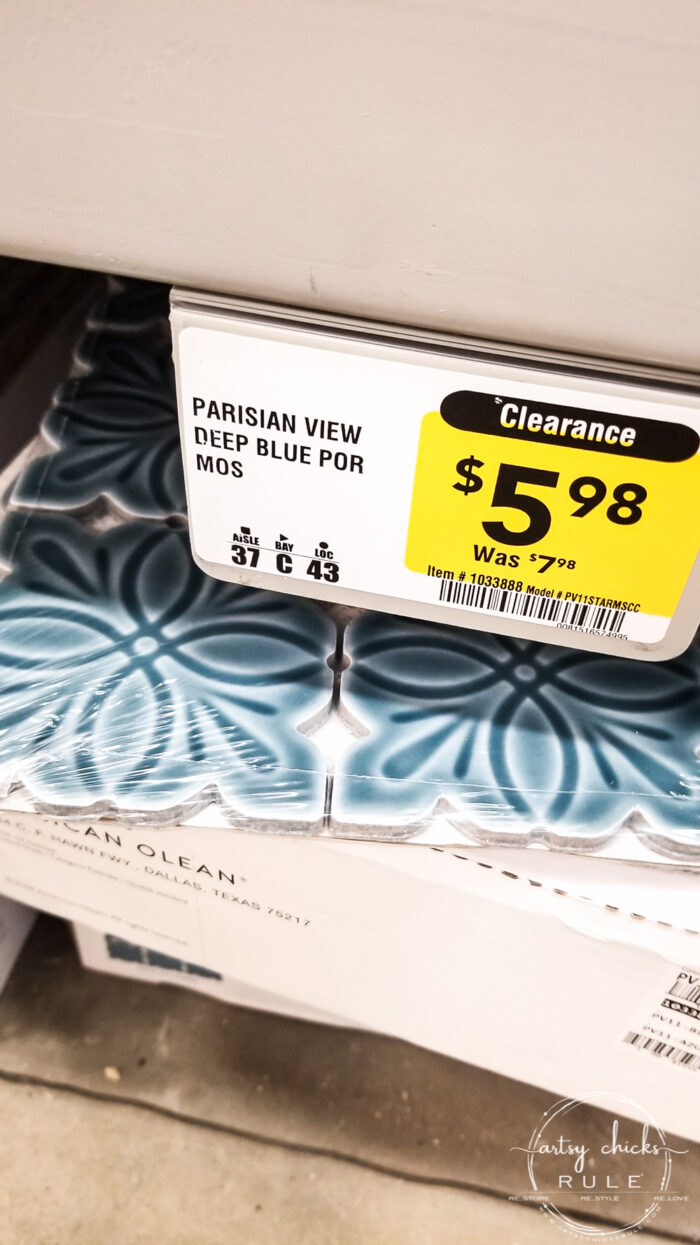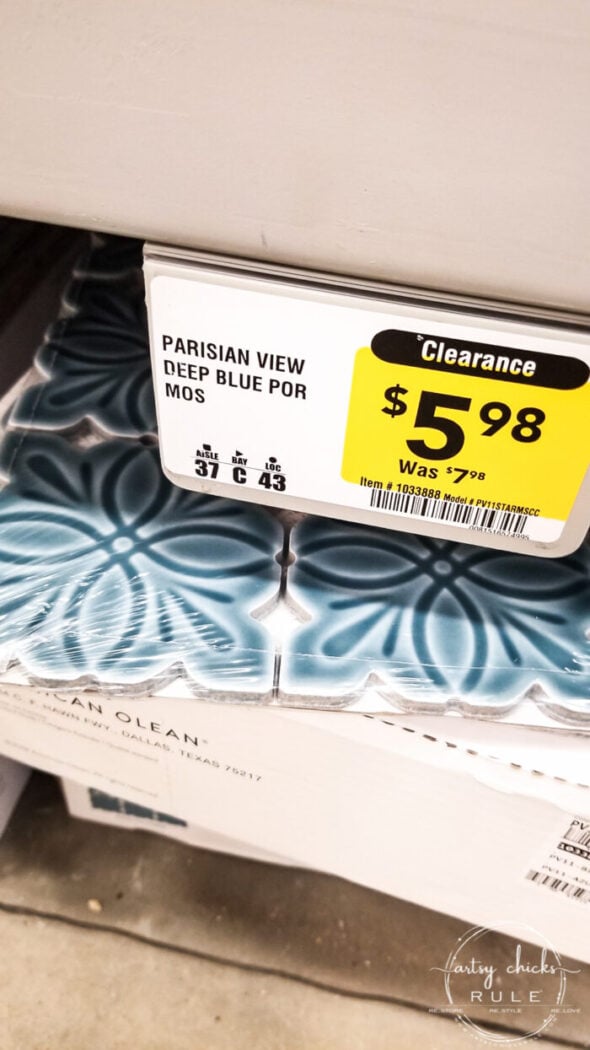 Awesome price at Lowe's… but on clearance…boo.
No way could I pass that up.
As a matter of fact, when I saw it I knew exactly where I'd be using it…on this table…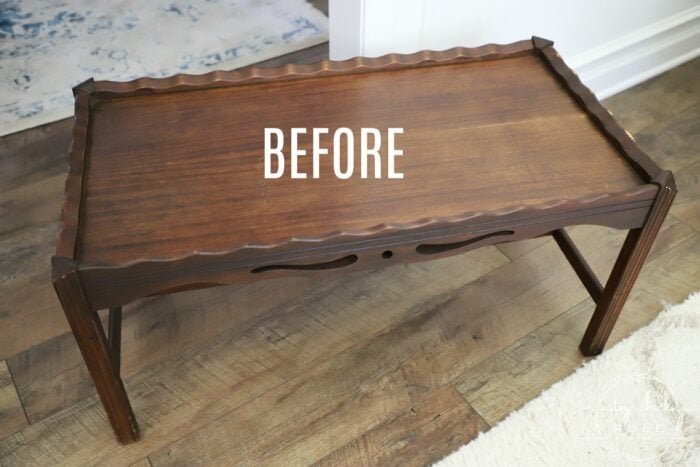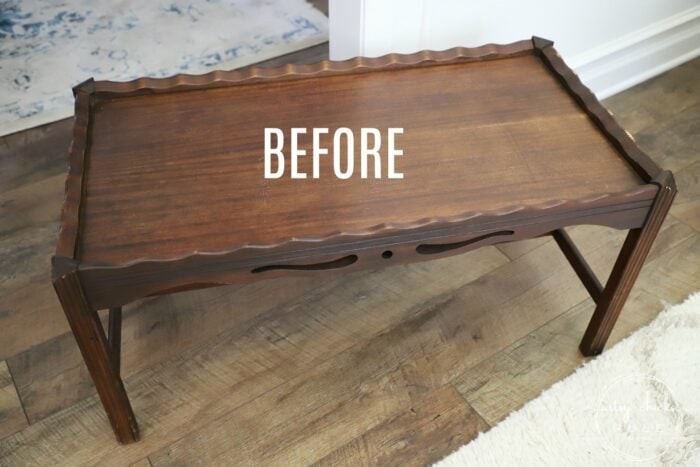 I picked up this table at my local ReStore recently..$25.
I've been finding quite a few nice things there lately. Luckily we now have a very large store here. The one we had previously was small and didn't have a whole lot.
I originally wanted to try to save the wood grain pattern on top but when I saw that tile I knew it'd be perfect for this table.
I cleaned up the table and then sanded here or there where there were bumps or scratches, etc., for a smooth finish.
Then I took it outside and gave it one or two quick coats of spray with primer.
I actually calculated out the size of the table top and size of the tiles and knew I'd not have to cut a thing.
That is when your tile job gets even simpler.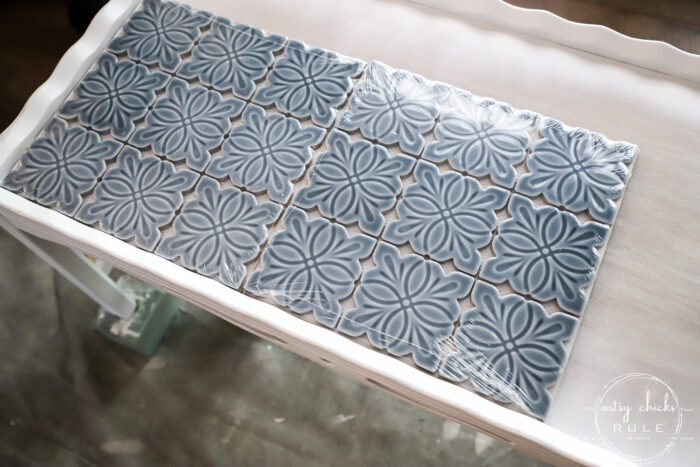 They fit absolutely perfectly.
BUT I've also fudged a little in the past if they don't. You can move and add space to make things fit if they don't.
I did that exact thing on this blue and white tile project I did a while back.
Next, I opened the packaging and laid them all out where they would go.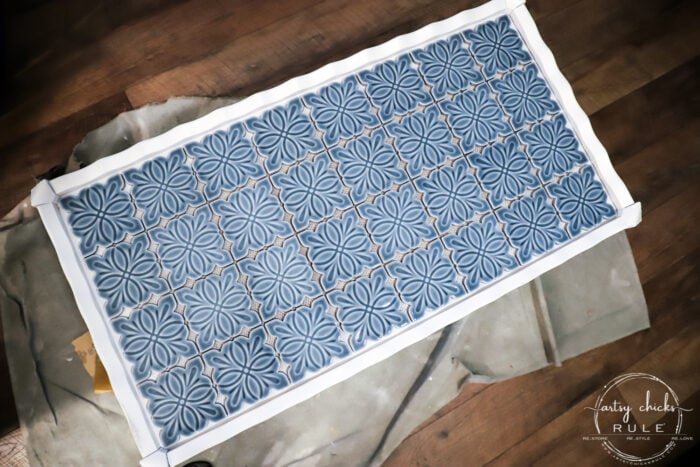 Perfect!!
Then I went piece by piece (some of the "pieces" are 9 pieces, etc) and added glue to the backs. (check the links in the "Materials List" box above for all the products I used for this project).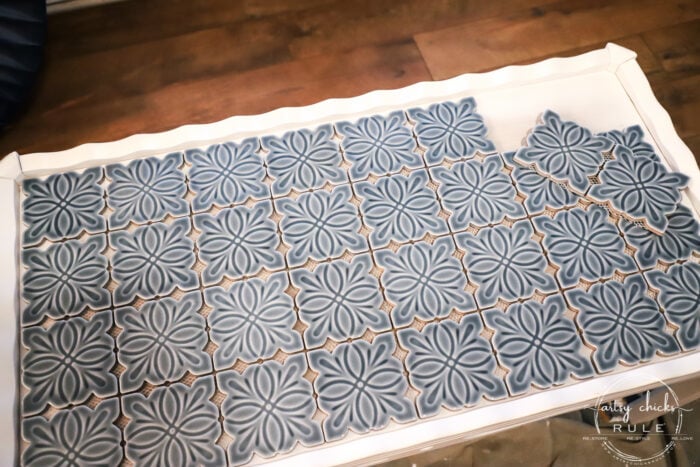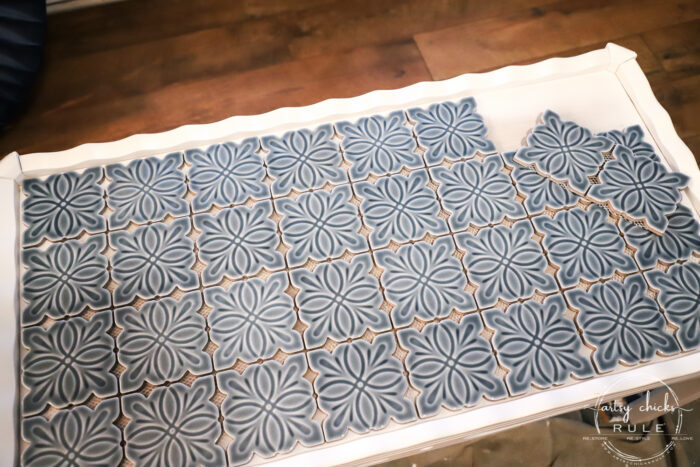 So simple.
You don't have to use a lot of glue. I just did dots on each corner of each tile, and one bigger one in each center.
That's it! That glue STICKS. I think I've said that before. ;)
But it really does.
So much easier and neater than messing with mortar and all that. Especially on furniture, decor, etc.
I let that sit for 24 hours to get good and dry/cured.
While I was waiting for that to dry, I painted the base with a coat of white paint.
Then I mixed up my grout per the box instructions and added that. Follow the instructions I gave in >>> this post.
And you are done with the tile!! Simple, y'all. Truly.
And you have a beauty on your hands afterward.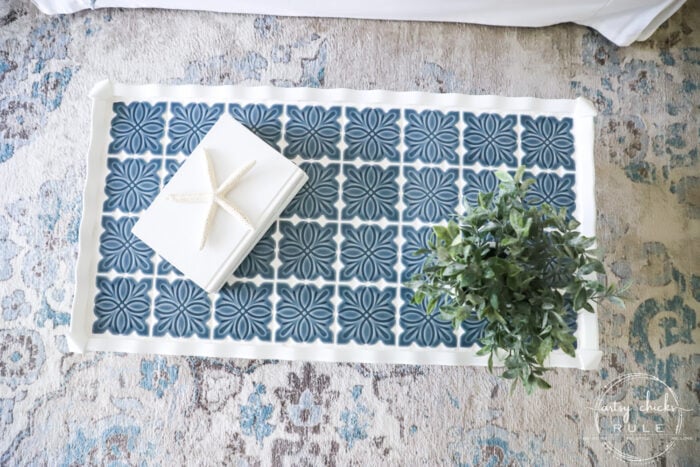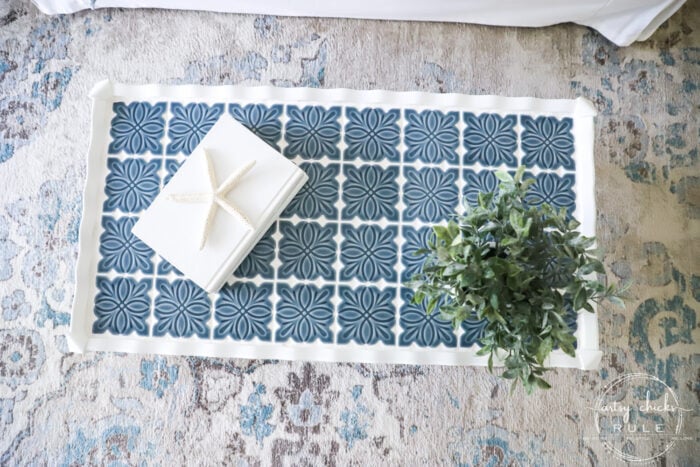 Edited to add a link to the rug, here. (I love this rug and it is a steal!)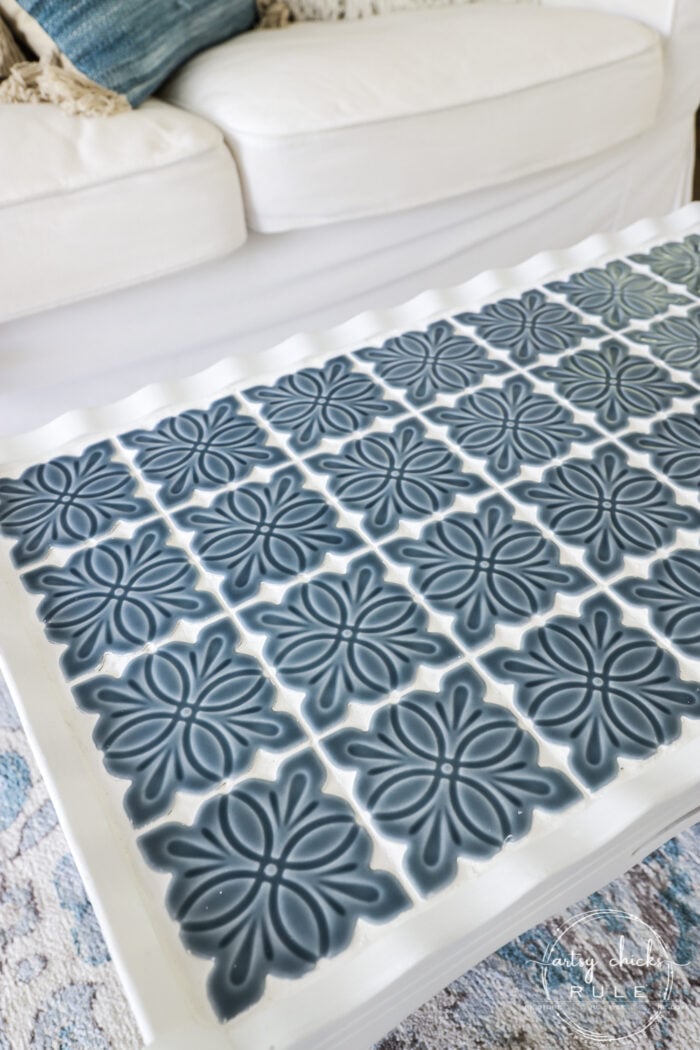 The last thing I did was cover the entire thing with a top coat, including the grout.
They have grout sealers you could use but why bother with that? The top coat does just as well a job for these purposes.
You do have to go back over it with a damp paper towel to remove any top coat from the tiles though. (I'm kinda lazy and just brushed it on each line of grout quickly, not worrying whether I was getting it on the tiles. ;) )
But it comes right off. Just wipe several times and buff to make sure it's all gone.
And that's how to tile a table top, the easy way!!!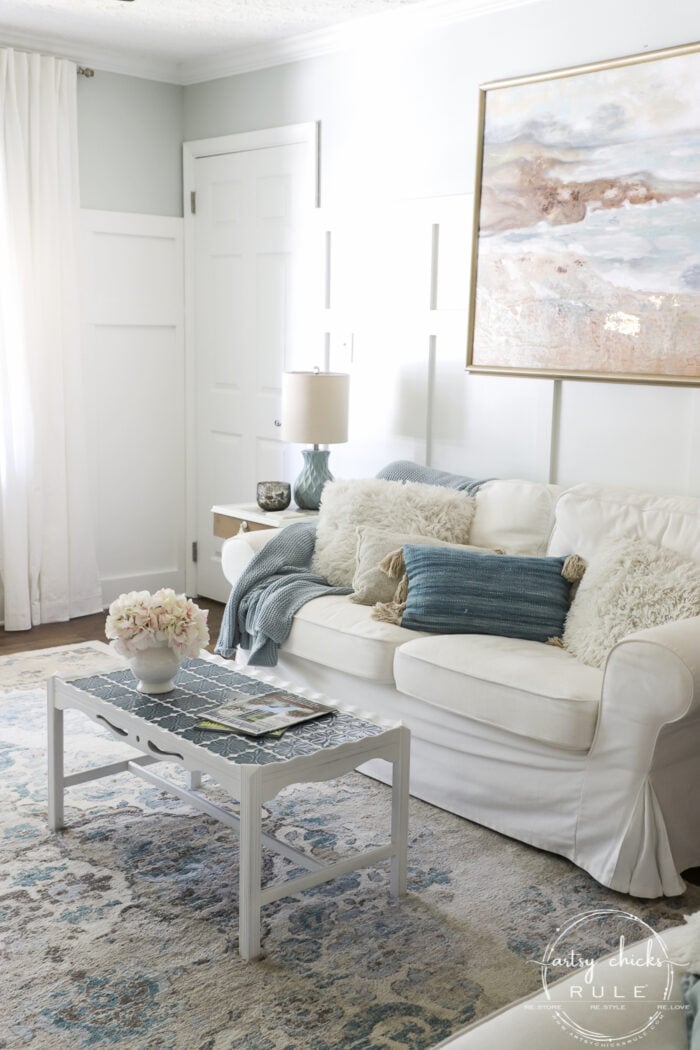 I won't be using it in here but it sure does go very well in this room.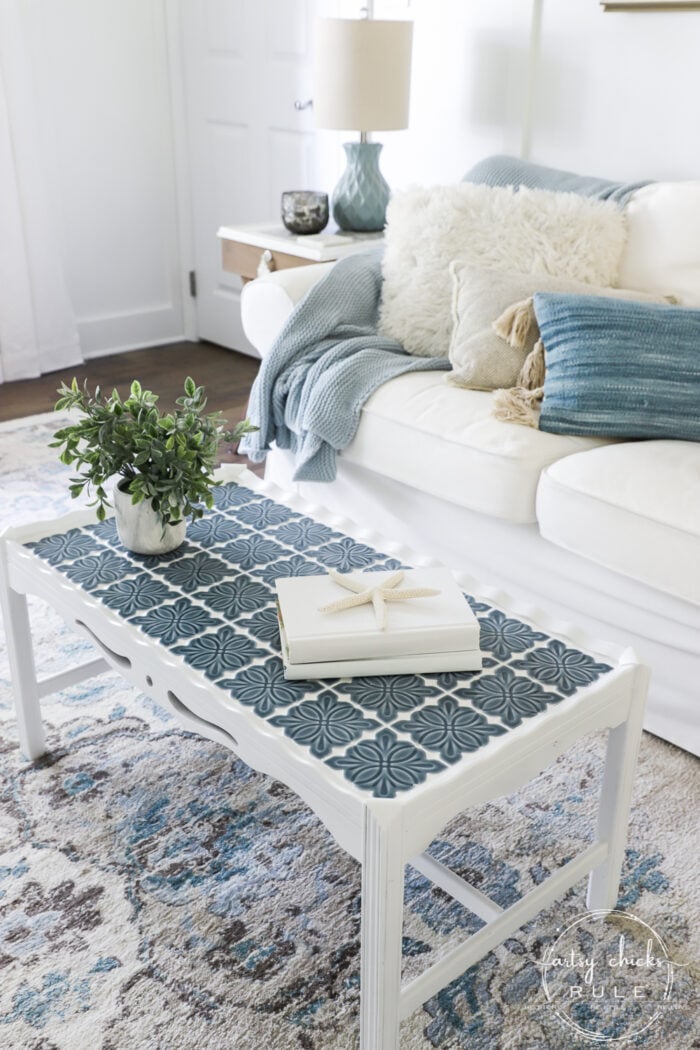 Want to see some of these projects in "live" time? I shared about this tile as well as when I was actually doing the project in my "stories" over on Instagram.
So hop on over and follow along with me on INSTAGRAM. Besides this one, I'm always sharing in my stories as I'm doing projects, finding new furniture, fun finds….just all the day to day behind the scenes.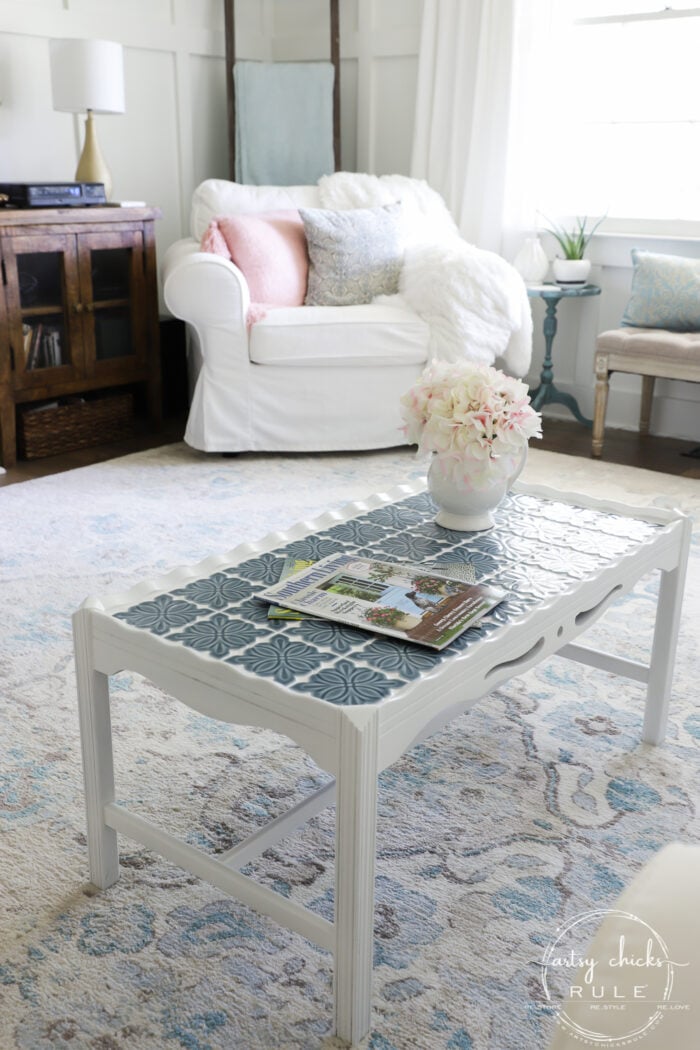 Those blue tiles are just gorgeous. I can't believe they are on clearance. What a bummer.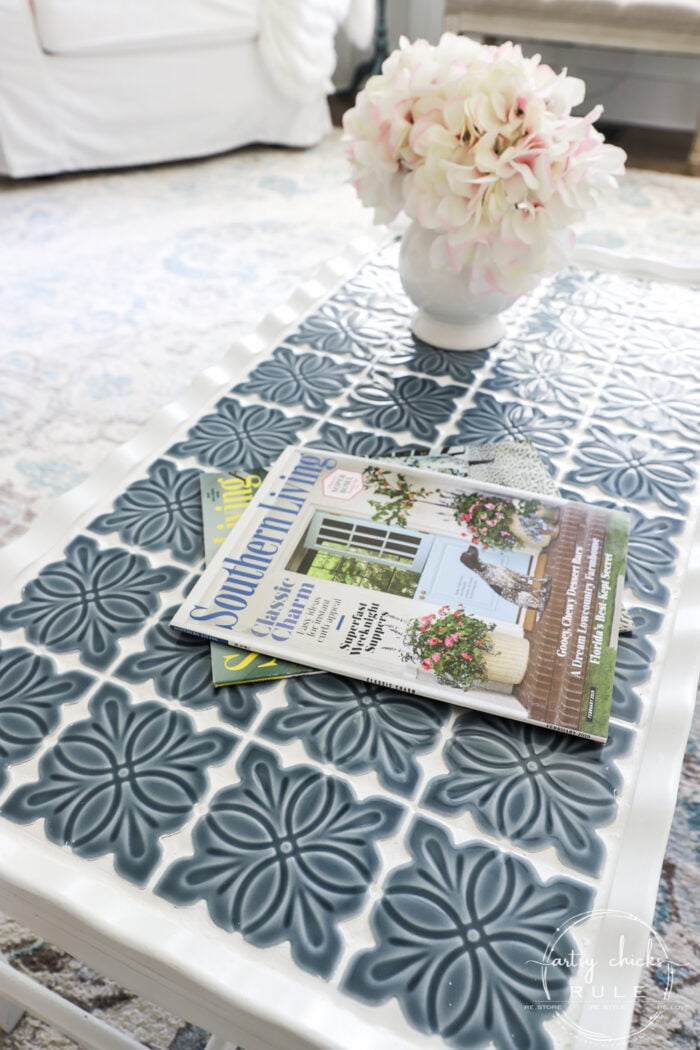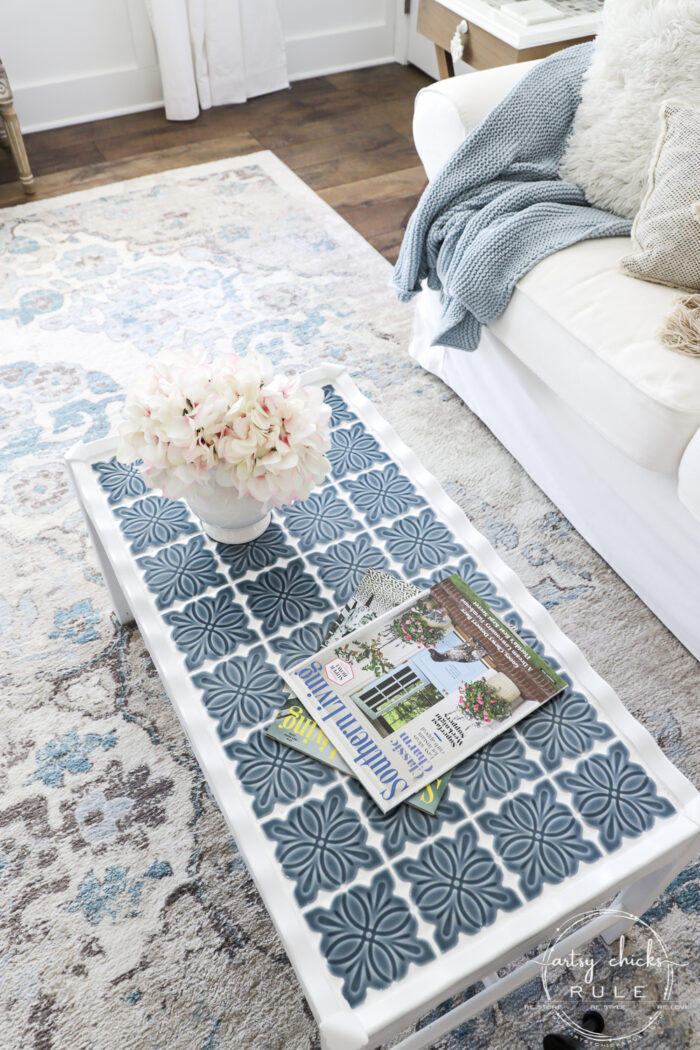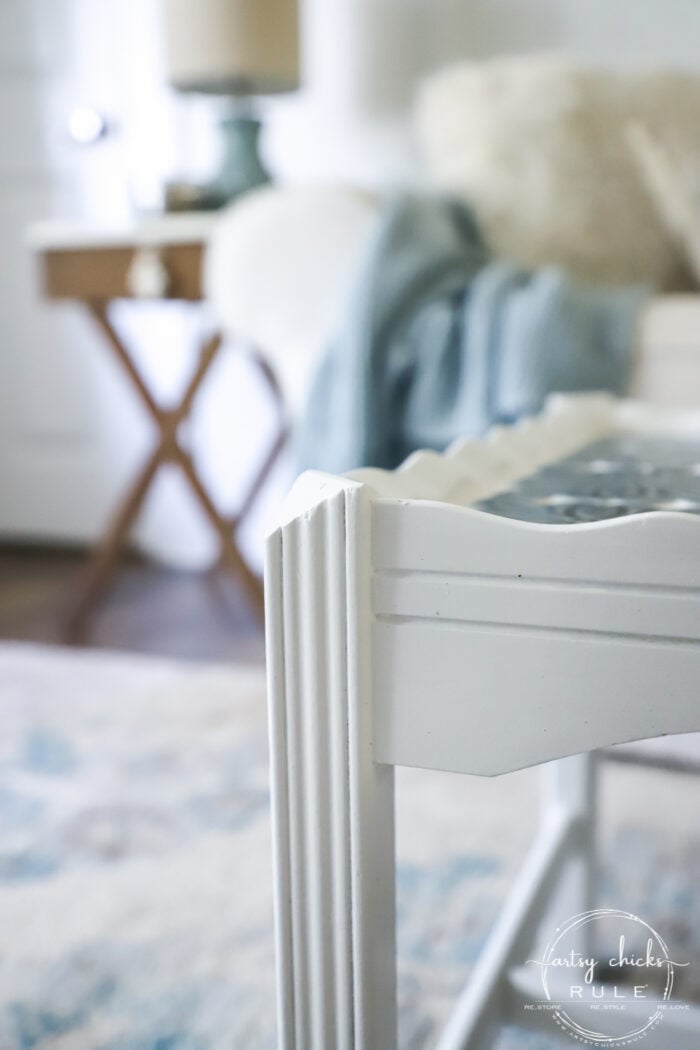 There's just something I love about blue and white together. Especially this somewhat darker blue.
So striking.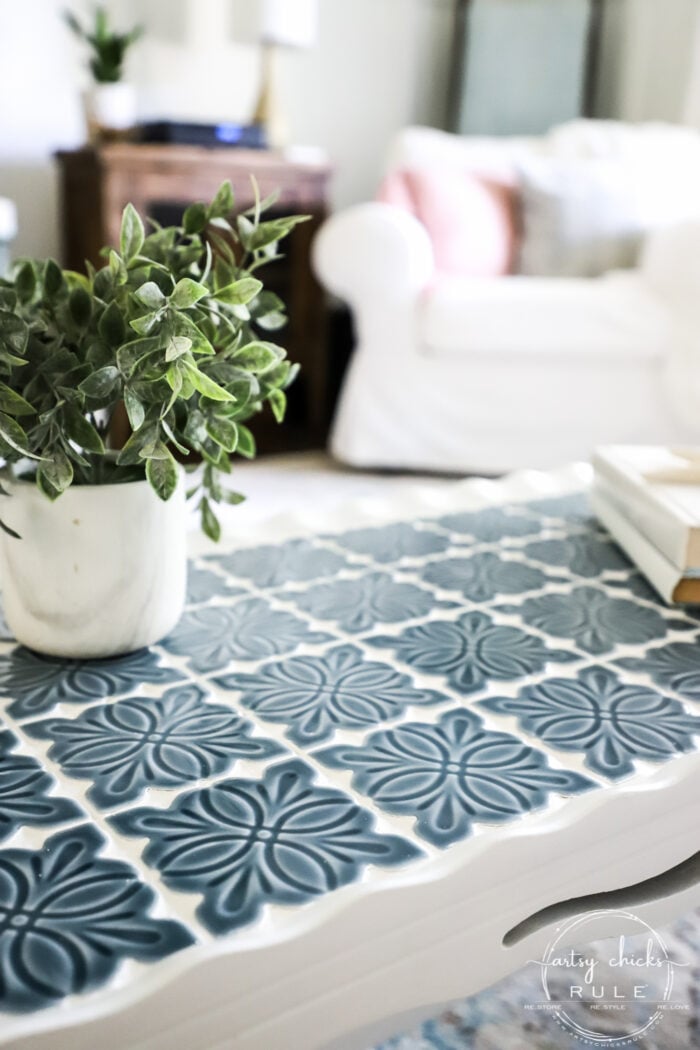 Really happy with this one and I think even more tiling is in my future! :)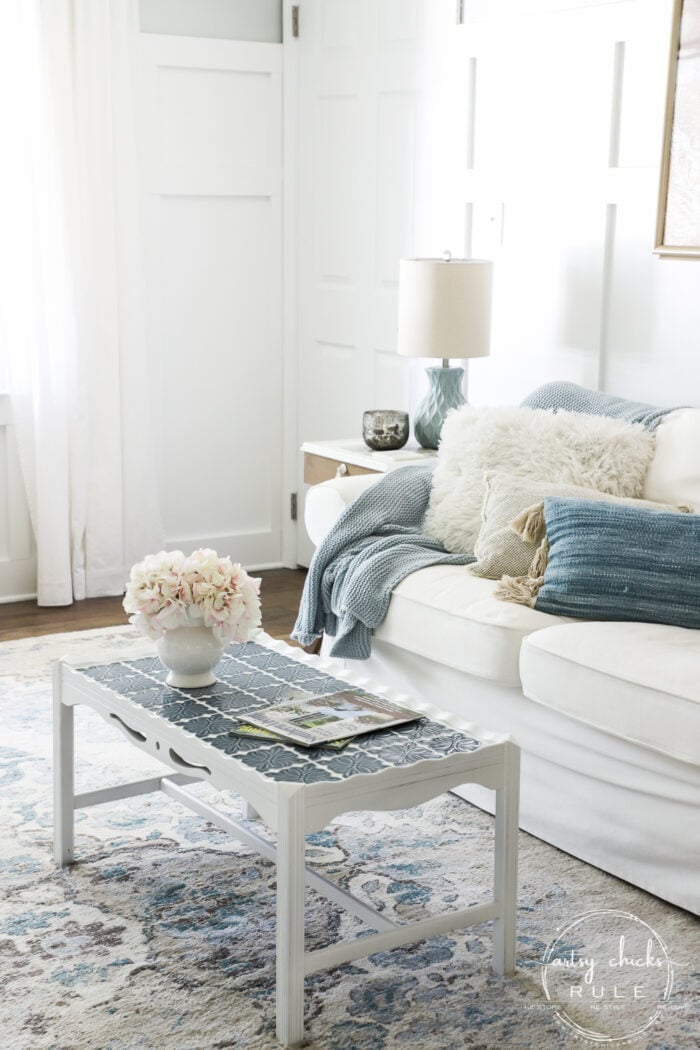 Are you ready to tile something??
I hope so!! Go give it a go.
Then send me a photo and share your new beauty with me.
I'd LOVE to see it!
PIN it to save it!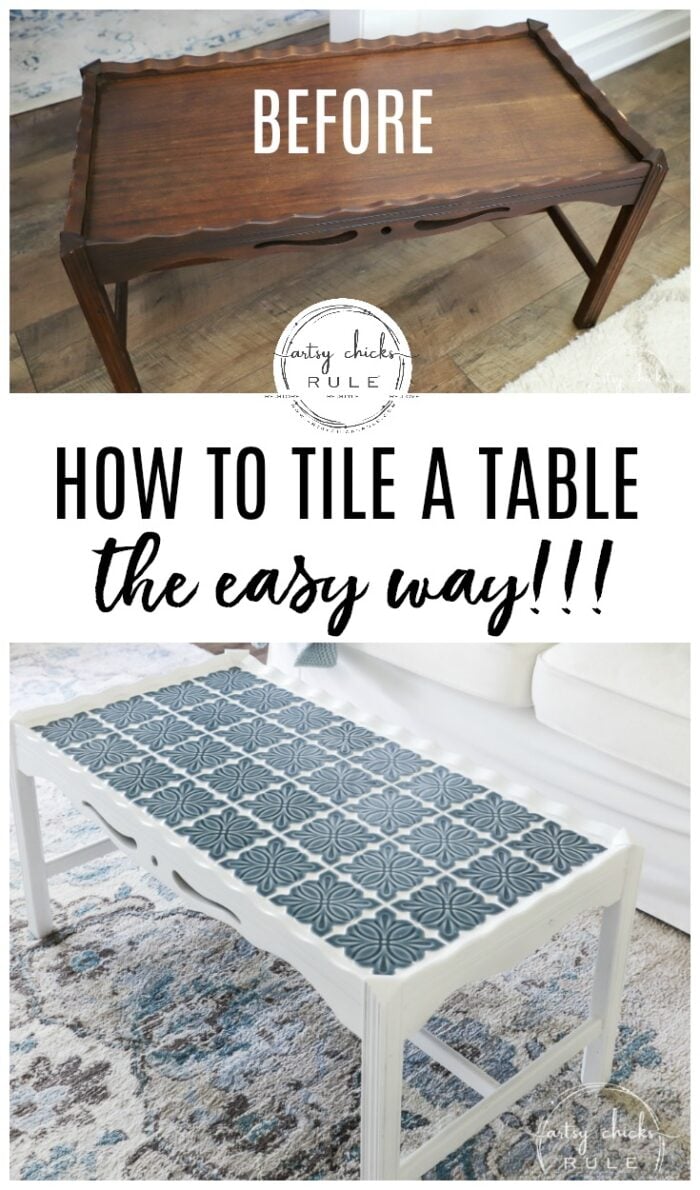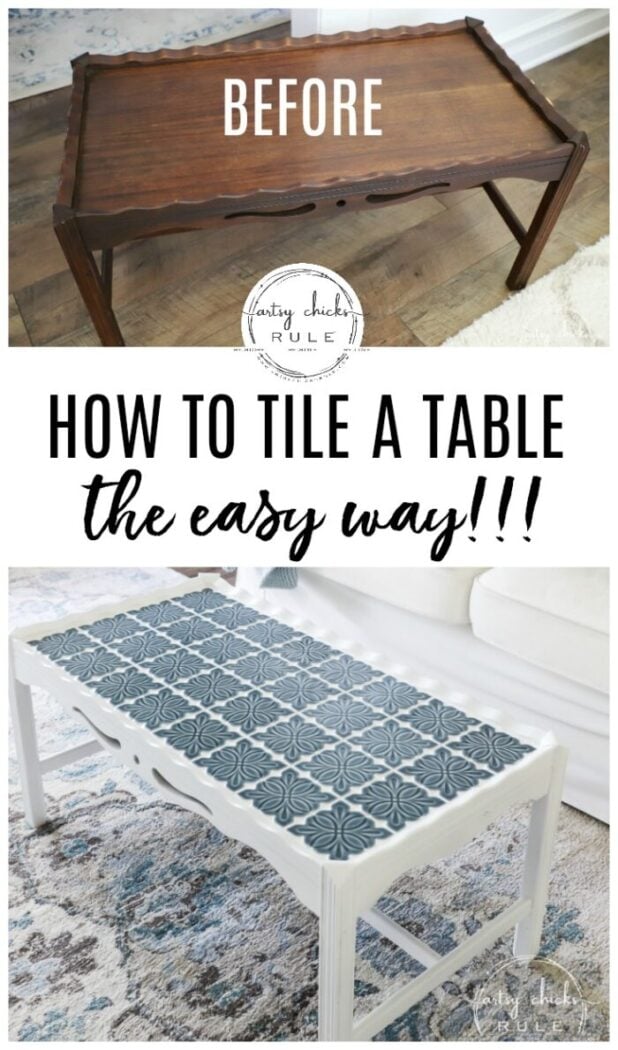 Want to see some of my other tiled projects?
Be sure to stop back by to check out my latest furniture makeover below!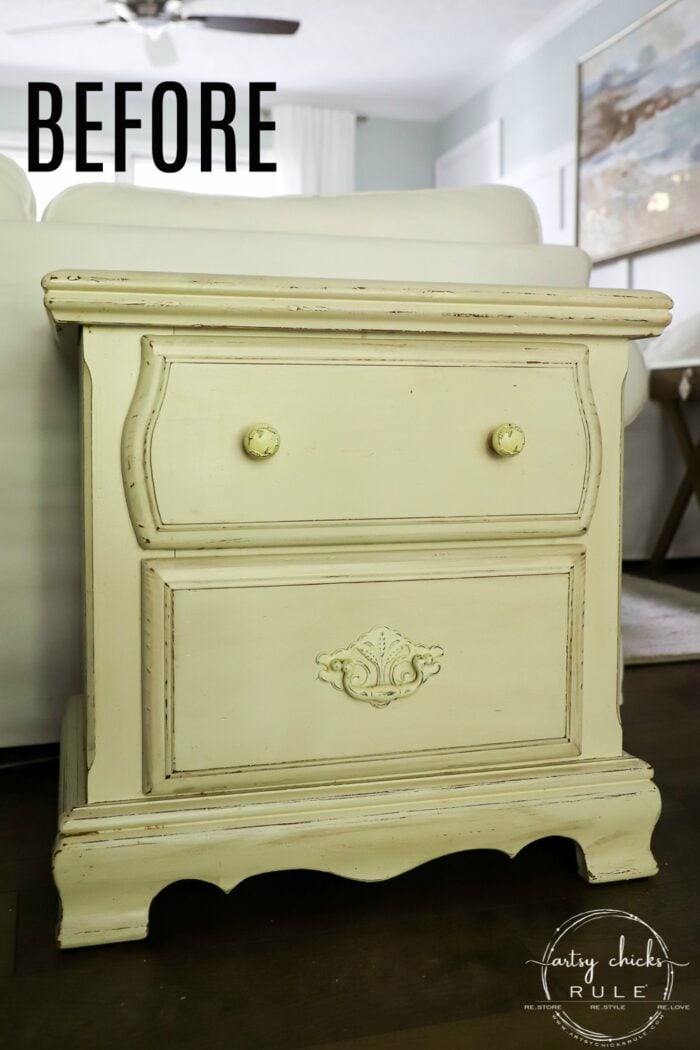 UPDATE!! See it now, here!!
I hope you have a wonderful weekend!
See you right back here next week with more!
xoxo