French Basket Tray (thrifty makeover with Prima Transfers)
This post may contain affiliate links. Please see disclosures here.
Baskets are just one of those things that can always be found at the thrift store…and in abundance too! I love making them over. I've turned this one into a pretty French basket tray.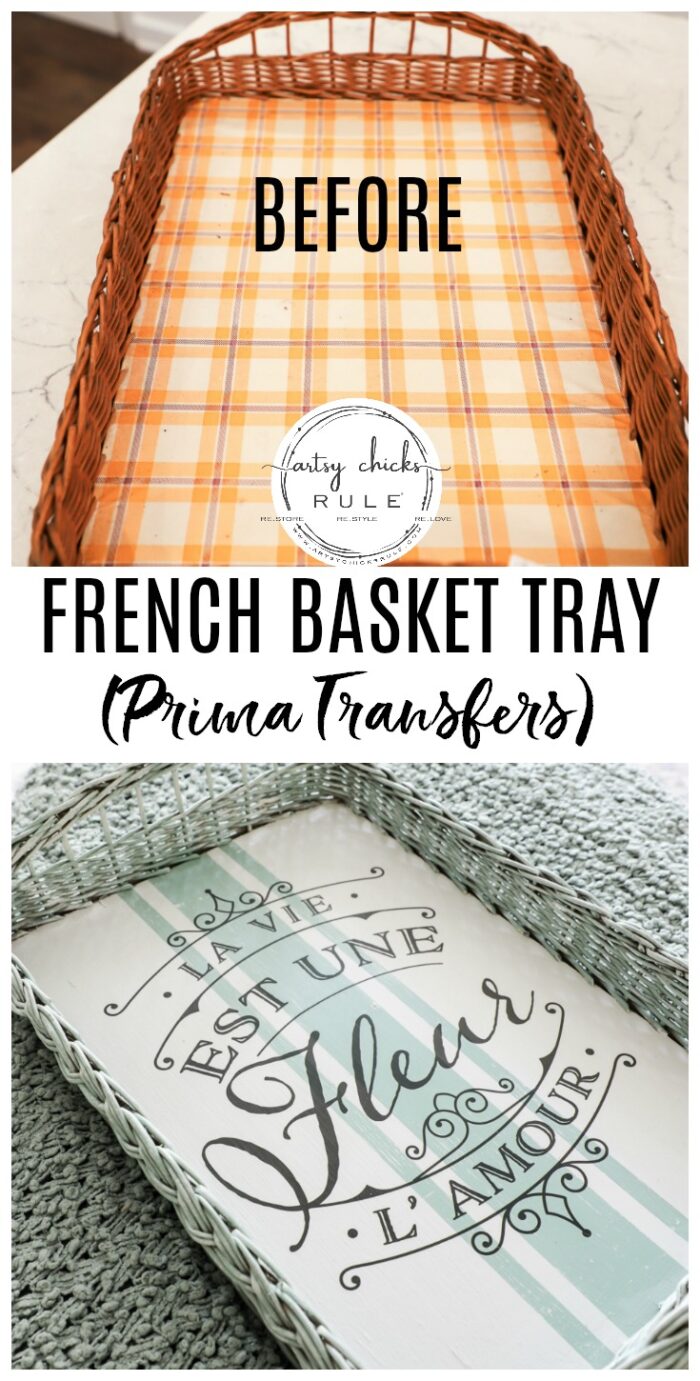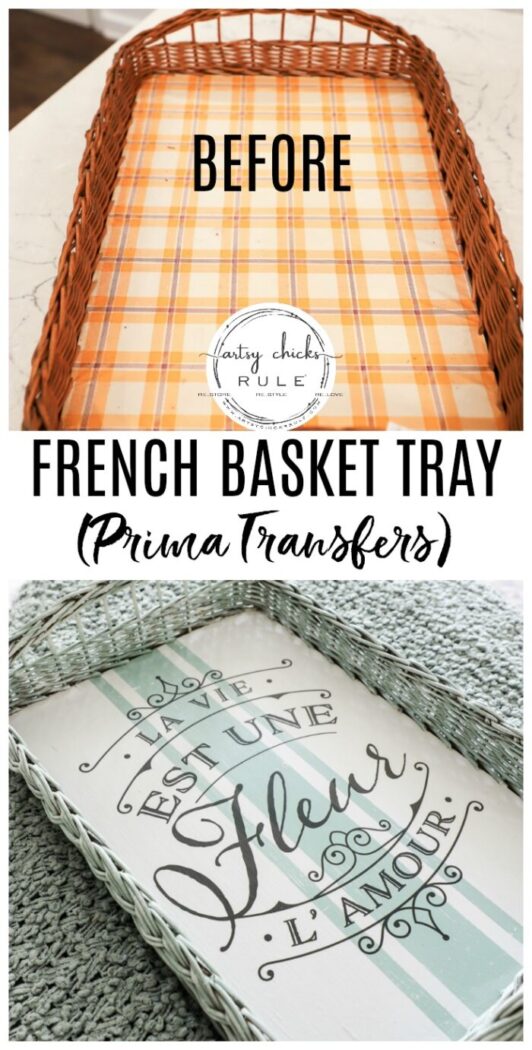 Hello beautiful friends! I hope you guys had a wonderful weekend. I spent mine working on several small projects.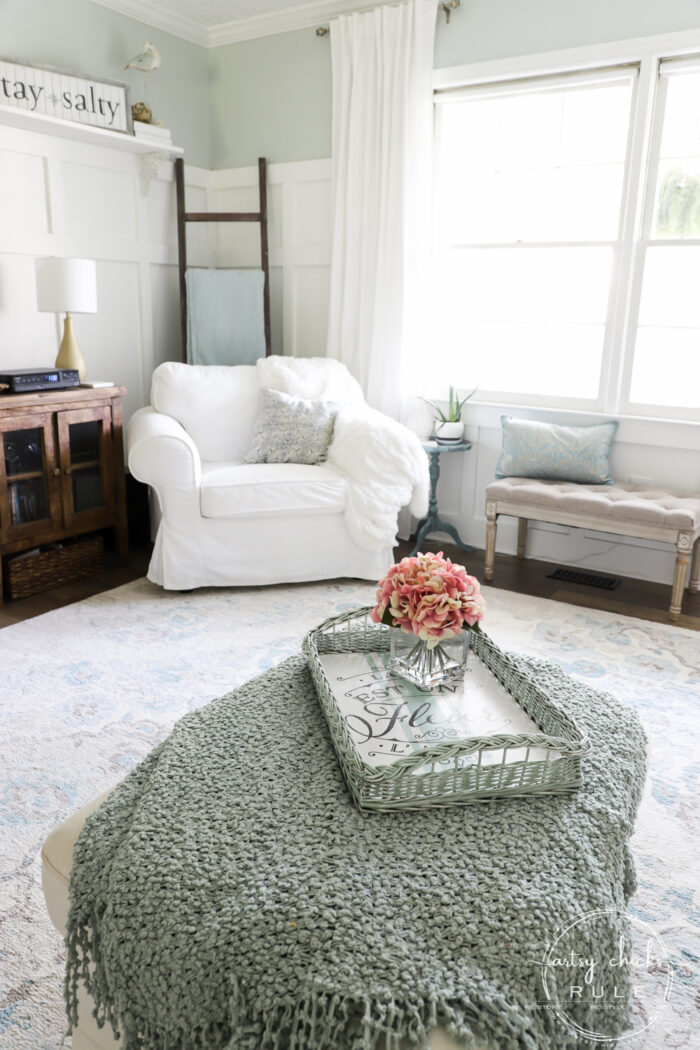 This French basket tray is just one of them. If you follow along with me over on Instagram, you might have seen what else I was working on in my stories.
I love to share over there as I'm in the process of a project, a snippet or two of my sweet Ryder boy or just any other random thing going on in life.
(while working up the nerve to get in front of the camera more often…lol…one day! ;) ) Anyway, follow along with me over there if you don't already!
It's more "live and in the moment". Instagram has always been my favorite platform. Sure wish they hadn't messed with the algorithm though. I miss seeing in real-time on the feed. That's why I love stories so much, they are real-time and up to date.
Anyway, let's talk this pretty French basket tray here.
French Basket Tray (thrift store makeover)
I actually also Instagrammed this photo in my stories the day I found my project today. I was over running errands for my Dad and stopped in at the thrift store over by him. I found all of these…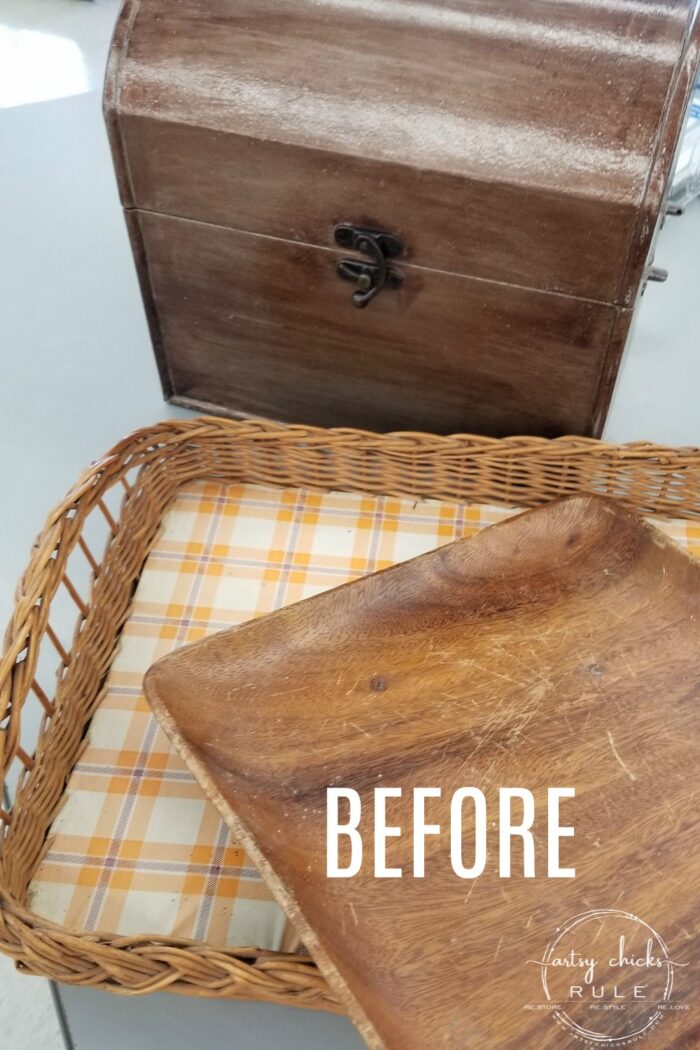 Pretty good little haul.
Today's project is that pretty orange plaid basket tray…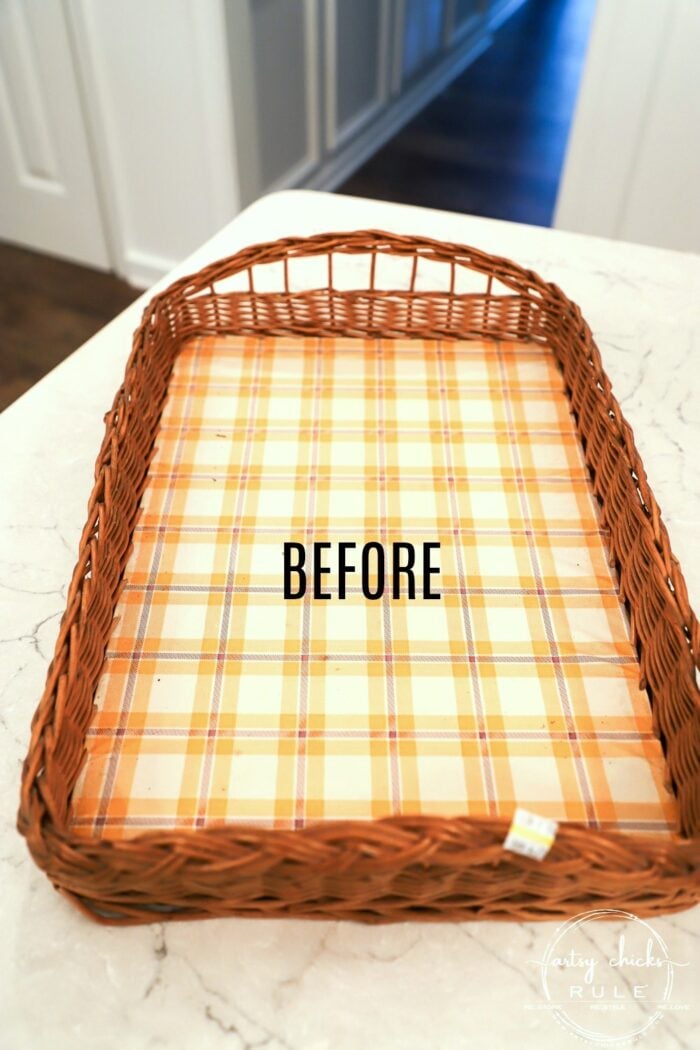 Hee hee…well, it's ready for some reloving, that's for sure. And I got 2 of the items I bought that day half off so this basket was only $2.
That orange plaid paper is really something like shelf liner. Quite odd as I'm not sure how they got it on there the way the basket it overlapping.
I'm guessing when it was made?
Sorry for the blurry photo. I didn't realize I had focused in on my pretty new countertops instead. ;)
Anyway, hopefully you can see what I mean about that liner paper wrapped around the board like so.
I managed to get it off really easily though. It was loose so came right off..mostly.
I did have to tug and pull around some of the basket area.
As you can see above, I painted the basket with Dixie Belle Sea Glass.
Such a gorgeous color. I also used it on this project >>> Nautical End Table Makeover
Then I painted the wood base in white chalk style paint.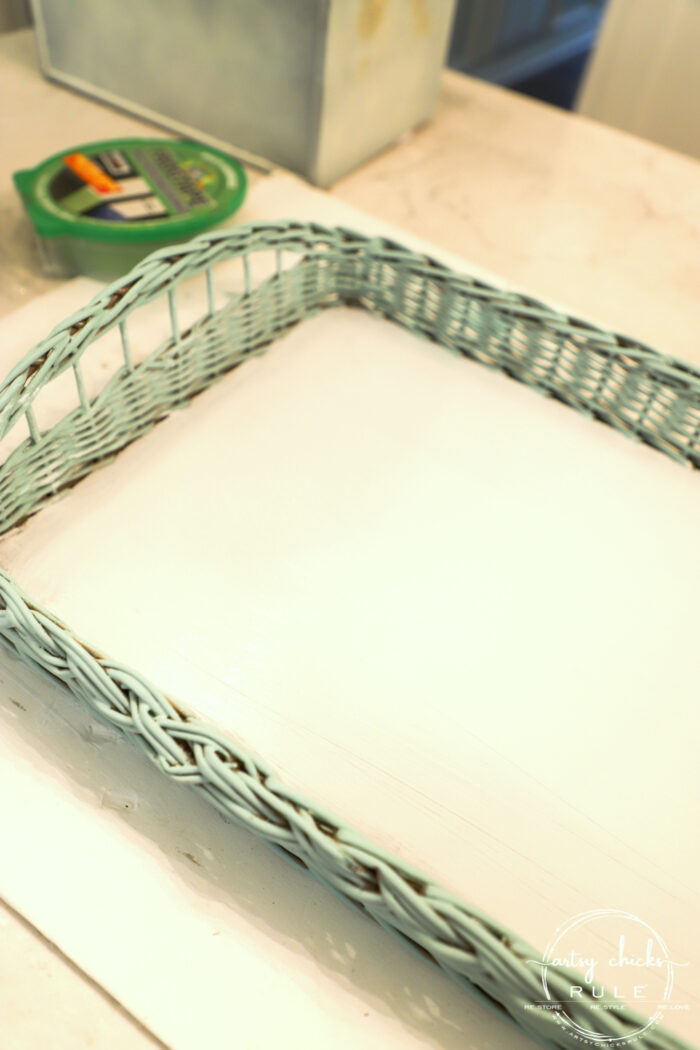 And then decided to dry brush some white over the Sea Glass blue to soften it a touch.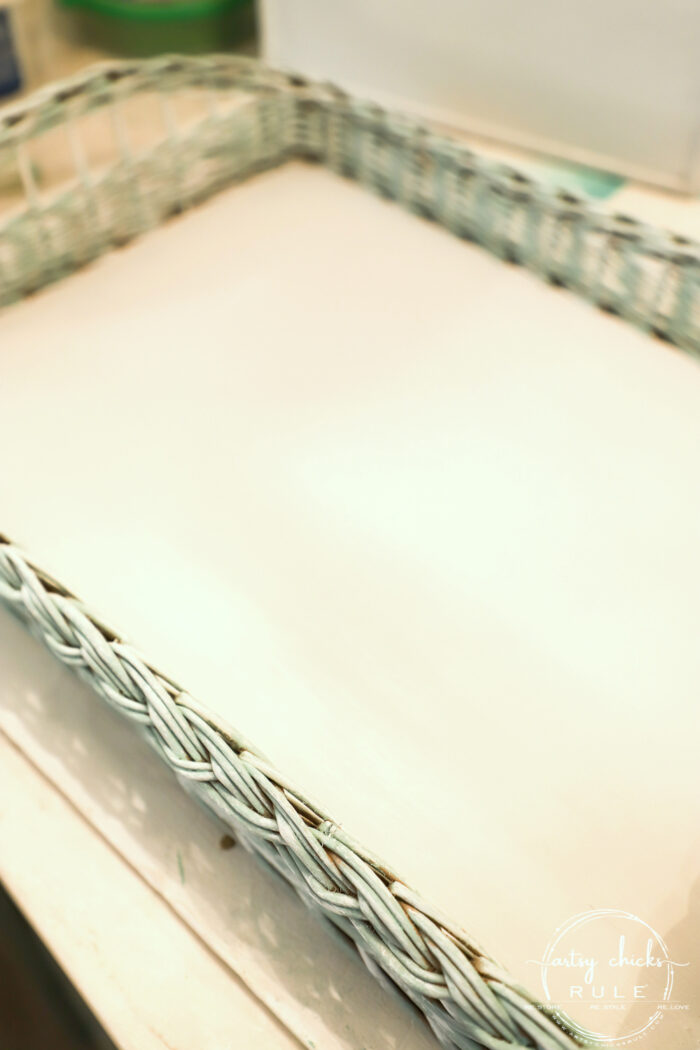 Yes, much better.
Want to know how to dry brush?? Visit this post and video >>> here.
Next, I measured for the center for some grain sack lines in the middle and each side.
I taped it off with my favorite, Frog tape and painted it in with Sea Glass.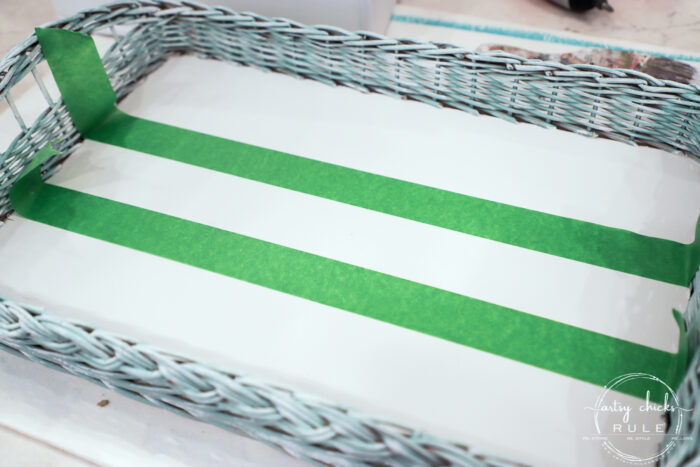 Once that stripe was dry, I went back on either side and taped off and painted in the smaller stripes.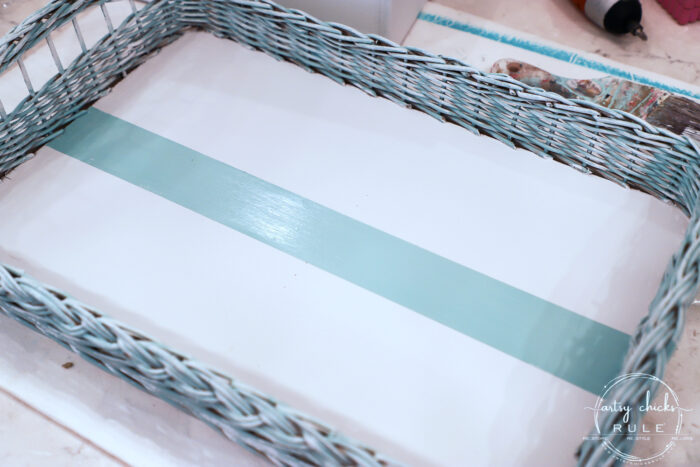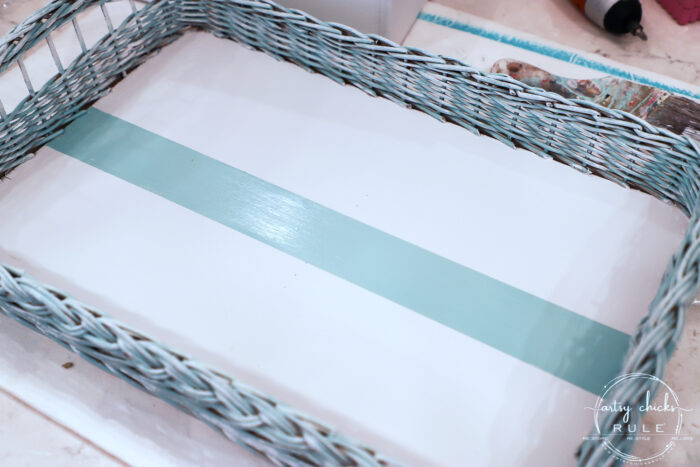 Want more detail on the stripes application?? Check out this post here >>> Paint Fabric Instead of Replacing It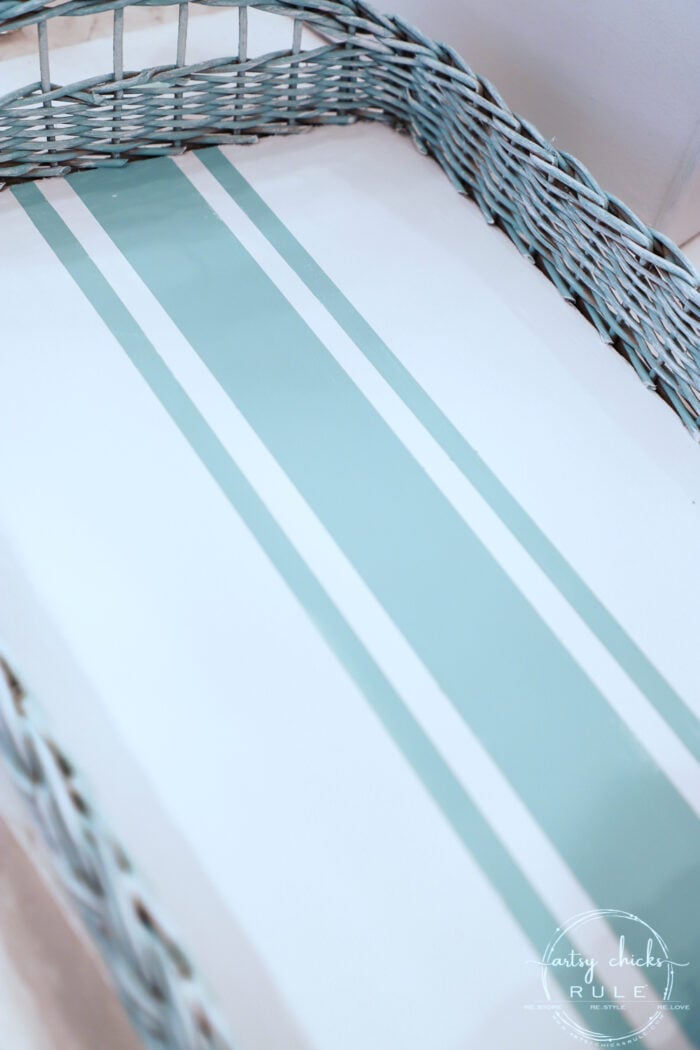 Once they were all dry, I lightly sanded over them to give them a bit of a worn look.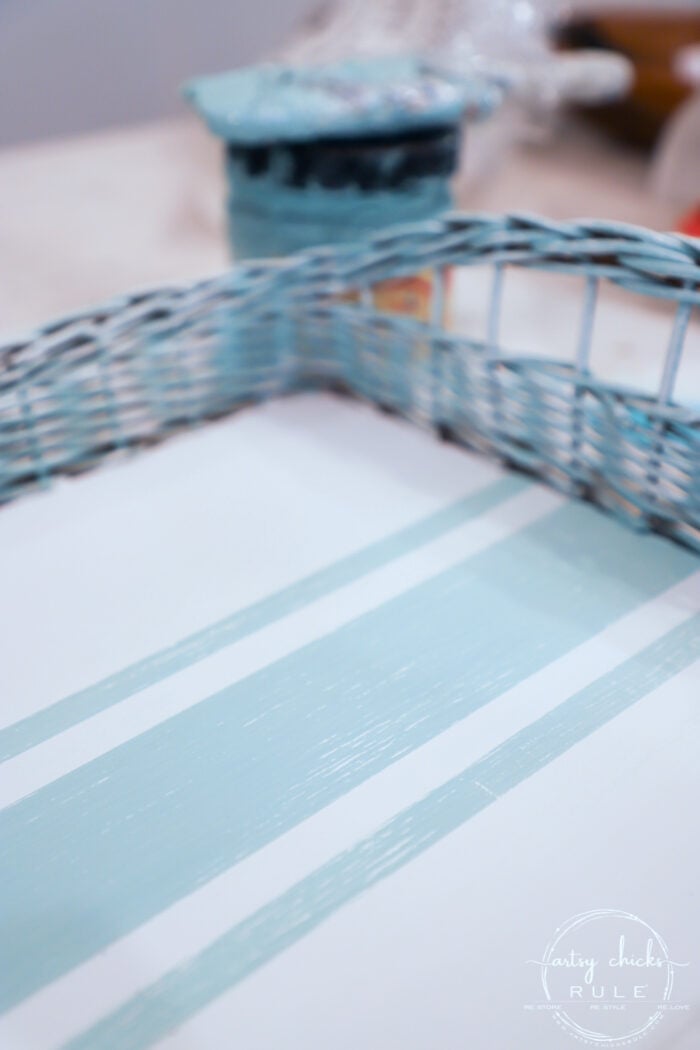 Then I used this Prima Marketing Redesign Transfer over that. Well, part of it anyway.
I love these transfers because they make things SO easy.
A lot of them are on the larger side and I don't always do large pieces of furniture so I have found that you can sometimes use them in parts as I did on this coffee table recently. This one I'm using today is in 3 parts.
Let me state that yes, it can make the French sayings not make sense completely sometimes but I'm okay with that.
This particular transfer in full says something like, "life is a flower, love is the honey". So my basket says, "life is a flower, love".
I suppose I will use the part that says "is the honey" on something at some point. Maybe I will add the word "l'amour" above it, just hand-painted in to match instead.
That's always an option!
So, as I mentioned, I only used one part of it for this project. I actually used the flower part of this transfer for one of the other items in the photo of my thrift store haul above. ;) Stay tuned for that one!
I was thrilled to see this part of the transfer fit perfectly on my sweet little French basket tray.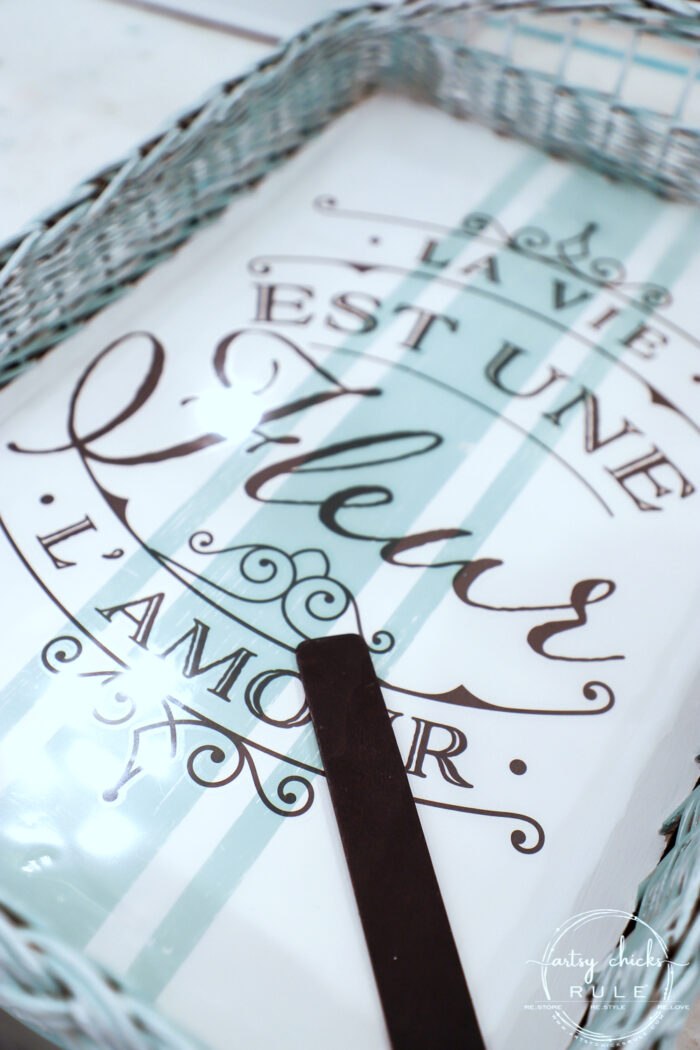 Simply rub it on with the wood stick that comes with it.
Be slow and methodical about it. Rub and lift as you go.
If you find that not all of the transfer has transferred, or maybe it has even ripped. No worries, just lay it back down and rub again.
Most times you won't even be able to tell it's been ripped. (if that is the case)
And done!
Simple as that.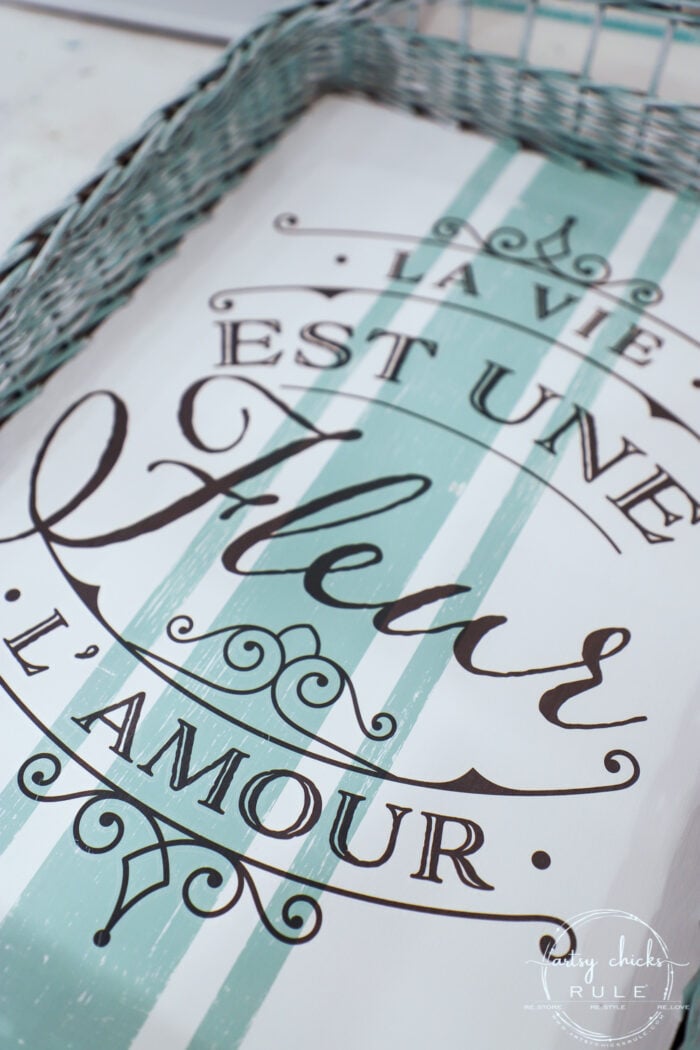 Well almost.
I did seal the entire thing up with one coat of top coat sealer.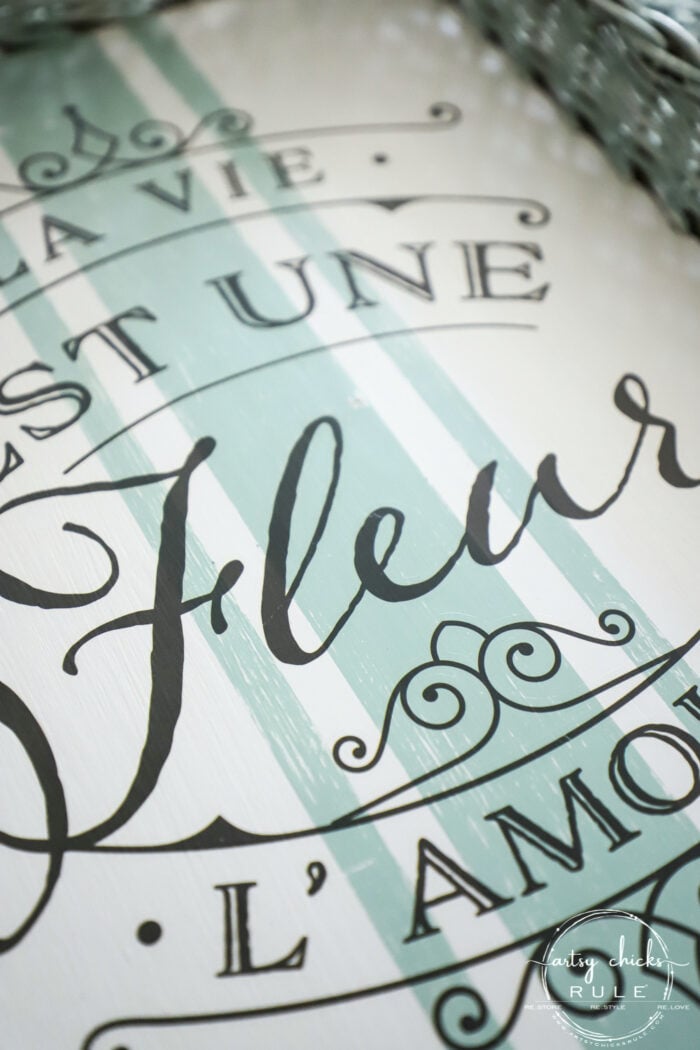 So sweet.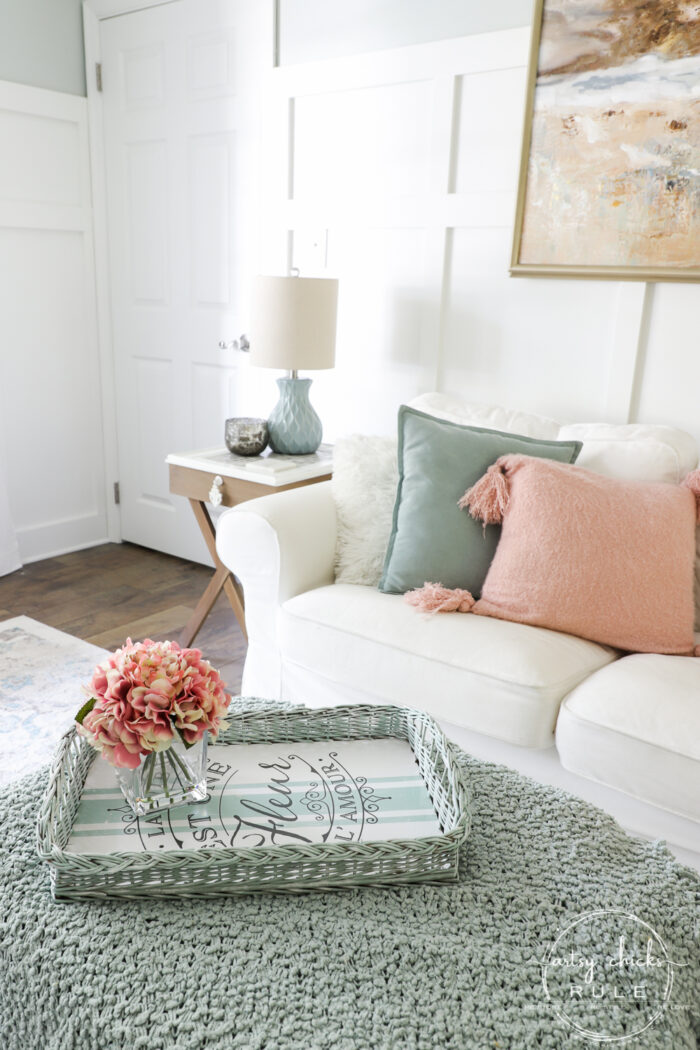 I love how it looks here with my teal throw and pink and teal pillows along with those pretty pink flowers.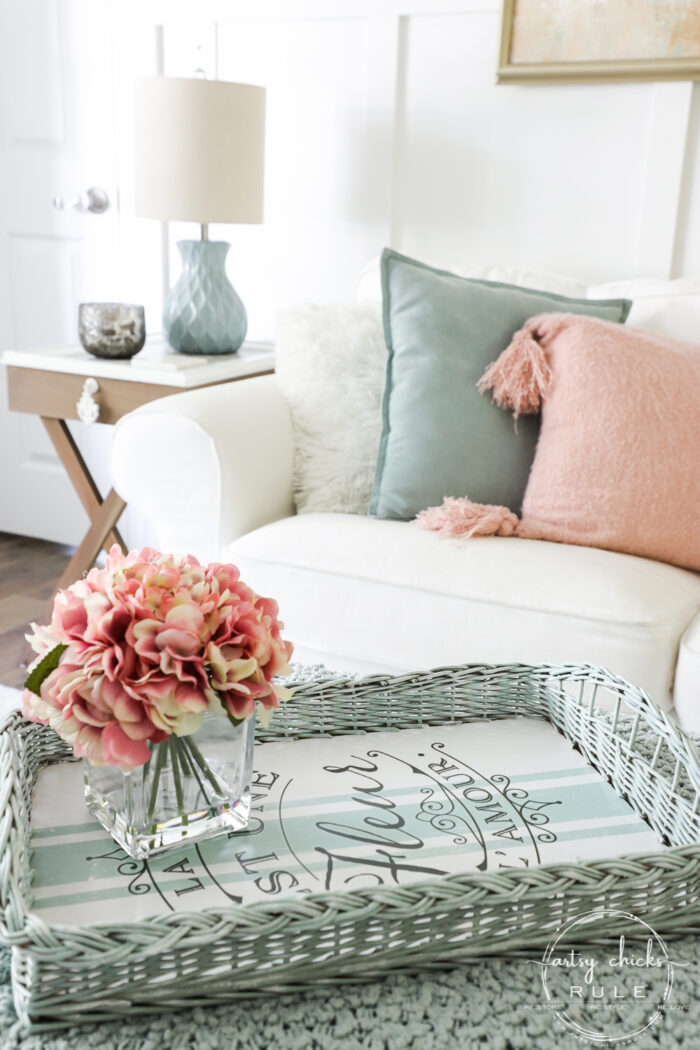 Those might be my favorite colors. :) Teal and pink, aqua and pink.
I don't know what it is about those colors together but I just love them.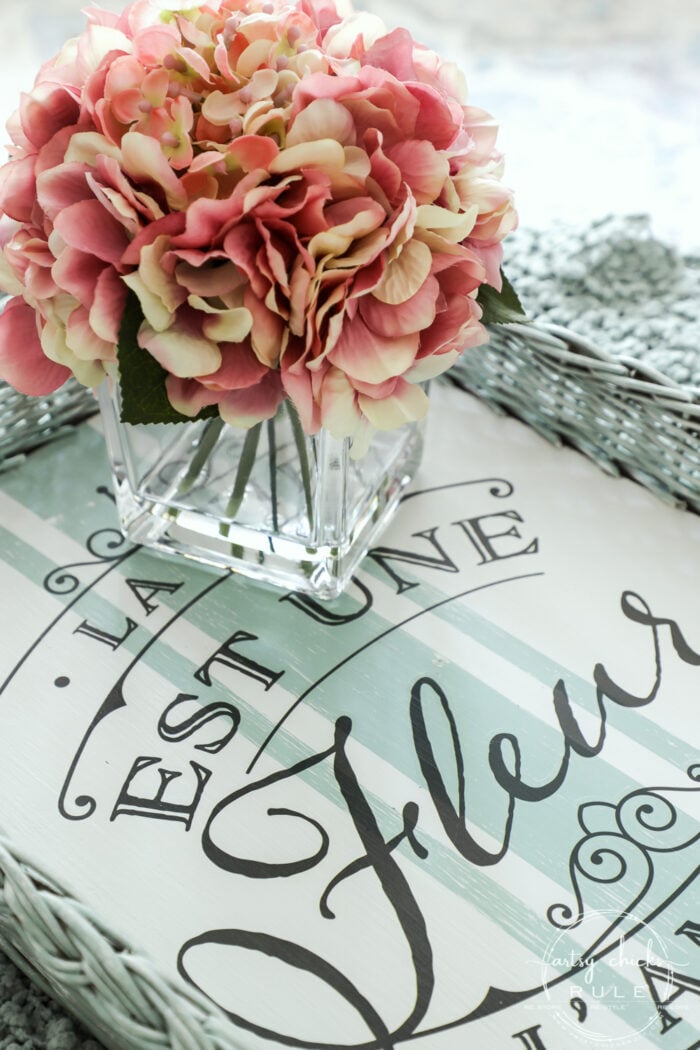 This turned out much better than I originally thought it would! Love when that happens.
I really think that Prima transfer is the star of this French basket makeover show.
Although it's been a pretty good while since I've done grain sack stripes and I'm kinda loving those too. :)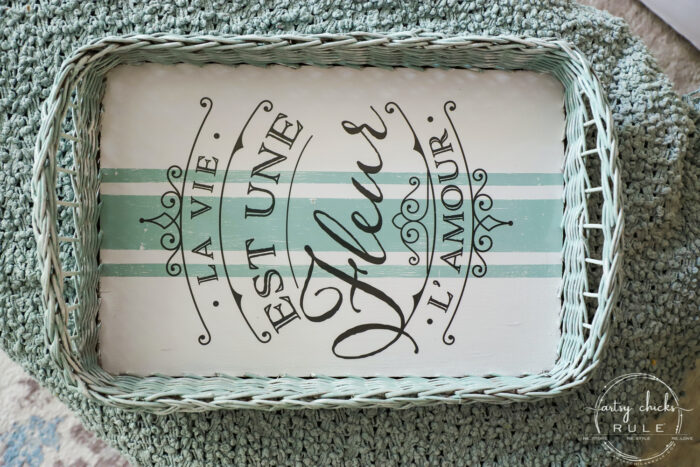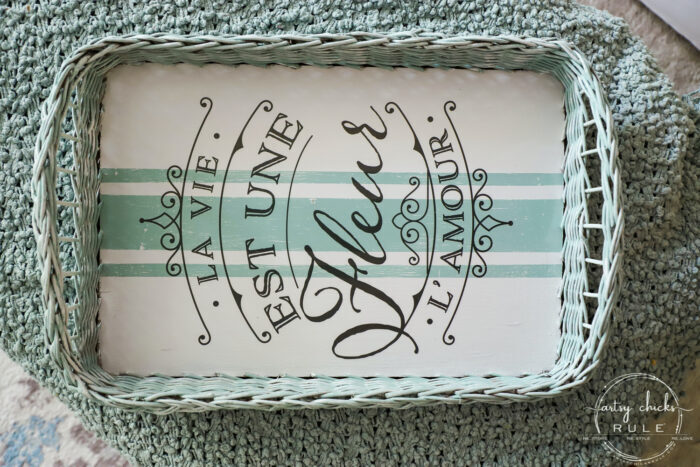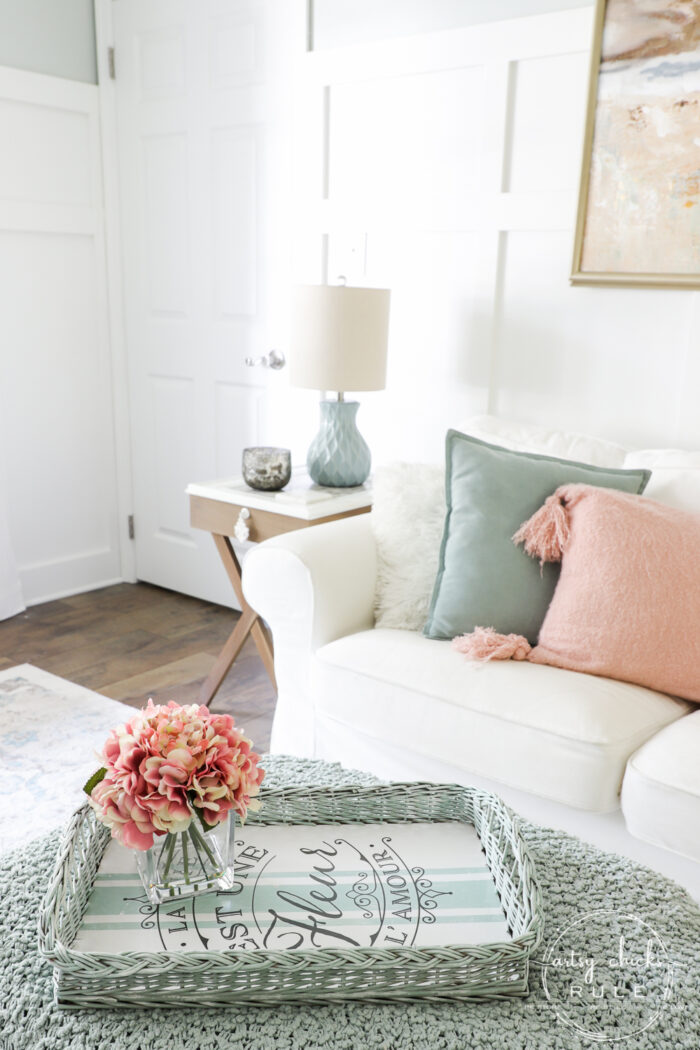 I hope y'all enjoyed this makeover today. That old orange plaid tray was nothing much to look at before.
It definitely would've been easily passed up at the thrift store. But now it's all ready to be reloved.
PIN it to save it for later!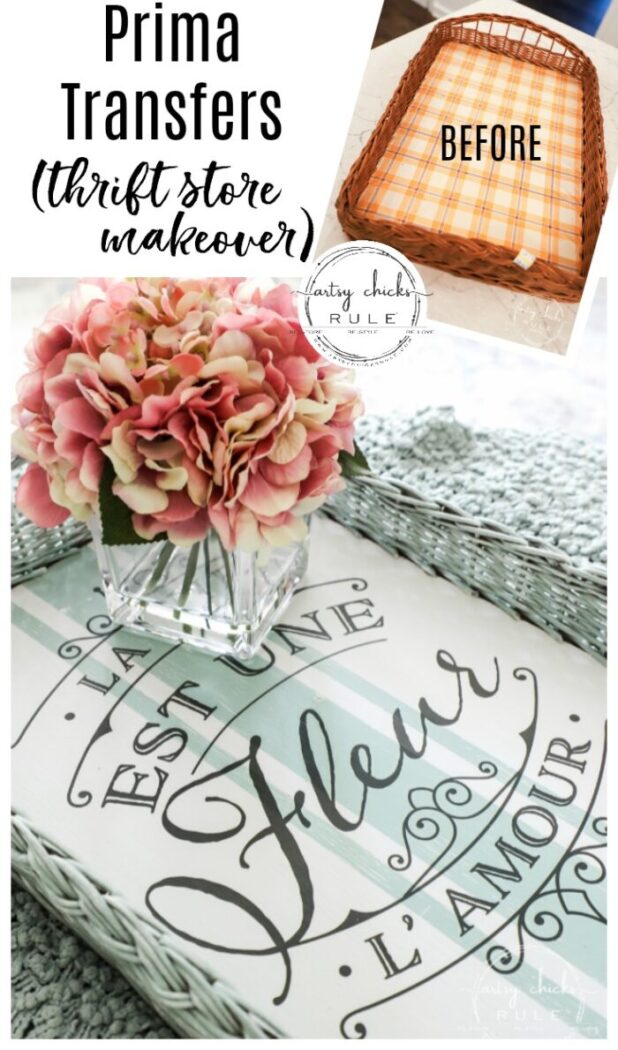 See you back here later this week with this!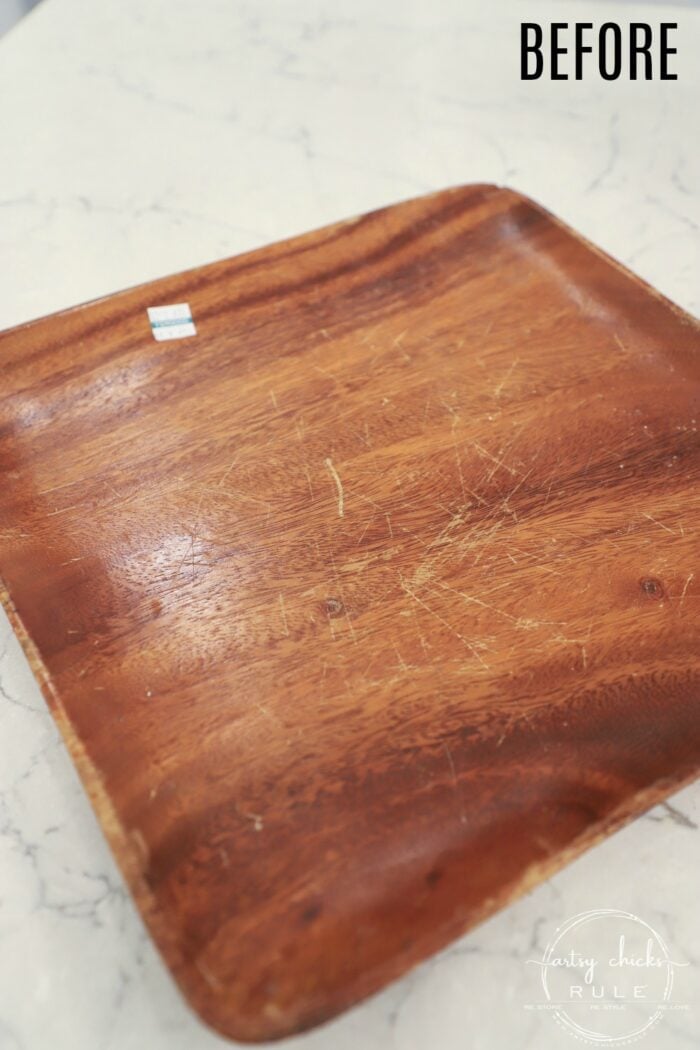 UPDATE!! See it now, here!!
xoxo