French Style Nightstand (with Prima Transfers)
This post may contain affiliate links. Please see disclosures here.
This French style nightstand is a winner in white paint and the pink rose Prima Transfer! Such a simple transformation!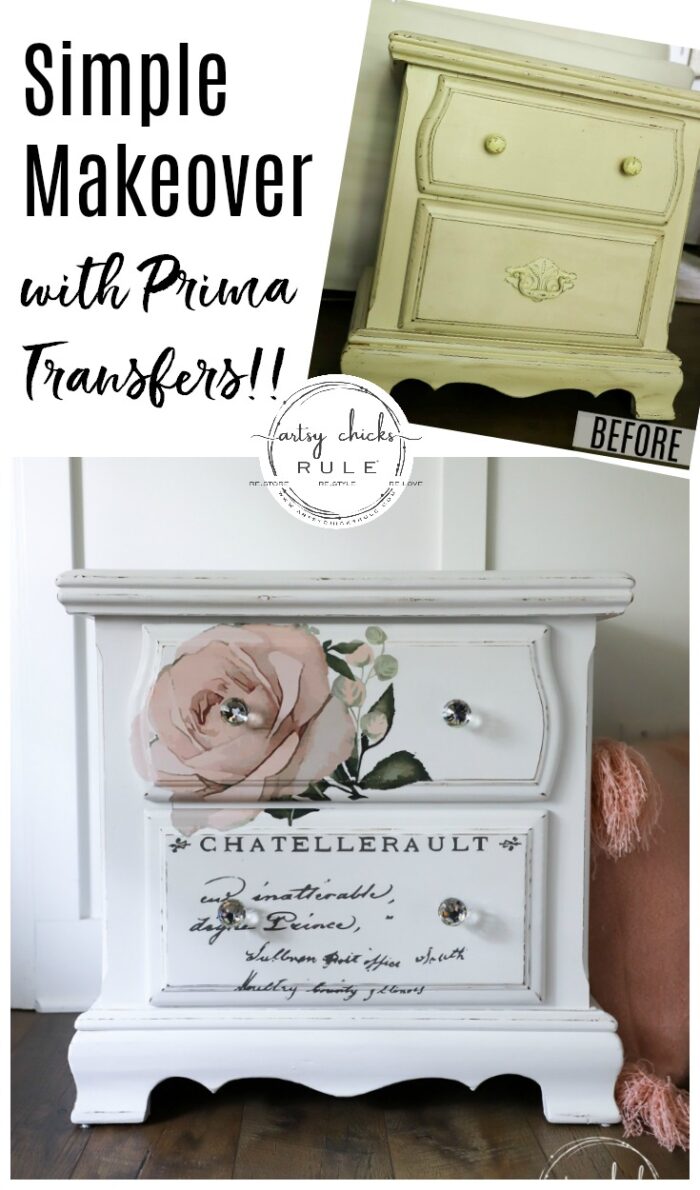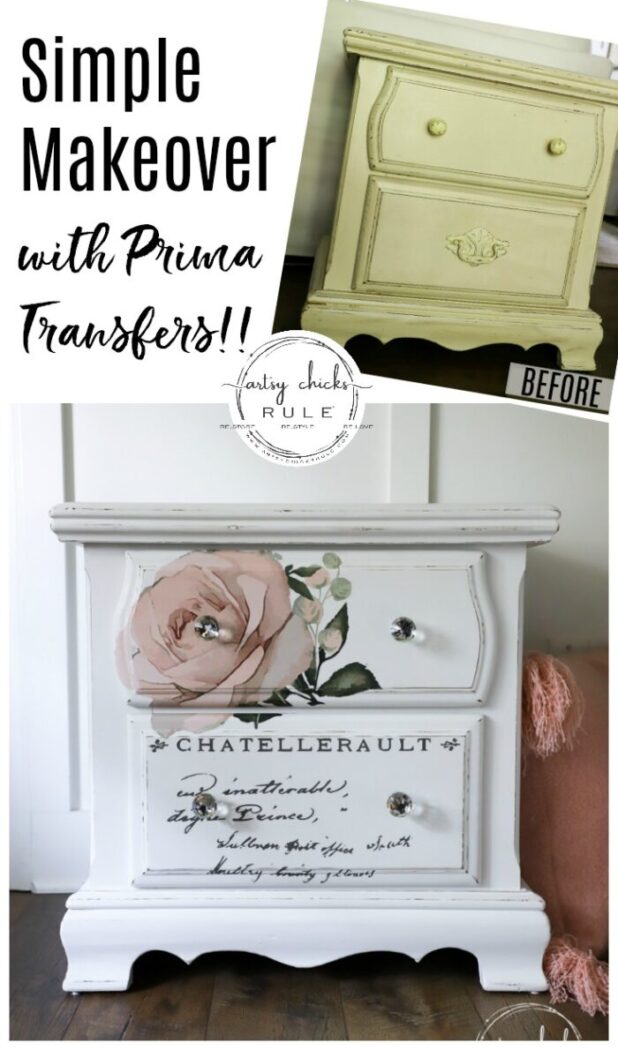 Happy Trash To Treasure Transformation Tuesday, y'all!! Wow, that's a mouthful, huh?
But it's one of my favorite days of the month.
If you are new around here, the second Tuesday of every month a few blogging friends and I get together and share our thrifty finds made over.
I do this quite often around here but today you get FIVE new makeovers in one day! Yippee! :)
I'm sharing a small piece of furniture this month.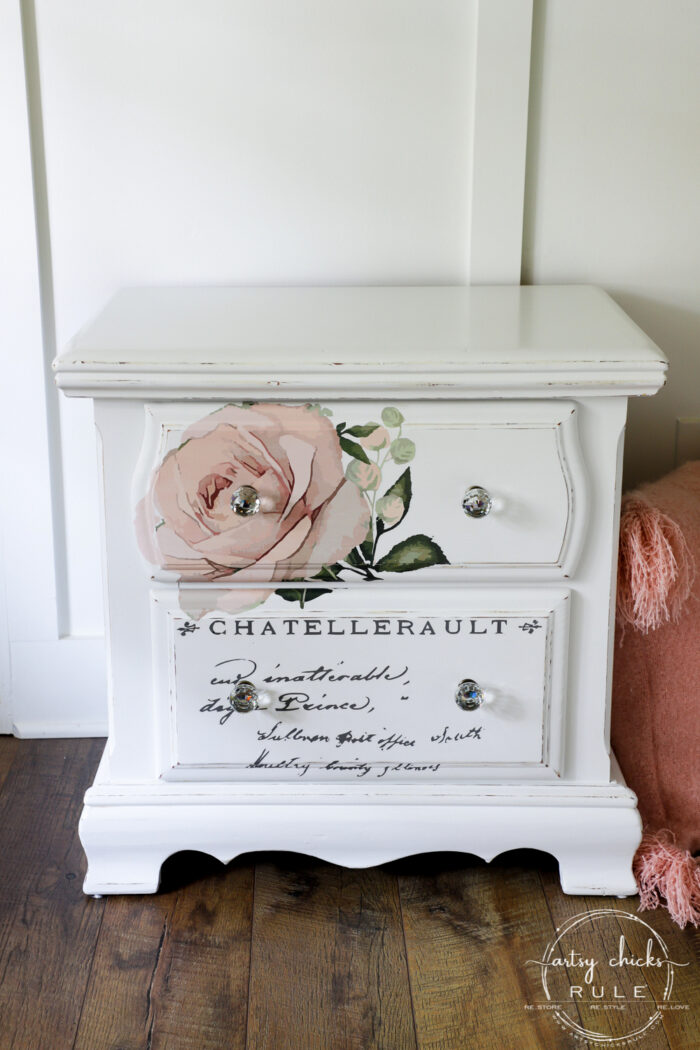 French Style Nightstand (with Prima Transfers)
Here's how this sweet "new" French style nightstand started out.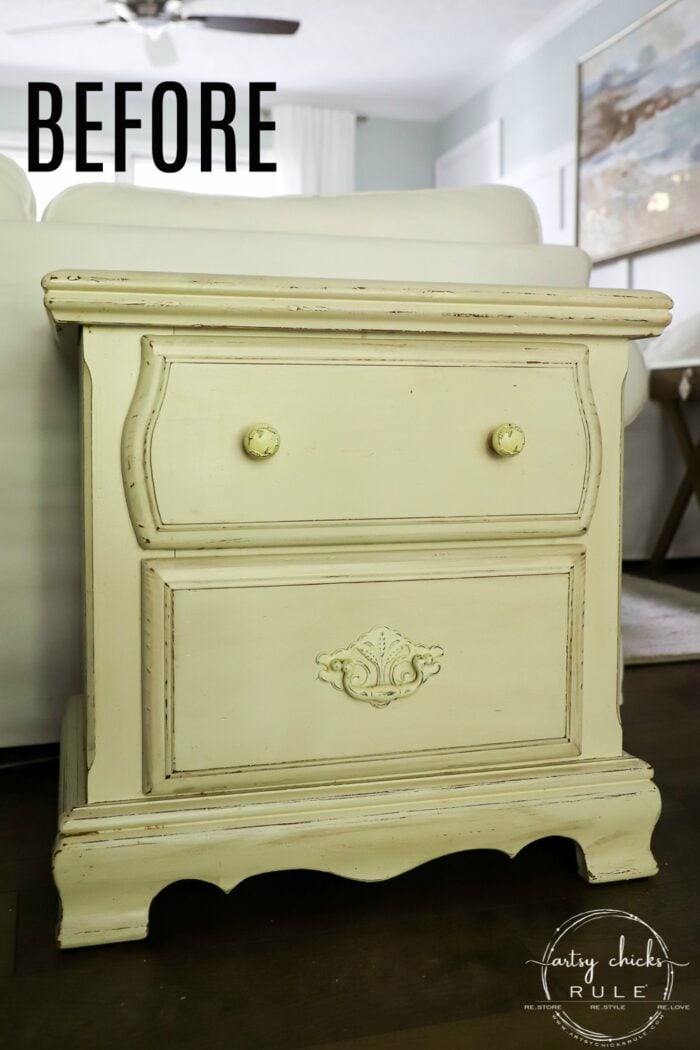 Blah…and kind of yellow.
I knew it needed some new and updated life breathed into it and what better way to do that than with nice, clean, bright white paint?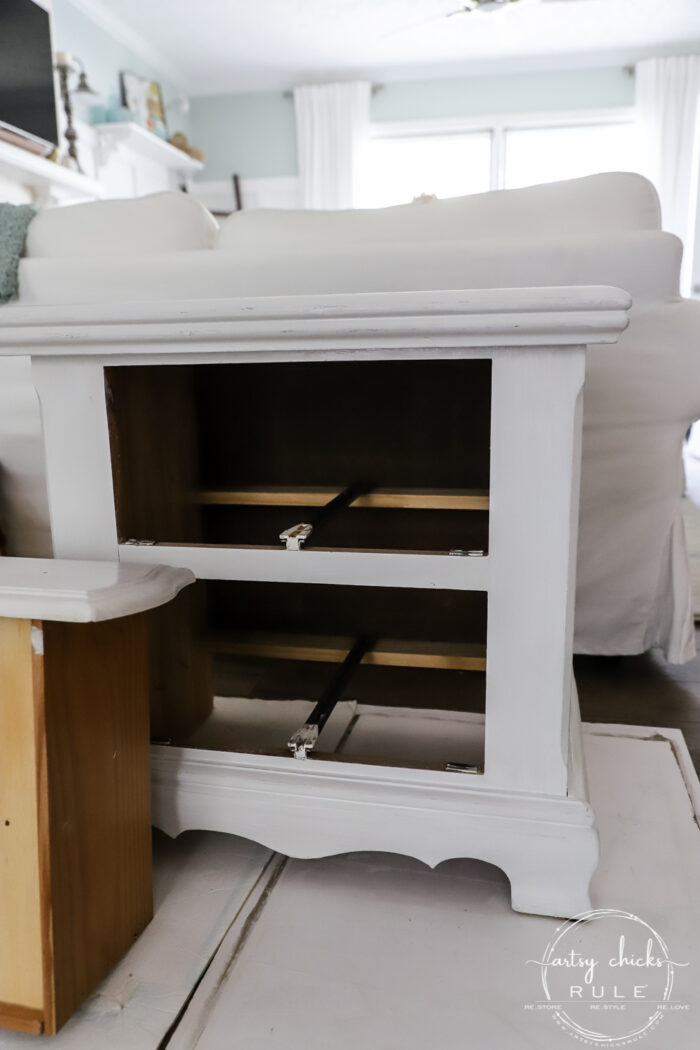 I cleaned it up and painted it with one of my fave white paints. (linked below)
Are you new to chalk painting?? This post might be helpful to you >>> "How To Chalk Paint Furniture & More (tips & tricks I've learned!)"
Want to know about 26 other chalk style paints?
I've got the low down for you right here! >>> 26 Types of Chalk Style Paint For Furniture
I painted 2 coats of white for good coverage.
Then I pulled out part of this transfer for this one.
If you remember, I used another part of this transfer recently here:
So I still have one more piece of this transfer to use. Sure does make it a cost-effective project choice!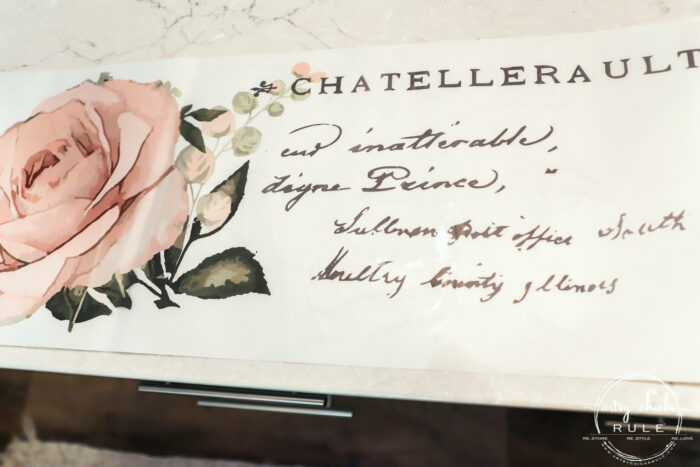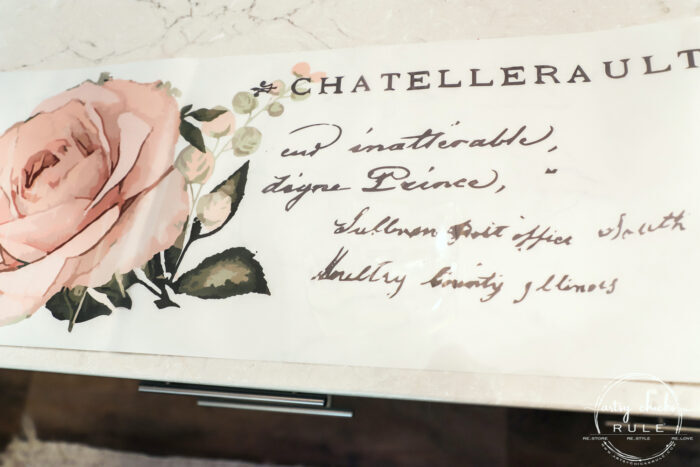 I thought this one would be perfect to apply over the drawers of the nightstand.
But it was all long in a row, left to right and I needed it to be top and bottom.
So I simply cut it to fit.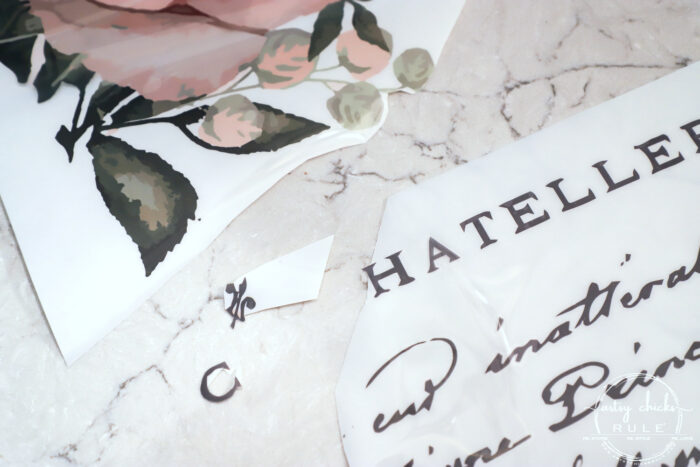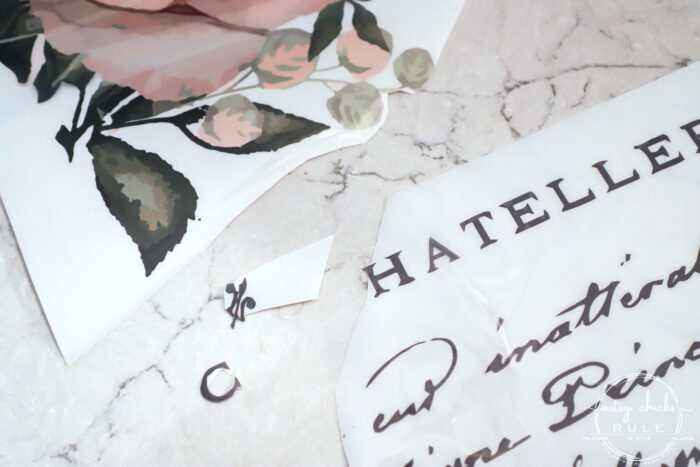 I had to completely cut the "C" out because it had the floral print behind and around it.
No biggie since I can simply place it where it needs to go when ready. Same thing with the flourish at the end. (you can scroll back up and see what I mean)
There is quite a gap in between the two drawers and the rose overlaps both.
So instead of just trying to rub it on without cutting and hoping for the best, I decided to cut it in half.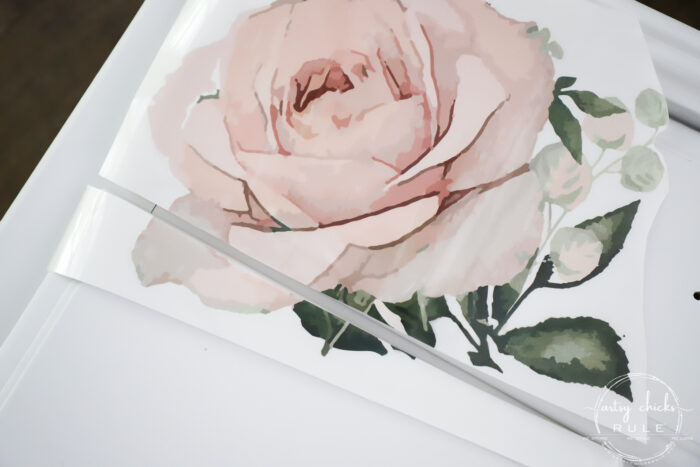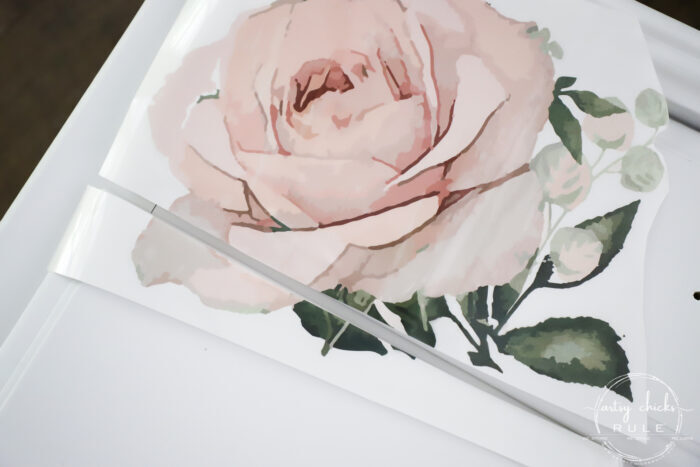 Here is the whole thing laid out.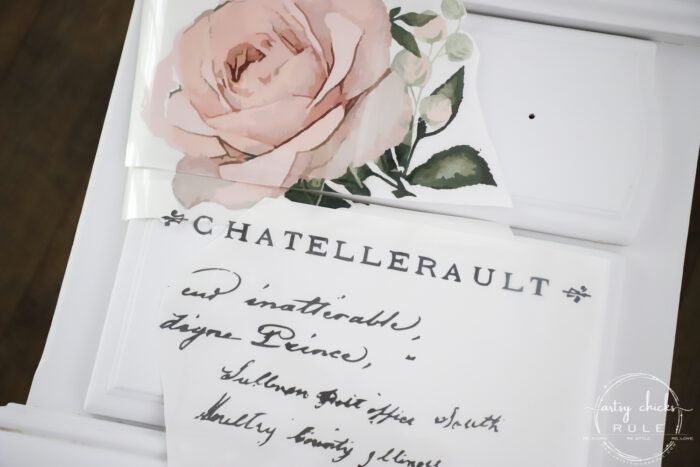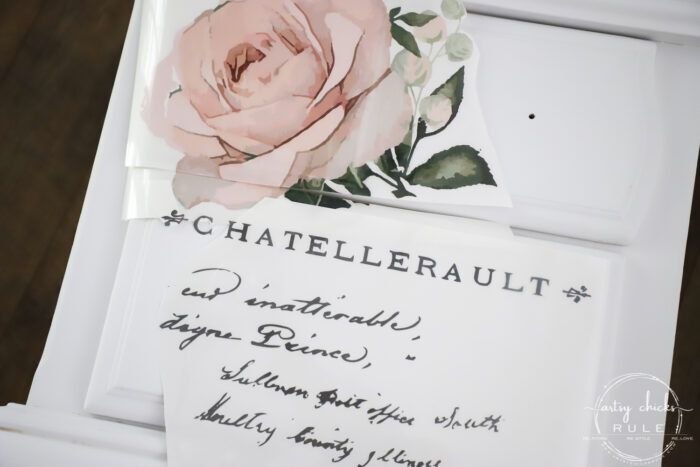 I began by applying the cut rose transfer to each drawer as shown.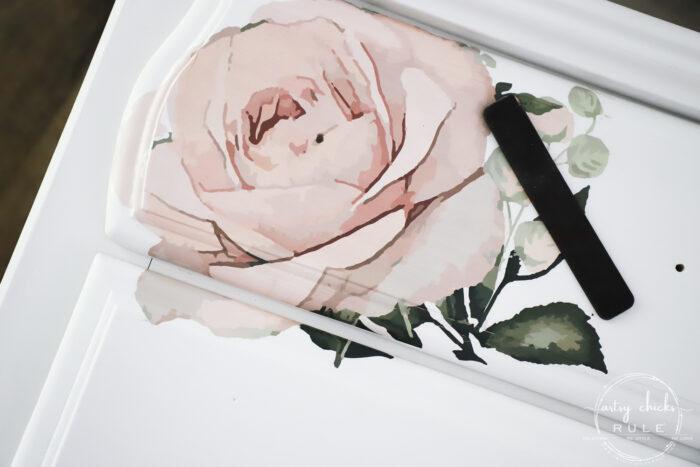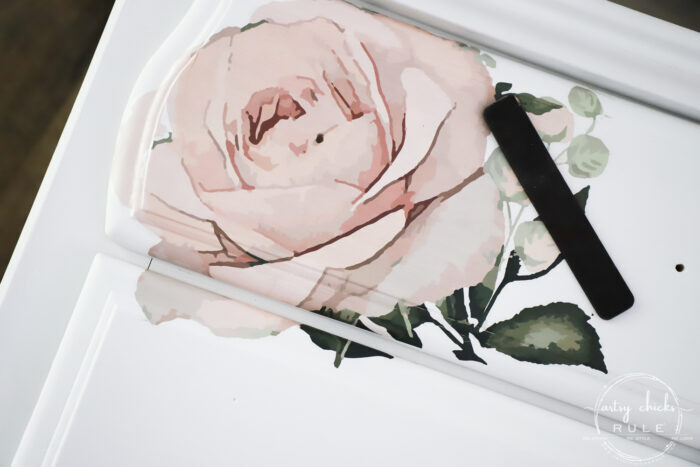 You can see it a little better in this finish photo.
Then I applied the bottom section of the Prima transfer.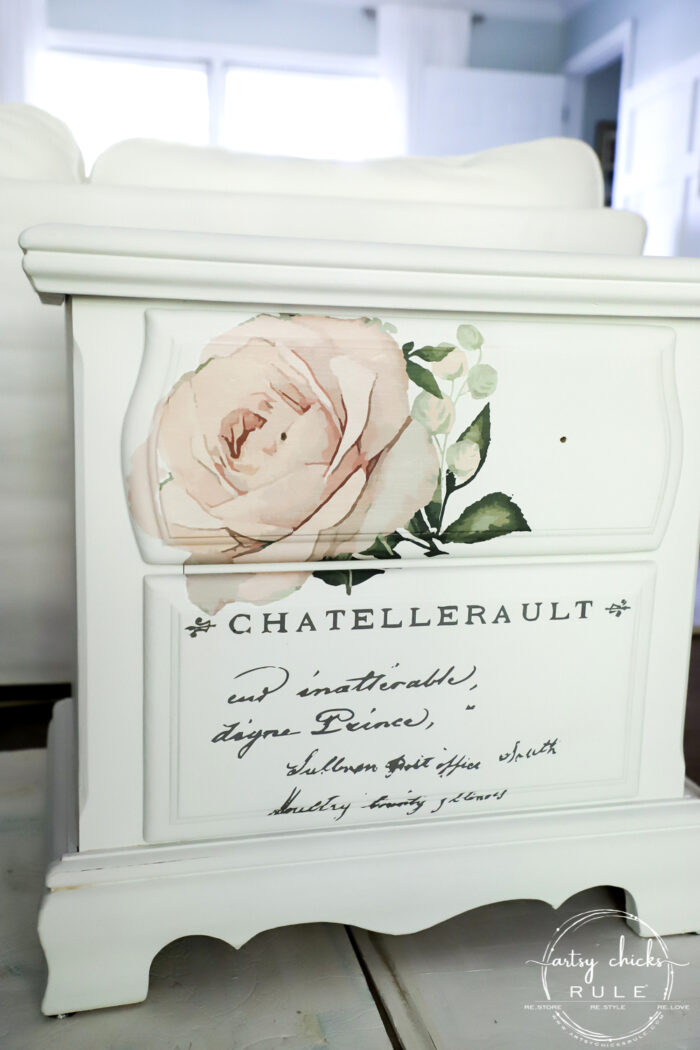 See? Would you ever know that "C" had to be placed separately? Nope!
Or that this was ever one long piece, instead of top and bottom as I now have it.I forgot to mention that I did have to fill the bottom hardware holes since I was planning to use knobs instead of the original pull that came on this nightstand.
So once finished with the transfer, sealing, etc, I would need to drill new holes.
These specifically.
I found them at HomeGoods.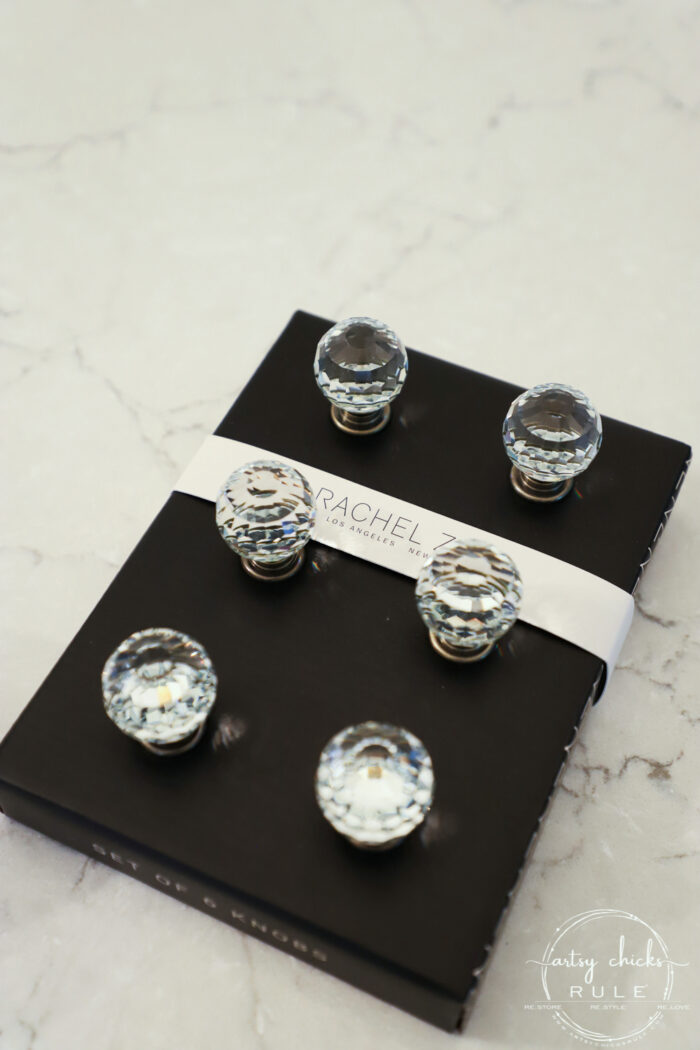 They are just gorgeous. Moreso in person.
It's hard to see the pretty sparkle they have in photos.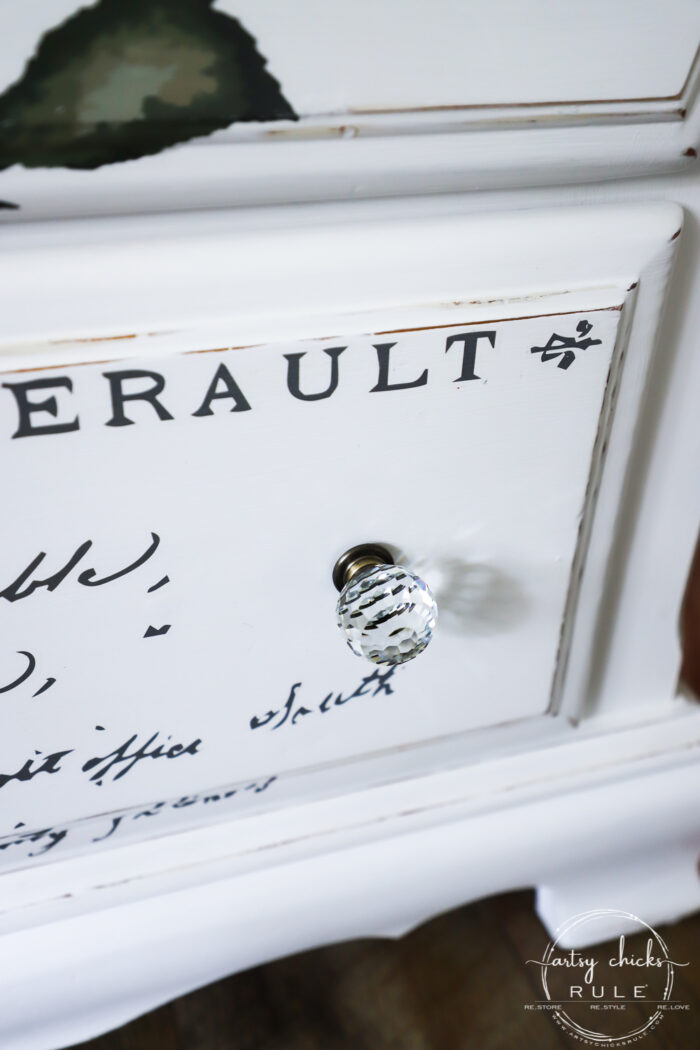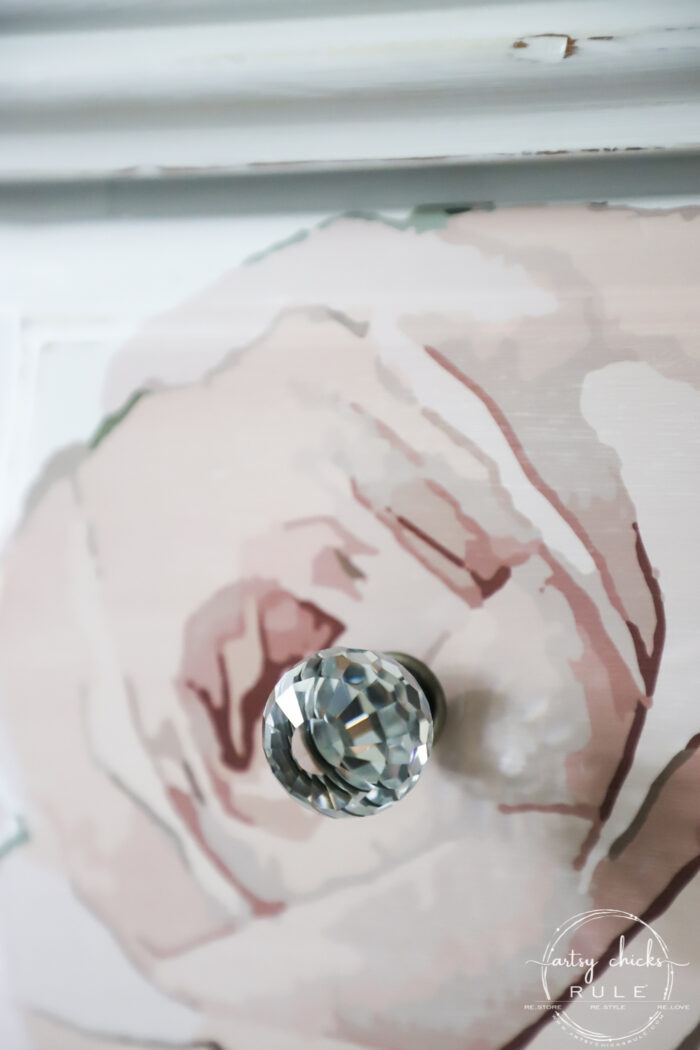 Once the transfers were all applied, I lightly sanded the edges to distress a bit.
I followed that up with two coats of this sealer.
Here's a few other ways you can seal chalk-style paint >>> 5 Top Ways To Seal Chalk Paint
I let it dry overnight in between.
And I used the sponge this time to apply the sealer. So easy in this type of application!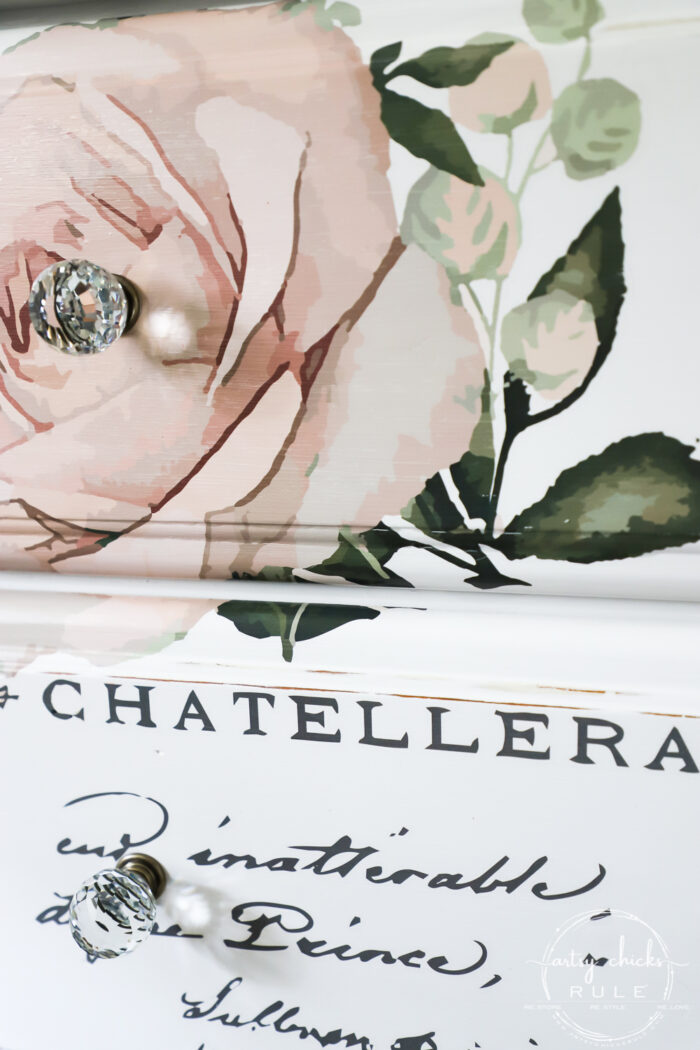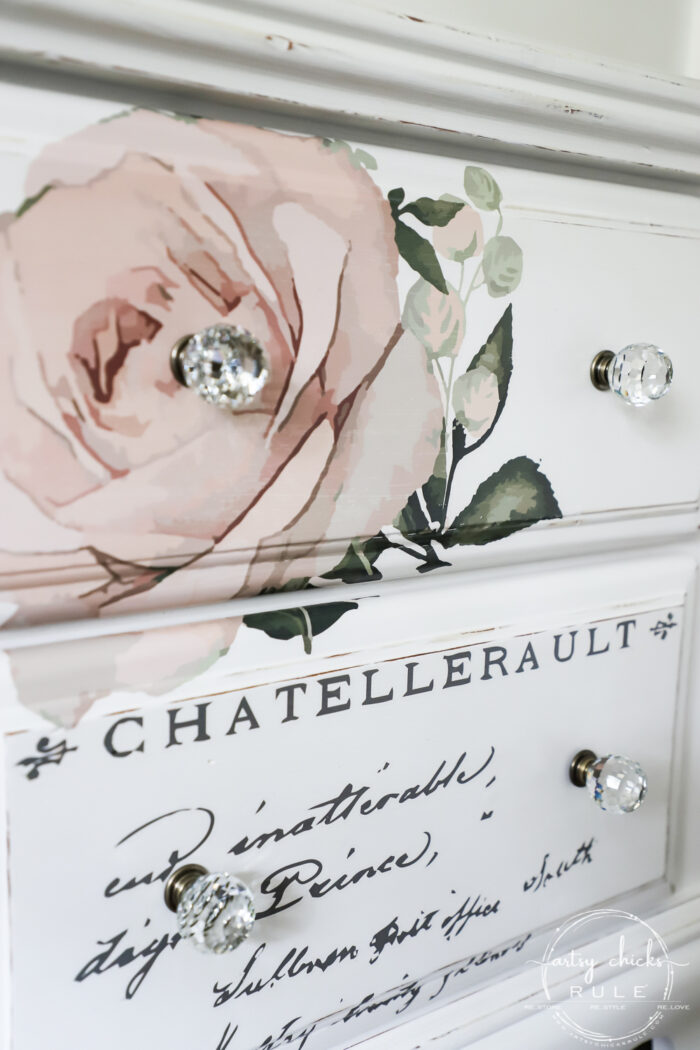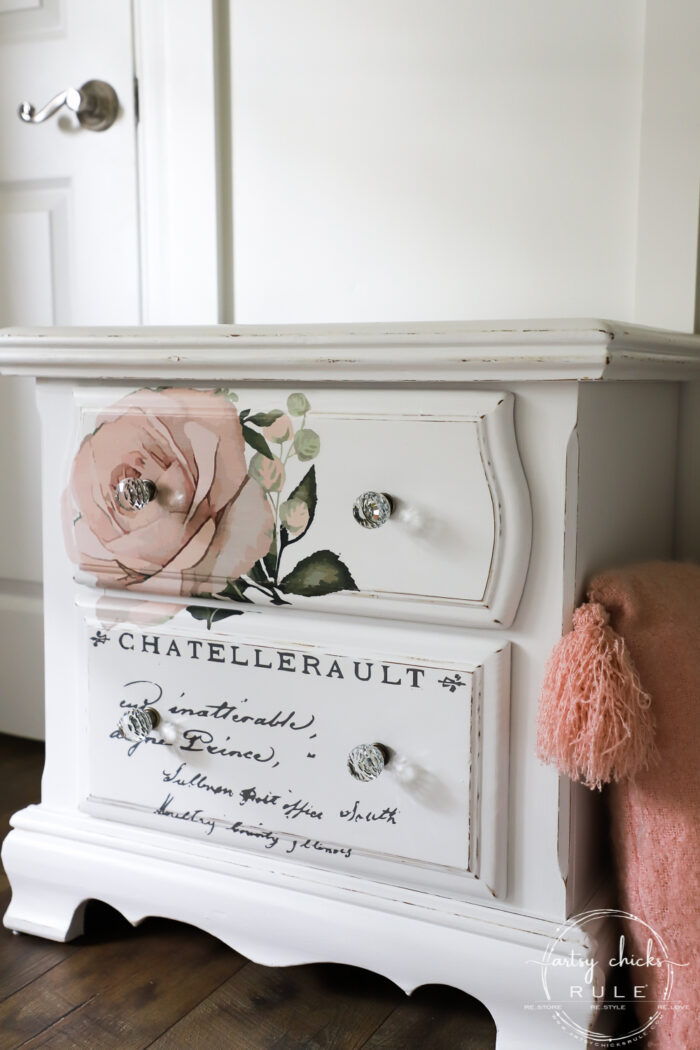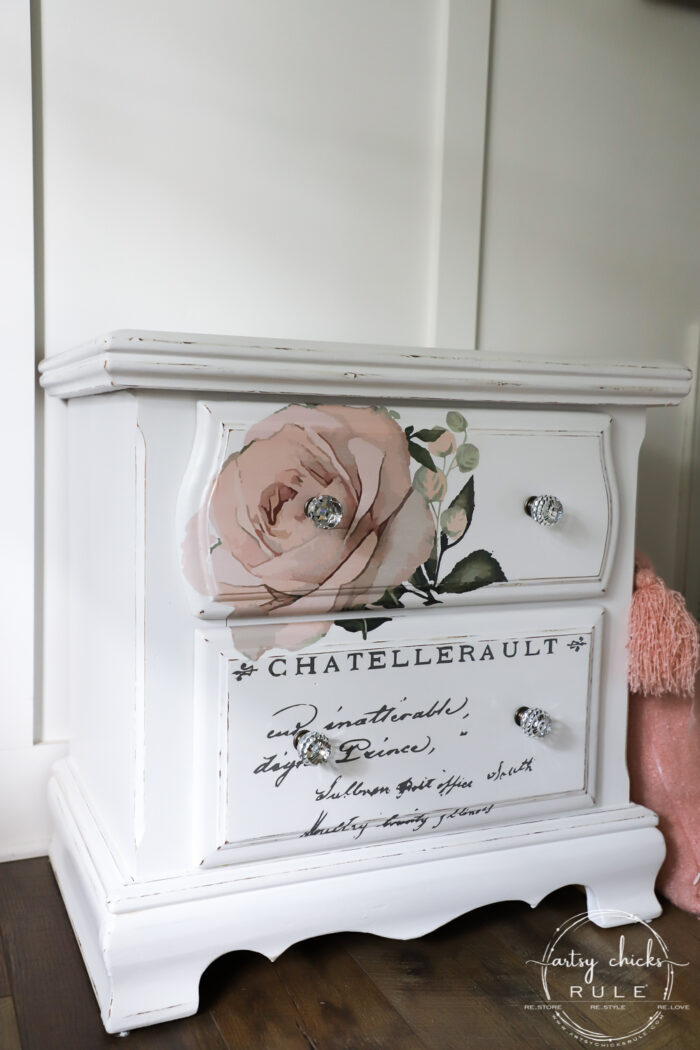 This would be so adorable in a little girl's room.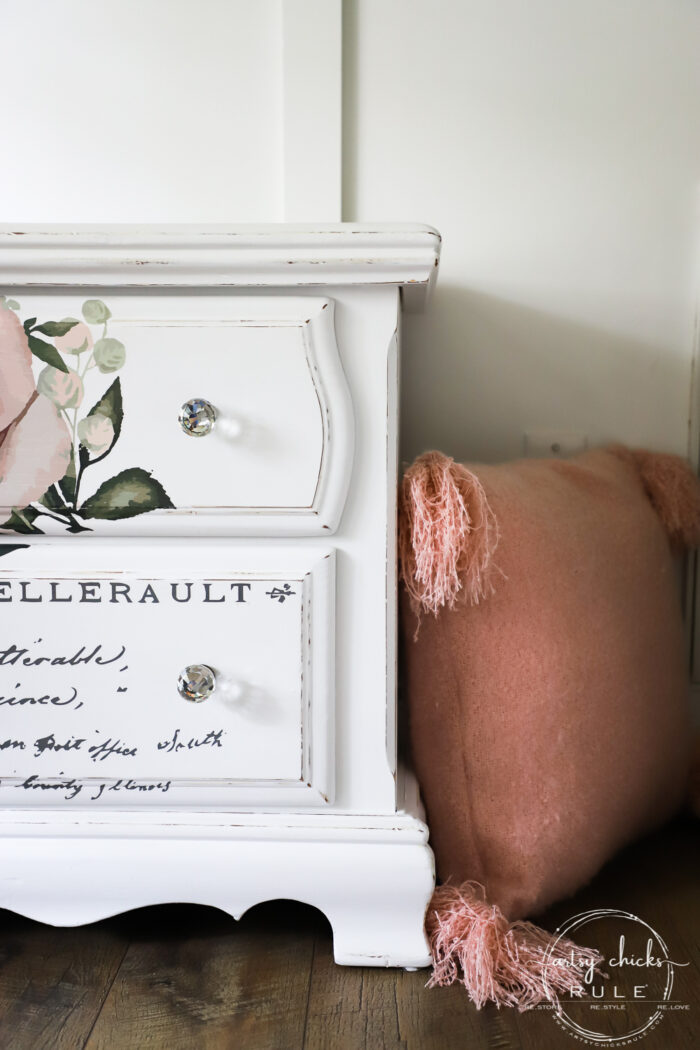 Pretty in pink.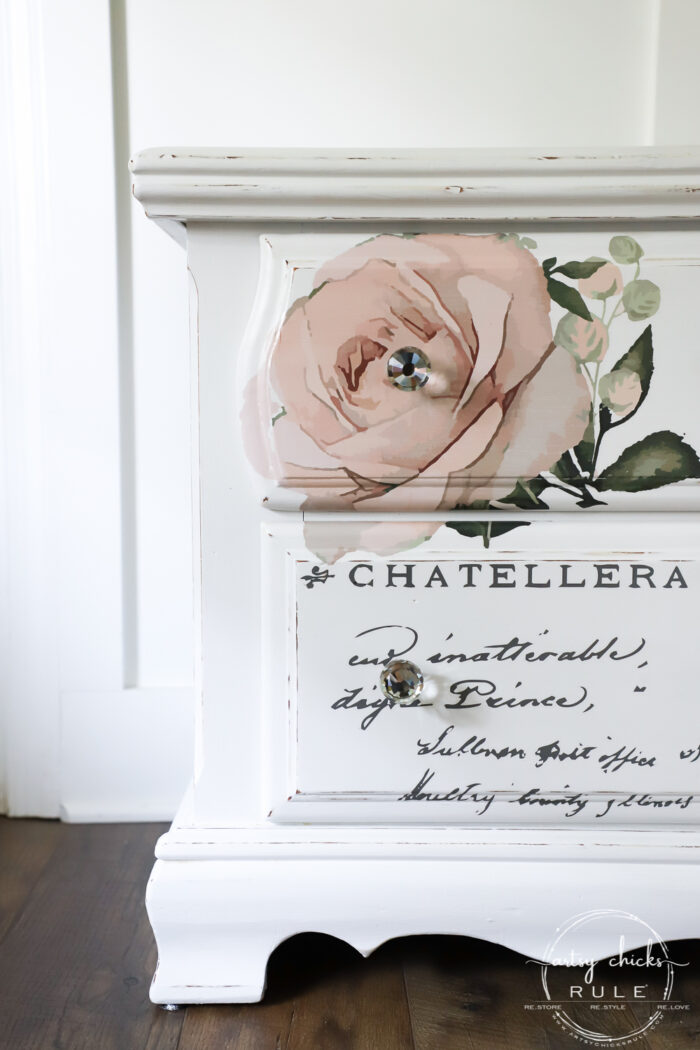 Remember that movie?? :)
The drawers were in such great shape I just left them alone.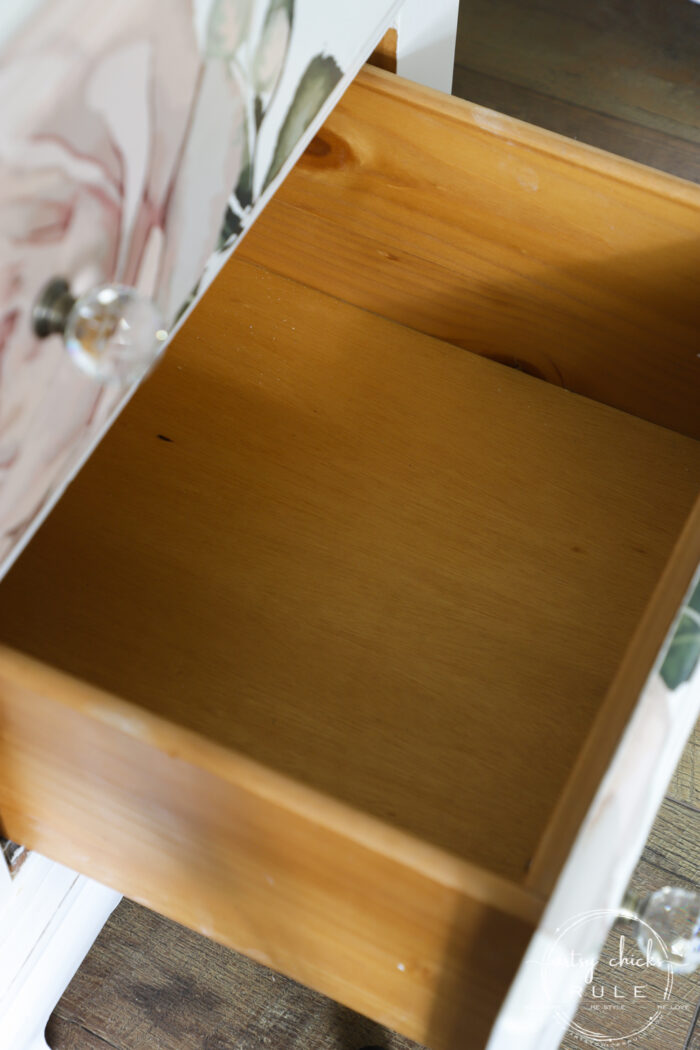 I just think it's so sweet now.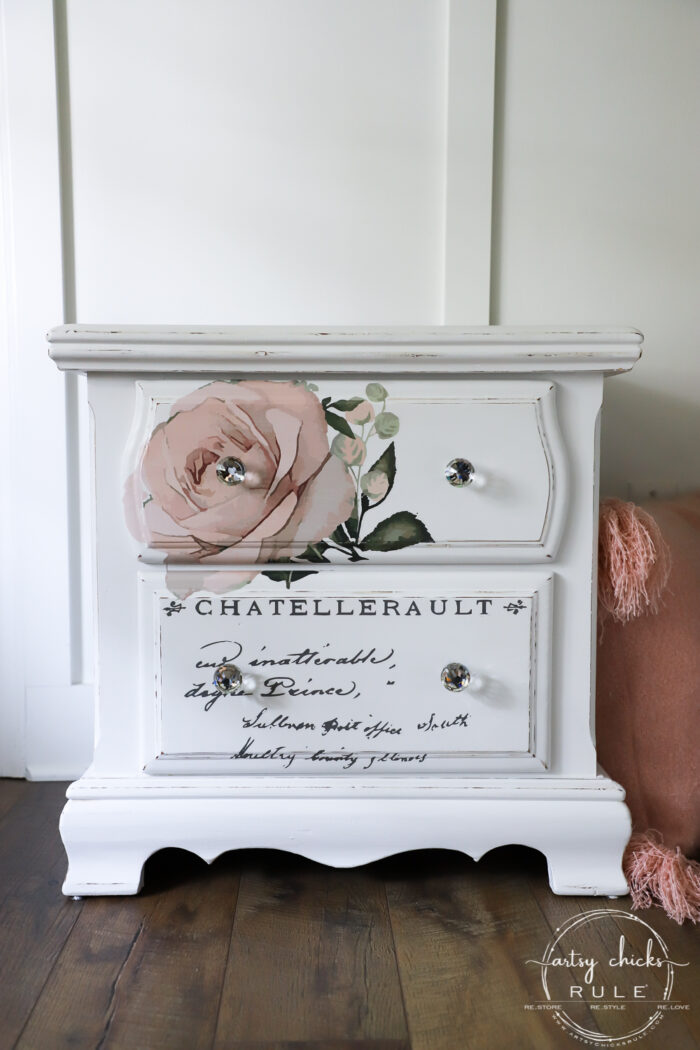 What a complete difference, huh???
Those Prima transfers make anything beautiful…and so simply too!
Sure did turn this old blah piece into a french style nightstand beauty.
PIN it to save it!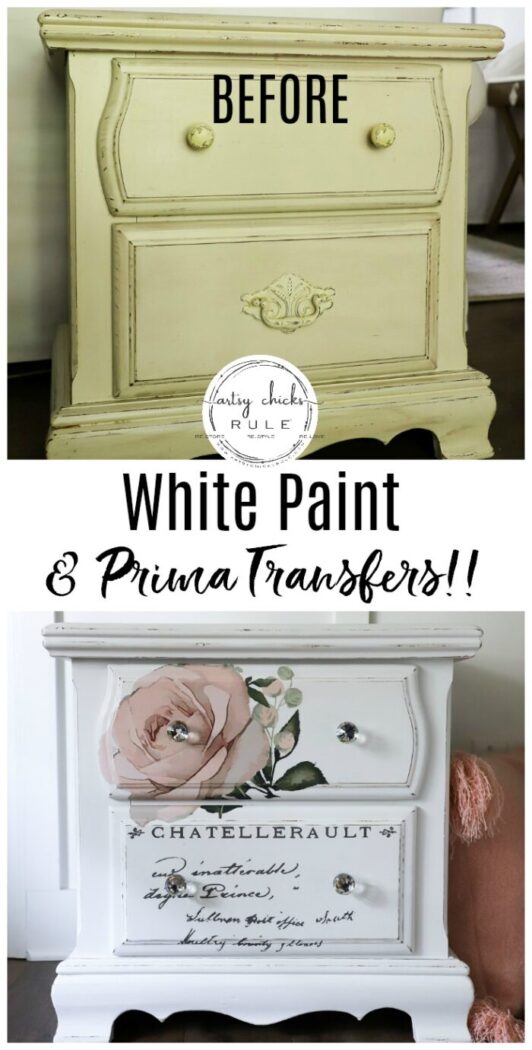 Don't leave just yet!! Hop on over to see what my friends did with these!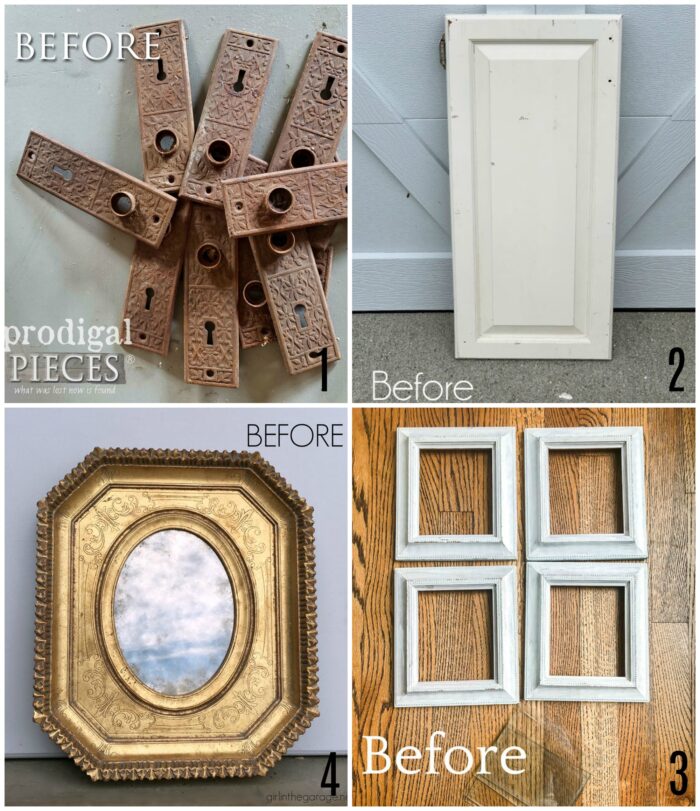 Want to see more Trash To Treasure posts?? Check them out >>> here.
And next time I'll be sharing what I did with this one!! Did I paint it … or stain it?? Stop back by to see!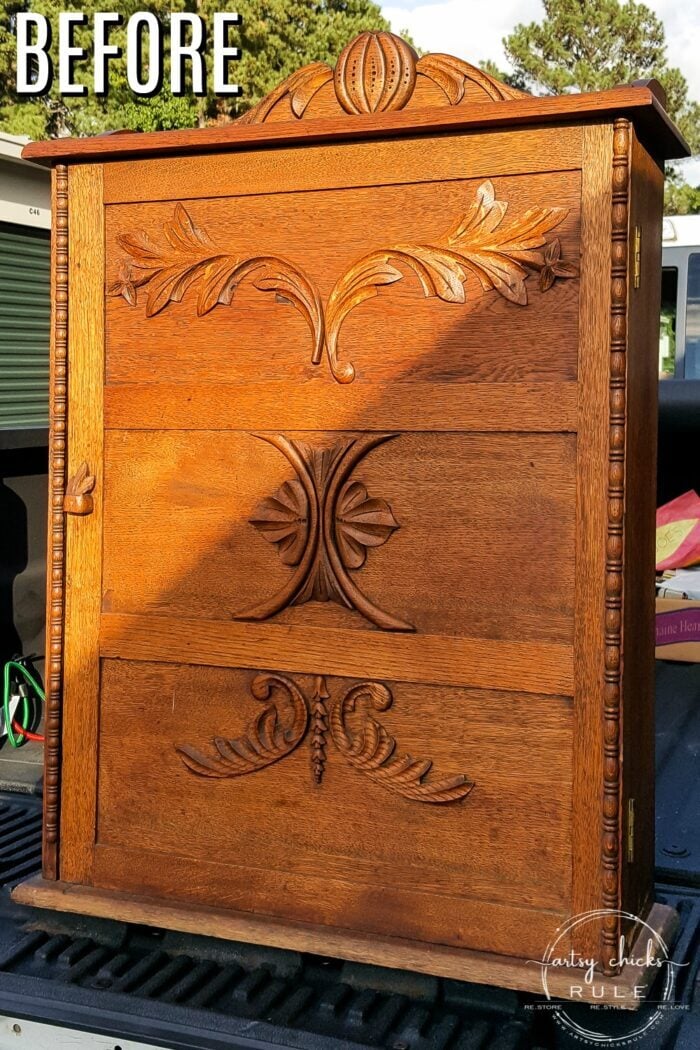 UPDATE!! See it now, here!!
I hope you have a wonderful weekend!
Don't forget to follow along with me on Instagram for updates to our bath/closet remodel and our new Outer Banks home updates/DIYs!
xoxo