Picture Frame Makeover (and some fun news!!)
This post may contain affiliate links. Please see disclosures here.
This dated picture frame makeover is the perfect example of SIMPLE and BUDGET FRIENDLY thrift store decor! See what it can be, not what it is.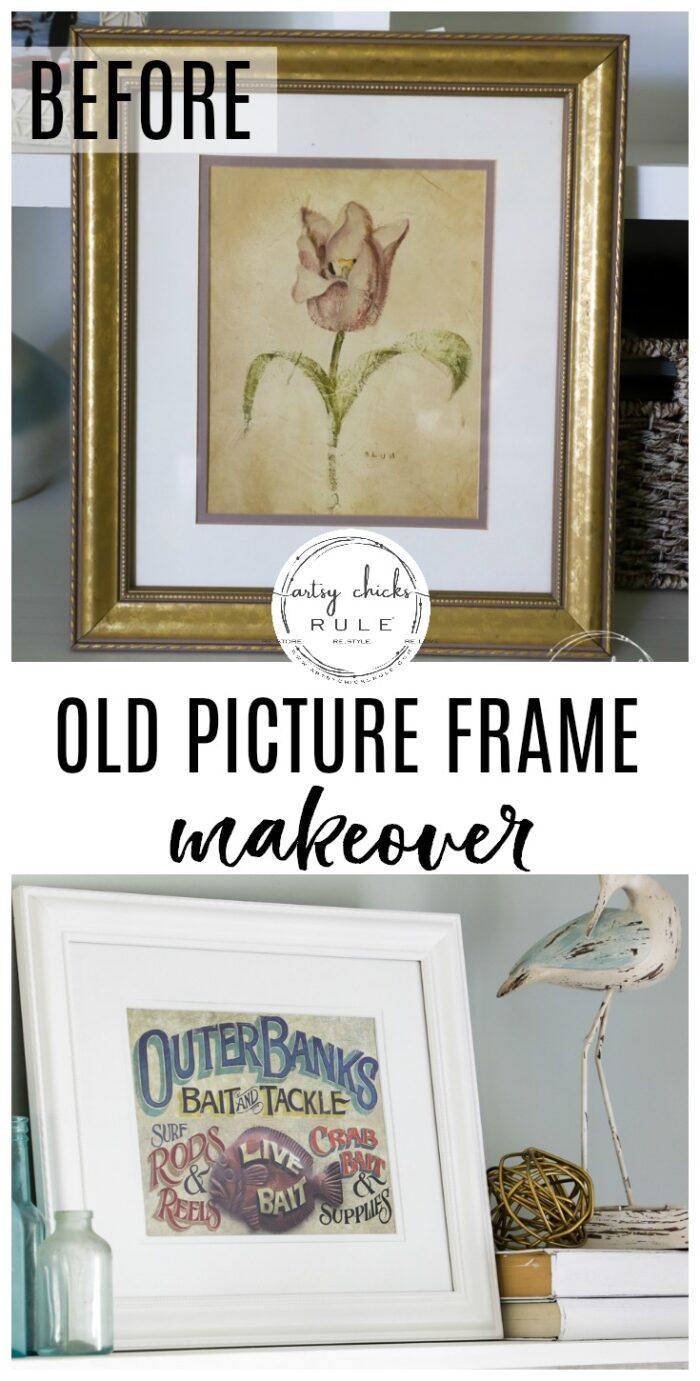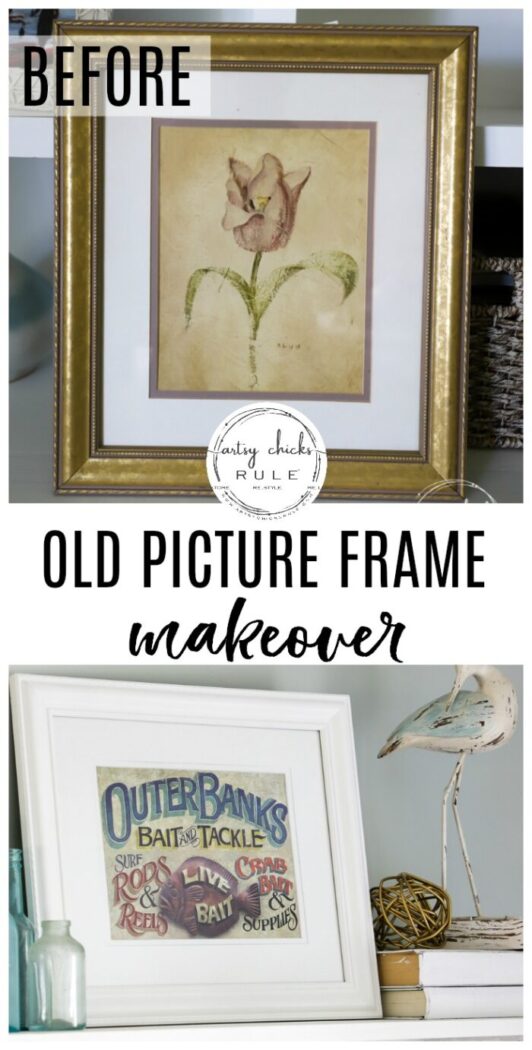 What a great way to create beautiful (and inexpensive, even better!) decor for your home.
Go pick up those old picture frame prints and hit them with some spray paint, add a new picture/print and voila!
Easy and budget-friendly artwork/wall decor.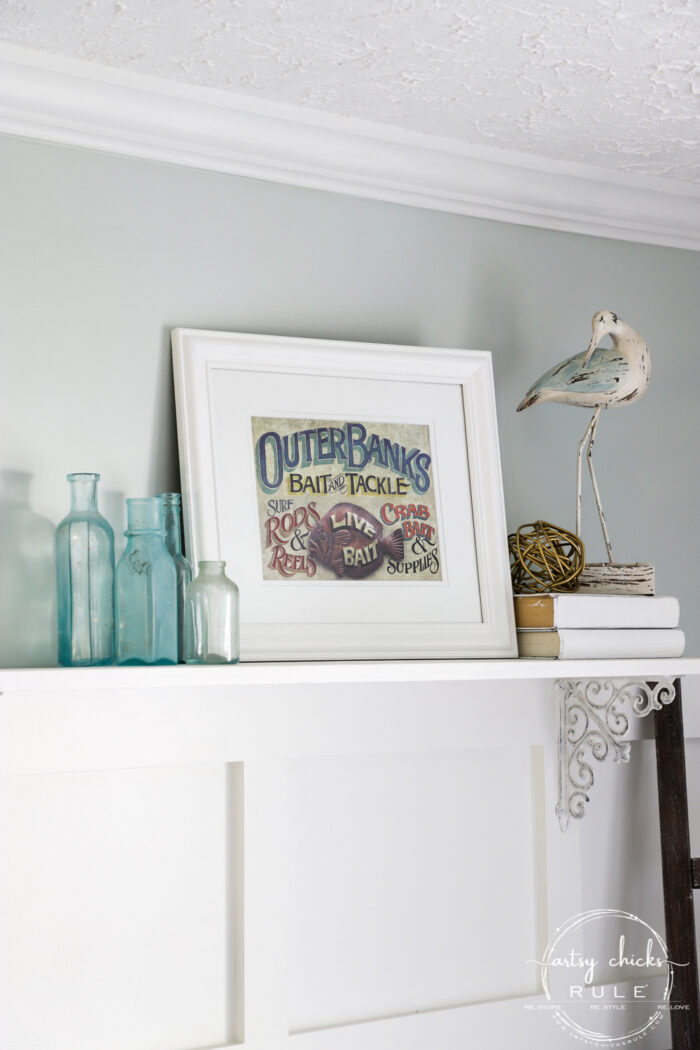 Do you see what I decided to put in my picture frame makeover??
An Outer Banks themed print.
No surprise there, huh? I've done several Outer Banks projects here on the blog.
Here are a few:
I've even posted travel posts about the Outer Banks.
And if you do a simple search of the "outer banks" many posts will come up because I've mentioned it so much. ;)
That's because I grew up going there as a teenager (it's about an hour and 45 minutes south of me) and continued to into my adulthood.
And because of that, it's always felt sort of like a second home to me.
And if you follow me over on Instagram, you might have seen my story last weekend announcing that it is now officially the place of our second home!
Yes, we did it! Finally.
We closed this past Friday and stayed through the weekend in our new little place. What an amazing experience.
We are still pinching ourselves and can't believe we finally did it.
And of course, we have lots planned for our little beach getaway but you'll have to wait a bit to hear all about it. I know, that's not nice, is it?? haha
I will be updating and sharing much more, photos, plans, etc., in an upcoming post so stay tuned for that.
I'm going to take you all along on all the DIY's and makeovers. It will be fun to work in a new space.
In unrelated news, I am also going to be doing a fun GIVEAWAY next week so stay tuned for that too. It's been a while since I've done one and well, I just couldn't wait to tell you, don't want anyone to miss out on it!
Alright, let's get on with this picture frame makeover I'm sharing today.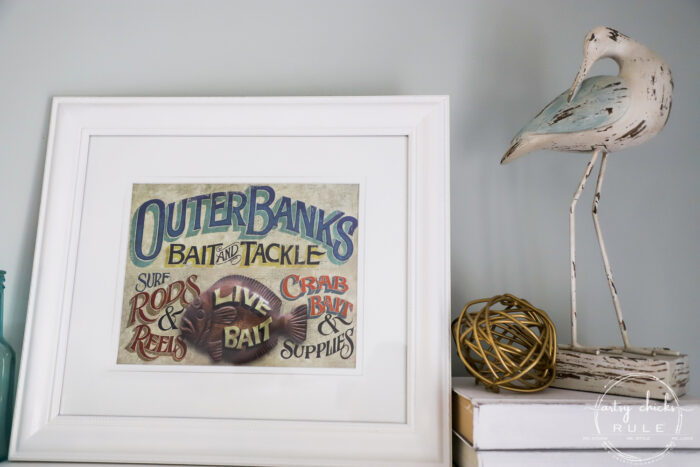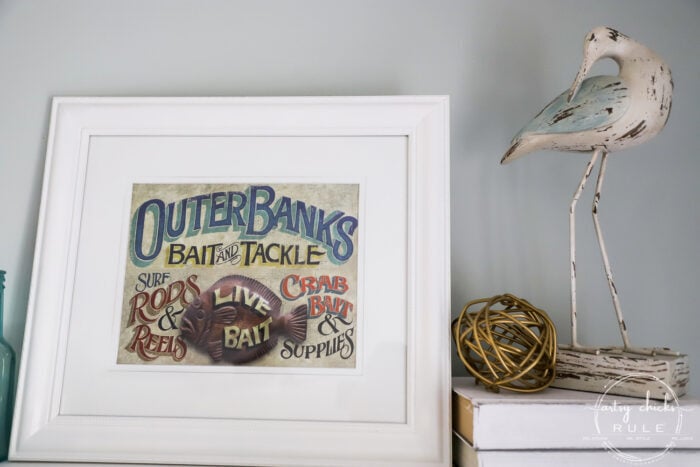 Here is how started out looking.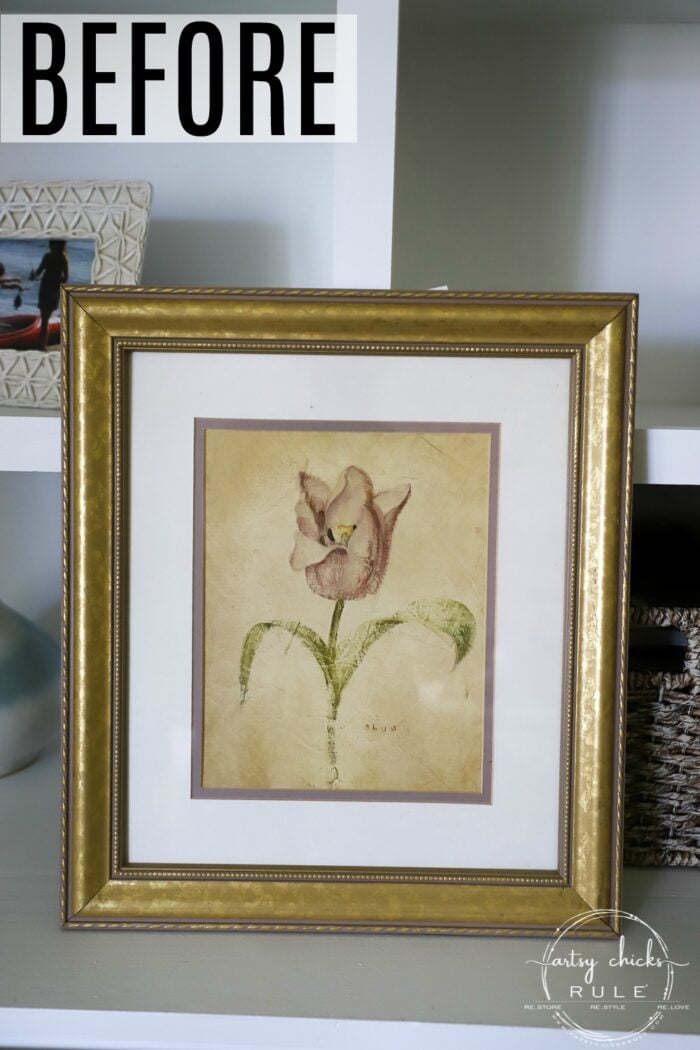 Pretty!
Actually, I had this same artist's print in our foyer for a few years. Two prints actually.
They are now another Outer Banks project I forgot to link above.
You can see them here >>> DIY Coastal Beach Prints
But they were originally very similar to this print above.
That is not my style any longer, however. And I'm guessing it's not for whoever took this to the thrift store.
Good for me though! I picked this up for a couple of dollars and now have a pretty, new piece of decor for our little beach getaway.
I started by taking it part.
First I scored the paper so I could pull the cardboard back off.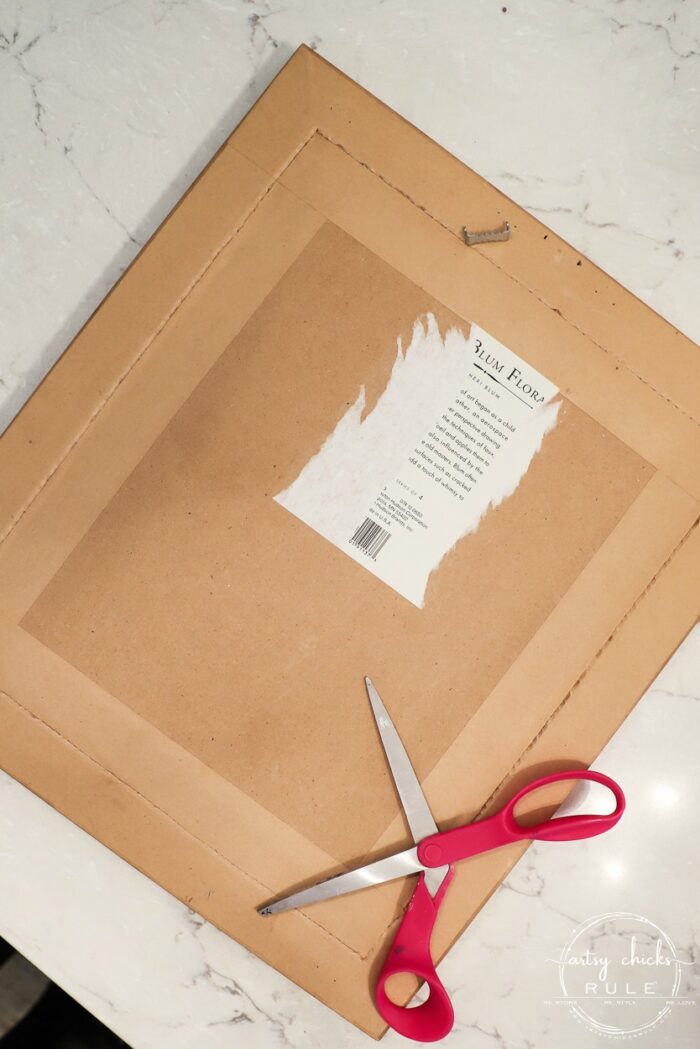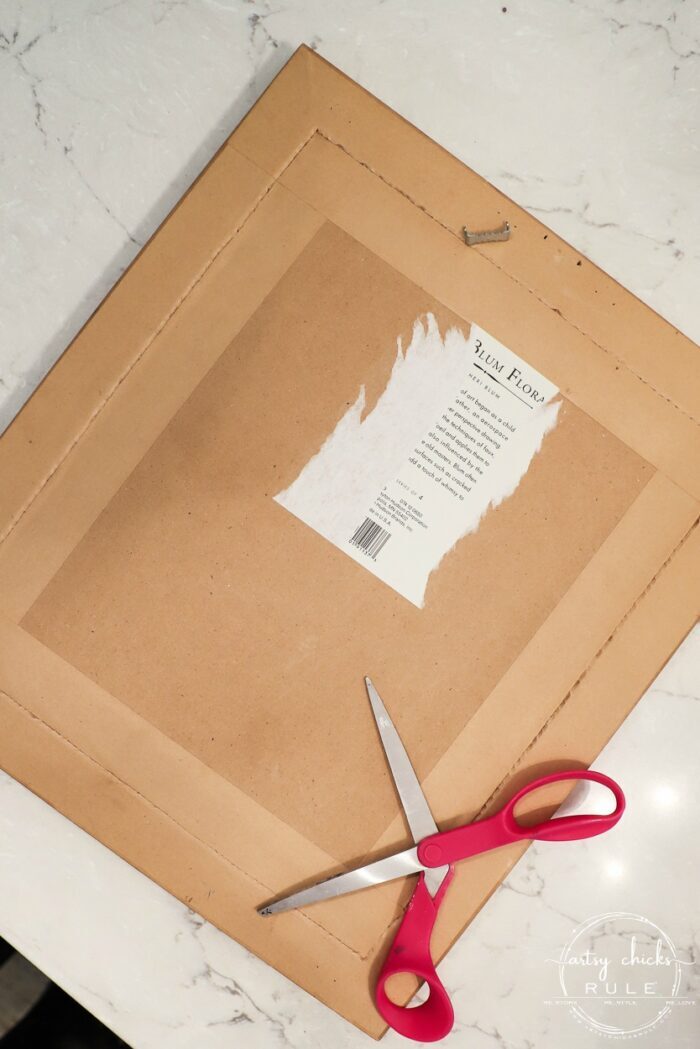 I popped out the hanging piece also because I was planning to turn this one sideways.
Then I used my plyers to remove all the staples.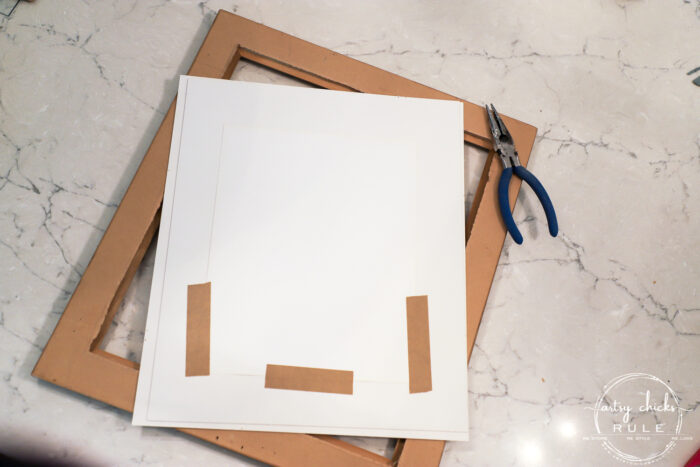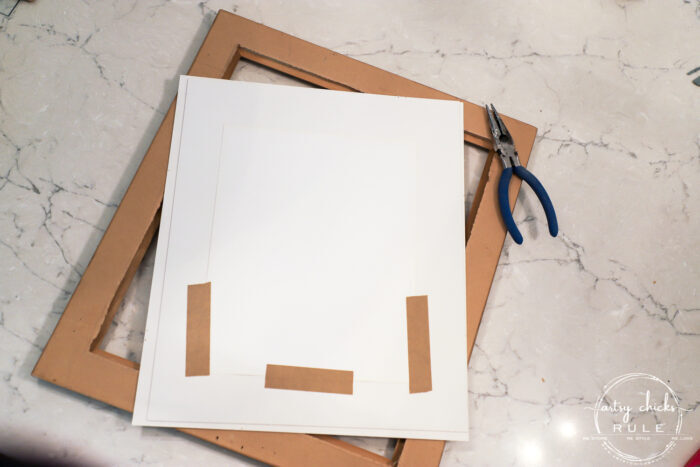 I then removed that tape there and took the old floral print off the mat.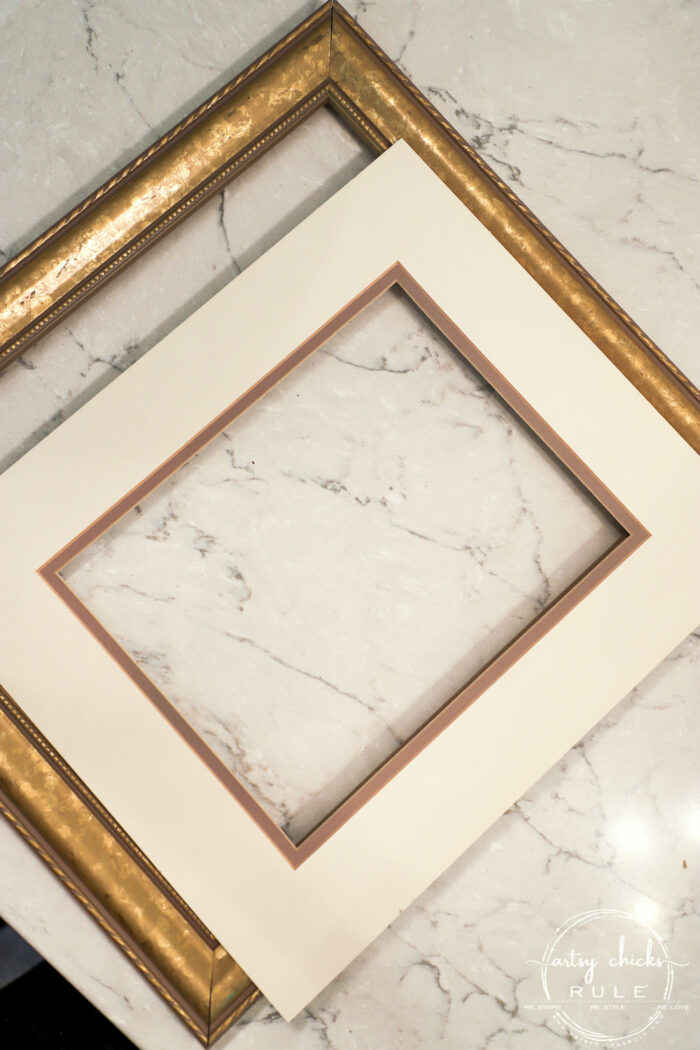 And now I painted it all with white spray paint. Flat finish for the mat and satin finish for the frame.
That is IT. So simple.
Then I found this super cute and colorful print on Etsy. (I want our new beach place to be colorful coastal…we'll see how that works out! ;) )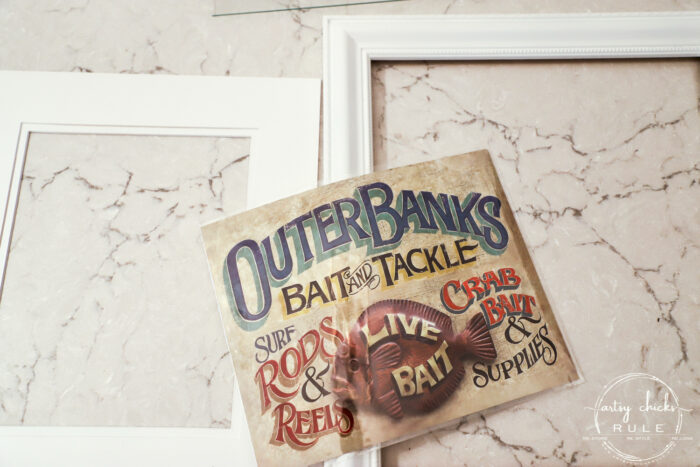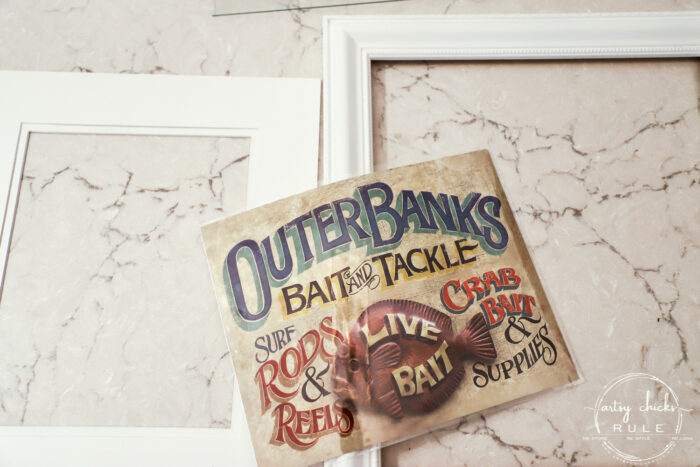 You can find it here >>> Outer Banks Print (hand painted originally)
Lots of neat signs over there.
I taped it to the back of the mat, put the cardboard back and secured it and done!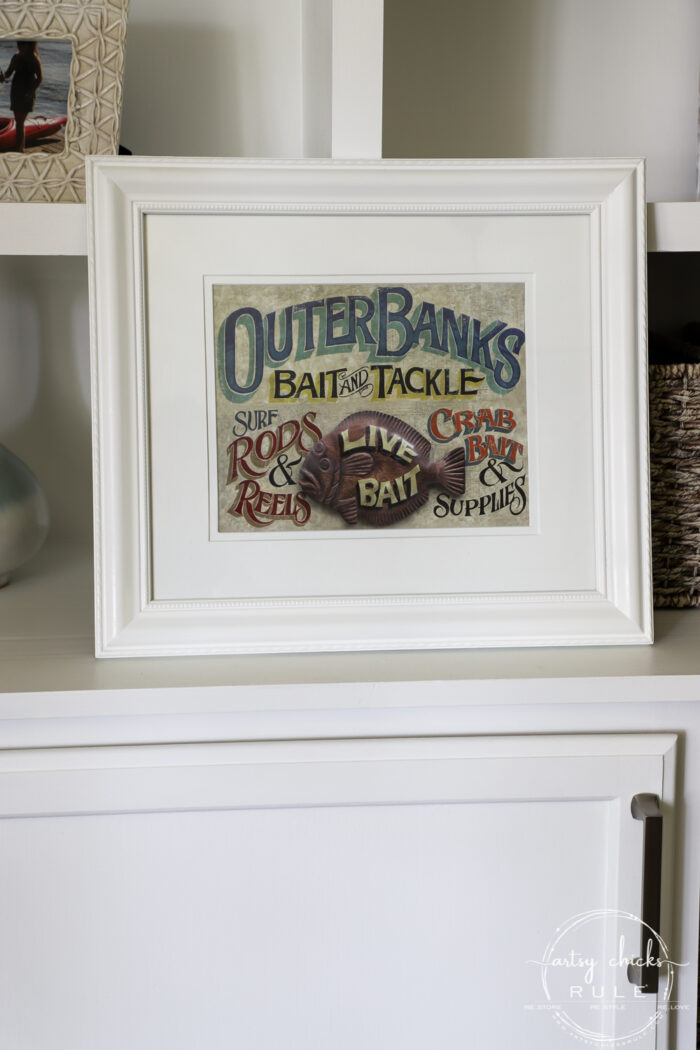 I used the glass on this one since it was nice and clear and not colored like the one in this pretty picture frame makeover I did a few weeks ago.
I just love how it turned out.
So colorful and happy next to the bright white.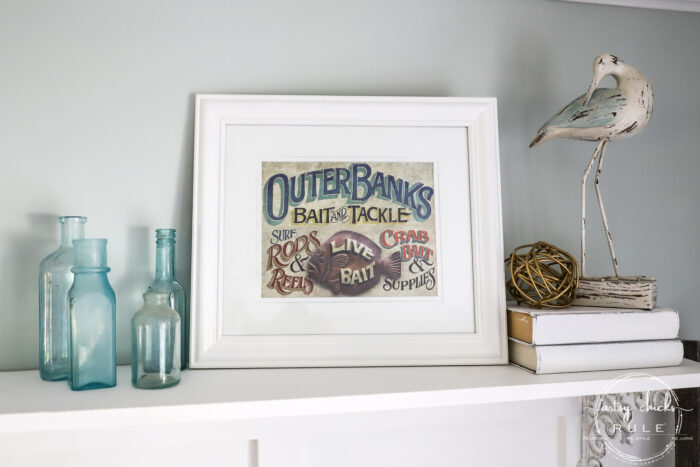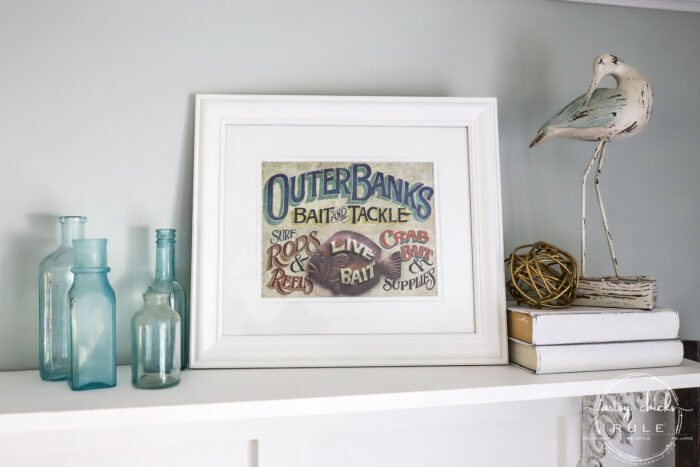 It's amazing what simple white paint can do.
It changes the look of this picture frame completely.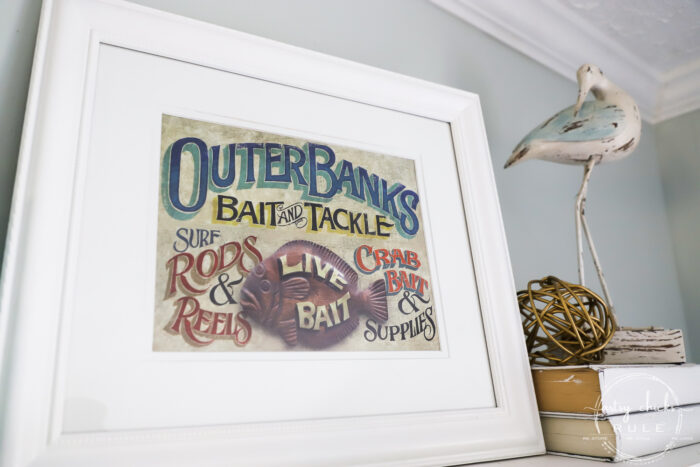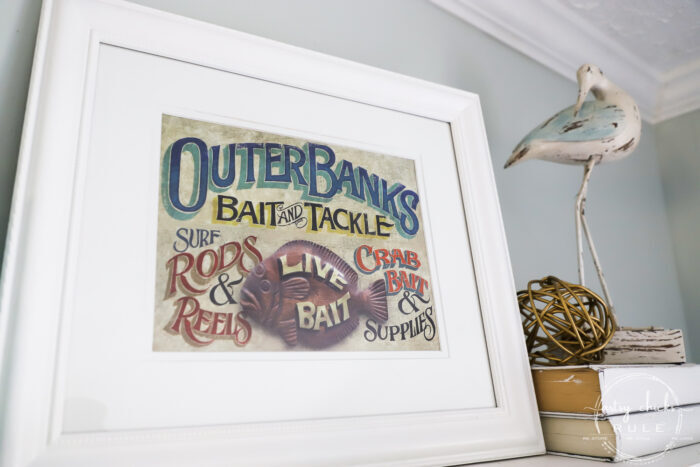 But that print steals the show on this one.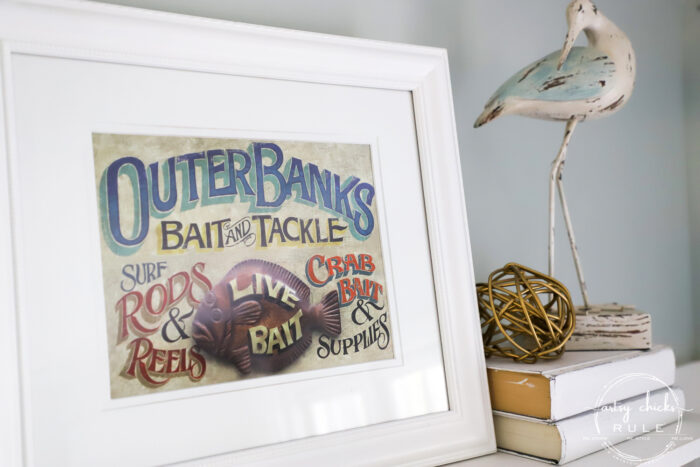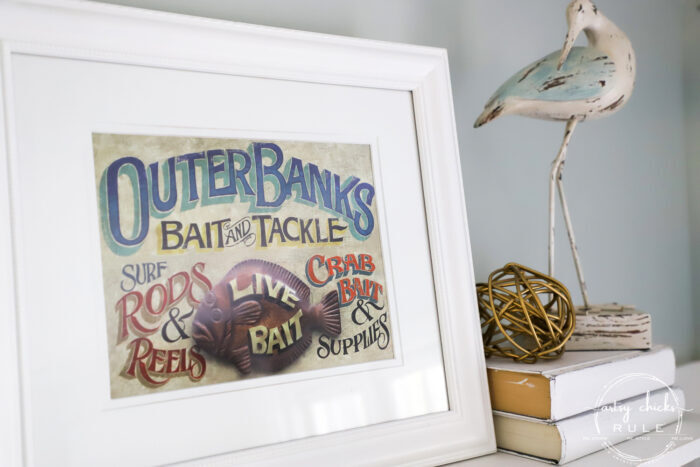 You know you can find old picture frames like this at the thrift store all day long, right??
Go get ya some!
Make something pretty for your home, stand back and admire your "hard" work. ha!
Well, stand back and enjoy your simple but gorgeous makeover that didn't break the bank.
PIN it to save it!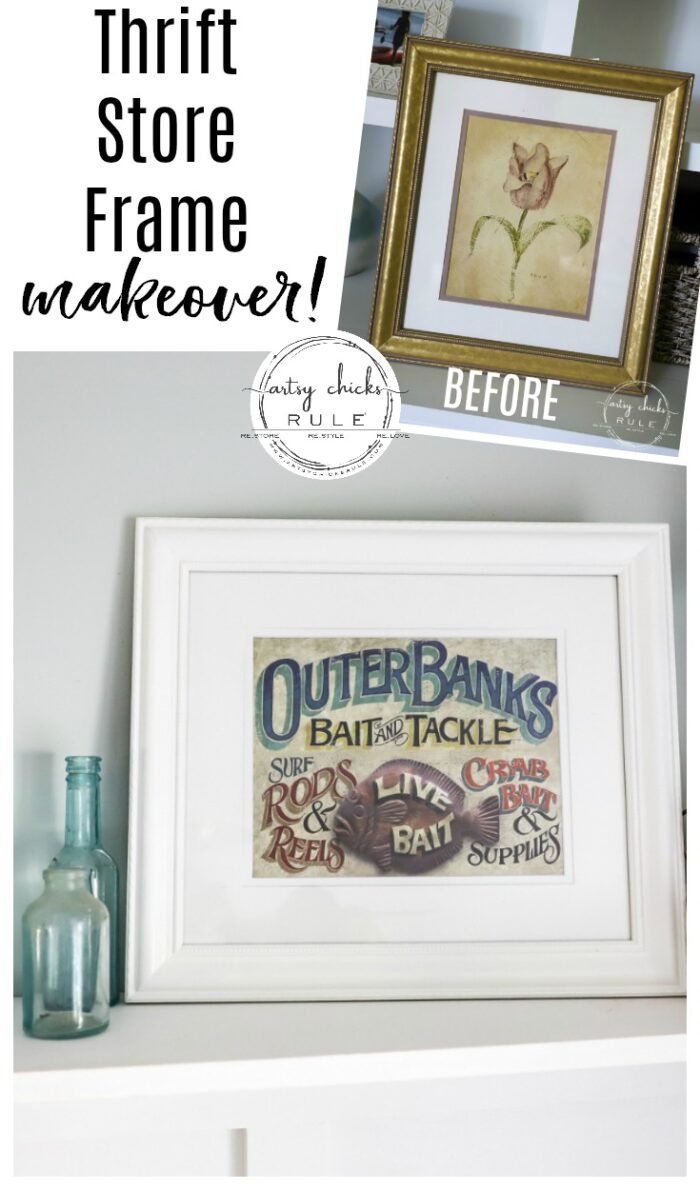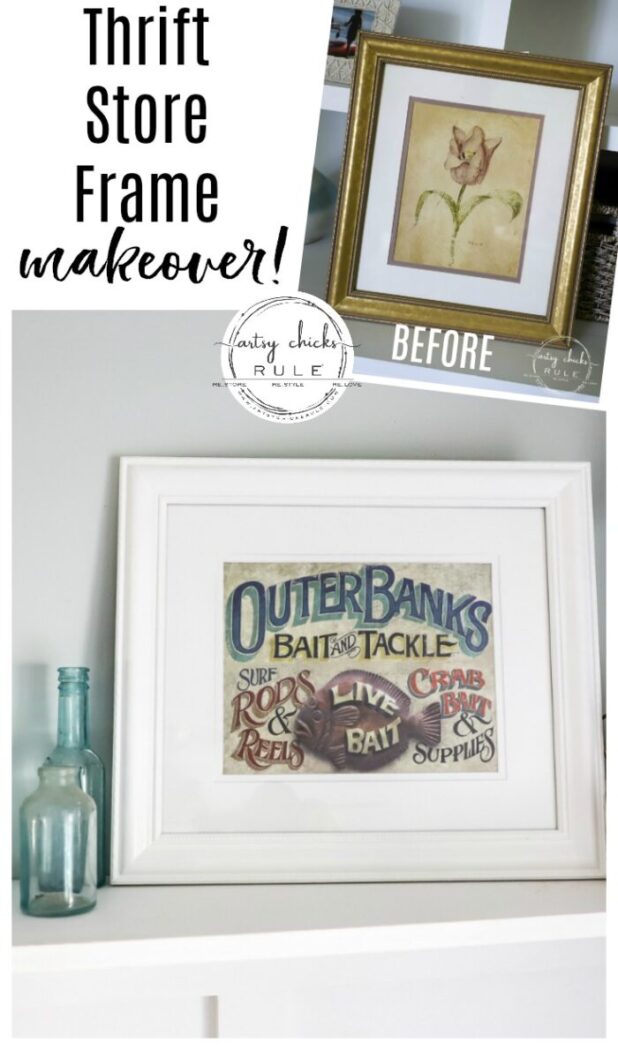 Keep an eye out this weekend over on my Instagram stories! You never know what you might see. ;)
I'll be back later with with makeover!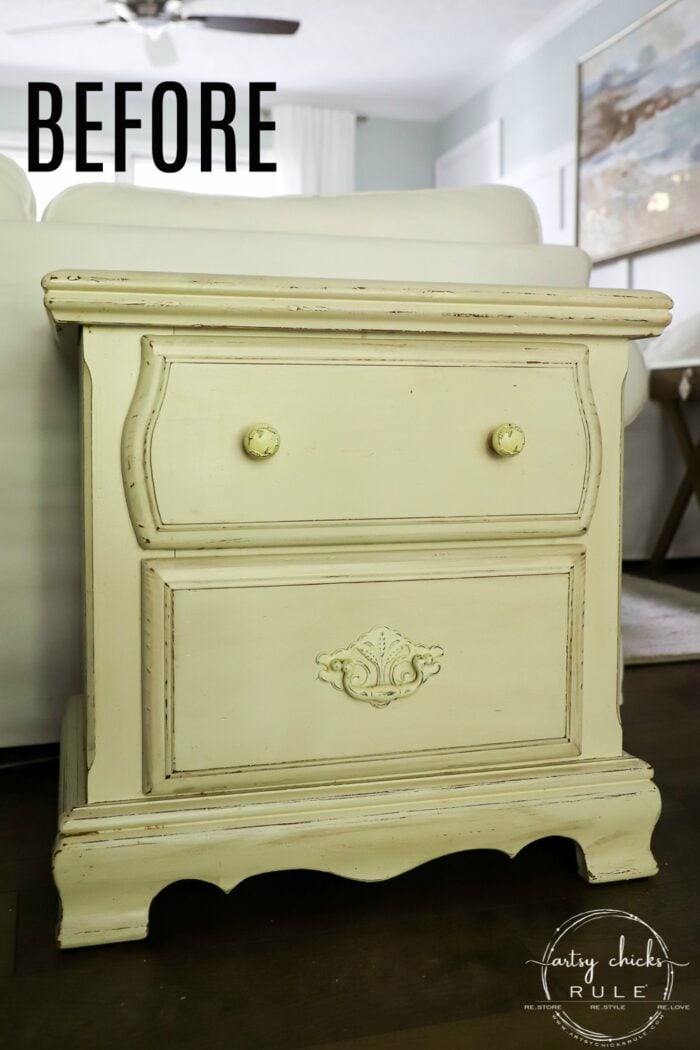 UPDATE!! See it now here!
Have a wonderful weekend, friends!
xoxo