Sherwin Williams Sea Salt (gorgeous coastal "neutral"!)
This post may contain affiliate links. Please see disclosures here.
Sherwin Williams Sea Salt is a gorgeous color. I know, I have it in several rooms in my home! It's the perfect coastal "neutral" color.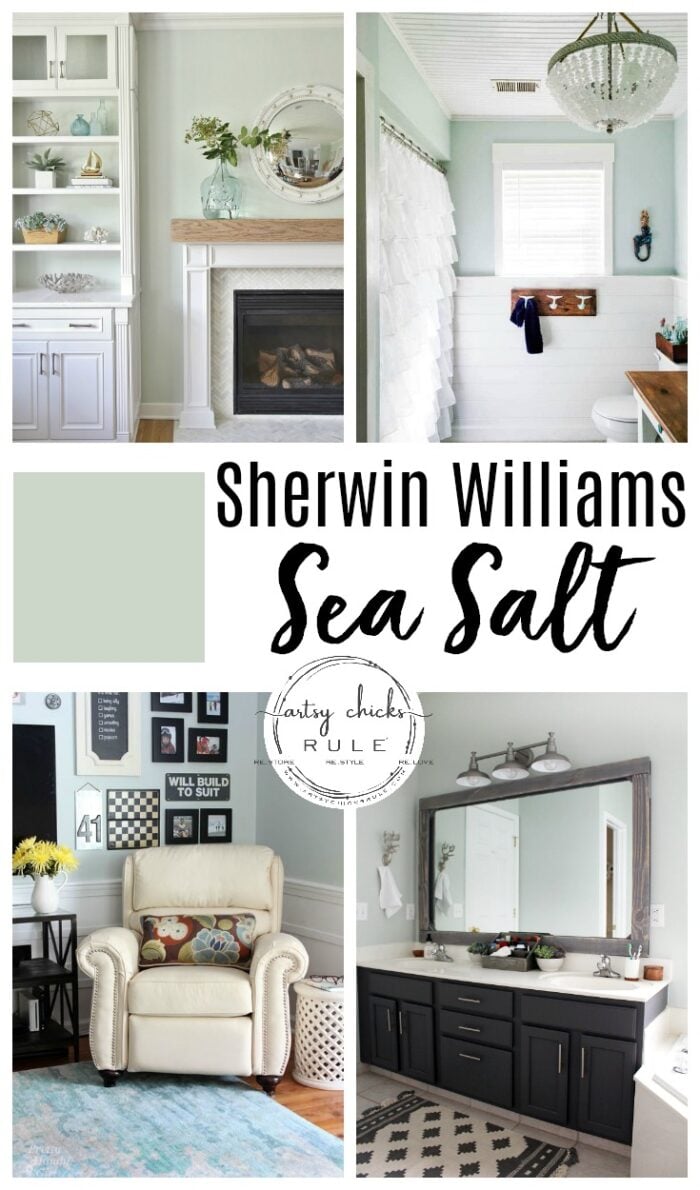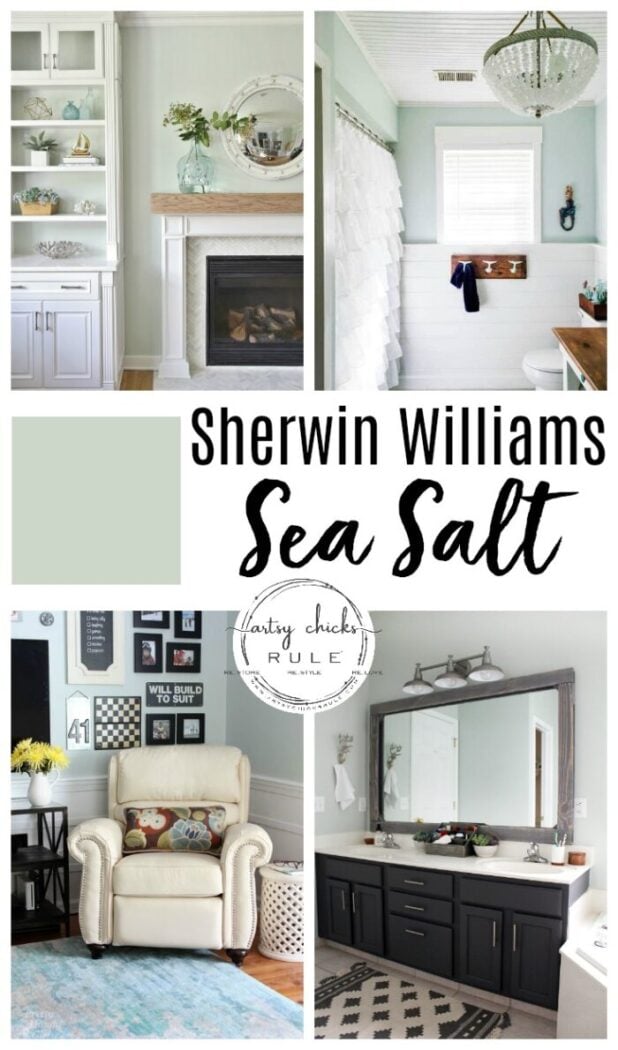 Hey friends!
I hope you are having a wonderful week so far. We've been away on a little vacation to the Outer Banks to maybe find our beach getaway this week!
Eek! Anyway, we are looking and that's the fun part anyway, right??
So today I thought I'd share one of my favorite wall colors, Sherwin Williams Sea Salt. When we finally find our little beach getaway it will most definitely get something painted that color!
The color is best described as a soft, pale greenish, blueish, grayish shade.
And it's a bit of a chameleon. ;)
In some rooms/lighting it looks more greenish (but not GREEN if that makes sense). In others it's more blue. Both with that hint of a soft gray tone. I'd note here that I see more blue overall in my home. All rooms included.
It's always best to test any paint color in your home and lighting before committing though.


You all should know it pretty well. I have it in 3 rooms in this house here.
It's one I get asked about most often, here in emails and on Instagram when I post photos of rooms with it.
I almost feel like it's a universally loved color. (ha, I'm sure that's just my thinking but still…)
I have to say that I also love (very much) the pretty white, not white, neutral I have in my other rooms too. But that's going to be a post for another day I suppose. ;)
**Below my photos, I'm going to list the items in the photos with links below to each corresponding post/project. I usually get asked about things that are sometimes in the pictures so thought this would be helpful!
So first let me share some of my pretty rooms painted in Sherwin Williams Sea Salt…
Our guest bathroom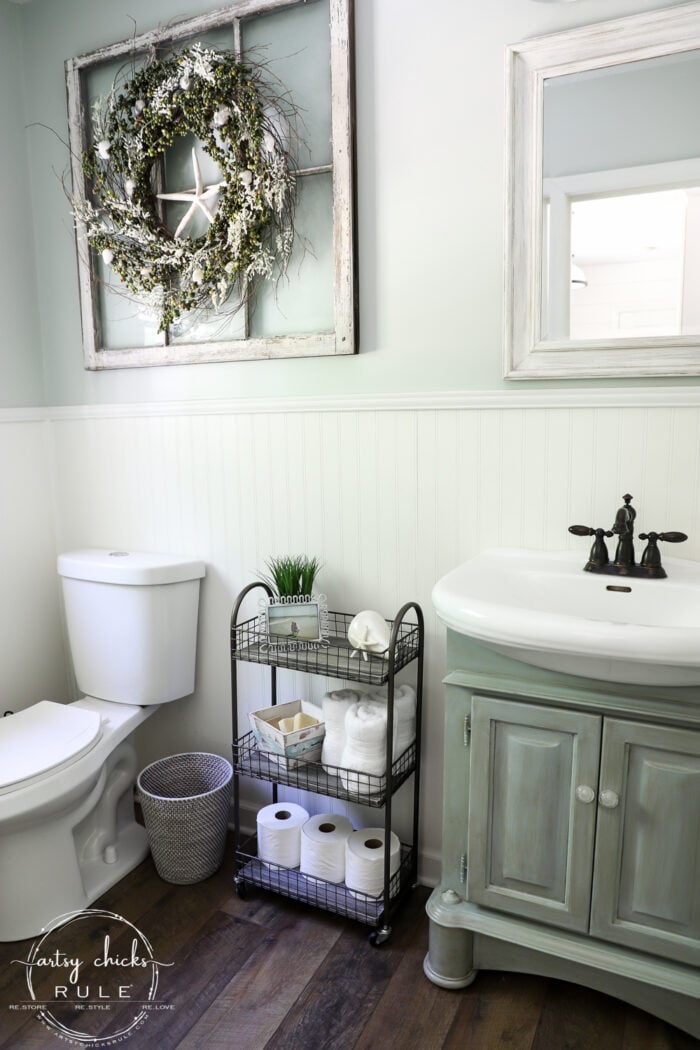 Here are a few of the things in this room we've done:
A few shots of Sea Salt in our family room…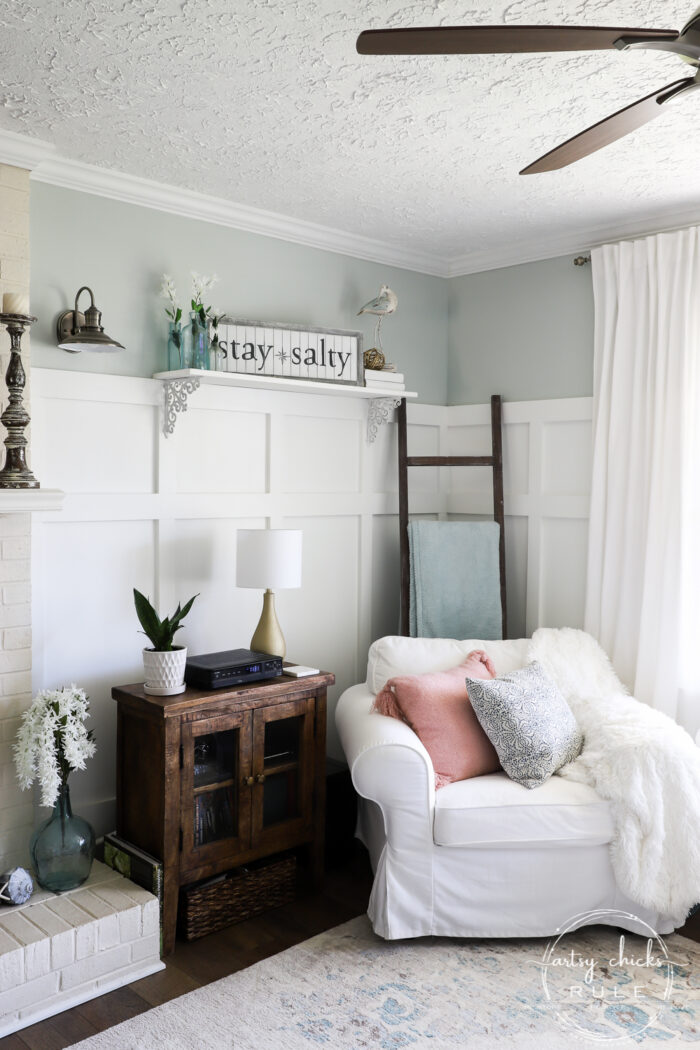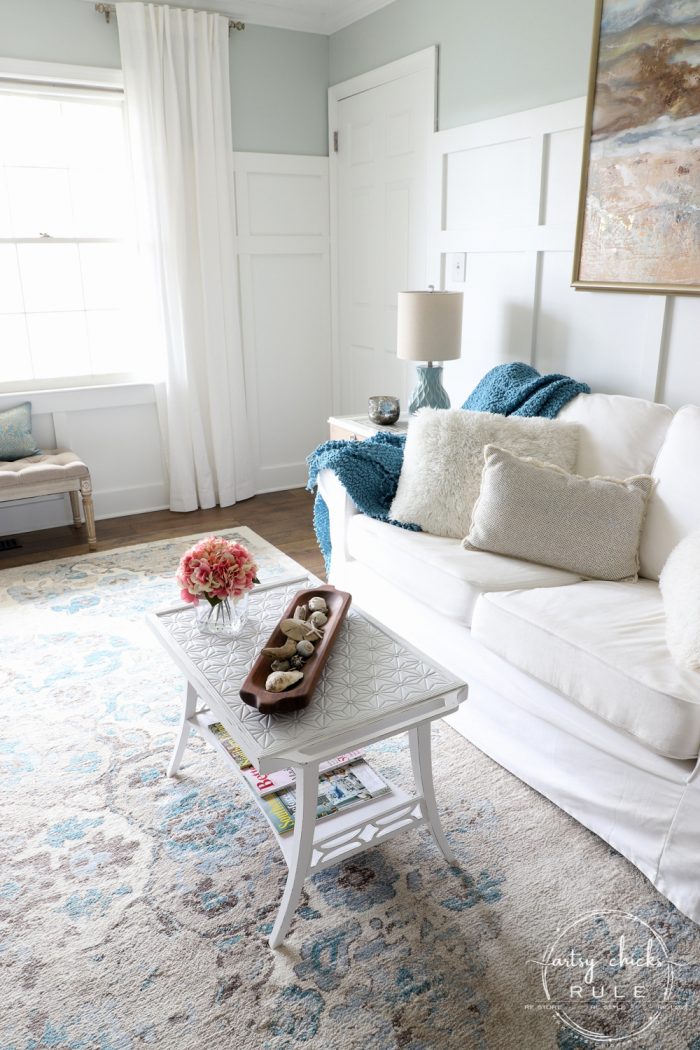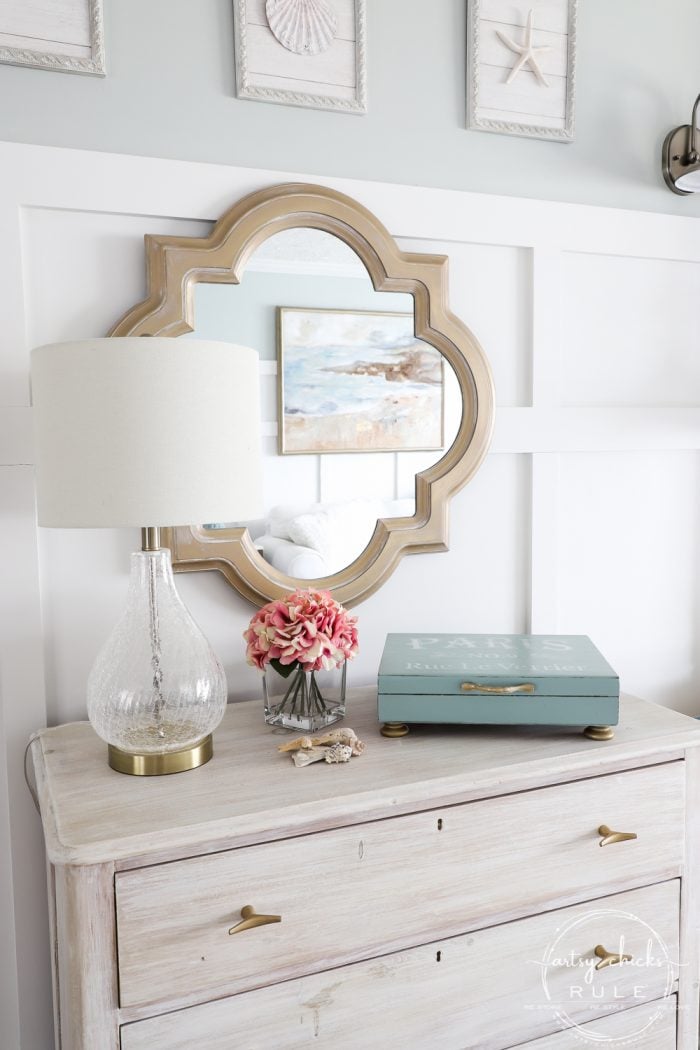 And our foyer…
I think Sea Salt looks especially good with darker floors and white-white trim. (or I may just be biased ;) )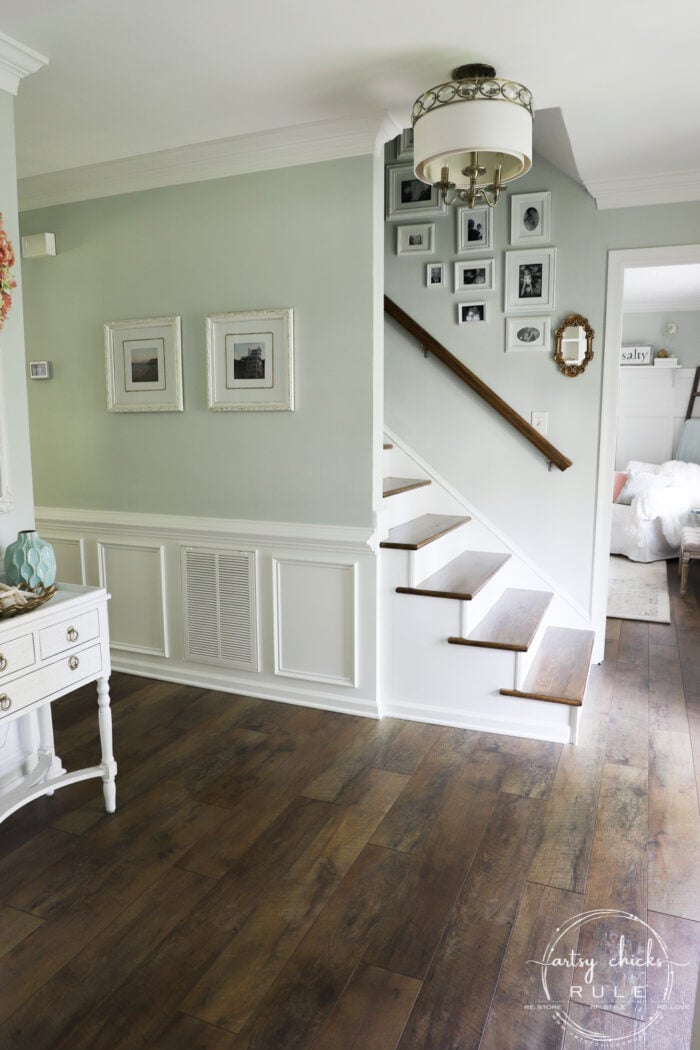 Want to see even more Sherwin Williams Sea Salt in other peoples' houses?
I've got more for ya!
Be sure to hop over to each blog I'm sharing to see even more of the room. (and more of the blog too!)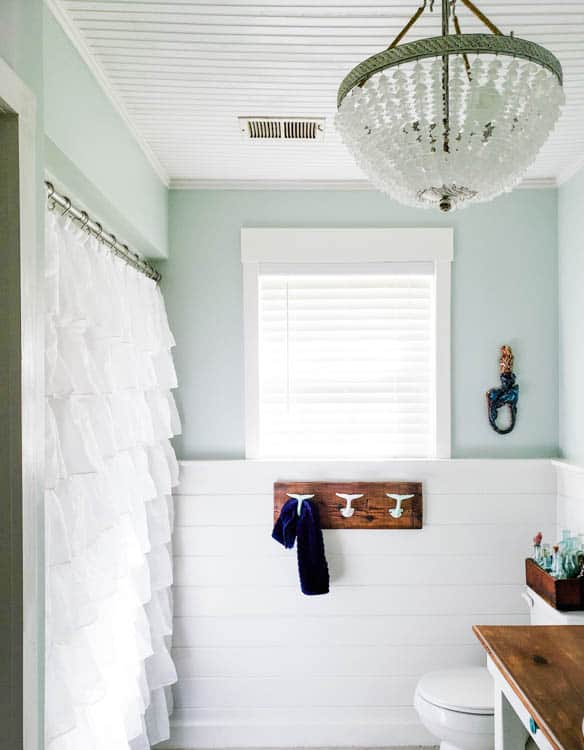 Isn't this coastal bathroom just gorgeous??
You can see the rest of this pretty space here >>> Sand Dollar Lane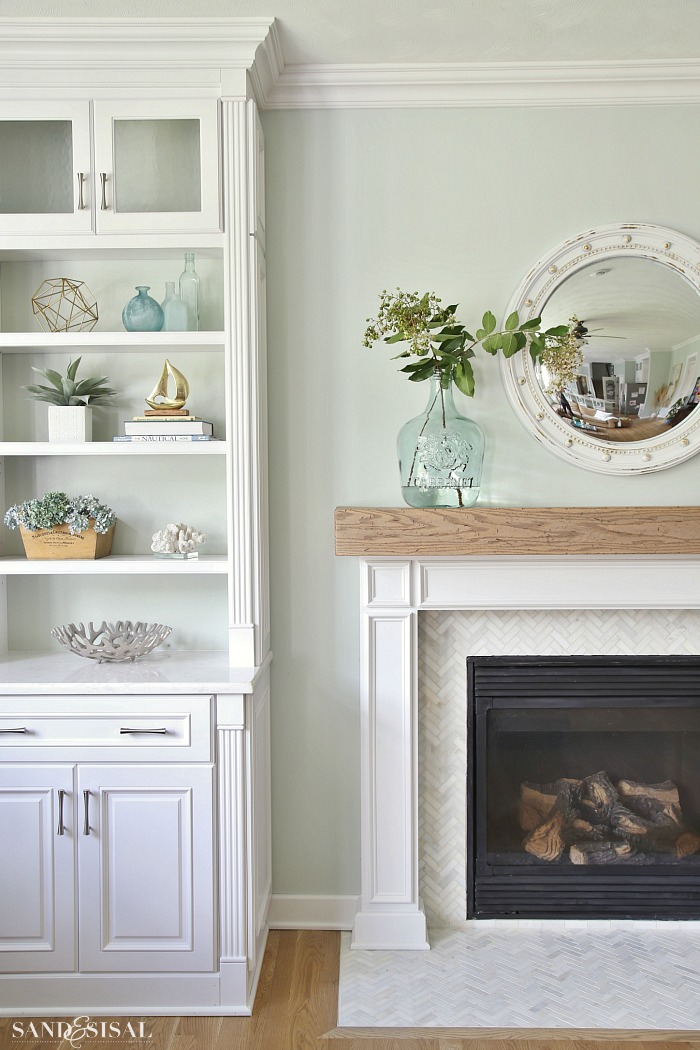 Kim's entire home is just beautiful! She uses Sea Salt in her family room here just beautifully.
Hop on over to see more (and look around because you MUST see her gorgeous kitchen too!)
See more here >>> Sand & Sisal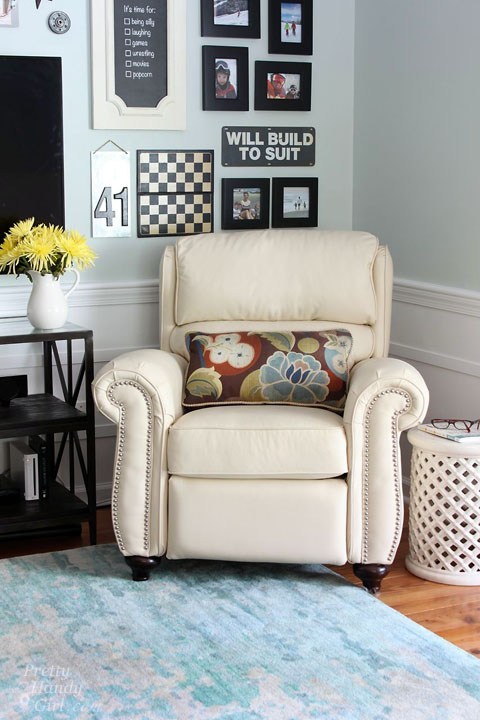 Brittany gave her living room a beautiful new makeover with Sea Salt as the perfect backdrop.
See the rest here >>> Pretty Handy Girl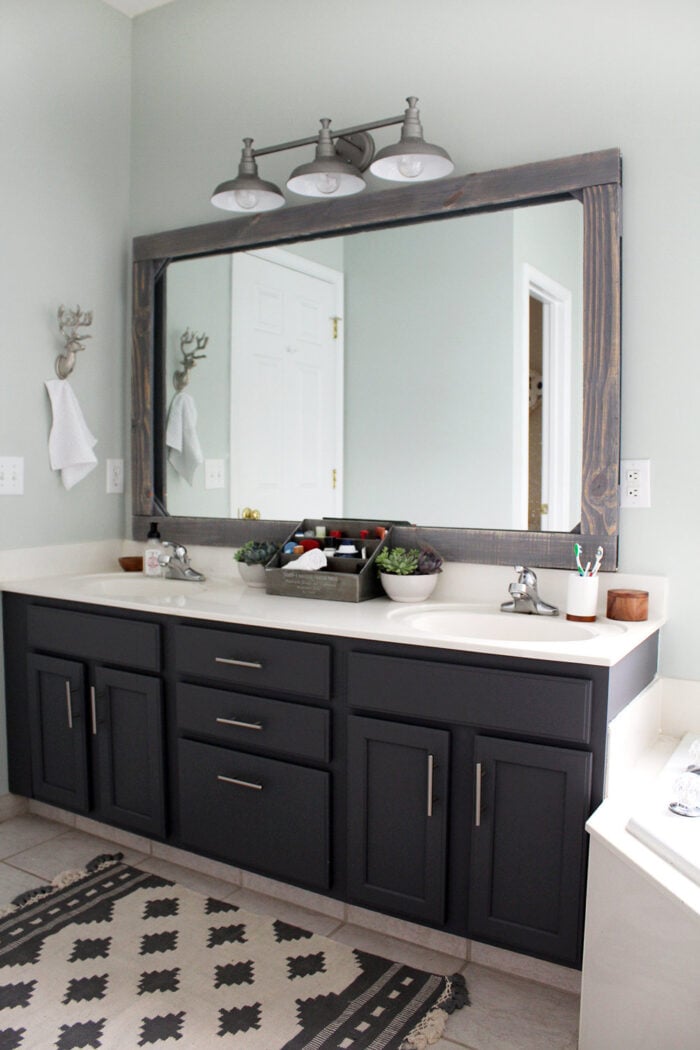 Remember when I said I love Sea Salt with the dark flooring?? This is the same look and I just love it!
It goes so well with so much. See more here >>> Tag and Tibby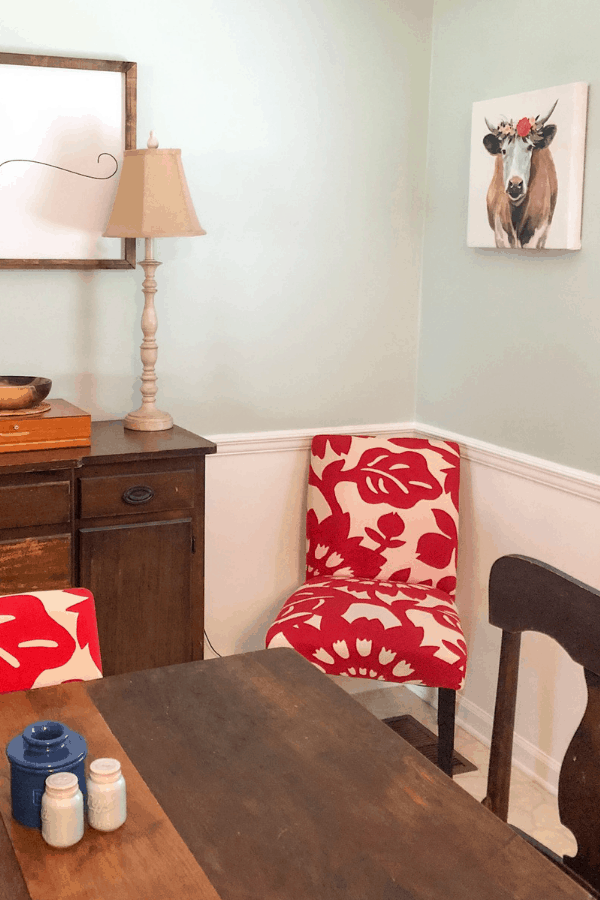 You can see how even red goes wonderfully with this color. Just about anything you put with it will work.
And can you believe this is painted wallpaper?? See more here >>> Create and Find
I hope you enjoyed seeing more rooms and homes with Sherwin Williams Sea Salt today.
I get asked about it so much that I thought it was time to dedicate a post to it. It's truly one of my favorite colors.
So much so that I even painted our kitchen island off of the same color chip…Oyster Bay. Similar to Sea Salt but just a touch darker.
Love it too! You can't go wrong with either.
PIN it to save this gorgeous color for later!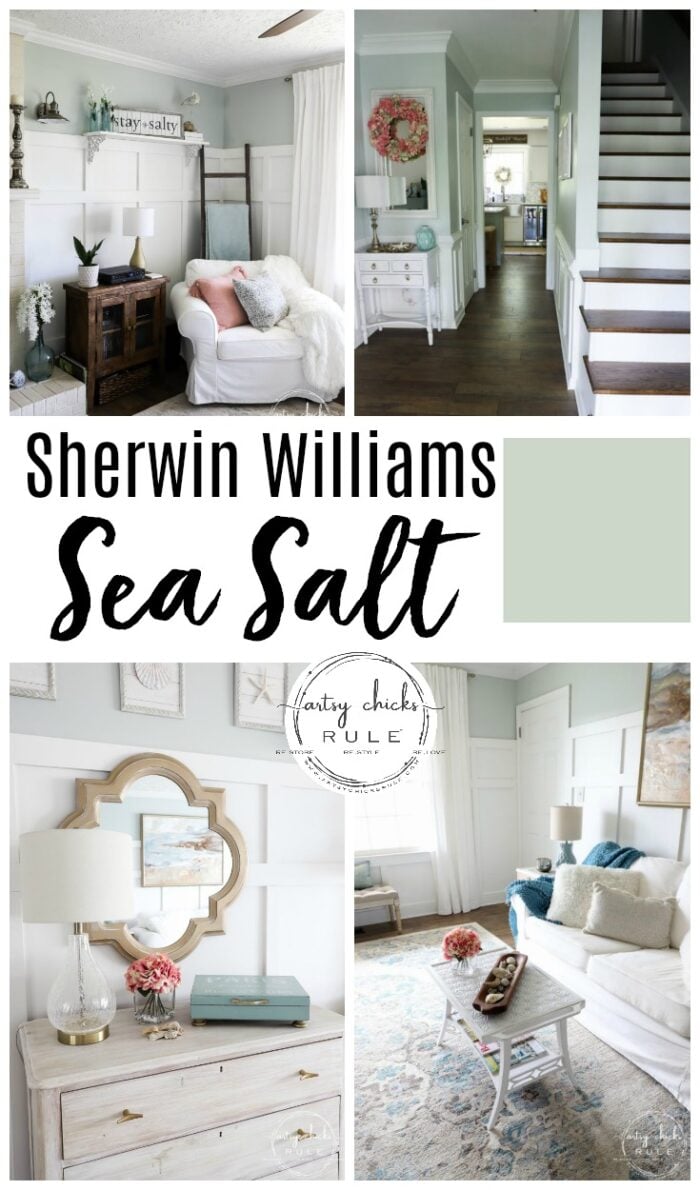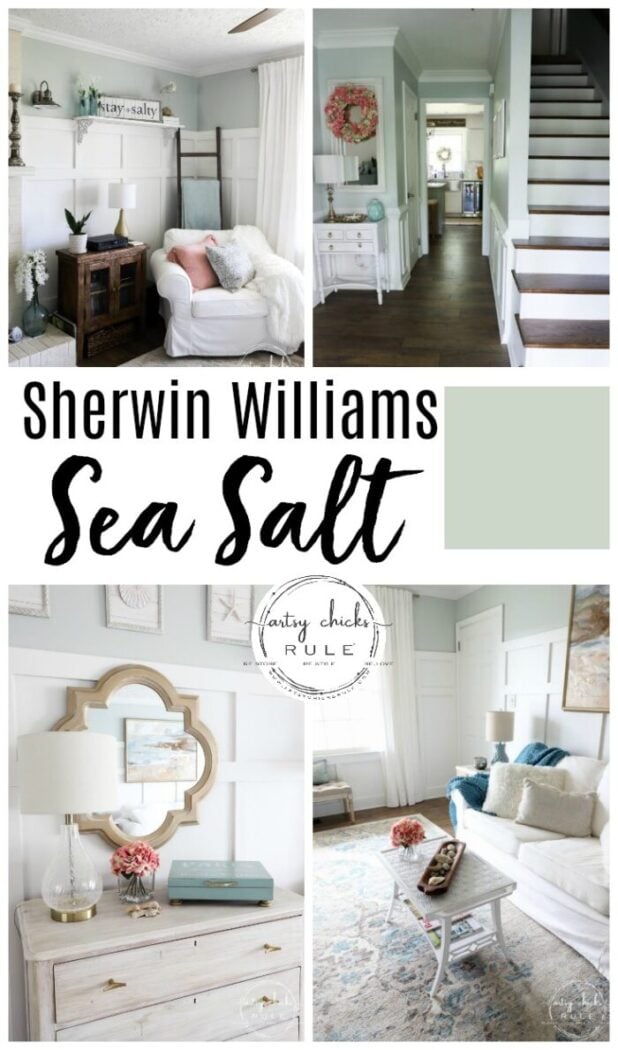 I hope you all have a wonderful weekend!
xoxo