Bath Cabinet Makeover (plus new lighting)
This post may contain affiliate links. Please see disclosures here.
Don't love your bathroom cabinet? Already painted it once? Well, why not one more bath cabinet makeover?!
Hey Friends!
I'm back today with a quick little update I did in my guest bath.
Yep, a little ole bath cabinet makeover.
One of the easiest ways to change the look of a room, besides painting the walls of course!
Just as a refresher, here is how the bath looked when we first moved in….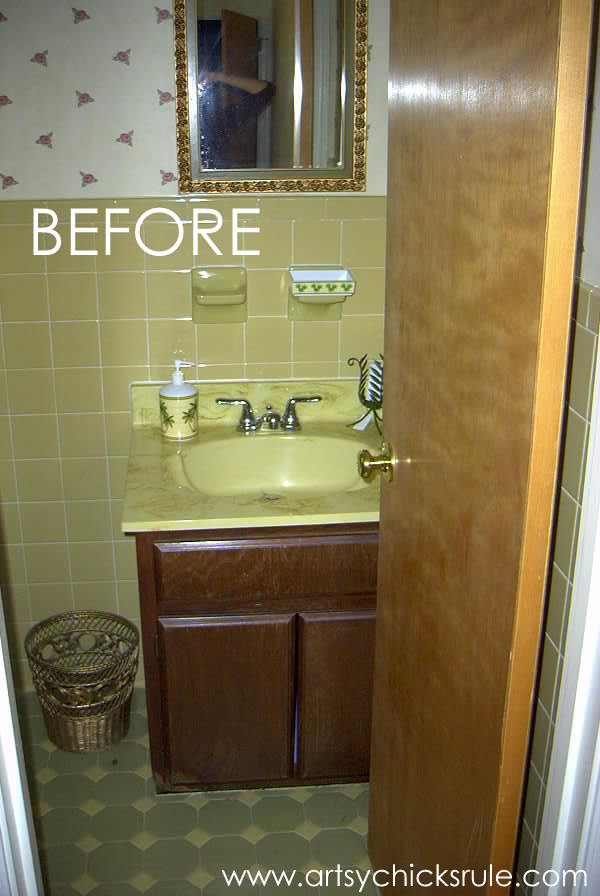 and after I gave it the first makeover….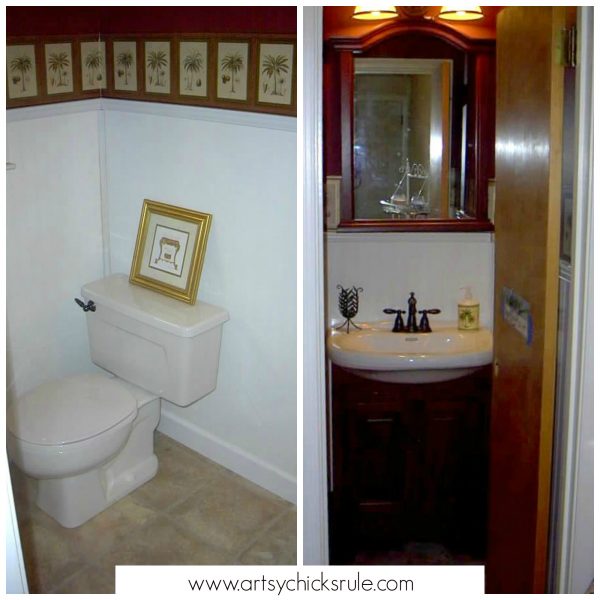 Keep in mind I didn't have a blog when I took either photo.
And we weren't quite finished in the second one.
Here is the next makeover…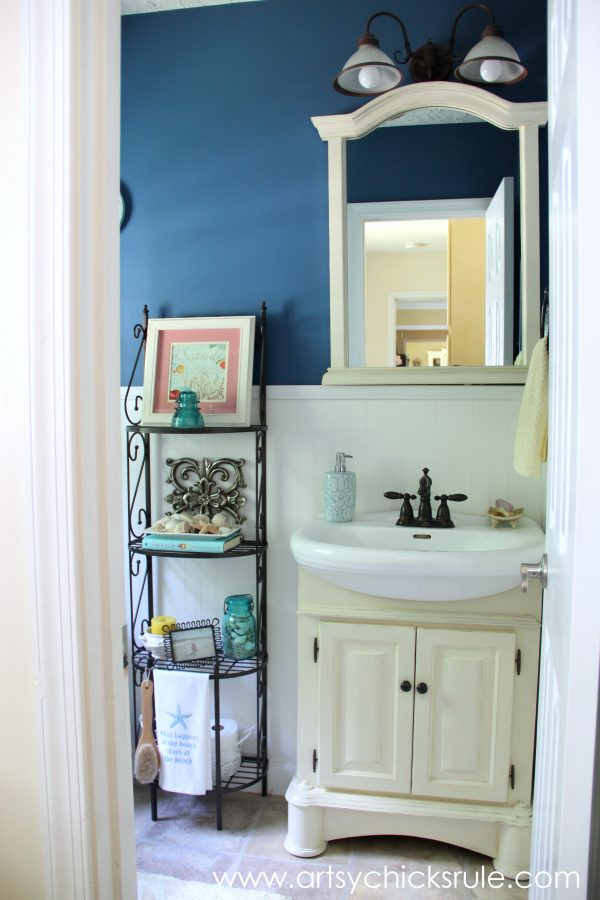 You can see I painted the cabinet we installed in the first makeover above.
Well, once I decided I wanted to brighten and lighten up this little guest bath, I knew it would get a makeover too.
That creamy, off white, almost yellow-ish paint was not going to work with the white walls and Sea Salt colored paint I have in there now.
I wasn't quite sure what that color should be though.
White? No, too much of that already.
Blue? But the walls are blue, that might be clash-y.
Brown? Hmmm, no.
So, I painted it …..blue. ;)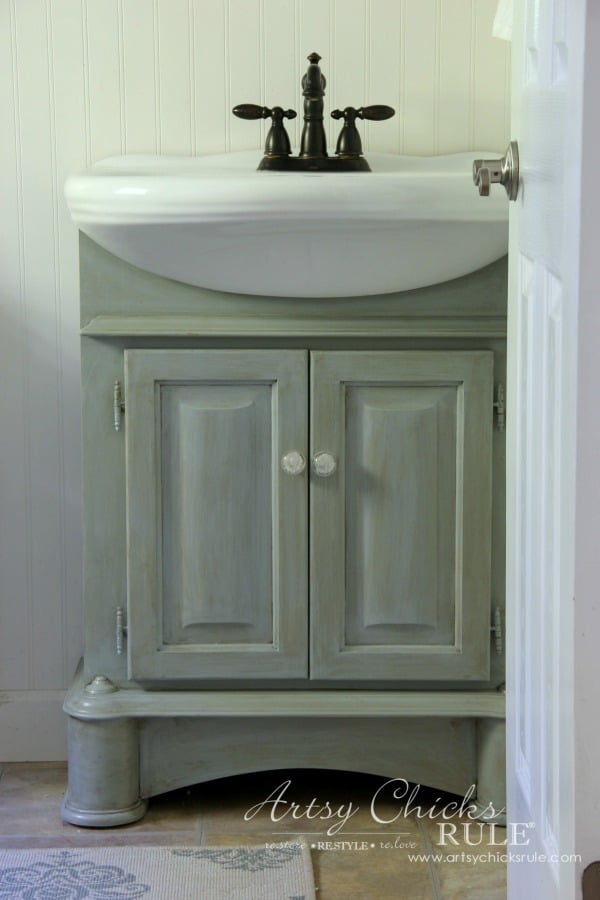 I took a look at all of my blue paints and realized that General Finishes Persian Blue was pretty close to the Sea Salt, although darker.
I didn't want it to match the walls exactly (or else I'd have painted it Sea Salt! :) ) but wanted it similar so it would be pleasing to the eye.
I ended up mixing in about 1 part Snow White to 1 part of Persian Blue.
That seemed to be the perfect shade.
You can see that color here on the side of the cabinet.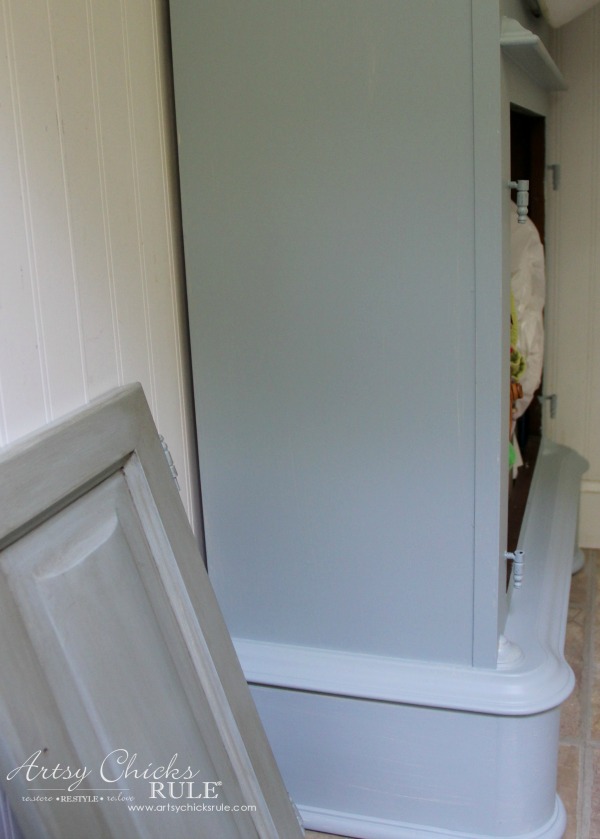 This bathroom is small and hard to maneuver…plus only has one tiny little window, so it's dark too.
When I painted it this blue I thought it needed something.
It was just too…..blue and I didn't like it with the wall color.
So I used a bit of GF glaze to tone it down and give it a weathered, old, coastal feel.
I'll include affiliate links for the exact products I used below in the materials list. See my disclosure here.
Here are the two doors, side by side, with and without the glaze.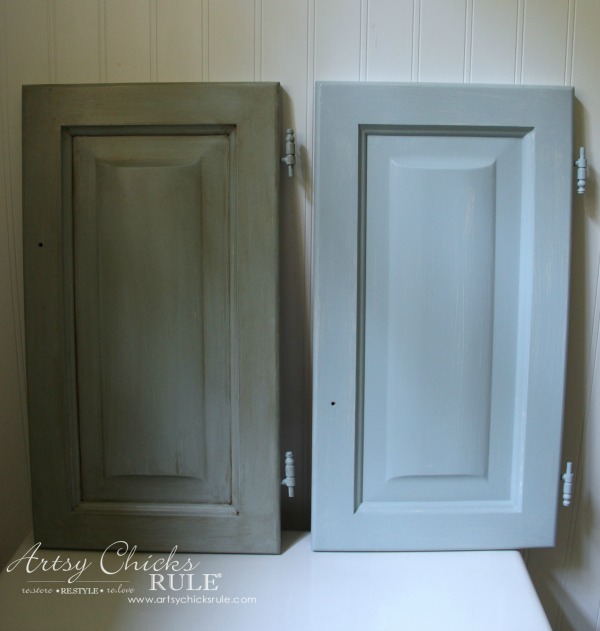 It really changed it up, huh?!
For the glaze, I had two rags that I used, one to apply, and one to remove.
You basically just rub it on and into the grooves and then go right back over it and remove it.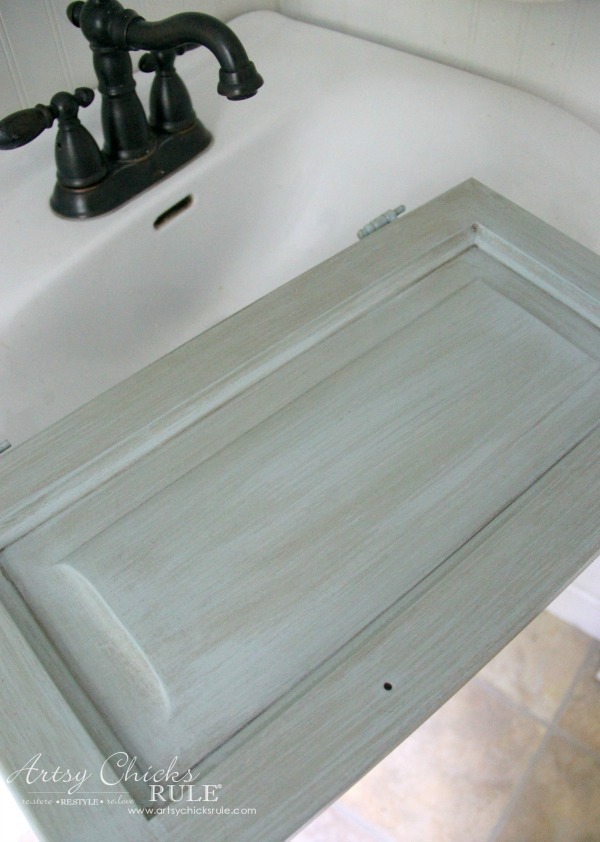 After that was dry, I applied a top sealer coat.
And two new crystal "bubbled" knobs.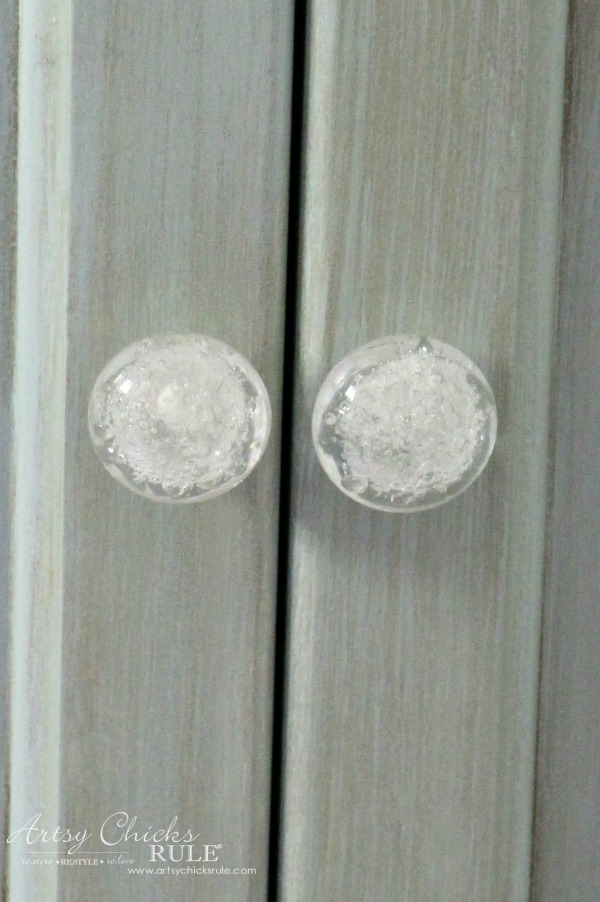 A really easy bath cabinet makeover.
And it gave the bathroom a completely new look.
We also put up new lights. Remember the stainless ones we put up in our family room awhile back?
Well, we bought this set at the same time to replace in here, except in Bronze.
Love them so much better than what was in here!
And the mirror is new too. VERY new and a little too plastic-y looking.
I kept it this way for a month or two but finally had to do something with it.
It just wasn't in keeping with the feel of the room…so I painted it. :)
I'll be sharing that next week along with the previously "dining" room mirror.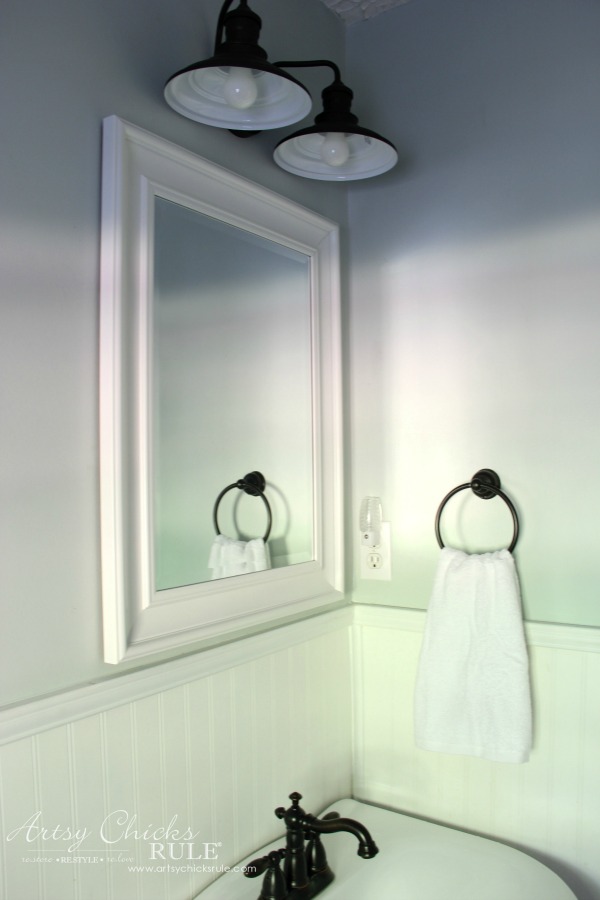 Up close…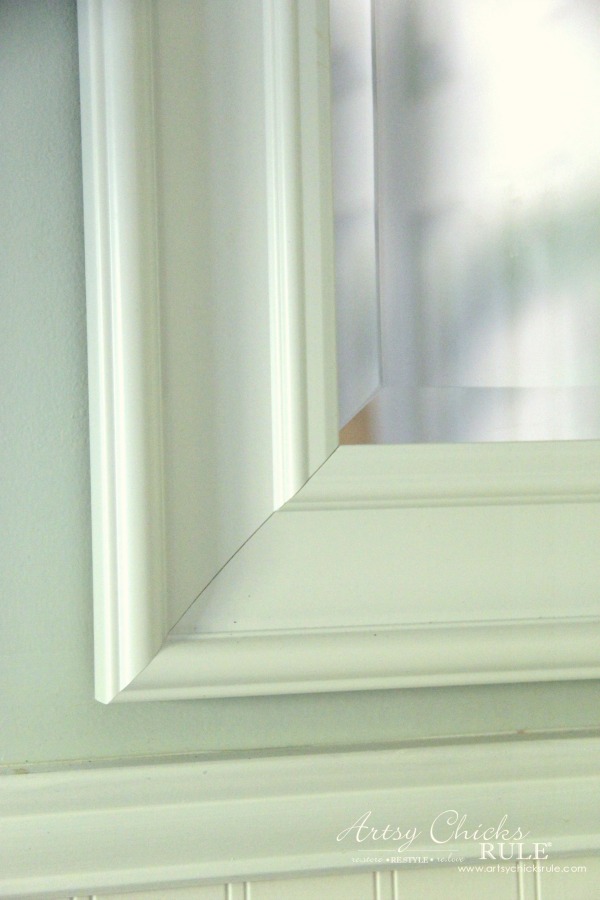 It bugged me every time I came in this room. It just felt "off" to me.
But no more!! All better now!
M A T E R I A L S L I S T:
Be sure to PIN this for later to keep so you'll know what I used on this bath cabinet makeover!

And check back next week so you can see what I did to the bath mirror…and the old "dining" mirror! :)
(Edited: See the FULL Coastal Farmhouse Bath REVEAL here >>> Coastal Farmhouse Reveal)
See you then!
xoxo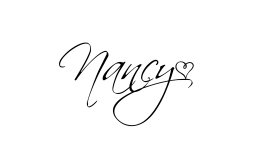 You might also like this post:
You may also like…