Gallery Wall Update (new paint, still budget friendly!)
This post may contain affiliate links. Please see disclosures here.
A gallery wall is a great way to display family photos. My original gallery wall was a budget friendly project…and this gallery wall update is too!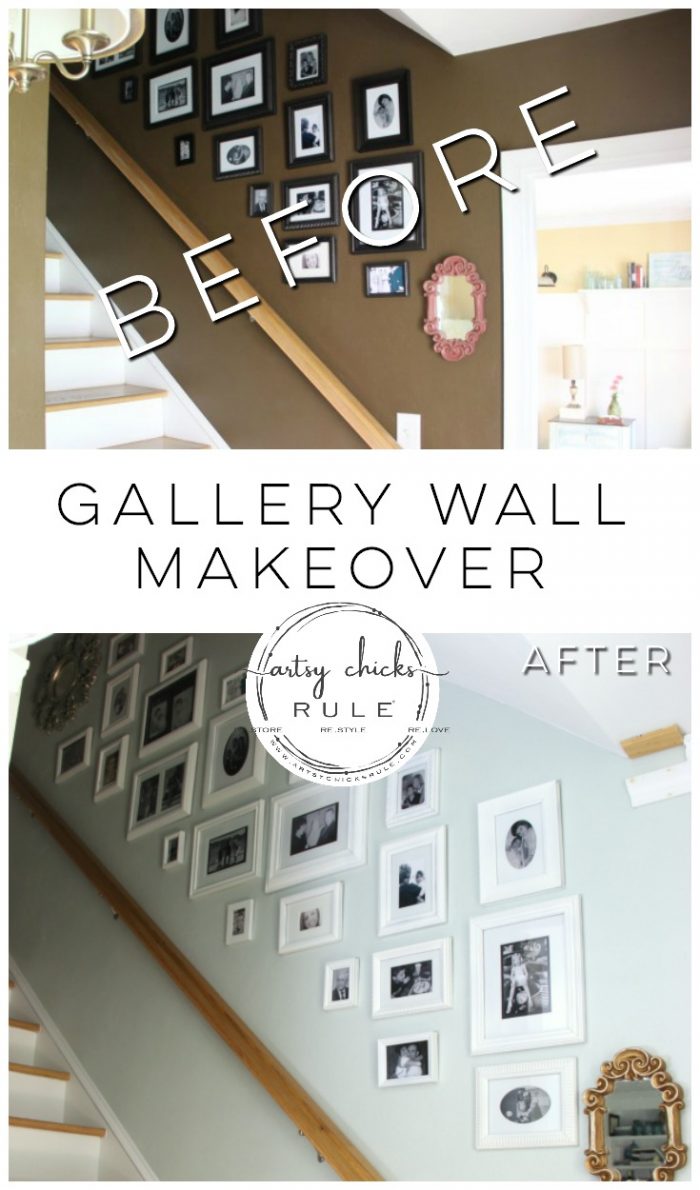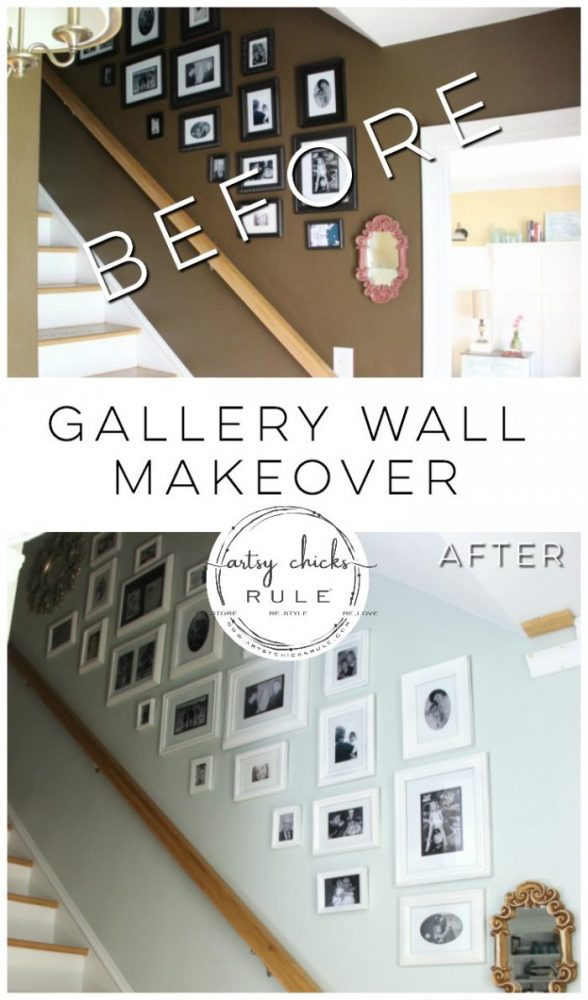 When I first created this gallery wall going up our stairs, I decided to do it very budget friendly.
If you saw my original gallery wall post, you might remember this photo…..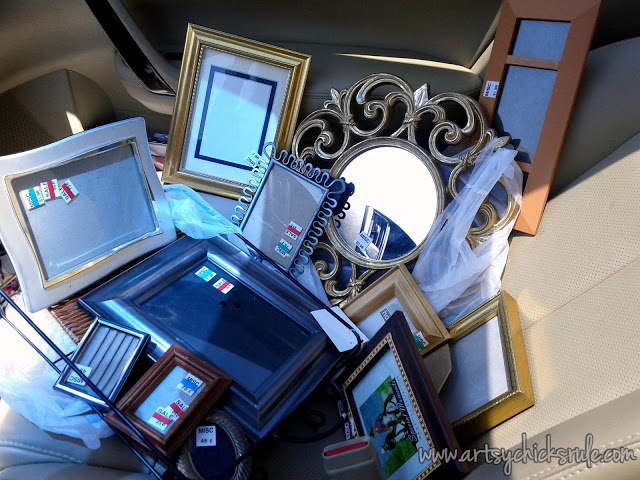 ….thrift store frames I bought to make over for our gallery wall….cheap!! ;)
(and that cute mirror too although I have no idea where it is at the moment? It used to be in my dining room.)
Anyway, I brought them all home and spray painted them in oil rubbed bronze.
I also bought a whole bunch of mats at garage sales and the thrift store for the frames. They were all different colors but it didn't matter.
That's what paint is for!! ;)
I spray painted all of them an off white.
And here is what it looked like with my very dark brown walls….. (which I loved at the time!)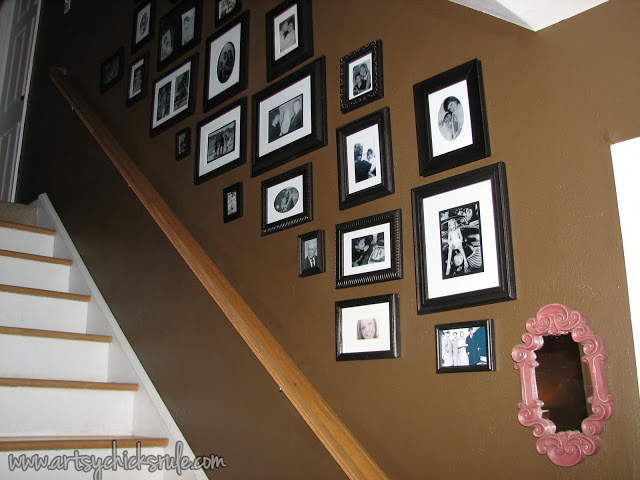 I did enjoy having the dark brown foyer that led into the lighter rooms of the house.
But after awhile, it just wore on me. It was time to brighten things up…so I did! :)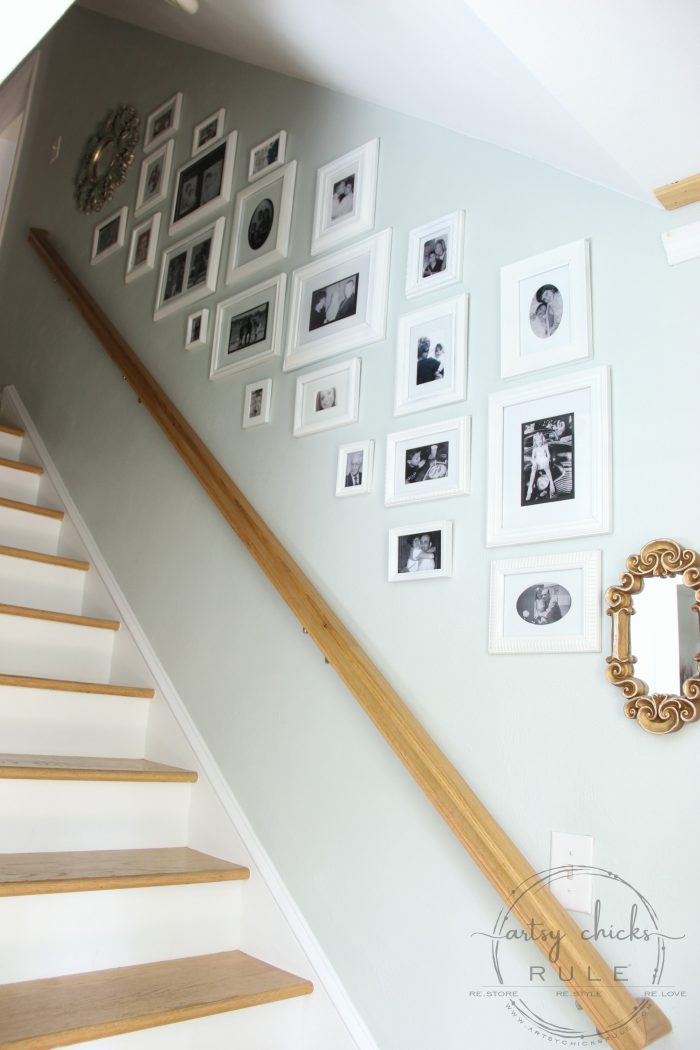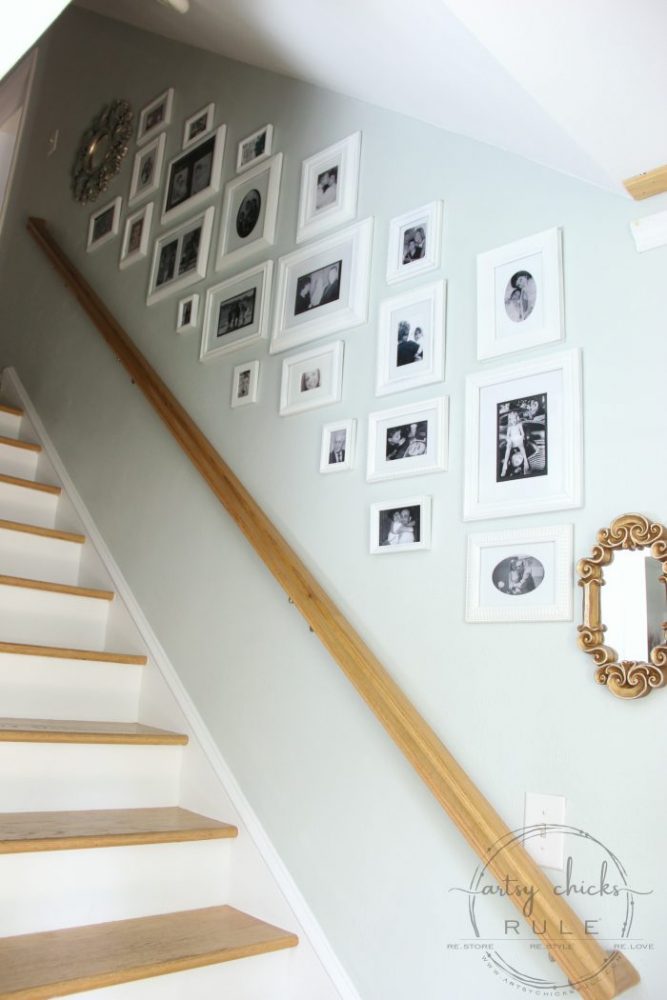 (it's really hard getting a nice photo up these dark stairs)
With the upper hall light on.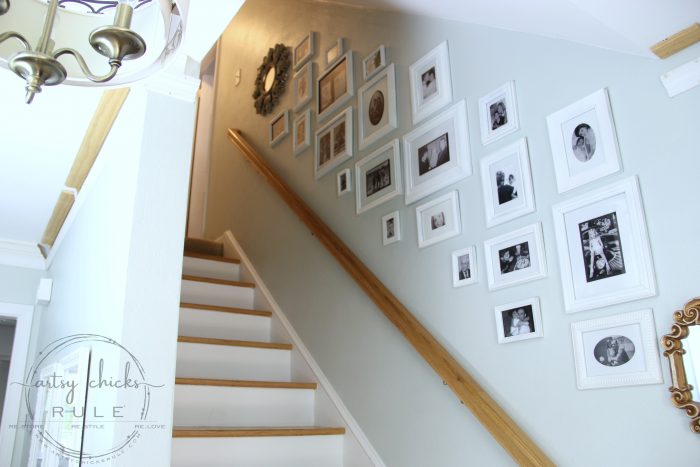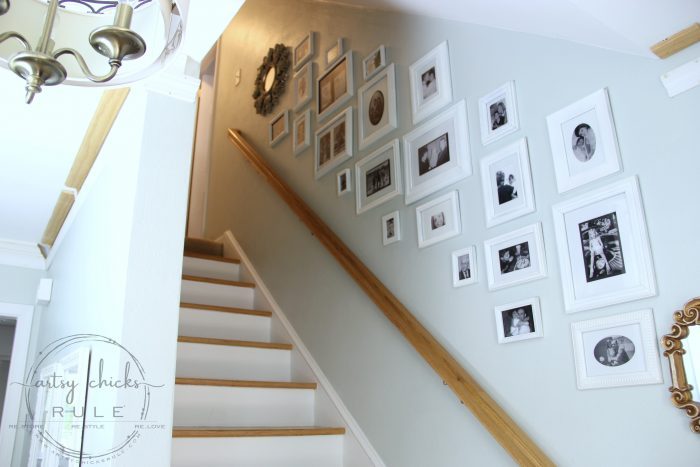 And please, just ignore my lovely "crown mold" in the foyer. It's not finished being put up.
My husband only has these 2 walls to complete and then I can paint it pretty. ;)
So when I painted the foyer Sea Salt (Sherwin Williams, just like in my family room and guest bath)
I love it SOOO much better! It's amazing how much paint can change the feel of a room.
And just for fun, in case you never saw it, >>> HERE is how our foyer looked when we first moved in this house. ;)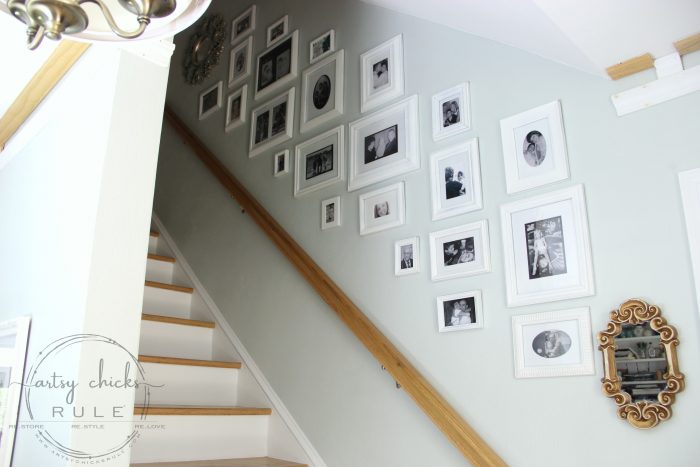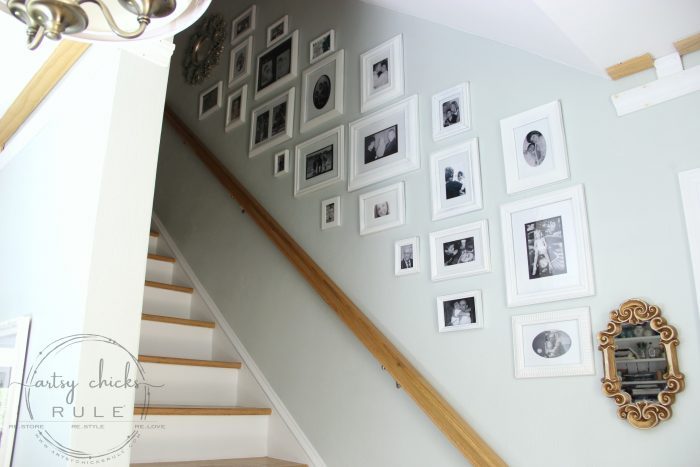 When I had all the framed photos down for painting, I decided to paint those too!
I do like the look of dark frames on a light colored wall and almost left them as-is.
But, I really wanted to keep things light, bright and airy in here so I gave them a little makeover.
They got bright white spray paint and the mats got a fresh coat of bright white too.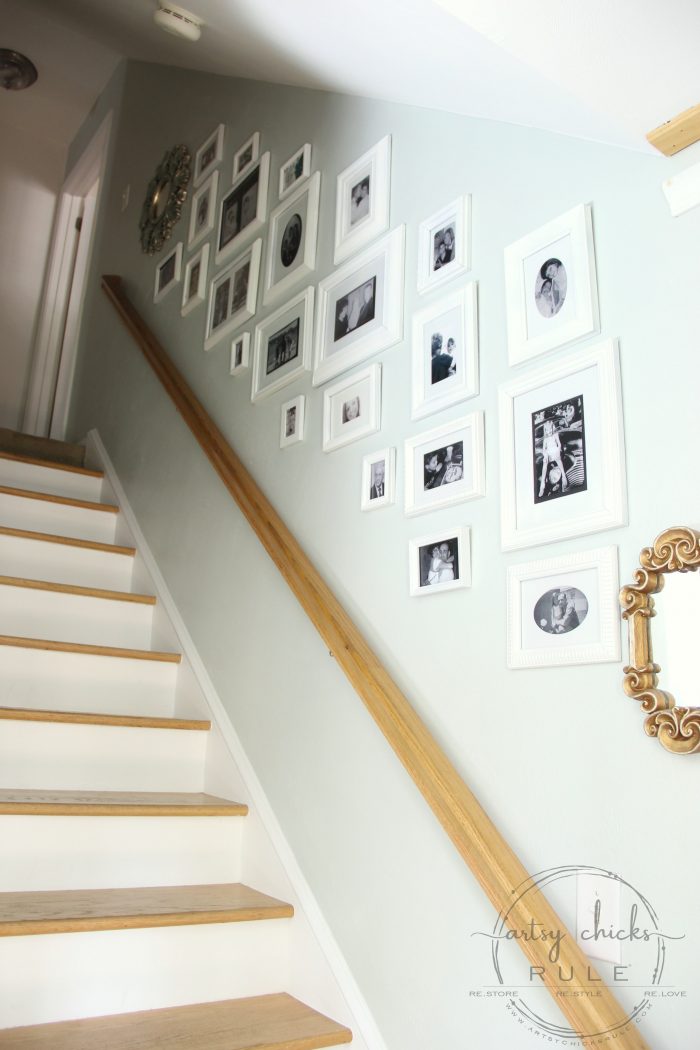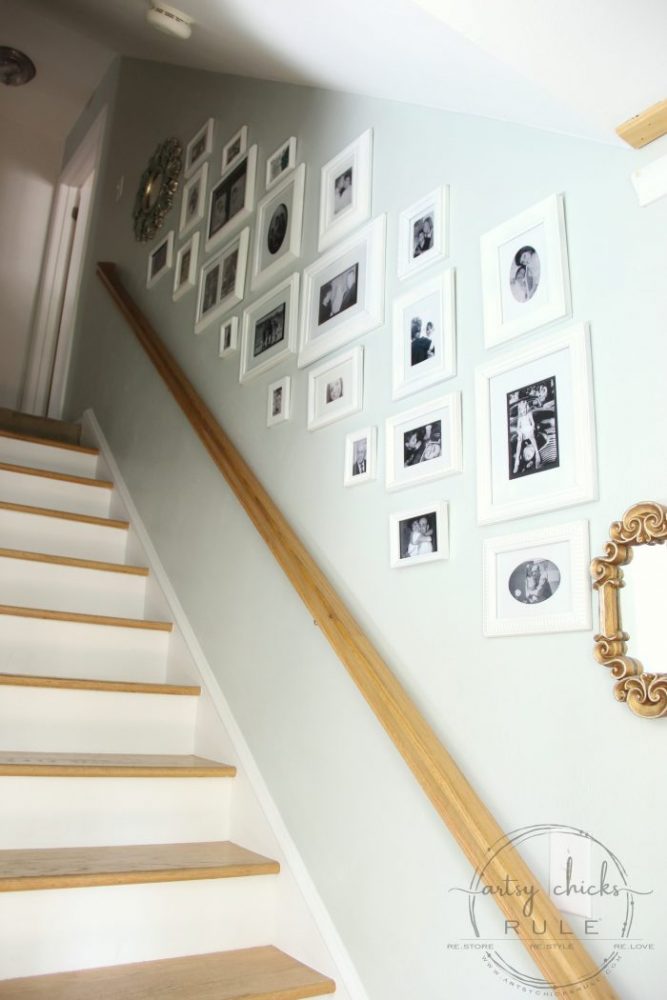 Want to see the first post I did on the original gallery wall here?
And how I share a little trick to arranging the photos on the wall and figuring out spacing, etc?
Check it out here >>> Thrifty Gallery Wall
I decided to put this pretty mirror I used to have in my kitchen up there at the top to finish off the gallery wall.
Love it there!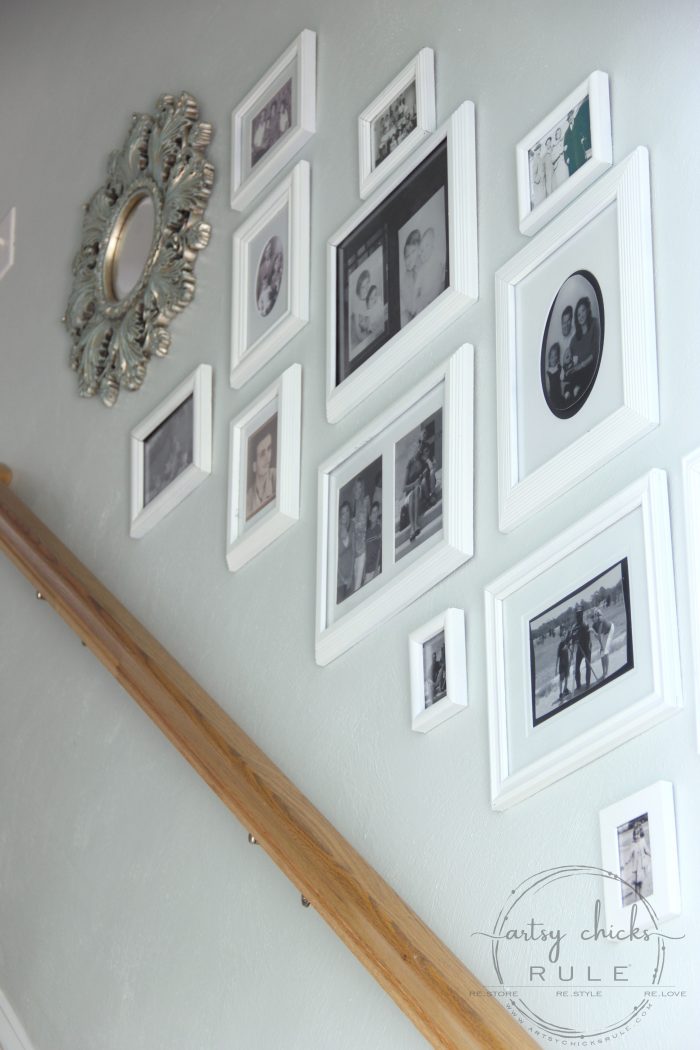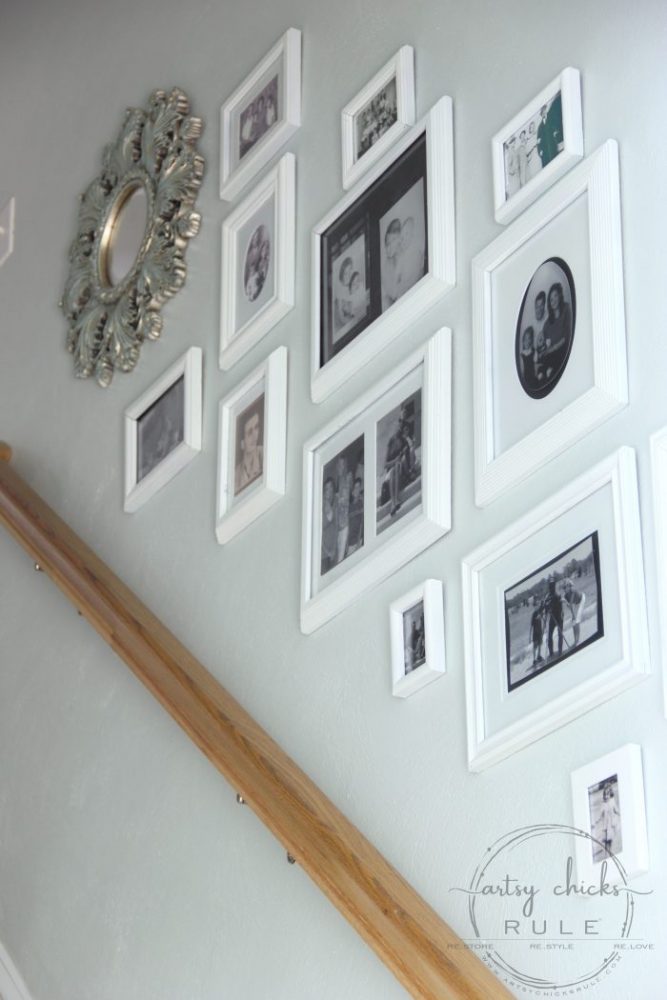 You might have noticed a photo up there that looks a little "off".
See it??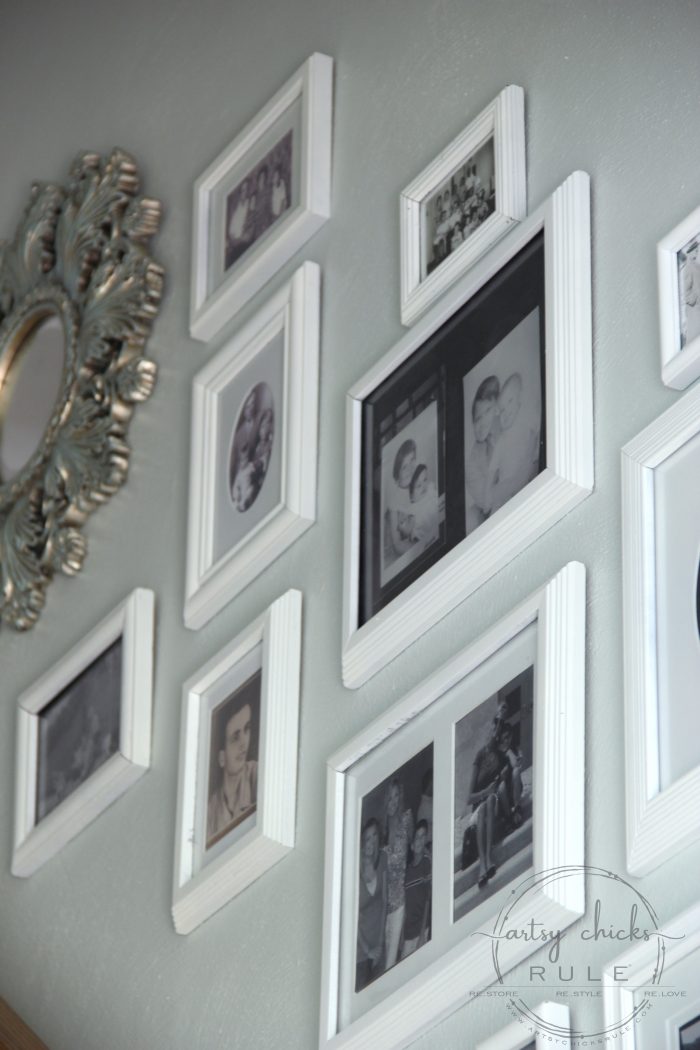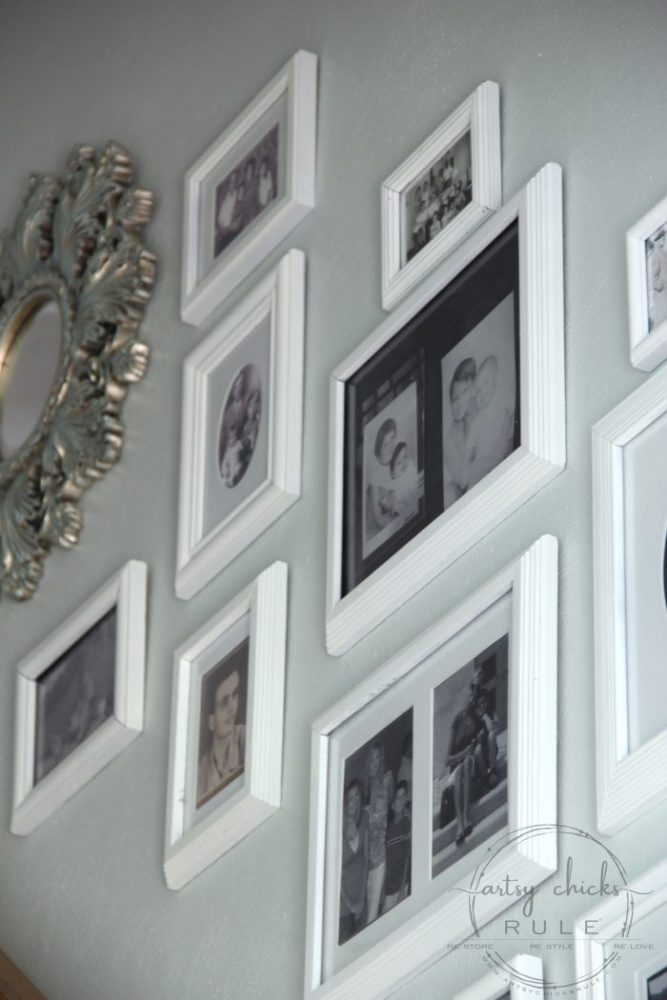 Haha, this one….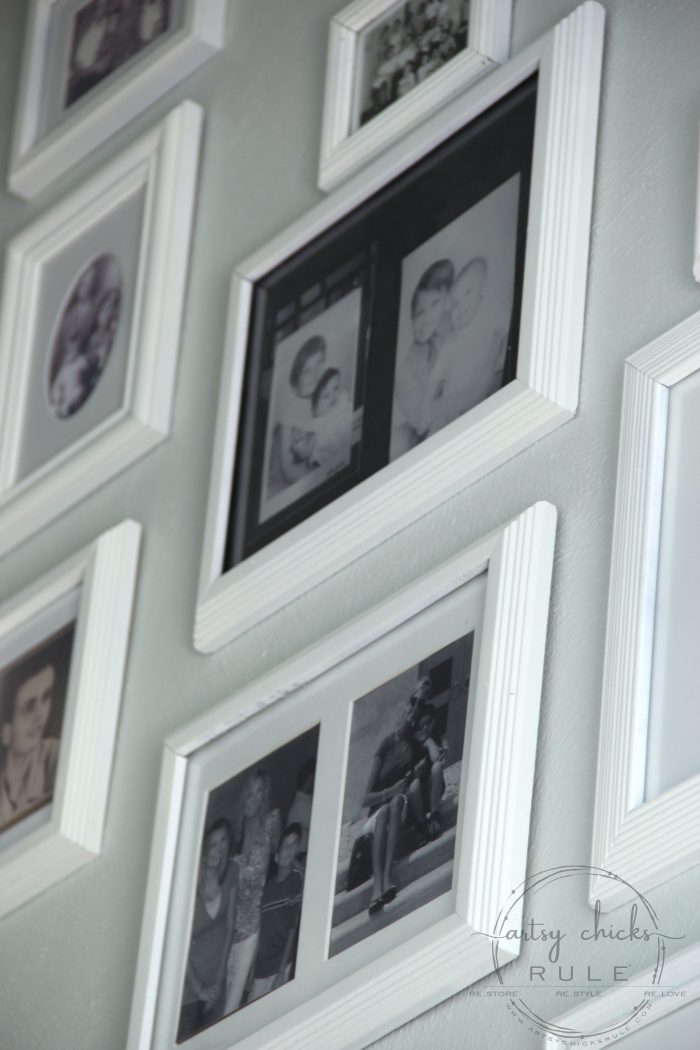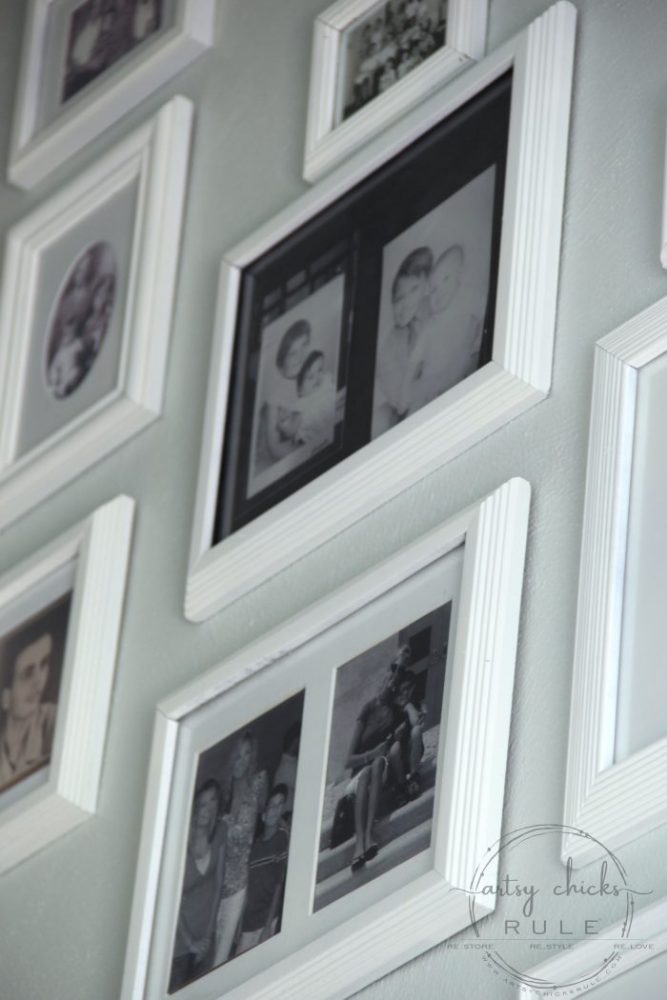 '
I didn't have enough mats from my thrifting (or not a double one like I needed) to finish up on the frame you see above.
It's a photo of my sister holding me and my husband holding his little brother.
I thought that'd be cute in a frame together.
And when I put the original gallery wall together …um, years ago… I put it up like that so I could take photos for the blog and figured I'd come back to it once I got a mat for it.
Haha…nope!!! ;) Embarrassed to say, it has been like that since.
BUT, we are the only ones who ever really saw it. But still, y'all, that's bad.
It's getting fixed this time…promise! ;) And I'm going to hold myself accountable and share it over on my Instagram stories when I do!! hee hee
So now that I've given you the real deal over here…let's talk about that cute whimsical mirror at the bottom of the stairs.
It got a little paint job too….gold.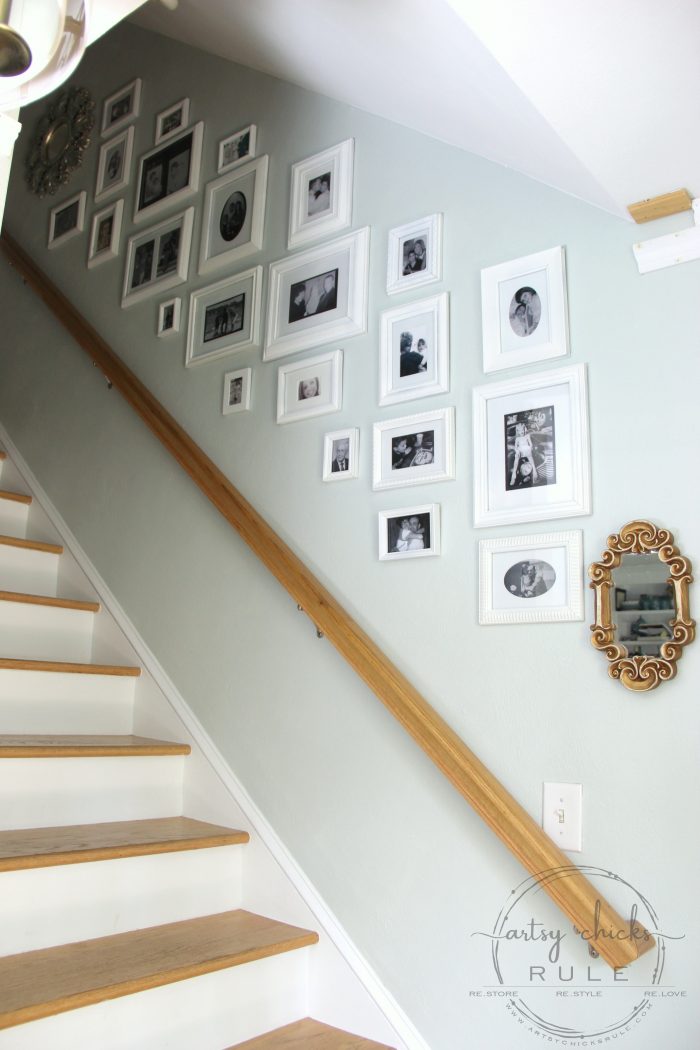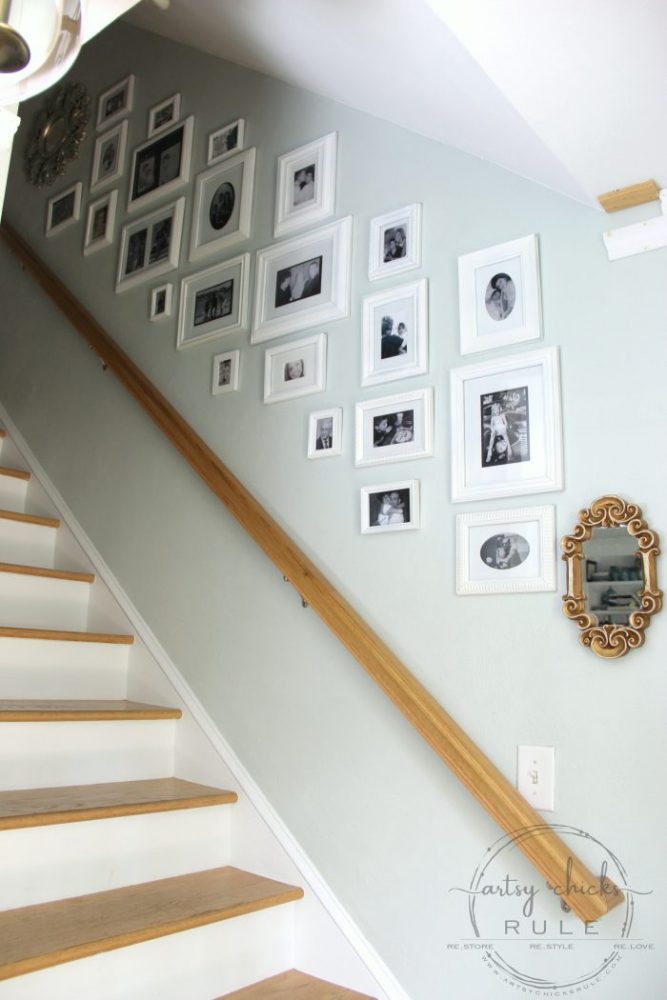 It was a thrift store find also that I had originally painted a rose color. (see it below)
I sprayed it gold and used my fave gilding wax to hit all the high parts to make it really shine.
Love that stuff!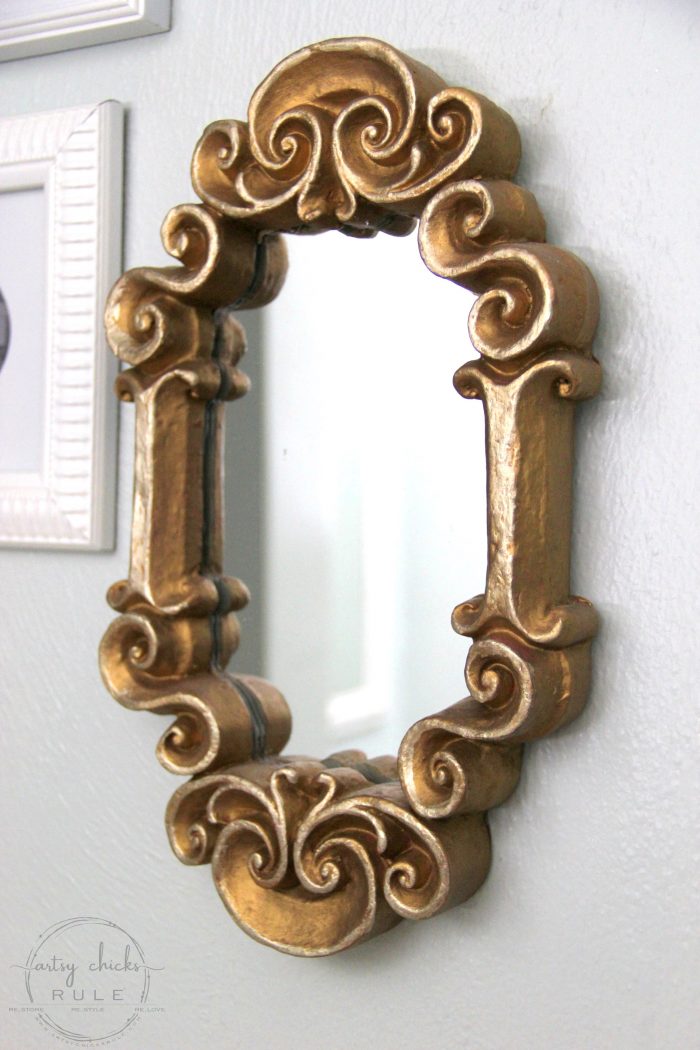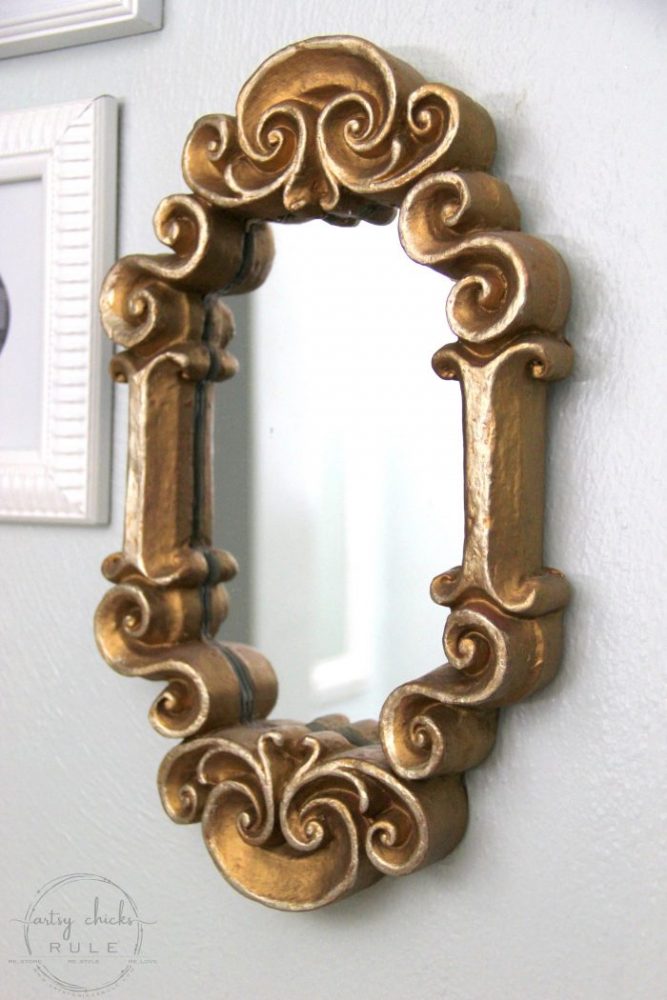 It's the same stuff I use for my "faux" Patina and Verdigris techniques.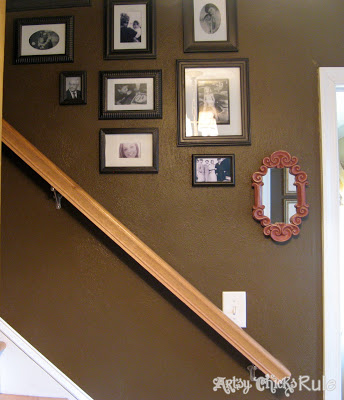 And here's another view from the foyer.
I have up the coastal wall art I made from photos I took in the OBX on the other wall. (<<< you can see how they looked on the dark wall before I painted)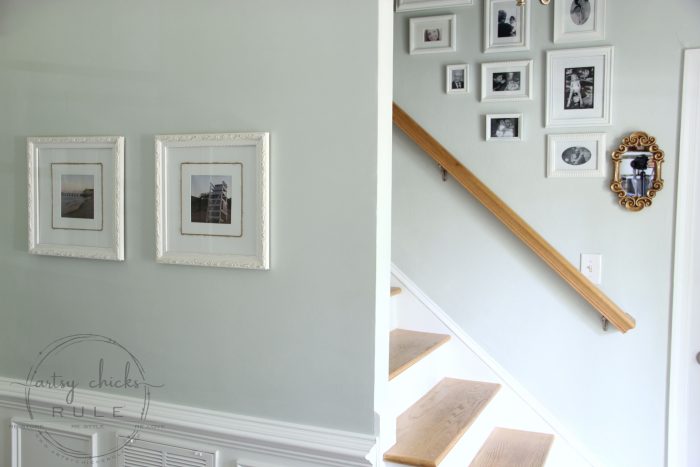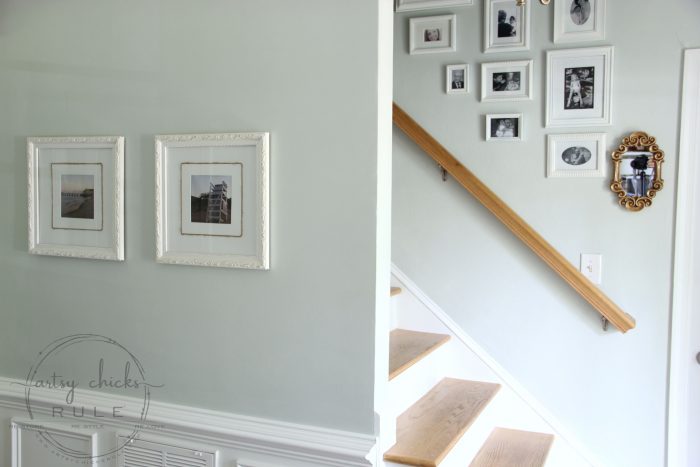 Anyway, I am so happy with how everything is turning out!
I still need to give those stairs a makeover so they'll match the new flooring…plus a runner…but that'll have to wait a bit.
PIN the gallery wall update to save it for later!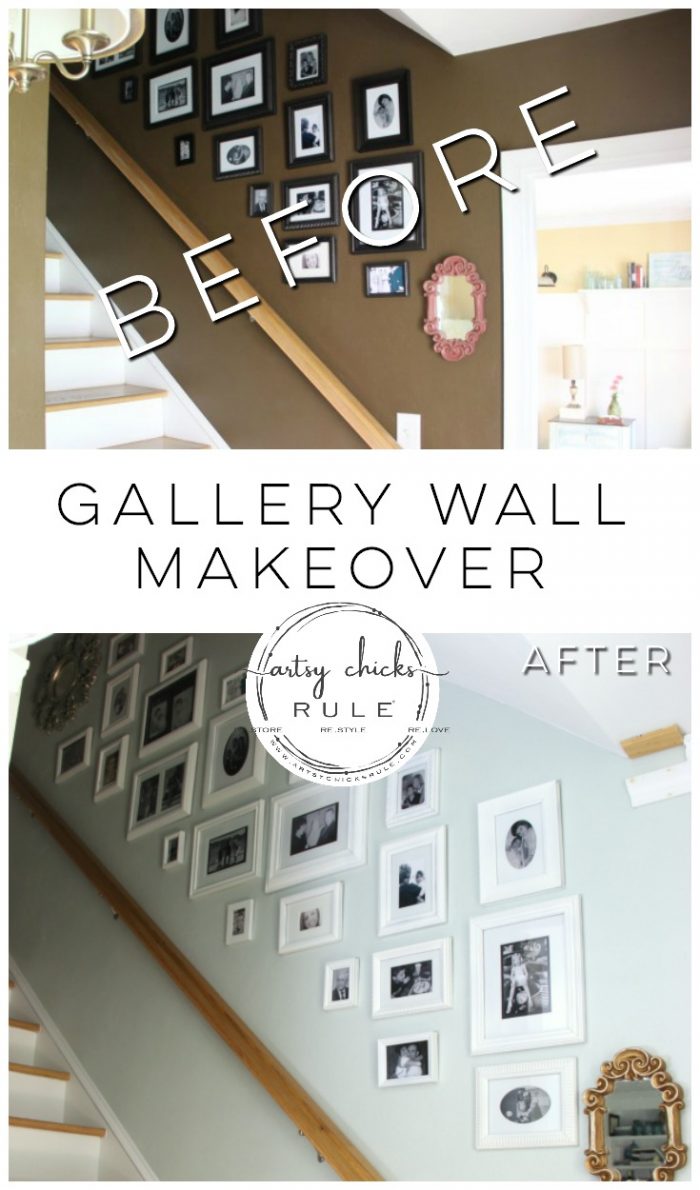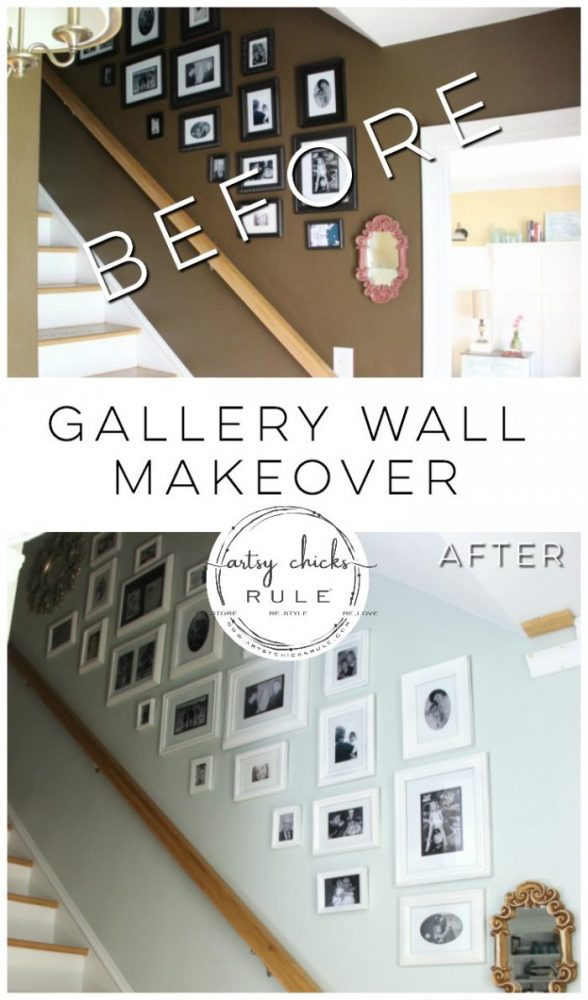 We are moving right along with the house remodel and will be sharing the flooring first (shooting for next week!).
The kitchen cabinets are all in. Now working on the trim out and hardware. :)
Countertops have been measured for and they are coming soon too….yippee!
I can not wait.
Follow along on Instagram as I share a lot of what we are doing in my "stories" over there, as it's happening! :)
Also, be sure to check back in on Thursday when I share some fall pretties! I even found some lovely fall items over the weekend while I was out (and no, I wasn't shopping for that but you know how that goes!! lol).
Have a blessed week!!
xoxo