Hey guys!! I'm so excited to be sharing my Foyer with you today….before and after.
I love a good before and after whether it's furniture or rooms.
Don't you?
You may remember seeing my Foyer in my Holiday Home Tour.
Not too many changes have been made since then…except I've removed the Christmas decorations.
And I got a new rug. :)
I did finish up my gallery wall over there in the Study finally. I'll be sharing that with you all shortly.
That's my Aubusson Dresser in the photo. It was a thrift store find I painted and had to make a handle for (it was missing one).

Below is the little thrift store chest I made over with Minwax PolyShades.
You can read about it in this post here –> Super Easy Way to Update Wood Stained Furniture.
That mirror below used to have green trim (in my forest green phase!) but I recycled it and painted over it with brown a couple years ago.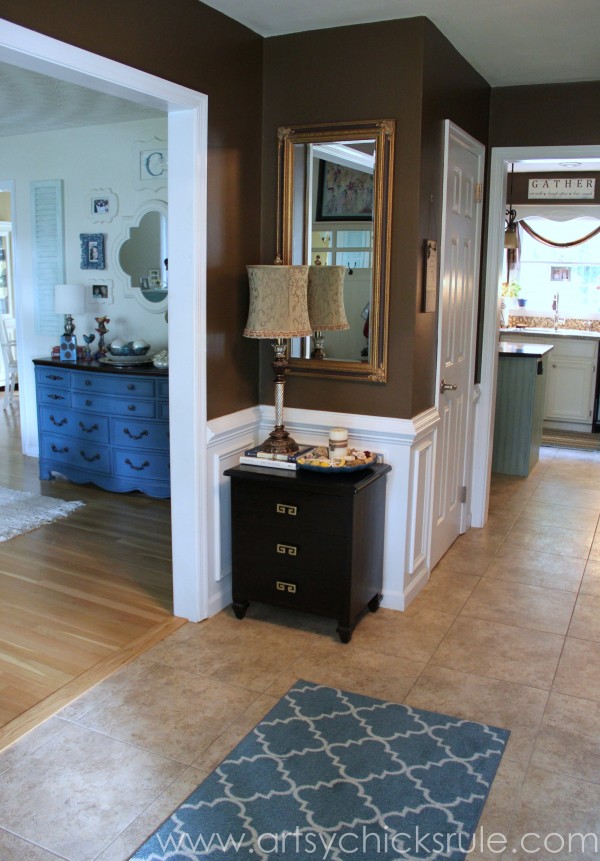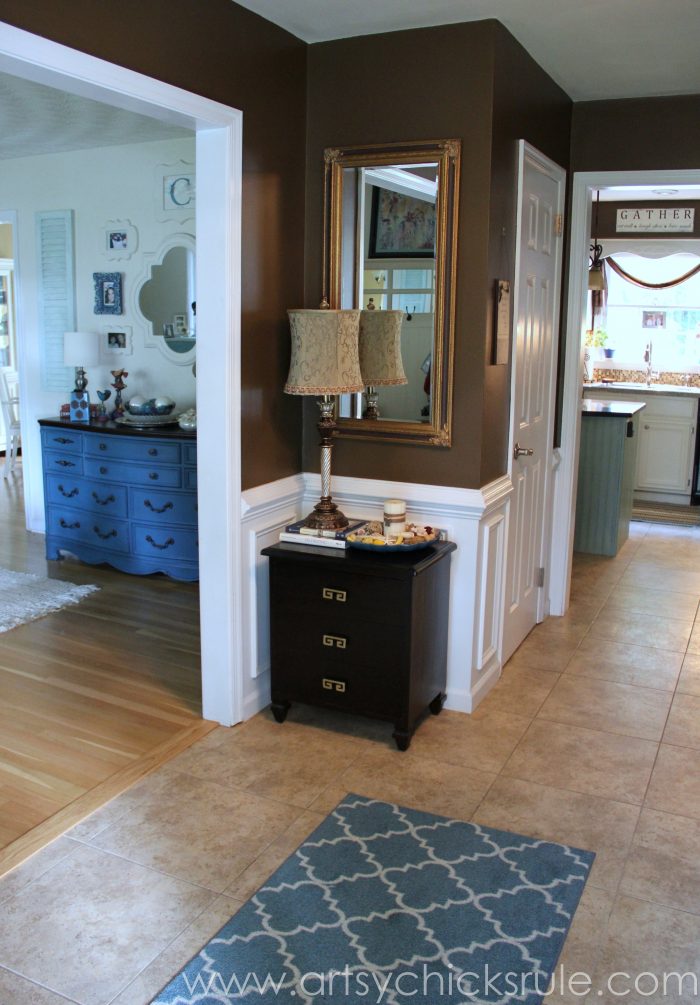 The wall color in my foyer is Sherwin Williams – Kaffee – SW 6104.
The wall color in the Study is also Sherwin Williams – Navajo White – SW6126

I had a hard time deciding on a color for the foyer this go round. I originally painted and did a sponge technique 10 years ago.
Then I painted over that with a beige/tan color a few years later.
Both were mostly light shades.
This time I wanted it to feel a bit warm & dramatic and literally draw you into the lighter rooms surrounding it.
But it was a hard choice since this home was so dark to begin with.
(—>we nicknamed the Family Room, 'The Cave", with it's chocolate brown paneled walls ;) )
Anyway, I think I achieved it. I still love the dark brown and it doesn't feel "dark" at all to me!
**One thing I think has made a HUGE difference in the light in this house is the paint finish I used this time. —>EGGSHELL
I am not a "shiny" loving girl in finishes, typically. So I have always gone for Flat paint on my walls.
I decided to use Eggshell for the very slight sheen in hopes of giving a bit of light reflect-ability.
It worked. The dark brown does not "feel" dark because it reflects light.
I couldn't be happier with it!
In the foyer (and kitchen)…we removed old broken ceramic tile and replaced it with Novalis Home Fashion vinyl tile. It's a peel and stick vinyl (super sticky!) that can be butted up against each other or grouted.
We chose to grout it. My husband and I laid the tiles and I grouted while he was at work. It's a large area and was a pretty big job.
It's been down about 6 years now and has held up beautifully. We love it.
We also refinished our wood floors (pictured to the left in the Study) 2 years ago.
Bet you're ready for the before now, aren't ya?
10 years ago….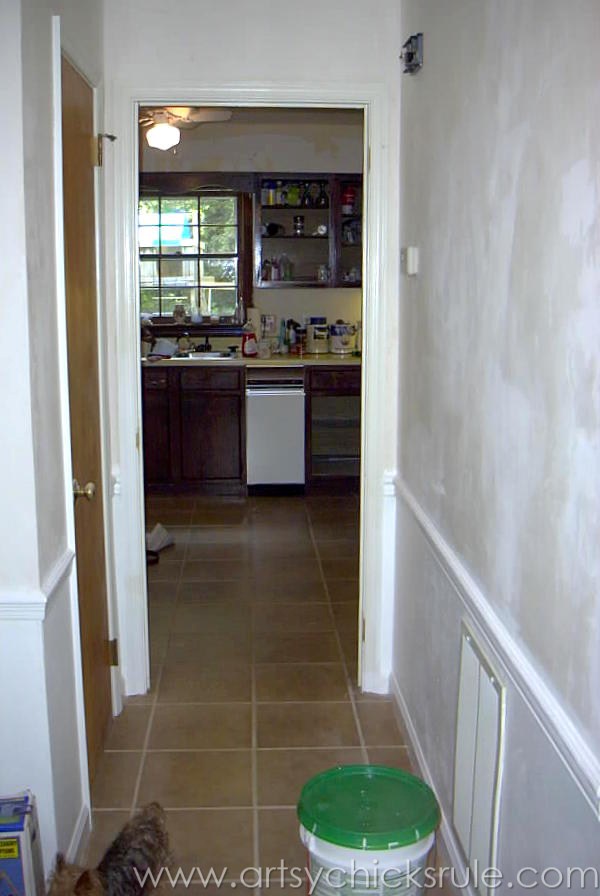 Now technically this is not a true before. I had already removed the wallpaper in the foyer and kitchen.
Plus had the doors off of the cabinets getting them ready for trim and painting.
And here it is now….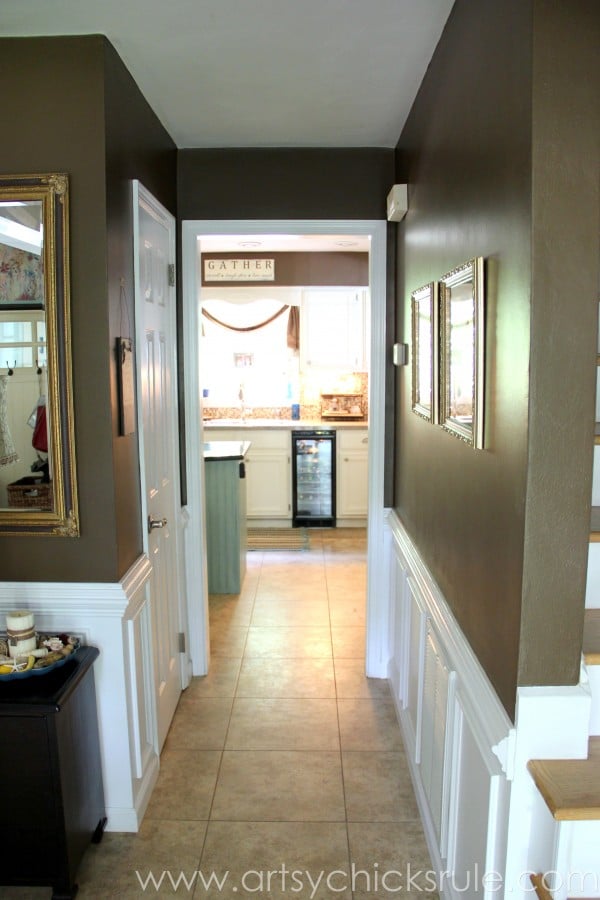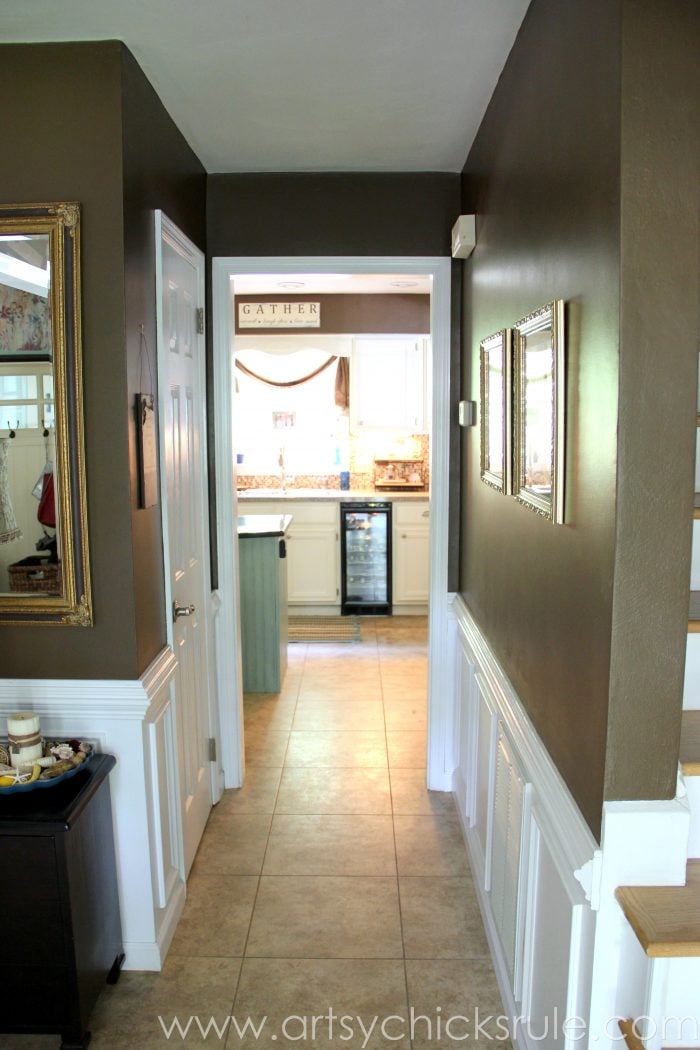 I'm so happy I decided to put that "Gather" sign there! Perfect spot for it.

And we built and added that island you see in the "after" photo a few years ago.
Here's the true "before" …the other view looking towards the foyer/front door from the kitchen.
We had vision. ;)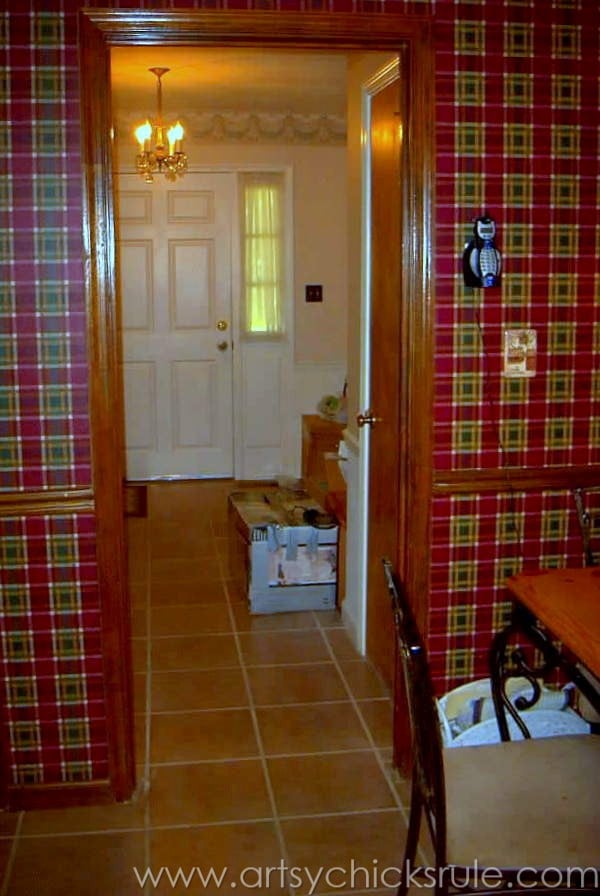 This was taken right after we moved in and shows the wallpaper that was in the kitchen.
You can see the other wallpaper in the foyer. (yes, that is wallpaper and border)
Almost every room of this house had some form of wallpaper/border that needed removing.
Here it is now… same view.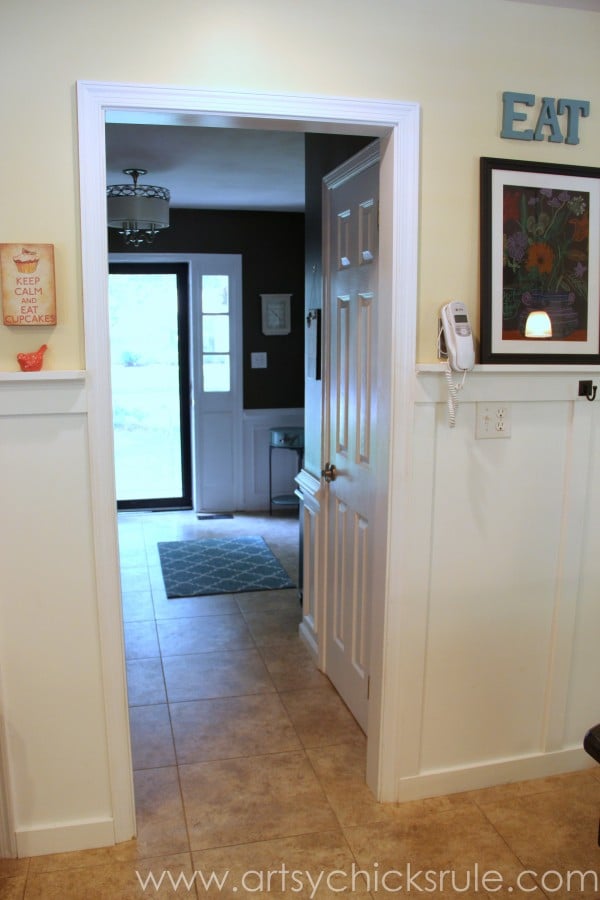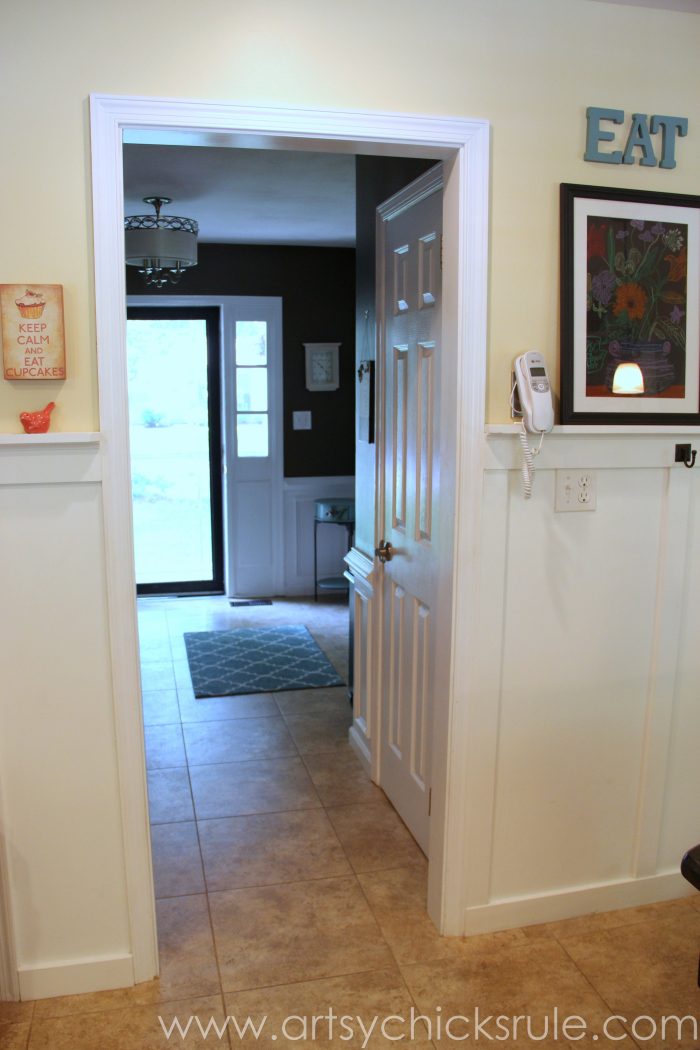 Just a tad different. Plaid wallpaper down, board & batten up.
By the way, the kitchen paint is Sherwin Williams – Ivoire – SW6127

Not a tad…a BIG difference, right?

There was a door in that opening originally (crazy place for a door if you ask me).
If you look back at the first "before" photo above you can see where the hinges were.
I can't wait to share the rest of the "before" photos of the kitchen. Walls (and doors) have been removed on both sides.
So much has been done. AND if you follow me on Instagram, you know that my husband (and son) surprised me upon my arrival back from the conference I attended last weekend….
…by putting in the IKEA farmhouse sink we purchased last year! Oh my gosh. Loving it!
Can not wait to share that with you. (you can see a peek of it over there on Instagram)
We replaced all the doors in this house and attached new hinges & new knobs, upstairs and down.
We also replaced the chair rail (put in a larger, different style) and added wainscoting in the foyer.
My husband cut and attached, I sanded, caulked and painted.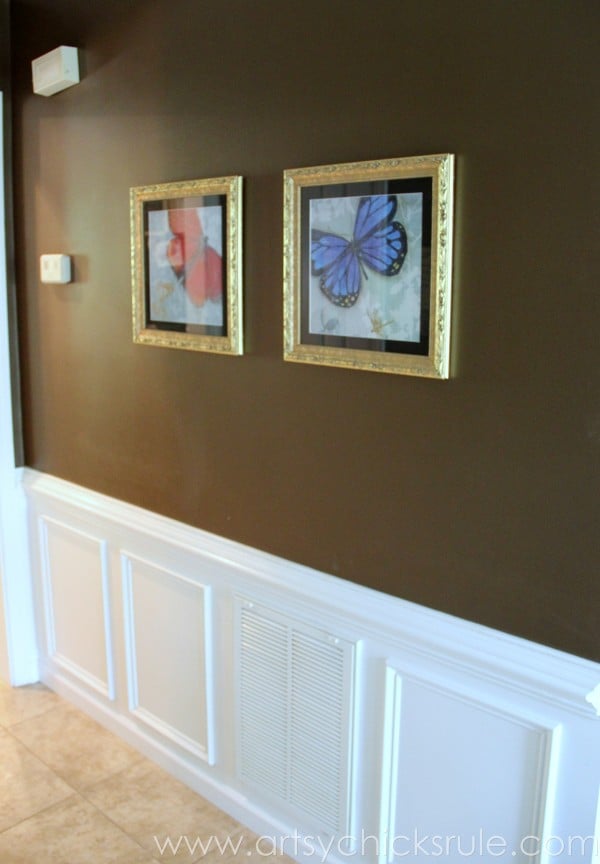 We put in a new return vent, removed the carpeting on the stairs and added oak stair treads.
He installed, I sanded, poly'd and painted. :)
We thought about adding decorative trim by the tread ends on the side (seen below).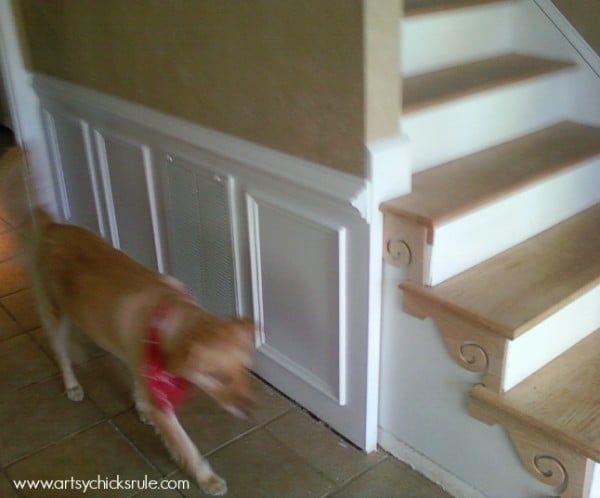 But in the end liked the clean look of them without, so let it be.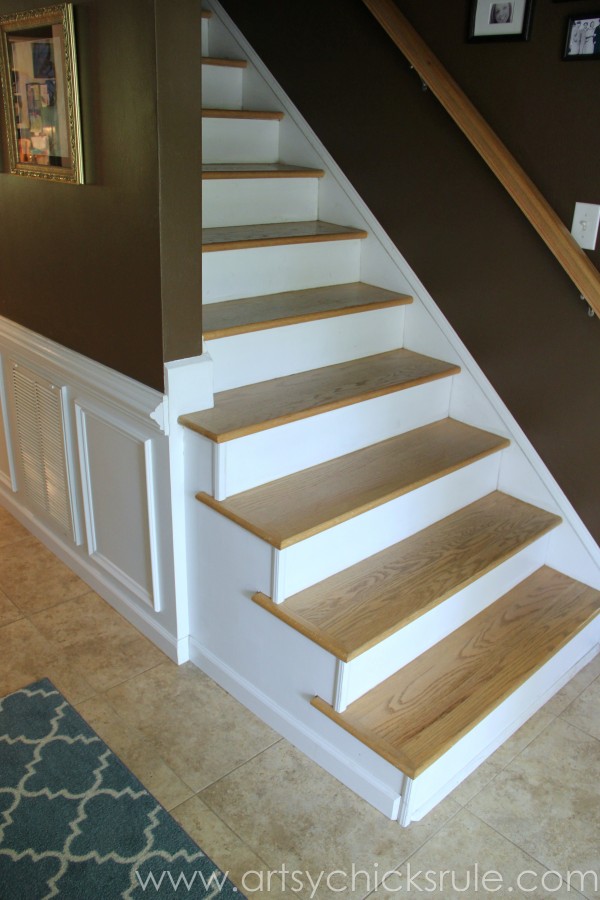 We removed the railing and banister when we did the wood steps and decided to keep it off.
Here's the only shot I could find of the stairs before..with railing and carpet.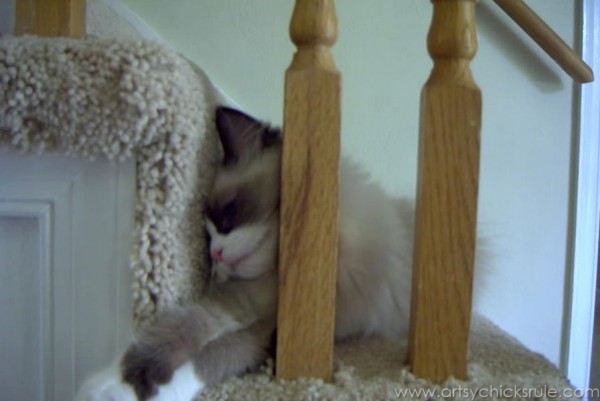 Bella kitty is relaxing in this one. She liked the carpet. ;)
We replaced the hand rail on the wall also. You can see how it was above and how we have it now below.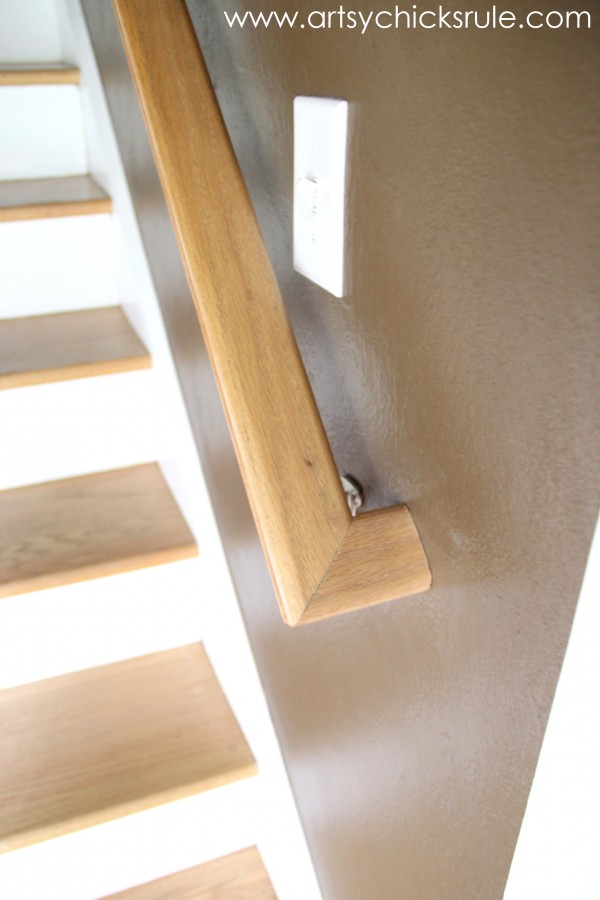 Up the stairs and looking towards the family room
You can read more about my (very) thrifty gallery wall here –> Gallery Wall.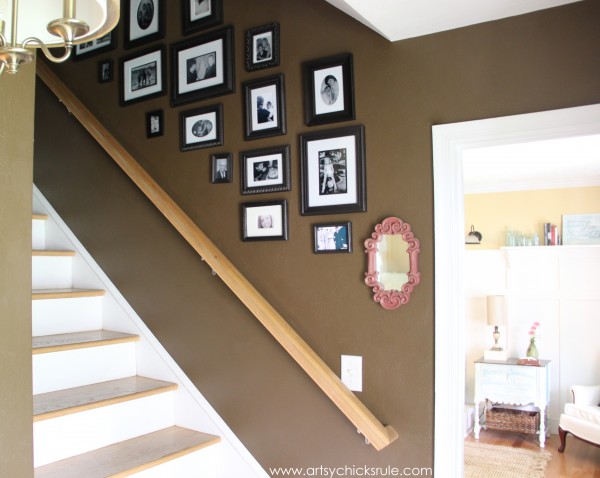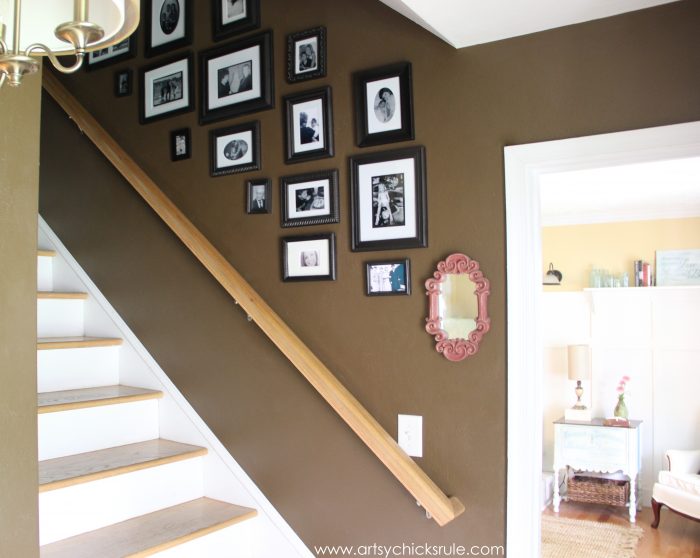 I'm not sure what they were thinking when they built this house but the front door only clears about an inch of the stairs when you open it.
Add the banister and it's a very tight fit. That's why we chose to keep it off when we did the treads about 7 years ago.
Best decision ever.
This is one side of the foyer by the front door.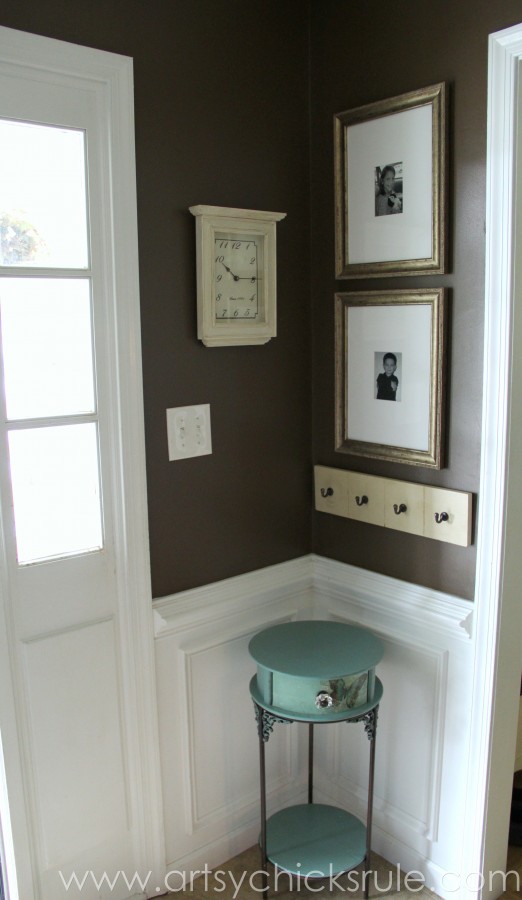 That's my decoupaged Butterfly Chalk Painted table there in the corner.
And photos of my 2 children (who are much more grown than those photos now)
(thrift store frames, by the way–had mattes cut to fit the photos)
The clock used to be green with a totally different "face". I created and printed out a new "face"and painted the trim cream with glaze about 15 years ago.
It might be due for another makeover. ;)
The is the other side of the foyer. There's a door that can be closed to the family room. Did I mention all the doors we had in this house?
We kept this one because it came in handy at keeping the TV noise down to the upstairs bedrooms.
That's my White Chalk Painted chair in the corner, my super easy No-Sew Curtains on the window and our "faux" board and batten on the walls.
We did the board & batten last year…and so have enjoyed it!
We (my husband ;) ) installed that wood floor in the Family Room about 8 years ago.
It was on clearance from Lumber Liquidators.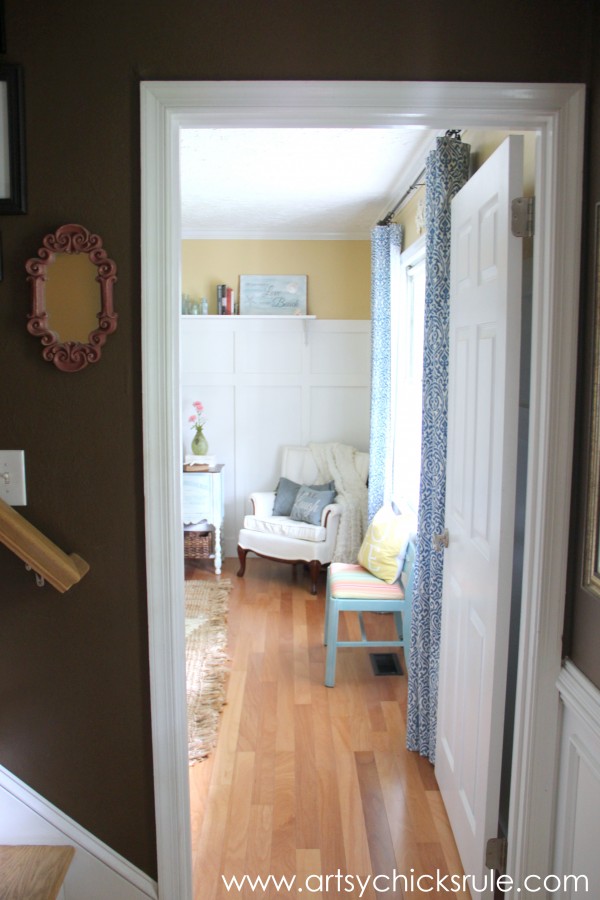 Can you believe we used to call that room "The Cave"?
I remember it that way but it's become so light and bright it's hard for me to picture it that way anymore!
We also replaced all outlets/light switches. They were brown or almond.
(or brown AND almond like the one in the photo below) We changed them all to white.
Again I say "we" (because most all is a team effort) but actually my husband did this all on his own.
Messing with electricity is not my thing. ;)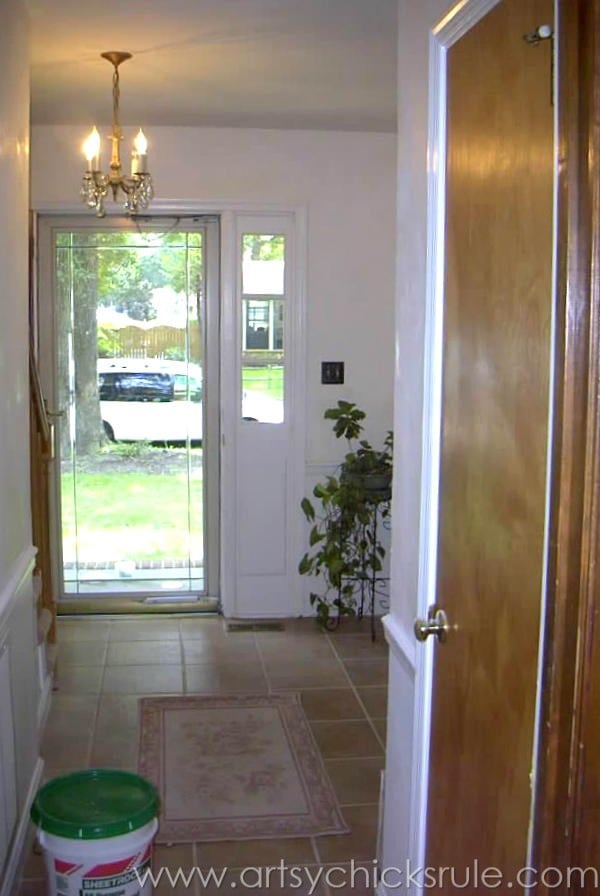 This is where that other door was originally.
We removed it before the moving truck was unloaded, I think! What a crazy place for a door?
I guess people did not want guests seeing any part of their kitchen from the front door in 1978. ;)
See the light in that photo?
It's the one I made over several times. First, I removed those crystals that are dangling.
Did NOT like them at all in 2004. But I love them now, go figure.
Then I painted it with a crackle cream finish and added tiny lamp shades. It stayed that way for about 8 years.
Until I decided to create fun new beads to dangle from it once again.
You can see that tutorial here–> Hand Beaded Chandelier.
We replaced it recently with a brand new one though.
Lowe's…on clearance for $40! Yay!
Isn't that light display on the ceiling pretty?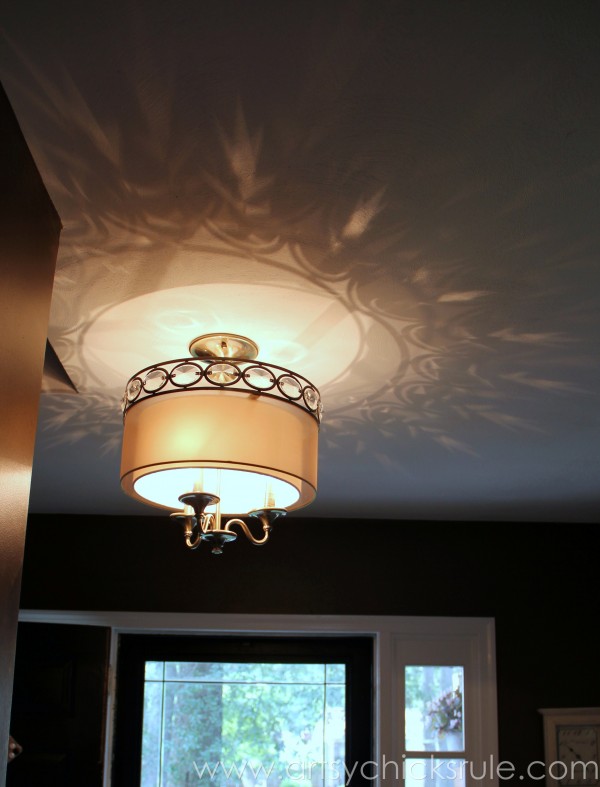 It was a light fixture I had taken a photo of months before while out shopping.
My husband and I were out for breakfast one morning and I was scrolling through my photos.
I came across the photo of this light and I said to him…"look, isn't this light pretty?" …"let's go get it!"
Haha…he so sweetly agreed….to go to Lowe's. Which, by the way, is not the same thing as saying yes. ;)
When we got to Lowe's I went straight to lighting and guess what? It was marked down on clearance!
From $159 to $39.75.
How absolutely great is that? Pretty great! I was so excited. I am a thrifty girl and LOVE a deal.
I think it worked out in perfect timing.
So what do you think of our before and after & changes?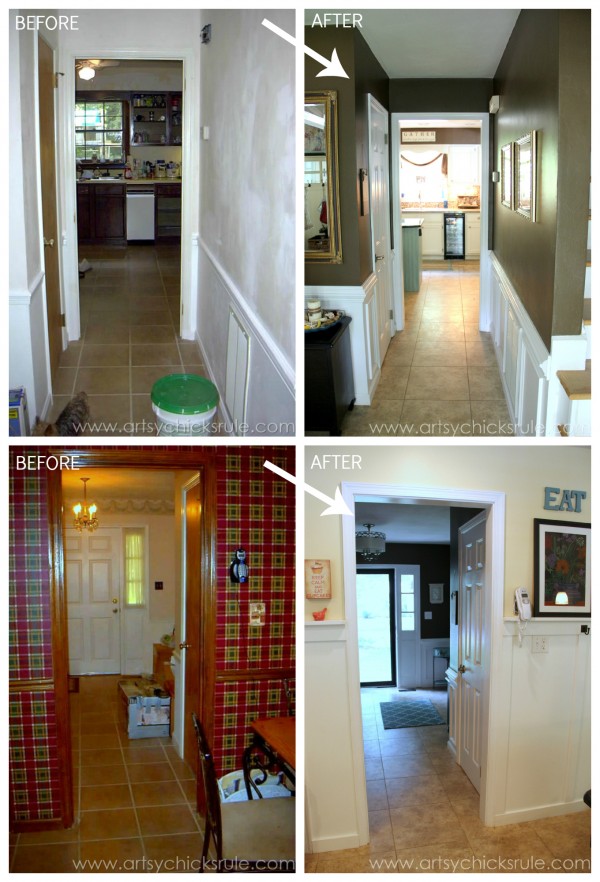 Not all of these improvements/changes were done at the same time…or even in the same year!
They were just completed as we got to them over the last 10 years of living here.
Like every room in our home. It's a work in progress…always is!
Oh! And I almost forgot, it's themed furniture week.
Don't forget to check back in on Thursday to see all of the "number" themed furniture makeovers.
They should be a lot of fun. :)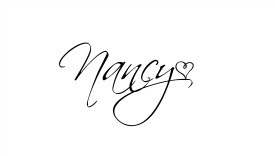 Be sure to follow me on Instagram and Facebook if you don't already!
I always post projects and things I'm working on
long before it hits the blog…..
….plus lots of fun random daily things too. :)


Sharing with: Confessions of a Serial Do It Yourselfer,
Follow Along Here!