Many Uses for Rustoleum Oil Rubbed Bronze (ORB) Spray Paint
This post may contain affiliate links. Please see disclosures here.
Oil Rubbed Bronze spray paint…oh how I love you.
Really, I do.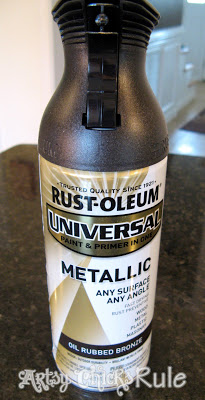 I cannot tell you how many cans of this I have gone through.
I've used it on everything. Almost.
There are just so many great uses for it, updating, changing metal color, etc.
I'm going to show you a few of them here.
1. Remember this fabulous Aubusson Blue dresser? The one I had to "create" a handle for?
You can read about that on this post here.
I sprayed these handles with Oil Rubbed Bronze and then put a light touch of gold paint over them…. (to give a bit of highlight)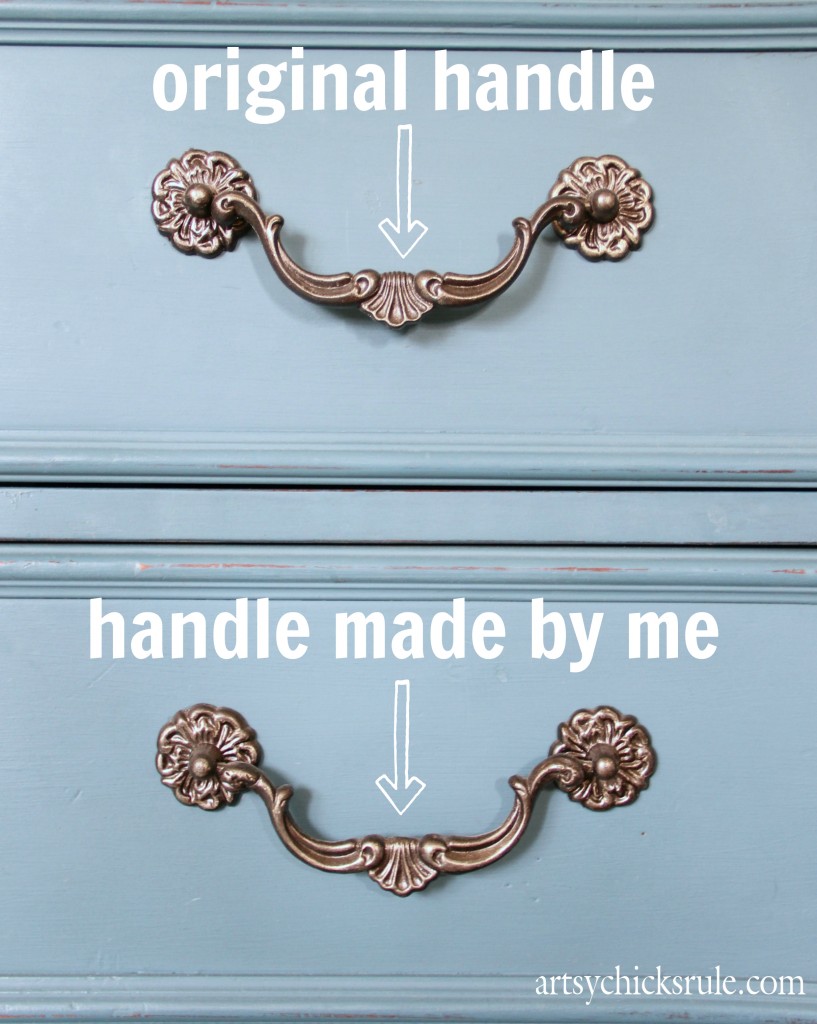 This is the gold paint I used.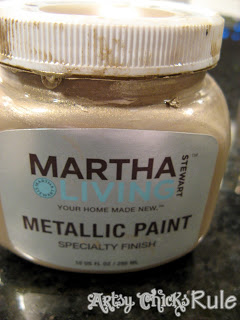 2. How about this little ice bucket I found at the thrift store. The sad little thing looked worse for wear with the cheap brassy colored handle and top.
But a quick spray of Oil Rubbed Bronze…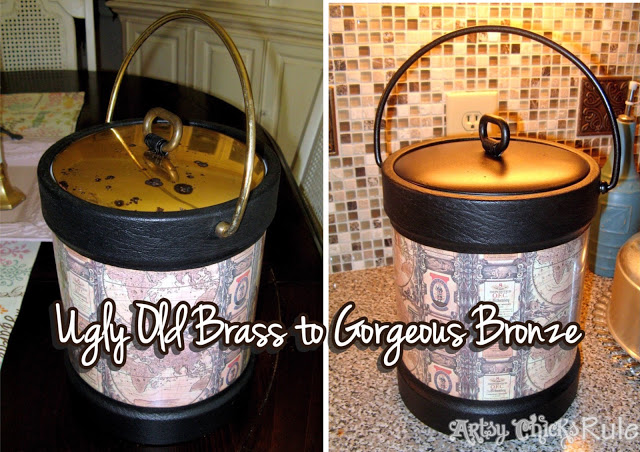 ….had it looking like new.
3. Or how about these? They were hooks I bought for my new Board & Batten wall in the Kitchen.
I bought them bought new at Lowe's but they were an Antique Brass color.
They didn't have any in Bronze ones that I liked.
So…..I sprayed them.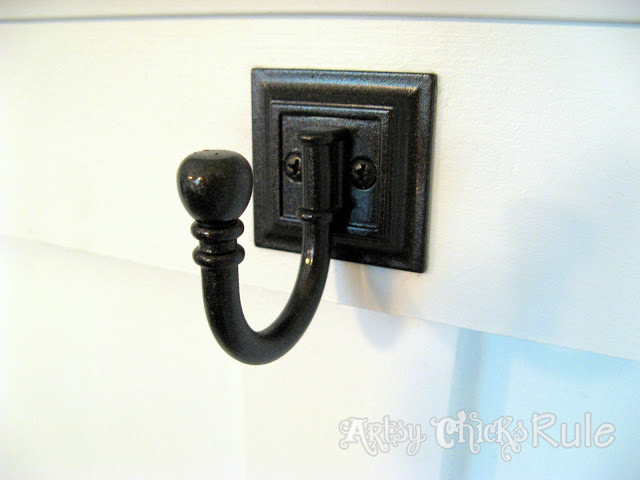 Voila!
And I sprayed the screws to match too, of course.
4. And then there are the lights we purchased from Lowe's about 6-7 years ago.
Brushed Nickel.
Very nice but I was ready for a change…but not the expense of new lights.
On either side of our fireplace in our Family Room were two outlets up by the mantel.
I didn't really get that?
Like I was going to set something onto the mantel and have a cord running up to the outlet on the
wall on each side? Or maybe I was supposed to put night lights on each side? Who designed that?
So we pulled those outlets out and my husband wired in these lights.
Perfect.
Here is one of them sprayed them with Oil Rubbed Bronze for a brand new look.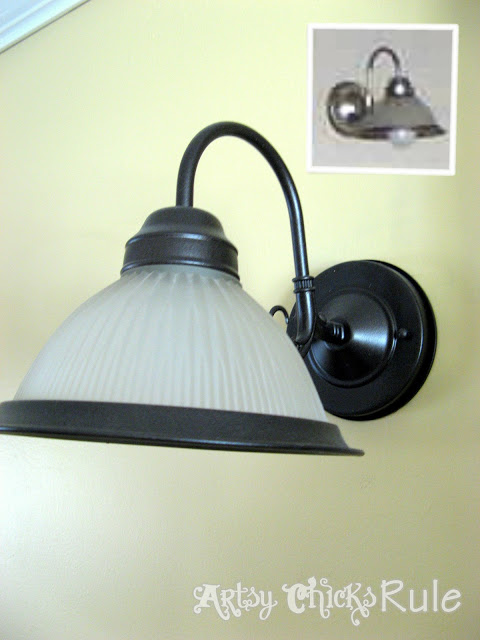 Sorry I don't have a better before picture. At the time I did most of these I didn't think I would be blogging about it.
But hopefully you get the idea.
Could not get any easier or cheaper for a completely new look.
5. Here's the little "Before/After Fun" Hutch I posted about here.
I painted the Hutch and sprayed the handles with Oil Rubbed Bronze.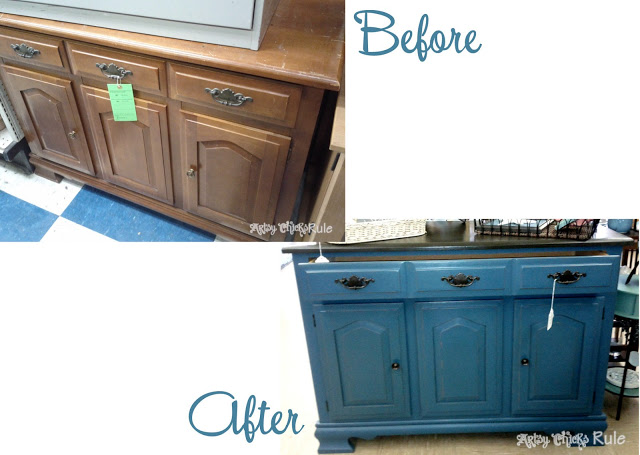 6. And these gorgeous "antique" looking handles I bought for an antique dresser I refinished.
The dresser had been painted several times and the original hardware had long since been removed.
You can read more about the dresser —> here.
I wanted to restore it to it's antique glory so found these handles online. Except they were brass.
Shiny, really gold brass. But very inexpensive.
I could've gotten some others in the right color that were quite a bit more expensive but that would've been cost prohibitive for this project.
So I purchased these and sprayed them with Oil Rubbed Bronze.
I did add a touch of that same gold paint, very lightly, to give them some "antique-ness" after spraying.
You can just see it in the picture below around the edges of the handle.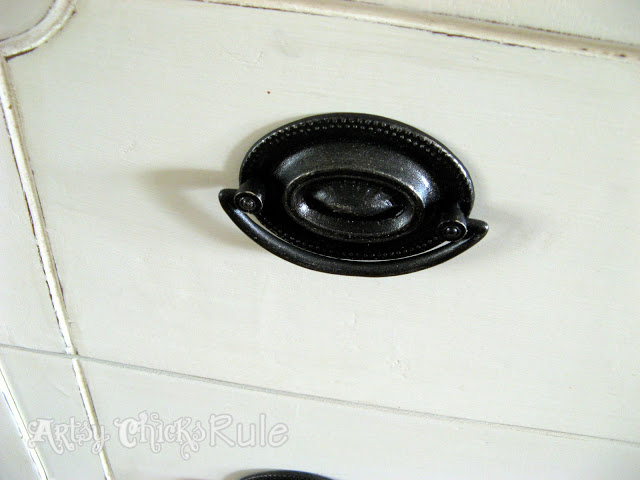 7. The Gallery Wall that I created going up my stairs, post about that is –> here.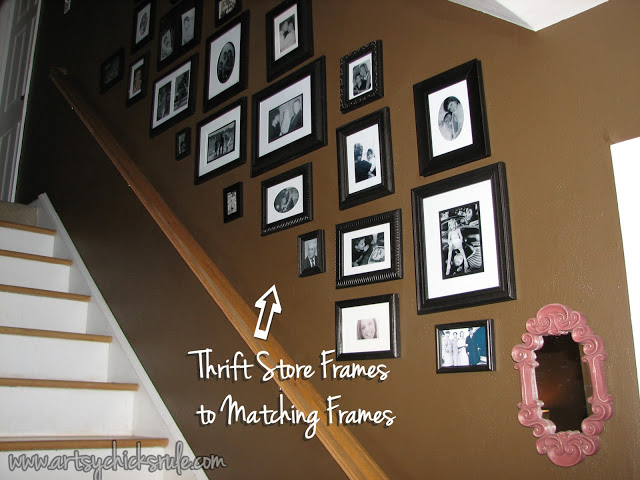 I bought very inexpensive, mismatched frames at the thrift store and garage sales.
I sprayed them with Oil Rubbed Bronze so they would have a cohesive look and not take away from the photos inside.
I love how this wall turned out.
8. This is a bar stool that lived in another home we built that had a raised bar top in the kitchen.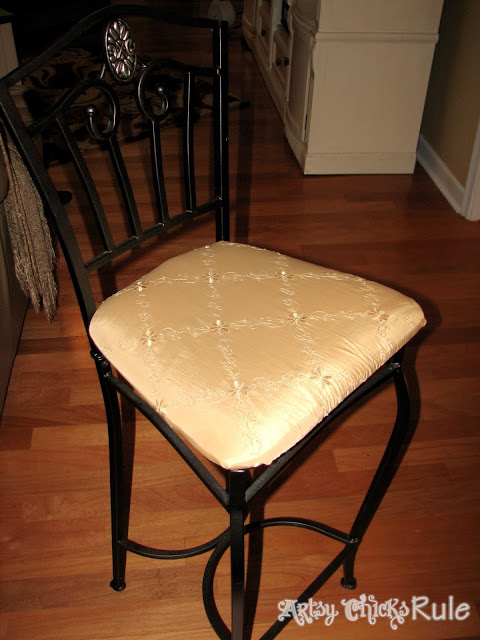 When we moved into this house we had walls everywhere and no bar top.
So since I hardly get rid of anything, these went to live on our screened porch for a few years.
We have since torn out walls and opened our kitchen/family room/dining room up.
You can see some of that —> here.
We created a bar top between the Family Room and Kitchen and so was once again were in need of bar stools.
No problem. I had 2! ;)
BUT they had gotten a little rusty in places from being outside on the screened porch.
No worries.
I sanded those areas lightly and sprayed both chairs with Oil Rubbed Bronze.
I then took that same gold paint and rubbed it over the medallion on the chair back to bring out the detail.
I also recovered the seat with a pretty yellow fabric. (it was a putty colored suede before)
Chairs long since purchased recycled for a completely new look.
9. This is my guest bath cabinet.
It was originally a cherry wood color but I painted it recently when I decided to redecorate the bathroom.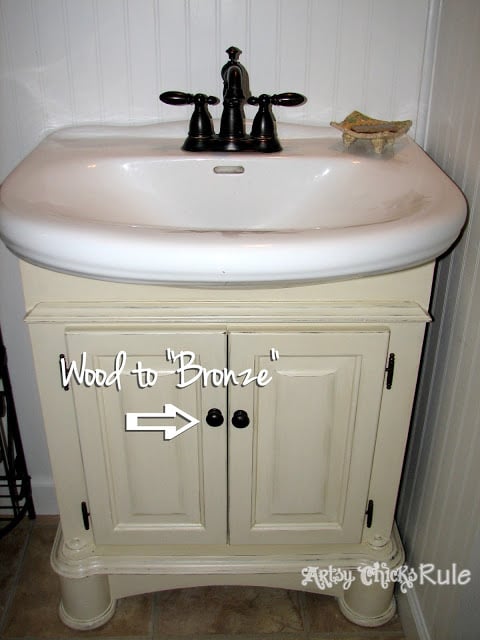 The handles are actually made of wood and matched the cherry.
I was going to purchase new ones but figured I'd just spray them to look like the rest of the fixtures in the room…you guessed it, Oil Rubbed Bronze.
Yes.
10. These little mirrors I got from the thrift store. Kind of ugly to start….a little spray and pretty bronze.
I also added a touch of the gold on the edges. (clearly I like the gold effect on the ORB :) )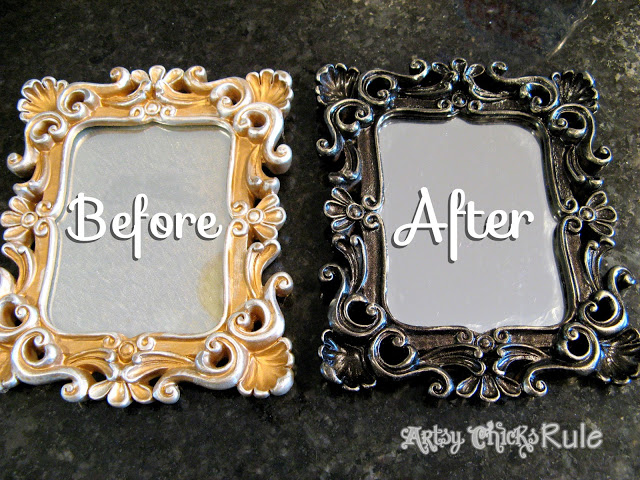 11. No before picture of this little metal scroll stand/shelf ….
but we've had it around 13 years now.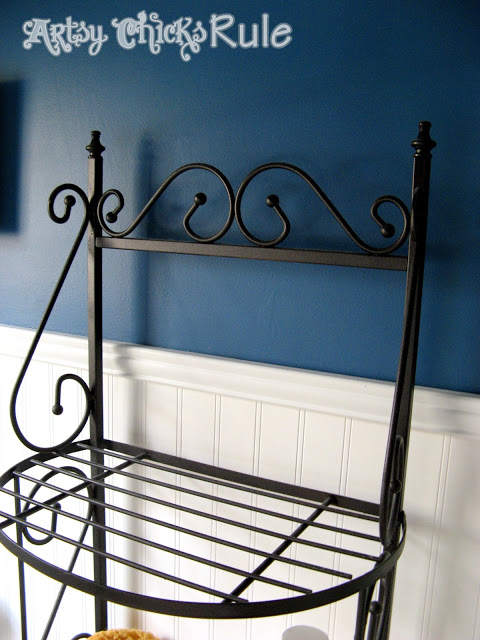 So…just use your imagination….and imagine it shiny white with very shiny, gold finials at the top there.
Oh and gold edges on each shelf. (this is just one shelf…there are three and go to the floor)
I peeled that cheap brass off each shelf edge and sprayed the whole thing with Oil Rubbed Bronze.
Love it now!
12. And finally my vents.
Lovely builder grade putty color…..all scratched and beaten up….OLD
…to pretty, new and updated looking.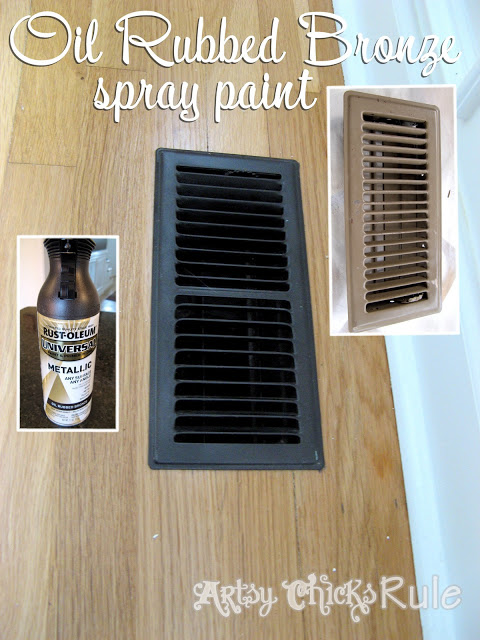 I just love them now. Vents. Who loves vents? I do.
They make me happy when I see them…and see how pretty they are on my floors in that gorgeous Bronze color.
I love how simple and inexpensive it was to change up so many things in my home with this little can of spray paint!

PIN this to save for later!! :)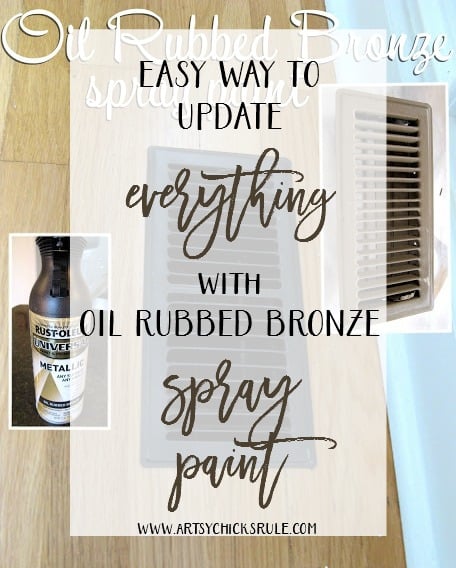 Here is an affiliate link for this ORB. (see my full disclosure here)
You should also be able to find it at your local stores.
Oil Rubbed Bronze
Okay, so I've shown you 12 here but there are many, many more ways to use this paint.
Hopefully this gives you a good idea of the things you can do with this wonderful product.
(by the way, this is not a sponsored post I just love this product! ;) )
Have you ever tried Rustoleum Oil Rubbed Bronze Spray Paint before?
Or something like it? There are other Metallic colors but this is my favorite….for the moment.
Be sure to check in next week when I share how I use napkin rings in a totally unique way! (hint…it's not for napkins! ;) )
UPDATE!! See it now, here!!!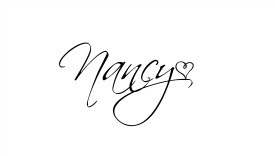 Get the "behind the scenes" and more when you follow along with me on Instagram!
PLUS be sure to sign up for our newsletter so you don't miss any new projects or products I'm sharing!
Click here –> Yes, I'd like to join.