IKEA Ektorp Makeover (new paint, new furniture & new decor)
This post may contain affiliate links. Please see disclosures here.
Hey Friends!
I am finally…..finally…..sharing something that has long been desired here, by me anyway! ;)
An IKEA EKTORP MAKEOVER!!!
Yep, I finally got my white slip covered furniture. Can you even believe it????
If you've been around here any length of time, you know that was no small feat!
My husband LOVED his leather and I have to agree, it was super comfy, but it was time to go.
He finally agreed and seems pretty happy with the new stuff.
I know I am! :) And you know that ole saying don't ya? "If momma ain't happy, ain't nobody happy!" lol
Everybody is happy here. ;) hee hee
I'm also sharing our new paint, (Sherwin Williams Sea Salt, I LOVE it!) other new furniture pieces and kitchen plans.
Alright, so let's get to it!
Here's the now empty wall as we are just opening up the boxes the Ikea Ektorp pieces came in.
It's not a very big space. We squished our old sofa here to fit.
Never loved that.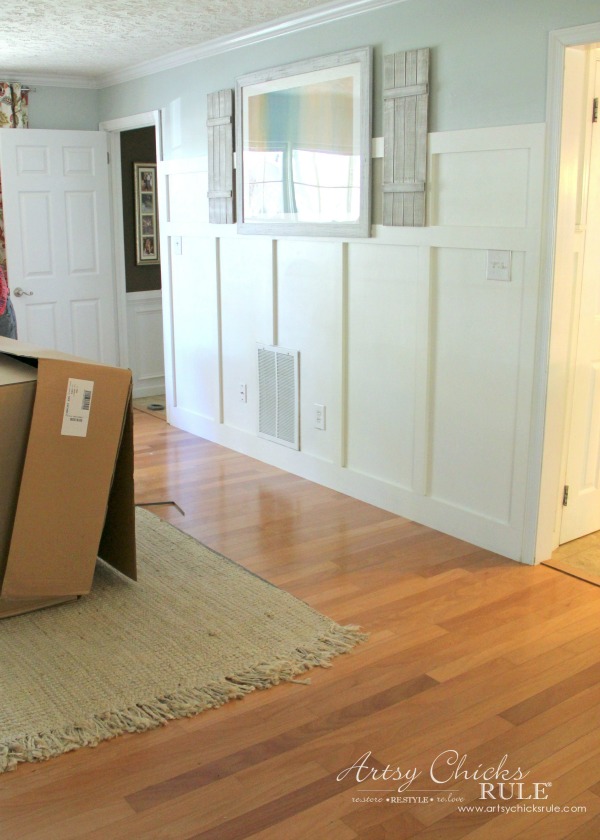 So with that, let me preface this by telling you we went smaller.
Smaller in that I was so tired of having an over cramped, overfilled family room.
This room is such an odd shape and not really easy to arrange things because of the narrowness of it and door openings.
It's the reason we finally went ahead and attached the TV over the fireplace.
Not my optimal place to have it but I needed room in here for furniture, etc.
You can see how it used to be in this post here….. >>> Family Room Makeover … it's worth a looksie to see it then…and now. :)
Instead of forcing another large couch along that empty wall there, we opted for the love seat instead.
I also have to tell you, when the boxes arrived, I was a bit intimidated.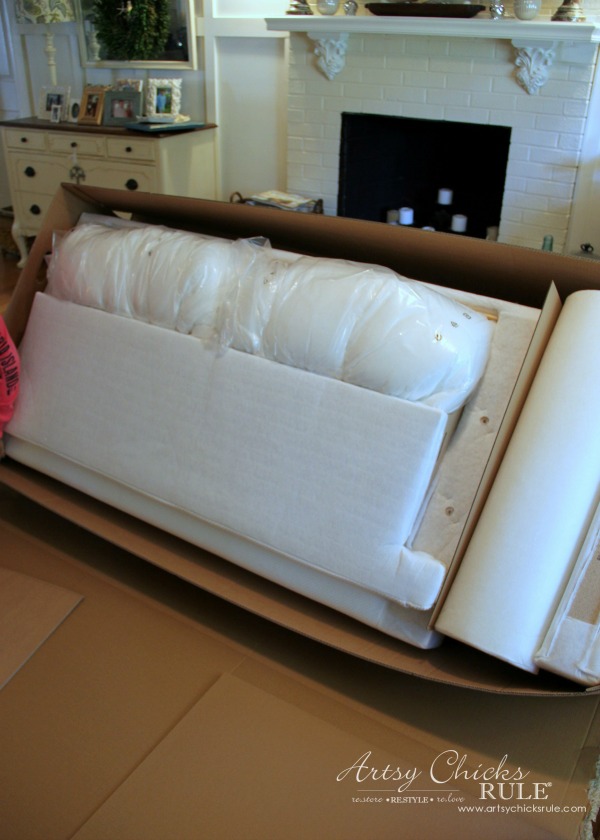 I don't enjoy reading directions and putting things together!! ;)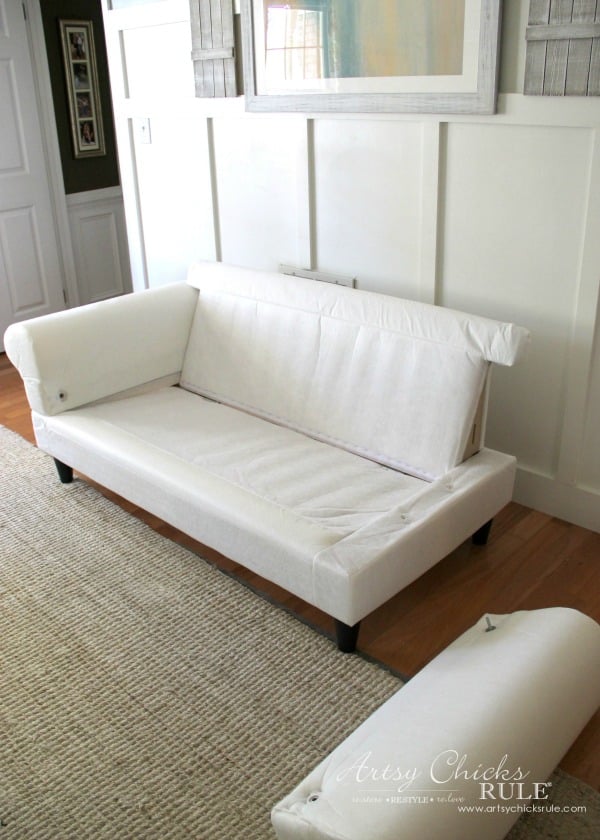 BUT it was an absolute breeze. Not even kidding.
Just take a look at the photo above and you will see that!
And eek, it looked so low to the ground ….and small.
But we continued on…..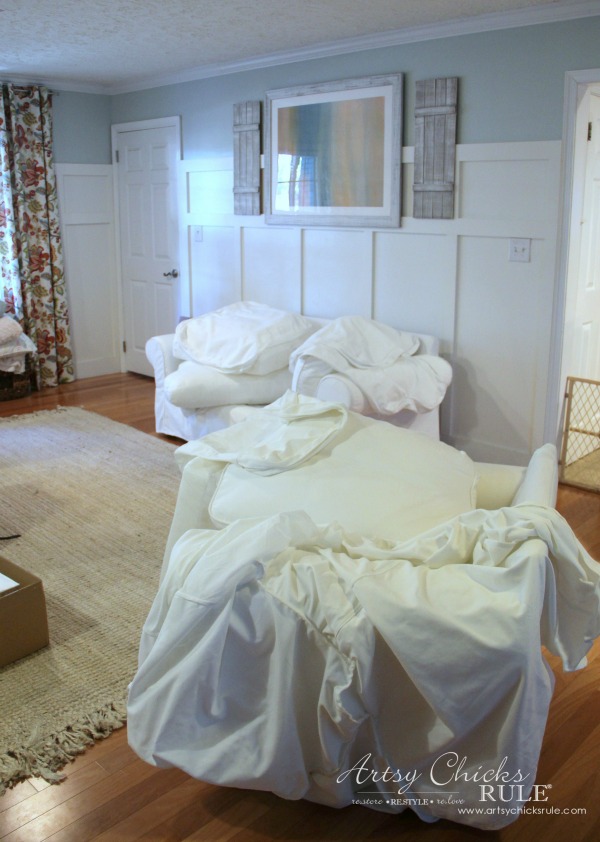 I threw all the slip covers in the wash and then we put them on while they were still damp.
The damper the were, the easier they went on actually.
I considered adding a second love seat in this spot….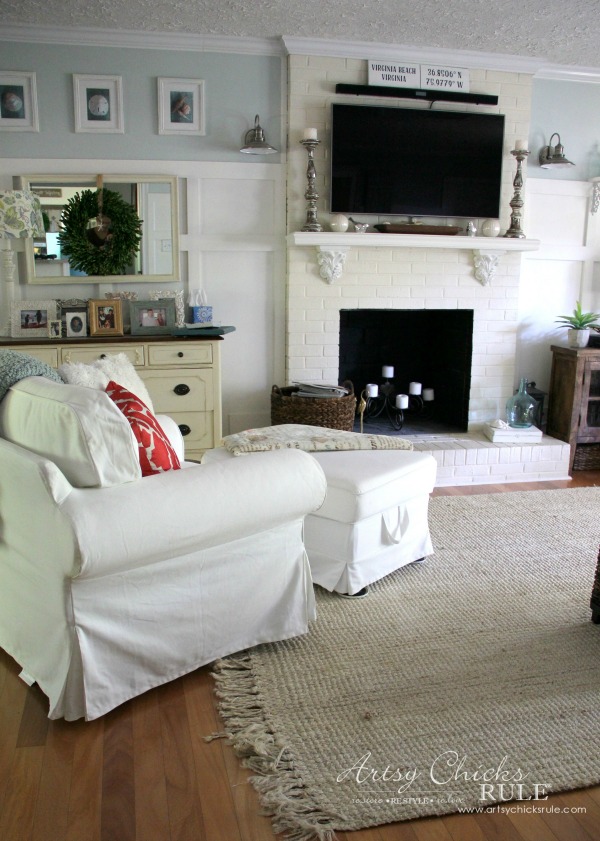 But it's tight there too, so I went with a chair.
We got one ottoman and as you can see it has furniture sliders under it. ;)
It usually stays with this chair in the corner…..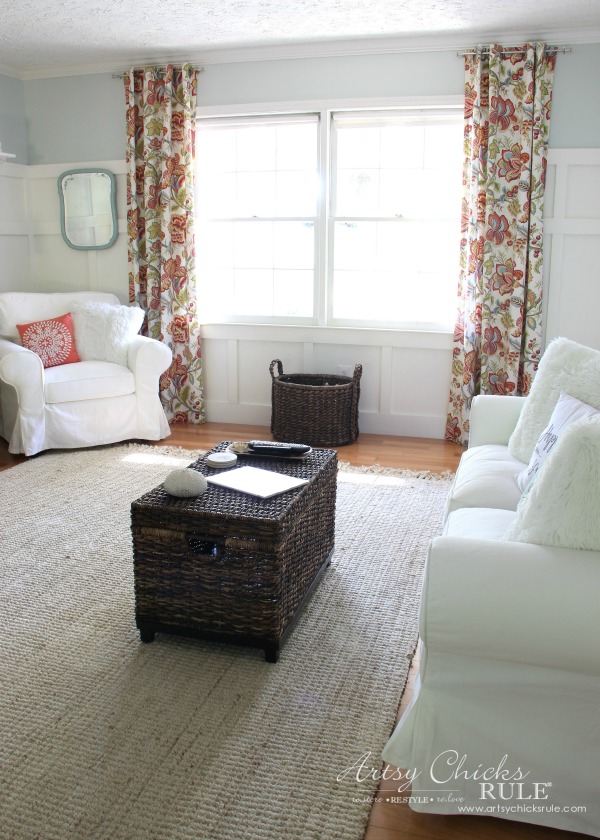 But we want to be able to slide it about. I'm going to get the tiny sliders (that you won't see) and glue them to the bottom permanently.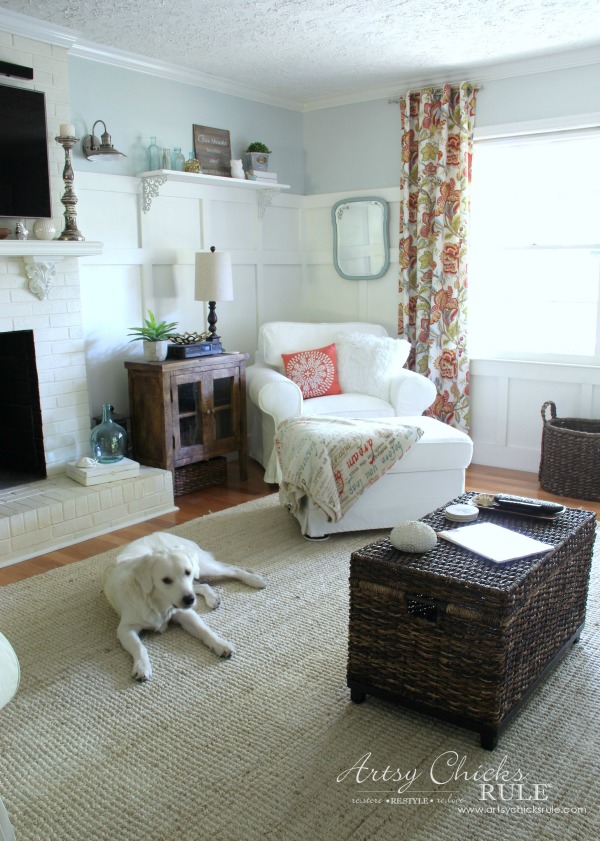 Ryder wanted to be in all the photos. :) Seriously, he was up under me the entire time!! haha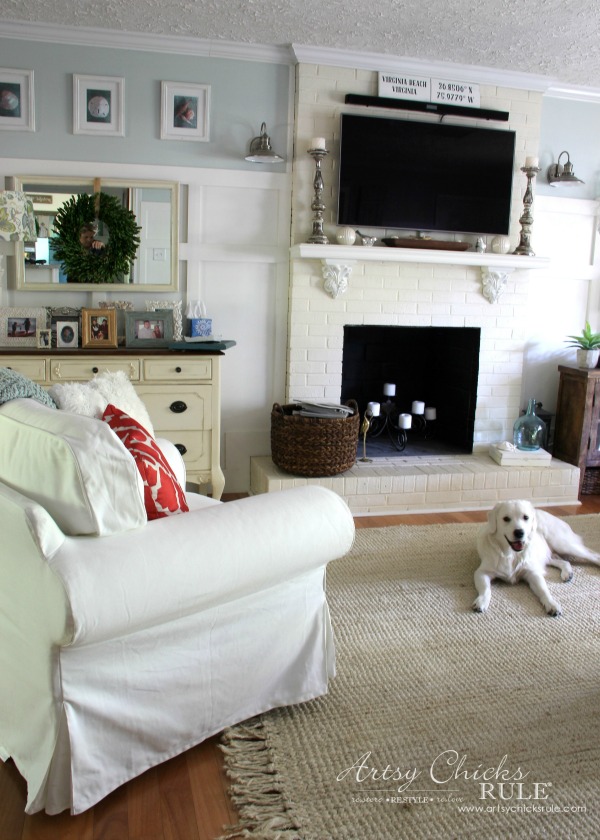 I may sell the dresser and mirror behind this chair. I have another small dresser that I've been wanting to turn into a "card catalog/apothecary" style cabinet for awhile now. I may do that and use it in that spot instead.
I am also looking at a new rug but we will see. :)
This is the rug we have in there now….>>> Jute Rug
And this is the rug I'm thinking about…take a look and tell me what you think…>>> Moroccan Wool Rug
Anyway, I just love it! And I adore how open and non cramped the space seems now.
If you want to take a look at how it was before (if you are new here and haven't seen it), you can see our family room before here >>> Family Room (you won't believe day 1 to now….the "cave" to this :) )
So, what do you think about the IKEA Ektorp makeover? Or the new paint color? Especially compared to the other I had in here?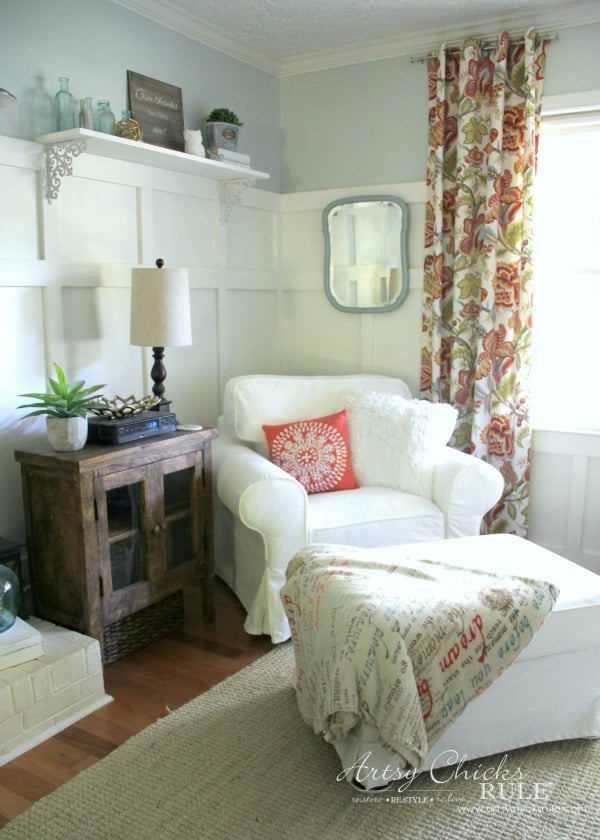 I think it makes the space feel soothing and relaxed. The other color was a "happy" color for sure though.
I'm planning to build an "antique, weathered" ladder to go where the blue framed mirror is.
The mirror will come down and hopefully I can find another place for it. I love that $6 thrifty antique mirror.
You might have noticed, the little French cabinet is gone, and in it's place is this little lovely from TJ Maxx….
I wanted to soften this room and make it less busy (minus the curtains, of course ;) ).
I felt like there was too much going on, too many colors, etc. It was just time for a change.
I also wanted/needed to change out the large coffee table I had here.
It wouldn't really fit will with the new ottoman.
I found this basket trunk on sale and could not pass it up! :)
You can find it here (affiliate link, disclosure here) Basket Trunk
However, I don't think it's on sale any longer but still not a bad deal.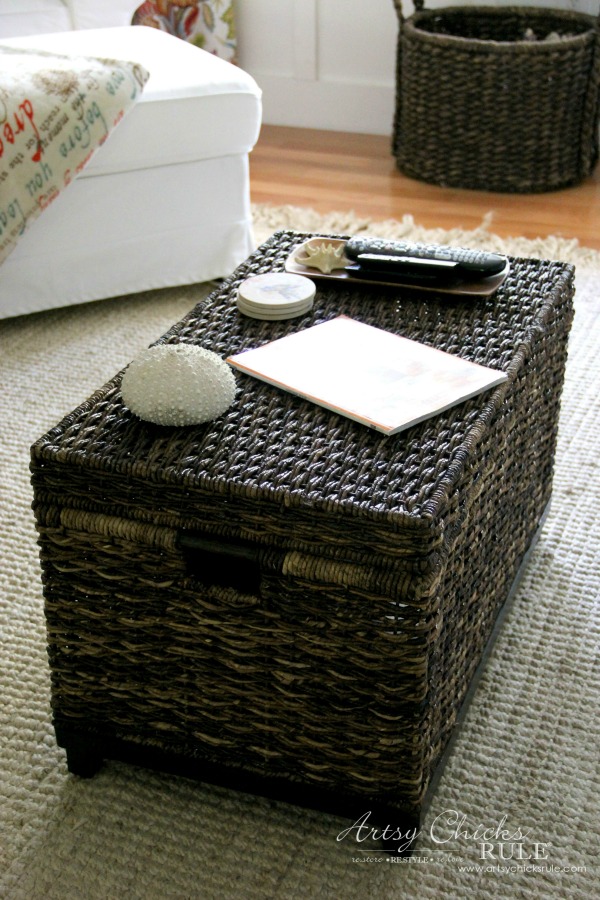 I love extra storage and the ottoman plus this basket trunk both provide it!
I'm really very happy with the new IKEA Ektorp Makeover!!
It really brightens up this space.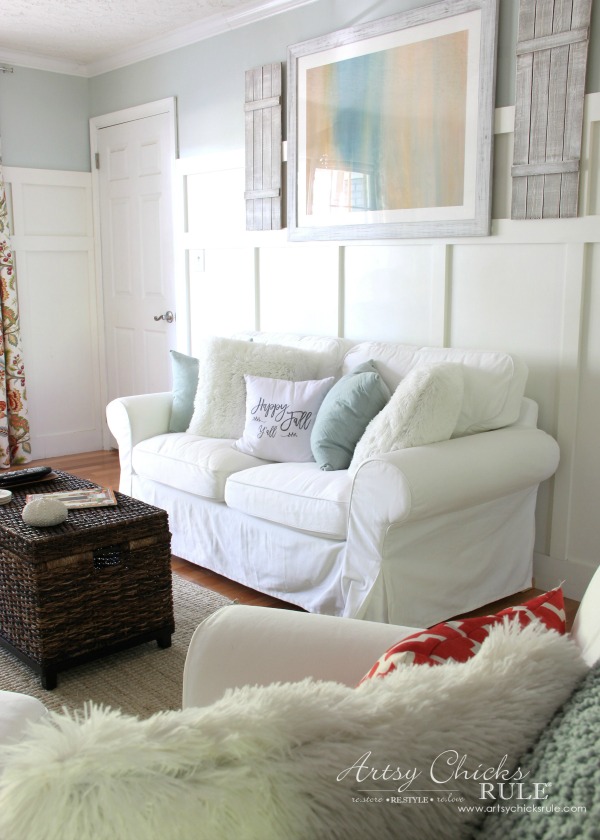 And the love seat looks bigger with all the cushions on, thank goodness.
I'm making two side tables for each side of the love seat. Something I've not been able to have before in this space.
Do you remember my tiled trays? This one and this one? (<I'm actually using the same tile as the first one I linked)
Well, that's what I'm making.
Old picture frames -turned tiled trays attached to a bottom wood end table frame my husband and I are building.
I hope they turn out like I see them in my head!! haha
If they do, then I'll place lamps on each side of the love seat.
Another reason for the love seat, I wanted to leave room for pretty side tables and lamps.
It feels so relaxing in this room now. I love that I feel like I can breathe….and not feel all cramped in anymore.
And best of all, it didn't break the bank! Everything was so affordable.
Be sure to PIN this for later so you can maybe do an IKEA Ektorp Makeover too!
(I'm an enabler, what can I say??) ;)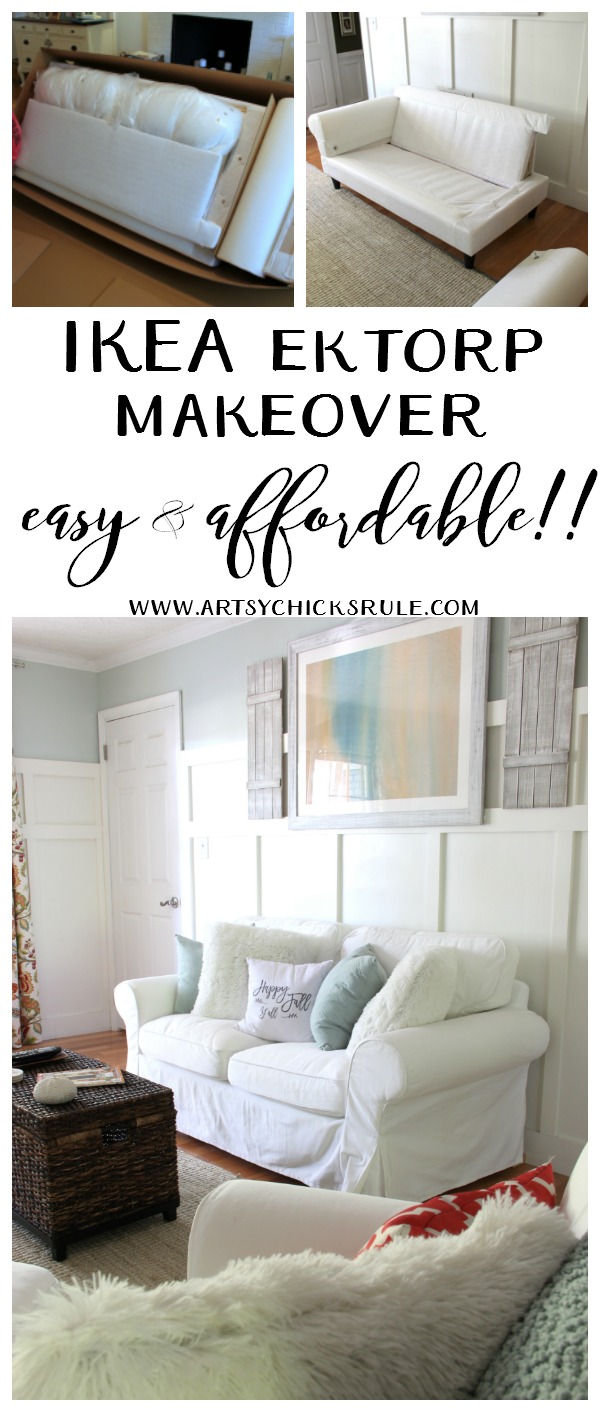 Now, kitchen talk. :)
repaint my >> kitchen cabinets…again…to a bright white.
new tile back splash, here's the current one >> Back Splash
new counter top >> Counter Top
repaint the >> kitchen island (a paler blue color)
new light fixtures over the island, possible one hanging over sink now, unsure.
And here is our original kitchen remodel from 1970's to current. >> Kitchen Remodel … it's a doozy. ;)
Here's the tile I have chosen…for now. ;)
And the counter top color….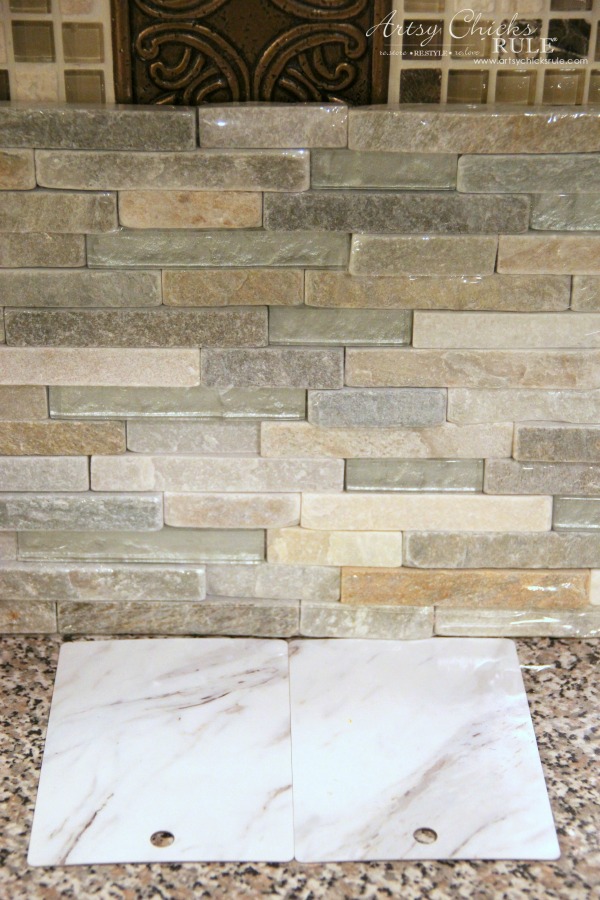 It's going to really brighten up this kitchen. I'm excited!
Well, that's it for today. I'll be back next week with what's been going on in my guest bath. ;)
Have a great weekend!!
xoxo