How To Decoupage Using The Iron On Method
This post may contain affiliate links. Please see disclosures here.
How to decoupage using Iron On Method! Simple way to eliminate wrinkles!
Hello and happy Thursday friends!
I'm sharing a fun, new (well it's not new but I had never used it before) technique that I came across a while back. I had been wanting to try it so I did! And I'm sharing all the details with you all today.
Iron on method for decoupage? What? Yep, you iron it on to attach it to reduce wrinkles which really works! Do you know how Mod Podge or our Decoupage Gel is wet when you apply it? Then you place the thin tissue paper or napkin over top. Well, it shrinks and starts to wrinkle up. Plus, it's so easy to tear too.
Not only that, once you put that sucker down, it's not coming back up or moving without ripping.
So what you get with this method is more freedom with placement, less chance of tearing, and much fewer (if any!) wrinkles. Win-win!
Let me show you how below!
How To Decoupage Using The Iron On Method
I recently picked up the most adorable napkins (this is one set, I'll be doing another fun project with the other one soon) a couple of weeks ago.
I knew I needed to put this sweet bunny on something!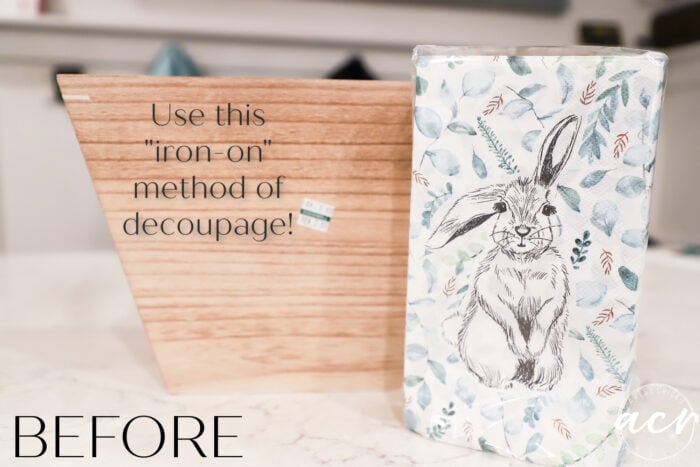 Now, let me preface this by saying, your finished project is only going to be as smooth as the surface you're applying it to. My surface is a wood box and it's not fully smooth. You can see and feel the wood grain so I imagine this would show through a bit. And it did.
But no wrinkles!
Before I began, I gave it one coat of white spray paint as a base. I let that dry overnight.
I actually planned to apply a second coat but I thought it'd be fine as-is. I even like how the inside was going to simply look like it's been white-washed and left it at that.
MATERIALS SOURCE LIST
Napkins of your choice
Wood Box
Iron
Parchment Paper
Apply Decoupage Gel
I began by applying a coat of Decoupage Gel (you can probably use Mod Podge the same).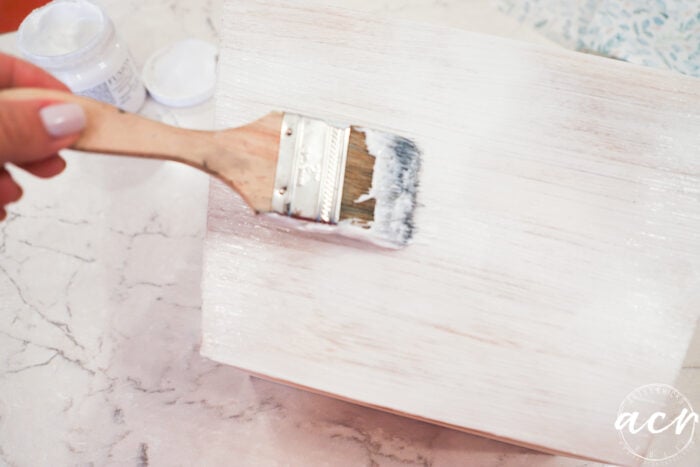 Dry It
I then used my "craft" dryer (old hair dryer) to dry it.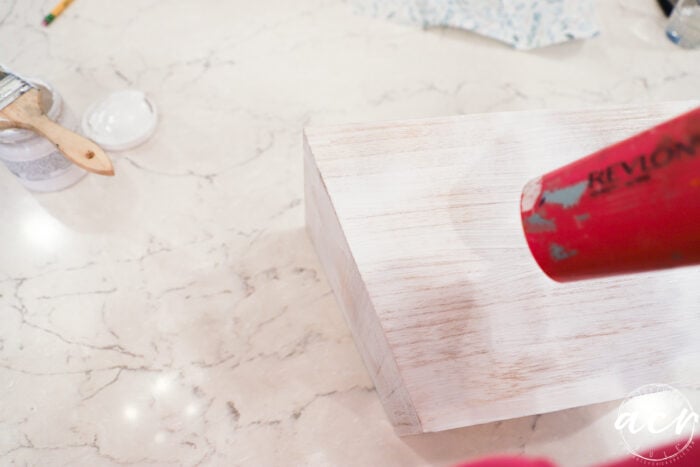 I then applied a second coat and dried it again. (I didn't do that on the rest of the sides and realized I didn't need to do two coats)
Separate Napkins
Next, I pulled all the layers away from my napkin.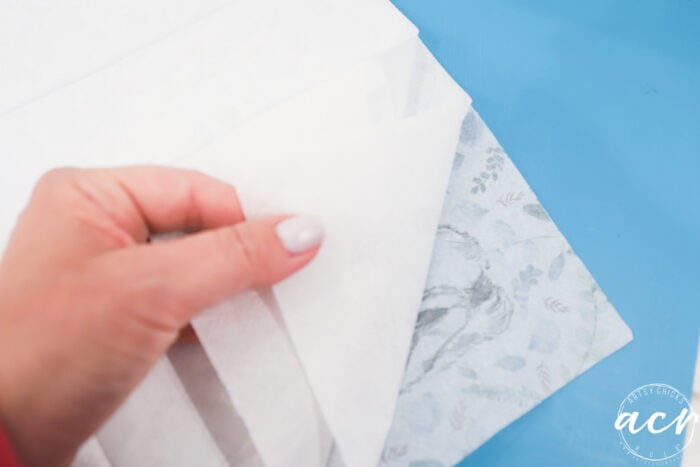 And that leaves you with the piece that you will be decoupaging.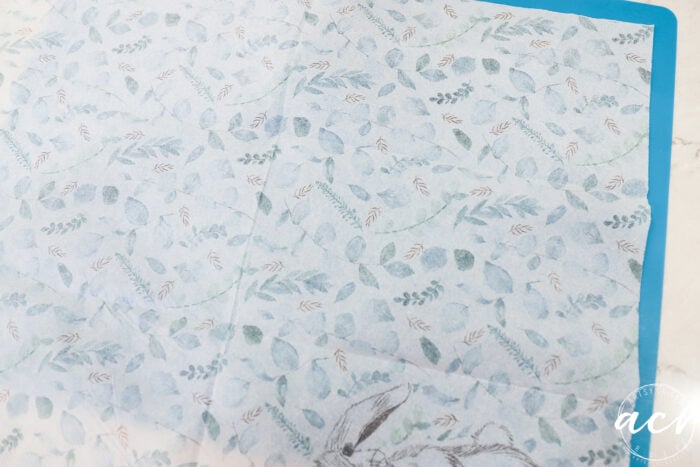 I also cut out the bunny using this cool little cutter tool I found recently.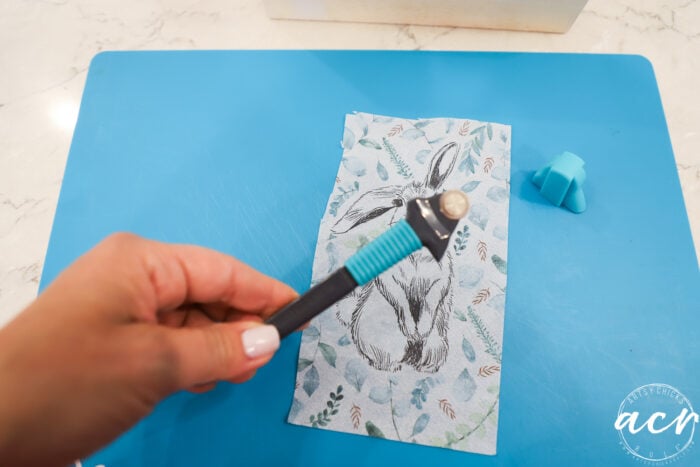 It's perfect for cutting out things on tissue paper/napkins like this!
Ta-da! Quick too.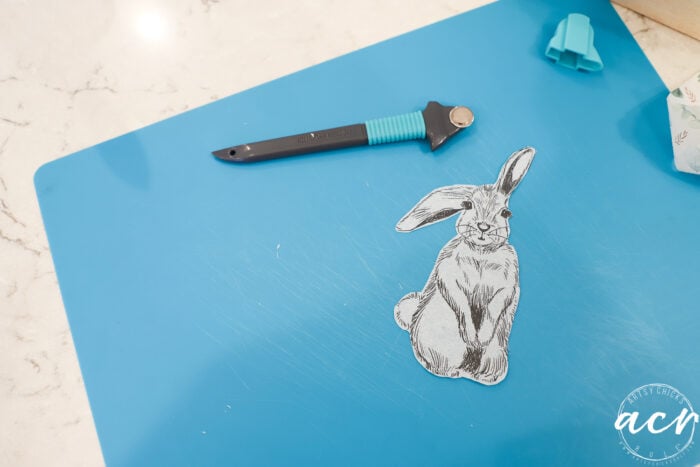 I just used a cutting mat to cut it on.
Attach Tissue/Napkin To Dry Decoupage Gel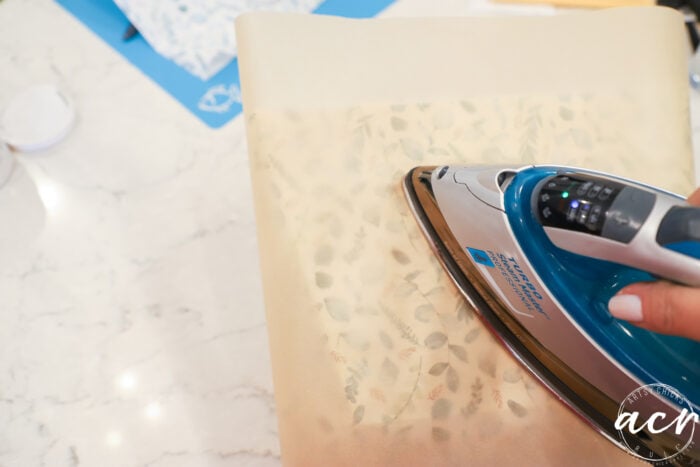 For this step, you will grab a piece of parchment paper (not wax paper) and lay that over top of your decoupage.
You don't have to worry about cutting the napkin to fit exactly because we will take care of that later.
Run the iron over your parchment and napkin several times until it is stuck well.
The heat "reactivates" the glue and seams them together. It's like magic!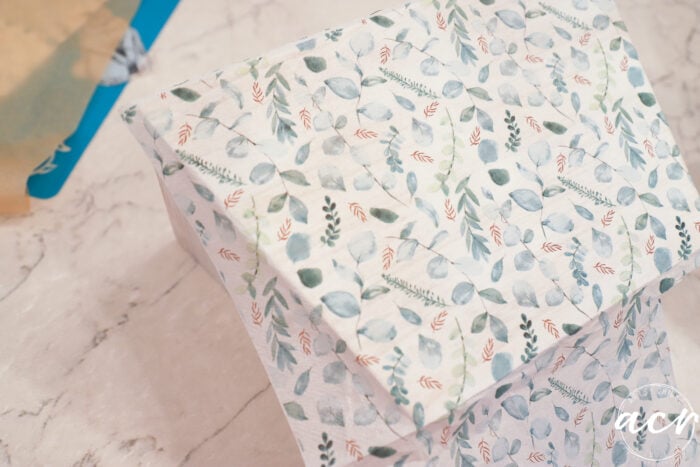 Once it is cooled, use a piece of sandpaper to take off the excess edges.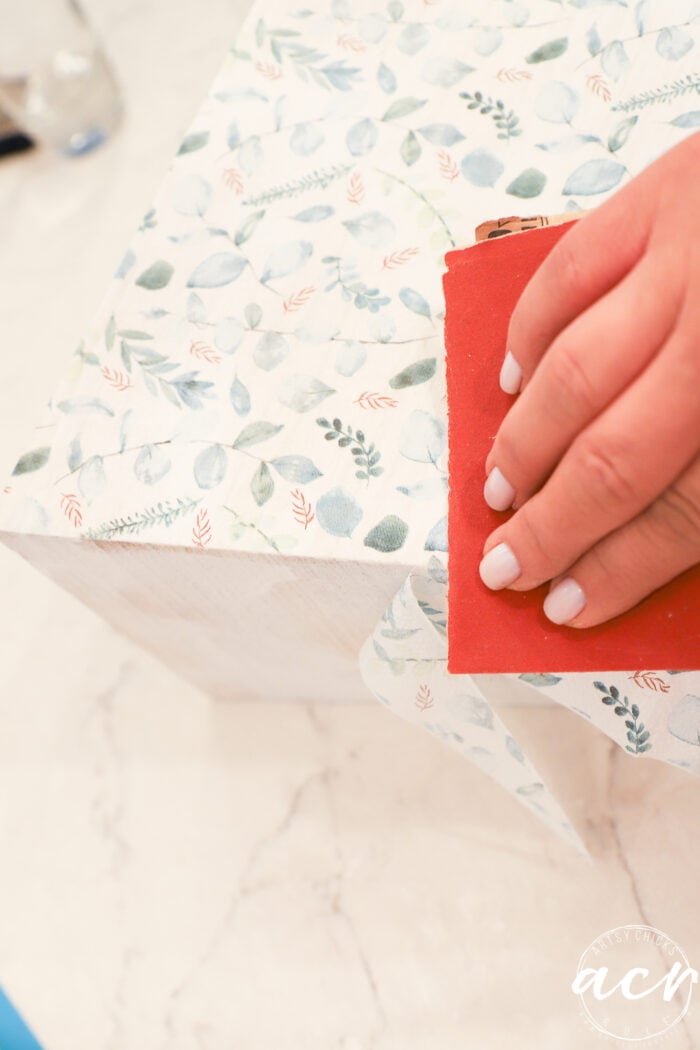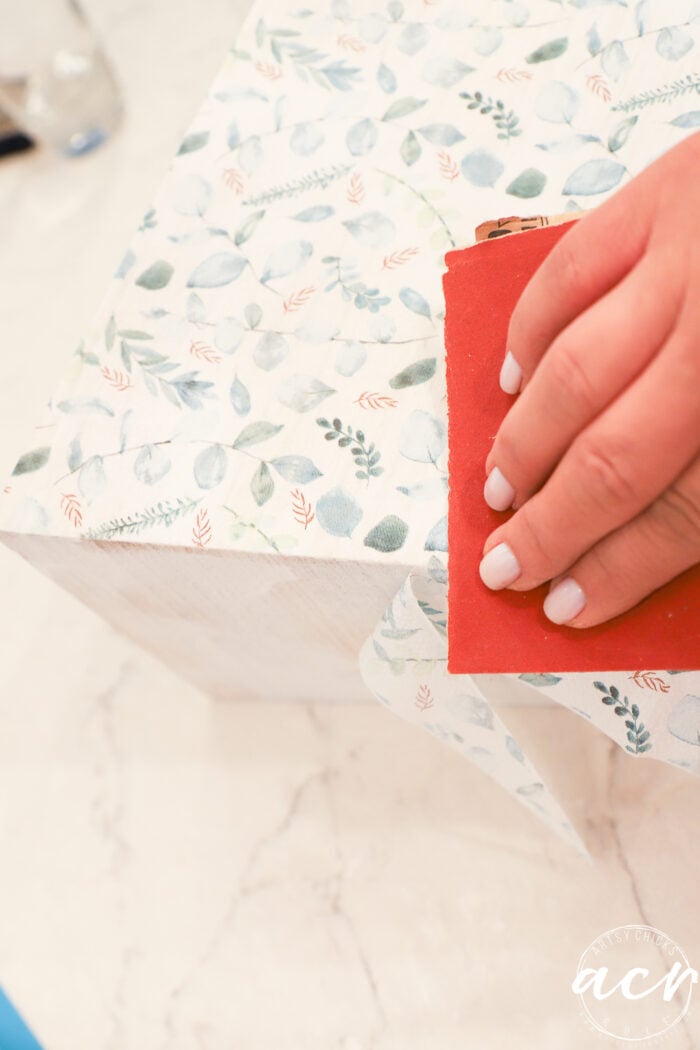 Nice clean lines this way! SO easy too.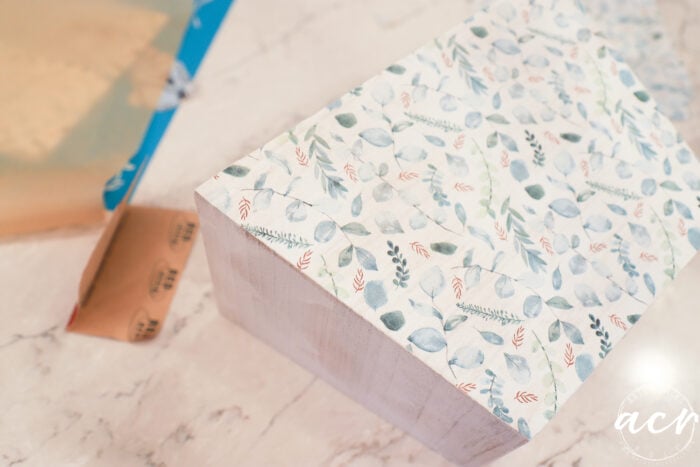 Very similar to how I trimmed the edges on this tissue project many years ago…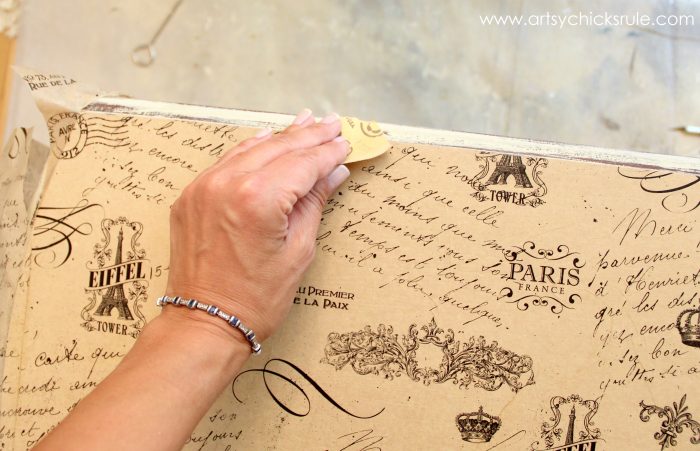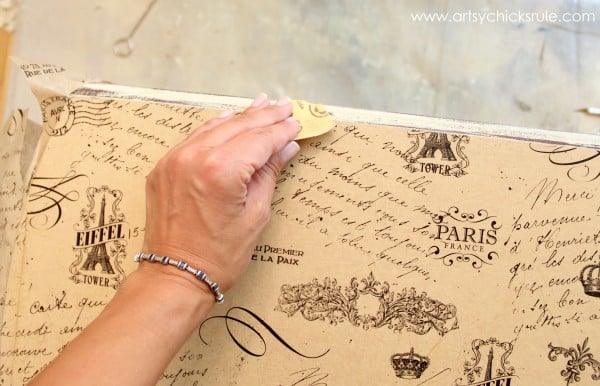 I worked my around until the whole wood box was covered.
Then I went to attach the bunny and decided I didn't like how thin he was. And that the underneath pattern would show through more than I'd like.
So I recut the bunny leaving one of the white layers on. Now, in order to do this, I'd need to make sure the gel would soak through to both layers.
I lightly traced in areas around the bunny so I'd know where to apply the gel. (the bunny was too thin to try to apply to it)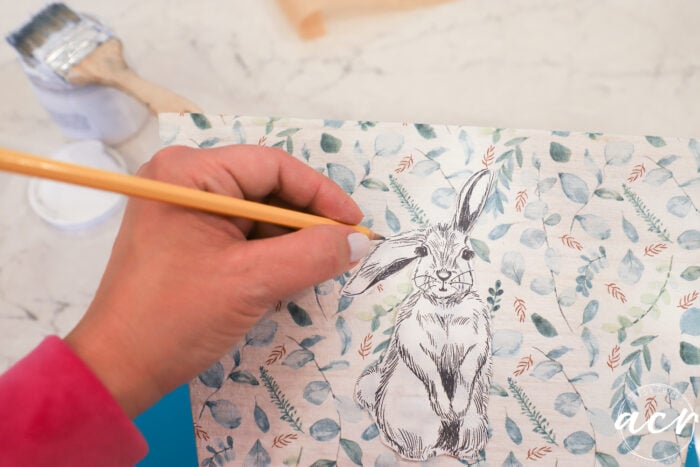 I dried it the same way and ironed on the bunny. This worked great because I could move the bunny around and get him perfect without the worry of ripping.
Didn't work out great for that second layer! ha!!
So I had to lightly go over the top of the bunny with more gel to soak into the other layers.
I dried it a bit then put the parchment paper over top and ironed it to "set" it.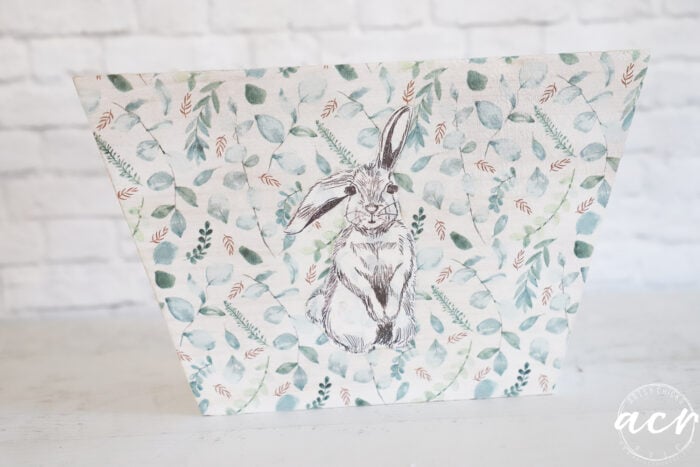 Cute little floppy-eared bunny!
*You can add sealer at this point if you like. I may still.
I suggest something that you can spray and very lightly go over it so as to not cause "wetness" which will invite wrinkles. A light misting over it should suffice and most likely will not cause issues.
And a sweet little box for just about anything.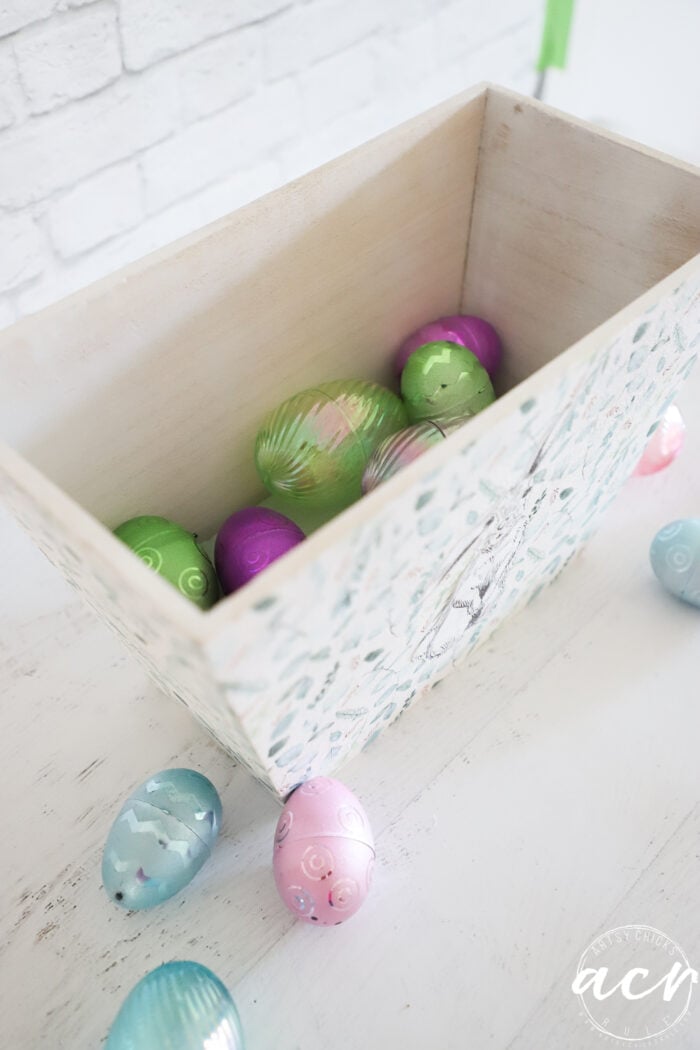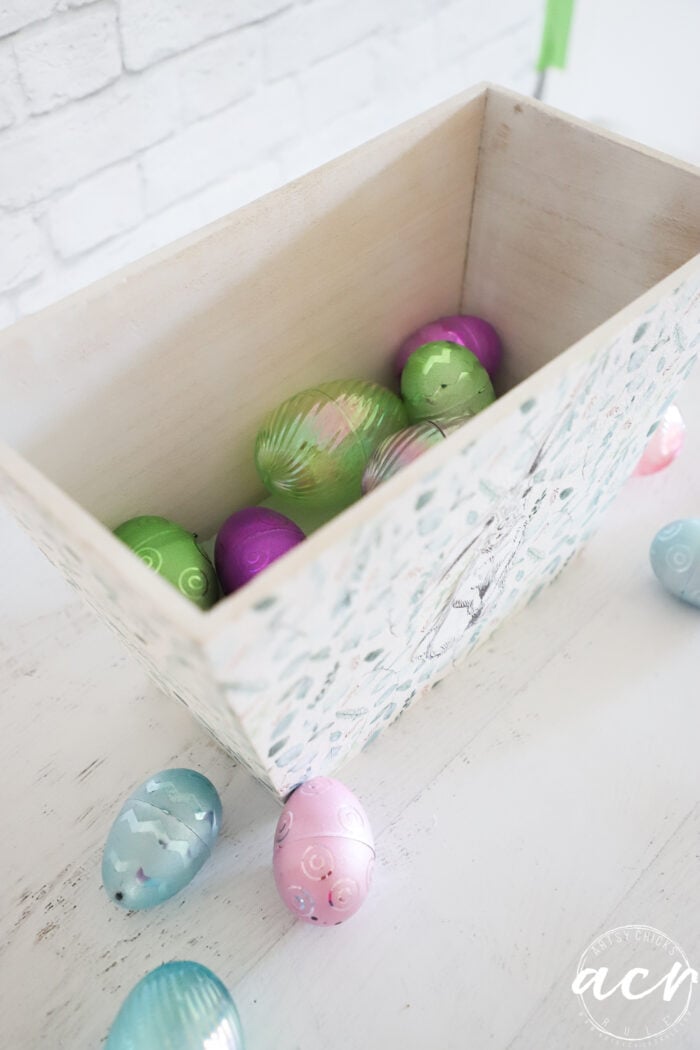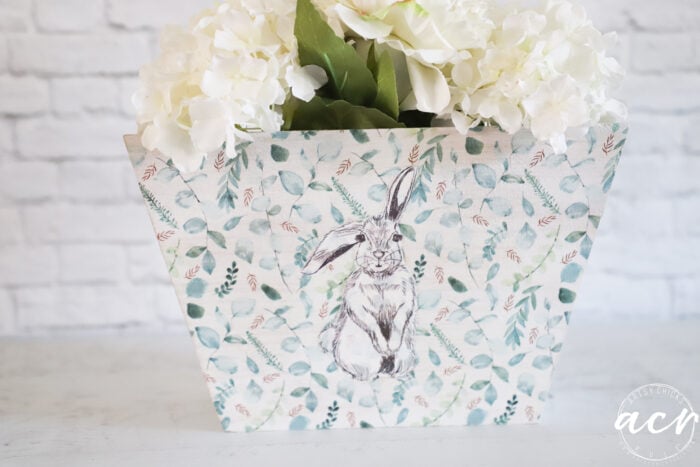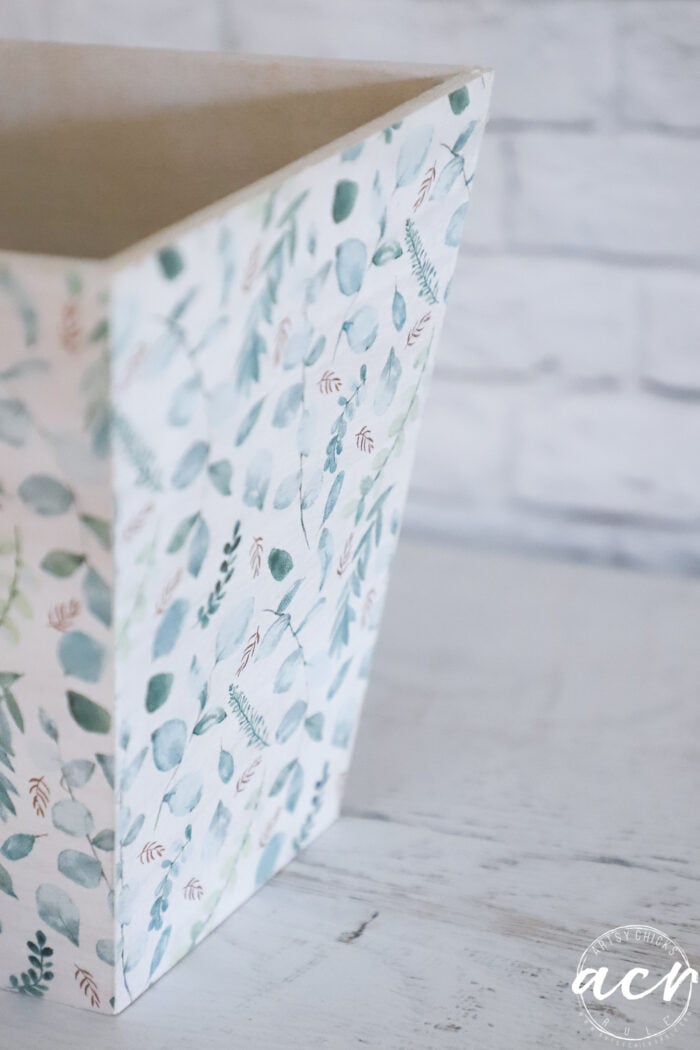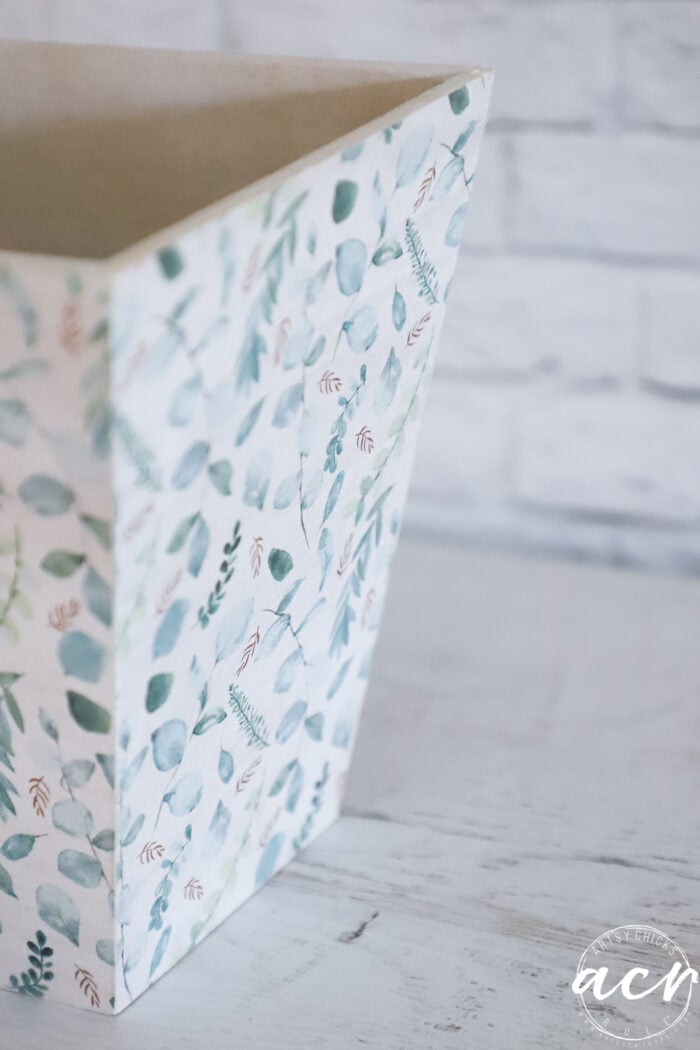 I really like this method!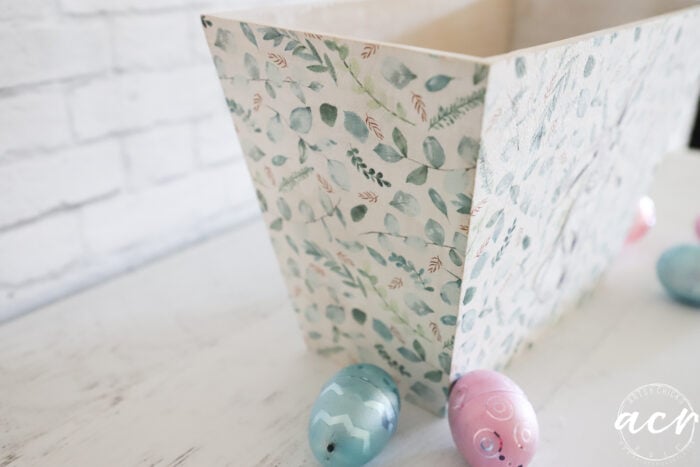 Have you ever done decoupage with the iron-on method before??
PIN it to save it!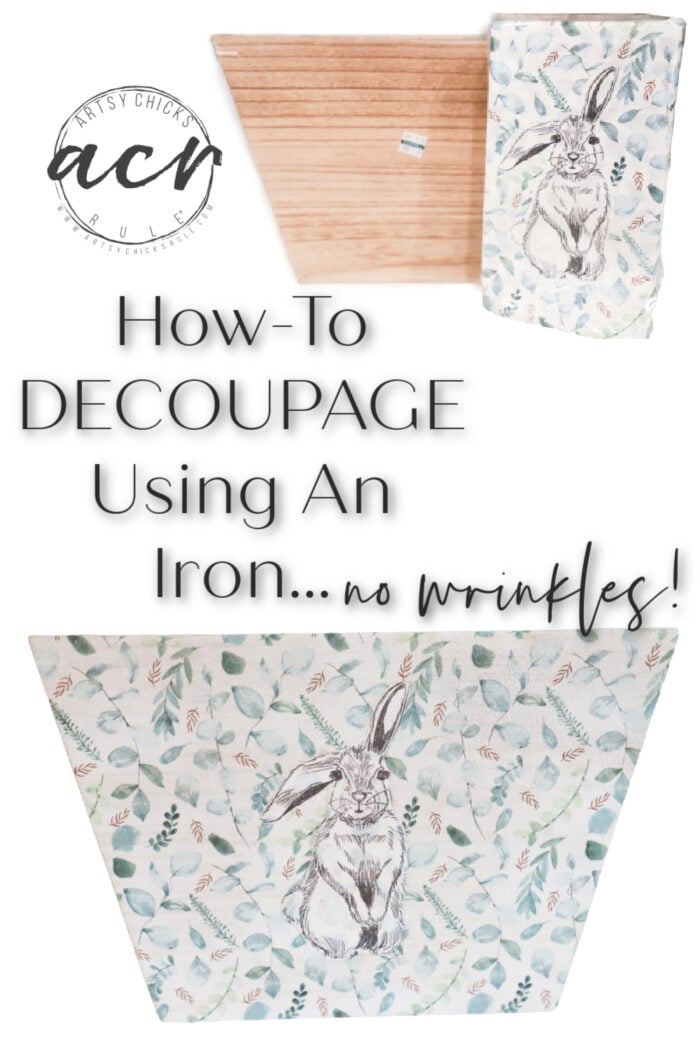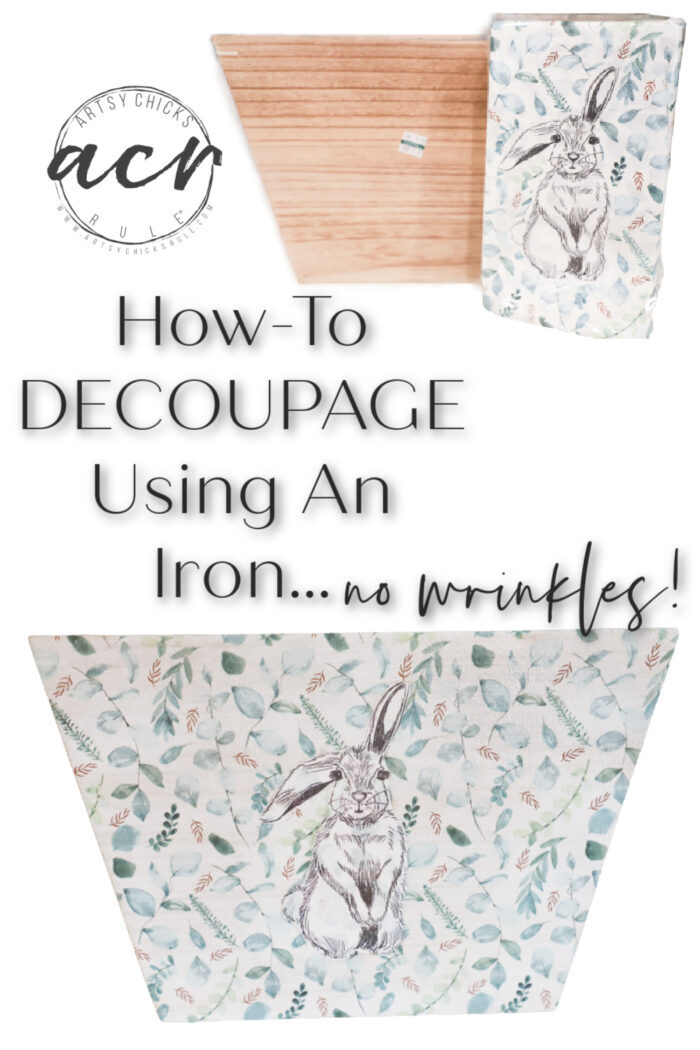 Next time, a fun way to use printables!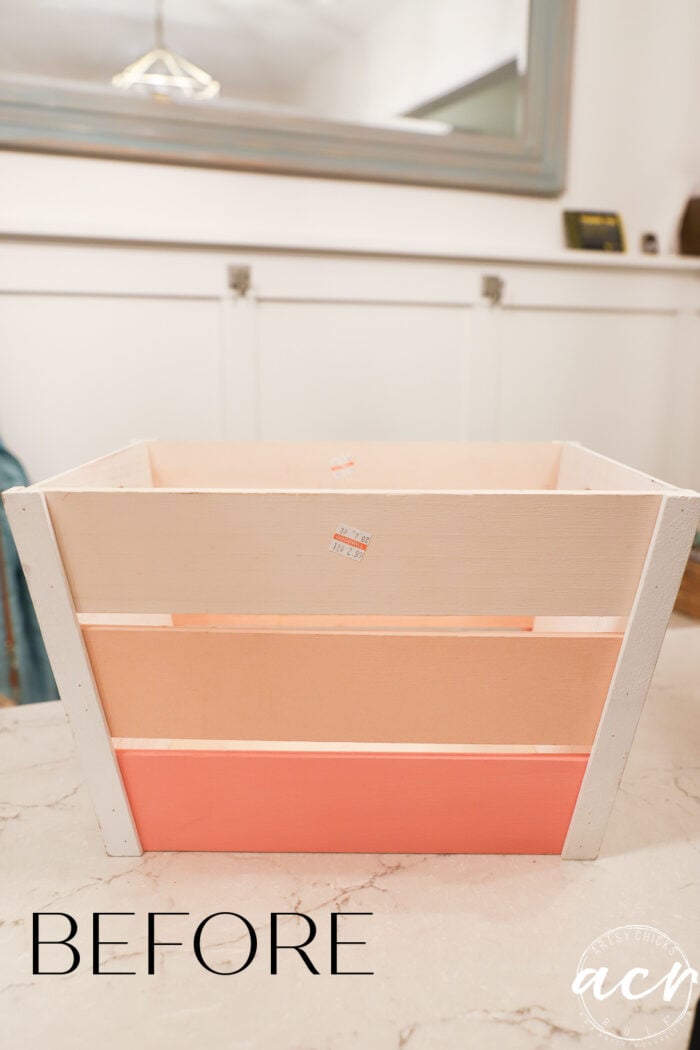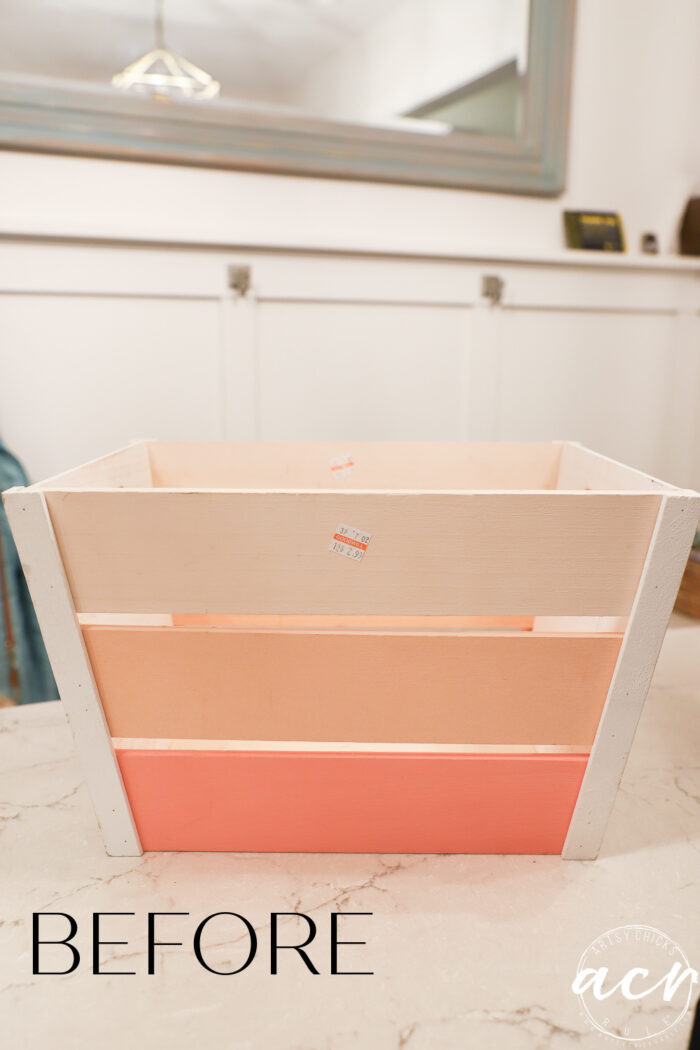 UPDATE!! See it now here!
I hope you have a wonderful weekend! Hoping for some warmer weather around here. Winter made a reappearance and I do not like it at all!
xo