Thrifted Arched Shelf Makeover
This post may contain affiliate links. Please see disclosures here.
This thrifted arched shelf got a brand new look with paint (easy!) and pretty decorative transfers (so easy!).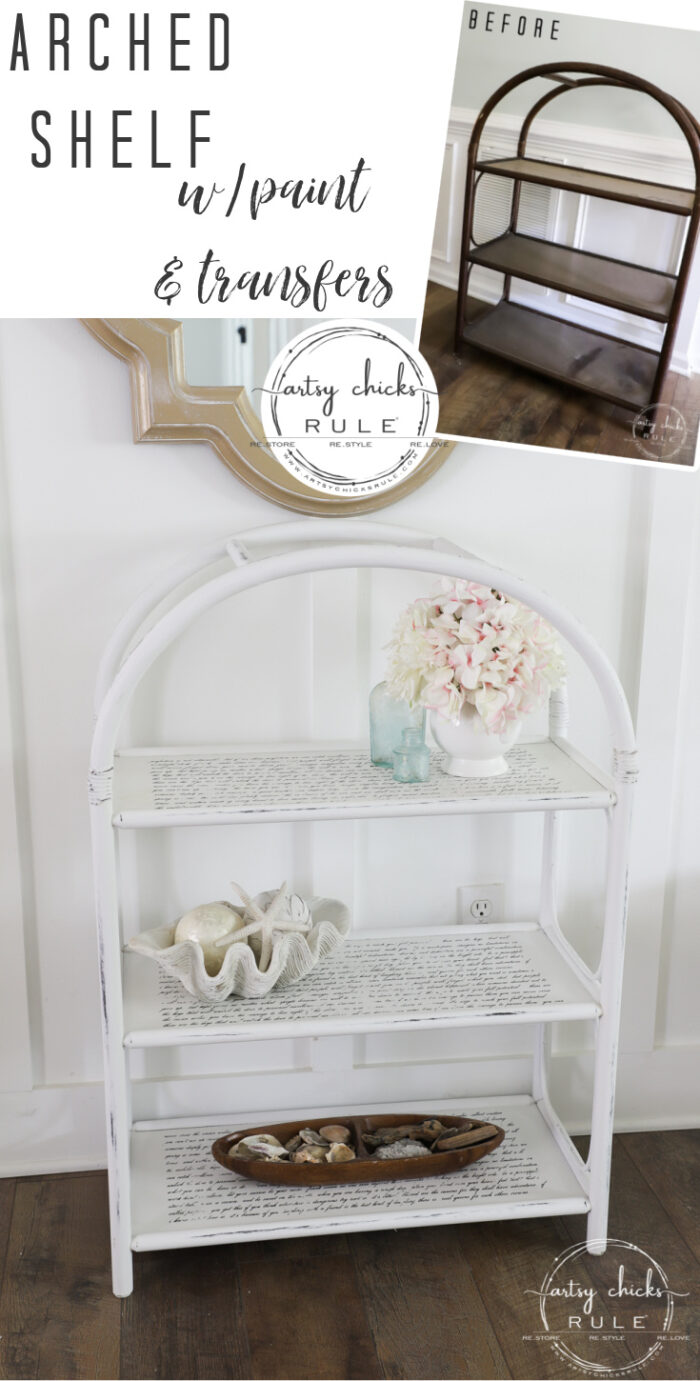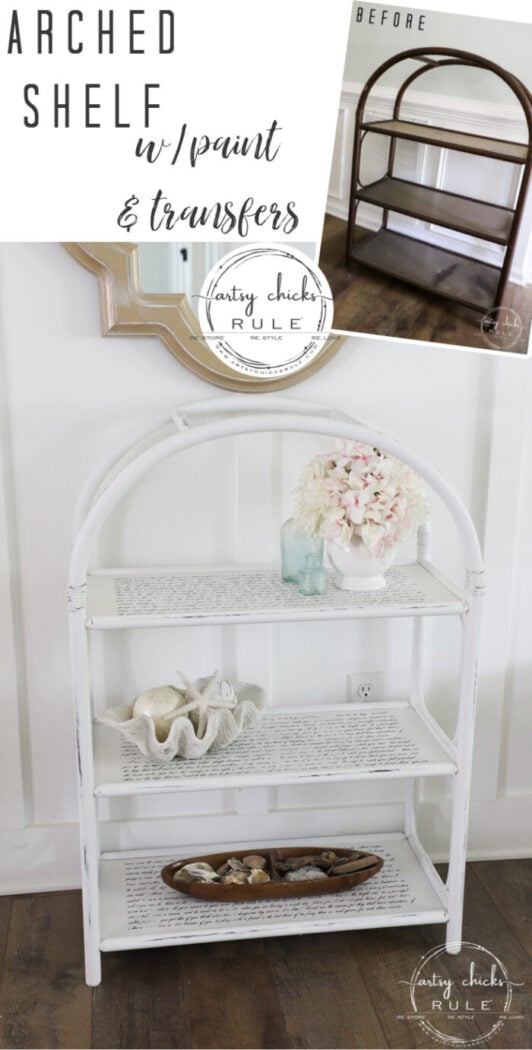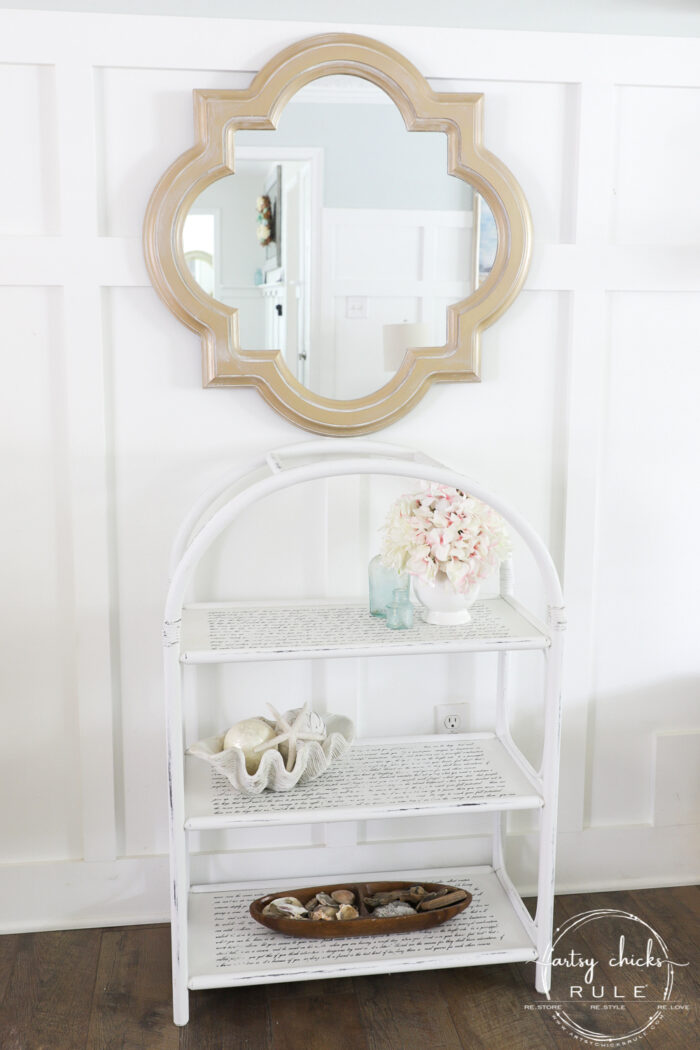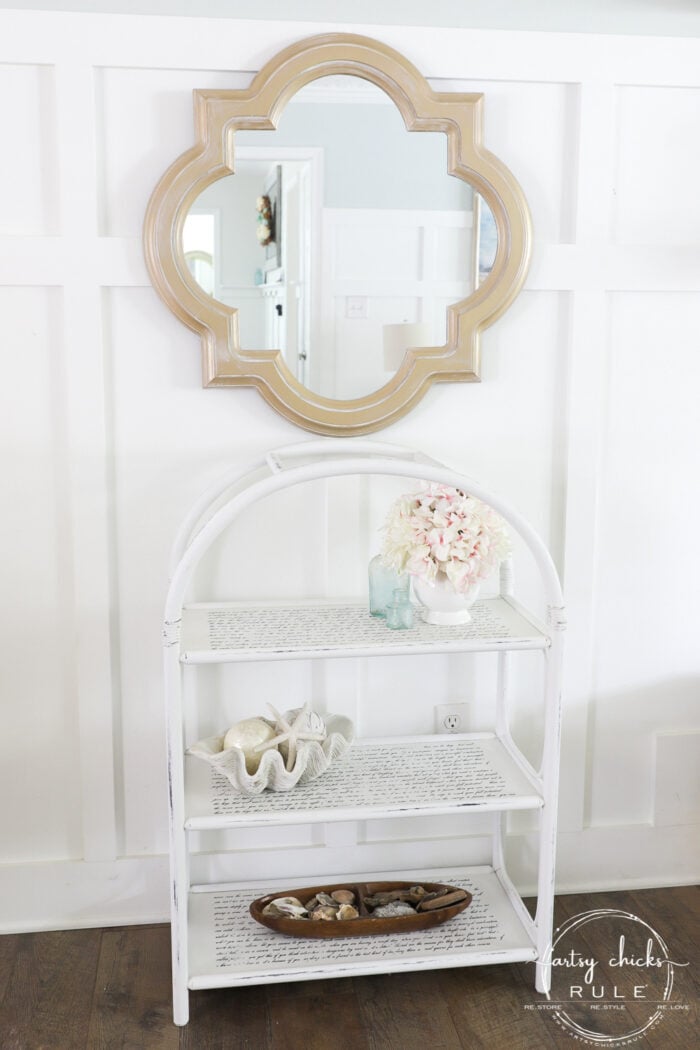 Hello my wonderful friends! I hope you had a blessed weekend.
We worked on the condo again this past weekend and I'm so sore today. I need this whole week to recover to go back and even think about painting any more ceilings. haha
We are done except for a good second coat all around the main living area/kitchen. You might have seen the action over on Instagram. If you are not already, be sure to follow along over there so you can follow our beach condo remodel. I'll be documenting the whole thing over there in my stories as we go and then of course when we are done here on the blog. (if you missed my latest update on our progress, you can see it >>> here)
But let's talk about today…which is Trash To Treasure Transformation Tuesday. I can't wait to share my latest from my last haul…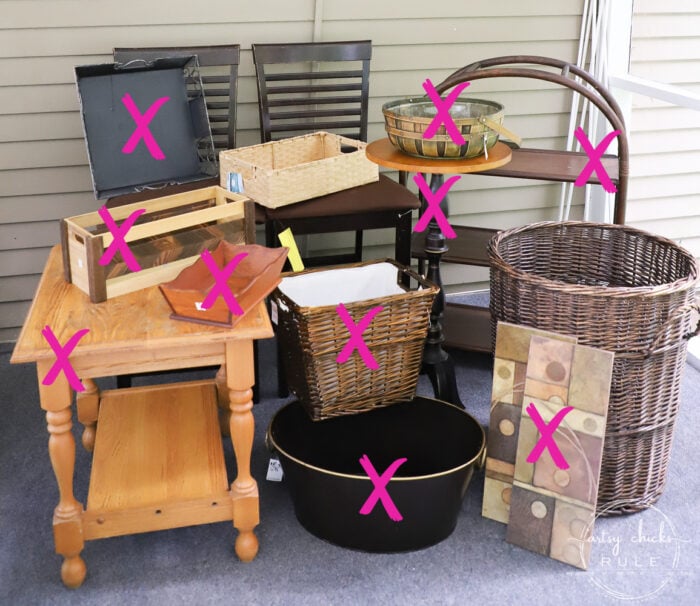 Looks like all I have left to do are a couple of baskets which I'll share in the same post… and those awesome barstools (there are 4). I'm excited to get working on those.
What I still have to share is our master bedroom makeover (still working on it), the round thrift store table and chairs (finished) from my last haul, and our screen porch makeover. It's all coming soon, I promise, but we have had so much going on with the condo and are doing tiny bits of each makeover here and there when we can get to them. So you'll probably see them one right after another once we get them finished. Hopefully before the holidays! lol
Arched Floor Shelf Makeover with Paint & Transfers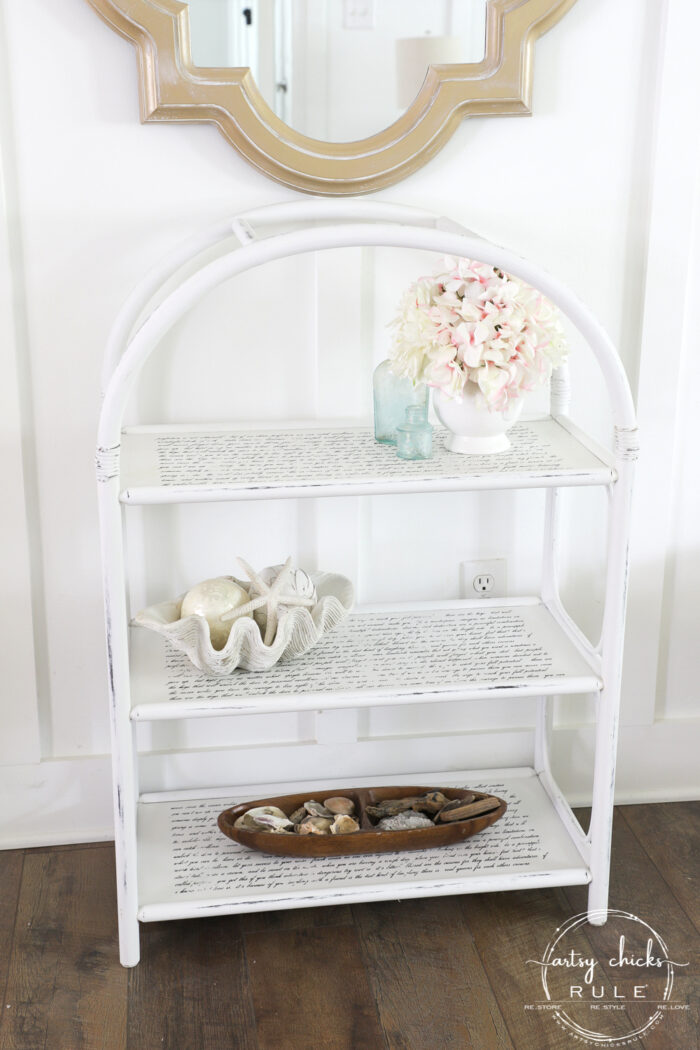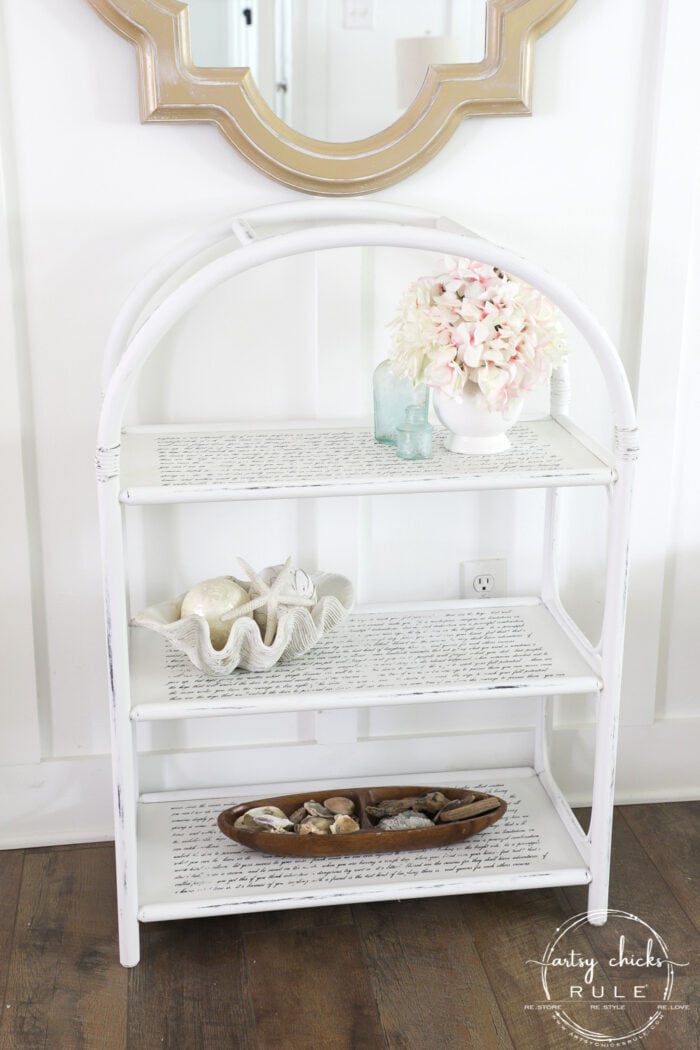 I'm thrilled with how it turned out.
Here's how it started…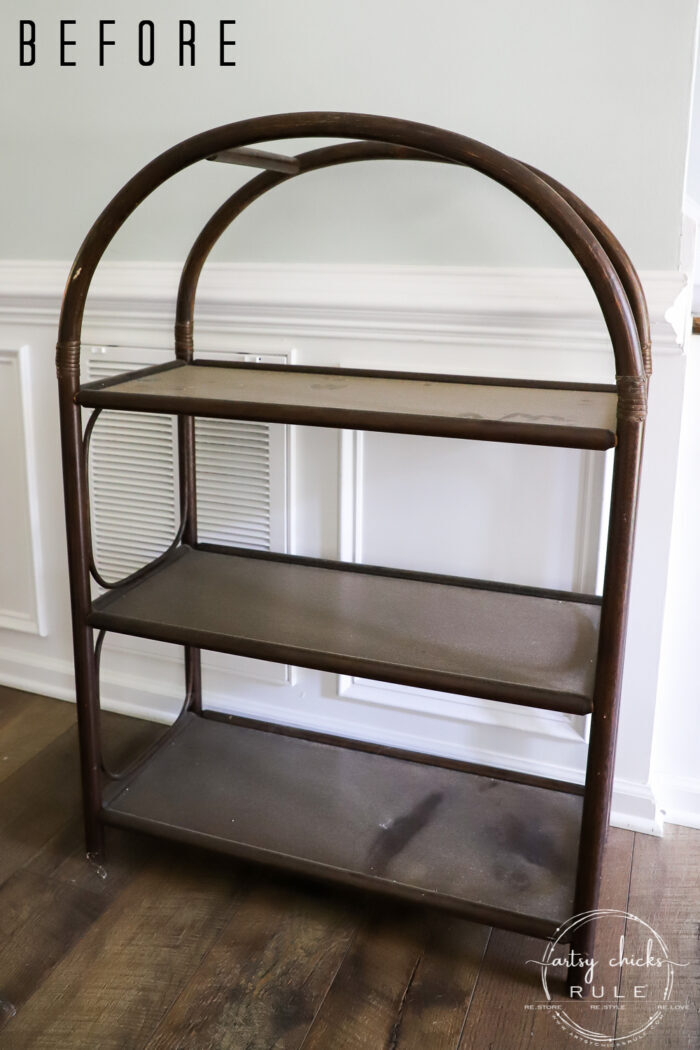 I had it in my garage for weeks so it got a little dusty. I should've wiped it down first but hey, I was in a hurry to get rolling on it.
So first things first, I did wipe it down before I painted. AND decided to spray this one because I didn't want to tackle all those sides, etc, etc.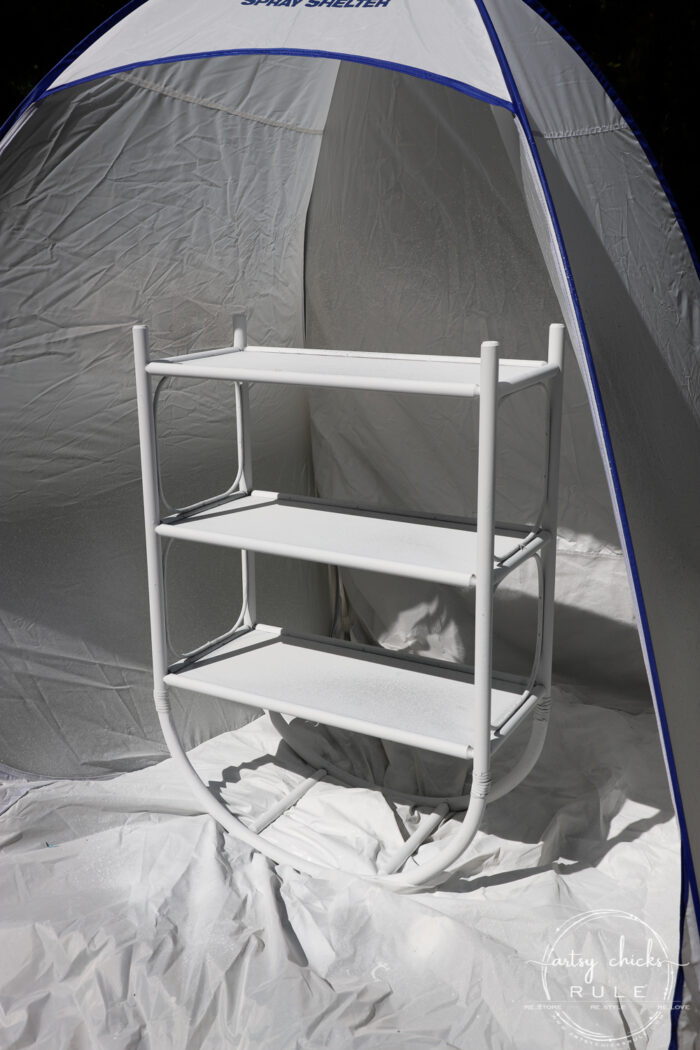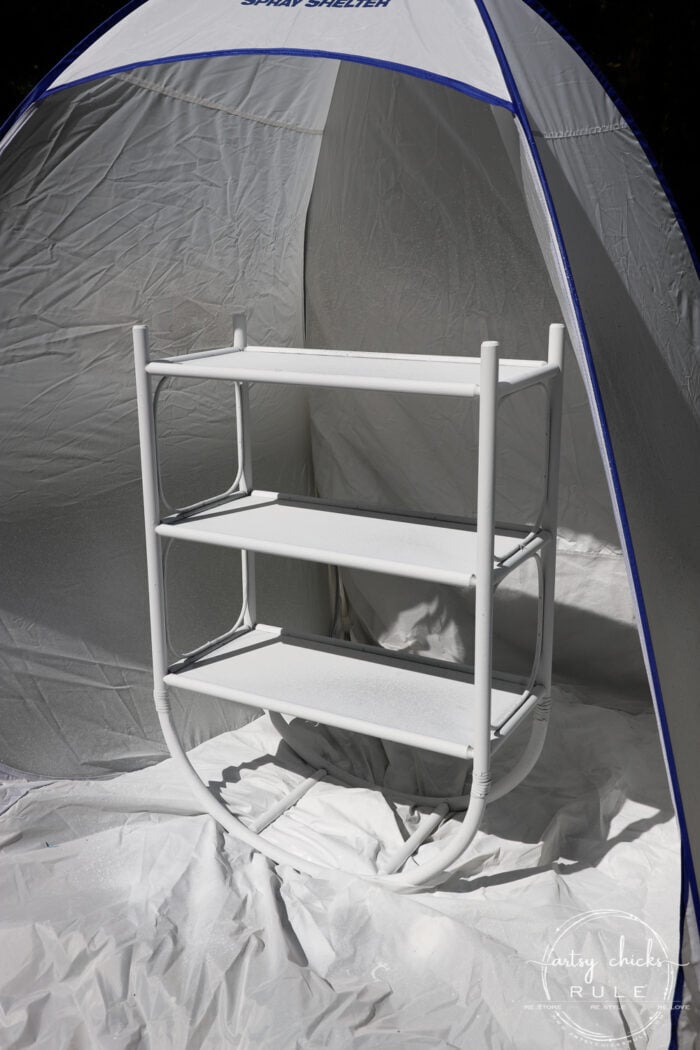 And don't ya know, the only photo I took was when I turned it upside down to make sure I covered all areas. Ha!
But I moved it right side up and sprayed, then left side and sprayed, etc. SO much easier than brush painting all of that.
Once it was dry, I lightly sanded to bring some of that dark wood back through all over.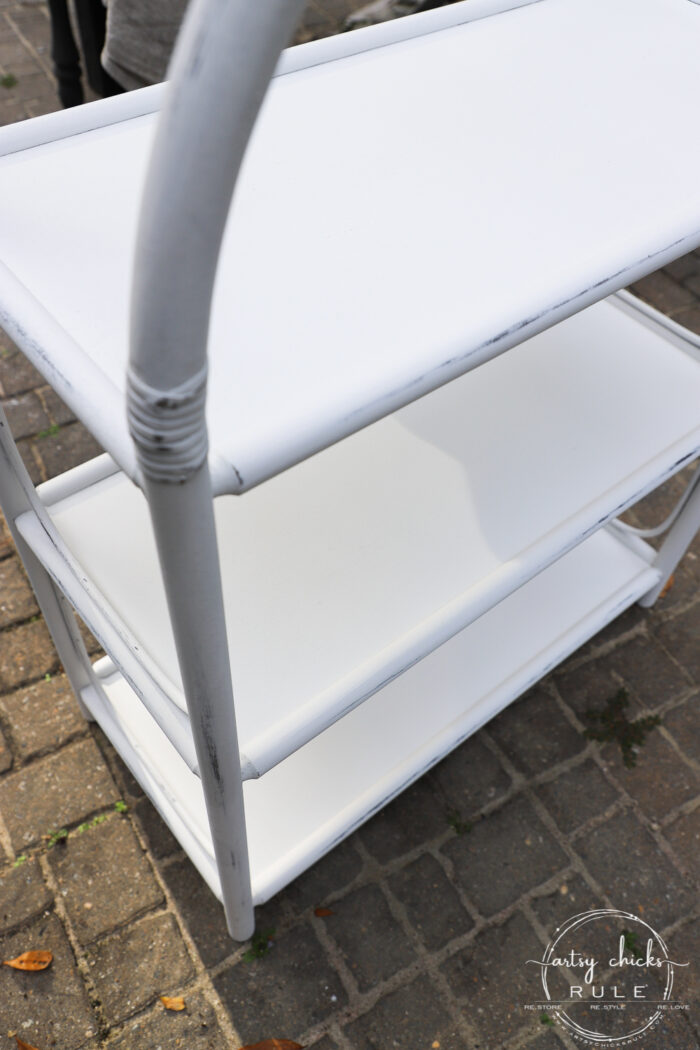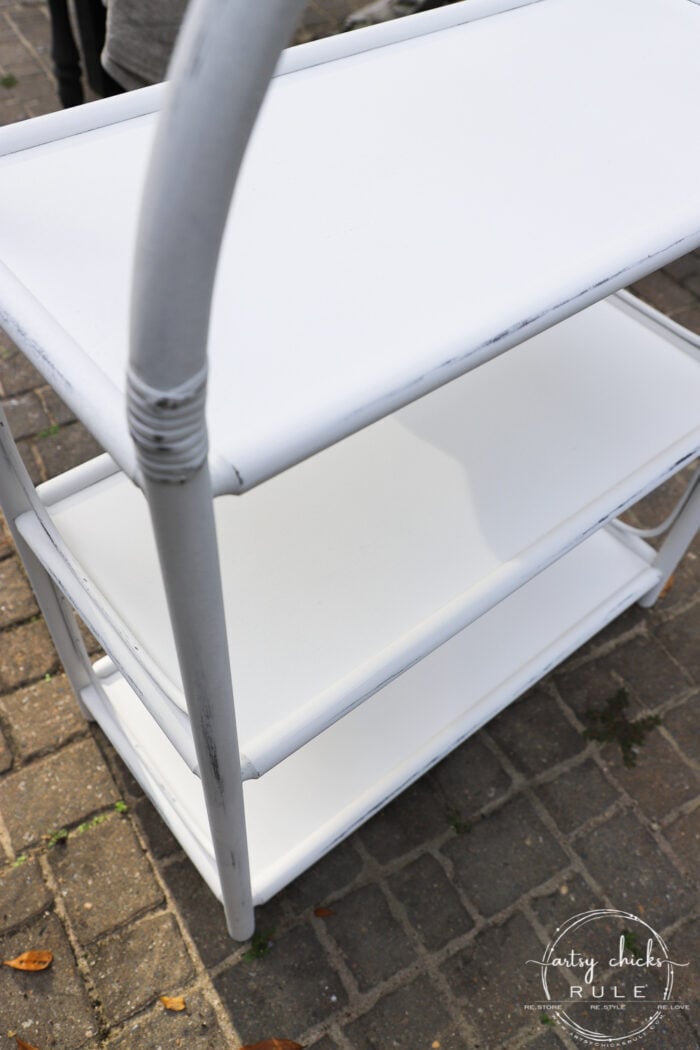 Next, I applied the pretty script transfers. I've had these for a while and thought I'd used them on dresser drawer fronts but nope, they were perfect for this shelf.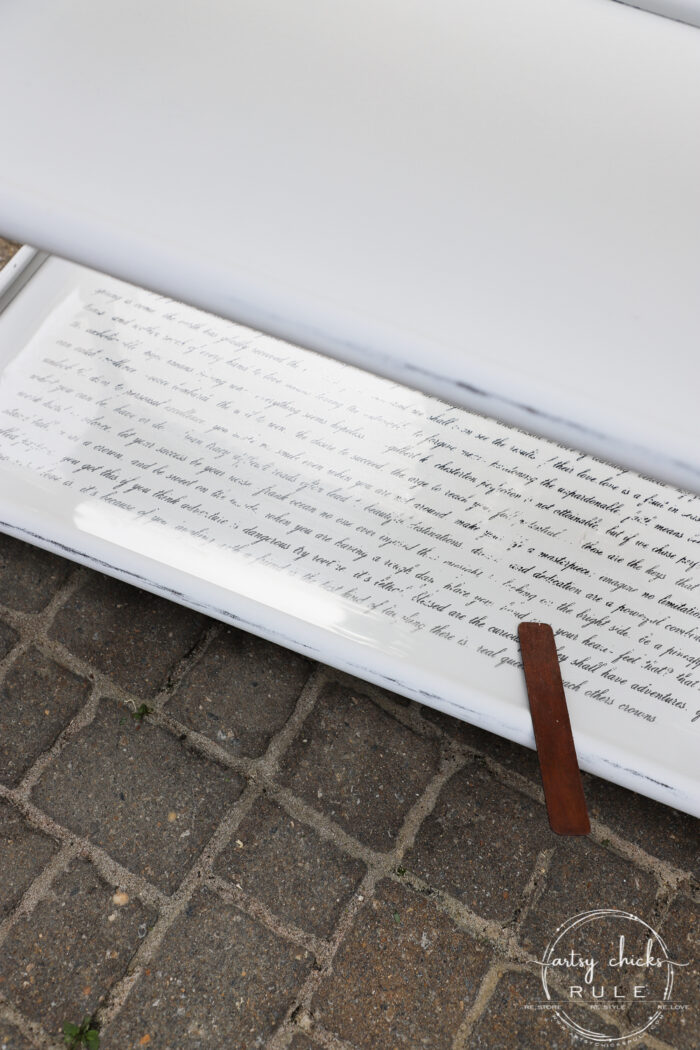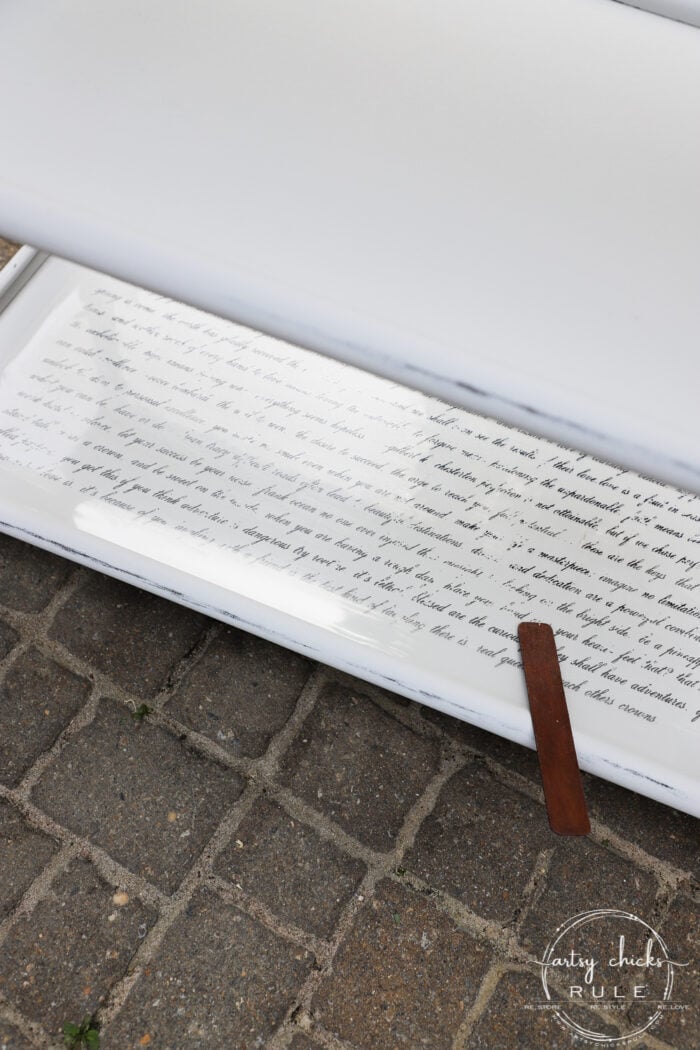 Aren't they perfect??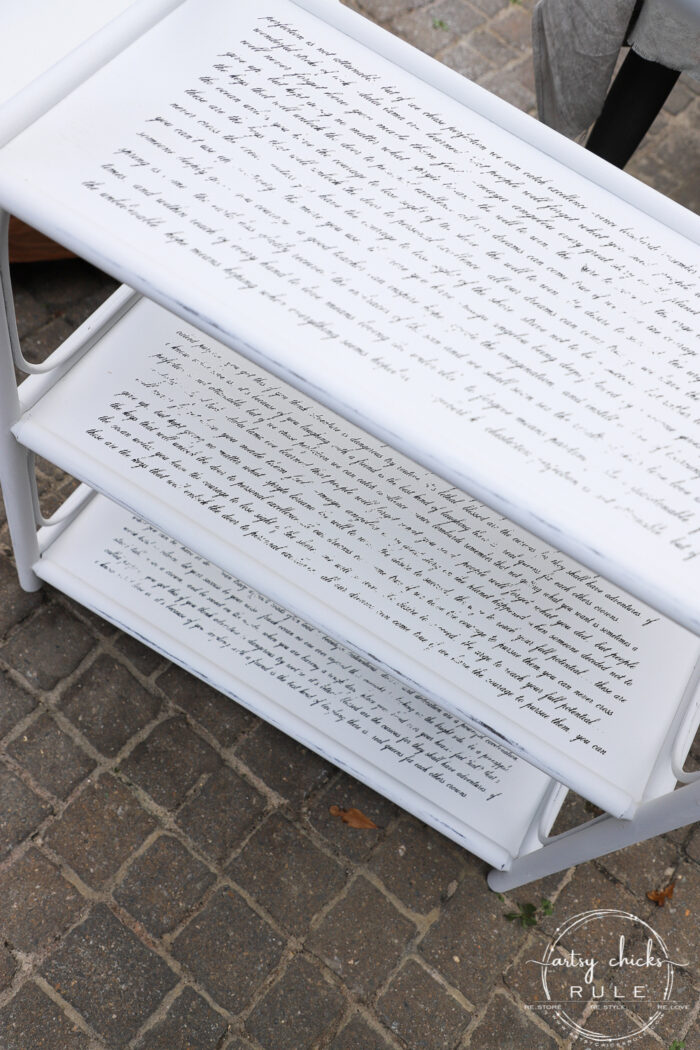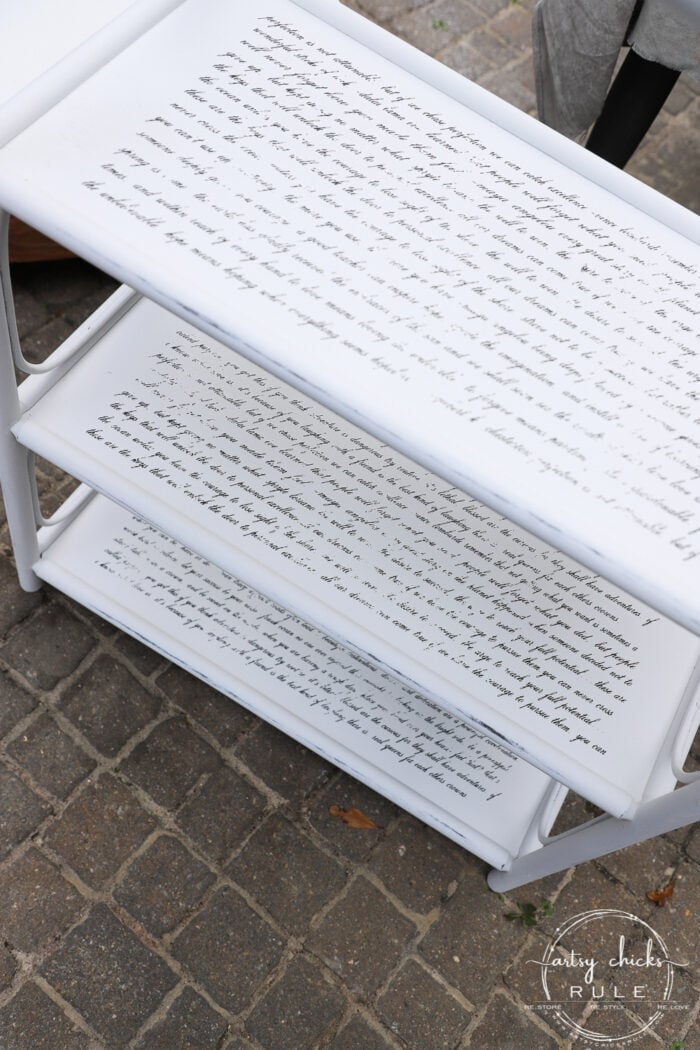 I love it.
After that was done, I applied two coats of my flat sealer (linked above) drying in between.
And then I moved my pretty white stained dresser that is usually here to take this photo.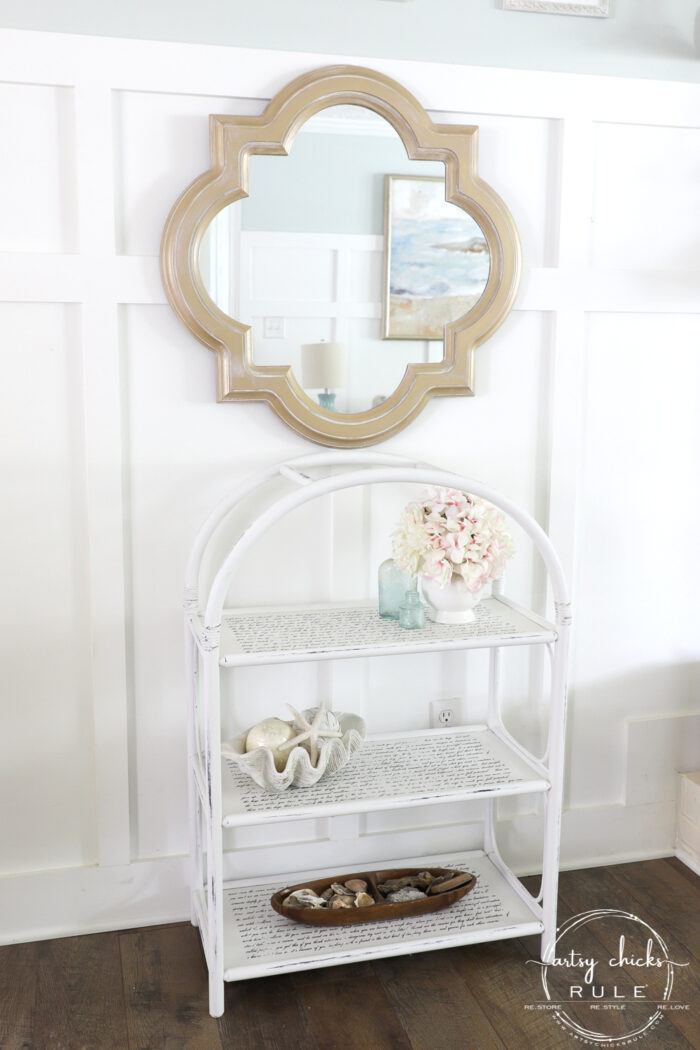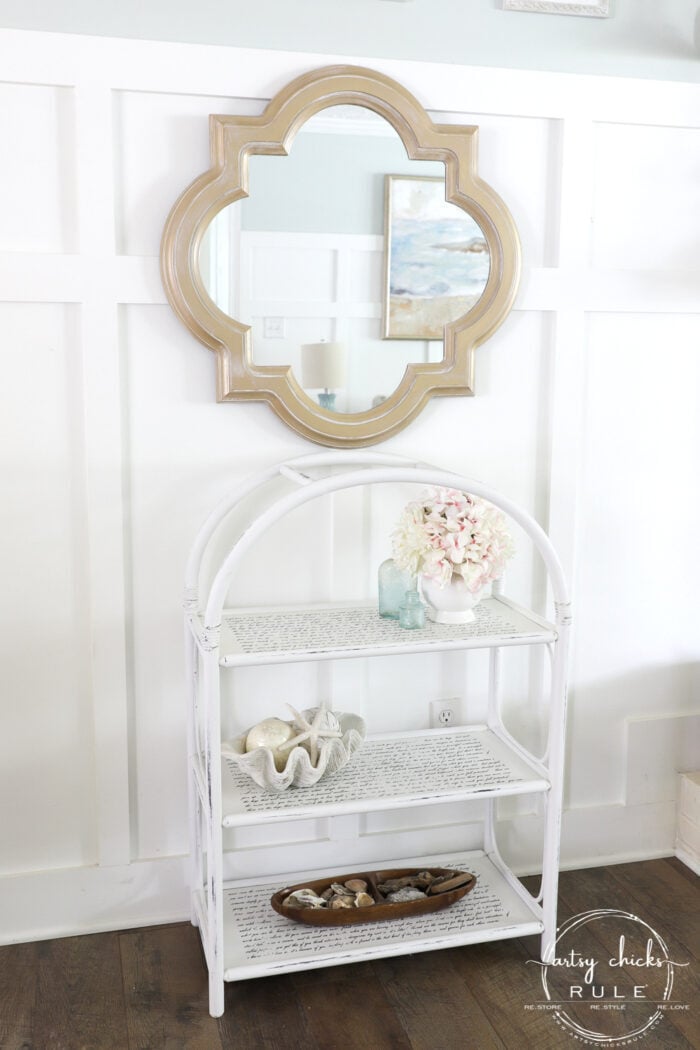 Did you see my mishap over on my Instagram stories yesterday?? Yes… I broke my pretty glass lamp (that I loved boo hoo!) when I was moving the dresser. I have only moved it this 5 gazillion times but this time I pushed a little too far before I unplugged…and there it went crashing as I looked on helpless. (I slide the dresser over so I can unplug it but slid it a tiny bit too far this time)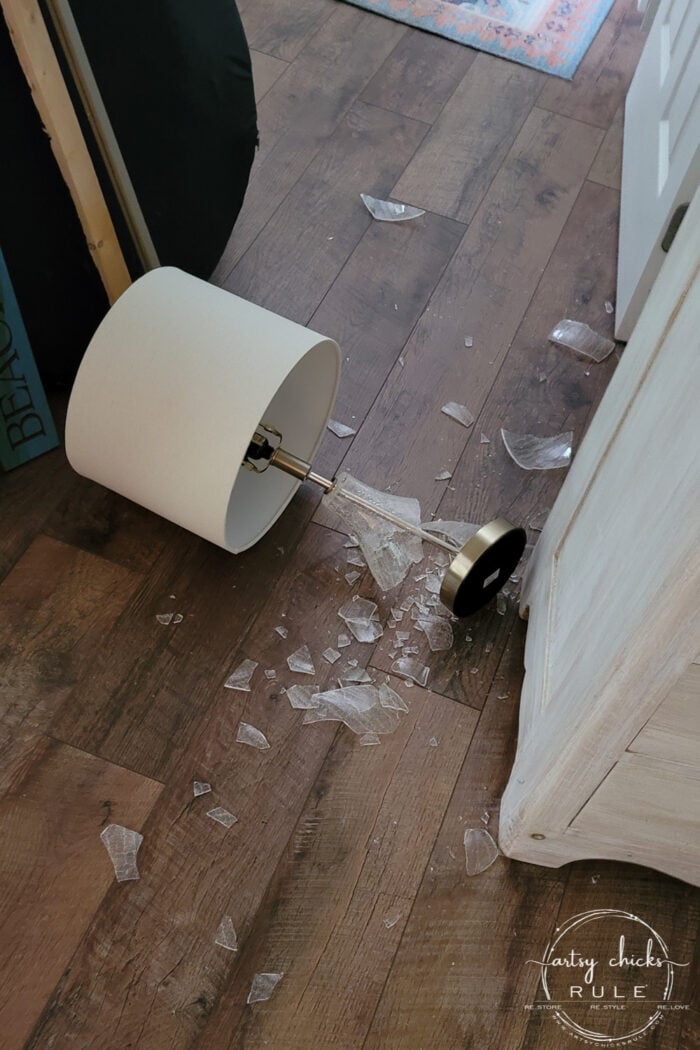 Oh well, maybe I can find another one. I am pretty sure I got it at TJ Maxx and have even seen more of them since but it's been a while so not sure I'll be able to find the exact one again.
Anyway, let's talk pretty transfers.
I really love this one.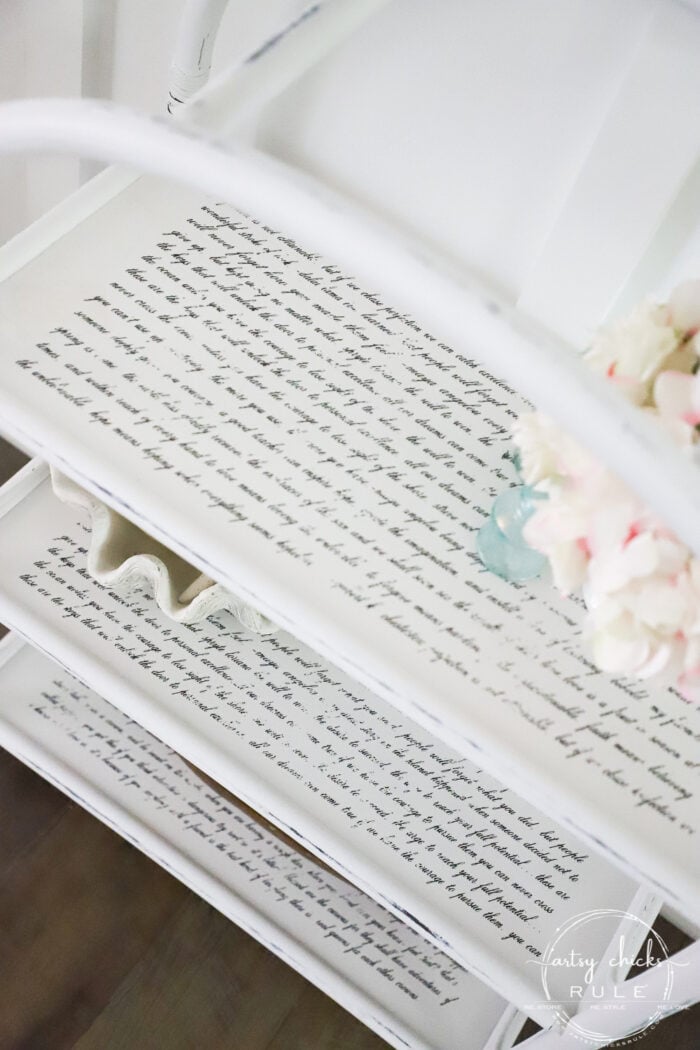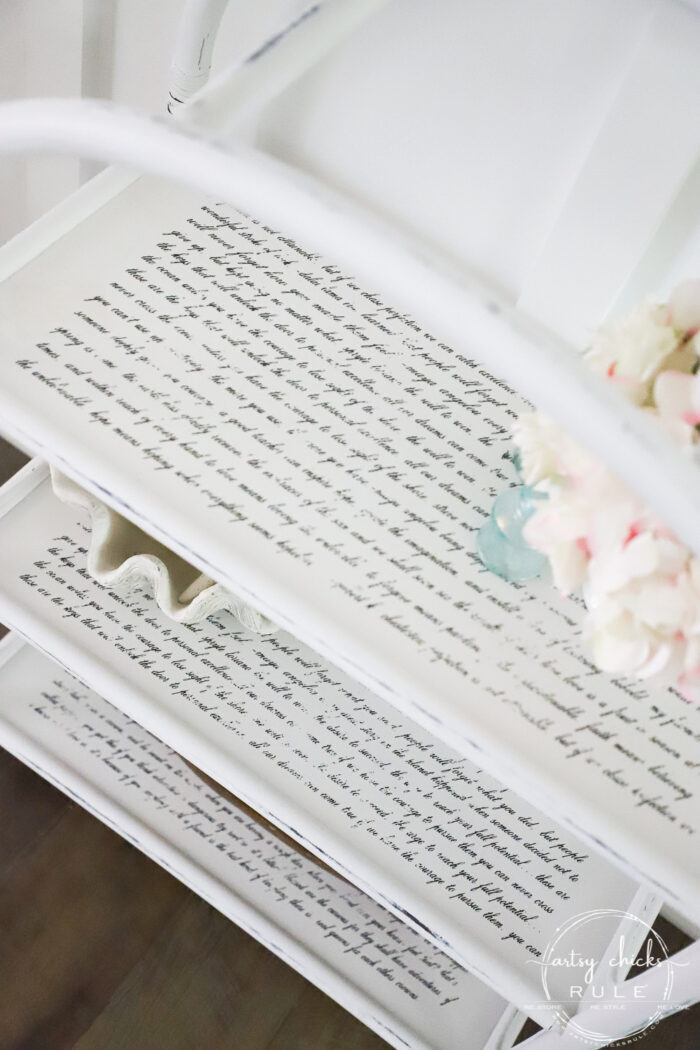 Close up…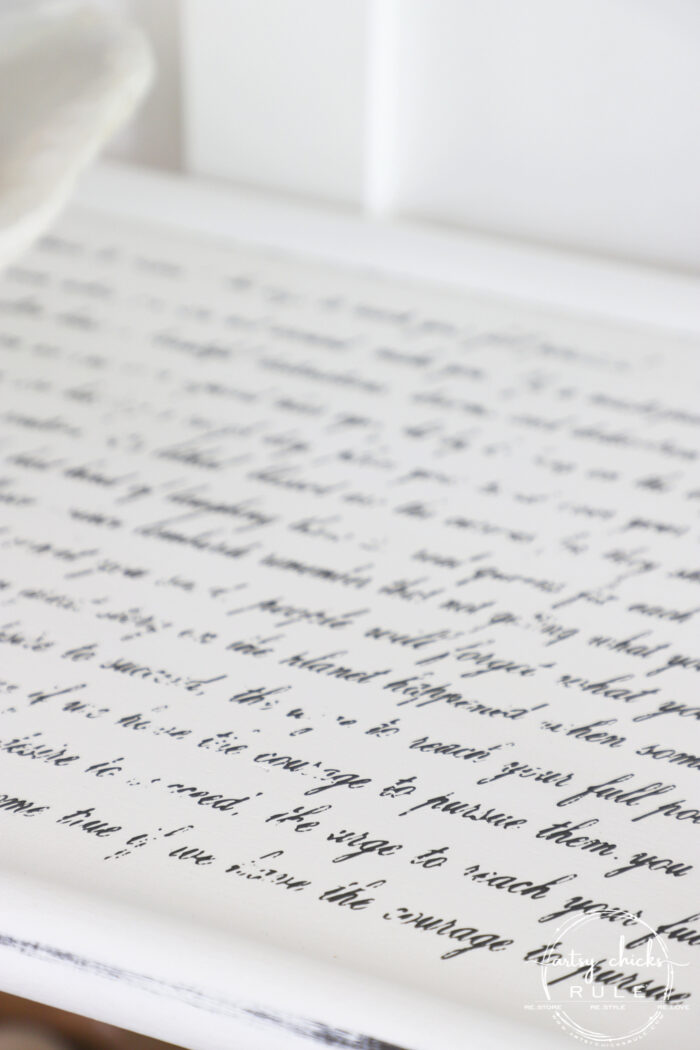 And a close up of the distressing I did on the paint…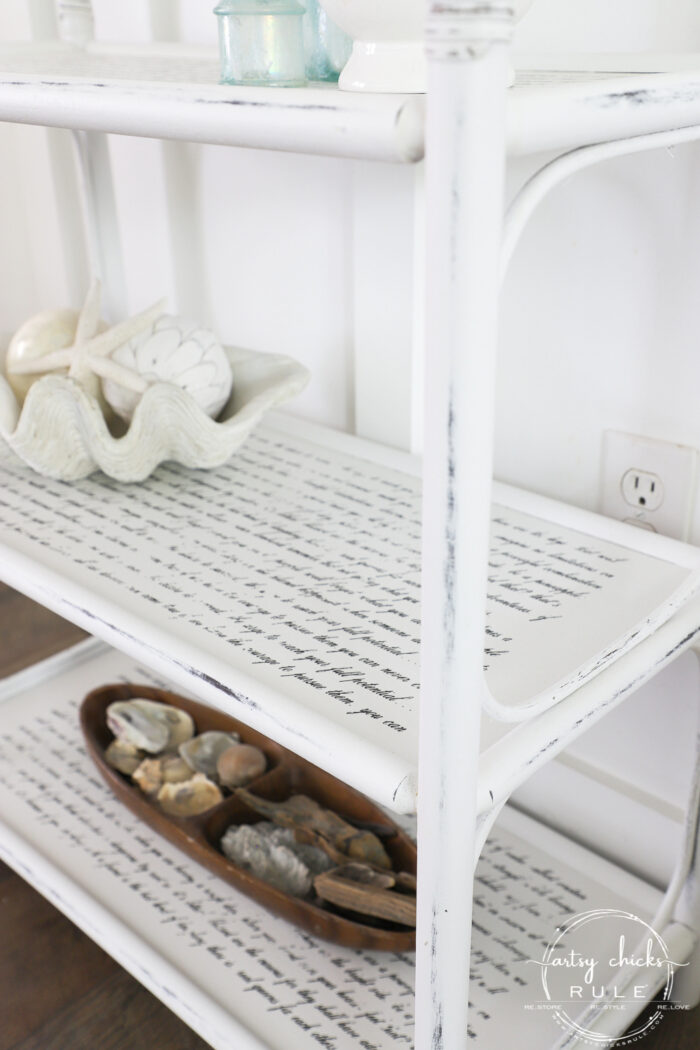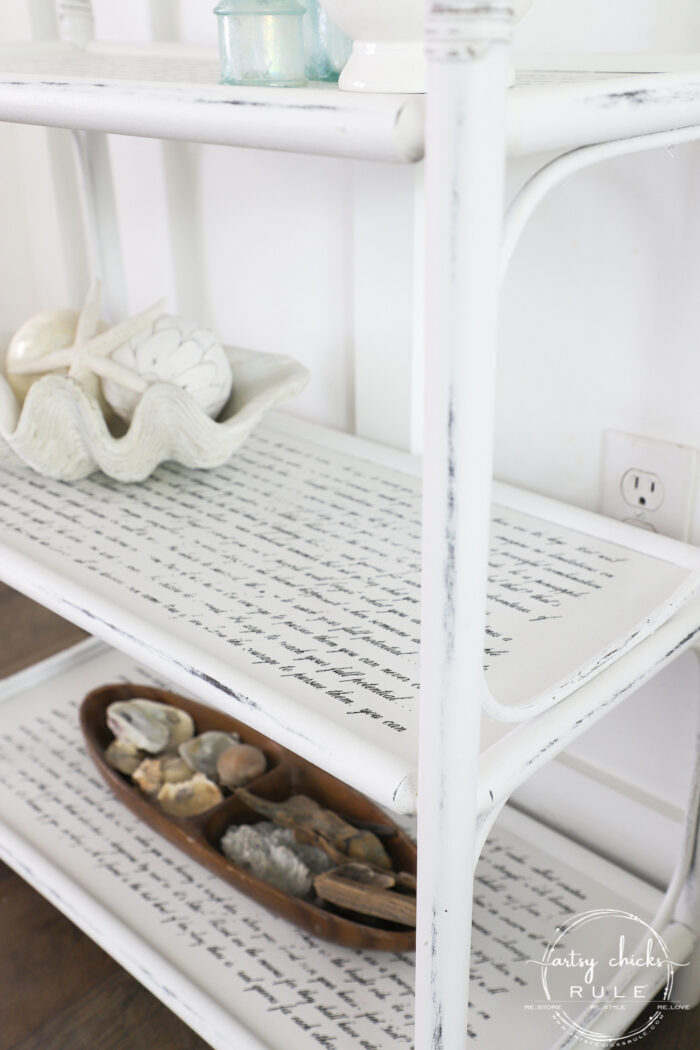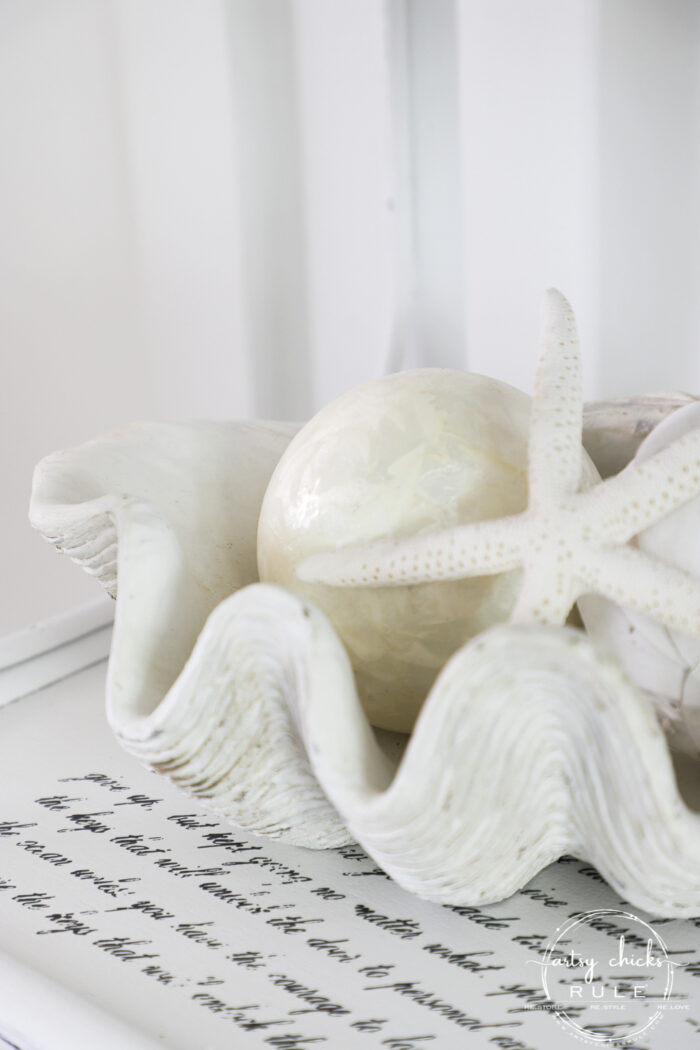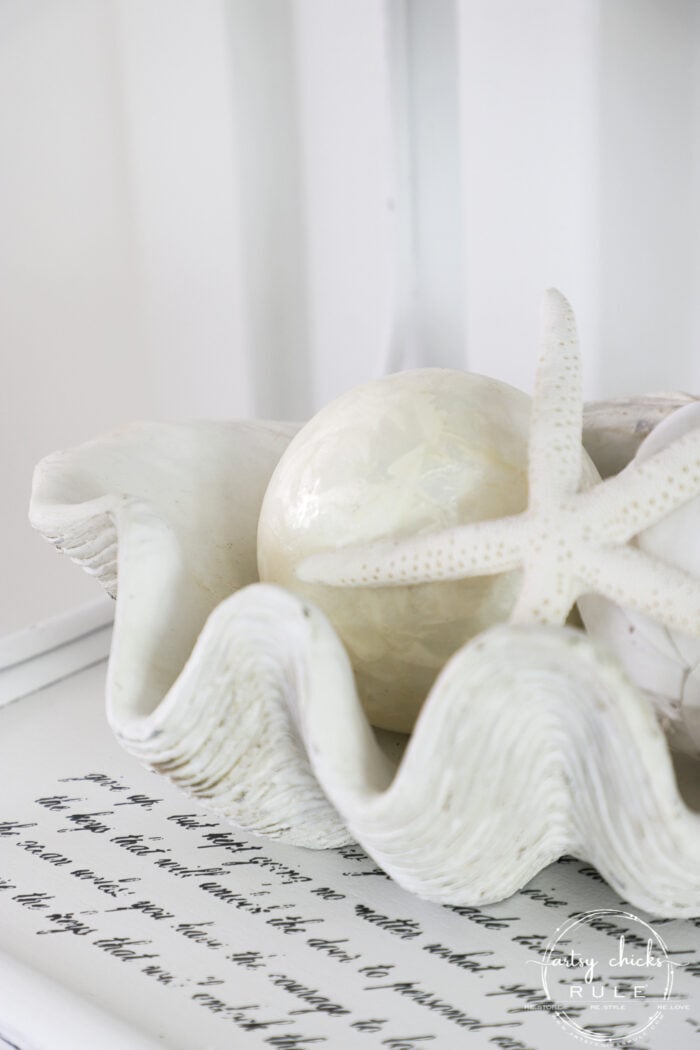 I adore old antique blue bottles and snatch them up whenever I come across them. Even though I am sure I have nowhere else to put any. haha I can't help myself. :)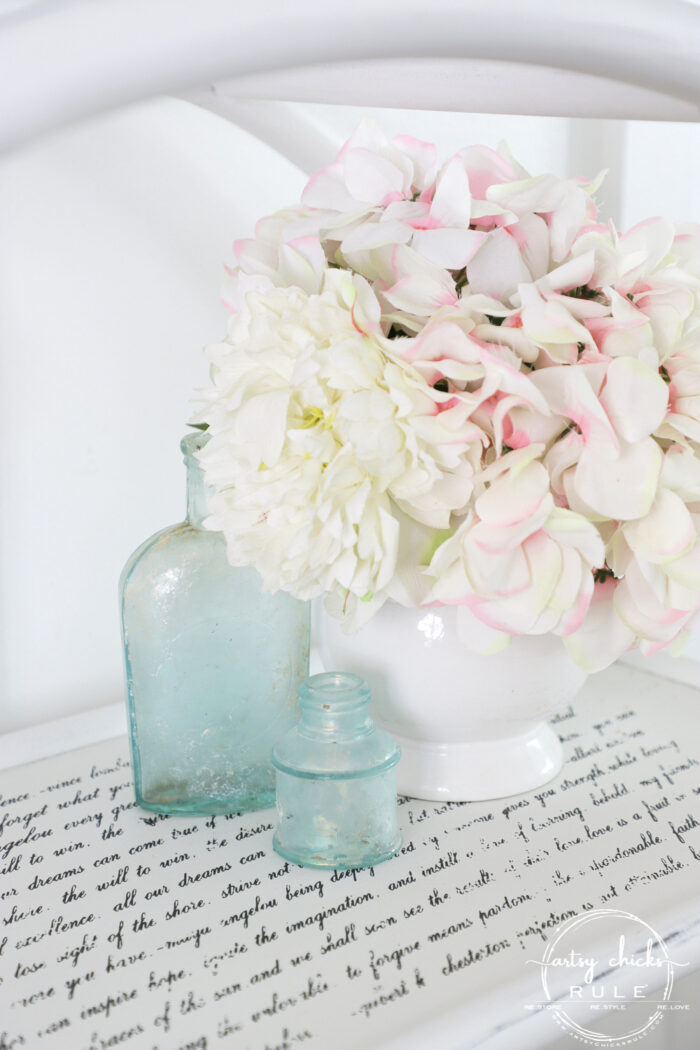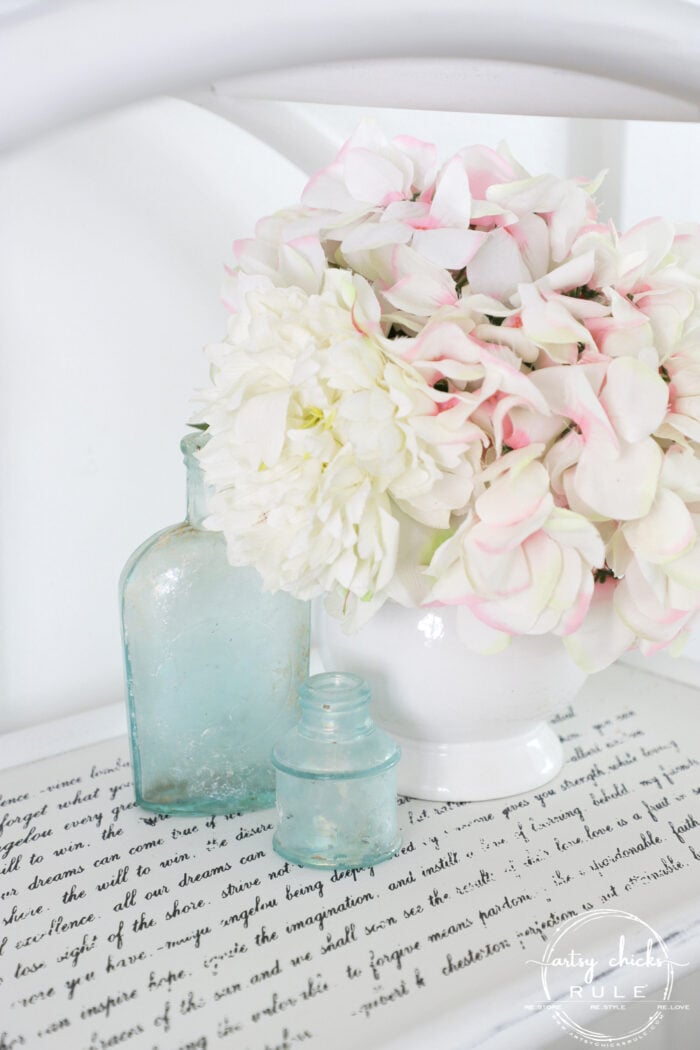 Do you collect anything?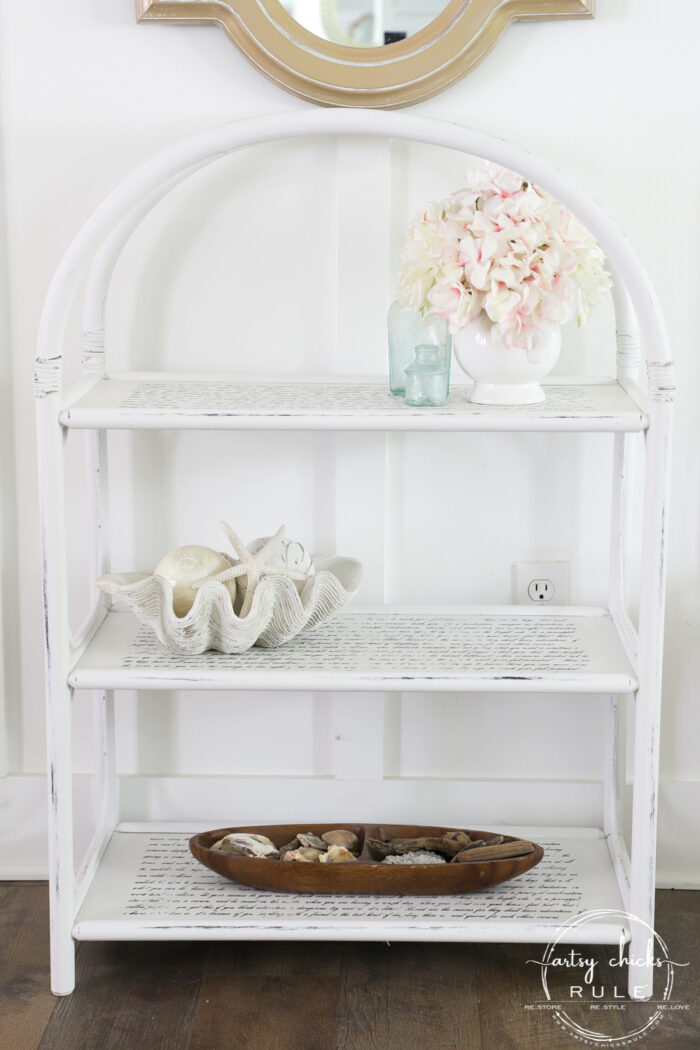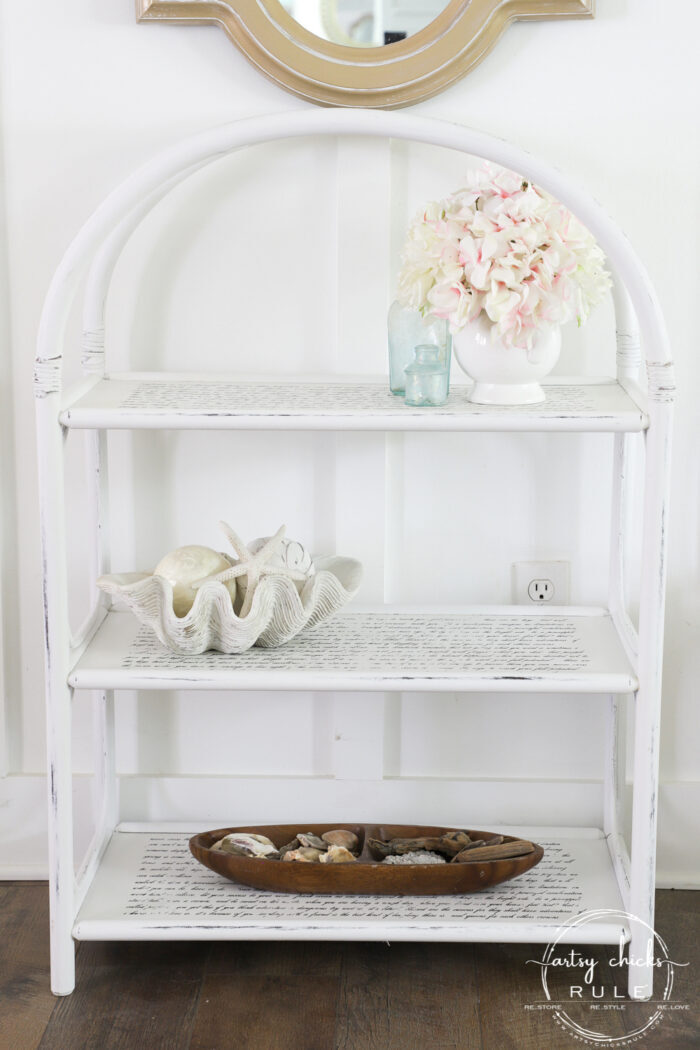 This was a pretty easy makeover today. I will say those transfers were a little bit more work to transfer with all those small letters etc. But overall, simple.
Have you tried any of these transfers yet? They are so much fun and can add so much to a project.
PIN it to save it!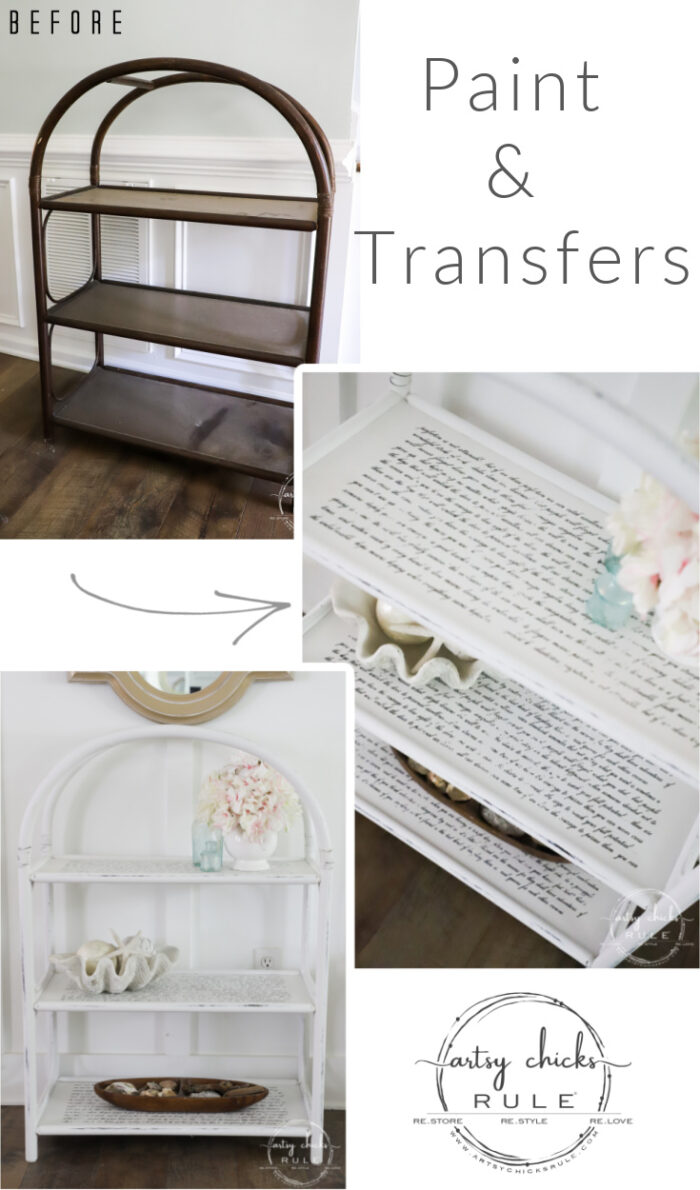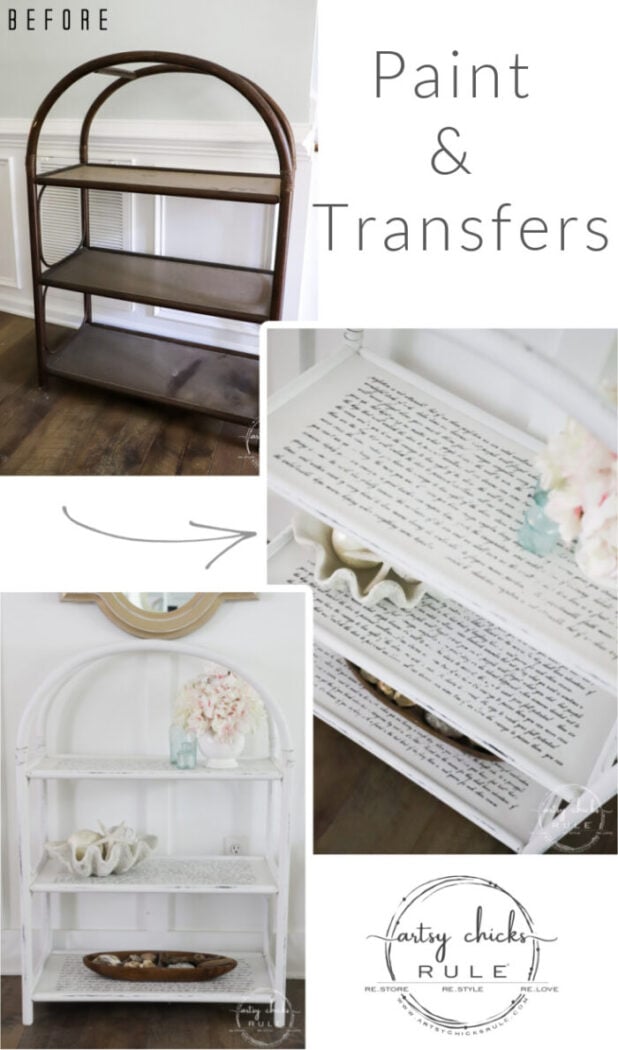 But wait! Don't go yet! Hop on over and see what kind of makeovers these projects got… (links to each are below)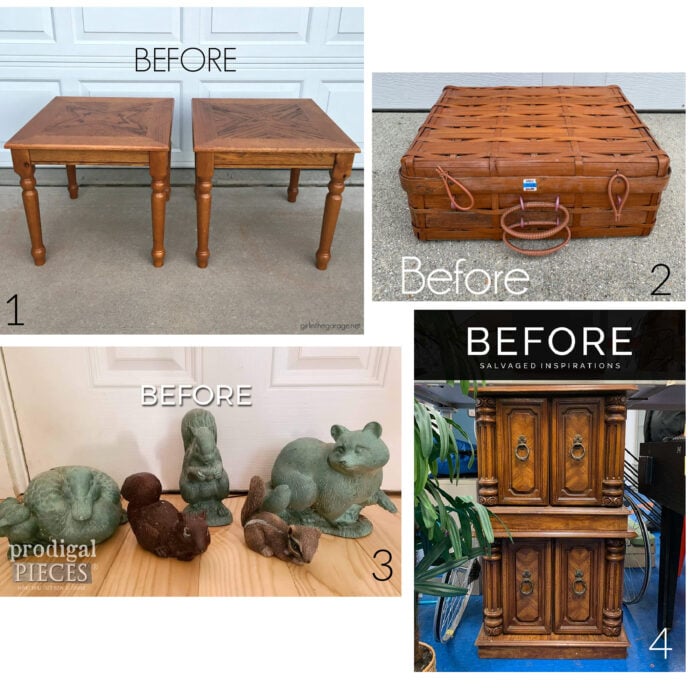 Missed any of the rest of the haul's makeovers? Check them out here:
Keep an eye out for this table and chairs makeover …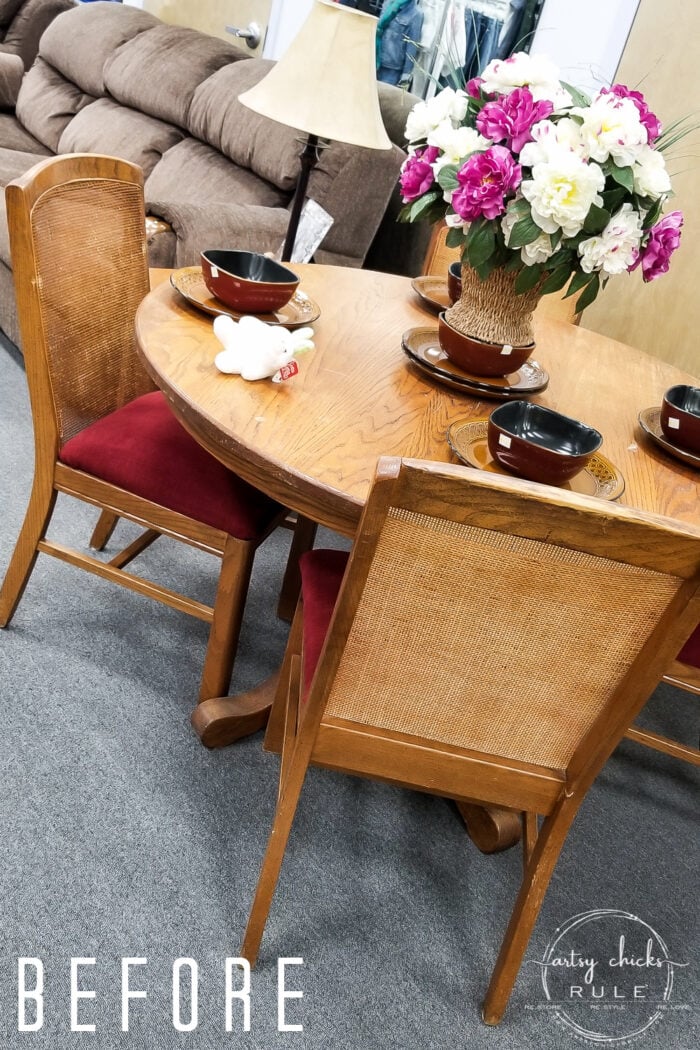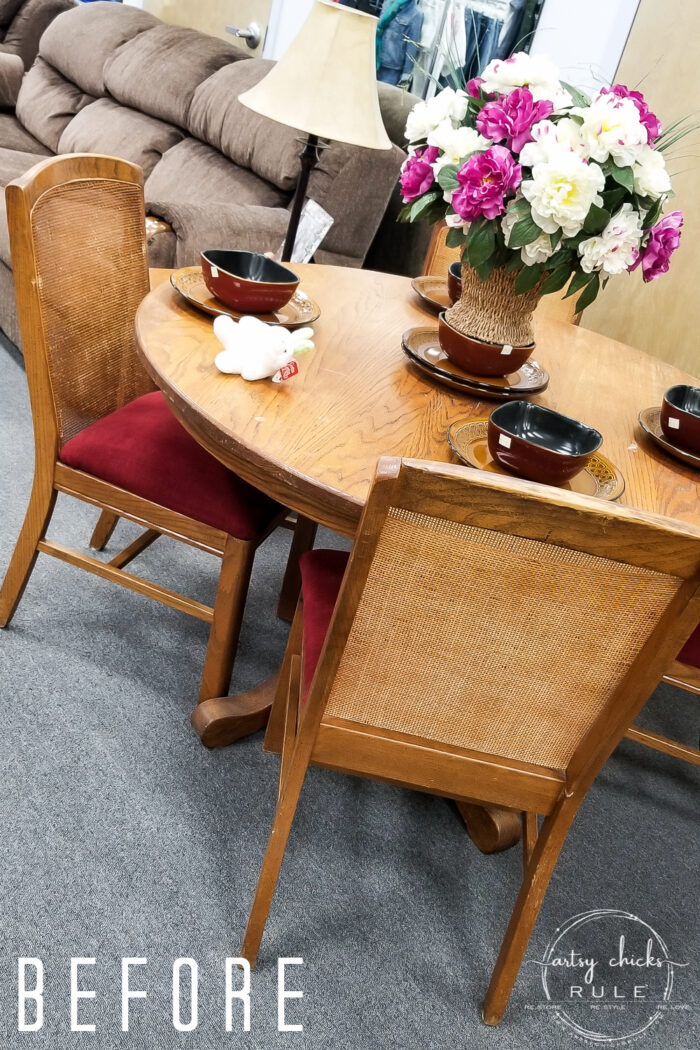 UPDATE!! See it now, here!
I hope you enjoyed today's makeovers! What kind of fun projects have you been working on lately?
xoxo