Thrift Store Haul #3 (and Target!)
This post may contain affiliate links. Please see disclosures here.
Hello friends!
I finally had a big thrift shopping day. Unfortunately, it was a bit of a bomb. haha
If you followed along with me on my Instagram stories, you already know that. ;)
But no worries, I was able to snap a few shots of some finds.
I didn't make it into the ReStore which always has the best stuff because apparently they close at 4pm for the time being. And I got there at 4:20…darn!
Oh well, next trip since I need to do a bit more shopping to get my "haul". It's more of a "pick" at this point.
I was hoping to get out first thing this morning but instead, I worked on my latest find this morning before I left. The teak set I shared over on Instagram the last few days. It's going to our beach house and had a silvery, weathered gray finish which is nice but I really wanted to restore it to its original color. So I took on that job. I worked on it Monday night for about 2 hours, for about 4 hours on Tuesday and this morning. I have one more chair to finish up and I'm done! I'll be sharing all the details on how I restored the teak next week.
………………………………………………………………………..
Okay, and since I didn't make it to the ReStore and one other thrift shop that closed before I could get there, I thought I'd share part of my Target trip too. It's the first time I've been back in Target in months. I'll share the furniture "finds" first, Target finds last.
Now keep in mind, I did not bring this stuff home with me…well, maybe a few small things, so don't get too excited. I just like to share what kind of things I do come across when I'm out and about. You'll just have to wait and see which ones came home with me next week. ;)
As I mentioned though, I have a bit more shopping to do, so stay tuned for that.
The first stop set the tone for the day, I swear. lol
Empty…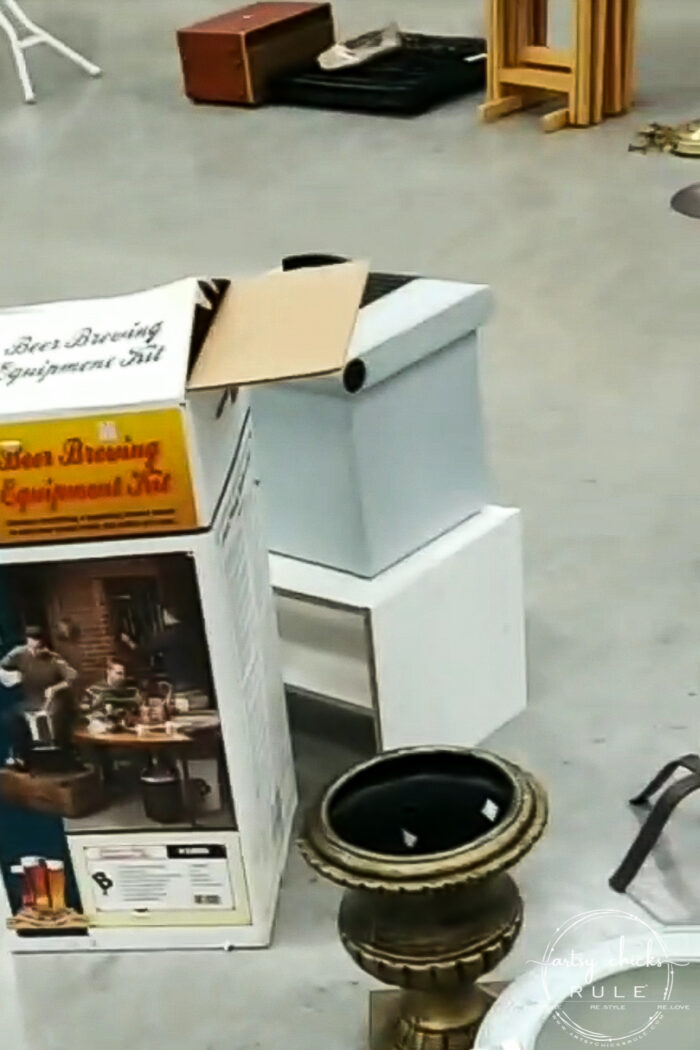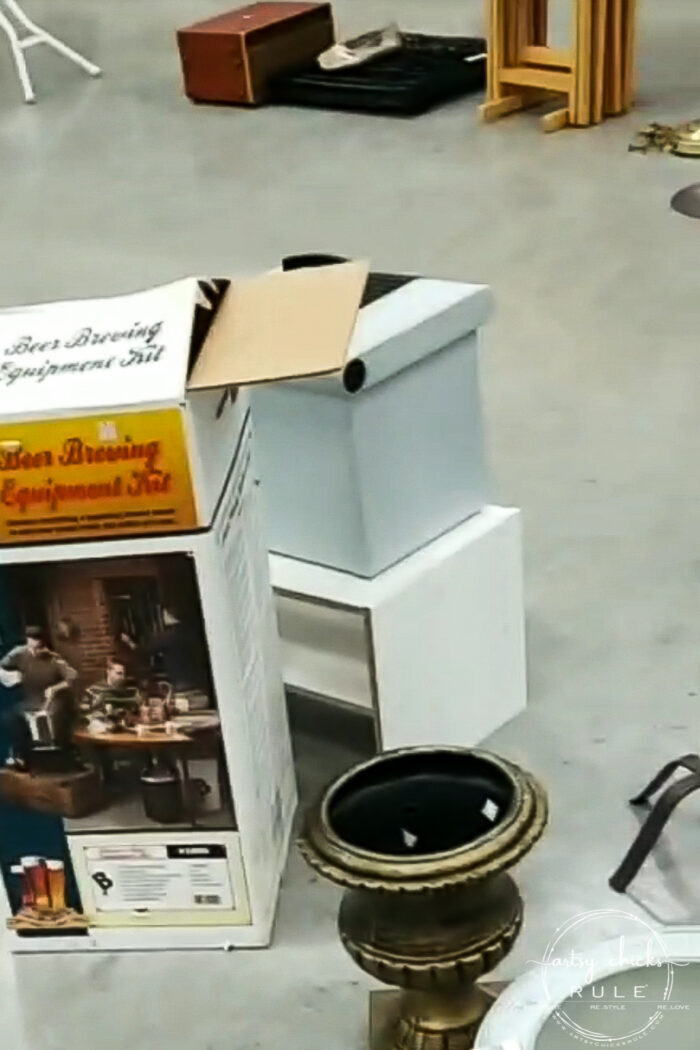 I'm guessing not many drop offs are happening right now?? Who knows but I've never seen this one this empty before.
I found a bunch at my next stop, but dang they were pricey.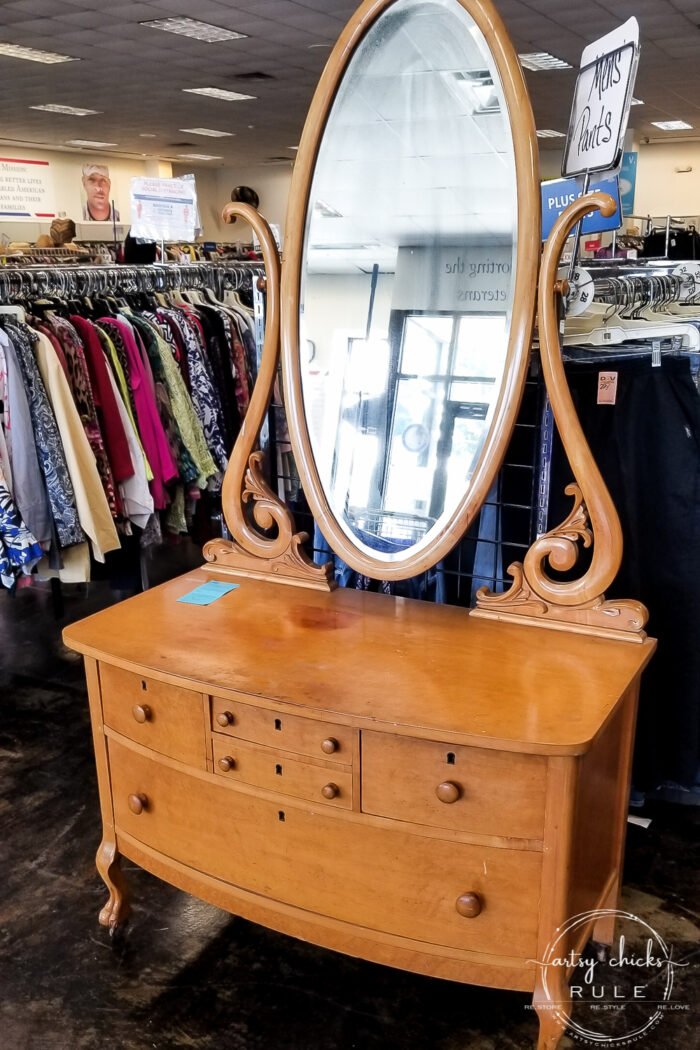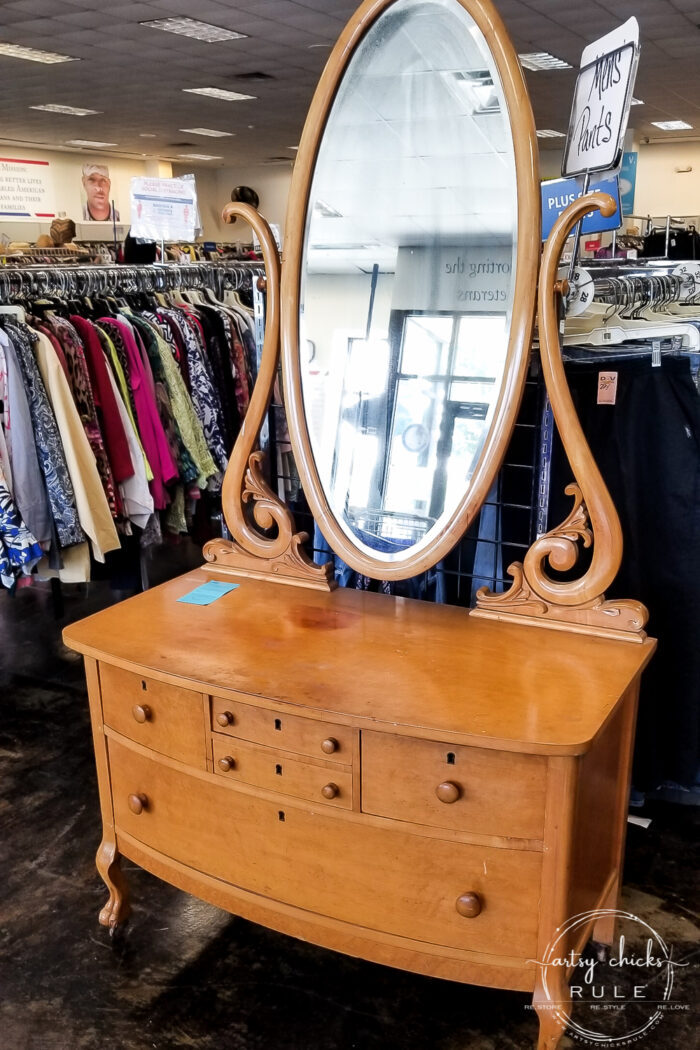 So pretty. $149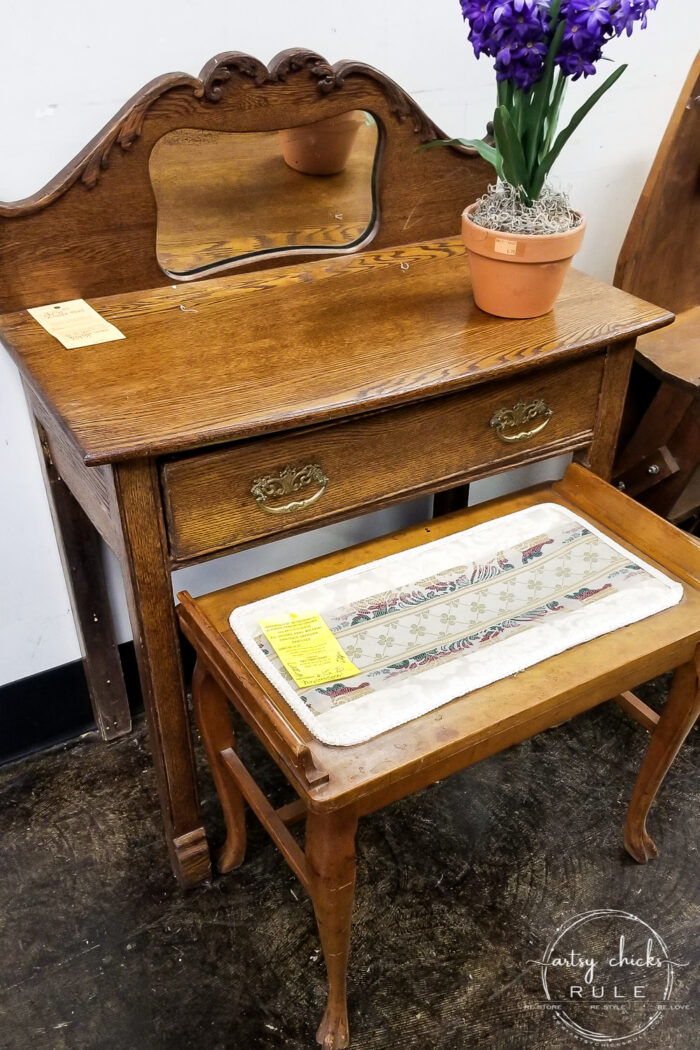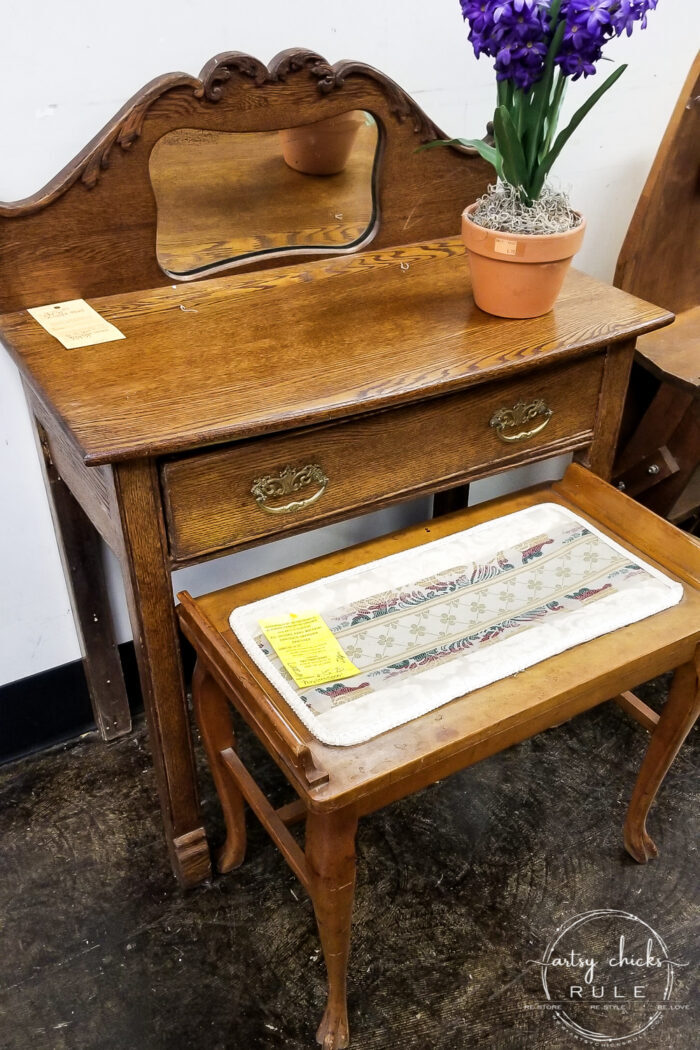 I thought this was so sweet and would be a great candidate for a makeover but not at $149.
So the first two I come across, both $149. Not looking so good. lol
How about this one?? Have you ever seen anything like it?
Apparently, it turns into an ironing board. Who knew?!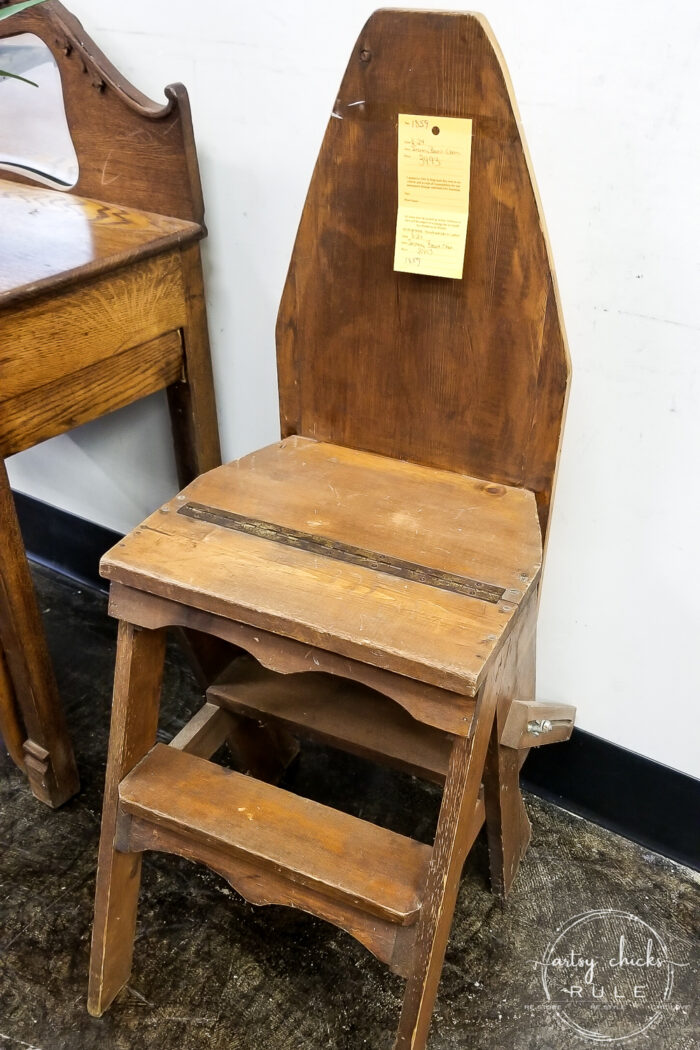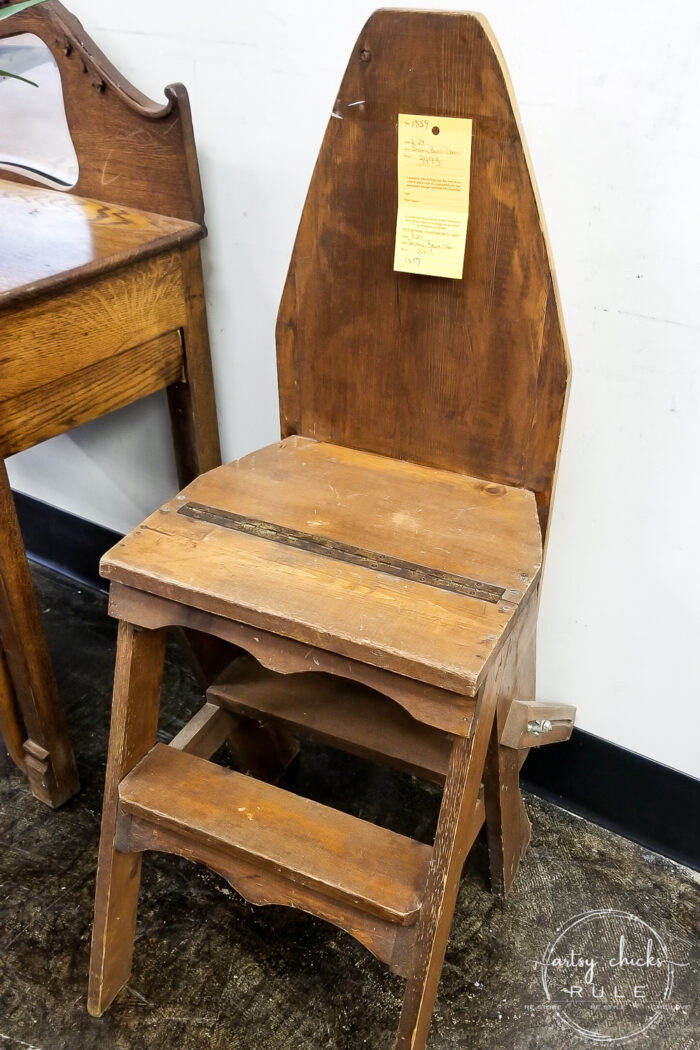 Ironing board chair – $39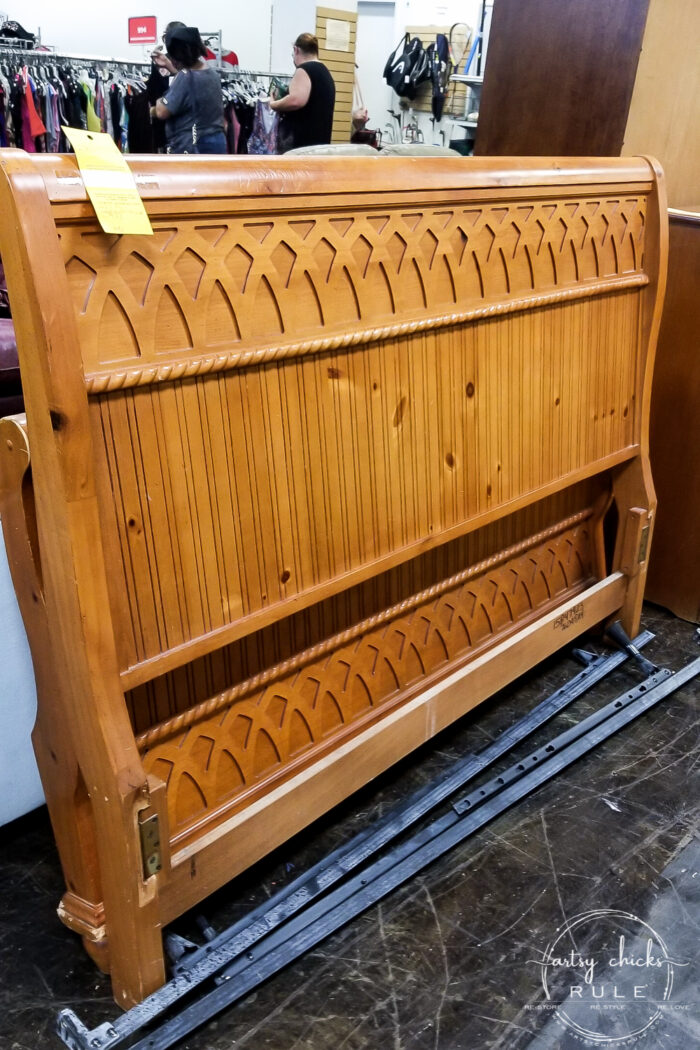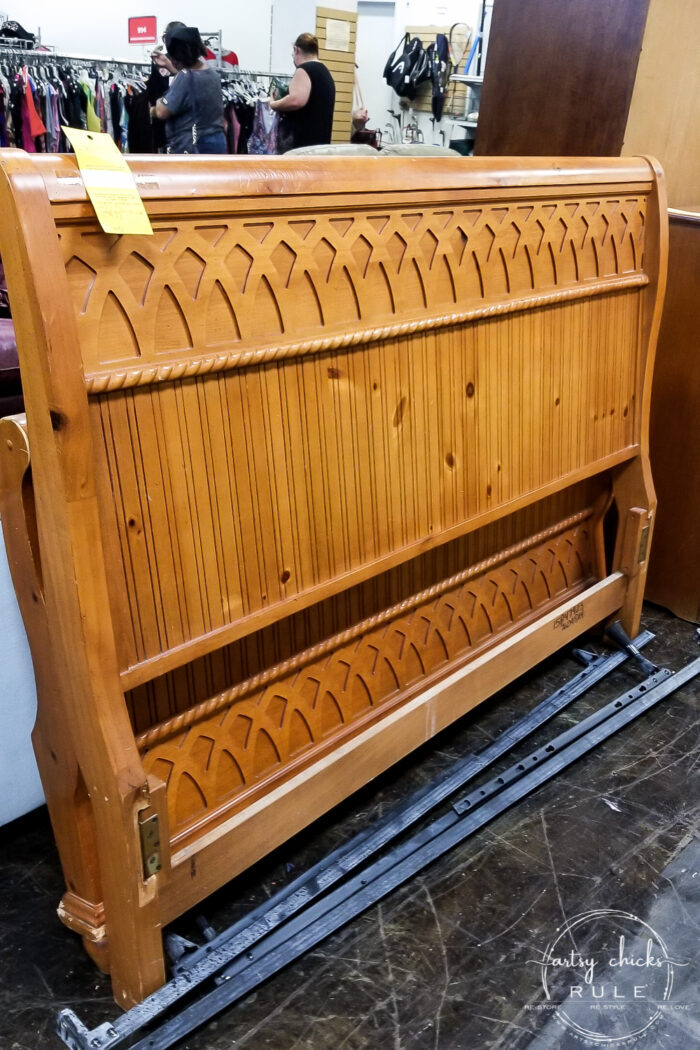 This could be a really pretty headboard painted. Not too bad at $75.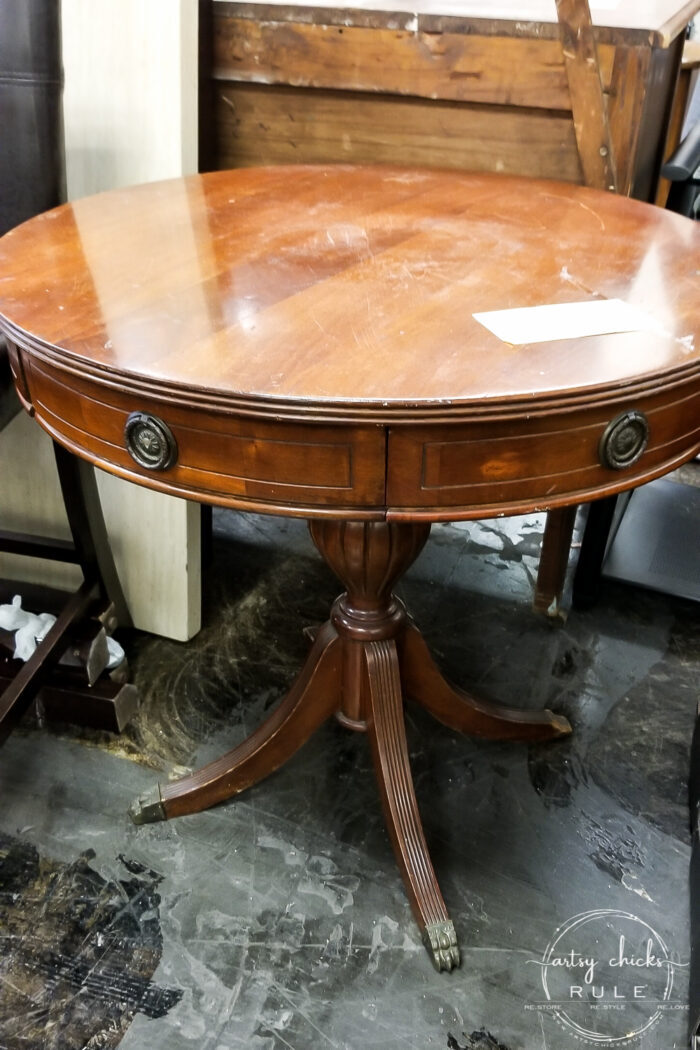 A pretty drum table. $49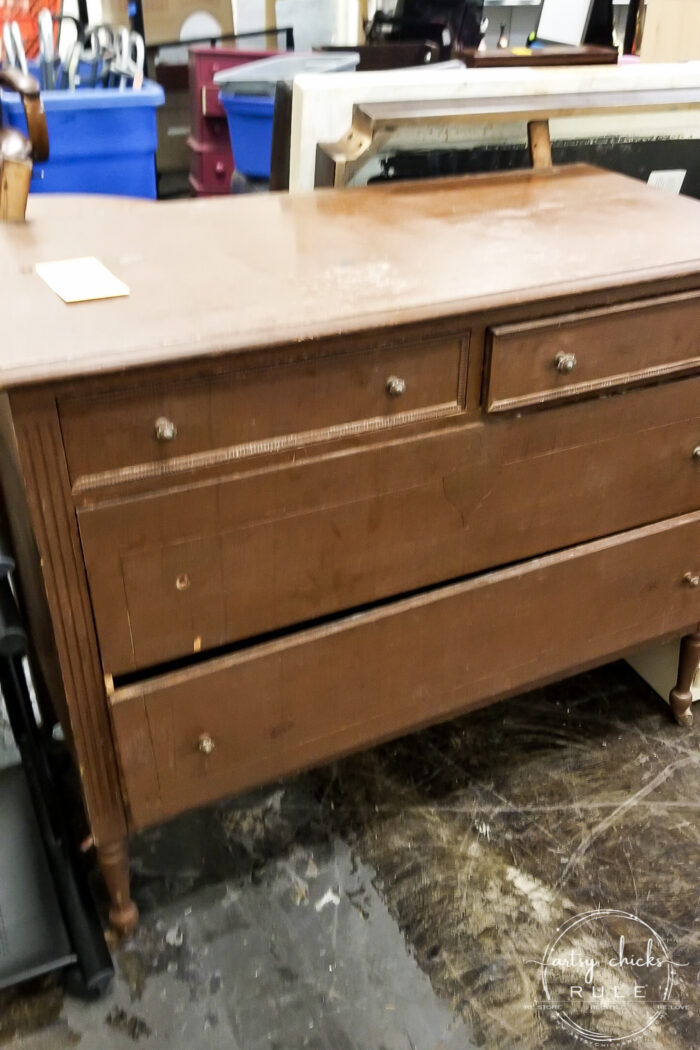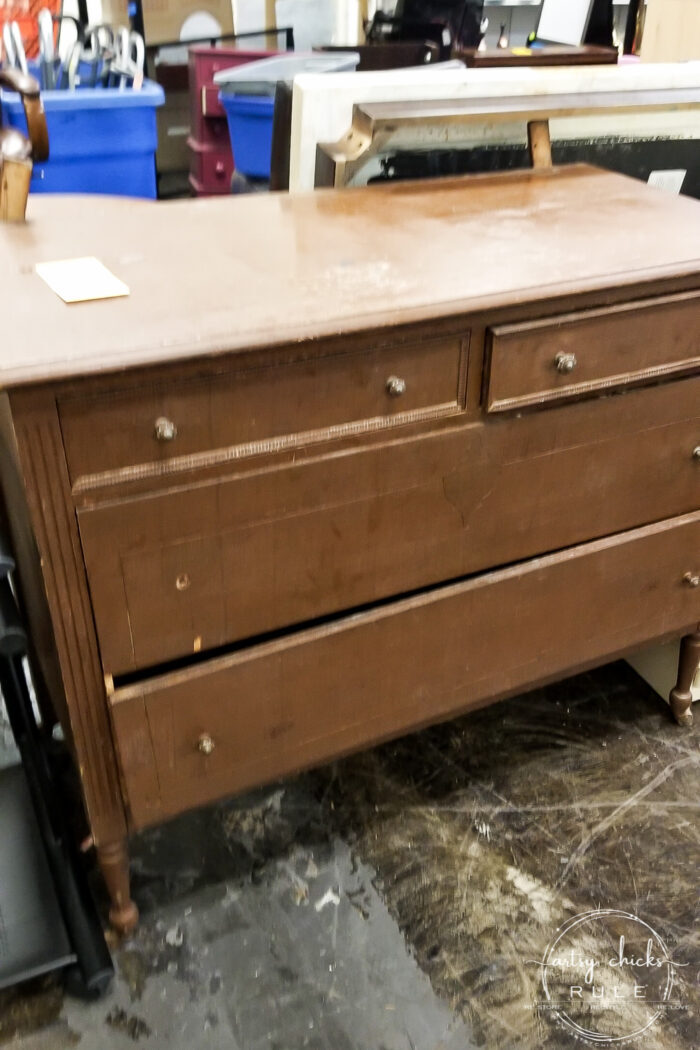 Oopsie, a little blurry but I take these with my phone…while people watch. lol
This dresser was a mess and needed a ton of work. $100 … What?? Nope!
Next stop…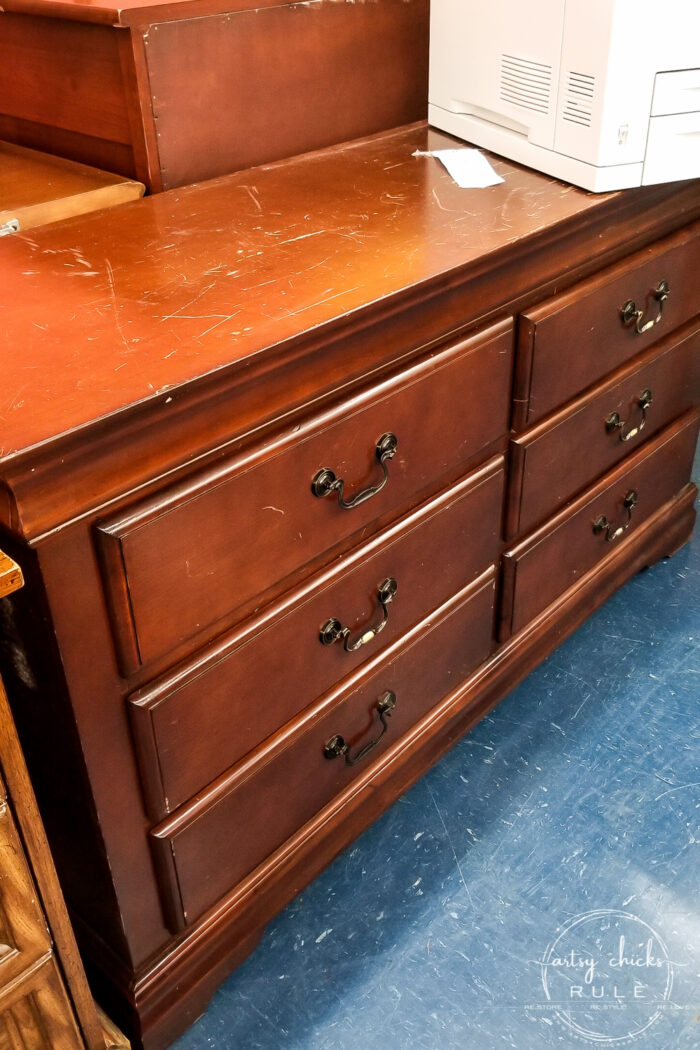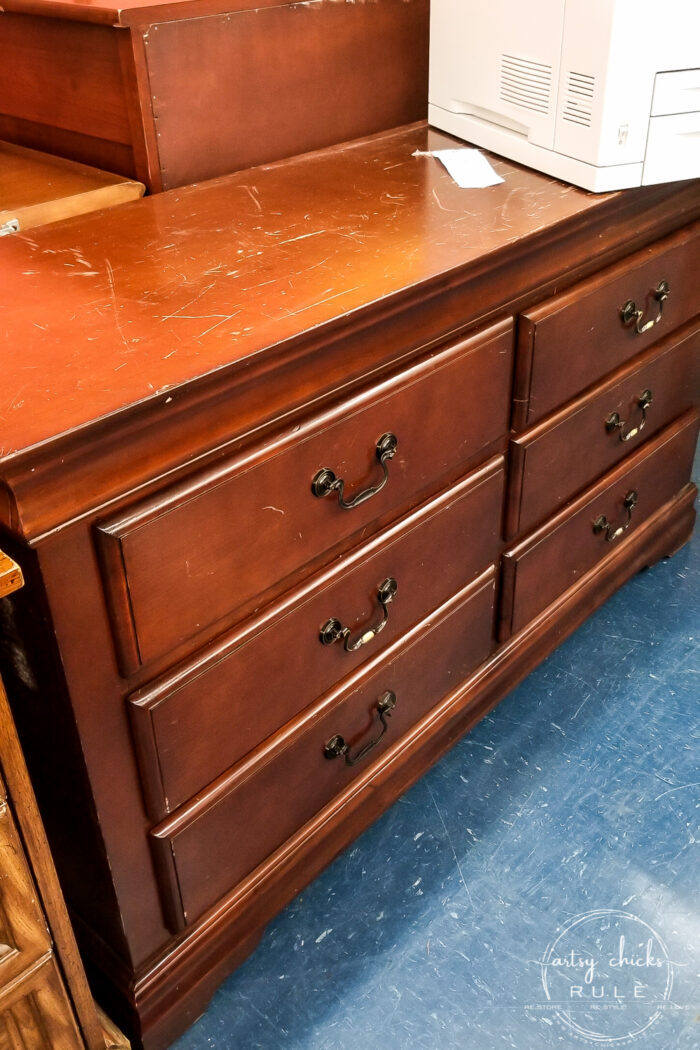 Other than scratches, this one was in pretty good shape. $60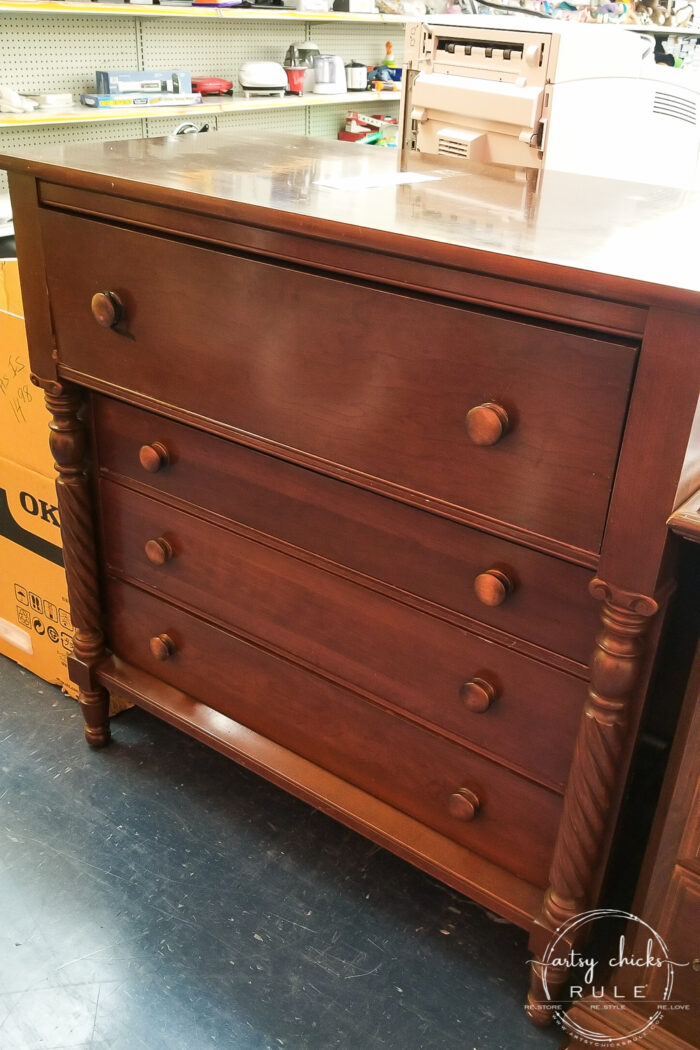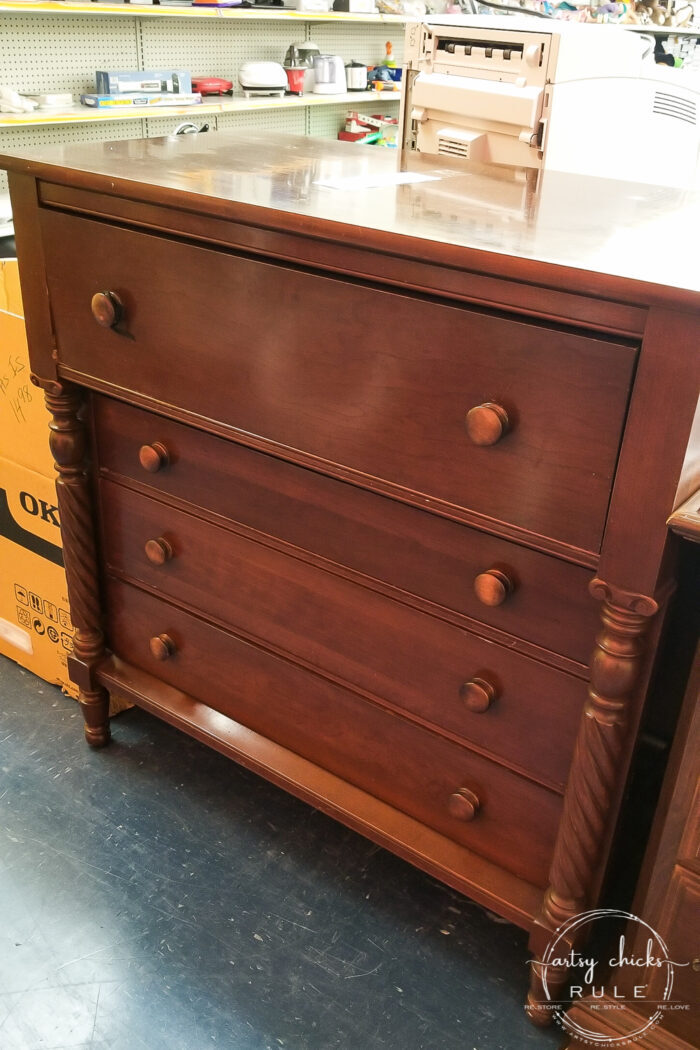 This one was kind of cool. It's actually a newer piece made to look like an antique.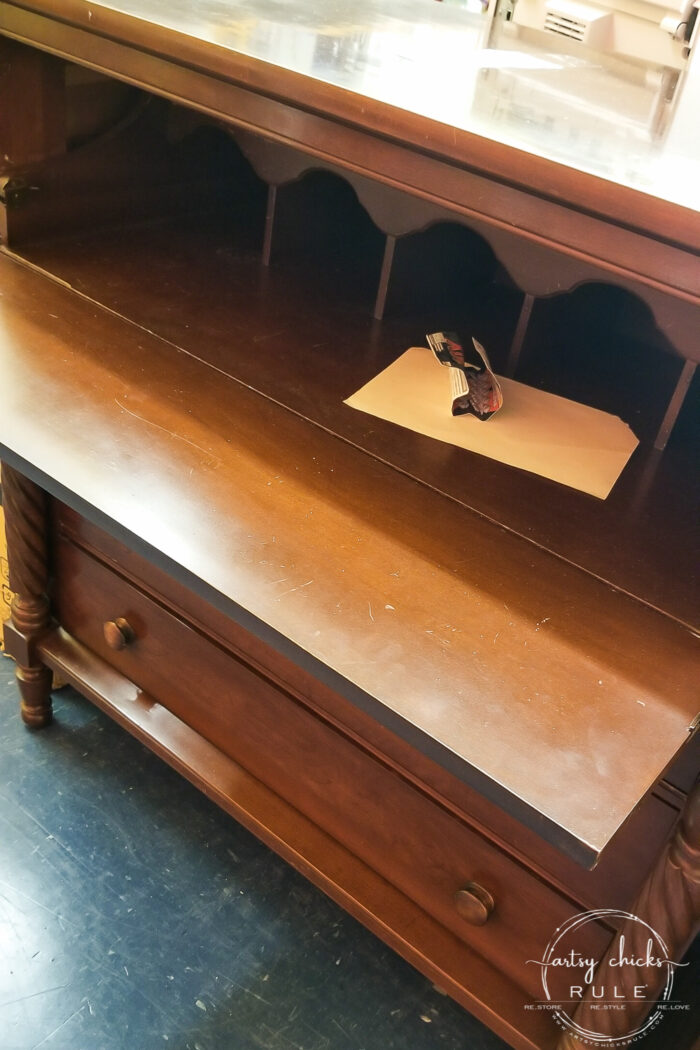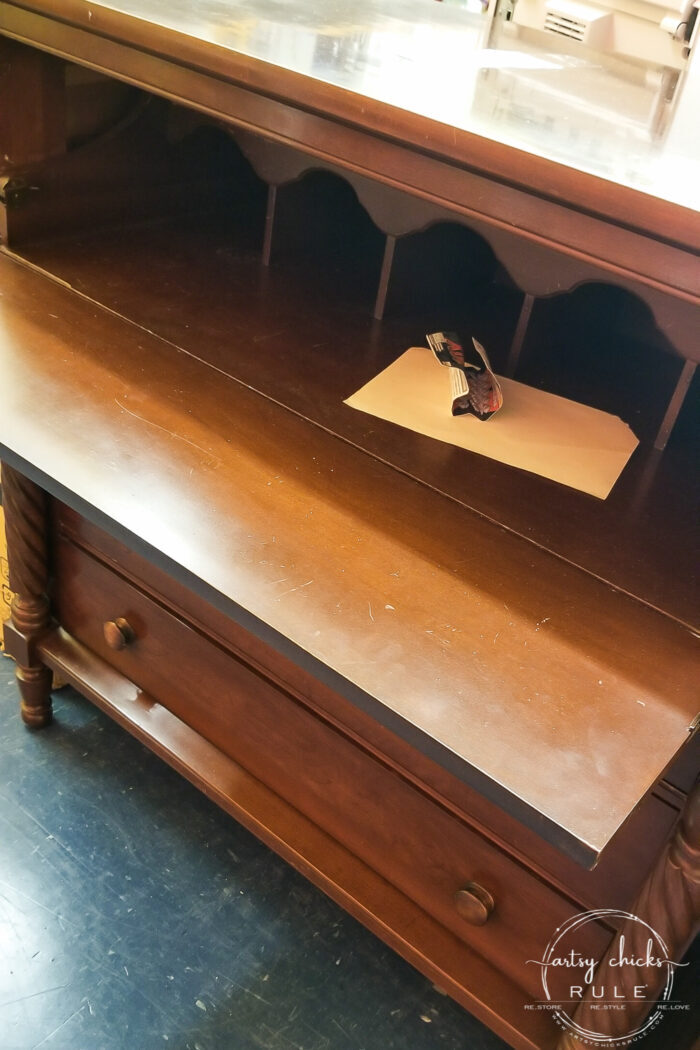 The top opens to reveal a "desk". $20 Not bad at all except that whole desk feature was messed up and needed some work.
But really for $20, how can you go wrong??
Oh looky, a pretty basket with wooden handles. $4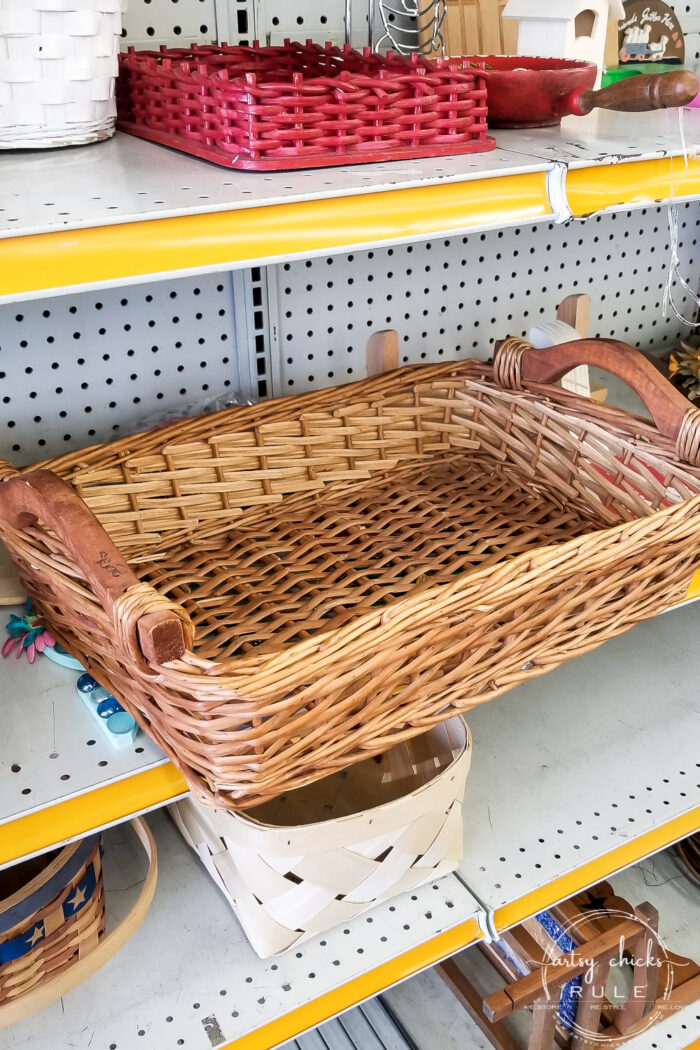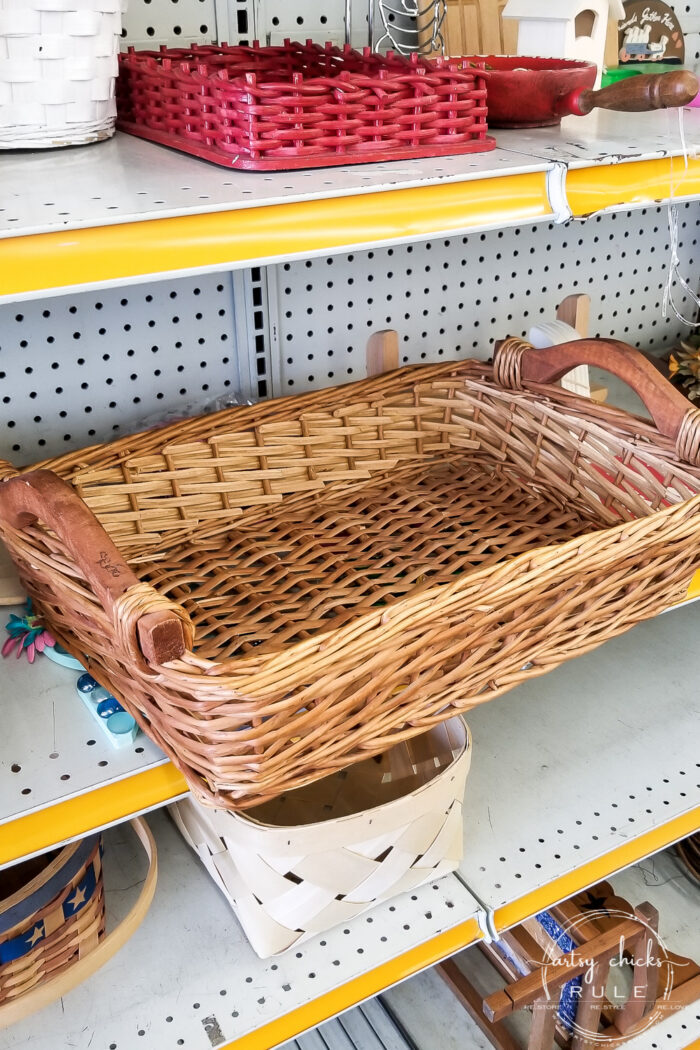 Next stop…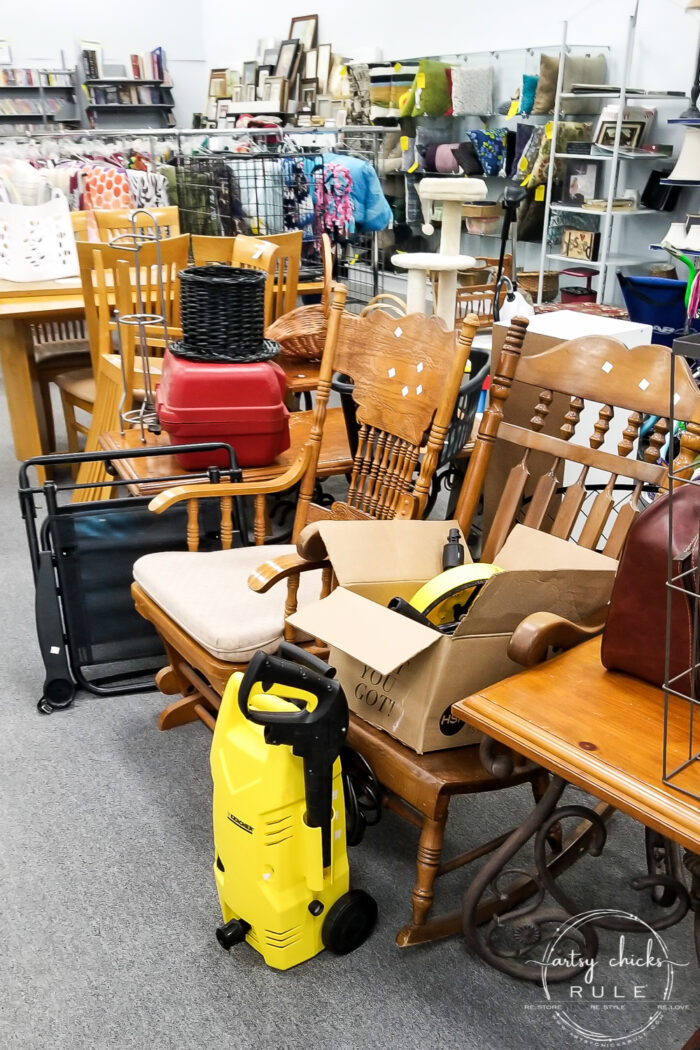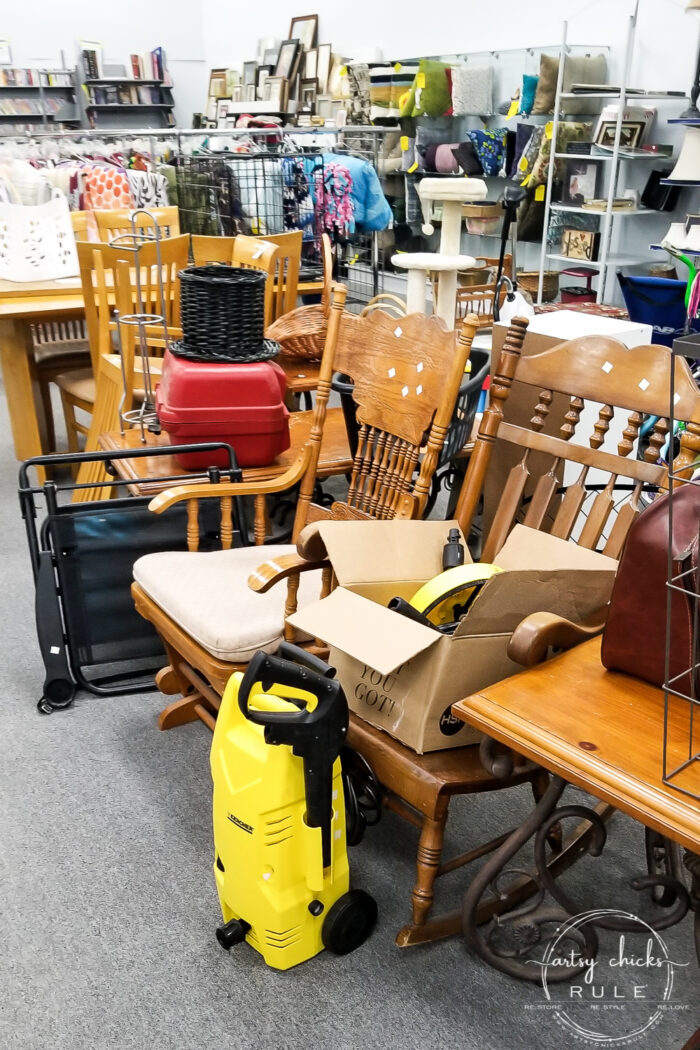 In the market for a rocking chair? Got ya covered here! Not much else interesting to me though.
Oh but this…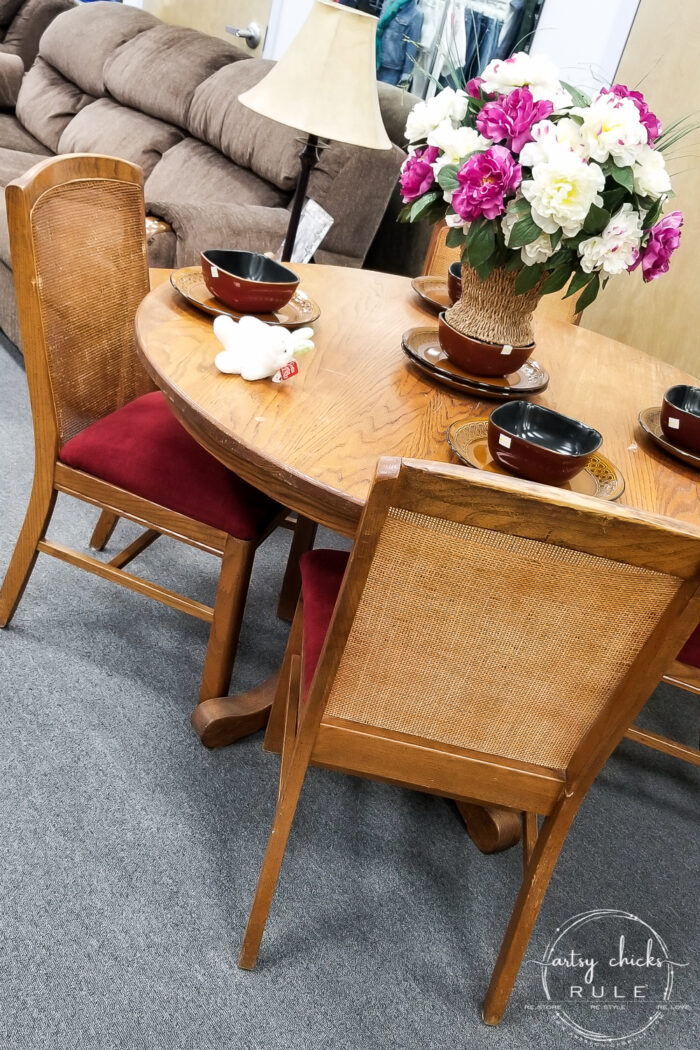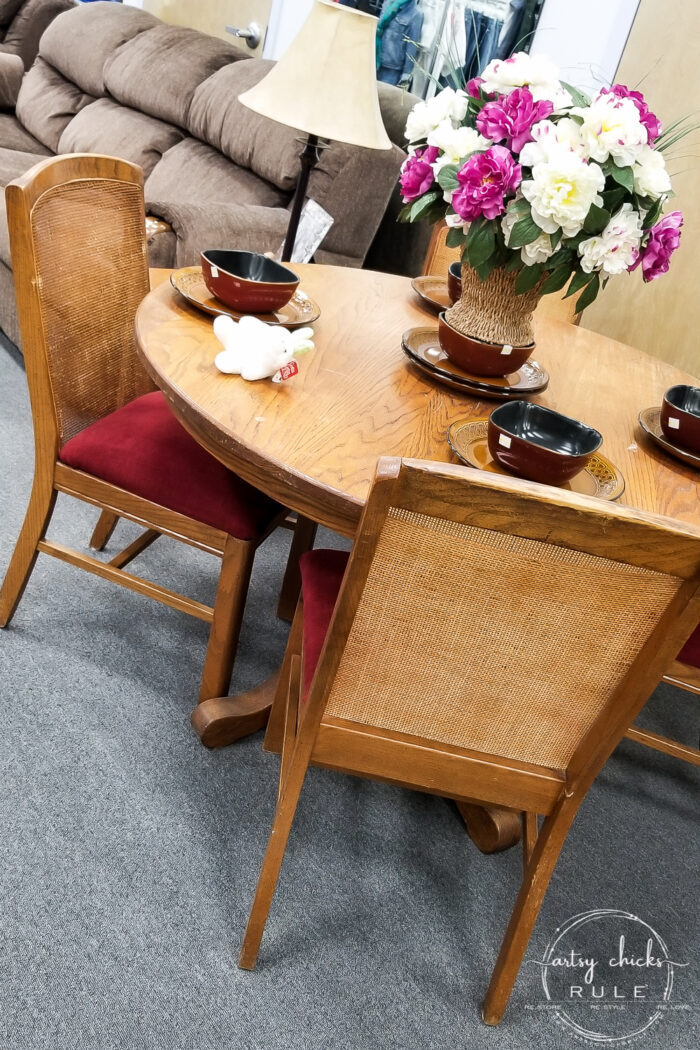 $60 dollars…for all 5 pieces. Solid wood table, beautiful wood, and cane back chairs. Wow!
Now that is a deal! (might have to go back for this one)
Can you imagine that one made over?
Here's some wooden bowls…and another pretty basket. (basket $4)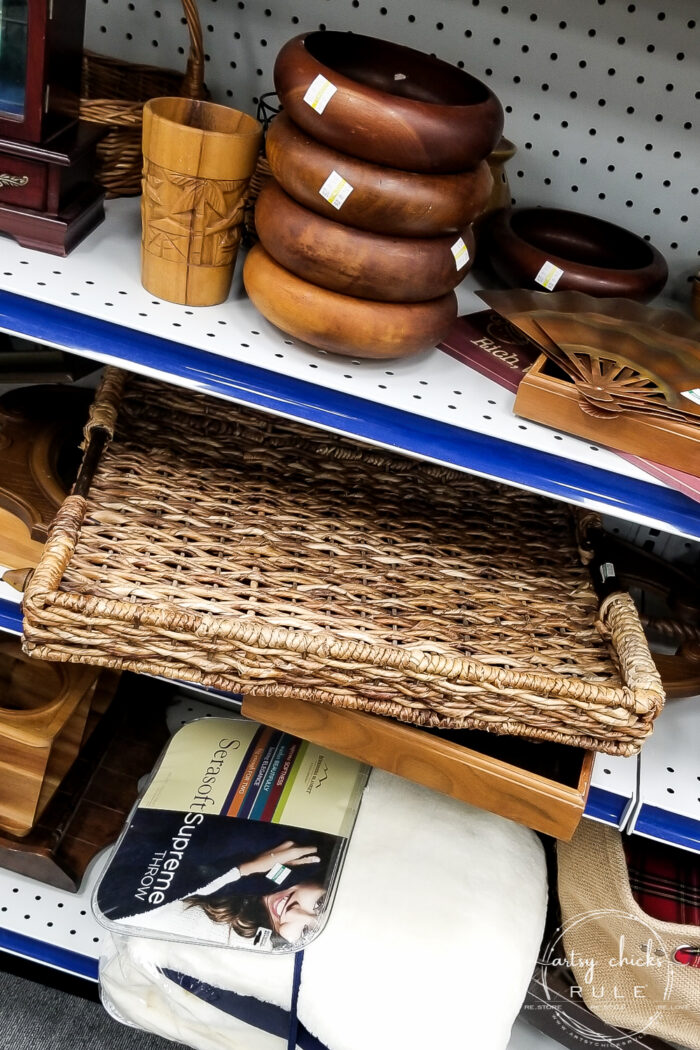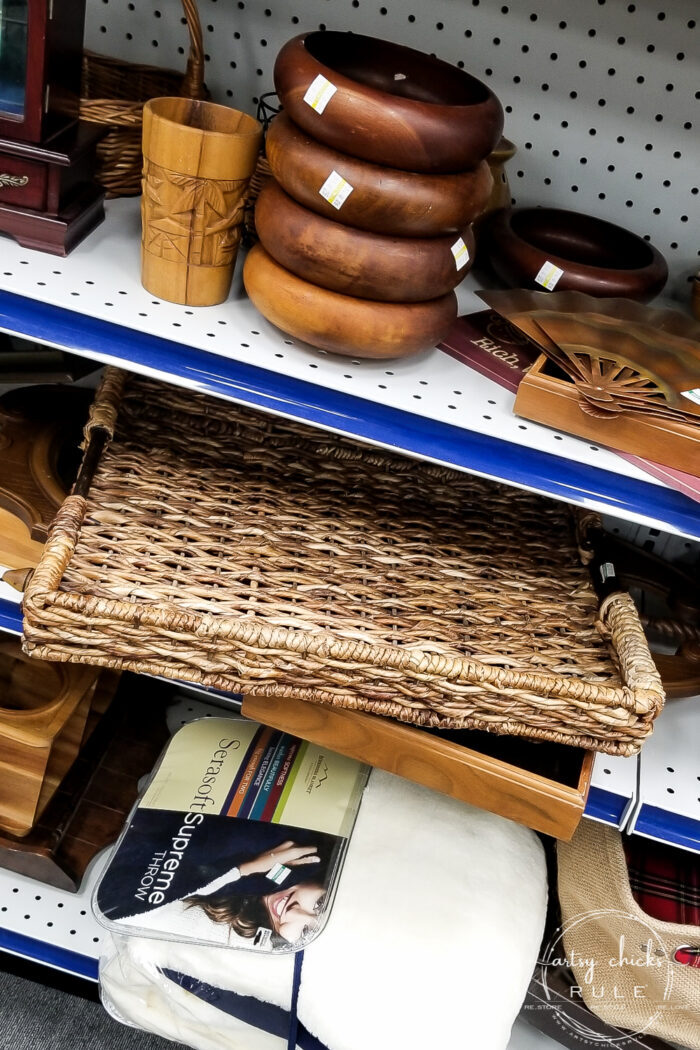 And even a throw still in the package.
Never know what you'll find at the thrift store!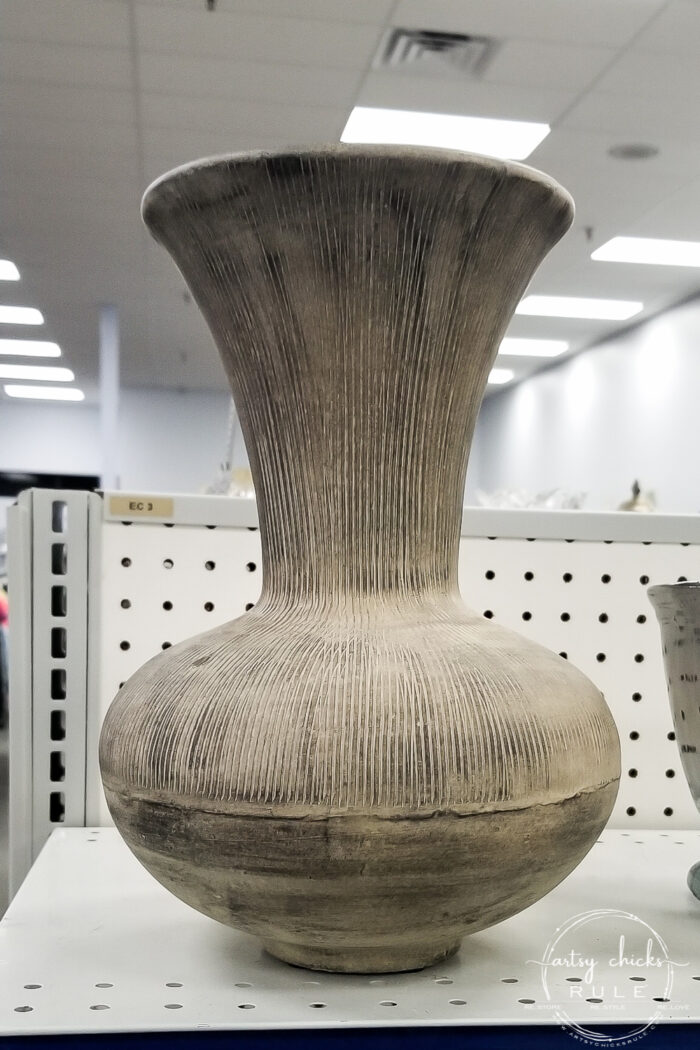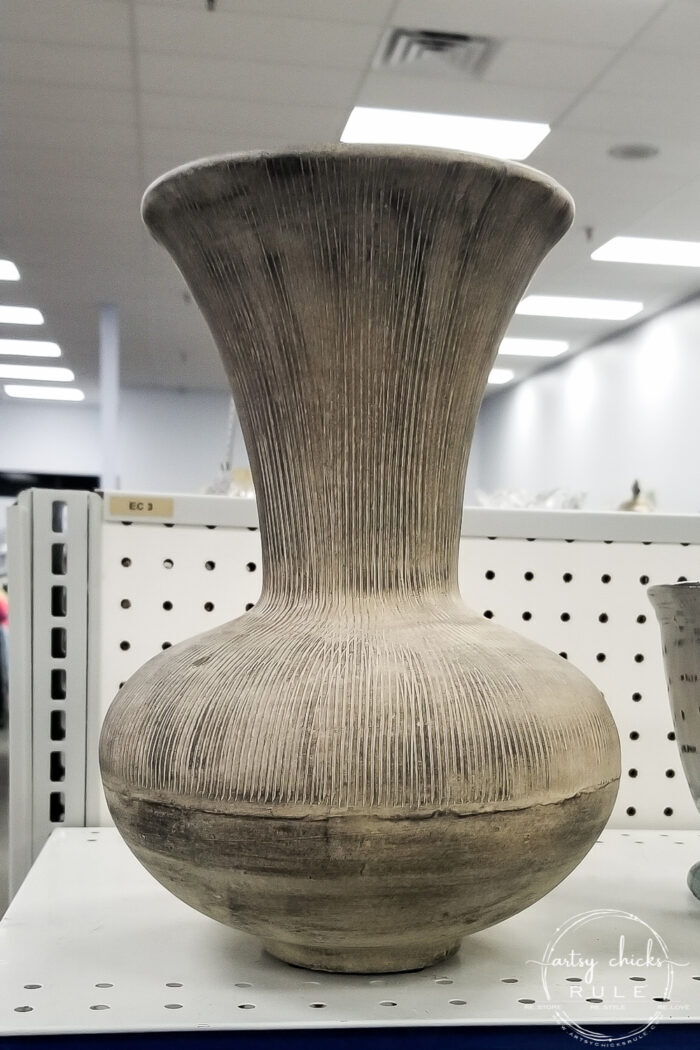 Ohh…I think I could do something fun with this one. hee hee ;) $6
You know I'm a sucker for these boxes.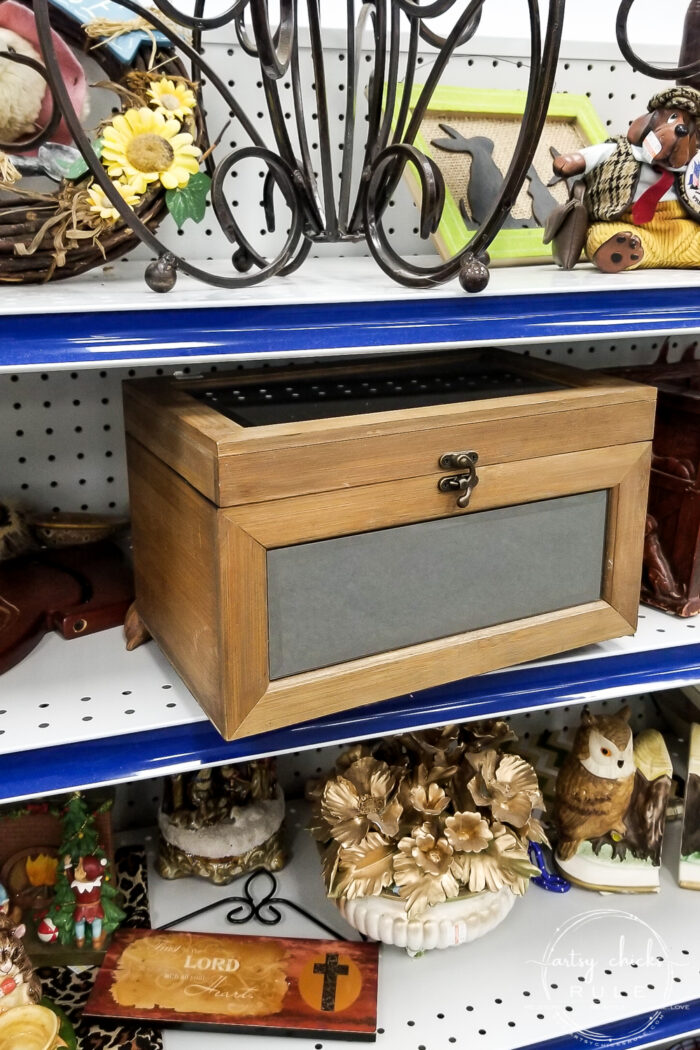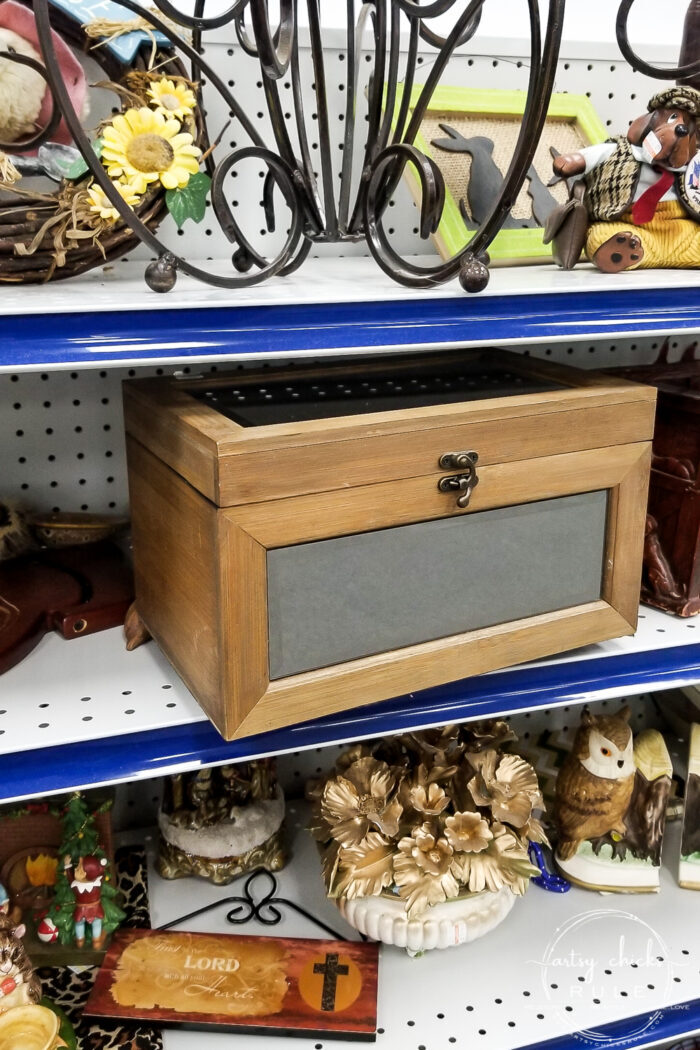 Gosh, that is a mirror on the front but it sure doesn't look like it in this photo.
It's clear as can be in person though. $5
This iron scroll mirror was $10. Not bad at all and painted it would be so lovely.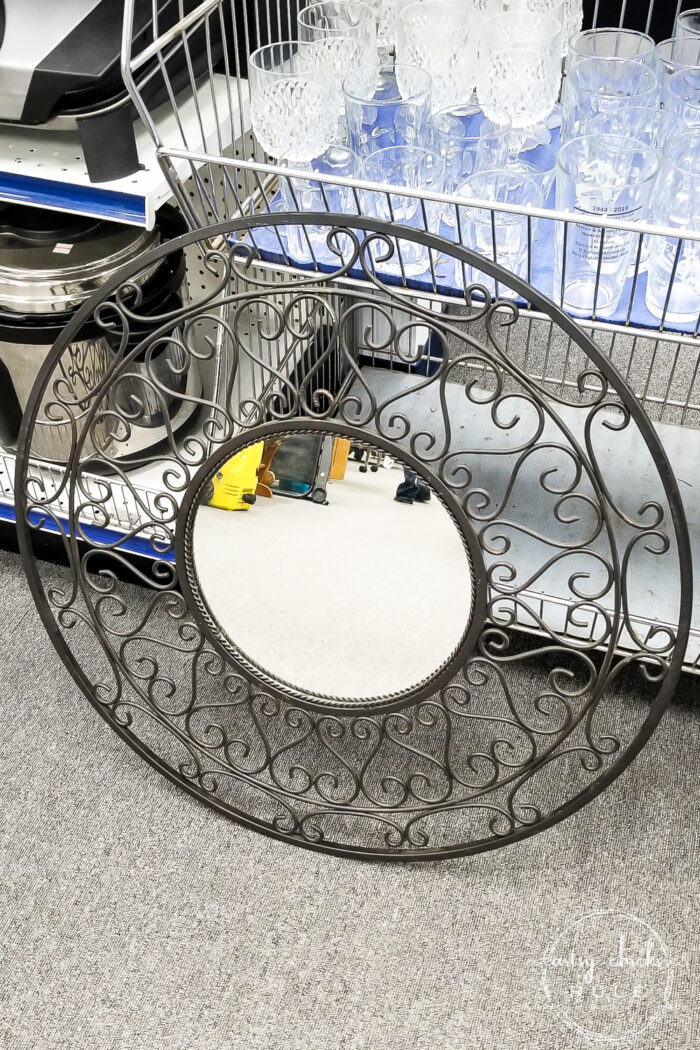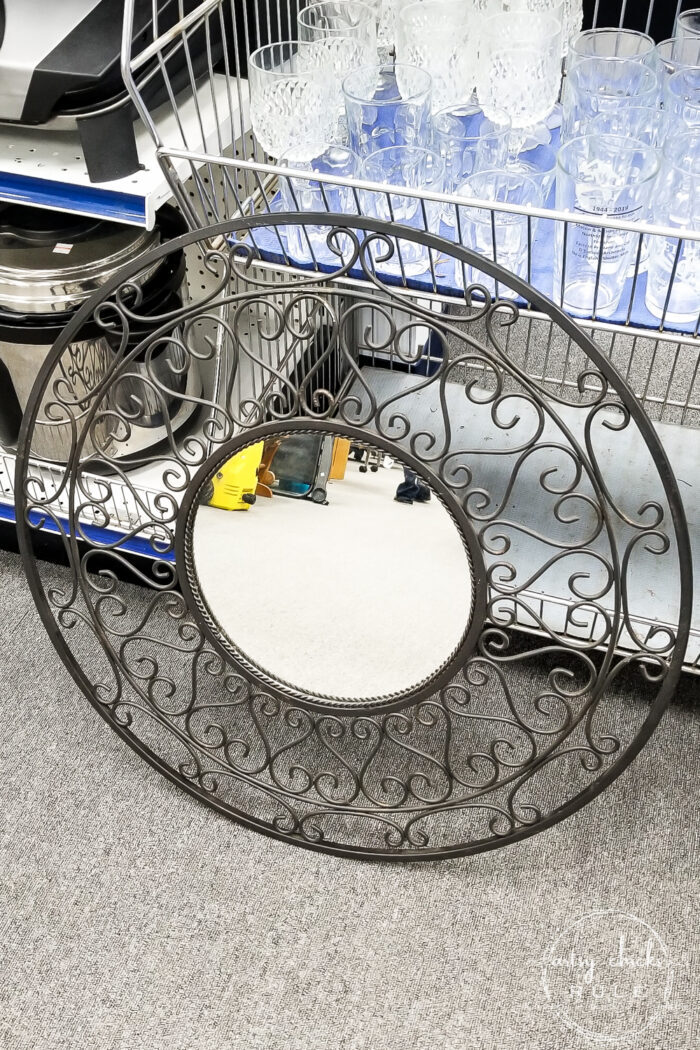 And that's it for my thrift shopping adventures for today! Bummer. I had at least 2 more places to visit.
Oh well, that just means more thrift shopping in my near future.
Which ones do you think I brought home?? I'll be sharing what I did and didn't next week once I get another shopping trip in!
How about some Target finds now?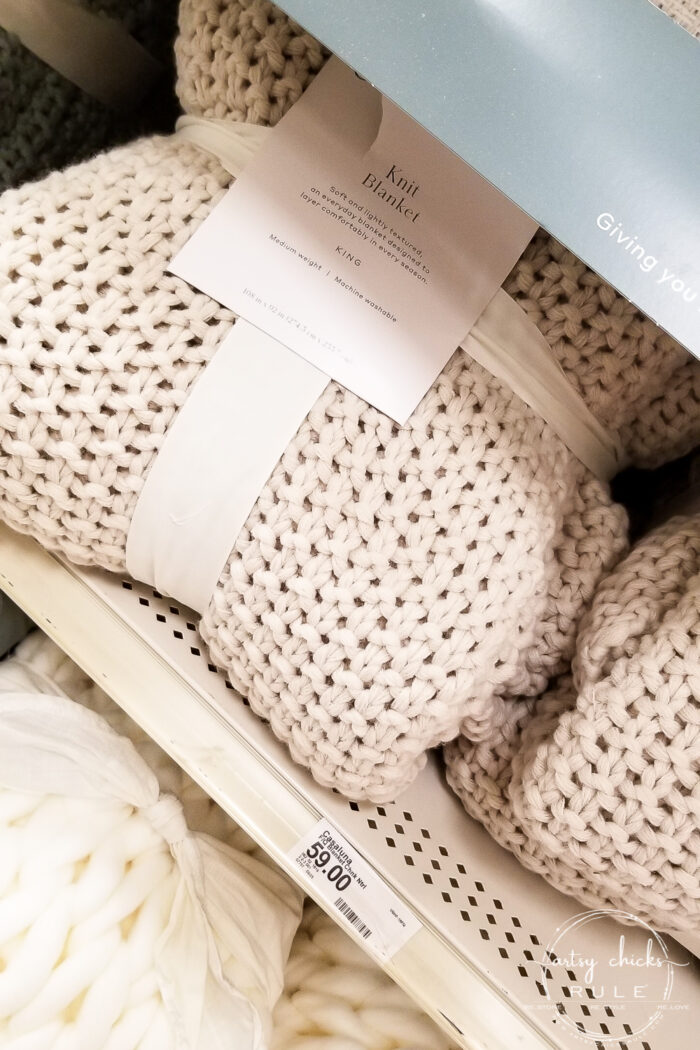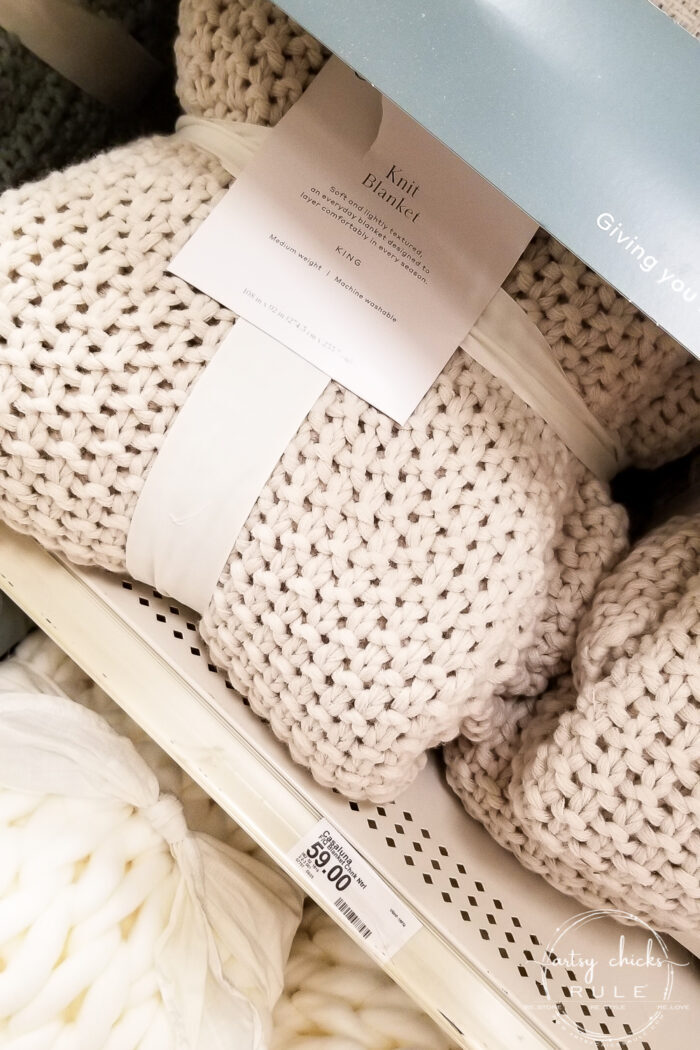 I love the sand/neutral colored king throw. It's a little pricey but I might have to have it! lol
Here's the link for it.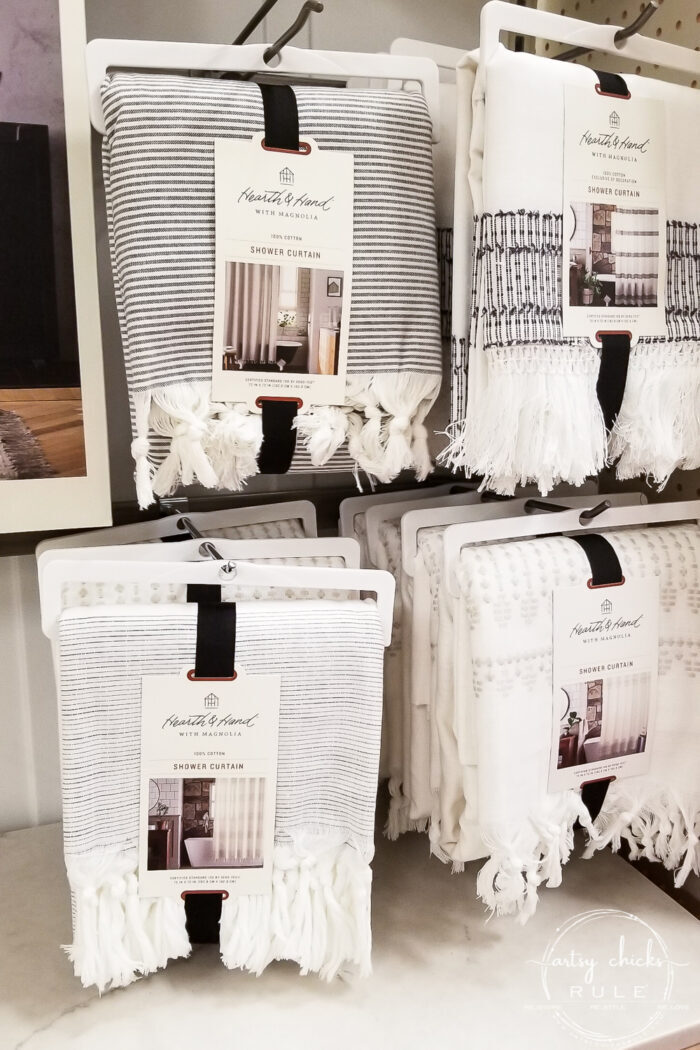 I'm loving these Hearth & Hand shower curtains. Here's the link.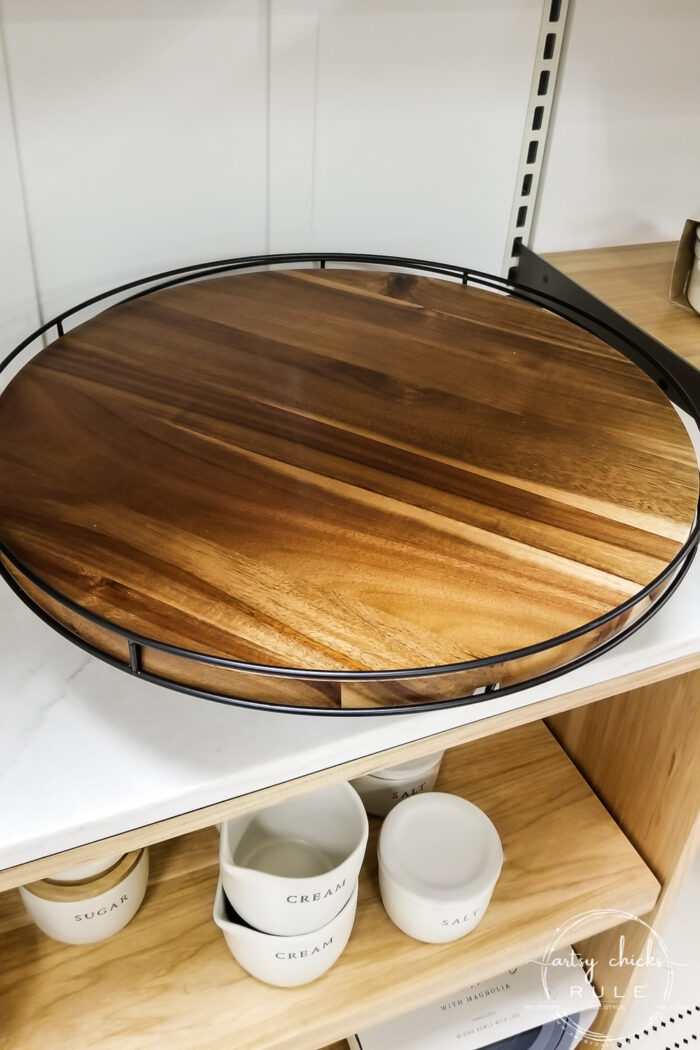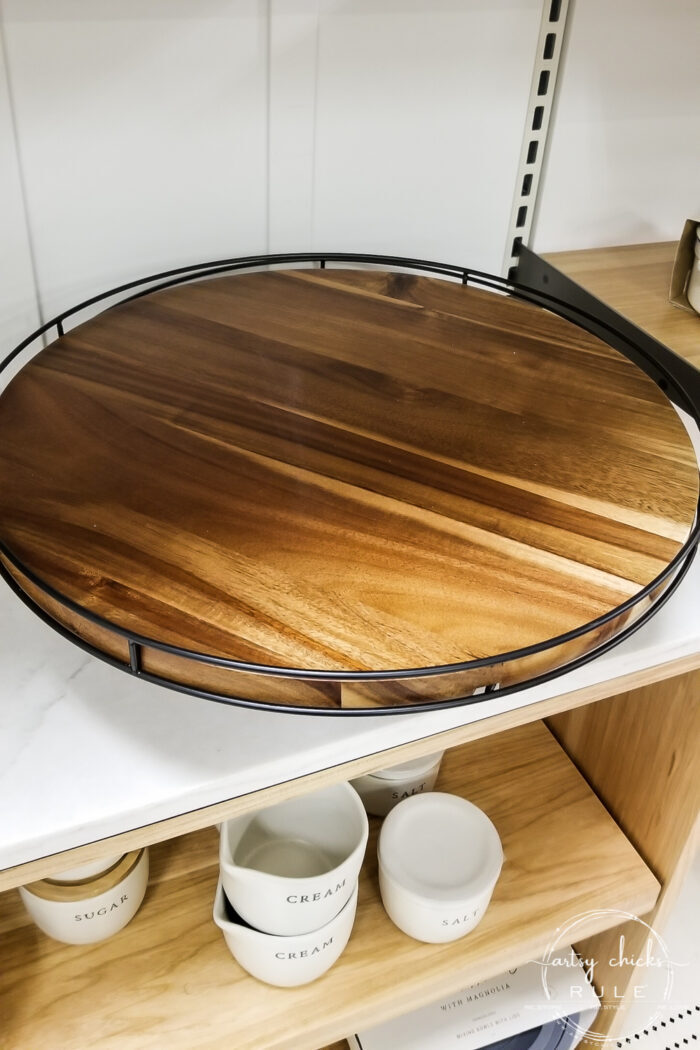 How pretty is the round wood and metal tray. Here is the link for it.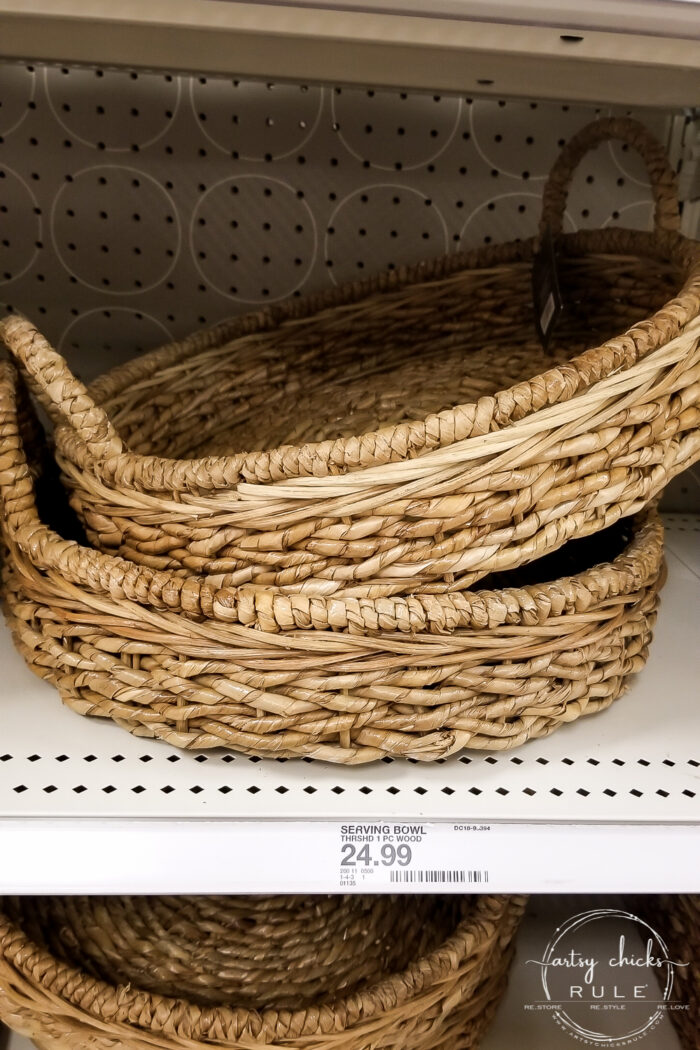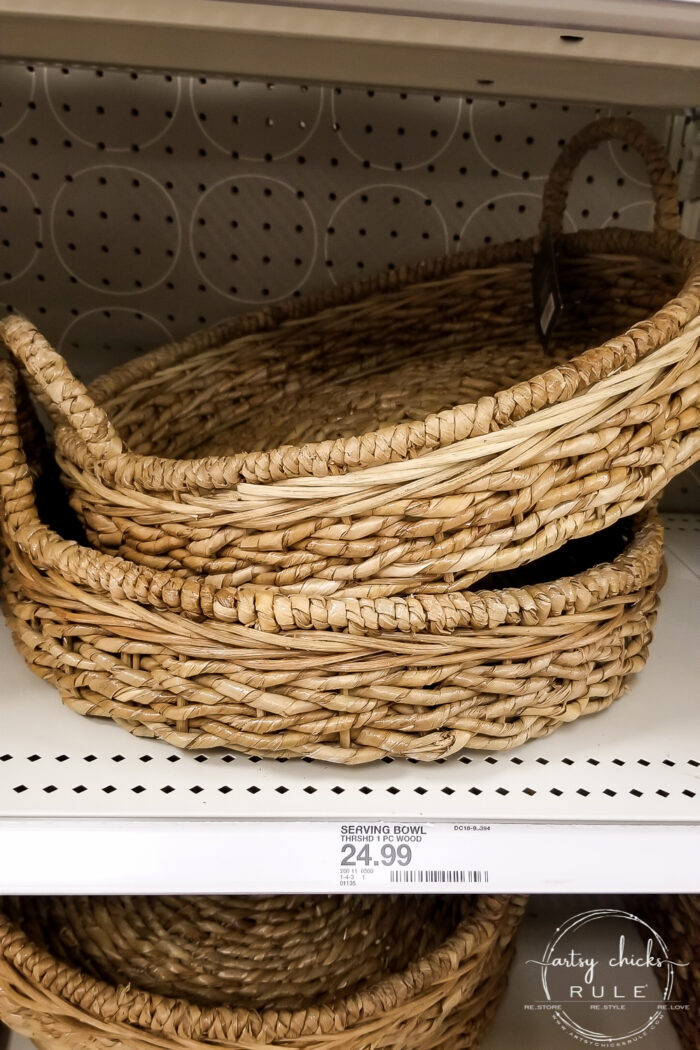 LOVED this round seagrass basket. That is the wrong tag. It's only $19.99. Here's the link for it.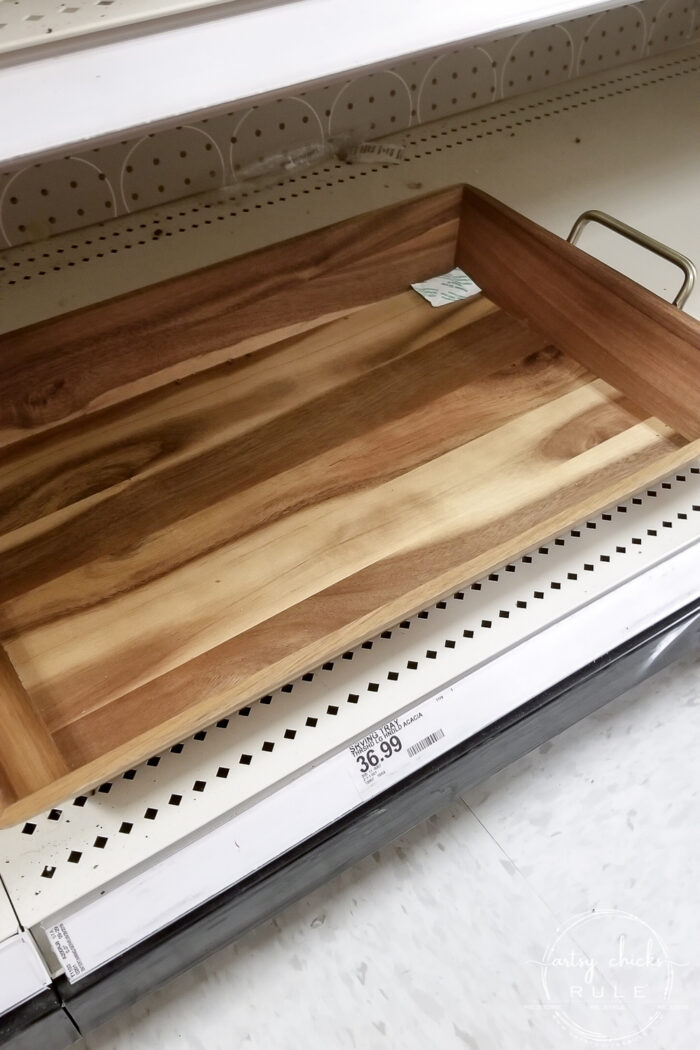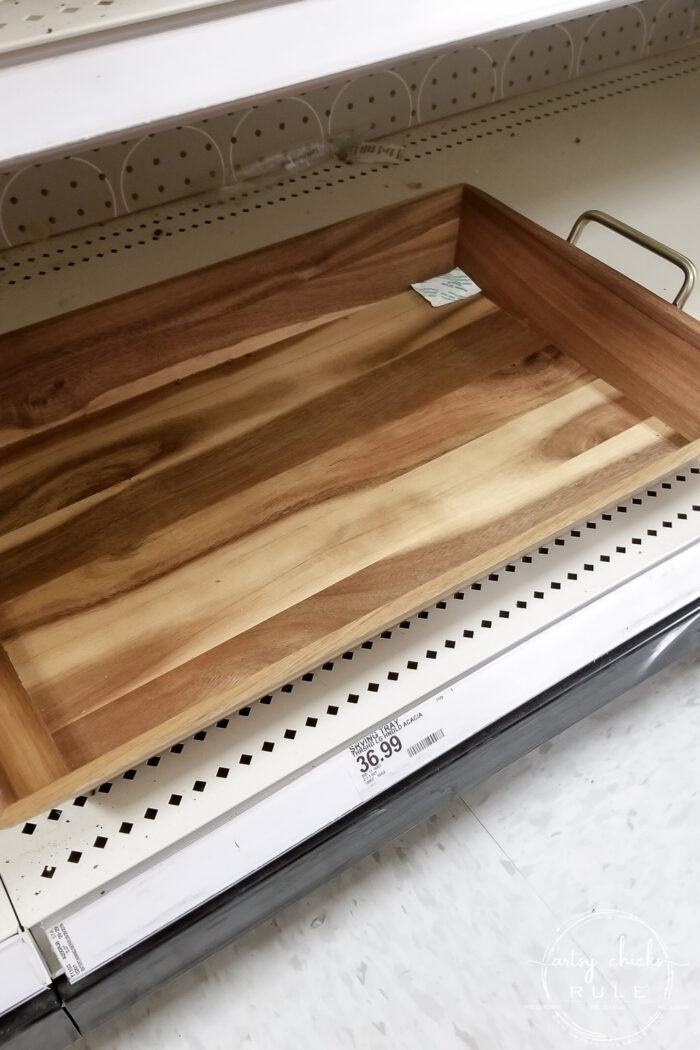 Or how about this wood tray with metal handles?? Love that wood grain.
Here's the link for it.
This one and the round seagrass one above would both look so pretty on a coffee table.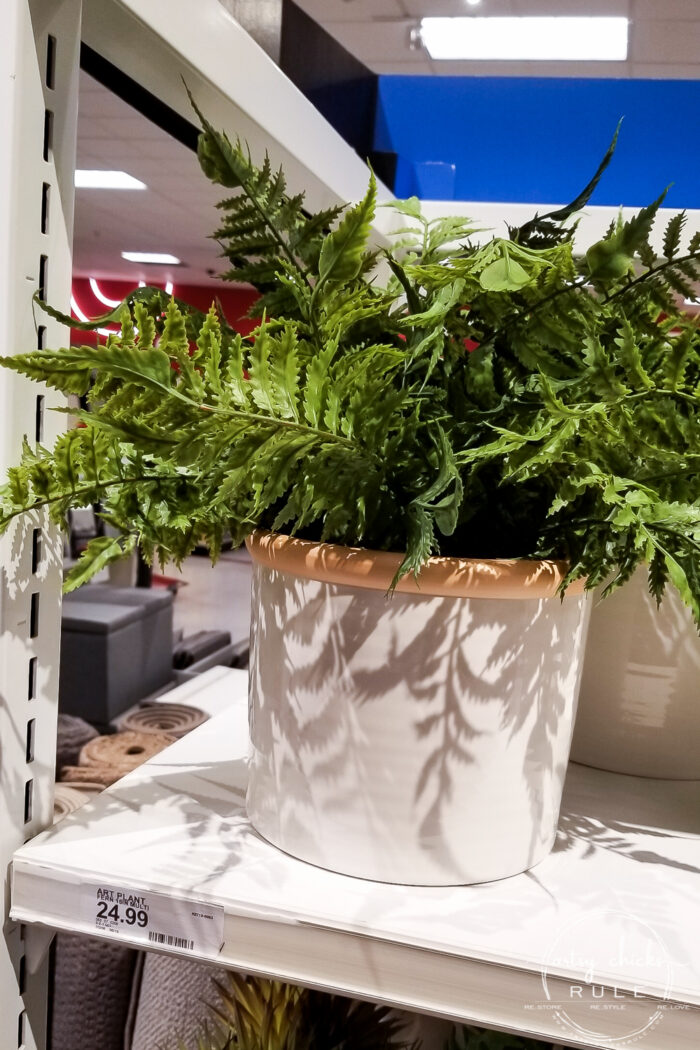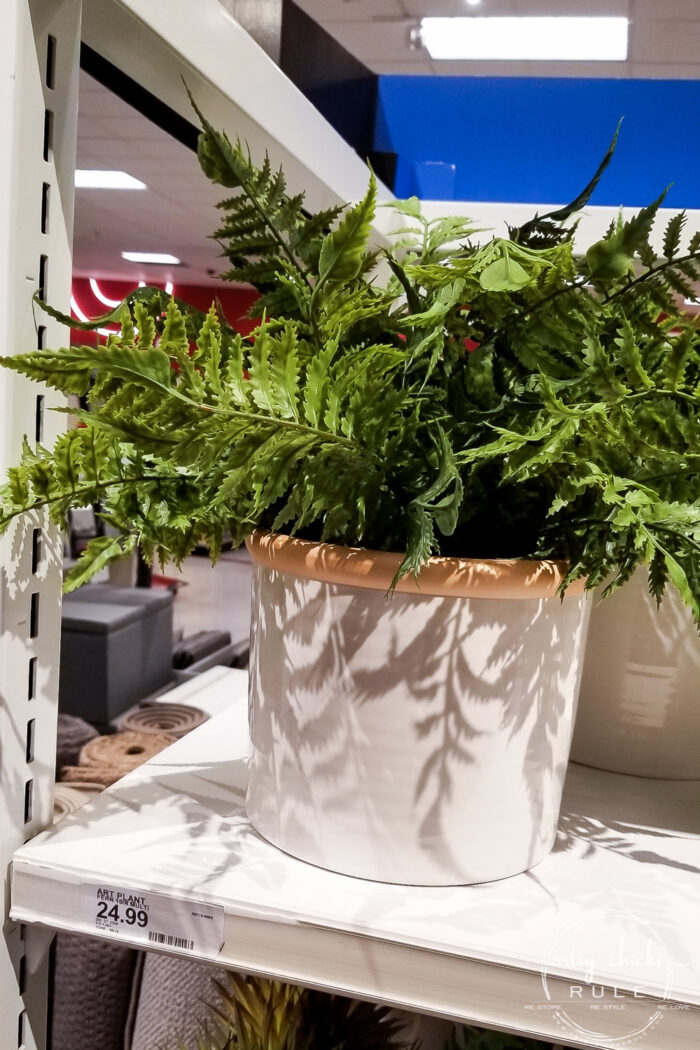 I was loving this fern …but I was feeling cheap after all that thrift shopping!
Here's the link for it in case you are not. lol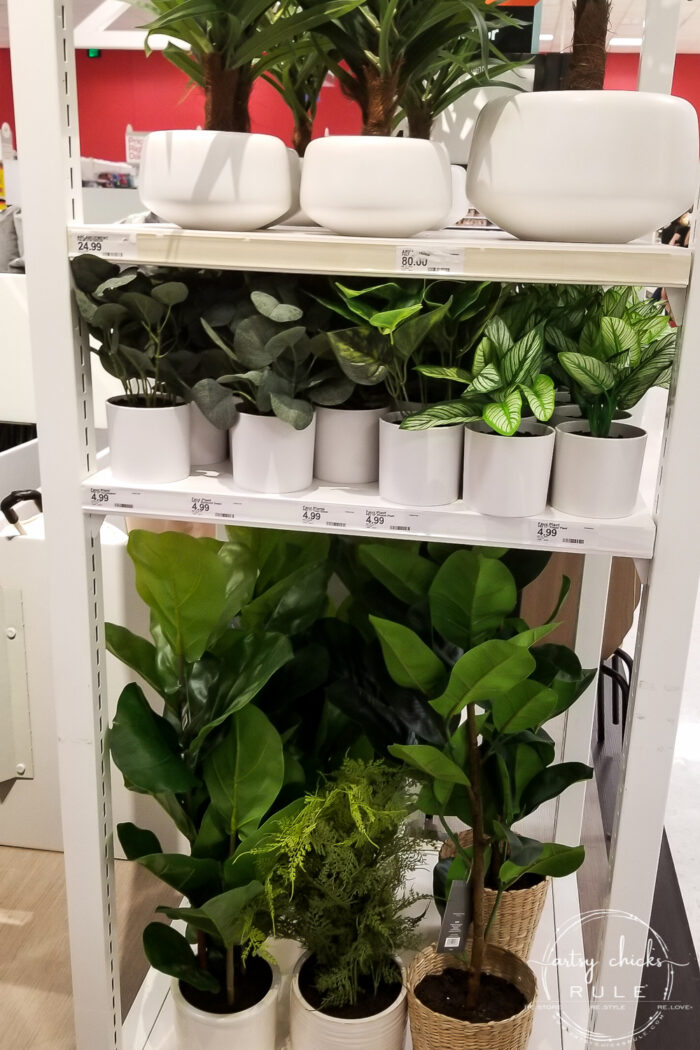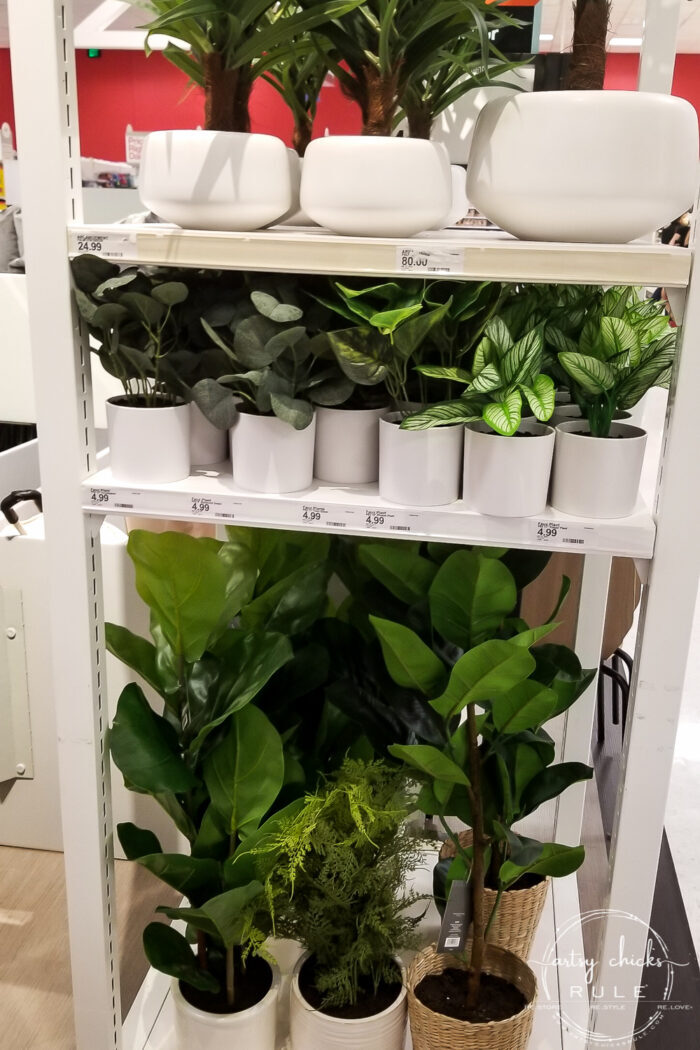 Actually, they had quite a bit of greenery to choose from. Even some fiddle leaf figs.
They all looked really nice.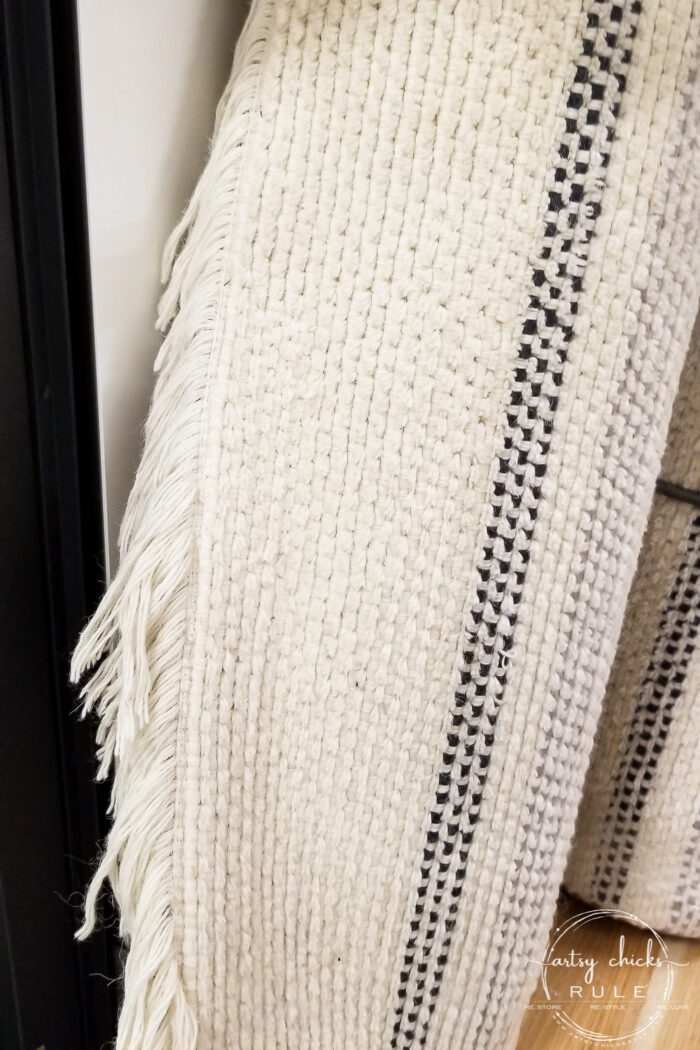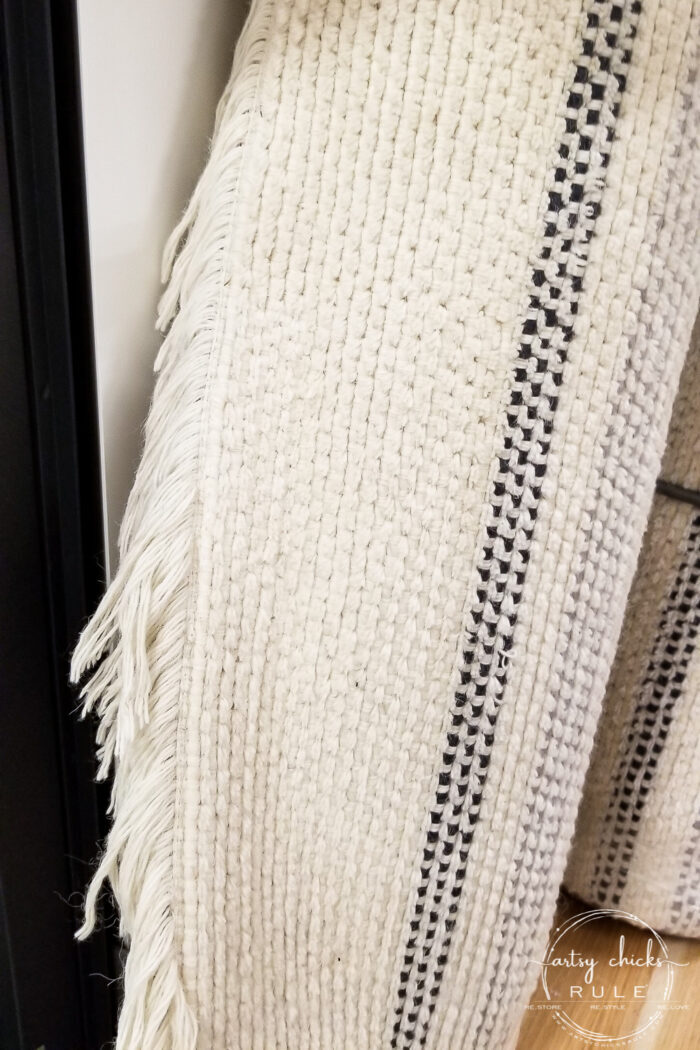 And this rug, you guys. I LOVED this rug too. I really kind of wanted to go home with it.
You know, to do a little change-up in the living room. Nope, I was good. (but that doesn't mean I'm going to continue being good because I really kind of loved it lol…we'll see ;) )
Here's the link for it.
Oh, and I also stopped at Sherwin Williams and got a few paint chips to try to figure out which "navy" I'll use for our back wall in our master bedroom.
I'm kind of leaning towards Naval and Indigo Batik right now. I also want to check out Hale Navy by BM.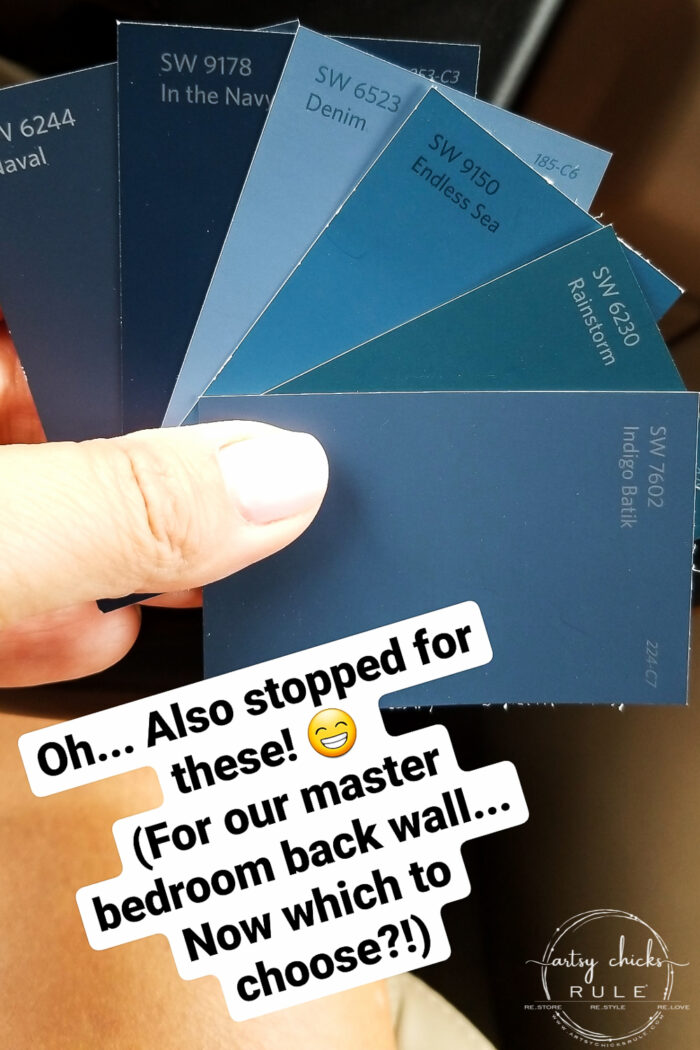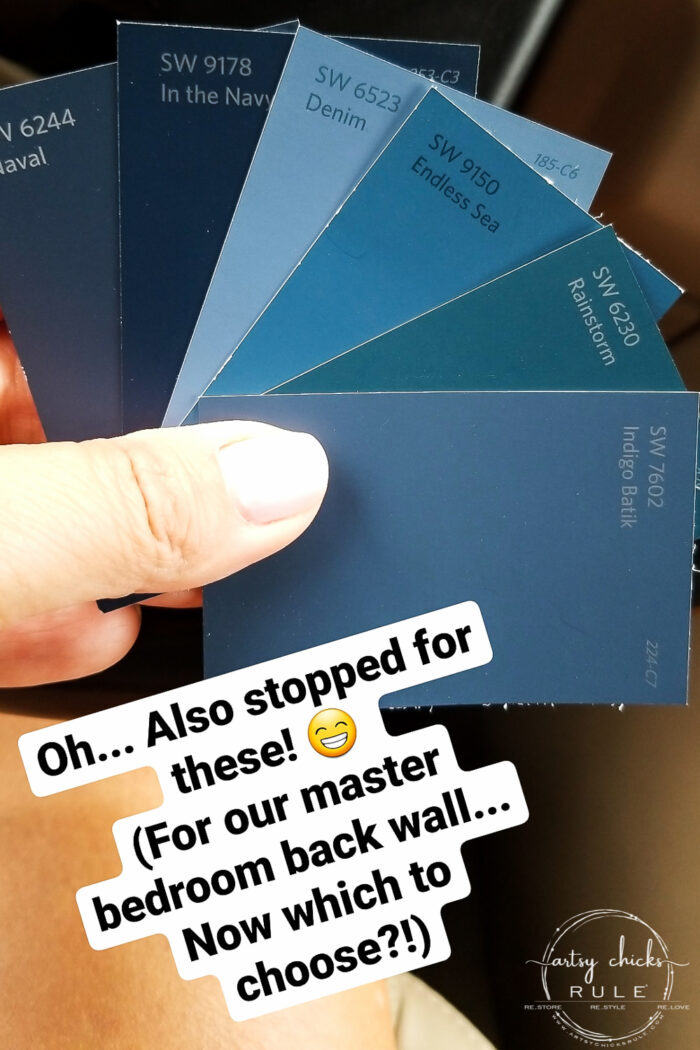 I don't think I've talked too much about that here but I did over on the old Insta also.
Here's a little plan I shared over there of our bedroom currently. (well…the cabinets we are building for my husband to the far right have doors on them now..yippee…progress!)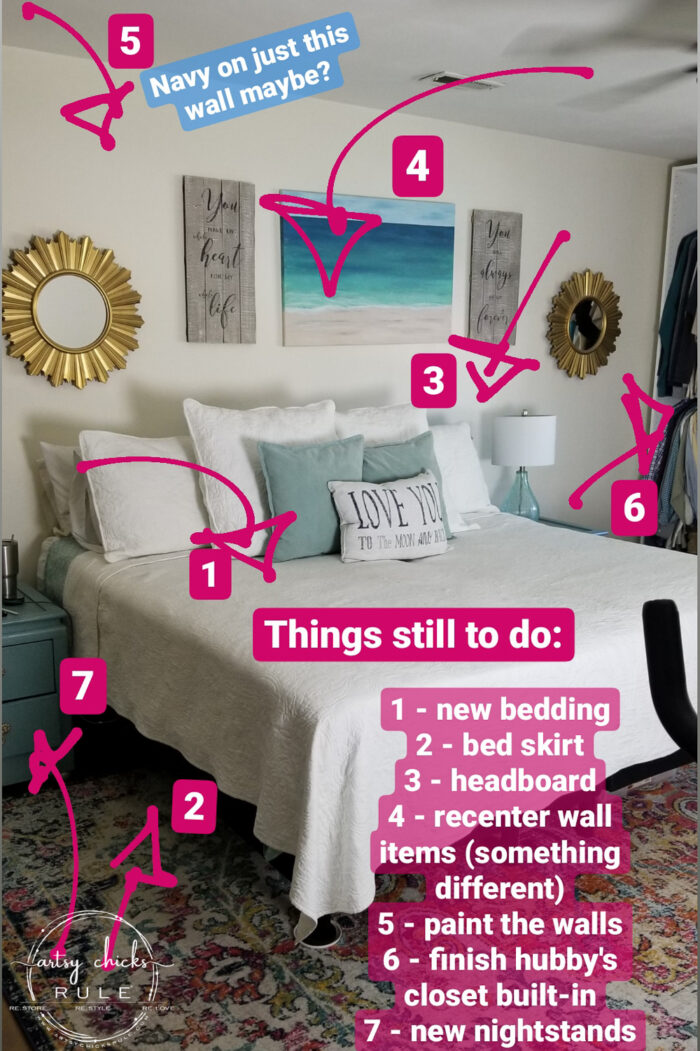 I'll be sharing all of this once it's done. Can't wait to finish it all up!
……………………………………………………………………………………………
I hope you enjoyed going along with me thrift shopping today. (and yesterday in real-time if you are on Instagram)
I'll be back next week I hope …if I can get it done and photographed… with the teak set and my restoration process. And more thrifting finds too!
Have a wonderful 4th my American friends and a wonderful weekend to all! Stay safe!
xoxo