This post may contain affiliate links. Please see disclosures here.
Outdated jewelry armoire makeover … for the second time! Classy and elegant gold and white.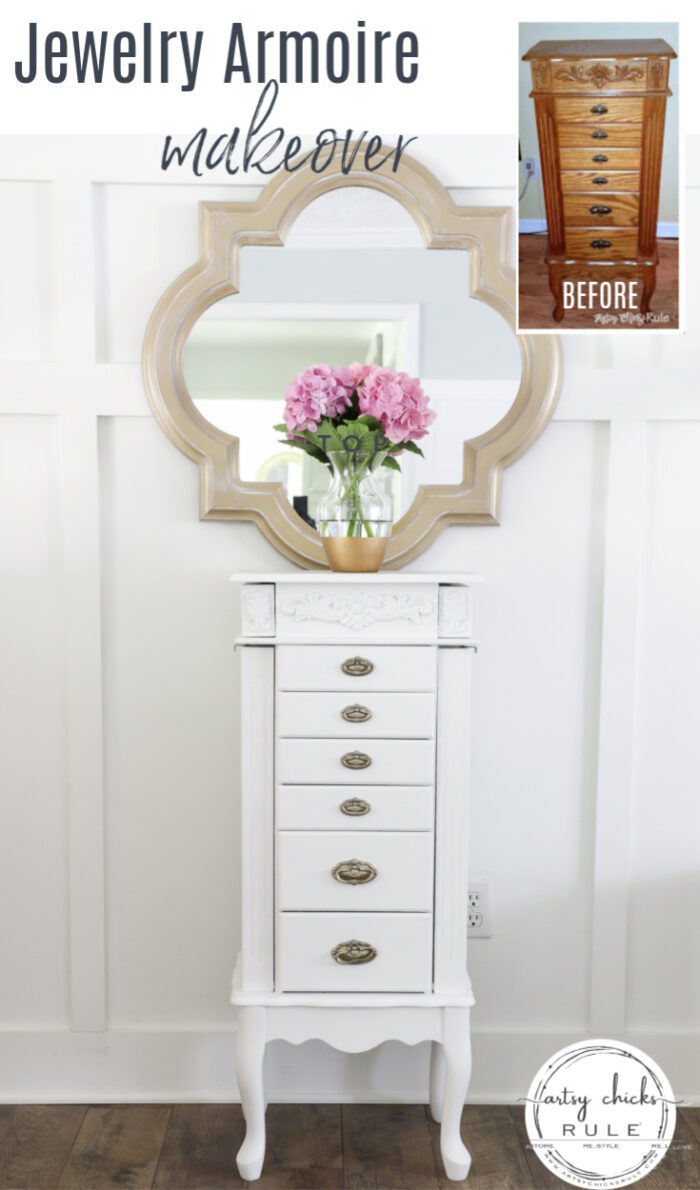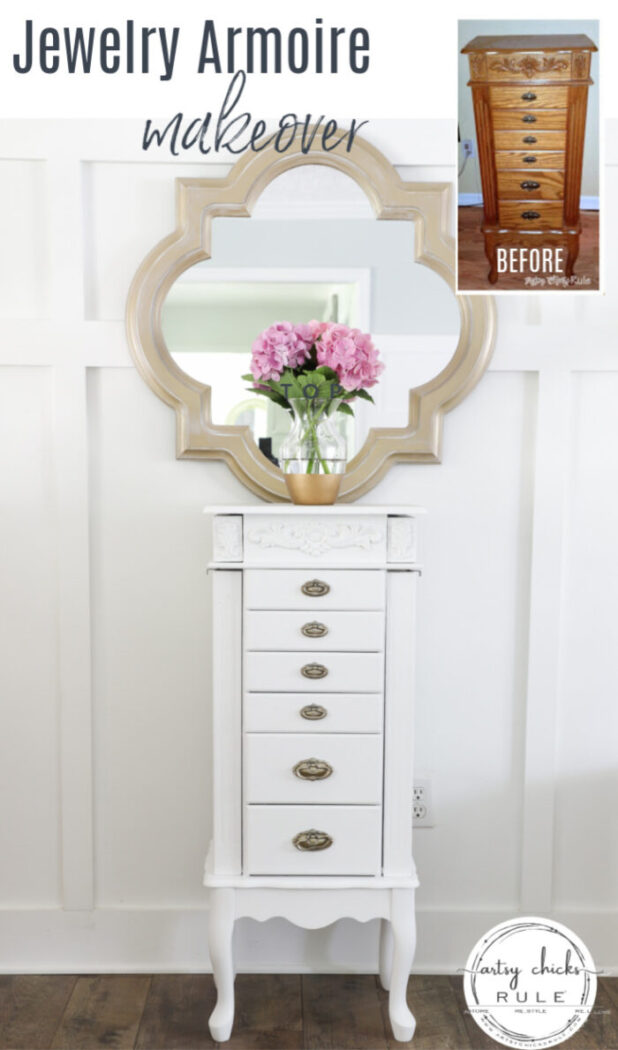 Hello beautiful friends!
I hope you had a great weekend. We were busy, busy, busy around here. If you follow on Instagram with me, you might have seen a bit of it.
I was working on this jewelry armoire makeover, a small desk I found at the ReStore a week or so ago, and went and picked up a teak outdoor set for our beach house. I'll be restoring it to its original beauty soon. (I'll be posting how I do it too) I'm thrilled because we've been looking for a set for a while but they are so pricey!
We got a great deal!
Oh, and my husband was up working on his "closet". He got the doors on. They had to be cut down because of the crown molding we are planning to add so it took a bit longer.
We also went to IKEA (first time since the quarantine…and all masked up, yes! It's required here in Virginia). Luckily we bought the last Lofallet Beige Ektorp sectional for our beach house. YIPPEE!! The first guy who helped us said it was out of stock. But I asked another person to double-check…and one left!
Yay…mine! lol
The Ektorp line is being discontinued, or so I was told by the associate. Did you know that? They are replacing it with a bit larger style with comfier cushions so they said. Which is great, but I'm a little bummed because I was unable to get the Lofallet Beige covers for my living room furniture for our furniture here. (I want to change out the white) Out of stock and not sure they are coming back since they are discontinuing the series. Boo!
Anyway, on top of all that, I'll be going thrift store shopping for my next haul hopefully tomorrow or Weds (keep an eye on my stories). Stay tuned for that post and the teak furniture makeover, this week and next. The little student desk I found is being a bear. I decided to remove the veneer on the front and it's going to be a bit more work than planned…but I'm really excited about my plans for it once I get it all down to the bare wood.
………………………………………………………………………………….
This jewelry armoire I'm sharing today is one that is very special to me.
I had wanted one for a while and my mom gifted it to me years ago. She passed away in 2013 and so this is a special piece to me and one I won't be letting go.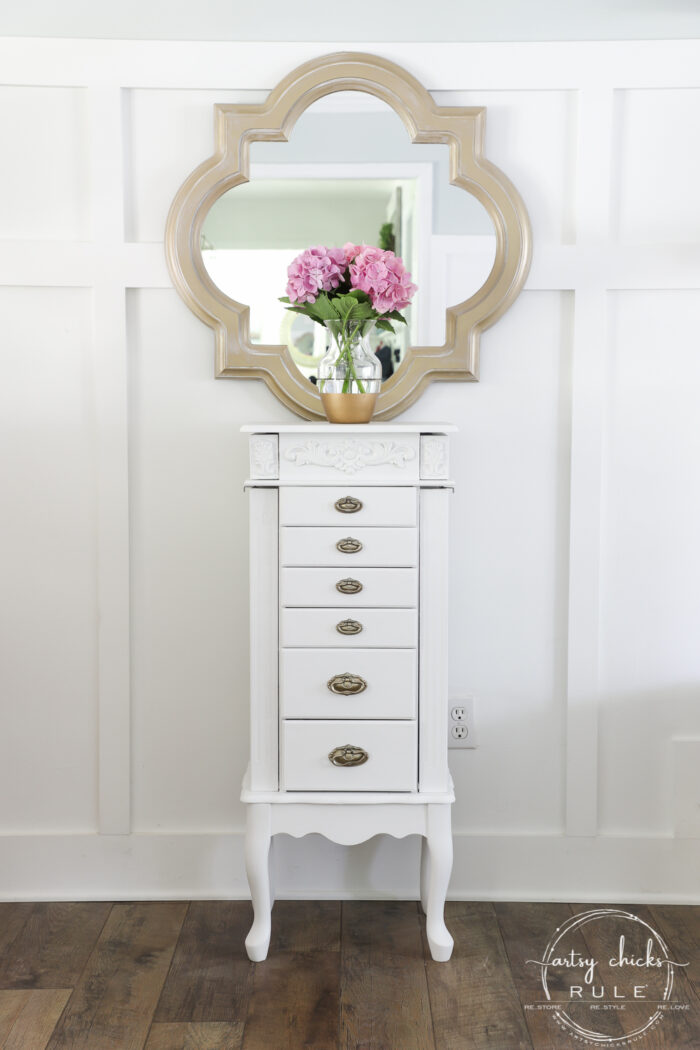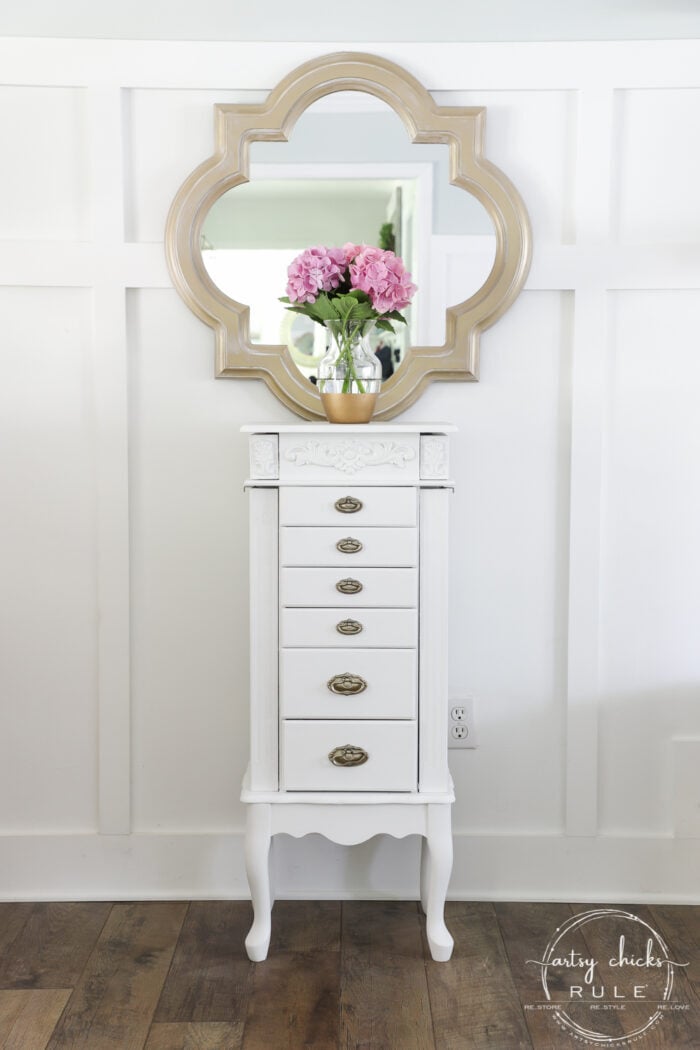 Jewelry Armoire Makeover
It started out in an orange-y oak that we all used to love so much. ;) I then painted it pink with dark wax about 10 years ago.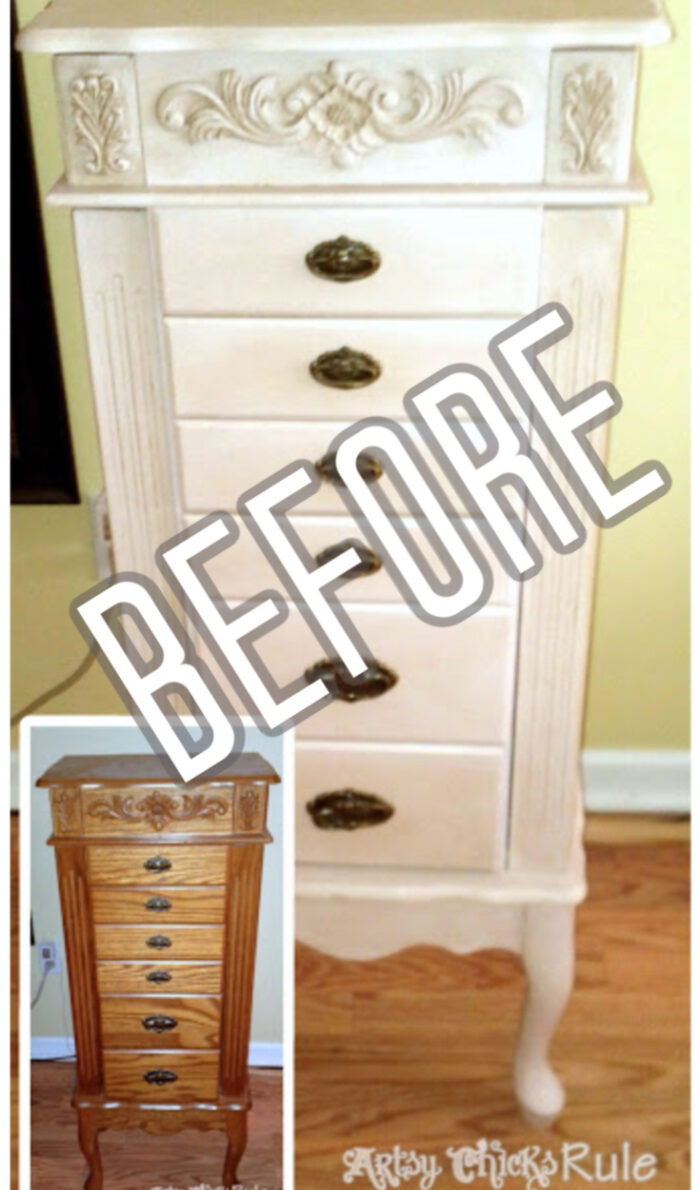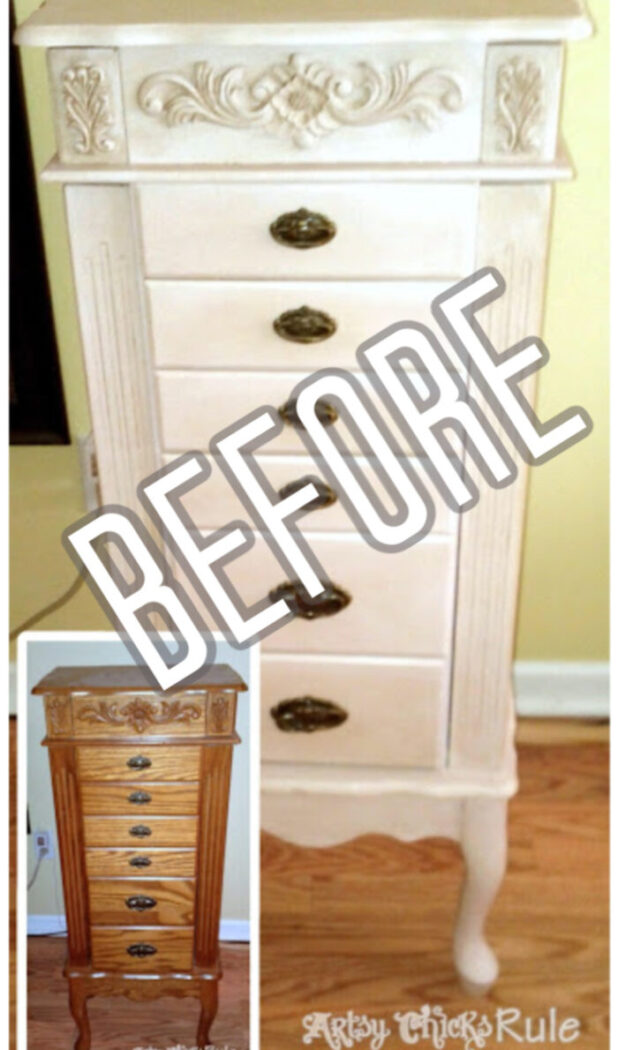 But I decided to classy it up a bit.
White and gold, always a classy choice. The hardware was sort of an antique gold but I changed them to my favorite soft gold instead.
Before I began, I unscrewed all the doors, etc. and separated each piece. Then I used a little mineral spirits to remove the wax I had applied on the first paint job. You can paint over wax with chalk paint but I don't love doing that. You can either sand or use mineral spirits to remove it.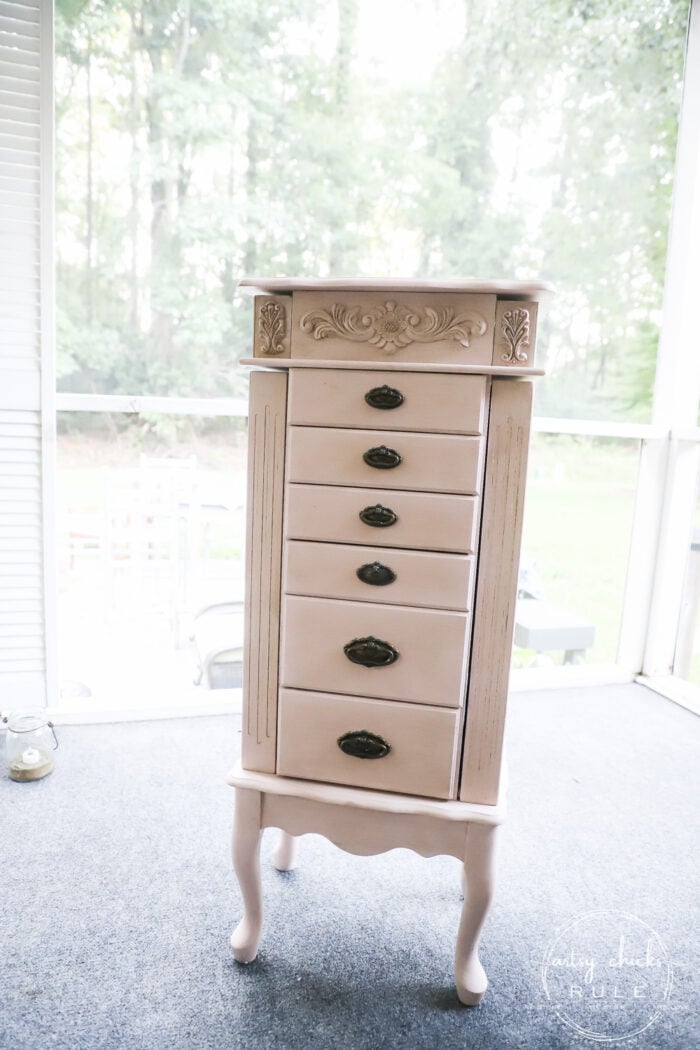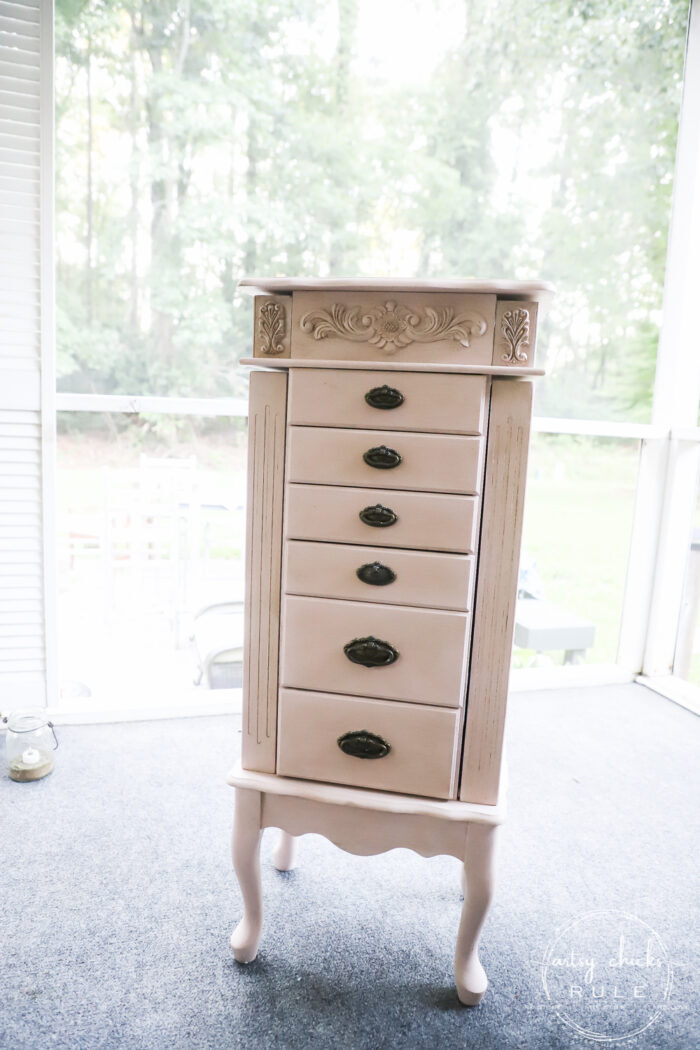 Then I gave it about 2 coats of the white.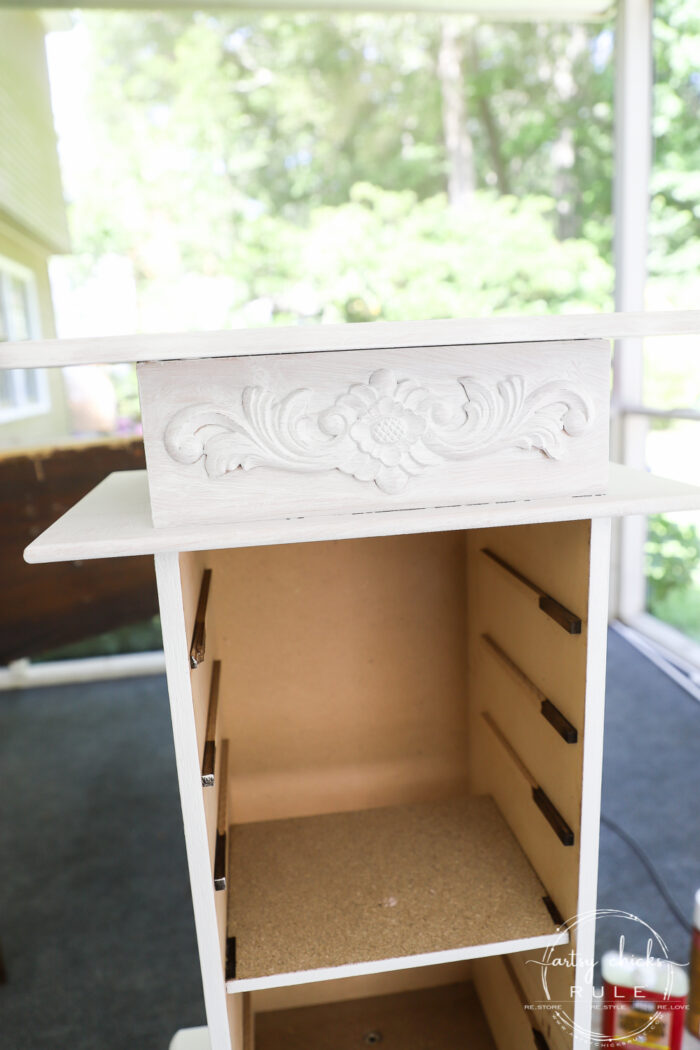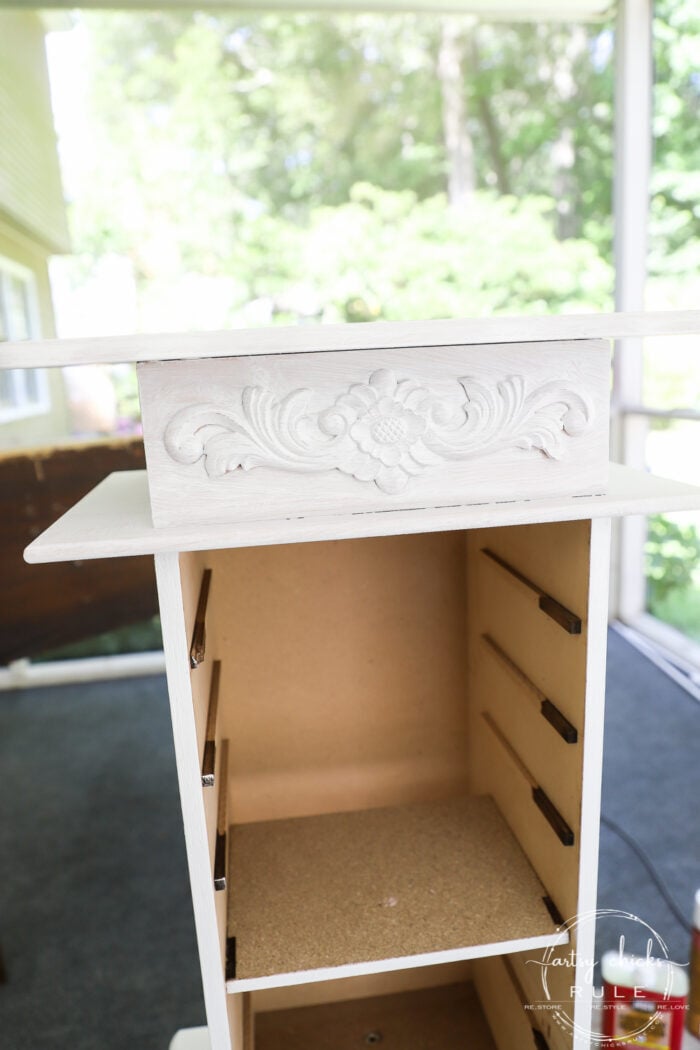 We are in the middle of a little makeover and refresh for our screened porch so it's EMPTY! Sure has been a nice working spot for me. :)
But it will be filled up again soon. haha
OH, you might have also seen in my stories over on Instagram about the strippers I was testing out. I tried Jasco spray, Jasco gel, and Citristrip again. (the Citristrip looked like the old version (more creamy than gel, like the new version so I bought it in hopes they went back to the old formula)
The Jasco works great! BUT…it is really, really stinky. Ugh.
I was out here on the porch in the fresh air and I could hardly stand to be near it. Bummer.
So, verdict…if you have something tough to remove, Jasco. Otherwise, I suppose I will have to stick with Citristrip until I find a suitable replacement. It just does not work as well as it used to. Wish they hadn't changed the formula but watcha gonna do?
Okay, back to this jewelry armoire makeover.
Once the paint was good and dry I gave it one coat of the Varathane Matte sealer. I like it but it has a bit more sheen than I think matte should have. Still nice though.
Then I screwed it all back together.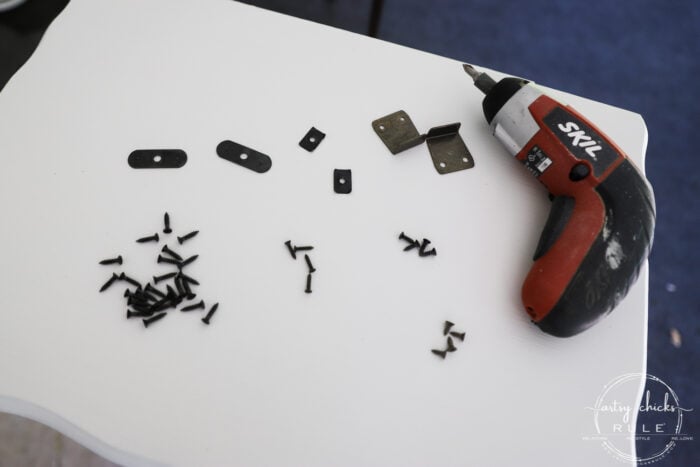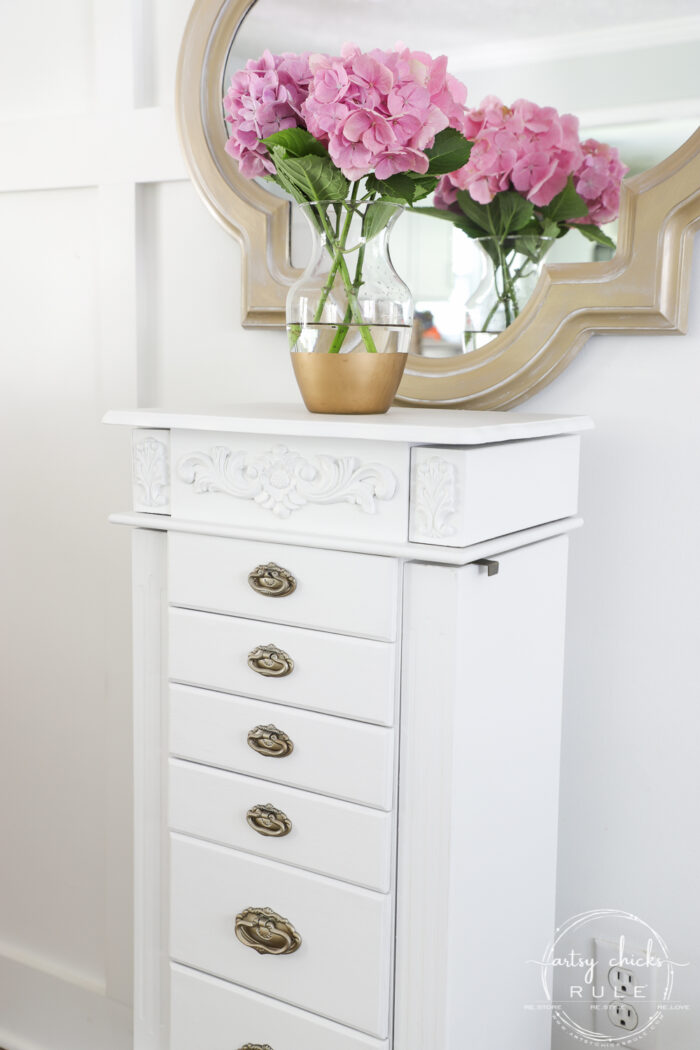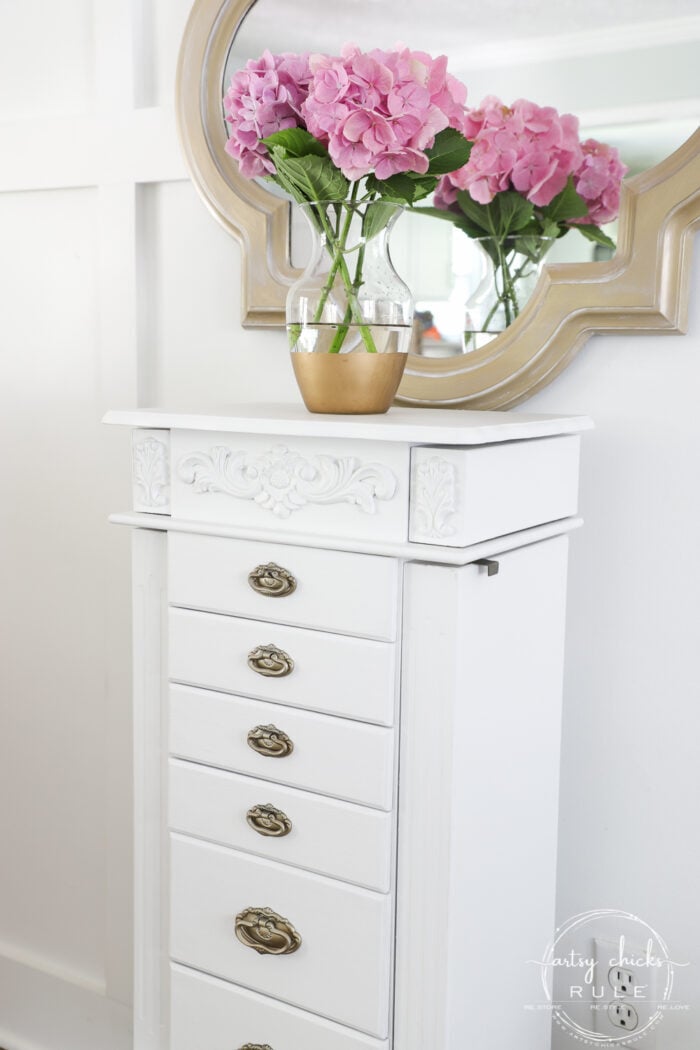 I just love that Champagne Mist gold color. So soft and elegant.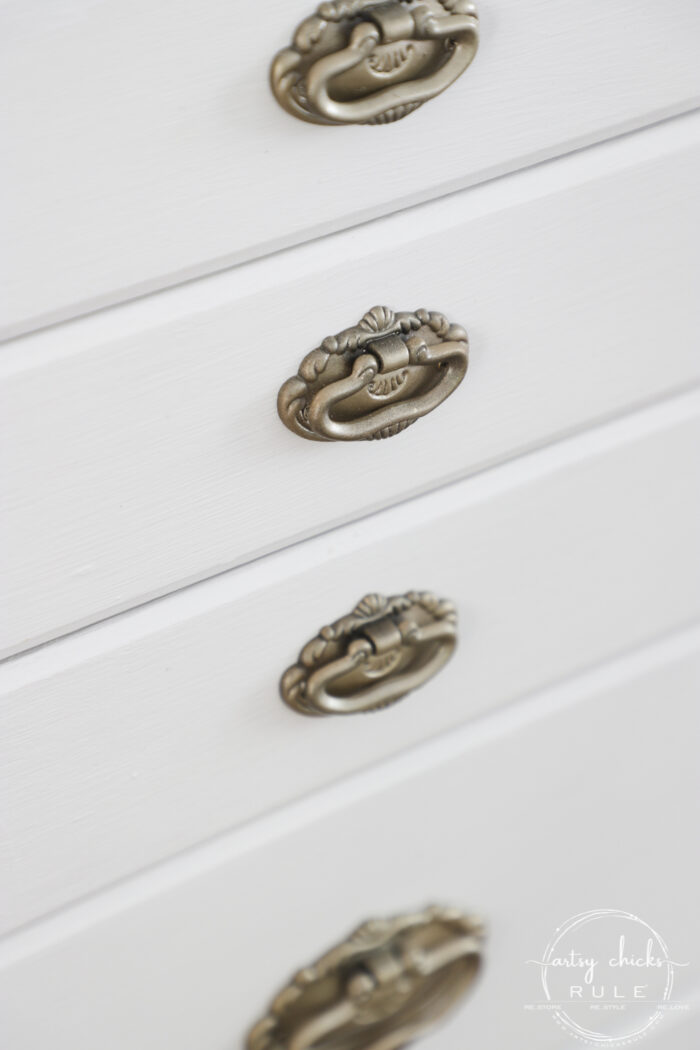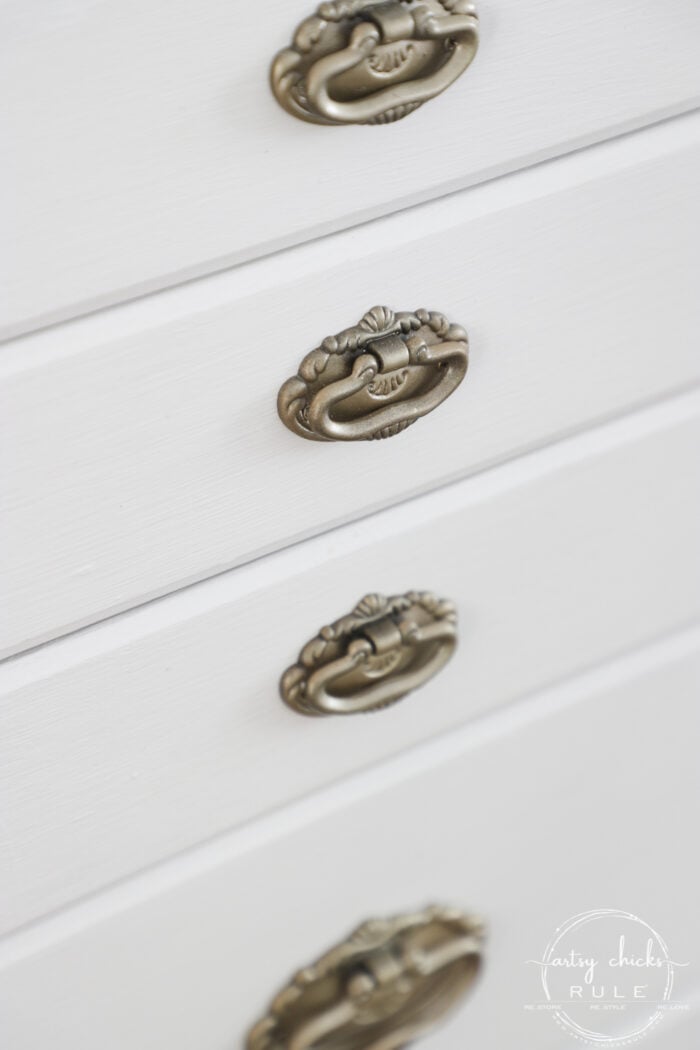 Love the nice, new clean crisp look of it. I like dark wax on some things but it can look dingy to me.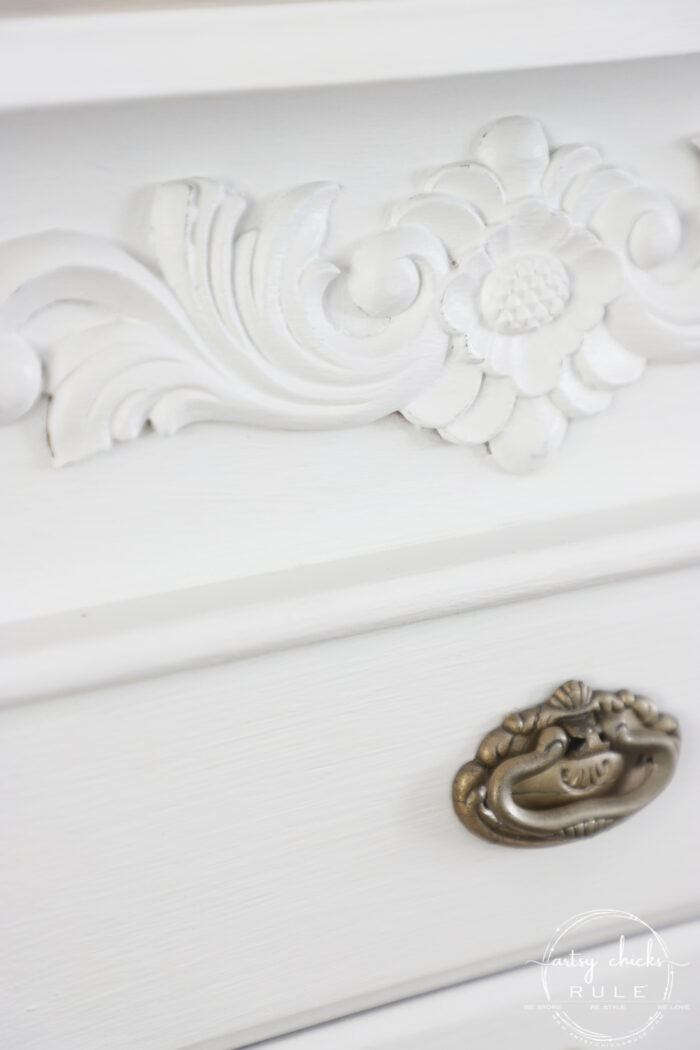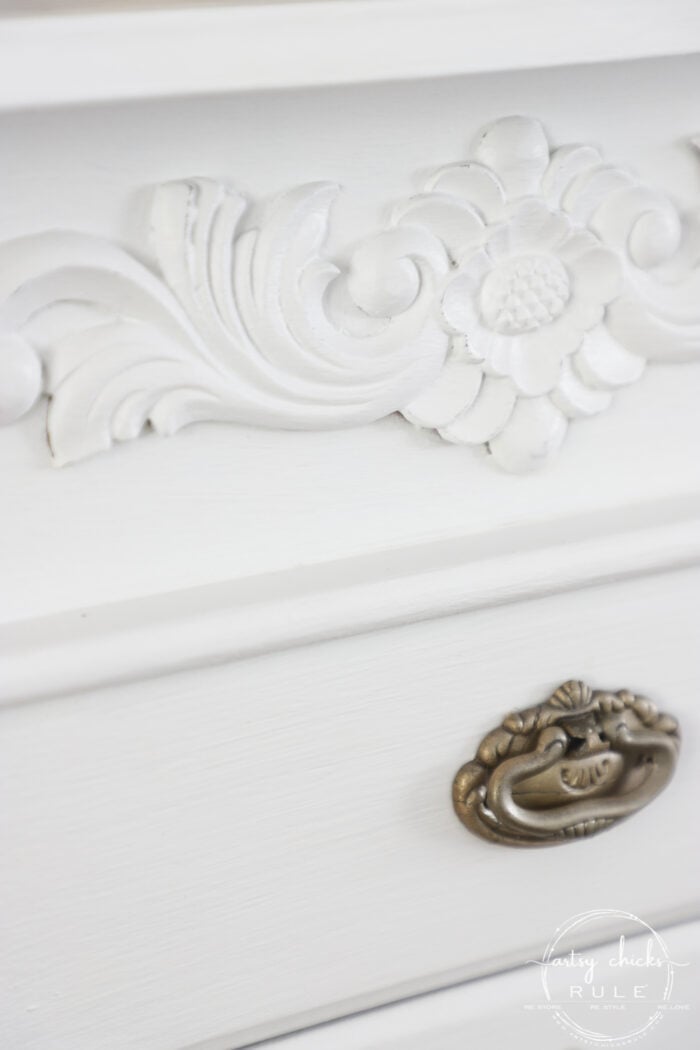 I went and cut a few hydrangea blooms off one of my bushes outside for the photo shoot. :)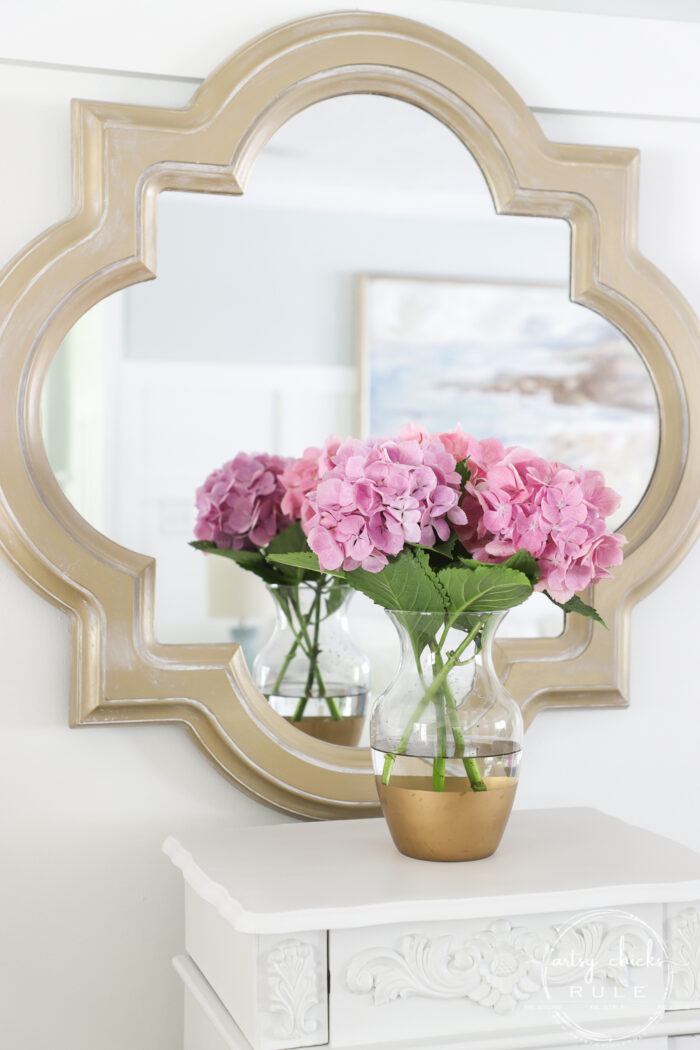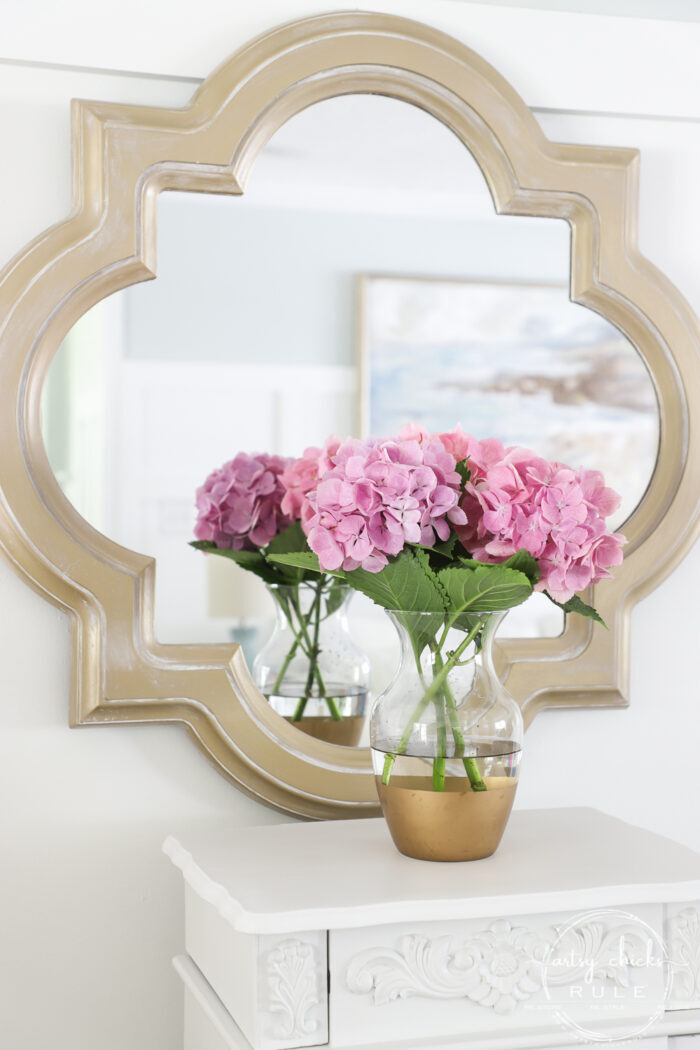 I'm so thrilled that several of my hydrangea bushes have gotten so huge with tons of blooms. I would never cut them in the past because there were never enough. The two small ones (I have 6 bushes now total) I have out front only have about 3-4 blooms each. BUT those two have the most vibrant colors of all. Dark, rich pink and then about 4 feet over, dark, rich blue-purple…my favorite. I can't wait till they get bigger!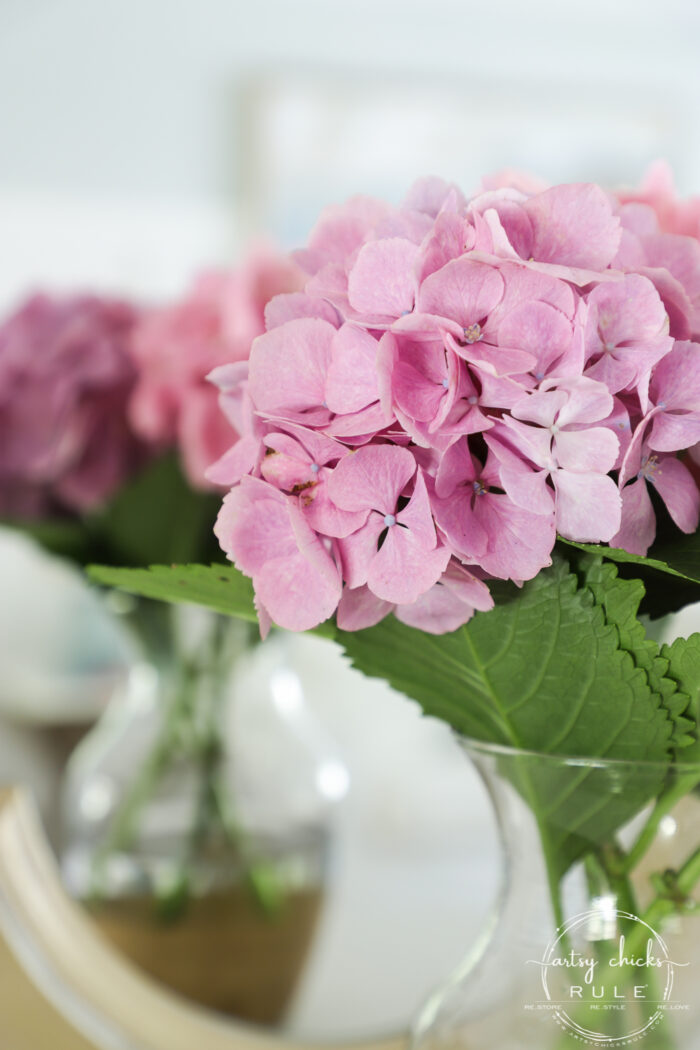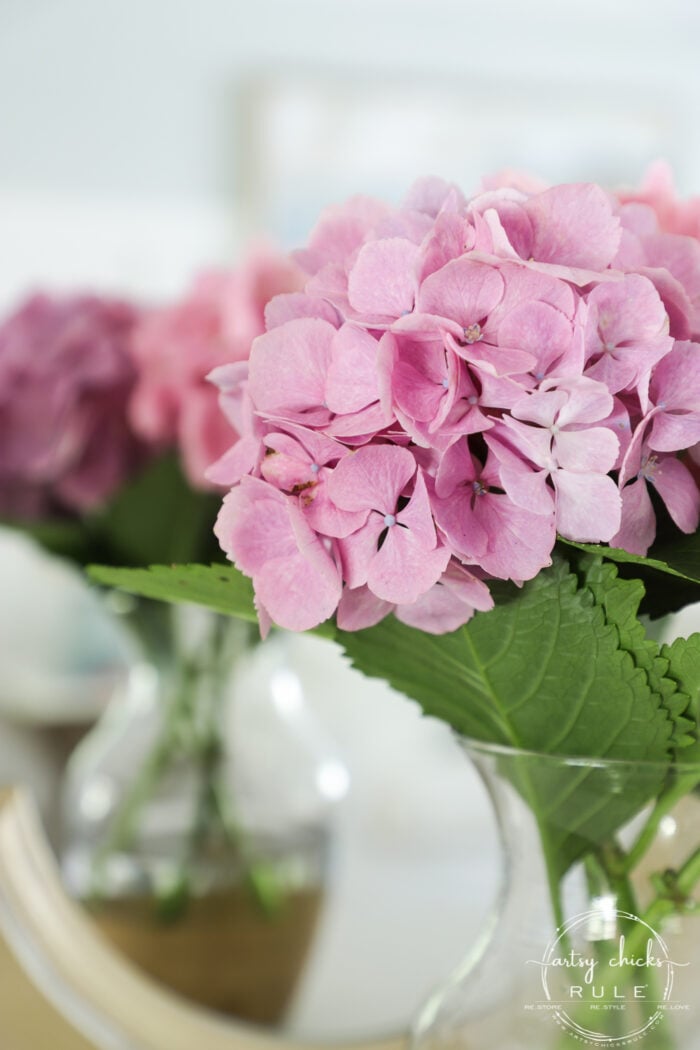 White and gold, classy, and elegant. Such a nice change for this little jewelry armoire.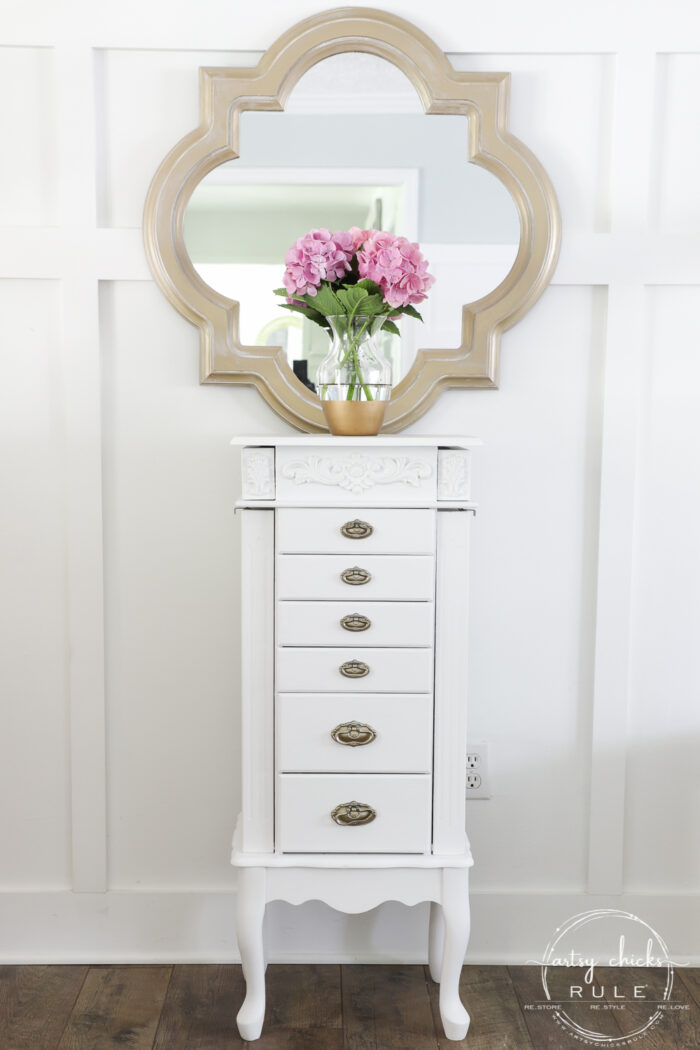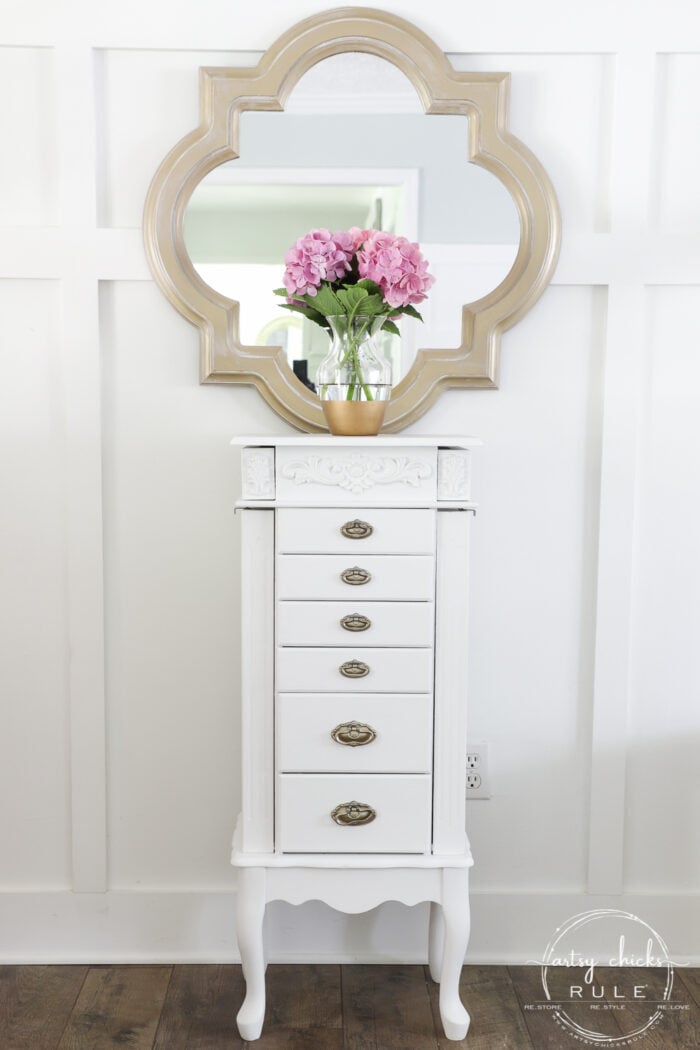 Reinvent your old furniture and stuff…really just anything you don't love the look of anymore. Reimagine it before you toss it!
I'd bet you can absolutely relove it.
PIN it to save it!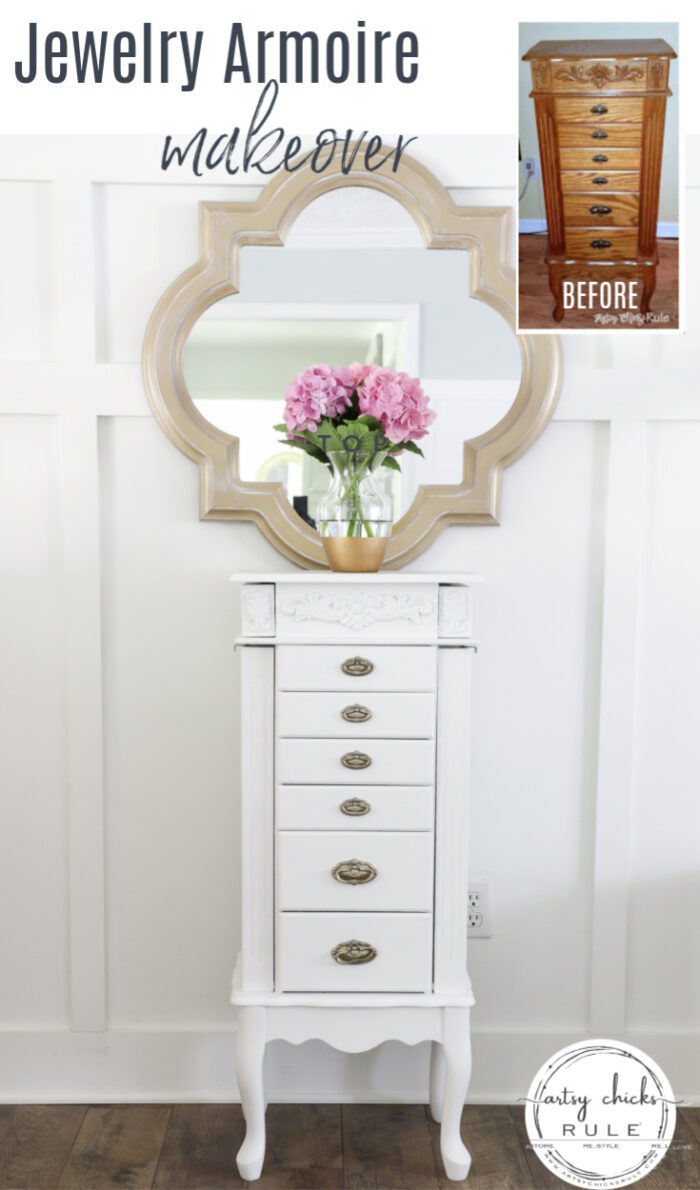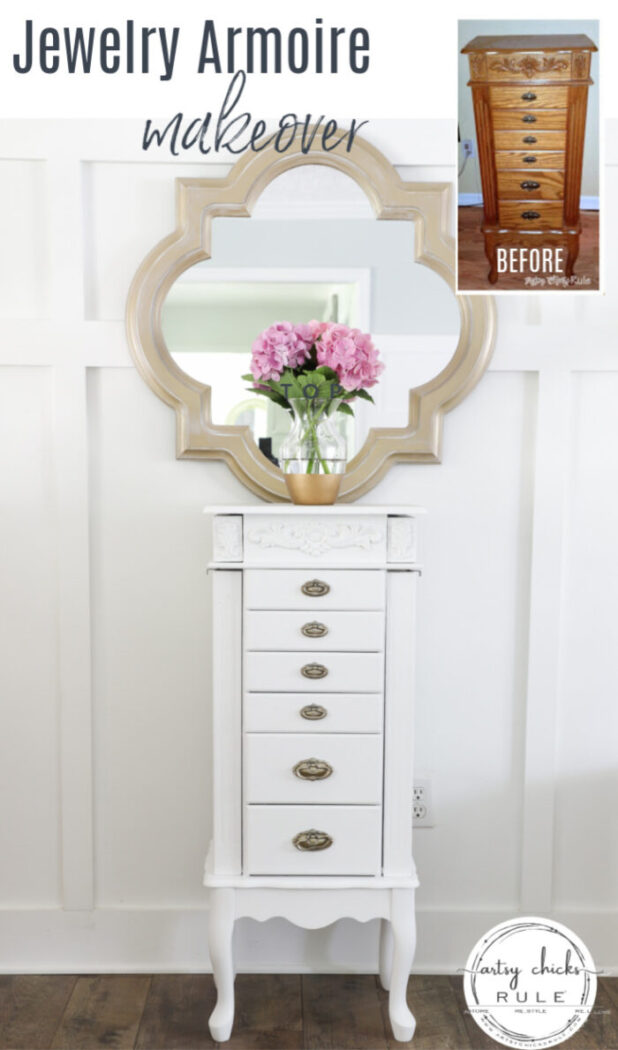 Have a wonderful week!
This is what I'm tackling next…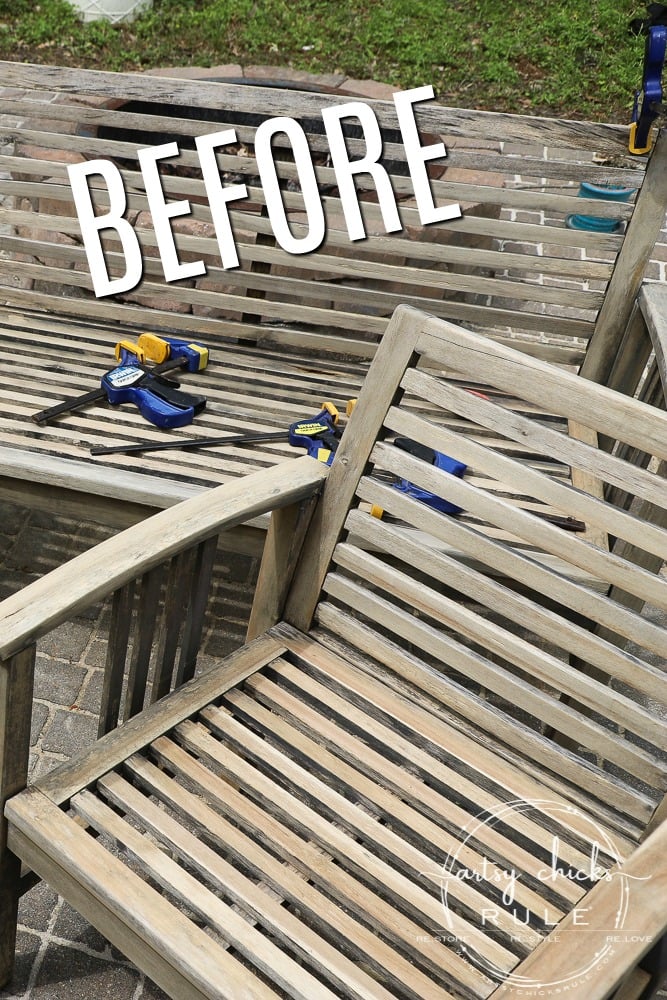 UPDATE!! See how this set turned out now, here!
I'll see you back here on Thursday I hope with my next haul finds. Can't wait!!
xoxo