Fall Front Porch (plum, ivory and orange)
This post may contain affiliate links. Please see disclosures here.
Sharing my fall front porch full of plum, ivory, and even a little bit of orange!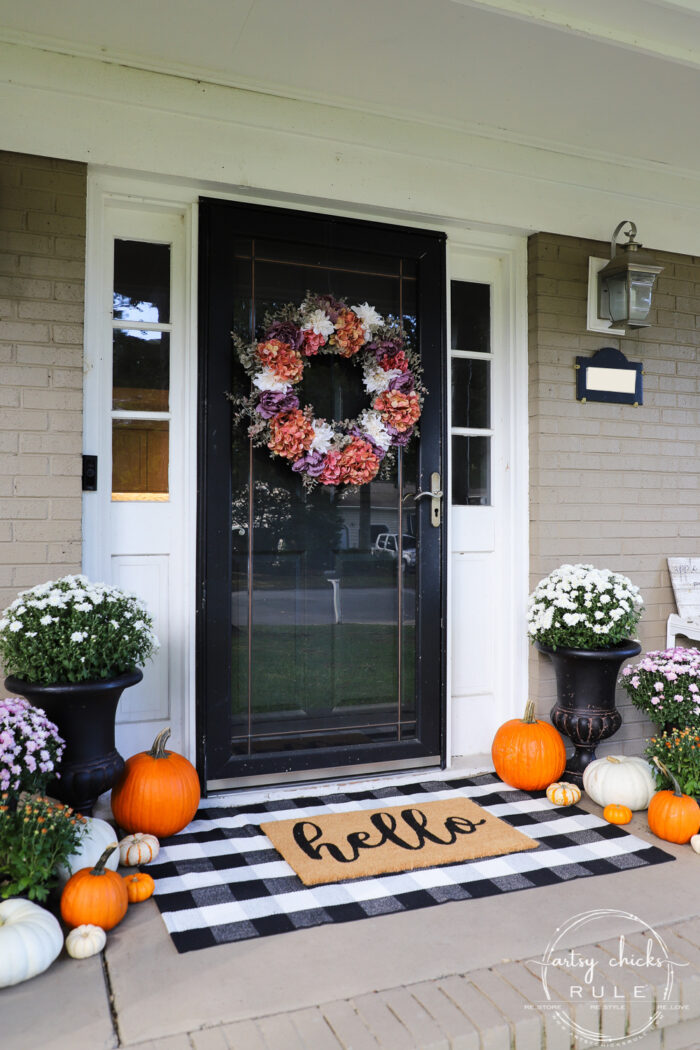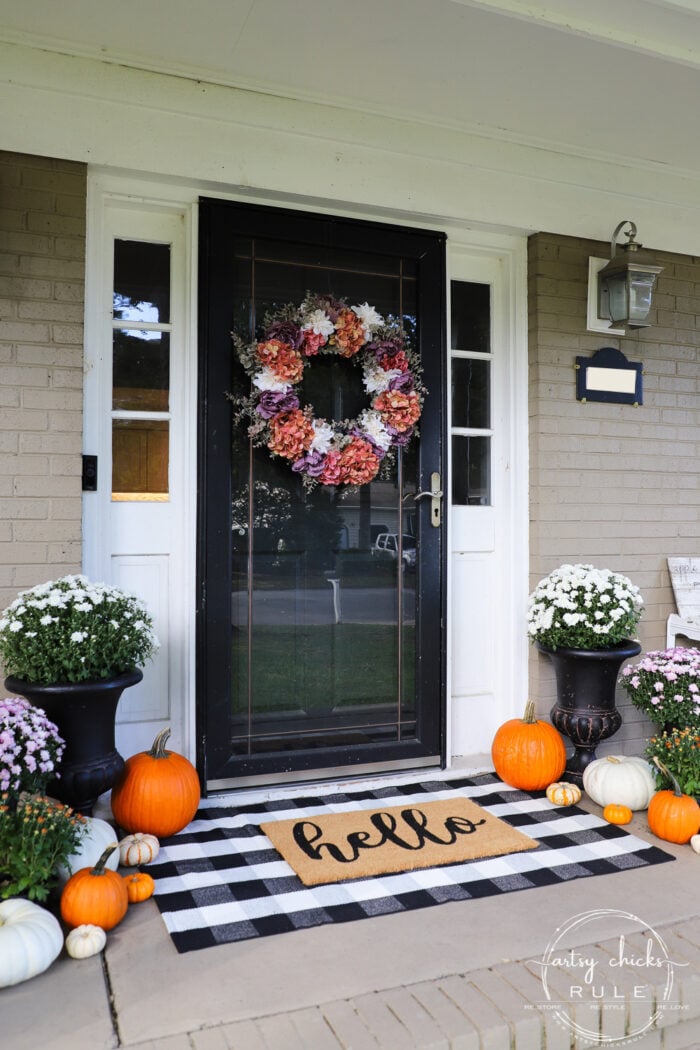 Hello, friends!
I'm finally sharing our fall front porch now that we are into October. ;) Oh well, better late than never!
I don't really do a lot of decorating for Halloween so this will stay up until I get to the holiday decorating so I do still have some time to enjoy it. How about you? Do you decorate for Halloween or only fall?
Anyway, let me show you a little of my fall decorated front porch. The very most I have ever decorated it for fall…ever. And I'm really enjoying it.
I love this mat I picked up at The Home Depot layered on top of the black and white buffalo check rug. (I'll link everything I used at the bottom of this post…scroll down to get em)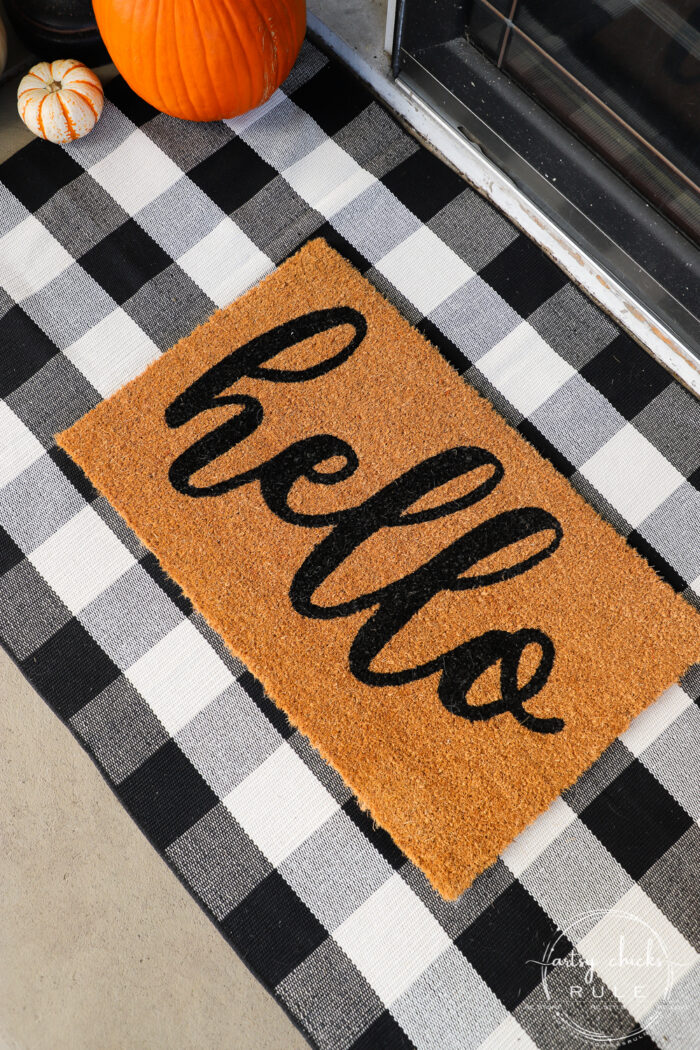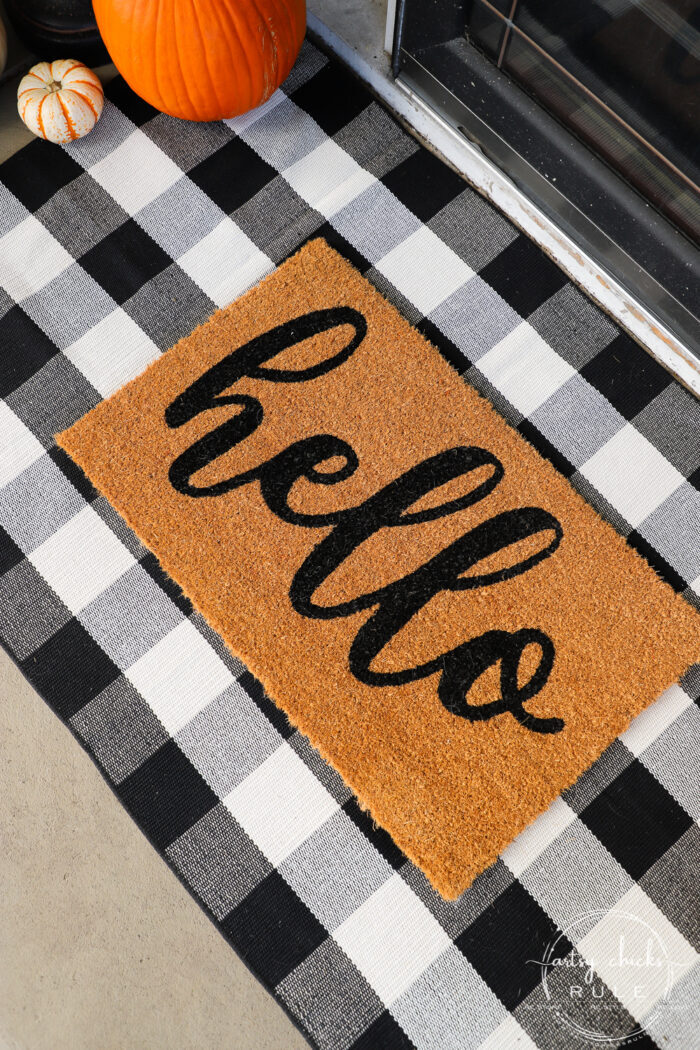 Looks so festive with just those two things alone.
And loving how the "welcome" sign I made recently looks with it all.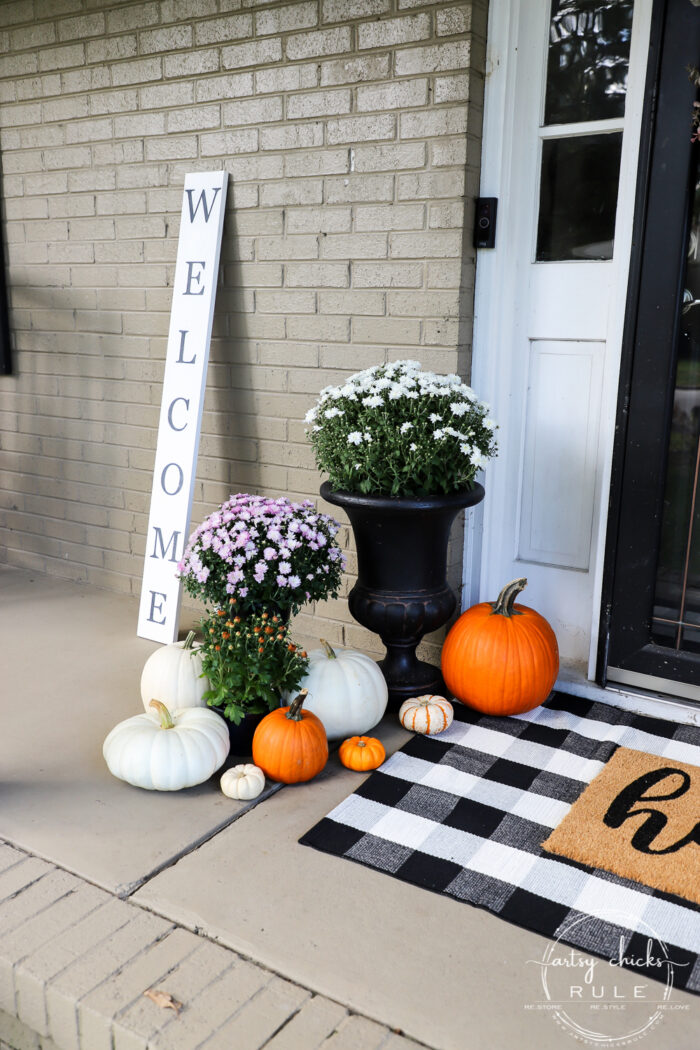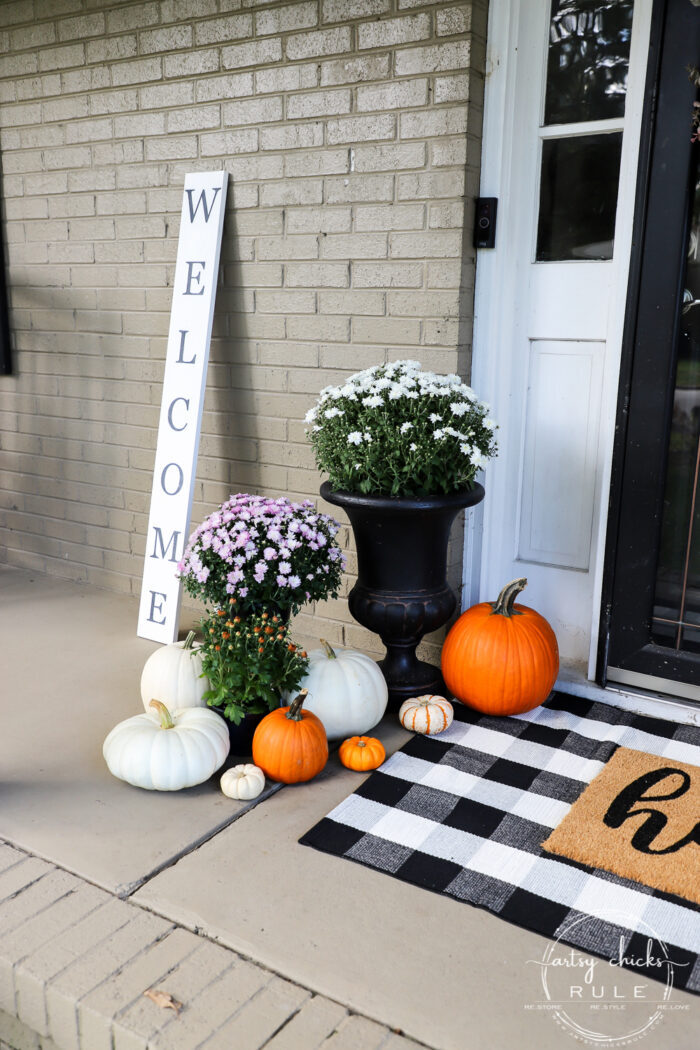 By the way, my mums did not cooperate and bloom (the orange ones down front) for me but I figured I needed to share before fall was over! lol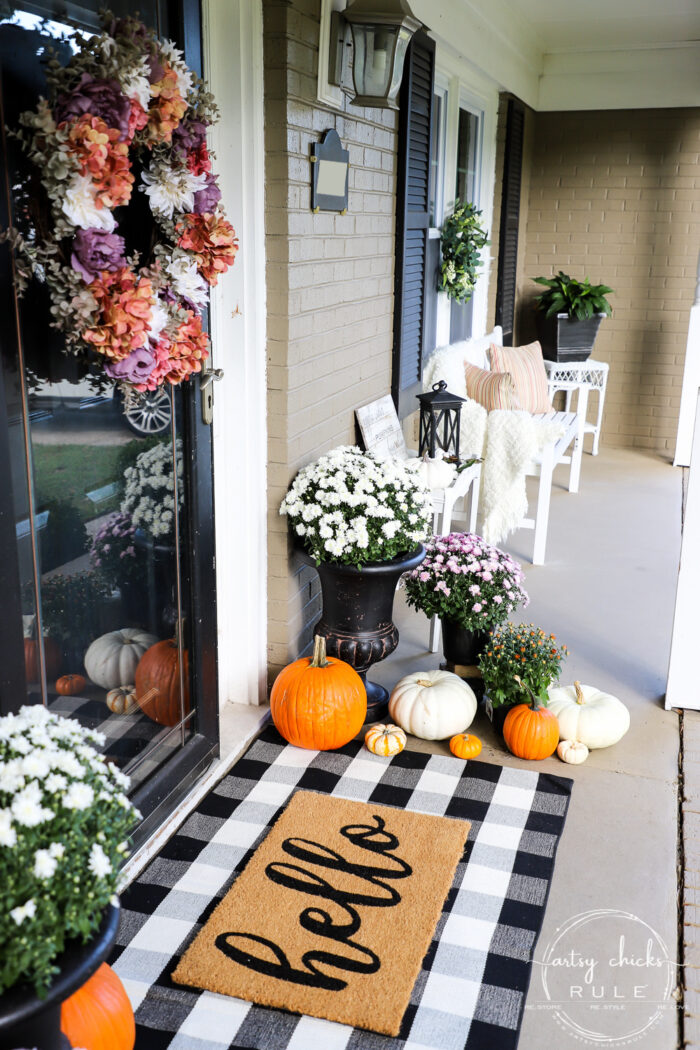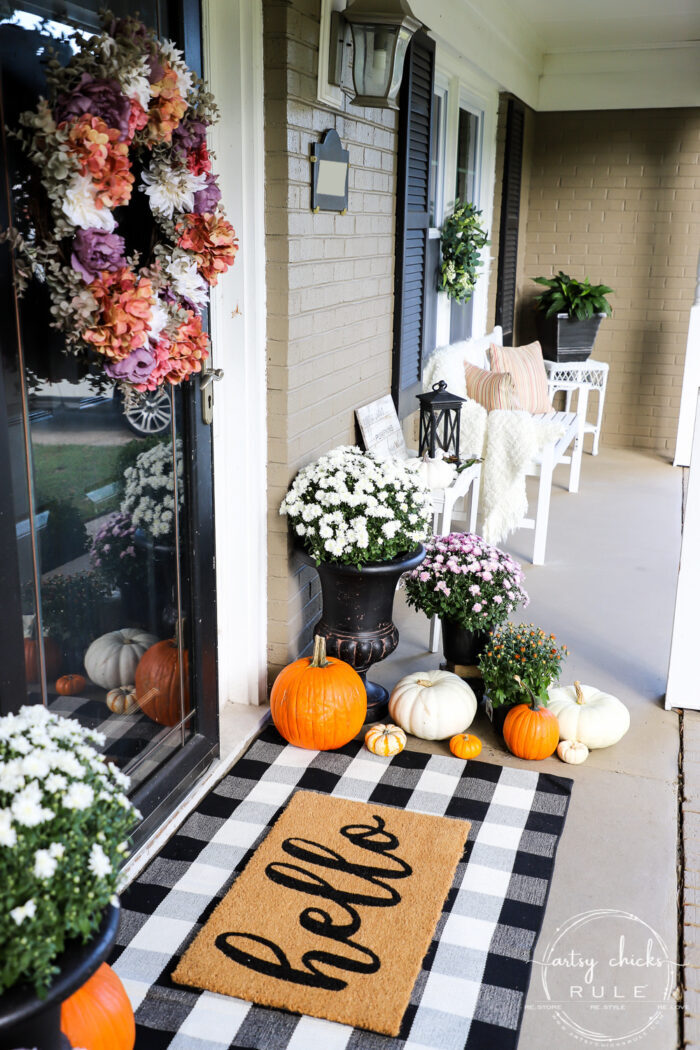 Remember this sign from a few years ago? You can get all the details >>> here.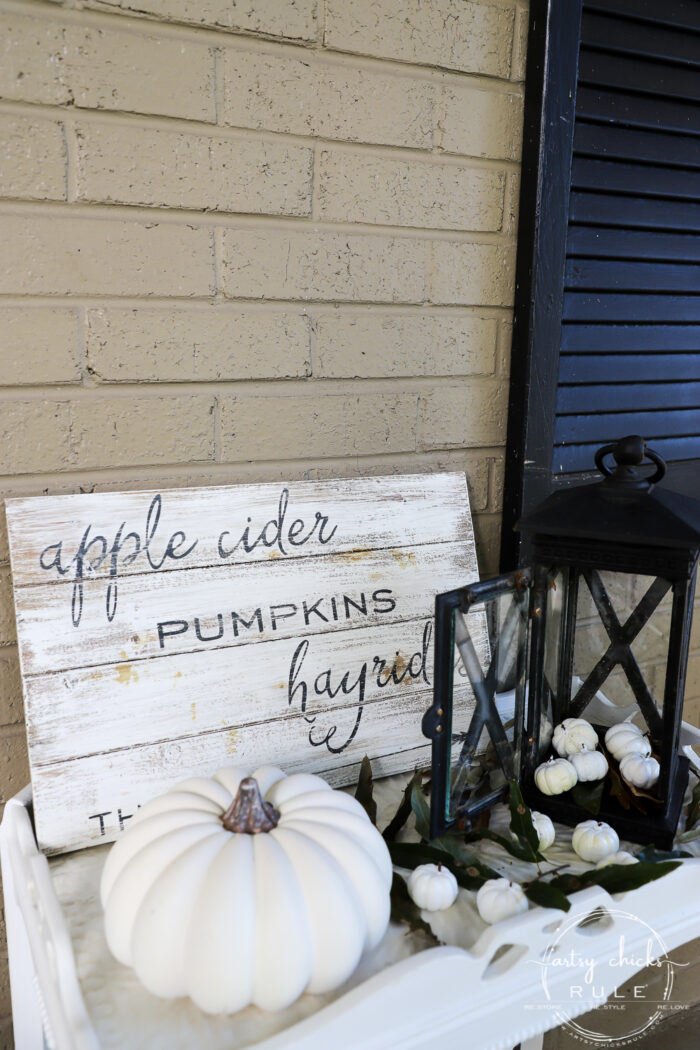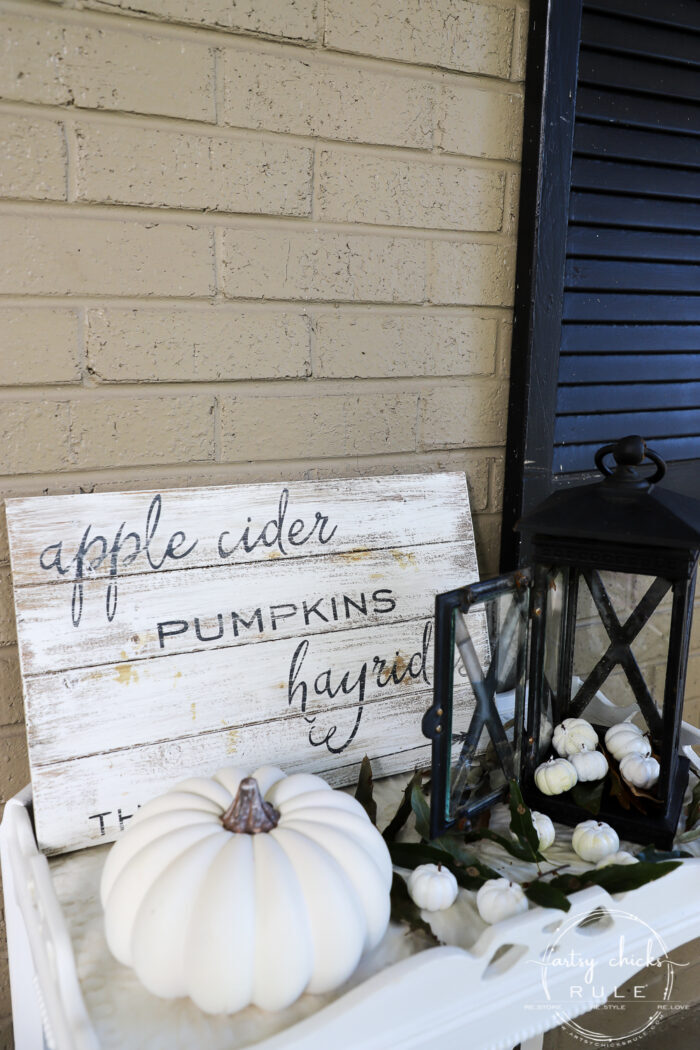 I found a few branches with leaves on the ground and used those as filler around those small pumpkins and the lantern.
Oh…and the table it's sitting on is this one.
We found this bench at TJ Maxx a couple of years ago. The pillowcases are new and are just covering my usual spring/summer pillows.
I put two of these wreaths on each side of the porch on the windows. (new windows, yay!)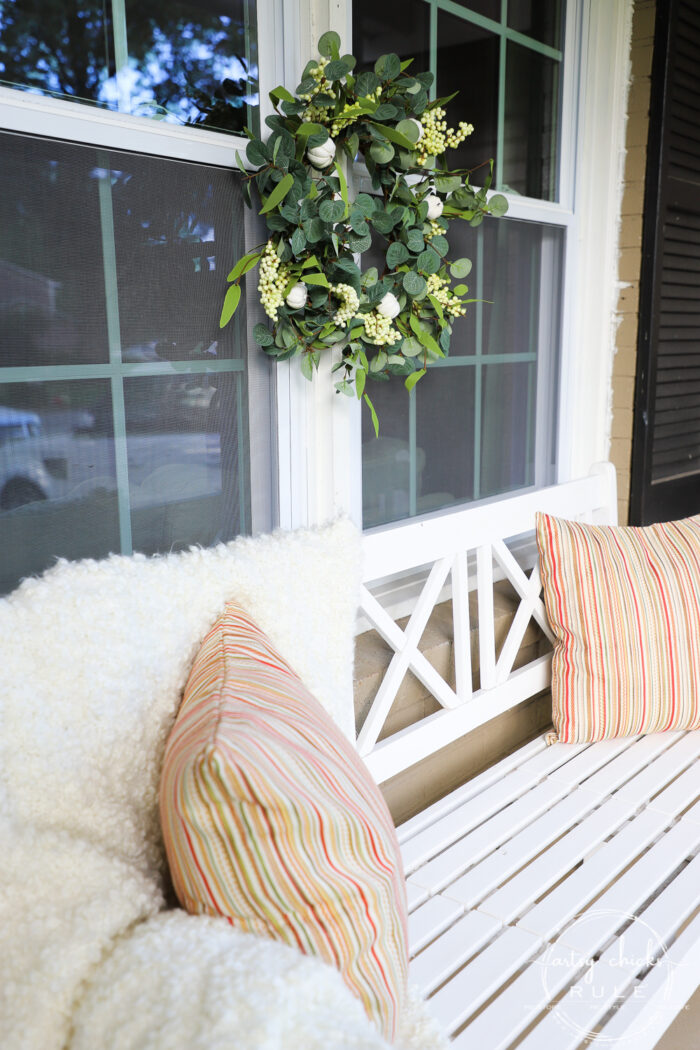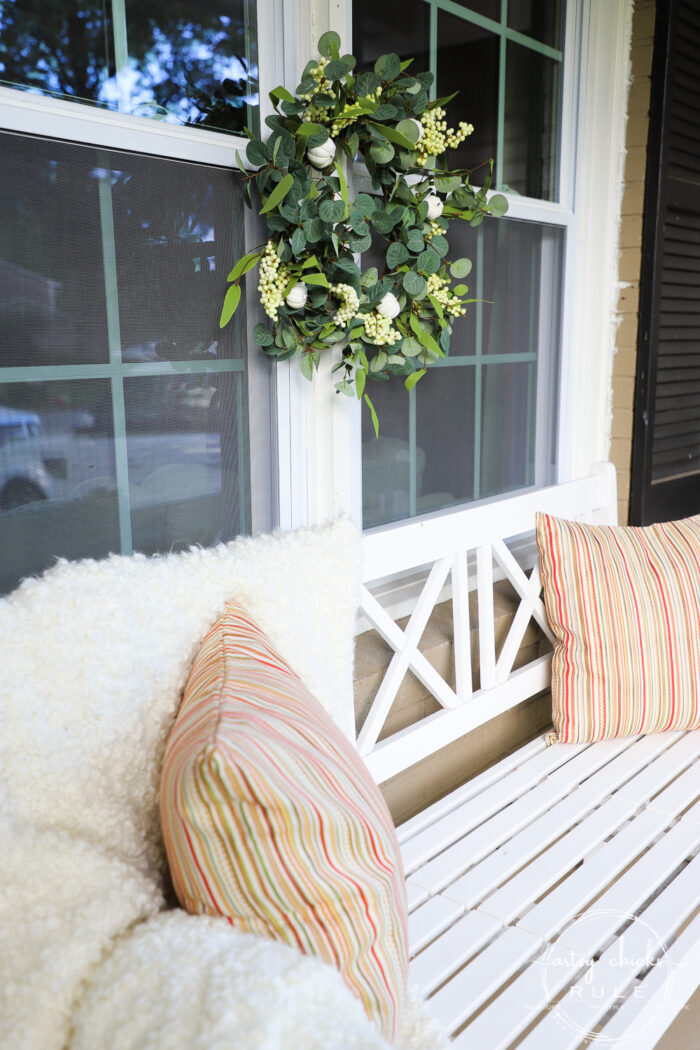 But first I added more of the small pumpkins. (that started out orange but I painted white)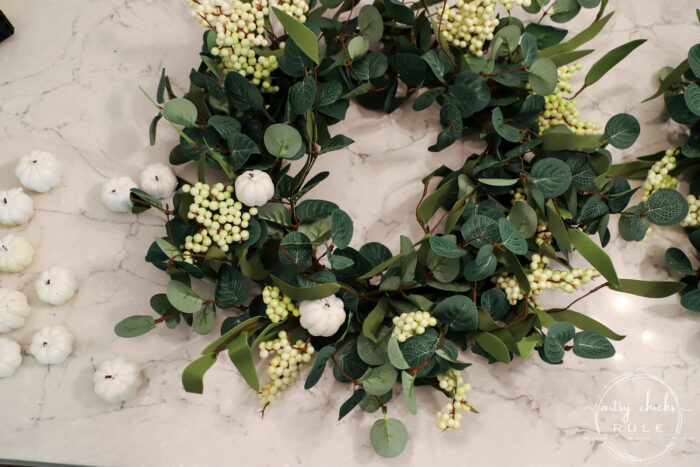 The other one here and two more new pillowcases. (old windows, boo! haha…these are going soon)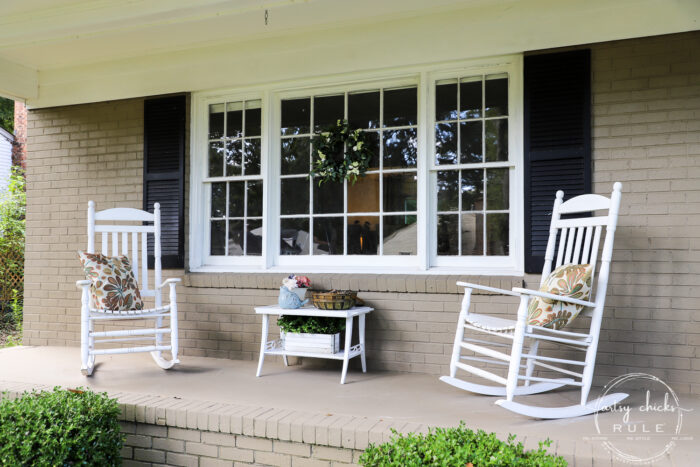 You might remember that table too. It's the tile top table I did and it sits out here.
You can find all the details on it >>> here.
And how about that basket? Does it look familar?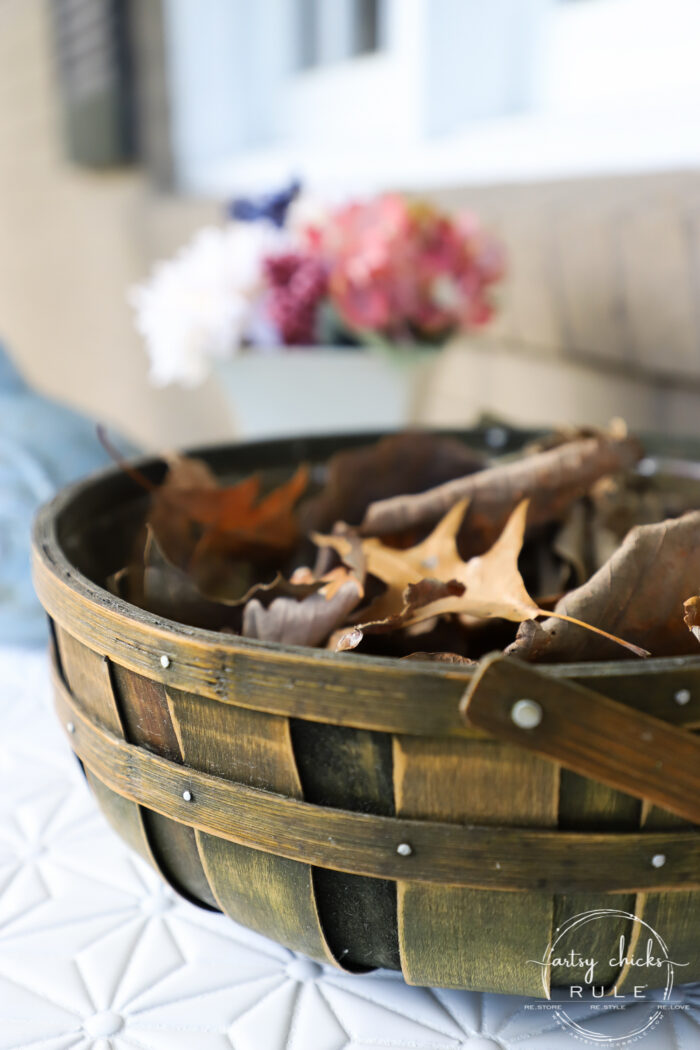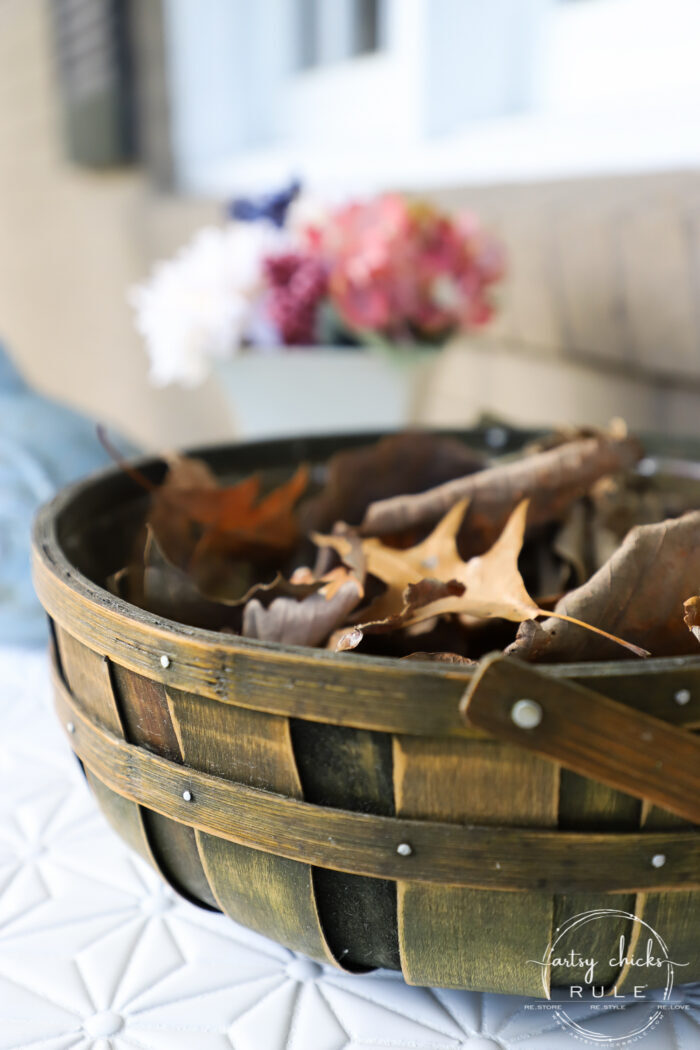 Yep, it's part of my recent haul.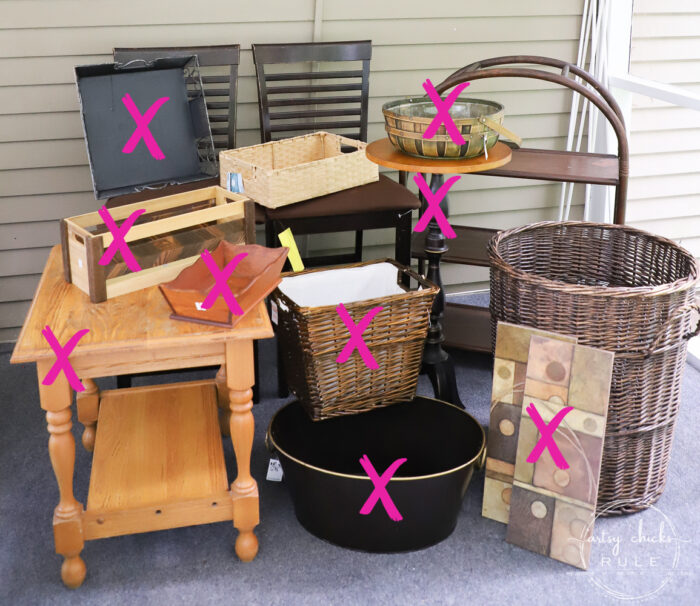 Told y'all I'd probably leave this one as-is and just use it for my fall decor…and I did!
I loved the color and just ended up walking around my yard collecting fall leaves to fill it with.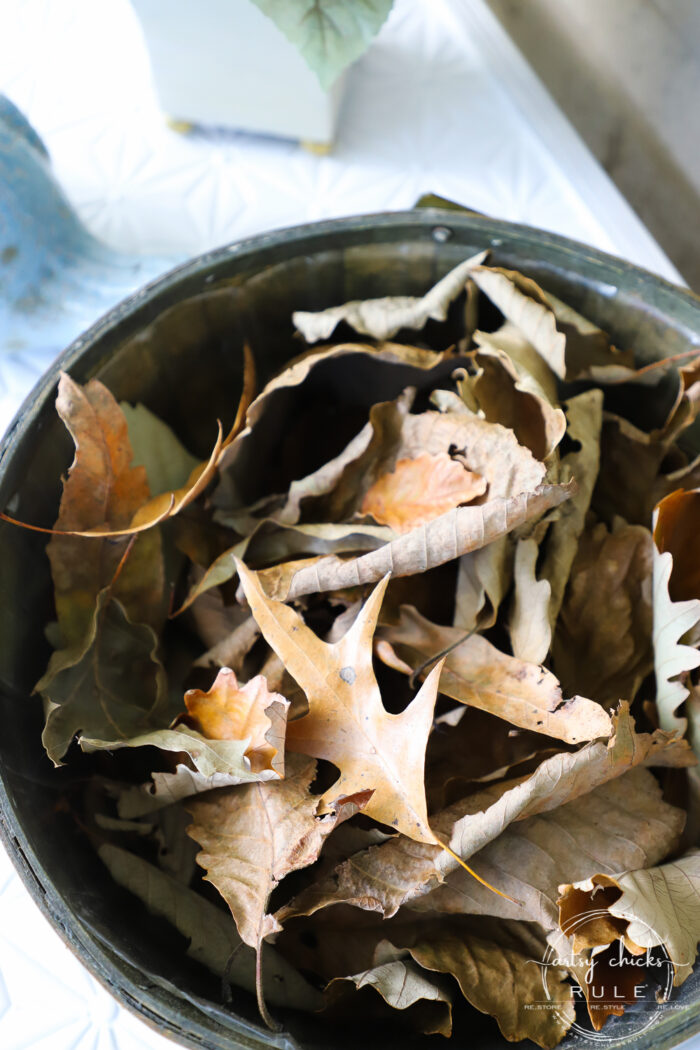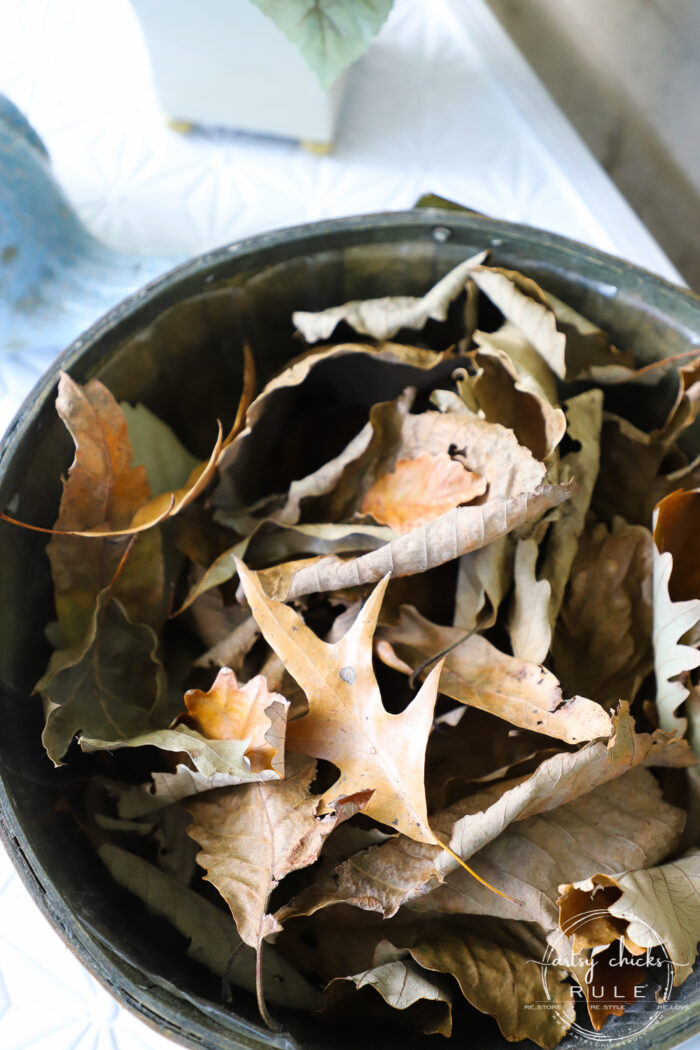 And a close up of these pretty pillows.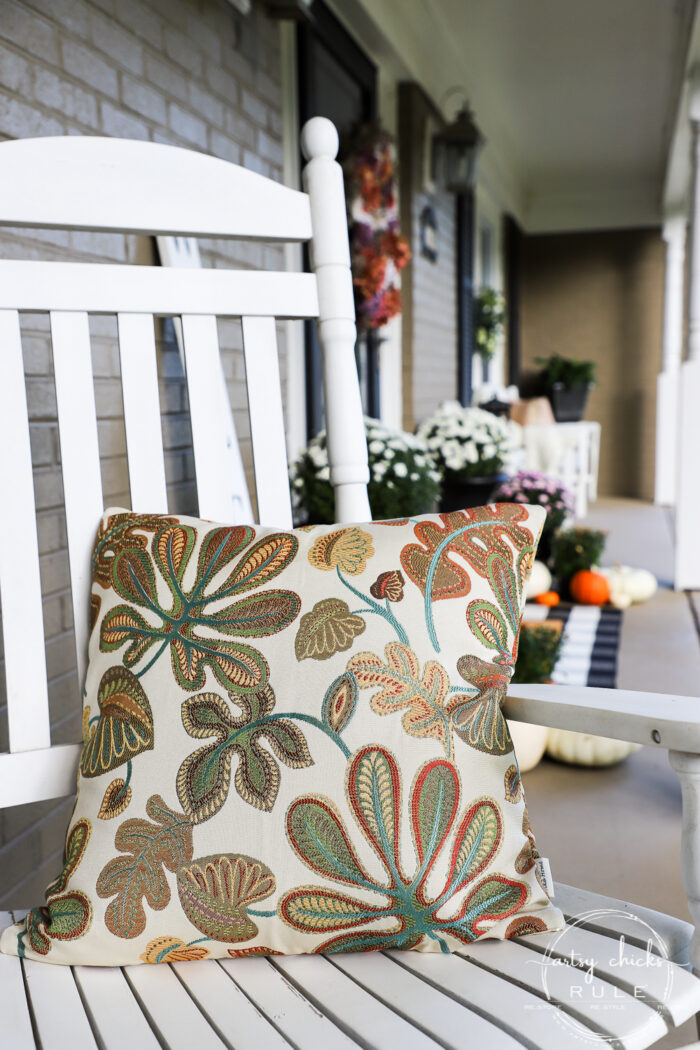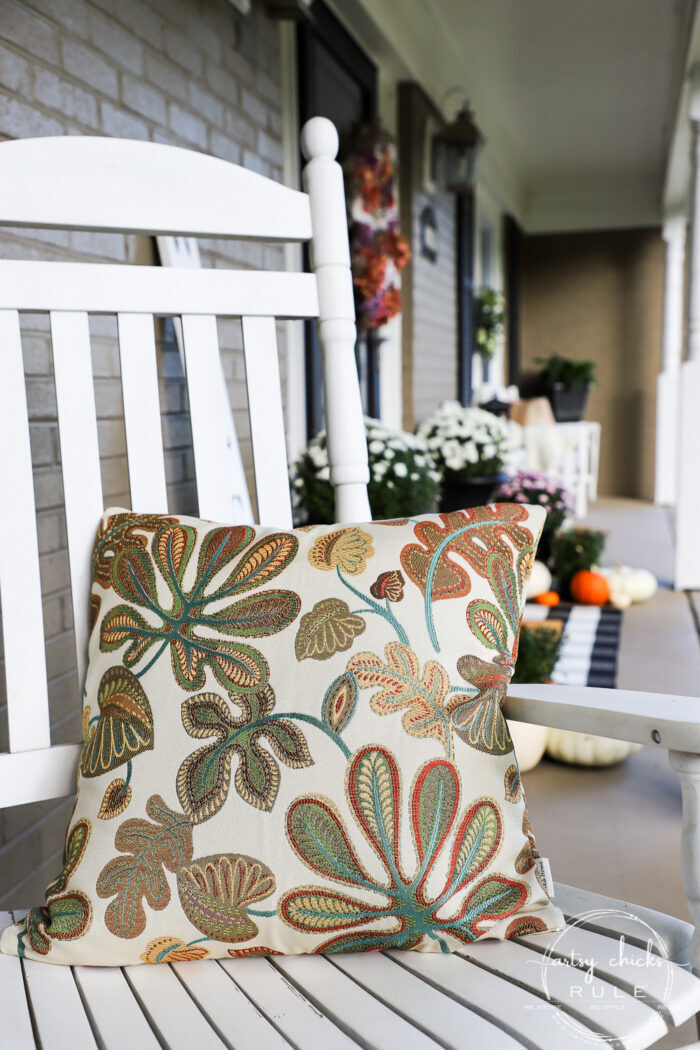 Perfect fall colors.
A new fall flag right at the steps of our porch.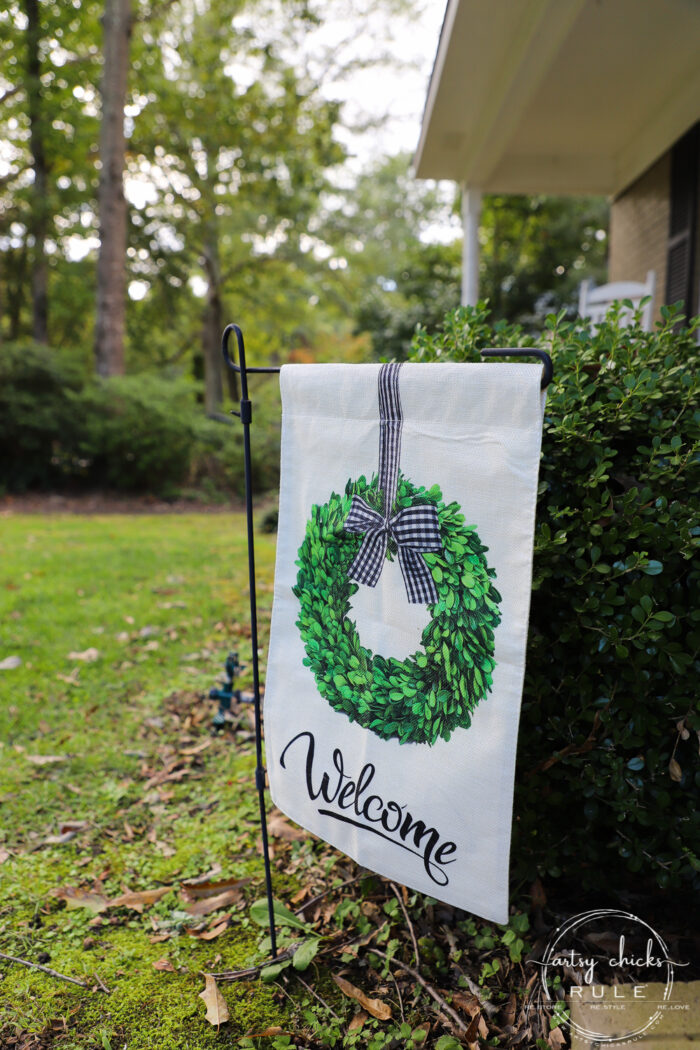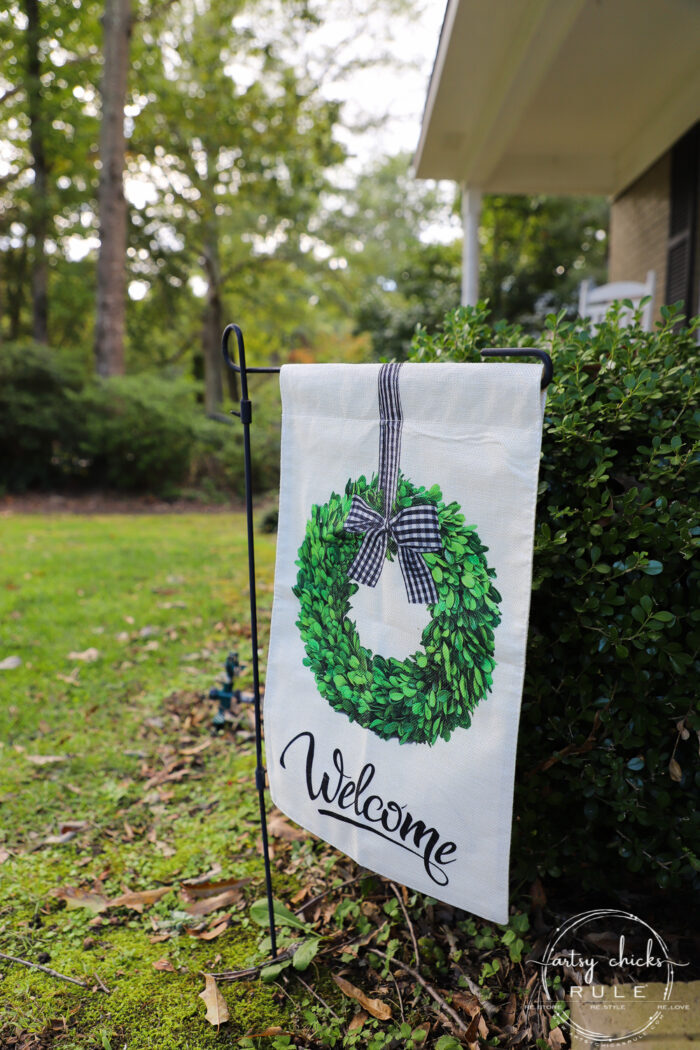 I hope you enjoyed a little peek at our fall front porch.
Hoping to have a new front door/sidelites someday soon. It actually doesn't look quite as bad in the photos as it does in real life..thank goodness! ;)
But 40+ years is wearing on it!
SOURCE LIST for some of what I decorated with:
There are a couple of "similar" items because I couldn't find the exact ones online.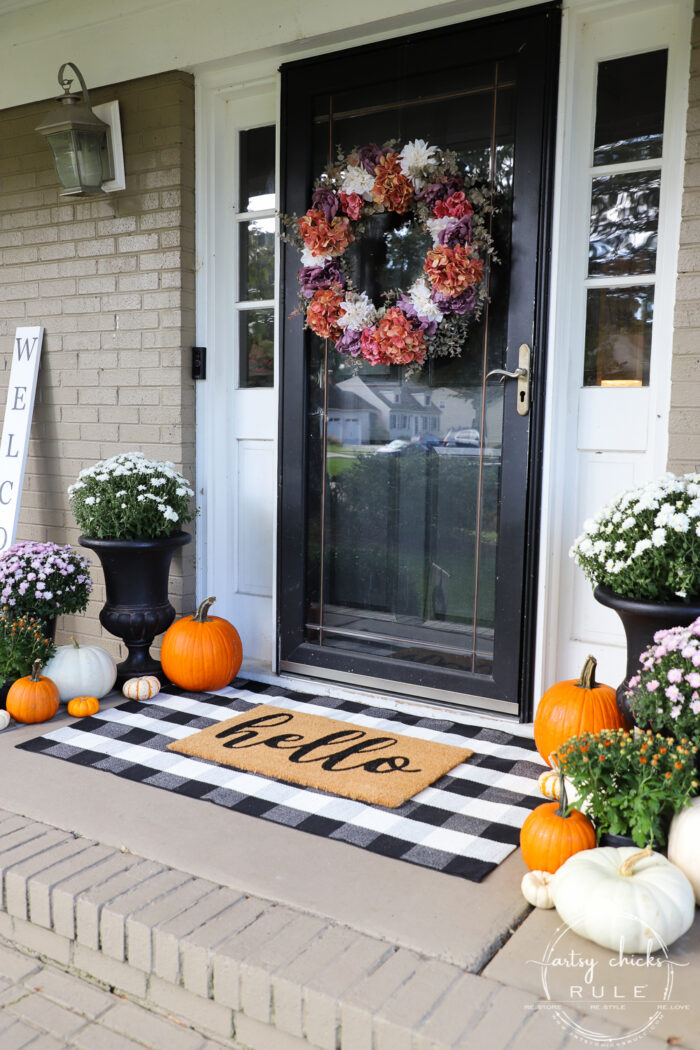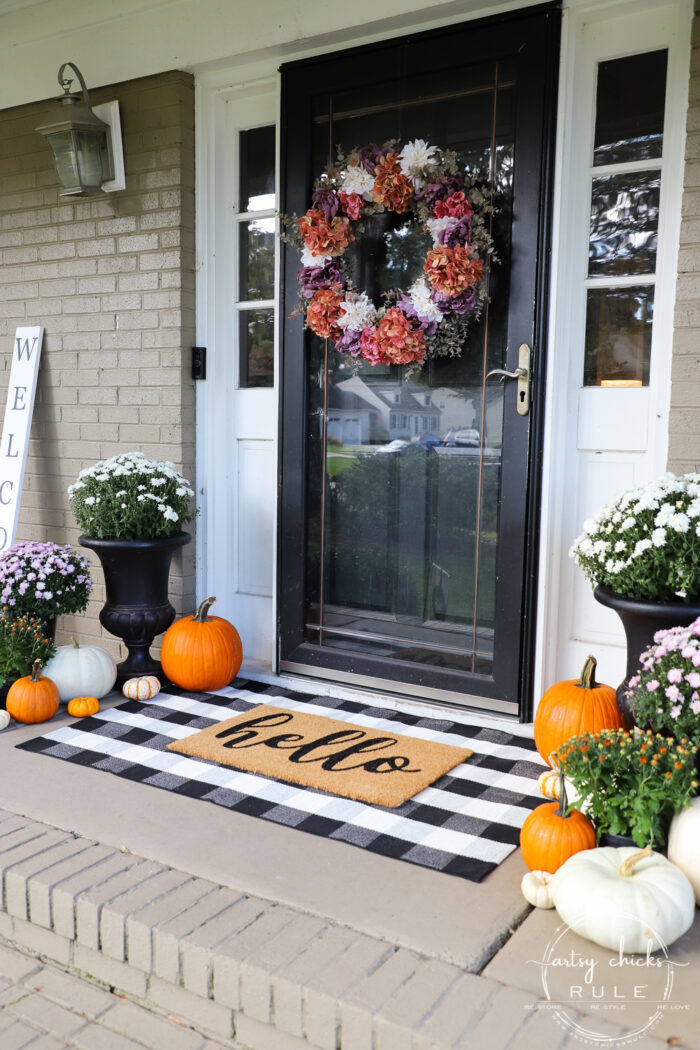 And I also put a few "fall" things in our home too. Thought I'd just share them here today with the porch.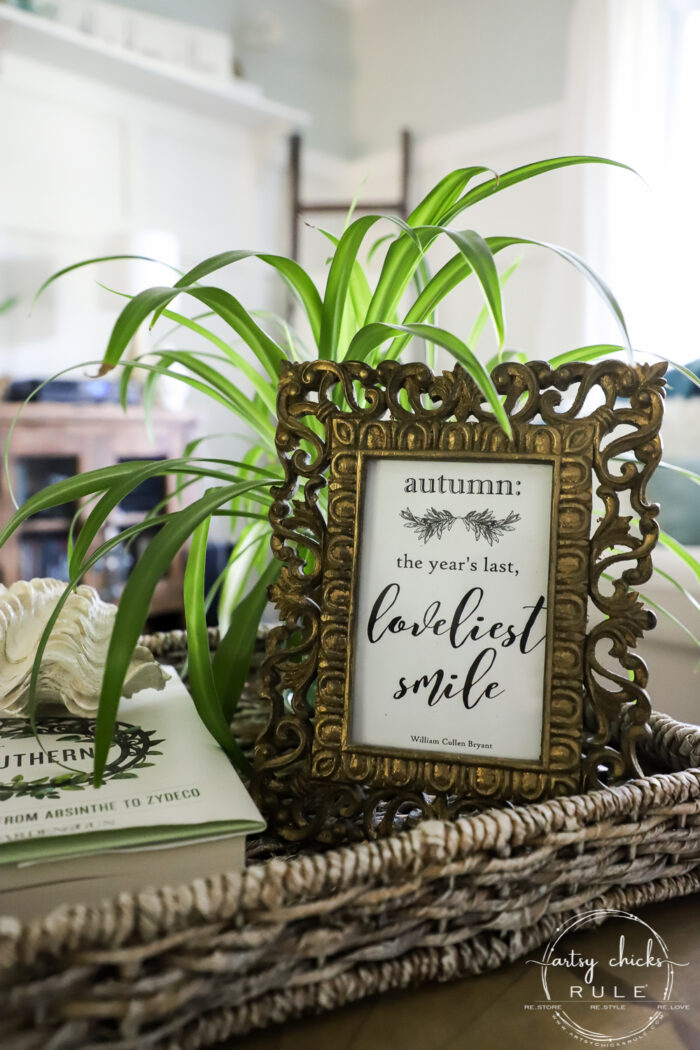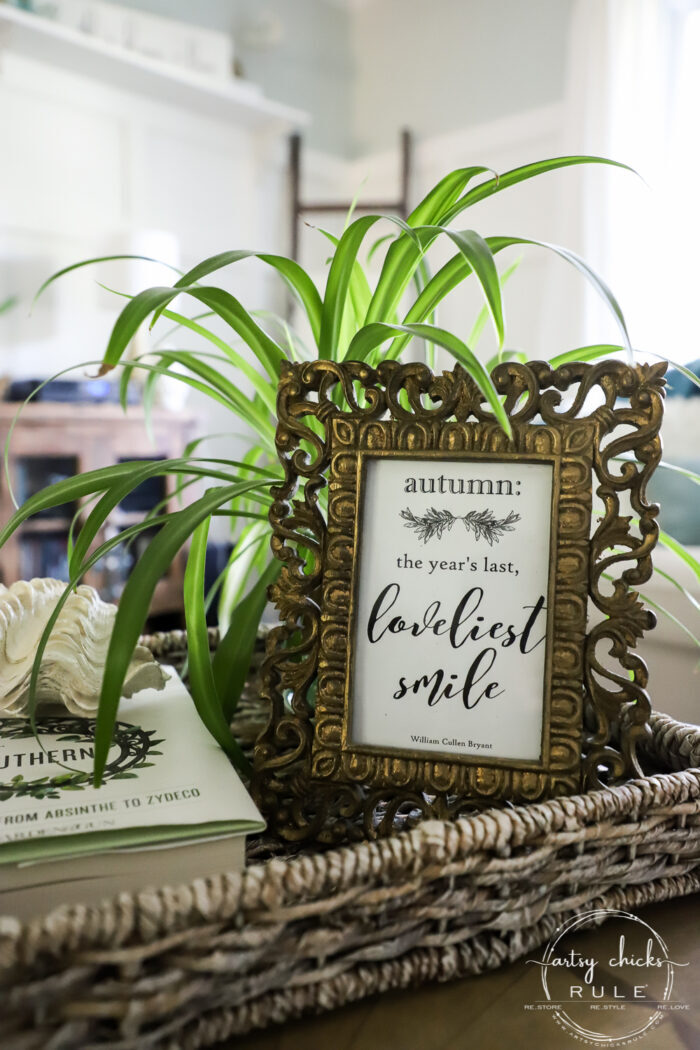 What a sweet saying. And so easy to just print out and place in a frame for fall.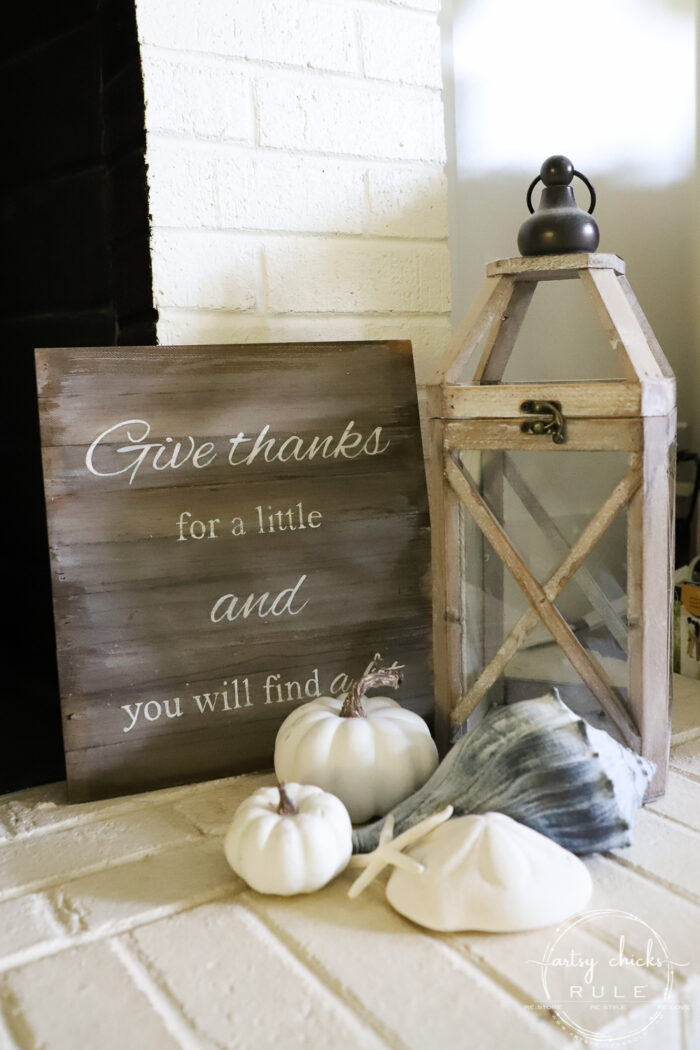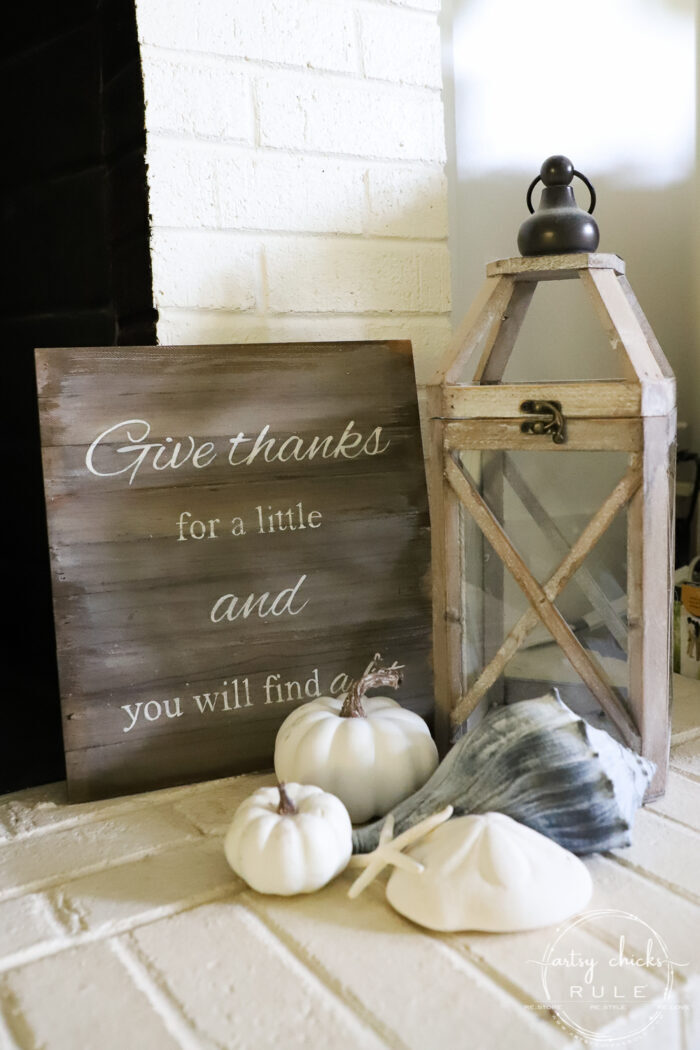 I just love pulling out this "give thanks" sign I made years ago. It's probably one of the best quotes ever.
Since we live on the coast and I have a coastal home, I typically just add pumpkins to my regular seashell decor.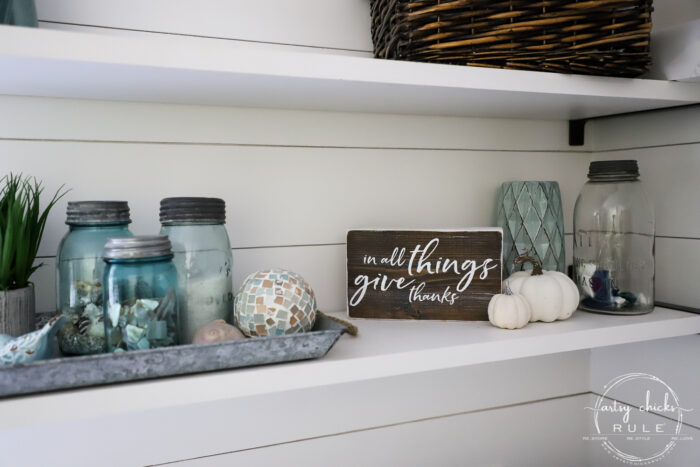 The laundry room got this "in all things" sign I made some time back.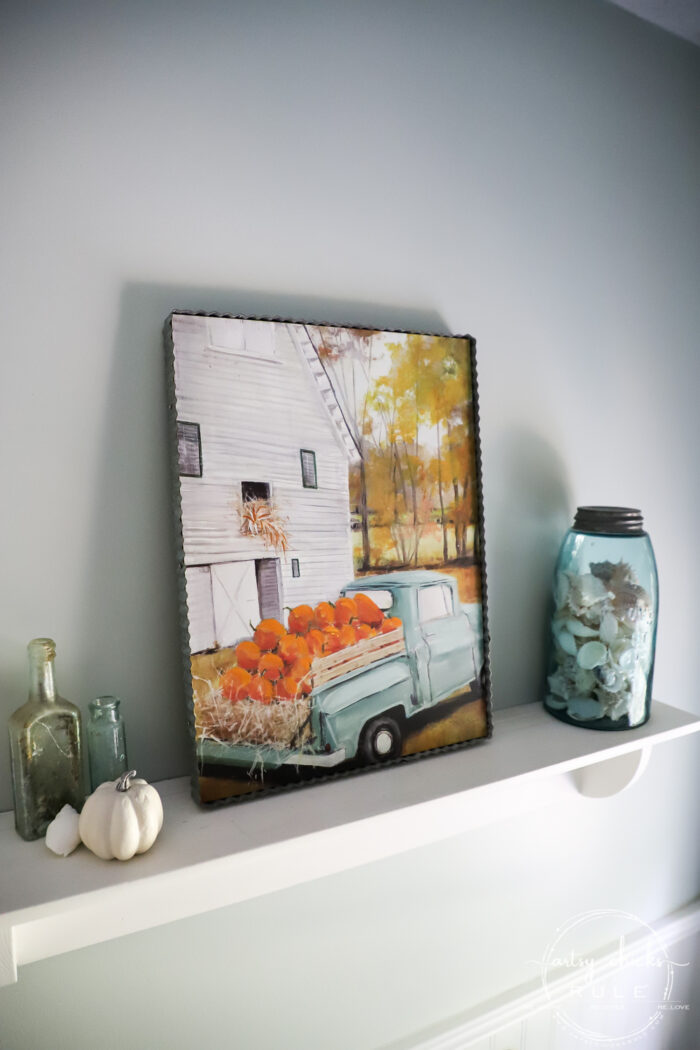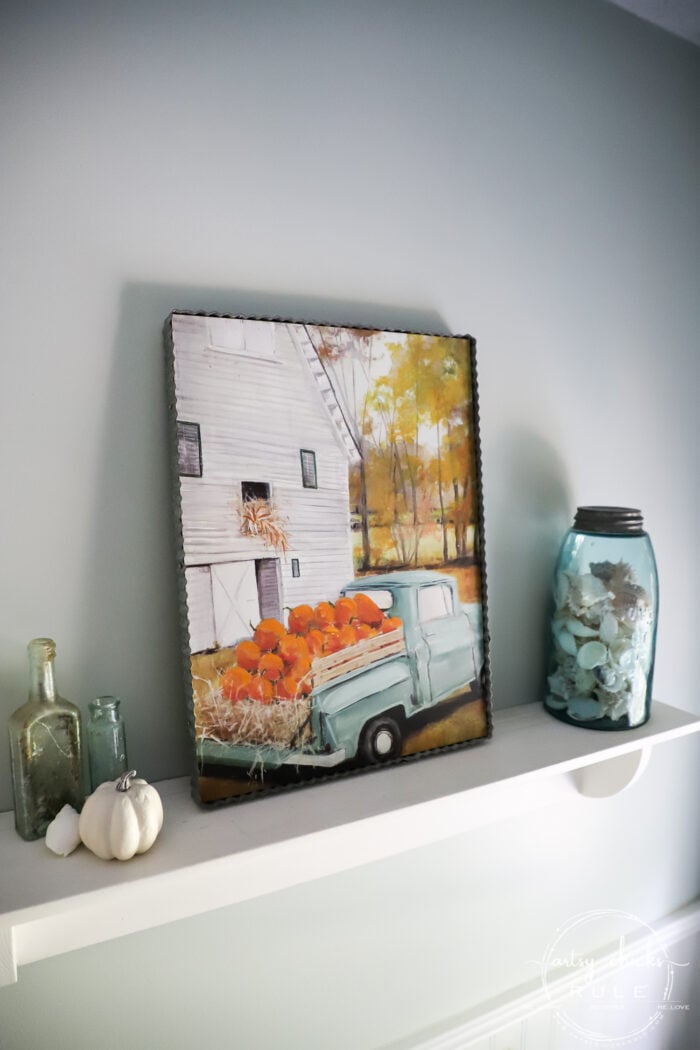 I love this sign and need a truck to fill with hay and pumpkins just like that! :)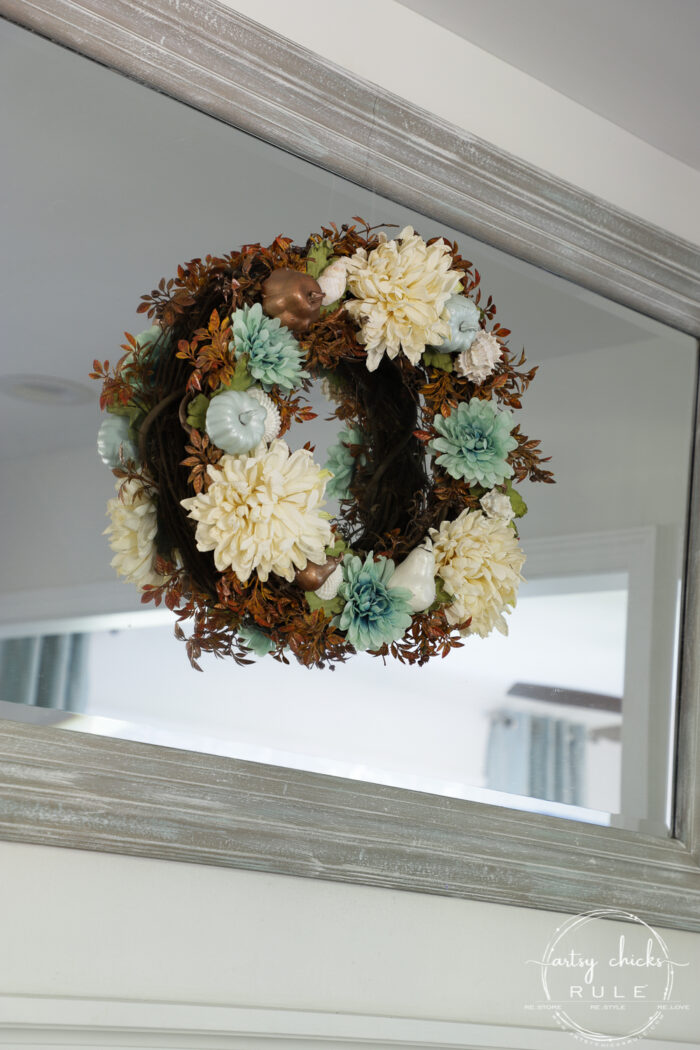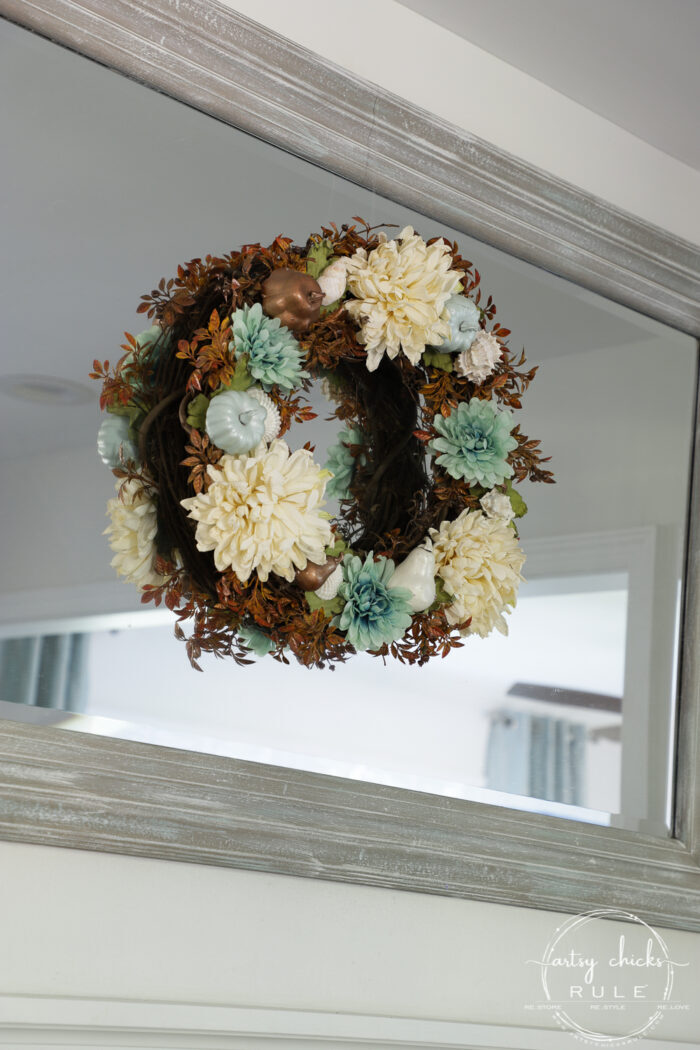 I hung my coastal fall wreath on the mirror in the kitchen.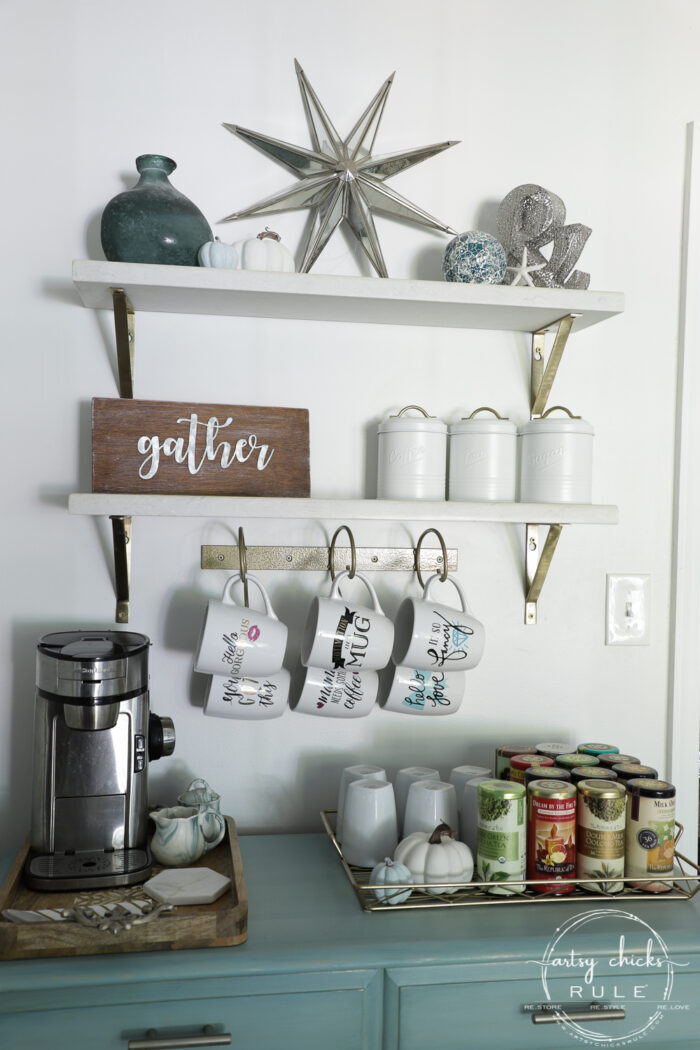 And the aqua coffee bar got the "gather sign" and a few pumpkins here and there.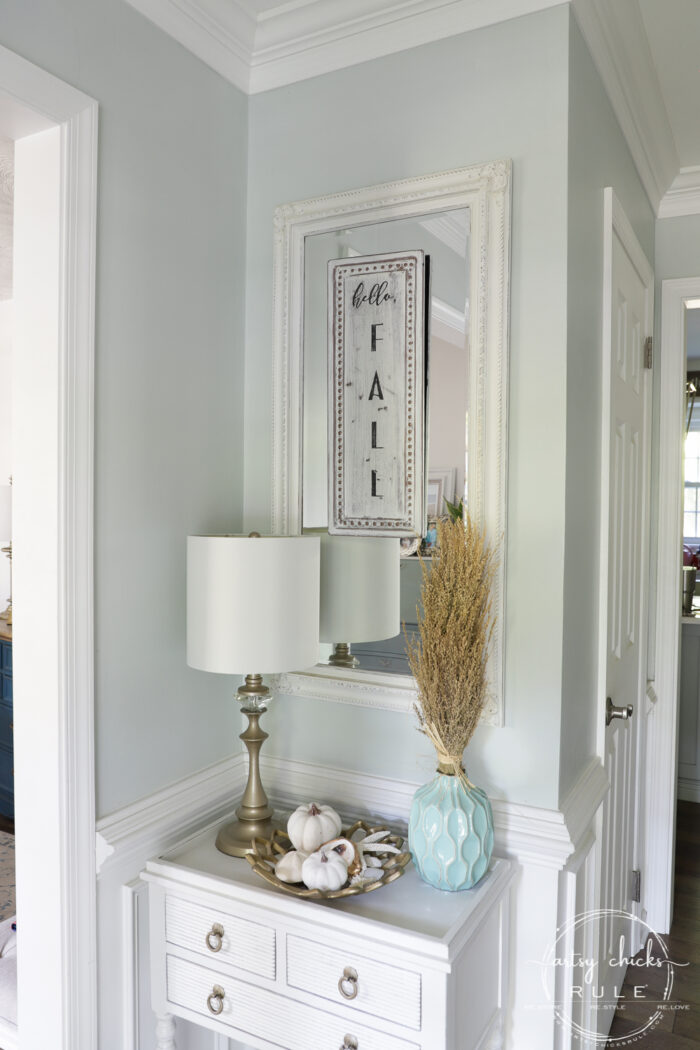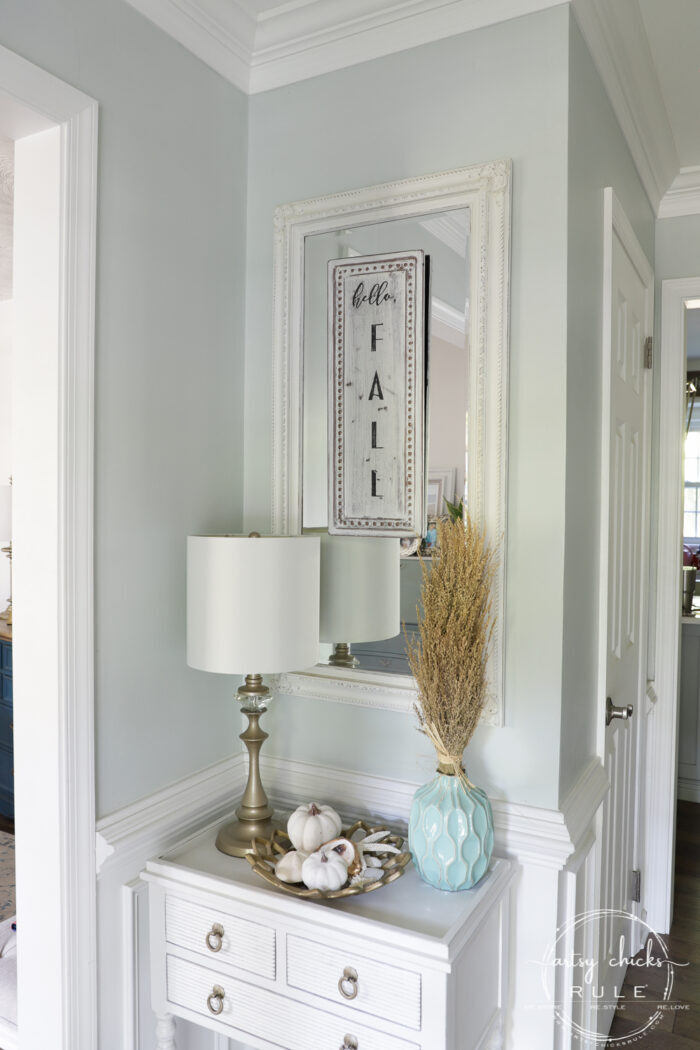 Welcoming guests (but we don't really have any right now…so just us ;) ) for fall.
A few fall touches and my "hello, fall sign" from last year.
PIN it to save it!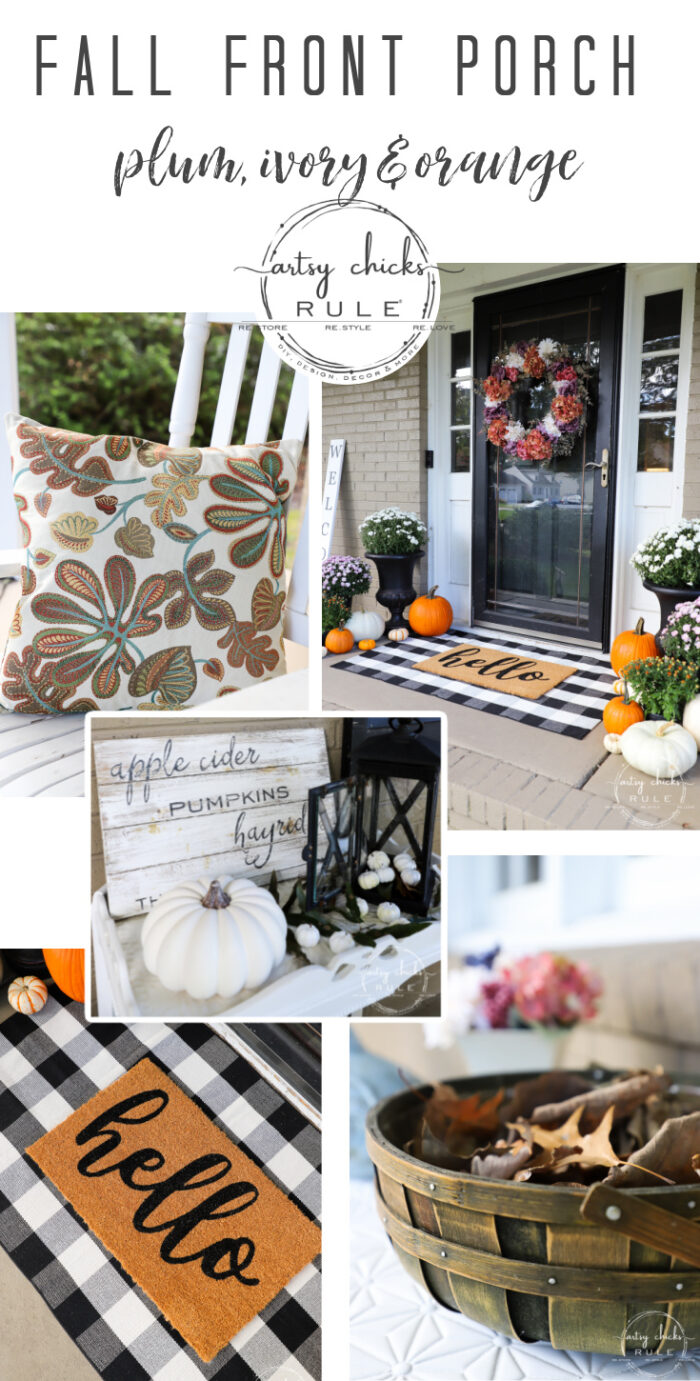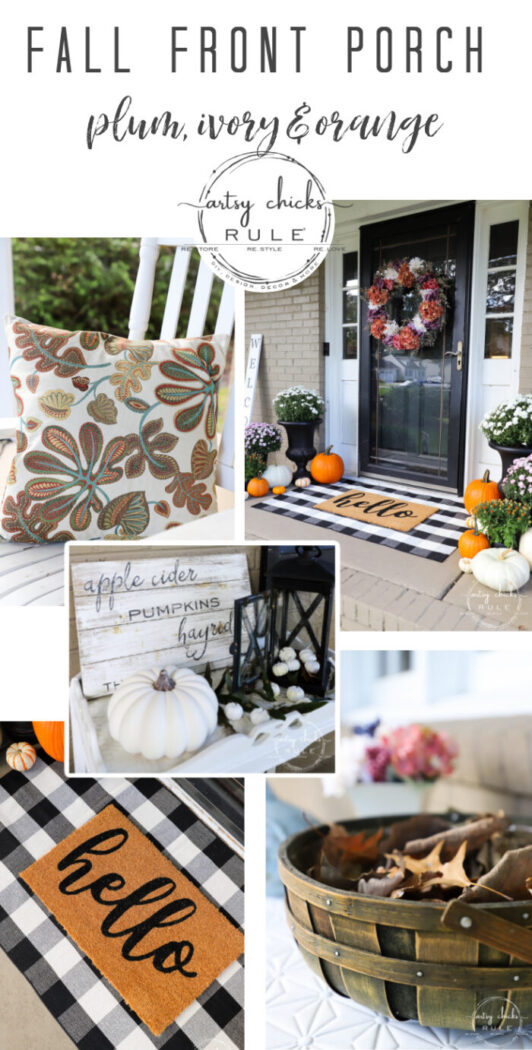 Have a beautiful weekend, friends! We'll be back at it this weekend with more condo reno. (sanding, painting the ceilings…and maybe even painting the walls…we'll see! Follow along with me on Instagram to see what we are up to.)
xoxo