Who says you can't use blue and seashells for fall? This simple and quick coastal fall wreath is perfect for those who live at the beach or just want to keep a little summer in their decor.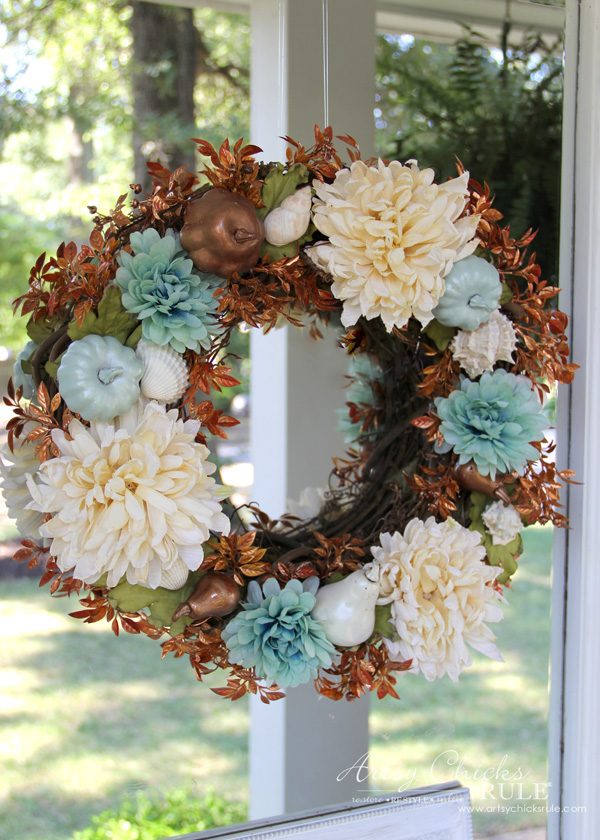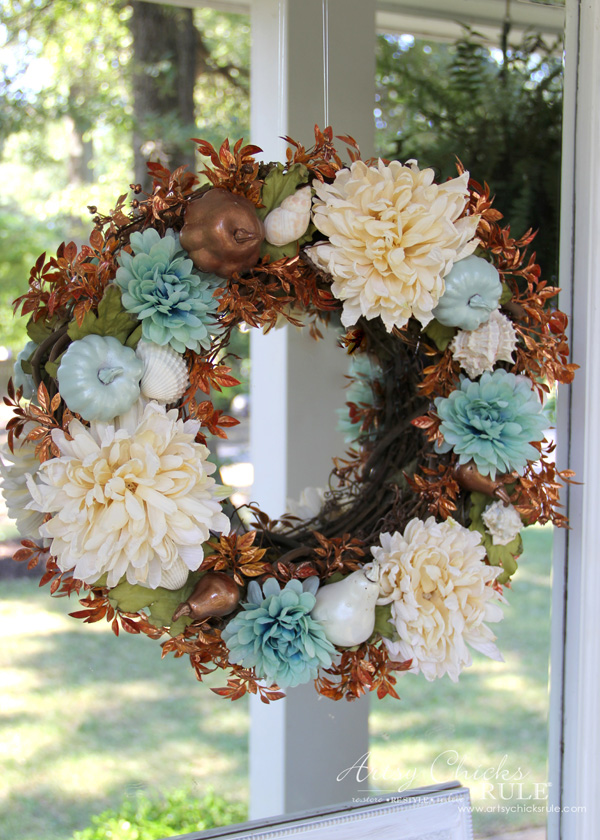 I'm really just loving the more neutral colors I've been using the last year or so for fall.
I'm not very excited about the color "burnt orange". ;)
I know others may love it and that's totally okay, it's just not my thing.
I do like a bit of it in my decor though because it just says "fall".
I'm going to share with y'all how I made this really simple Coastal Fall Wreath…in no time!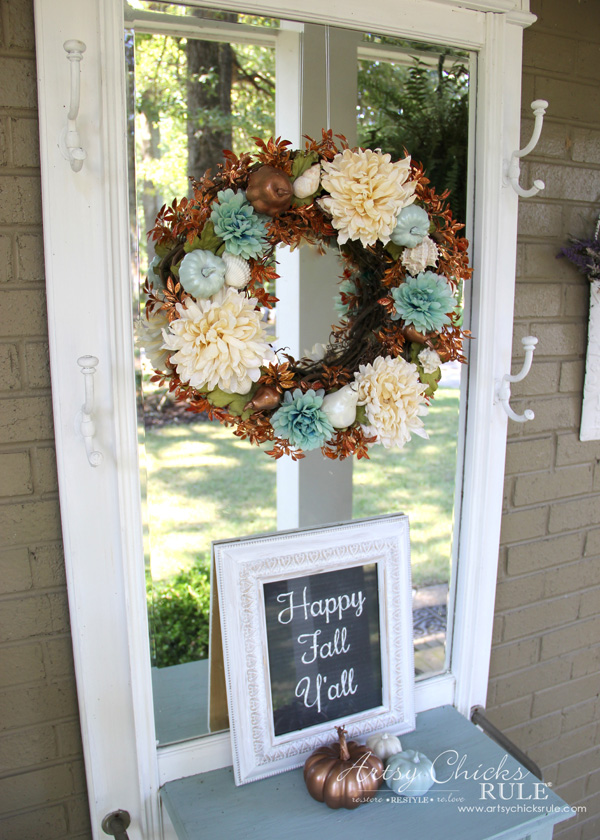 I stopped by Michael's and picked up all the supplies.
Every single one came from there.
Thankfully most of what I bought was 40% off. :)
Here's what I started with…..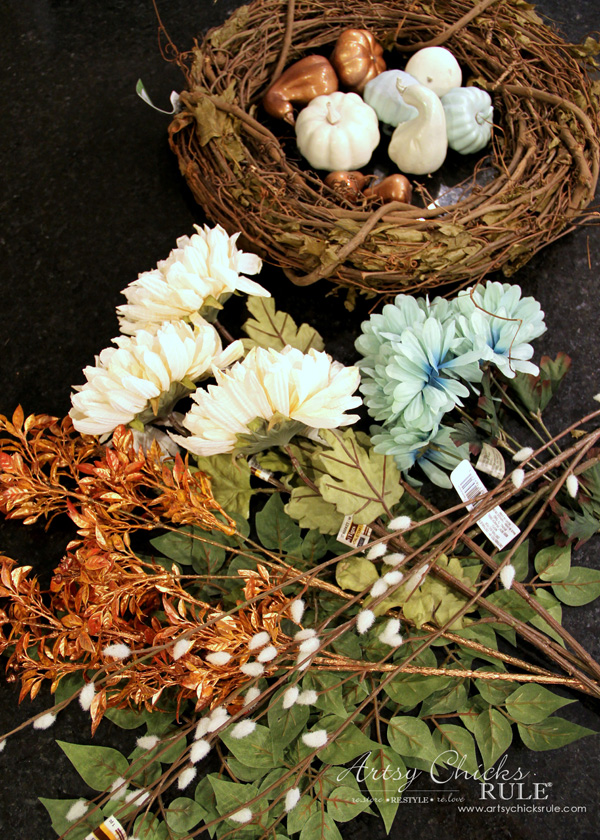 I usually like to create most of the wreath before hot gluing it.
That way, I can get a feel for what I'm going to do.
I usually have no clue at first!! ;)
I just buy things that I think look good together, color wise and plant wise.
Then I come home and just start playing around with it.
For this one, I started with the largest flowers (stems cut)….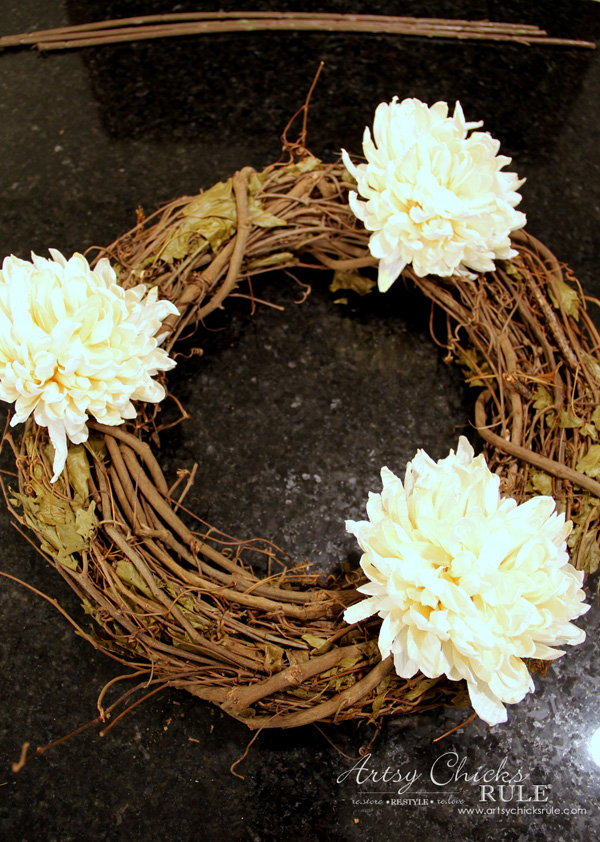 …placing them evenly spaced around the wreath.
Next I added the blue ones….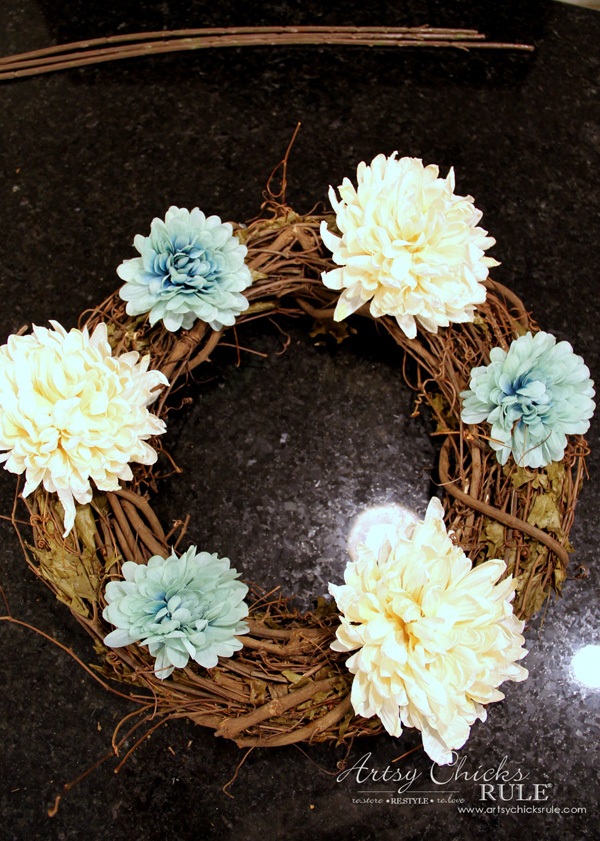 ….again trying to evenly space them around.
Then I added the leaves that I took off the stems of the flowers ……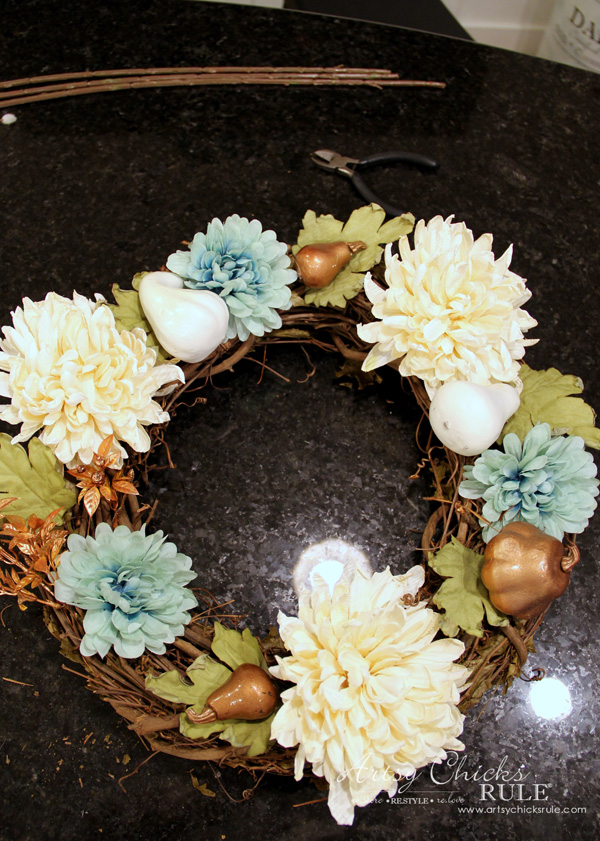 ….and some of the small pumpkins I painted for last year's fall decor.
Here you can see my >>> Fall Foyer and >>> Fall Tablescape.
Next I added a few seashells and started adding the copper colored pieces in and around everything.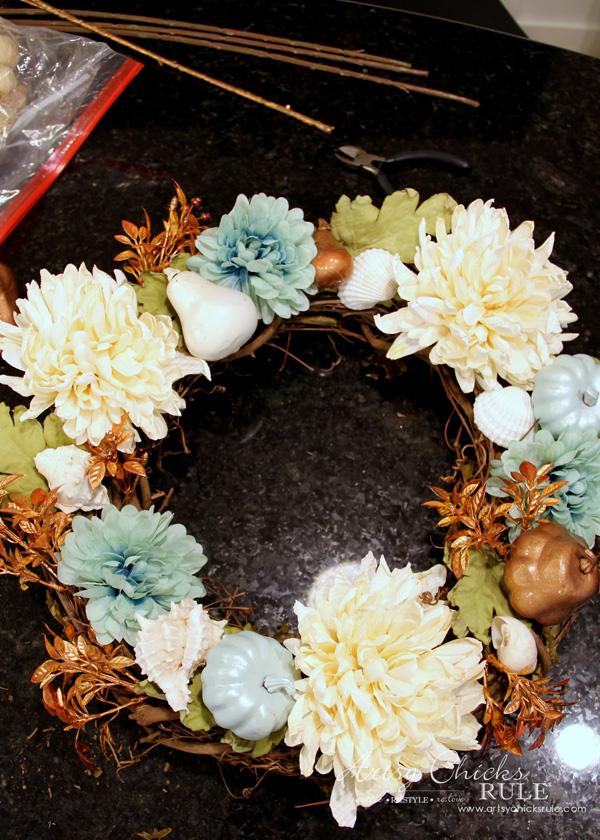 At this point I had everything about how I wanted it so it was time to glue it in place.
I gently removed and replaced (with hot glue) everything, working my way around.
I continued to add the copper colored pieces until I thought it was full enough.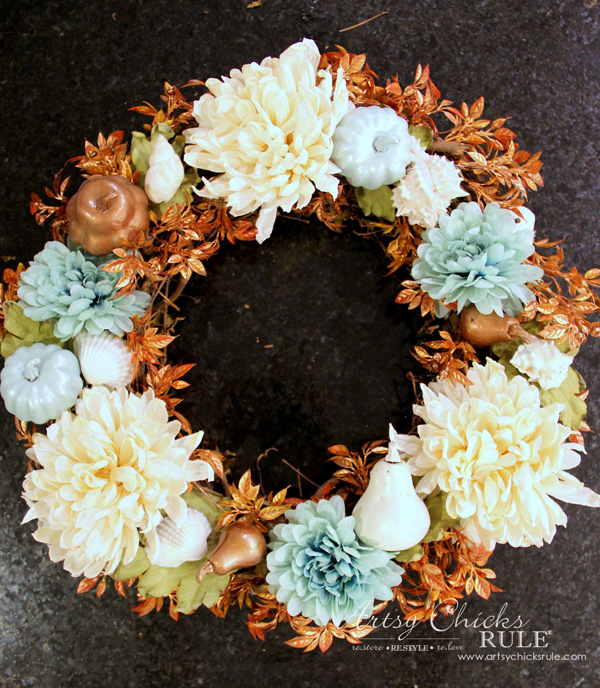 And voila!! …. new coastal fall wreath.
About as simple as they come.
I love that I can have those neutral colors I love (cream, white and BLUE!) and still have a bit of copper colored FALL.
I hung it on the door for a bit….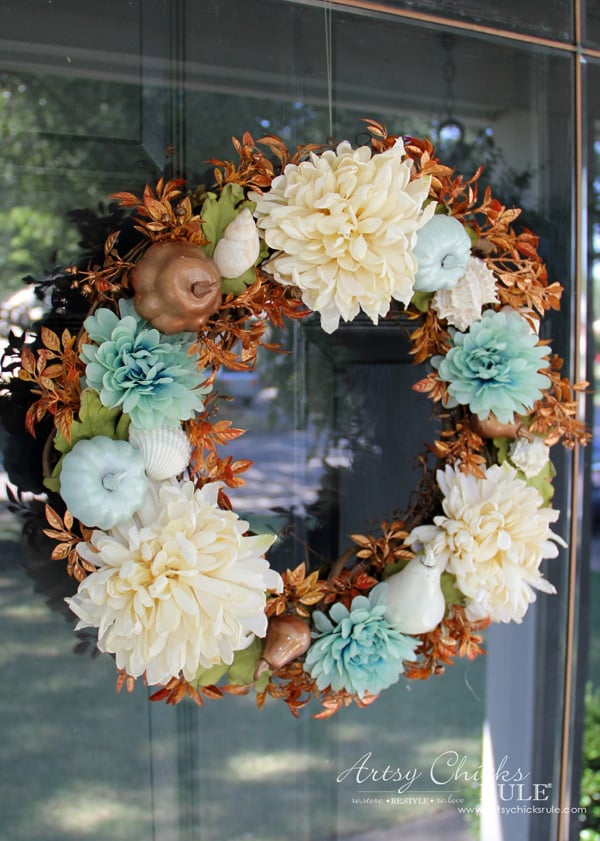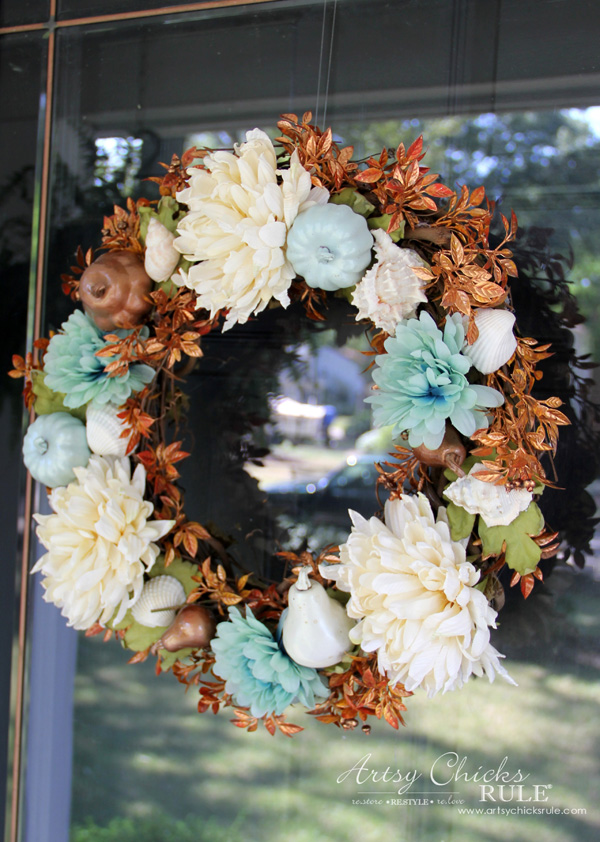 ….but then decided it needed to go on my hall tree that's still out on my porch.
Did I tell you that I'm getting ready to paint my front door?
I am!!
Teal…aqua…blue…something a bit pale in one of those varieties.
I'm so ready to paint away the black.
I've enjoyed it black but I'm ready for a fun change. :)
Anyway, you can read about why I have a hall tree on my porch here >>> Porch Hall Tree.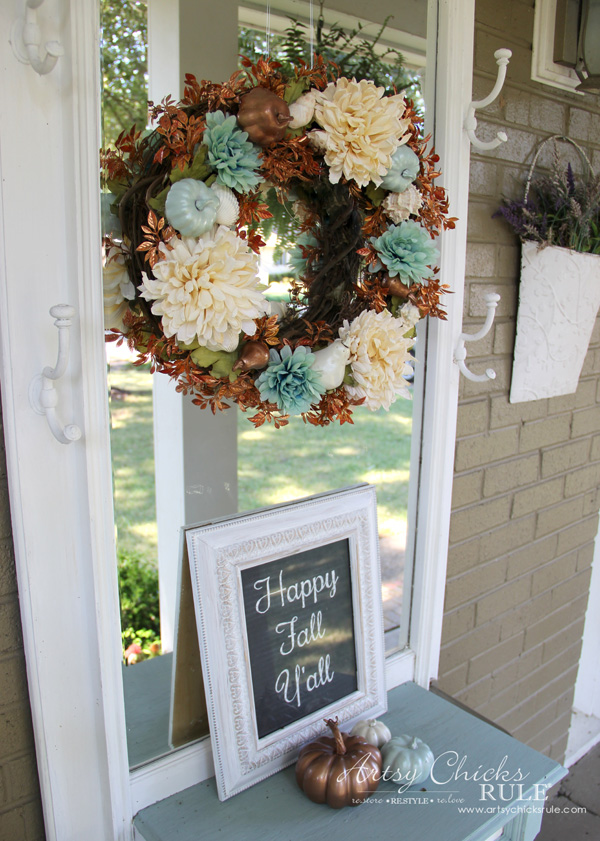 I added some more of my painted pumpkins below too.
The sign can be found here >>> Happy Fall Y'all Chalkboard Art.
I hope you guys will stop in at your local craft store, pick up a few things you like together, and make a wreath too!
Be sure to PIN this for later so you can make a coastal fall wreath or any kind of wreath you like too!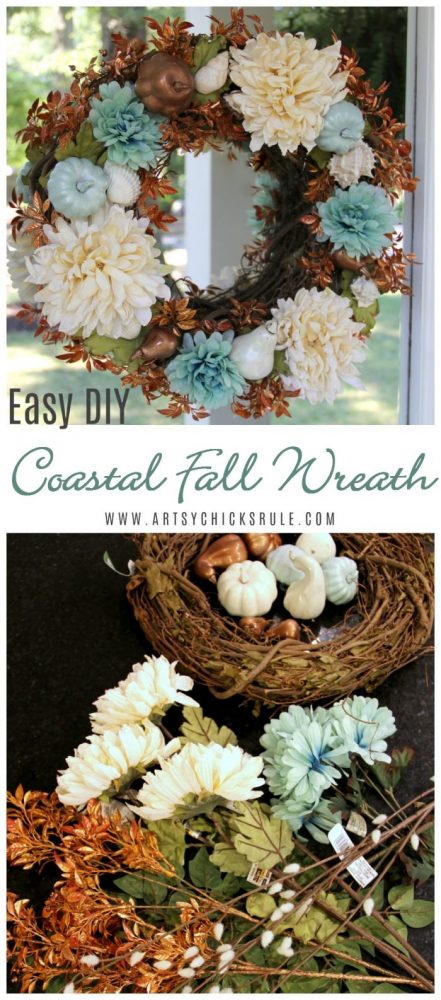 I made a quick little how-to video too… :)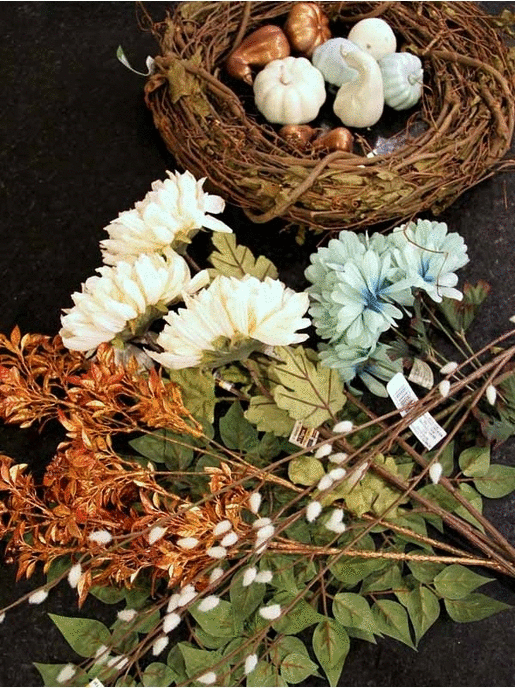 Love more traditional colors? You might like this wreath below….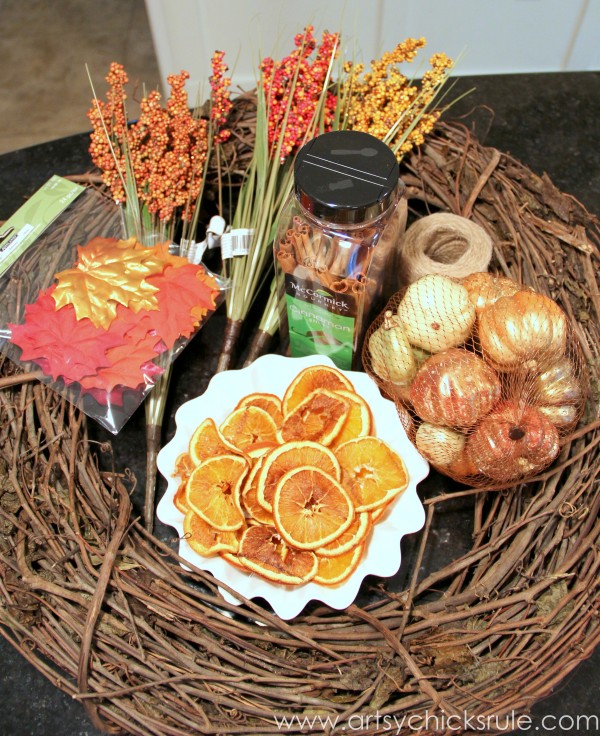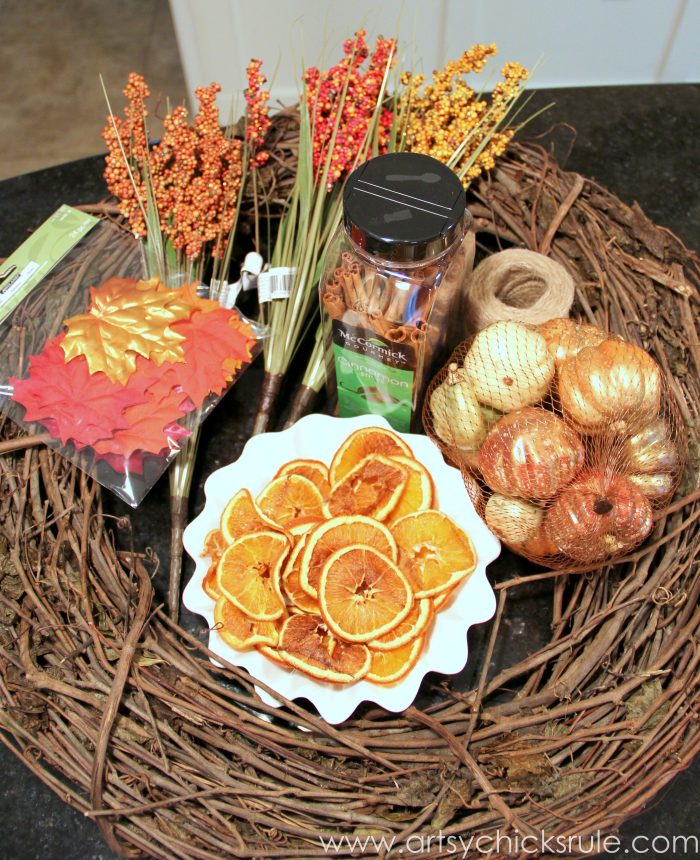 Click here to see how to make this wreath with more traditional colors!
I hope you have a great weekend! :)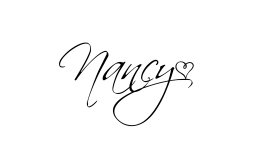 Here's a few more you may like….. (affiliate links, see disclosure here)
Follow Along Here!