Hello Fall Sign (thrift store makeover and free printable!)
This post may contain affiliate links. Please see disclosures here.
Let's get an early start on fall with this sweet little "Hello Fall Sign" made from a recent thrift store find!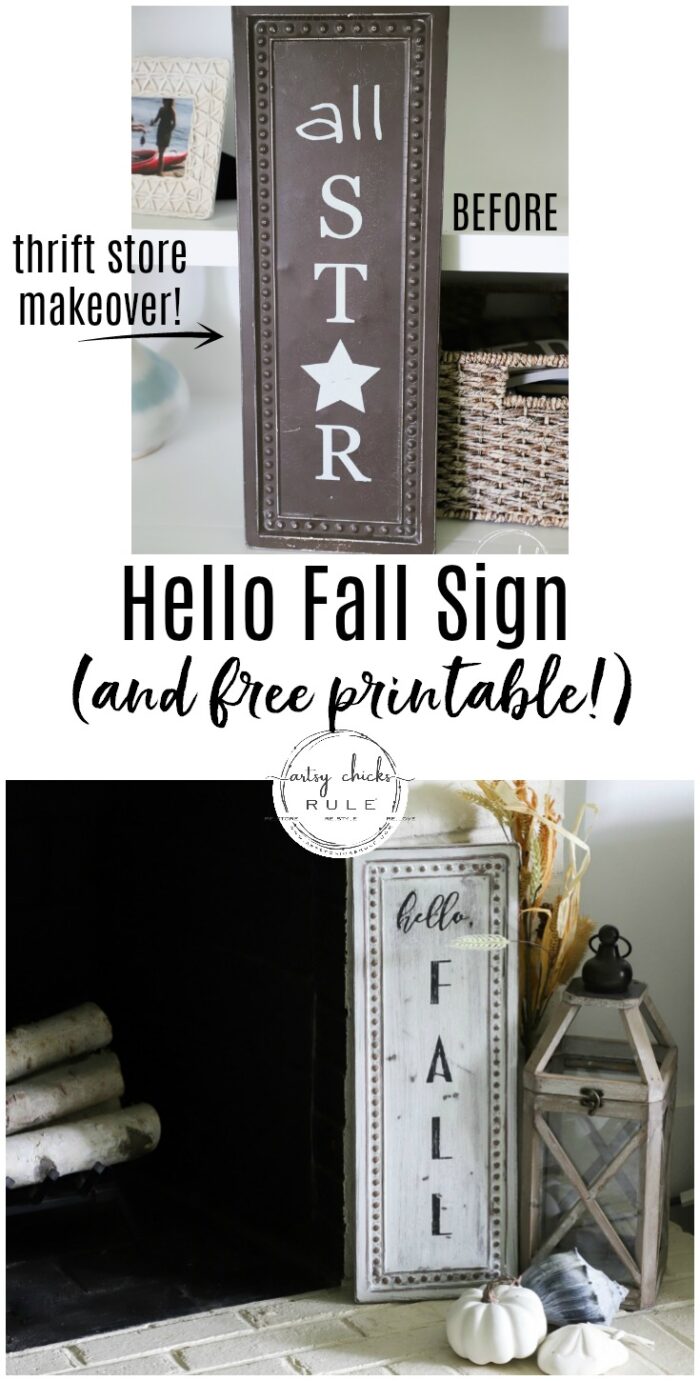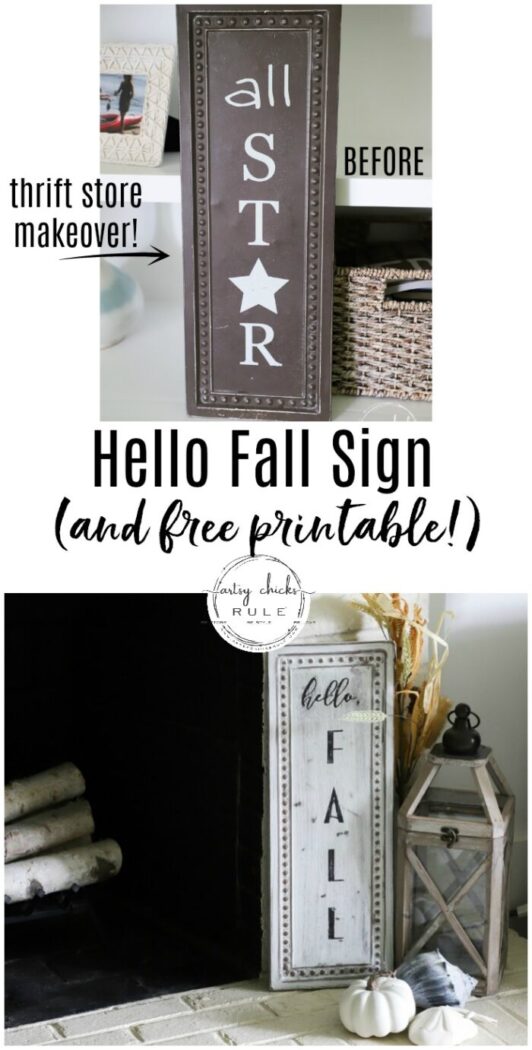 Who's ready for fall??
I'm not, to be honest.
I'm holding onto every last drop of summer I can!
But with that, I am starting to feel a bit ready for cooler temps, fall smells (oh you know, cinnamon, crisp fall air, etc) and maybe even a change in wardrobe.
So I thought it'd be fun to turn one of my recent thrifty finds into a fall decor piece.
I shared my recent thrift store haul, this one, last week…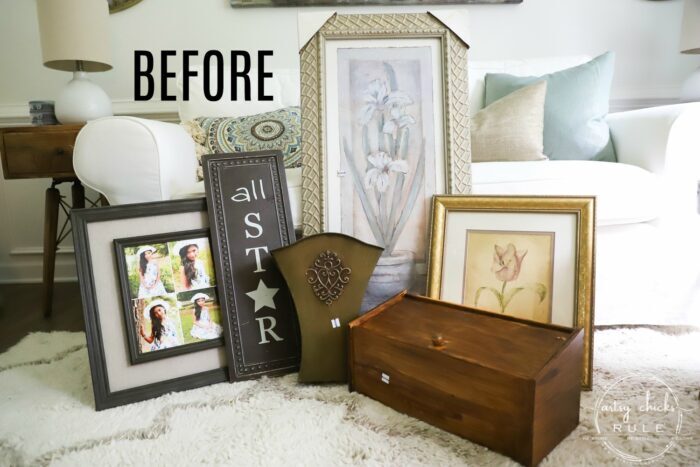 I have already made over the framed picture on the left.
You can see it, here.
Today I thought I'd make over the "all star" sign.
It was a brown metal sign I got for $4.
I thought it had the perfect rustic-style look for fall.
A hello fall sign would be just perfect for it.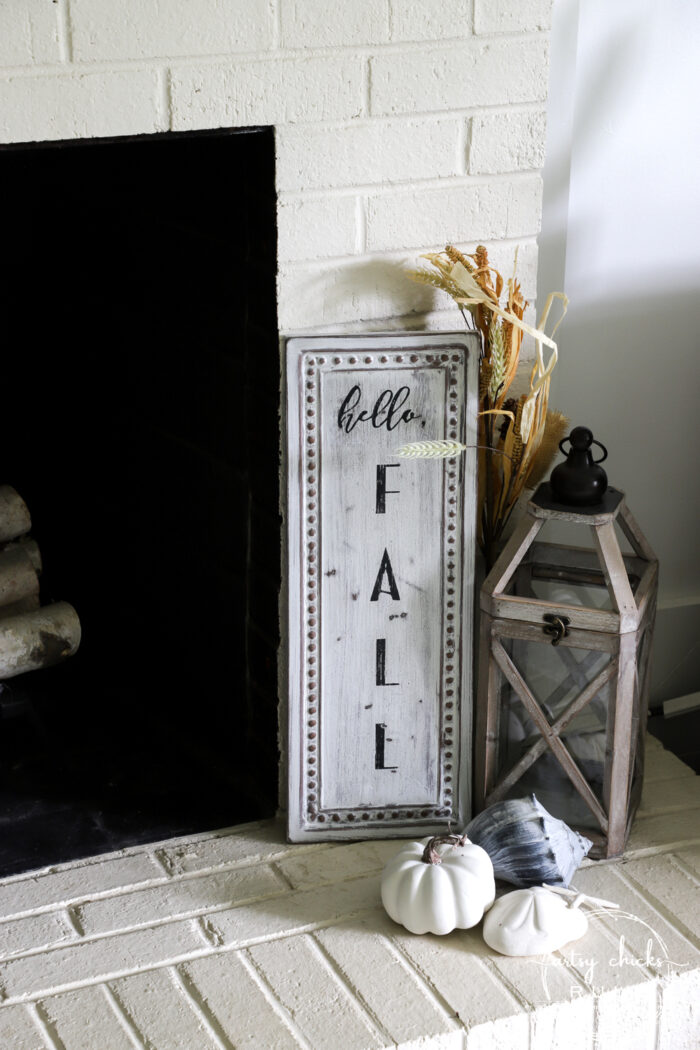 Don't you think??
Another simple makeover. (and budget-friendly fall decor)
Hello Fall Sign (and free printable so you can make one too!)
Here's how it began…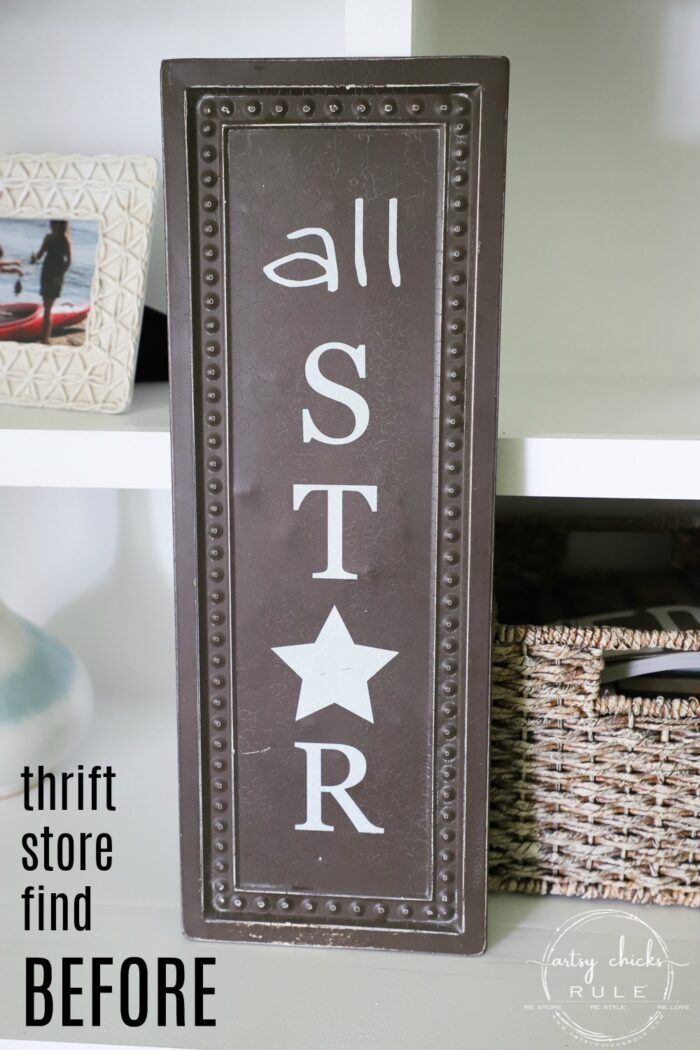 And here's the supplies I used to create the hello fall sign.
I started out by spraying it with the copper spray paint.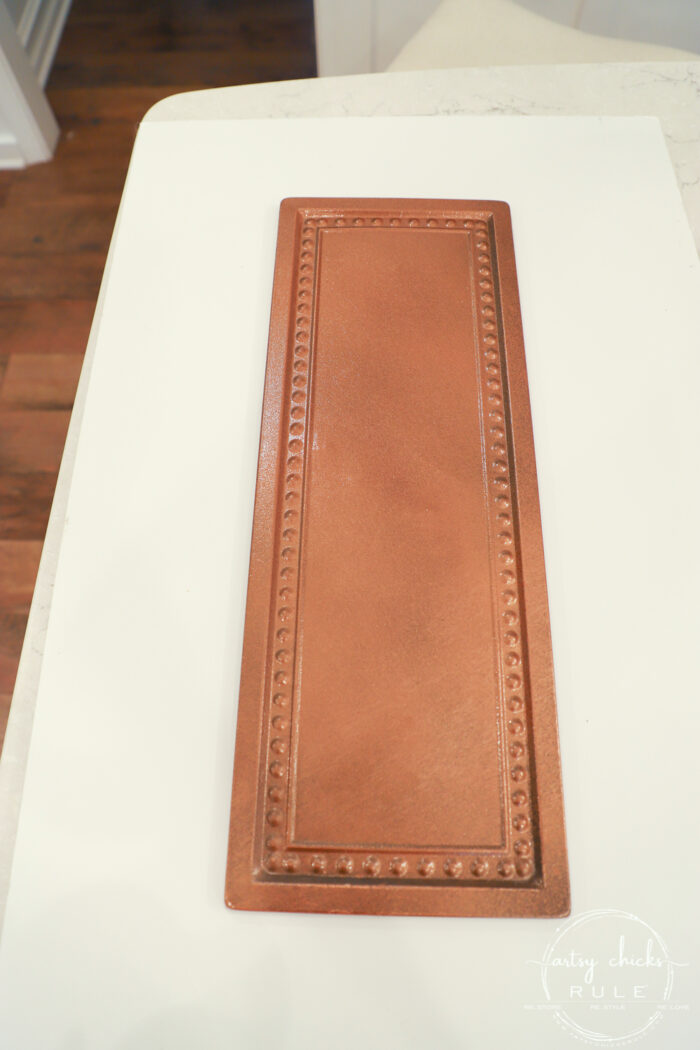 I wanted to give it a fall-ish color underneath.
Next, I painted one thin coat of white over top.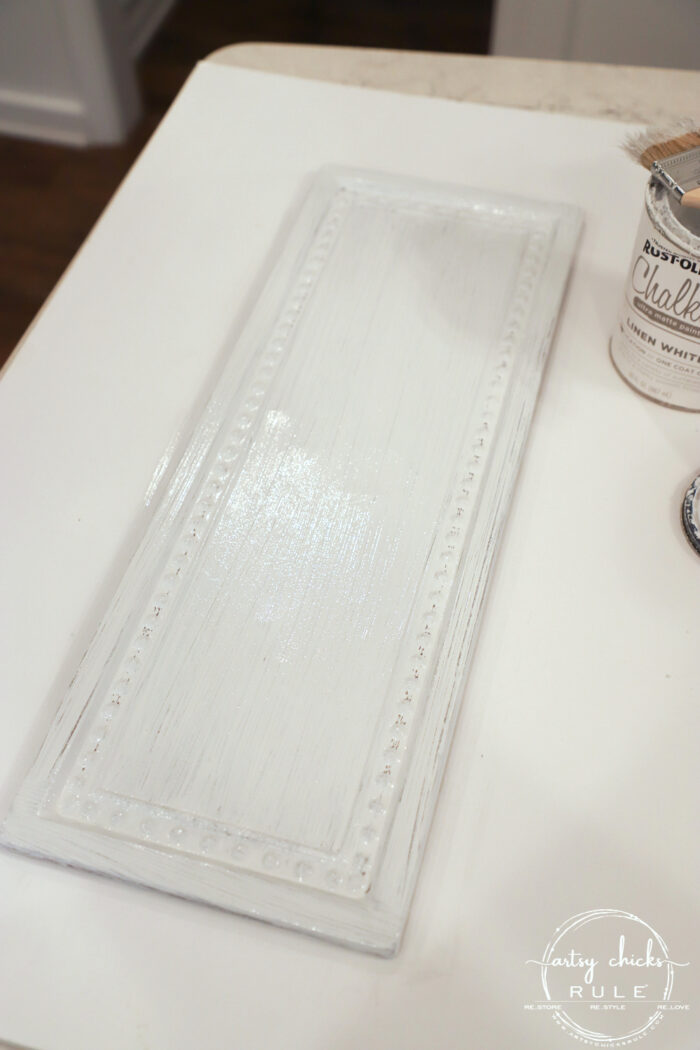 I let it dry for a few minutes and then went back over it with a damp paper towel to remove some of the paint.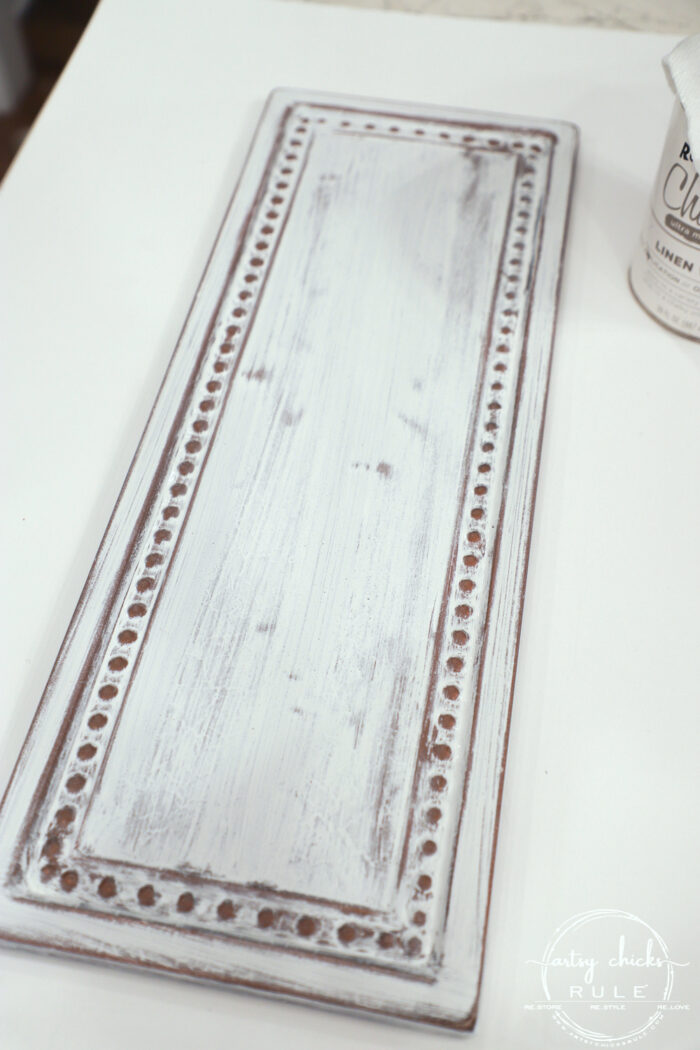 I wanted it rustic, like fall.
See the copper color peeking through?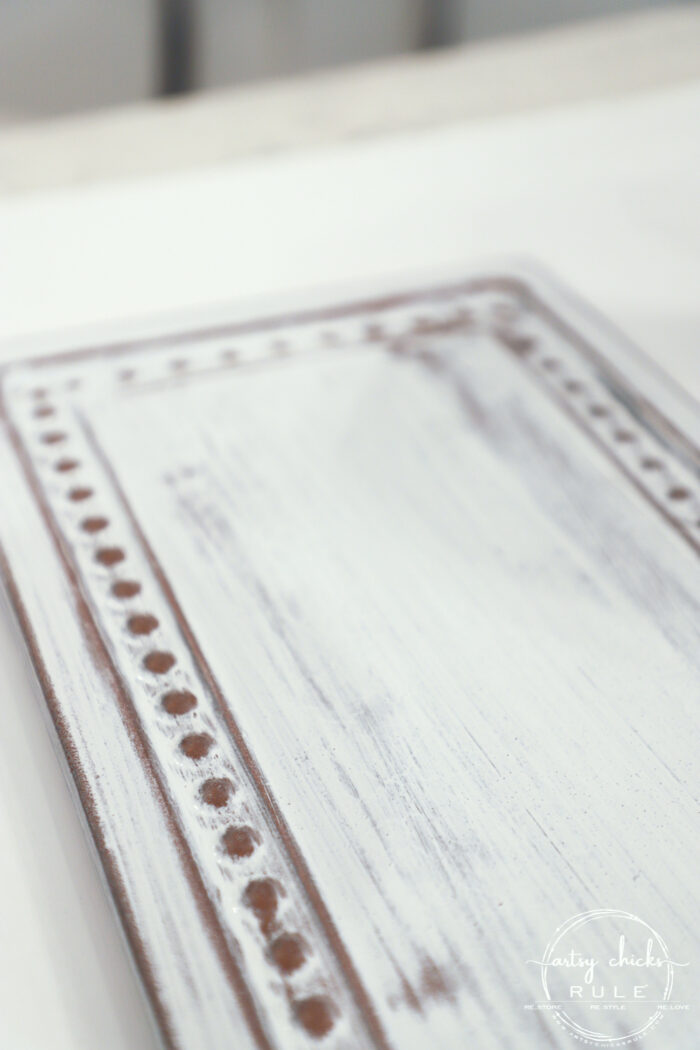 Then I sealed it with one coat of sealer. You can do this before or after you paint the letters on.
I wanted to do it before so I could sand and distress the letters afterward without taking any more of the white paint off.
Be sure to let it dry well before continuing. (use a hairdryer if you are short on time)
I created this simple graphic to put on the sign.

Get the non-watermarked and larger sized free hello fall sign printable by clicking the box below.


If you are already a subscriber, click here to go straight to the printables resource library.
(if you don't remember your password, check your latest email newsletter from me – scroll all the way to the bottom to find it)
After I saved the new graphic to my computer, I used my Silhouette Cameo to cut it out.
Here's a >>> tutorial on how I import my own designs into my Silhouette. (instead of creating them in there…so easy!)
Also, if you don't own a Silhouette and don't have plans to purchase one, you can also use any of the many transfer methods I have shown in this post, >>> here.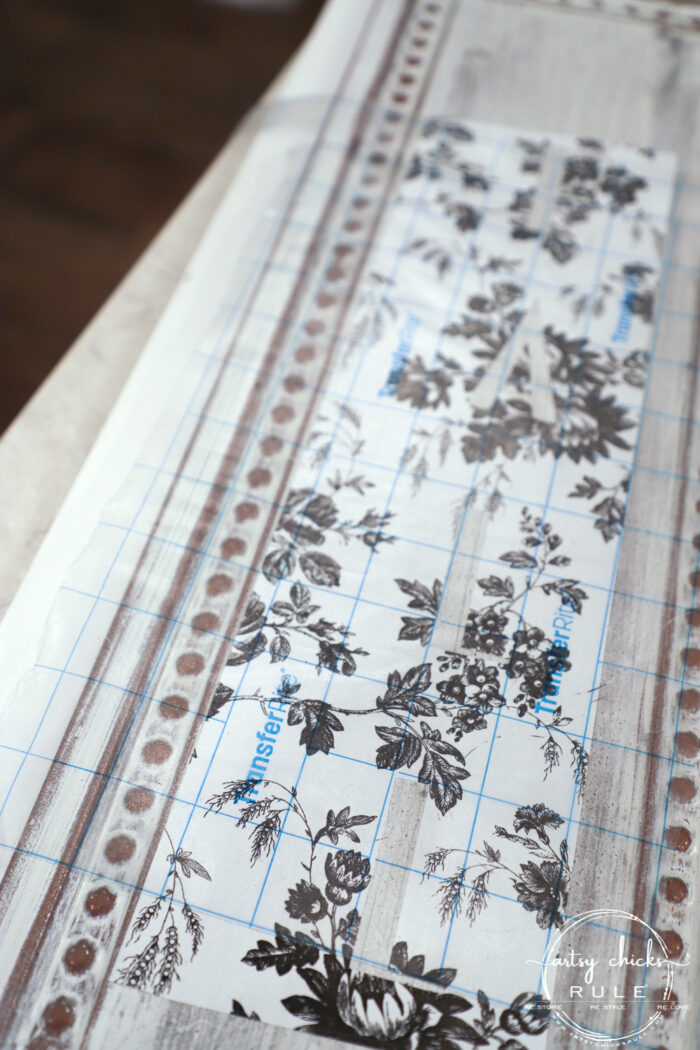 You can use cheapie shelf liner paper or vinyl made for your Silhouette to cut out the letters.
I use whichever I have on hand.
It's especially good to use the cheapie shelf liner when you are using the cutout as a stencil as I am this time.
Although, I have been known to even spray paint this cheapie paper black (or white) when in a pinch. But you'll have to keep in mind it doesn't have the same "sticking power" as the vinyl does.
You can use a stencil brush, paint brush or small roller to paint in the letters. I like using a small foam roller to do mine.
It just works best, in my opinion.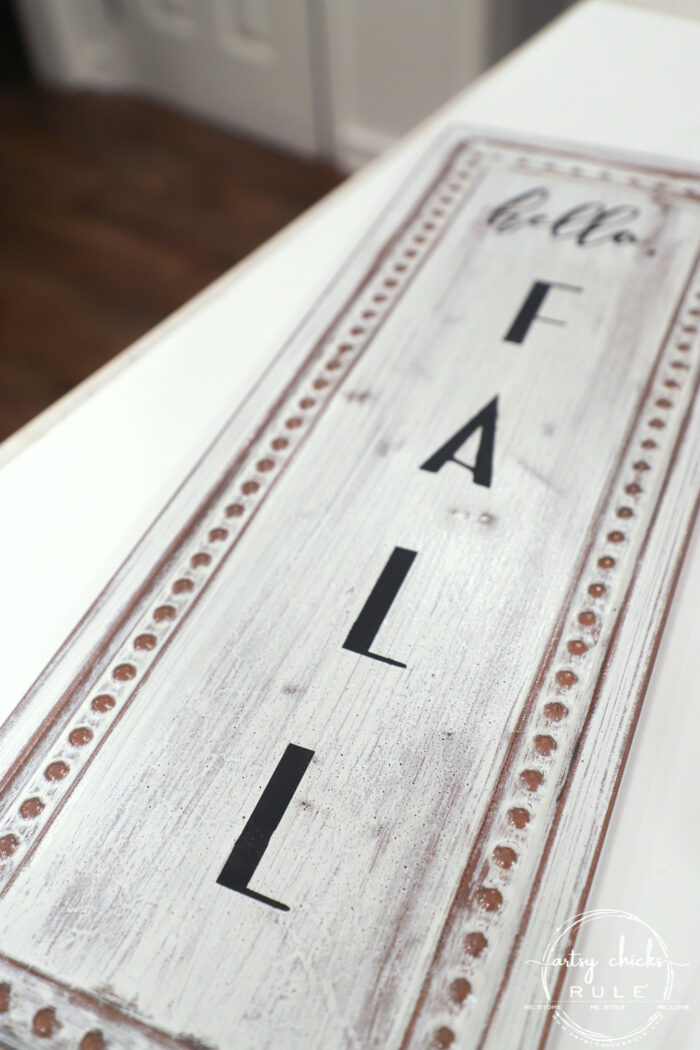 Then I lightly sanded to distress the letters.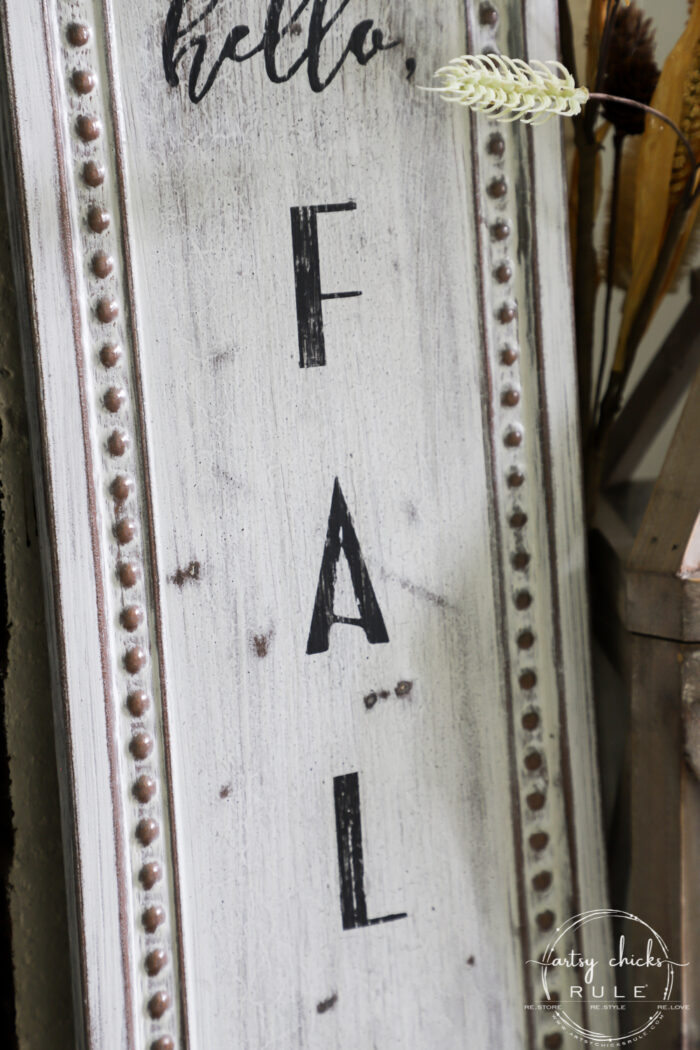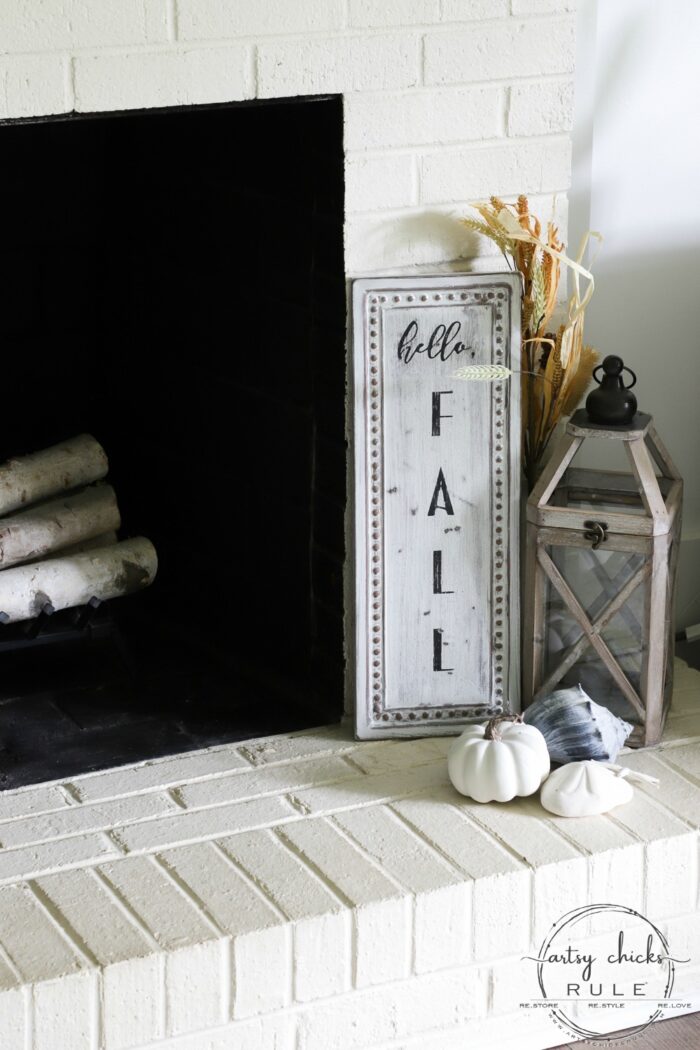 And then styled up by our fireplace.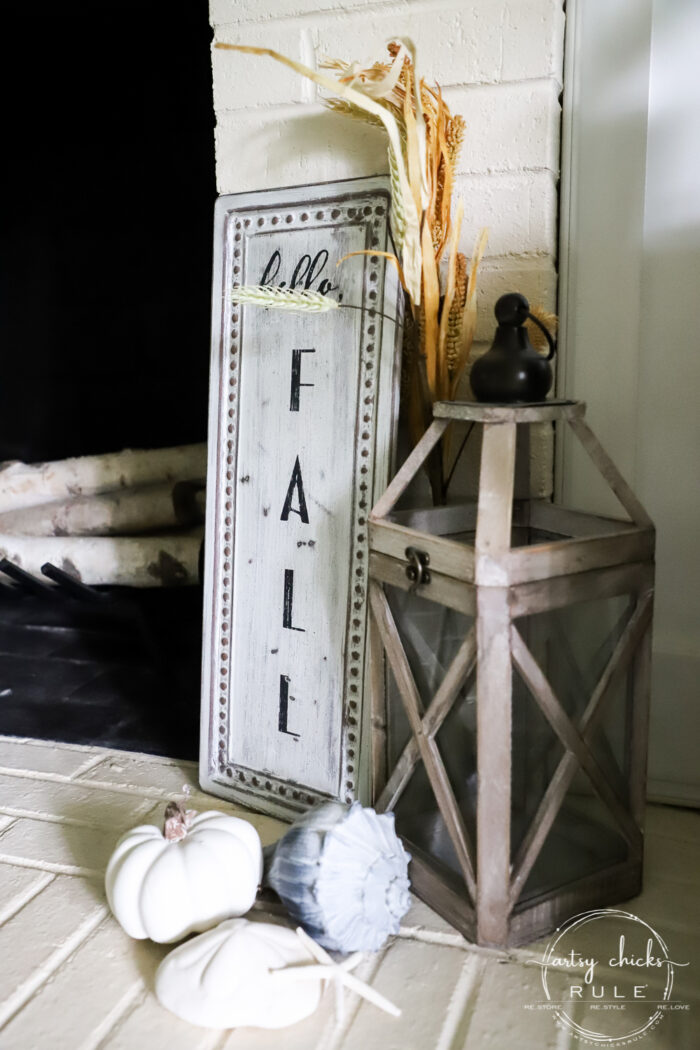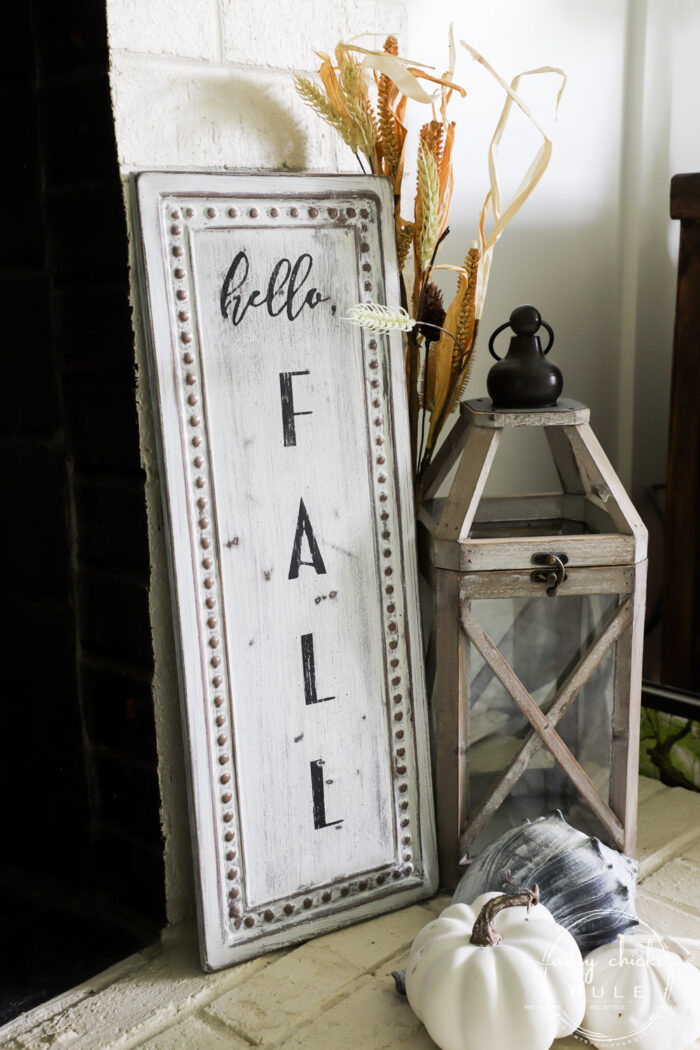 And a few more small fall touches in our room.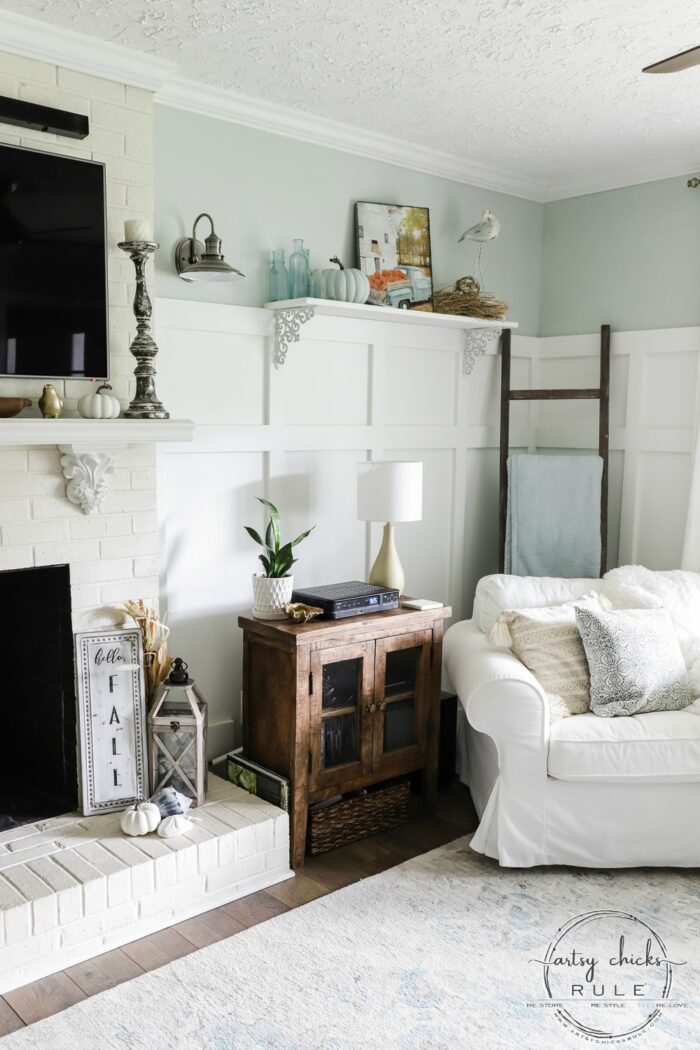 No, I am not leaving this up just yet. But soon. :)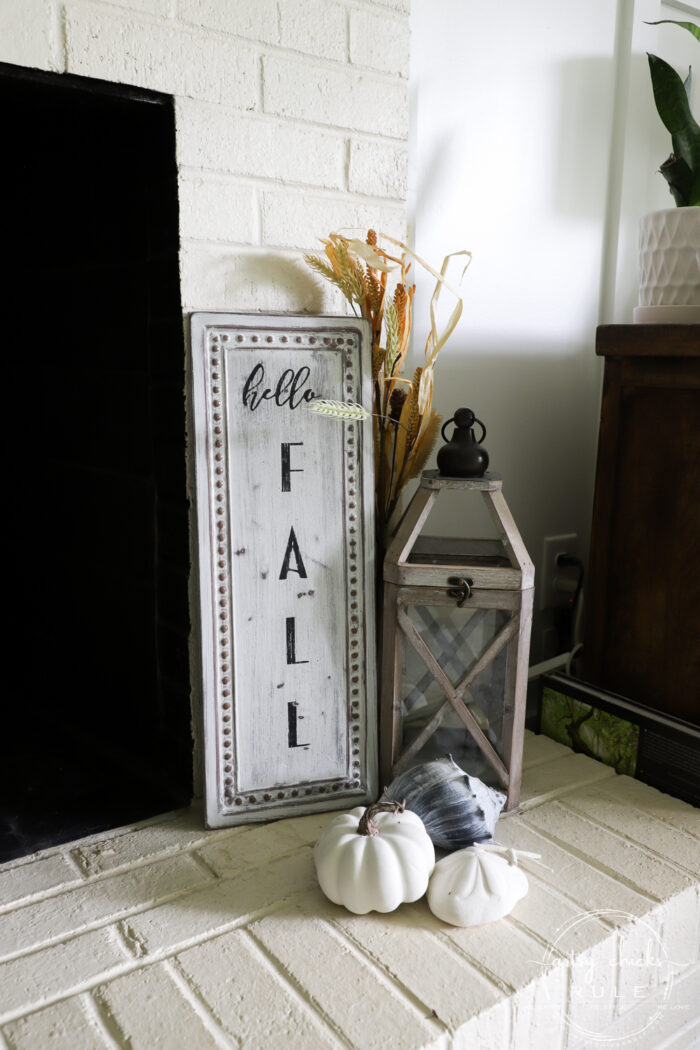 So how about you?? Are YOU ready for fall or hanging on to summer as long as you can?
PIN it to save it!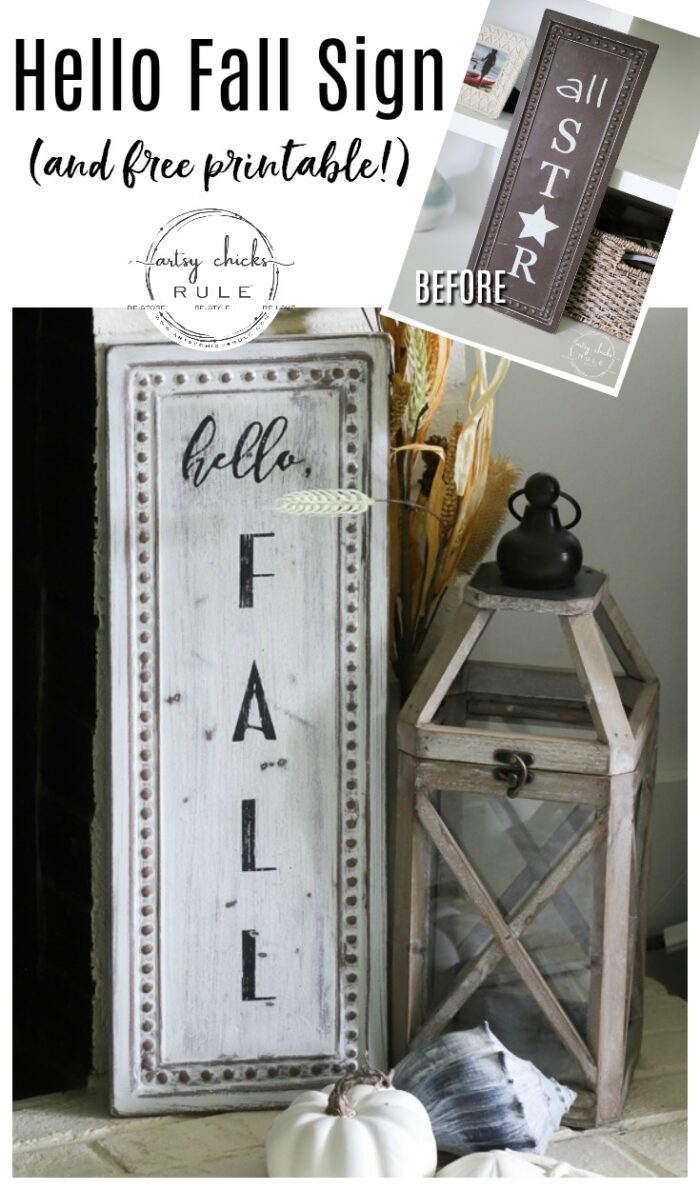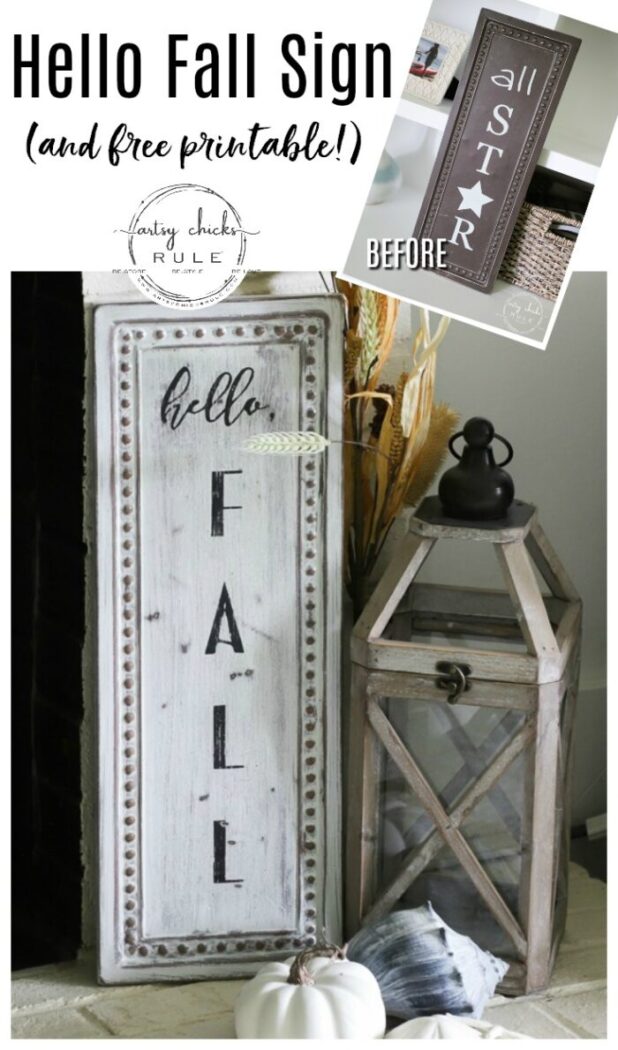 And again, if you missed it last week, check out this other makeover I did from this recent thrift store haul…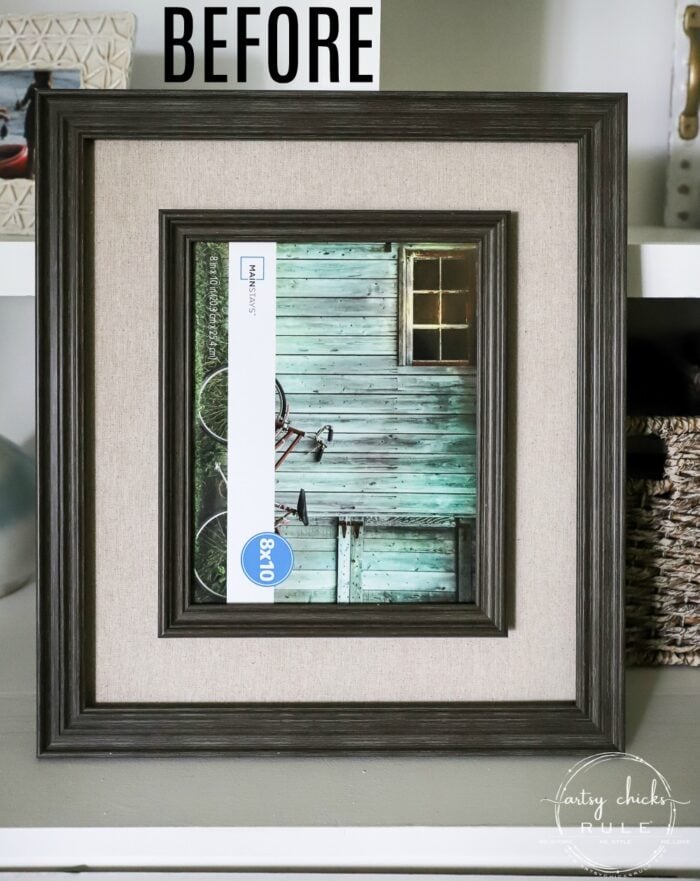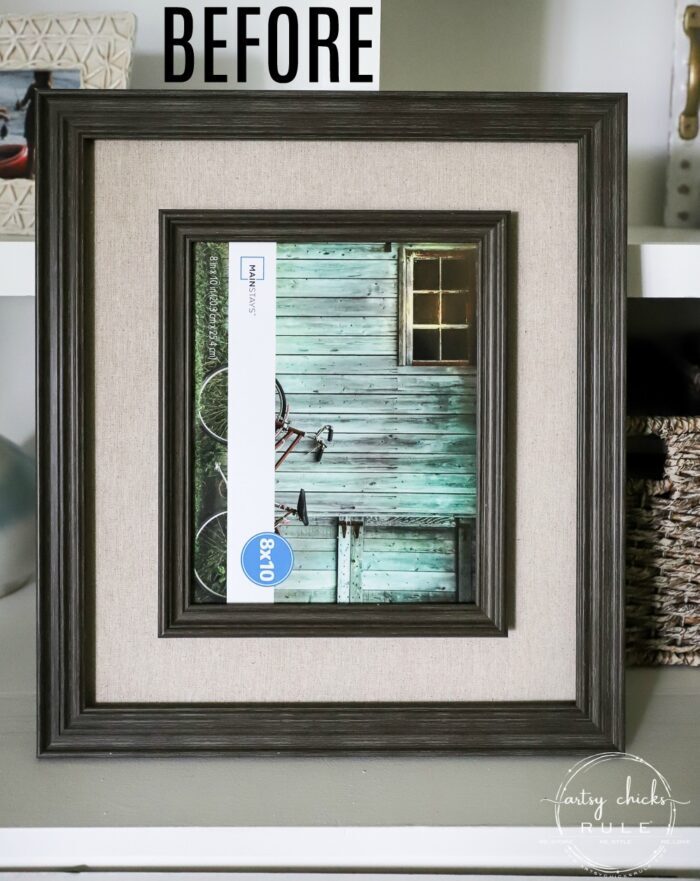 See it now, here.
I hope you have a wonderful weekend. Get out and enjoy these last few weeks of glorious summer!
xoxo