Fall Floral Bucket (a thrifty makeover for fall!)
This post may contain affiliate links. Please see disclosures here.
Say goodbye to summer and hello to beautiful fall with this colorful floral fall bucket! Fall is full of color and I'm all for my decor to be too!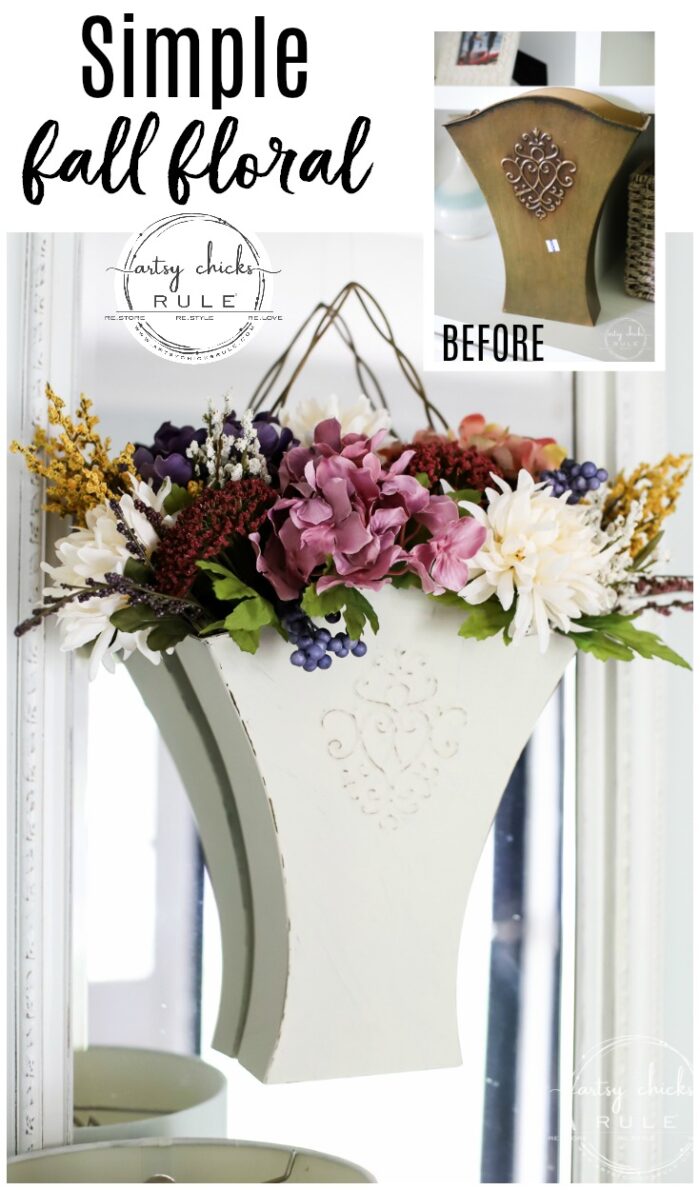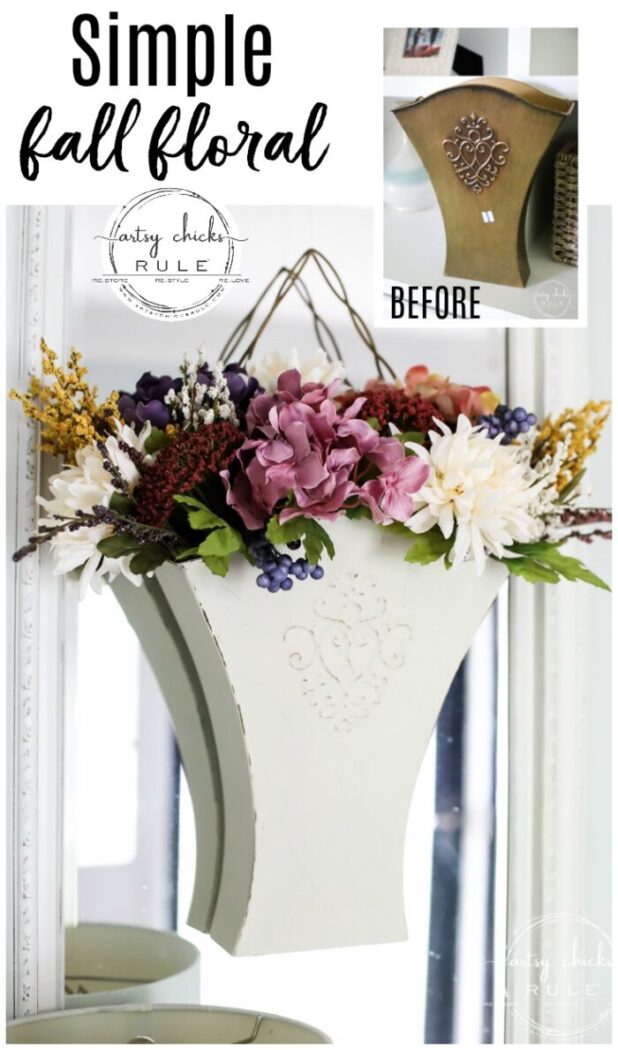 Hello sweet friends!
I'm sharing another fun fall crafty decor today with you. This fall floral bucket, for lack of a better word for this thrifty thing. ;)
I mentioned I had no idea what you call it when I shared this photo of my latest thrift store haul.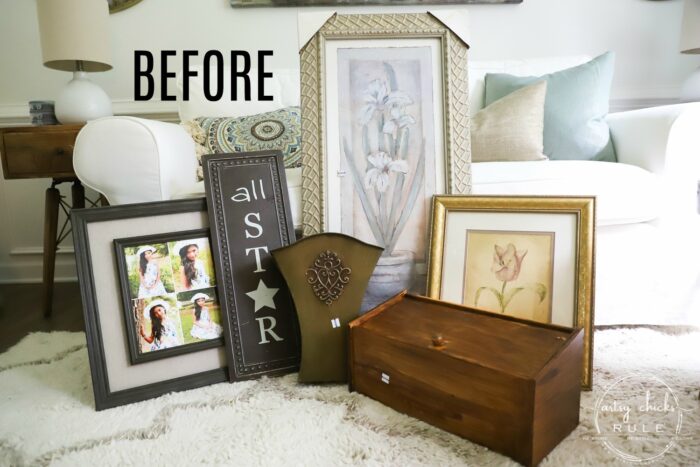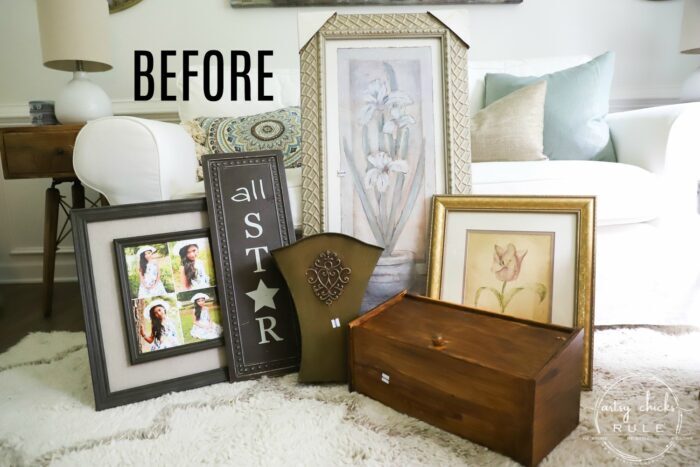 I'm making my way through this little haul. That is minus any kind of furniture, in case you hadn't noticed. lol
I have more than enough furniture to makeover, I have just not been able to tackle it all quite yet. Soon though, because I have an entire storage unit full of furniture that I vowed to go through as (see them here >>>) my New Year's resolution, remember? Yikes, I'm not doing too well on that resolution!! ha!
I am determined to make it happen before the end of the year though. That is my goal.
I should mention I did buy another piece of furniture from a neighbor and friend of mine a couple of weeks ago. Let me just add it to the list, right?
It's a big, heavy, gorgeous beauty, too. I can't wait to share it with you!
Honestly though, if we hadn't been up to our eyeballs with our continuing home renovations around here, our latest the bath/closet remodel I recently posted about, I'd probably be through all that furniture. But it's hard enough to keep up with the small makeovers while still trying to do the DIY projects in our home.
I am so happy to say we are finally seeing the light at the end of that tunnel though! We are close to being done with that big project and I can put all my focus back into the blog here. And I have some things upcoming that I think you will like so be sure to stay tuned. :)
Now, back to my latest thrifty haul and today's fall floral bucket project.
I've made my way through a few of them already. If you missed them, you can see them here:
And another one to celebrate fall today.
Fall Floral Bucket
Here's how it started out…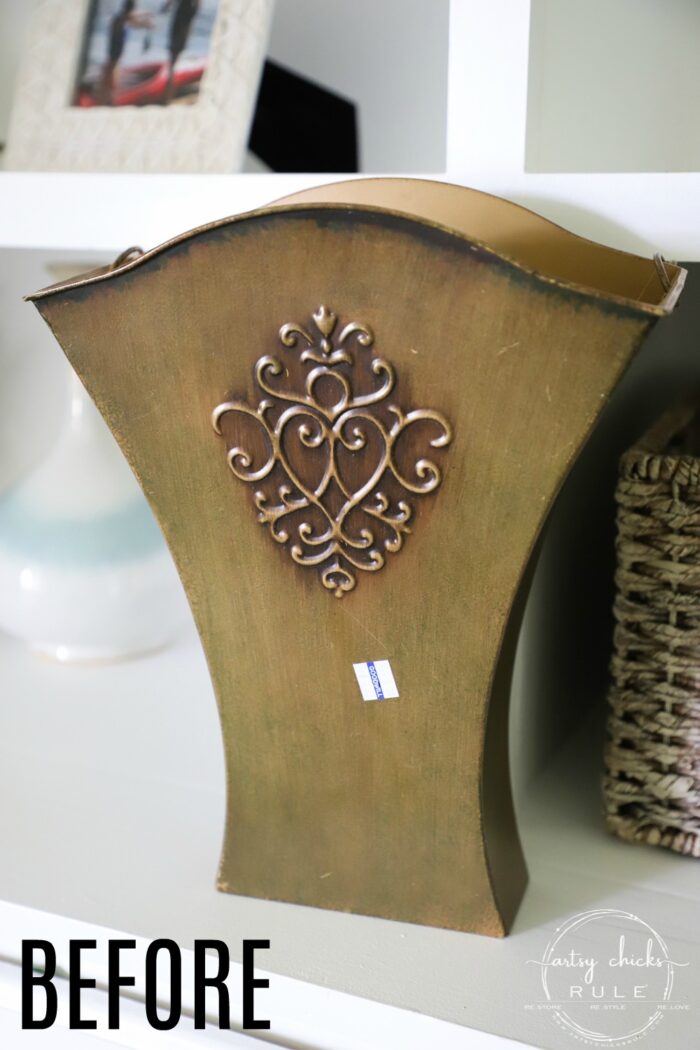 I actually already have this lovely from Southern Living at Home. Remember that?
I painted mine with, I think it was, Duck Egg Blue and have used it with spring flowers on my porch over the years.
This one I found at Goodwill for a few bucks.
I decided to paint it in an off white color, Dixie Belle's Drop Cloth.
I thought a creamy, soft white would be a better fit for fall.
However, as you've already seen, I didn't really use traditional colors in my fall floral bucket.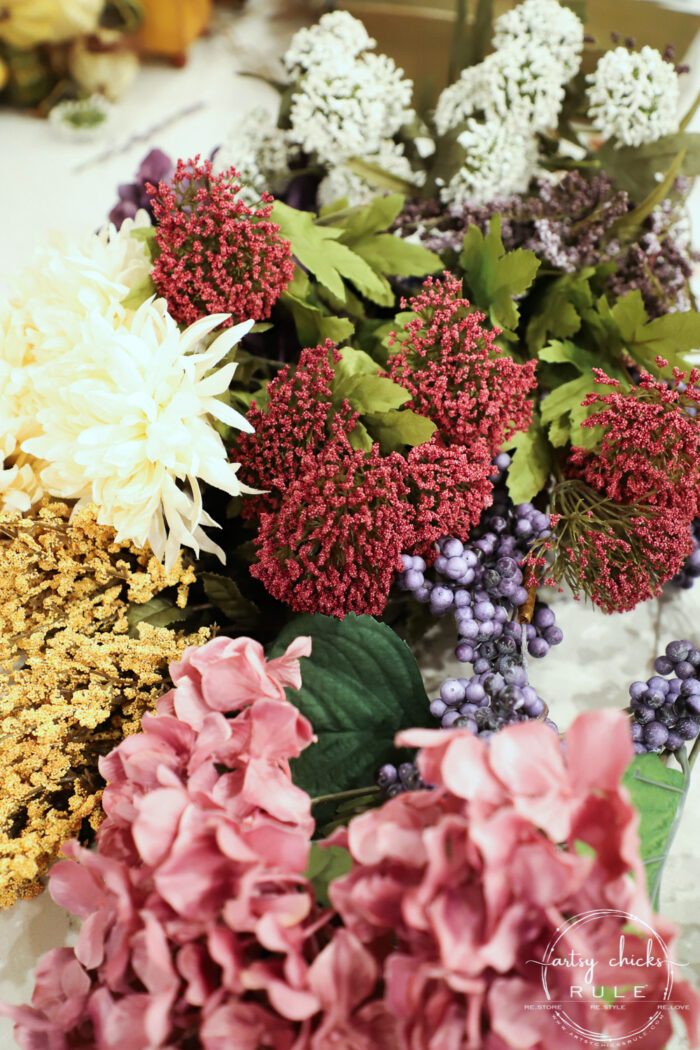 But these are all "fall flowers" that I picked up at Michael's a few days ago. (40% off on all of them)
As we get closer to Thanksgiving, I will tend to go more traditional in colors, but in the early days of fall, I love keeping it a little colorful with plums, purples, maroons, yellows, creamy whites, etc.
I suppose even those these are tagged "fall" in the store, this sweet little arrangement could even go for summer.
I left the chain handle the color it was because I thought it a nice fall-ish color.
For the "bucket", I simply brushed on a very light coat of paint with a chip brush in a haphazard pattern. (see below)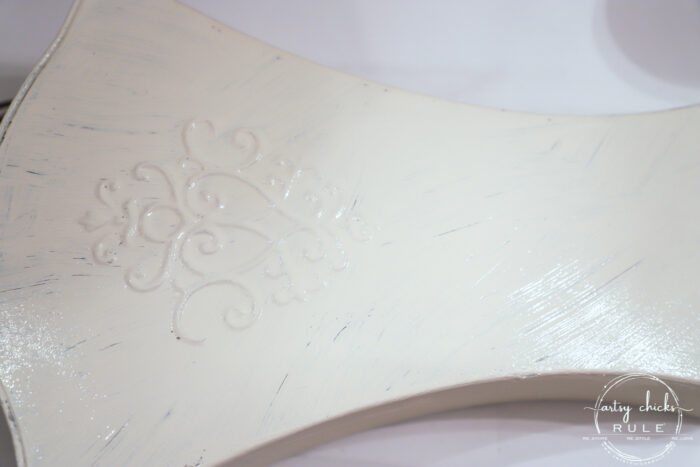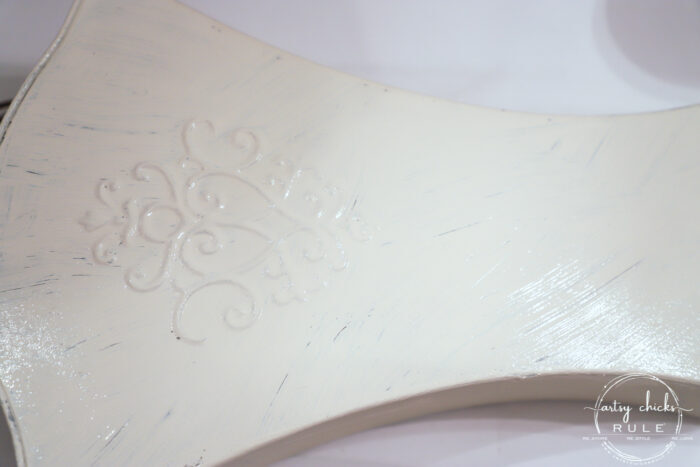 I actually wanted all those brush marks to show through.
Once it was dry I lightly sanded all the edges and raised areas.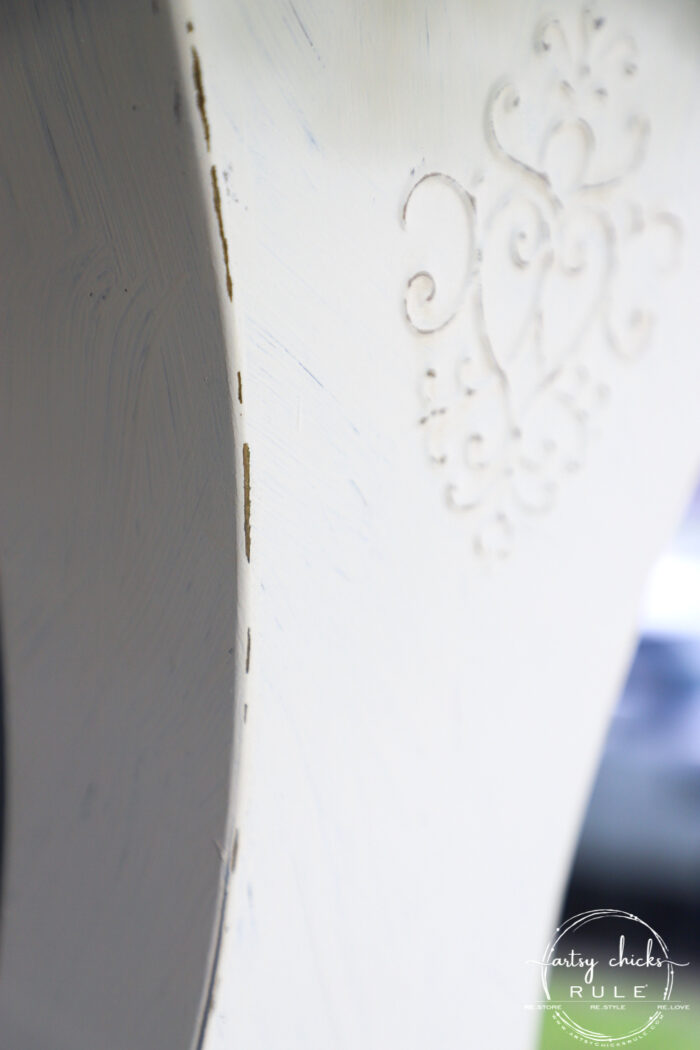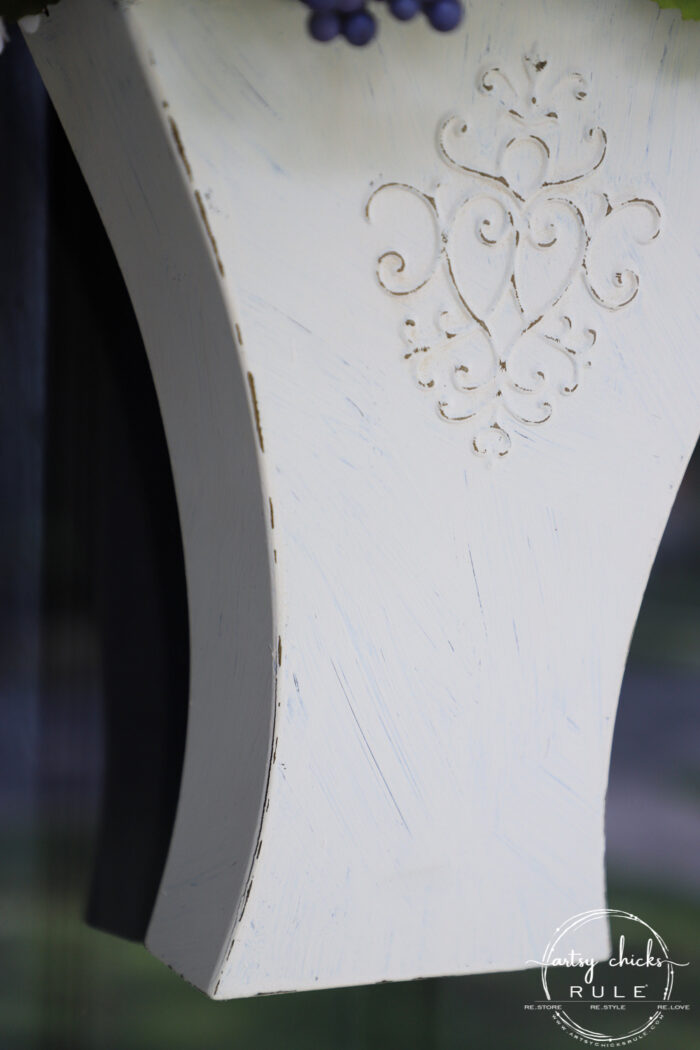 I didn't put a sealer on it because I didn't really feel it needed one and I liked the matte look of it.
I used a small block of floral foam to hold the flowers.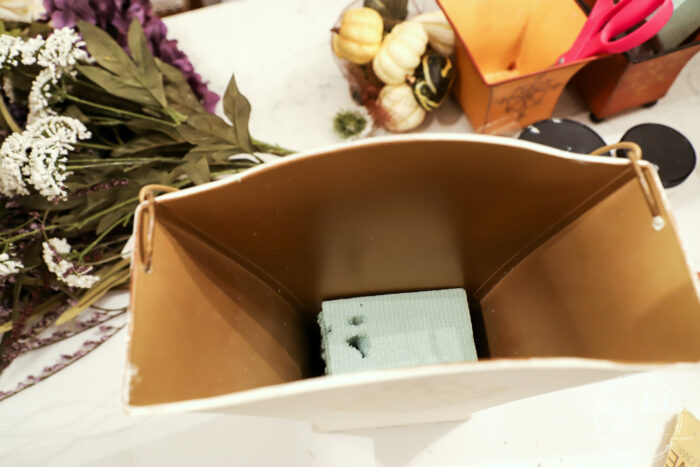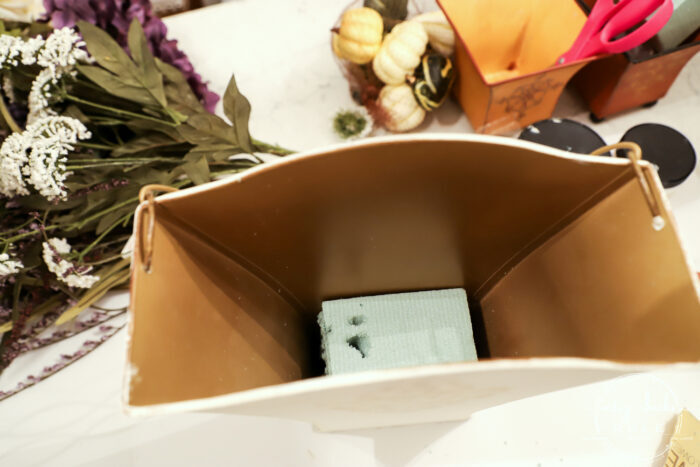 And as I usually do, I just start sticking the flowers here and there.
I try not to make it too perfect or matchy-matchy. It usually comes together pretty well.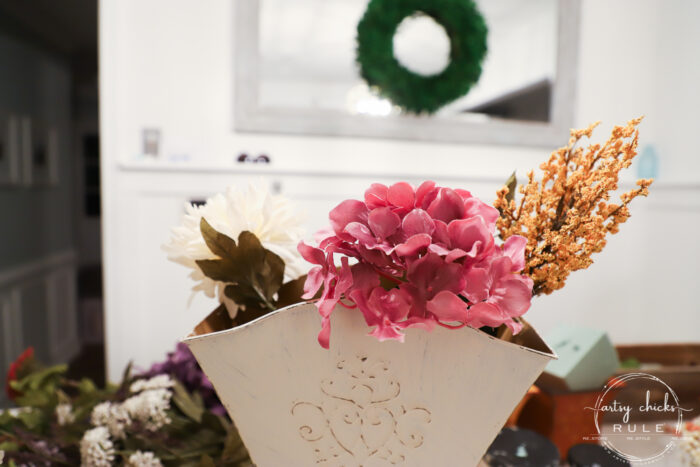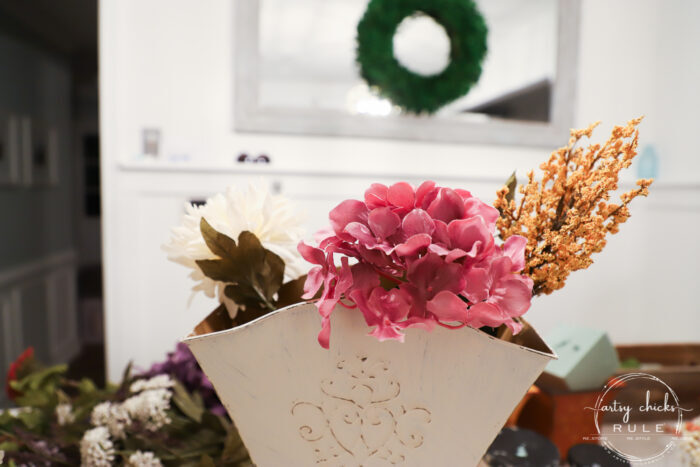 A little tweaking and adding here or there and done…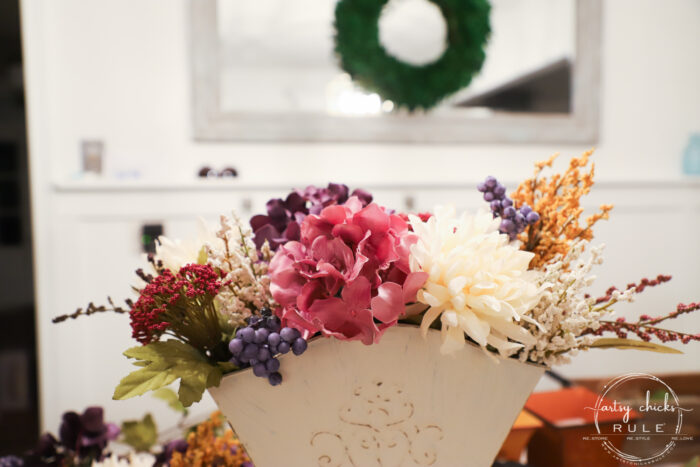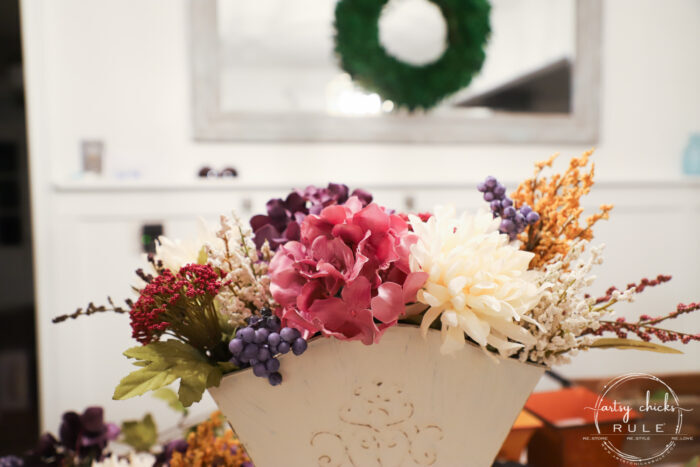 That's it! Pretty simple really.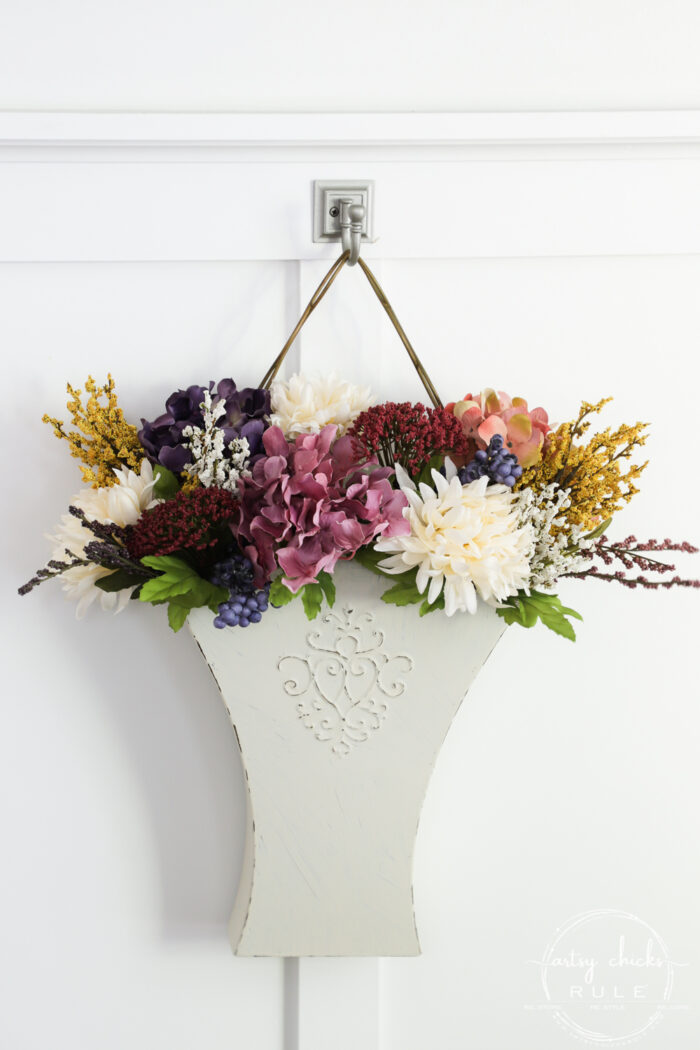 I adore all the pretty colors. What a beautiful way to say goodbye to summer and hello to fall.
Fall is FULL of beautiful colors, besides ORANGE, so I see it as only fitting to celebrate that with colorful decor such as this.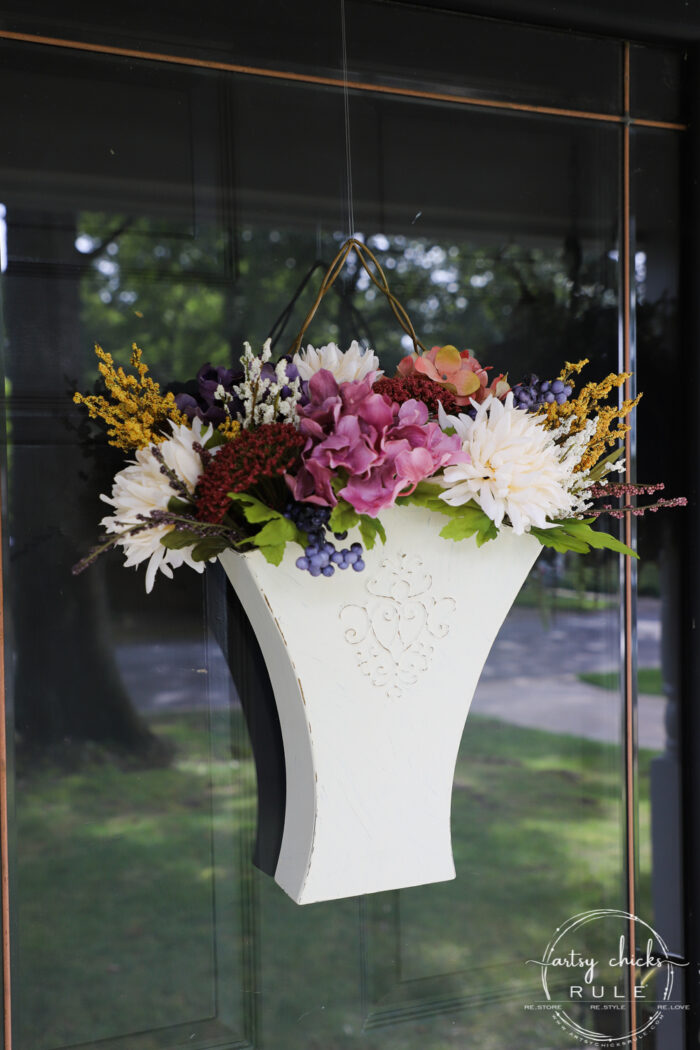 This fall floral bucket could be used just about anywhere like out here on our front door. (I always hang my things with fishing line, by the way)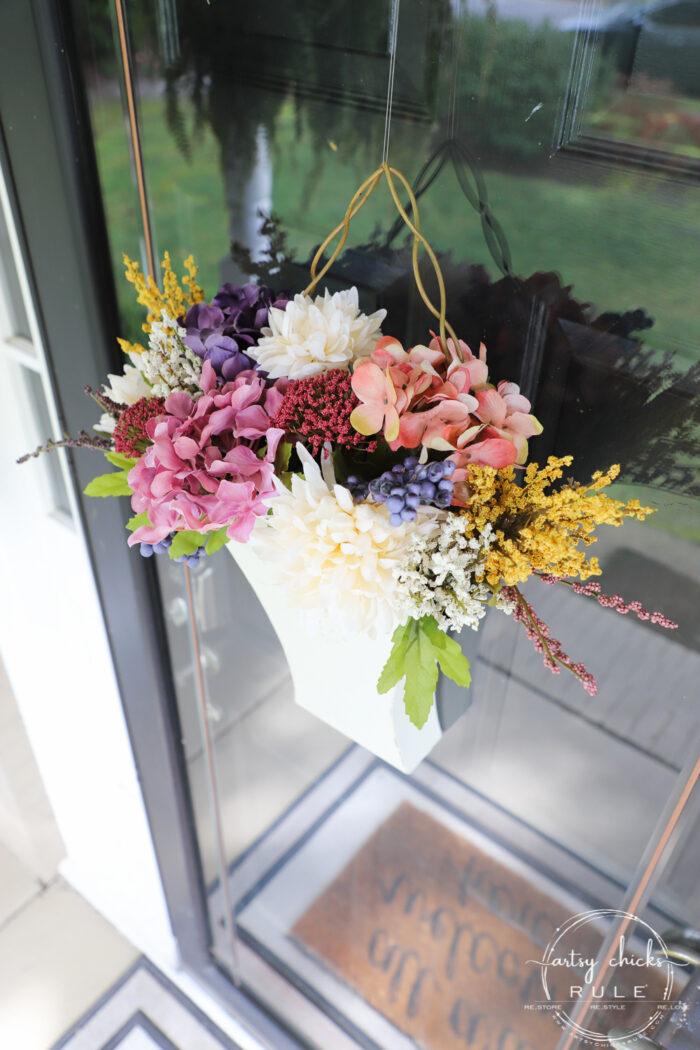 I still have and love our little welcome mat out front.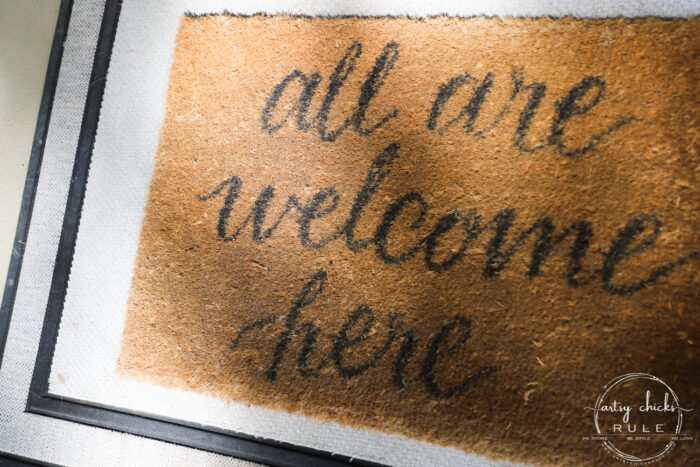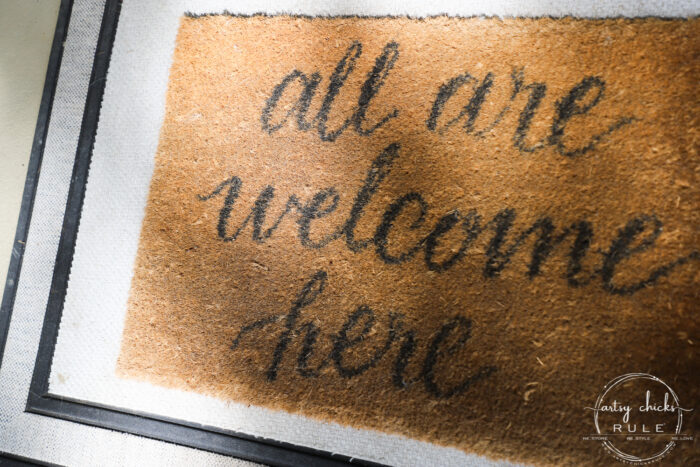 You can find it >>> here. ( the black and gray one underneath came from Lowe's)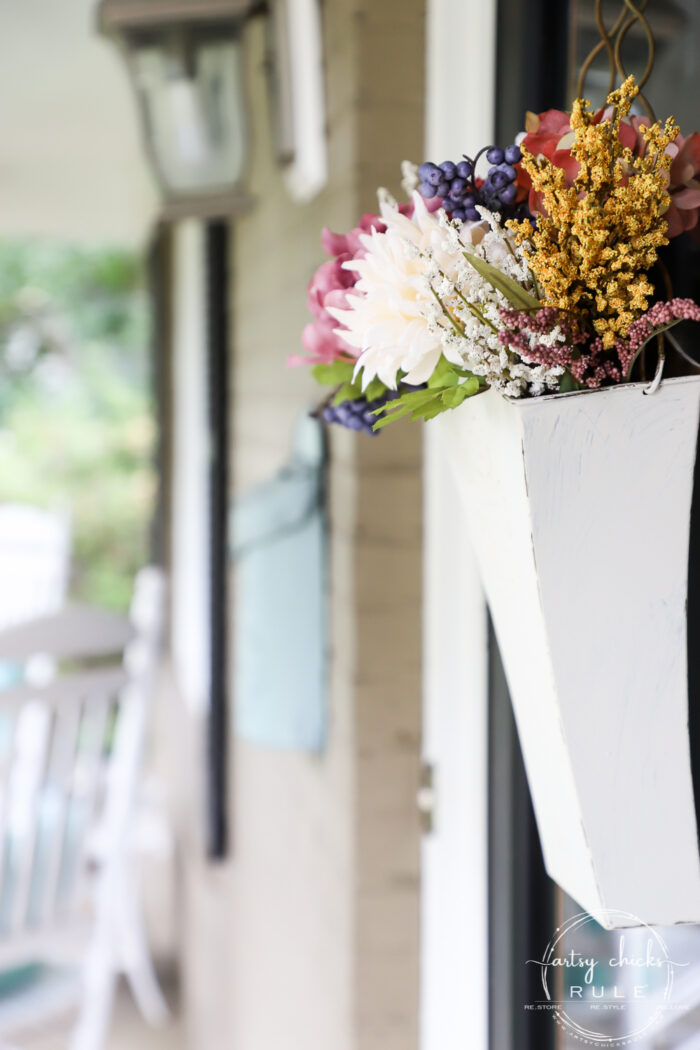 Want to see where else you can use it??
I usually hang my little "mailbox" here. (you can see it in the photo above)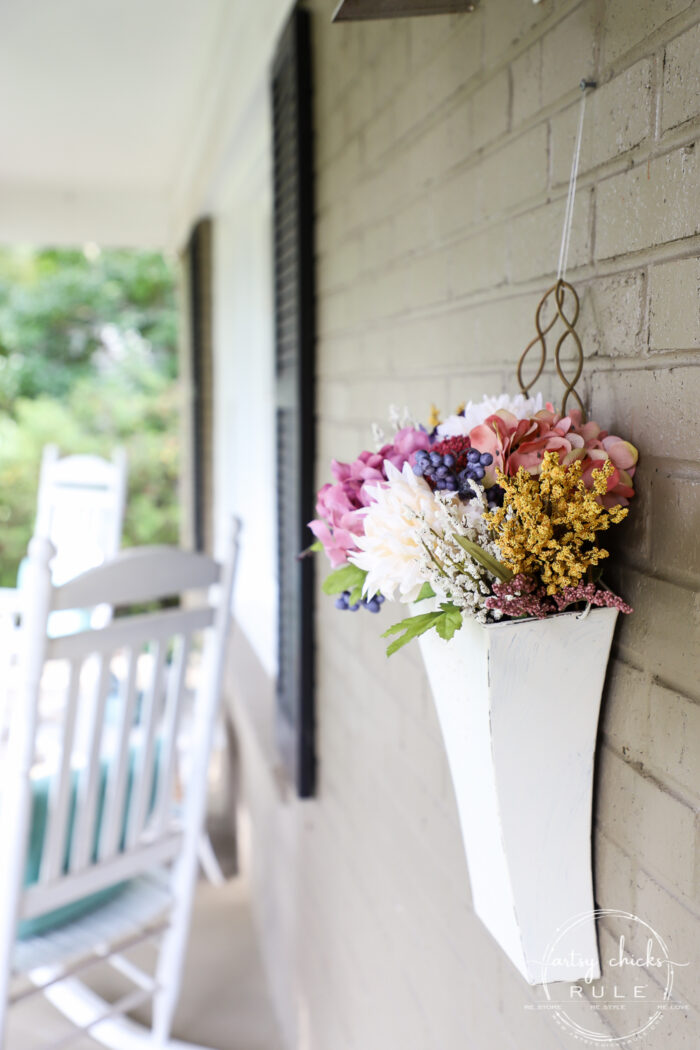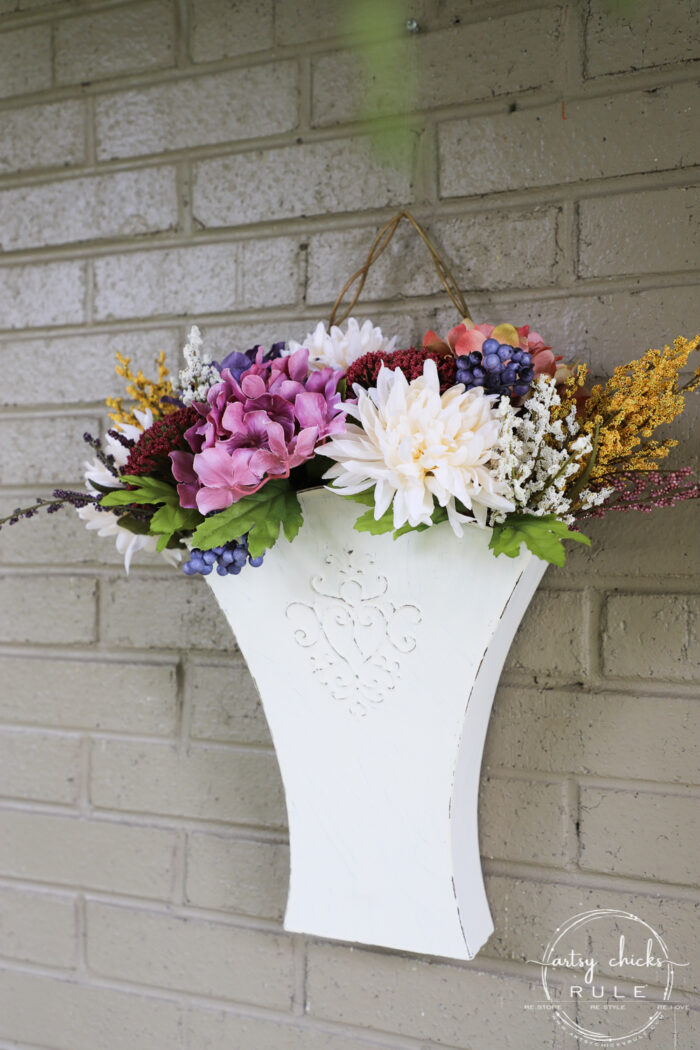 Forget the fact that it's 90 degrees out here today. haha
It even looks pretty hanging on the window over the bench on my porch.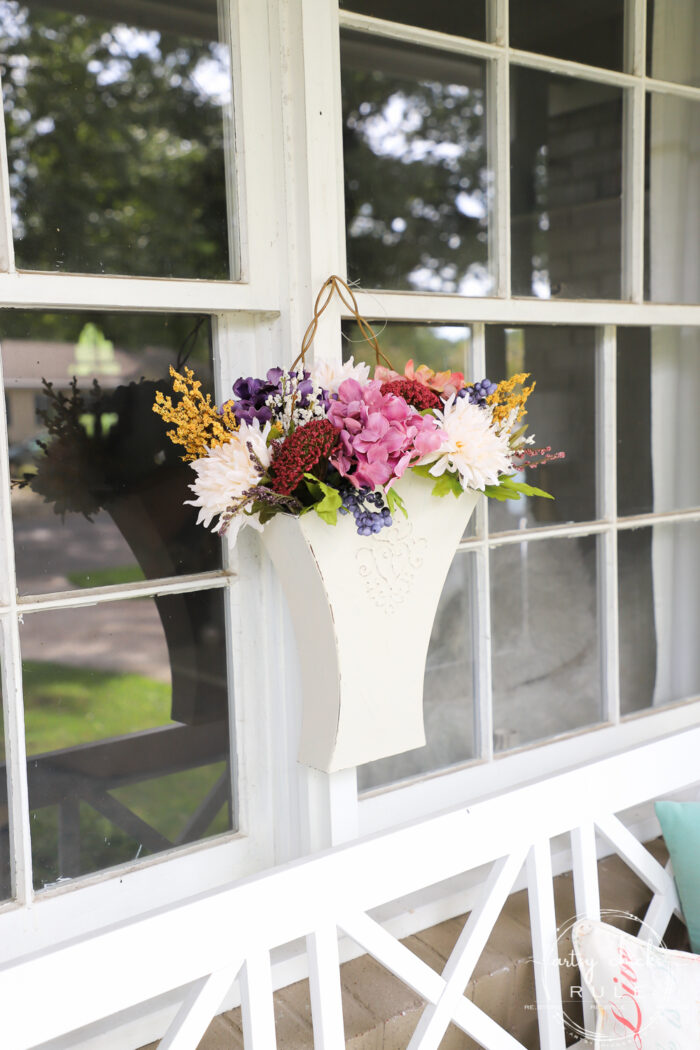 Pay no mind to those old windows. They are getting replaced next, you know, once we finish the other project we are on.
(We already did the first one in our master bath! Yippee!)
Or how about here on the mirror in our foyer?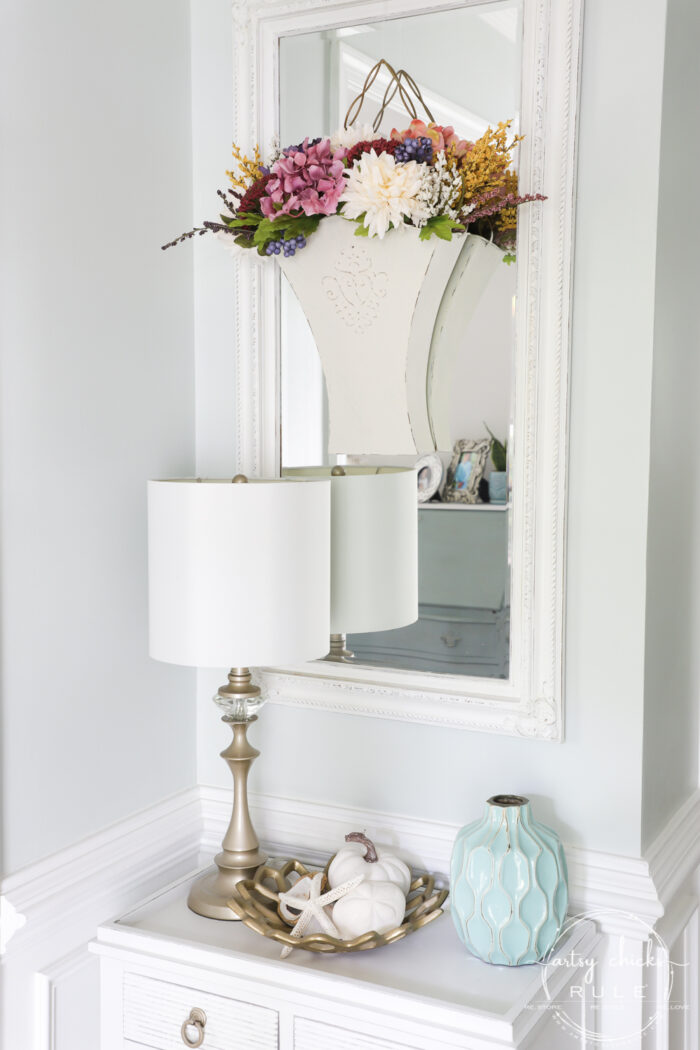 Looks so great with all the white and pale colored walls in here.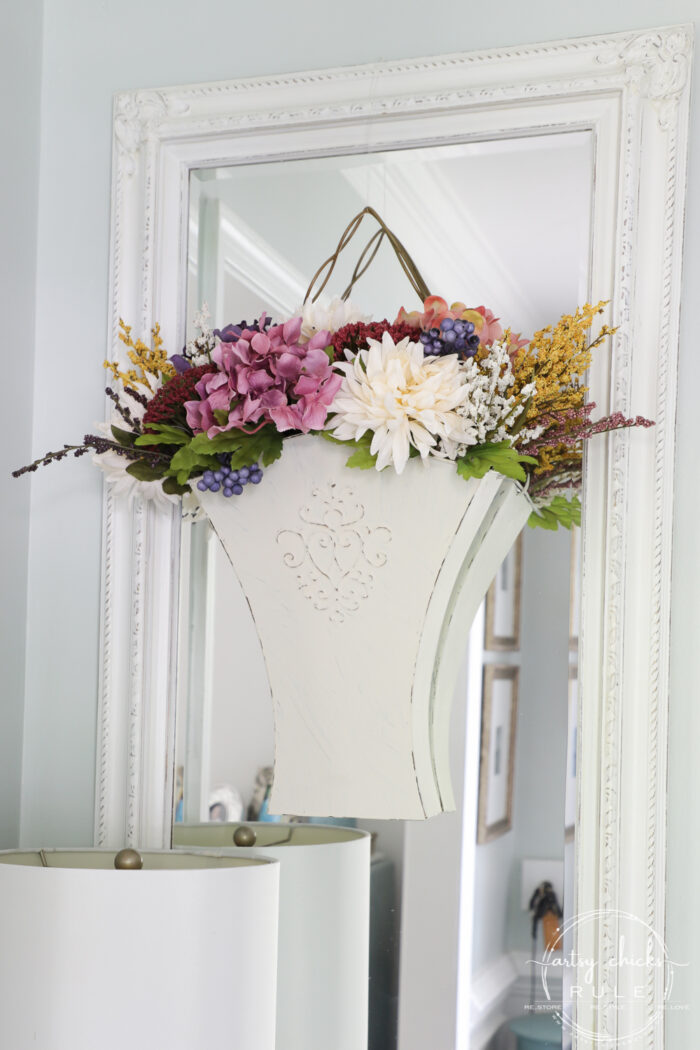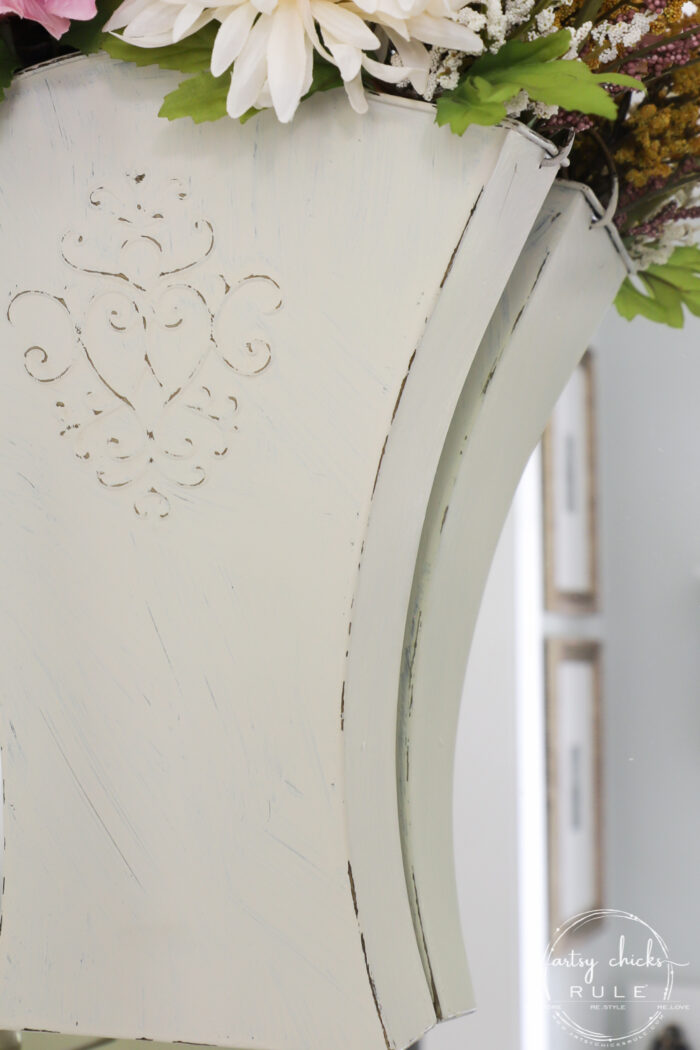 Another closeup of that very relaxed paint job.
And a sneak peek of the other rooms.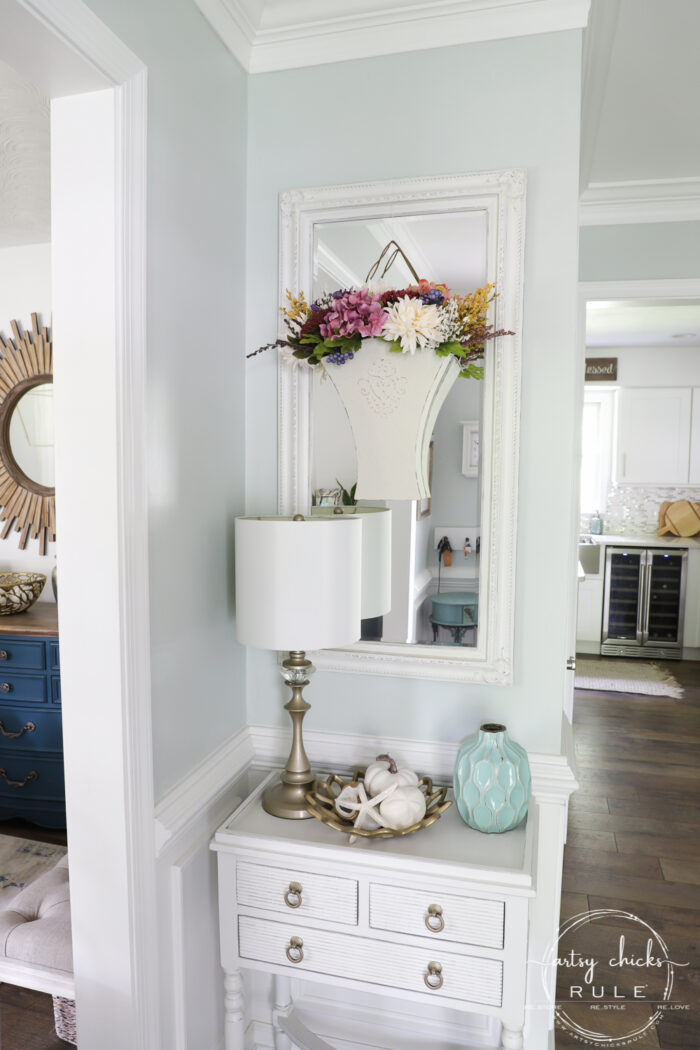 I'm just loving this colorful little fall floral bucket in case you can't tell.
The colors just make me so happy and I don't even mind fall is upon us!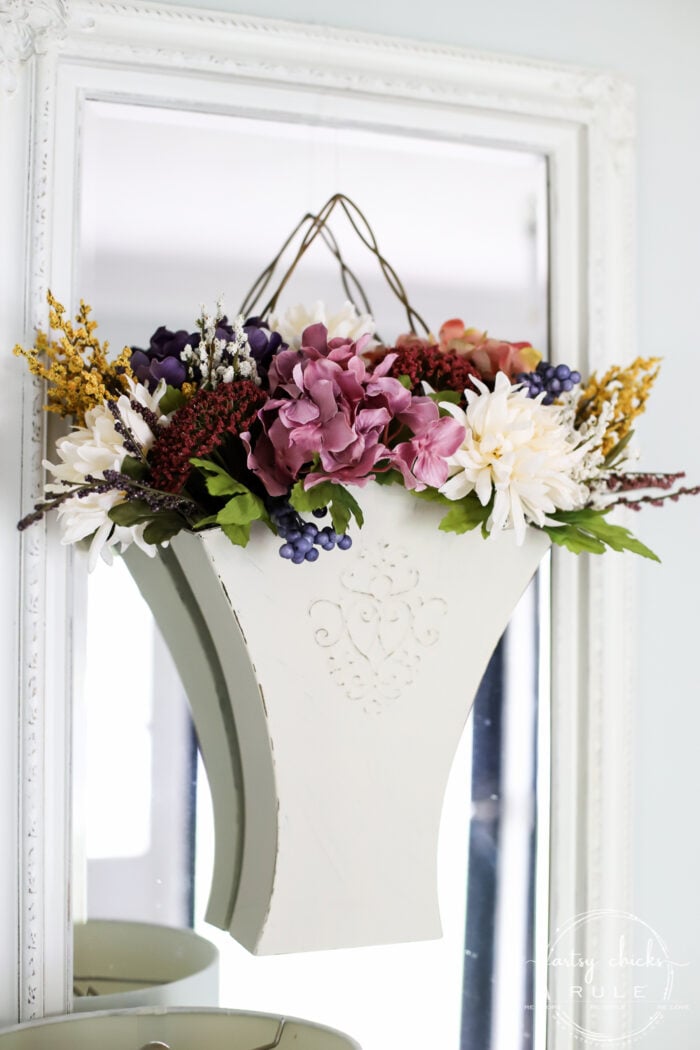 Don't get me wrong, I actually really like fall but I'm a summer girl at heart.
And I really, really dislike winter and we all know what comes after fall.
If you're loving these colorful fall florals, you'd probably like this >>> Floral and Fall Pumpkin Centerpiece I made last year.
Now hop on down to your local Michael's store (or wherever you shop florals) and get you some colorful fall flowers to welcome this amazing and colorful fall season in too.
PIN it to save it!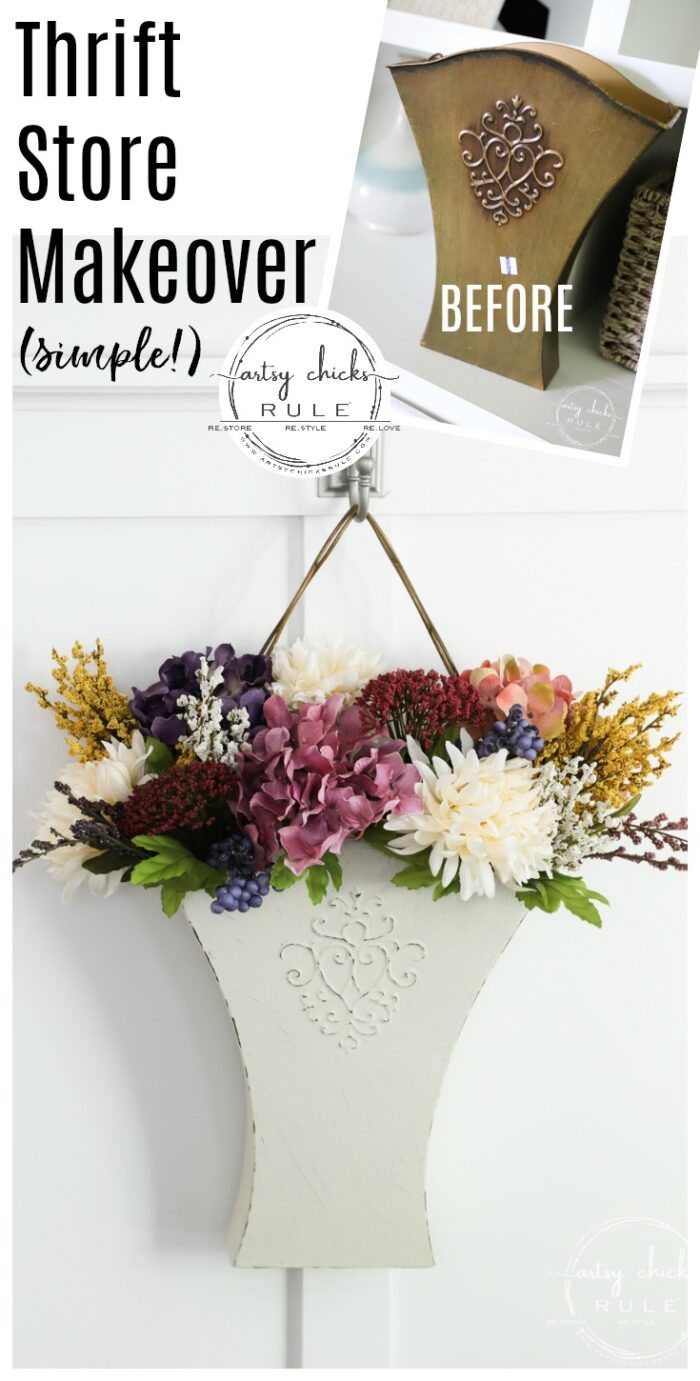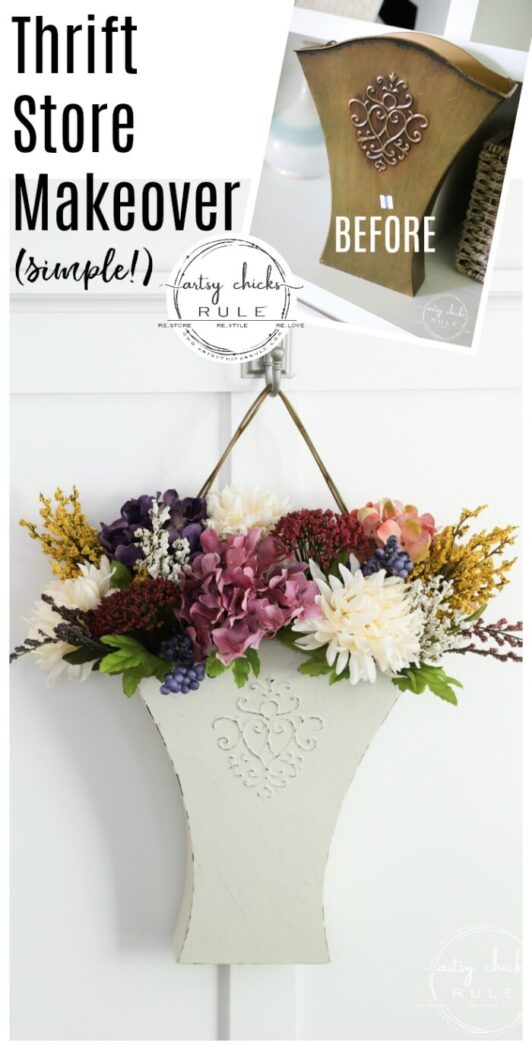 Hope you have a happy and blessed weekend, friends!
xoxo