Trick or Treat Sign (if you dare!)
This post may contain affiliate links. Please see disclosures here.
Make this trick or treat sign with my free printable…if you dare! (I couldn't resist) OR just print it out and frame it for your Halloween decor.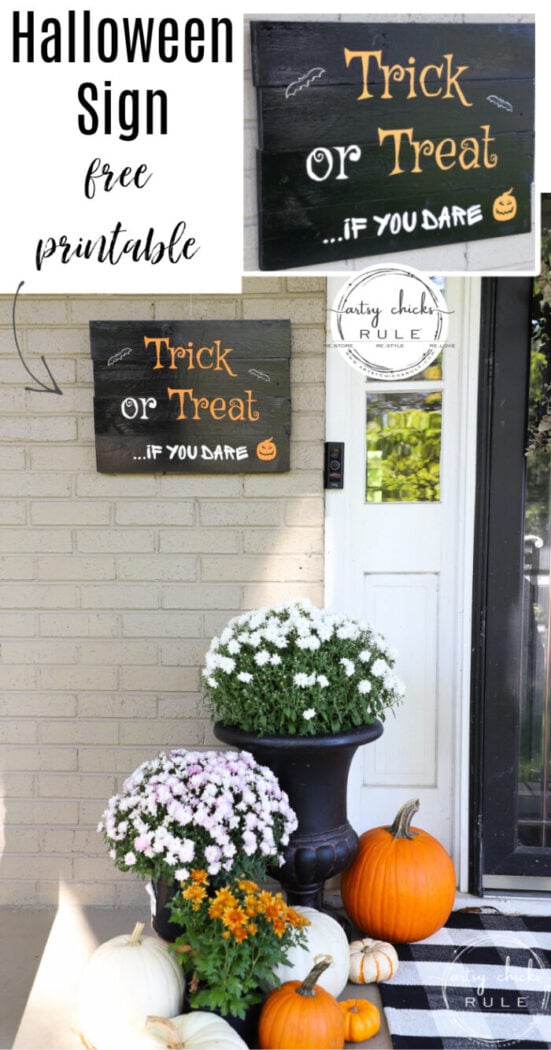 Hello friends!
I went right from fall porch to Halloween! Ha! But hey, it sorta goes together so I'm good with it.
I'm not much of a Halloween decorator so that little bit (the sign) of Halloween decor is perfect for me.
And I'm going to be sharing the free printable so you can make one too. :)
I usually share my thrifting outings over on my Instagram stories and shared when I found this one over at the thrift store by my Dad's house. Did you see it?
Trick or Treat Sign (if you dare!)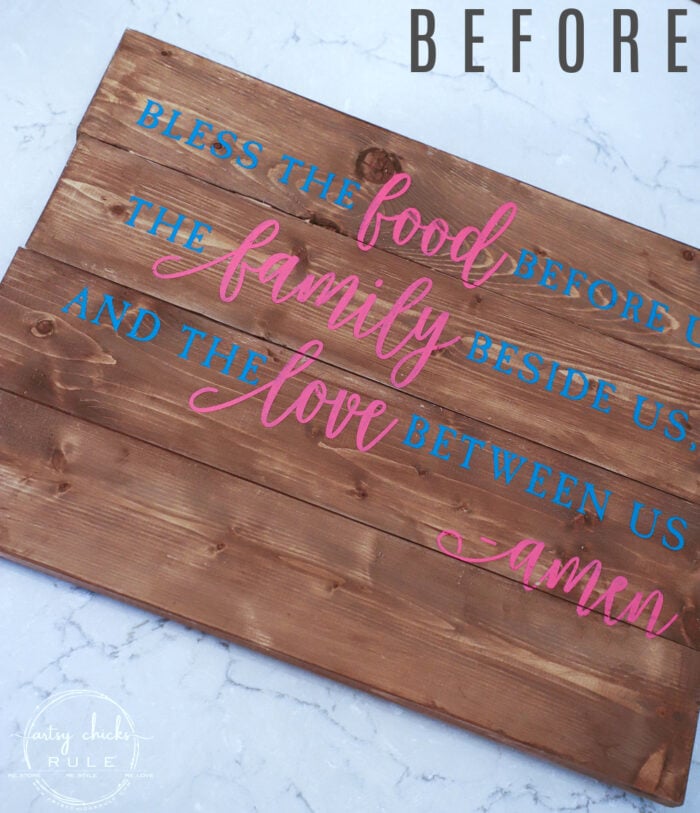 I love finding old signs at the thrift store because they are ready to be turned into new signs, usually with the hanger on the back as well.
I gave this one a light sanding. It needed to be sanded all the way down to remove all the lettering but I was just making a fun sign for outside so didn't worry with all that.
I sprayed it with flat black spray paint and then created the "trick or treat sign" printable and imported it into my Silhouette Cameo to cut it out.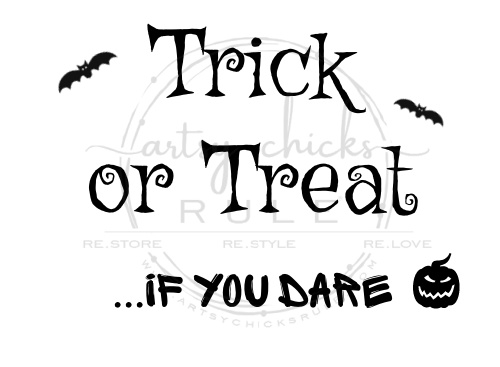 If you have designs you want to use with your Silhouette, I share a tutorial about how easy it is to import them into your Cameo >>> here.
Want this "trick or treat sign" printable?


If you are already a subscriber, you can click here, enter your password (it can be found near the top of all my emails to you), and download this or any other graphic I've created over the years. (over 100!)
If you aren't yet a subscriber, you can click here or the pink box below to become one to gain access.
Next, I pulled out all the letters to create a vinyl "stencil". You can also pull all the vinyl off around the letters and just attach the letters but I wanted to paint different colors so made use of it as a stencil instead.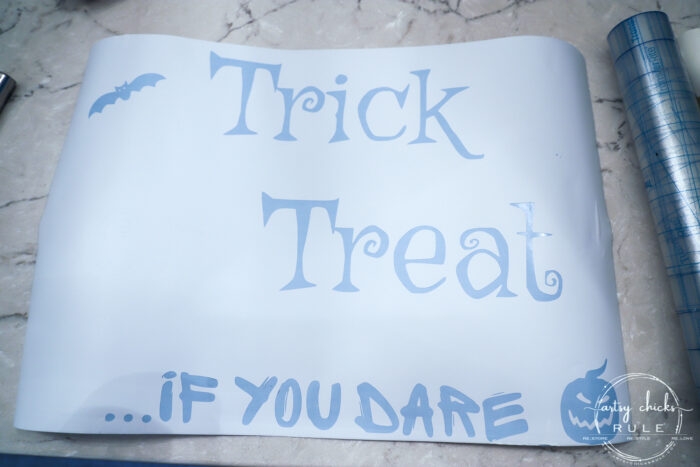 Then you attach the transfer tape over the top of that and attach the vinyl "stencil" to your project.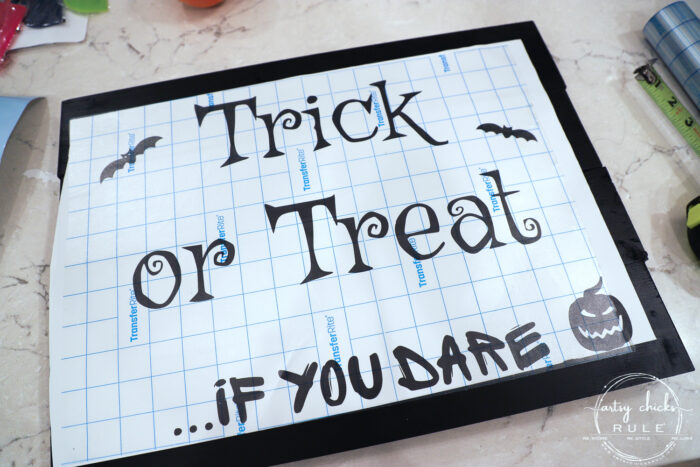 Peel off the transfer tape and now you have a vinyl stencil. (I always peel off and stick it back to the roll to reuse again and again)
The bottom part was a little close to the edge so I added tape to protect the wood when I painted.
Paint it whatever colors you want …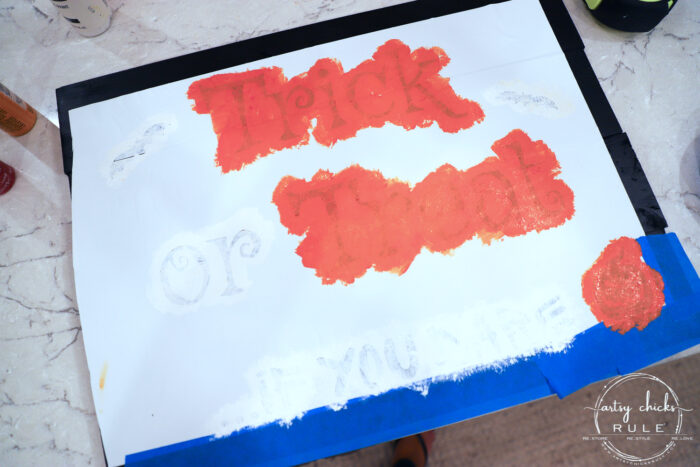 And done.
Except ugh, it bled this time. I am sure it was probably the bumpy nature of the wood underneath. It does happen from time to time but not usually this much.
I used craft paints this time and don't usually use those much so maybe it was the consistency of those too. I also usually use a tiny roller to apply the paint, (which works really well) this time I used a small brush. Who knows?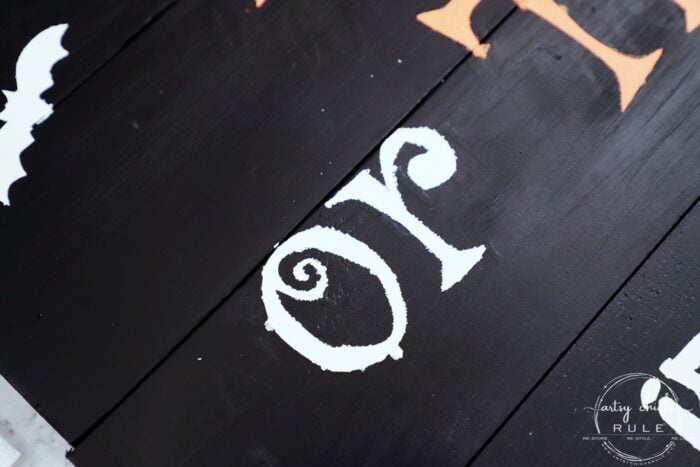 Darn.
But wanted to share so you don't think this kind of stuff never happens to me.
It does!! lol
It's a pretty easy fix though. It takes a little more time to get finished but you've gotta do what you've gotta do.
I just simply take a small script liner brush along with the black craft paint and carefully go along all of those edges covering up the bleed through.
It works well, you can not even tell! Yippee!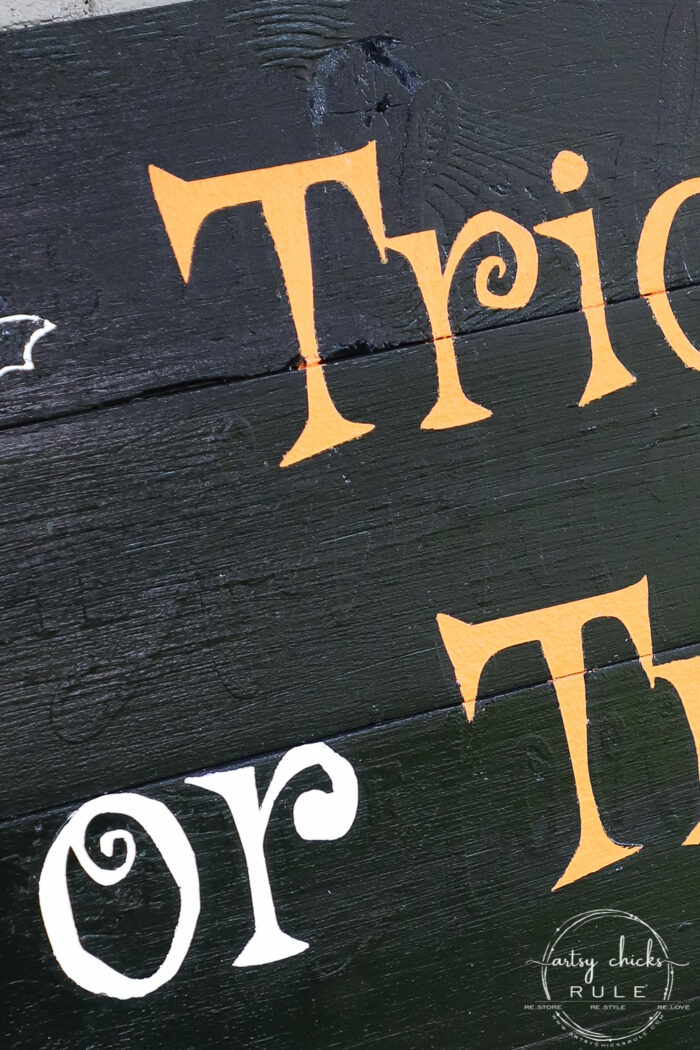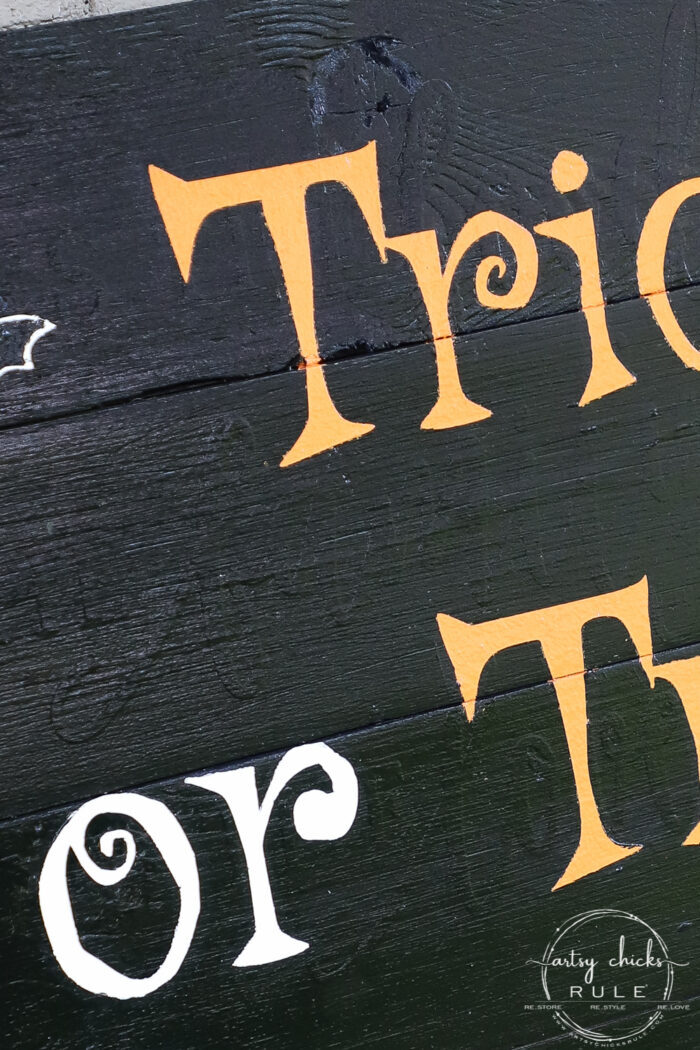 I sprayed over it with >>> this spray coat.
I like the shiny look on this one.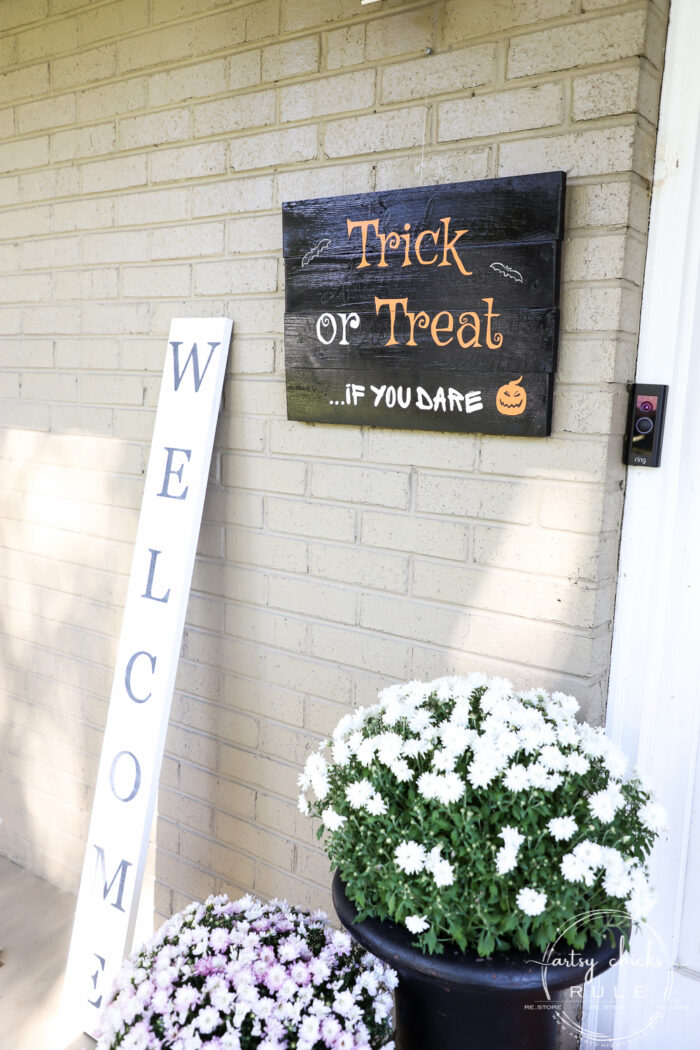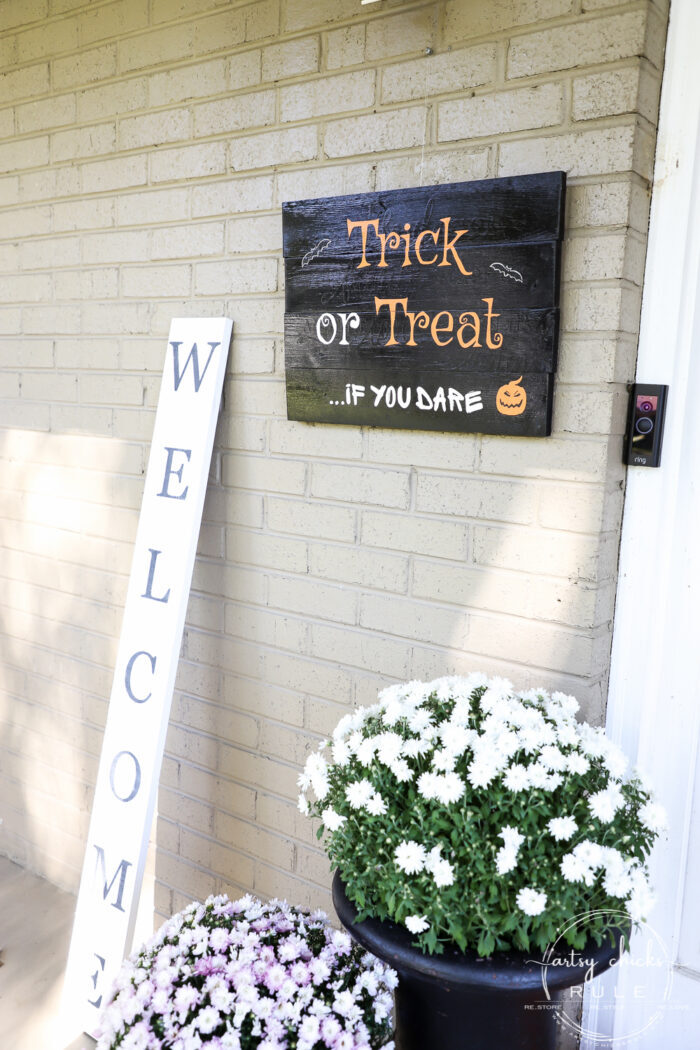 I think it goes great with all my fall decor.
And did you notice my mums are very slowly blooming? Wow, taking awhile. But the middle ones that I thought were more of a deep plum color are actually more white. They sure fooled me!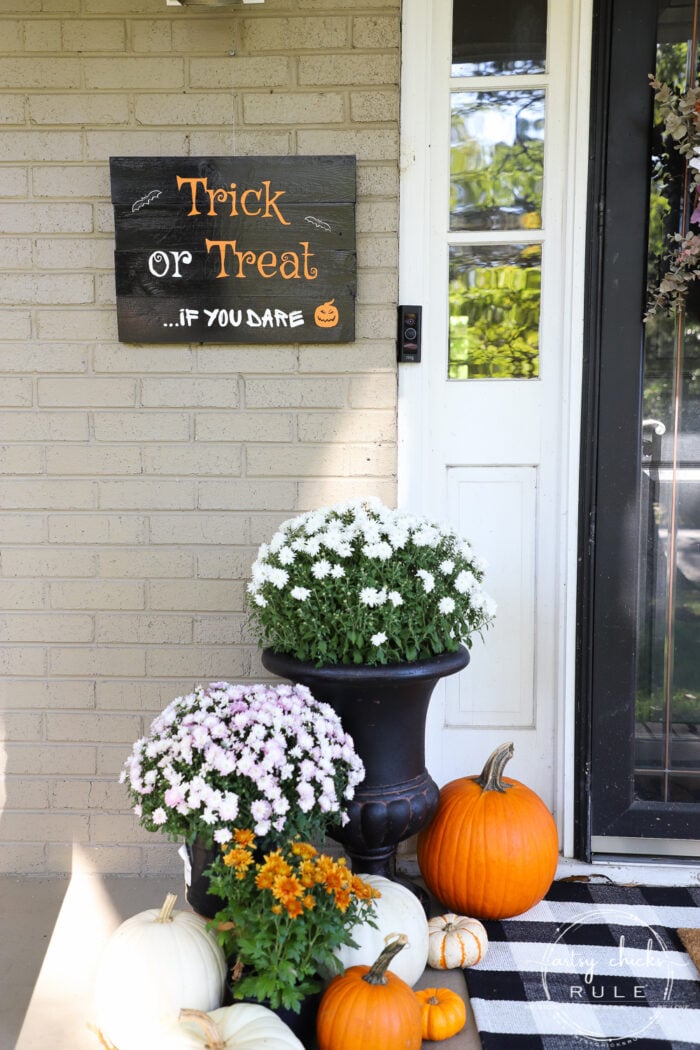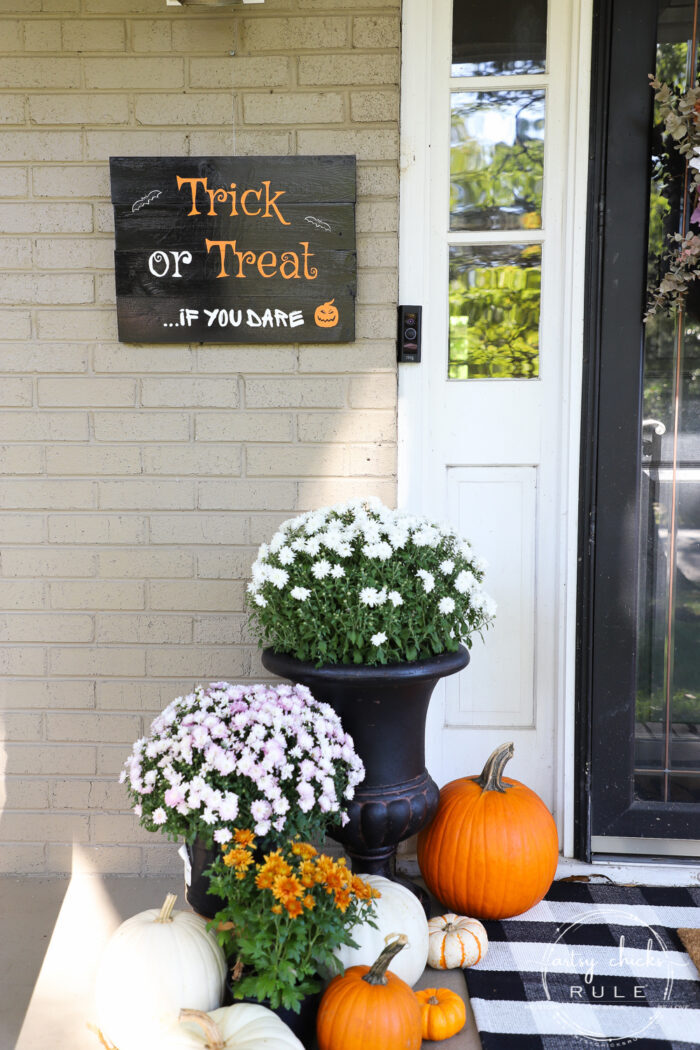 Up close…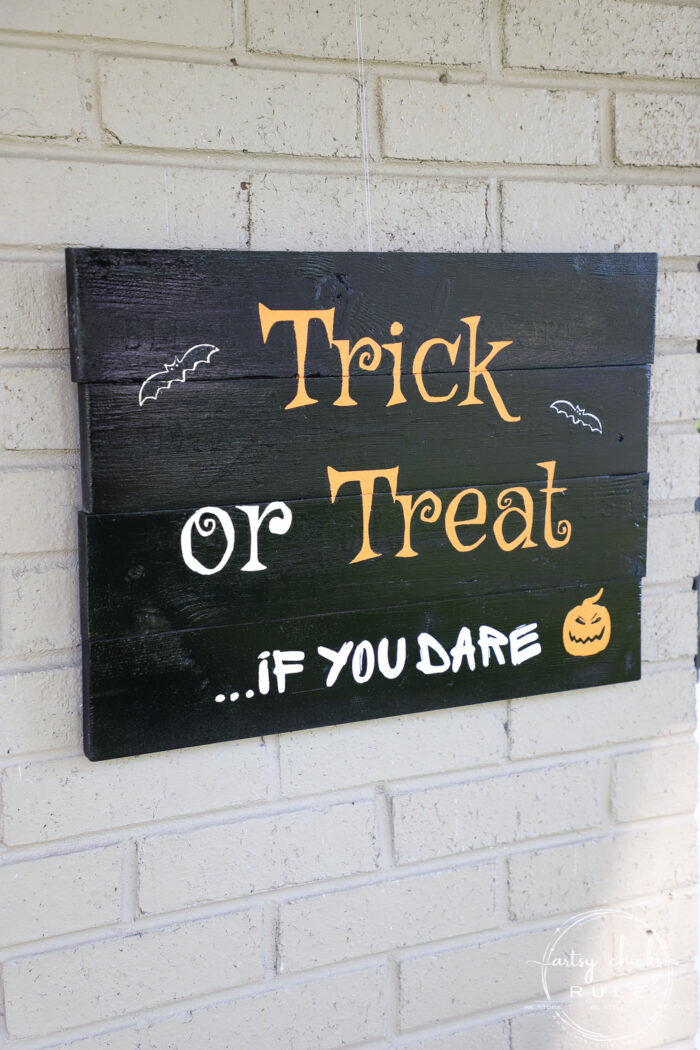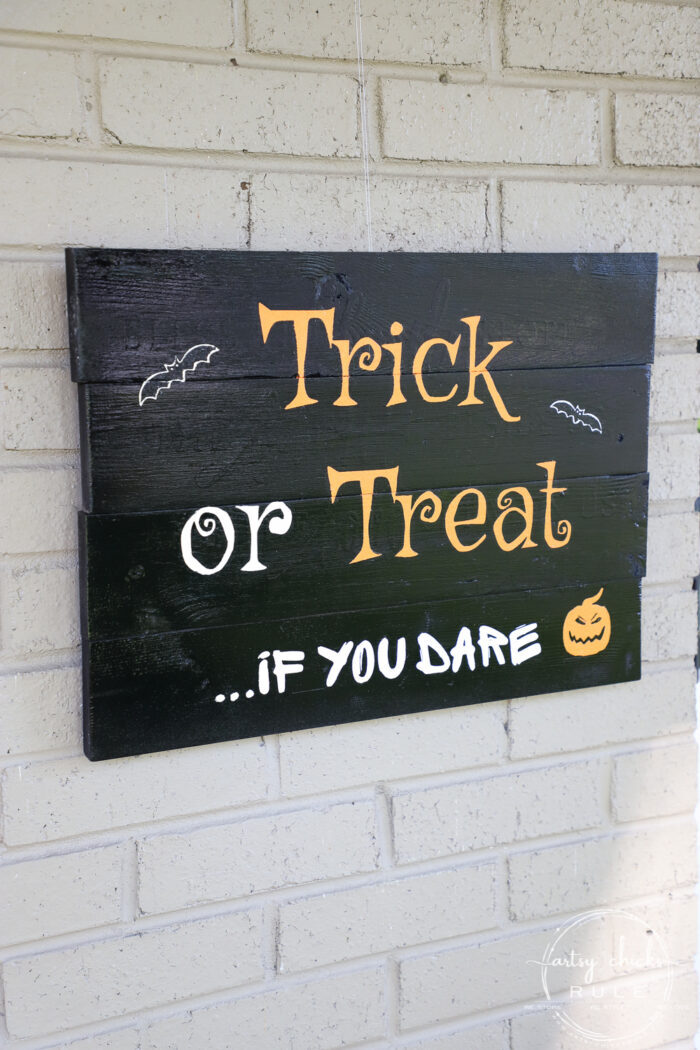 You might notice that the bats are not white. I wanted them to be black because well, bats are black.
And so I just painted them in with white first. Let that dray and then paint with black leaving a thin white line all the way around.
So, what do you think, do you think they'll dare?? Haha…no, not this year but not because of the sign!
Oh well, I'll be ready for next year anyway. ;)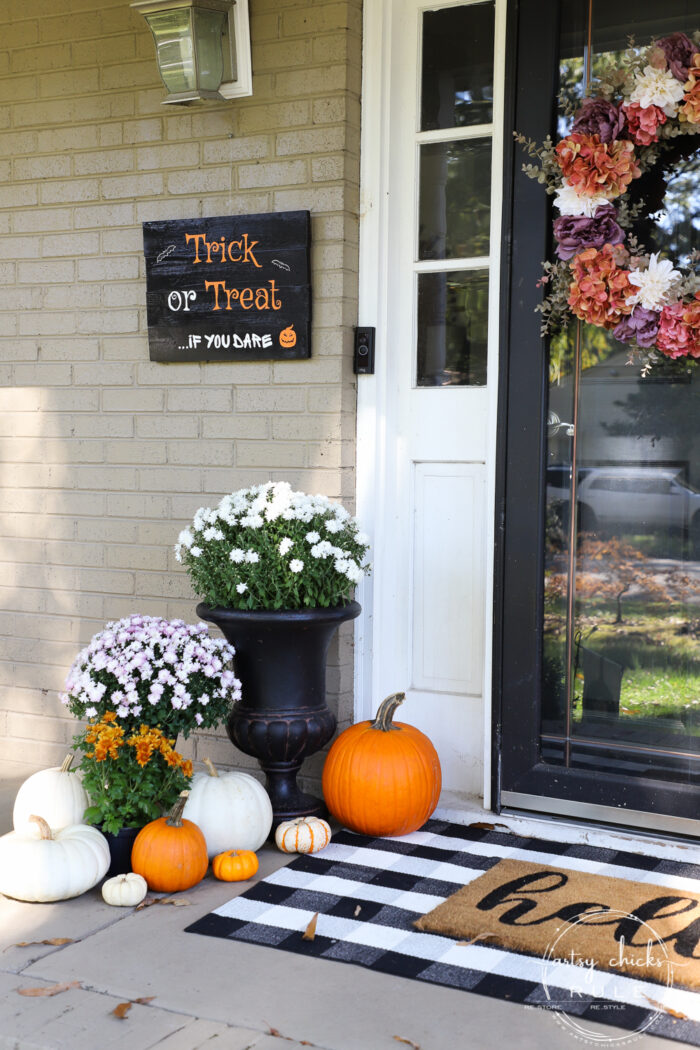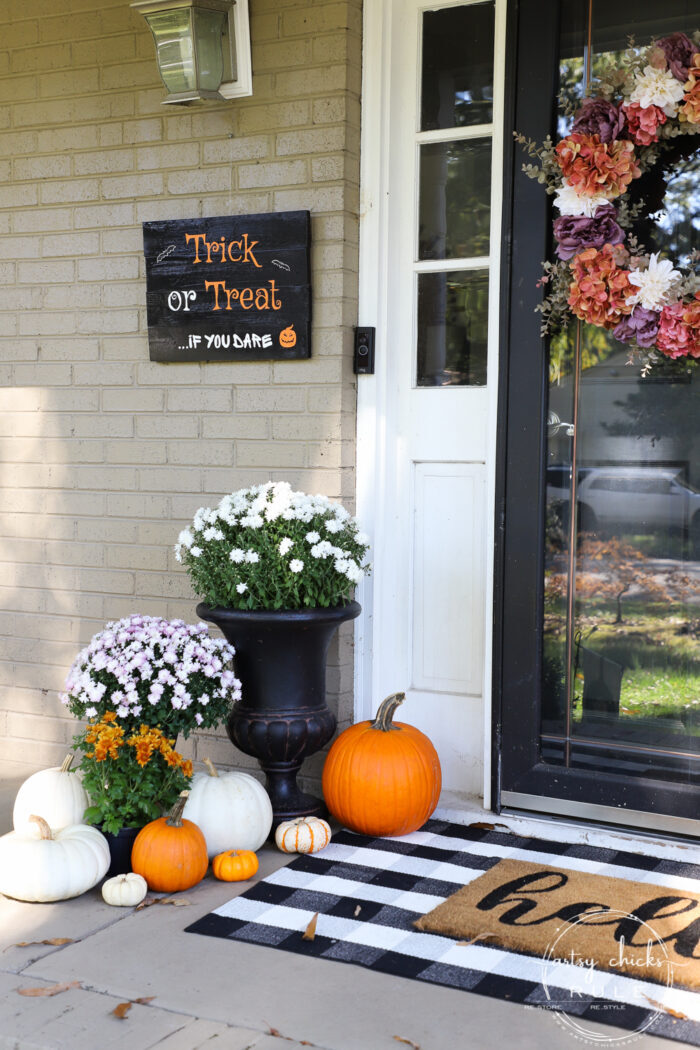 And no, I didn't throw those leaves up there to make it look more fall-ish, they go everywhere!
We have two HUGE old trees in our front yard and we have an overabundance of leaves every year.
Fun, fun! :p …not so much. haha
PIN it to save it!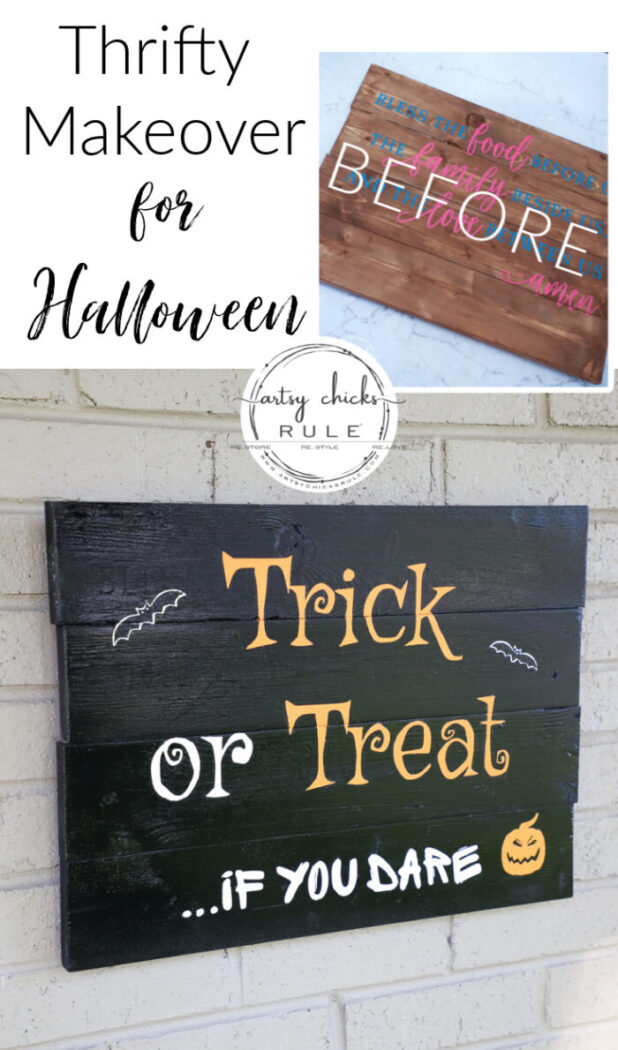 Have a wonderful weekend! Get out and enjoy this beautiful time of the year. We'll be back at it over at the beach condo.
Hopefully, we can squeeze in some fun too…we sure need it…we'll see!
xoxo