Whitewashing Painted Wood Mirror
This post may contain affiliate links. Please see disclosures here.
Whitewashing painted wood is so simple and takes your project to the next level!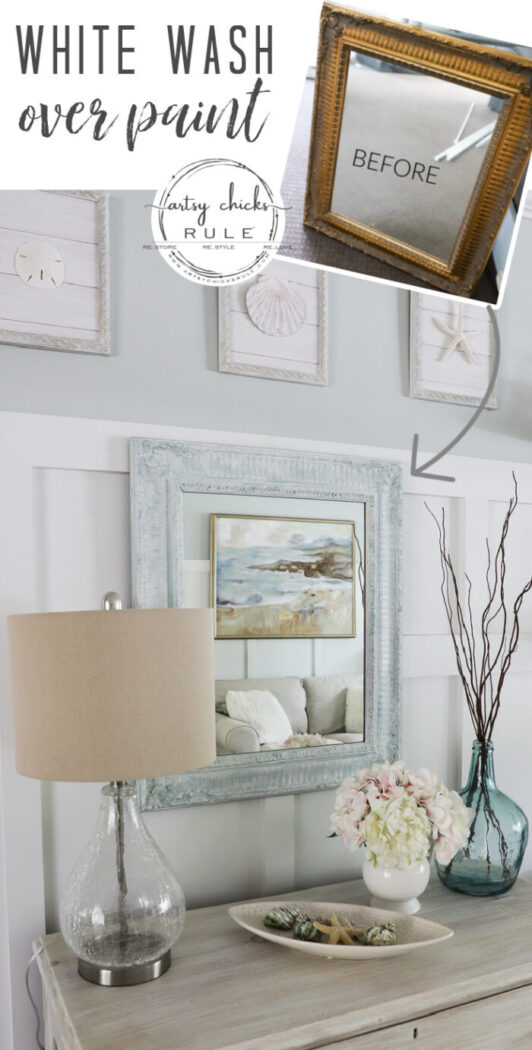 Hello beautiful friends!
I hope you are having an amazing week so far. Can you believe we finally got some fall temps (50s and 60s) and this week we are back to 70's and even 80's. So weird but normal for around here. And I am NOT complaining because although I do love cool, crisp fall days, I despise winter. lol
Plus it means we might get to enjoy this porch makeover before it gets too cold after all.
Which brings me to today's makeover.
This mirror which I believe I found on one of Christy and my thrifting trips. I looked for it in our videos but could not find it. Maybe you can?
Check out our videos here. Or I could just be loosing my mind. Which is totally possible at this point!! haha
Anyway, here she is…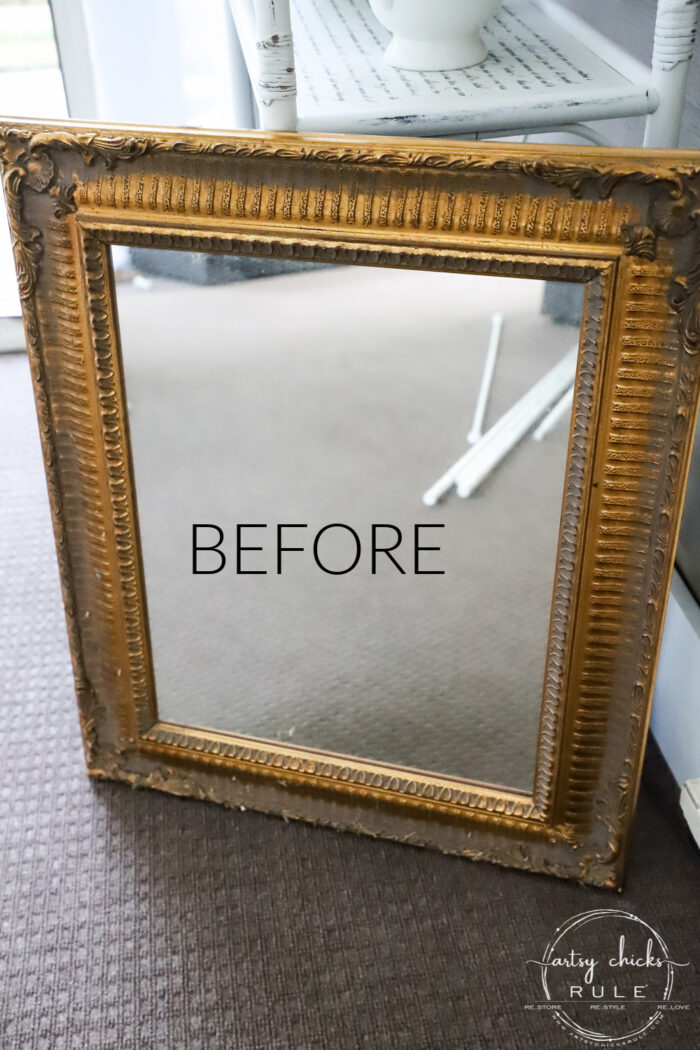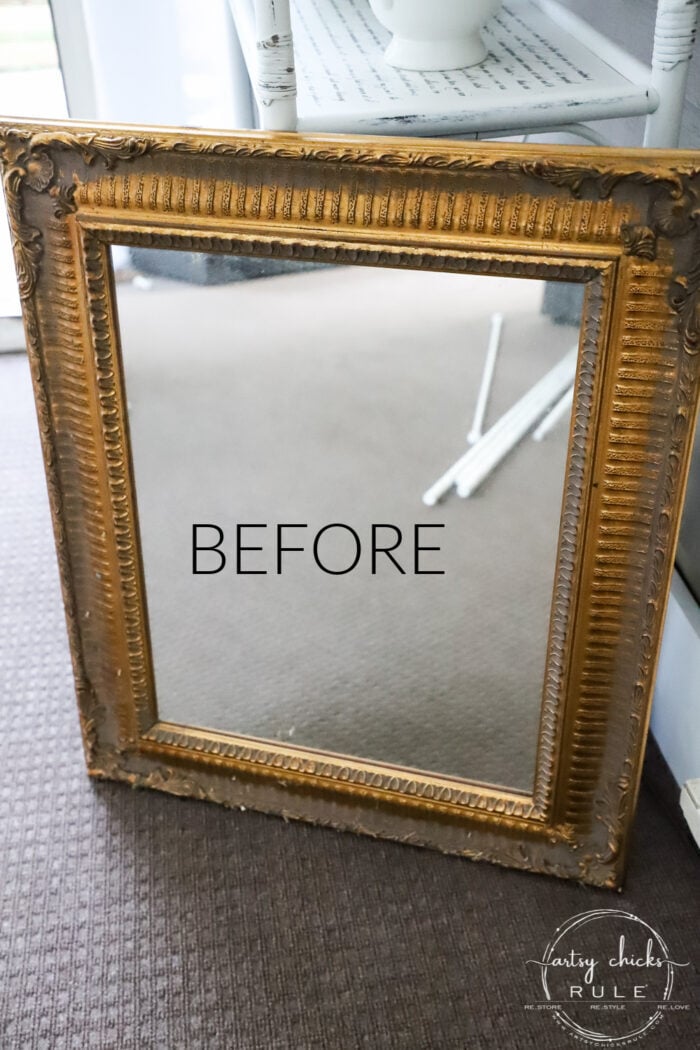 It's been hanging out in my garage for a while and I thought it was high time I gave it a makoever.
And I wanted a mirror for the screened porch so win-win. ;)
Whitewashing Painted Wood Mirror
This project is pretty similar to other whitewashing I've done but I did it a little different this time.
I began by cleaning it up. It was pretty dirty from being down in the garage for a couple years or so.
Then I painted it with Sea Glass by Dixie Belle.
I love Dixie Belle and thought you might like to check out my friend Christy's latest post. (if you love it too…it's a great resource for you)
You can find it here.
Okay, so here it is with a coat of Sea Glass. I wasn't too concerned about coverage since I was going for a very relaxed look but it covered quite well.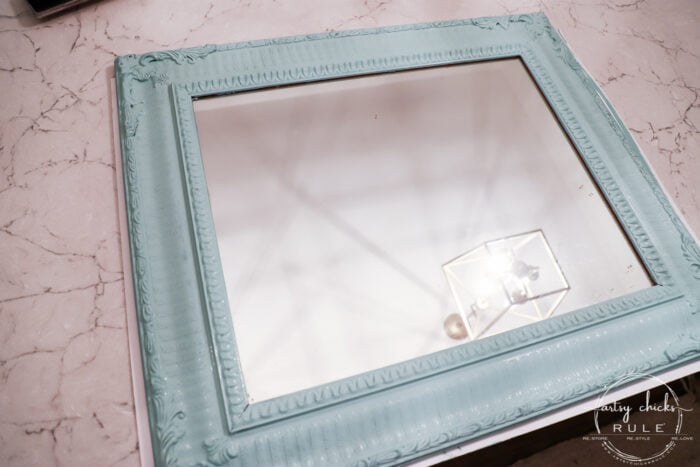 Once it was completely dry I took a soft rag, ran it under water and wrung it out. Then I dipped it into white paint (I used Linen Chalked Paint) and rubbed it all over the blue paint.
Since I started with a damp rag the paint applied very sparse looking.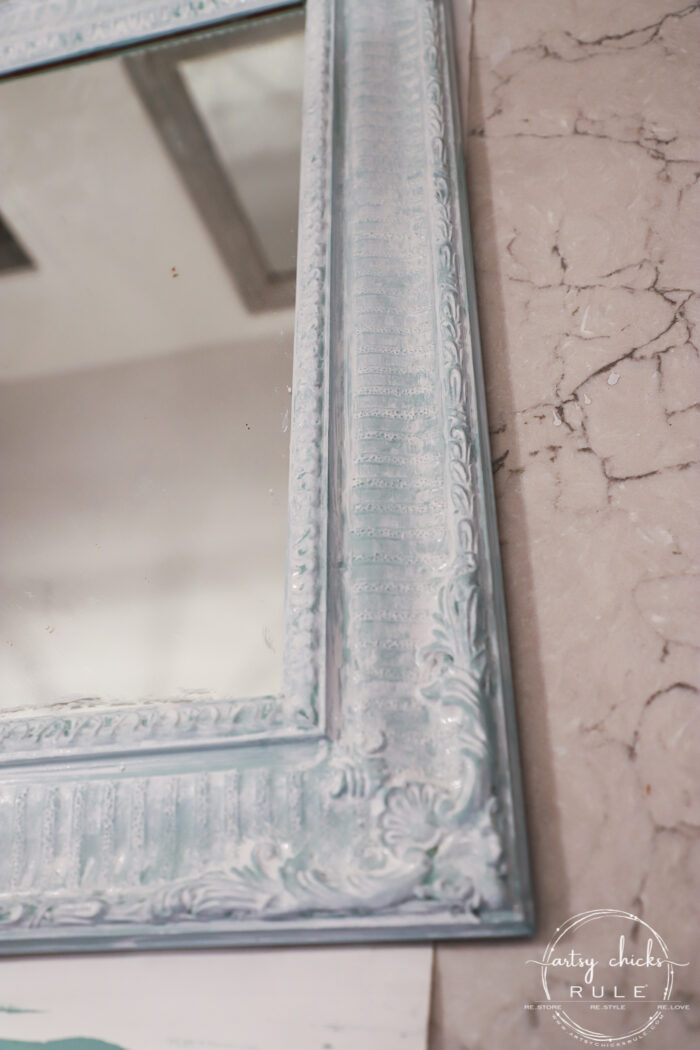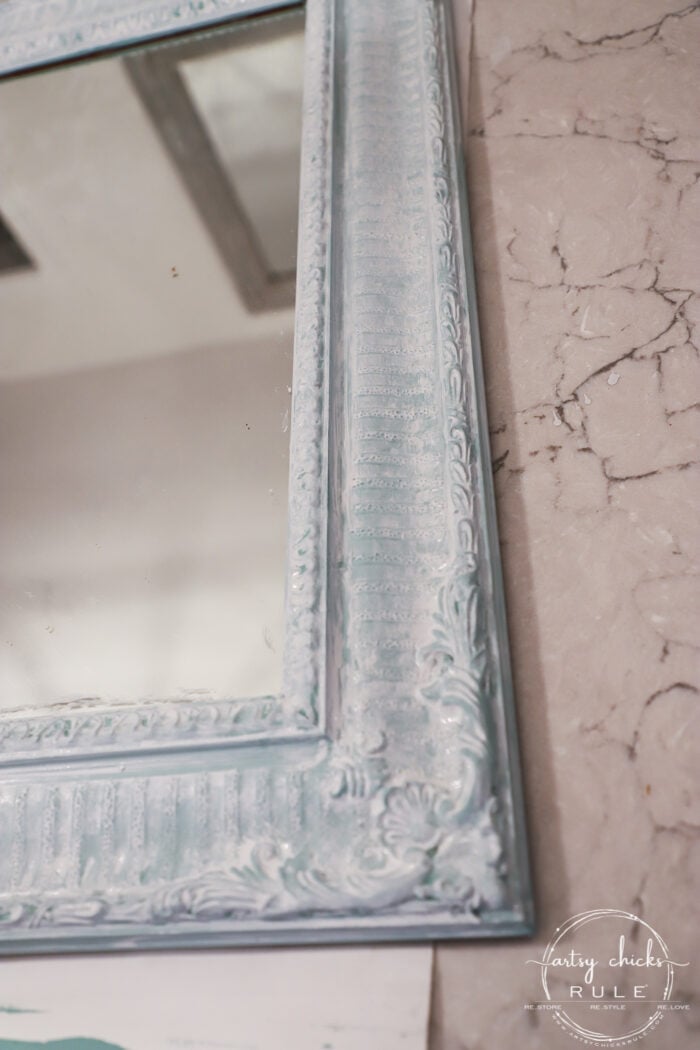 I immediately went back with a clean rag and started wiping some away.
This gave it a literal "washed" effect. It was white…but some of the paint got washed away.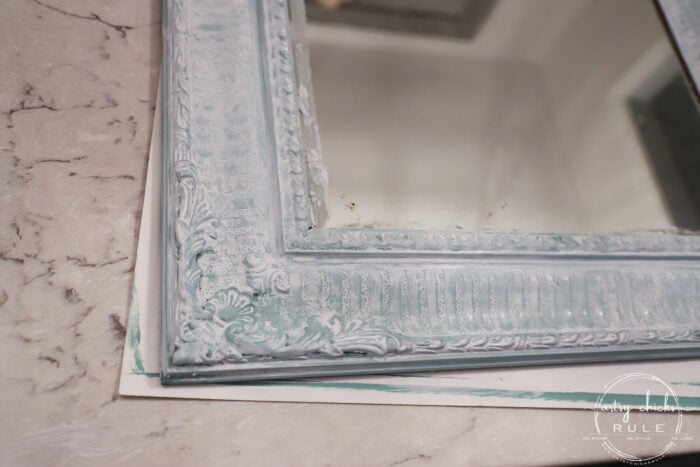 That's it!
Once it was dry I gave it a coat of poly. (I used this one)
And out to the screened porch it went.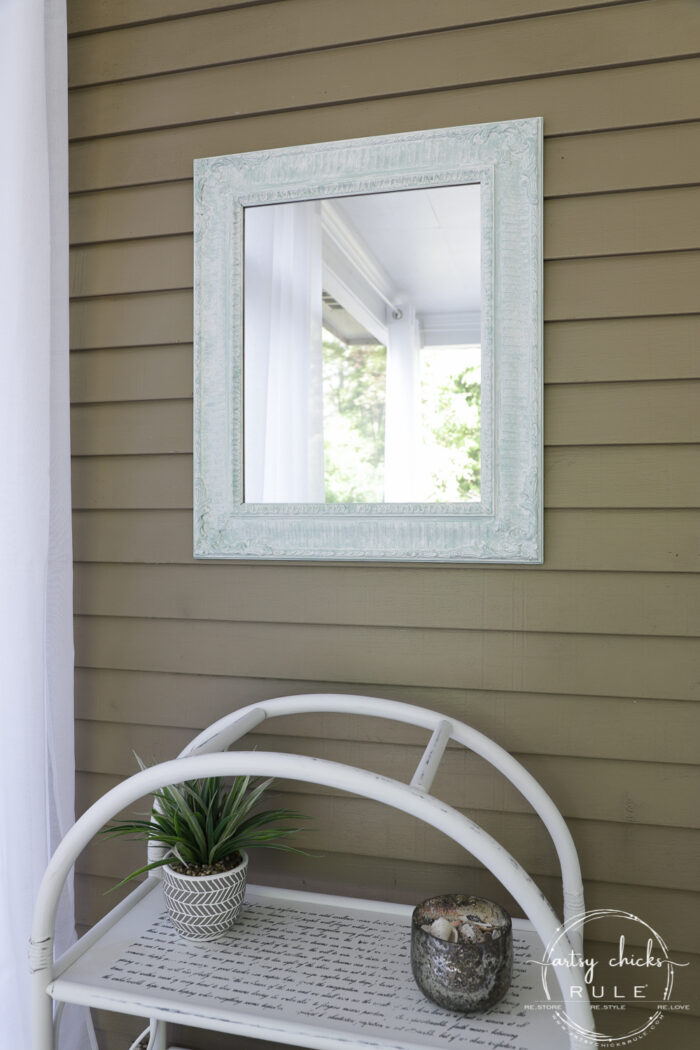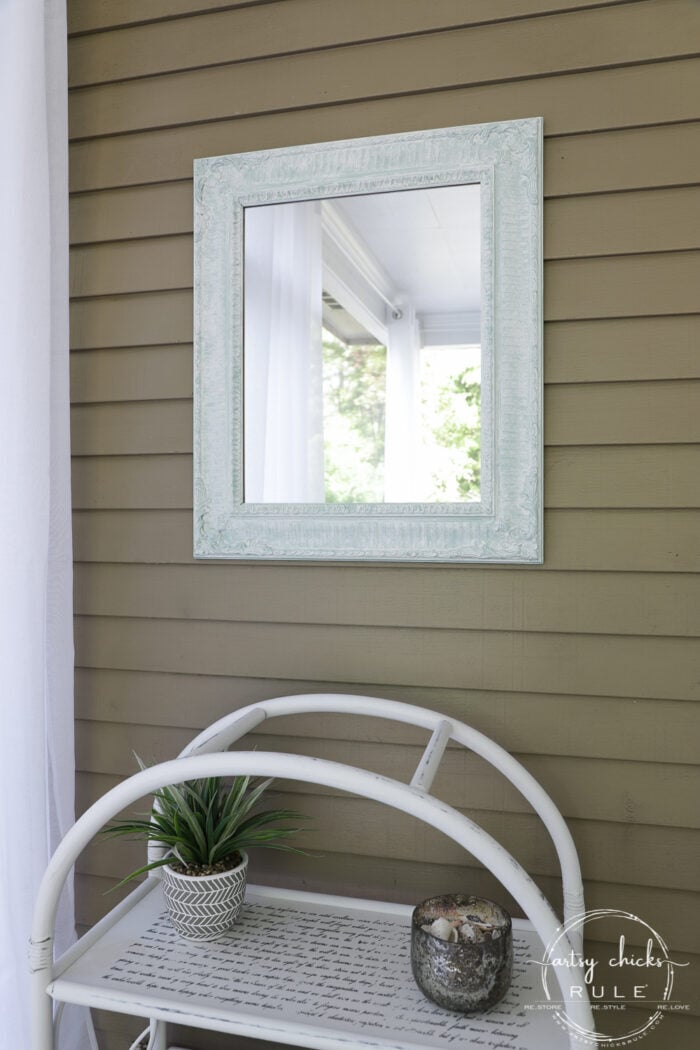 And yes, I am trying to keep the arched shelf I just gave a makeover to. We'll see.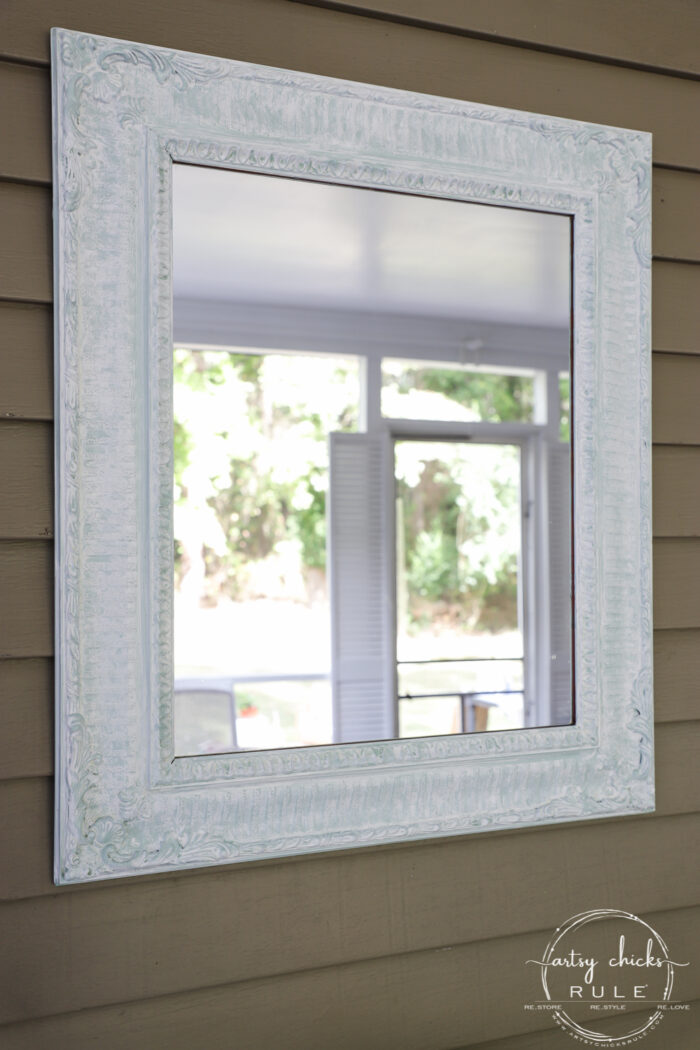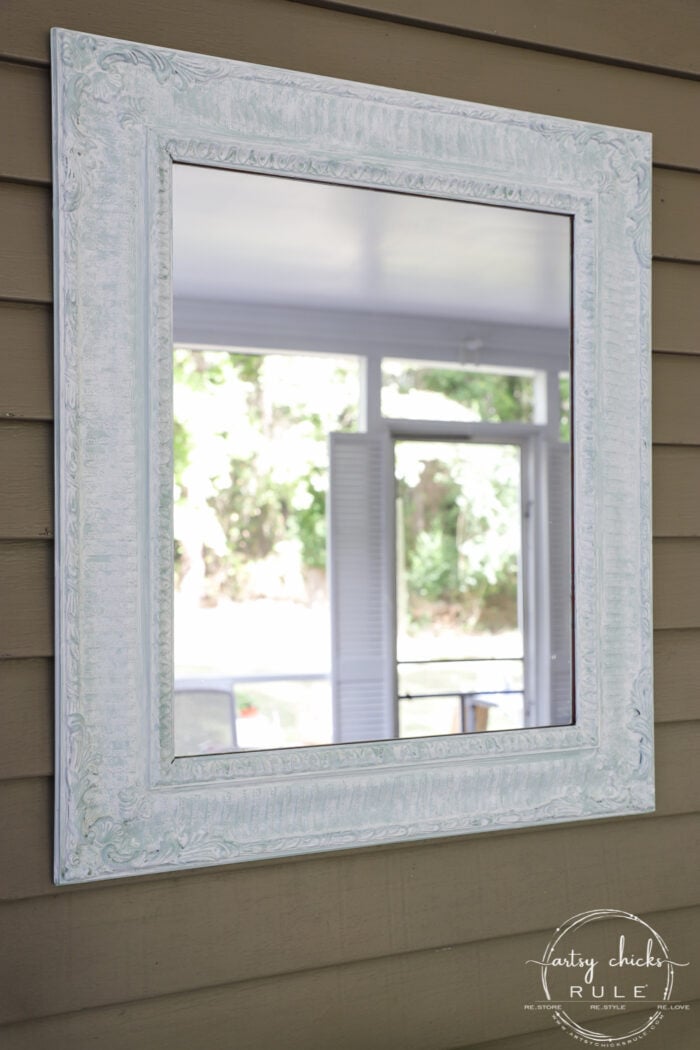 Close ups of this super simple whitewashing painted wood…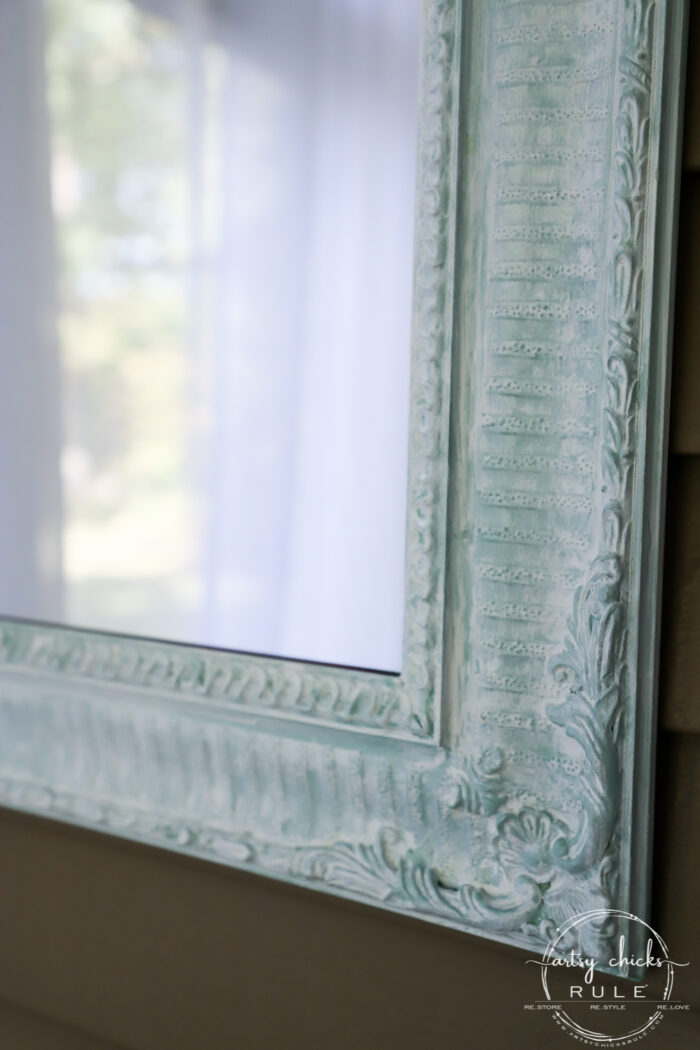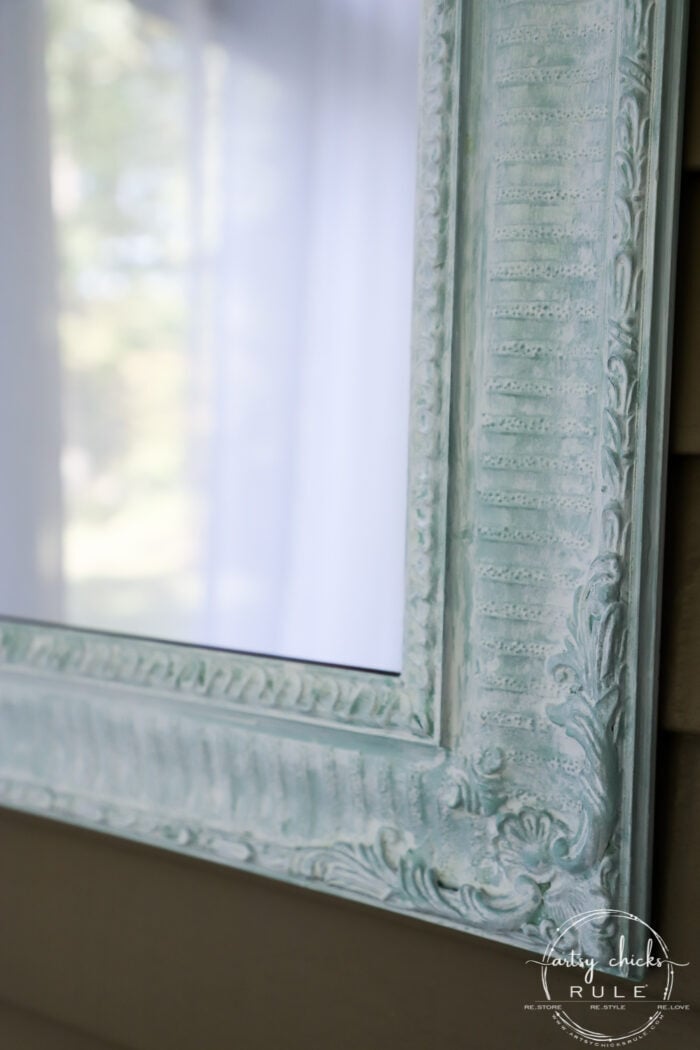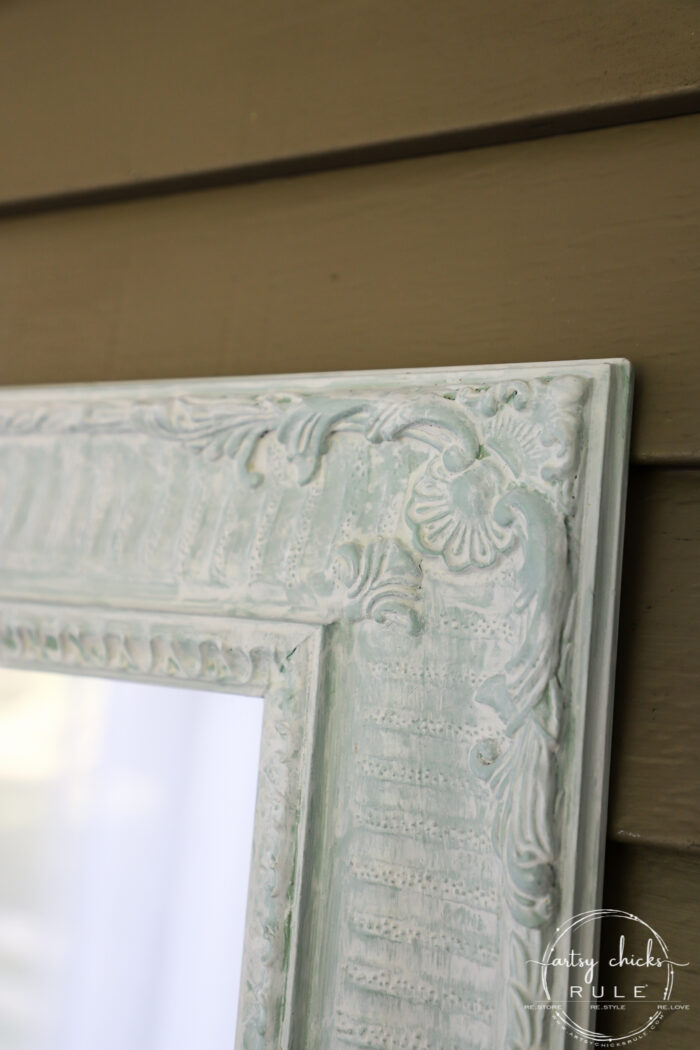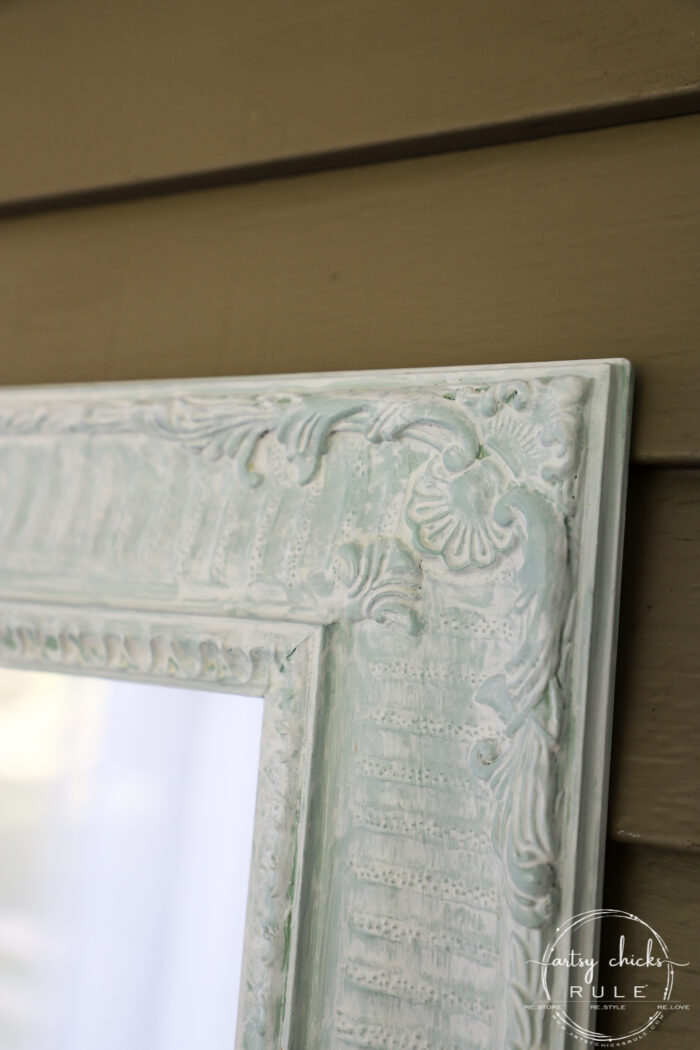 And styled a bit better inside…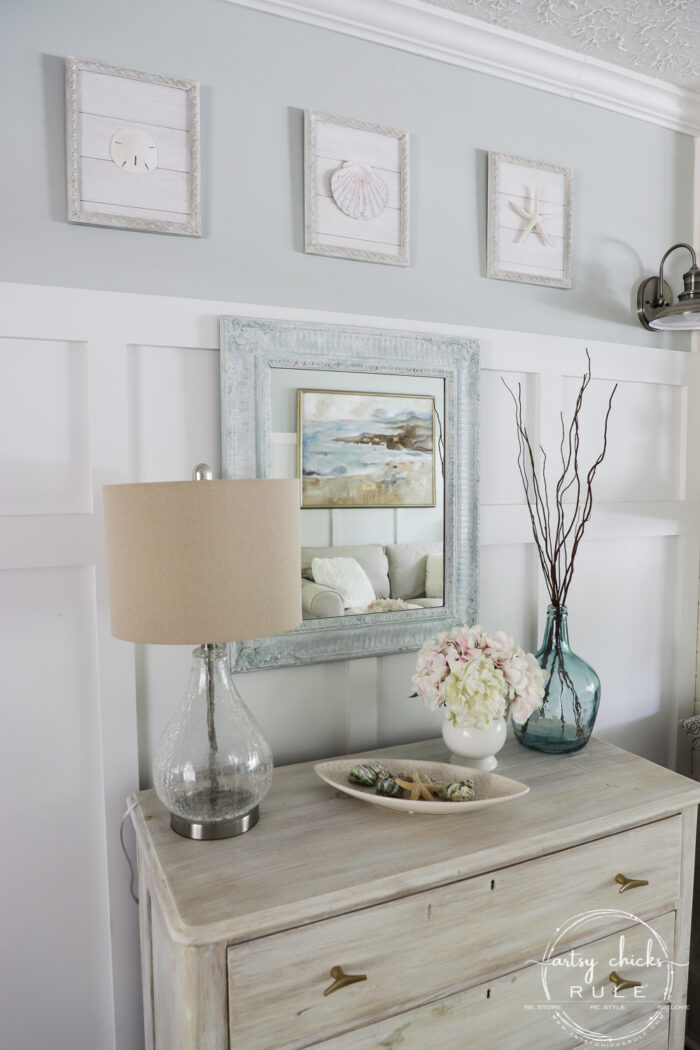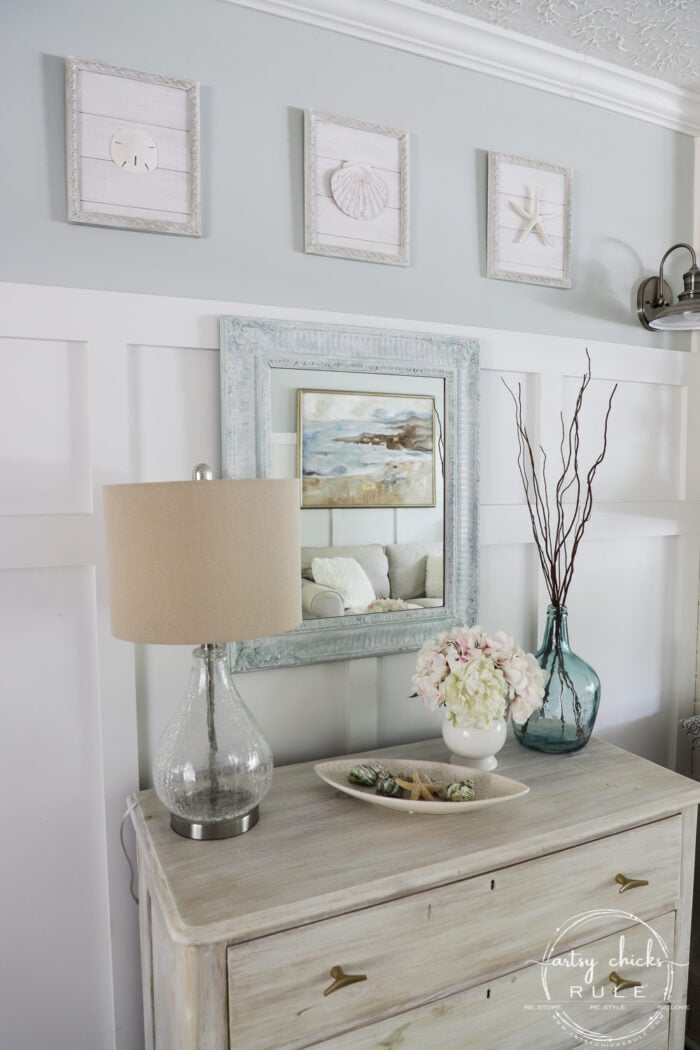 I had to share my new lamp.
Remember I broke the other one that sat here last week?
This one…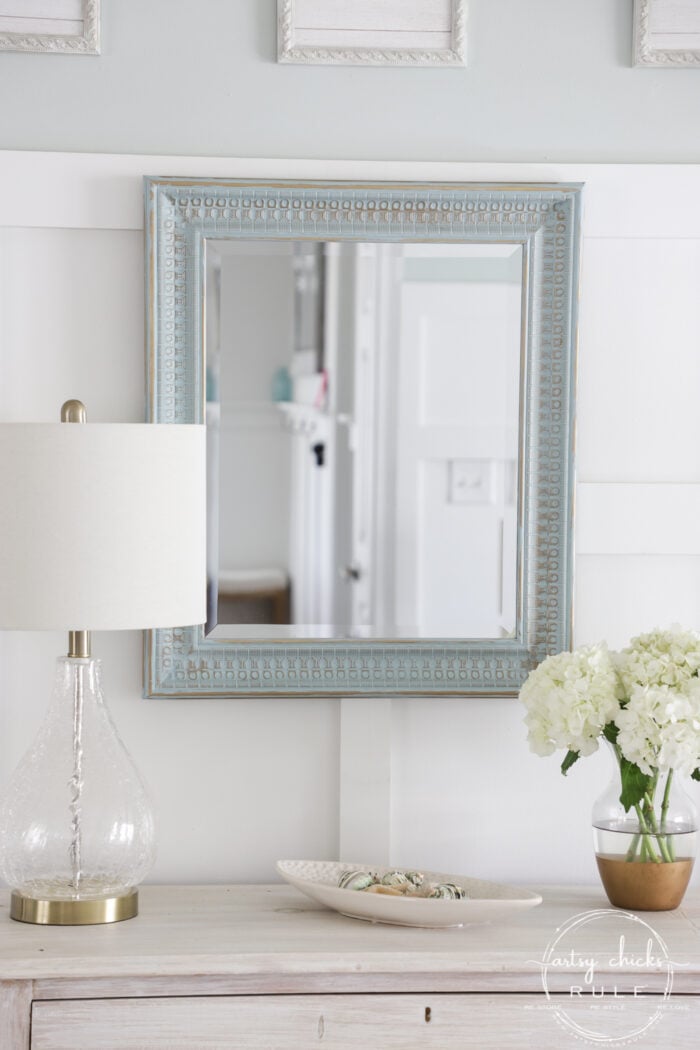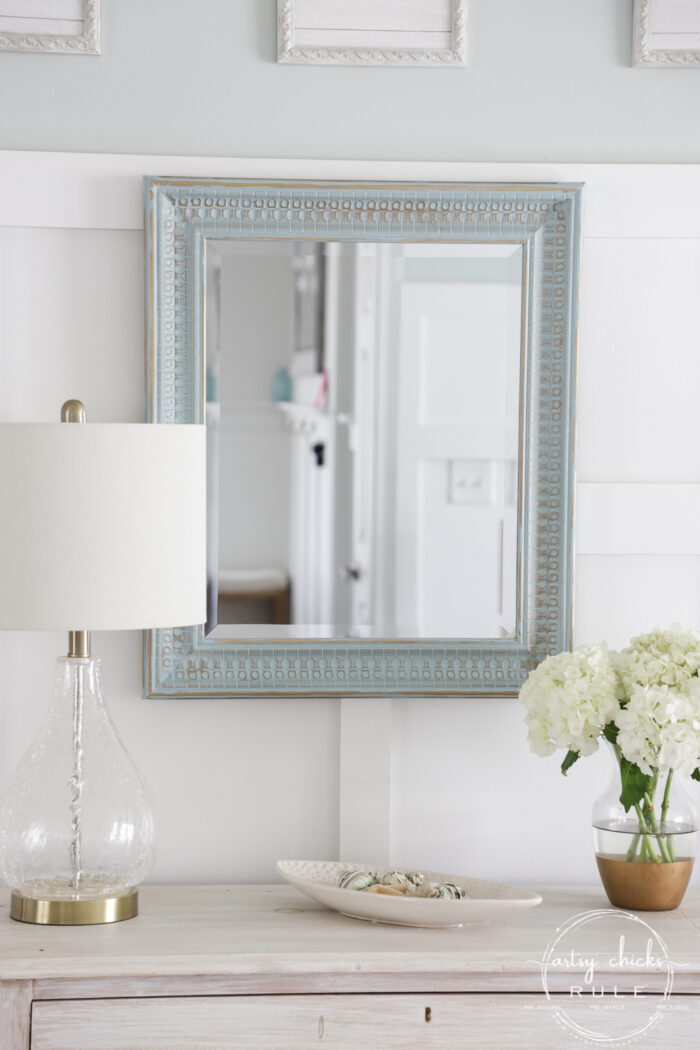 Look familiar? lol
I managed to find the same lamp but in silver instead of gold and with a tan linen shade instead of white.
I'm liking it okay but I really like my gold and white better. But it's growing on me.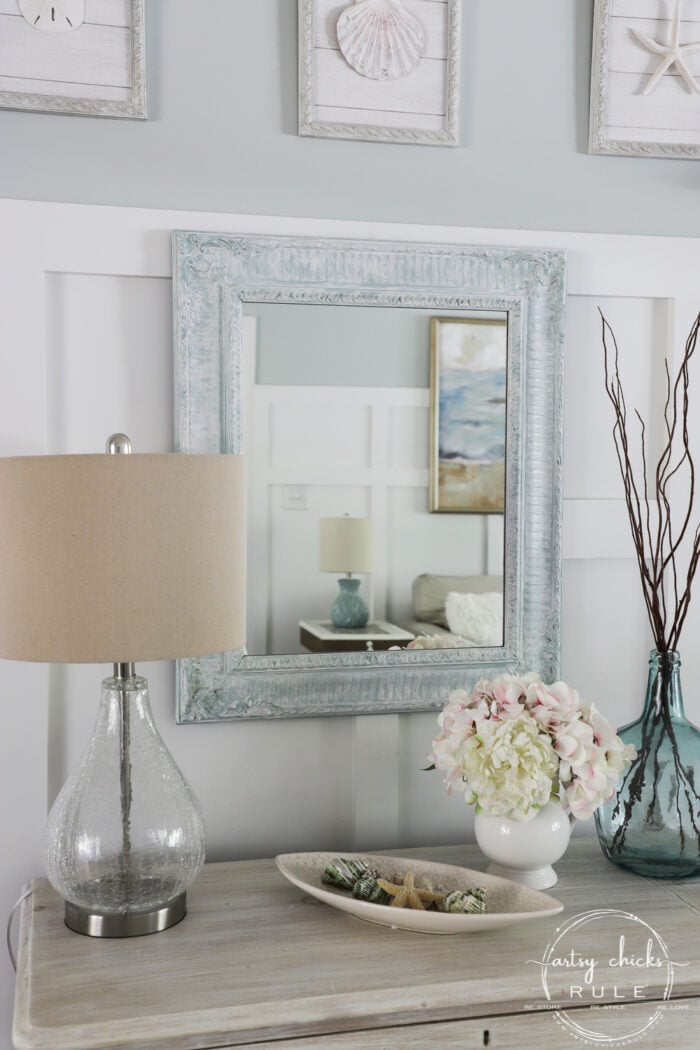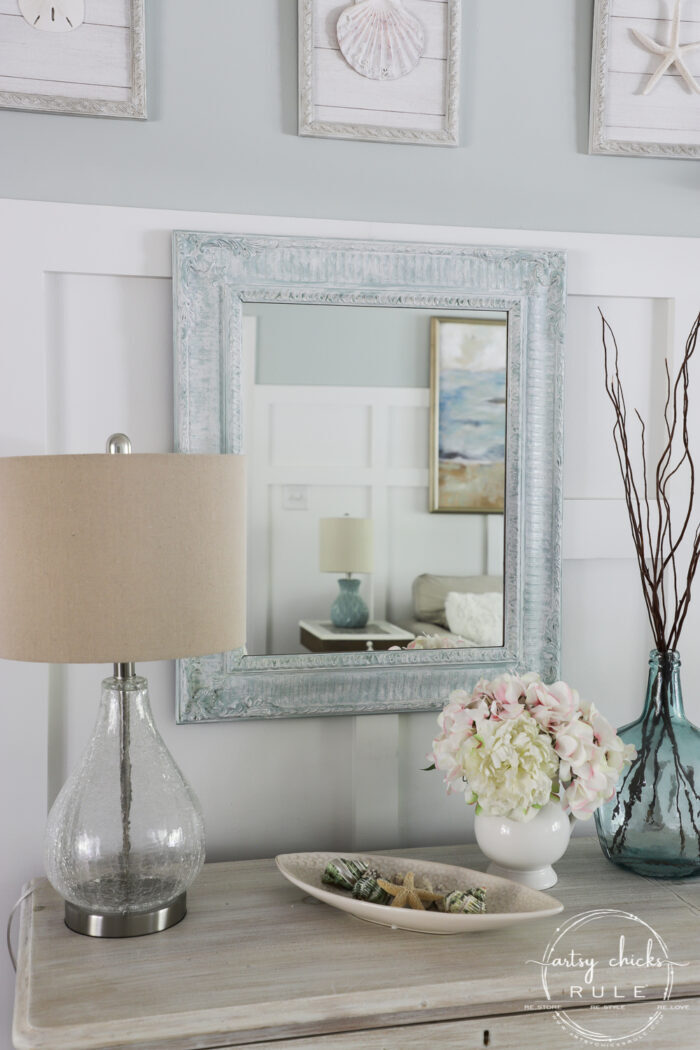 Have an old gold mirror (or any color) that needs a new look? A little refresh?
Give it some paint and some whitewashing. OR paint it and give it a little patina like I did the one in the picture with my old lamp.
You can find that project here.
I actually took that one down to the beach with me. Trying to find a place for it there because I love it. Hoping I can!
PIN it to save it!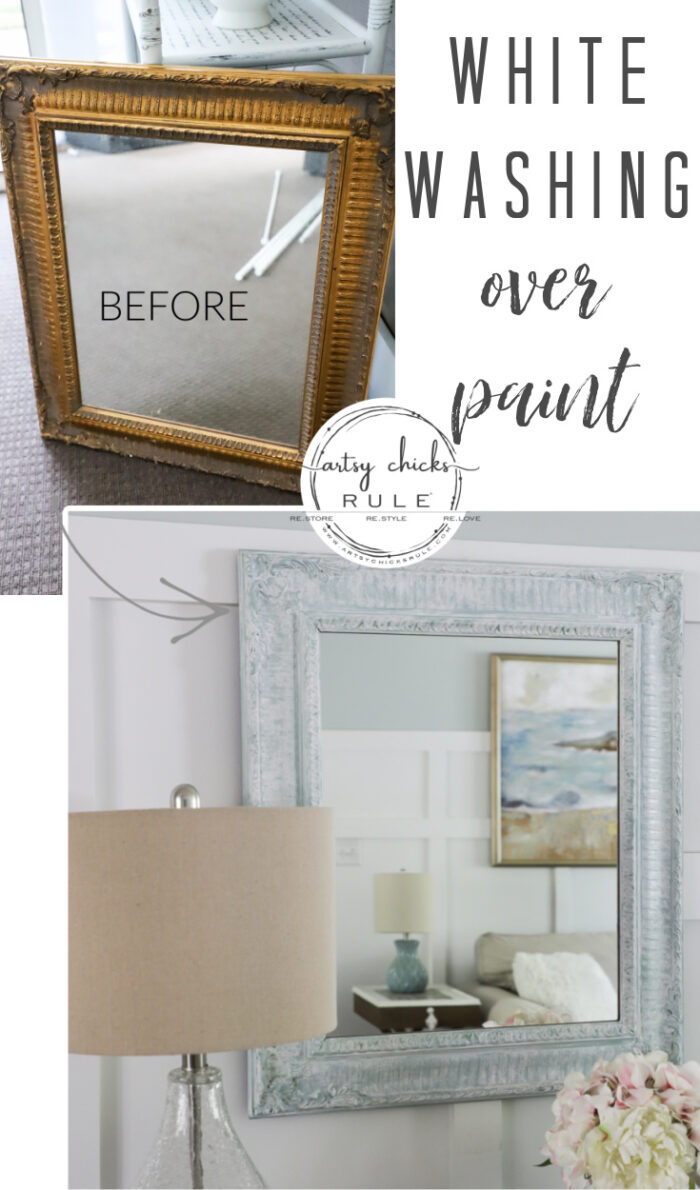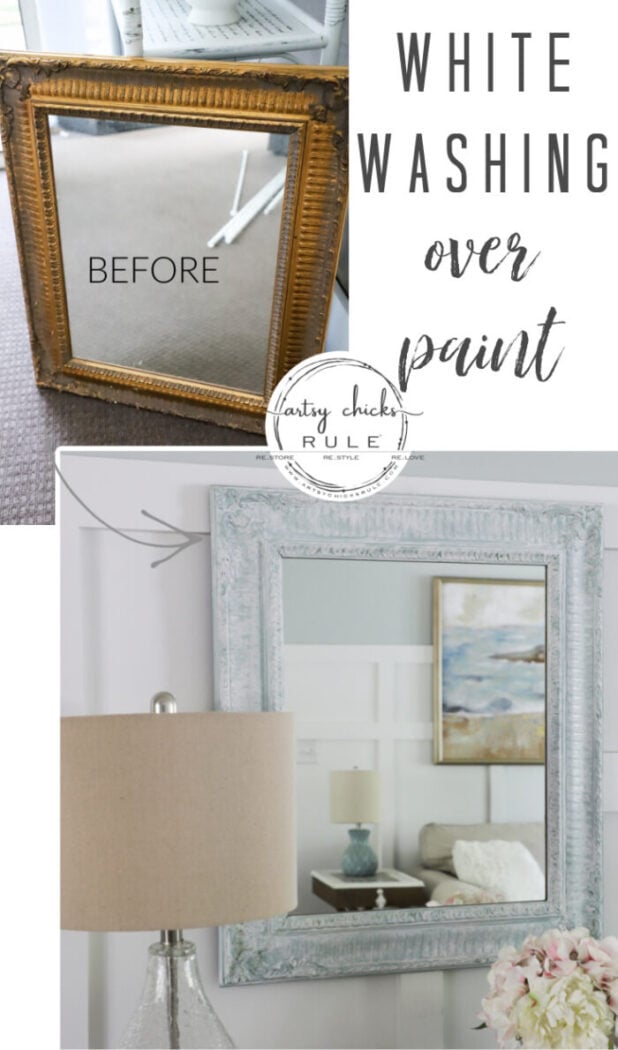 Have a blessed and safe weekend, friends! Come say hi over on Instagram this weekend as we continue our condo remodel.
xoxo