Butterfly Box (thrifty makeover)
This post may contain affiliate links. Please see disclosures here.
Old thrifty find transformed into a "butterfly box" with Prima transfers and old knobs for feet!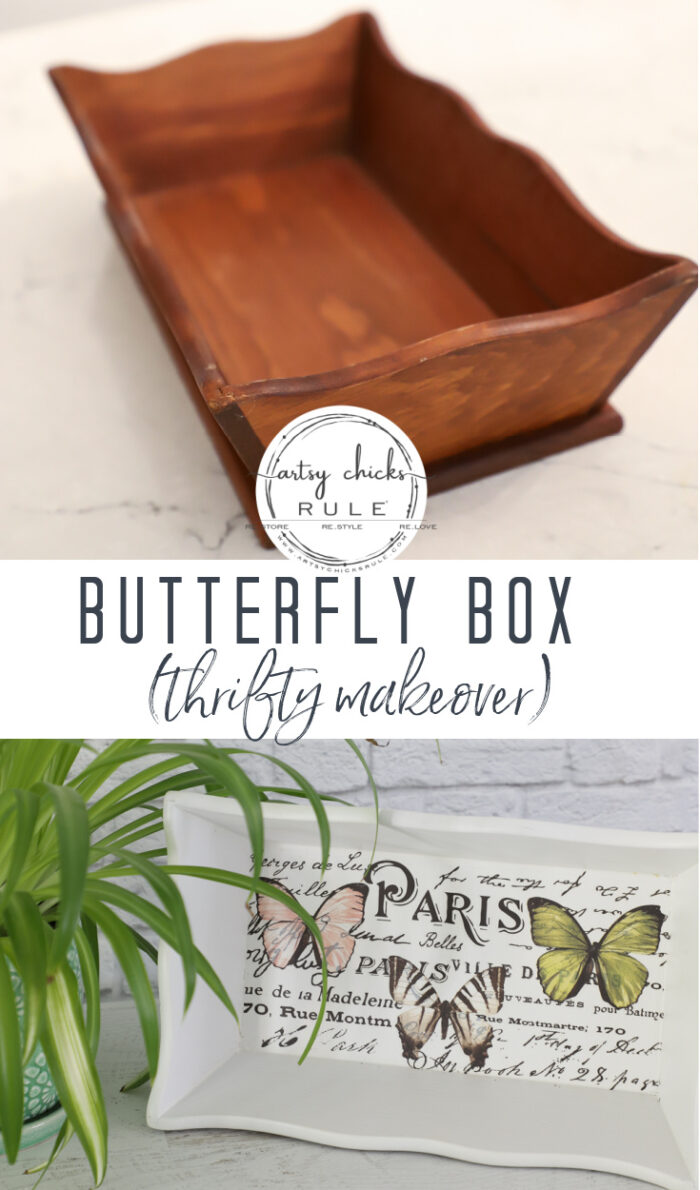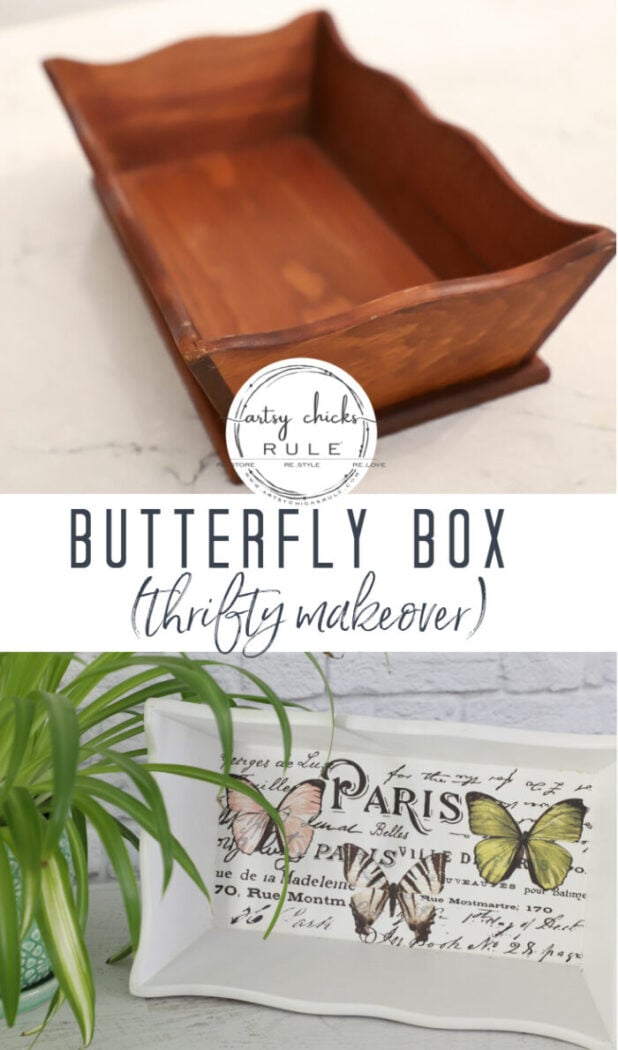 Hello sweet friends, how has your September going so far?
Still hot as you know what around here. Does not feel like fall at all so I'm still in summer mode and have not done one bit of fall decorating.
How about you?
I saw a friend of mine on Facebook that reminded us all that Spring 2021 is only 8 months away! Yes! I'm ready for a do-over.
And I'm ready to be there and so hoping this mess is behind us. I know you are too, but we are all in this together. xoxo
Anyway, today is one of my most favorite days of the month…Trash to Treasure Transformation Tuesday.
New around here? A few friends and I get together the second Tuesday of every month and share our latest "trash to treasures".
Sometimes they are big (furniture) and sometimes they are small (like mine today). Today I'm sharing something small but be sure to scroll all the way to the bottom to see what my friends are sharing. I saw a few larger pieces this month too. :)
Butterfly Box
This is how mine began…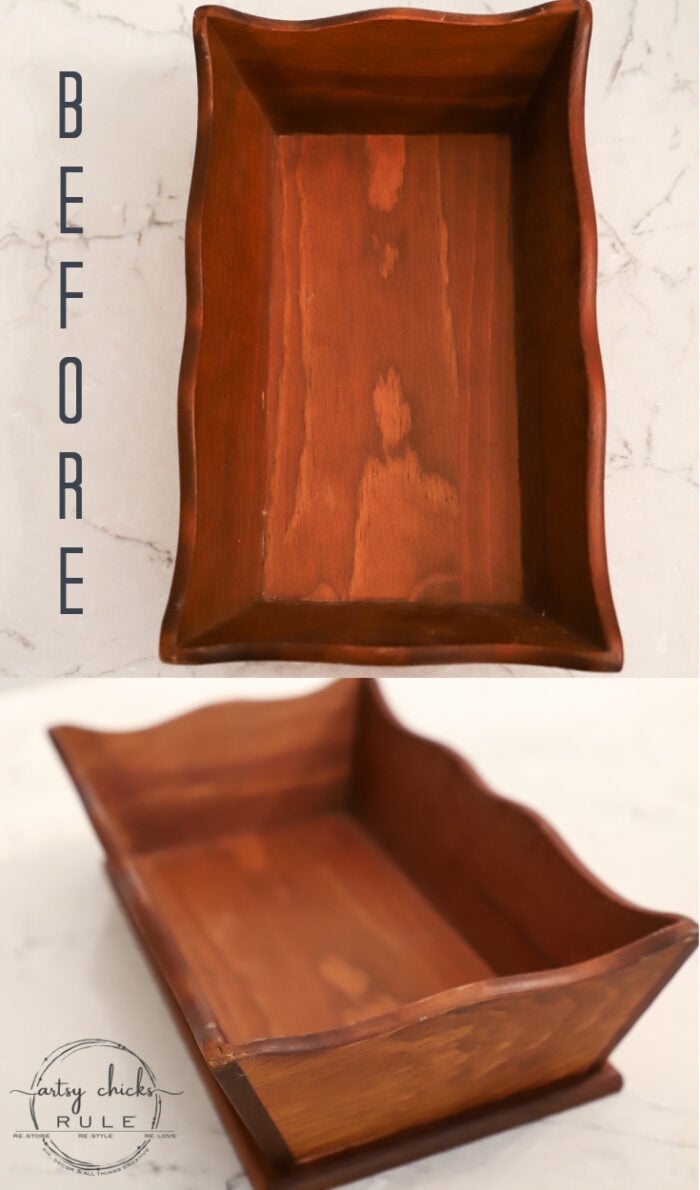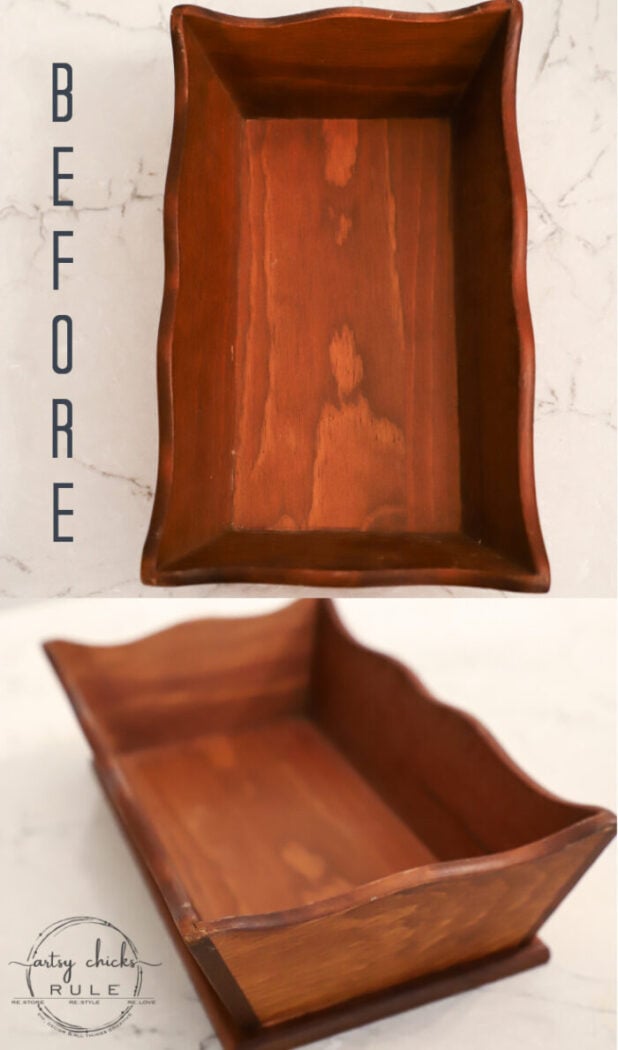 Just a little simple box for a few dollars from the thrift store.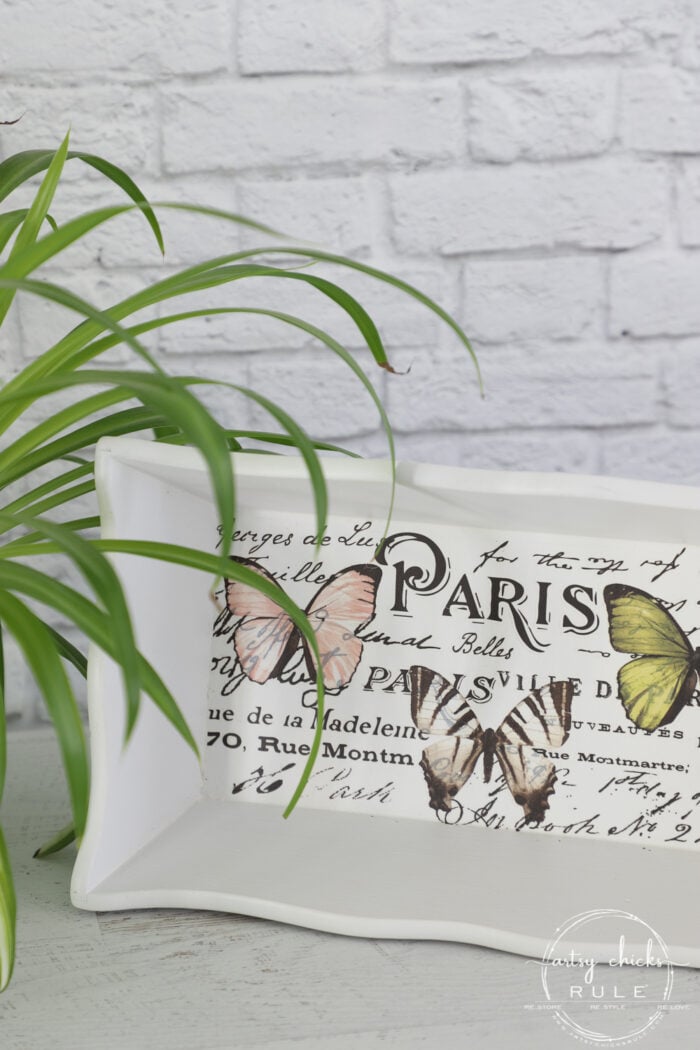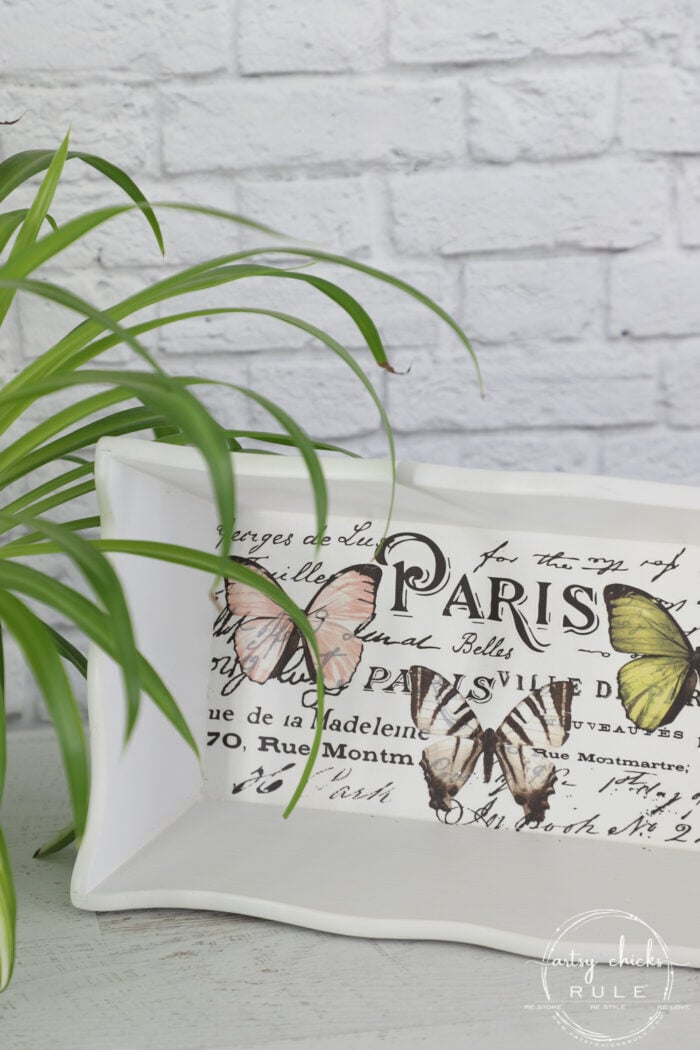 If you follow along on Instagram, you might have seen a few of these already.
It's from my latest haul…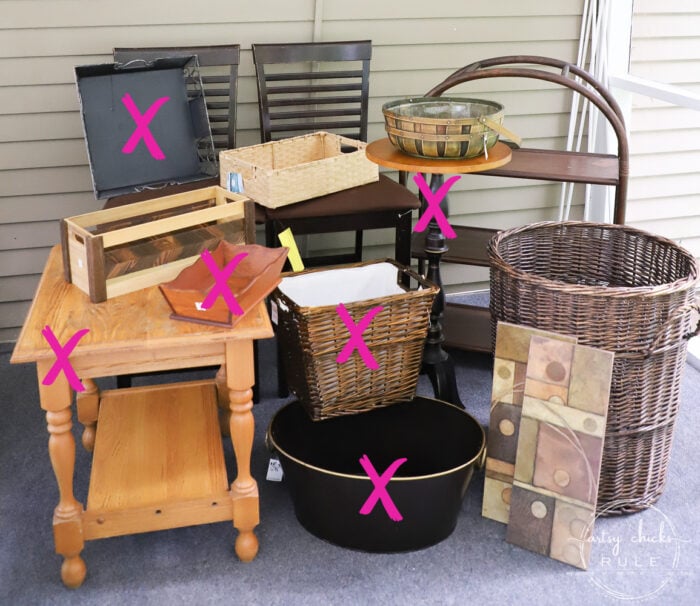 The little box…thingy. What would you call it?
I decided to paint it white.
MATERIALS LIST
White Spray Paint in Satin
Black Spray Paint in Satin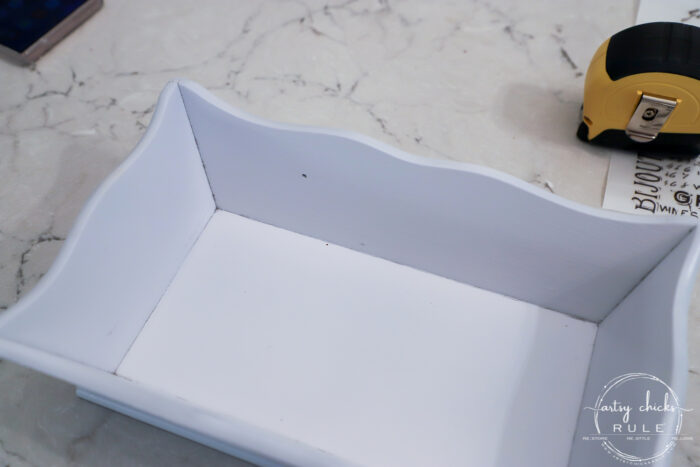 But wasn't loving all those cracks…nope, they gotta go.
So I caulked them and it looks so much better.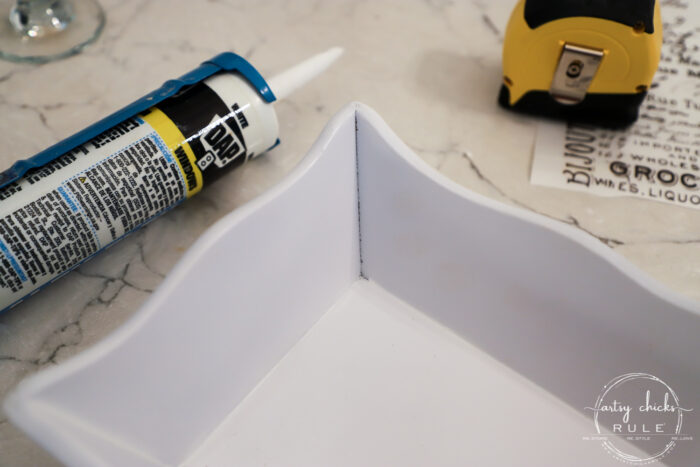 It's the little things that make all the difference.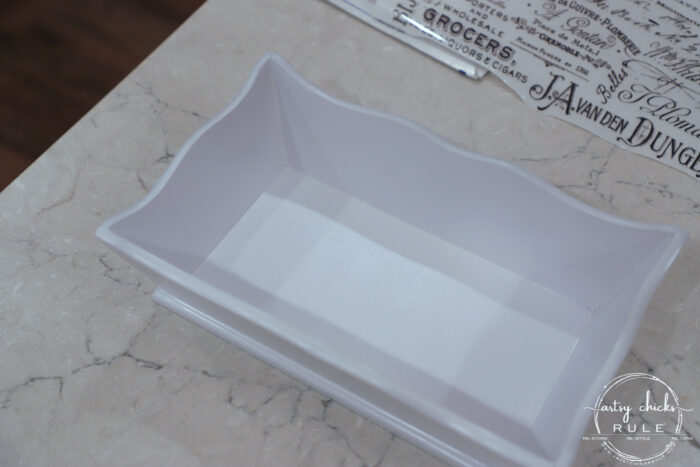 Night and day.
It's always in the details.
Once that was dry, I gave it another quick coat of paint.
Then I cut this part of the transfer that I linked above out to put on the bottom.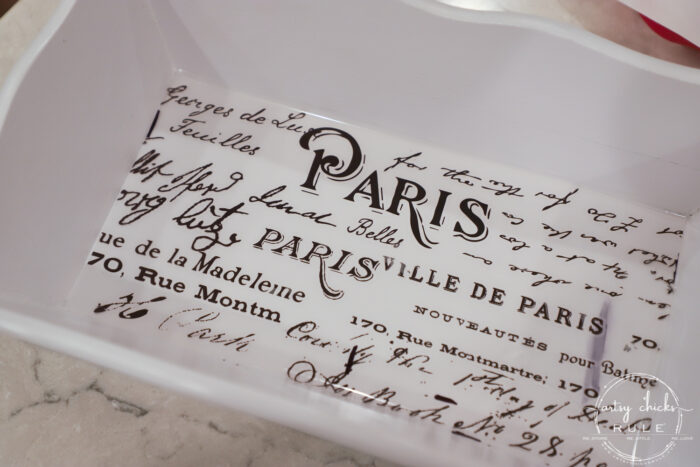 And thought a few butterflies over top would be pretty just like I did on this tray >>> HERE. (<<<I'm going to host a giveaway for this one soon, I've had quite a few people email and ask if they can purchase it from me so to keep it fair I'm going to give it away…be sure to stay tuned if you want a chance to win it! I LOVE it but really have no room to keep all of these things. So I hope to gift all of you instead.)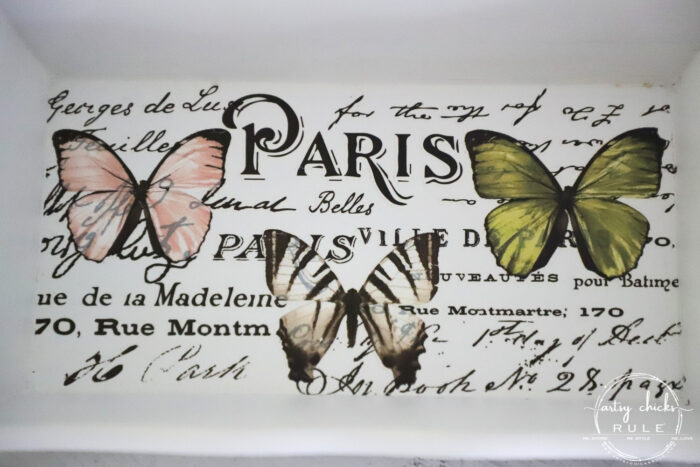 After I transferred those, I sprayed the inside with the matte sealer linked above. (2 coats)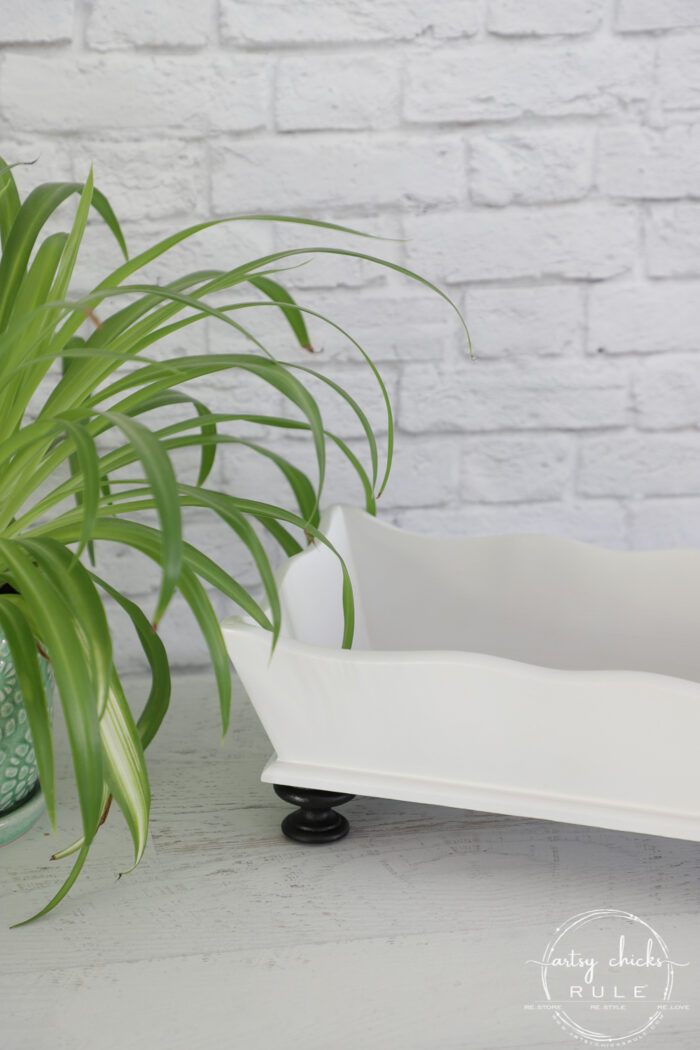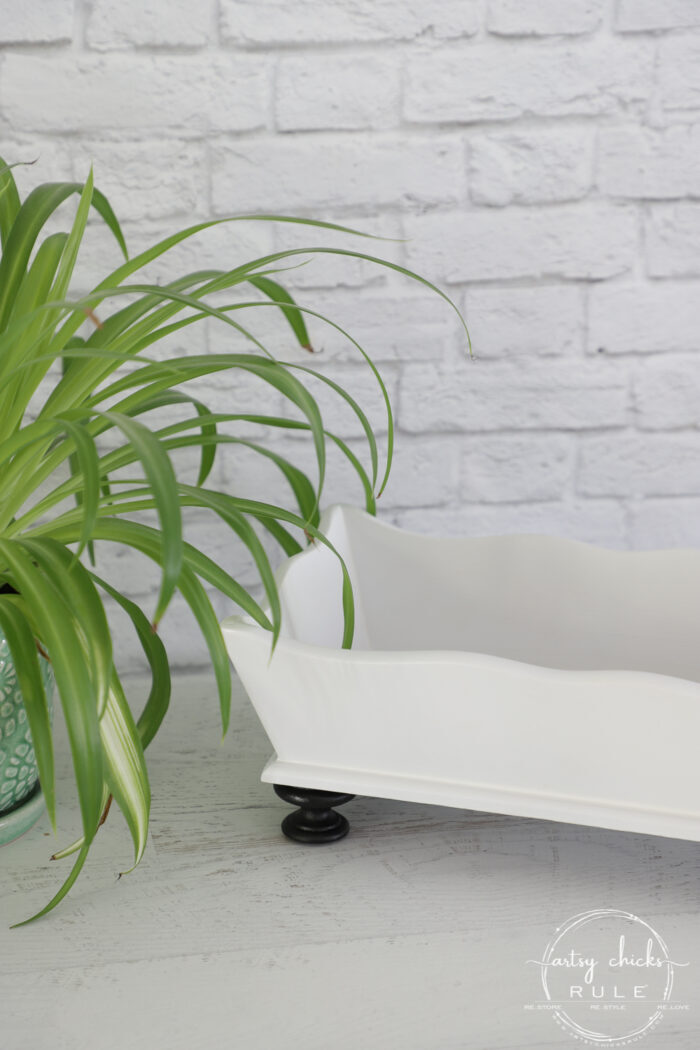 Then I found these old wood knobs in my stash and spray painted them black.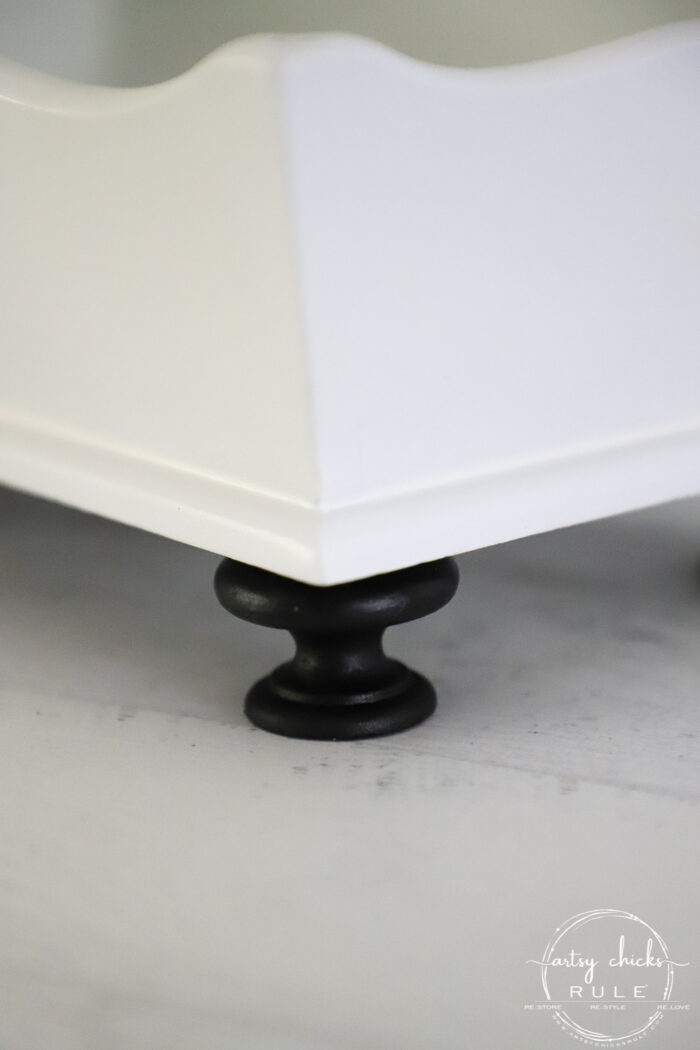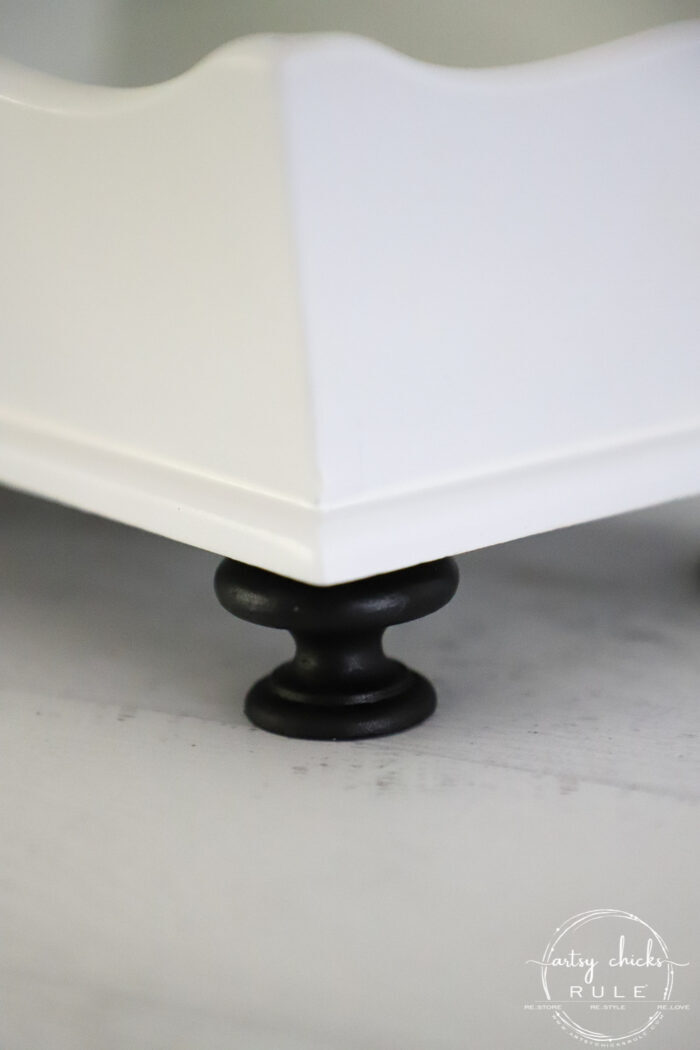 Hot glued to the bottom and done! Feet…yes.
I will be giving this away soon too so stay tuned. (not a subscriber yet? become one >>> here… so you won't miss it!)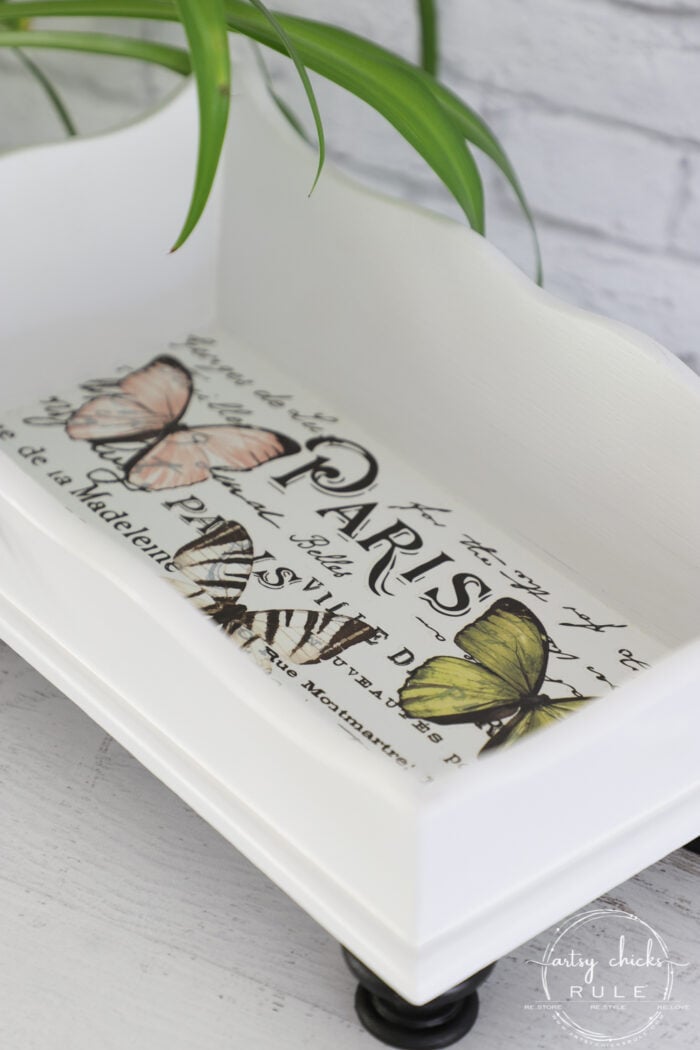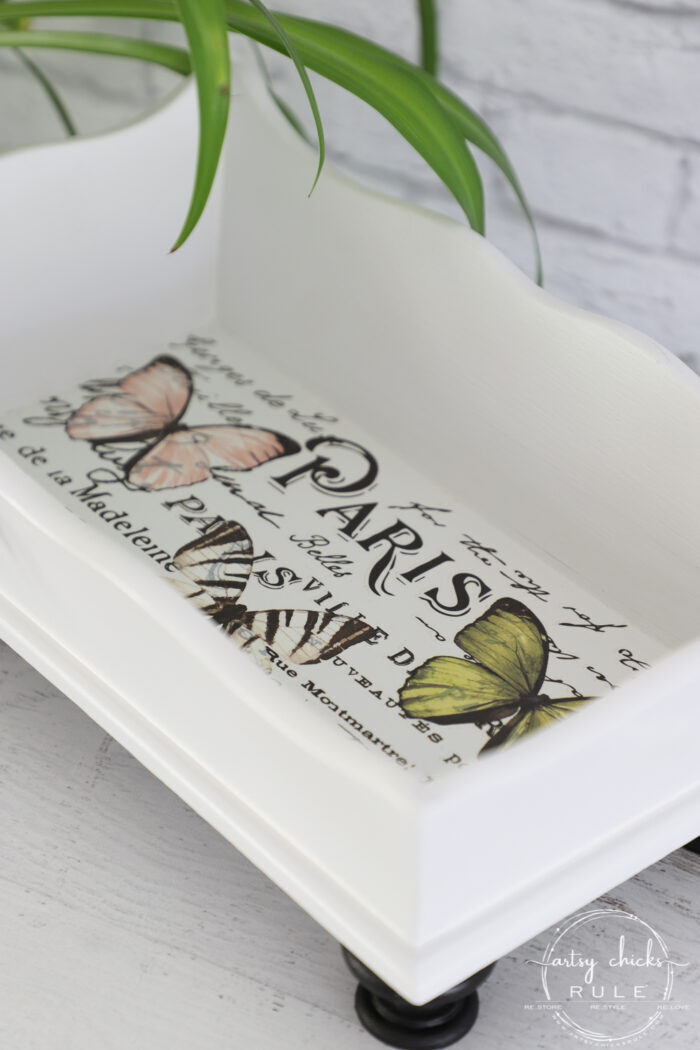 Great for storing things in.
Maybe by your sink, jewelry, etc.
Maybe note cards on your desk, or pens, etc.
Whatever you want to use it for!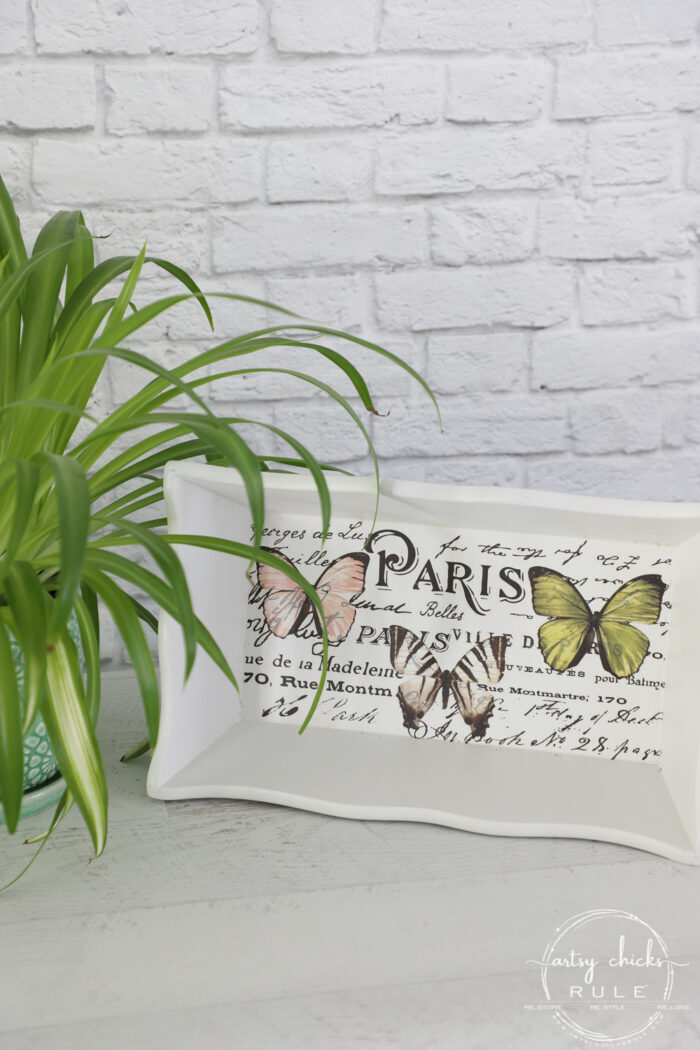 Such a simple little makeover but looks completely different now and ready for a brand new life. #saveallthethings
PIN it to save it!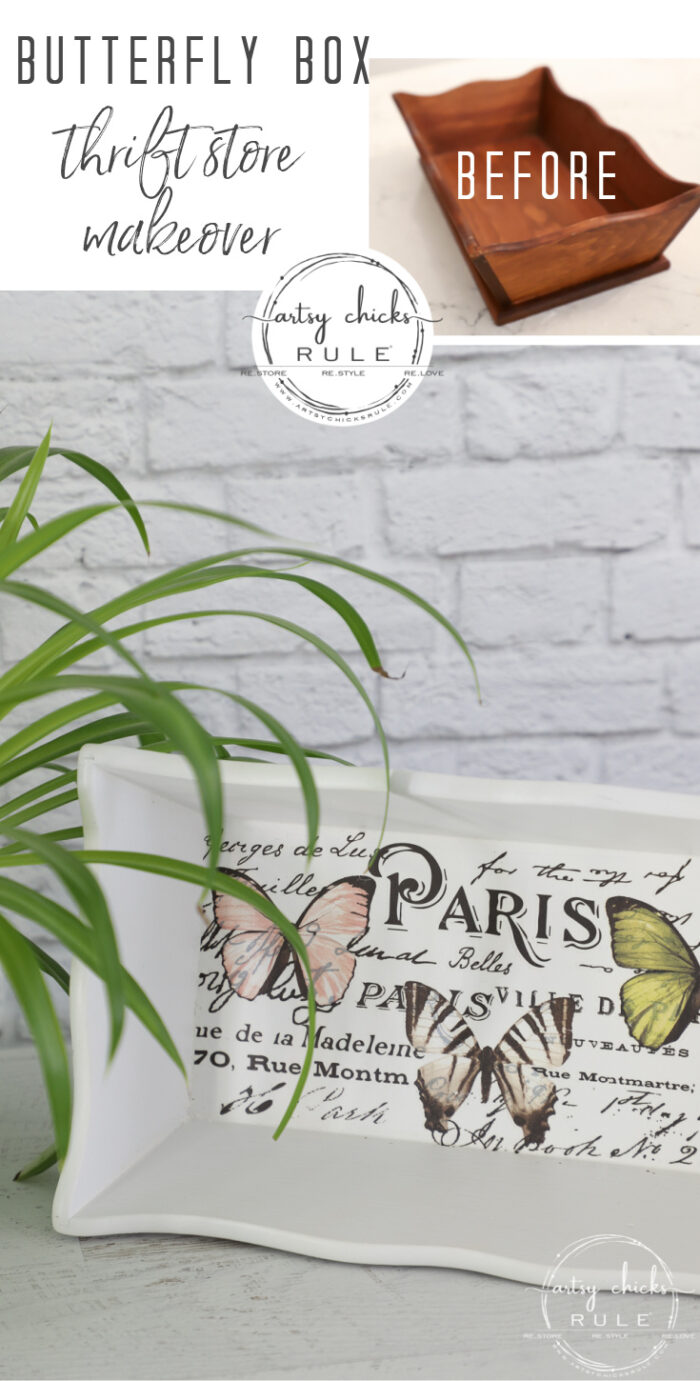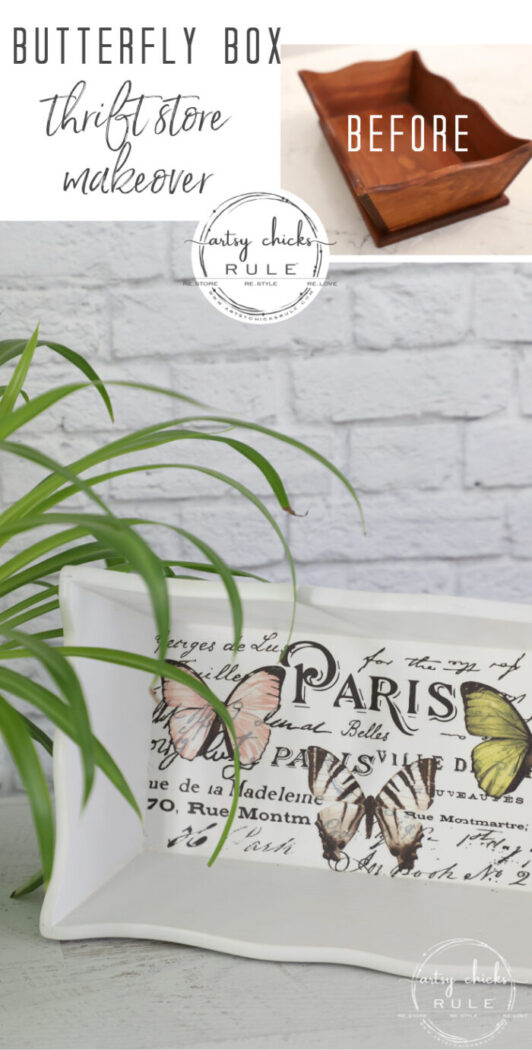 Don't go yet! Check out my friends' makeovers below:
Missed any of the rest of the haul's makeovers? Check them out here:
See you later this week with more from this haul! (and more I'm planning to give away :) )
xo