Butterfly Tray Makeover (Thrift Shop Shakedown #6)
This post may contain affiliate links. Please see disclosures here.
Butterfly transfers made transforming this butterfly tray makeover simple! (plus see how we found it in our brand new thrifting video!)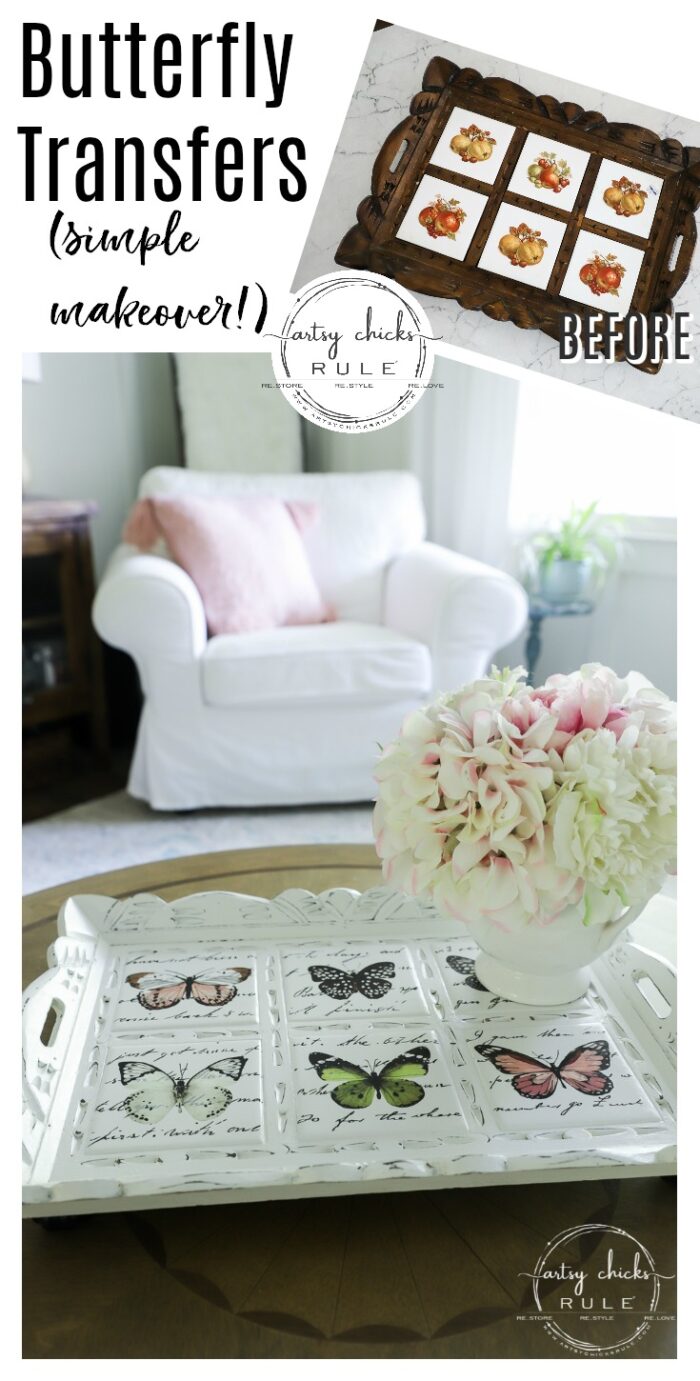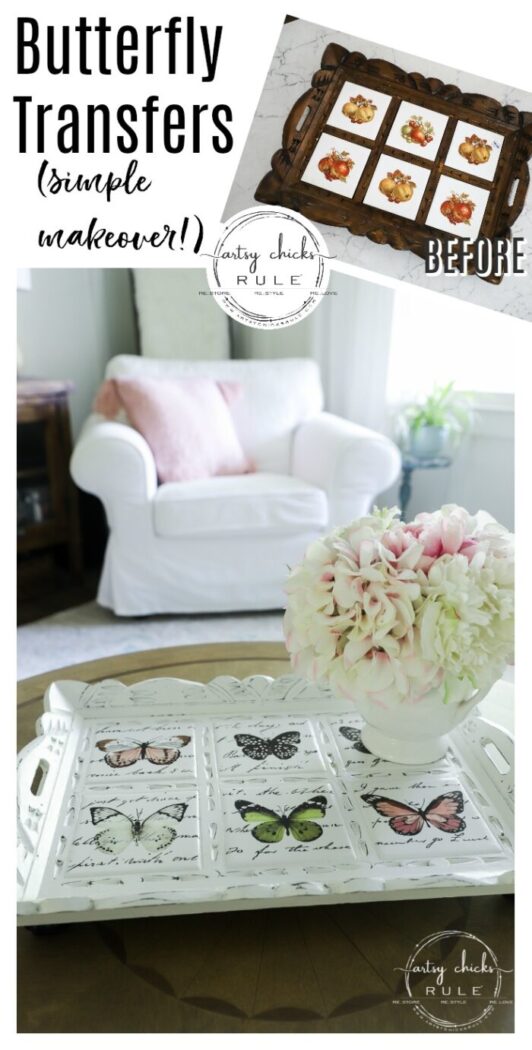 Hello sweet friends!
How are you? I'm hanging in there, hope you are too!
And I'm over here working through this brand new haul I shared on Tuesday.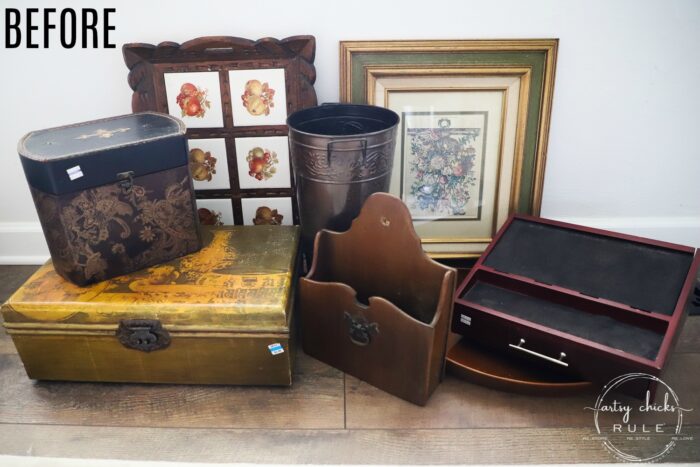 And playing around with more Prima transfers. These transfers are so much fun.
They can transform anything into something amazing and beautiful!
Like this brand "new" butterfly tray makeover I'm sharing today. Perfect for spring.
Not only am I sharing this fun new makeover but I'm also sharing a brand new video! Yippee!!
Christy nd I managed to go thrift store shopping one last time before everything shut down, thank goodness.
I shared all the things I found that day on Tuesday. If you missed it, you can see it here >>> Thrift Store Haul #2
So, today I'm sharing this butterfly tray and a brand new thrifting video, and Christy is making something over too!
Be sure to scroll all the way down to the bottom to click over to see what she did for today's makeover.
And if you are new around here, my blogging bestie, Christy over at Confessions of a Serial Do It Yourselfer and I get together a couple of times a year to go thrift shopping. We record all our finds and make a video of our adventures and share them with you here. By the way, we didn't know each other before, we met through blogging, realizing we don't live that far from each other…and became best blogging friends. That was in 2014!
Okay, before we get to the makeover…let's go thrift shopping!

If you have trouble viewing or hearing the video, you can hop over to Youtube to watch it >>> here.
Butterfly Tray Makeover
Here it is "before"…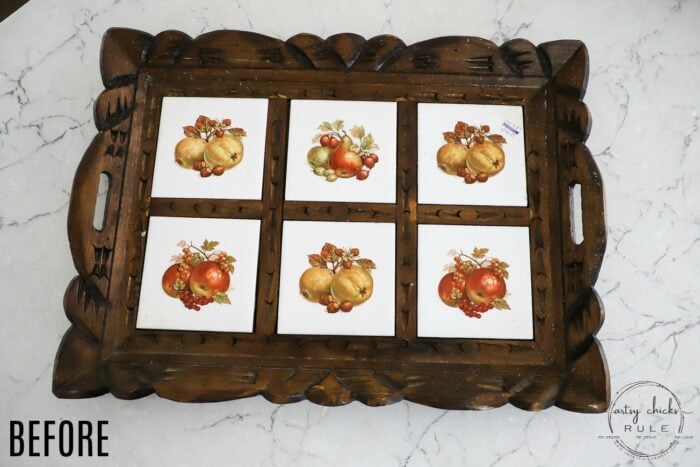 I loved the carved wood so had to have this one.
Although I loved the wood, I knew I wanted to paint it to bring the details out. Paint and distressing are so great at doing that.
I decided to use this transfer which is the same one I used on this flatware box I made over recently.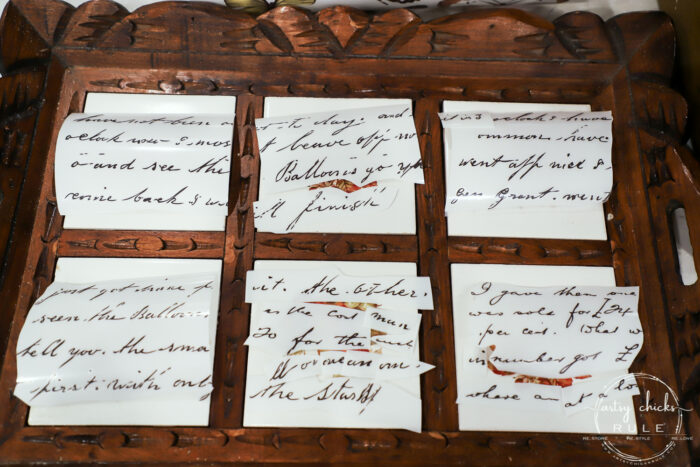 I was thinking I could use the cursive writing underneath and the pretty butterflies on top.
I didn't like how the words were leaving white space on the tops and bottoms of the tiles so I cut each sentence apart so I could place them how I want. (I'll show that further down) Plus you might notice I had to piece words together to make a sentence on a few. I didn't really care if the sentences made sense!! lol I just needed it to look the same all over.
I gave the wood portion 2 coats of white and the tiles I gave about 3 coats.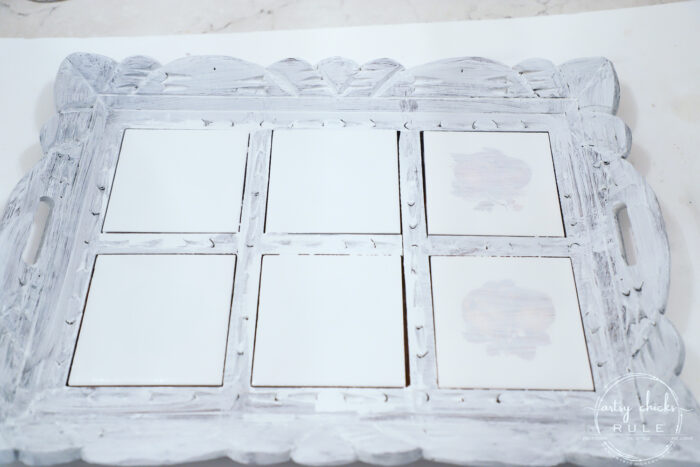 I sanded in between coats to keep the tiles nice and smooth.
Done but not at all liking those gaps between the tile and the tray. Nope, they've got to go! lol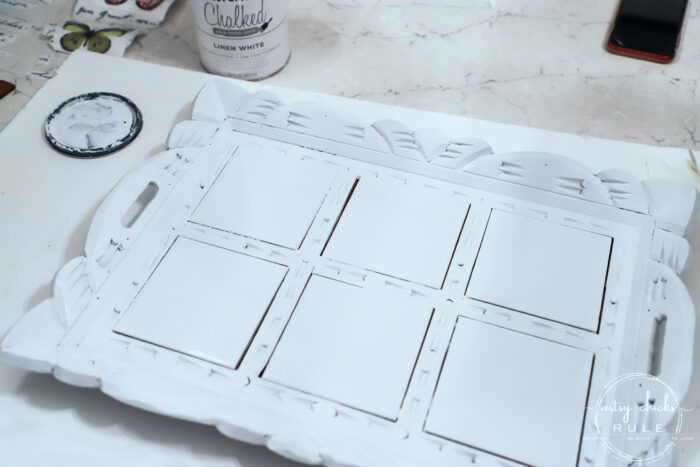 So I caulked those gaps.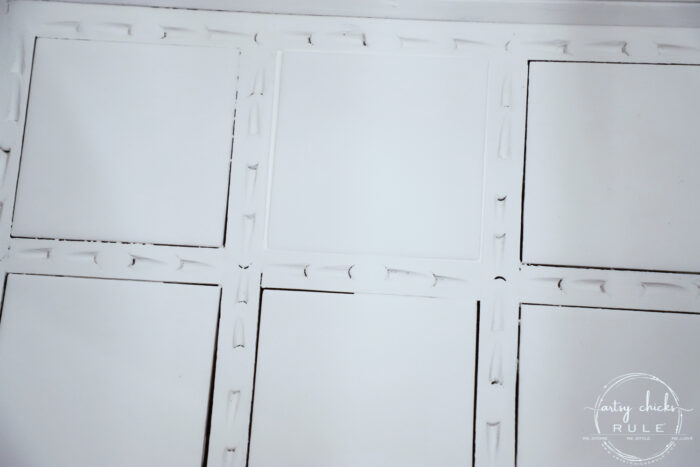 I used paintable white caulk. (I have plenty of that around here…I'm kind of a caulk freak! haha)
SO MUCH BETTER.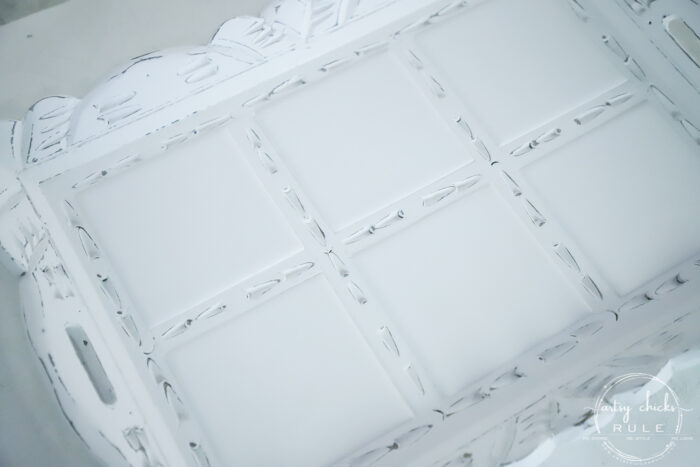 Right?? Night and day and such a simple, quick, and easy fix.
I also lightly sanded all the edges and details to bring some of that wood out.
Love how it brings the details out so nicely.
Laying them out before I attach them.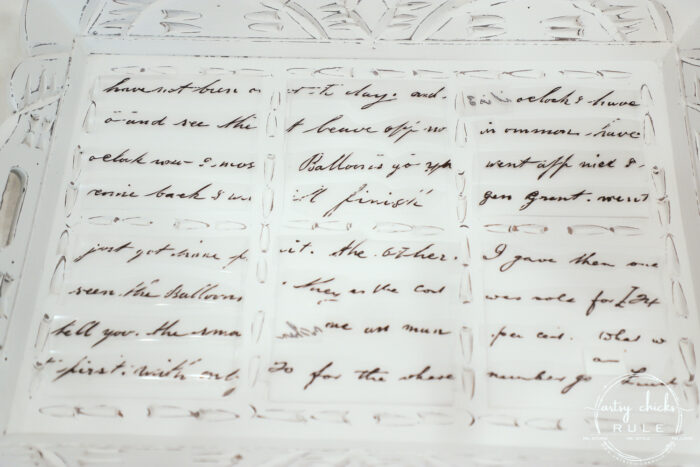 See how I spread them out a bit?
Love how it turned out!
Now to add the butterflies right over top.
Laying them out first to decide which ones I want to use.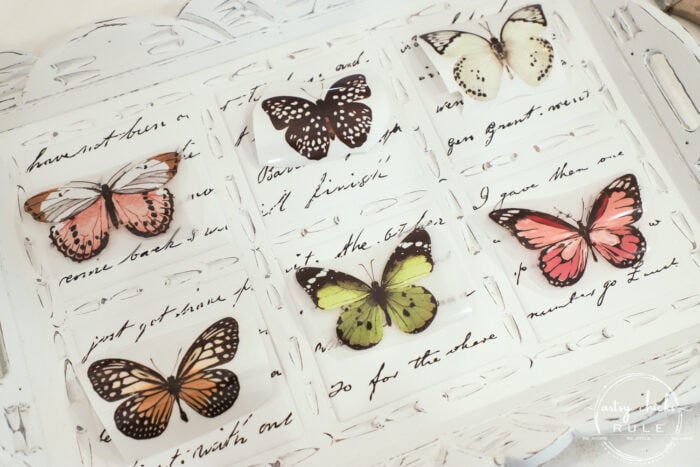 And attach them the same way I attached the cursive word transfers.
Want to see how to use these transfers/decals? Check out this post here >>> French Rose Decal Tray Makeover
I applied one coat of sealer over the whole thing and then put two more coats over top of the tiles only.
And decided to use these old knobs for the feet on the tray. I like adding feet to most of my trays.
I know these are so pretty, pearlized blue and all but I have had these for at least 7 years and never used them yet!
So I figured what the heck, I like the shape and think they are the perfect size for the tray, etc.
I sprayed them with flat black spray paint and attached them with E6000 glue so they'd be good and stuck for forever! ;)
And done!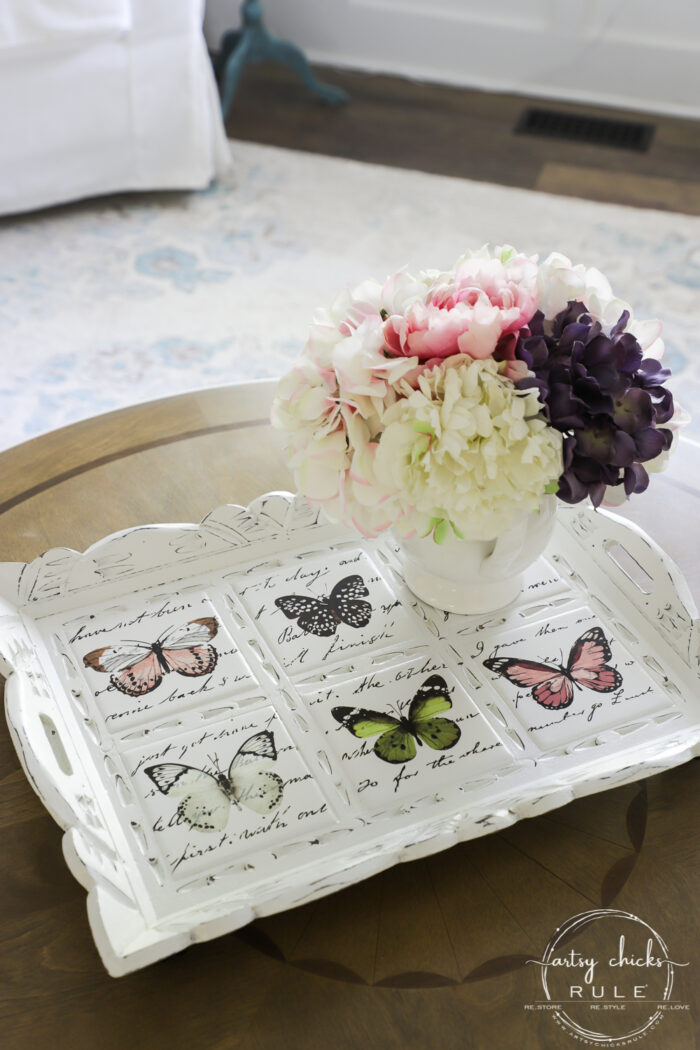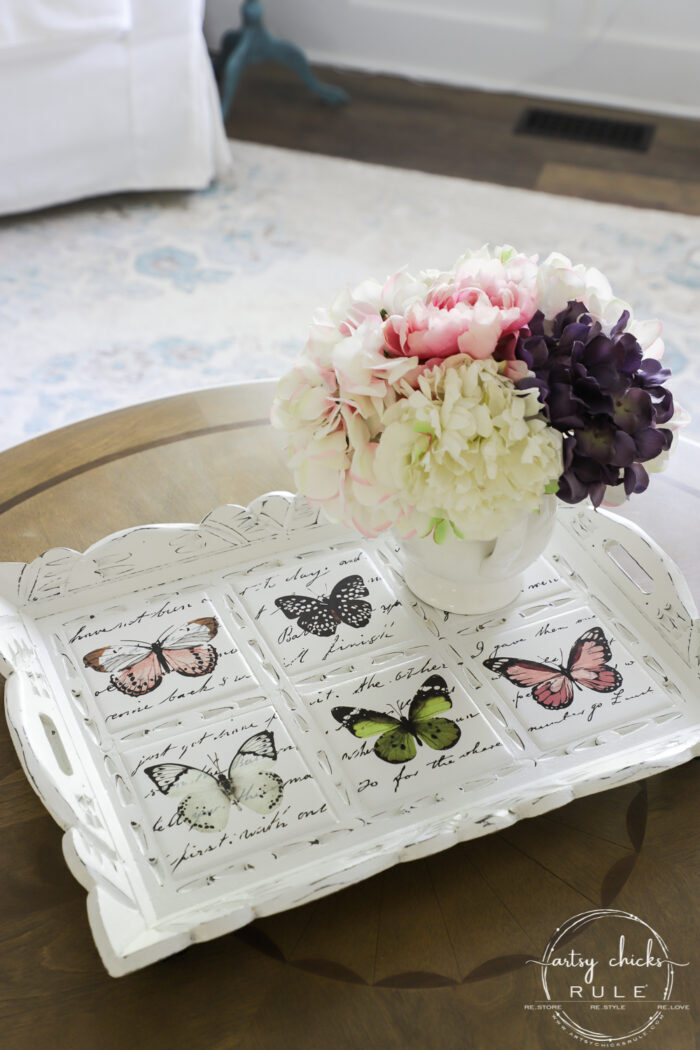 I love how this one turned out. I'm a big butterfly fan so that certainly helps.
But I just really loved that wood frame around the tiles too.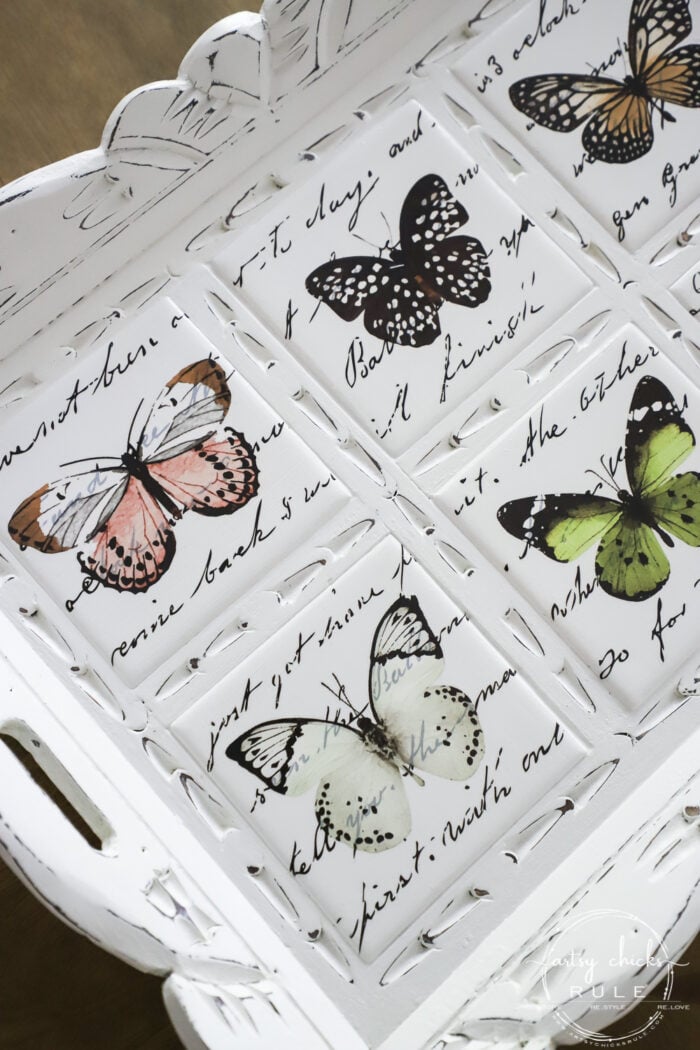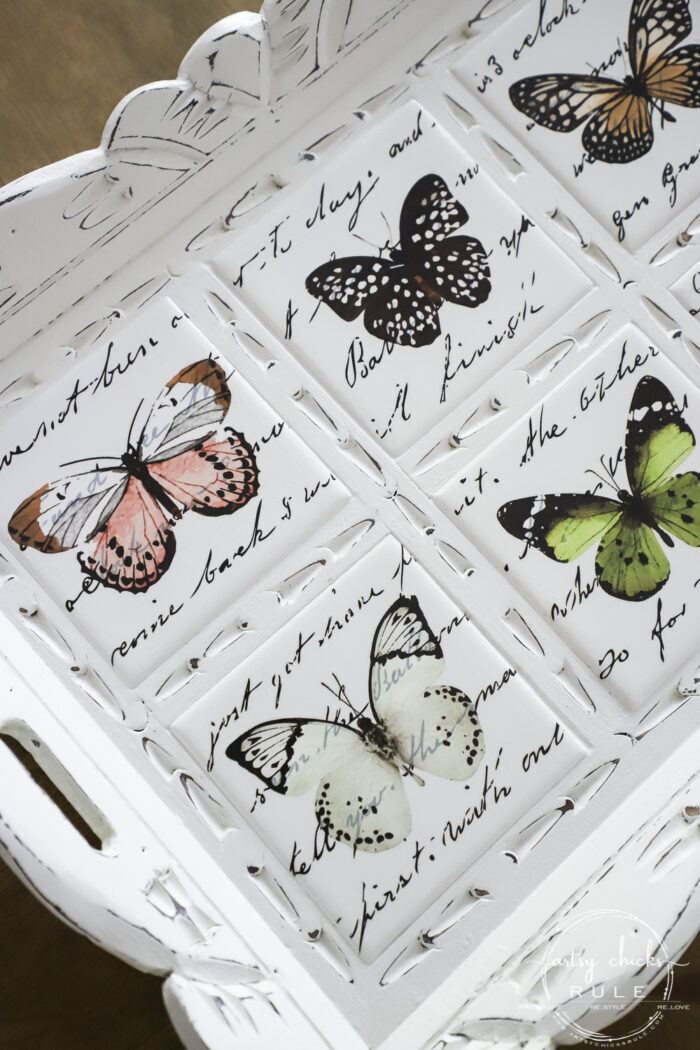 Can you imagine if I didn't add that caulk???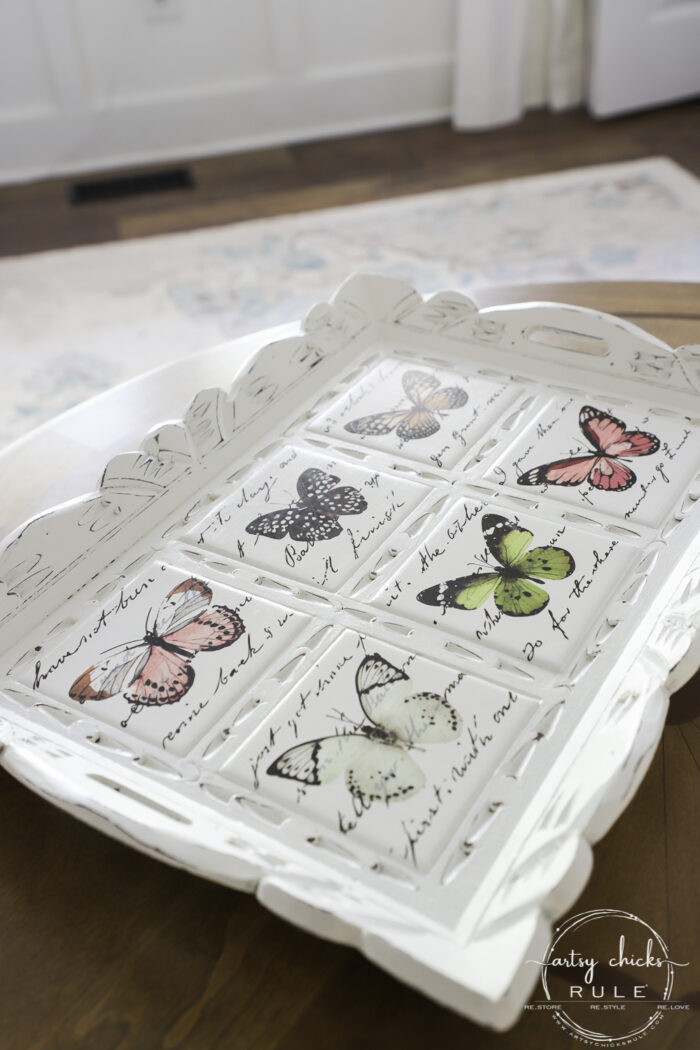 Trying to show how the tiles look… a nice sheen, which is what I wanted.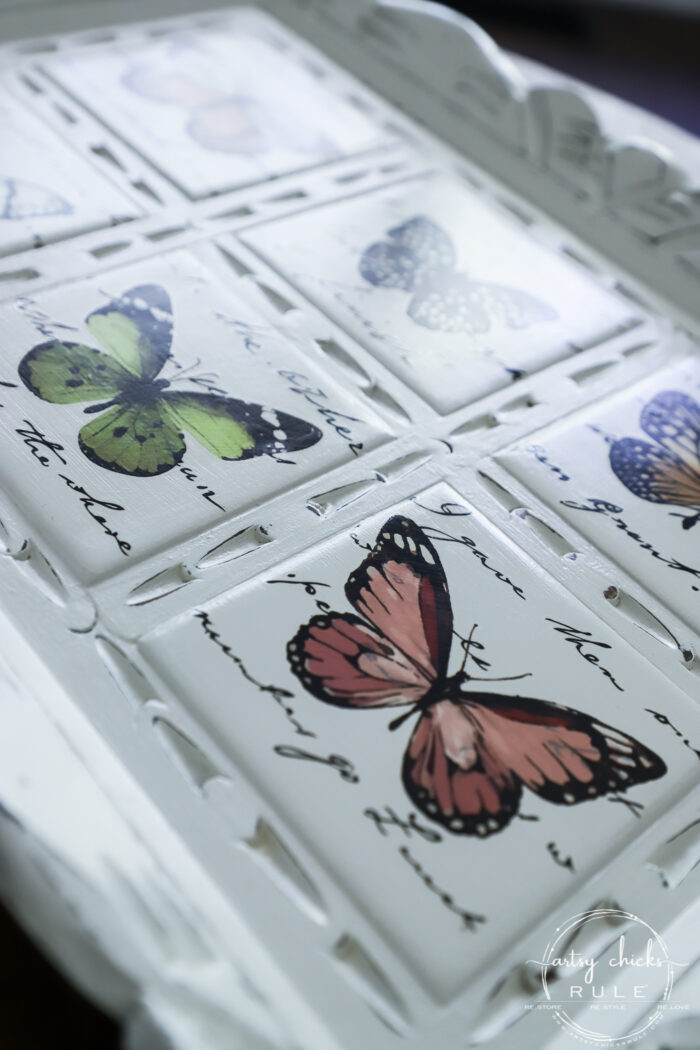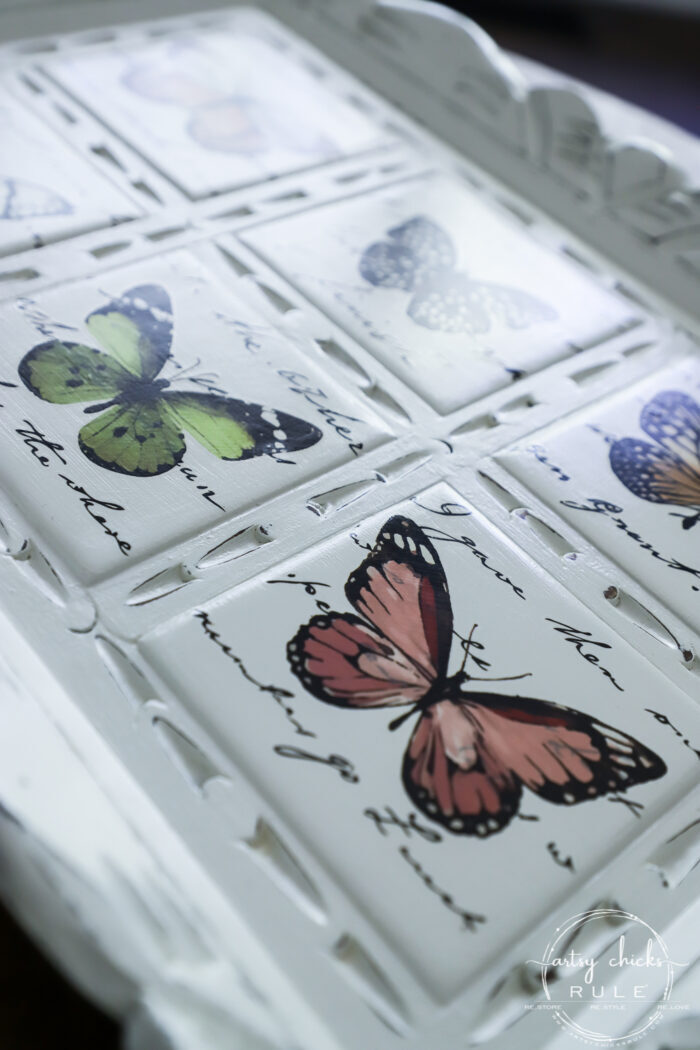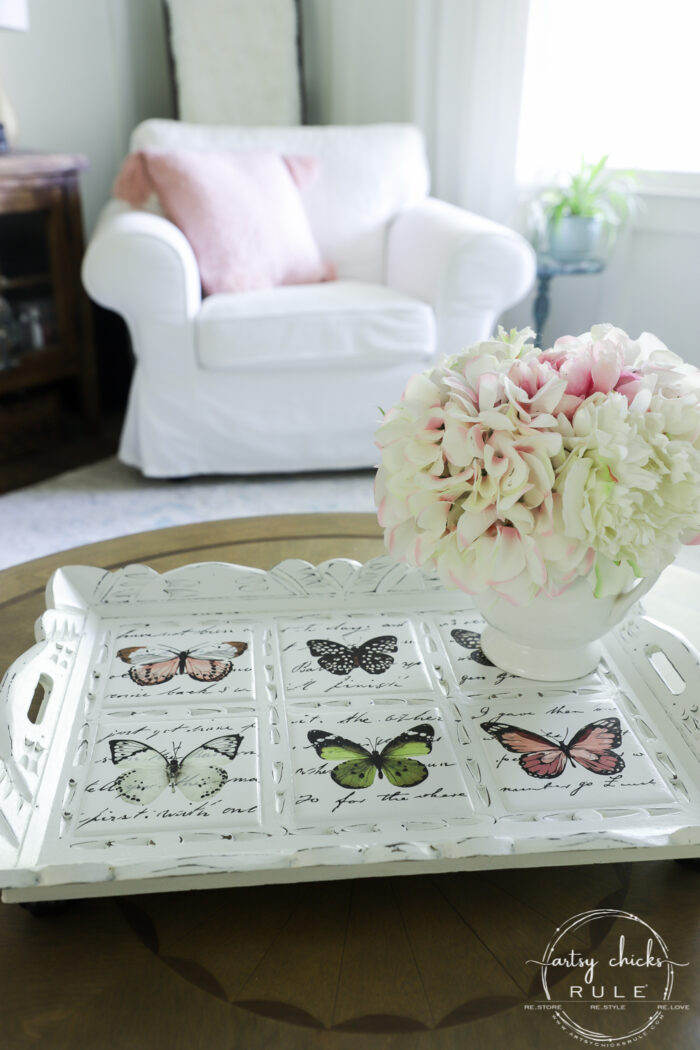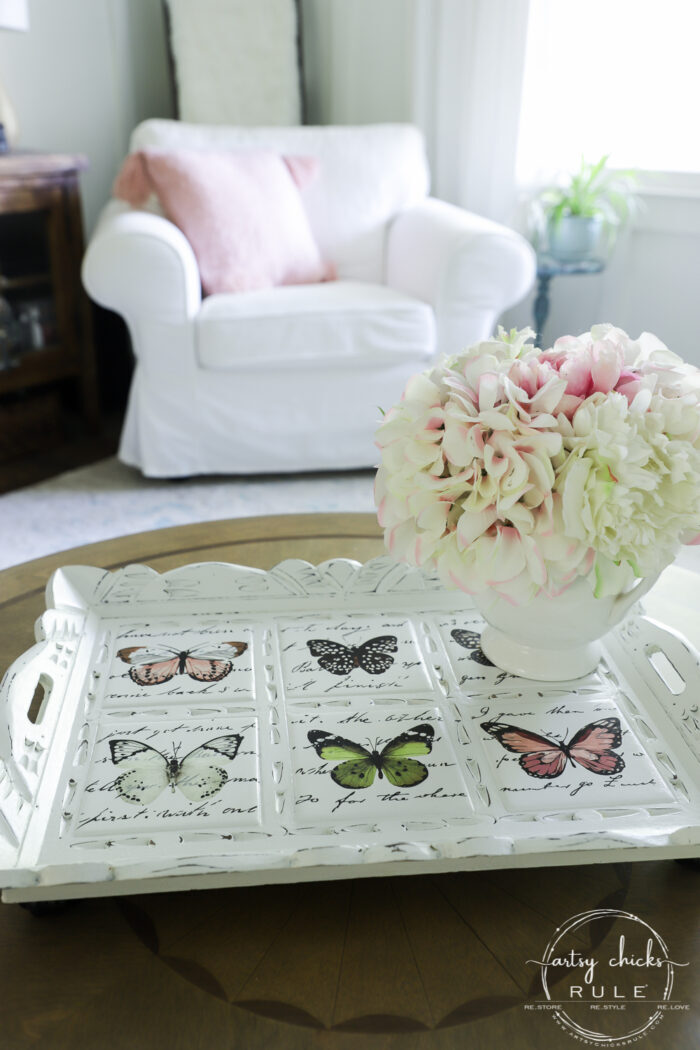 Cute little feet.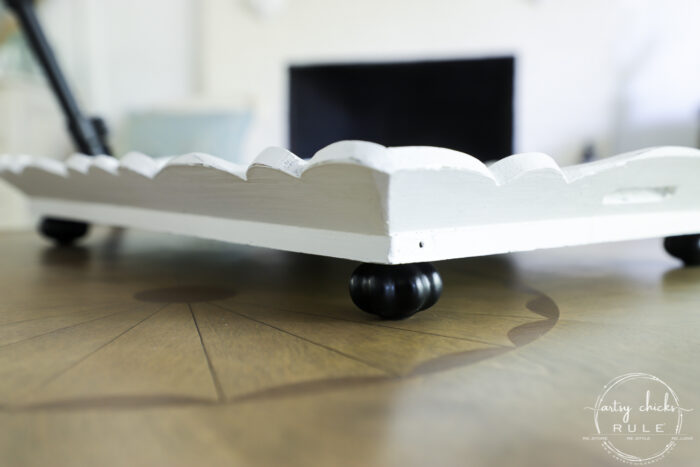 On my favorite coffee table! I love this table SO much and had no intention of keeping it when I made it over recently.
But here it sits! haha
If you missed that makeover, you can read all about it here and catch what it looked like "before" >>> Coastal Style Coffee Table Makeover (with paint and stain)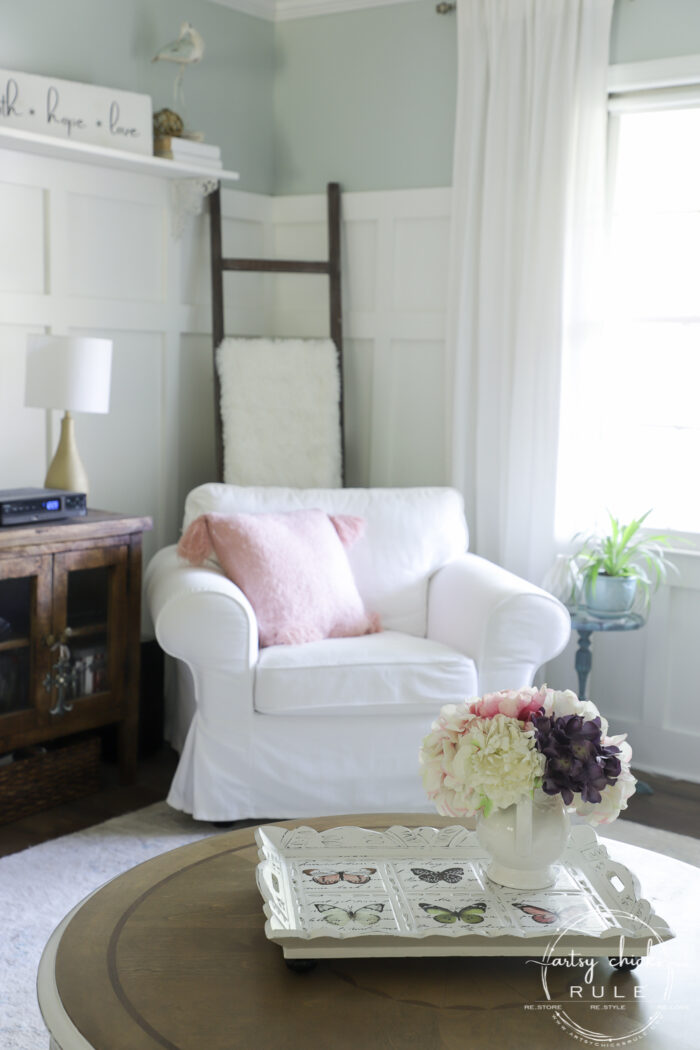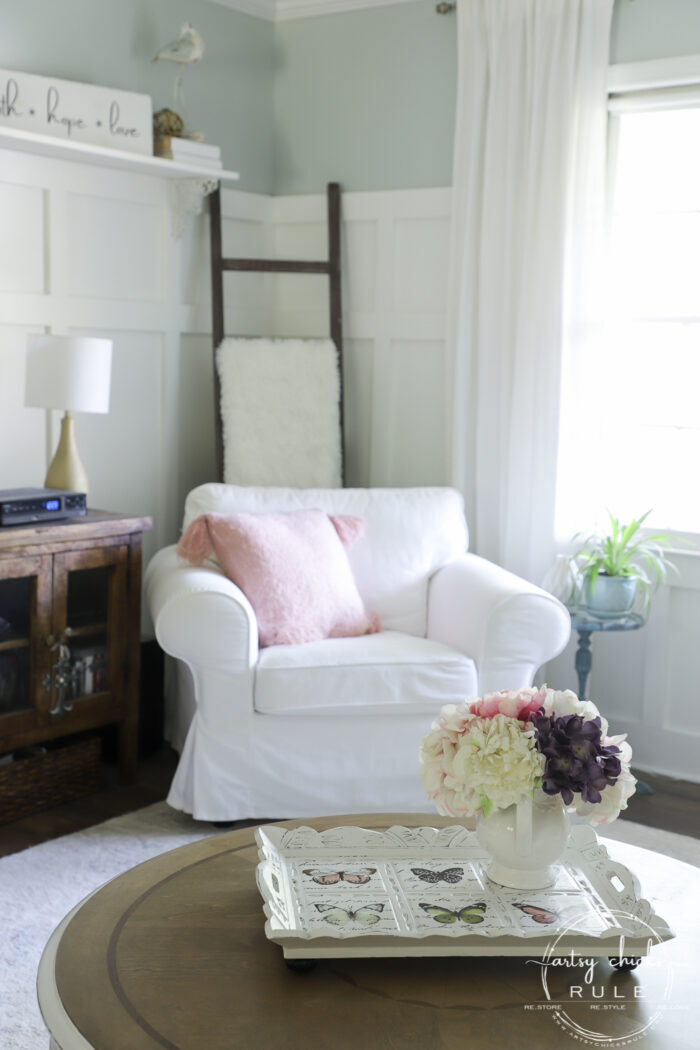 Thought I'd take a few shots of it in our morning room too.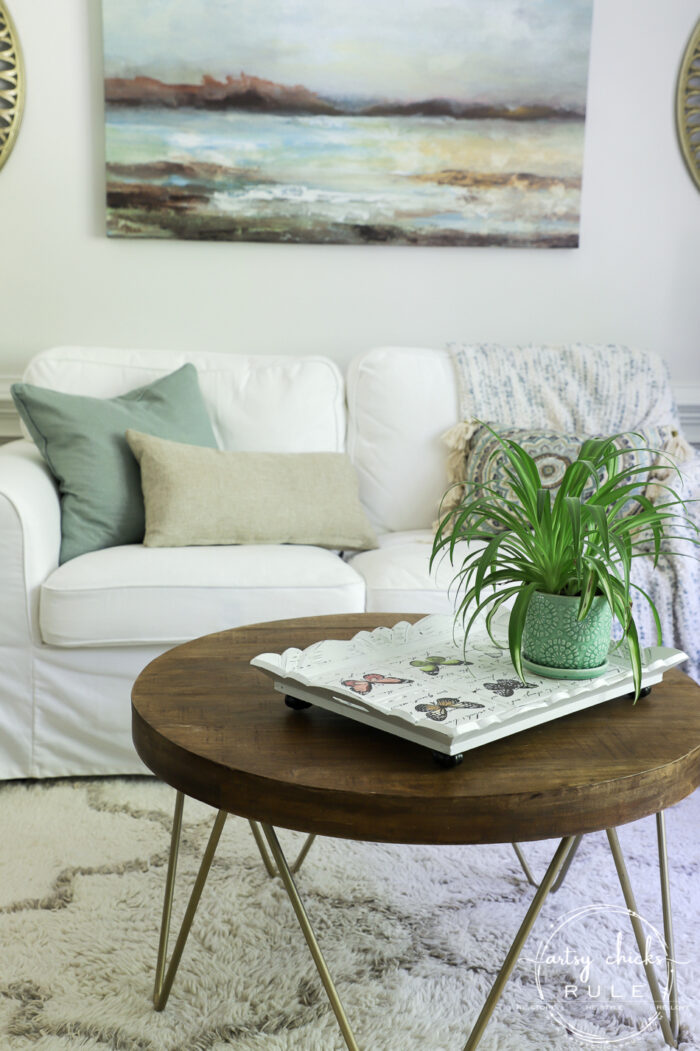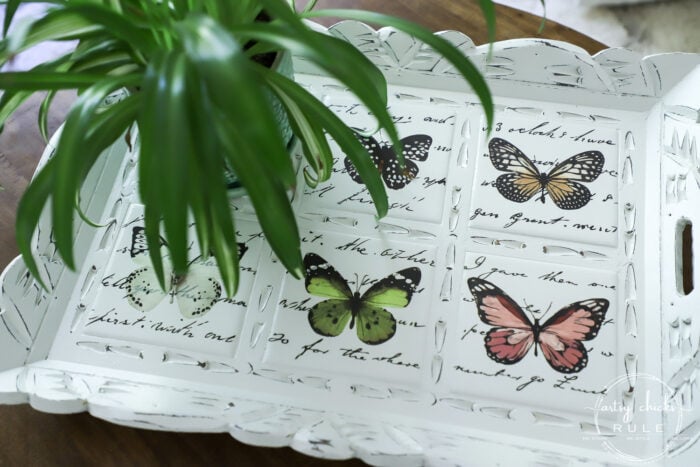 A few more close-ups…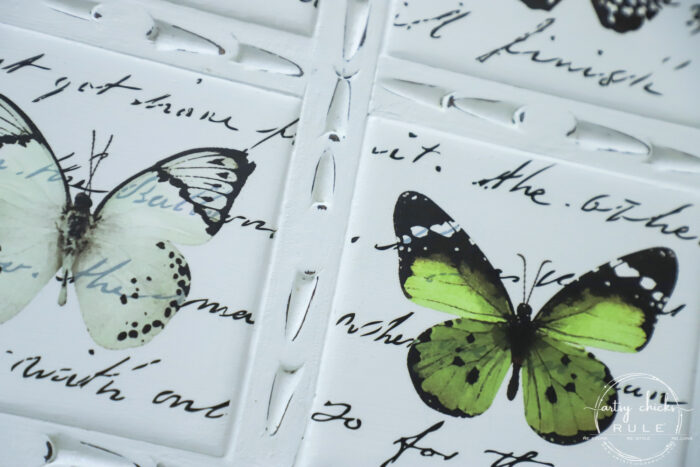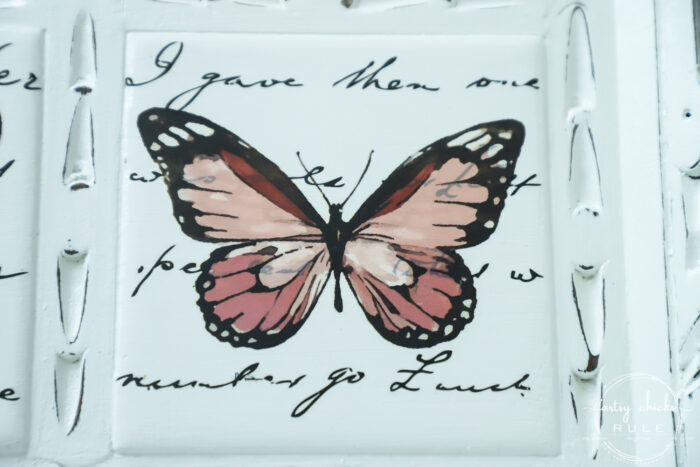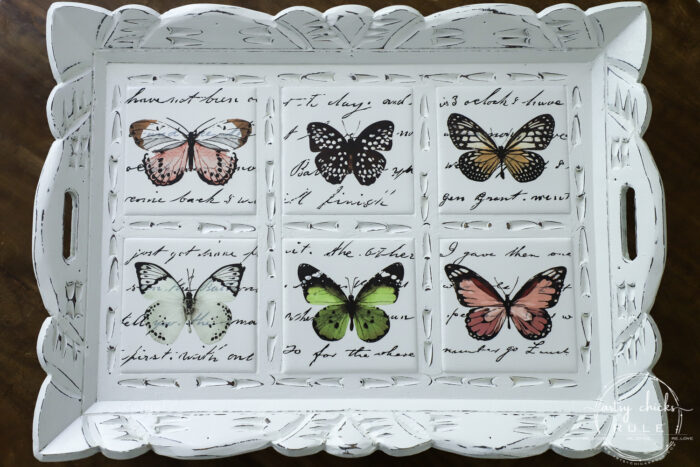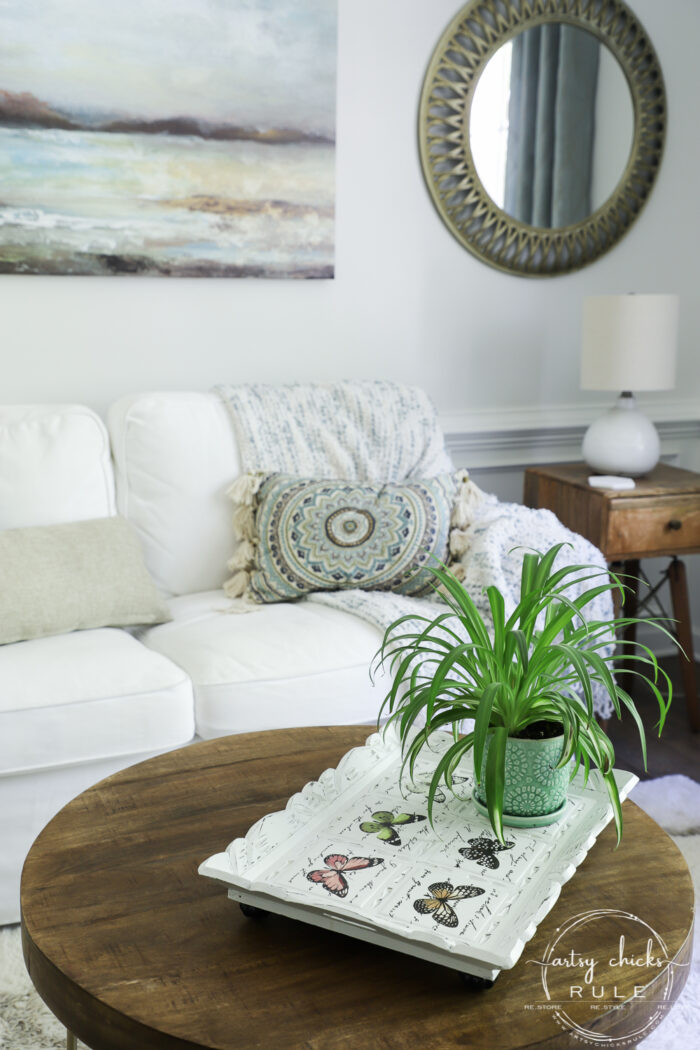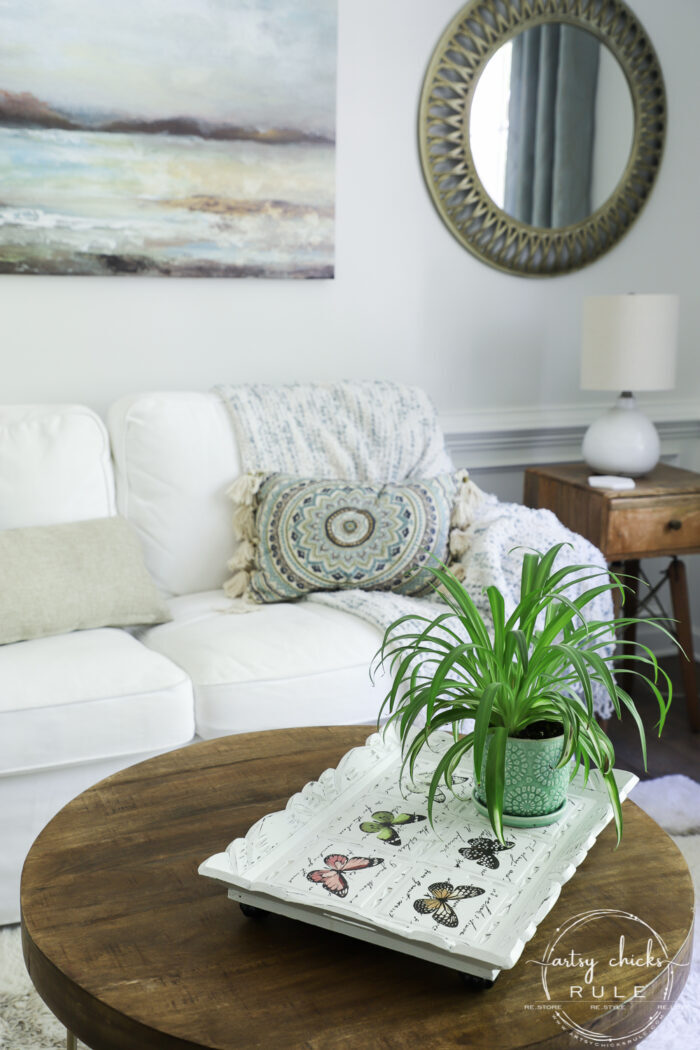 Want to see more trays I've made over?? ( I must love making over trays because I've done a lot more than I realized)
PIN it to save it!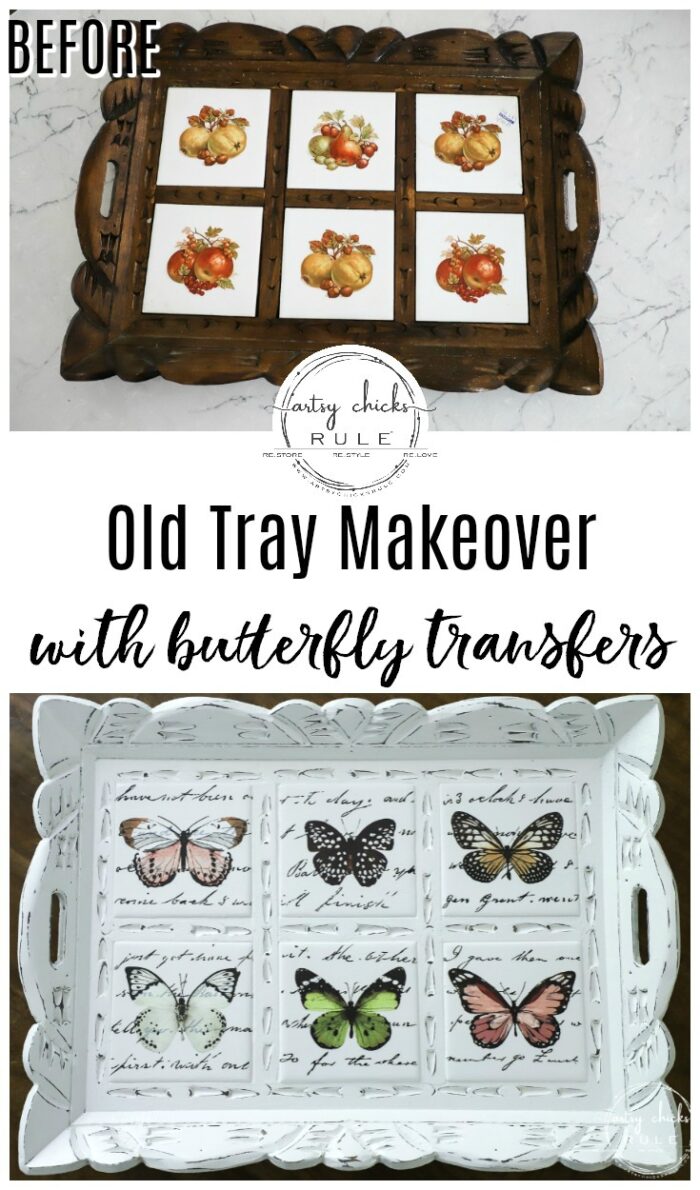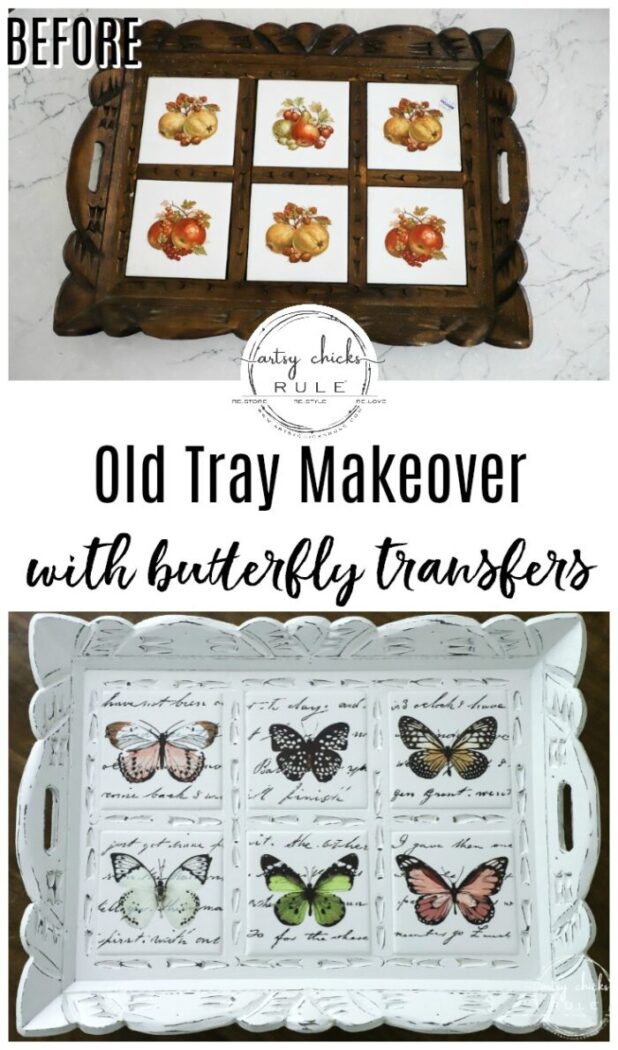 Don't forget to hop over and see what Christy did with 2 of her finds from our thrift shopping trip! (link below)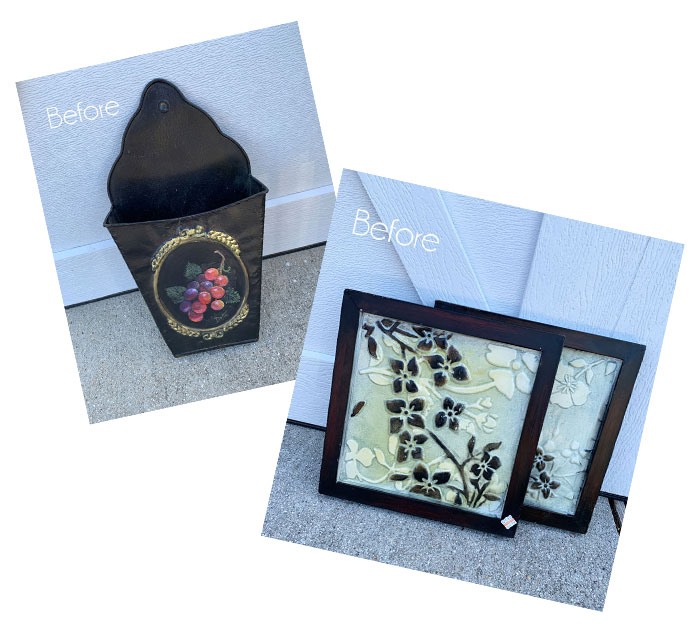 Click here to see! >>> Christy's Thrift Store Makeovers – Confessions of a Serial Do It Yourselfer
Want to see even more of our videos from past shopping trips?? Check them all out here >>> My Videos Page
I'll be sharing this one next!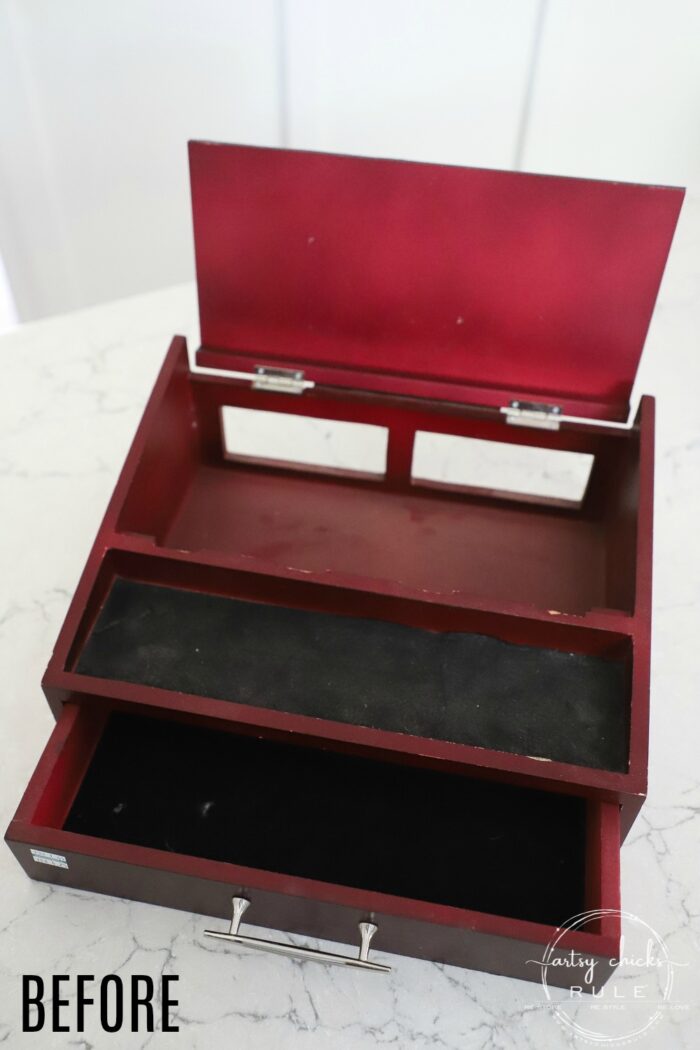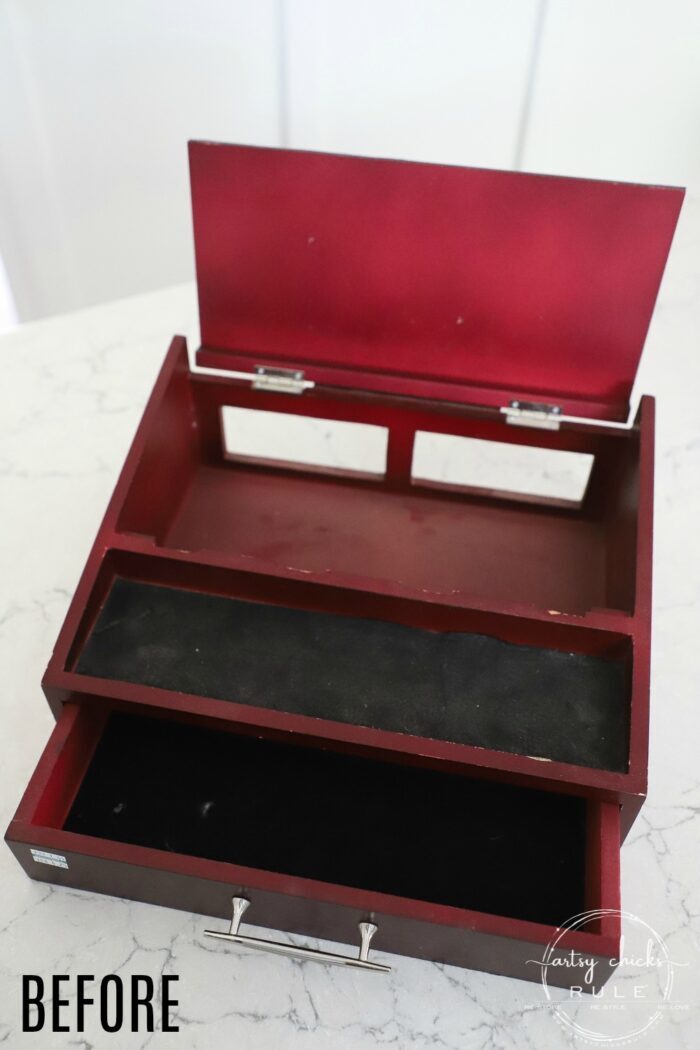 UPDATE!! See it now, here!
If you missed any of the rest of Thrift Store Haul #2, you can see them all here:
I hope you enjoyed being a part of our shopping trip today. Hopefully, we will be able to do another one before too long. Hopefully, we all will!
Have a wonderful and blessed weekend, friends!
xoxo