$2 French Floral Bucket Makeover (ReDesign with Prima Transfer)
This post may contain affiliate links. Please see disclosures here.
Transform a $2 thrift store find into a French floral bucket with spray paint and a Prima transfer!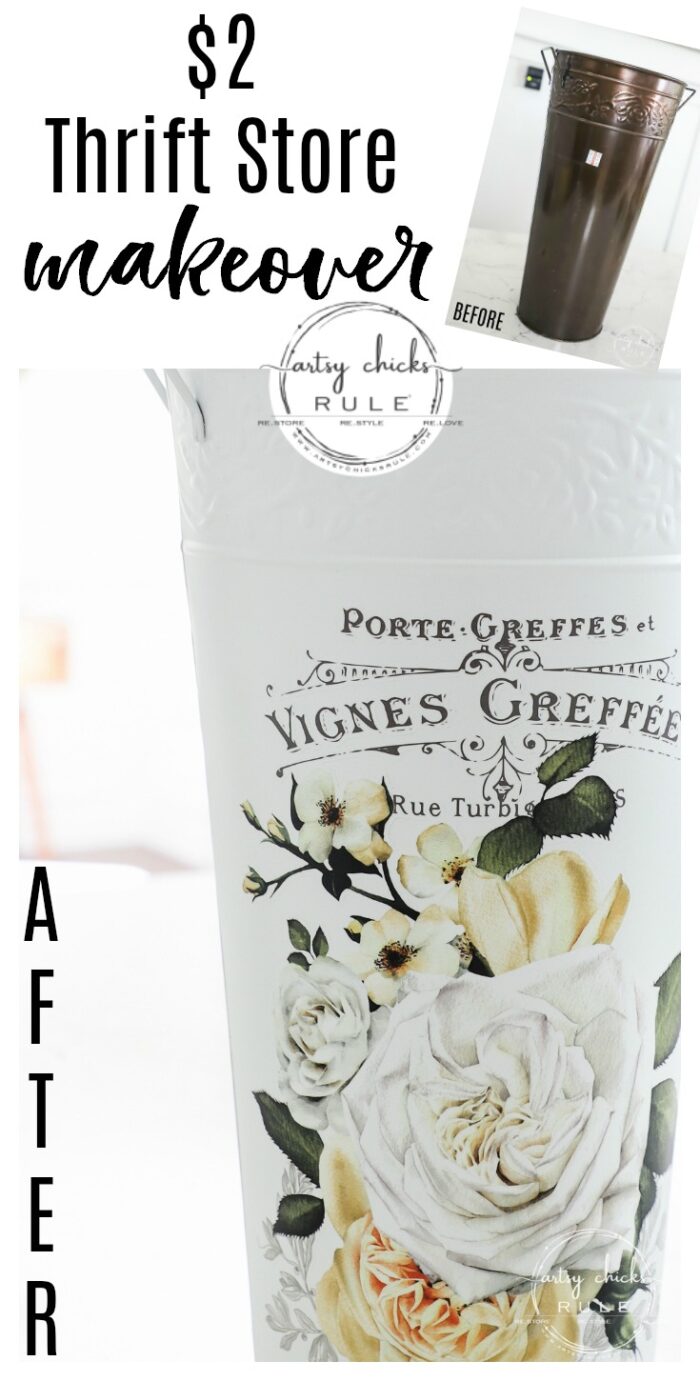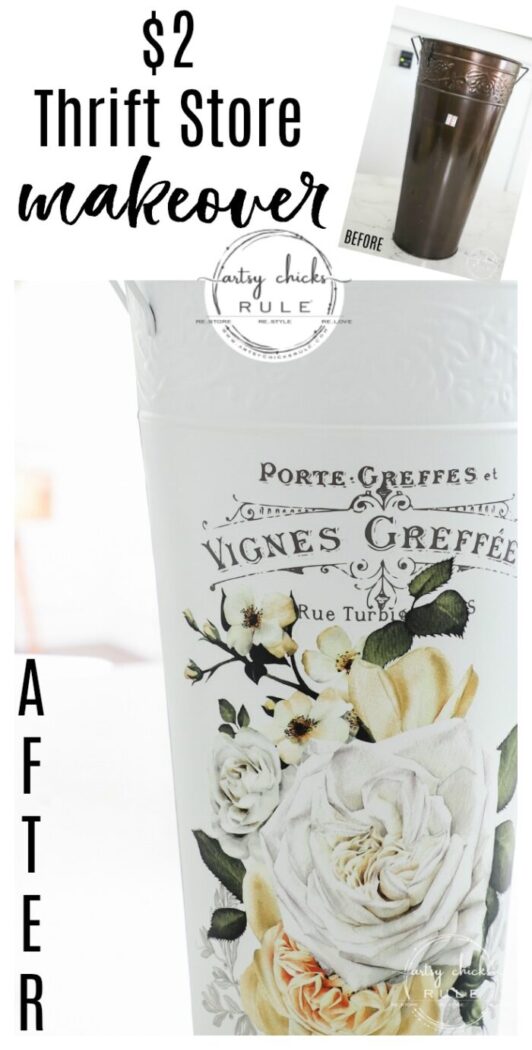 Hello friends!
First, let me say a big congrats to Michele S. on winning my latest giveaway. :) If you didn't win, don't worry, I will be doing more!
And I may do more smaller giveaways so I can do them more often and reach more of you.
So, those who guessed I put the pretty floral transfer on the tall, vase, floral bucket thing were correct! That is indeed what I put it on.
But…without the frame. You'll see below.
$2 French Floral Bucket Makeover (and ReDesign with Prima Transfer)
Here is it before…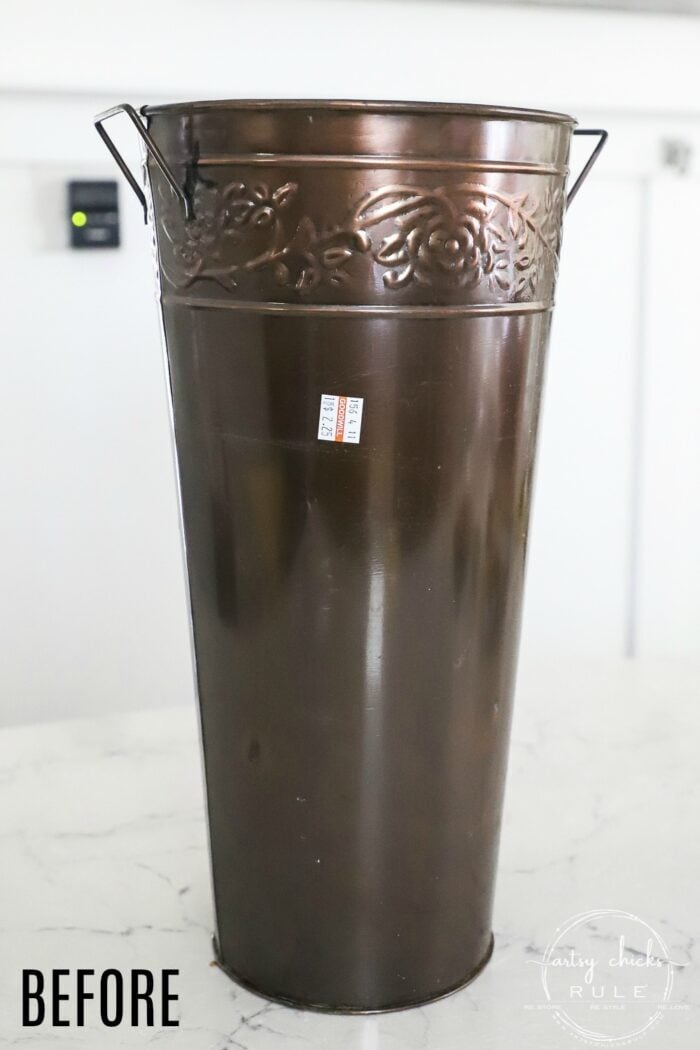 Pretty basic.
I wanted to make it pretty fabulous and these Prima transfers sure do help with that.
If you remember, this is another one that I picked up when Christy and I went out thrifting. Missed that post and the video of our shopping trip? You can see it right here >>> Thrift Shop Shakedown #6
And it's part of my Thrift Store Haul #2…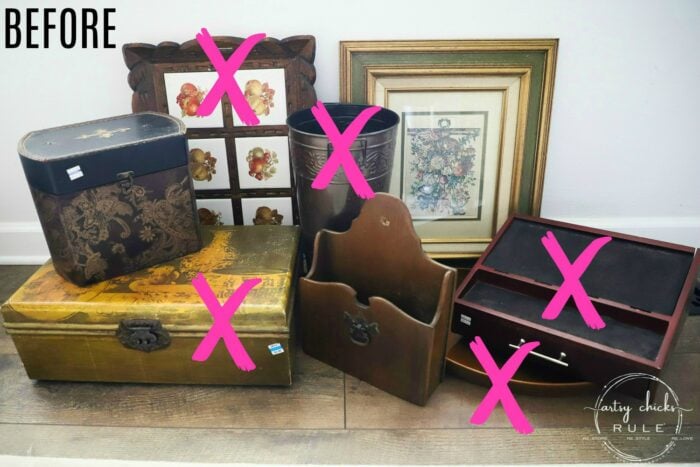 Miss any of these makeovers??
Just scroll all the way to the bottom for links to all of them.
………………………………………………
I began by taping some plastic wrap in the opening because I didn't want to spray the inside this time.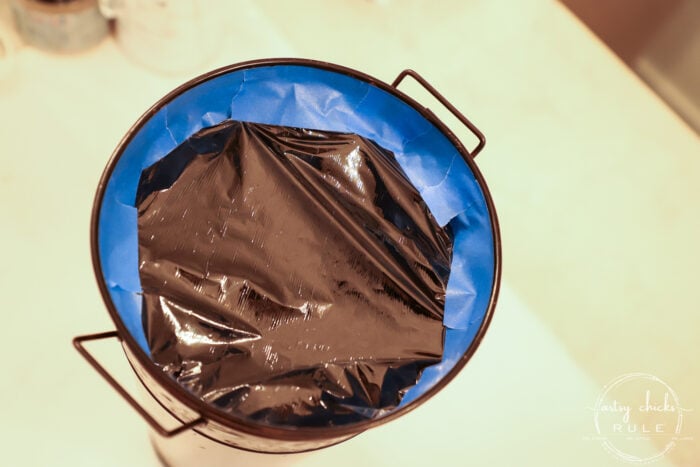 Only the very top inside rim edge will get paint and it will be nice and neat because of the tape.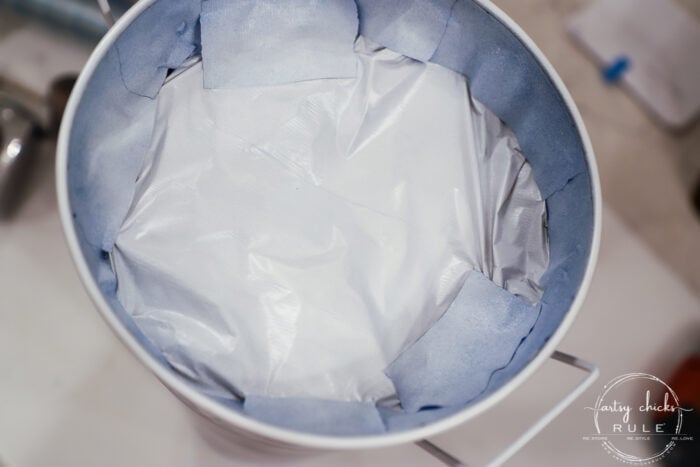 I used this spray paint (which creates such a nice smooth finish…it's the same one I used on the Beach House Platter I just shared)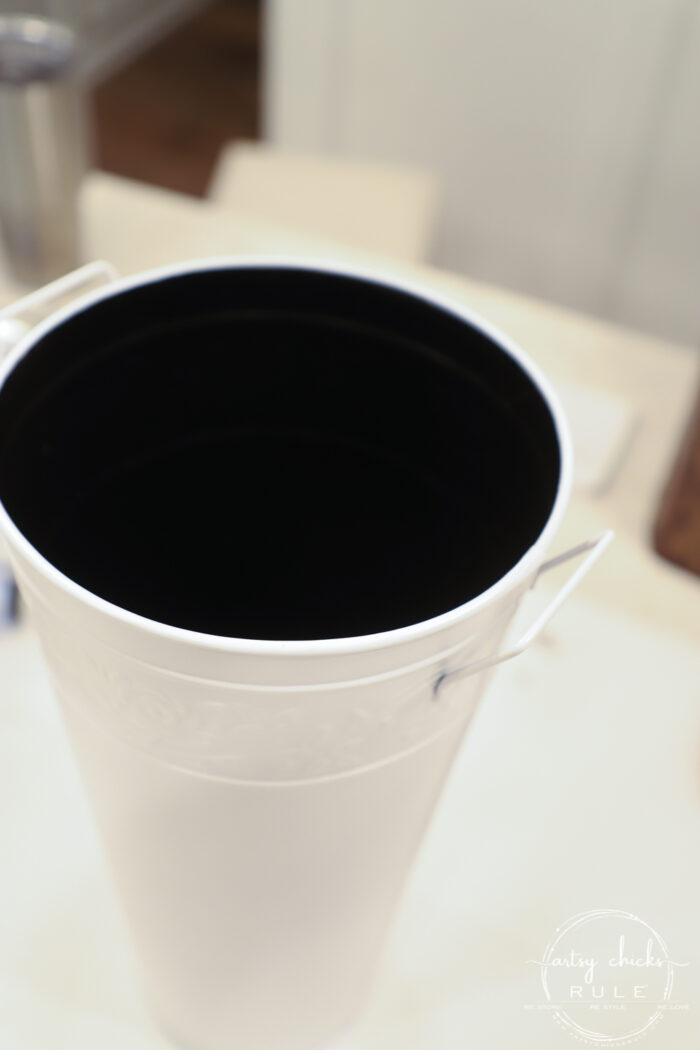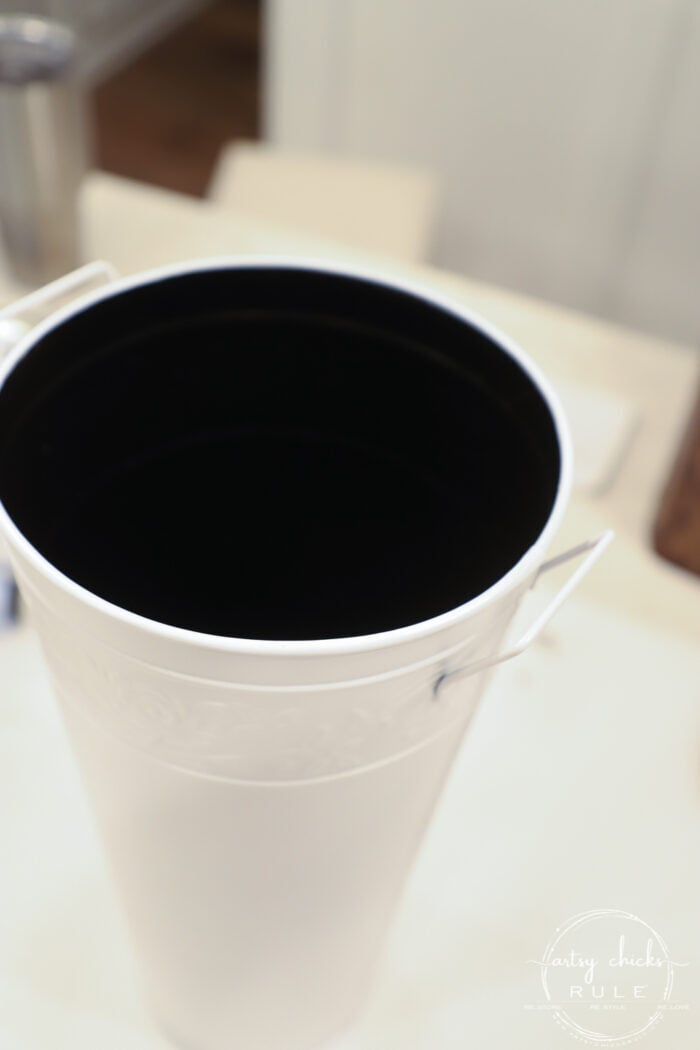 I didn't distress this one because I just loved the nice, white, clean finish.
Next, I attached this Prima transfer (which was included in my recent giveaway)
You can find this yellow rose transfer in my online store, here.
But remember I said above…without the frame?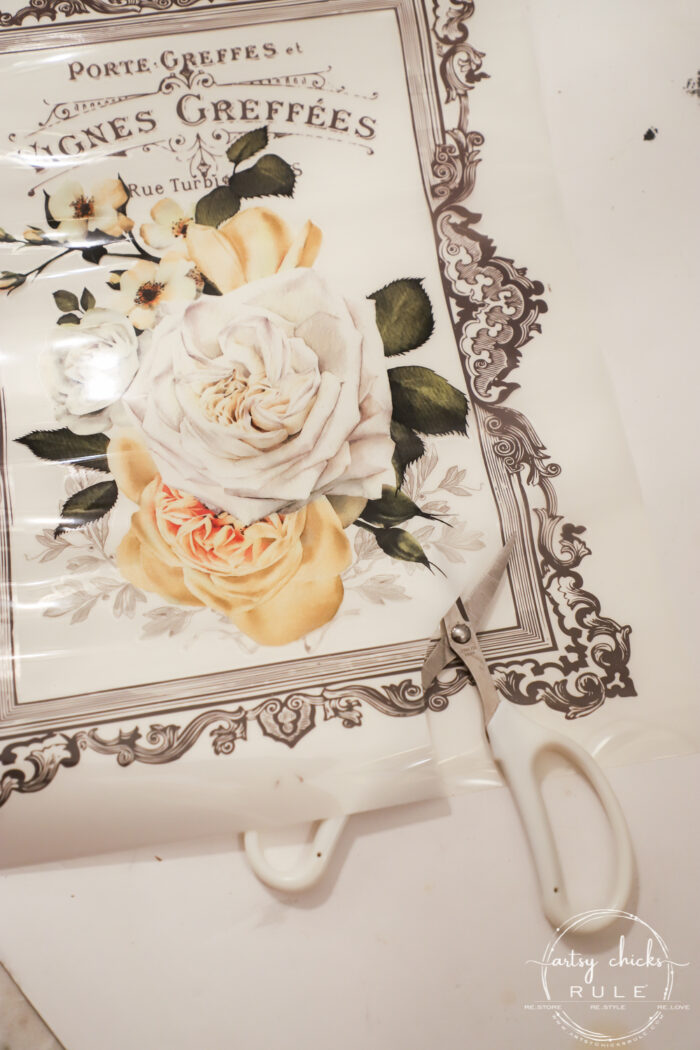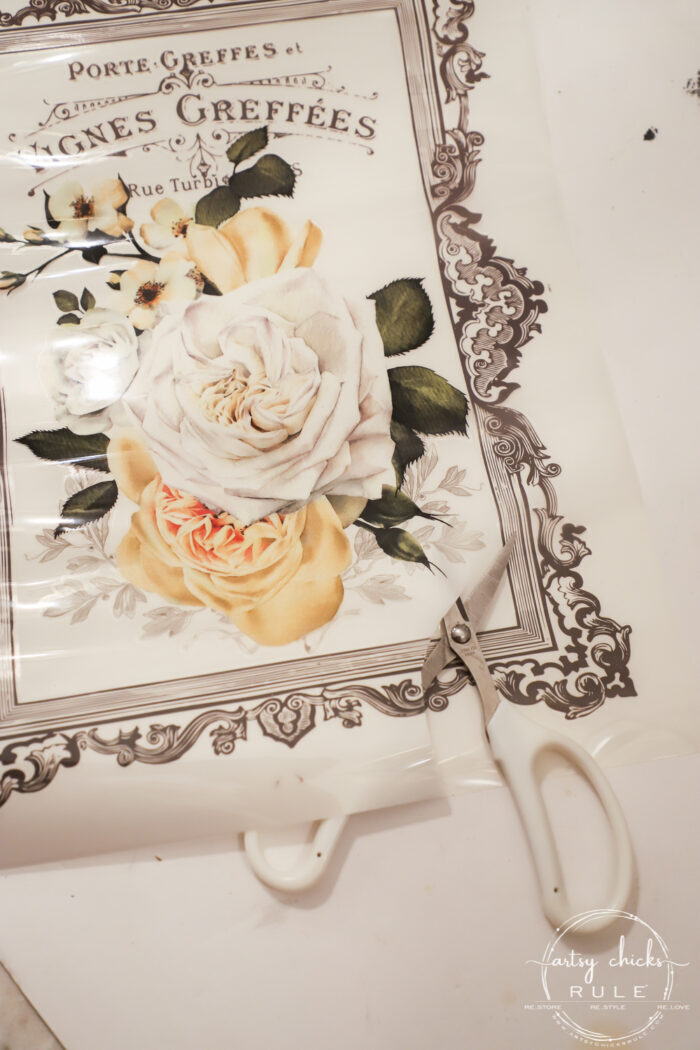 I simply cut that away (and saved it because you never know!) and used only the inside area.
All you do is peel the protective backing off, lay it where you want to attach it, and rub to transfer it to your project. They include the wood stick for this.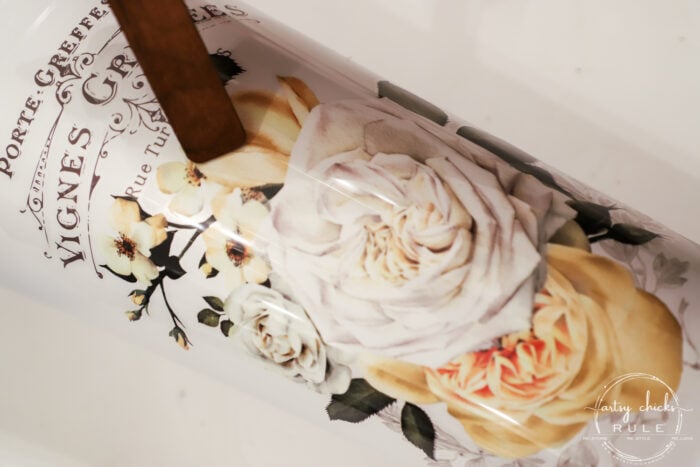 SO simple!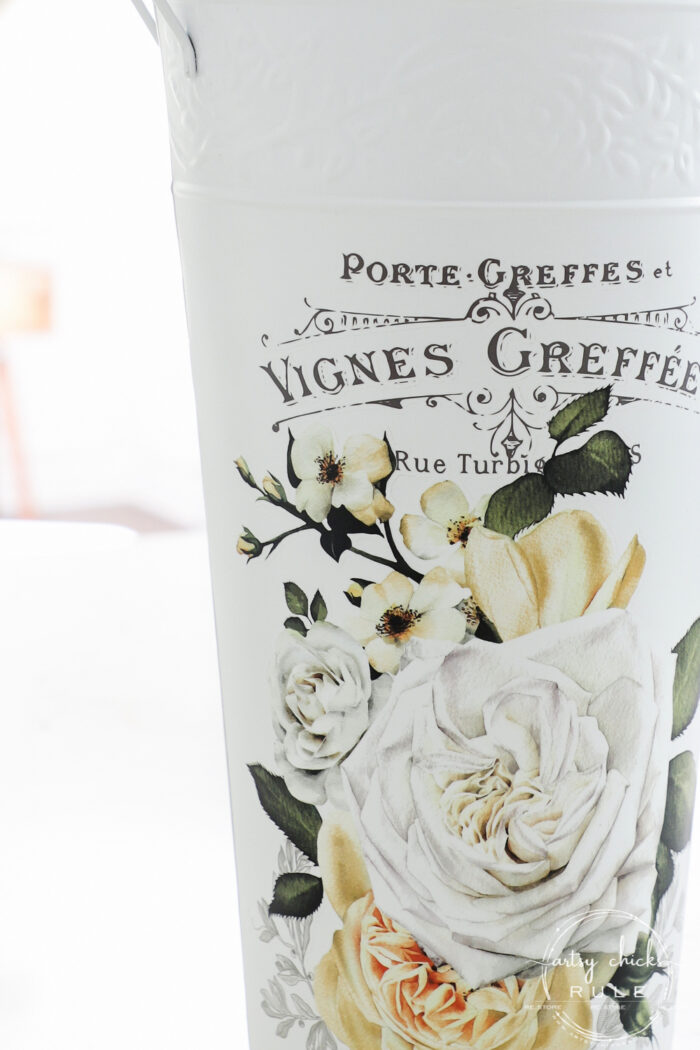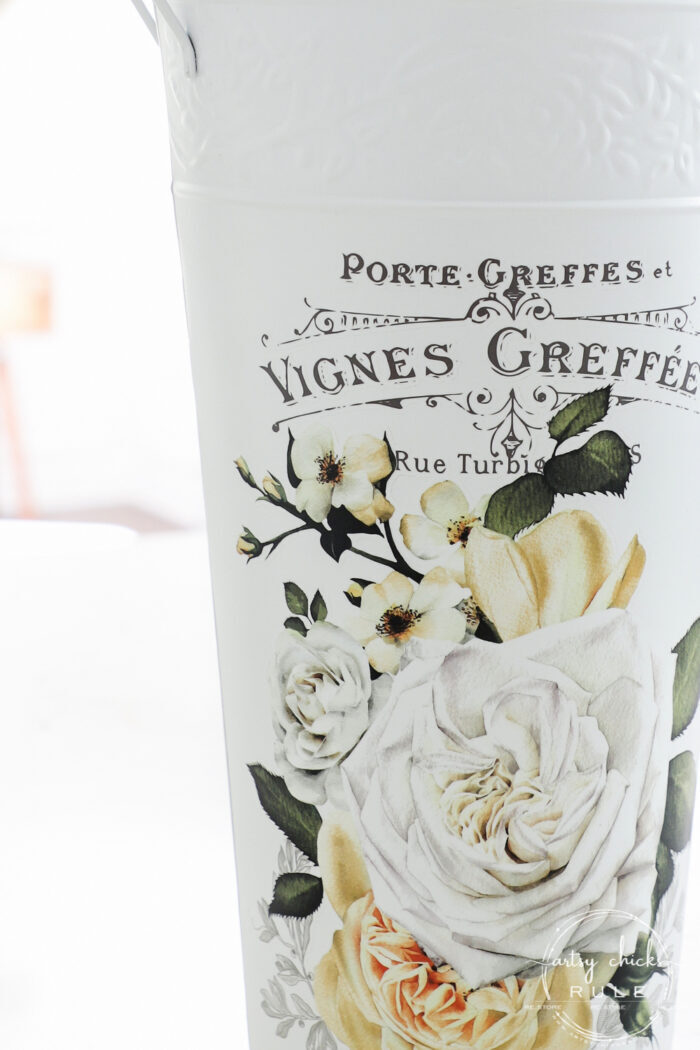 I applied one coat of this topcoat sealer.
I just ordered in a new topcoat sealer that I've been wanting to try. It came in today…I'll share my thoughts on it soon. :)
Isn't that transfer just perfect for my "French floral bucket"?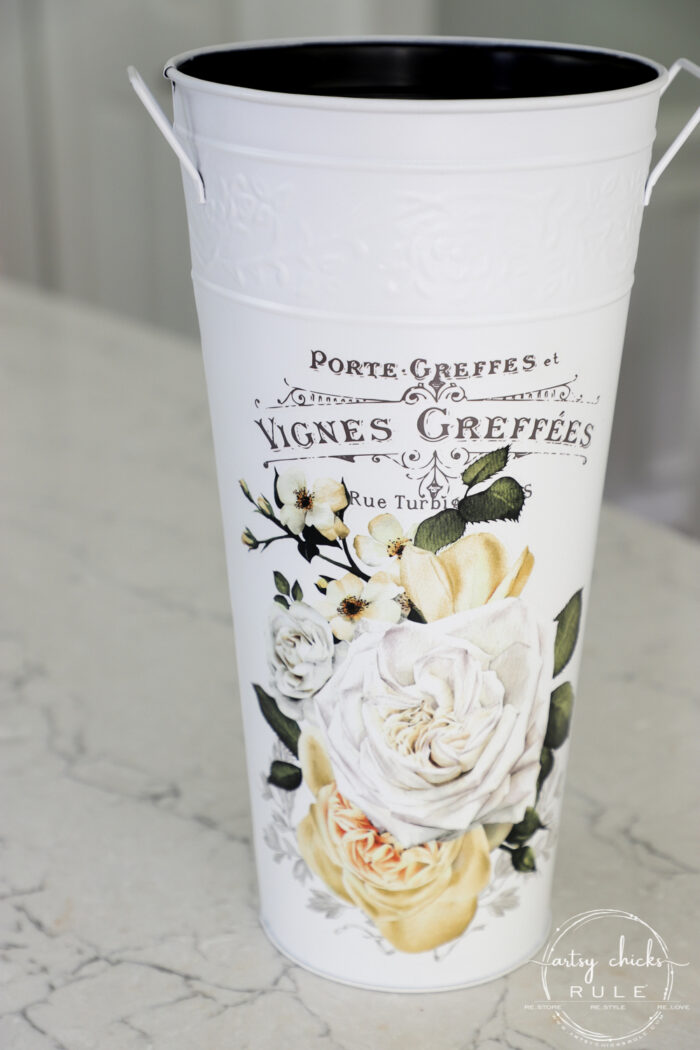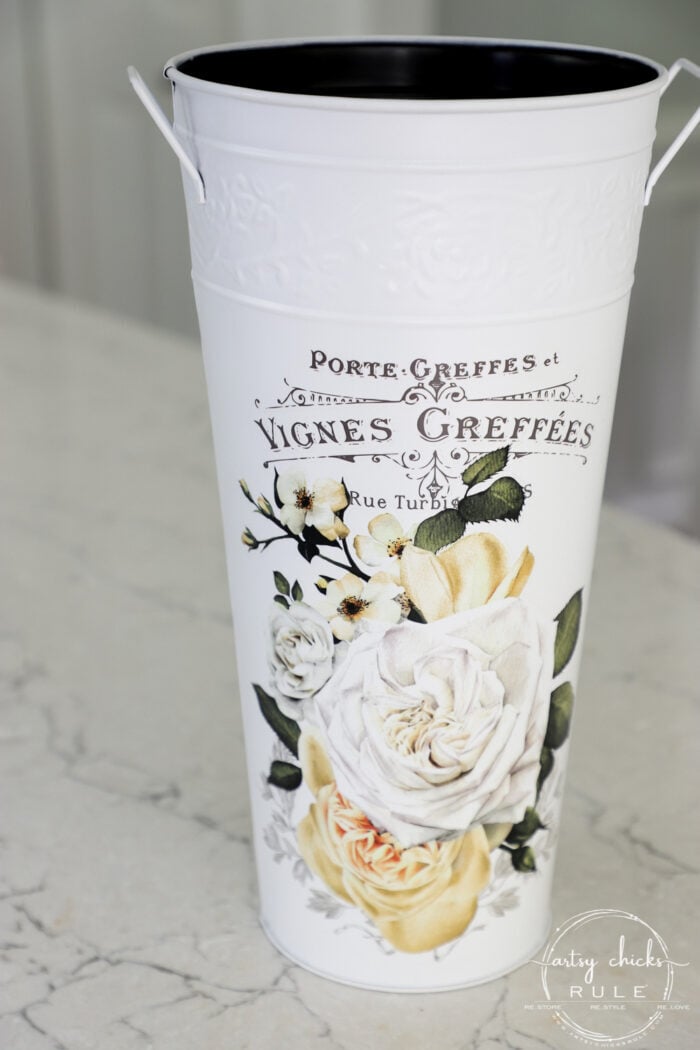 Yes!
Up close…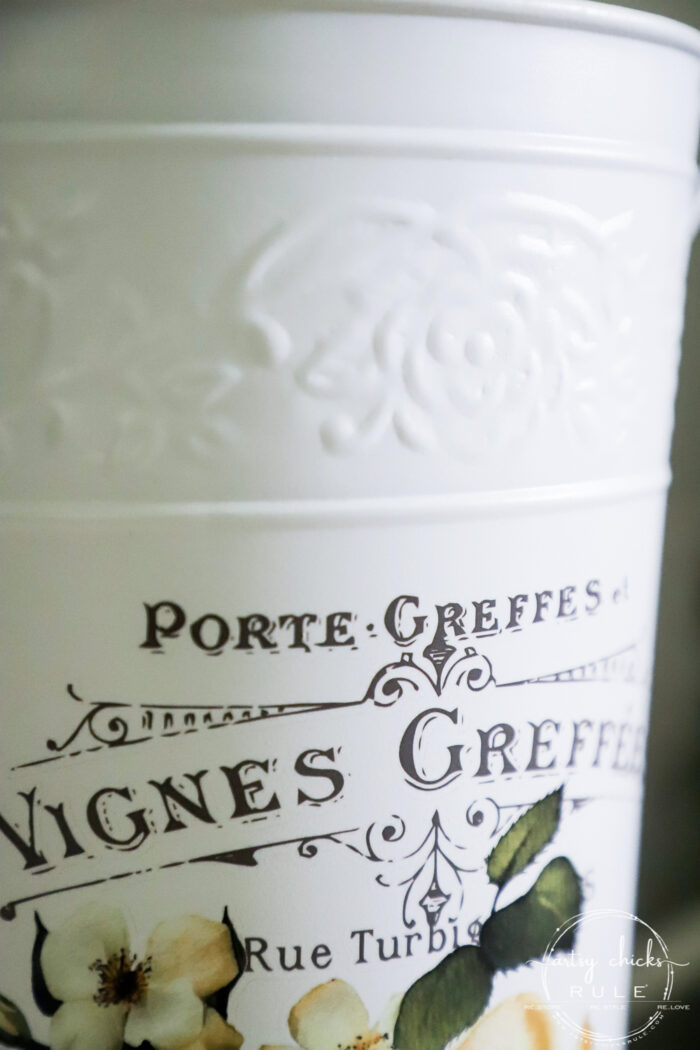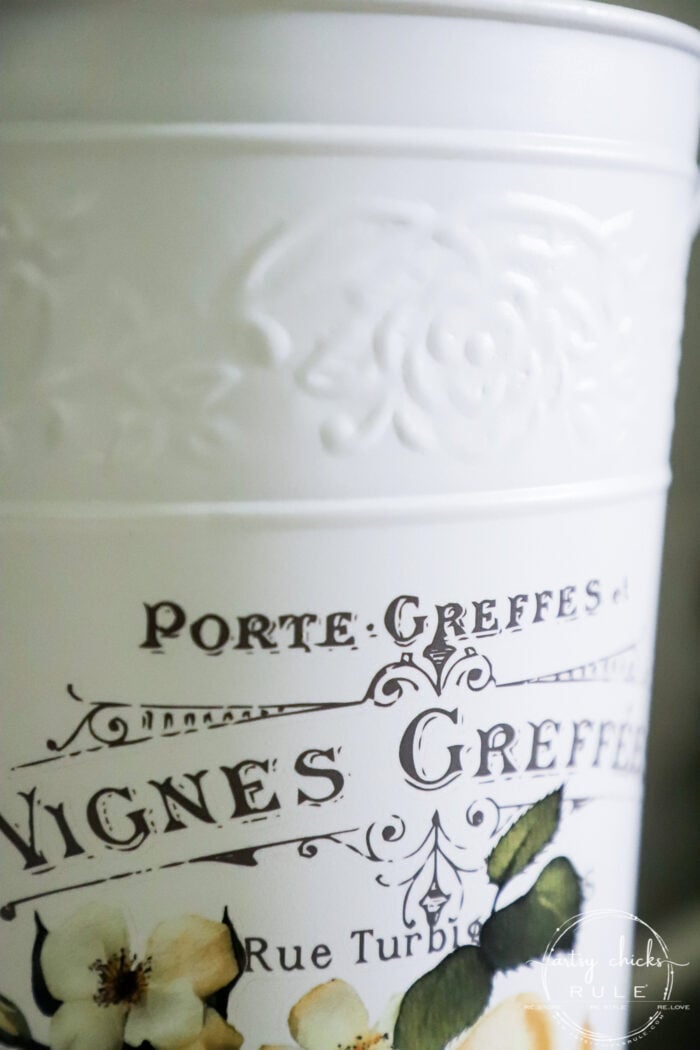 And with some flowers I had here to display (and my 2 sweet "babies" lol).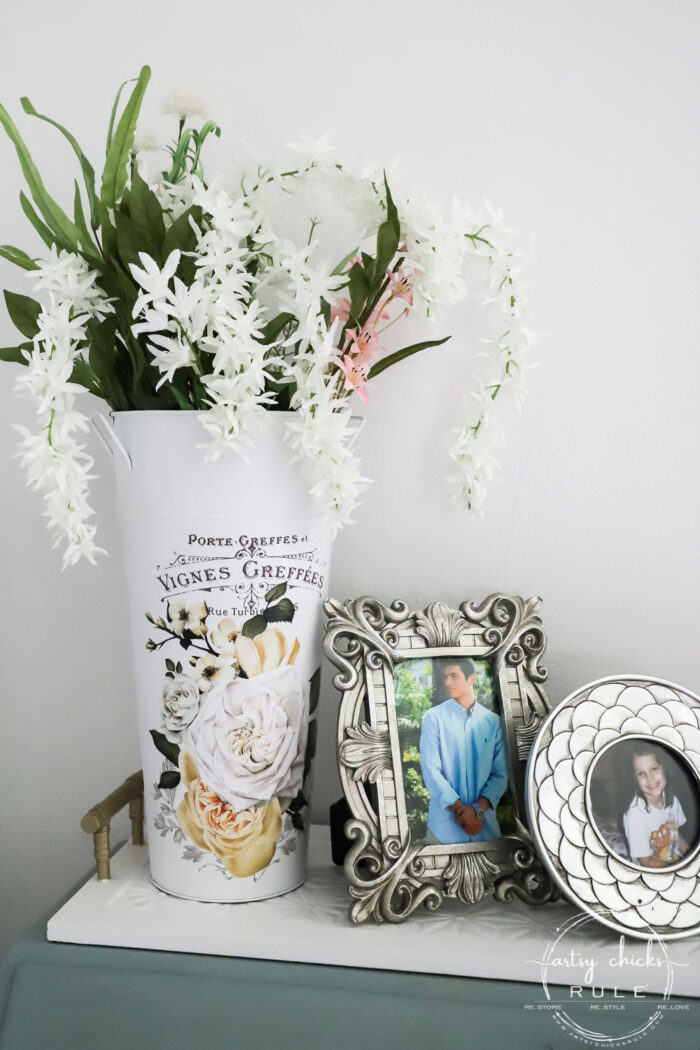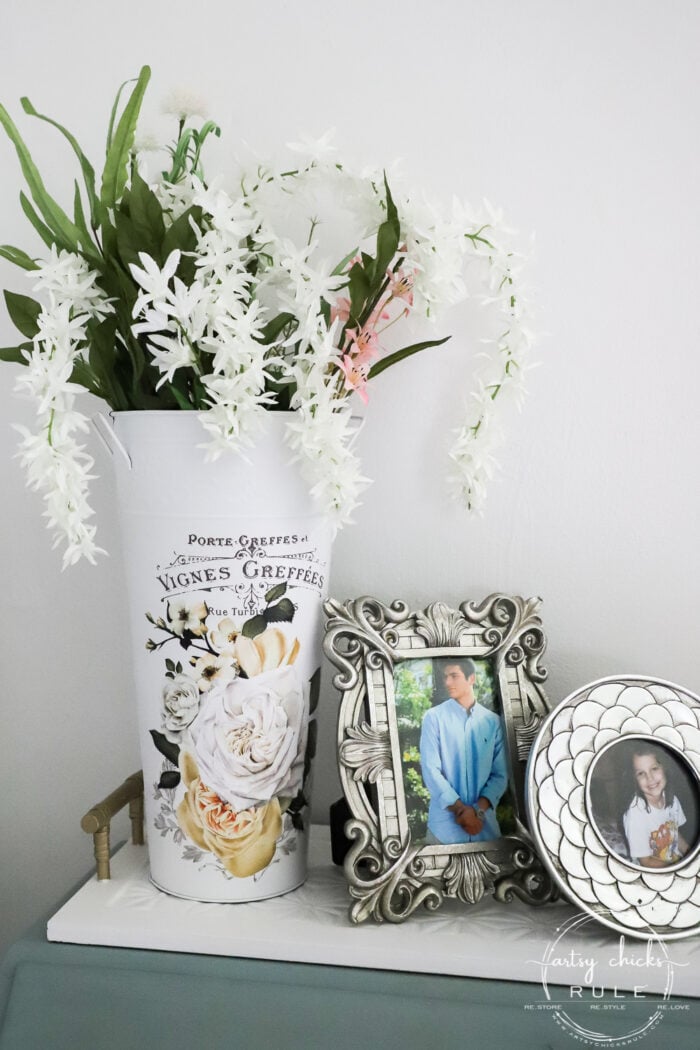 But it would be so pretty with fresh flowers, don't you think?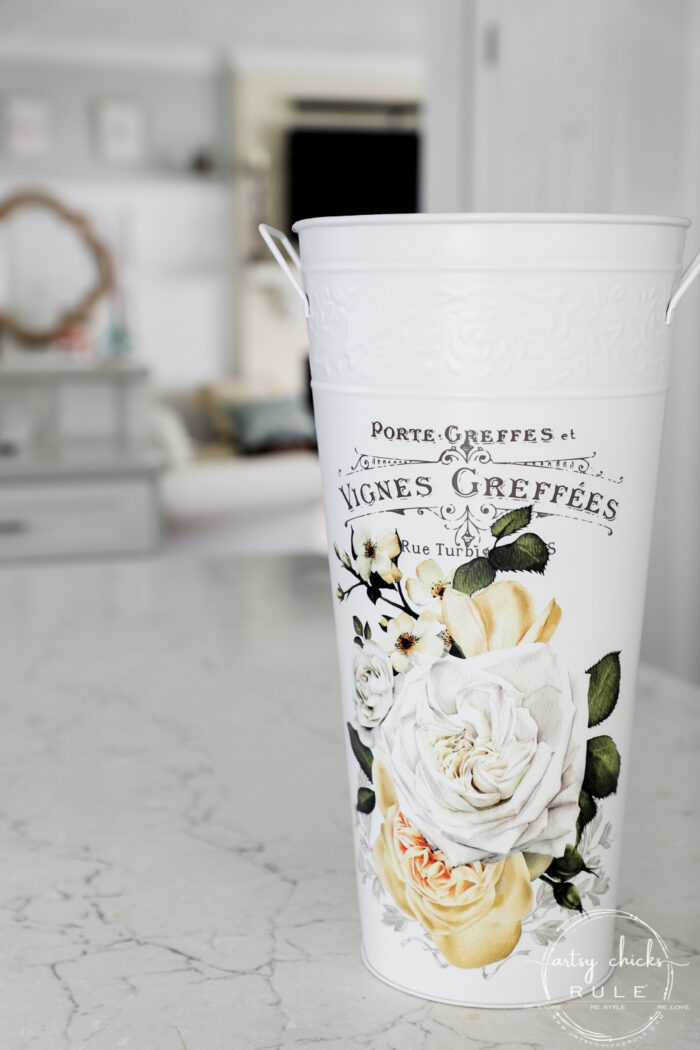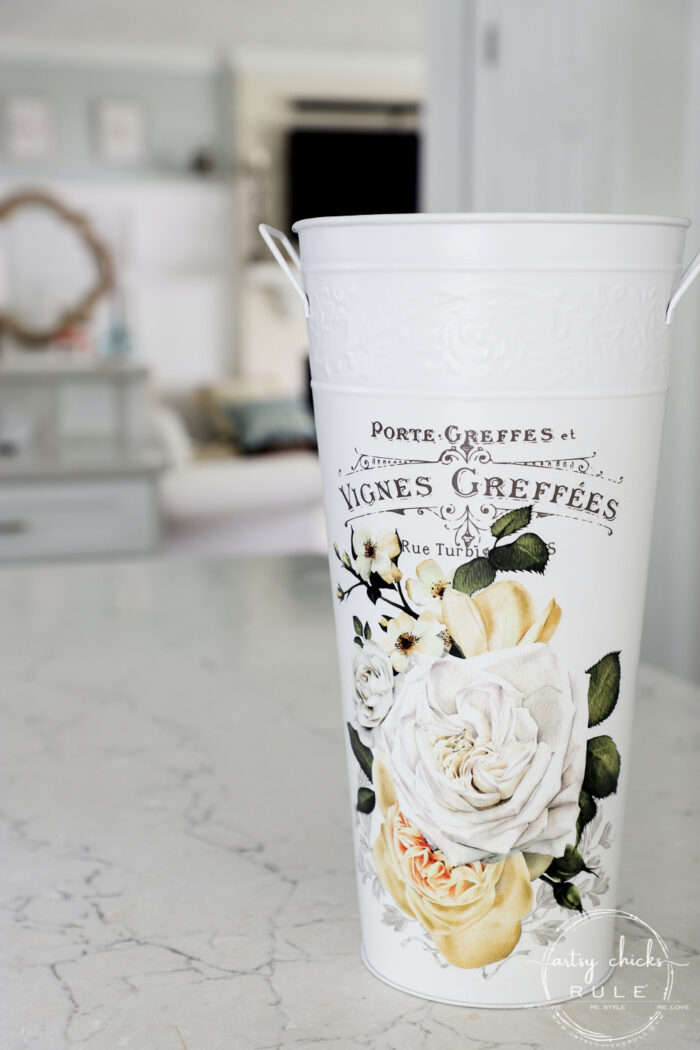 And you guys, this was SO SIMPLE to do. Spray paint…rub on the transfer…brush (or spray) on a coat of sealer.
And done!
PIN it to save it!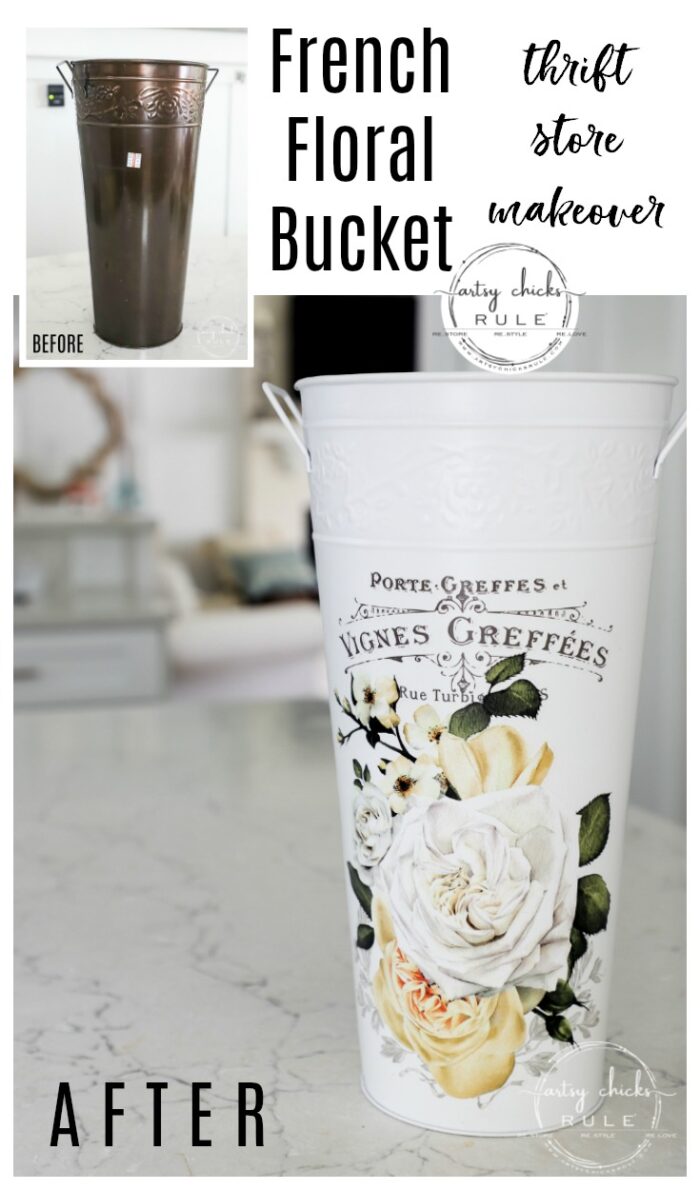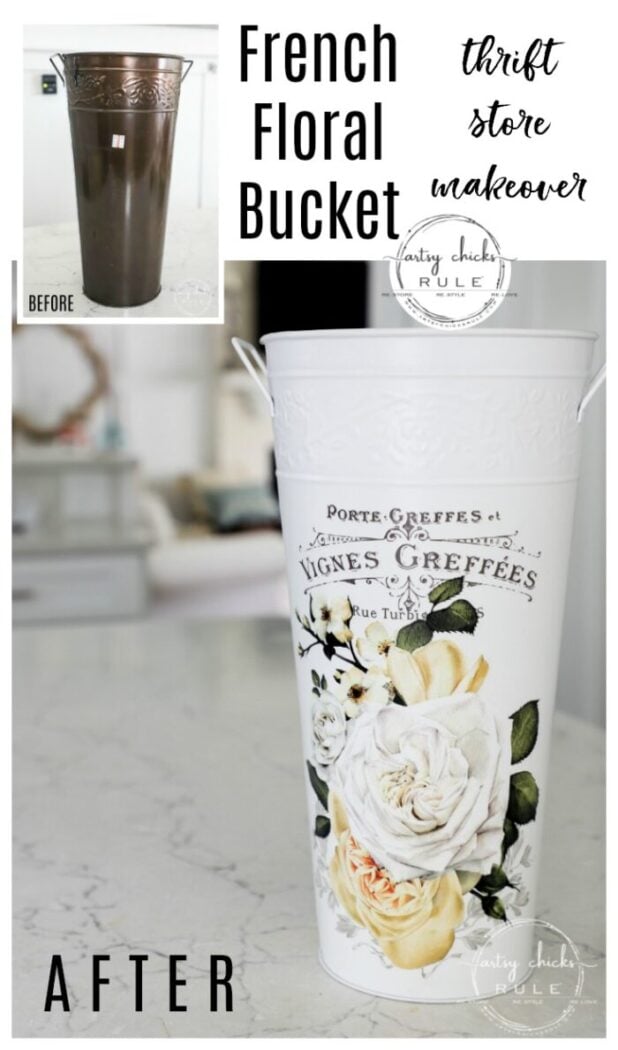 This French floral bucket was definitely a project anyone can do. From beginner to beyond.
So get busy! ;)
I'll be sharing this one next!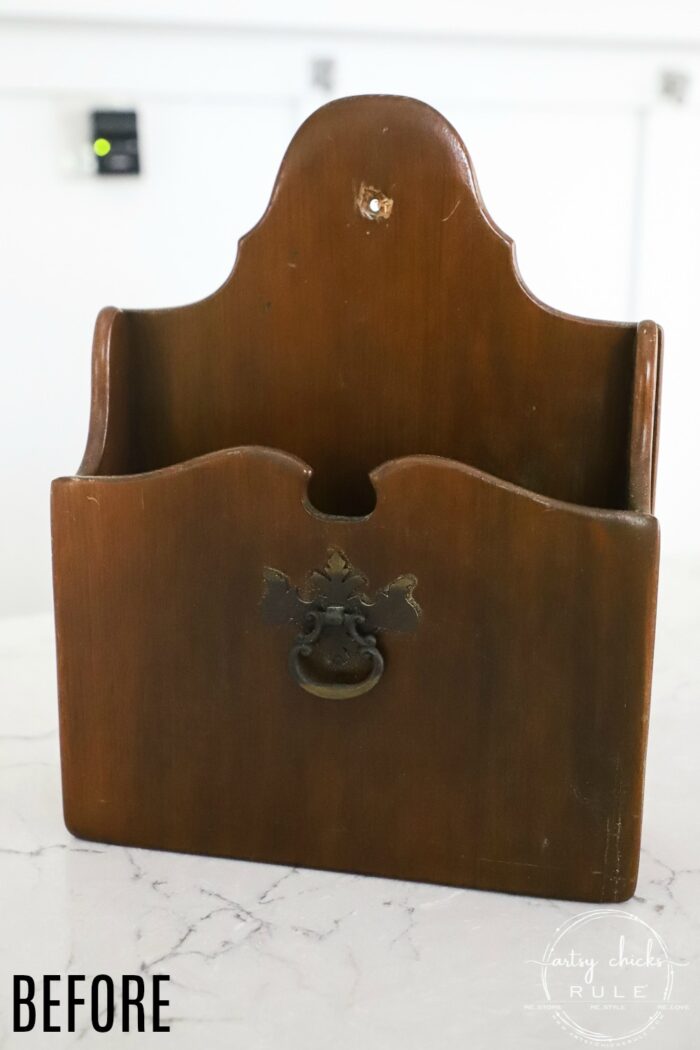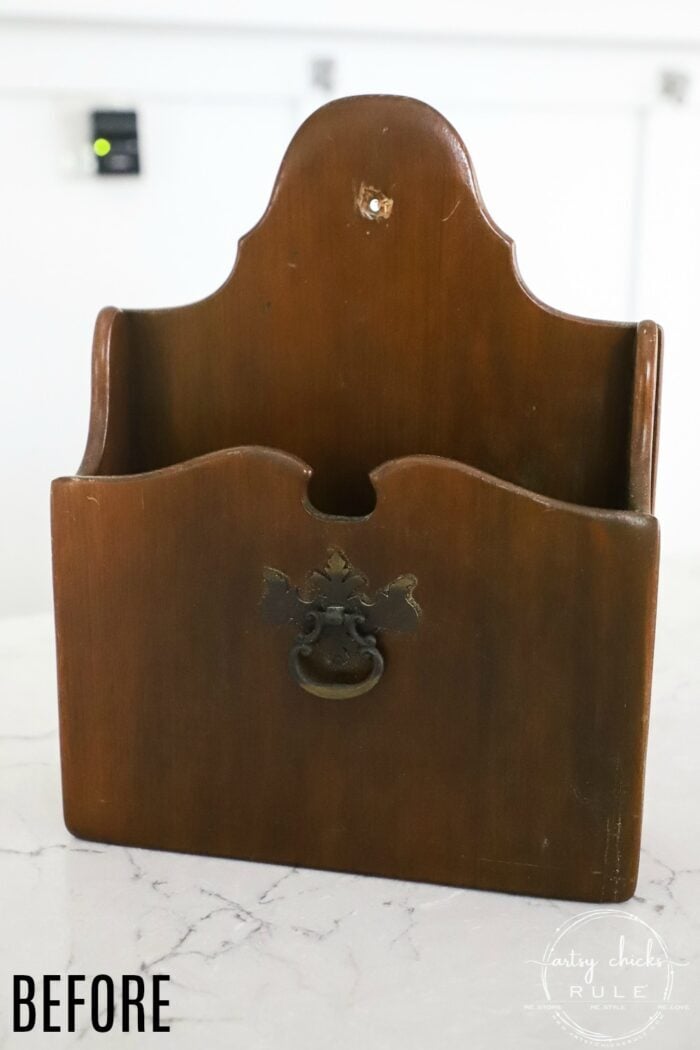 UPDATE!! See it now, here!
If you missed any of the rest of Thrift Store Haul #2, you can see them all here:
Have a wonderful weekend!
xo