Decoupage With Fabric Paris Box
This post may contain affiliate links. Please see disclosures here.
Decoupage with fabric….to create a Paris Box like this or just about anything! So many ways to use fabric decoratively.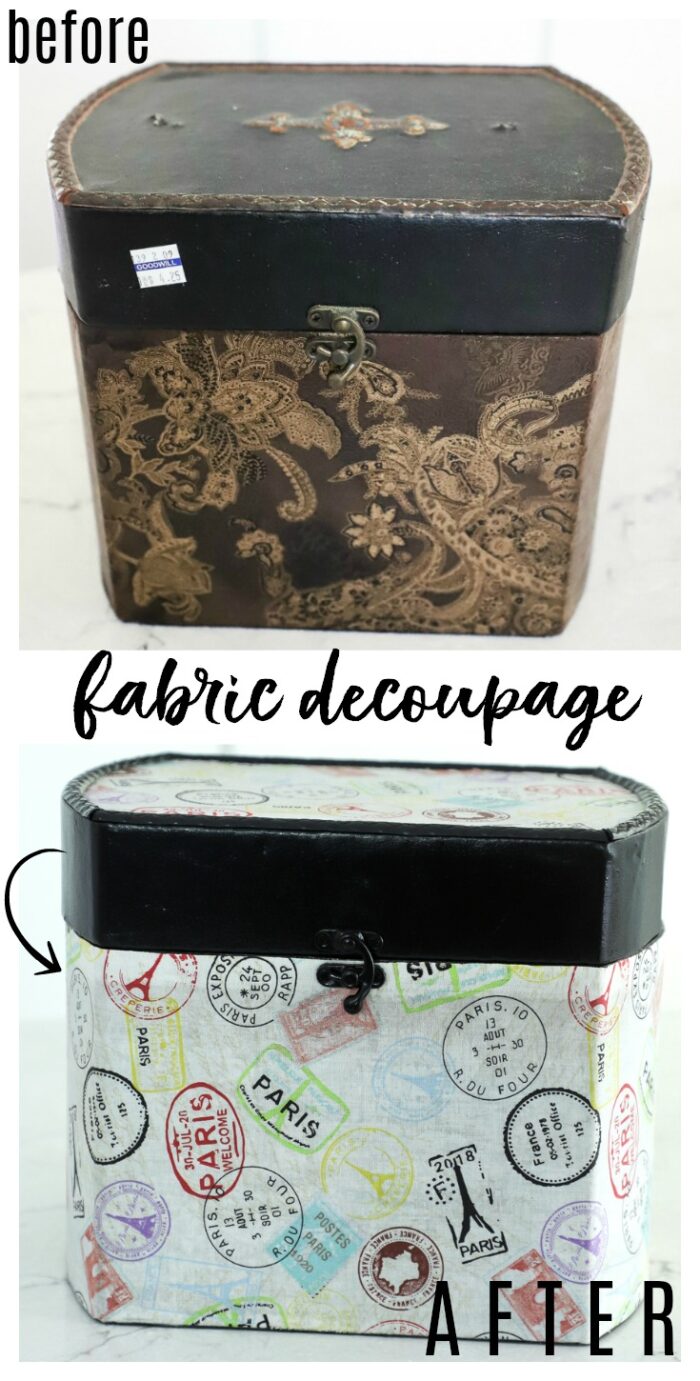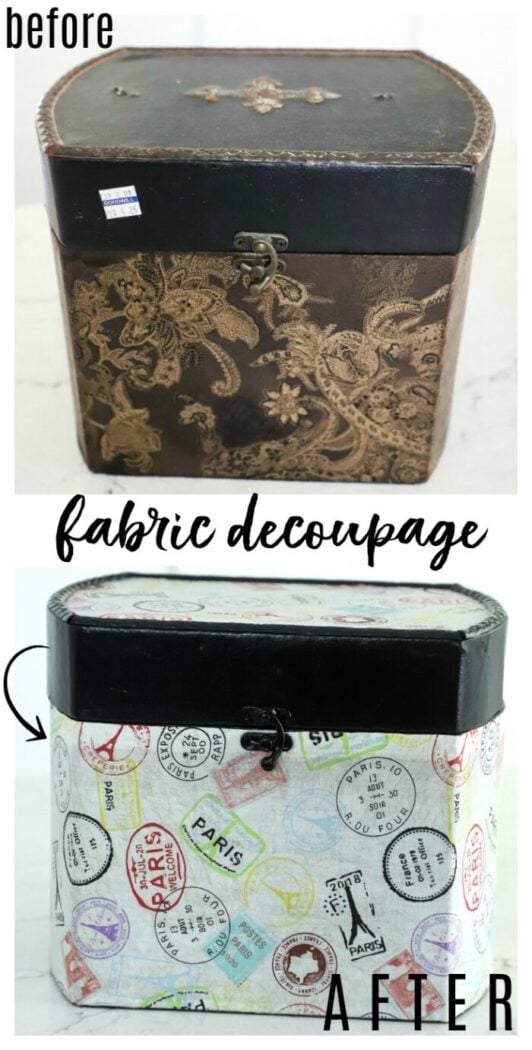 Hey friends!
Today is the day! The last piece from Haul #2….done!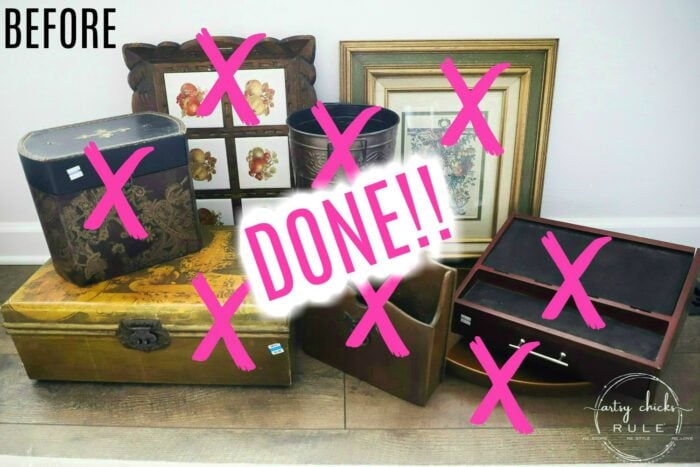 Do you know what that means?? I get to go thrift shopping…yippee! :)
I'll bring you all along, of course. Be sure to follow along on Instagram too for the "in the moment" sharing.
Decoupage with Fabric Paris Box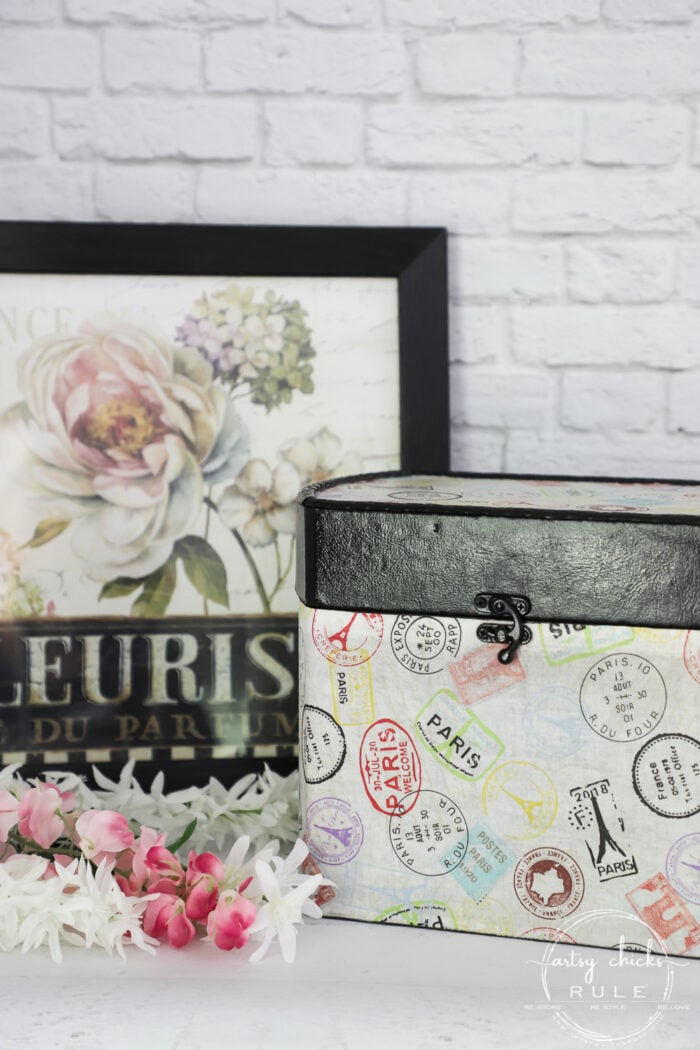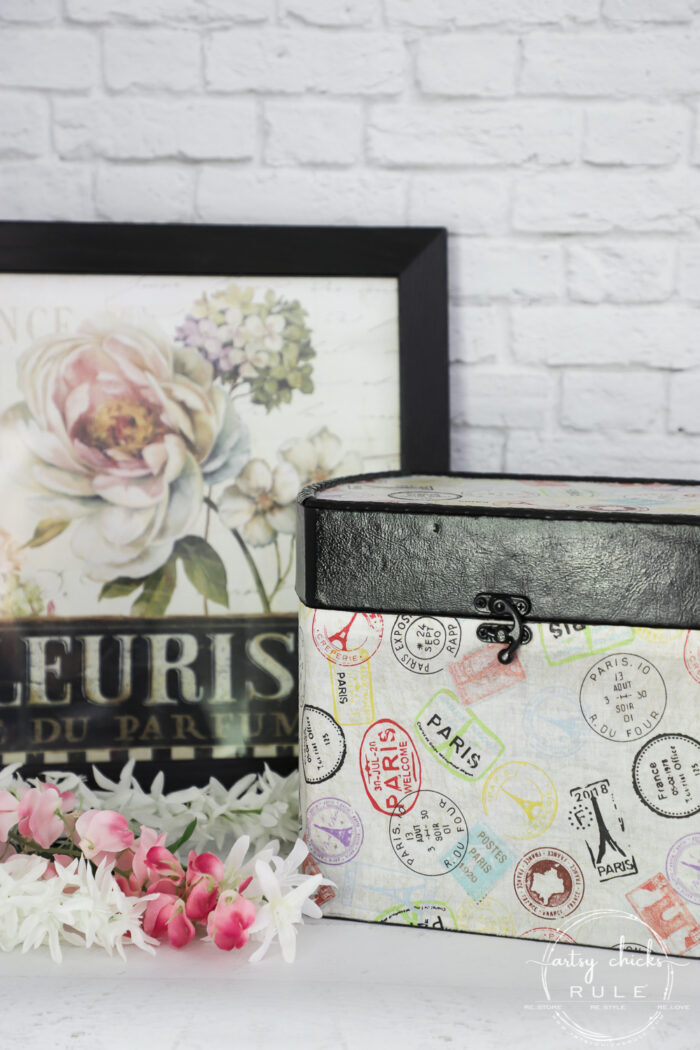 And here it is "before"…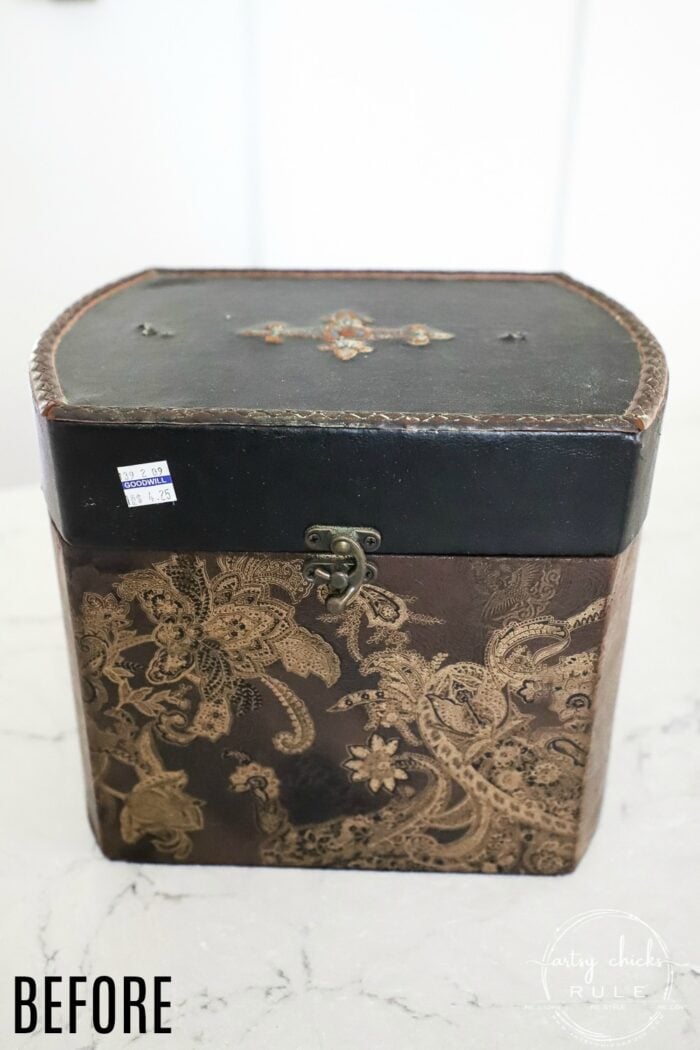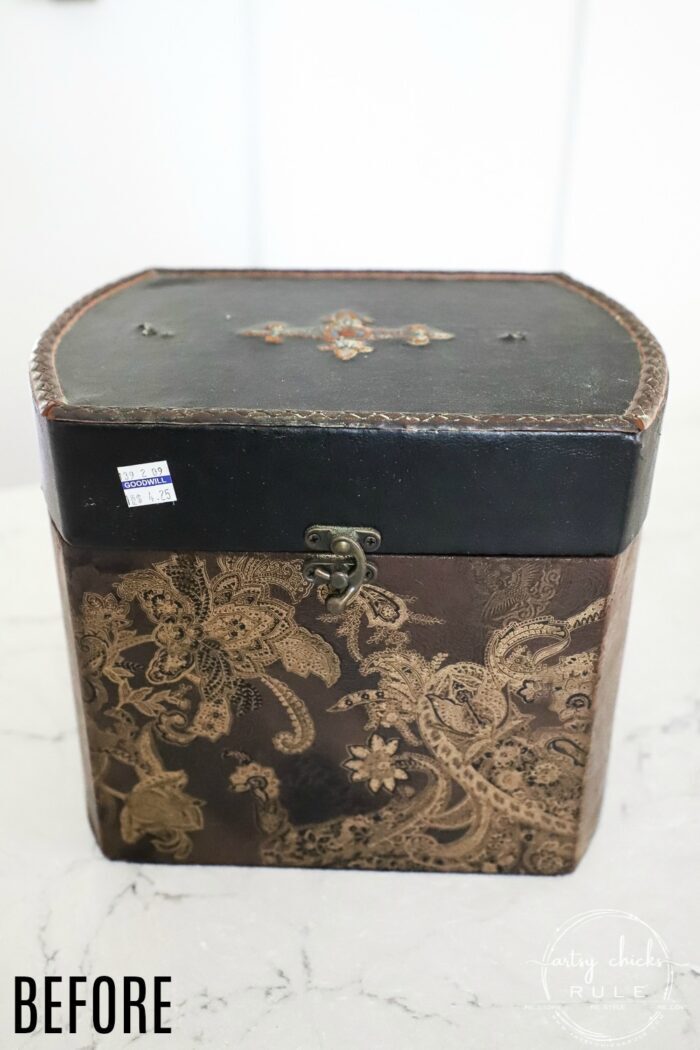 $4.25…and I think it was half off if I remember correctly.
Either way…cheap!
This one stumbled me a bit since it had that pleathery fabric top and bottom. I wasn't sure I wanted to remove it, paint it or what.
So it sat till last.
And then it came to me….decoupage with fabric. Yes!
I began by removing the hardware and taking the two pieces apart (top and bottom) so I could work on them more easily.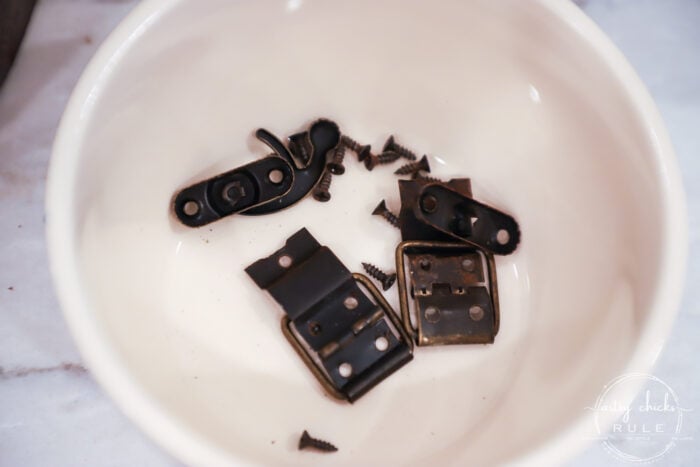 I didn't think this top piece of "pleather" would come off as easily as it did…yay!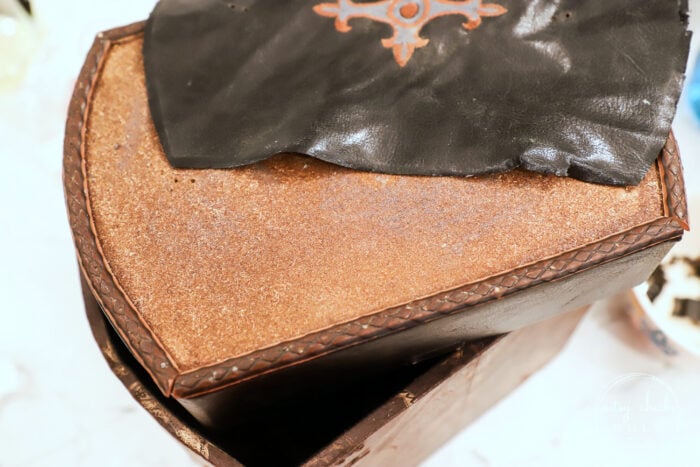 Since the fabric I was using had black in it and the inside of the box is black (and in perfect condition, by the way), I decided to leave the black fabric/pleather on the lid alone.
Per my plan that I'd come up with, I decided to paint that top rim area black instead of trying to wrap it with fabric as they did. (can you say nightmare??)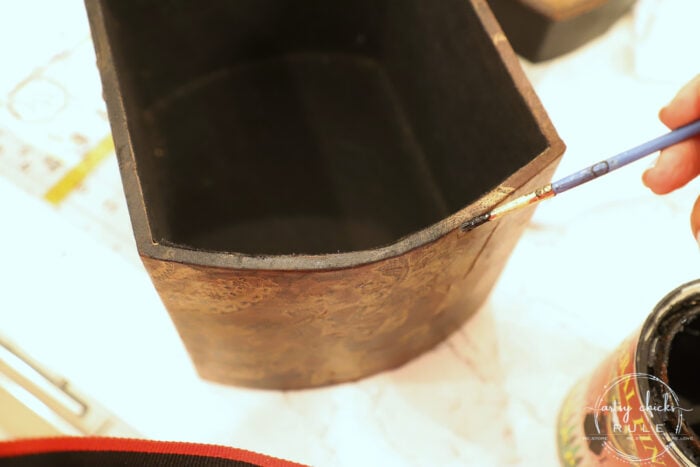 And I also painted that brown trim around the top piece black as well. (any black craft paint will work but I'll put everything I used in this materials list box below)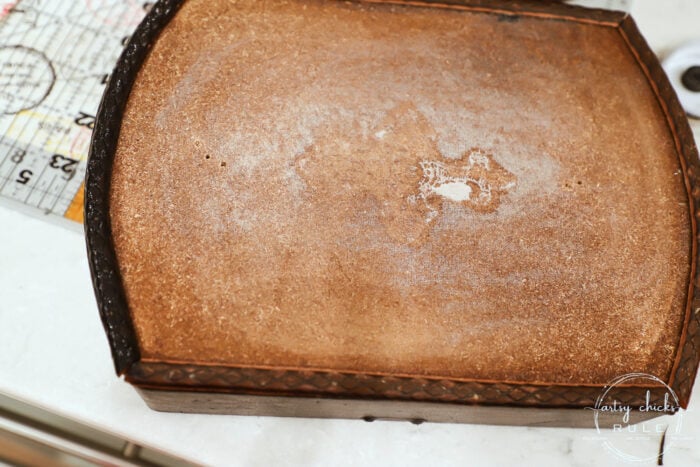 Then I laid the bottom half of the box on its side and measured and but a long piece of fabric to go along the outside area.
I used a chip brush to apply the Mod Podge on one side at a time.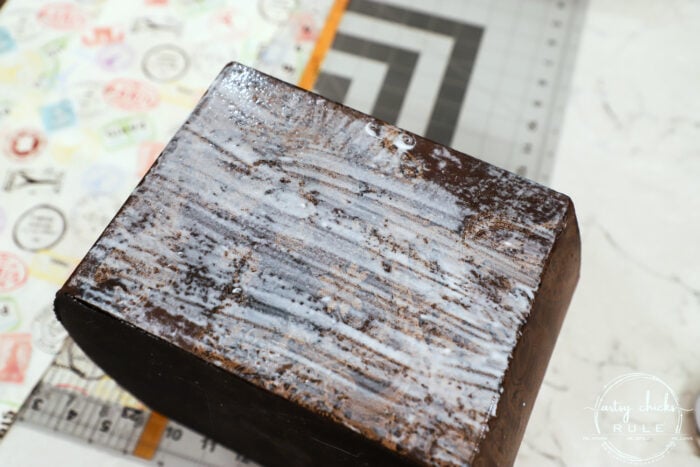 Then I positioned the fabric over top.
As I got to the backside I would have two overlapping pieces.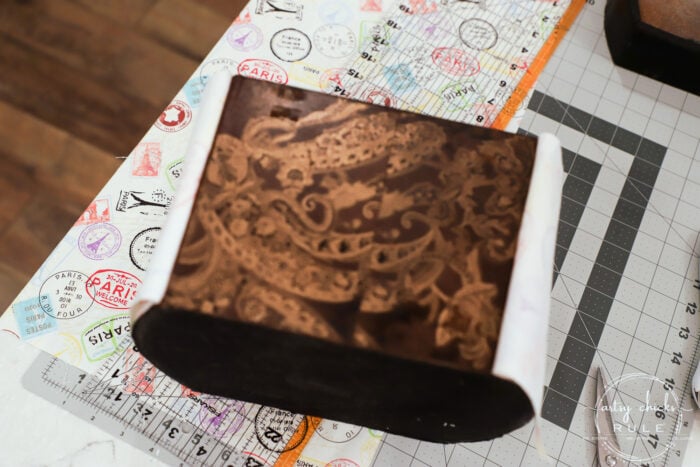 I applied the Mod Podge and laid them down…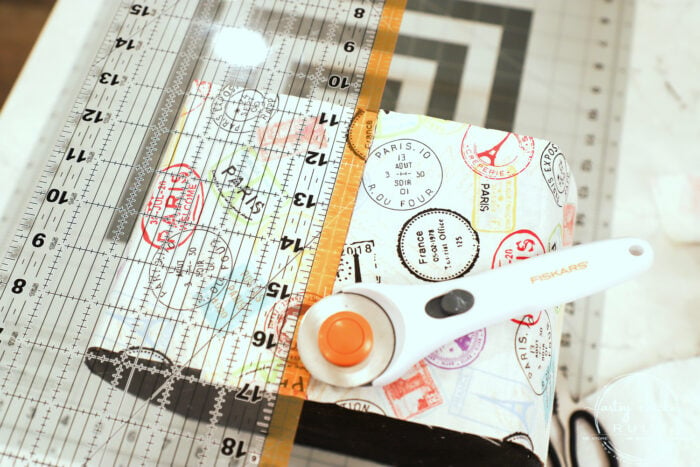 …and then using my rotary cutter, I cut through both of the pieces of fabric in the middle.
Then I lifted up the outside piece to reveal the inside cut piece.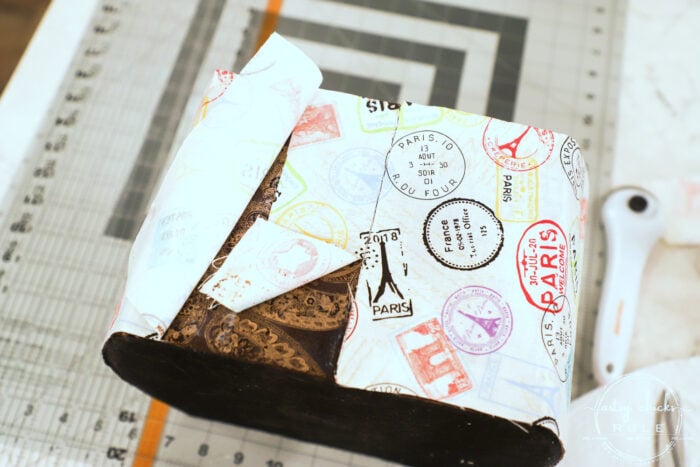 Pulling that off I can then lay the two cut pieces together to meet in the middle.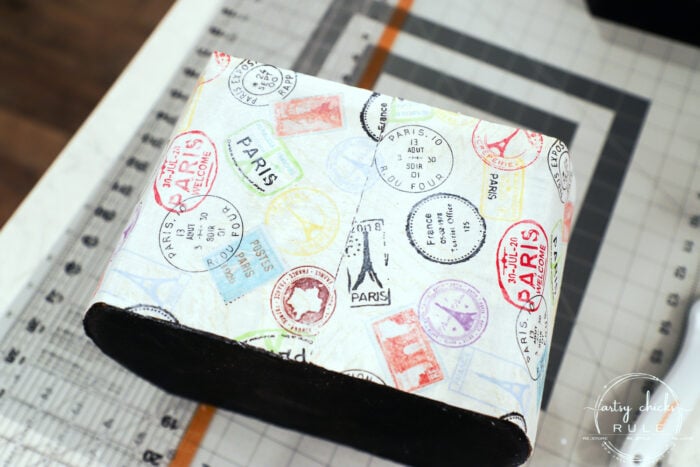 I used the straight (uncut) edge of the fabric for the top so I'd have a nice and clean edge there.
The bottom is where I cut but using the rotary cutter really gives a nice straight line.
You can still get some loose threads though. Just go around and trim those off.
Next I turned a piece of fabric over to trace the inside of the top. I used the rotary cutter to cut the straight sides and the curved sides I cut by hand.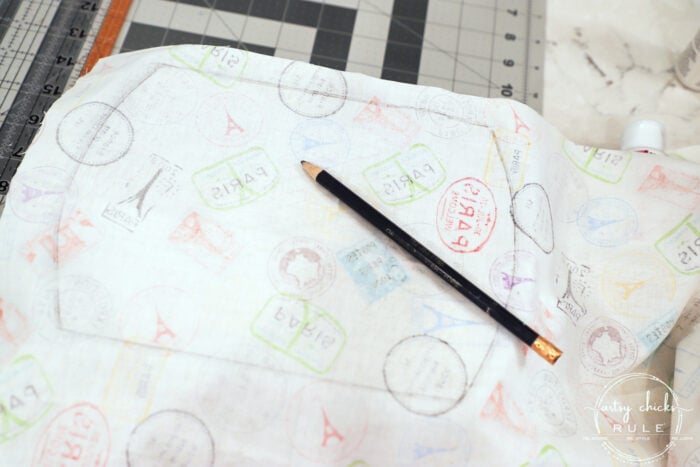 In full disclosure…I ended having to cut this three times. Ugh!
I kept ending up short. SO…the 3rd and final time cutting I made sure to pencil the upper edge of the inside and then I even cut on the outside of that.
And finally…success!! haha
Any areas that were long I just tucked under that trim on top.
After all of the decoupaged fabric pieces were attached, I went back over the whole thing with a slightly watered down Mod Podge mixture to seal the fabric well.
But boo…when it dried the fabric shrunk a bit on this backside where my nice seam was.
Oh well…whatcha gonna do??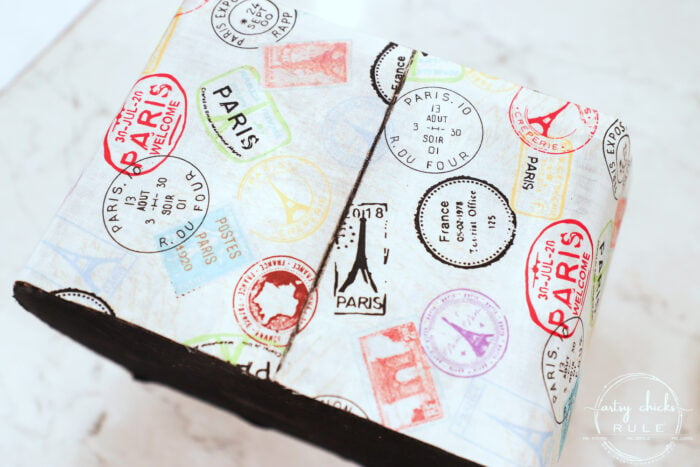 Paint the seam so it blends in, of course!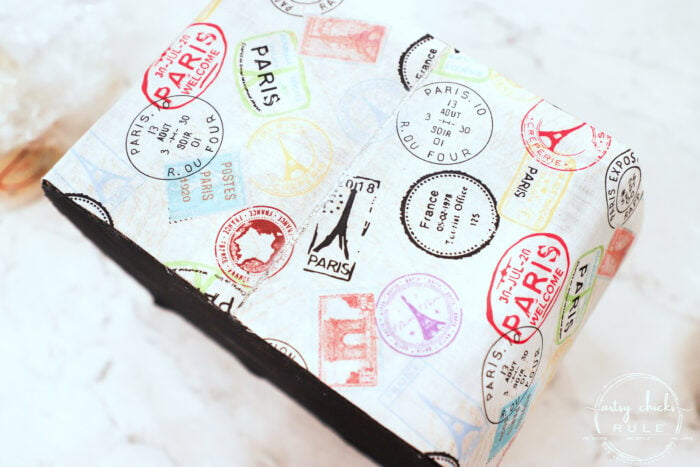 Not perfect but much better than a big black "line" going down the back, right?
Once it was all dry, I used a piece of sandpaper to smooth out the bottom edge all the way around.
AND, I also sanded all of the fabric because it can get pretty rough feeling after being wet from the Mod Podge, etc.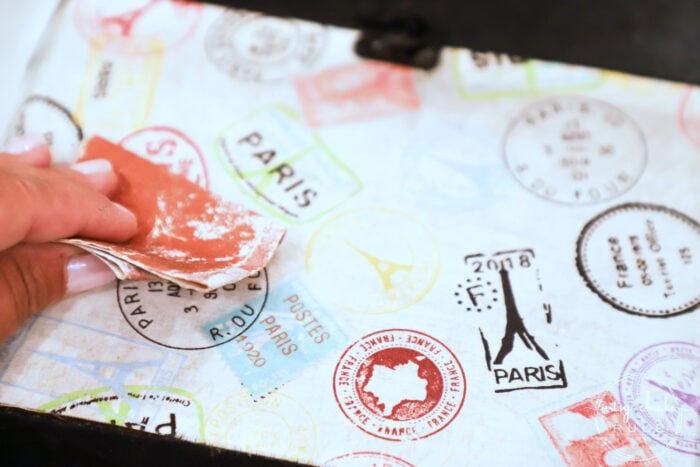 This smooths it out so nicely. (remember that tip the next time you decoupage fabric!)
Lastly, I sprayed the small hardware and screws with black spray paint and put everything back together.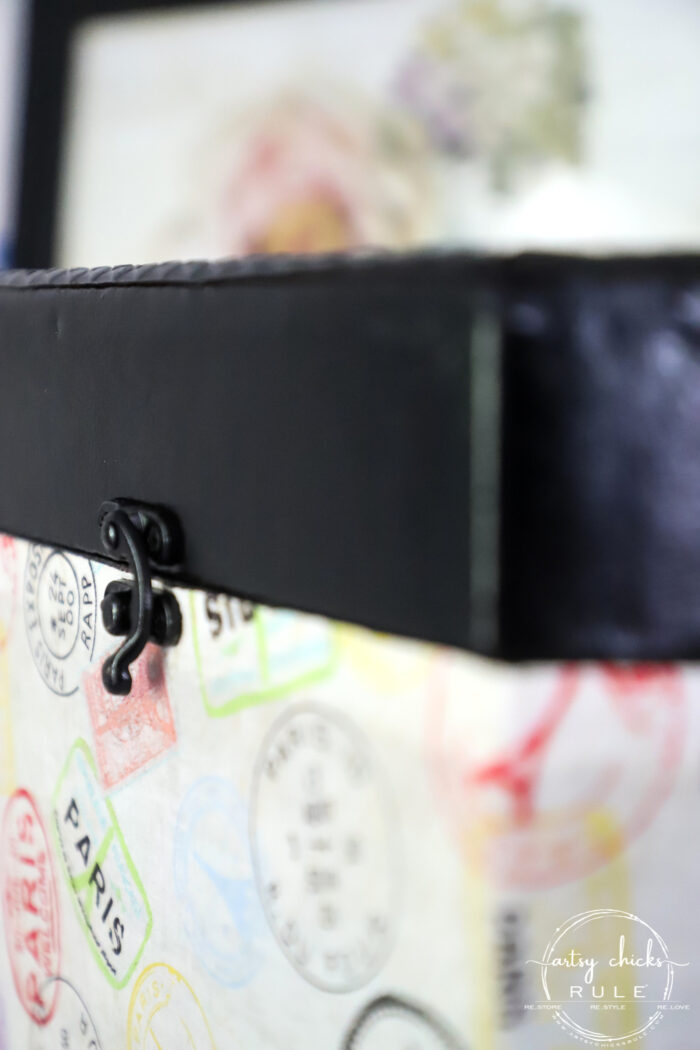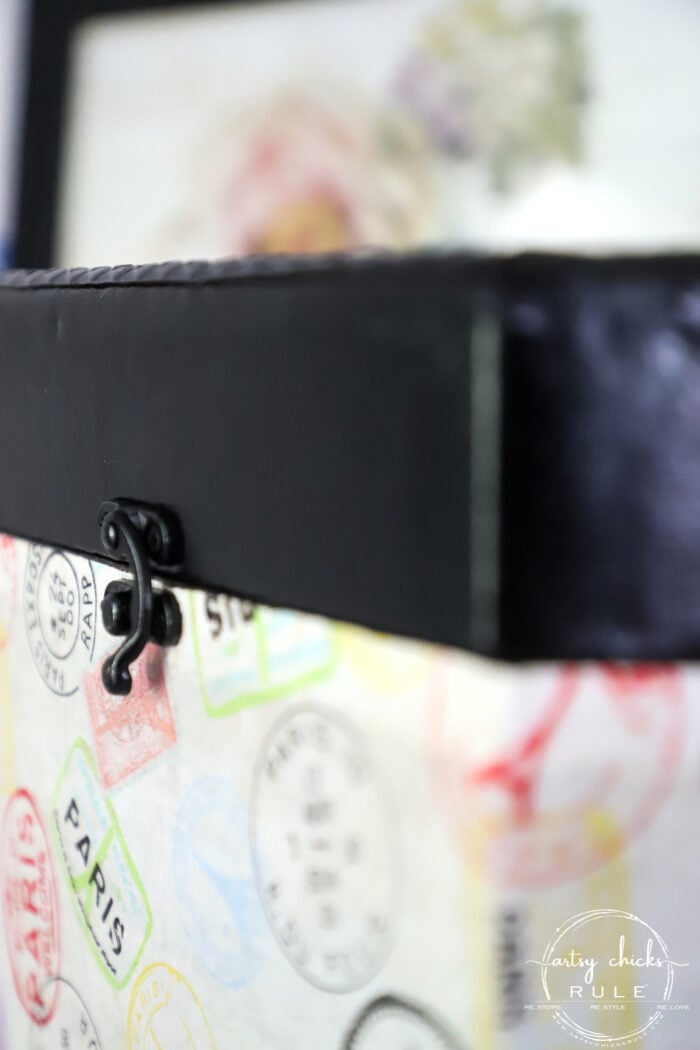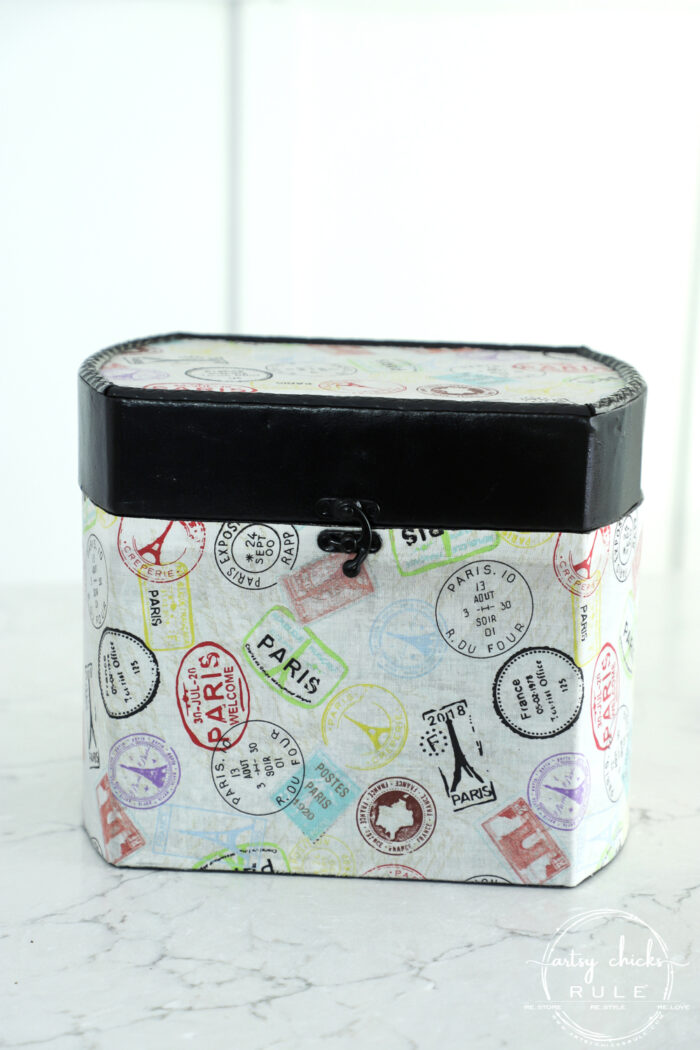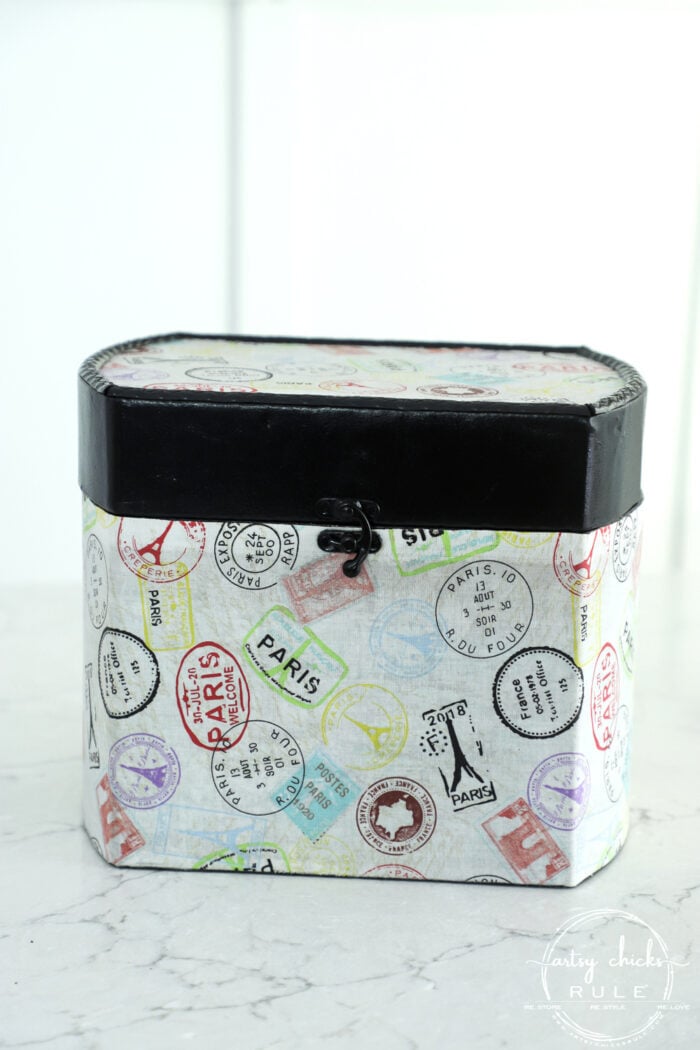 But I'm not done with it yet!
I decided to give the whole thing a little shine. I used a triple-thick glaze spray finish on everything, including the dull black "pleather" on the lid. (I only did one coat so it just gave it a nice shine)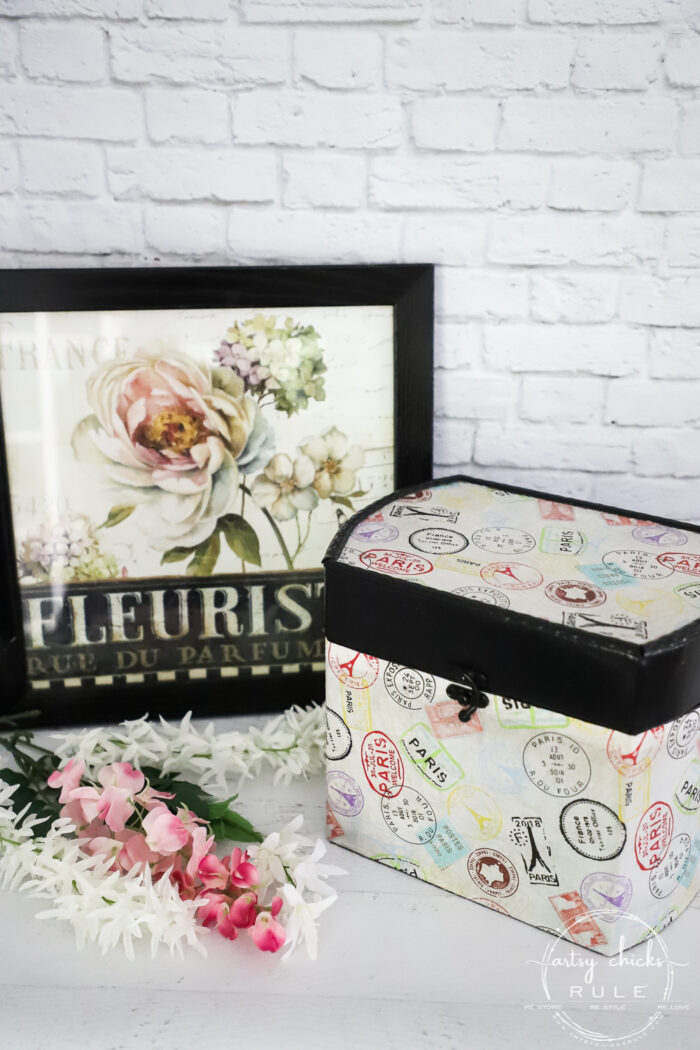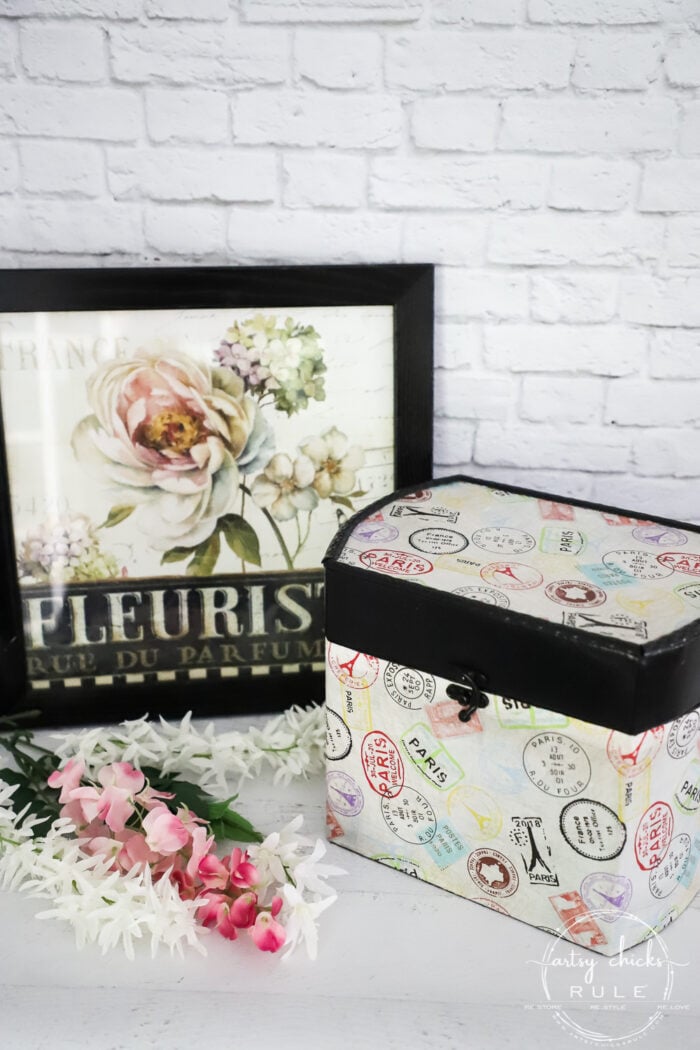 I think it's just adorable now. I found this fabric at the fabric store a few months ago…just before all the stay at home stuff started.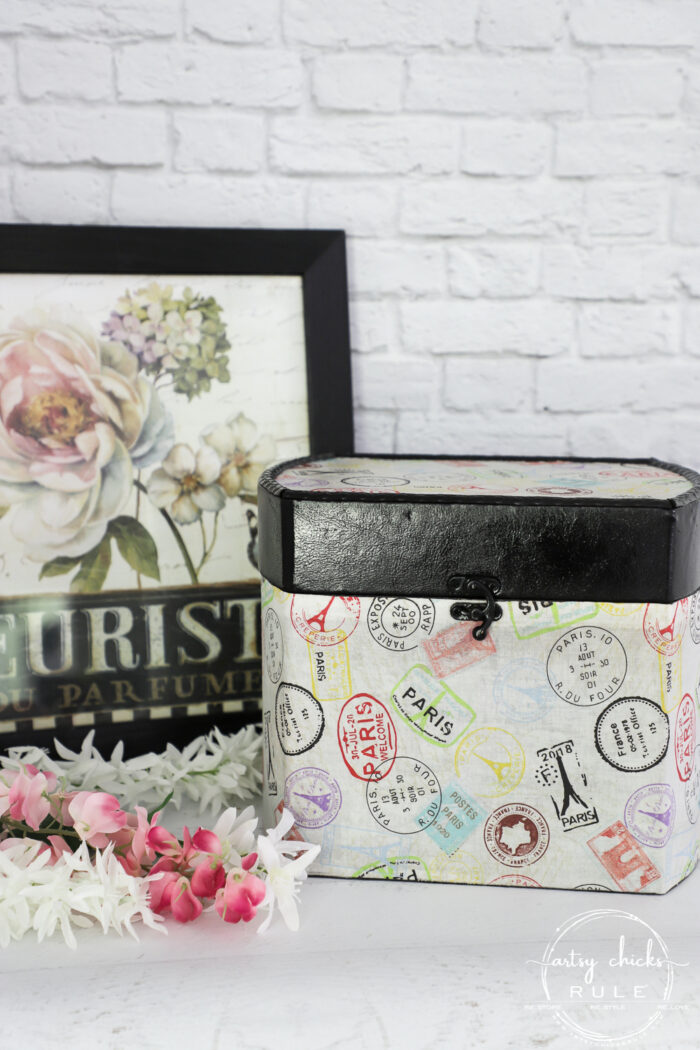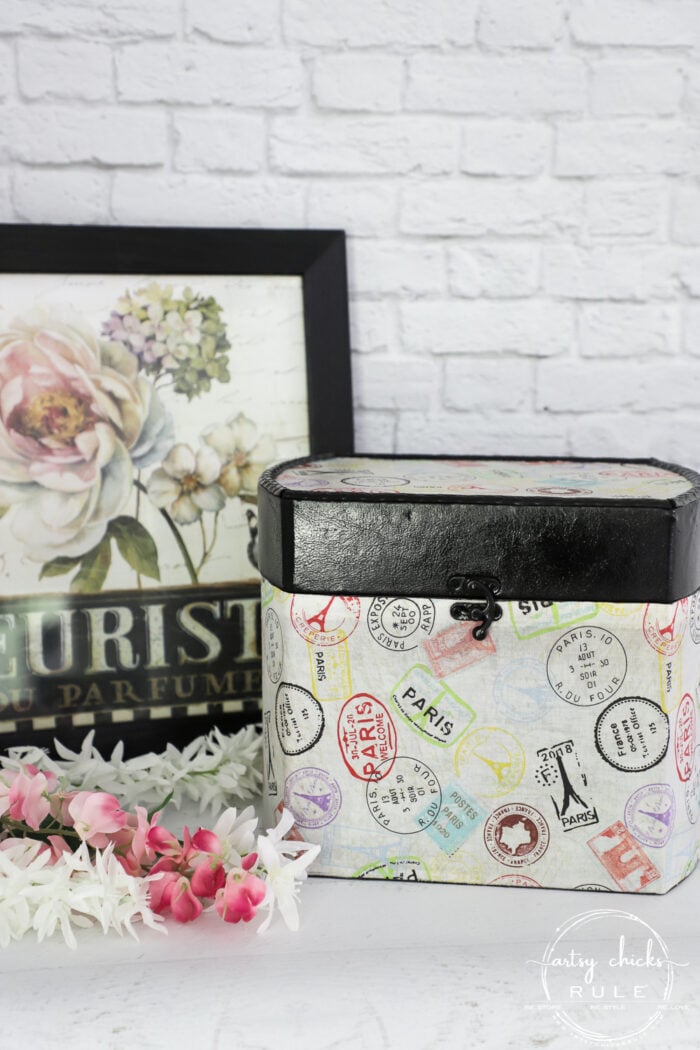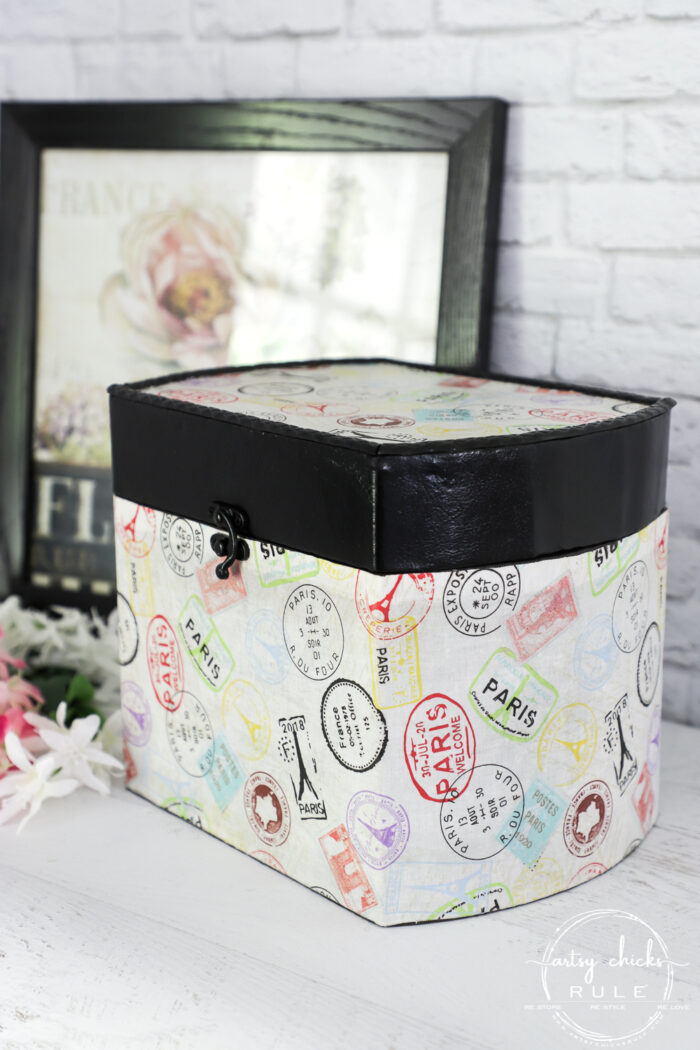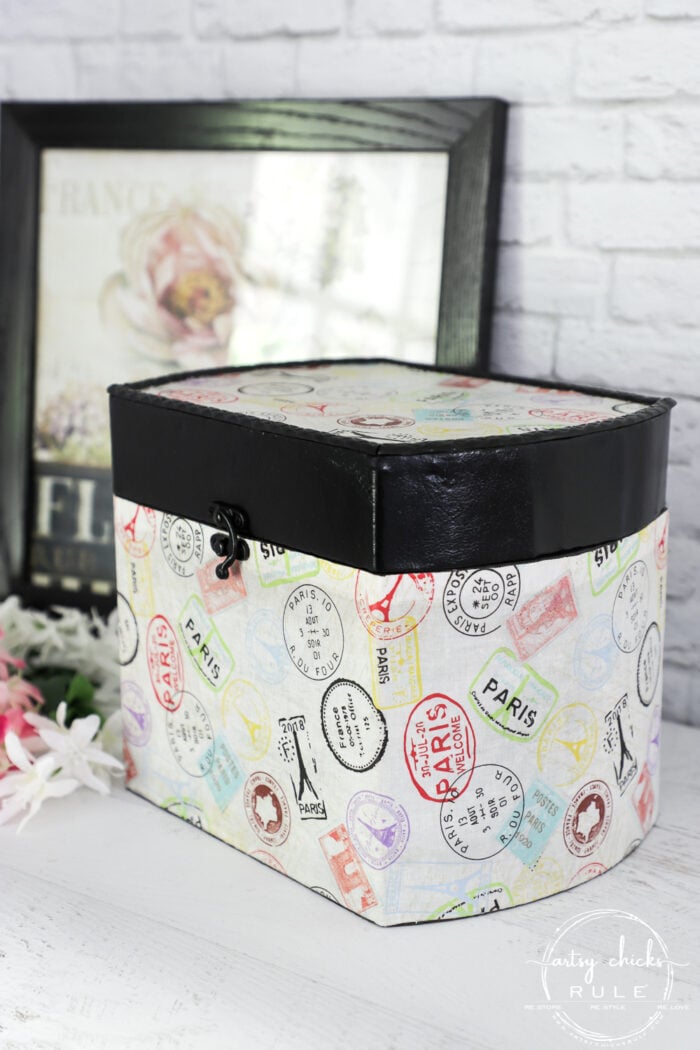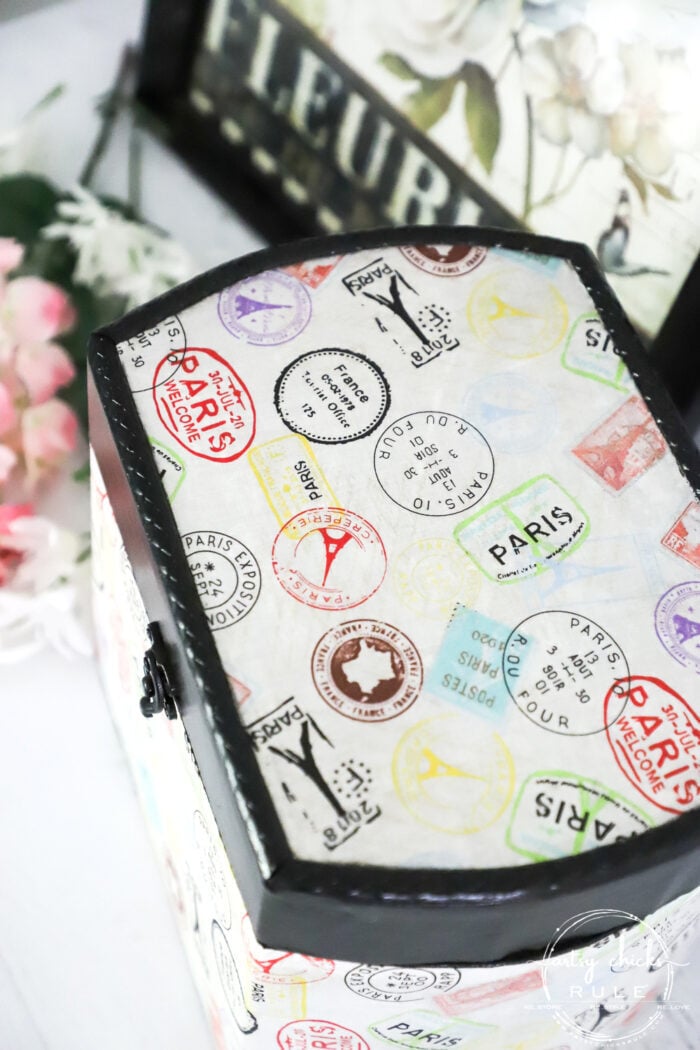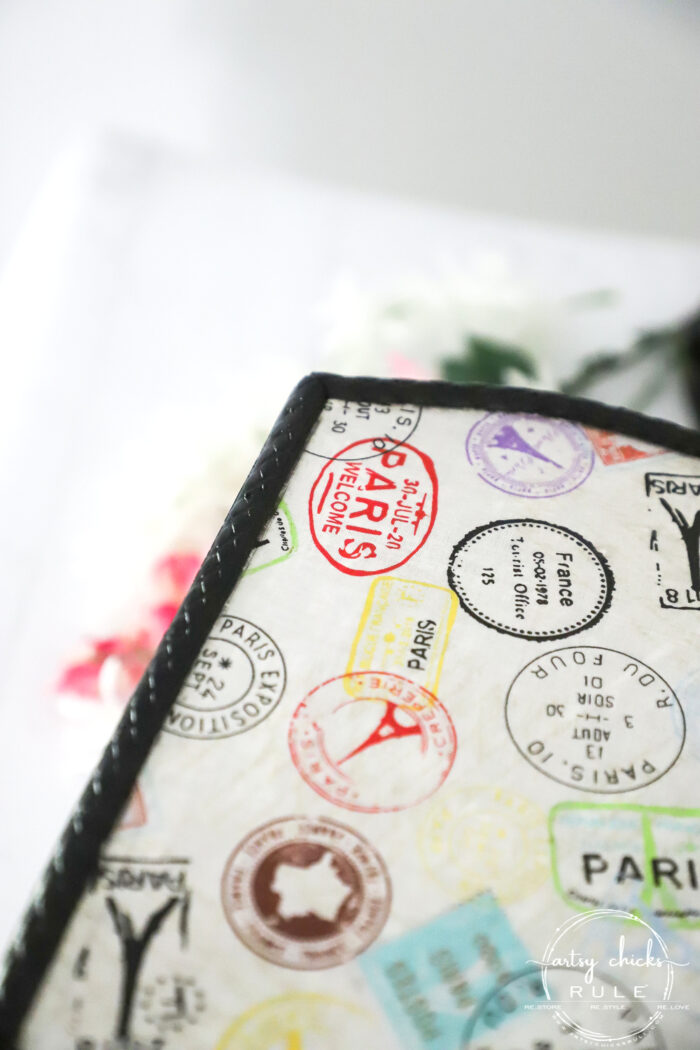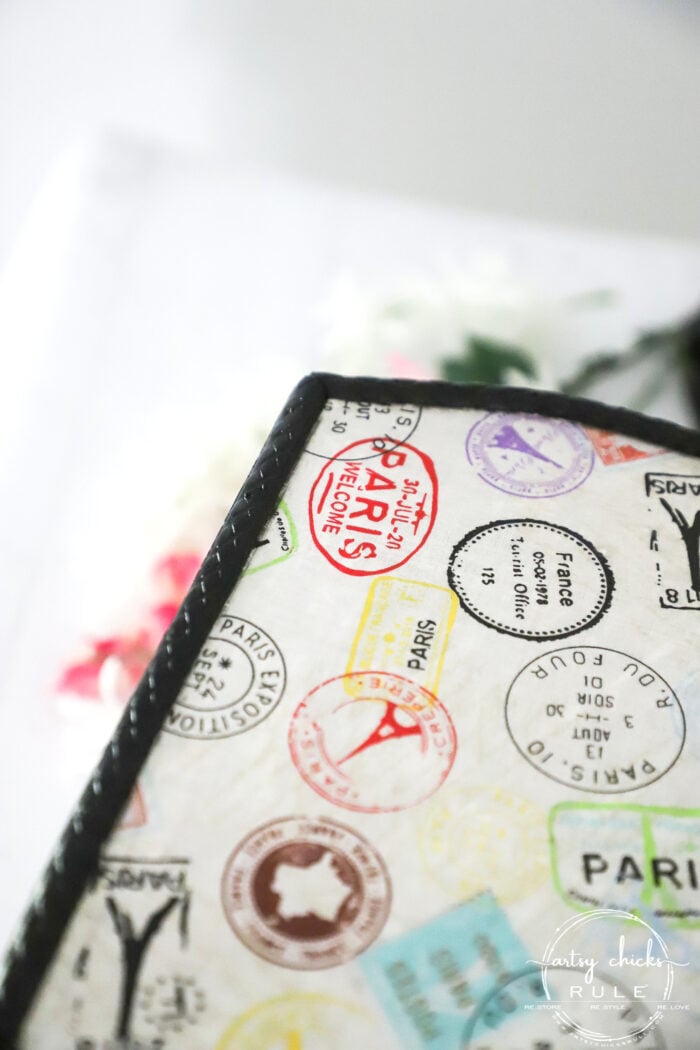 Like I mentioned above, the inside was perfect. I don't think anyone ever even used it at all.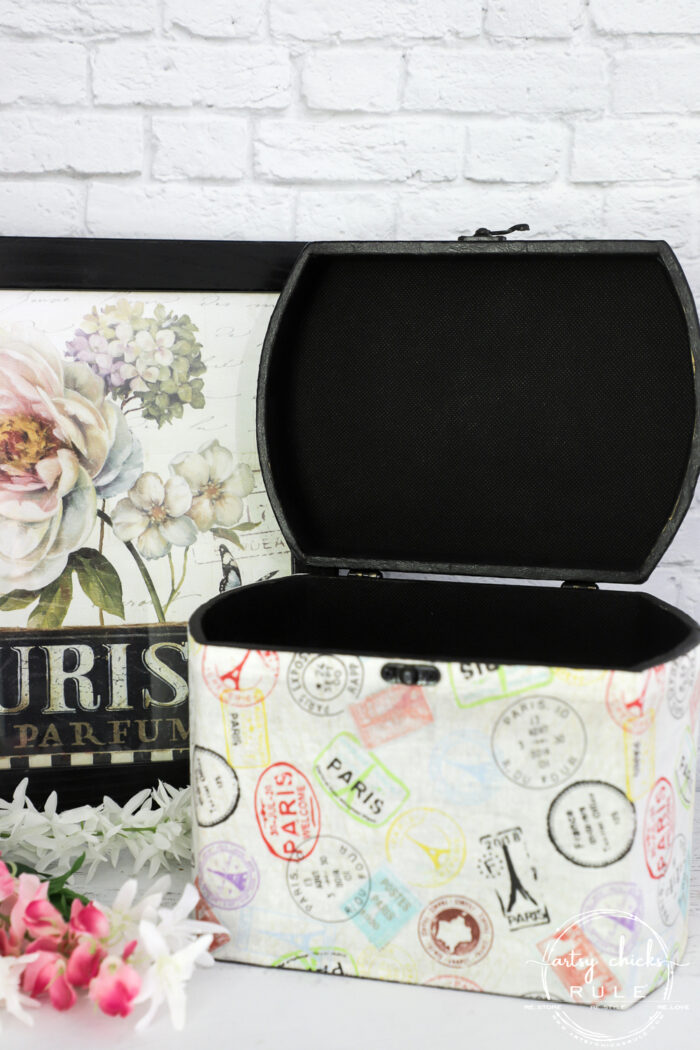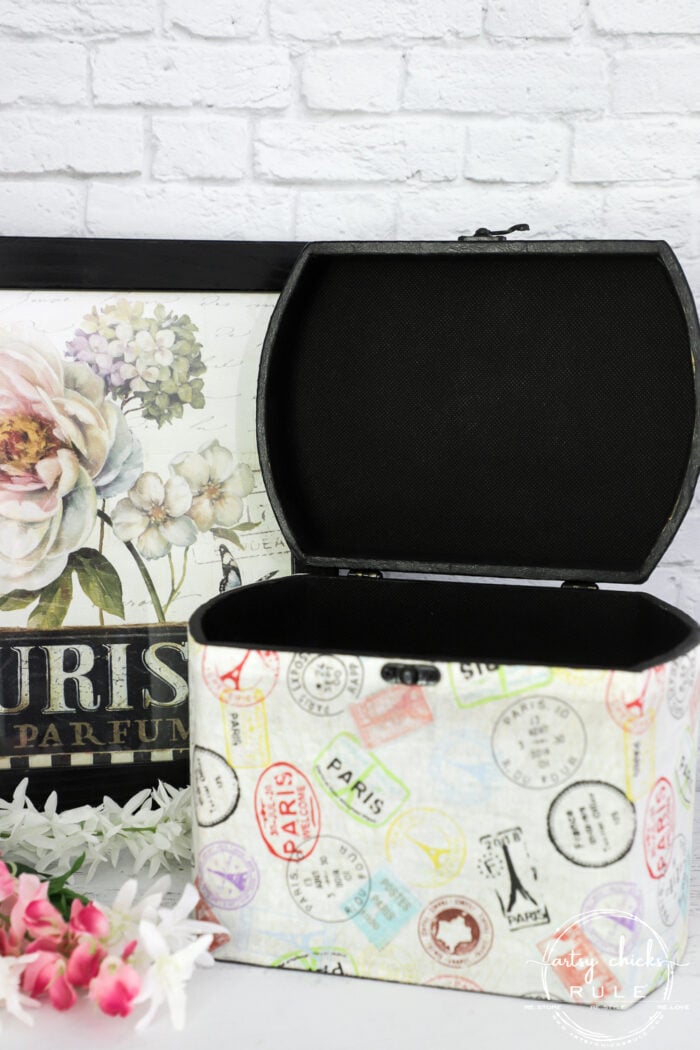 So glad I didn't try to wrap the fabric up around that top lip. Black paint was the perfect answer.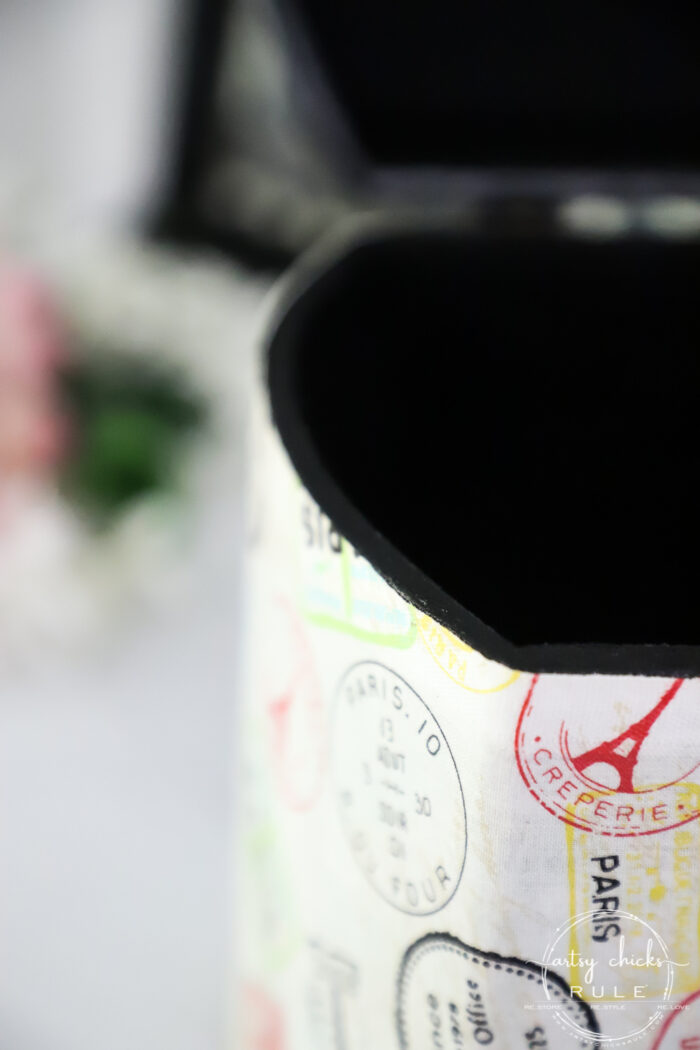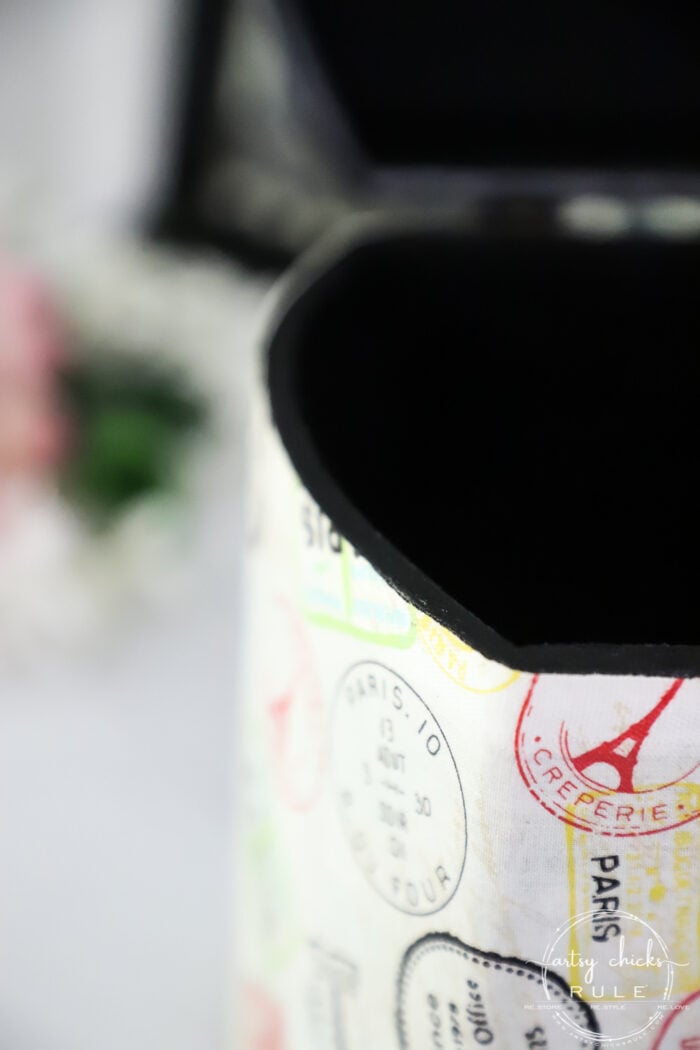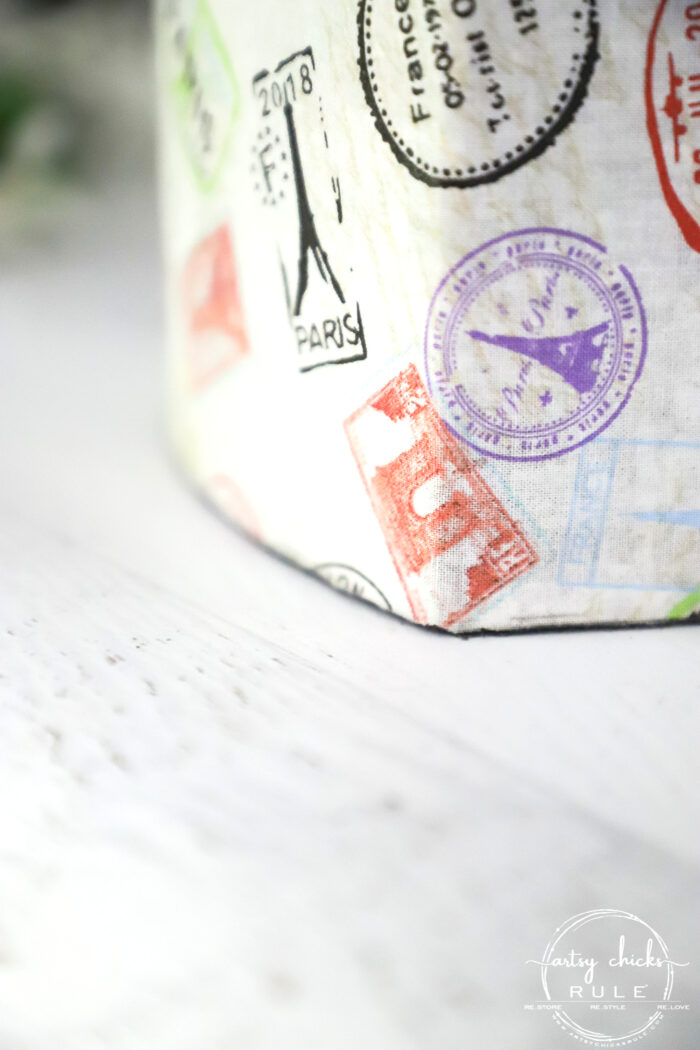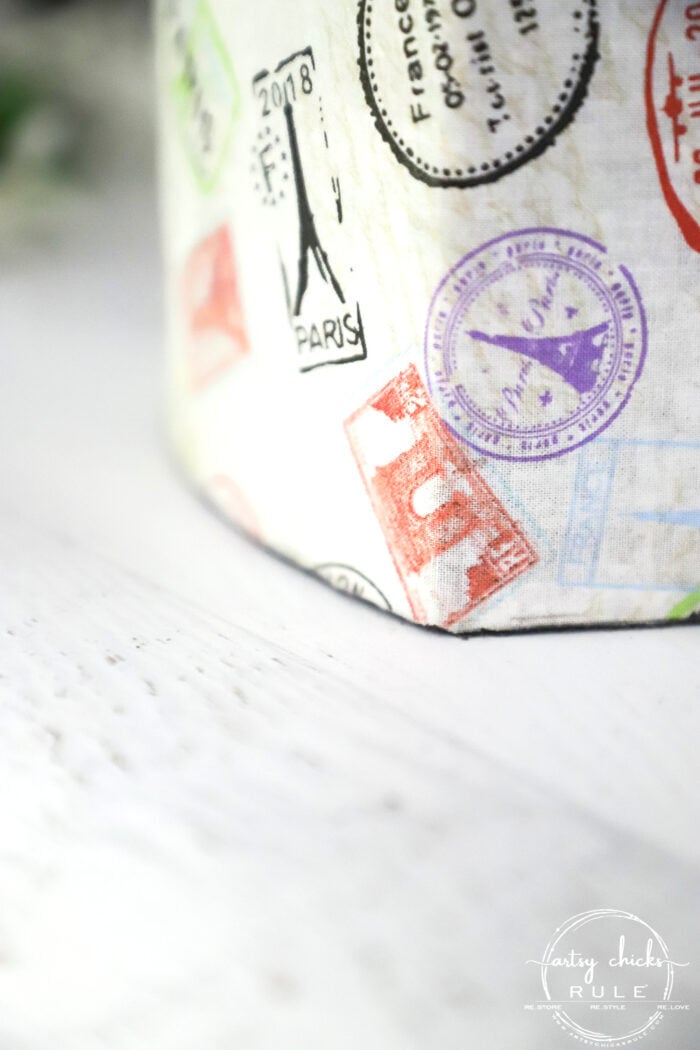 This was not as easy as most of the things I share here BUT it wasn't too hard.
It's definitely do-able it just takes a little more time, effort, and some patience. ;)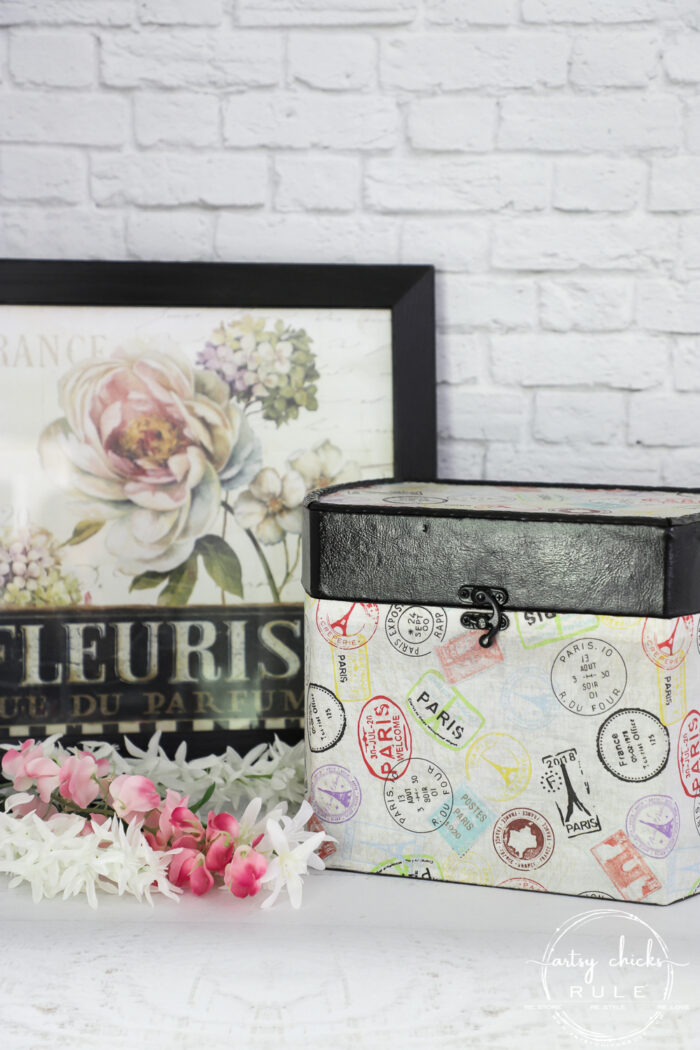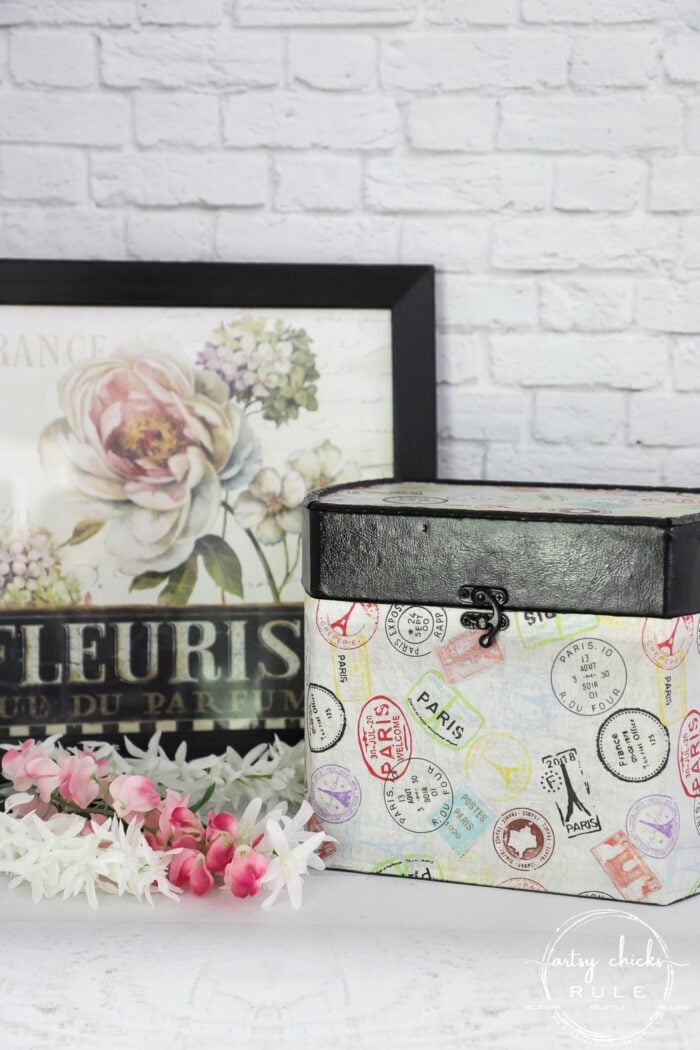 But it feels so good to transform something so completely.
I hope you'll give it a try!
PIN it to save it!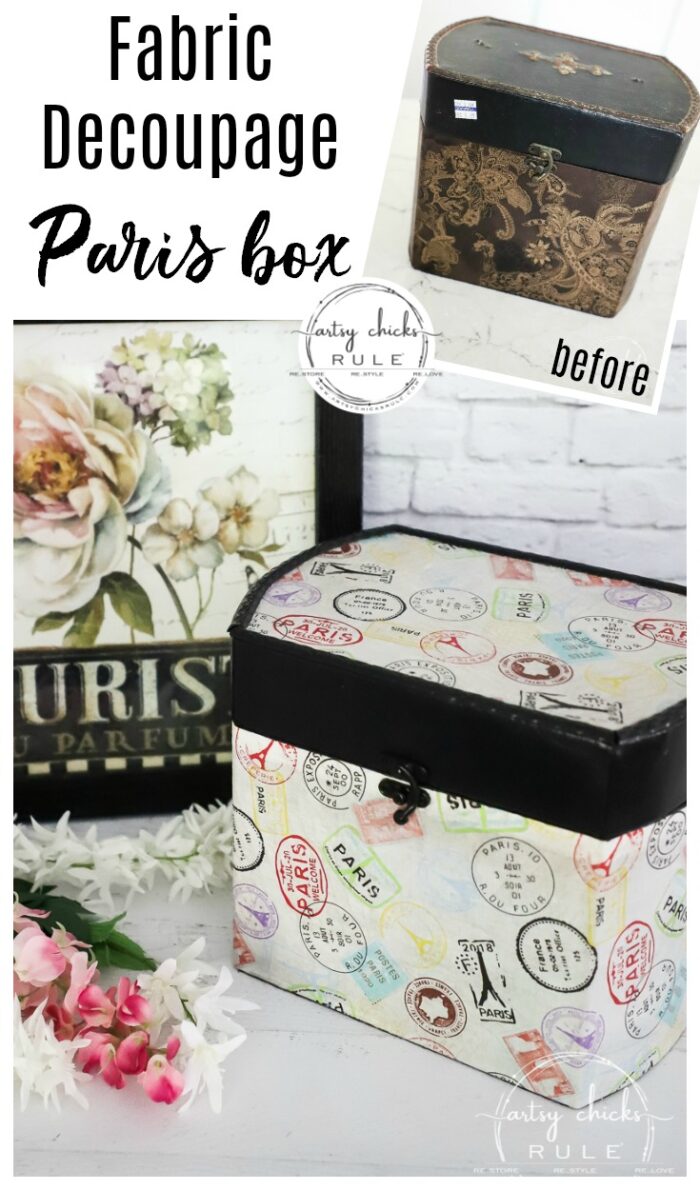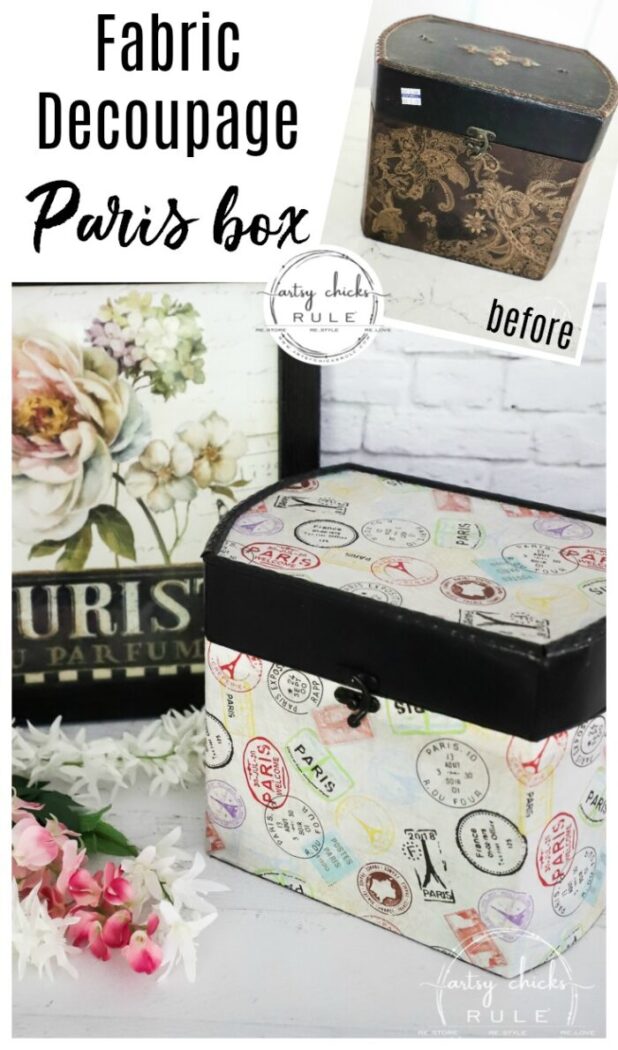 I'll be sharing the last one next!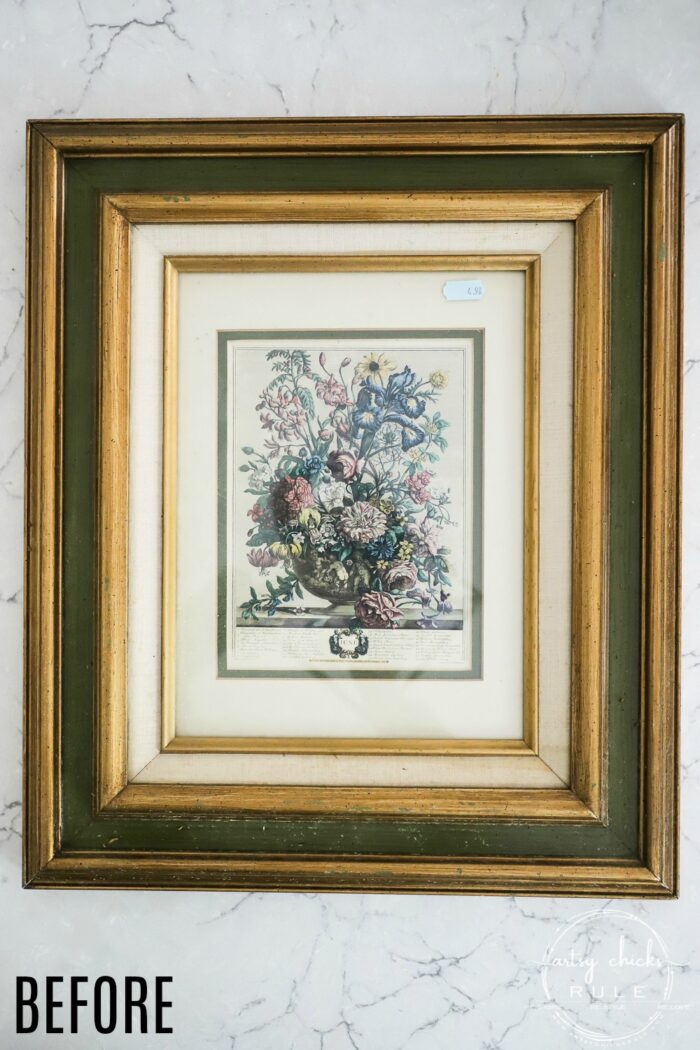 UPDATE! See it now, here!
If you missed any of the rest of Thrift Store Haul #2, you can see them all here:
I hope you have a wonderful week! See you back here on Thursday!
xoxo