Beach House Platter (thrifty makeover)
This post may contain affiliate links. Please see disclosures here.
Cheapy thrift store find turned beach house platter…simple, fun, and budget-friendly way to decorate your home!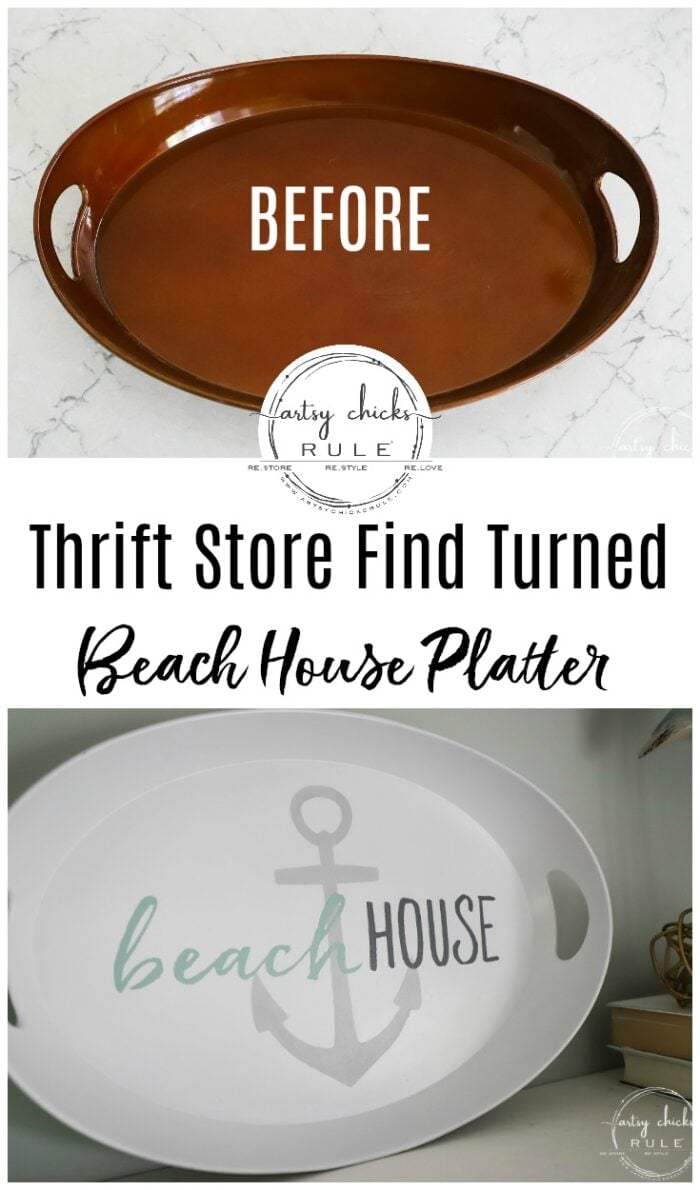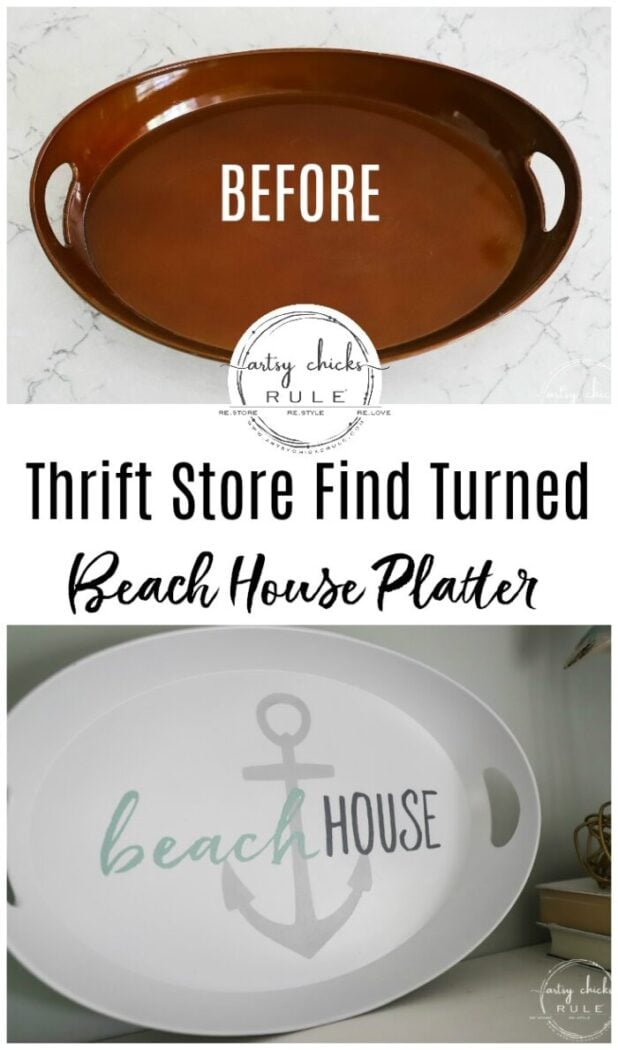 First, let me say thank you for all the wonderful comments on my giveaway post! I read every single one of them. You guys are the absolute best!! I love reading about all the things you would use the paint on and the projects you have planned or have done. Please continue to share with me as I truly enjoy reading them.
So…speaking of giveaways…if you missed it on Tuesday, I have a brand new one going on this week. It's a quicky one because I am trying to order things for you before they go out of stock. So hop on over and enter to win by Sunday as I'll be ordering and shipping out Monday morning. :)
Here is the link >>> Happy May Giveaway
Okay, so the next one from the haul is done. Yippee!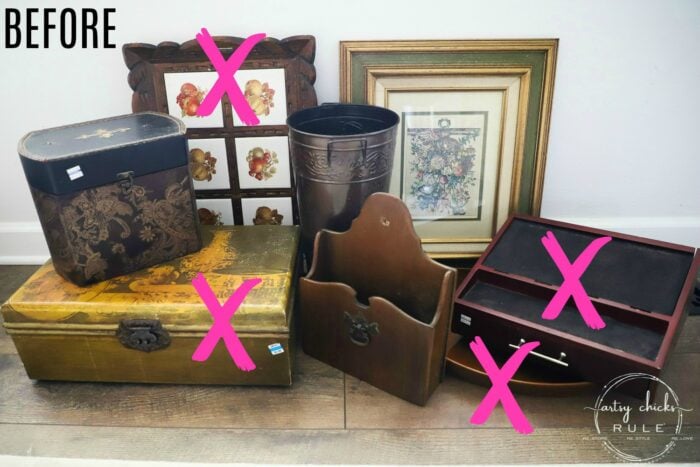 Only 4 more to go. (and only one more to actually makeover as I've finished all the rest) Then I can move on to some bigger pieces that are glaring at me…and taunting me to finally make them over. haha
Today it's the platter that is getting all the love … in all its plastic glory. lol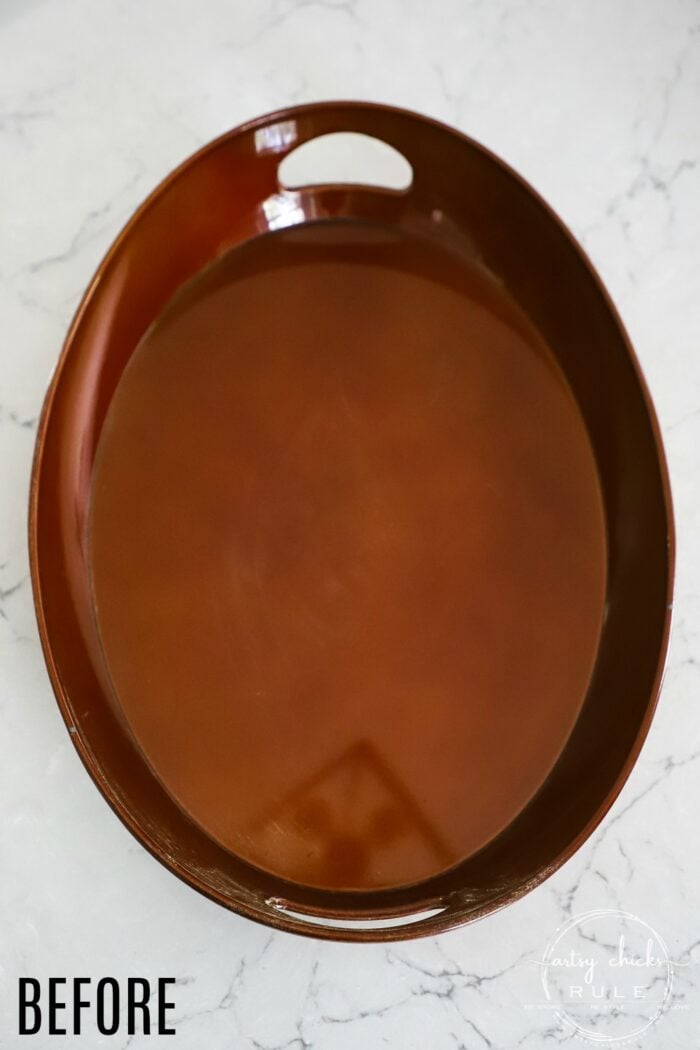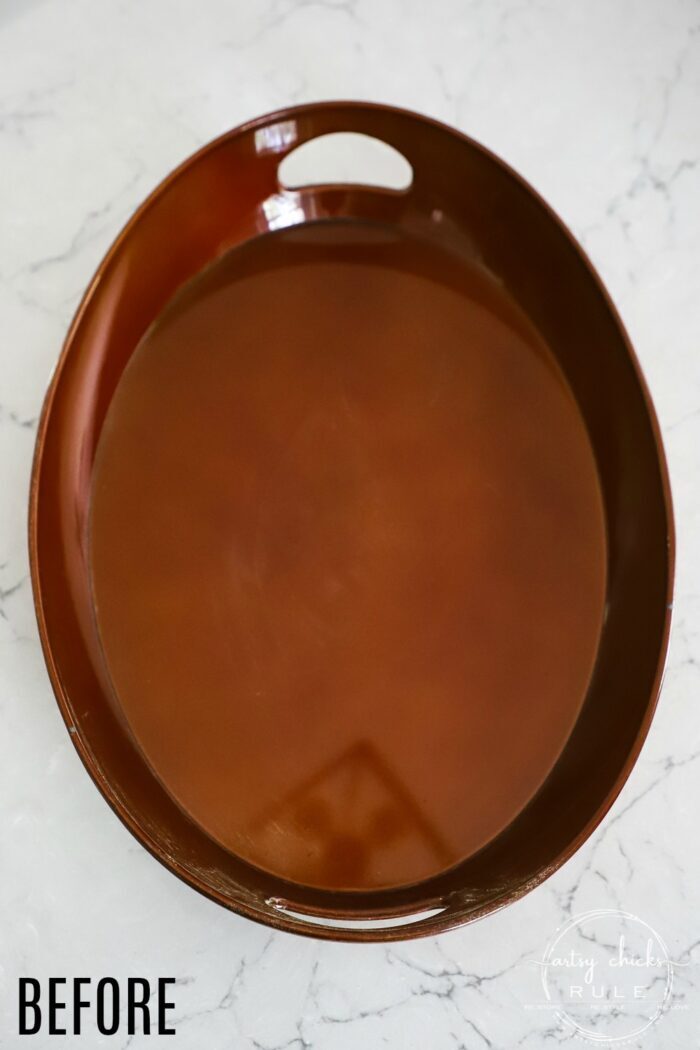 You might remember this one from the video Christy and I made of our latest thrifting adventure. (<<< see it there)
I brought it home with me because I thought it would make a pretty decorative tray. (and I'm a sucker for trays)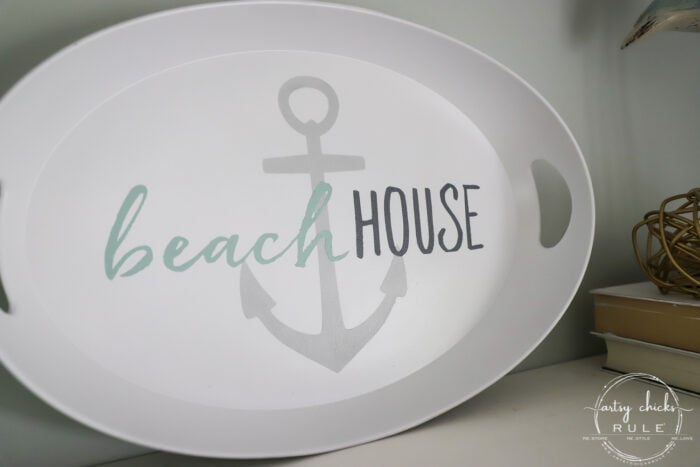 Beach House Platter – Plastic Thrift Store Tray Makeover
Here's how I did it.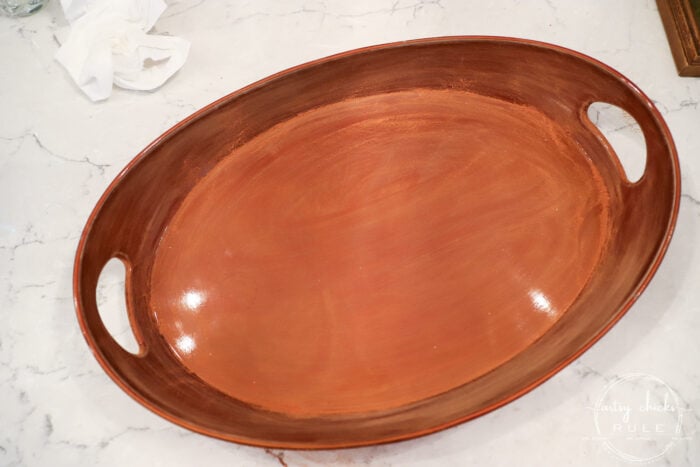 Since it was so slick, I decided to give it a light sanding all over first.
Then I cleaned it and sprayed it with white spray paint.
Pretty darn simple!
I saved this anchor to my computer from PicMonkey…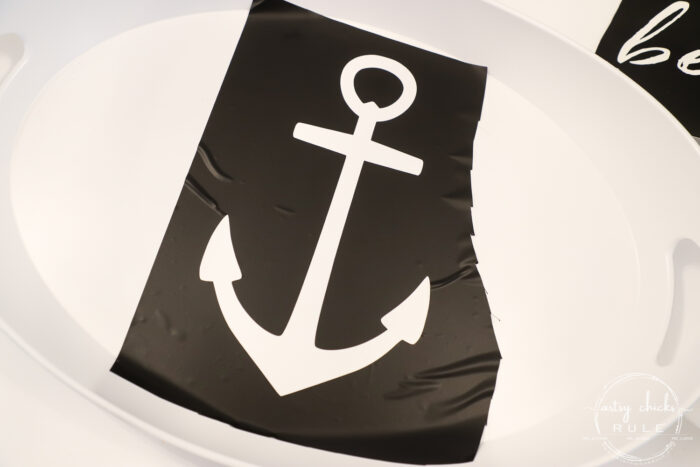 And cut it out on my Silhouette Cameo to create a stencil with vinyl.
Want to know how to use your own designs in your Silhouette Cameo?? Check out this post right here >>> How To Import Your Own Designs Into Silhouette Cameo.
Then I created this graphic from some inspiration I found online.
And since I was inspired by a similar piece online, I won't be sharing this graphic. But it would be very easy to recreate since it's so very basic.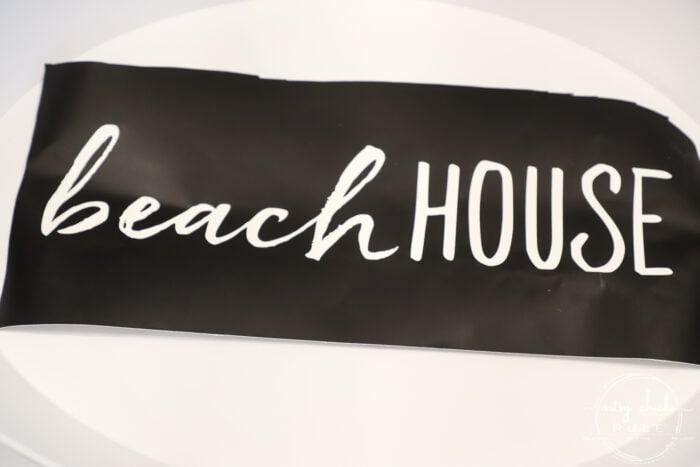 I did the anchor underneath in a light gray.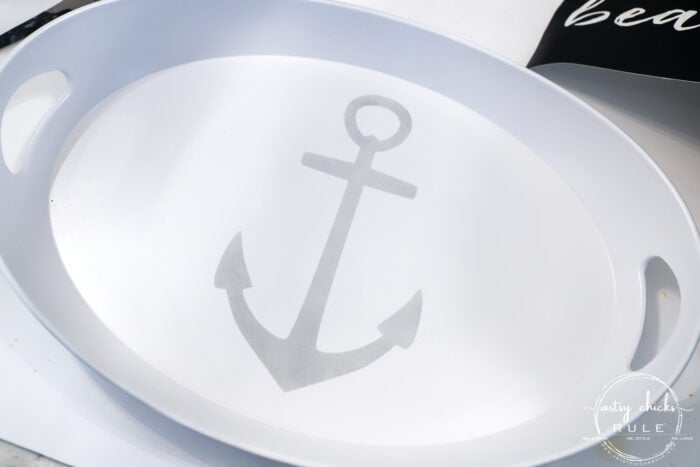 Then I painted the words over top in aqua and darker gray.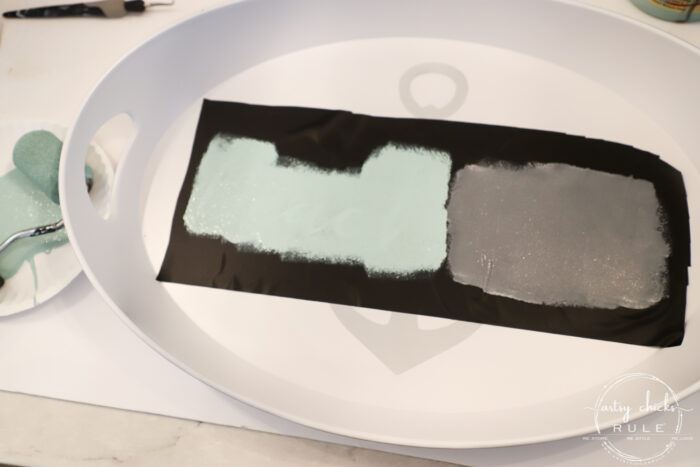 Simple!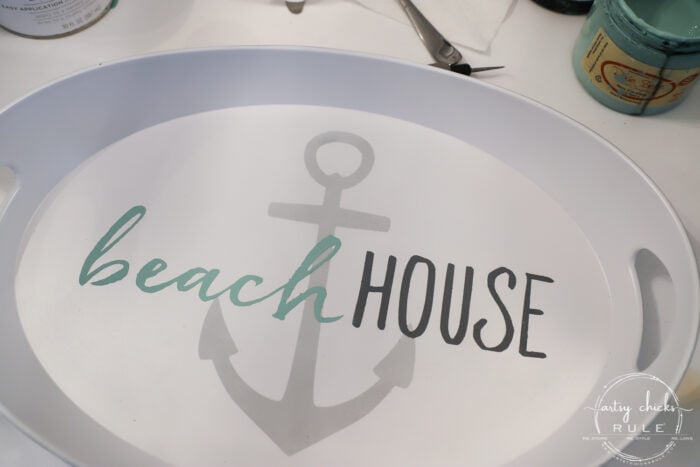 What a difference from the orange plastic tray it started out as, right?
To seal it, I actually only sealed the graphics that I painted on as I liked the finish on the platter and didn't feel the whole thing needed sealing.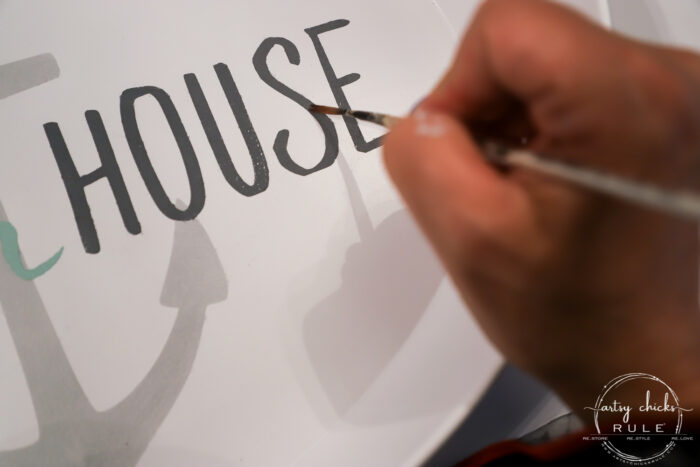 Obviously since this is more of a decorative piece it's good to go.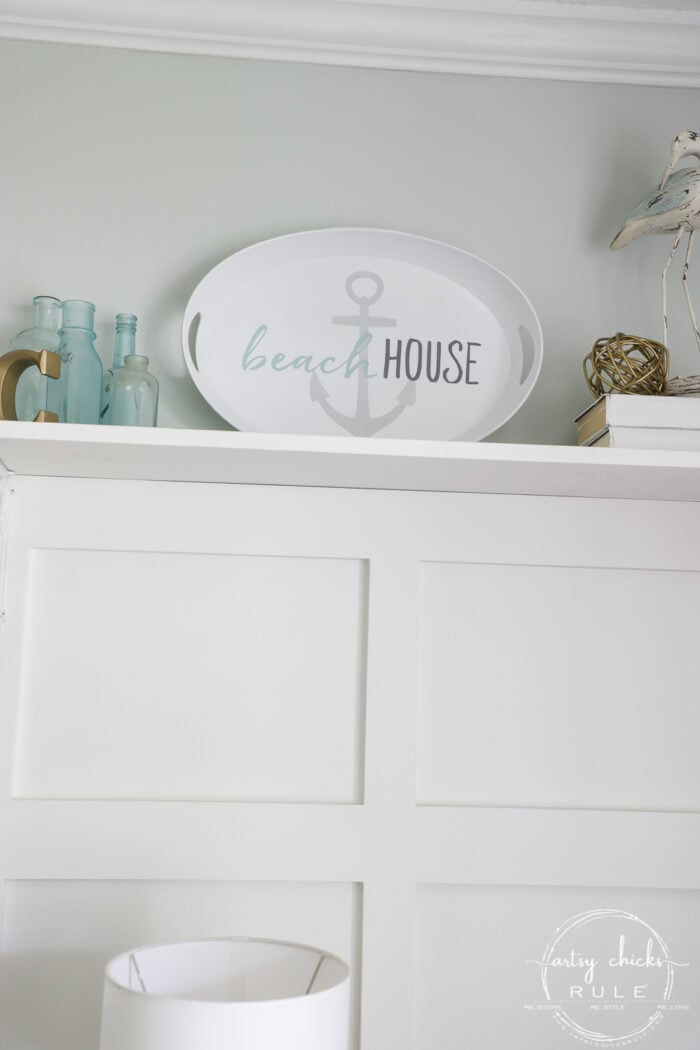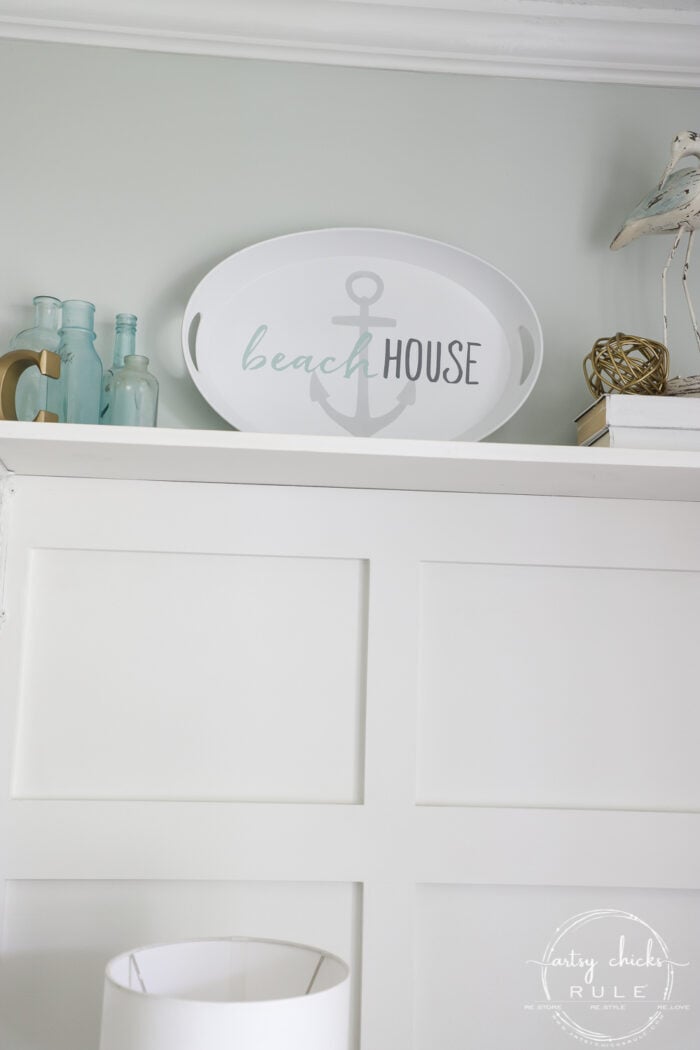 It would make a cute gift for someone's "beach or coastal" home. Or someone who just loves the beach.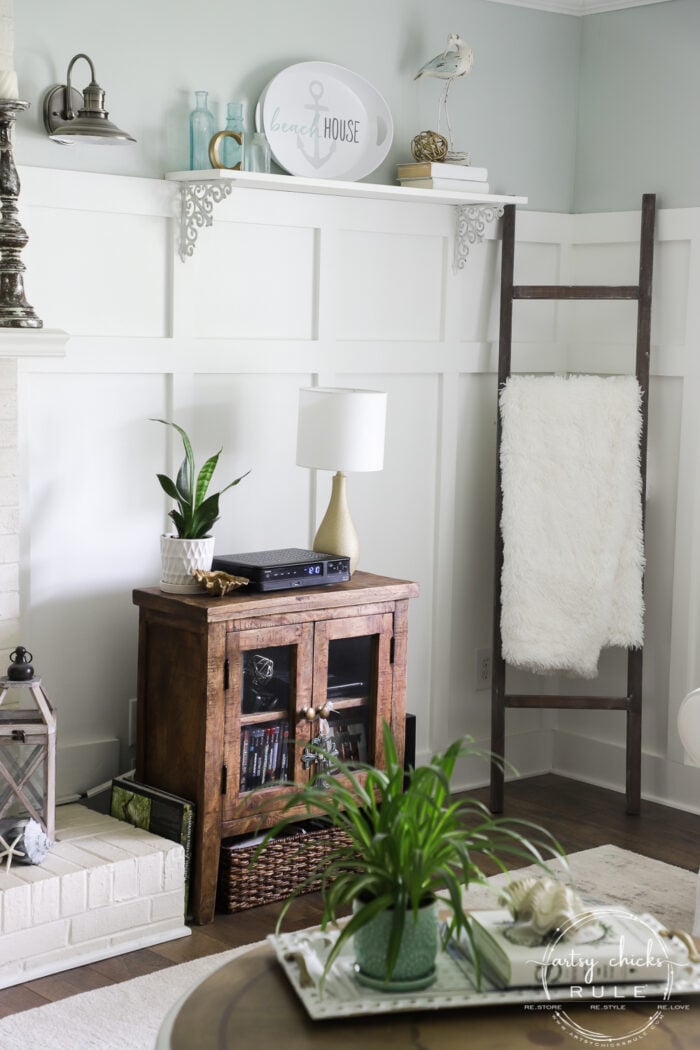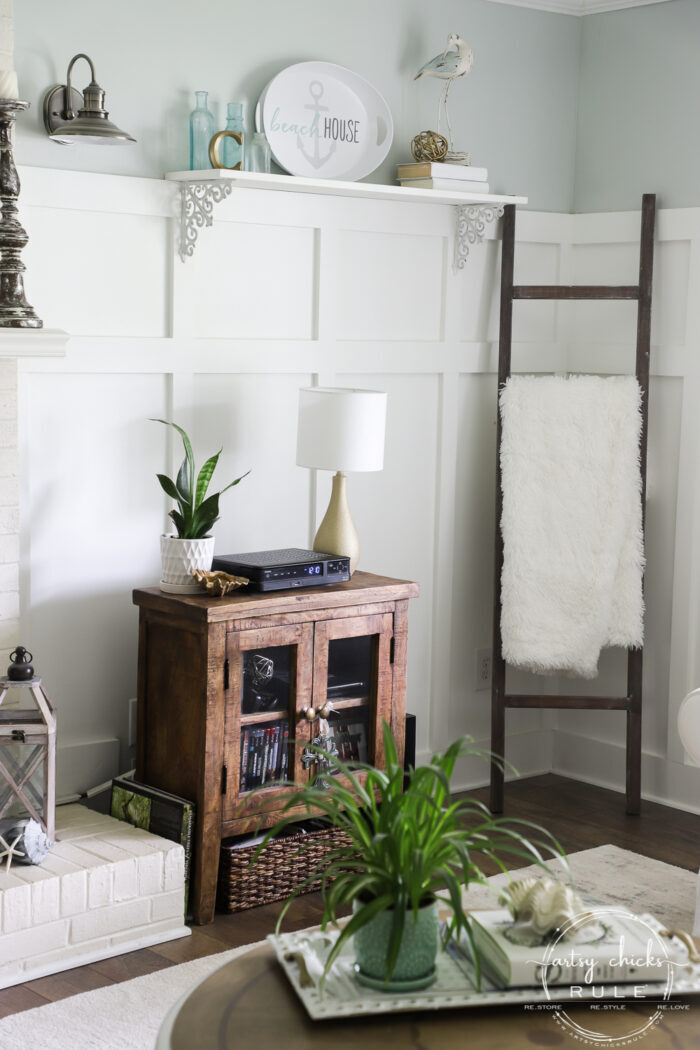 Fun little side note…see that large book beside the cabinet? It is a book of old trees in Virginia and we were going to try to visit all of them. I thought "how fun would it be to take little weekend road trips to go see these old amazing trees?" And we never go around to it. Ugh Isn't it like that in life? Busy always gets ya!
But I do plan to revisit that idea at some point in the future!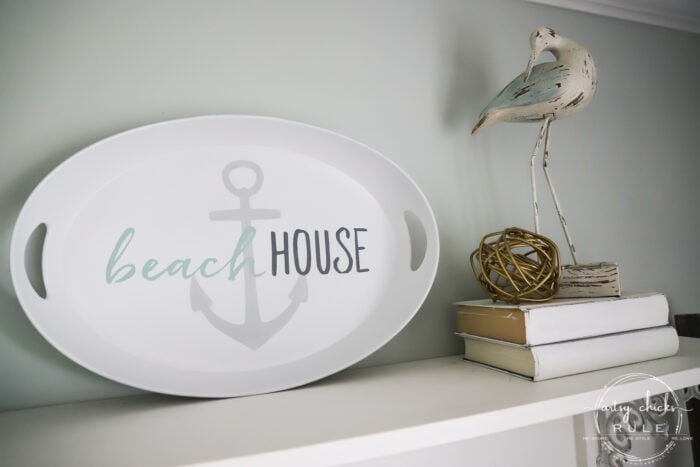 Super inexpensive decor. And easily transformed with spray paint and a stencil.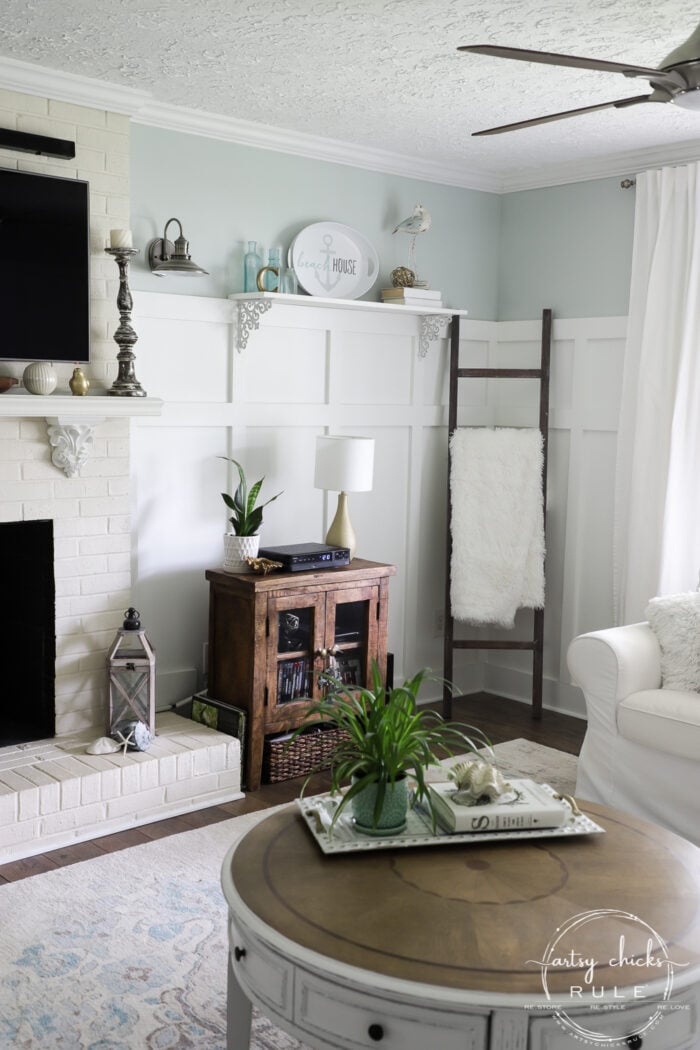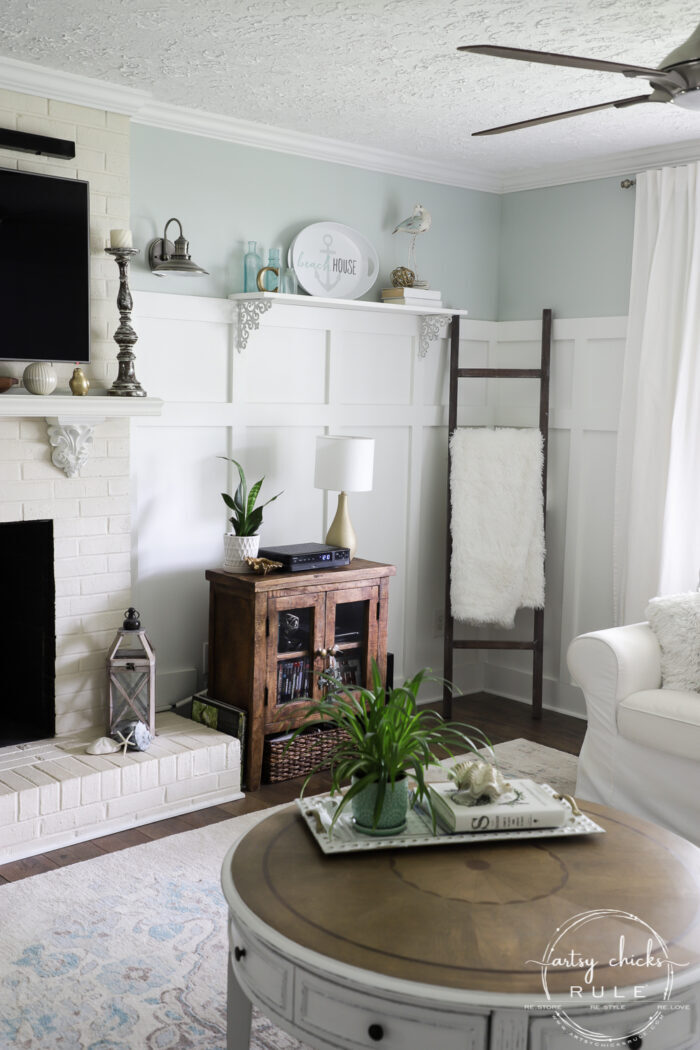 I might take it to our beach house. Or might not. lol I have a whole pile of things and our place is not that big to use them all. haha
So we will see.
I hope this inspired you to see what some of those very basic things can be transformed into the next time you go thrift shopping. :)
PIN it to save it!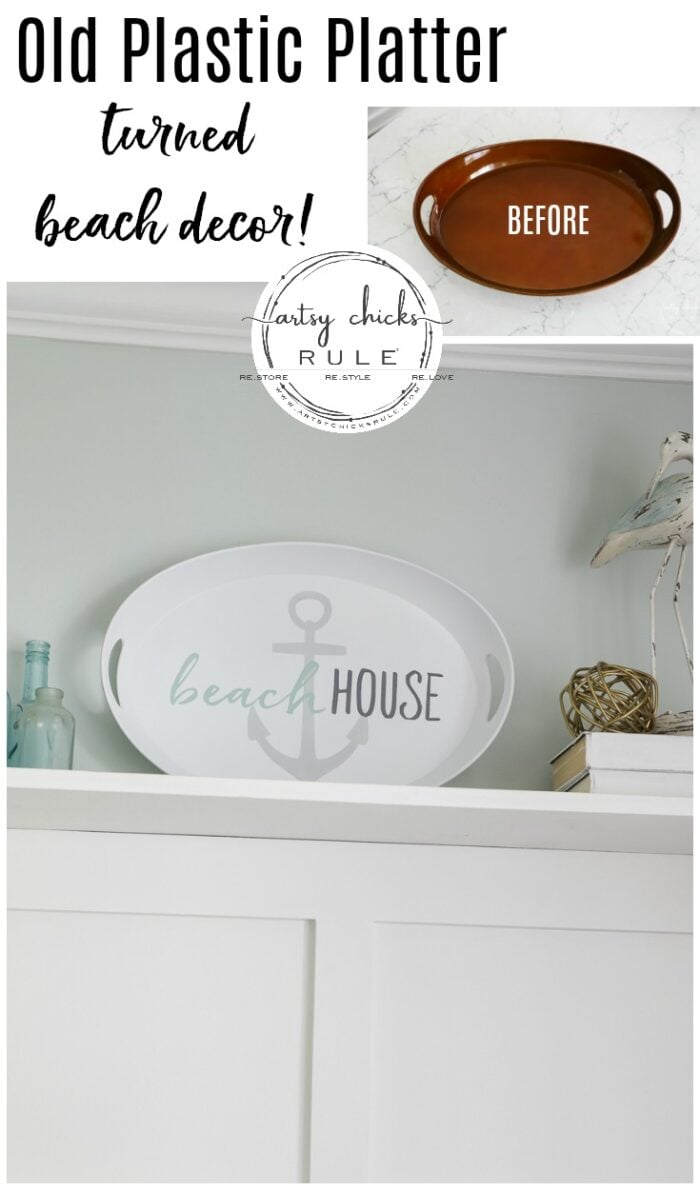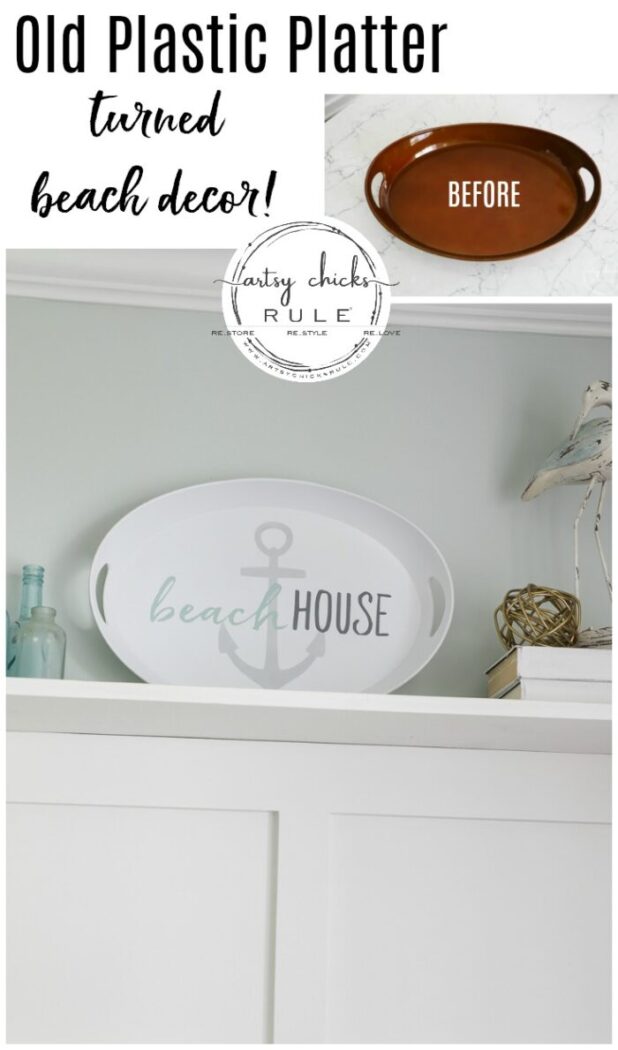 I'll be sharing this one next!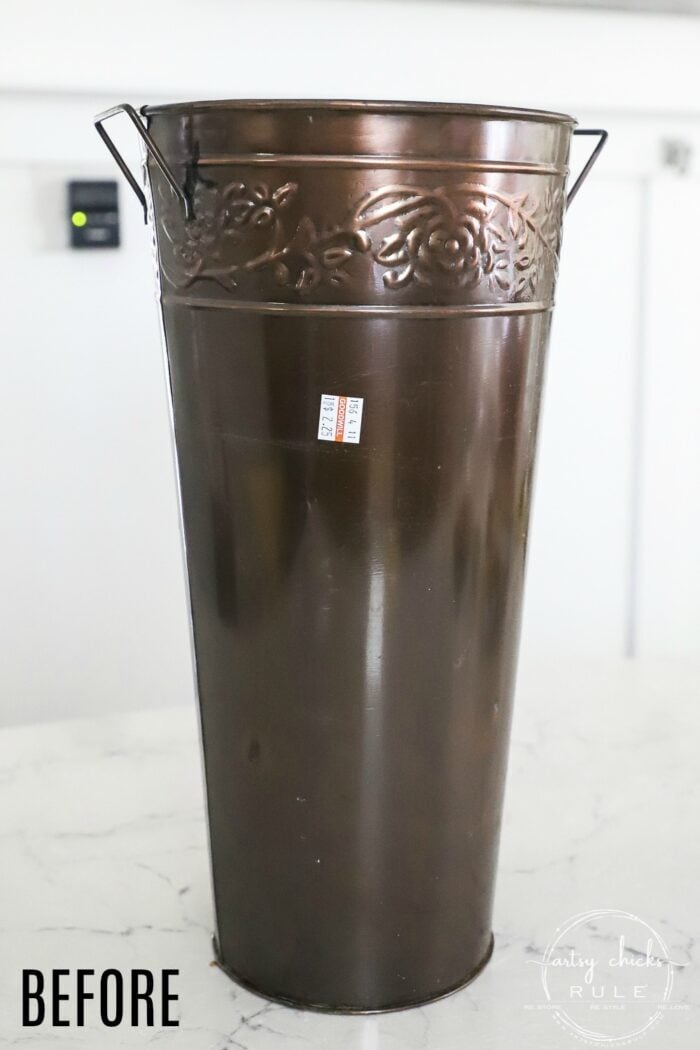 UPDATE!! See it now, here!
If you missed any of the rest of Thrift Store Haul #2, you can see them all here:
Have a wonderful weekend friends!
xoxo