Have Courage And Be Kind Table Makeover (free printable!)
This post may contain affiliate links. Please see disclosures here.
Outdated and orange no more! Java stain, pink paint and the sweetest quote ever! Have courage and be kind…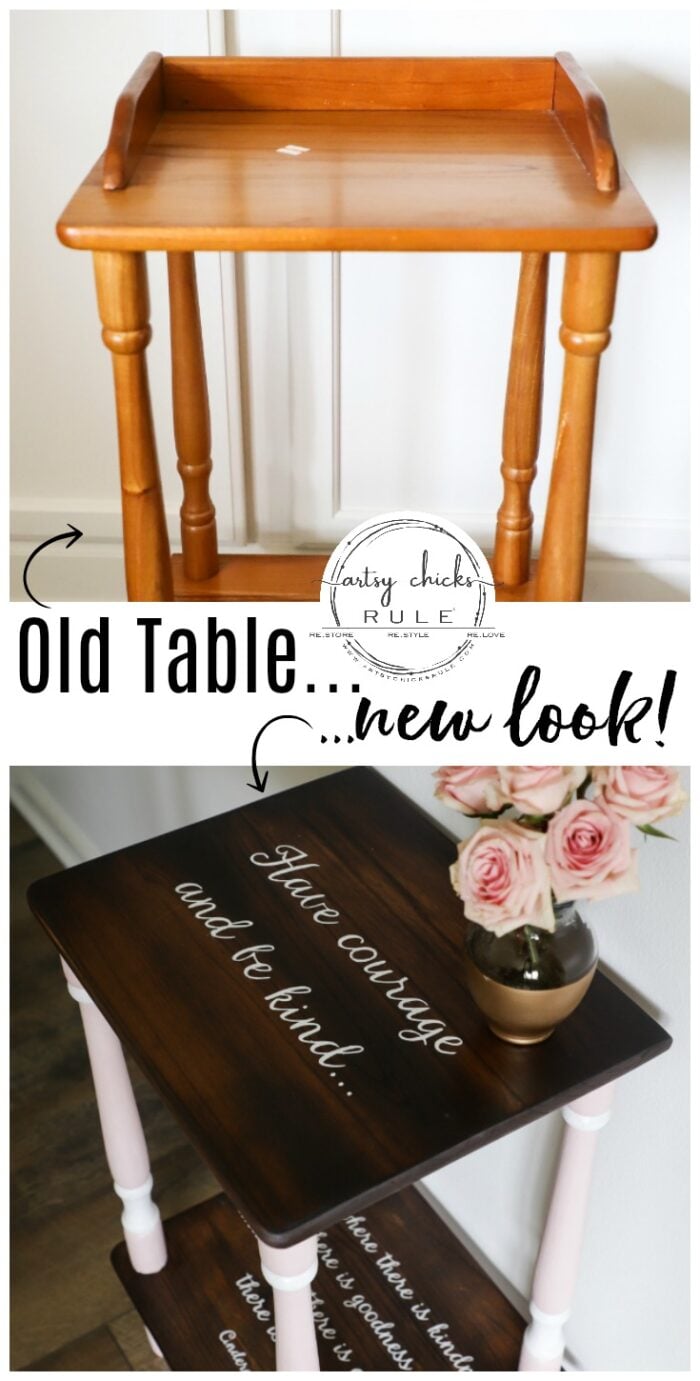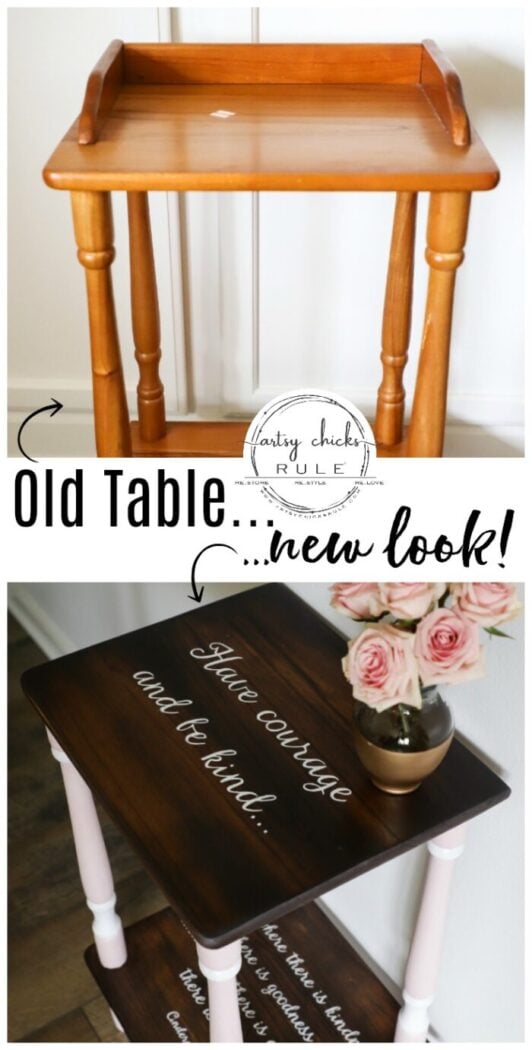 Hello beautiful friends!
I wasn't sure I was going to get this one done in time to post today. I had serious doubts! ;)
But since I said I would, I made it happen.
And why was I unsure? Because as it goes sometimes (a lot of the time with me! lol) things did not go quite as planned and so I ended up switching gears. I do that a lot, don't I?? But hey, you have to learn to be a little flexible in the creative process.
To recap, I'm sharing another find from my recent thrifty haul…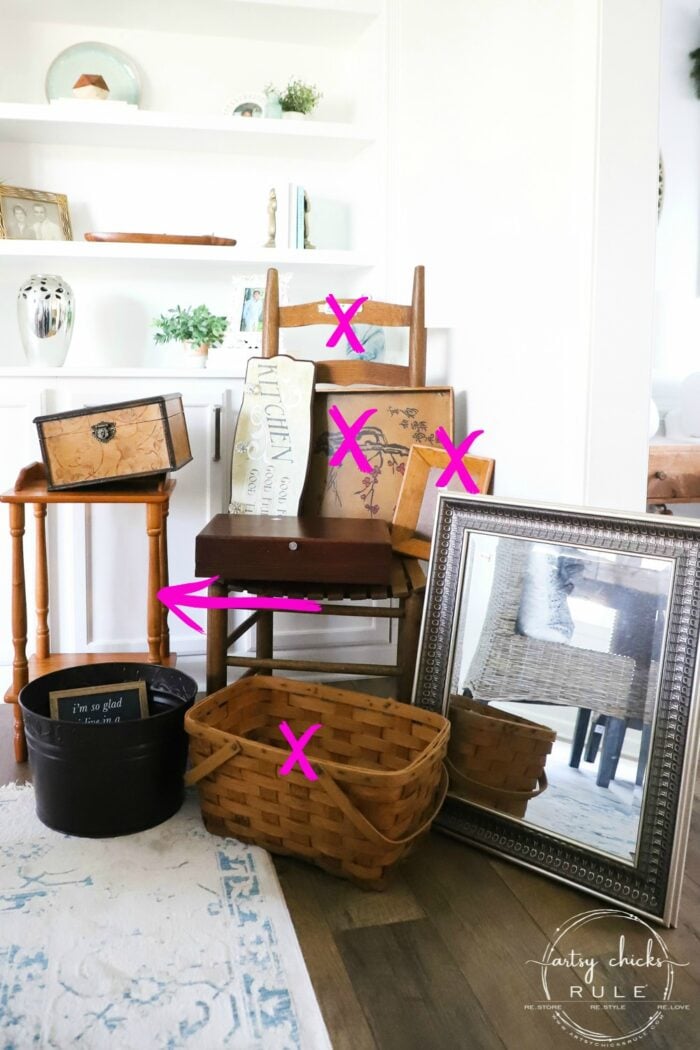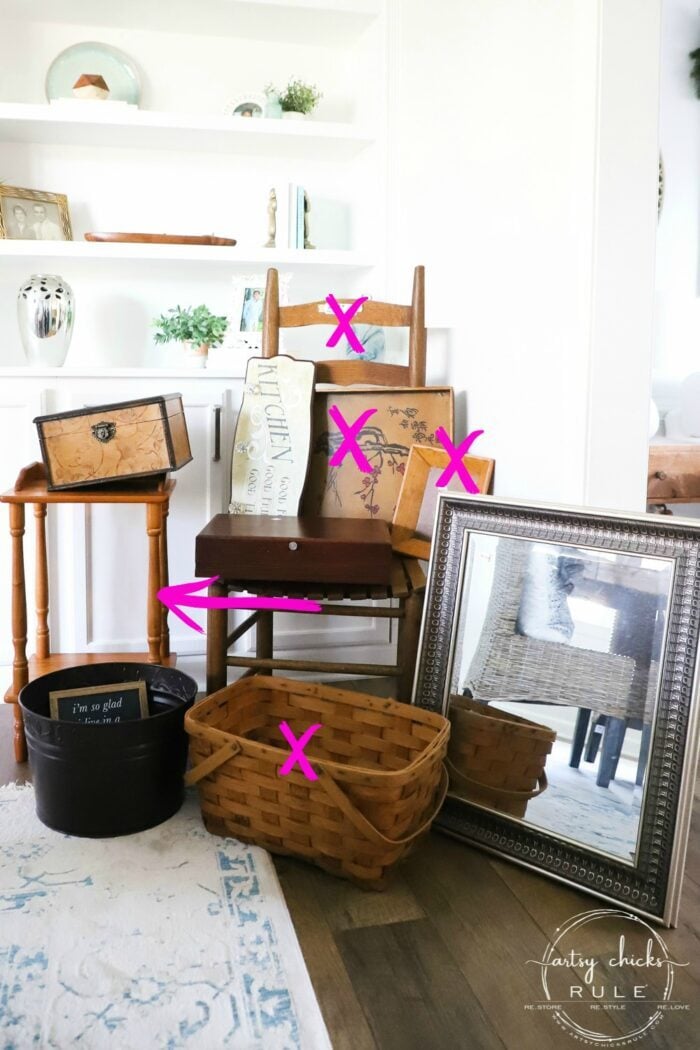 Today I am doing that 2-tiered table.
If you follow along on Instagram, you might have seen it the first few days I was working on it. I try to share over there projects as I'm working on them so be sure to follow along if you don't!
If you missed the other makeovers I've completed from this haul, you can see them here:
Have Courage and Be Kind Table Makeover
MATERIALS LIST
Pink paint (Antoinette Pink – Annie Sloan)
Here is the table "before"…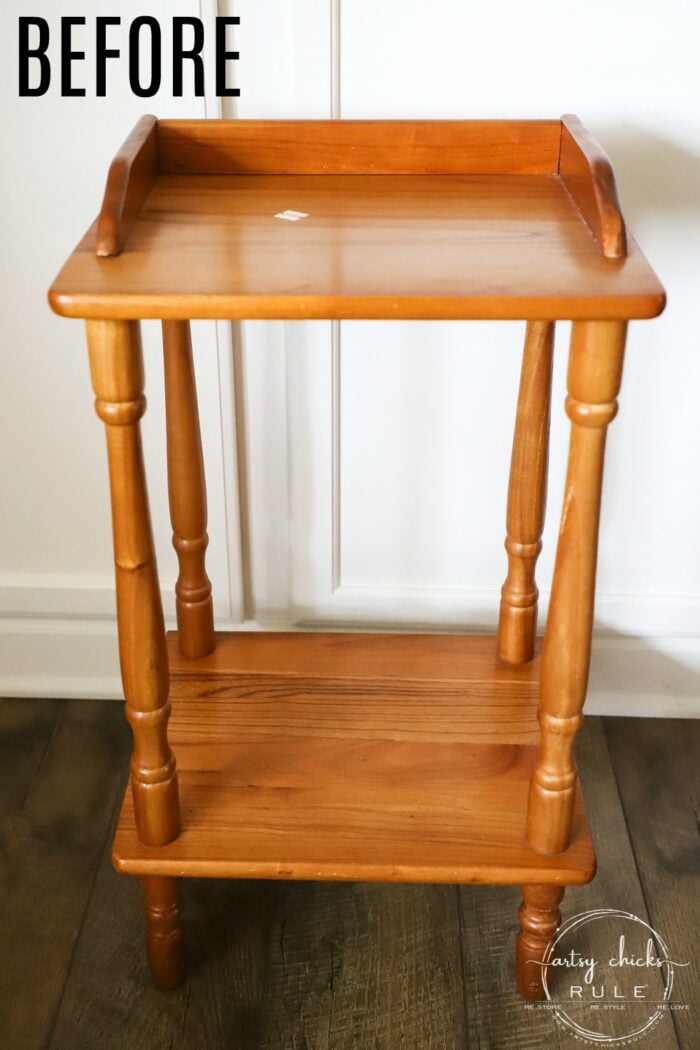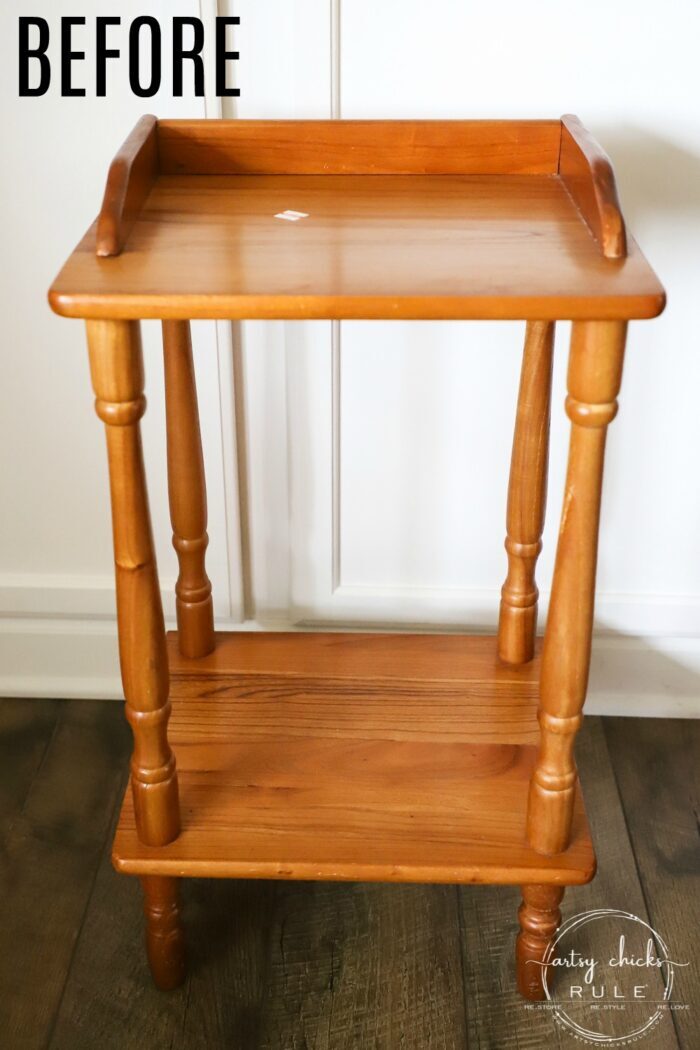 Orange-y wood that definitely needs an update.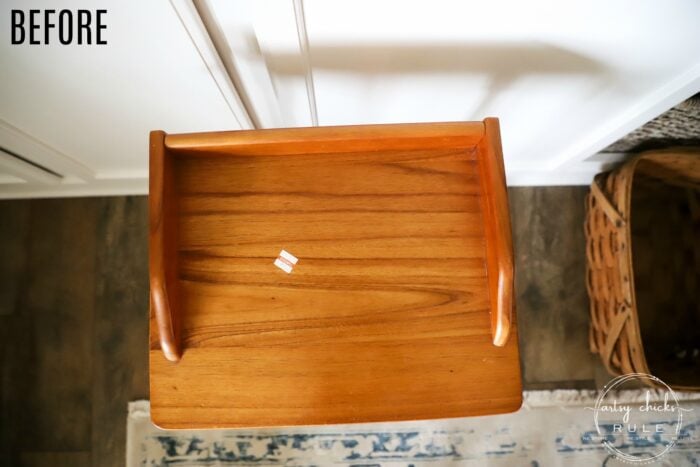 This little table was $4, by the way.
First things first, I decided to remove that top portion of wood.
It sort of dated it and I wanted it to look fresh and new.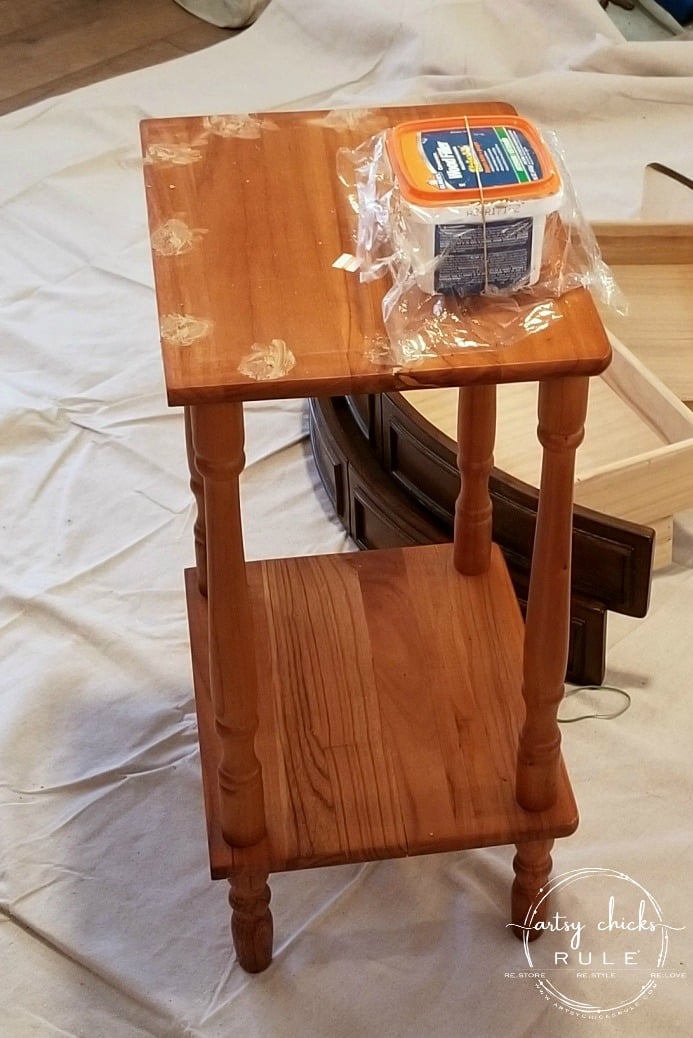 I filled the holes with stainable wood filler.
Then sanded off the finish from the top and bottom. (not the legs, though)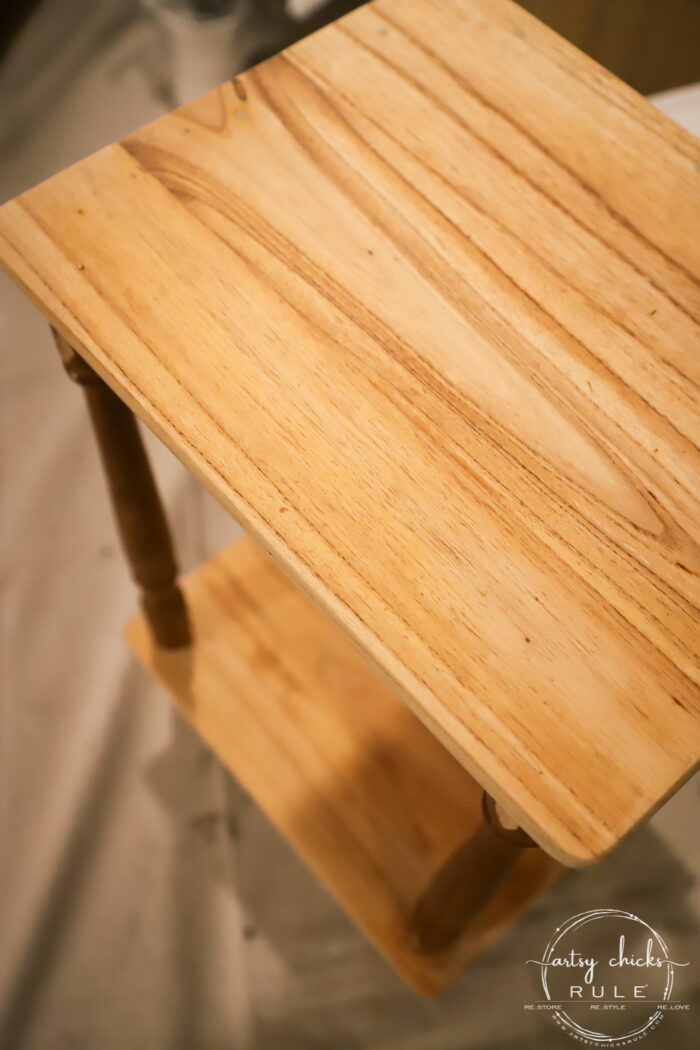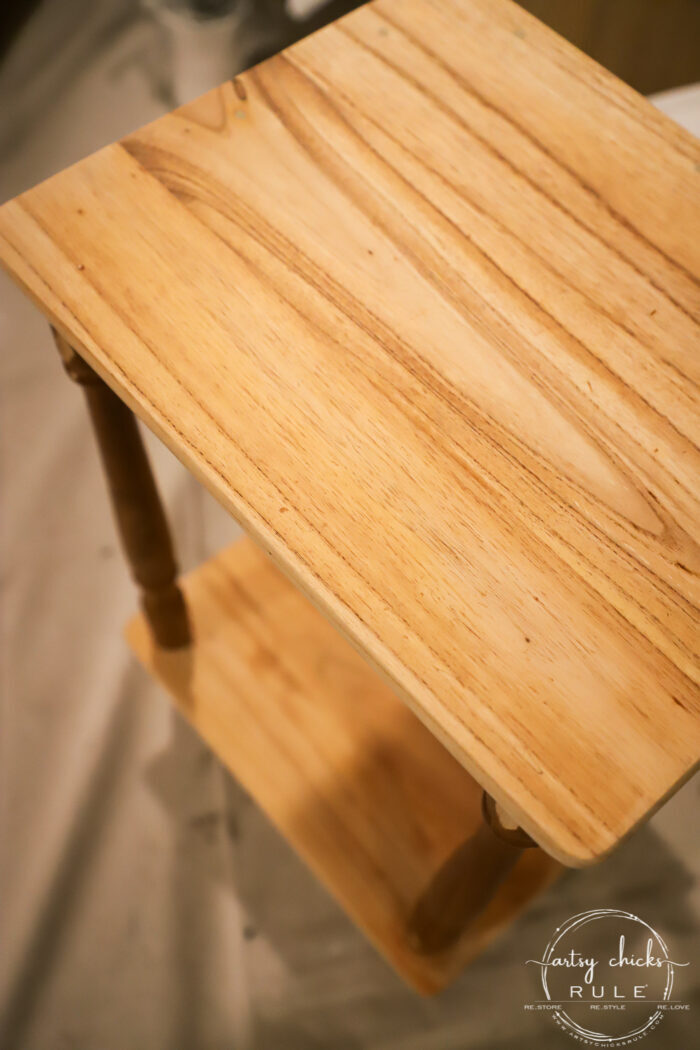 I had originally thought I'd give the wood a weathered look with this stain. (the same stain I used on our Aubusson Blue dresser)
Along with a gray/beige color for the legs.
Perfectly coastal, right?!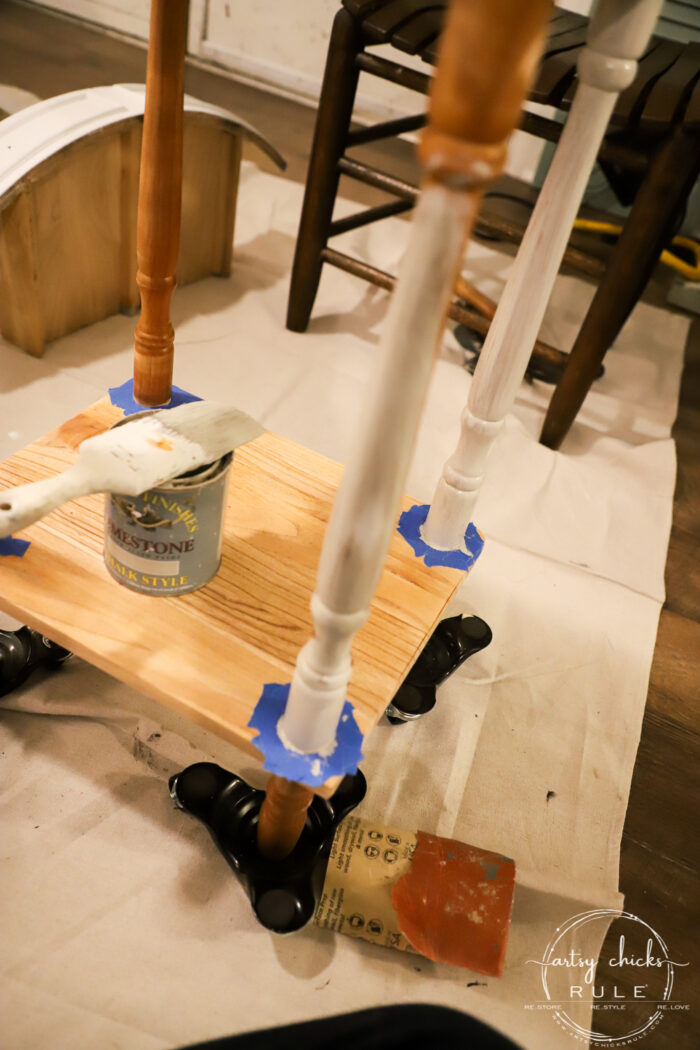 But I wasn't loving that color.
So I decided to use "Aubusson Blue" (I had it matched and made my own "chalk paint"…the same one I used on this project) to give it some color.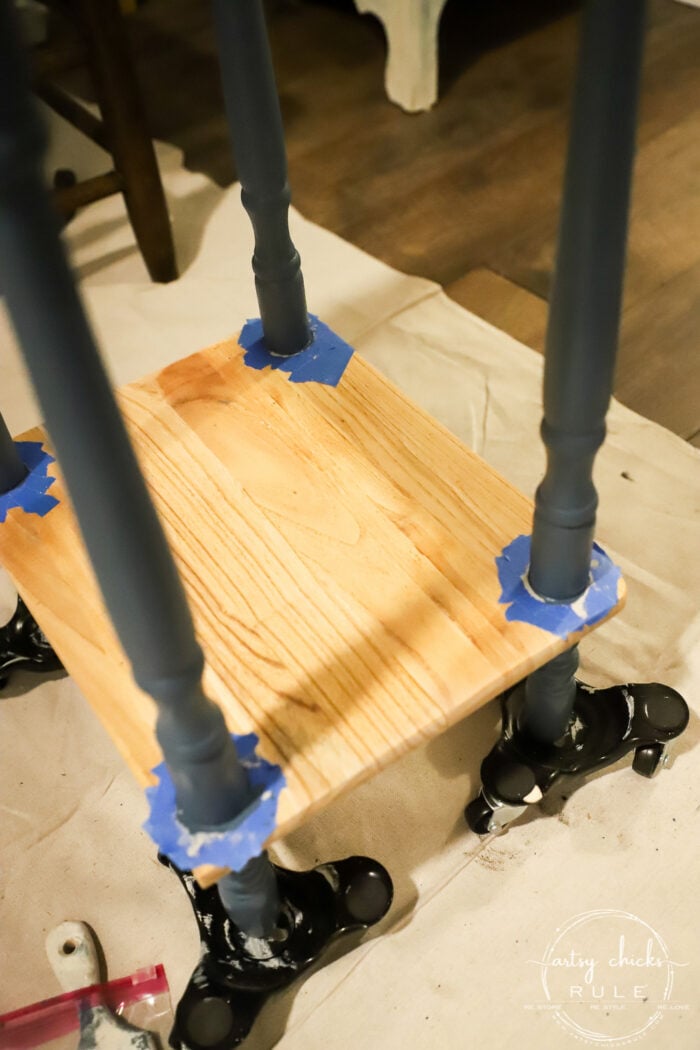 Yes, I was kind of liking that.
Now for the stain.
I began by applying pre-stain wood conditioner.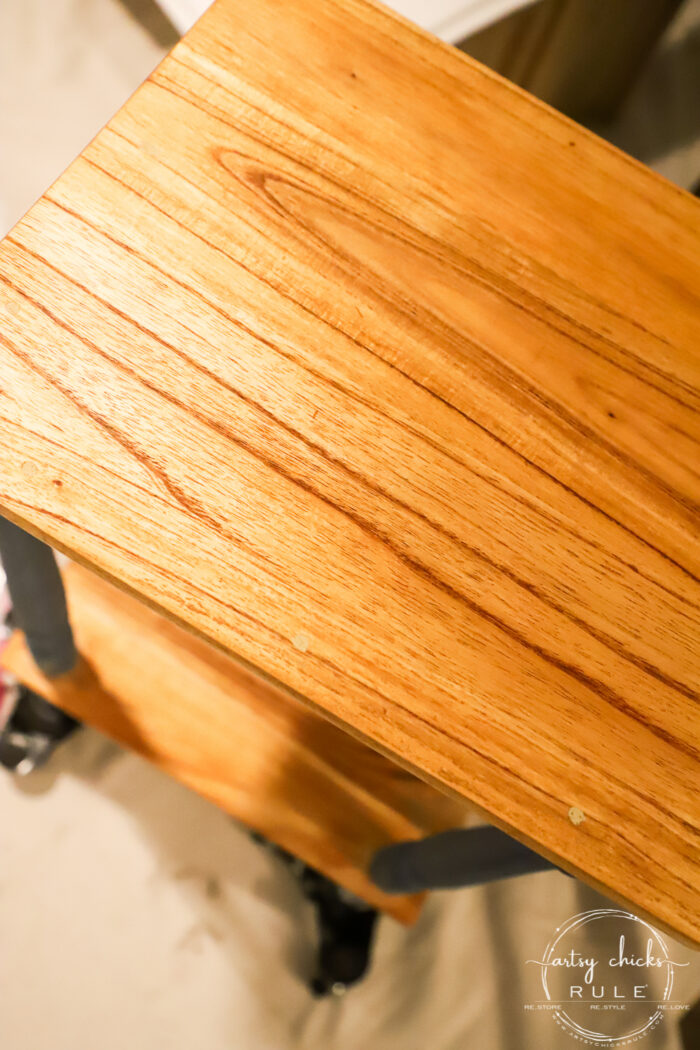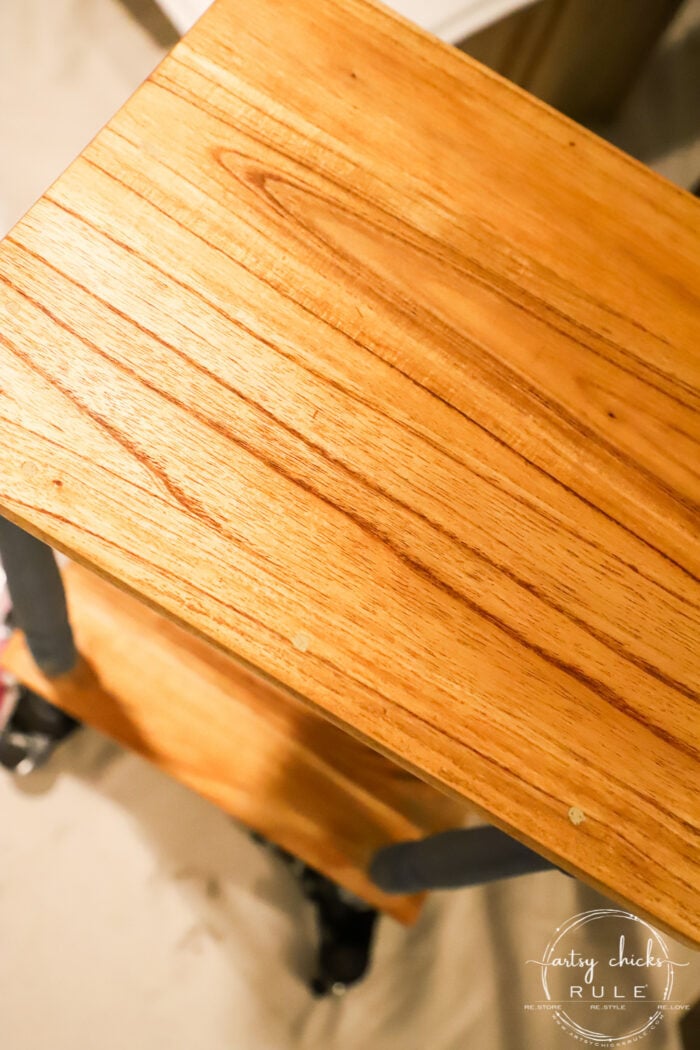 Want to see some of these projects in "live" time? Hop on over and follow along with me on INSTAGRAM. I'm always sharing in my stories as I'm doing projects, finding new furniture, fun finds….just all the day to day behind the scenes.
And then applied the stain.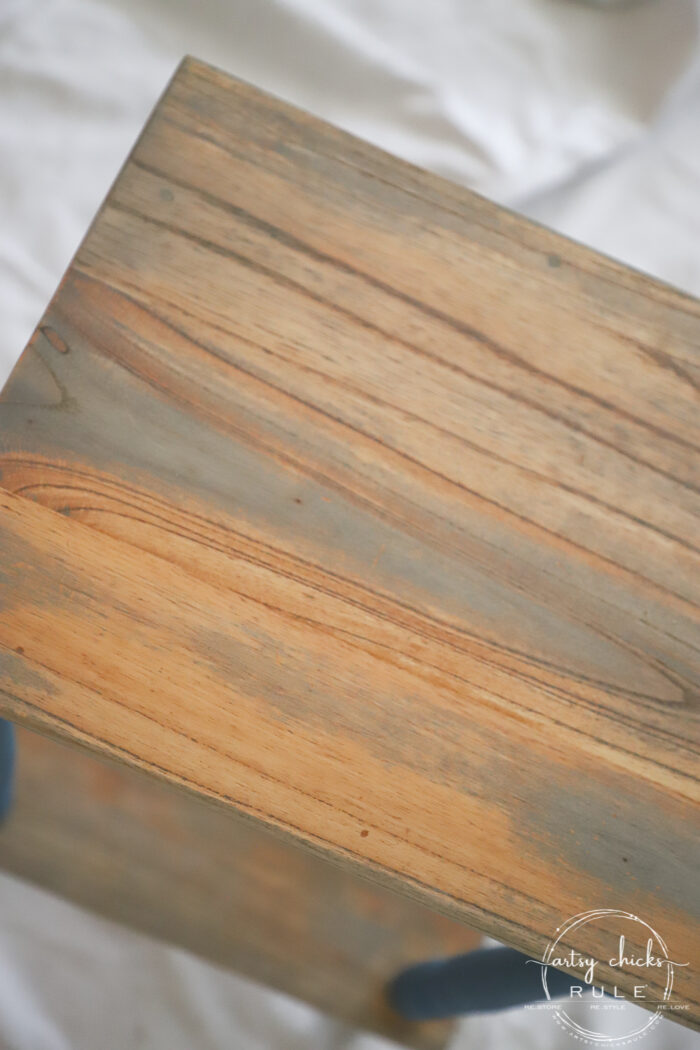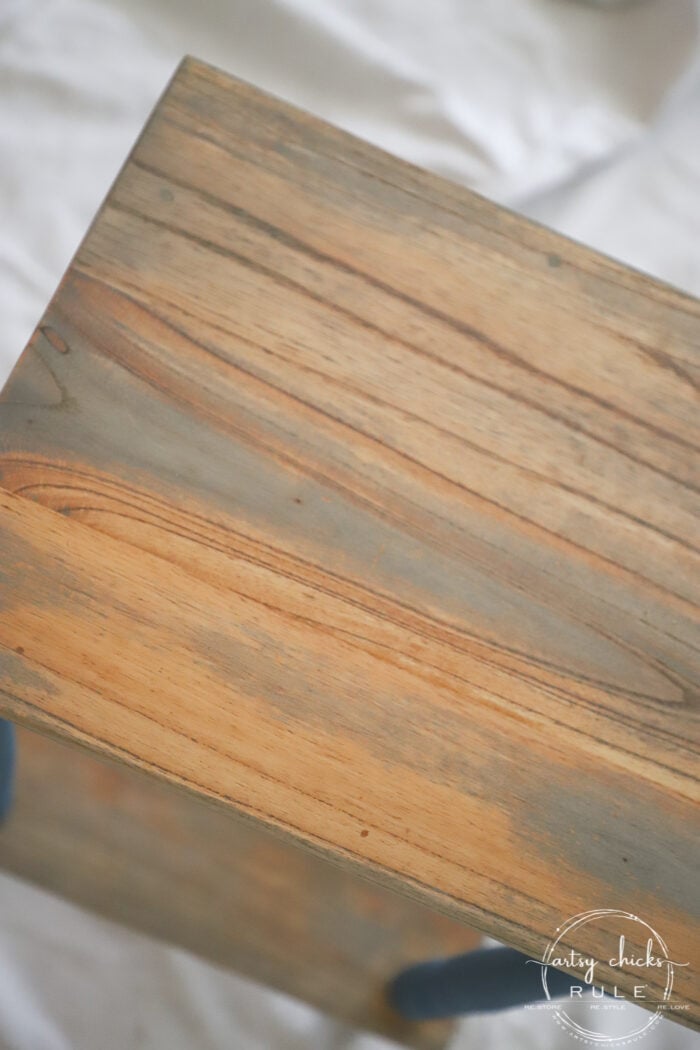 Uh, no, didn't want it to look like that.
So back to the drawing board.
And off I went in a completely different direction!
Are you surprised?? You shouldn't be by now!! lol I like to keep ya on your toes around here. ;)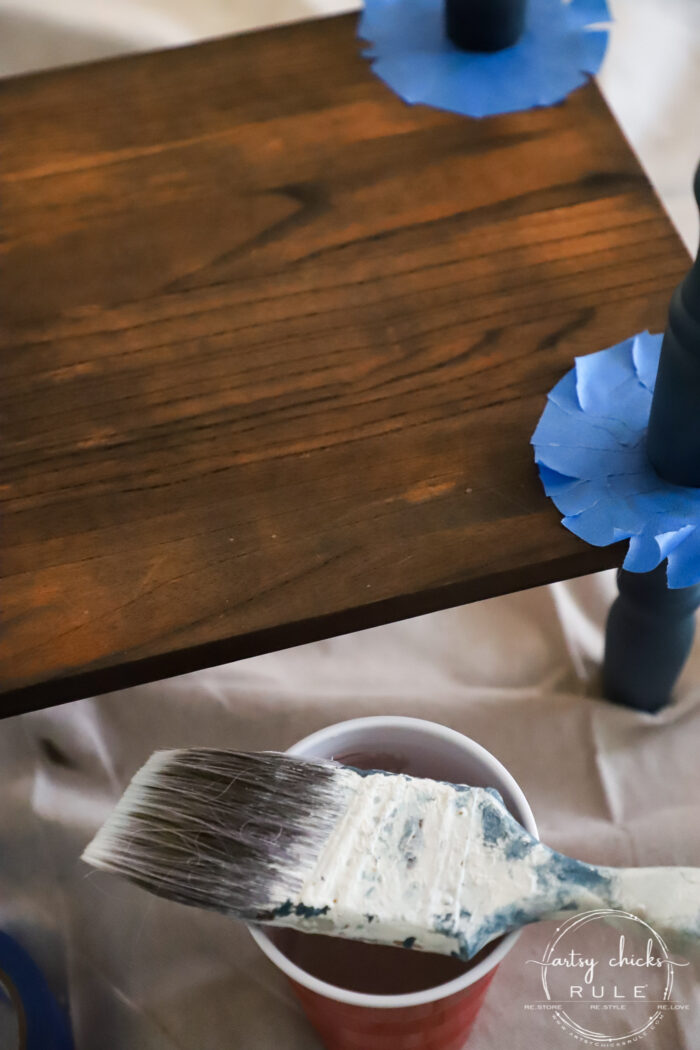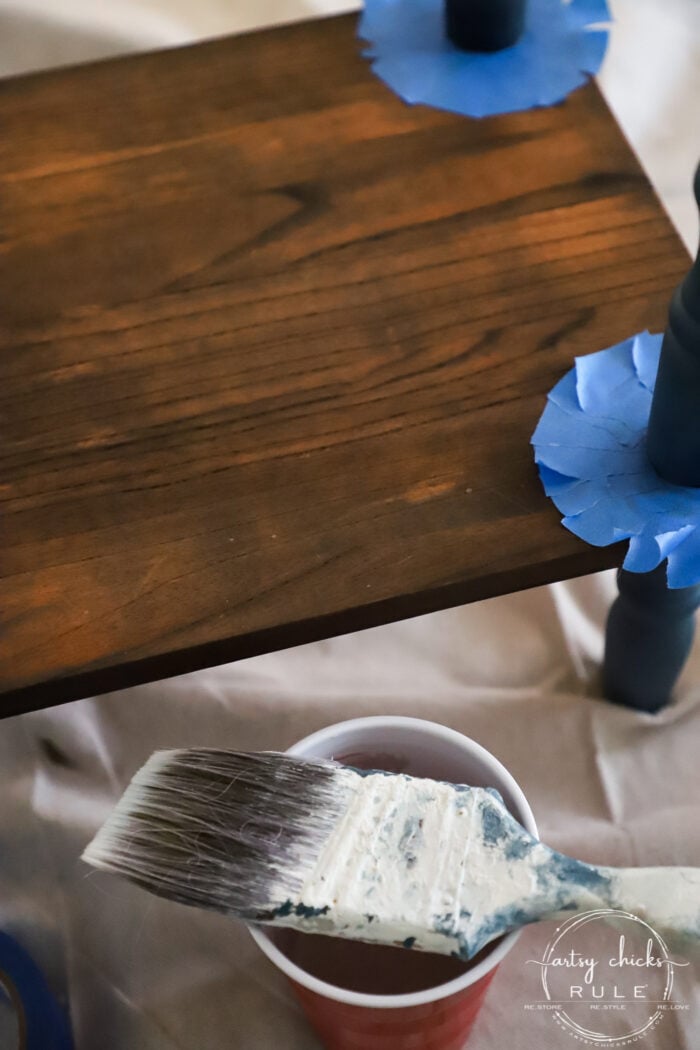 I decided to paint the legs pink and stain the wood dark (Java Gel).
And turn it into a sweet little side table for a small girl's room.
I think that was the problem. I really didn't have a clear idea of what this table was so I didn't have a clear idea of what I wanted to do with it creatively.
Once I hit on this idea though, I knew it was the right direction for a little table such as this.
(I gave it one coat gel topcoat before continuing on to the stenciling below-let it dry overnight)
And to go along with the sweetness of the pink, I decided to use one of my favorite quotes…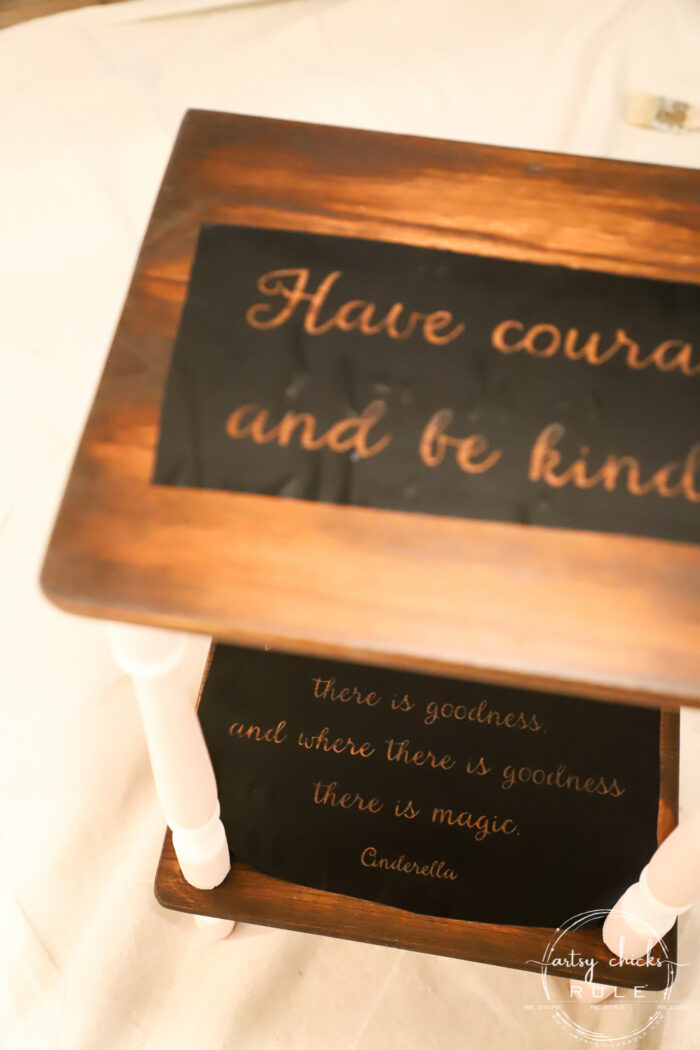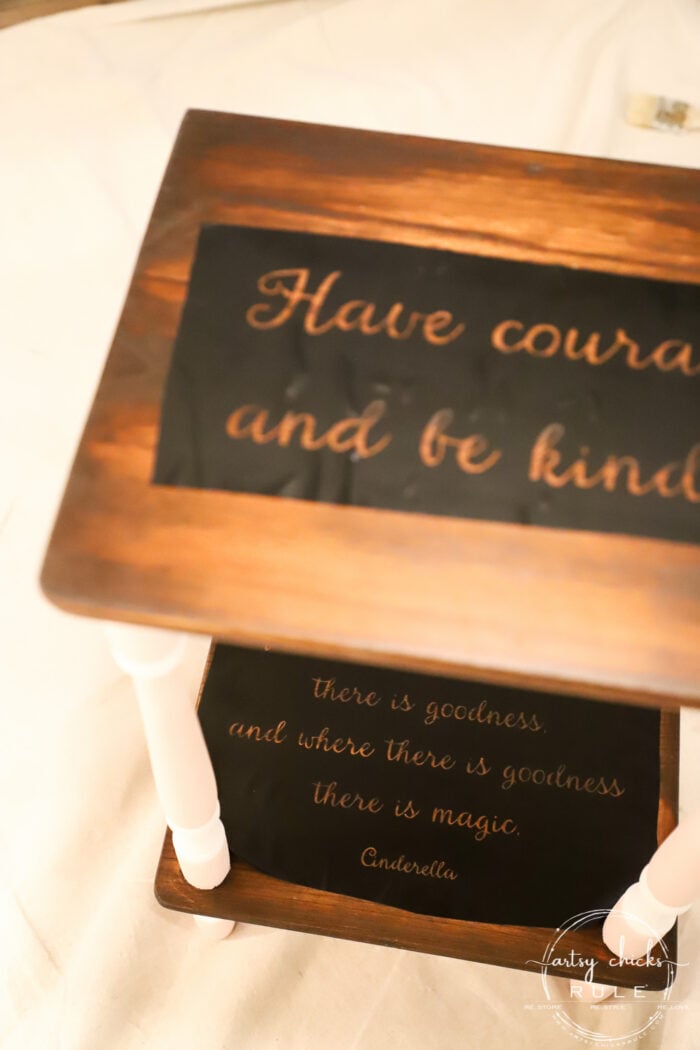 As I do often, I used my Silhouette Cameo to cut out the graphic/quote I created and then used it as a stencil.
Measure, measure, measure to make sure you get it aligned correctly on whatever you are applying it to.
Roll on some white paint with a tiny foam roller…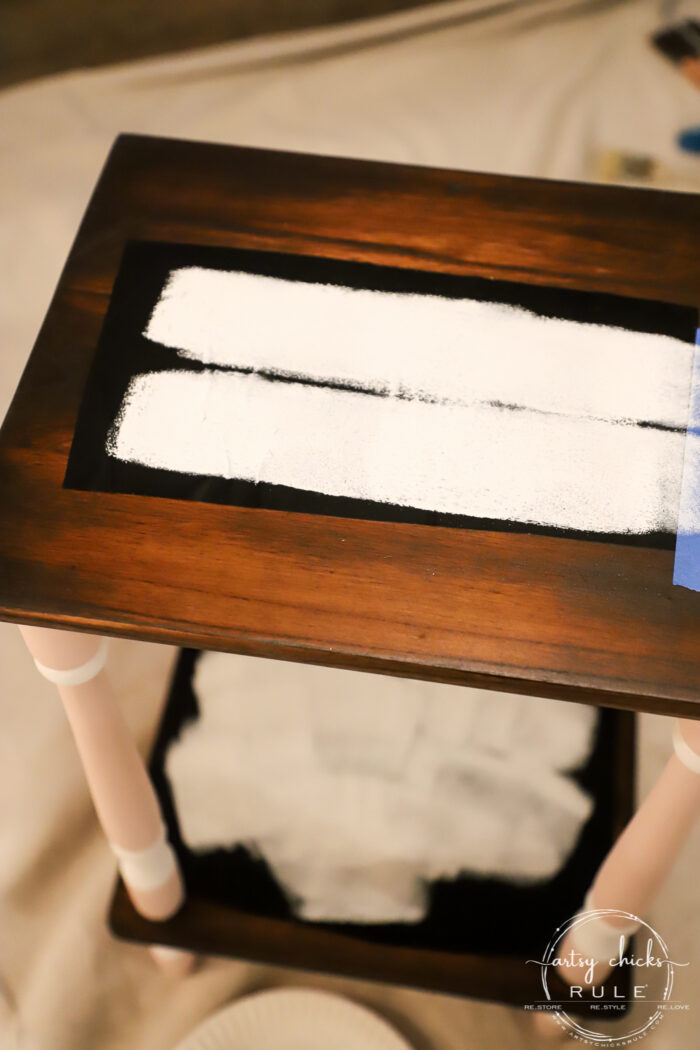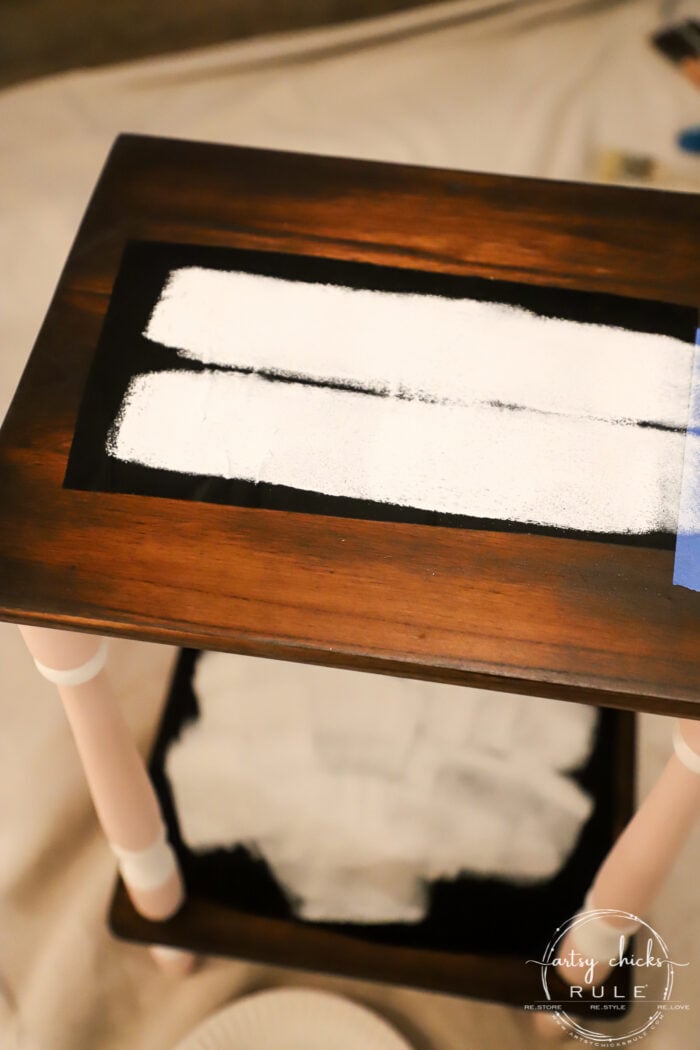 And when you remove the vinyl you find this…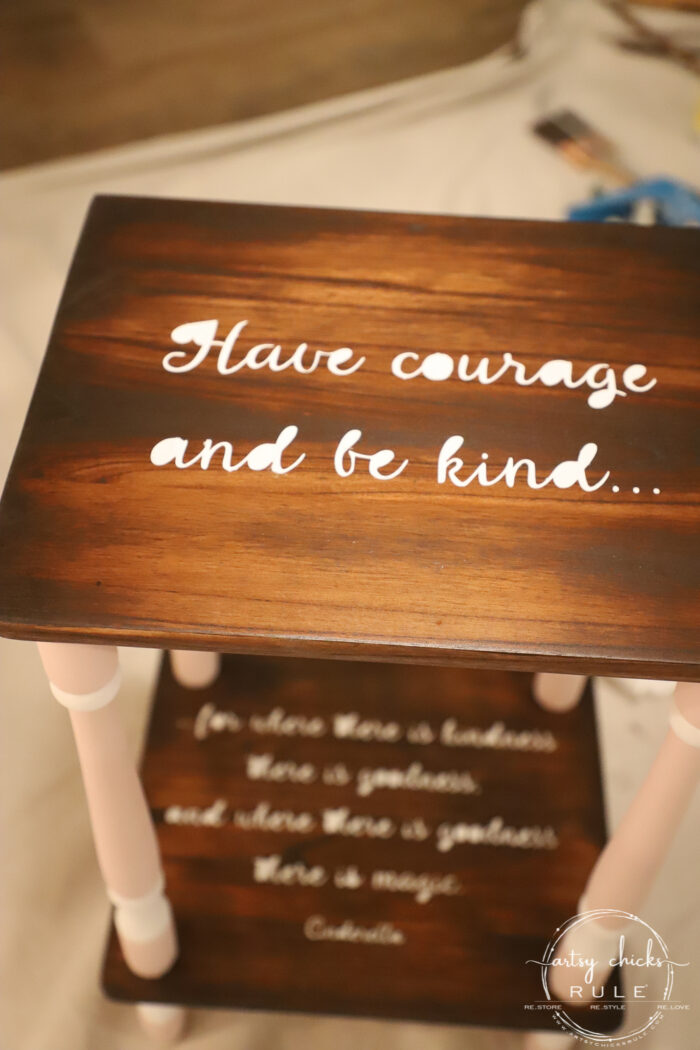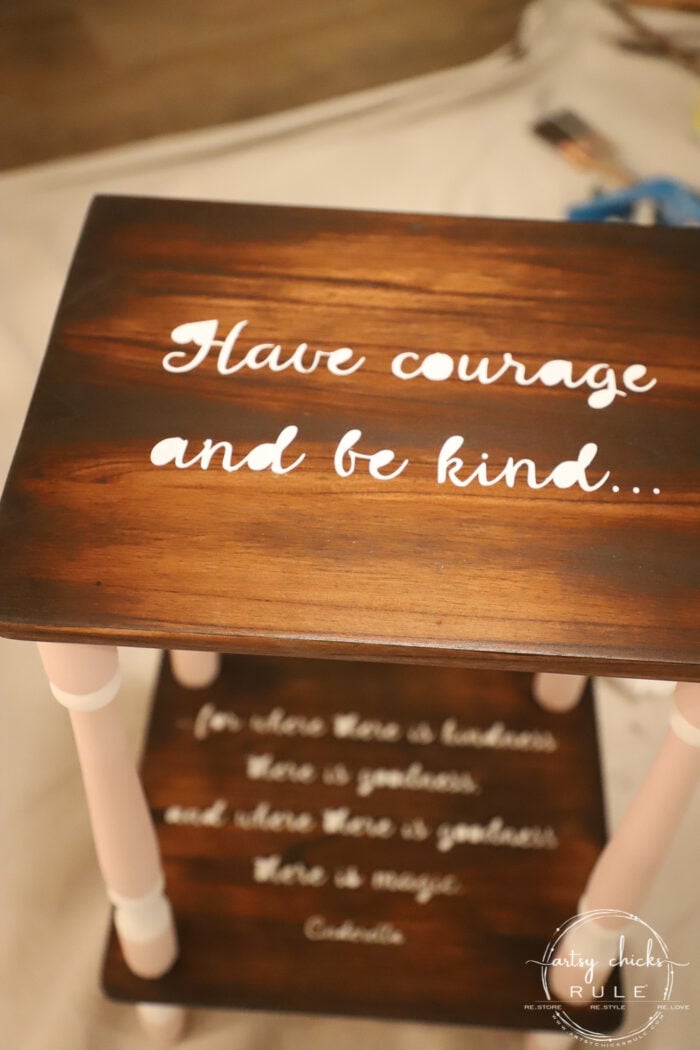 It's the way to go, I tell ya!! (there are a few pieces of vinyl that need to be removed from inside the letters but you get the idea)
BUT if you don't have a Silhouette, and don't plan on buying one, you can always transfer graphics like this the "old fashioned way".
Check out this post to see several other ways you can transfer graphics without any special equipment >>> How To Transfer Graphics (my favorite methods!)
Another coat of the gel topcoat and done!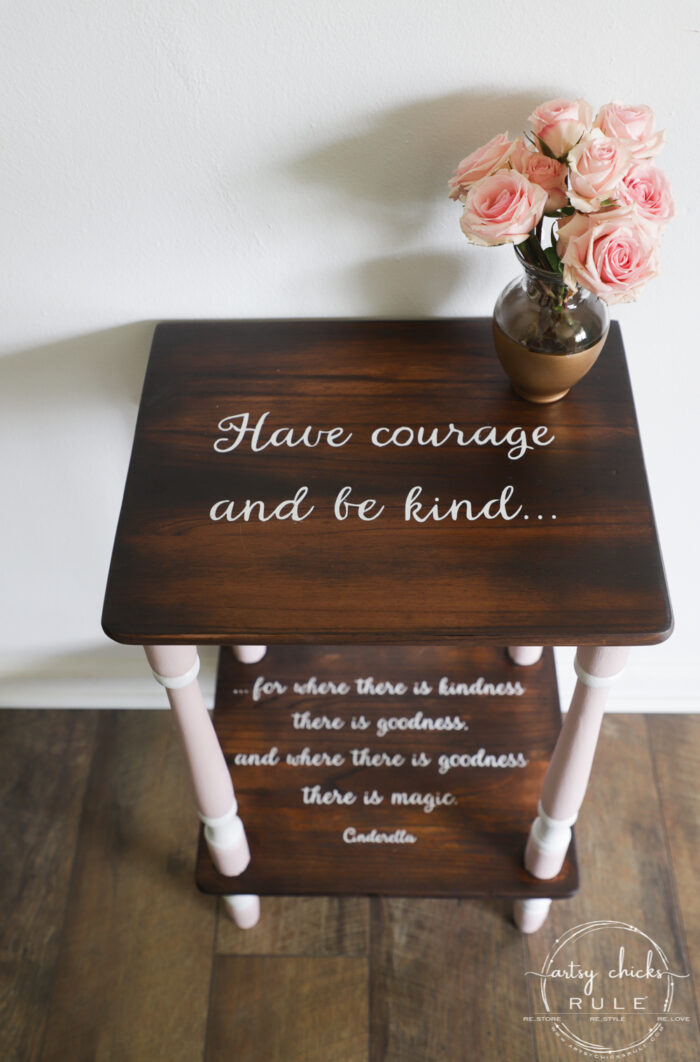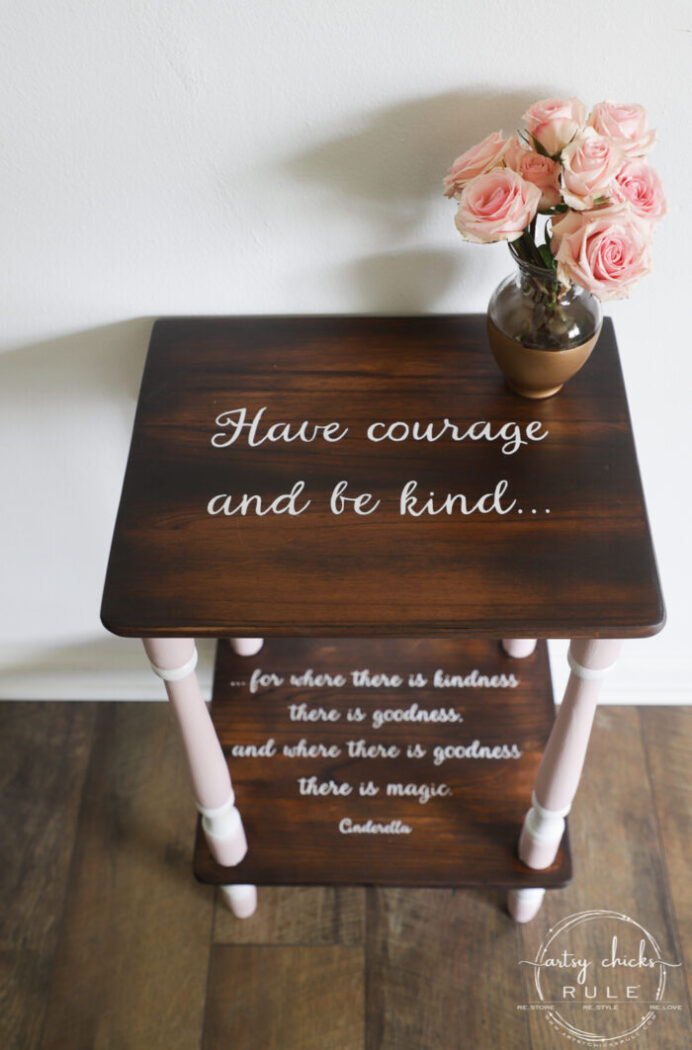 I used General Finishes High Performance (water-based) topcoat on the legs instead of the gel topcoat.
And you might notice that not only did I do pink (Antoinette Pink – Annie Sloan) on the legs, I also trimmed in a bit of white.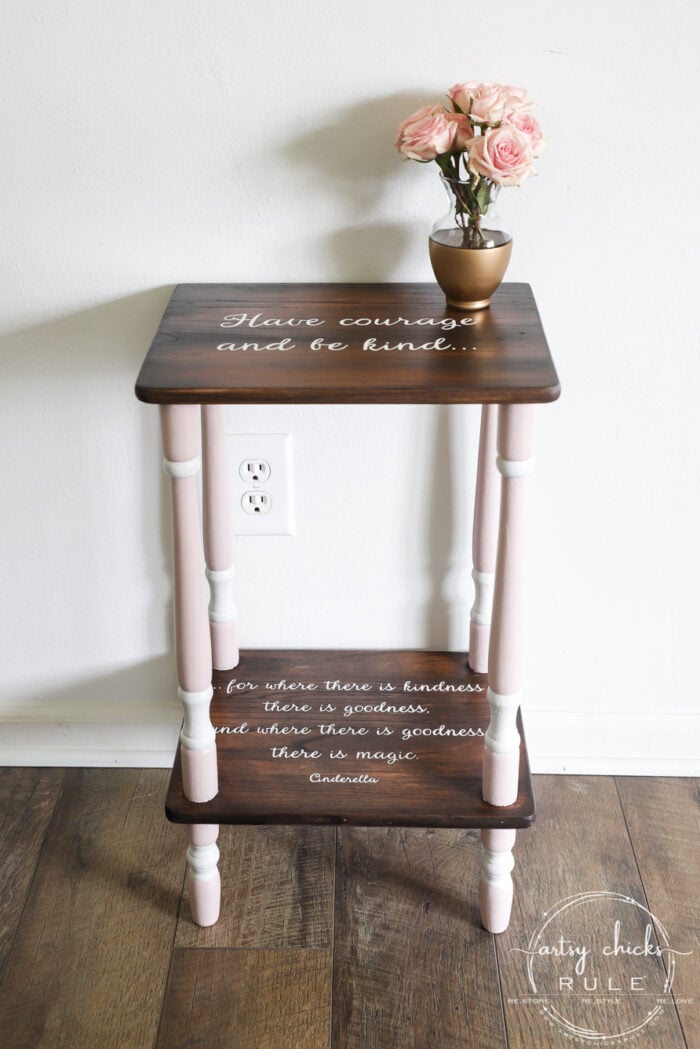 Perfectly girly, don't you think?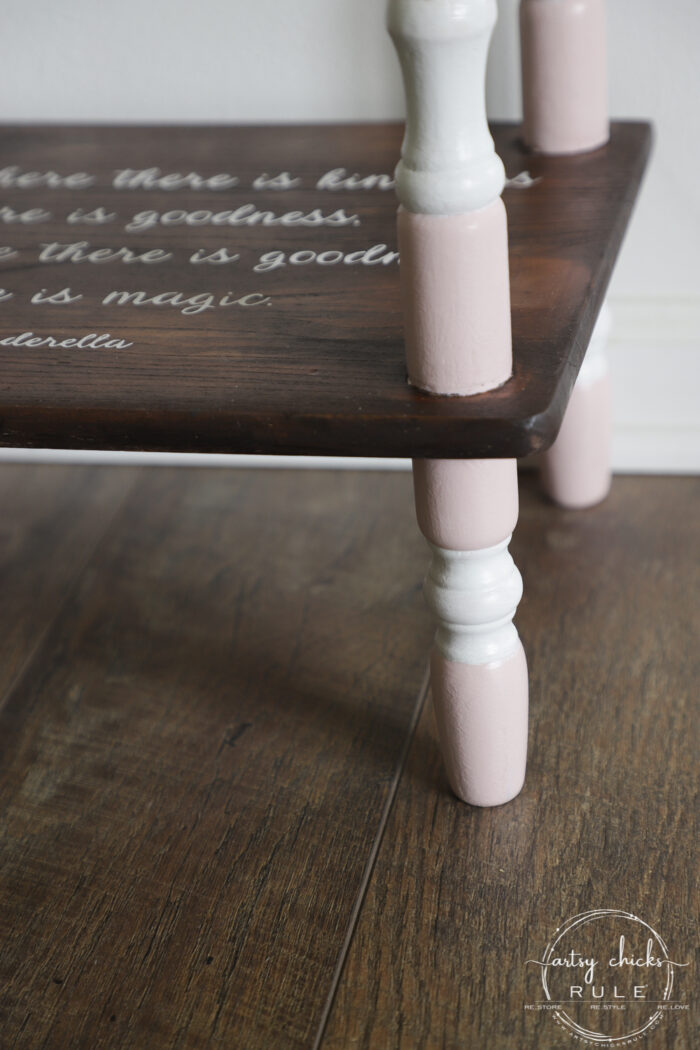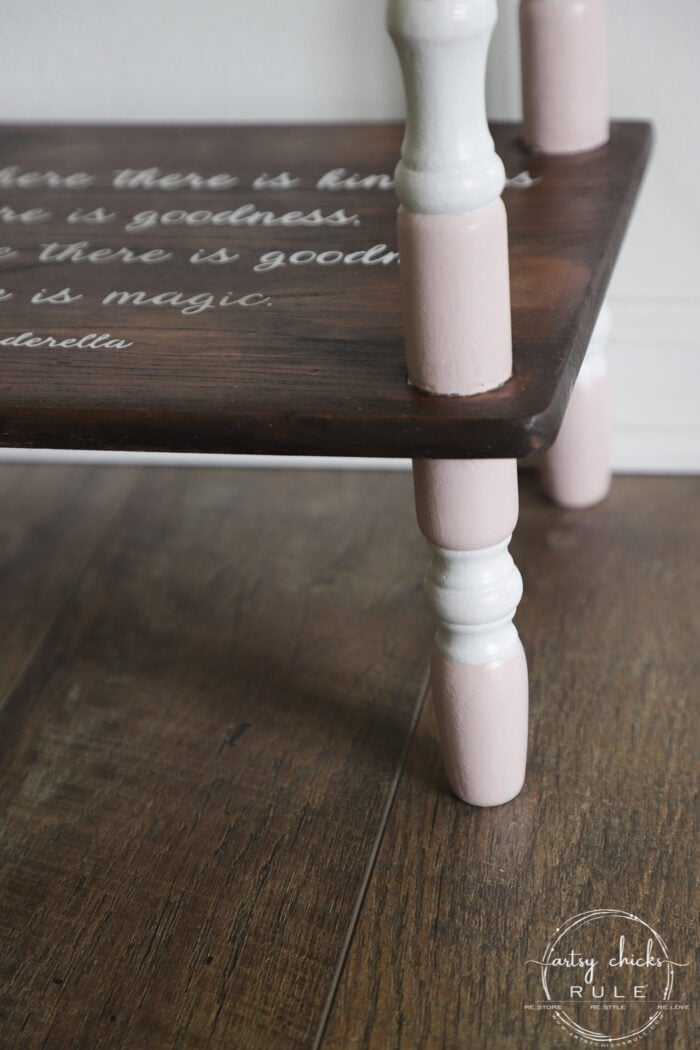 I so love this quote.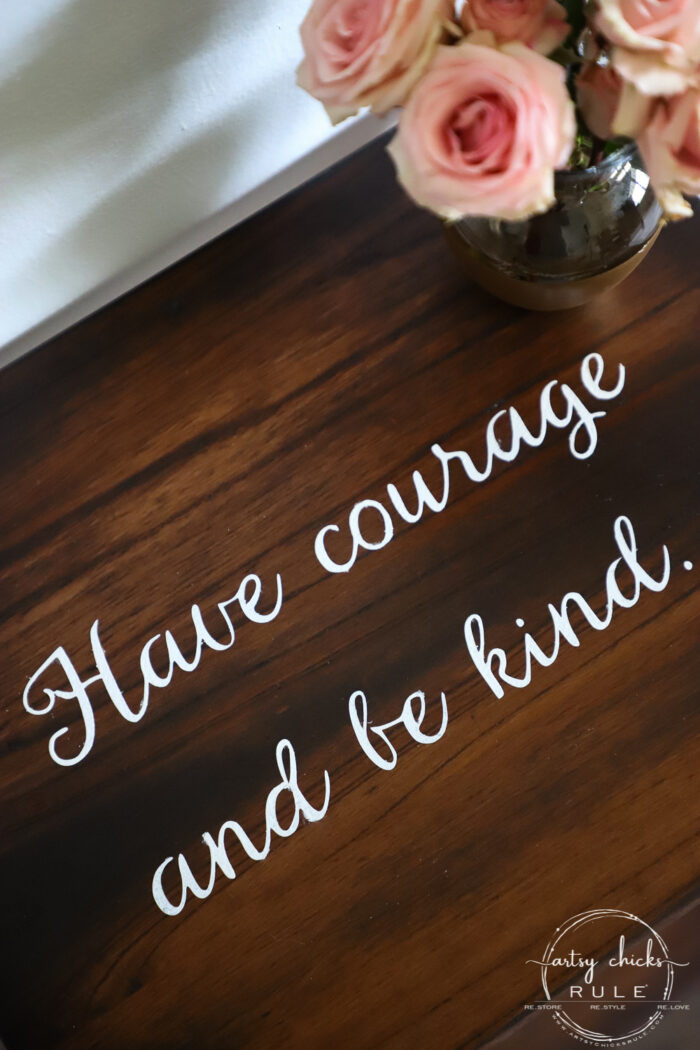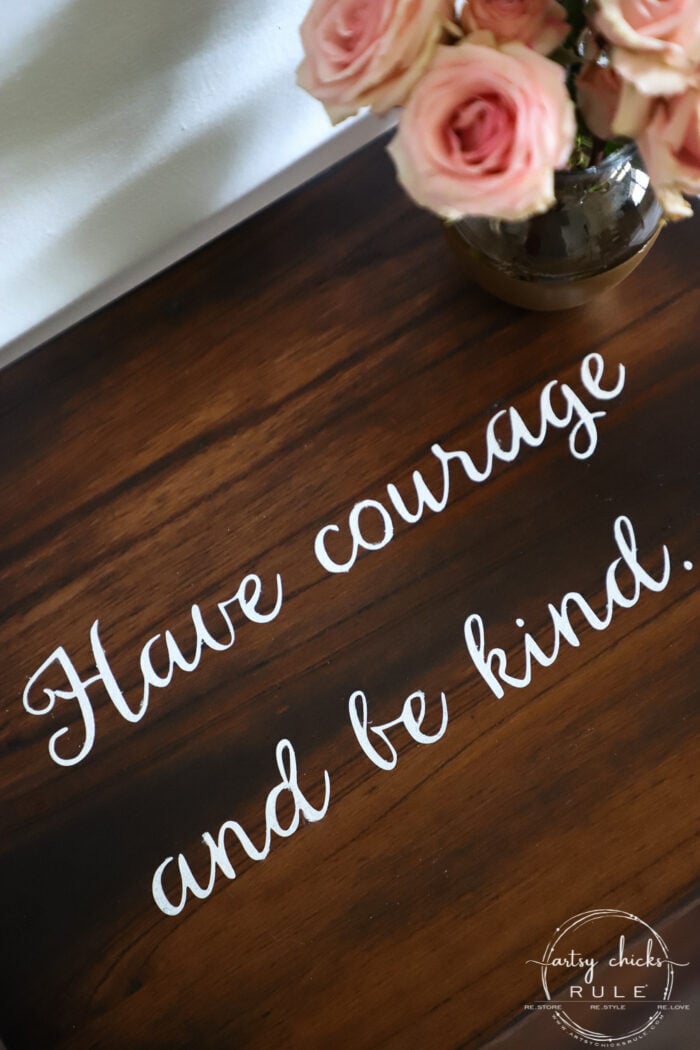 Want the free printables??


If you are already a subscriber, you can click here, enter your password (it can be found near the top of all my emails to you) and download this or any other graphic I've created over the years. (over 100!)
If you aren't yet a subscriber, you can click here or the pink box below to become one to gain access.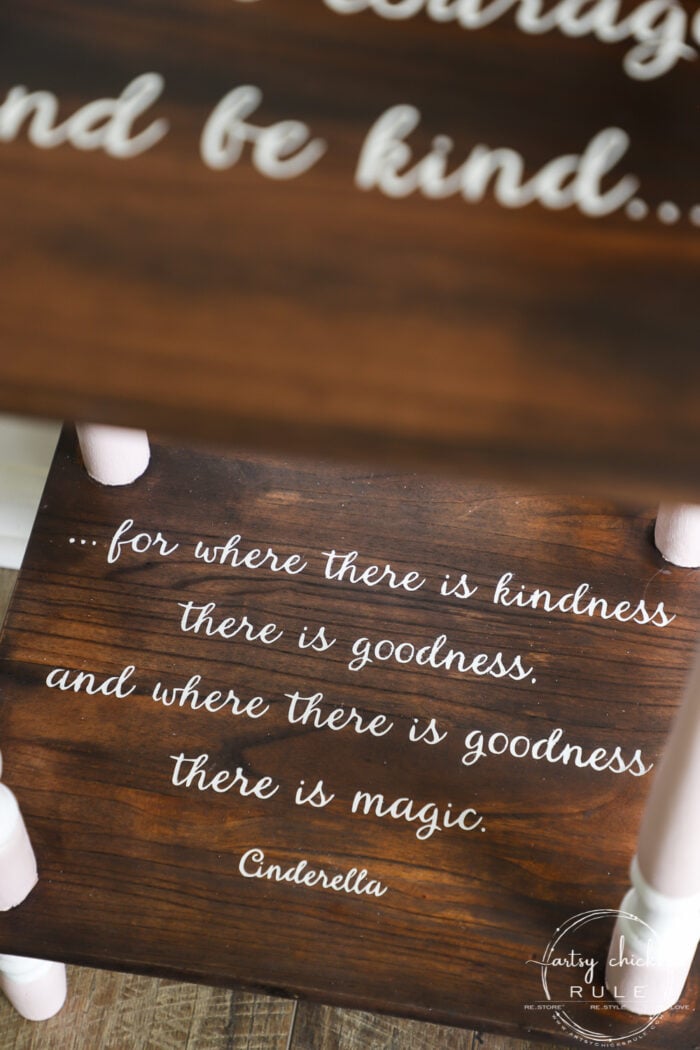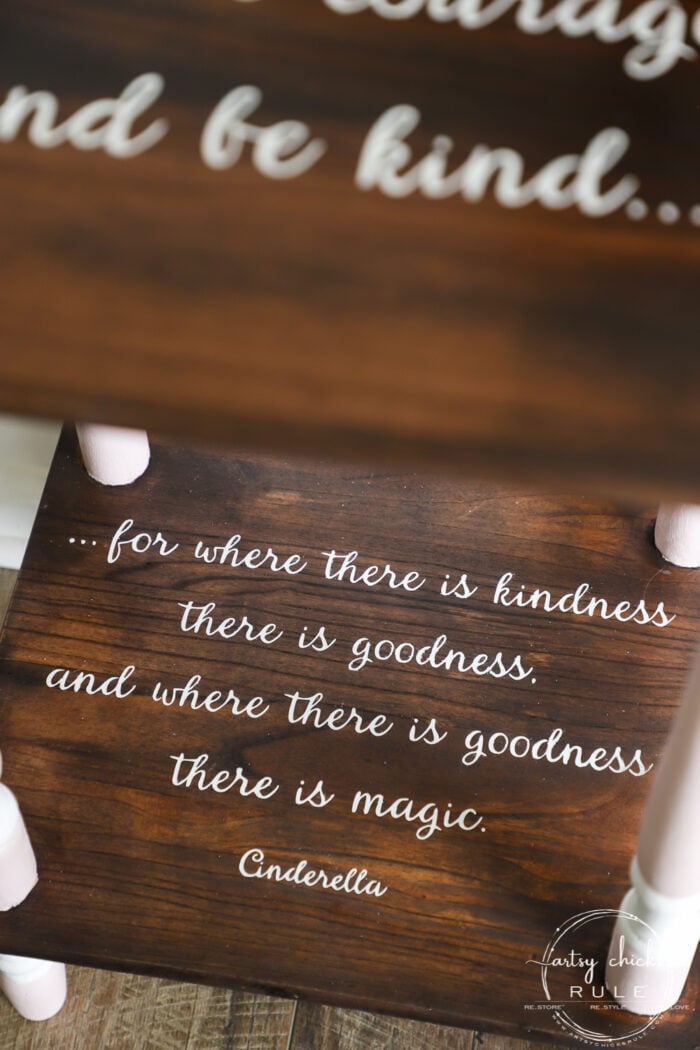 And loving the contrast between the dark brown and pink colors too.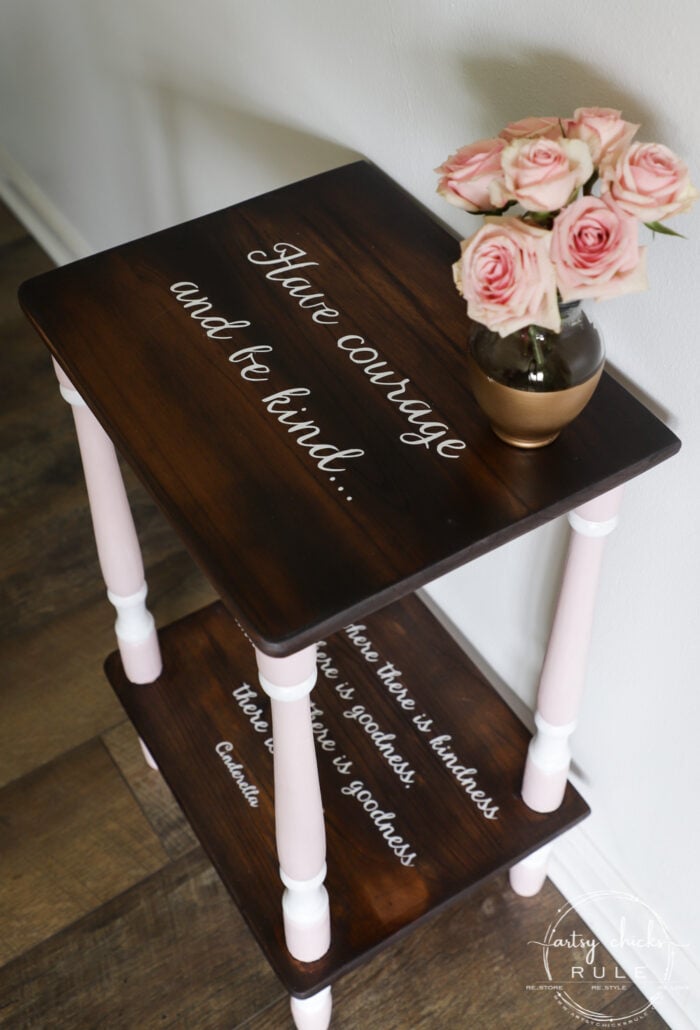 Those are part of the roses I picked up at Trader Joe's the other day.
I think they are just beautiful and they smell yummy too.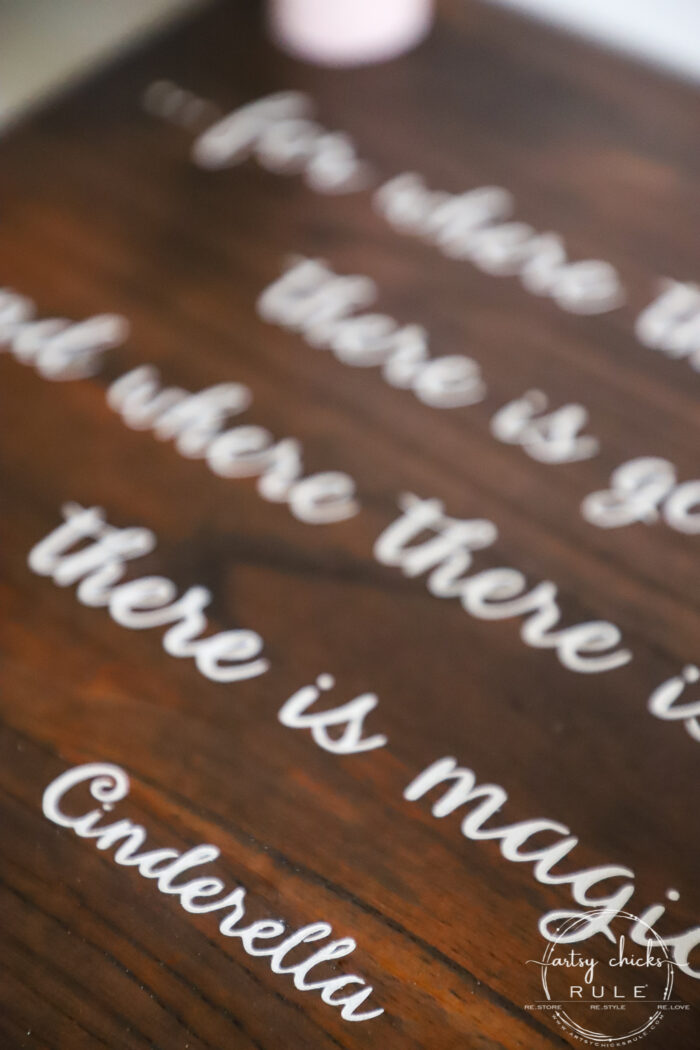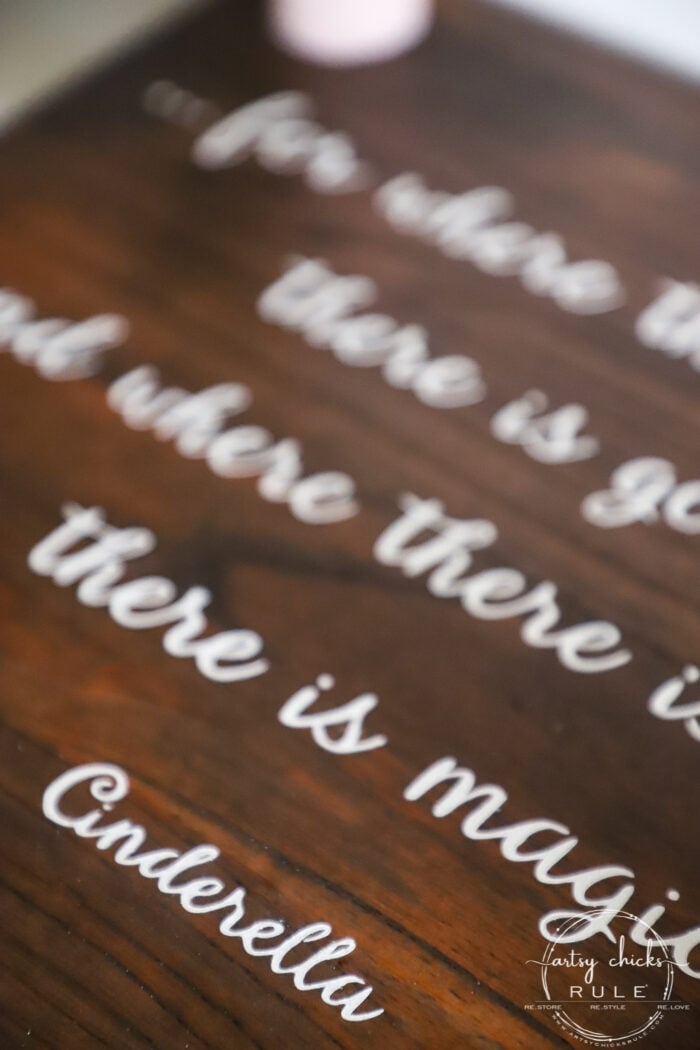 By the way, the "gold dipped" vase is one of three that I made several years back.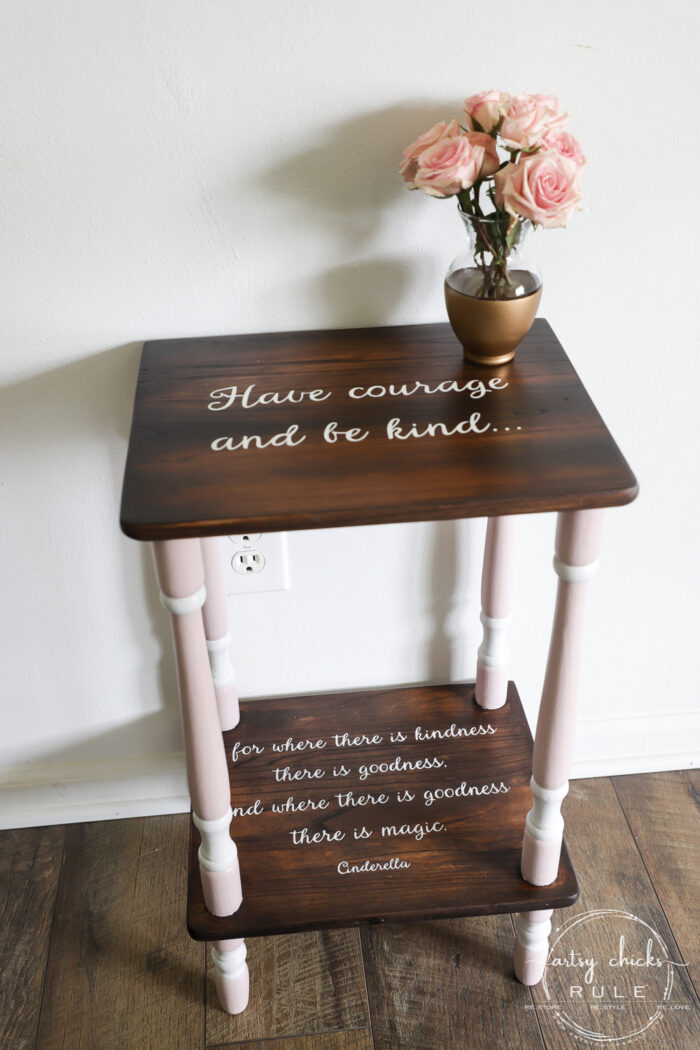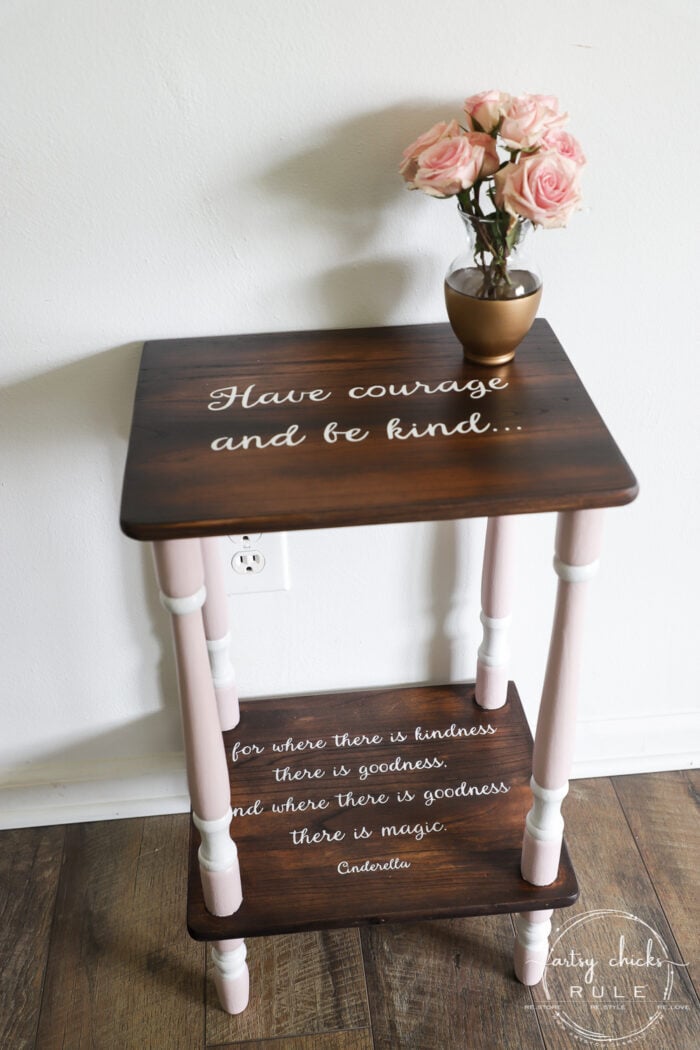 There is a small, medium and large that I found at a thrift store, brought them home and painted them.
I have a little trick to getting the line perfectly straight around the jar when spray painting…. you can read all about it here >>> Gold Dipped Jars
I went way out from my usual on this one. Such fun to get outside of my normal creative circle.
Gotta do that every once in a while. I think you may see a lot more colors around here this year!
PIN it to save it!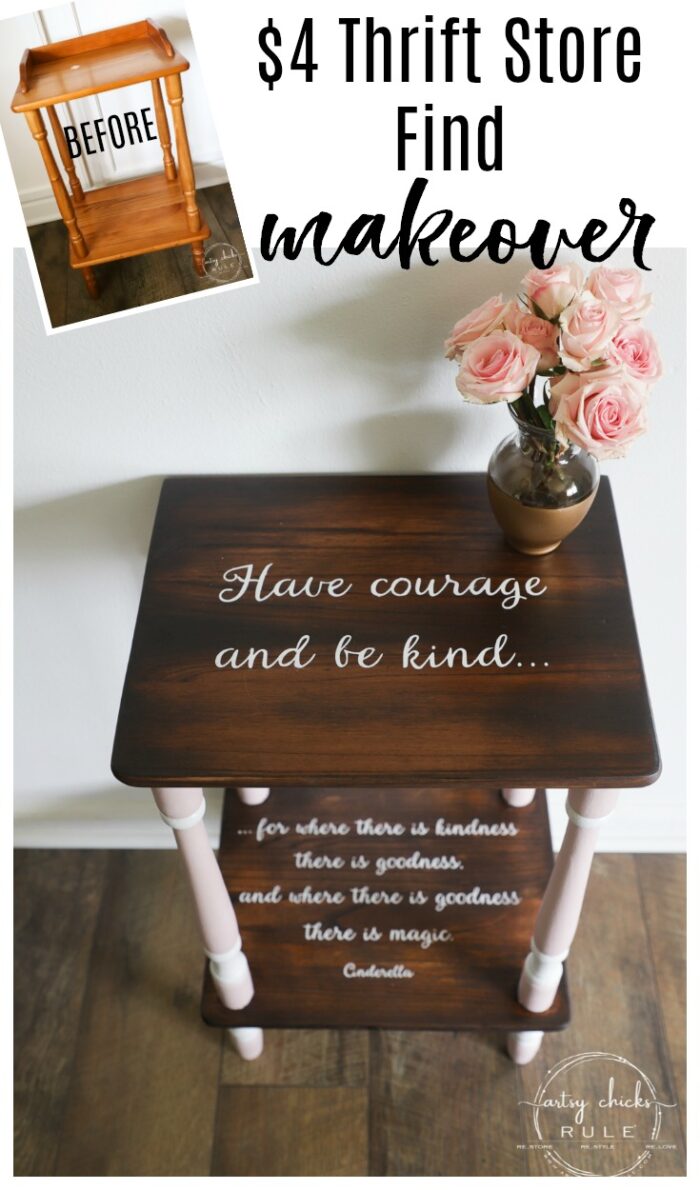 If you missed any of the rest of this haul's makeovers, you can see them all right here: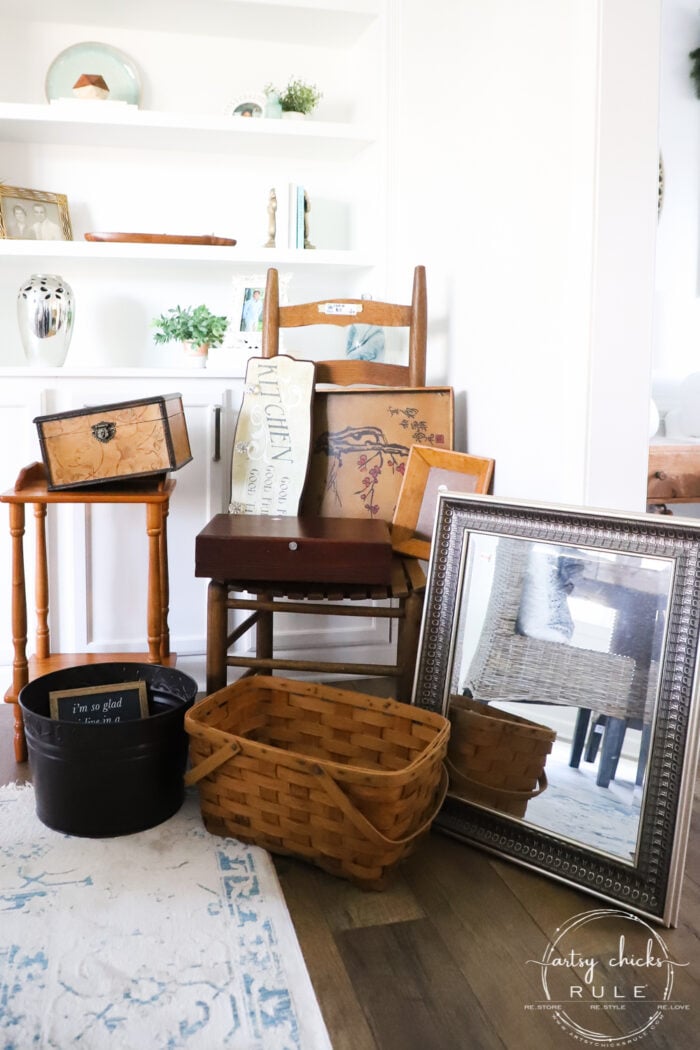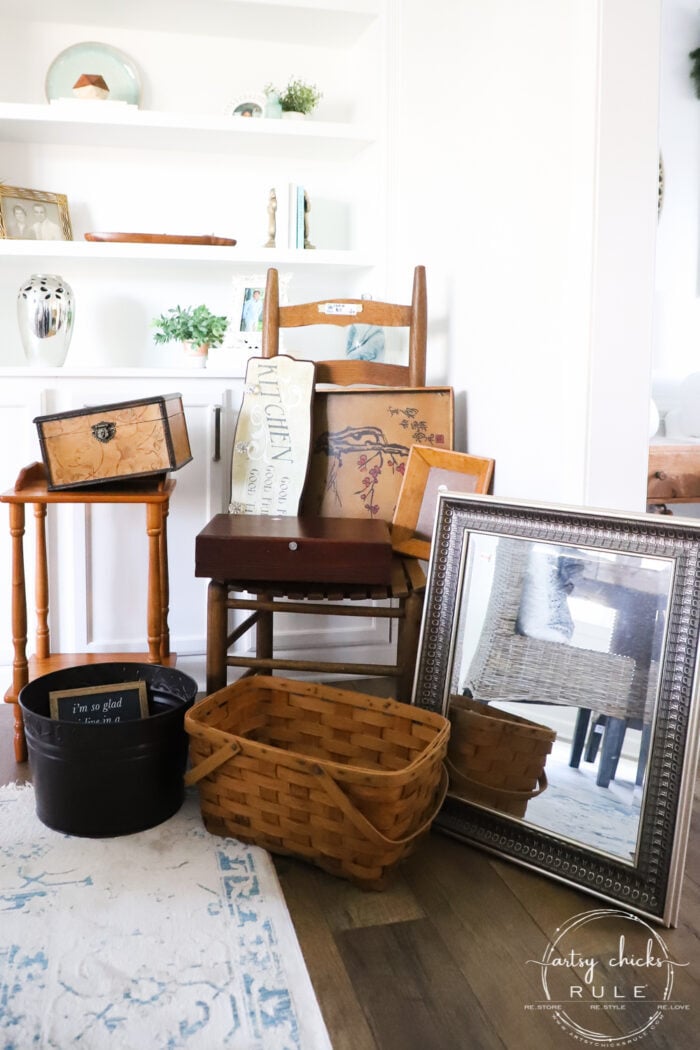 I'll be back with this furniture makeover next time! It's a third times the charm on this one. ;)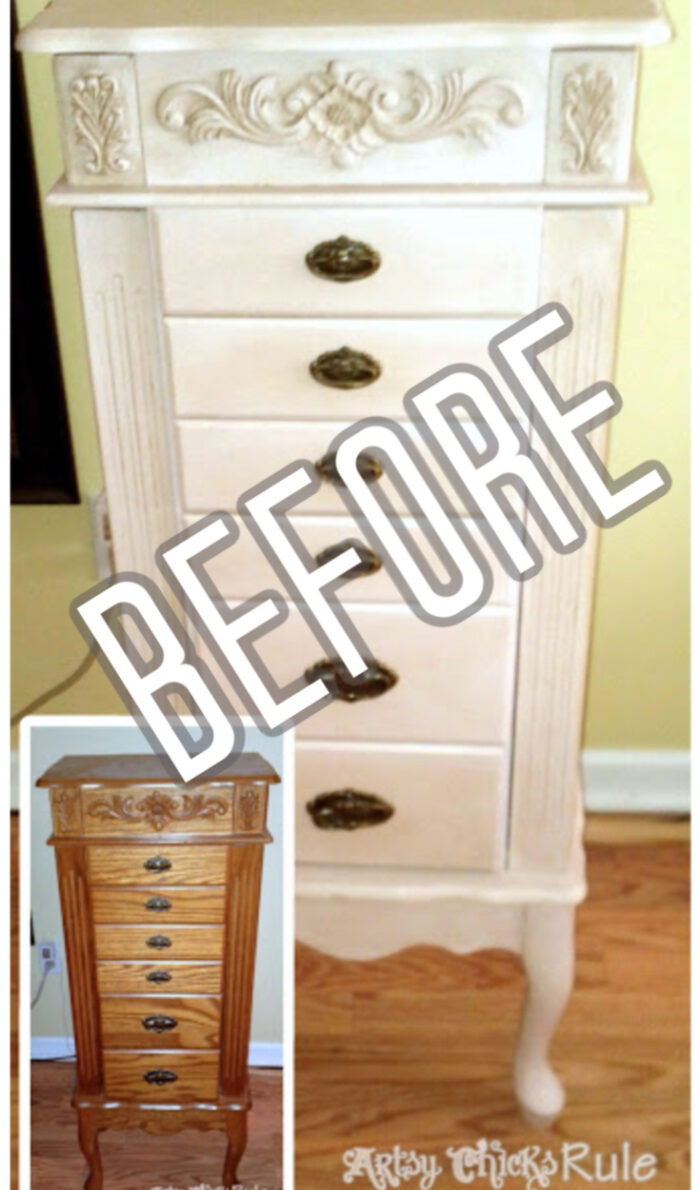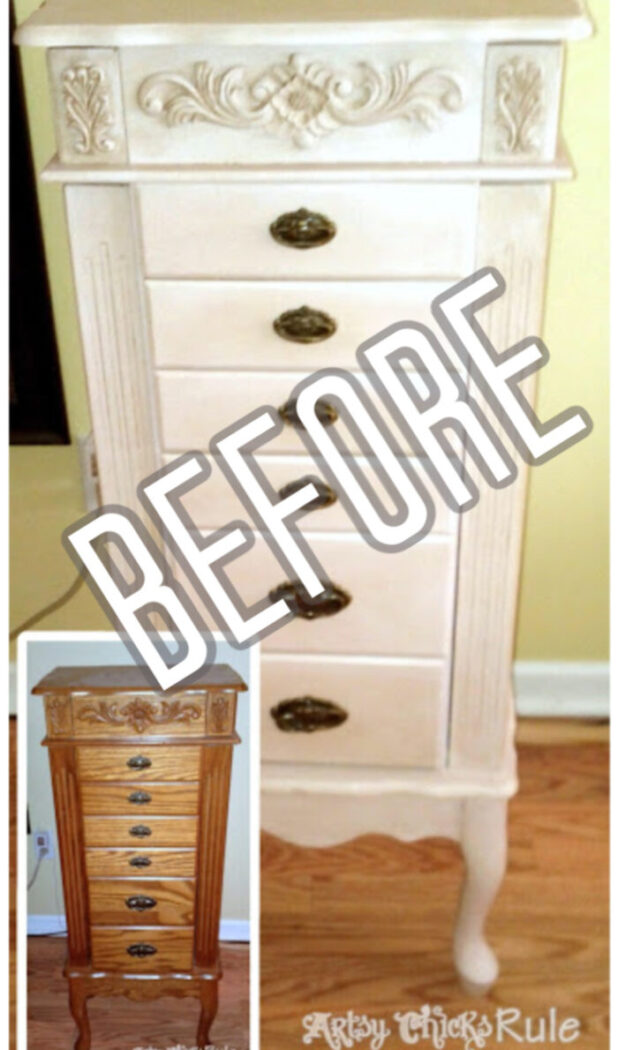 UPDATE!! See it now, here!
I hope you have a wonderful weekend! We may get snow here in southeastern Virginia. They are calling for it…eek! :)
xo