Decoupage with Tissue Paper Makeover
This post may contain affiliate links. Please see disclosures here.
Decoupage with tissue paper is a great way to liven up those old thrifty finds! With so many decorative tissue paper options it makes it a great way to give those old finds new life.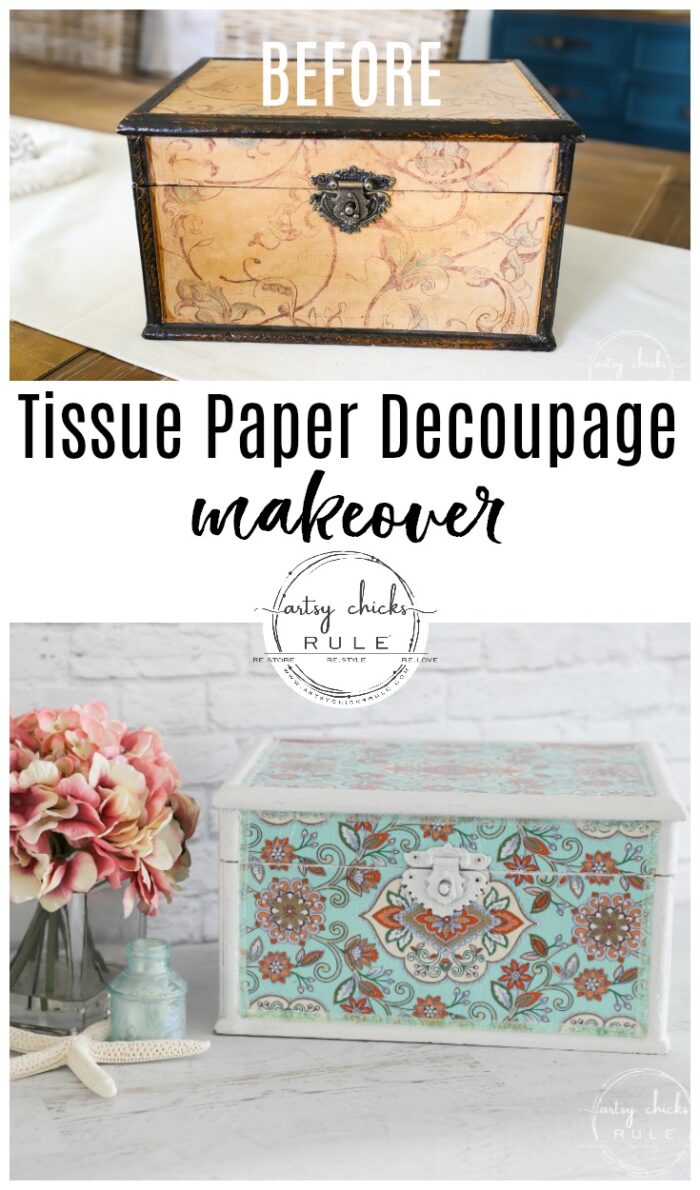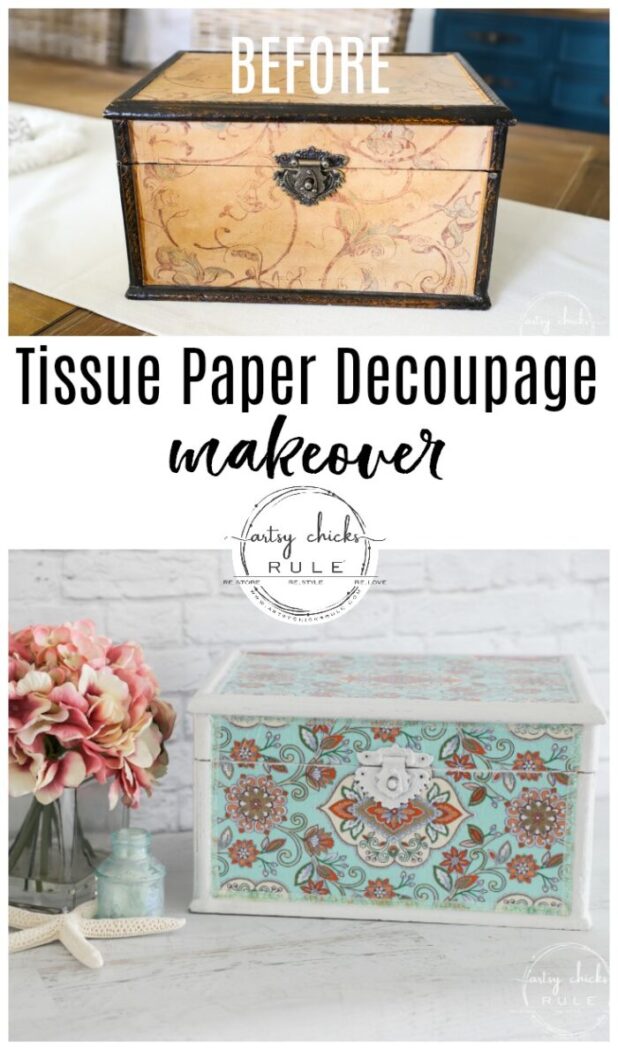 Hello friends! Happy St. Patrick's Day!
I did something a little green today (well aqua-ish, but that counts right?) and didn't even plan it that way.
How are you all doing? Hanging in there? Trying your best to stay healthy and all that?
What a crazy world we are living in right now. It changes by the day. I pray the world is able to overcome this thing and soon.
I know we are doing our part over here and staying home as much as possible. I do have to go out to care for my elderly father but that's it if I can at all help it.
All we can do is the best we can do. And our part. We must do our part.
As for me and the blog, well, my hope during this time would be that this little blog of mine could be a nice escape from the "real" world for you. A place to get away from all the news and such. Even if just for a little while.
I will still be plugging away here doing projects and sharing pretty things. I have quite a few smalls I can work on and share without having to go out anytime soon to find more. Plus, as my husband so sweetly reminded me the other day, I have 2 storage units filled with things I vowed to empty this year!! haha I suppose I can get those pieces over here and work on them in the coming weeks too.
Our son came home from college and is doing it online. My husband is also working from home. Our daughter lives on her own and is staying in for the time being too. Since I work from home, thankfully, not much changed for me. Except I've started getting my groceries delivered last week which is a nice time saver for me. I don't know why I never did it before this? But wow, what a luxury it is. I'm a "DIY" girl through and through, I have always just done my own, well, just about everything. So it never occurred to me to do it….until the "social distancing" began and I decided I'd try to avoid all places, even the grocery store, if at all possible.
Funnily enough, I did start getting my dad's groceries every week through the Instacart pickup (not delivery) last year. That was a huge time saver too. But wow, getting mine delivered on top of that. Even bigger TIME SAVER!
Anyway, enough on that. It seems everyone is in on that game now with all this stuff going on. I'm very thankful for the option though. Especially in these times as they are right now. What a hard thing we are all navigating and going through. Something to definitely remind us that we are all together in this thing called life. We must remember that.
Okay, let's talk green…(well aqua, whatever :) )
Decoupage with Tissue Paper Makeover
Today's tissue paper makeover is part of my thrifty haul…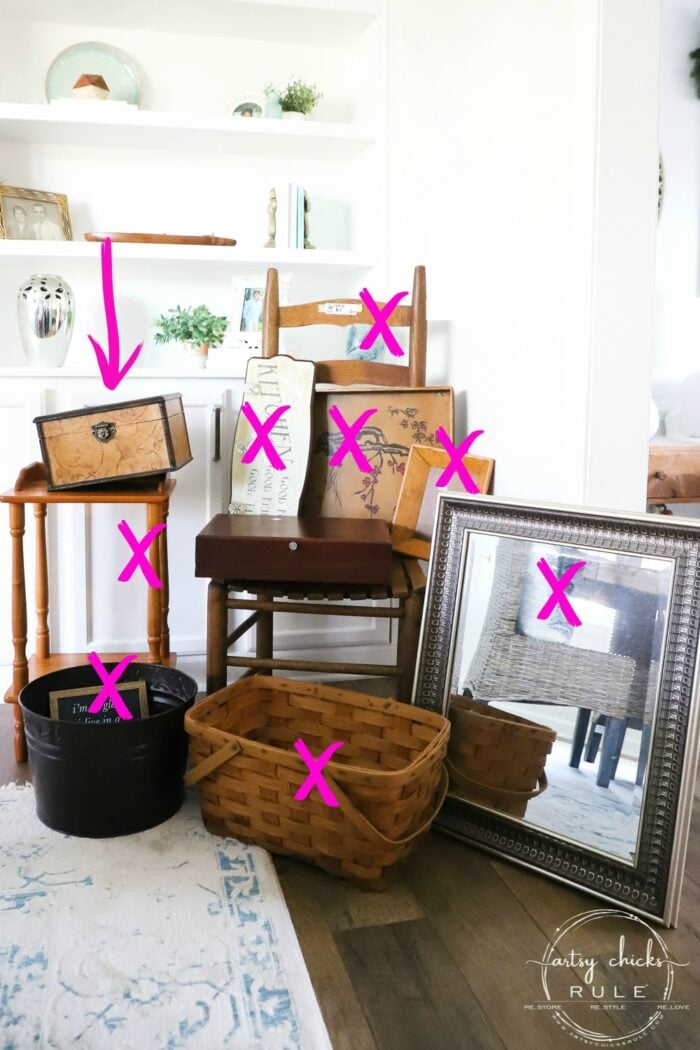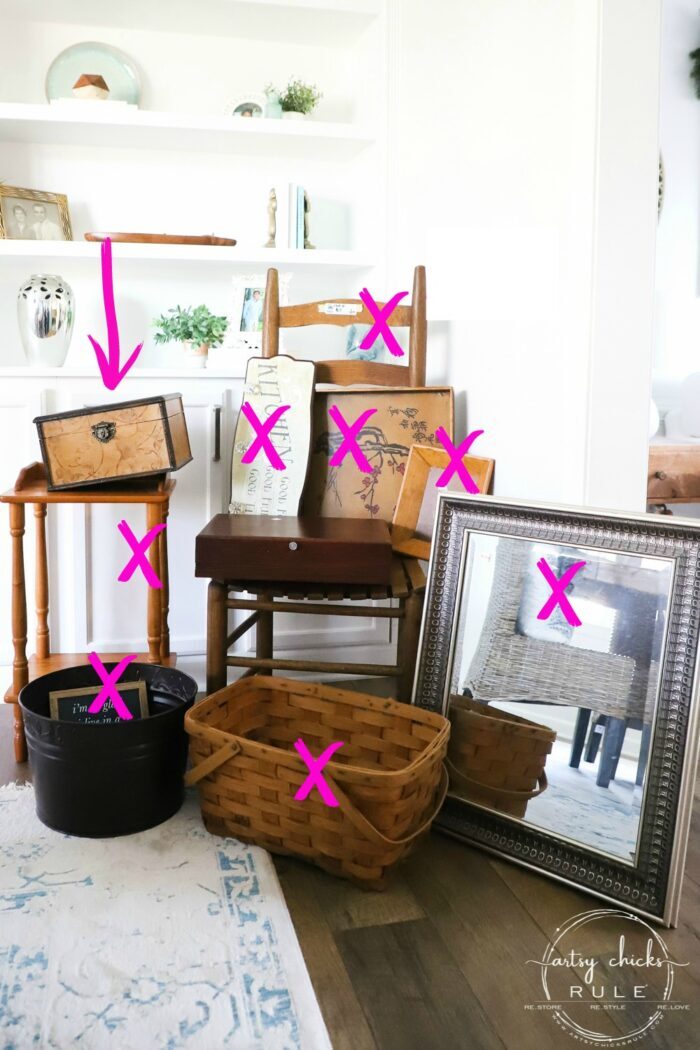 Only 2 more to go!
If you missed any of those makeovers, you can see them right here:
And it started out like this…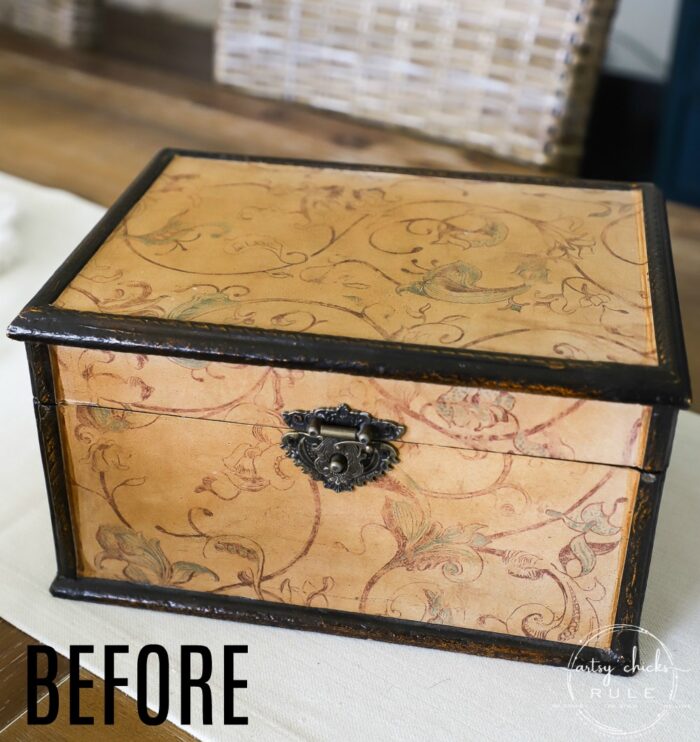 The outside, eh, the inside was in great shape.
I started out by peeling off all of the paper on the outside.
Then I sprayed the outside with primer, and then white spray paint.
Once it was dry, I pulled out this pretty "green" (only for today…after today, it is aqua ;) ) tissue paper out.
I simply "measured" by laying the paper on each side of the box (using it as a guide) and using a pencil, marked where it needed to be cut.
I love this paper! (It's linked below)
I've used it a few times and even gave it away in one of my giveaways.
Would you like to see a package of this tissue paper in my next giveaway?? Let me know, below!
Here are some other projects I've used it on:
And here are the links to the supplies needed to do this project…
Next, I pulled out my cutting mat (linked above) and cut the pieces out. (I like this cutting mat because it makes it easy to cut in nice, straight lines)
To attach them to the box, I used Mod Podge and a chip brush. Using the chip brush, apply a thin coat on the surface you are placing the tissue paper.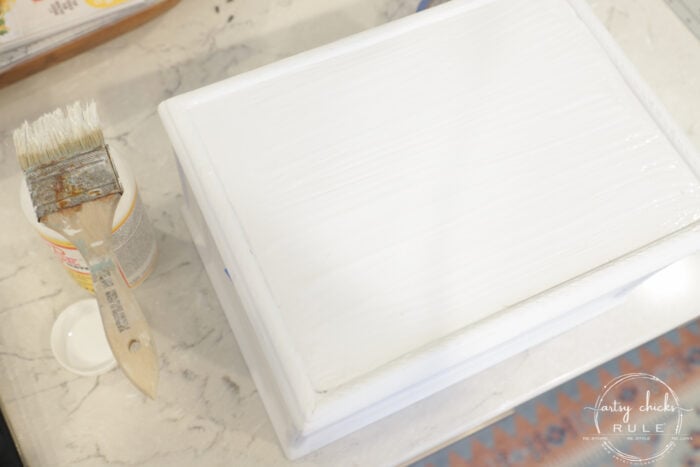 Then carefully lay the tissue paper onto the Mod Podge, smoothing it out gently.
It is normal for the tissue paper to wrinkle up some. It's very thin and it's just going to happen. We'll just call that character. ;)
For the sides and front, I cut one large piece out and glued it to the box. Once it was dry, I used the rotating cutter (that goes with the cutting mat) to cut along the opening, as so…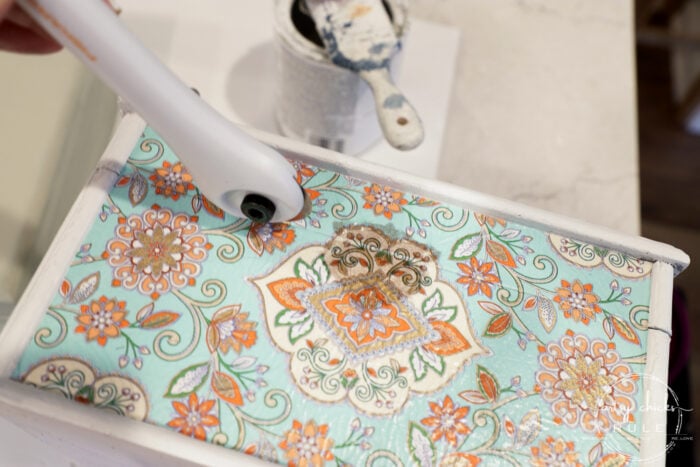 So much easier to do it this way, than to try to do two separate pieces.
I also took off the hardware before applying it as well. (again, so much easier than cutting around it!)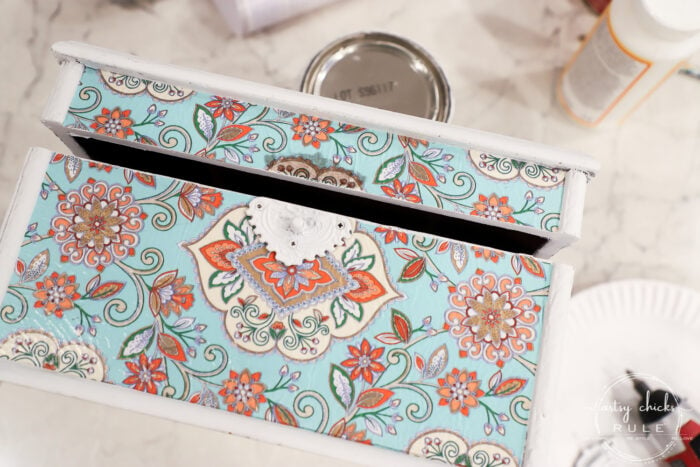 Once all the pieces were on, I let it dry completely. After it was dry, I used a high gloss sealer because I wanted to go super shiny on this one. (linked above)
After drying, I wanted to dress it up just a bit more so I added a very simple, thin, iridescent ribbon on all edges. (with hot glue gun)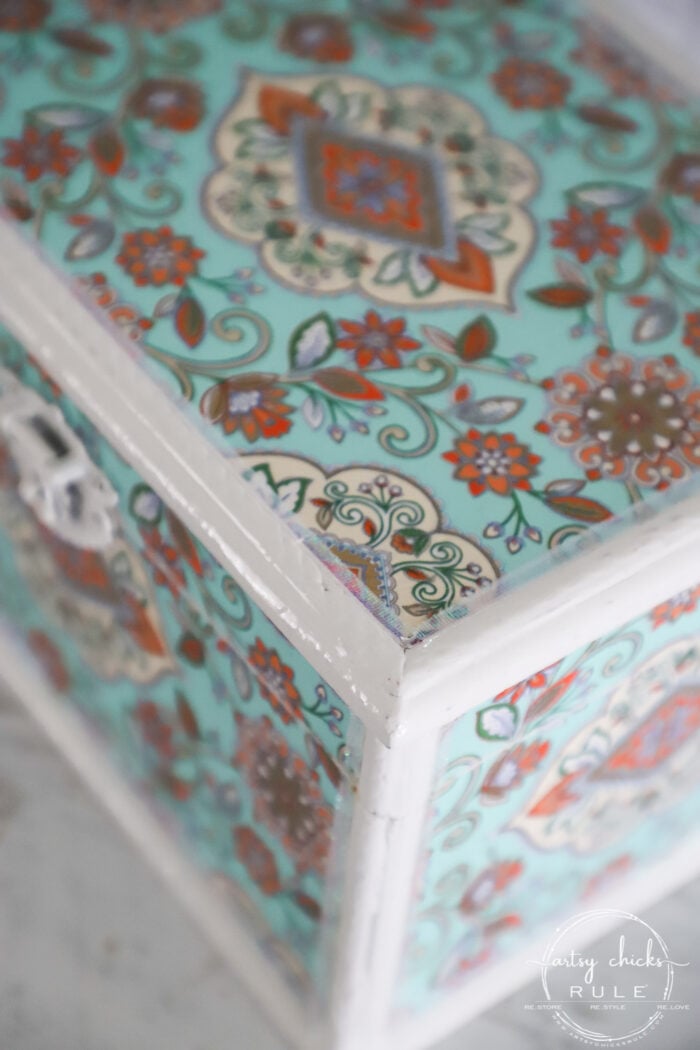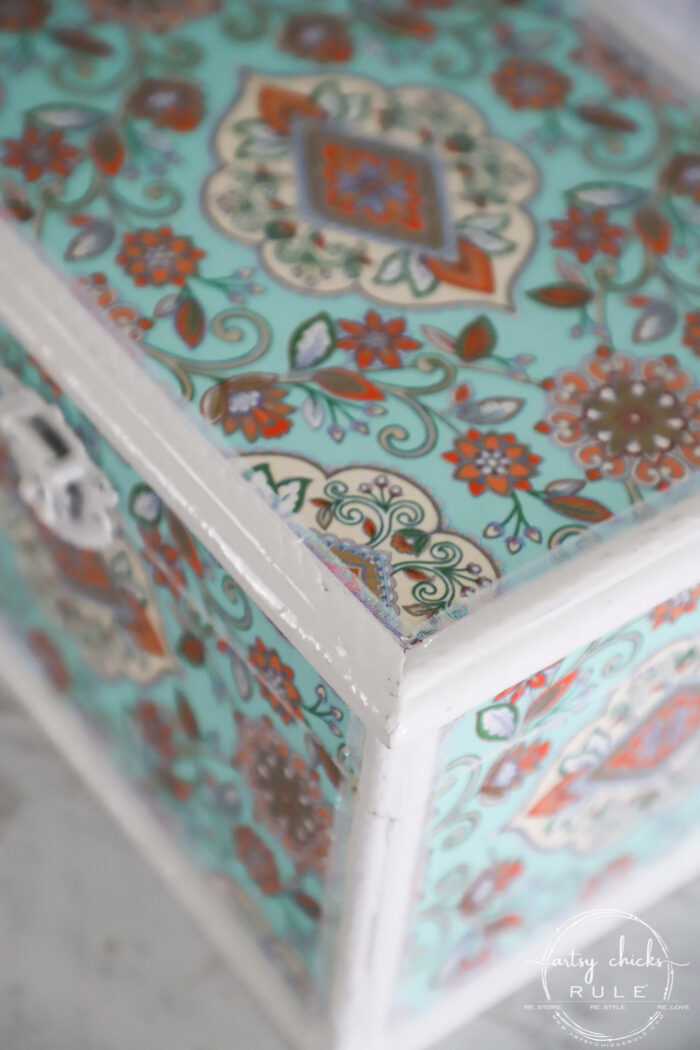 And that's it!
I didn't touch the inside because it was in perfect shape.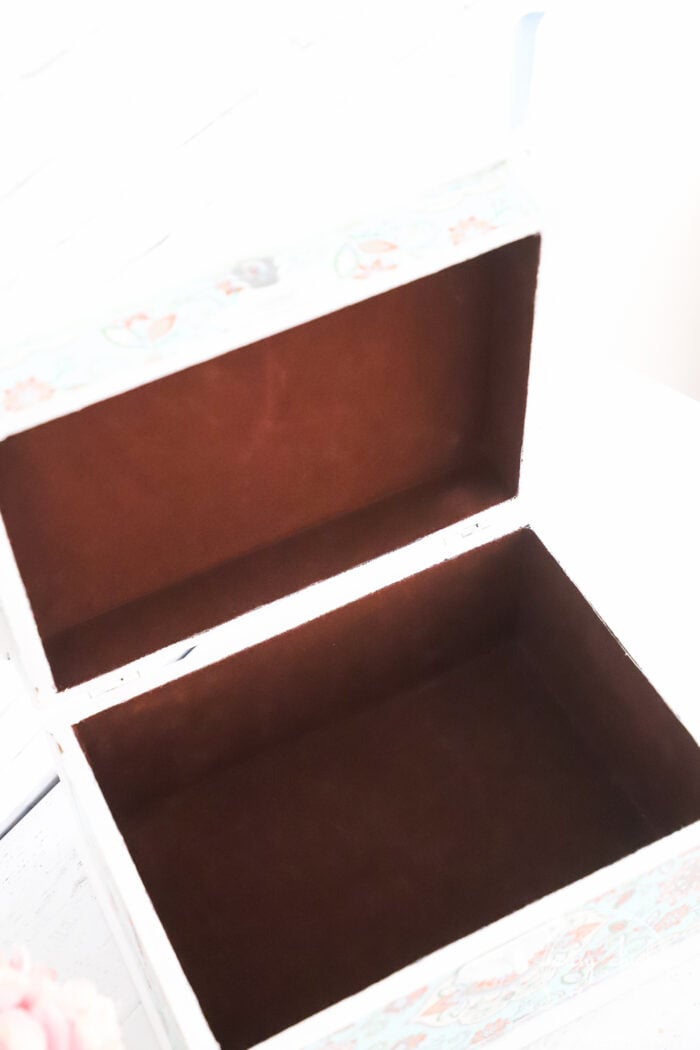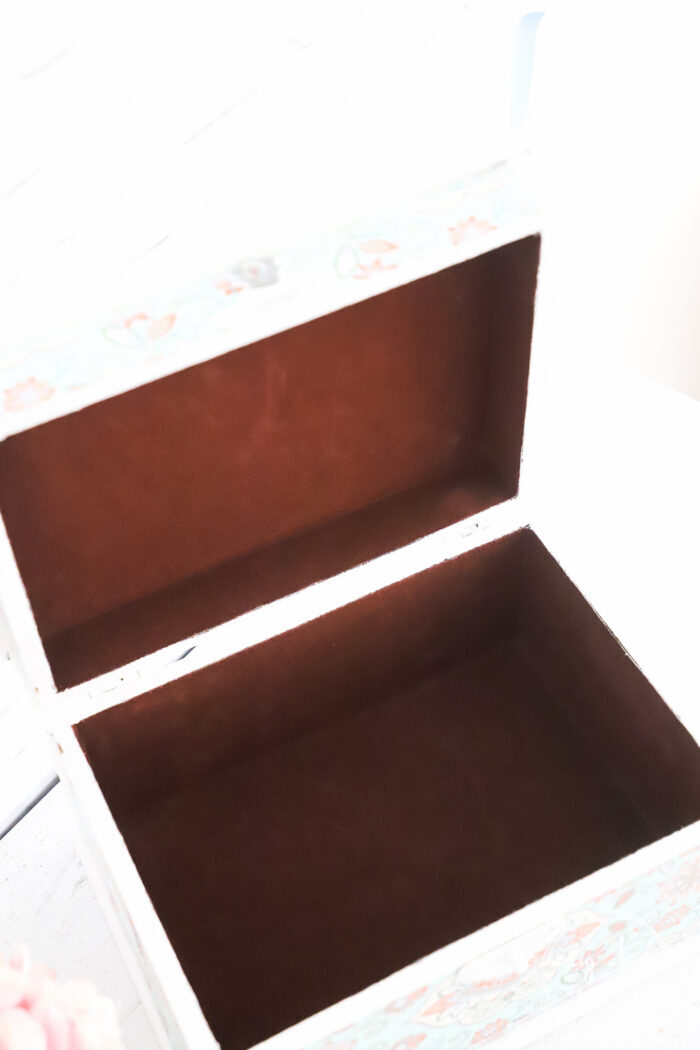 So only the outside got a makeover this time.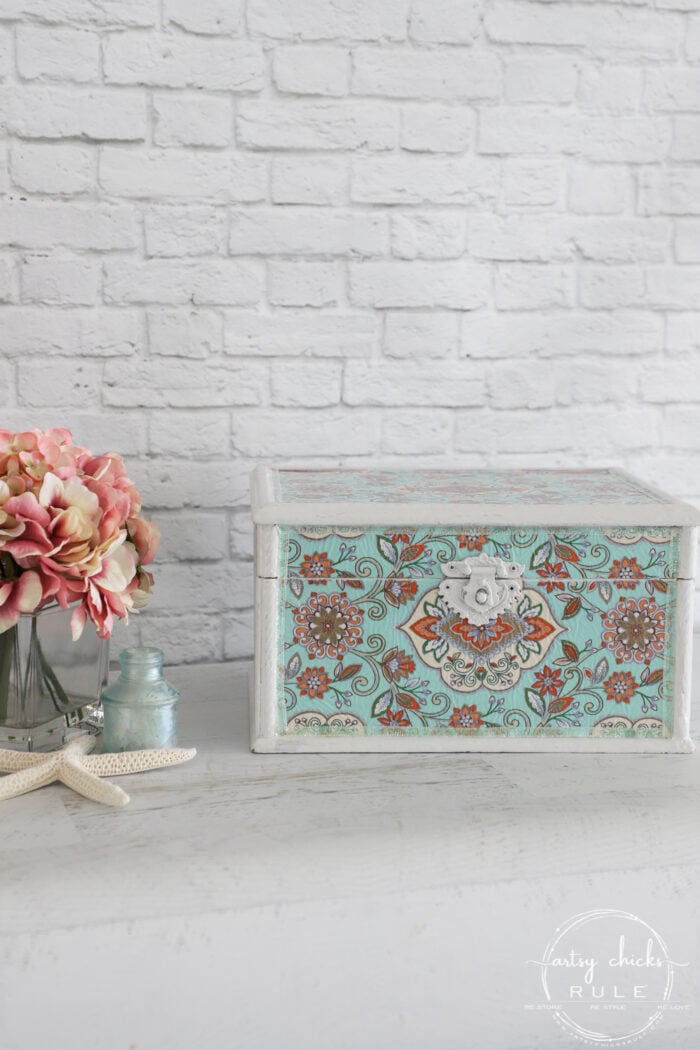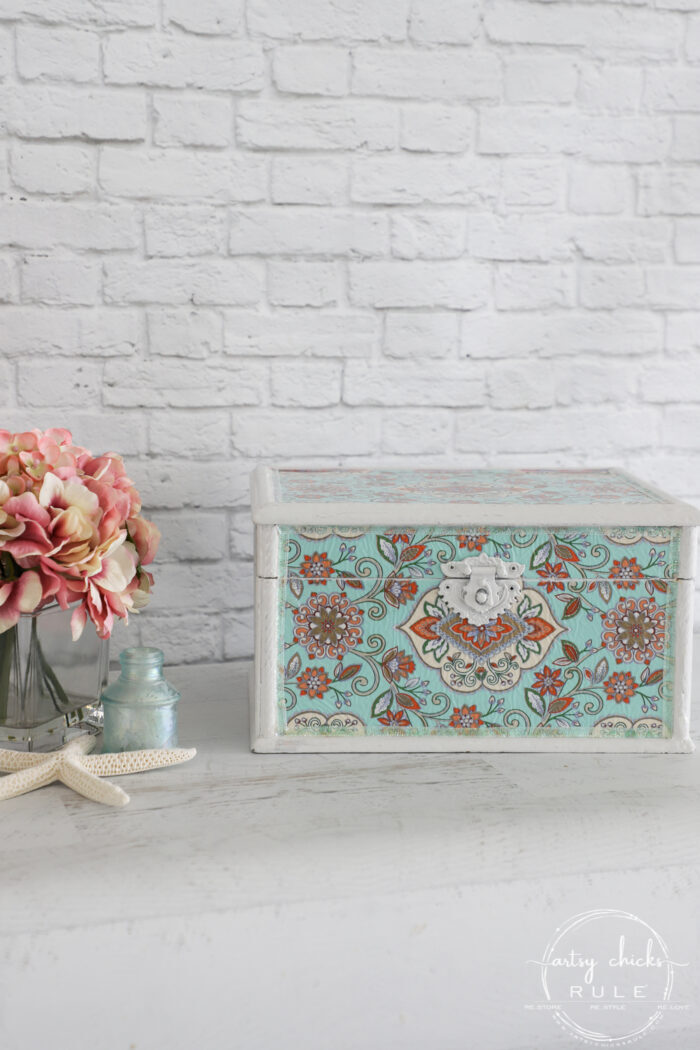 You might notice, I positioned it so the same center medallion was on each section.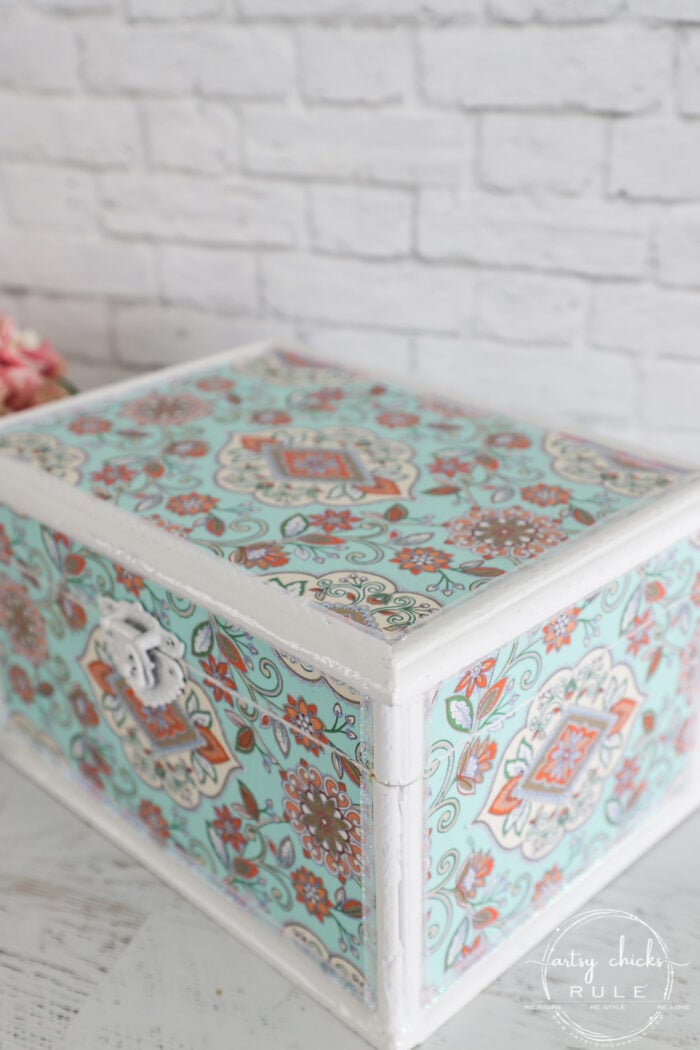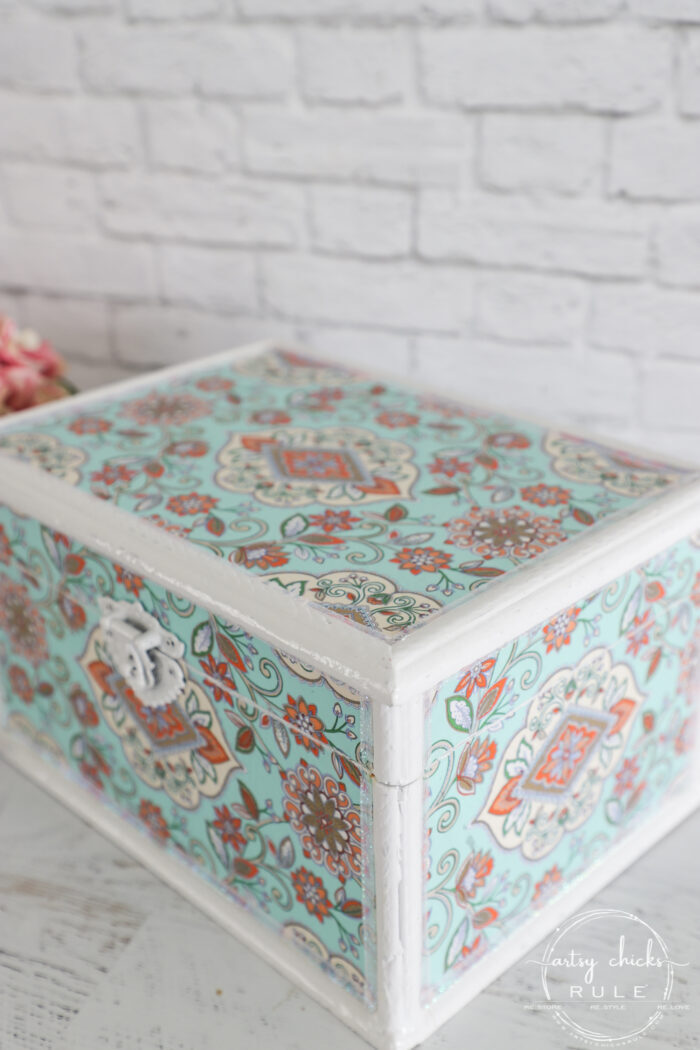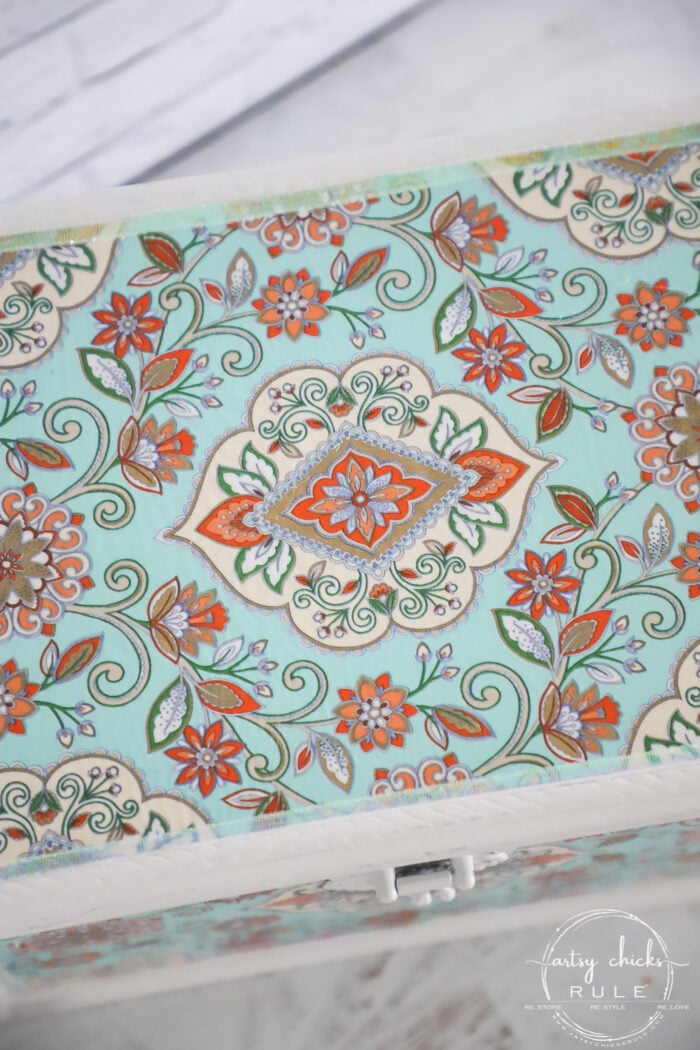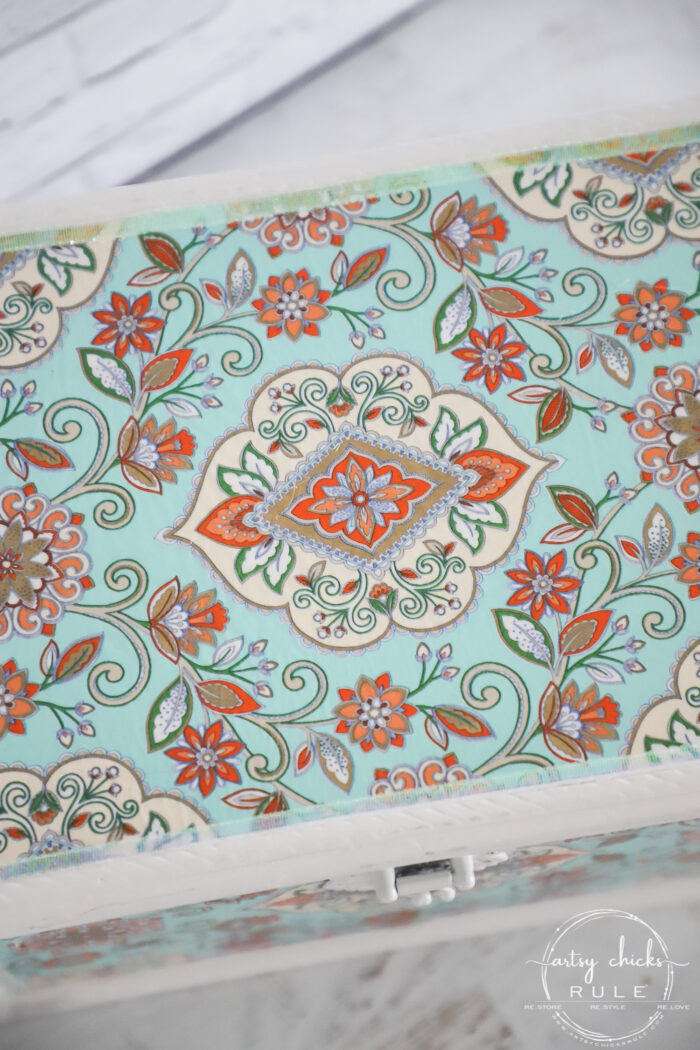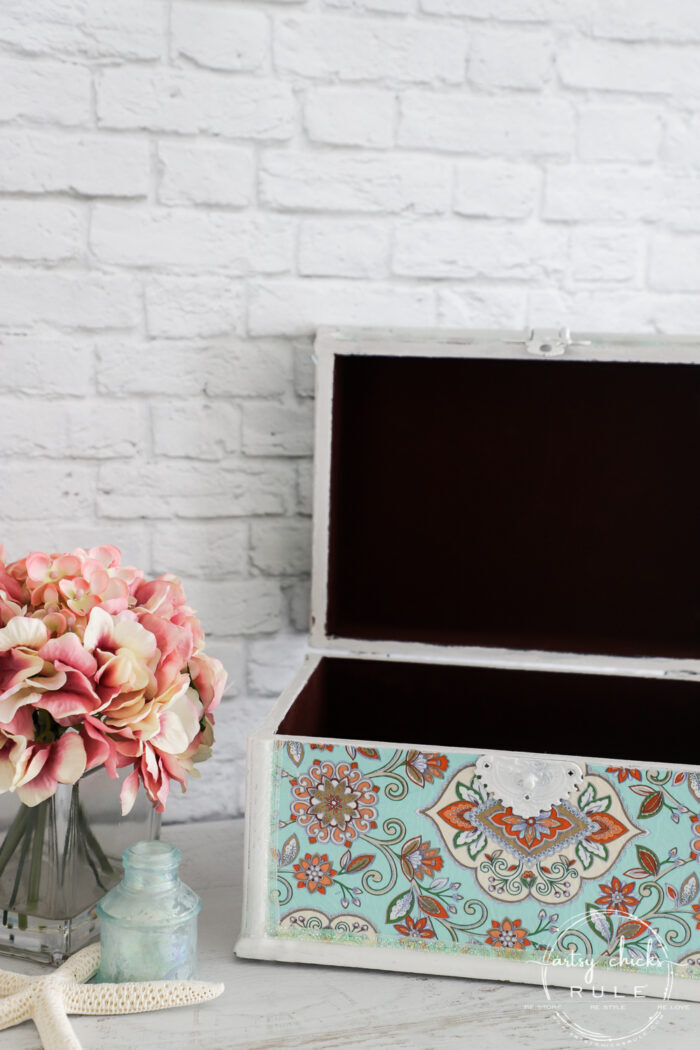 All ready for whatever you want to use it for.
Maybe storing small bottles of essential oils, extra soaps for the bathroom, jewelry, remotes, anything!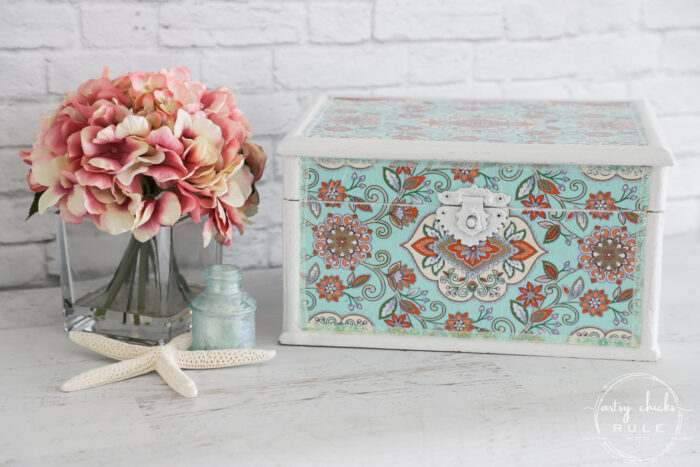 PIN it to save it!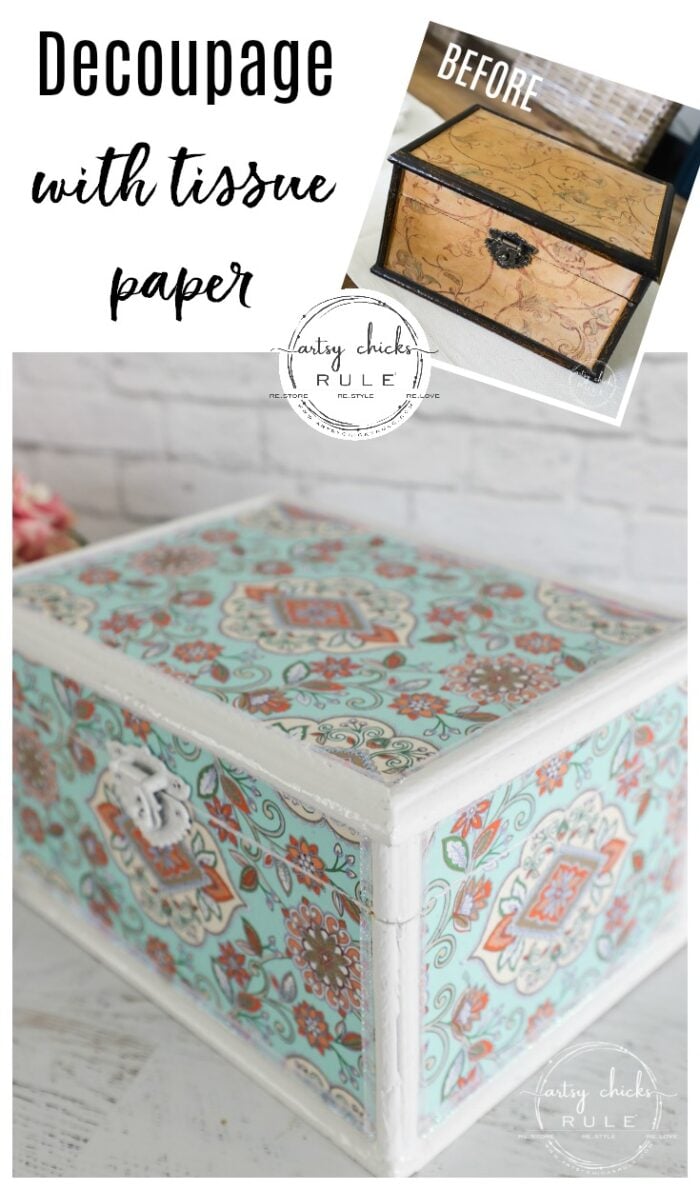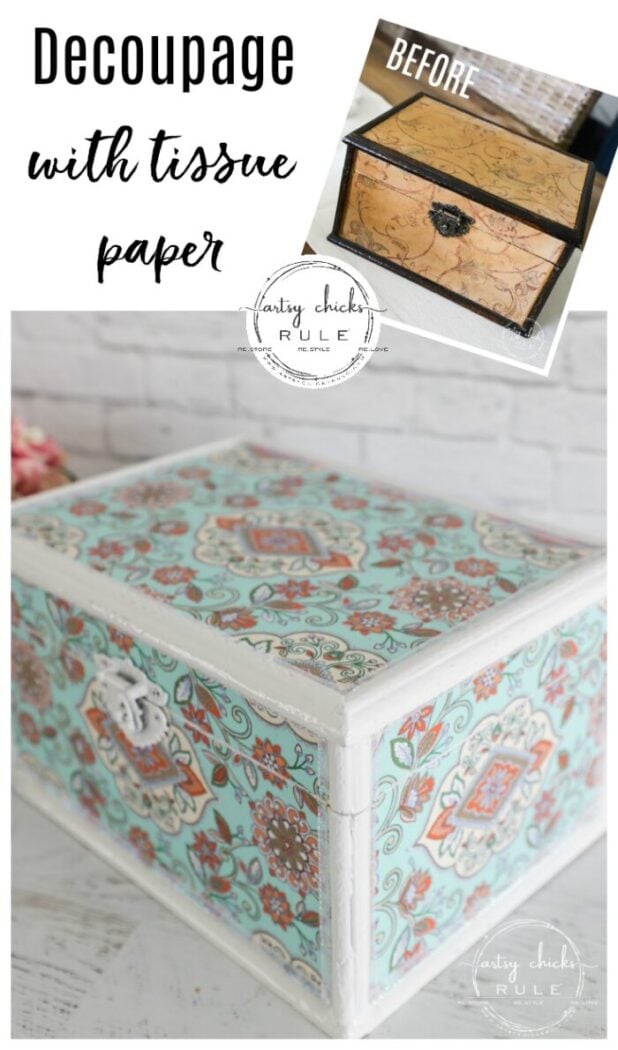 Want to see even more tissue paper projects??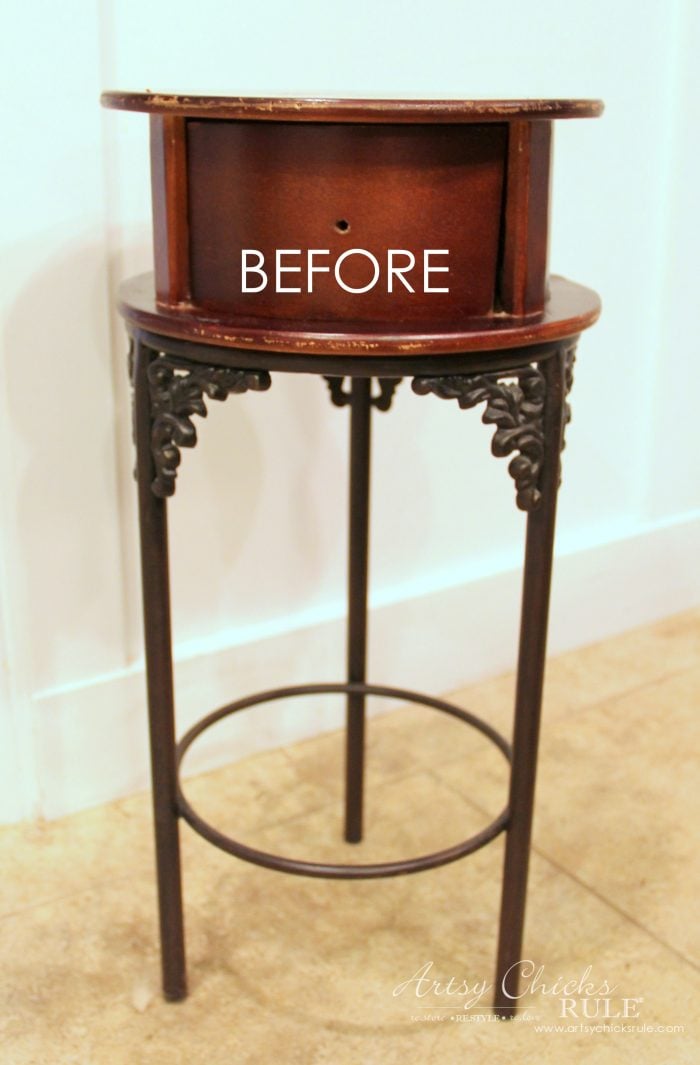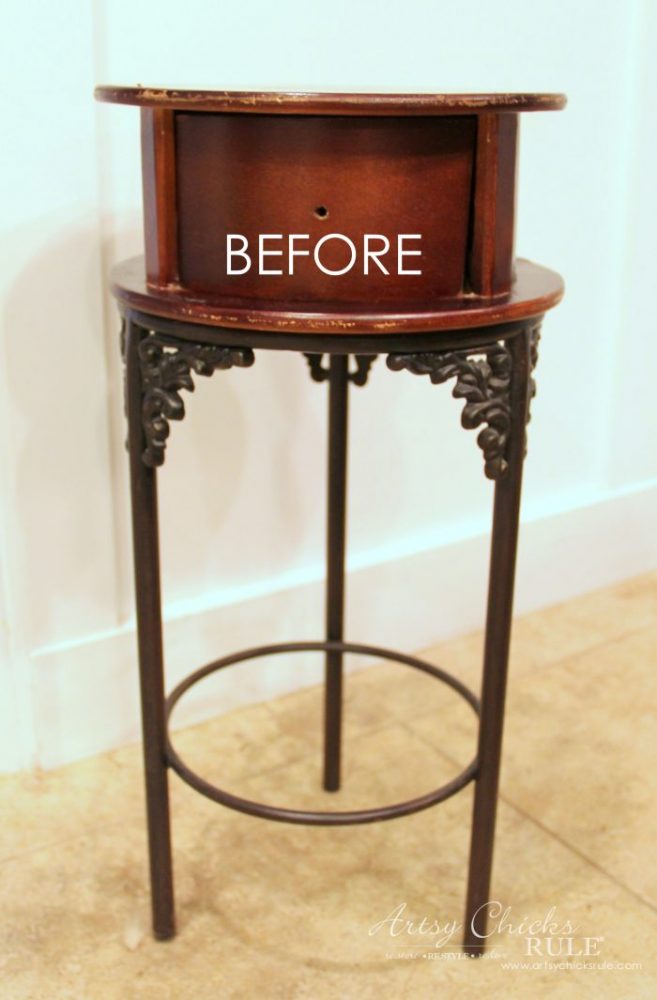 I used a little bit on this one, you can see it here >>> Antoinette Chalk Paint with Decoupage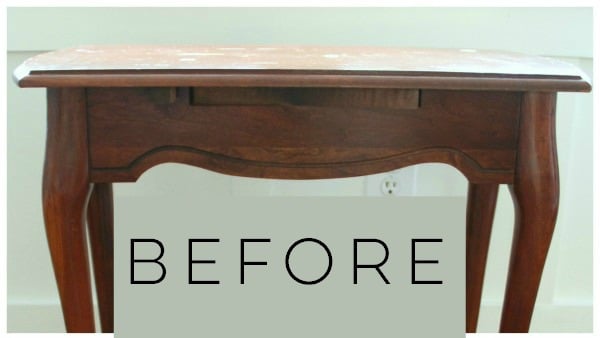 And this little table got a new look with tissue paper. I think this was my first go with it >>> $5 Thrifty French Paper Decoupage Tabel Makeover
If you missed any of the rest of this haul's makeovers, you can see them all right here: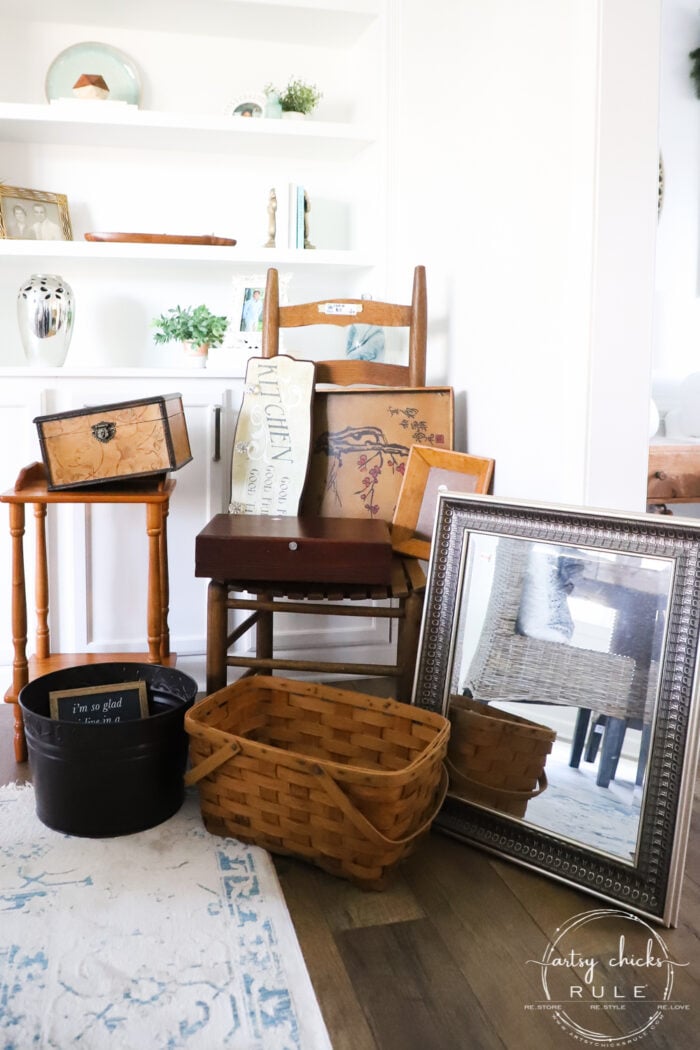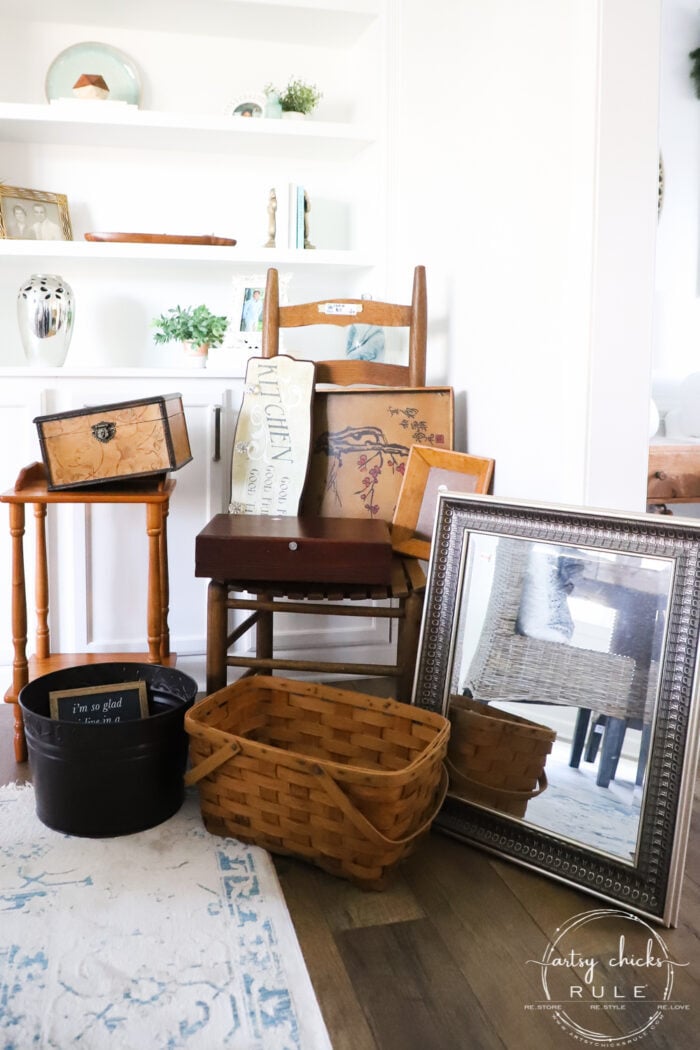 I'll be sharing this one from the haul next!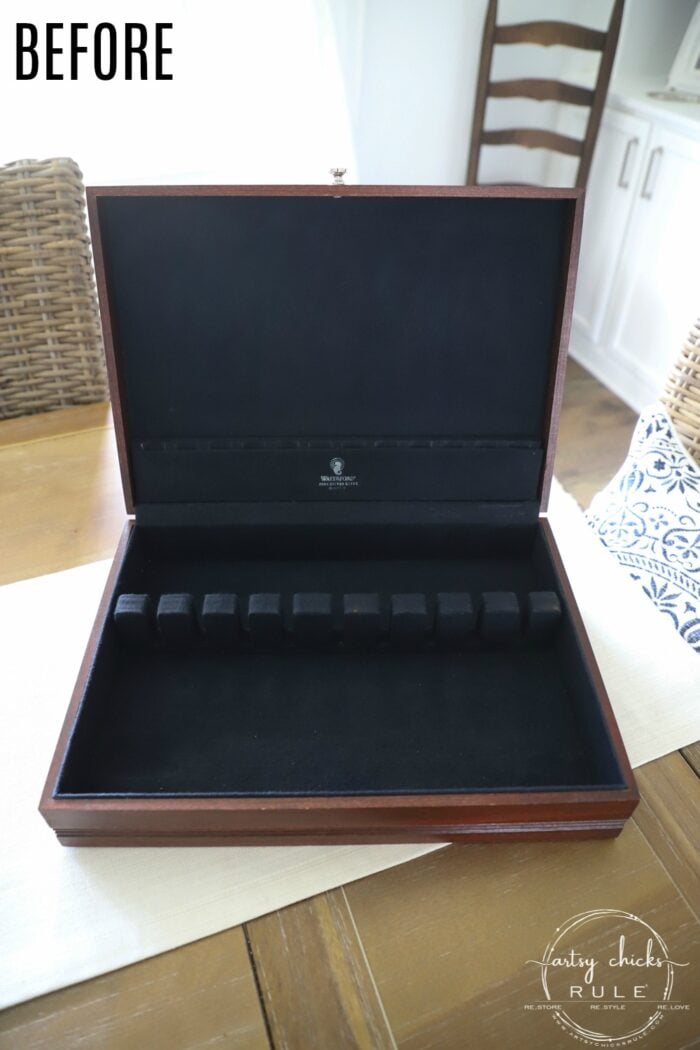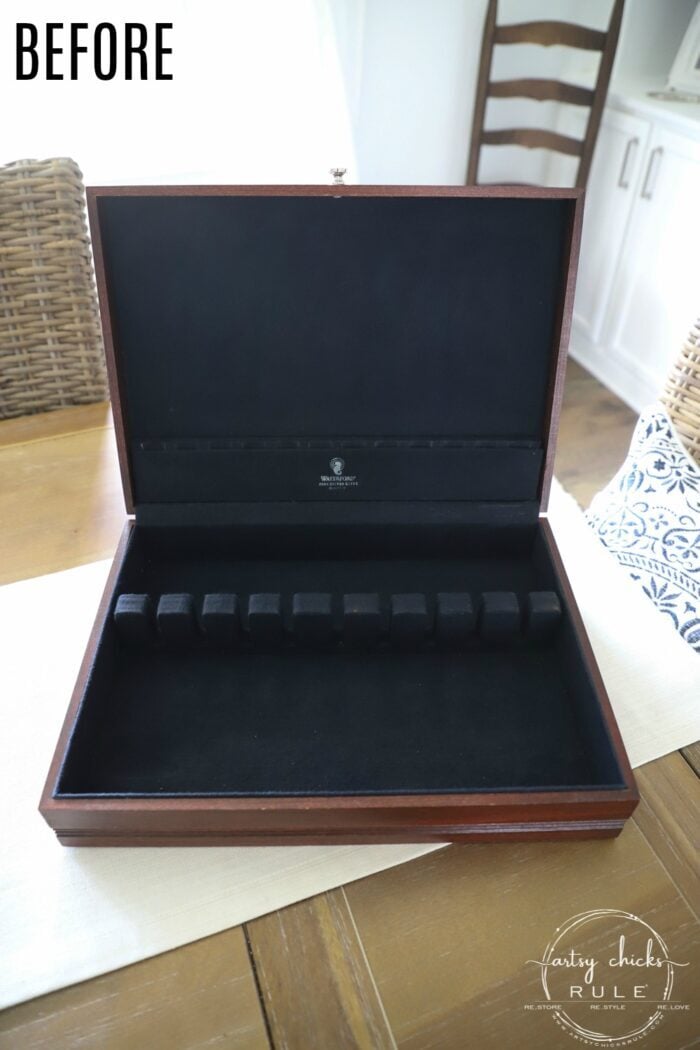 UPDATE!! See it now, here!
Stay safe, friends.
xo