$4 Flatware Box Makeover For Spring (with transfers & fabric!)
This post may contain affiliate links. Please see disclosures here.
This old flatware box makeover uses pretty green paint, colorful new fabric and bird transfers for spring. Perfect for holding so many things besides flatware!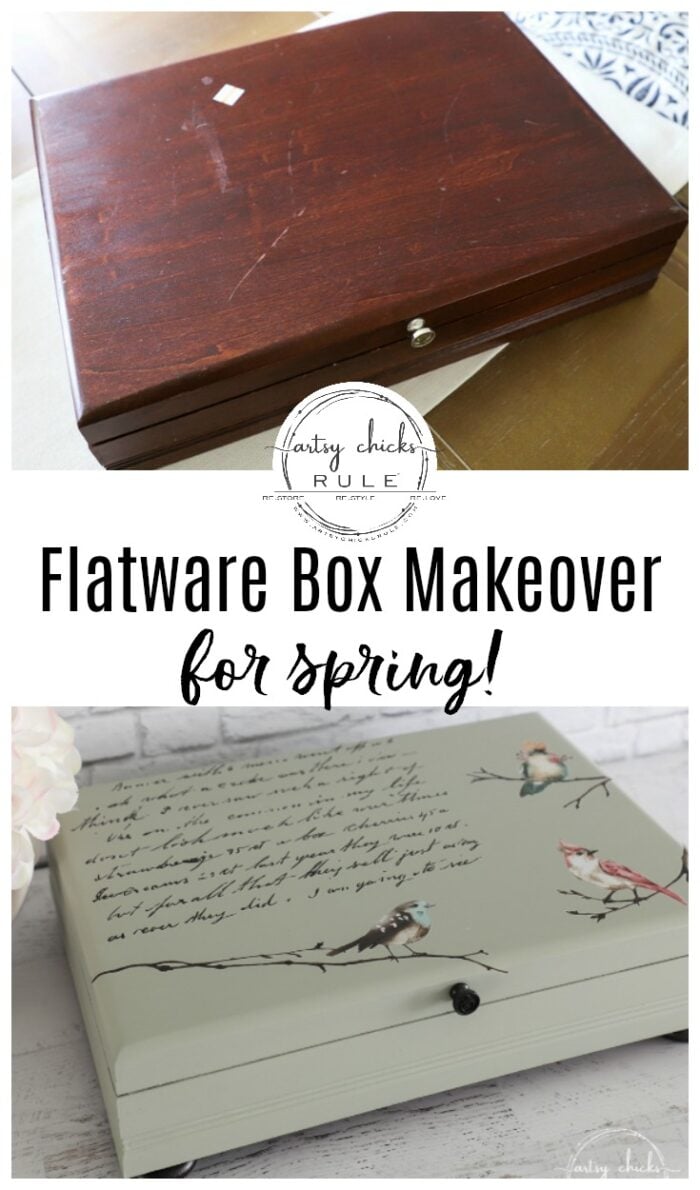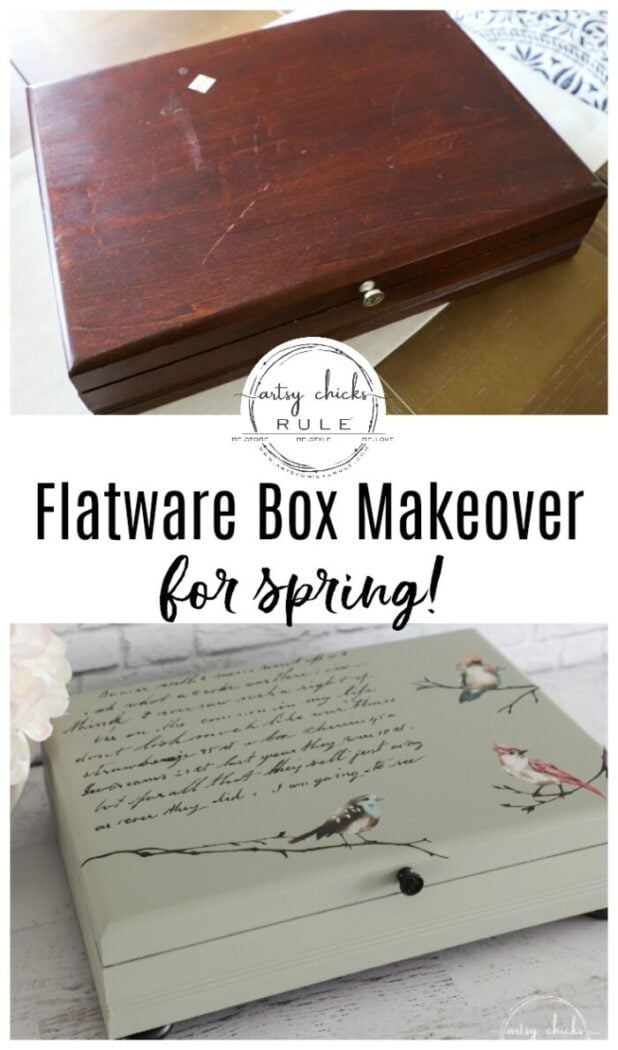 Hello friends!
Another green one (that is actually green ;) ) for St. Patrick's holiday week. I didn't really plan the green for that though. I just wanted to use some green…for spring. And because I said I was going to start adding in more colors this year.
I am loving this green shade! It's from General Finishes (I'll link it below in the "Materials List" box) and is a great color.
I lightened it up for the project though, by adding white (it's linked below in the box). I didn't want this flatware box as dark as the color is out of the can since I was using those transfers (also linked below).
So keep that in mind if you order it.
I will be using it full strength on upcoming projects though.
Flatware Box Makeover For Spring
Here it is "before"…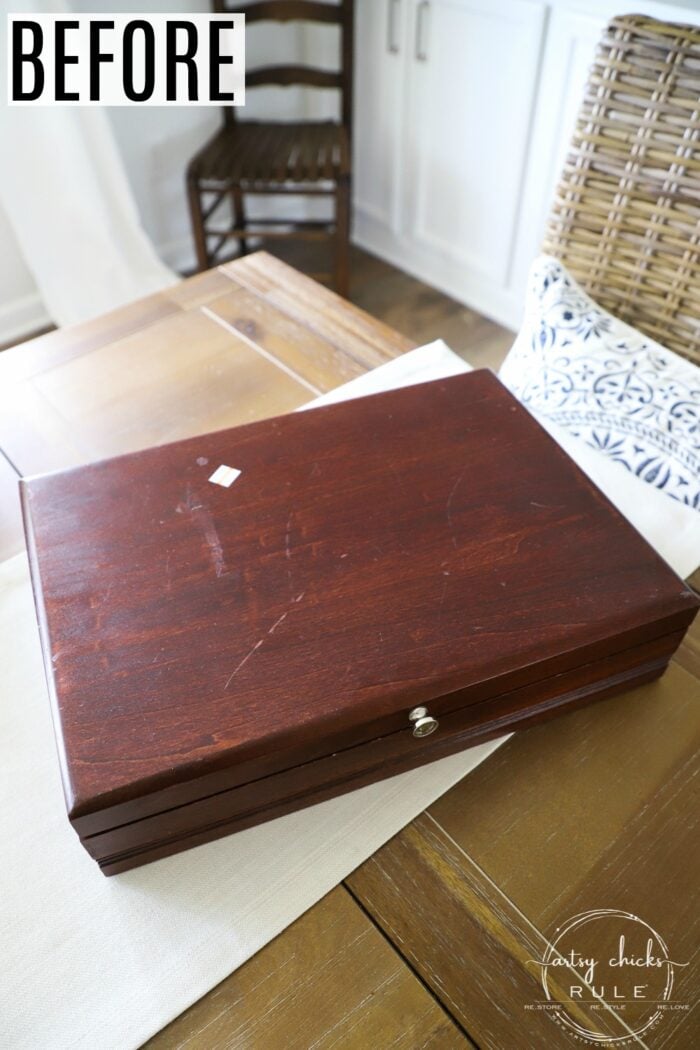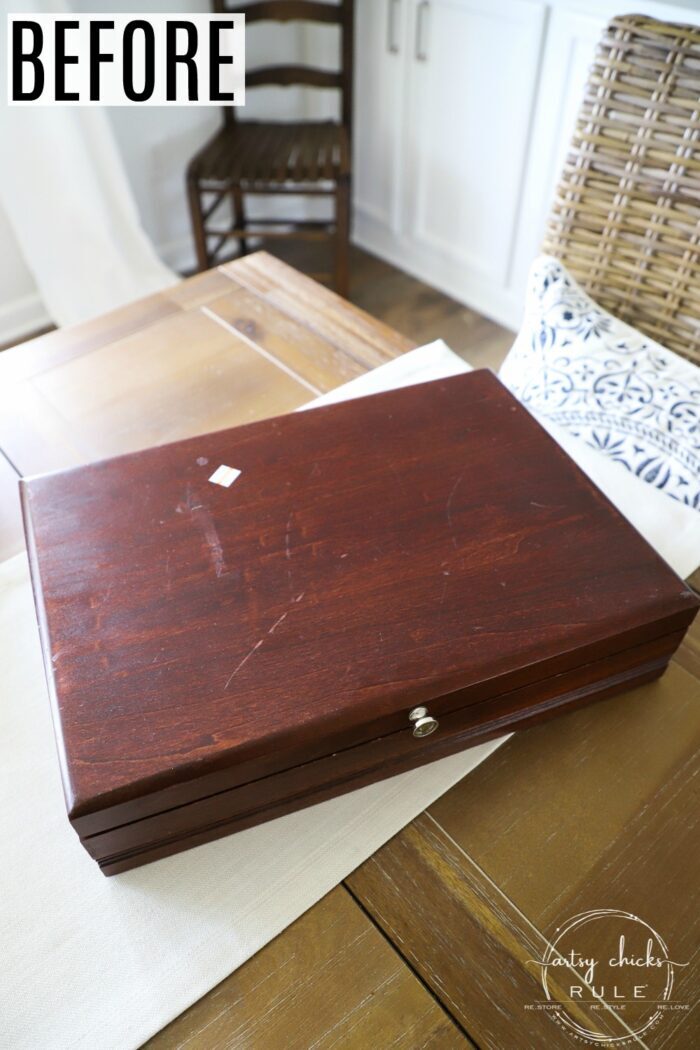 And this one marks one more off my thrifty haul.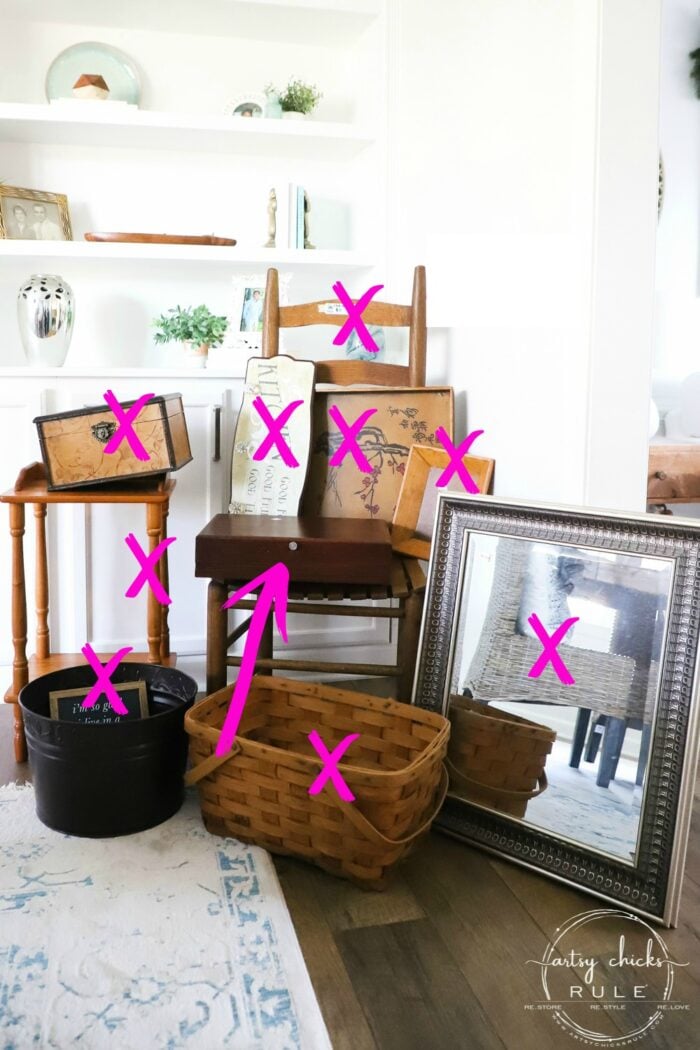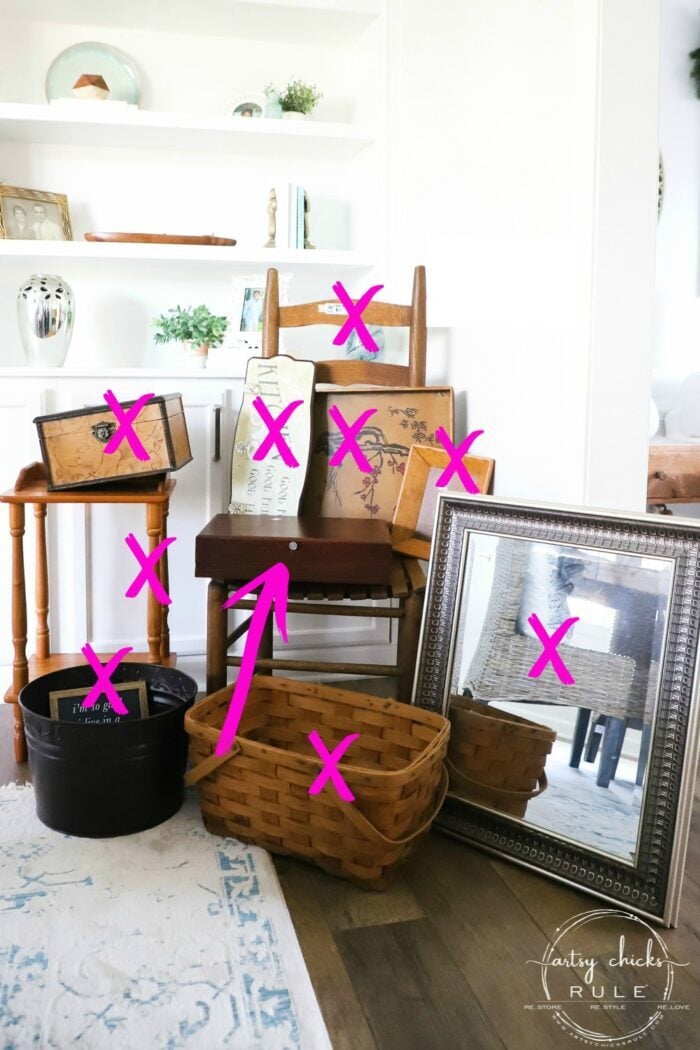 Only one more to go, that planter bucket. It's actually in use right now, as-is, so we'll see if I can get it done! lol
If you missed any of those makeovers, you can see them right here:
Below are the links to the products I used for this project…
I cleaned it up and then gave it one coat of white paint. (my usual) I originally thought I'd paint it white.
But then I changed my mind …to green. As you already know. haha
Then I decided which of these transfers I'd use.
I decided on birds and the words there in the middle.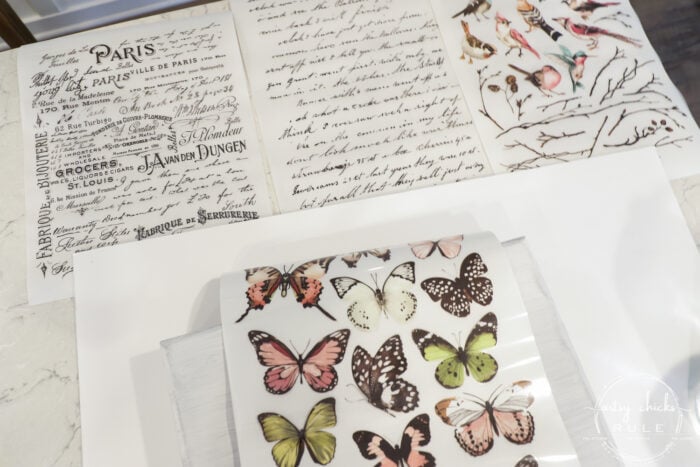 Then I gave it two coats of green and let that dry well.
Once it was dry, I attached several of the birds and some of the words from the Prima Design transfers I linked above.
All the things I used can be found in the "materials list" box above. (and in the same spot in most of my posts)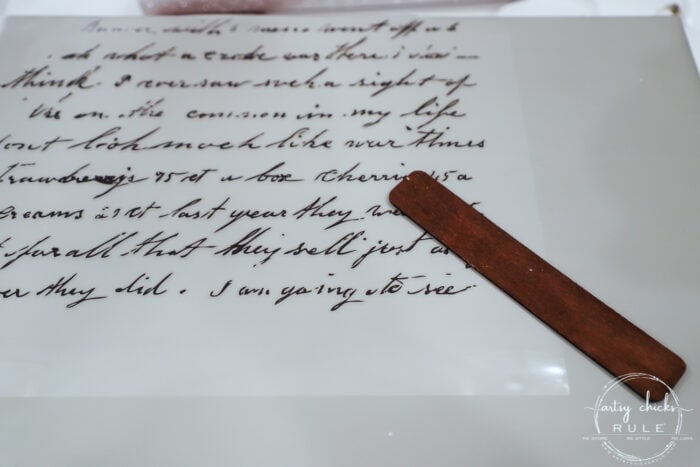 Simply rub it with the included wooden stick to transfer the image to your project.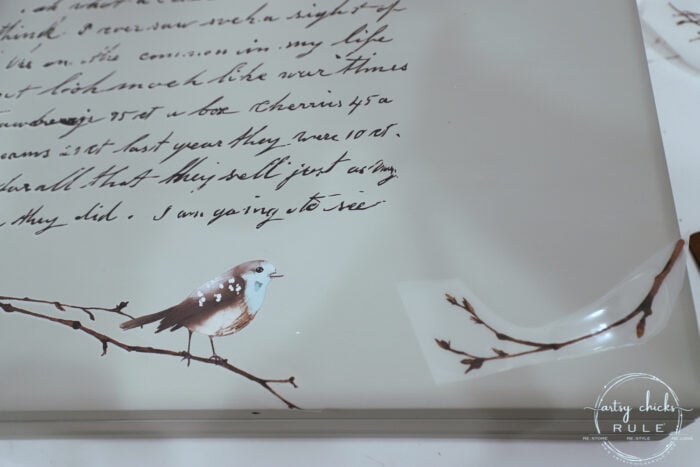 And this is what I ended up with…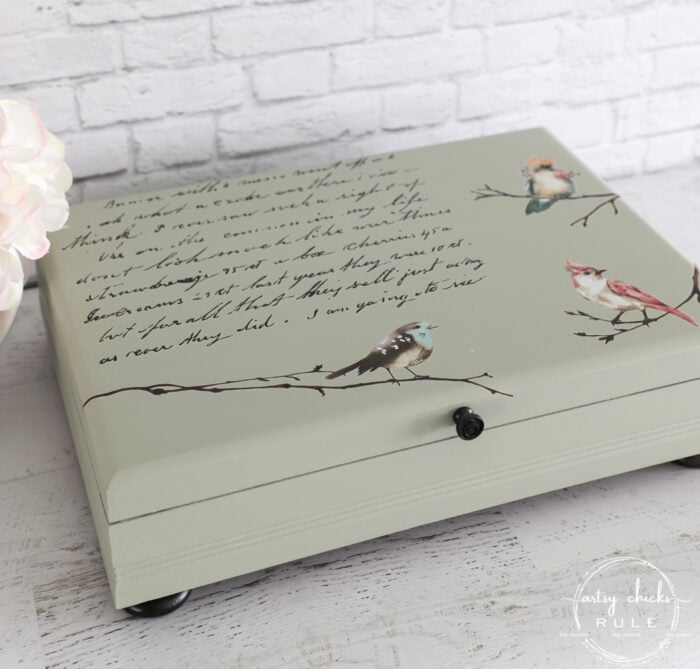 I added "feet" to the bottom. Old wood knobs are what they actually are, painted with oil rubbed bronze.
The knob on the lid also got sprayed with oil rubbed bronze.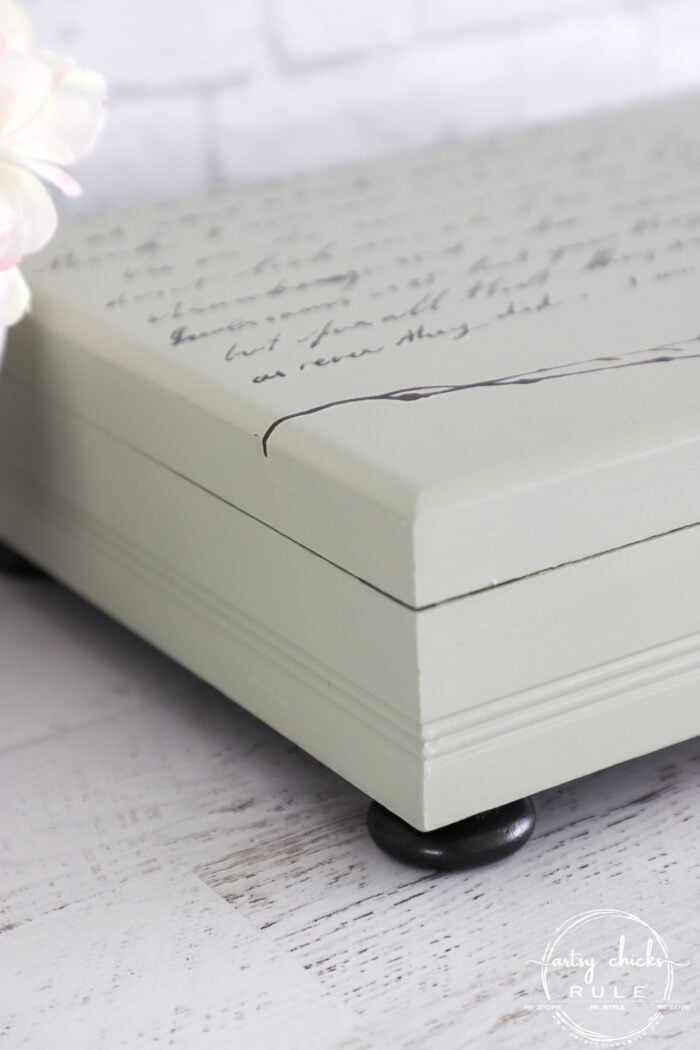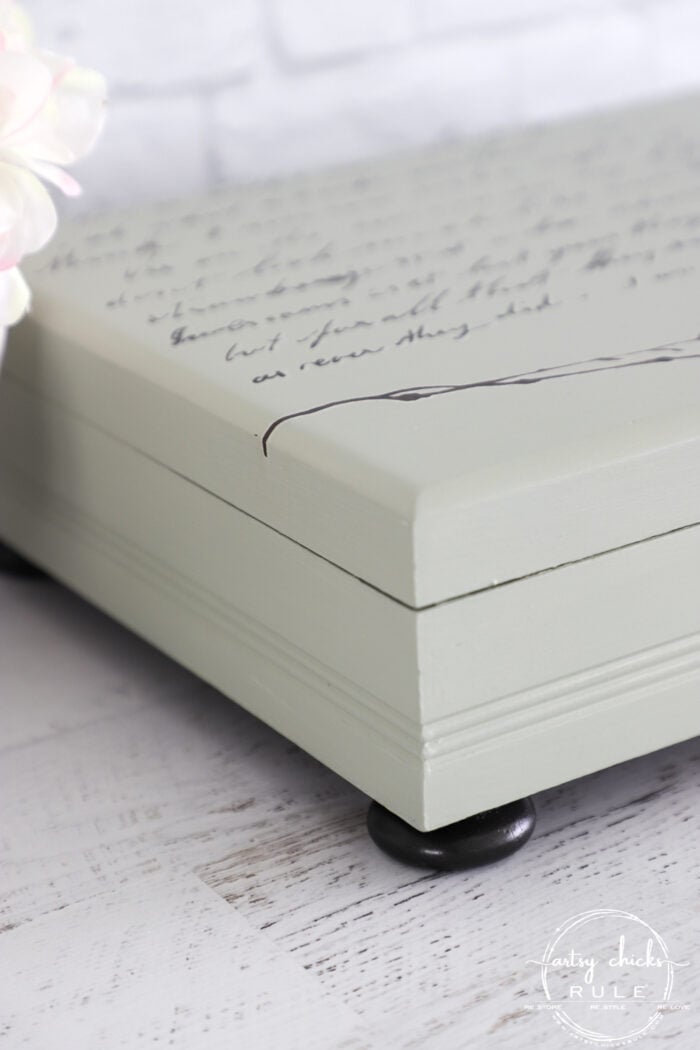 After the transfers were applied, I added a coat of matte sealer.
Want more ideas for sealing chalk paint? Check out this post here >>> The 5 Top Ways To Seal Chalk Paint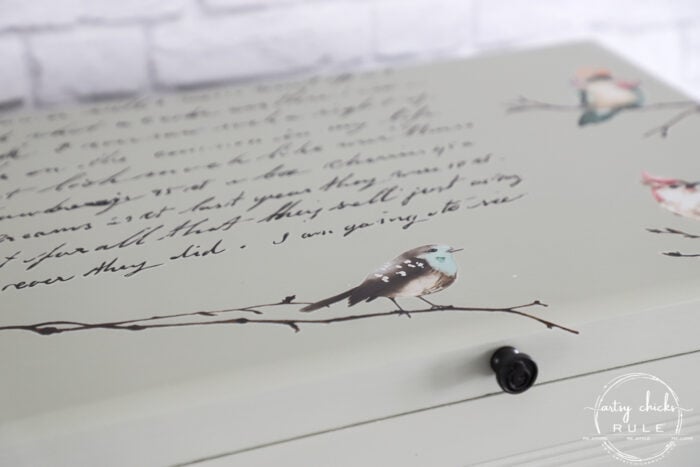 I love that the transfers have multiple birds, branches, etc., so you can use them how you like.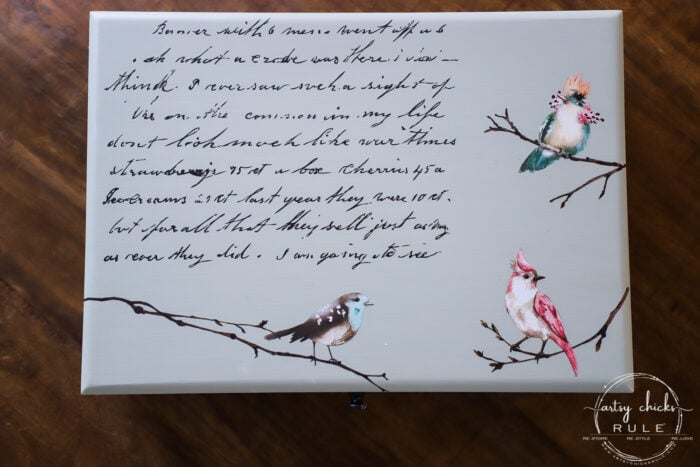 Now, let's talk about that inside of the flatware box makeover.
Here it is "before"…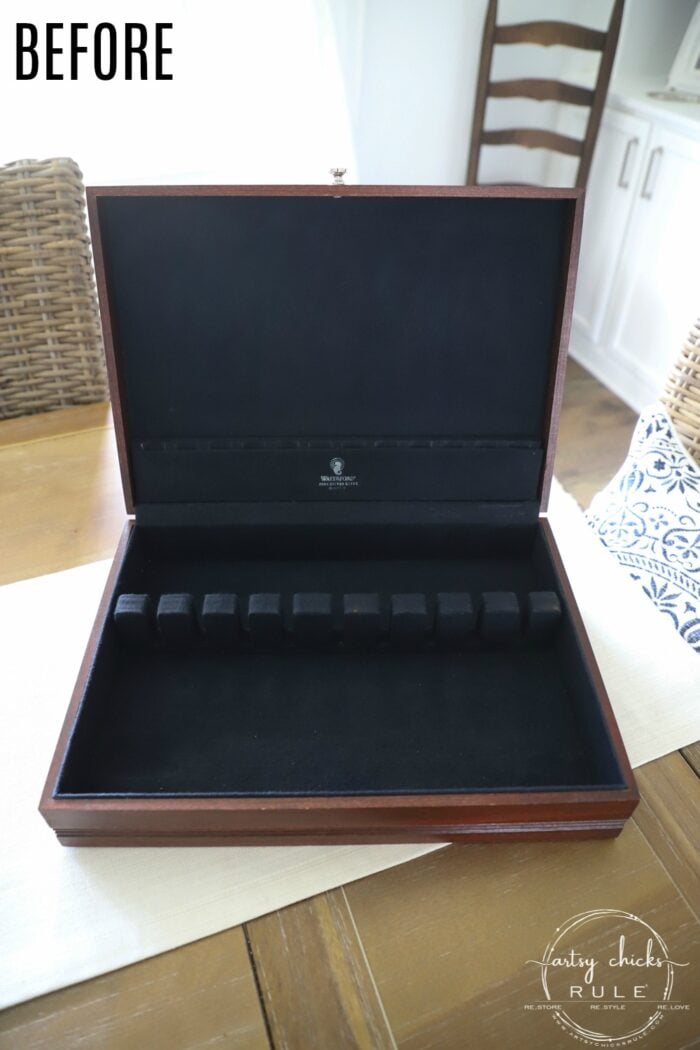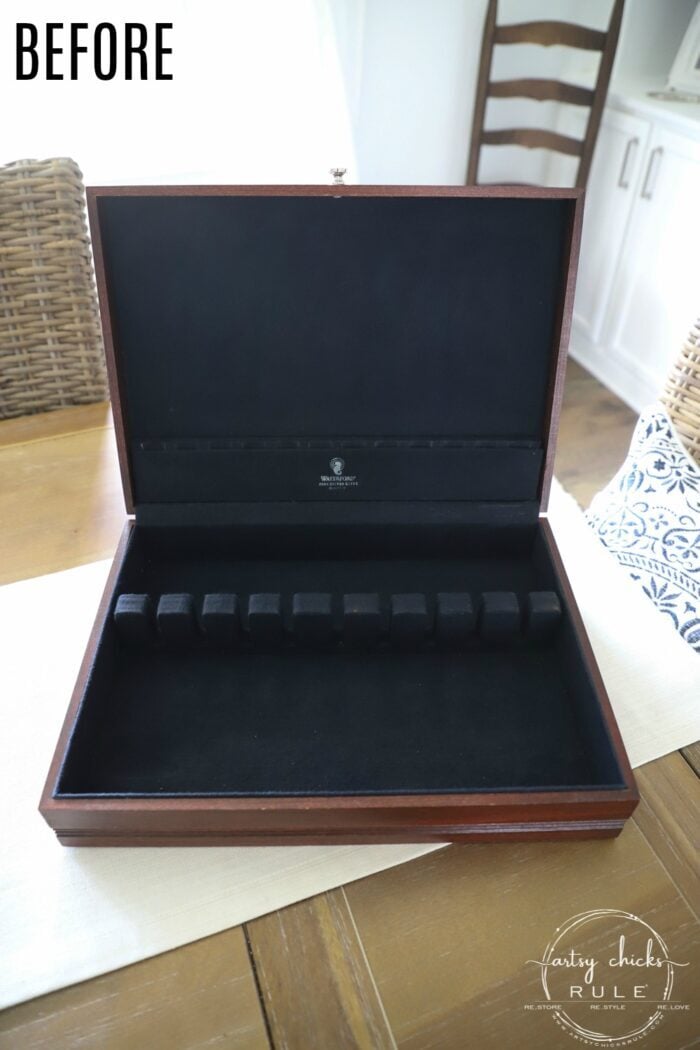 Not bad at all, but since I wasn't planning on using this for flatware, it had to go.
I found this pretty fabric at JoAnn's and thought it was perfect for spring…and my flatware box makeover.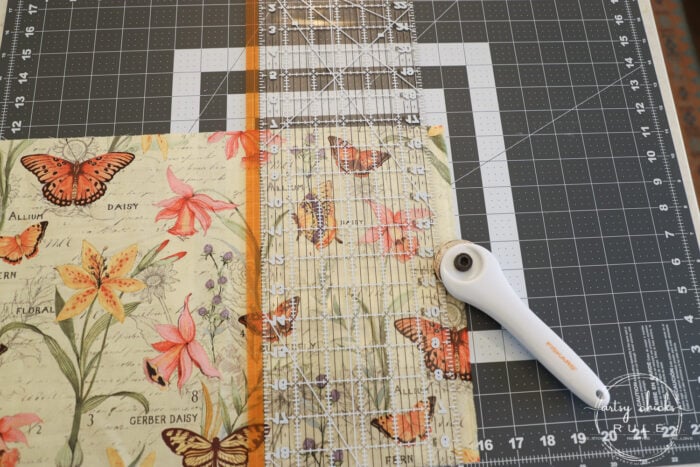 I used the same cutting mat I used on my last project.
I measured and cut the fabric to size. I decided to only cover the bottom, not the sides, so it was a little bit simpler project.
For an even base, I painted the entire inside before I added the fabric. I used Mod Podge underneath and over top of the fabric.
Once it was dry, I decided to dress it up a bit and added the pom pom trim around the edges.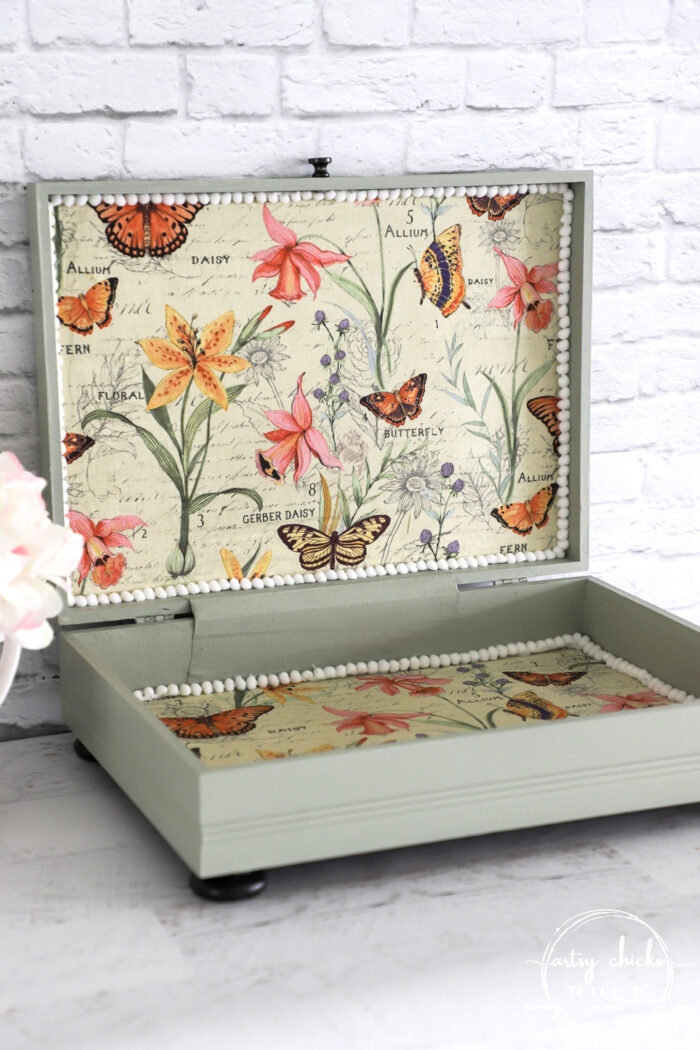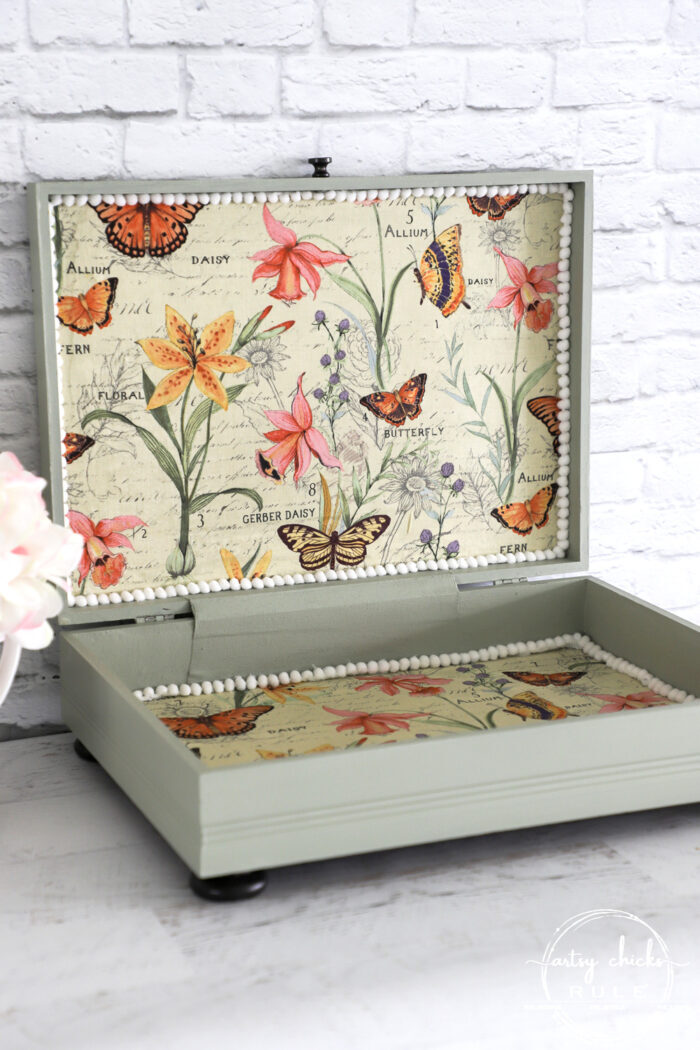 I thought that would be fun for spring. A little pop of pom poms…and pretty, colorful spring fabric.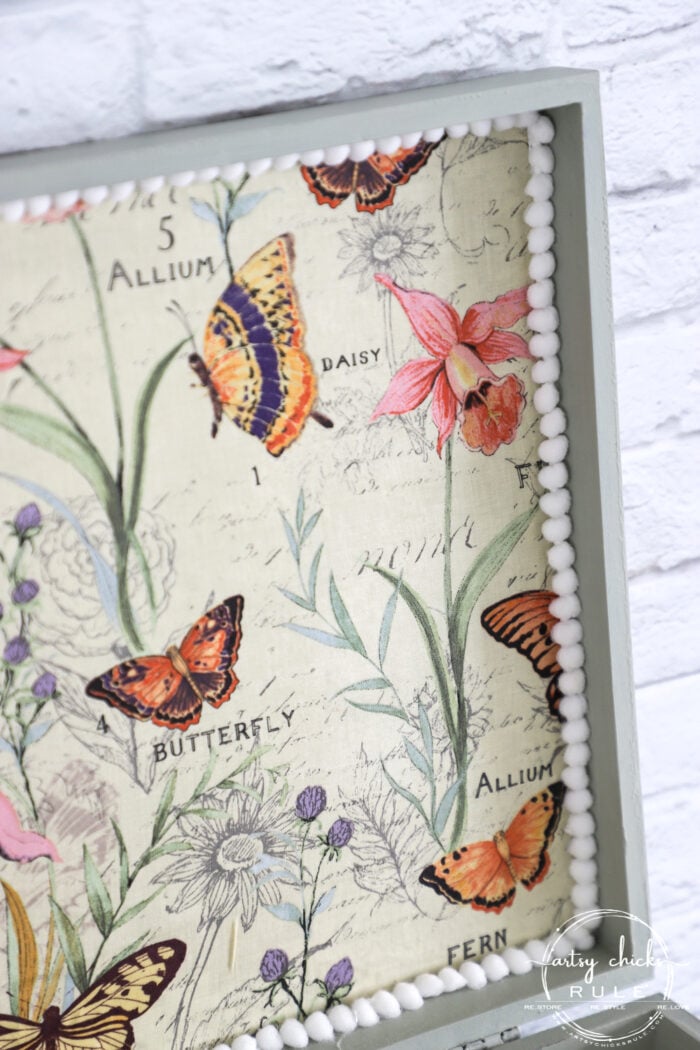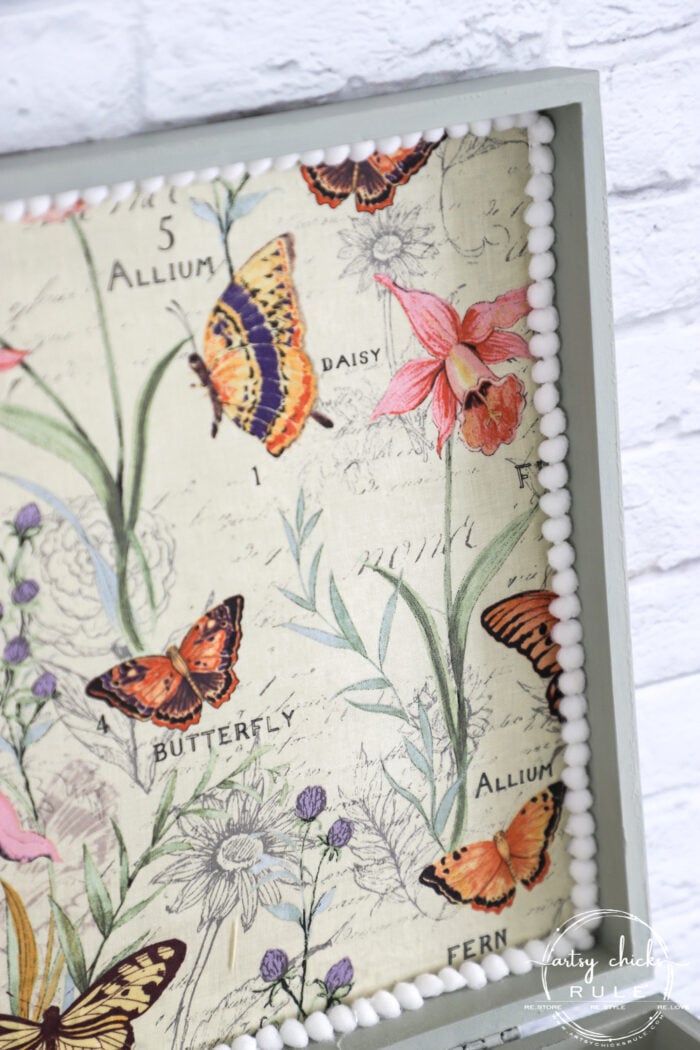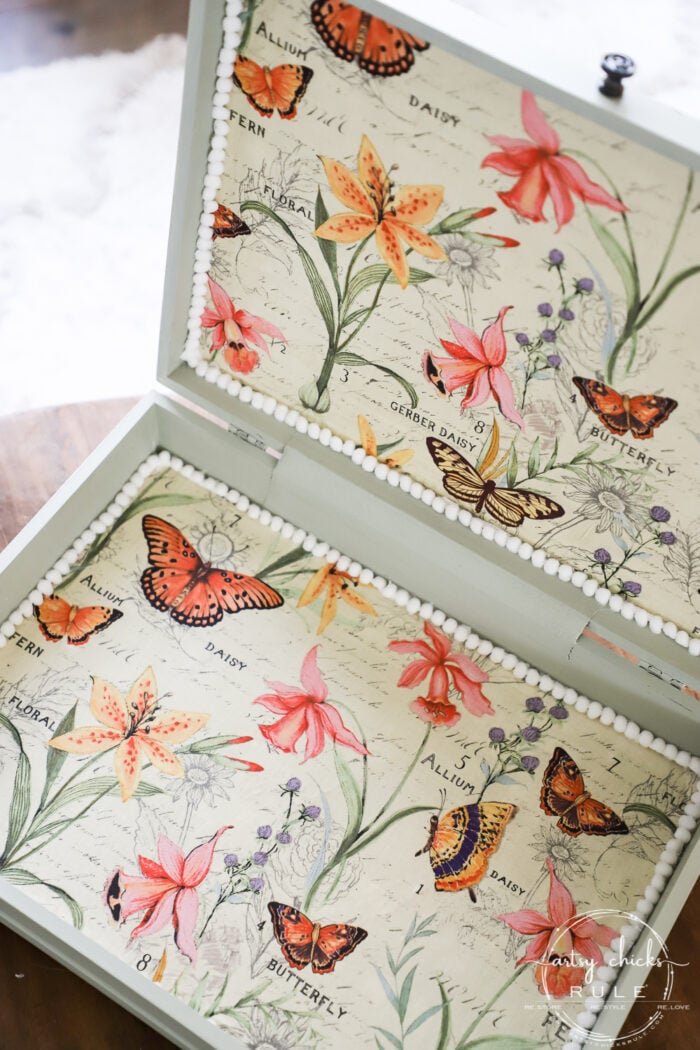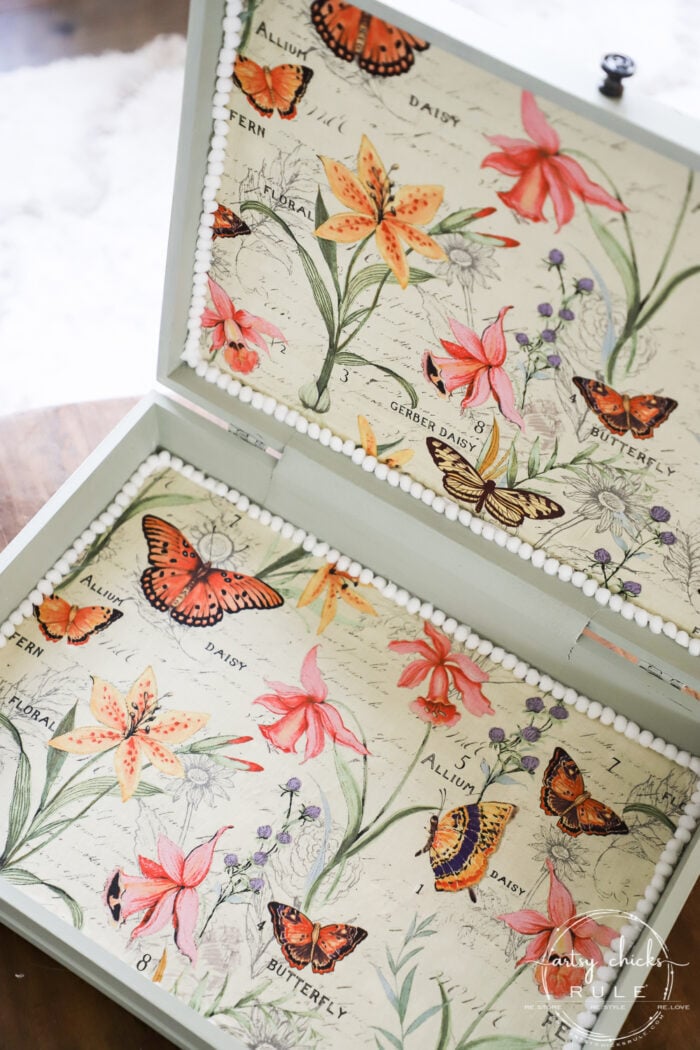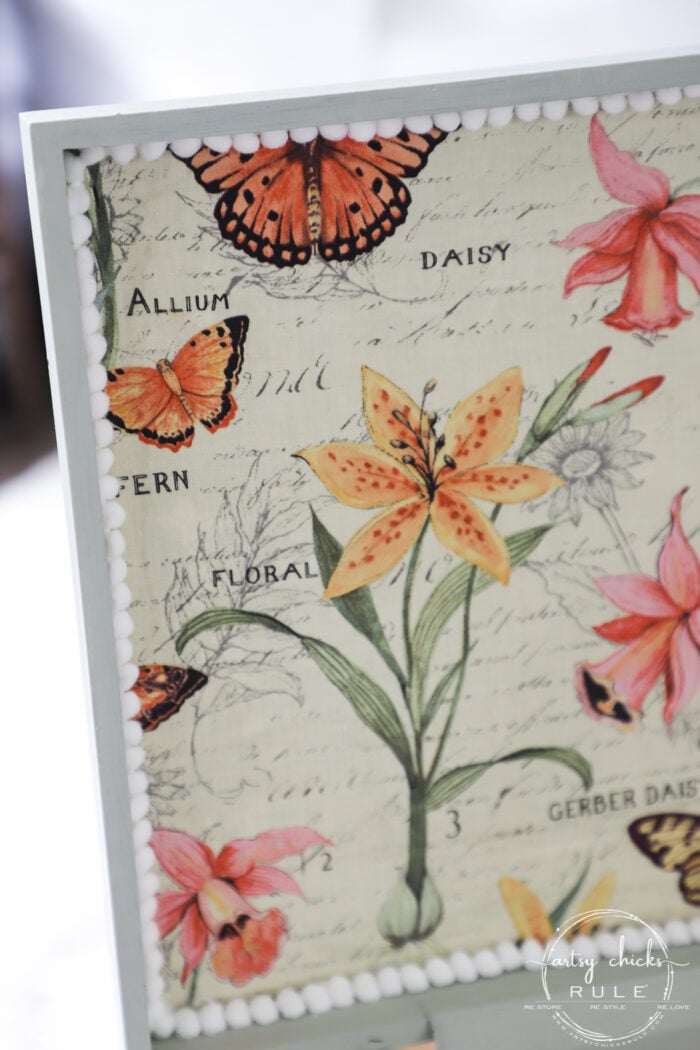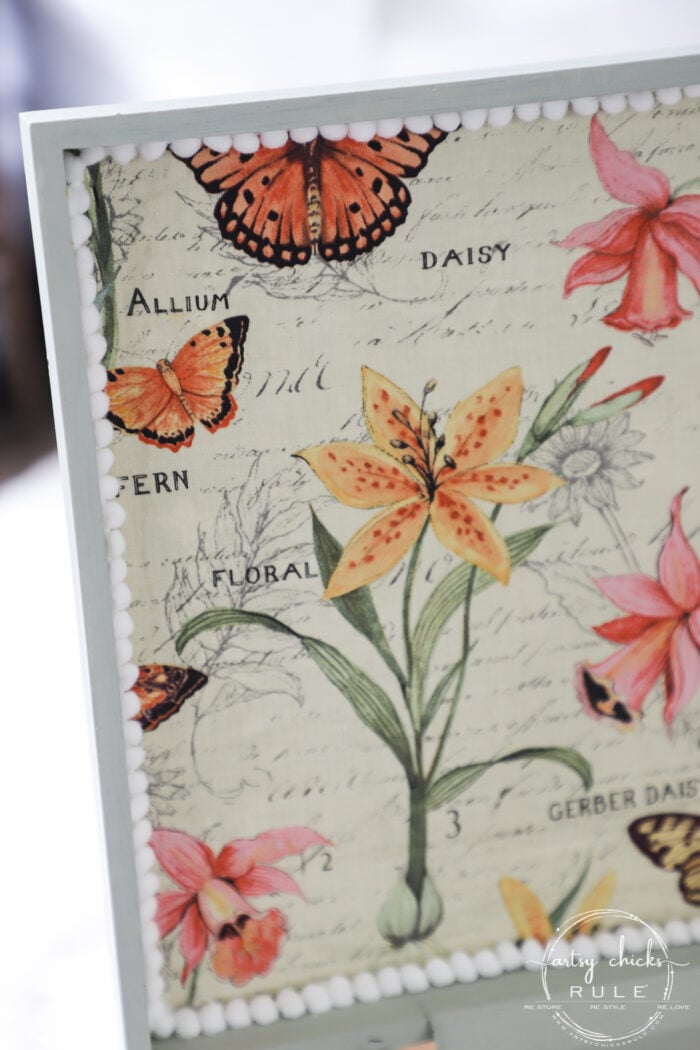 I attached them with my hot glue gun.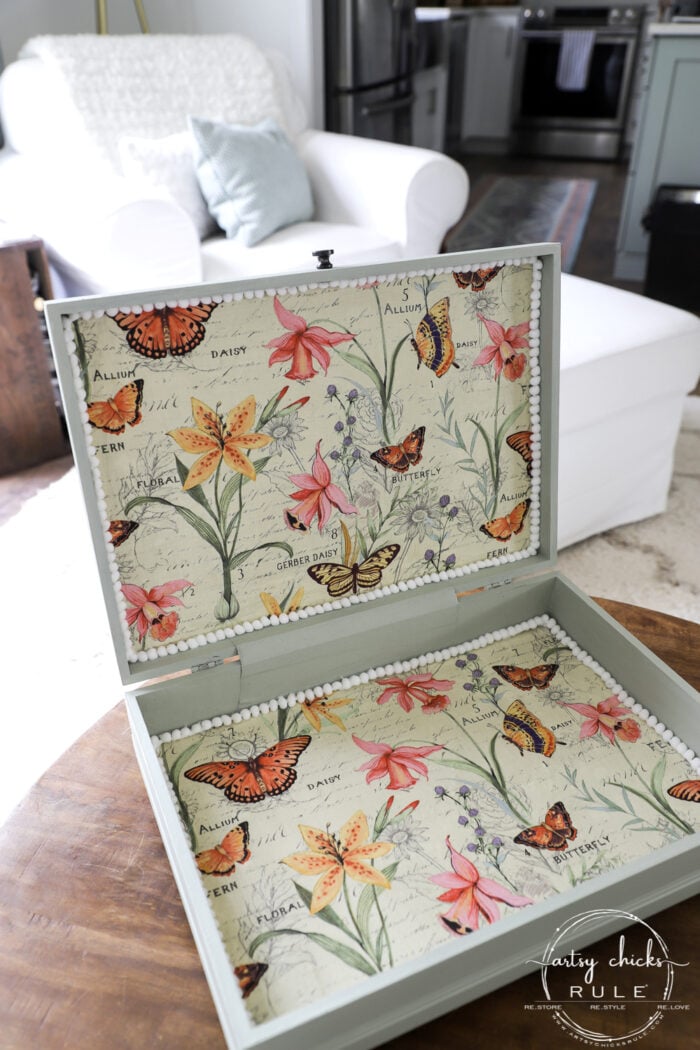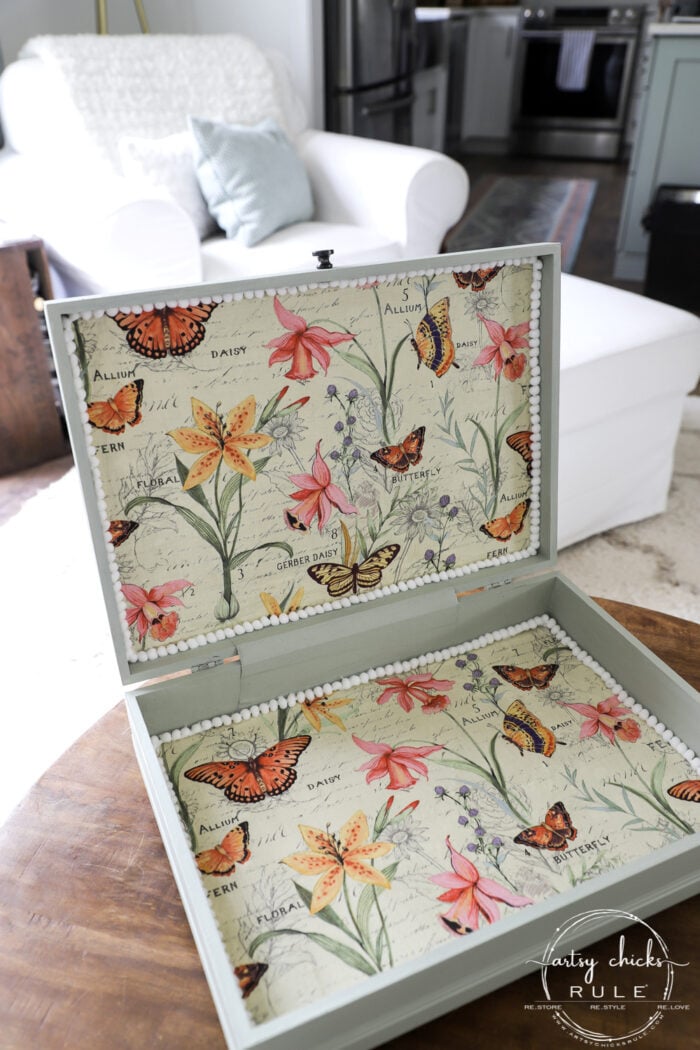 So sweet.
I'm not sure if the inside or the outside is my favorite. I think it may be the inside! :)
There are lots of things you can use an old flatware box like this for…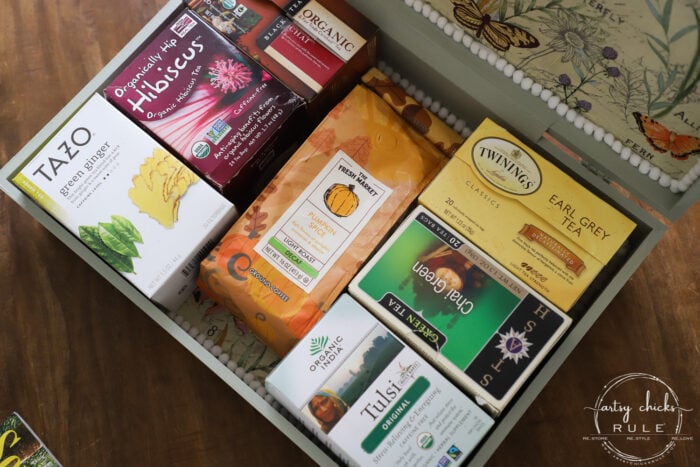 …like tea or coffee.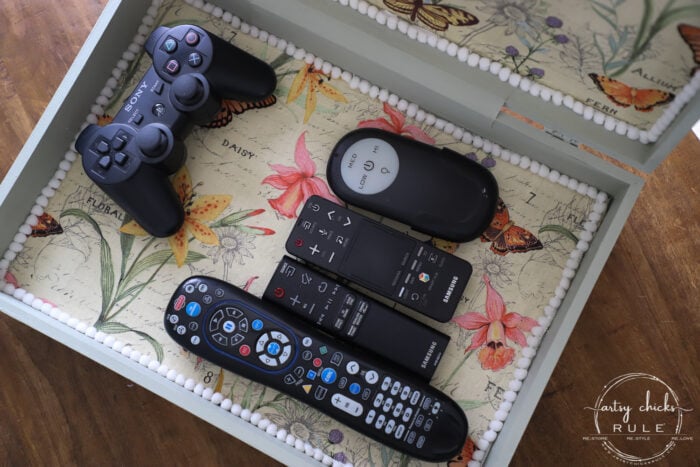 …to hide the remotes.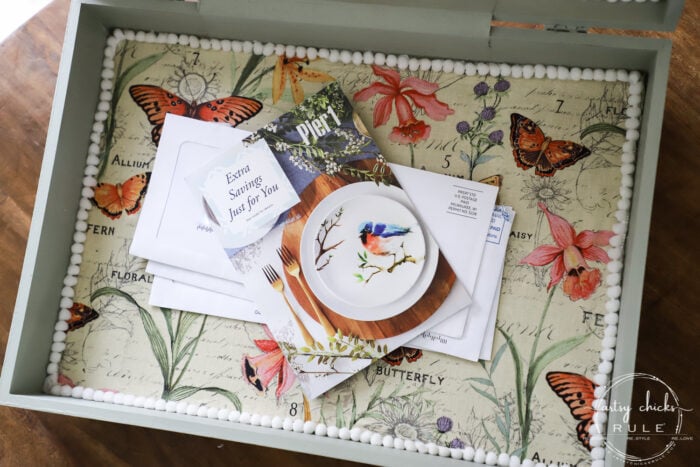 …bill sorter/keeper.
…notecard, pen, etc, holder.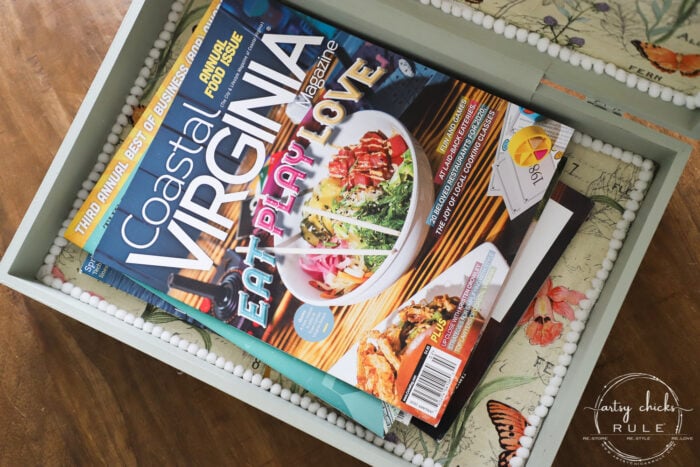 …magazines.
Anything really!
They are such great boxes to give a makeover to. And can always be found at the thrift store.
I have found and made over several…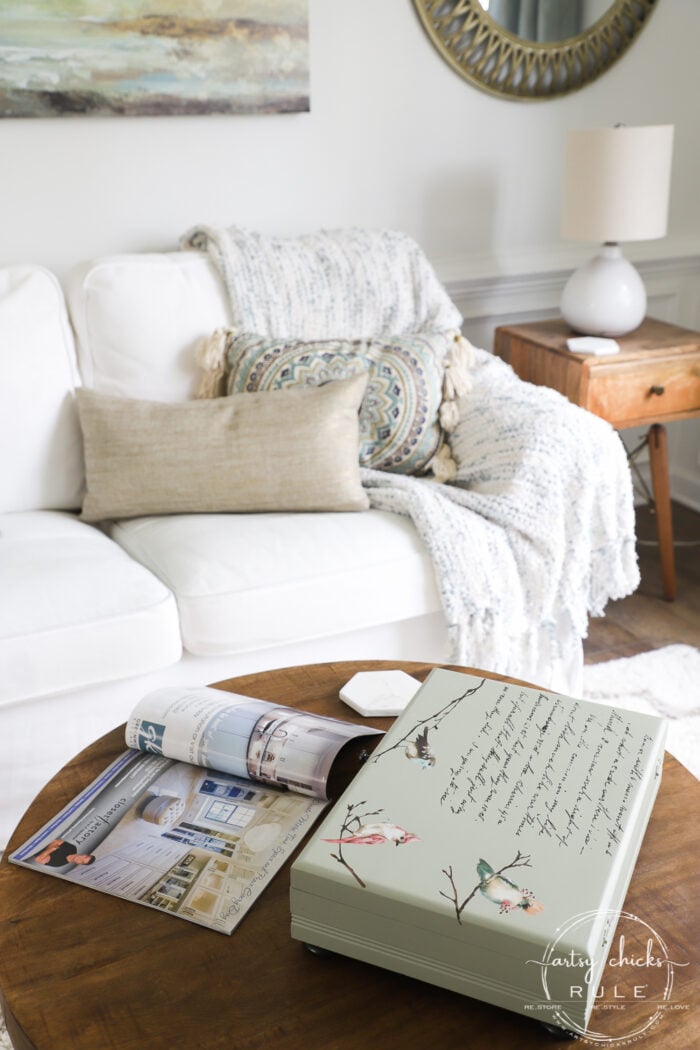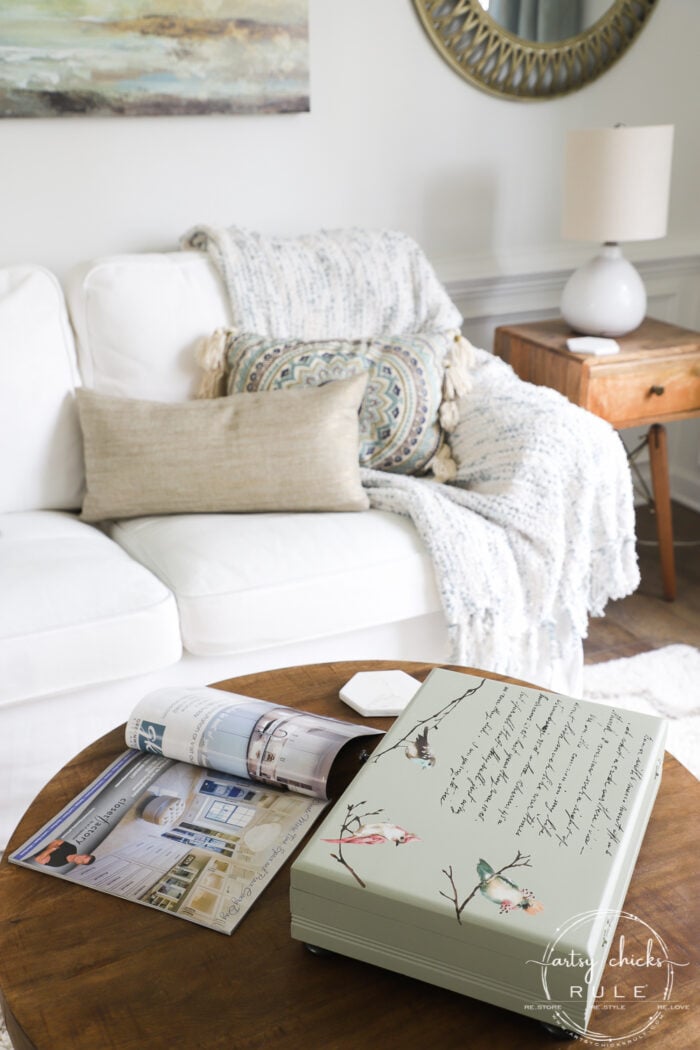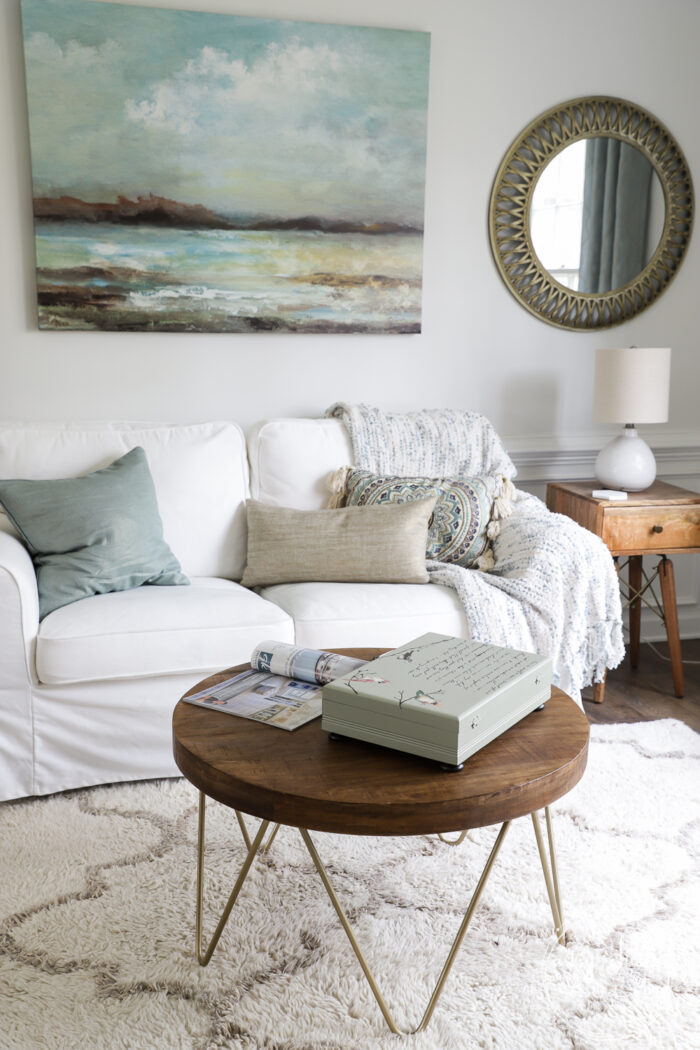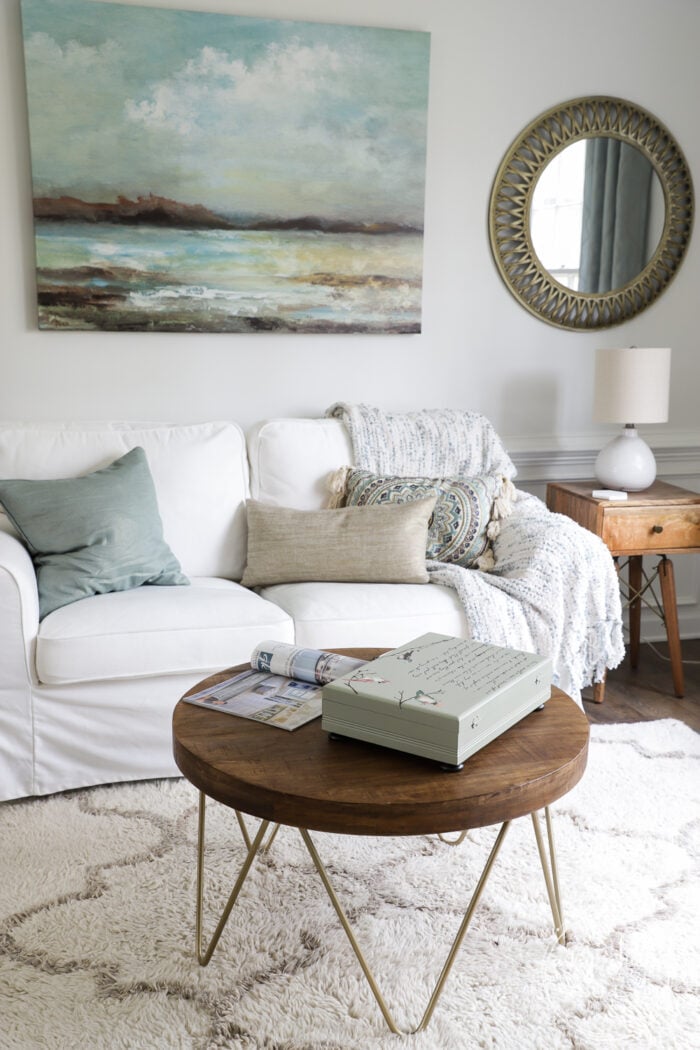 Want to see even more Prima Design transfer projects?? I've done quite a few now. (I love them!)
If you follow along with me over on Instagram, you might have seen when I posted in my stories about the other 2 new Prima Transfers I bought. (plus I have a couple I bought months ago that I've yet to use). I am going to be using them quite a bit in upcoming projects. I may just have to host another giveaway soon too! Hint…what do you think will be in it?? ;)
PIN it to save it!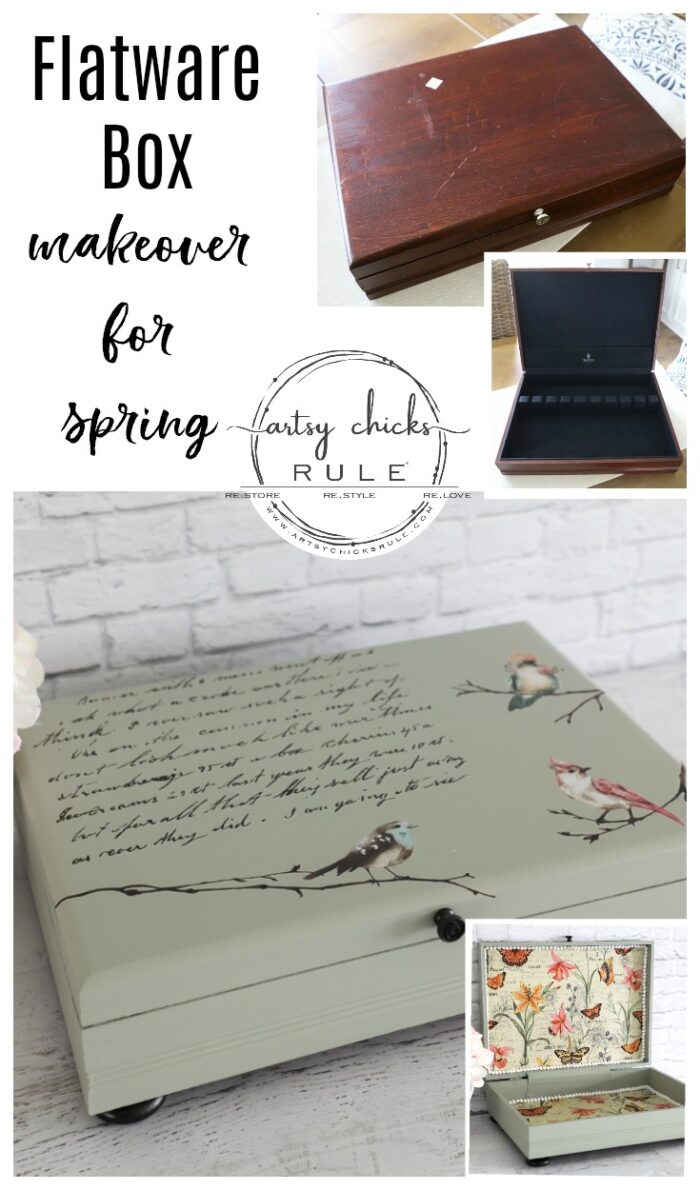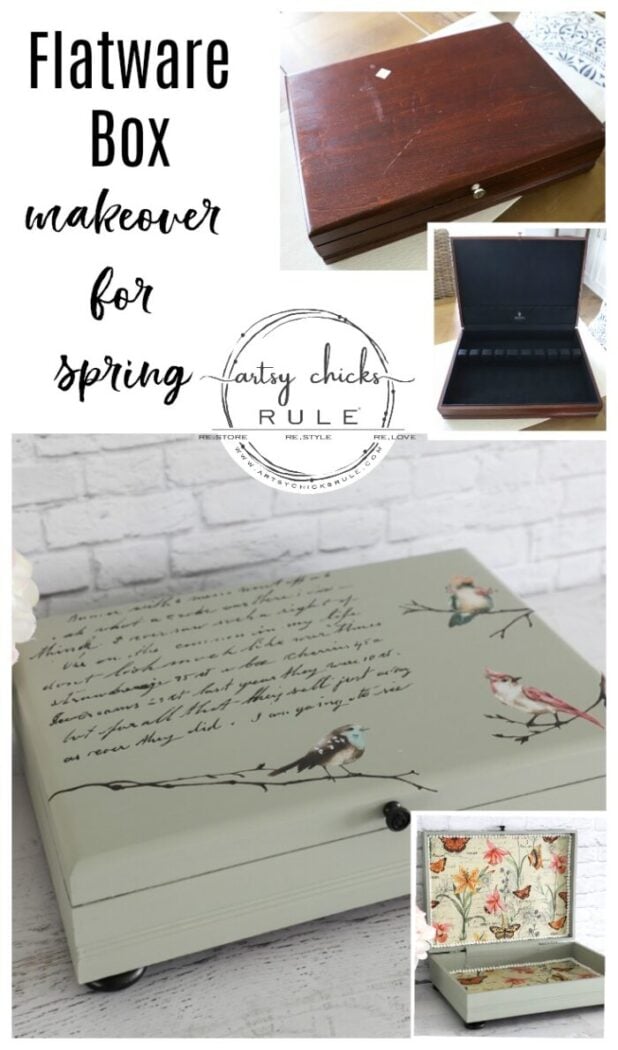 If you missed any of the rest of this haul's makeovers, you can see them all right here: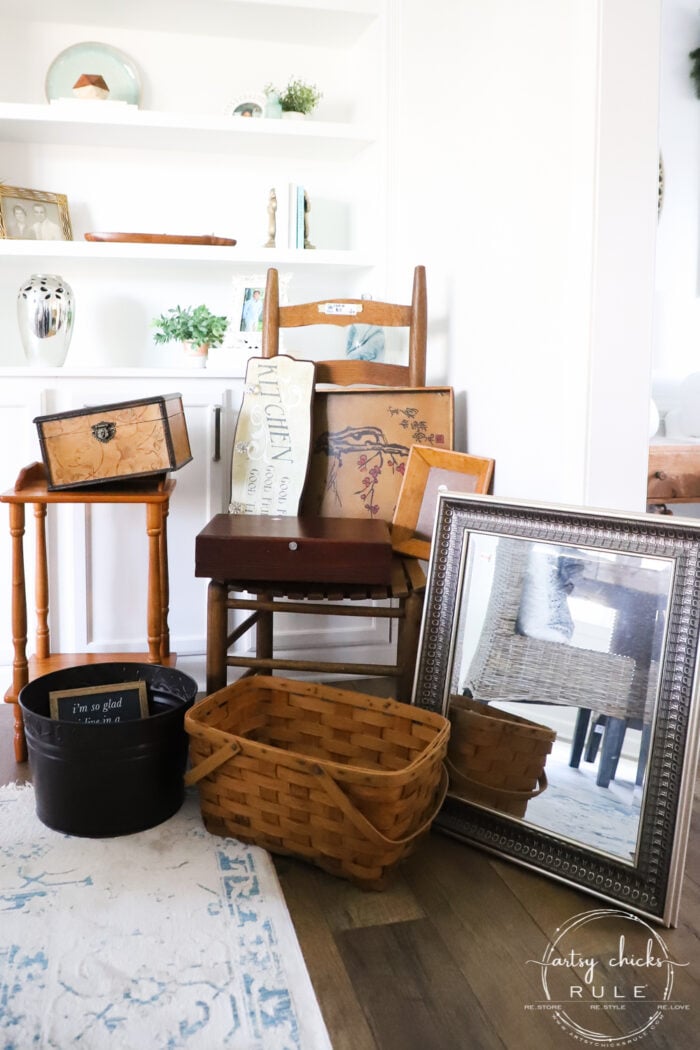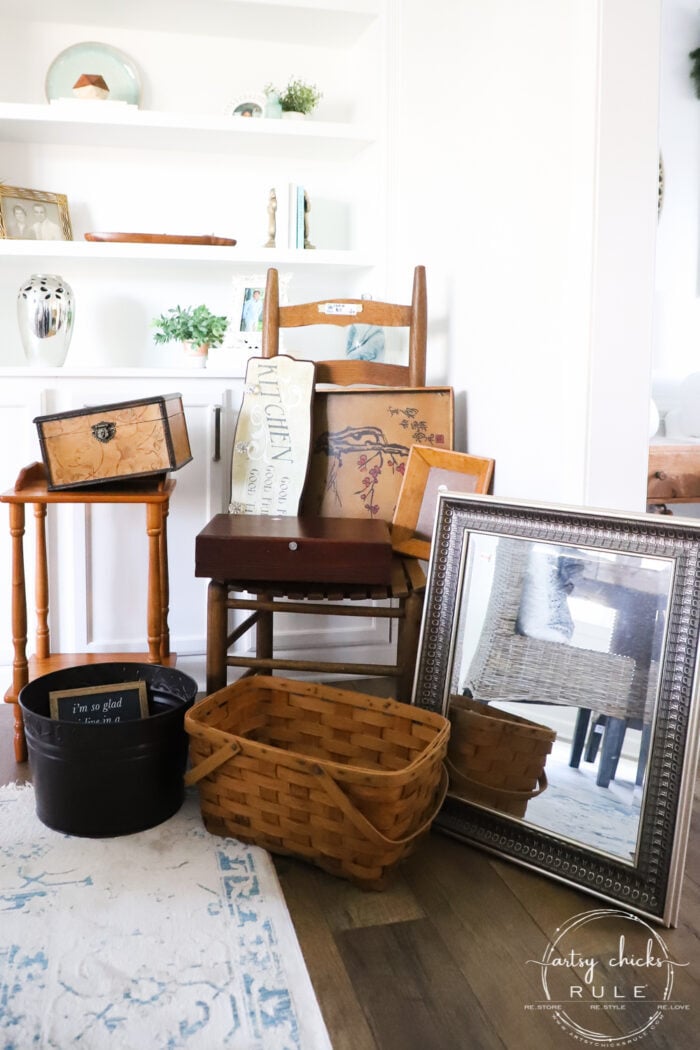 I'll be sharing what I did with this one next!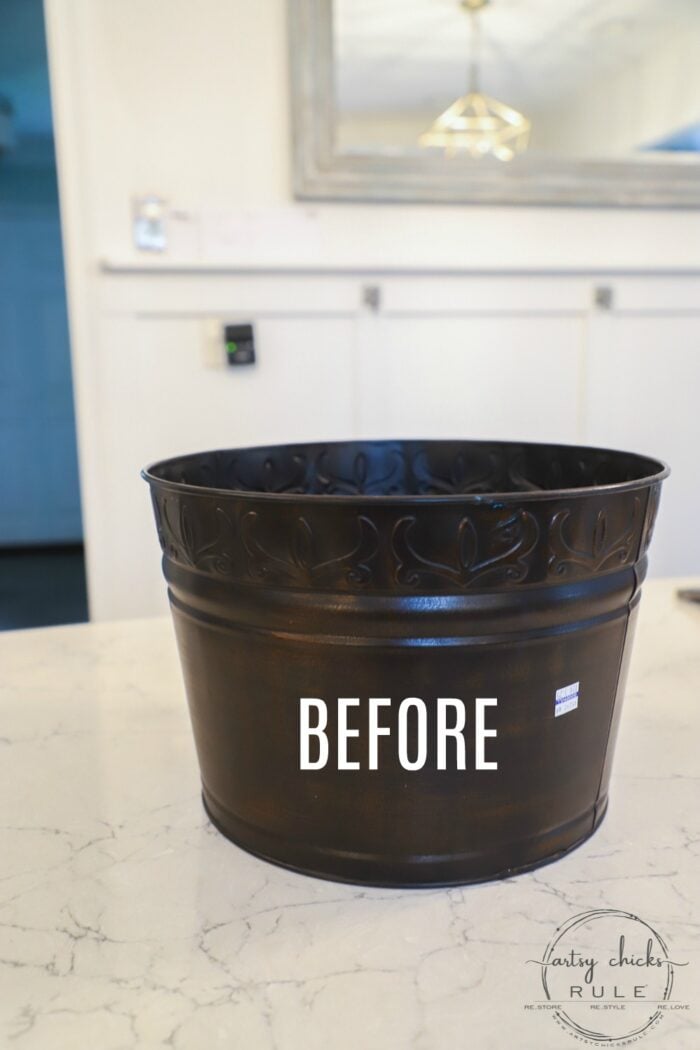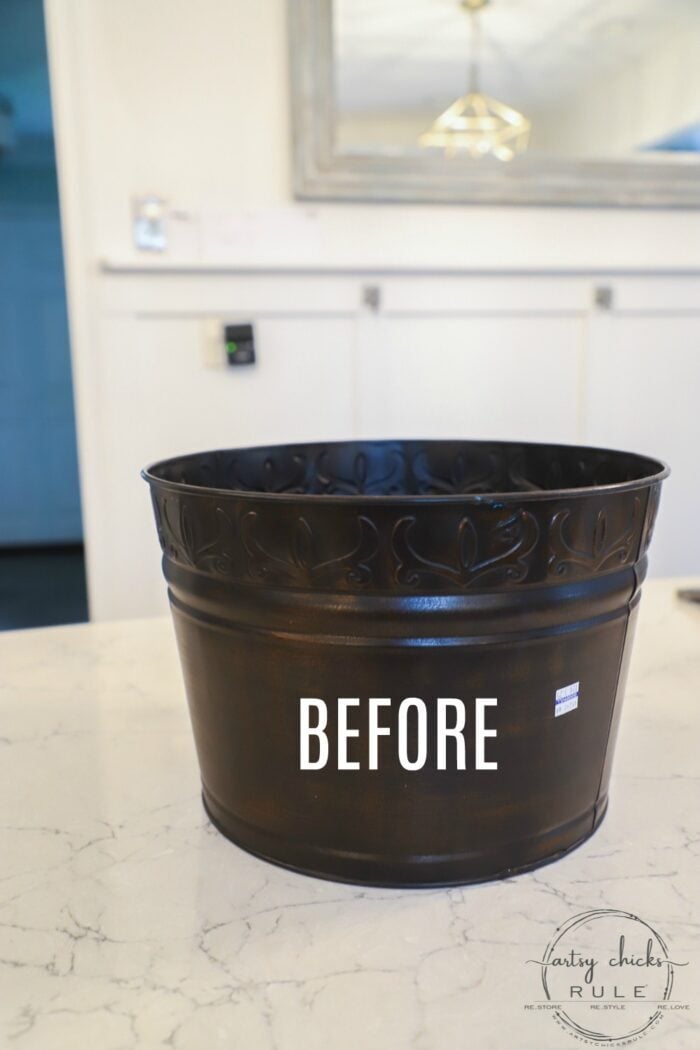 UPDATE!! See it now, here!
I hope you have a wonderful weekend. And hoping you are all staying safe and healthy!
xoxo