Mini Treasure Chest Makeover (with Prima Transfers)
This post may contain affiliate links. Please see disclosures here.
The last makeover in my latest haul is this mini treasure chest made over using a Prima Transfers.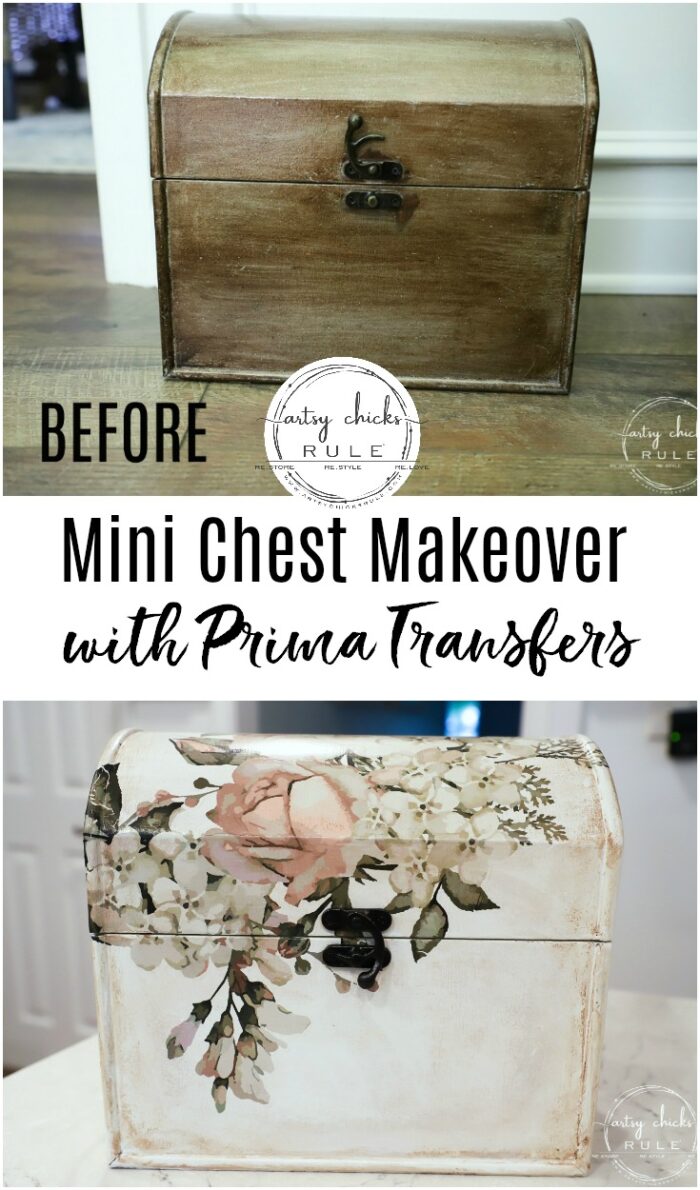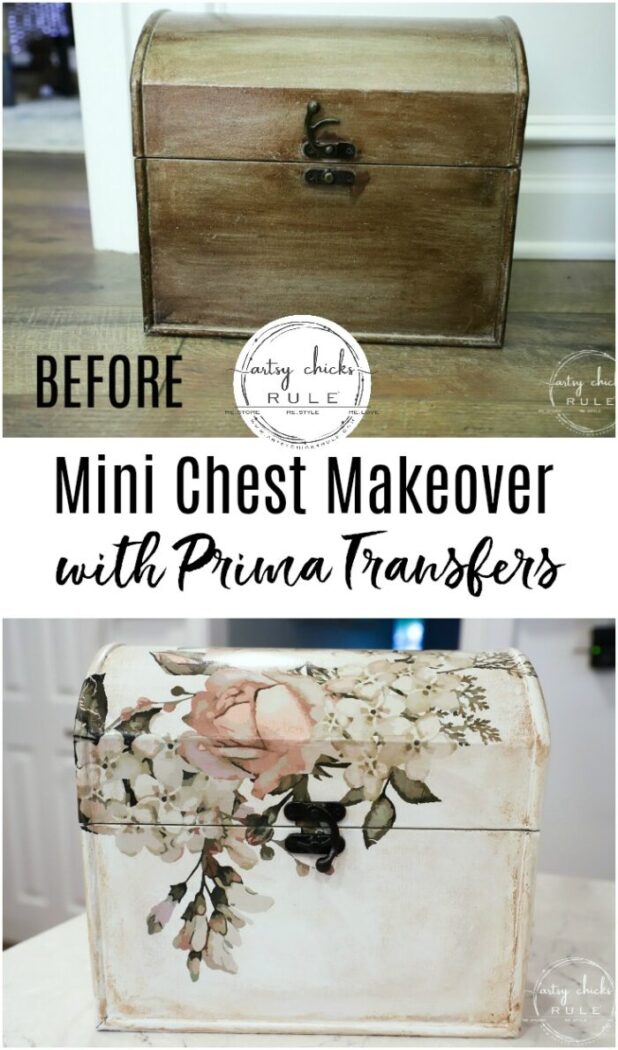 Hey friends! I'm back today sharing the last of my latest little haul.
This one…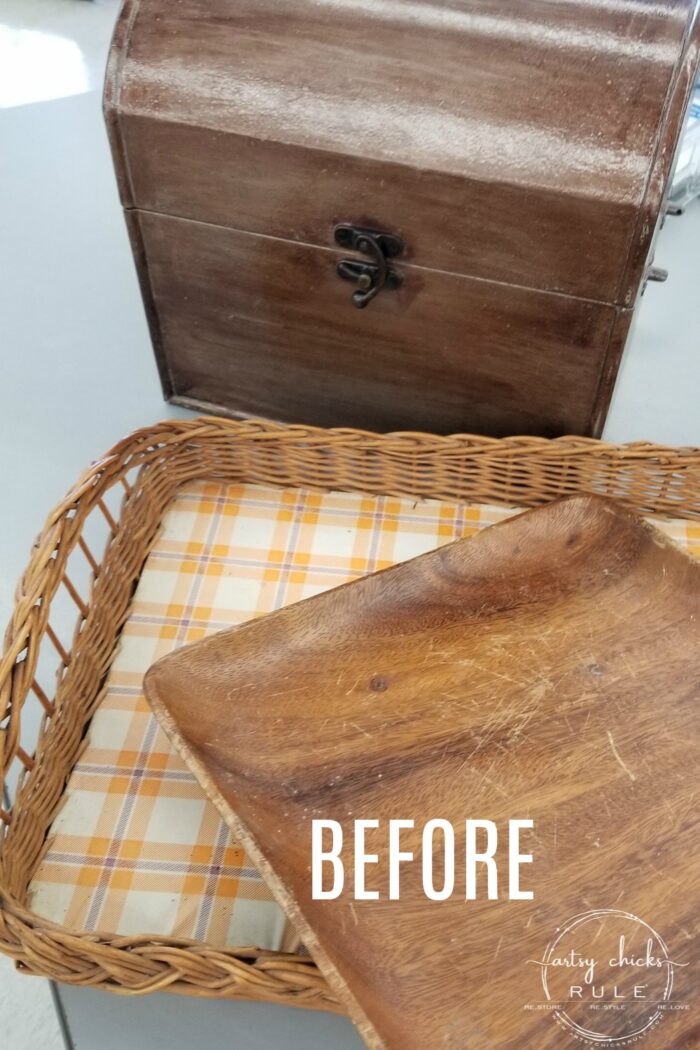 If you missed the other two makeovers you can catch them below:
Today it's all about this mini treasure chest. Can you guess what I did to it?
Well, I shared it on Instagram as I was working on it…along with the rest of this thrifty haul.
Remember, I used a Prima Transfer on the basket tray makeover? Well, I am actually using another part of that very same transfer for today's project.
AND, I'm using the rest of that transfer for another project I'm working hopefully for next week! So, one transfer, 3 projects. :)
Can't beat that!
Mini Treasure Chest Makeover
Here's where we started…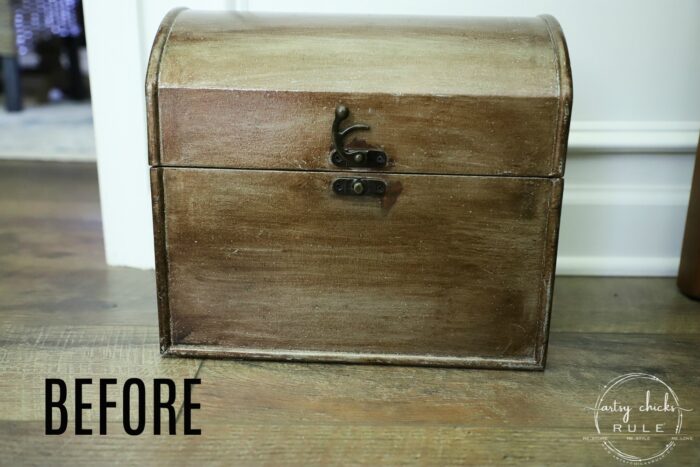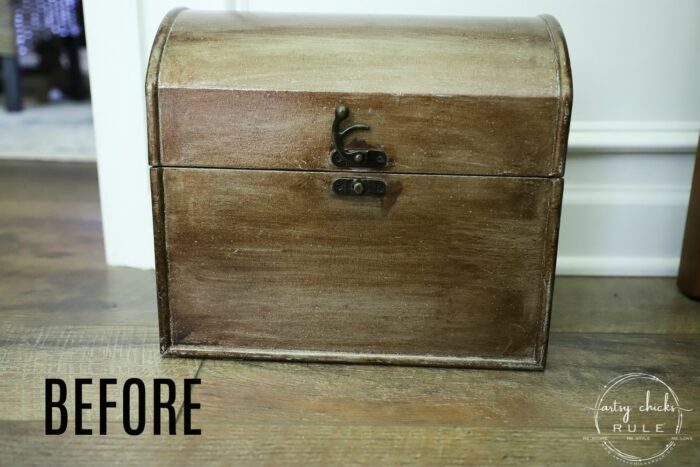 It looked to me like someone had tried painting it or something. Maybe with some kind of stain?
It almost looked like the Polyshades stain or something similar.
I knew it could be totally adorable, so brought it on home with me!
Here's the inside…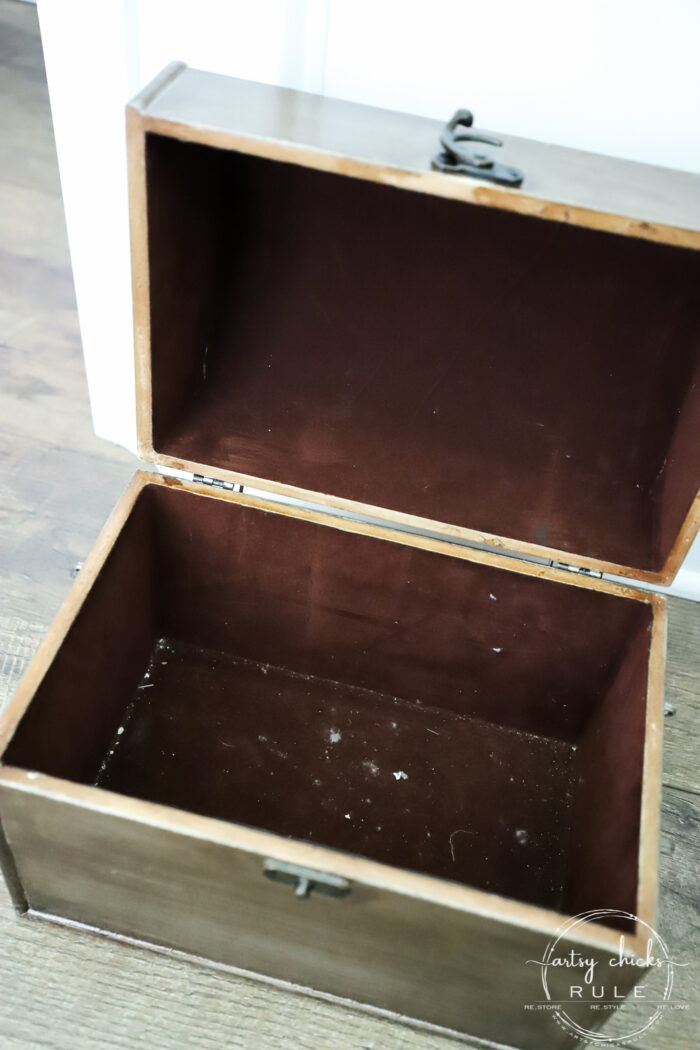 Not in bad shape at all, just dirty.
I decided to leave the inside alone since it was in such good shape. Dirty, but a nice soft velvety material in good shape otherwise.
I simply used one of the sticky rollers and removed all the junk. (ripped them off the roll and pressed them in and around the box…worked great!)
I started out by removing the lock on the front and painting the box white with spray paint. I knew I wanted the lock to stay dark this time so I didn't spray it white along with the rest.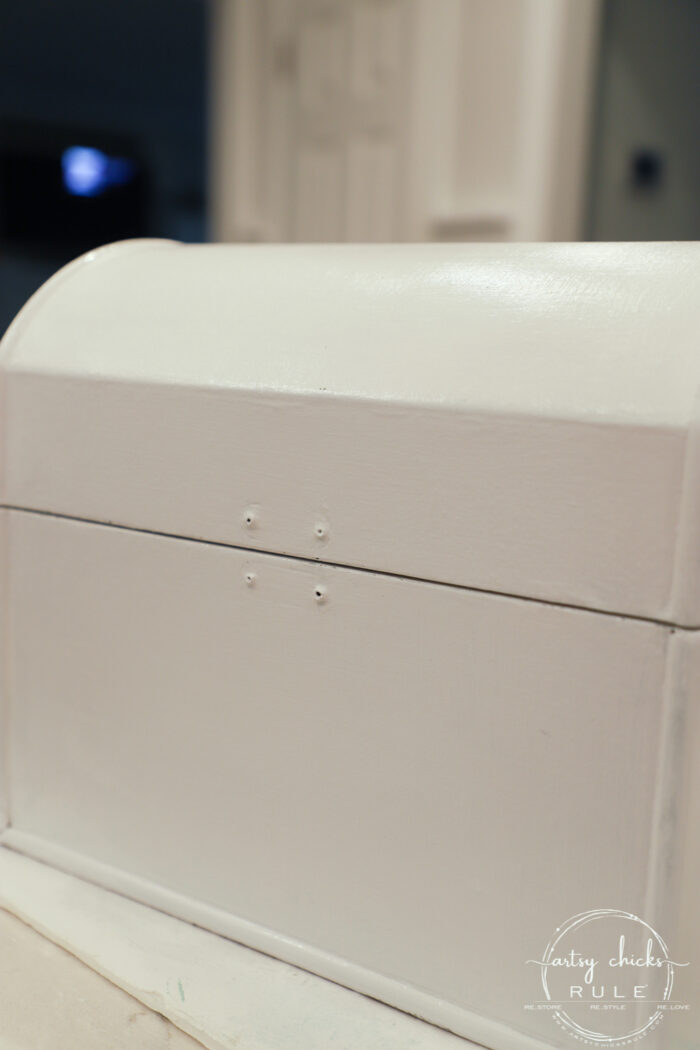 I also removed the side pieces where handles used to reside. The handle portion was broken/missing when I bought it.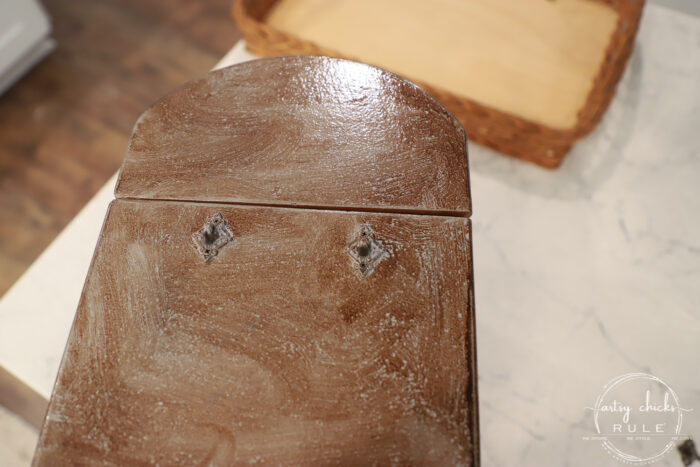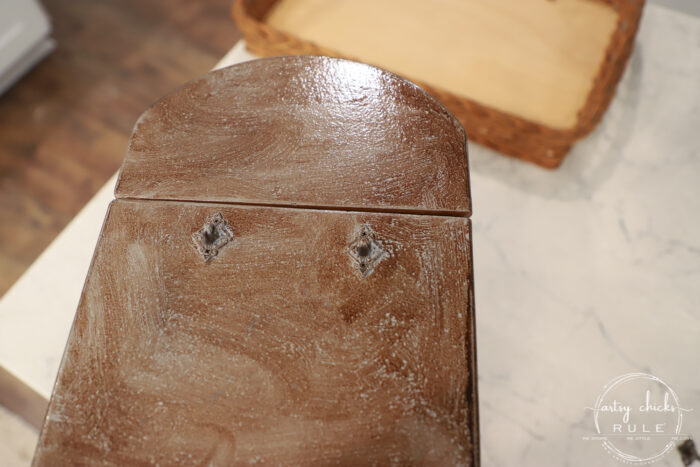 I filled them in with wood filler but forgot to take a photo of that.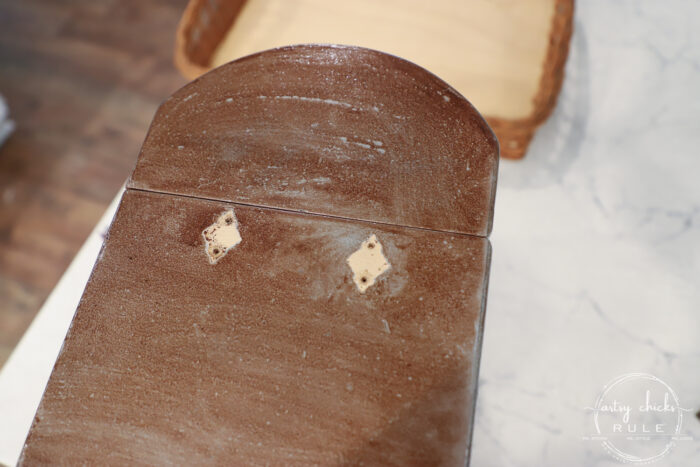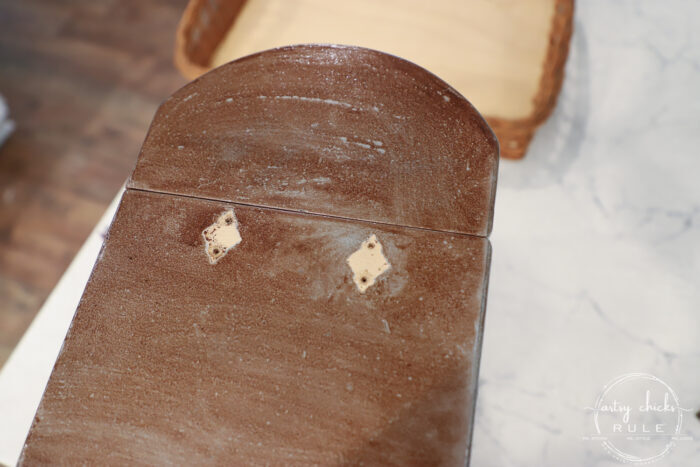 Pretty simple! I was planning on putting new handles but knew I'd not be using those so filled in the holes, etc.
Once the white paint was dry, I added some dark glaze.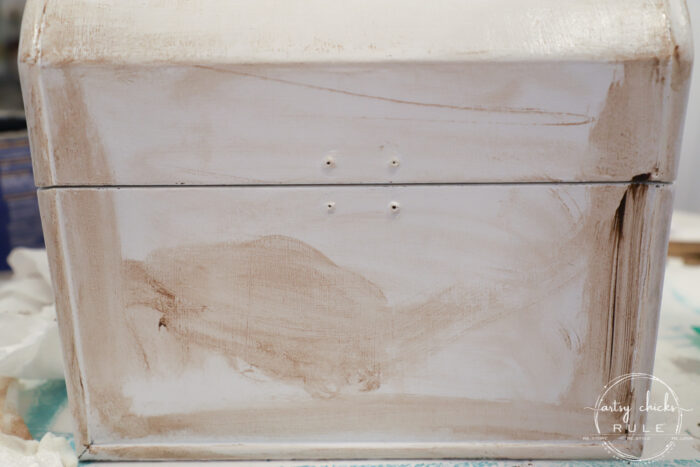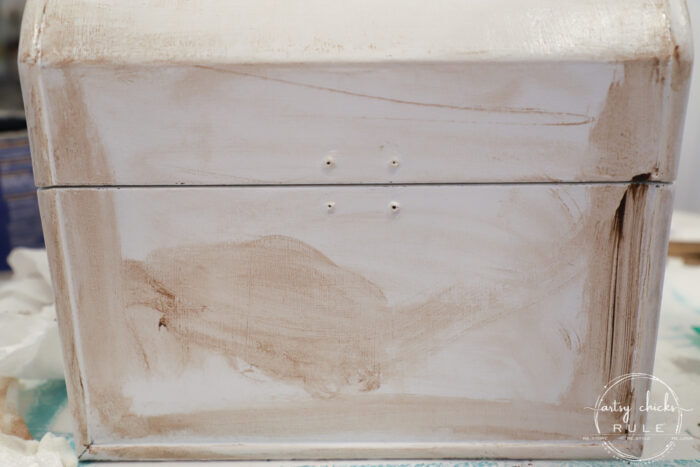 Before we get too far ahead, here's the materials list for all the things I used on this project.
I just used an old rag and wiped the glaze on and around the edges mostly. Then rubbed more all over.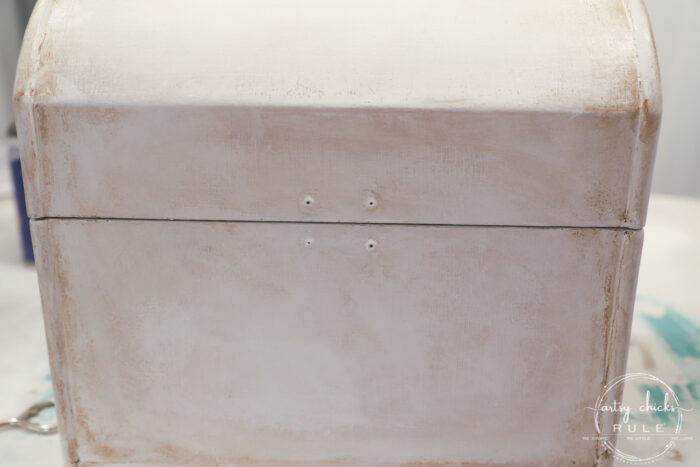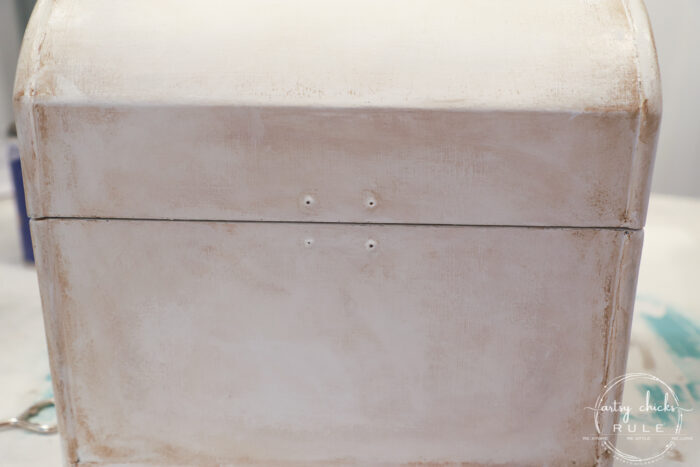 I wanted to give it an aged look since I was adding the flower portion of the transfer.
I think this is the perfect look for it.
I found that if I got too much of the brown glaze in one area, I would just wet the rag a little and wipe again to remove some.
That worked well. You mainly want it around the edges so when I wipe some away, it was more towards the middle sections.
Once it was dry, I positioned the transfer where I wanted it to be and started rubbing it on with the wooden stick provided.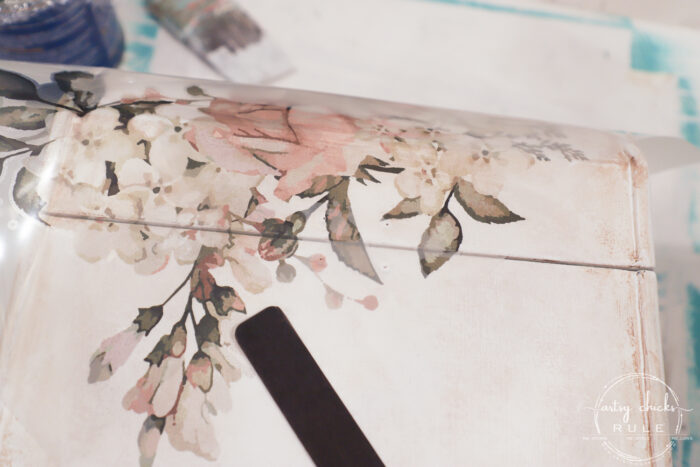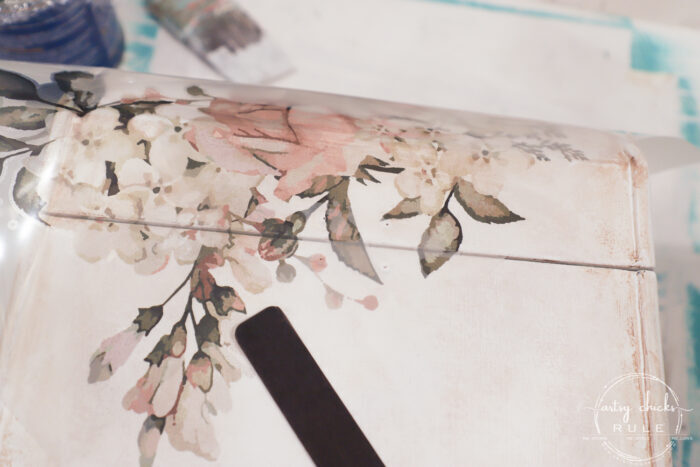 I went right over the area of the seam as you see above.
Once it was transferred, I carefully cut along that edge and then rubbed it on well on each side of the opening.
I let the design overlap on each side…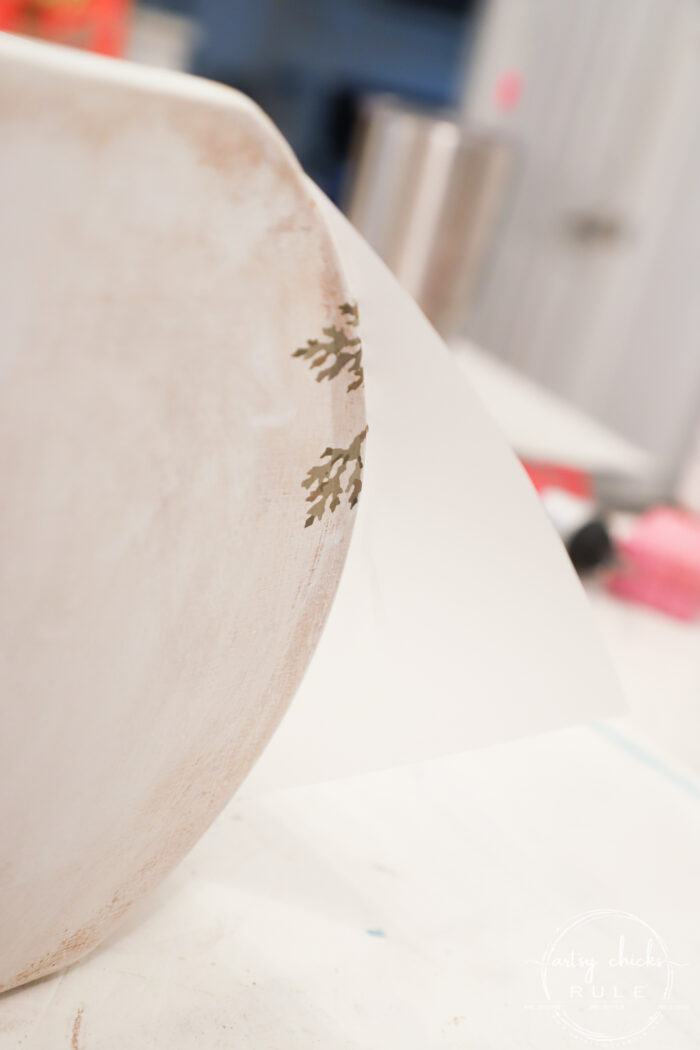 I had to carefully fold it over and rub it on.
And over the backside.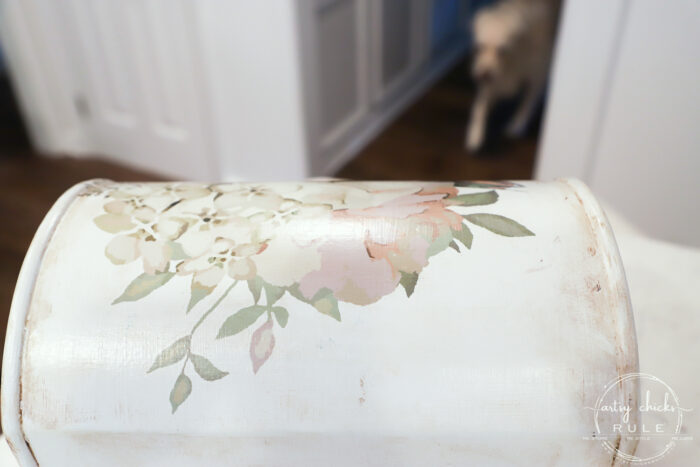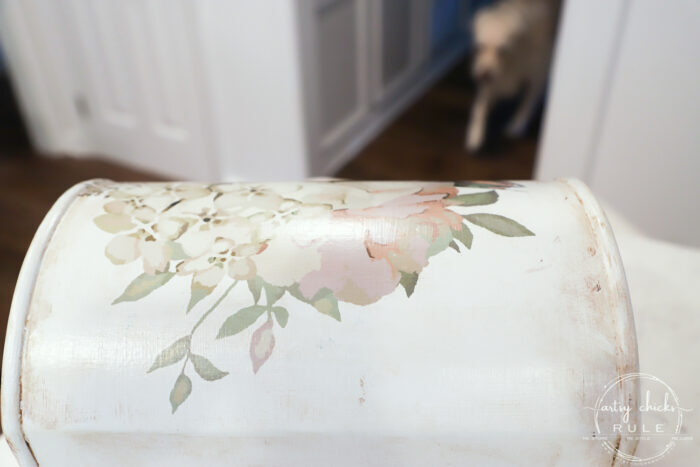 Got a little photo bomber there. ;) Cutie.
This side had a little "crackage" in the leaves, but I'm okay with it! The look is "aged" so all the better.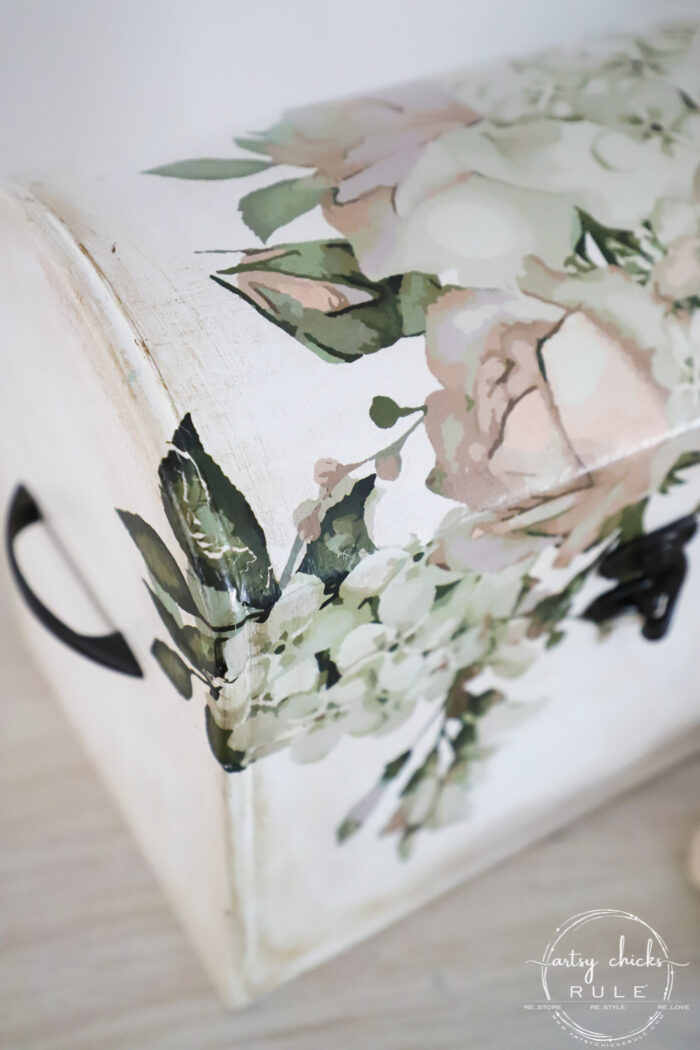 But do you see how I wrapped the transfer around? Just go slow and methodically rub it on.
Next, I drilled new holes for the handles I decided to put on each side.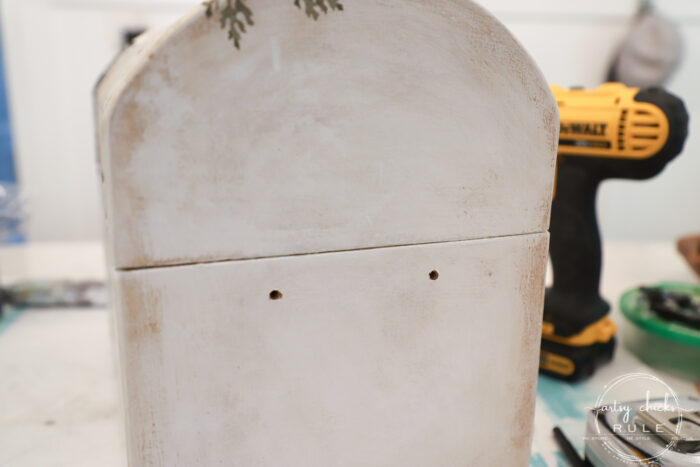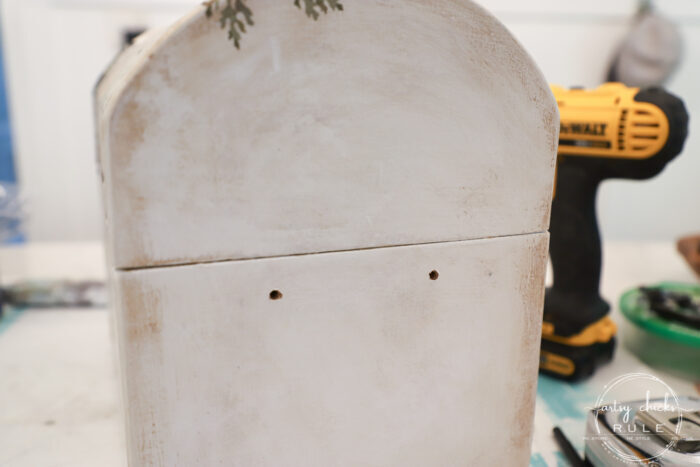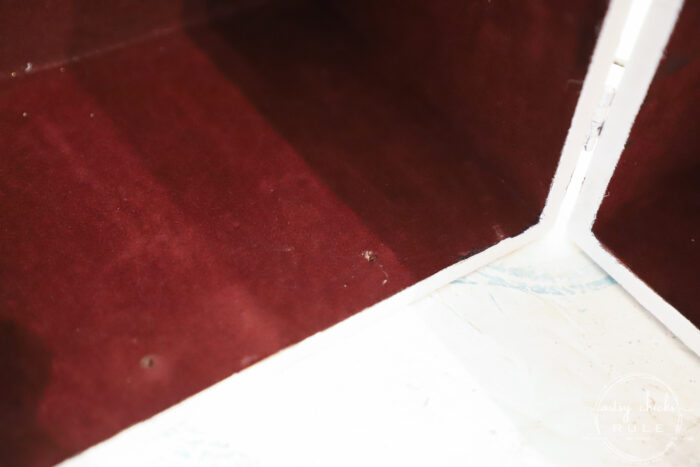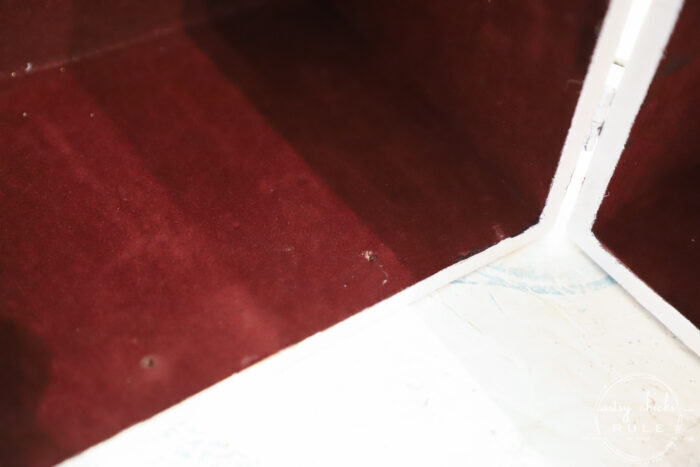 And spray painted the formerly silver handles, oil rubbed bronze along with the latch/lock on the front.
I gave the whole thing one coat of sealer and then attached the handles.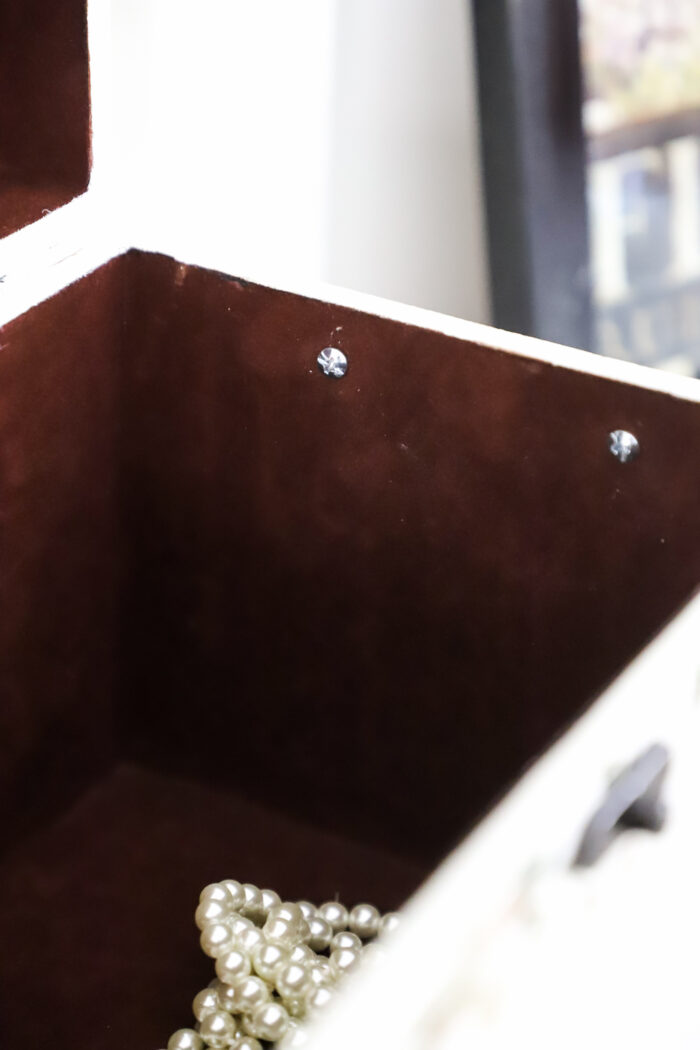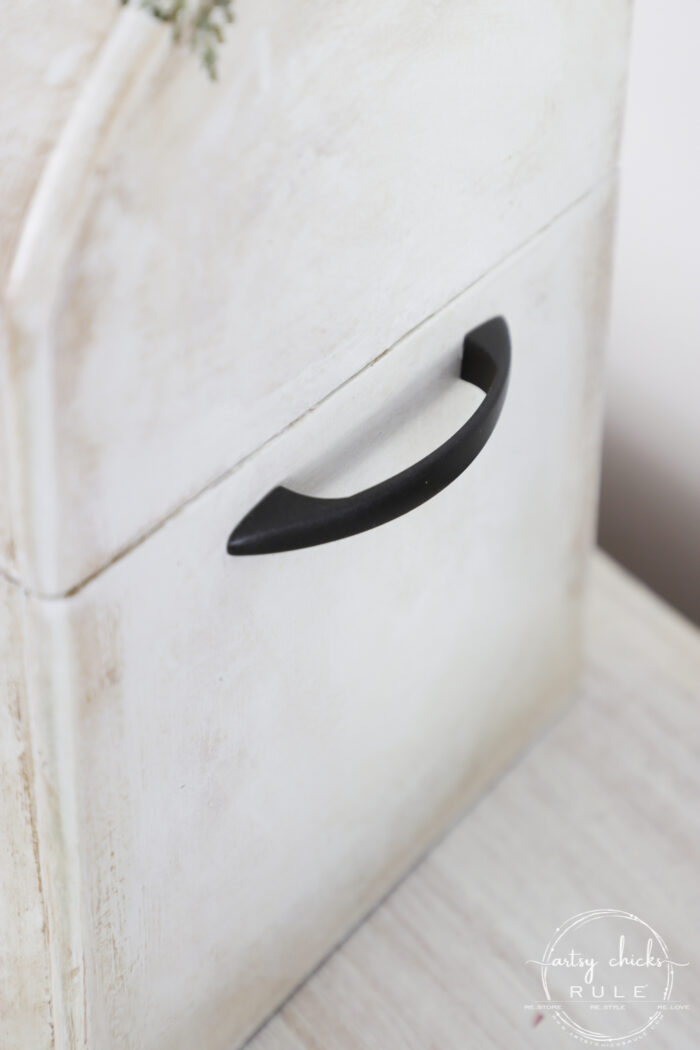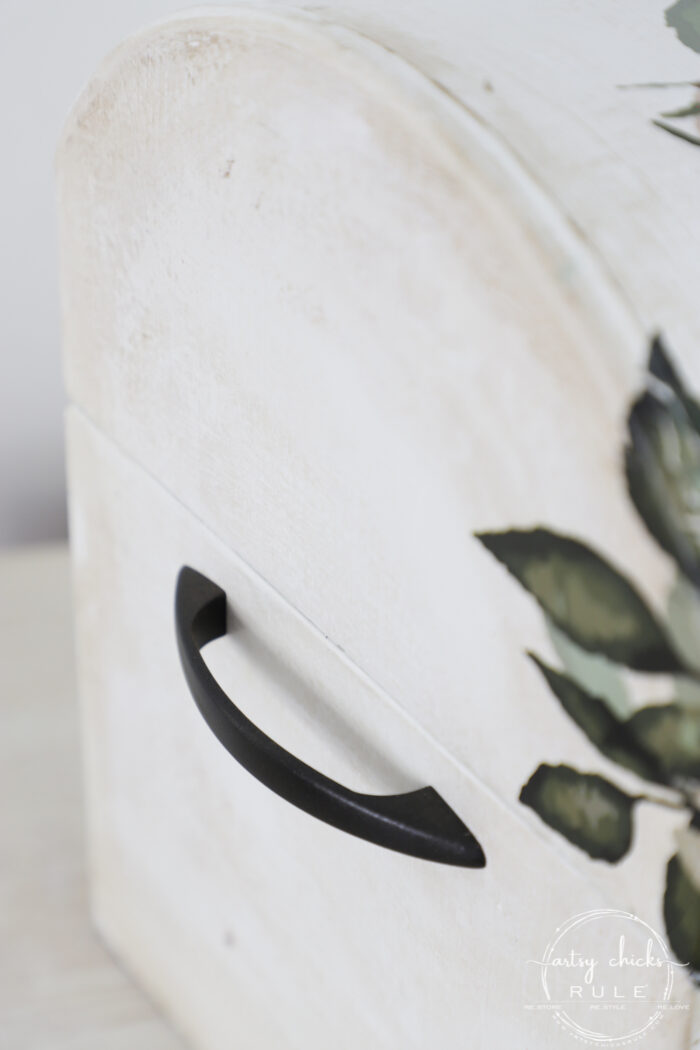 And front latch.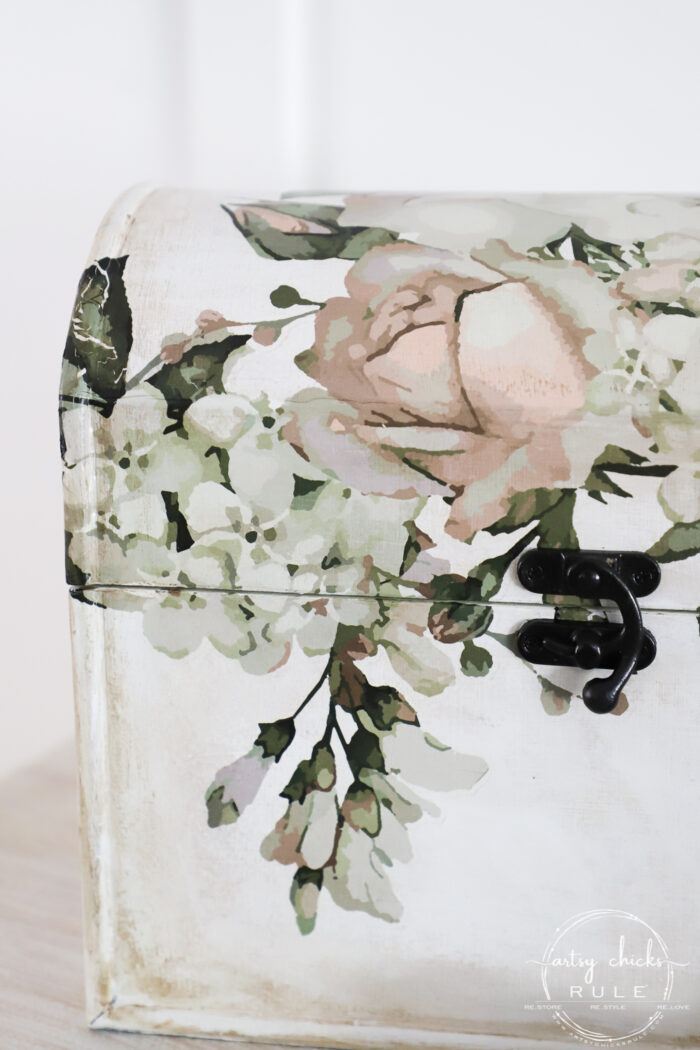 Pretty simple!
I love how this transfer looks on this mini treasure chest.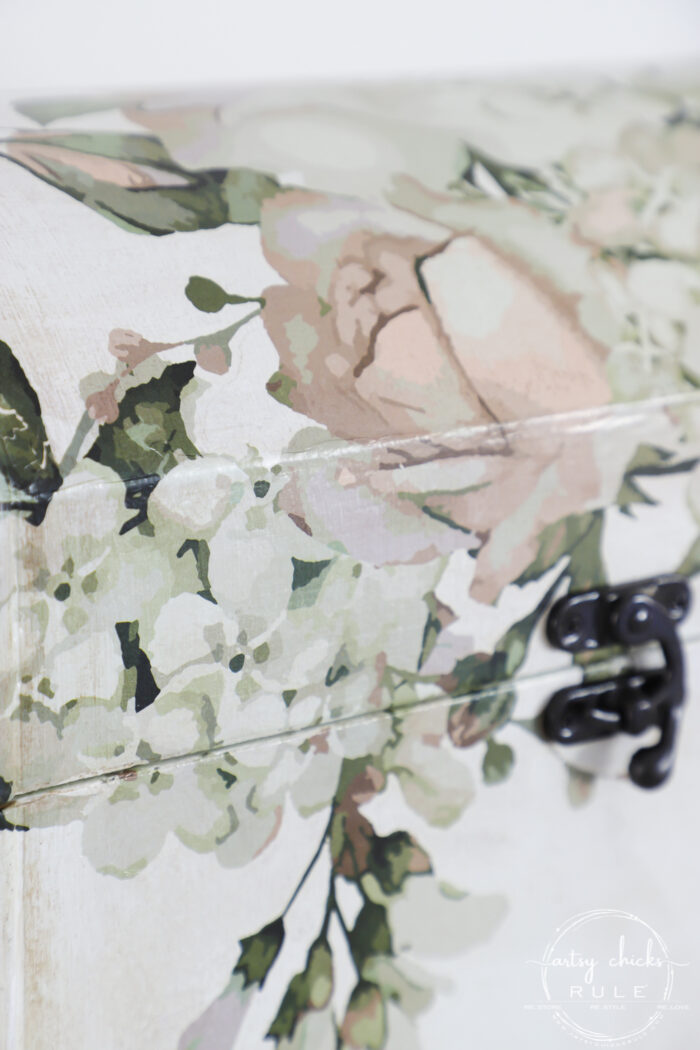 The flowers were just perfect for it.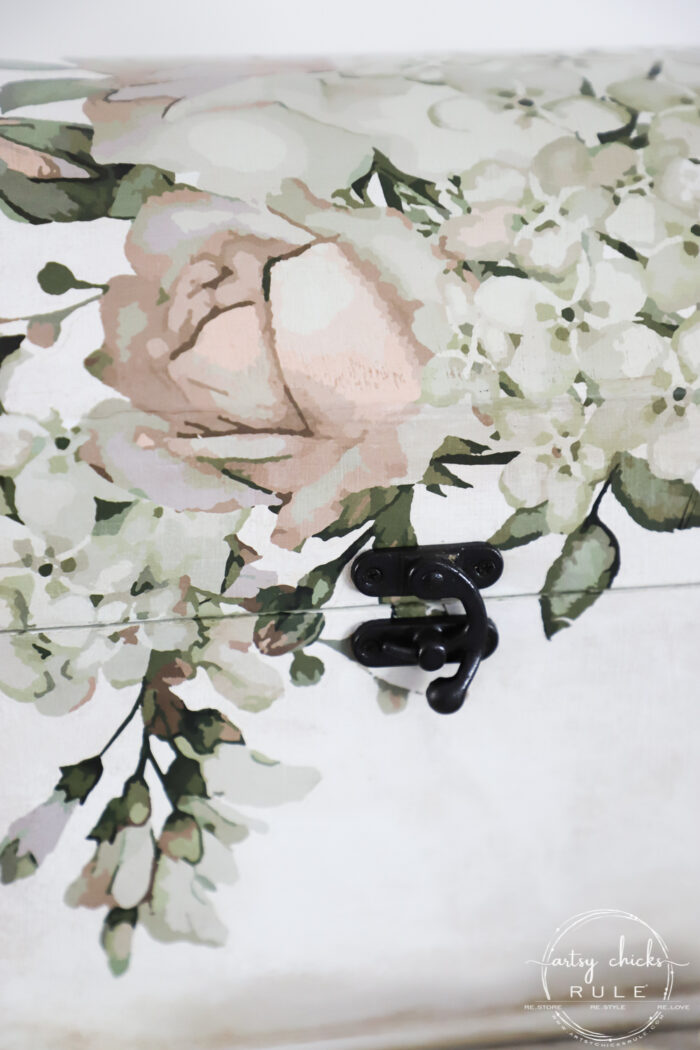 Isn't it so sweet??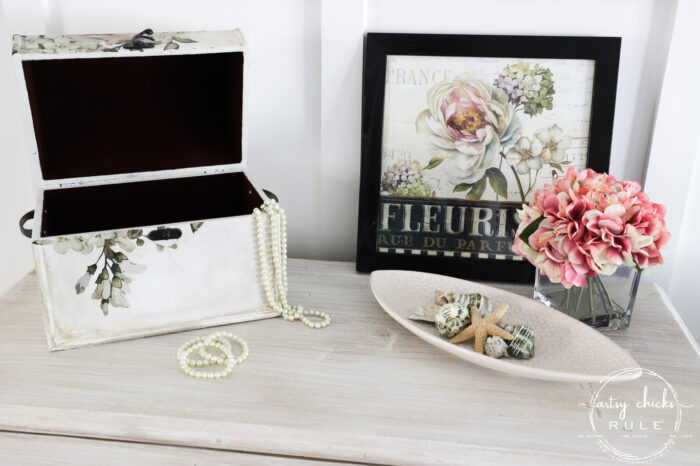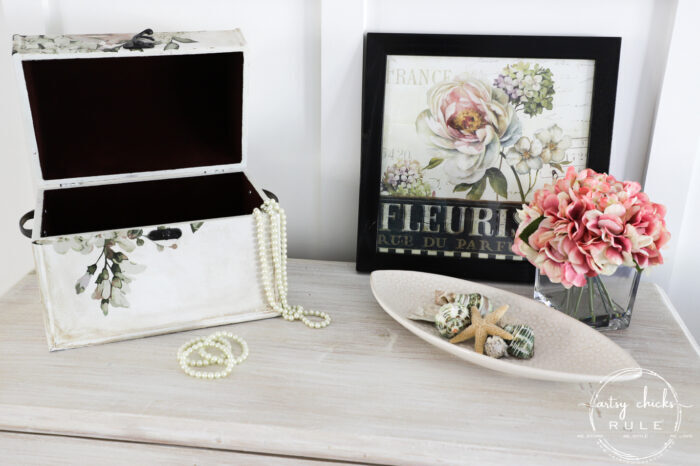 Perfect for holding jewelry or all kinds of things!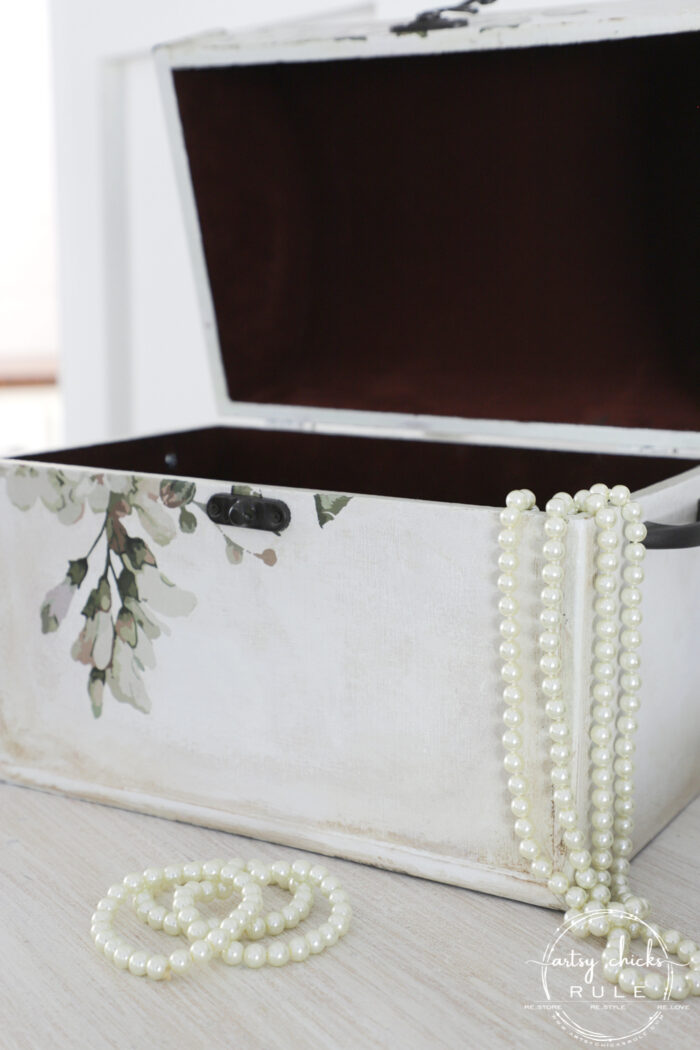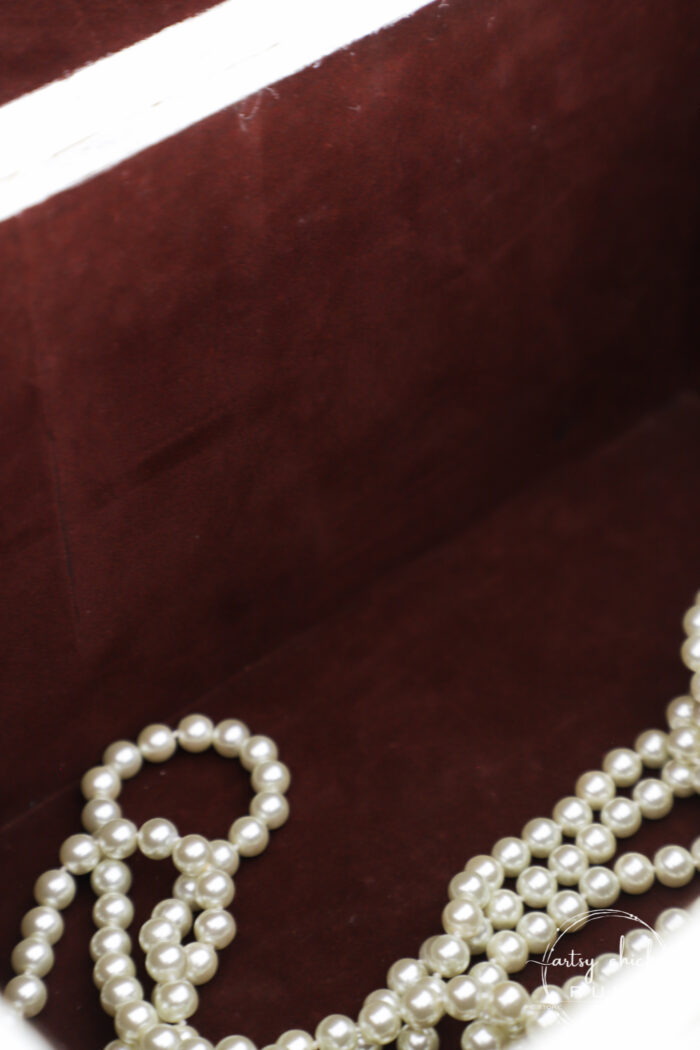 It's fun having pretty containers/decor like this to stash things away.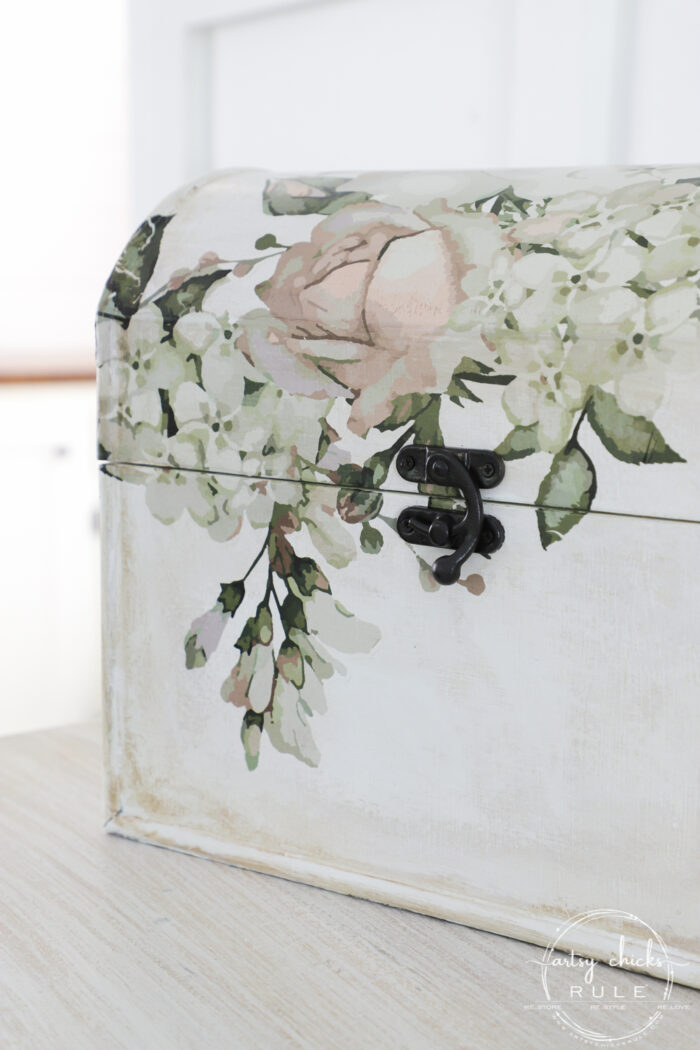 I love the seashells in the picture with this because the colors were exact.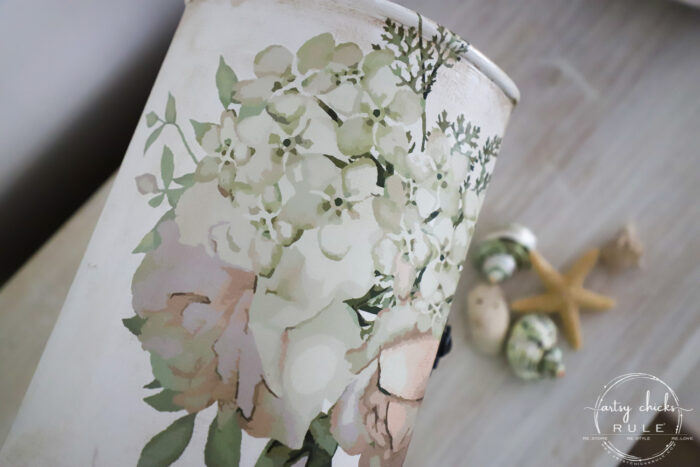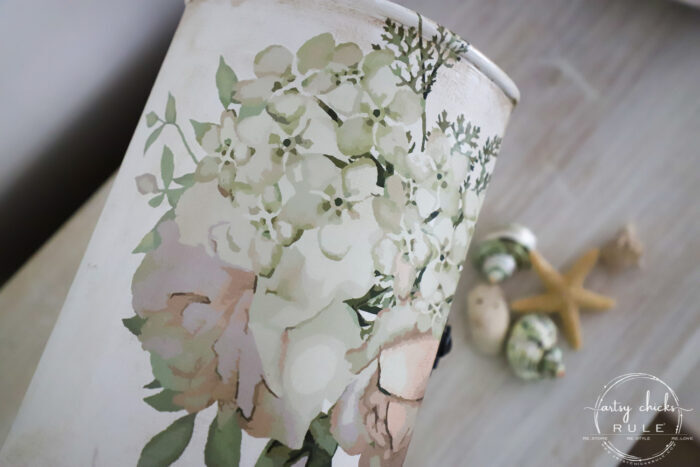 The coloring in the flower/leaves and the shells… perfection.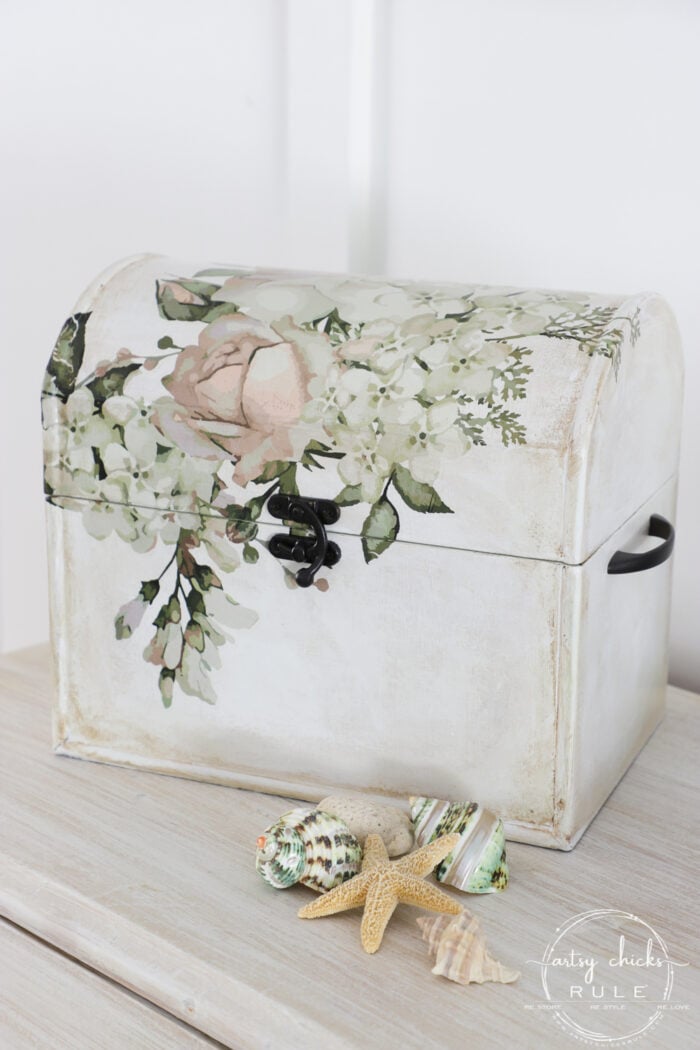 Such a fun one! I haven't used dark glaze on anything in a long while so I really enjoyed giving this one an "antique-y" look.
The flowers made that the perfect choice for this makeover.
So this Prima Transfer has 3 parts to it, I've used 2 so far and the third one will be used on an upcoming project I'm working on currently.
If you follow along on Instagram, you might have seen me post about it in my stories this past weekend. ;)
PIN it to save it!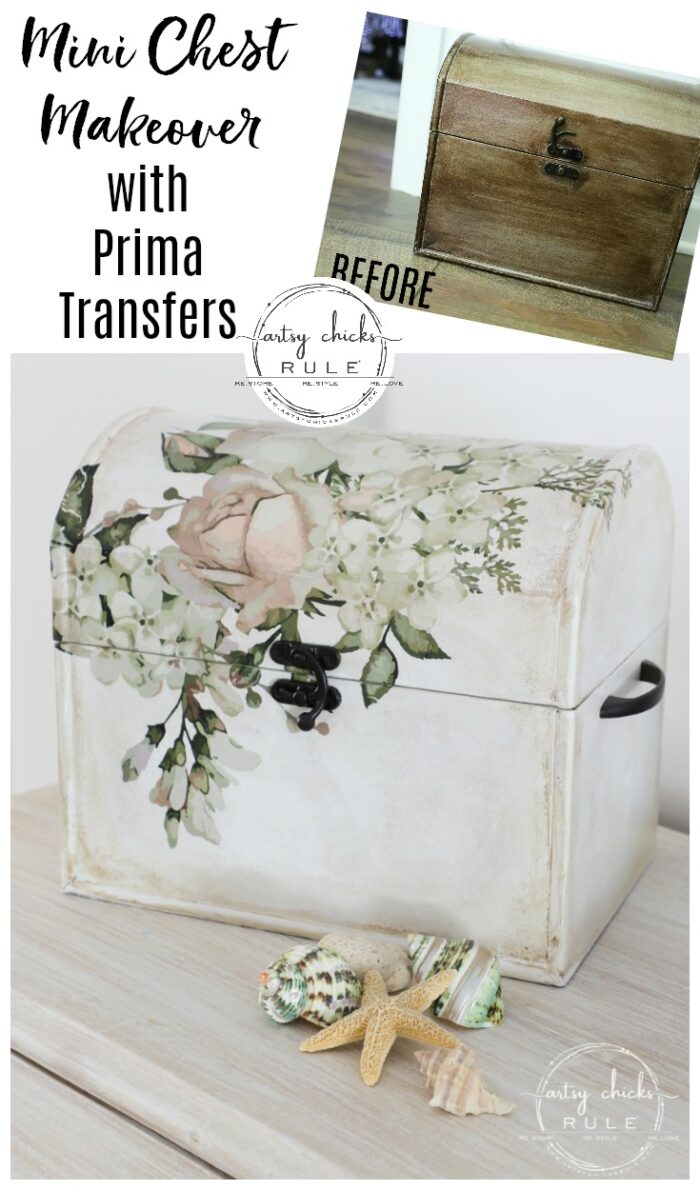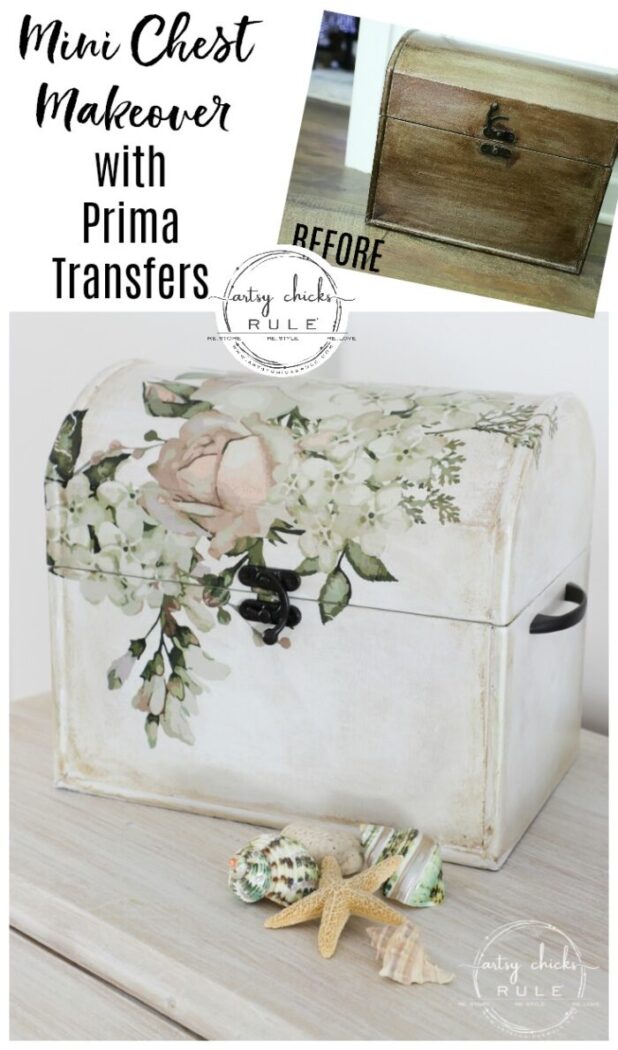 Happy week to you, see you right back here on Thursday with this!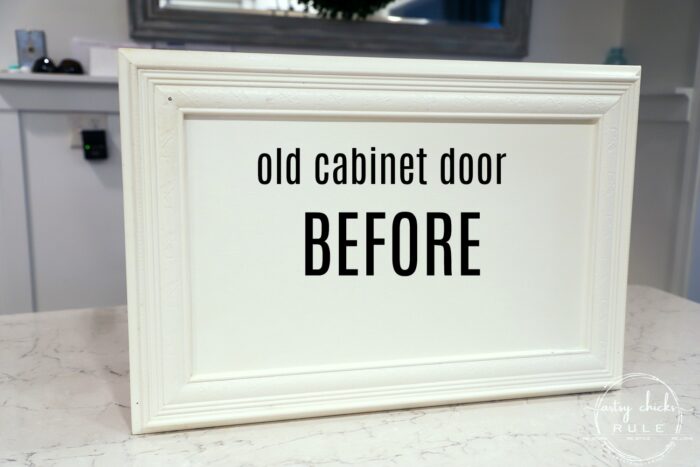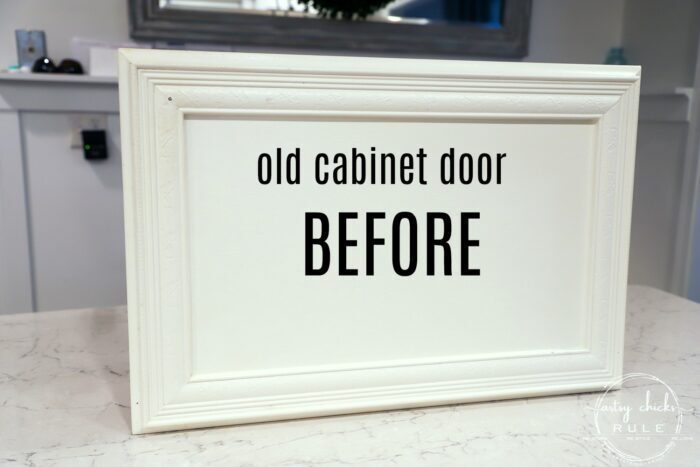 UPDATE!! See it now here!!
xo