Bird Paper Decoupage Jewelry Box Makeover
This post may contain affiliate links. Please see disclosures here.
This sweet bird paper decoupage for the bird and nature lover! Easy way to give this jewelry box a new look.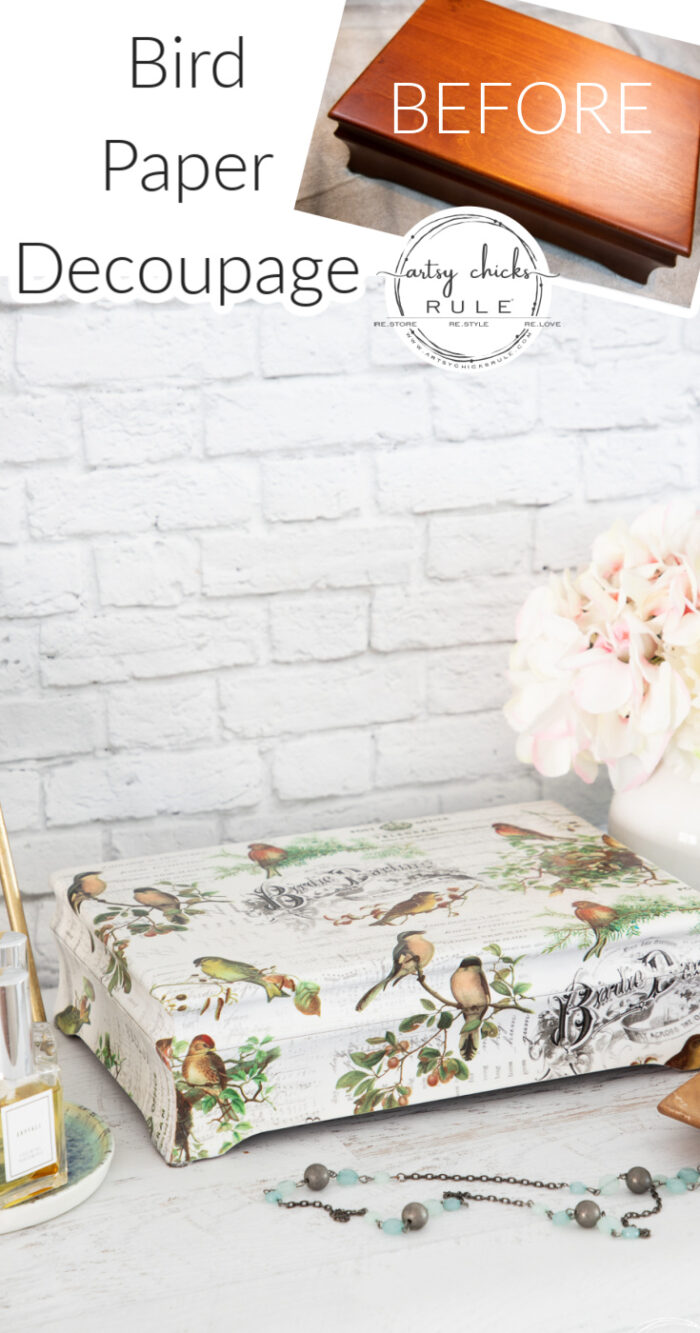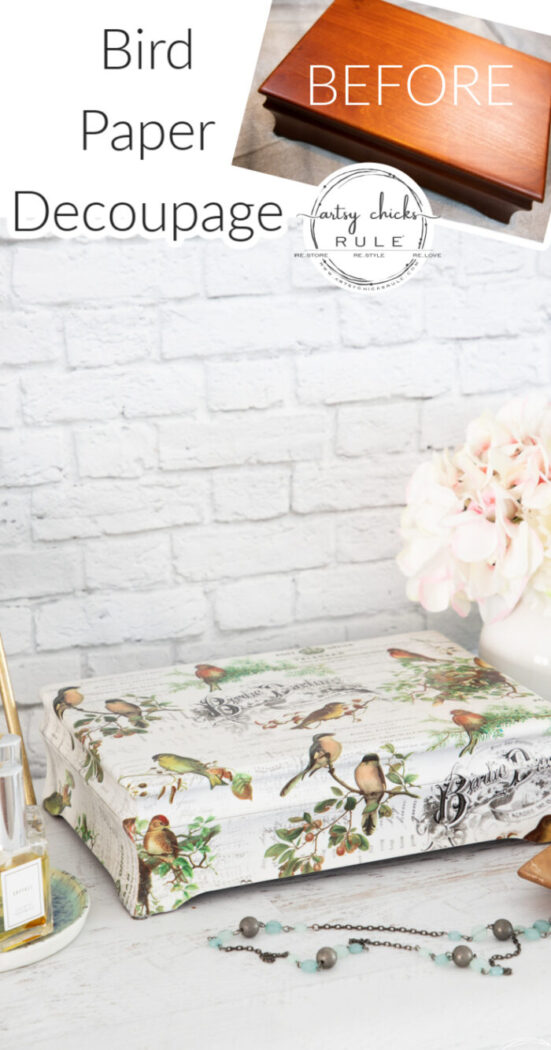 Hello, hello friends!
I'm marking another one done on the latest haul today. This >>> haul.
I did something a little different today. I decoupaged the entire thing with this pretty bird paper decoupage paper.
This is another "new to me" product. You can find it >>> here.
I'm not sure this is my favorite project ever, haha, but it would be the perfect gift for that bird lover in your life!!
Bird Paper Decoupage Jewelry Box Makeover
Here is how it looked before…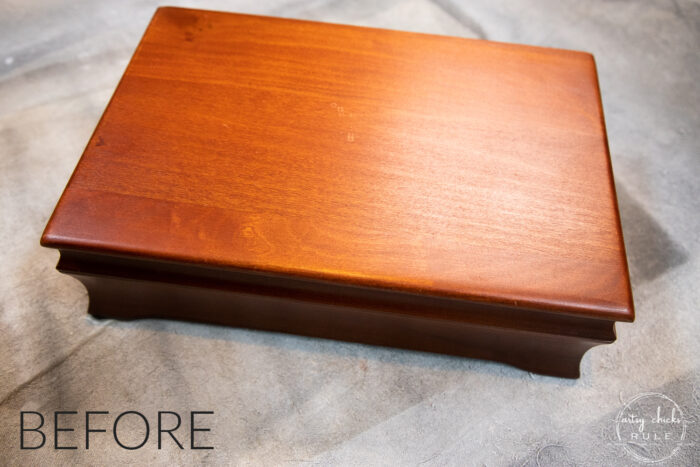 The inside was in PERFECT condition so didn't do a thing to it except get the dust out. (with these)
For the outside, I sanded it just lightly and then sprayed it with primer. (this one)
Then began figuring out the layout of this bird paper.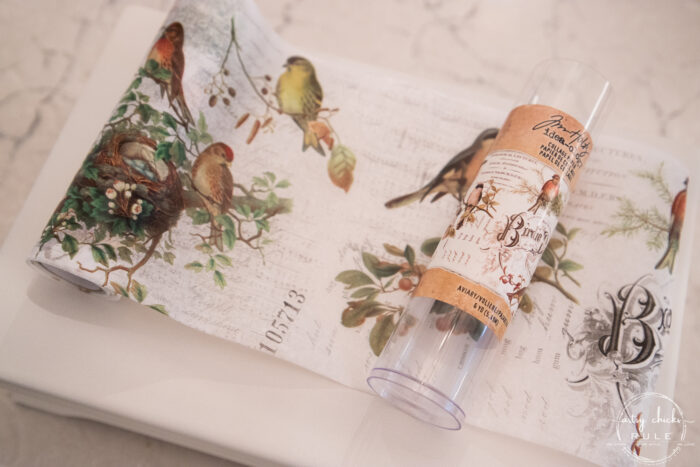 I decided to put the words right in the middle.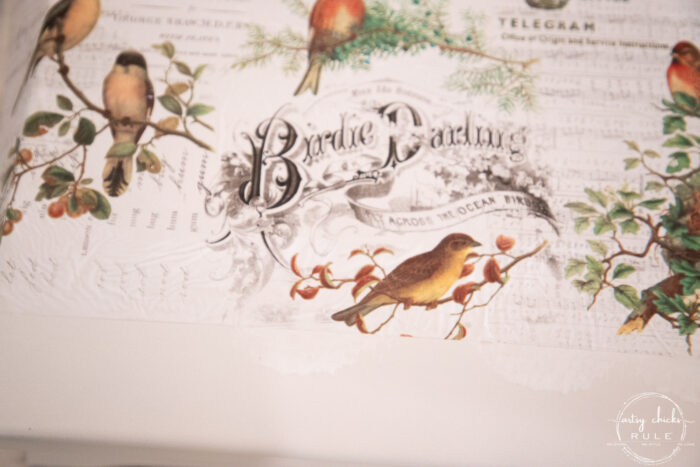 The roll is small so I had to piece it together as you can see above…and below.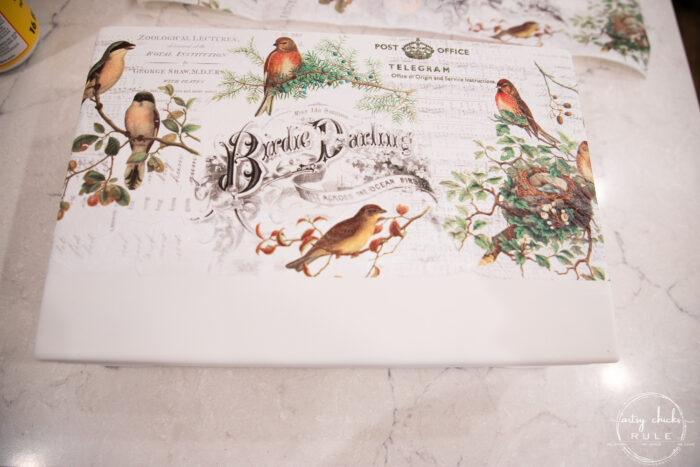 By the way, I used Mod Podge.
Now, this is regular tissue paper, not like the tissue paper on my last project.
So, regular is very thin and does tend to wrinkle a bit …and mine did somewhat.
The key is to not handle much and use a light hand as not to tear it once you've stuck it to the Mod Podge.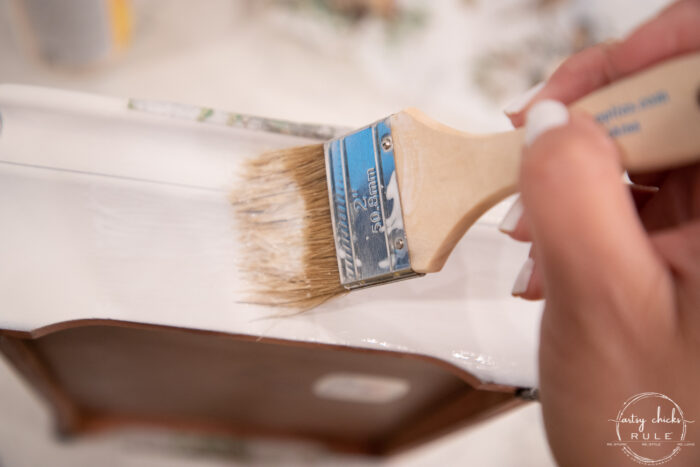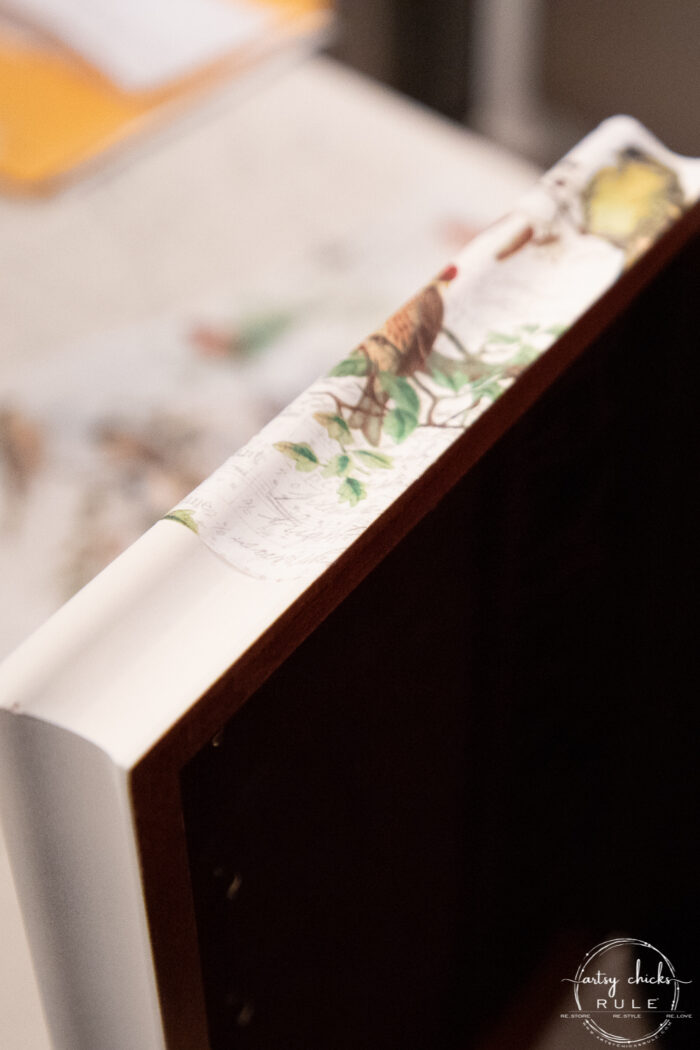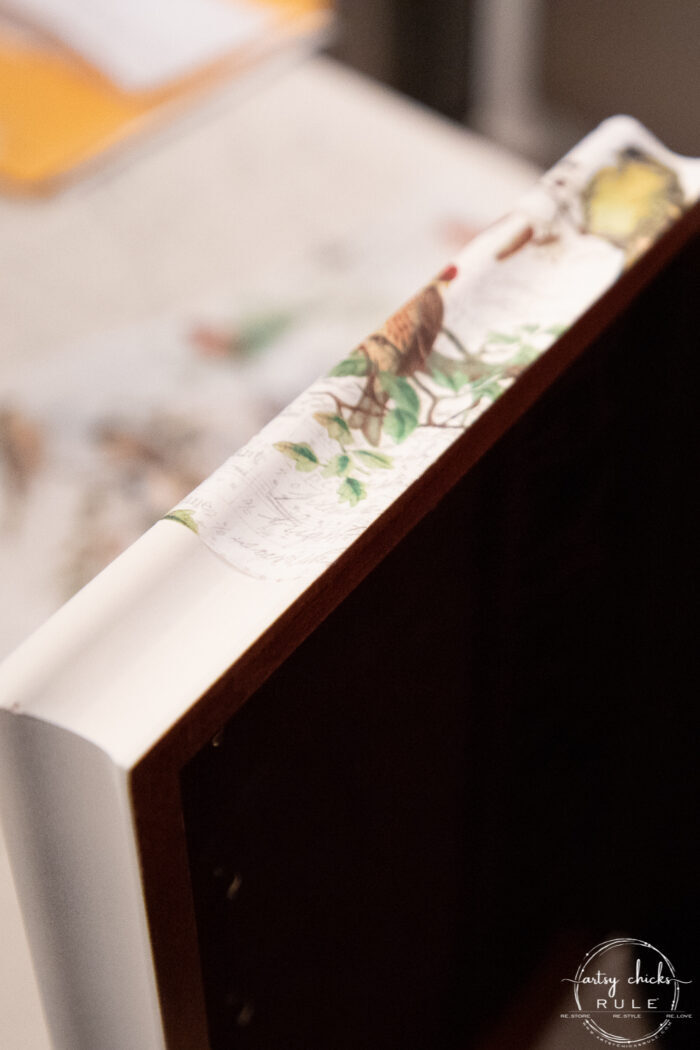 I laid the pieces directly around to the sides.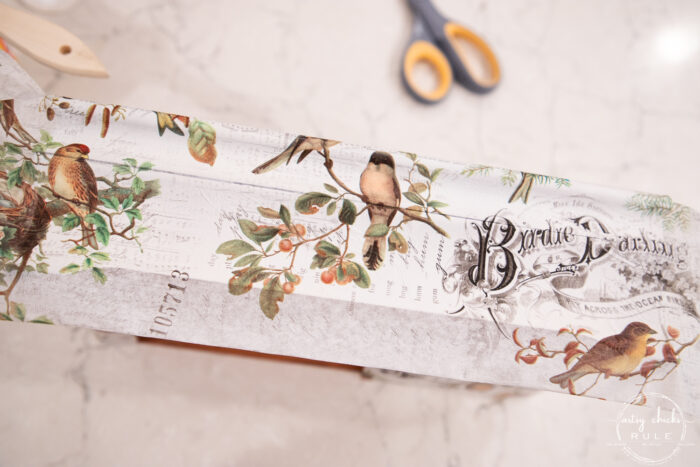 Then used an Exacto knife to gently cut at the seam.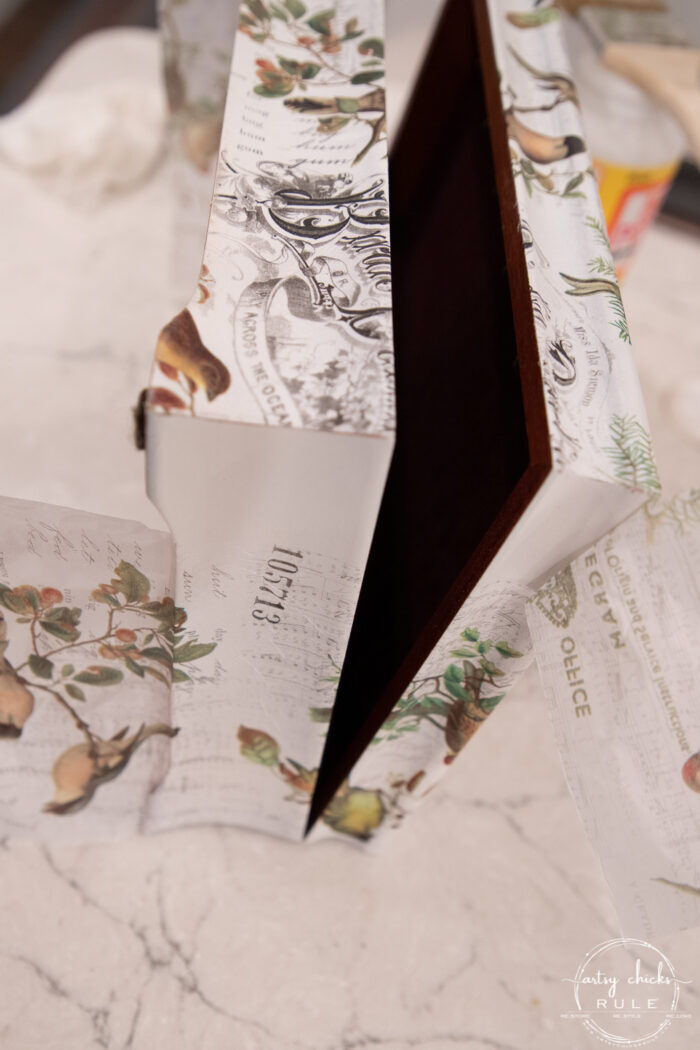 I used sandpaper to remove the paper around the edges. (once dry)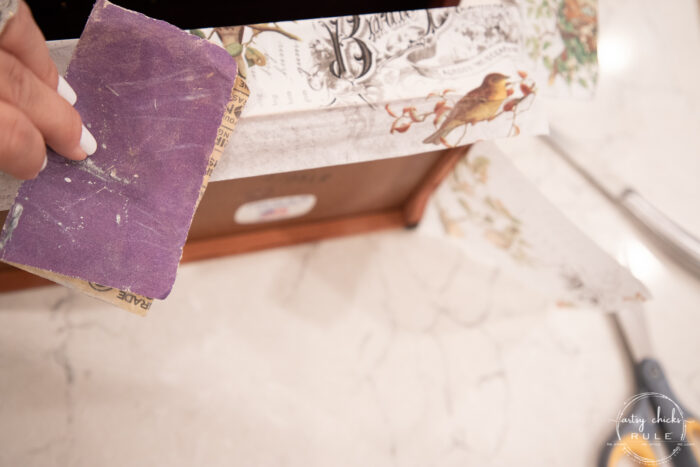 That works really well. I've even done that on fabric! You can see that, here.
I was worried I wouldn't be able to get the front corners well.
But I managed to figure out a way.
The piece you see above is one long piece that covers the rest of the top, the front, and the two small sides there.
I just attached it on the top, then the front. Then I cut just past the front side. (see below)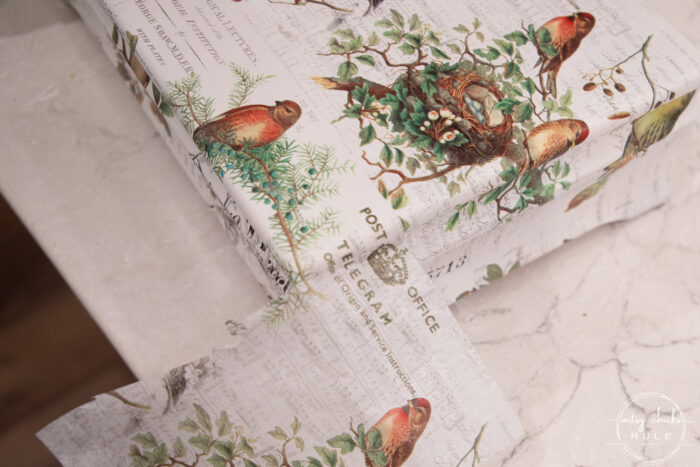 Then before I Mod Podged the side piece down, I lightly sanded the edges to remove the excess paper on the front side area. (I used a blow dryer to speed up the drying in areas so I could do this) (I hope this makes sense)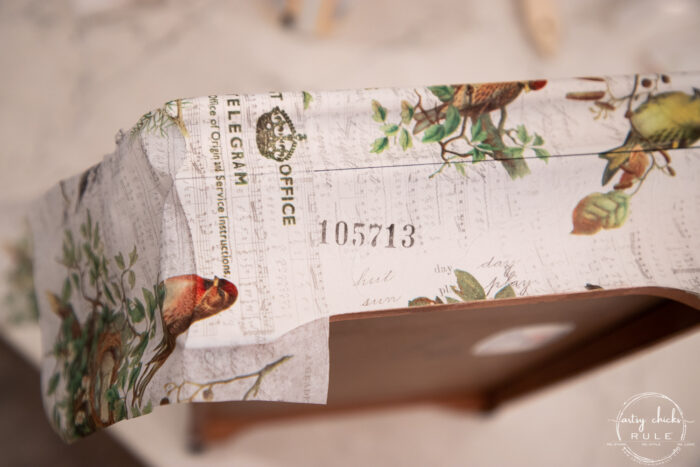 Then I used Mod Podge to attach this side and once dry I sanded along that same curved edge you see there but from this side this time.
Which left it looking like this.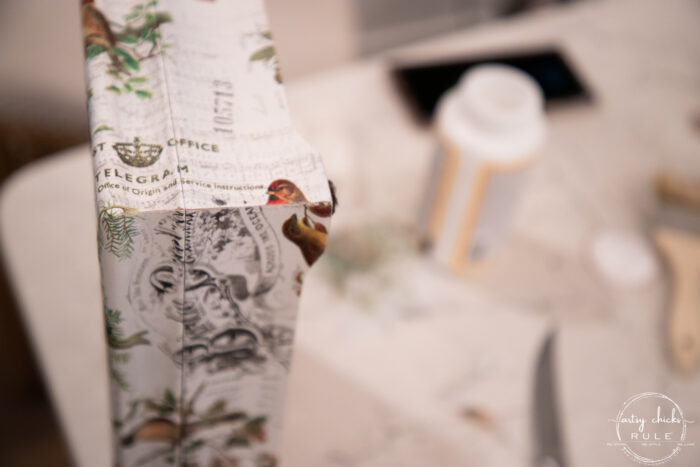 Perfect!
I was pleasantly surprised at how well this turned out.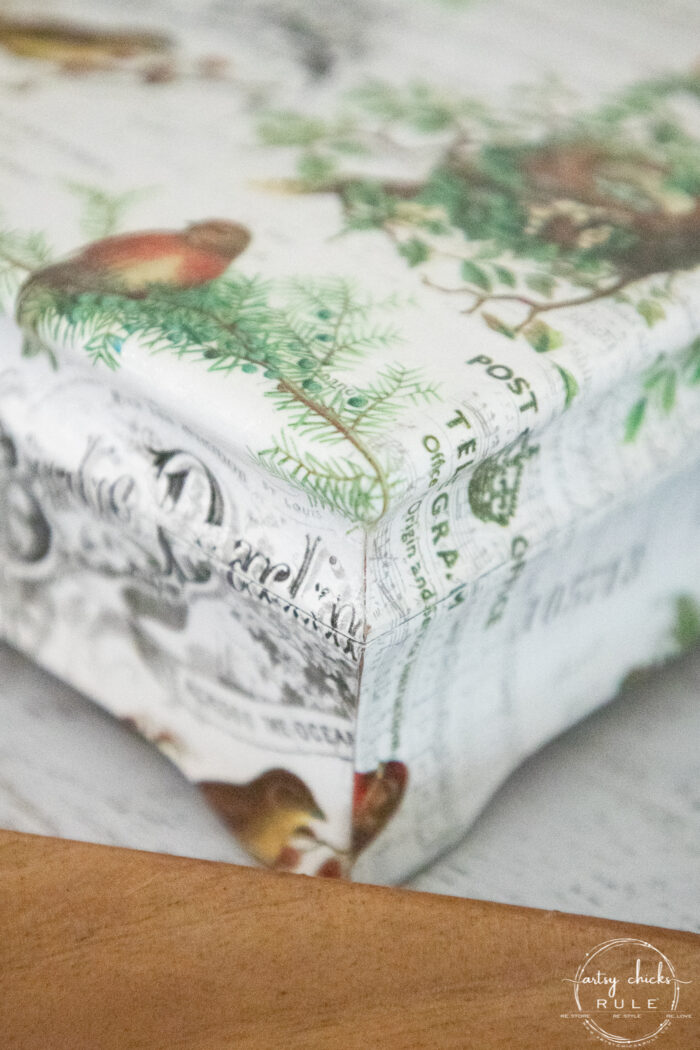 Once it was all dry, I gave it a quick spray with this lacquer.
And done!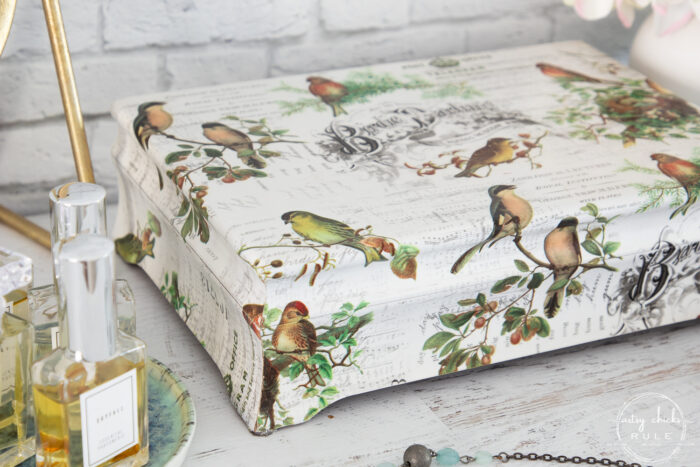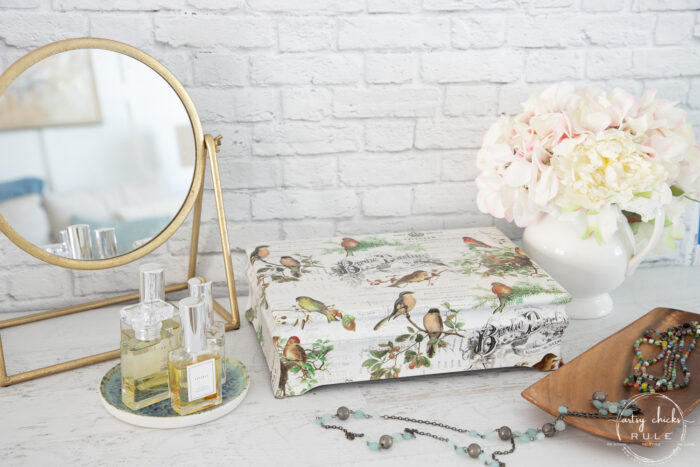 The birds are sweet.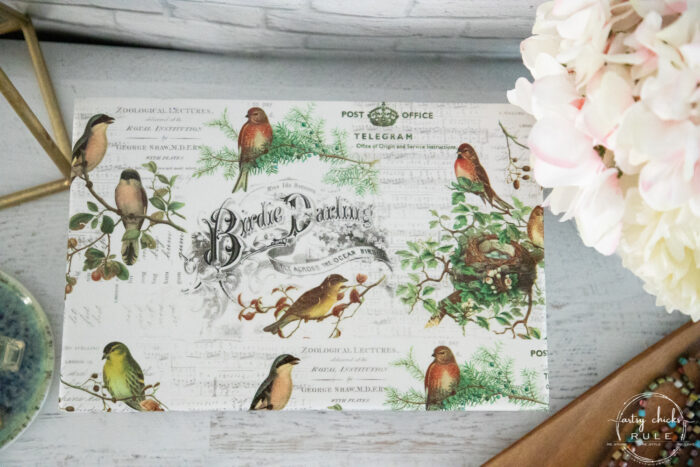 And like I mentioned, the inside was perfect.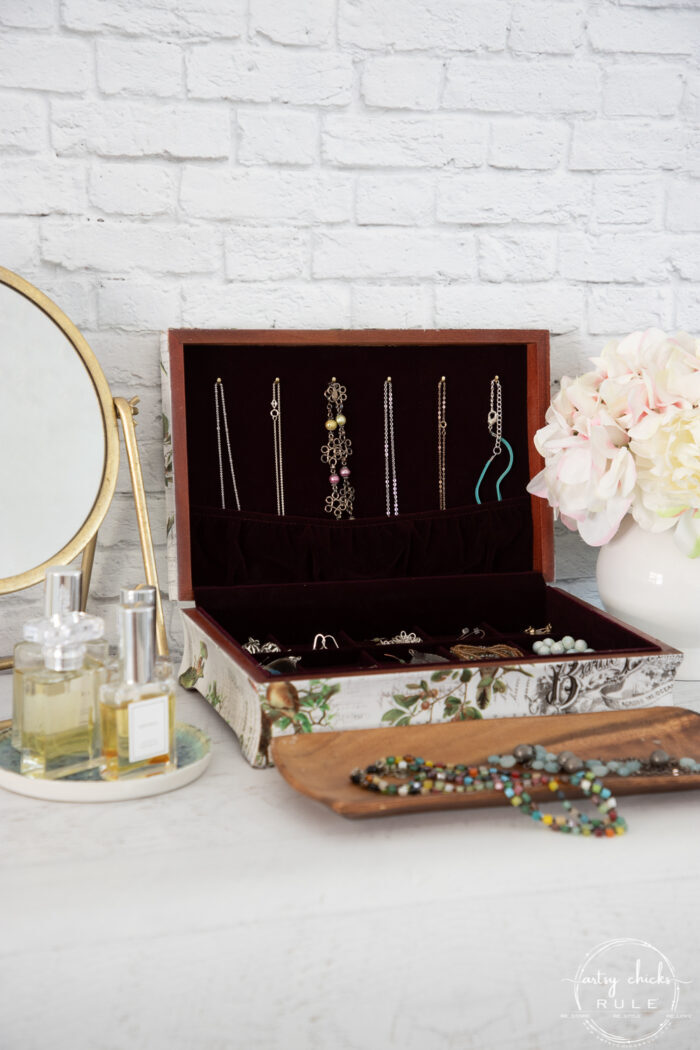 Great gift for a nature lover…with jewelry! ;)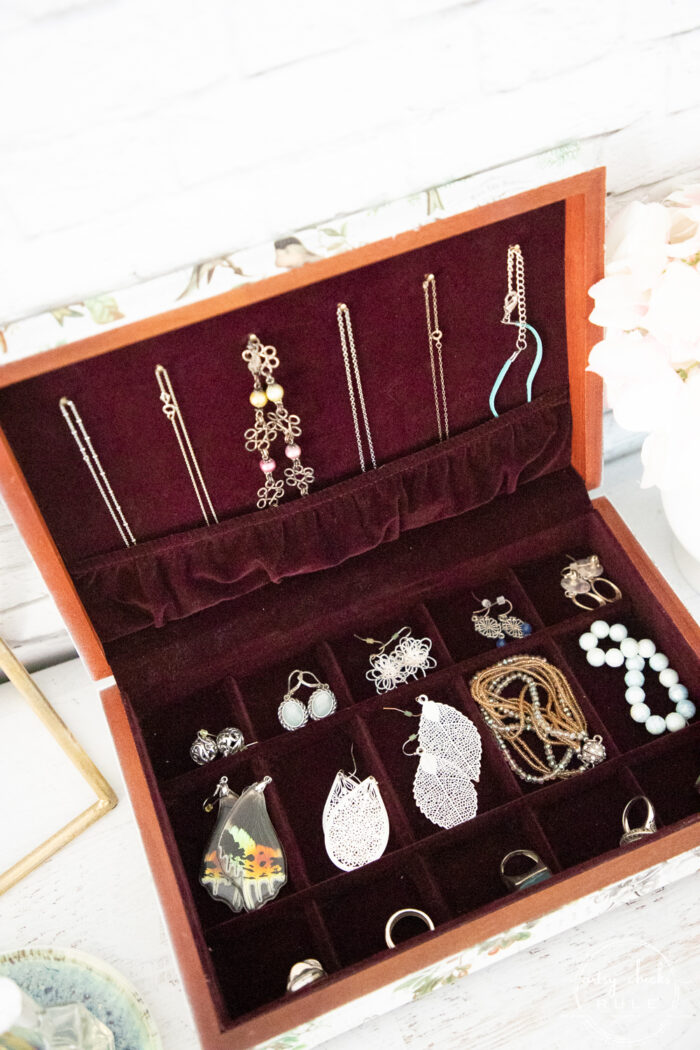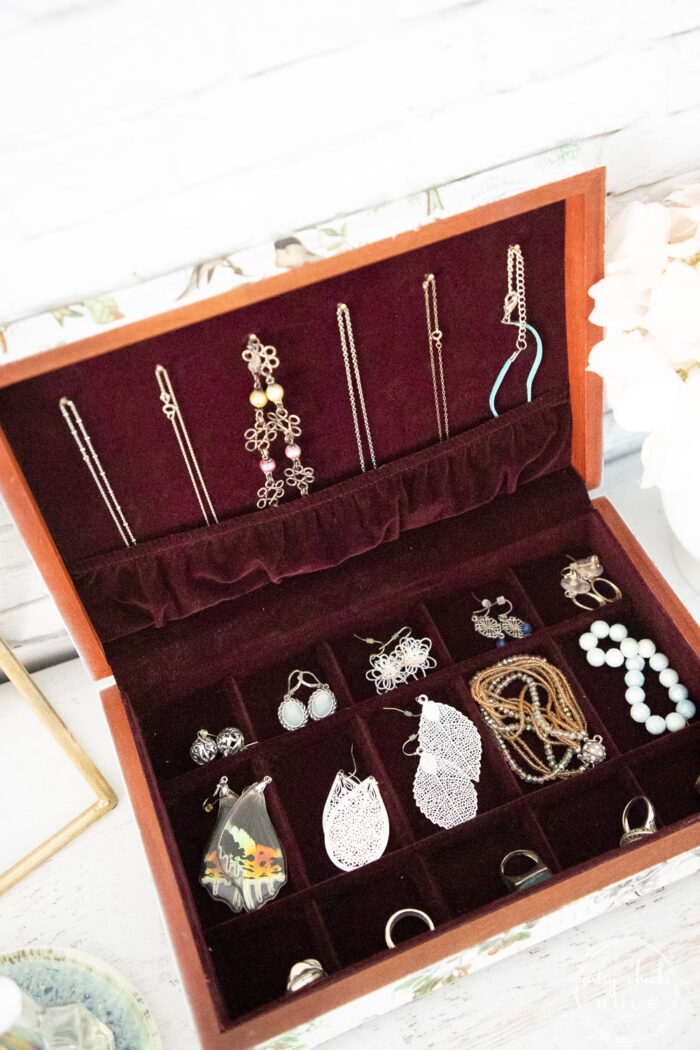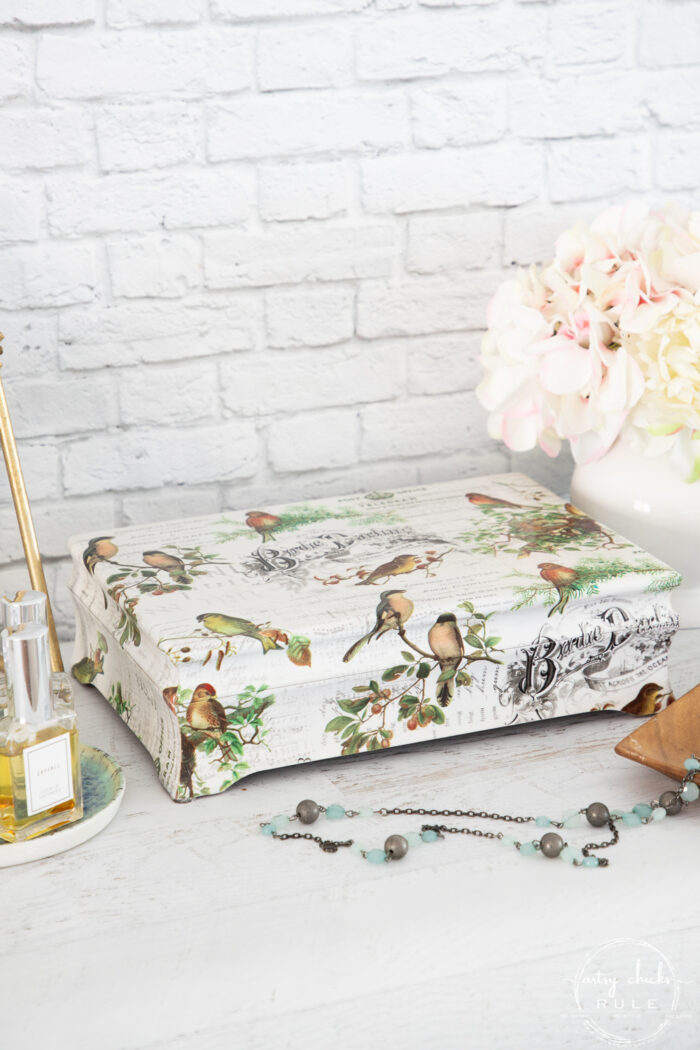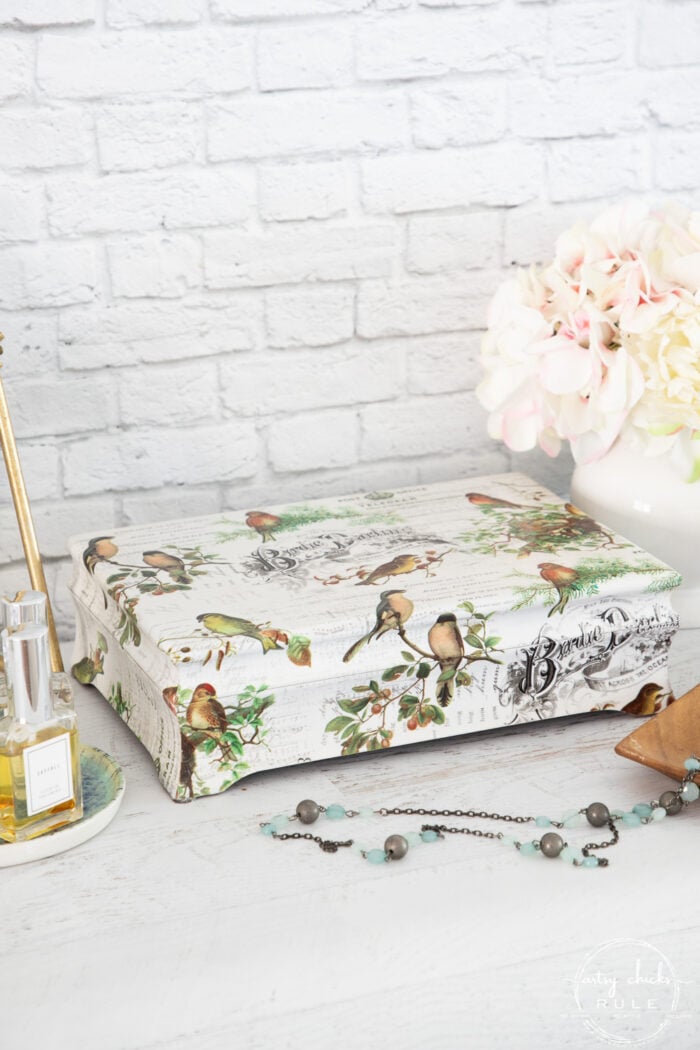 It was fun working with the tissue paper and getting it perfectly around those corners and edges.
I wasn't sure I was going to be able to make it work so that was a lesson in itself!
PIN it to save it!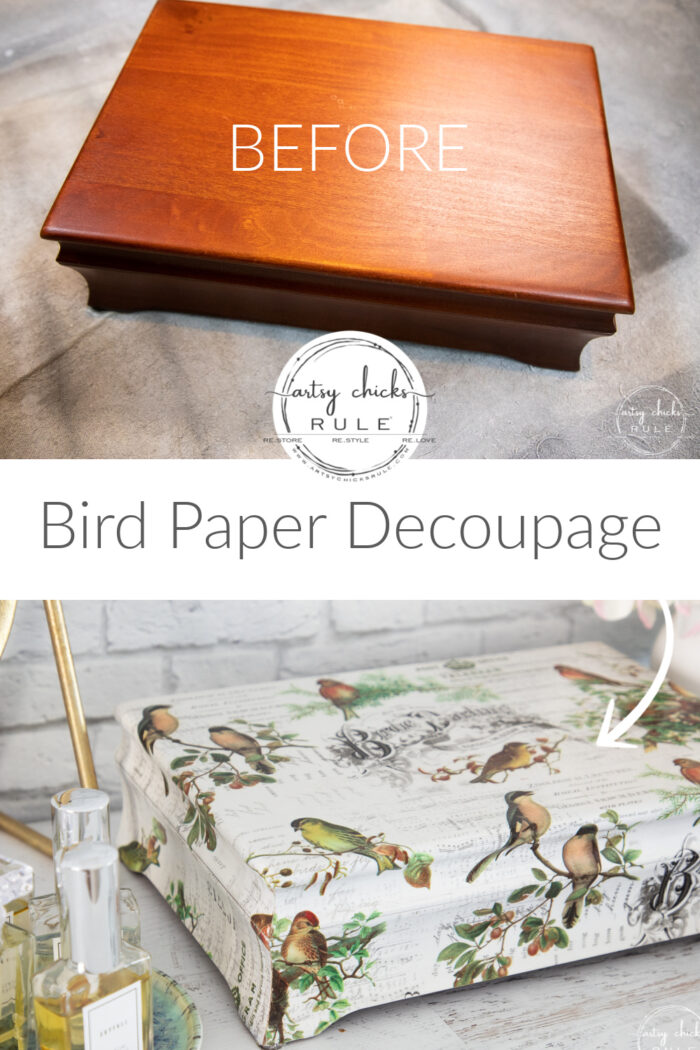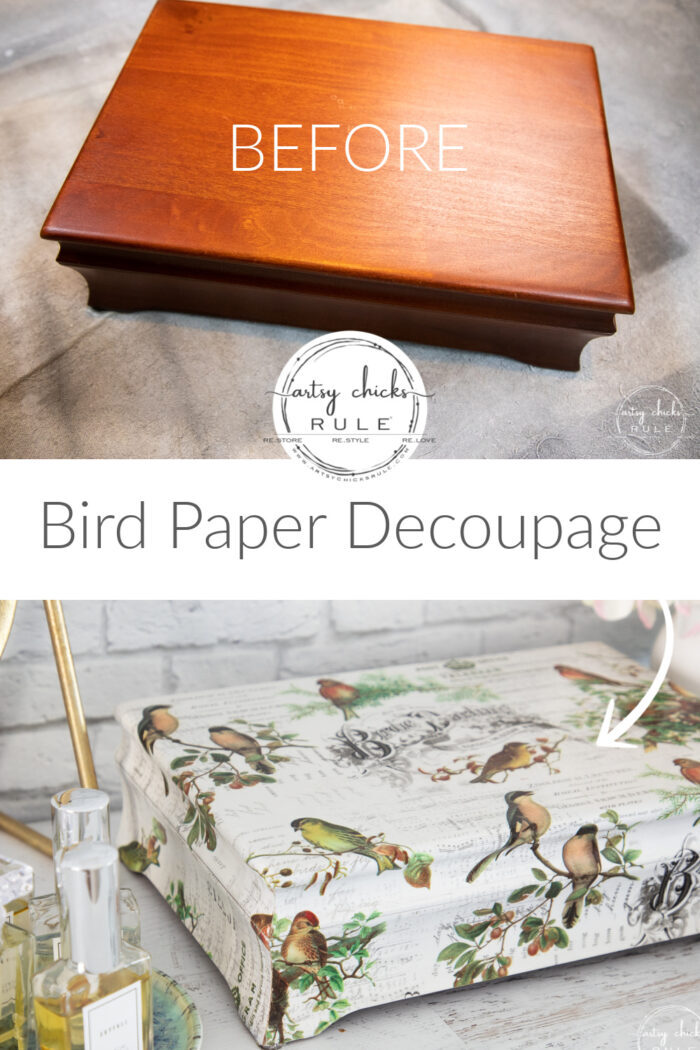 I hope you have a wonderful holiday weekend! Looks like rain for us (right now) but doesn't it always do that on Memorial weekend? lol I don't care, I'm going to enjoy it anyway! I'll see you back here next week when I'll be sharing our decorated front porch!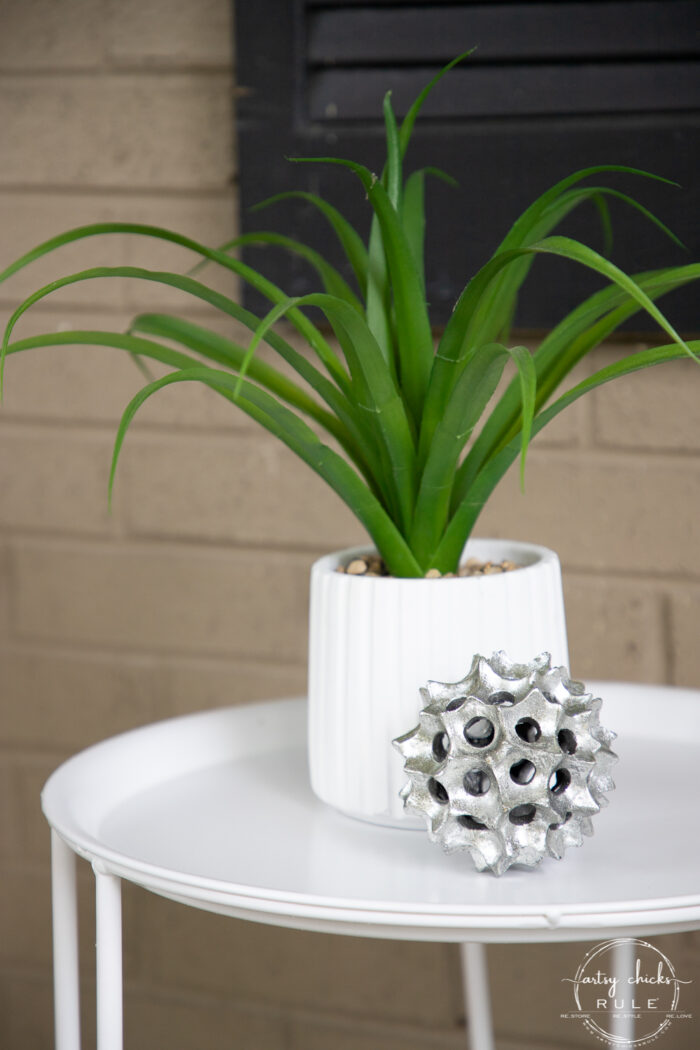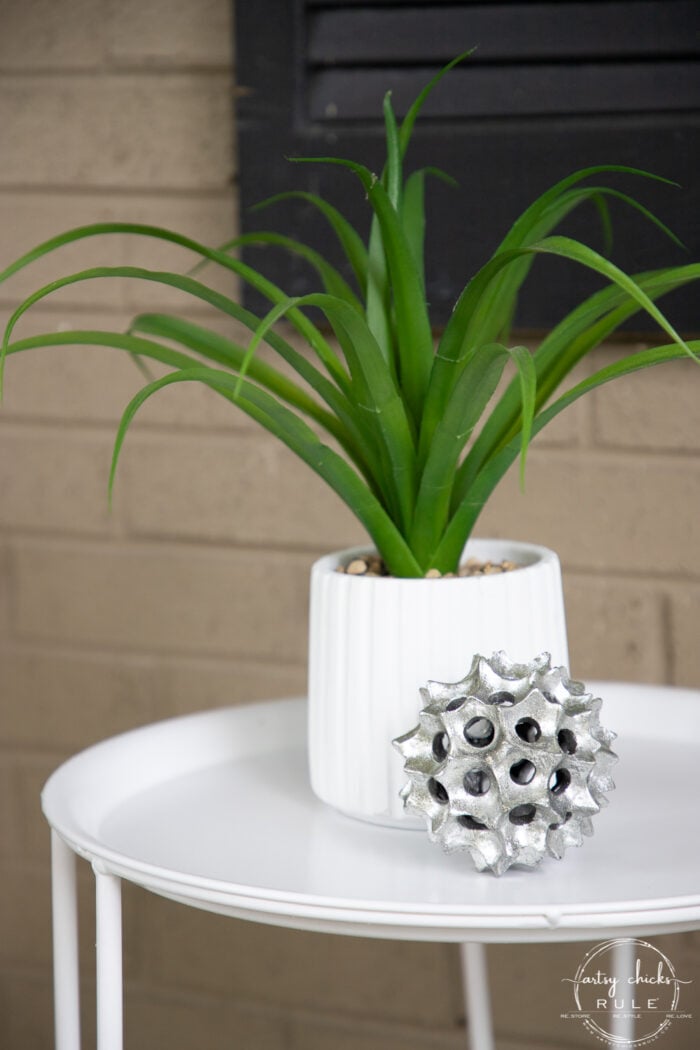 UPDATE!! See it now here!
xoxo