$4 Men's Valet Box (perfect for Father's Day!)
This post may contain affiliate links. Please see disclosures here.
For $4 you can't beat a thrift store makeover like this men's valet box. Perfect for gift giving!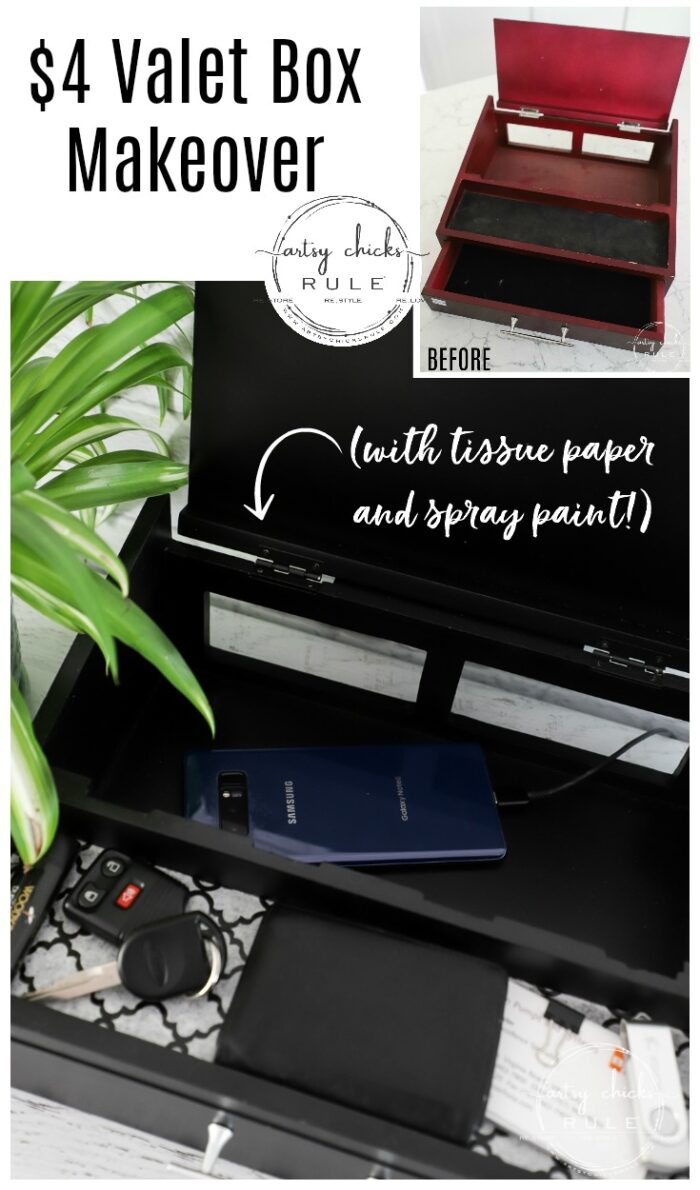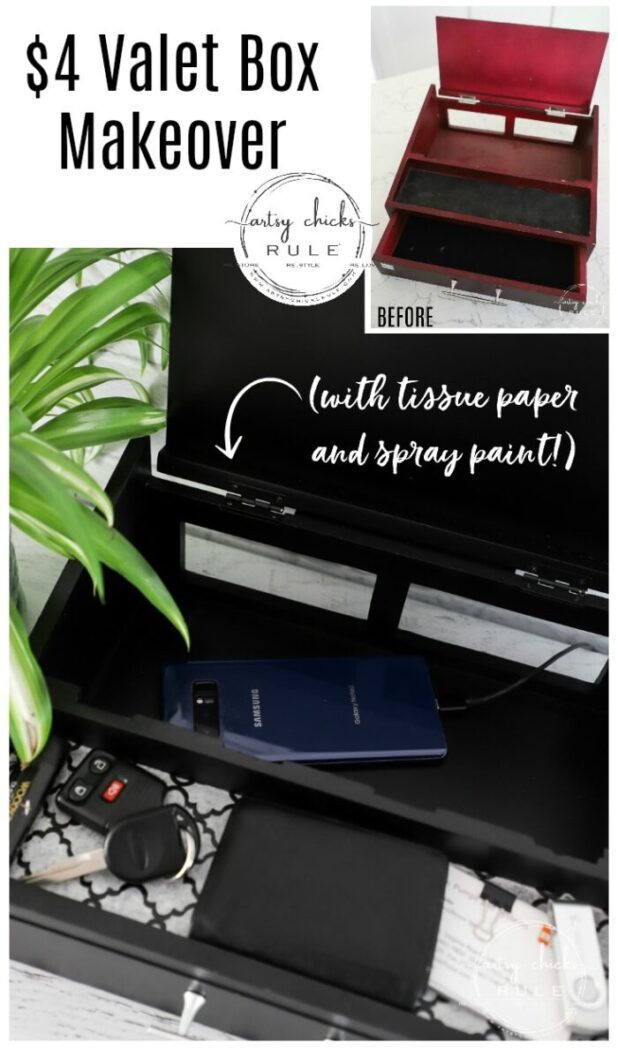 Hello beautiful friends!! I hope you had a wonderful weekend. It was ahhh-mazing here. It's been a much colder (and rainier) spring than usual so it was nice to have big sunny skies and mid 70's to low 80's weather.
Sadly it's going back to the weirdness that it's been tomorrow. Boo!
Anyway, this little project today made time for other projects. Why?? Because it was so darn simple to do!
You might remember it's from my latest haul >>> Thrift Store Haul #2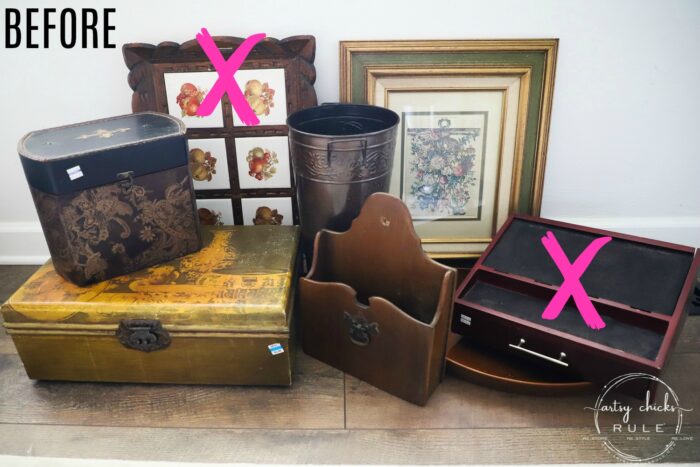 You know, the one I said I didn't know what it was but that it'd make a cool charging station. And quite a few of you laughed and said that's because it's a charging station! haha Duh, oh well. Sort of like my dingy "slip" when Christy and I went thrifty shopping in our last video >>> here. (<<< you can also see the first makeover from the haul above, that tray)
Oh well, I do keep my family entertained around here! lol I always say I'm good for that anyway. ;)
Men's Valet Box Makeover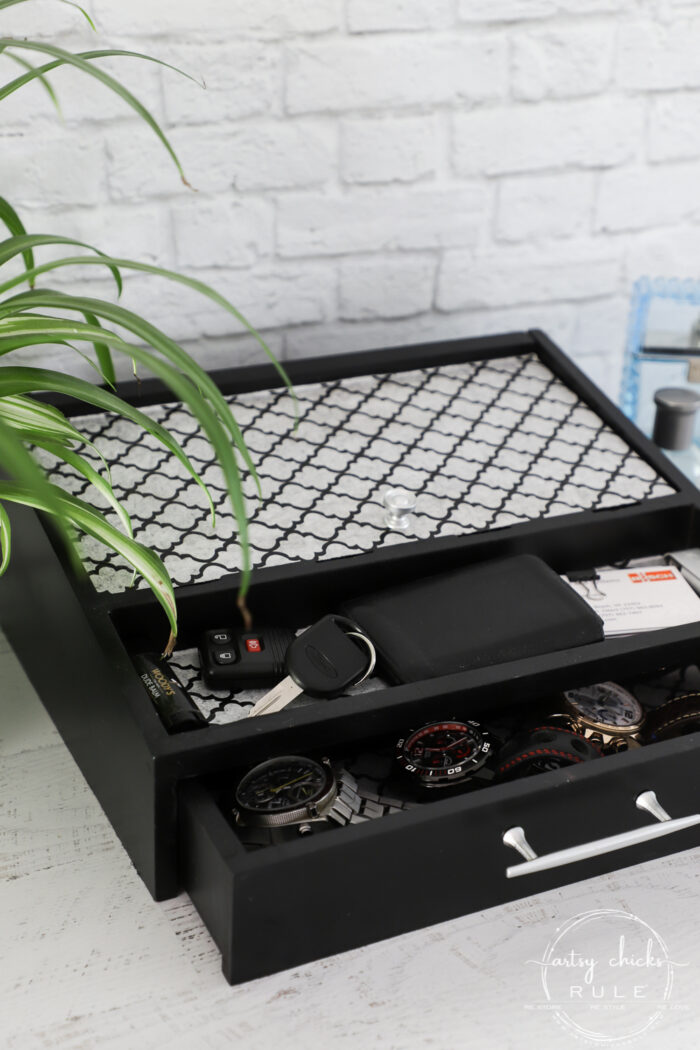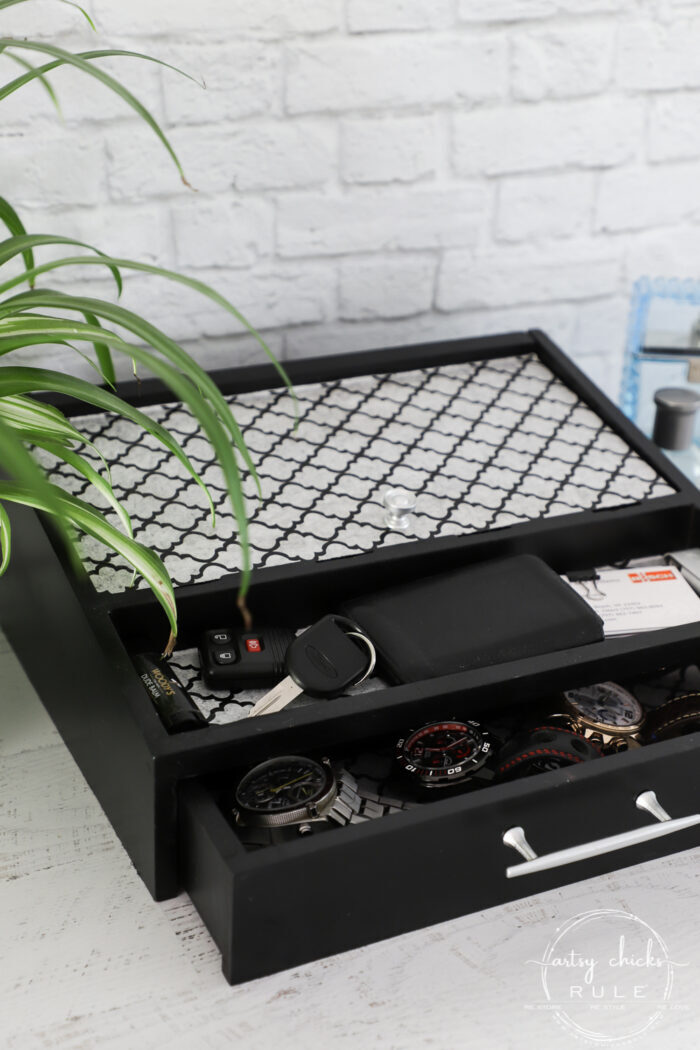 Here is how it started…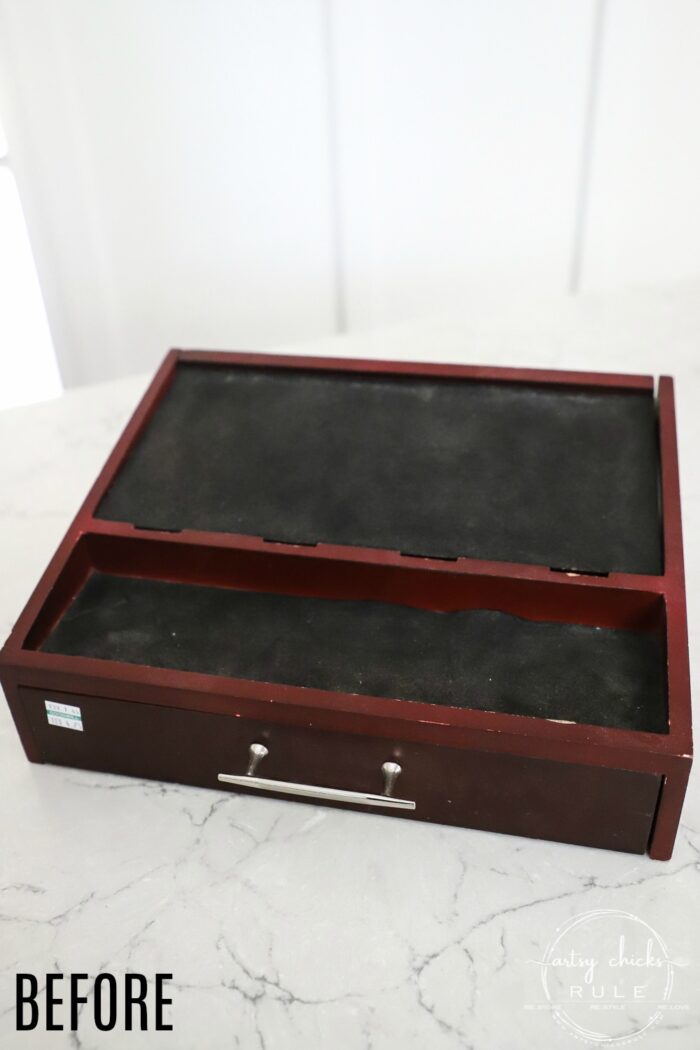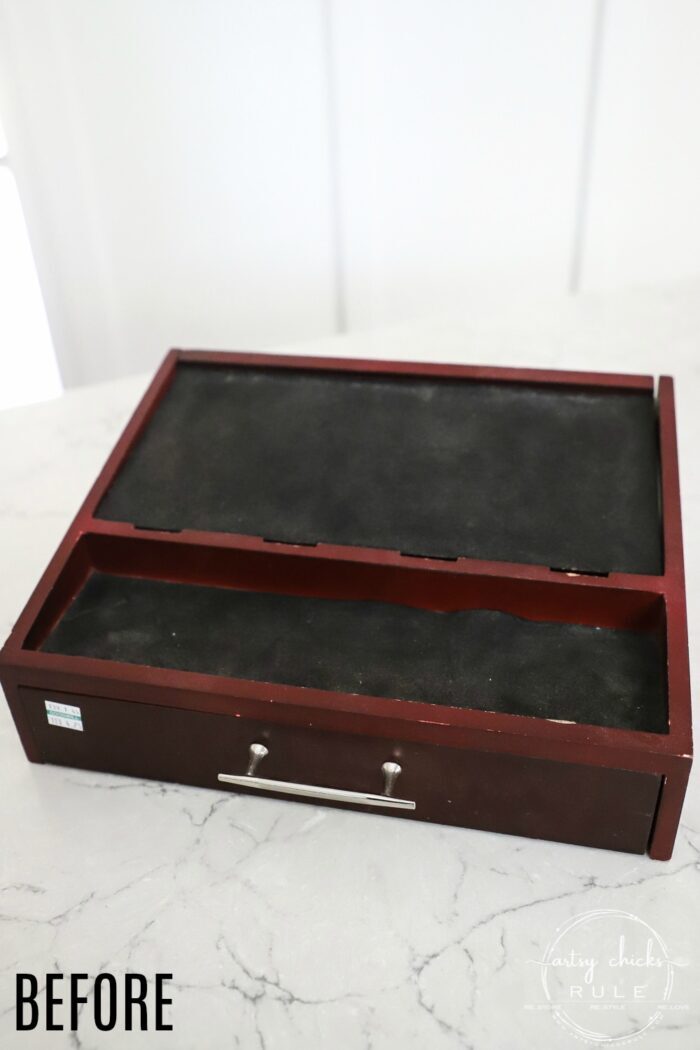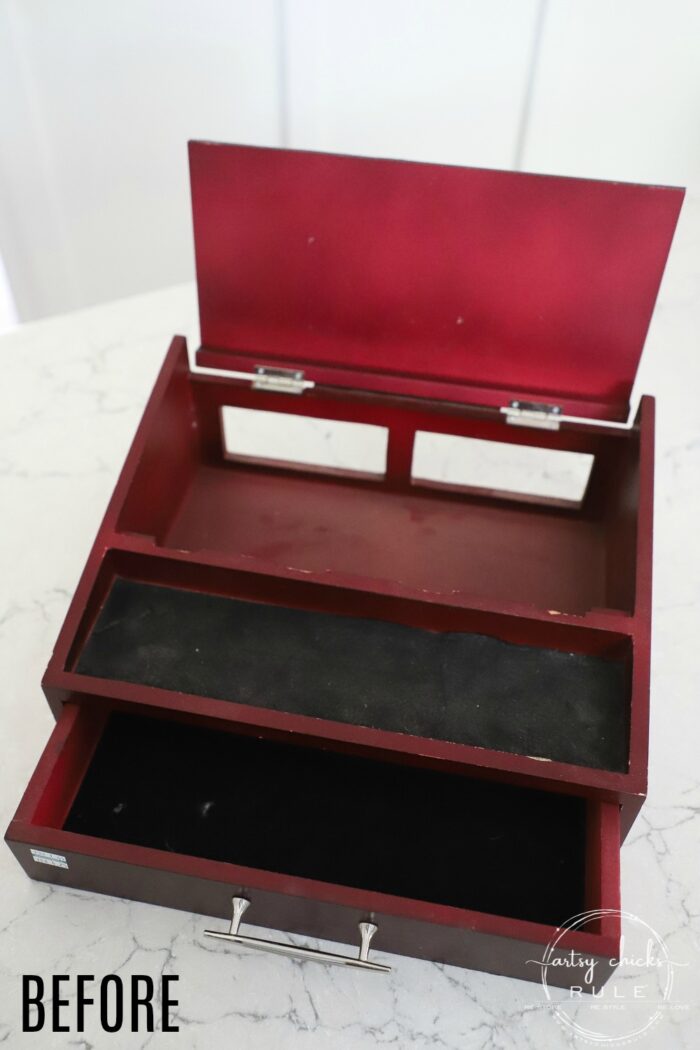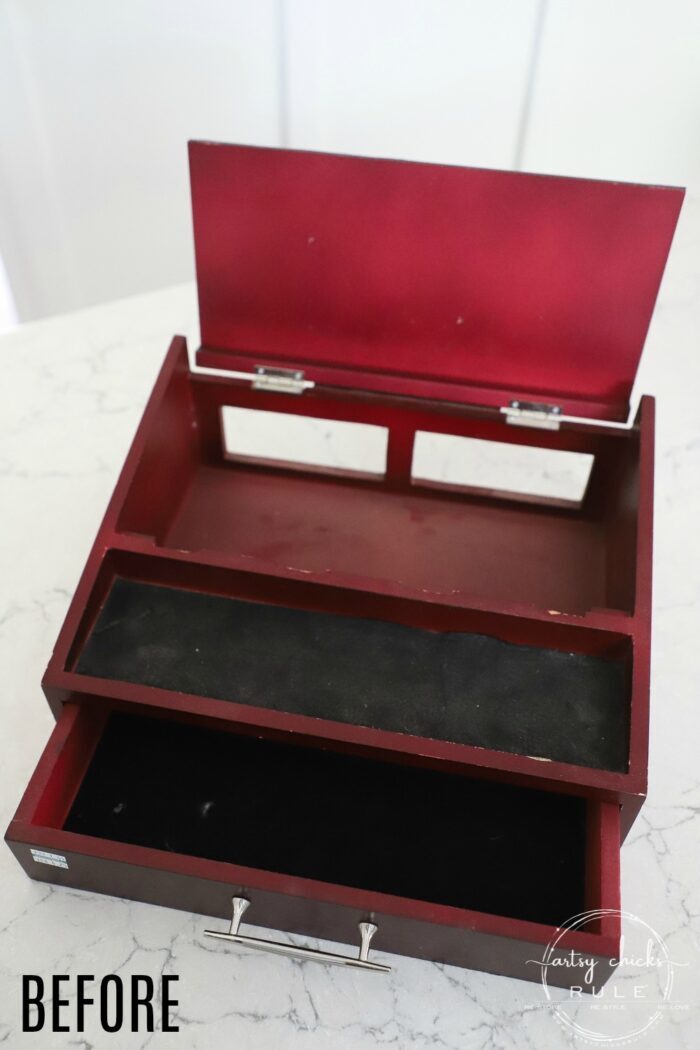 Kinda yucky and needs some love. But I can totally see how it is a men's valet box charging station now.
It was just so odd to me with that top and all.
So I wiped it down and pulled the felt-ish paper out.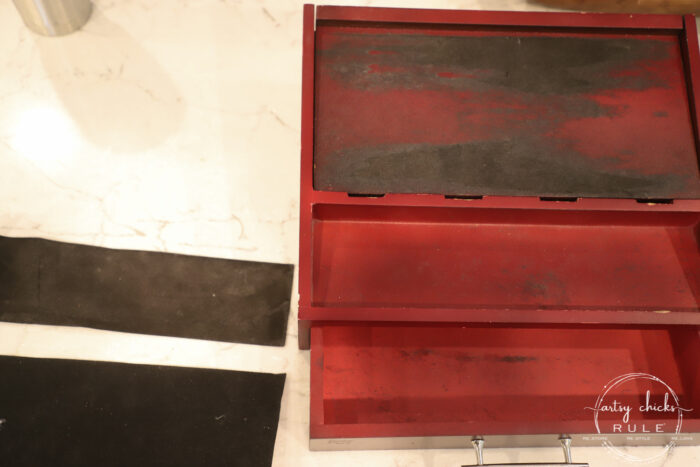 The top piece didn't play nice. So instead of spending hours trying to remove that, I simply sanded to smooth out what was left.
I saved those other two pieces as a guide to cutting the new material.
But first!
I took it outside and gave it about 2 coats of black satin spray paint.
Once it was dry, I started adding the "material"…which ended up being tissue paper.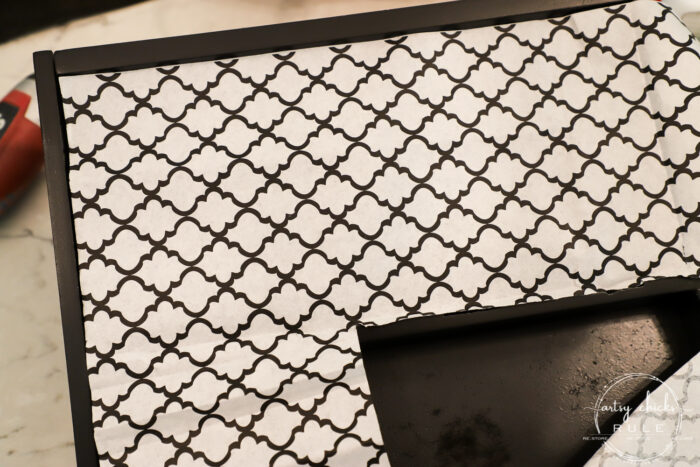 I simply laid it in and pressed with my fingernail along the edges to mark where I need to cut. So easy! (see the lines I made?)
And then I used the two old pieces to mark for those pieces.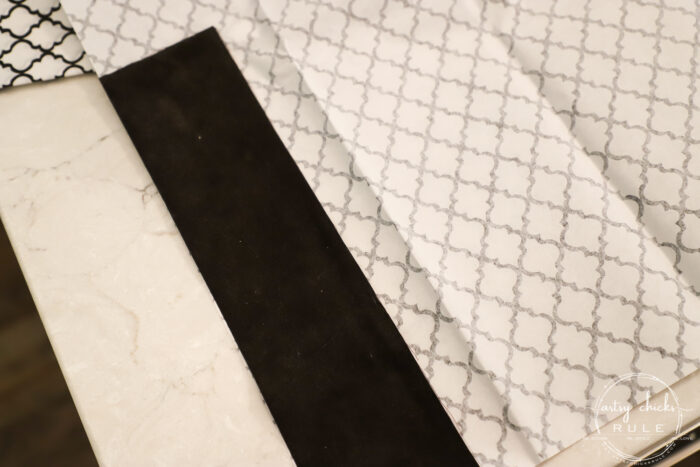 I really wanted to use fabric to line these but I didn't have anything on hand that was "manly" enough.
This tissue paper was about the manliest thing I had. (not that it is necessarily manly but you know)
Once they were cut I attached them using Mod Podge.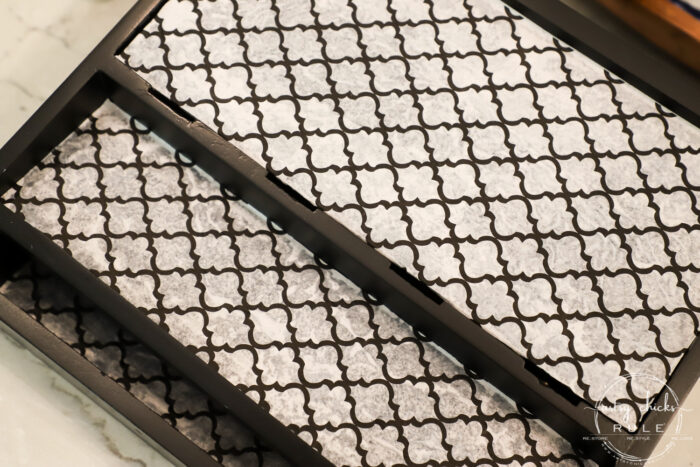 Once that was dry I sealed it with a coat of Satin topcoat. (it looks dark when wet, see above)
I also spray painted the handle and new knob with chrome colored spray paint. I thought that was kind of "manly". lol Plus I also thought that would go nicely with the black paint.
The tiny knob was the perfect size for the top piece that actually didn't come with a knob. It came off of another project I made over.
So much easier to open that top section now. (I just drilled a centered hole and attached the knob)
And that is it!
Done…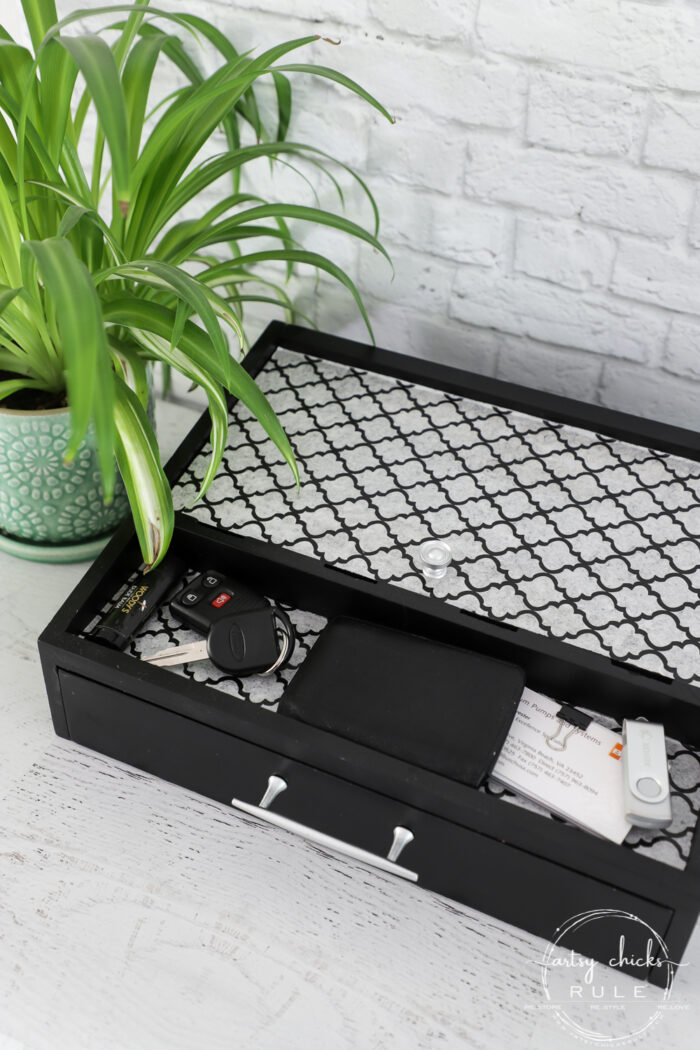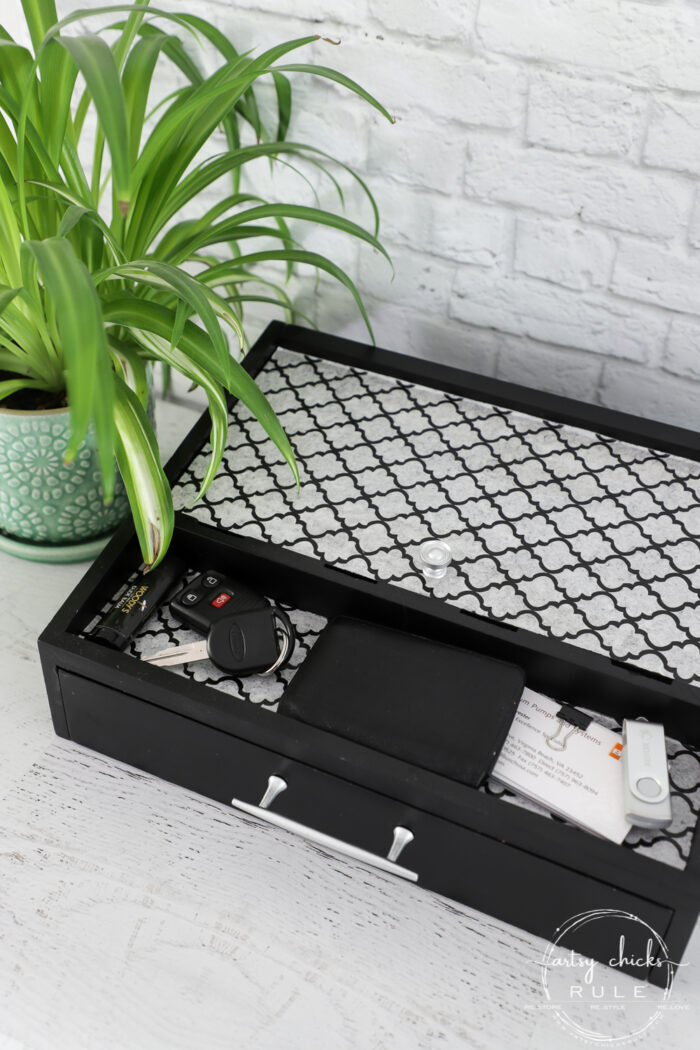 The top little tray is perfect for holding car keys, wallet, cards, thumb drives, chapstick, etc.
The drawer, jewelry, watches, etc.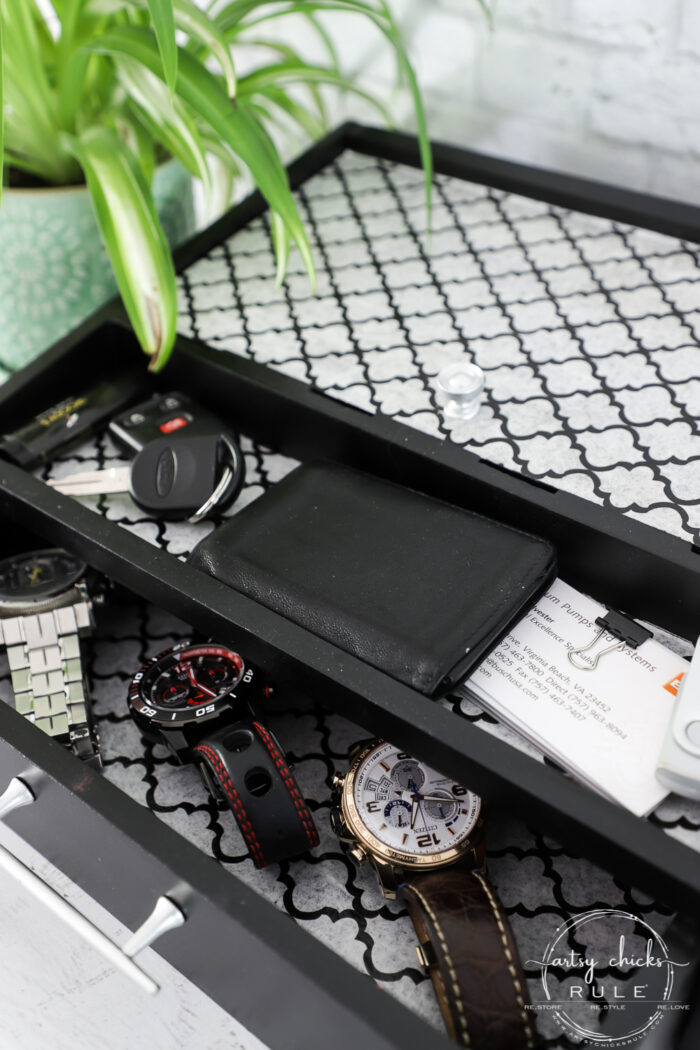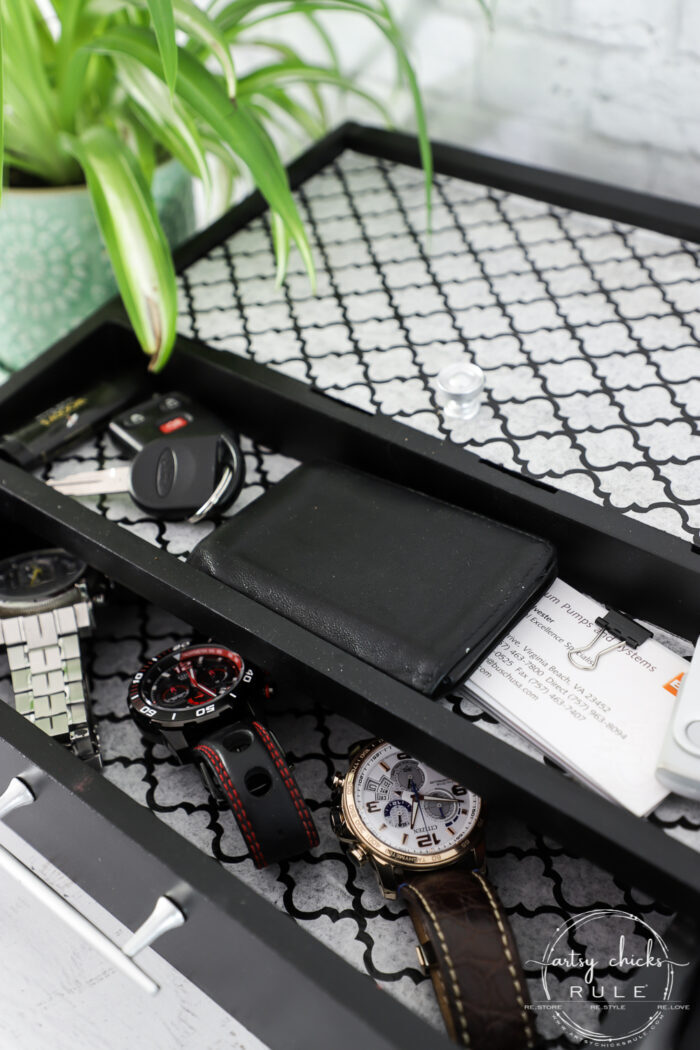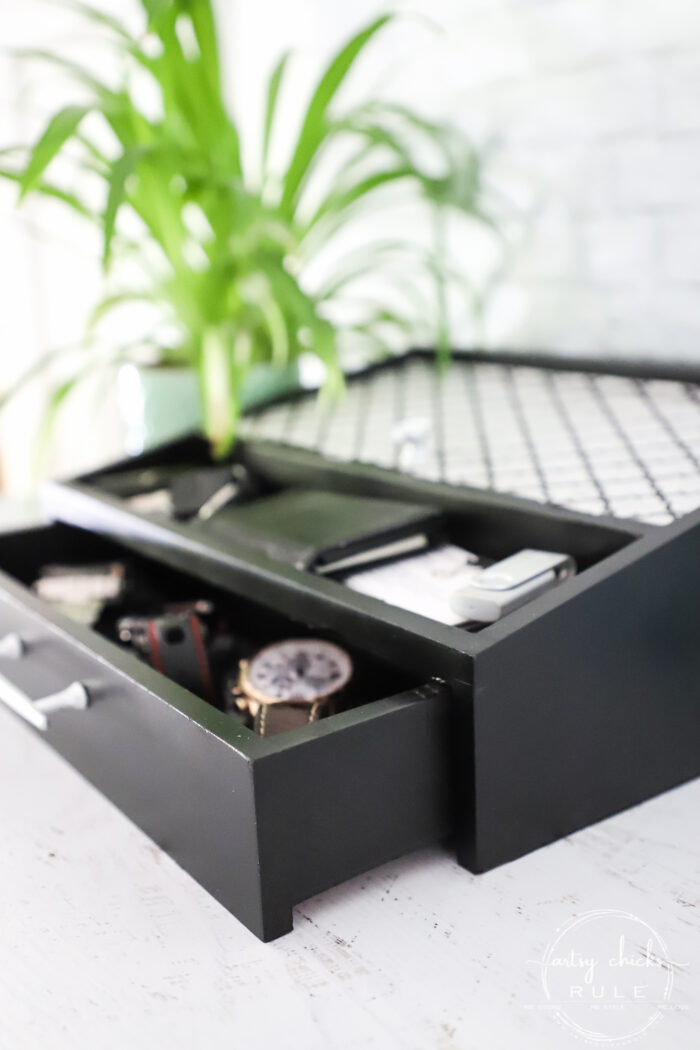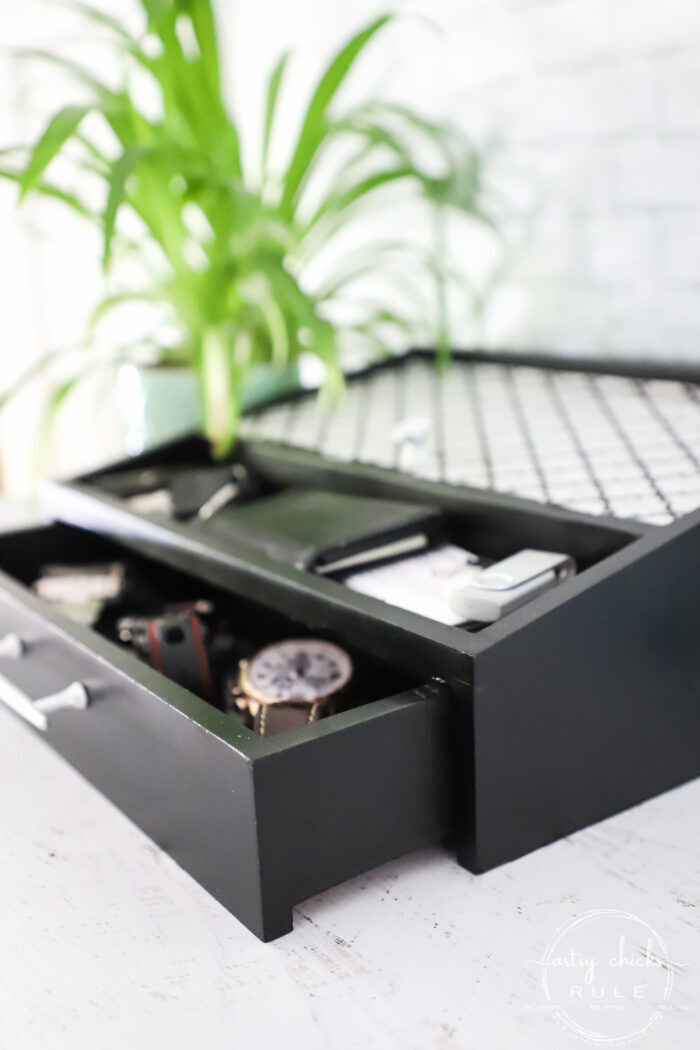 I love the black finish so much better.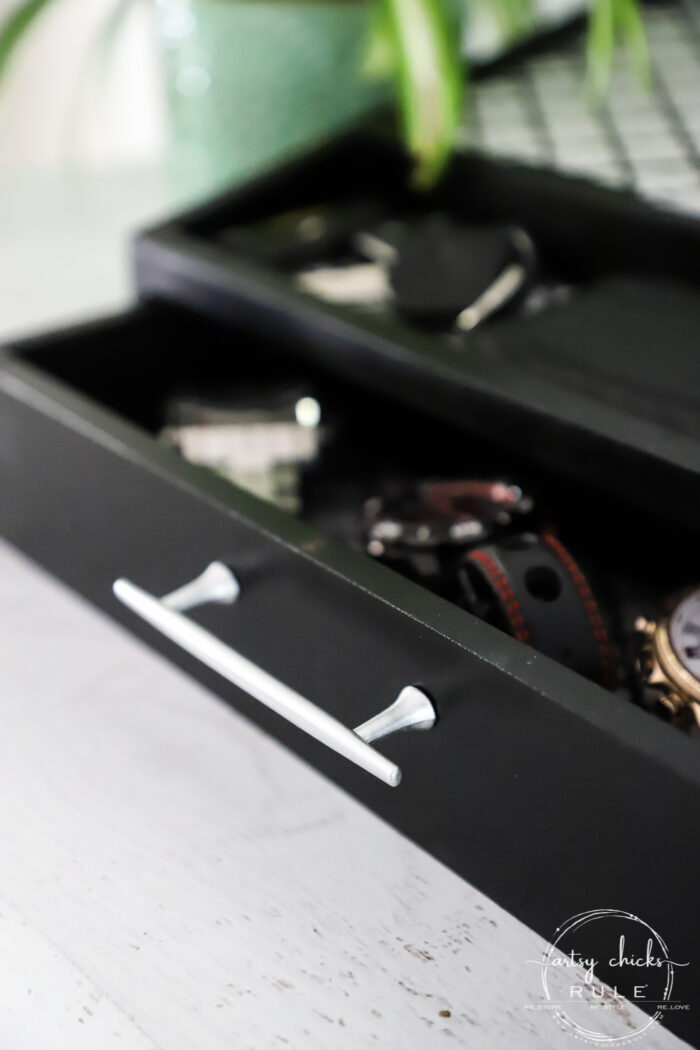 Cute little knob…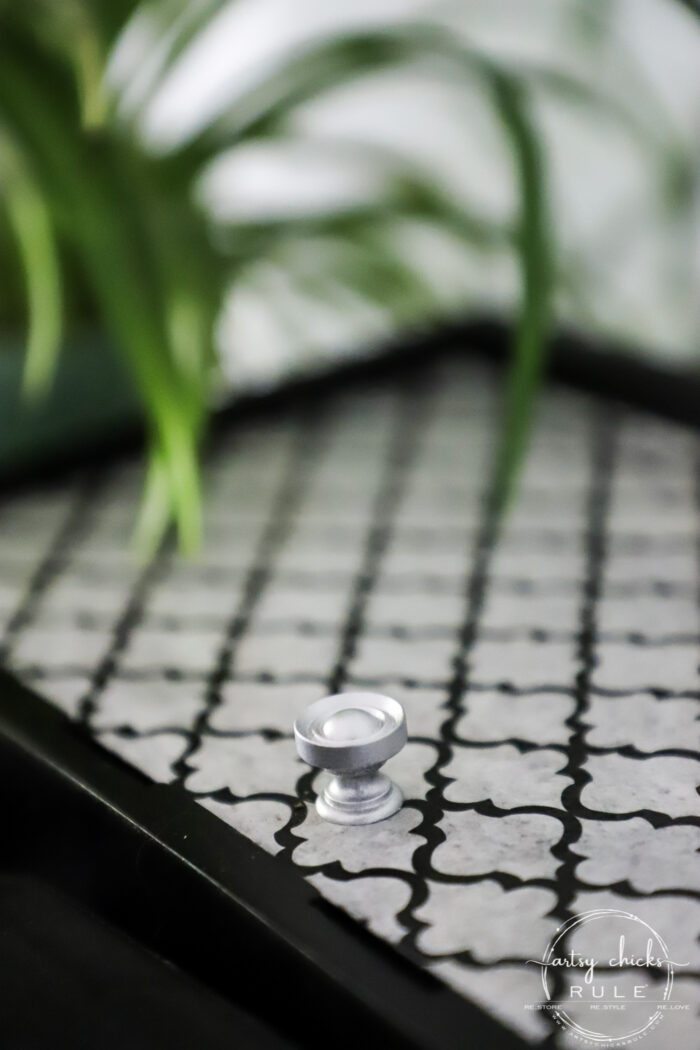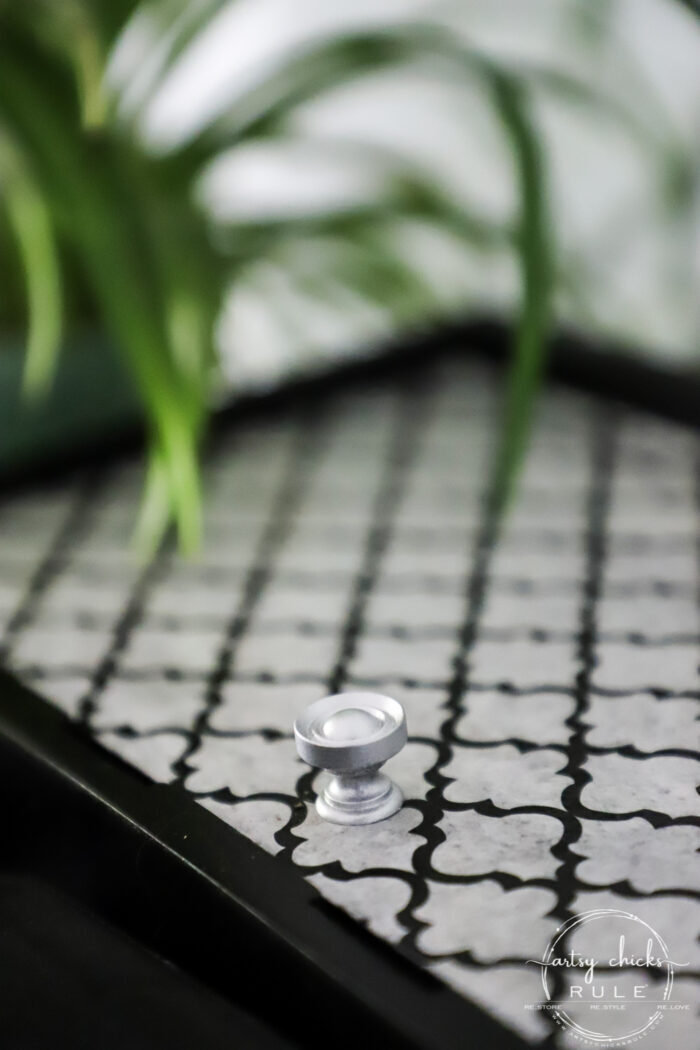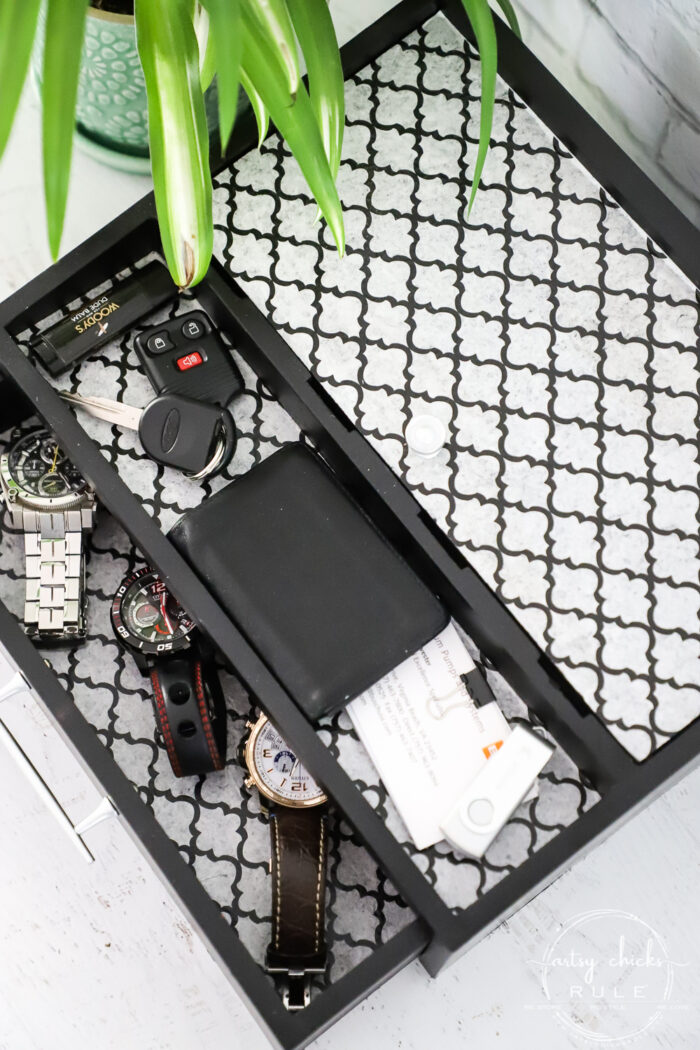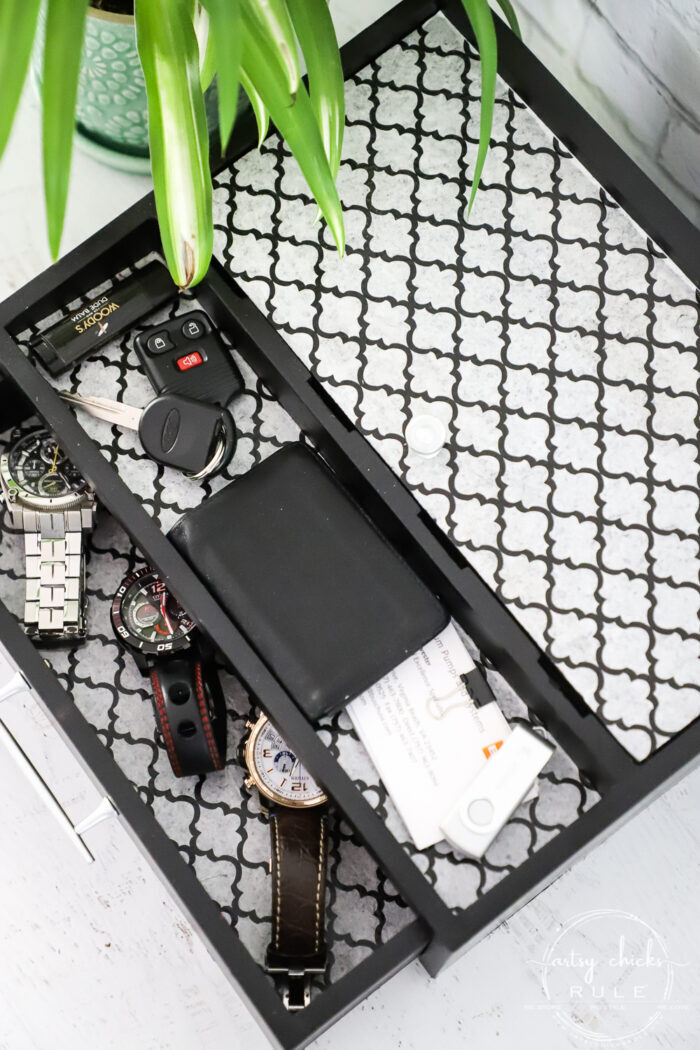 But let's see that charging station section! haha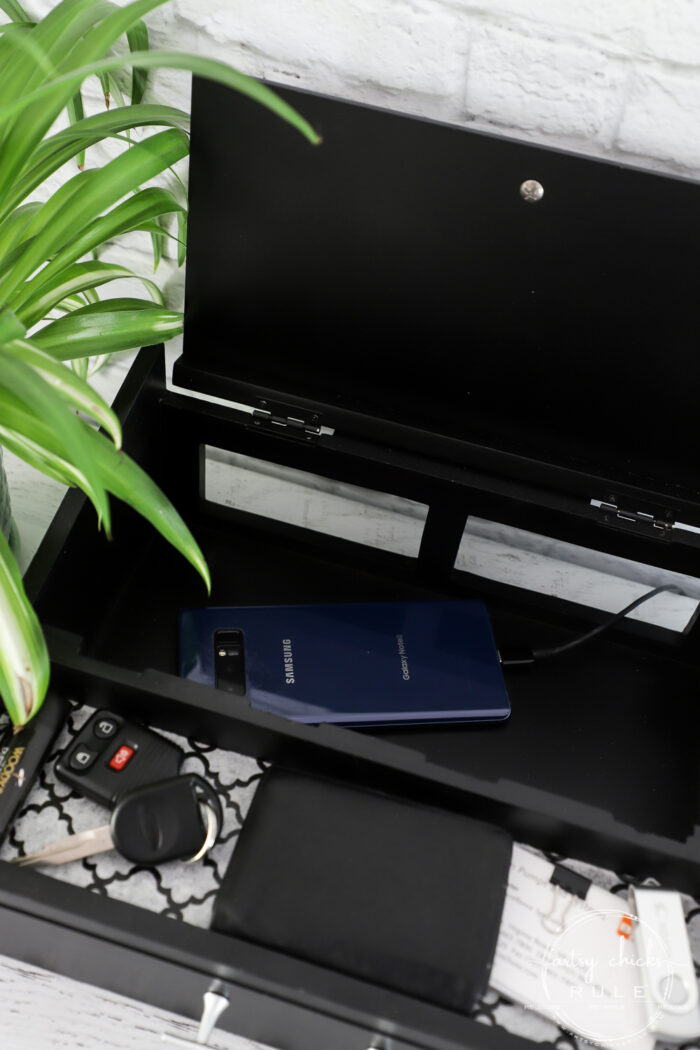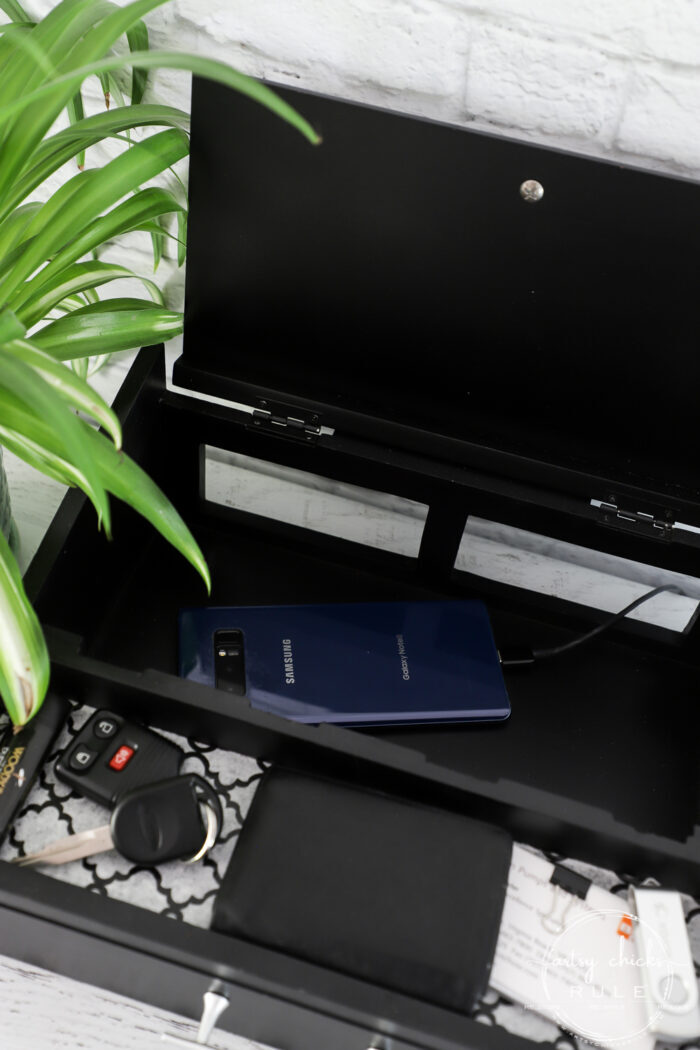 Convenient little cutouts in the back. Plus lots of storage inside for just about anything besides phones.
For example, because of these little notches on the lid, you can pull the cord up and set the phone here and use the inside for other things.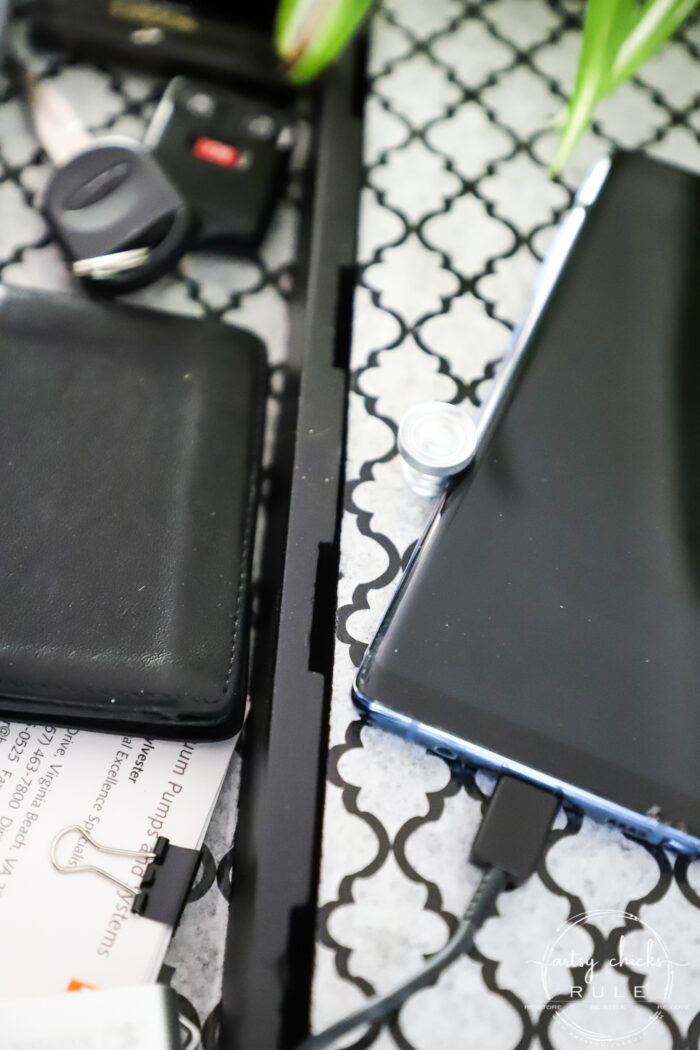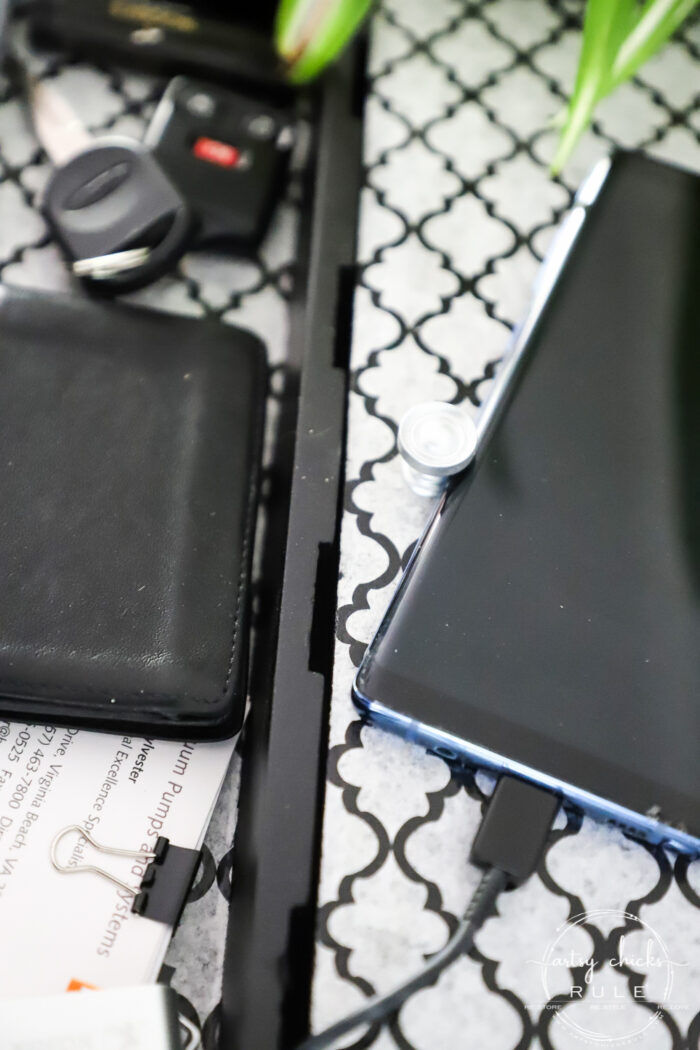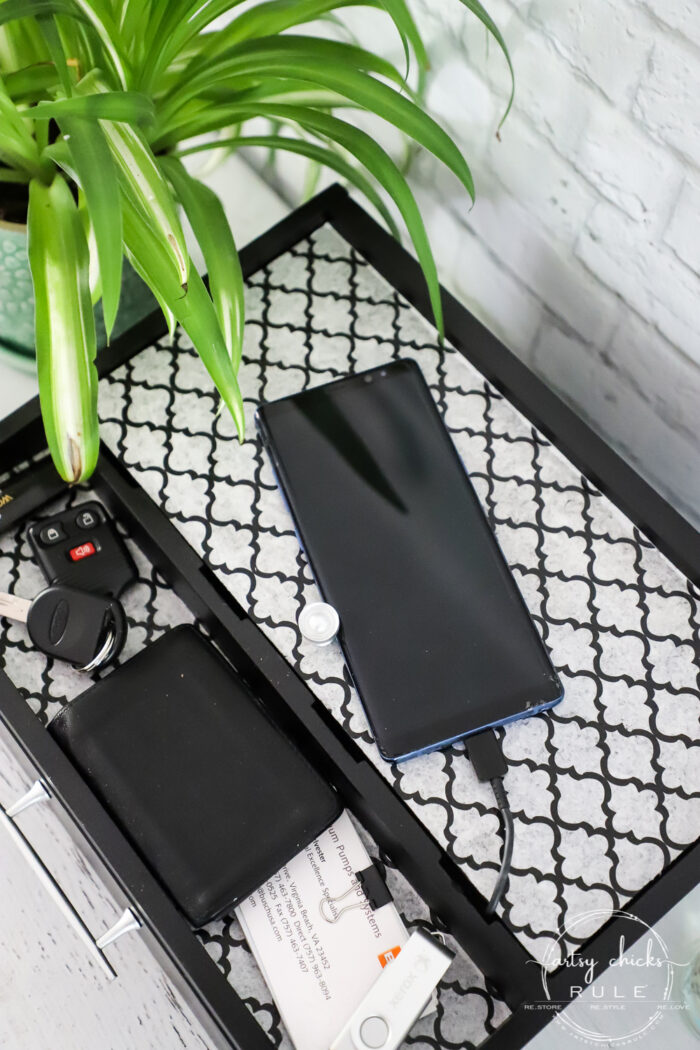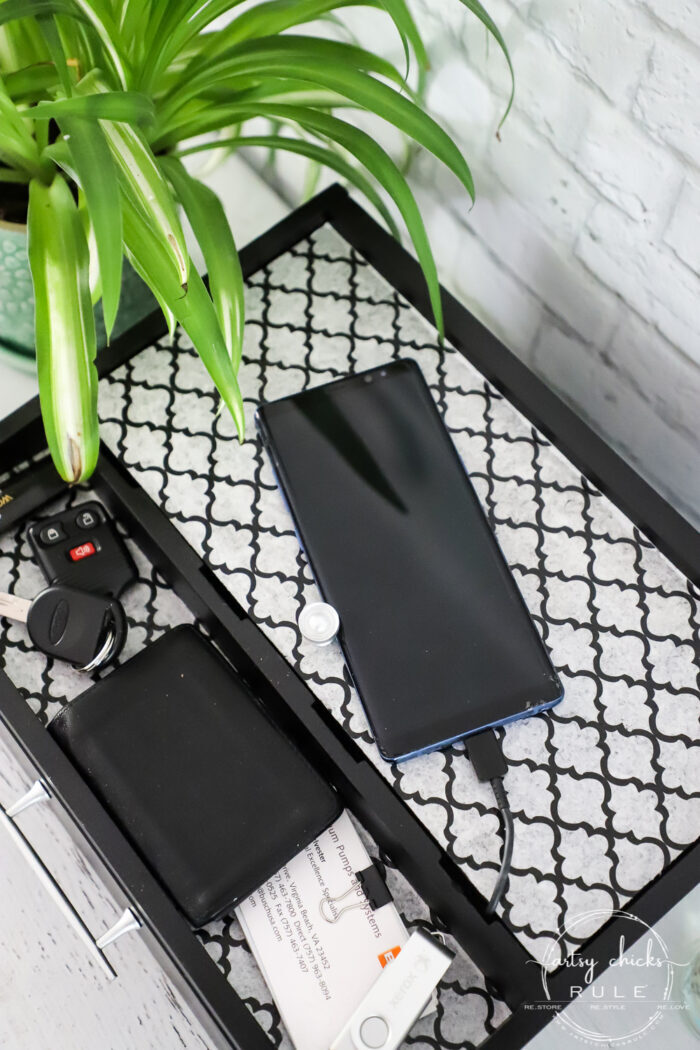 I'm sure that's what they are there for. I think. lol Whatever, it works, right??
This would be a sweet makeover for kids to do for dads on Father's Day.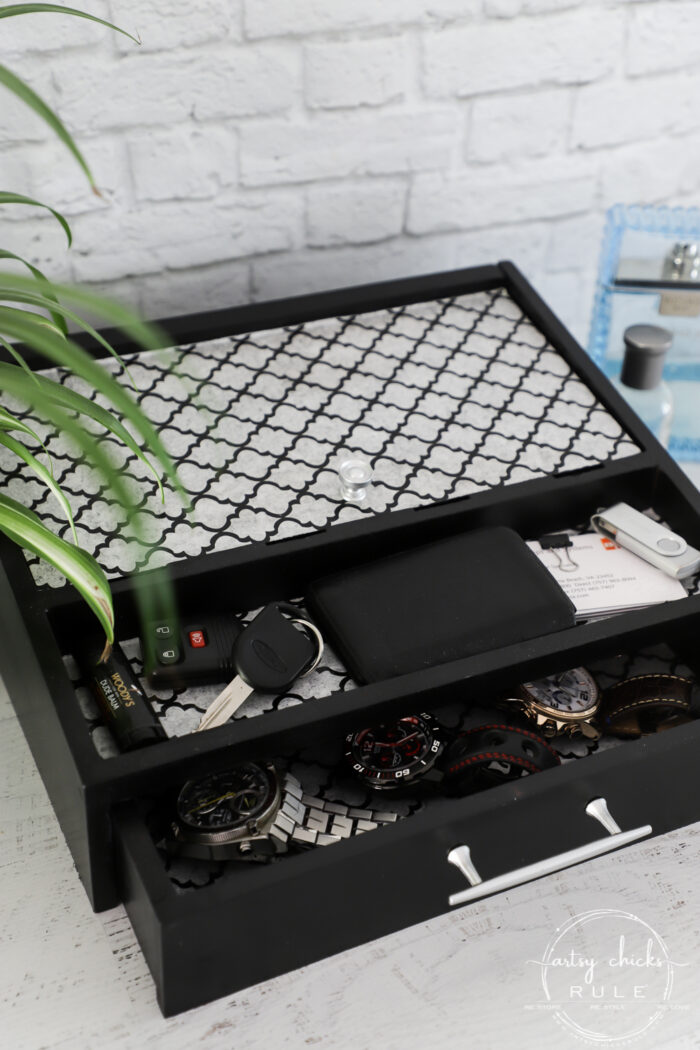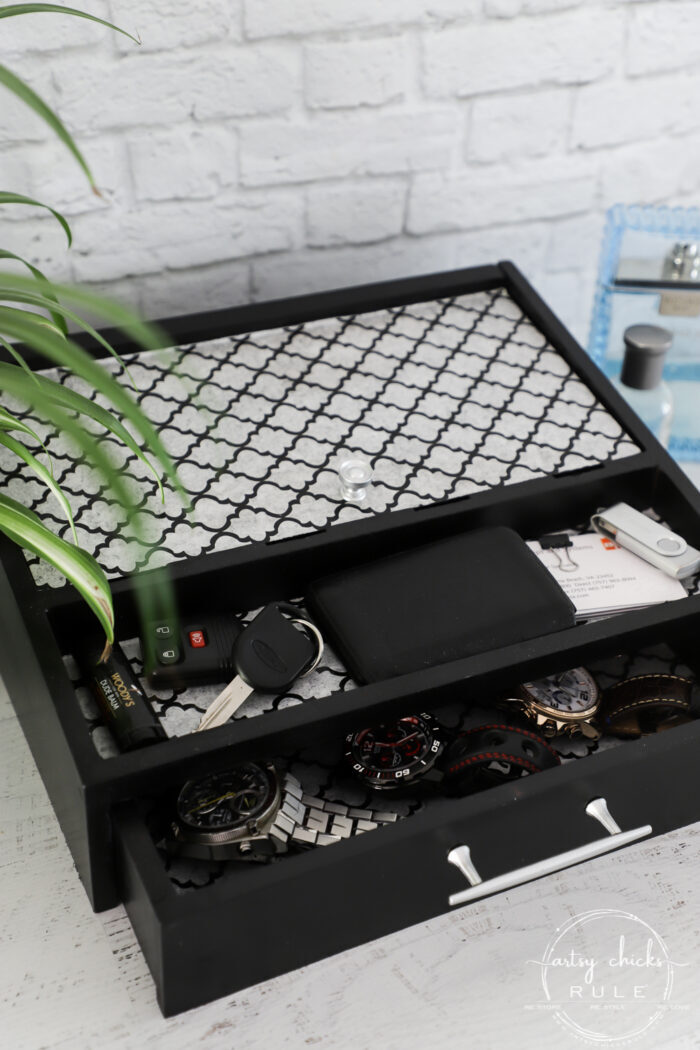 I know it's almost Mother's Day but when I decided to make this one over I wasn't even thinking about it being for Father's Day.
But then realizing it's only a month away, well, this men's valet box would make a neat gift. If you have an old one, that is, since we can't quite shop yet.
PIN it to save it!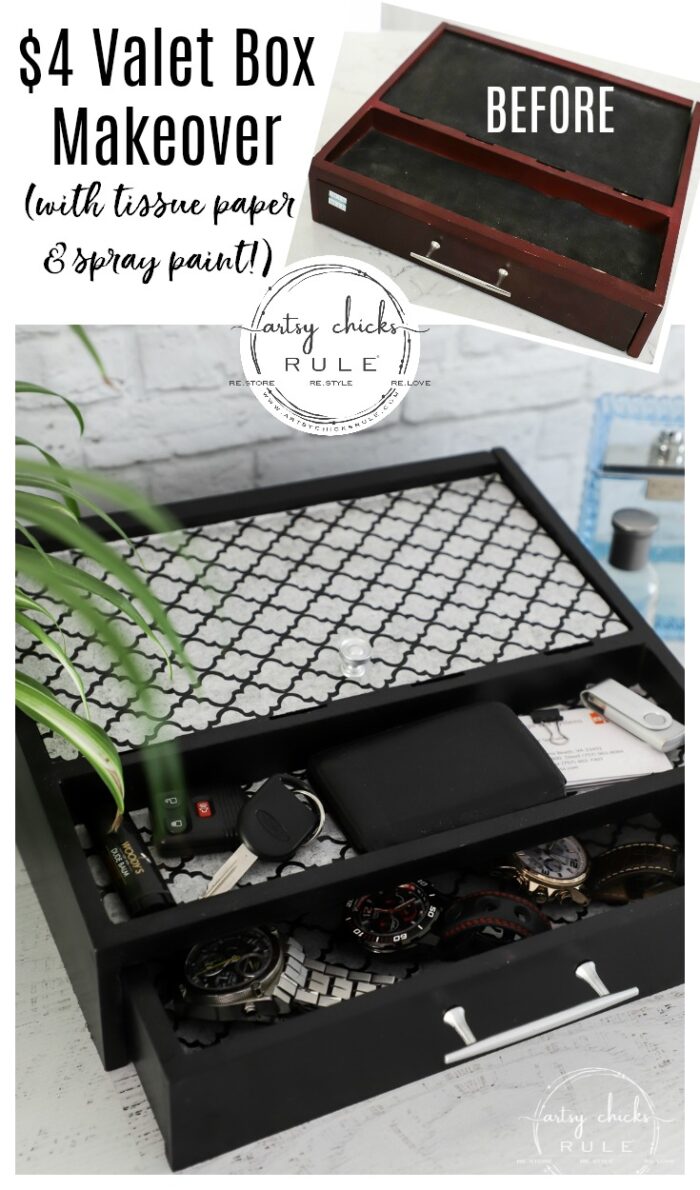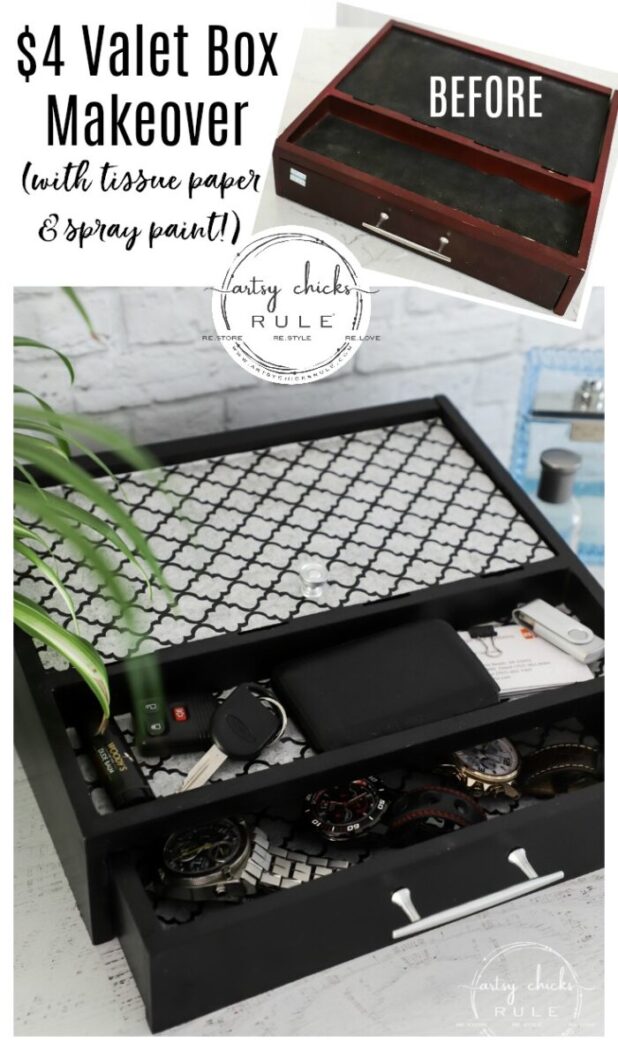 I'll be sharing this one next!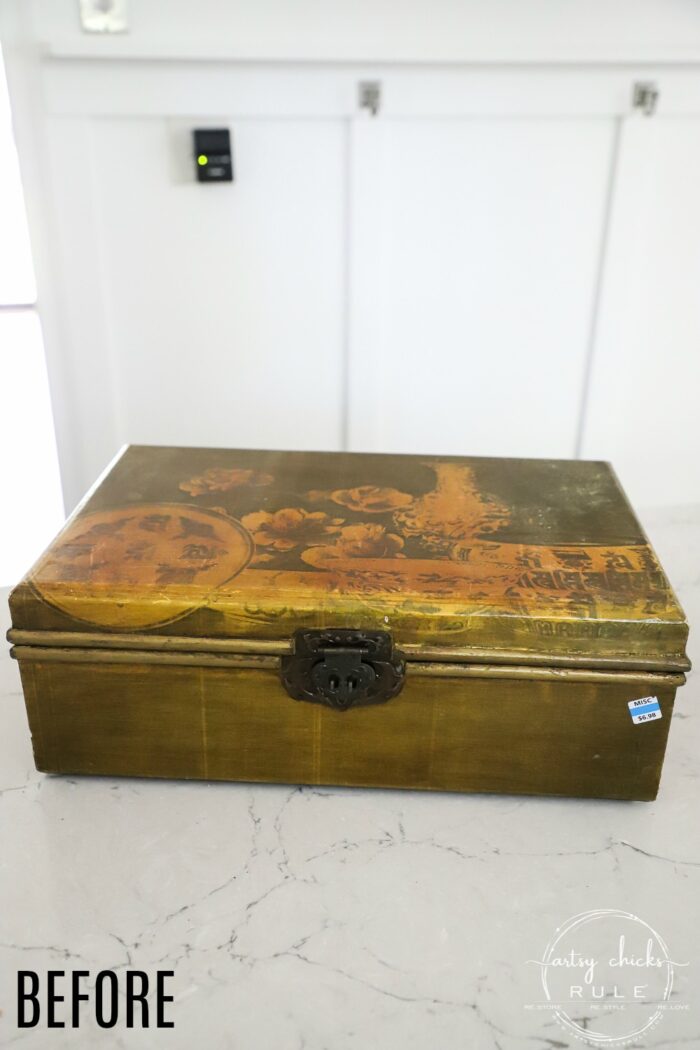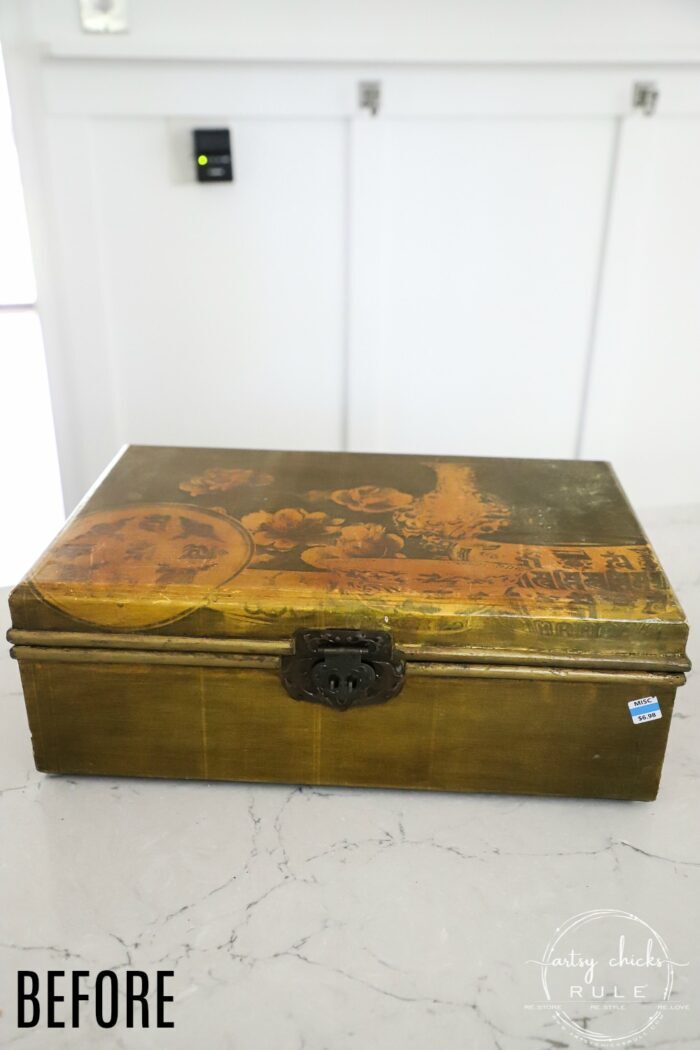 UPDATE!! See it now, here!
If you missed any of the rest of Thrift Store Haul #2, you can see them all here:
Have y'all been getting outside? Doing yard stuff, gardening, etc? We have been and are also planning a raised garden too! Yippee! It's been years since we had a garden.
You might remember in my Instagram stories me also working on our patio furniture. Anyway, I did…and I'm sharing them on Thursday.
See you then!
xo