Waterproof Hardwood Flooring Reveal
This post may contain affiliate links. Please see disclosures here.
It's reveal day! I'm sharing our whole beach condo and our beautiful new waterproof hardwood flooring.
This post is sponsored by Raintree Floors. I received "Raintree Floors" flooring products free of charge to facilitate my review. All opinions are 100% my own.
Hello, friends!
Today is the day. I'm sharing our beautiful Raintree Floors waterproof hardwood flooring.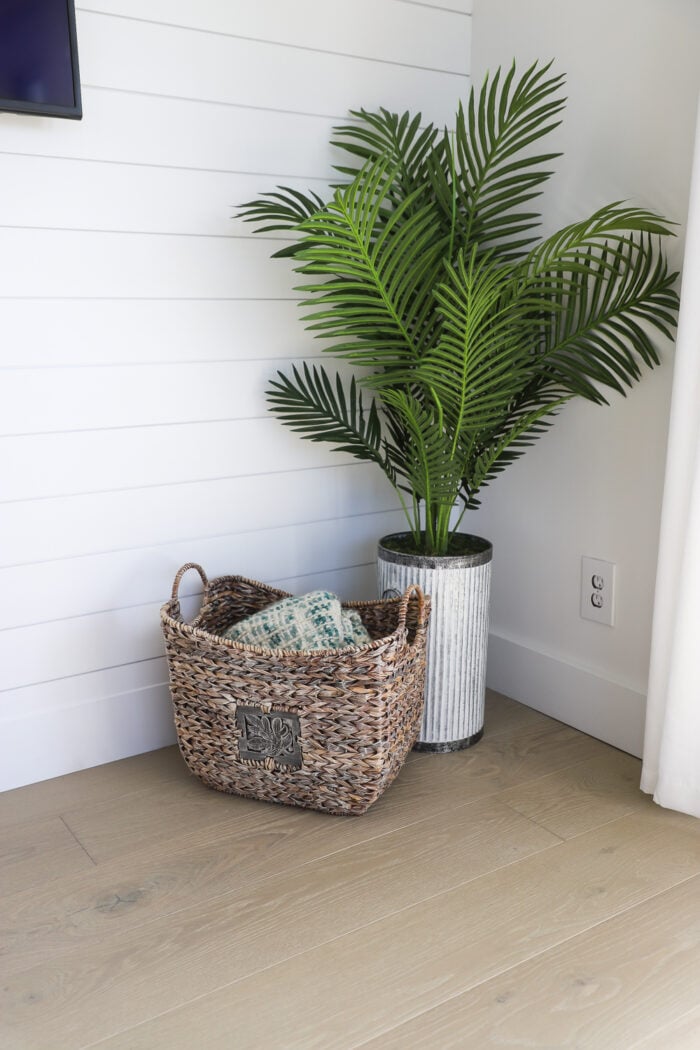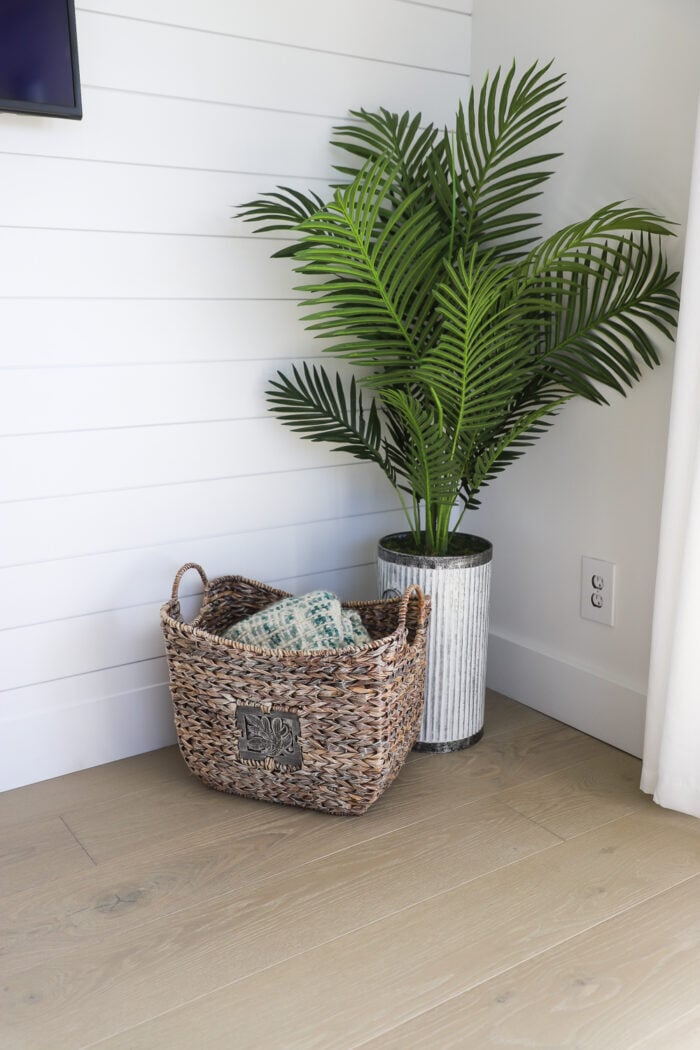 I have so been looking forward to being able to share this with you. This is the icing on the cake and the star of the show. (well, we all know Ryder takes that spot…but the floor is really going to be the star today ;) )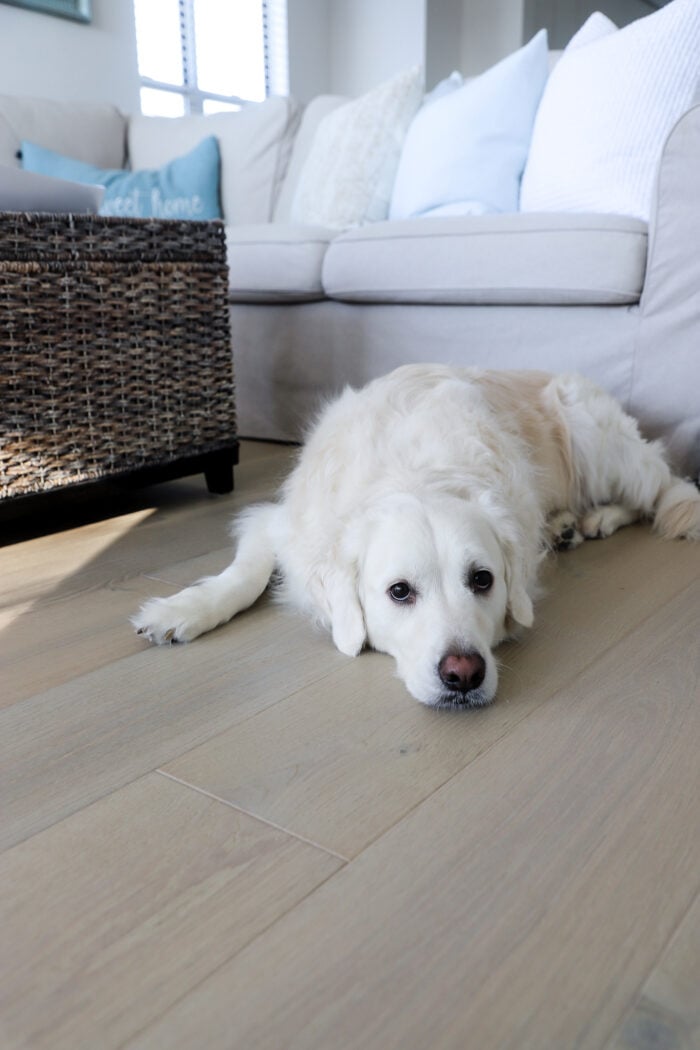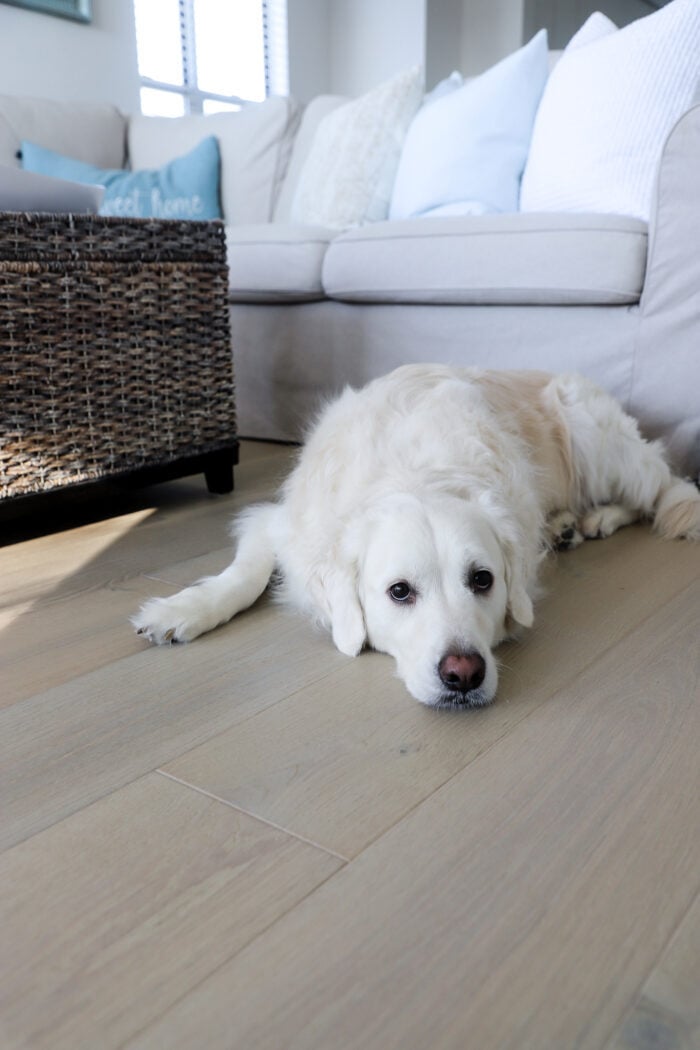 As you know, we've been doing a major remodel on our beach condo. One of the biggest components of that was new flooring.
And I am thrilled to say we have marked that one off the list!
Not sure what I'm talking about?
Hop on over and read these two posts to catch up:
If you've been following along, you've seen all the things we've been doing at the condo. I will be doing a full reveal at some point in the future. I have lots of decorating to finish up before then. (plus a kitchen remodel too…that's next)
But today I want to share the whole condo and our beautiful new floors.
Waterproof Hardwood Flooring Reveal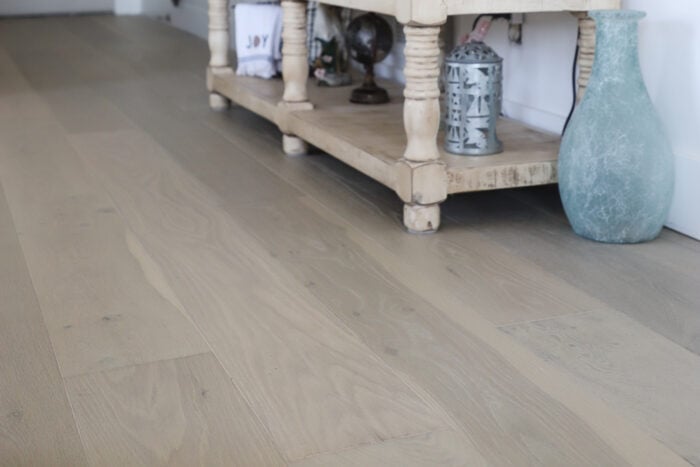 We chose Egret from the Laguna Vibes Collection.
It's a gorgeous light-colored wood which is perfect for the look I was going for in our beach condo.
Light, bright, and airy with a relaxed coastal feel.
Want to get 2 FREE samples so you can touch, hold, feel, and see it in person too?
Check them out right >>> here.
Egret goes beautifully with our aqua colored accents, neutral tones, and all our varied textures, baskets, etc.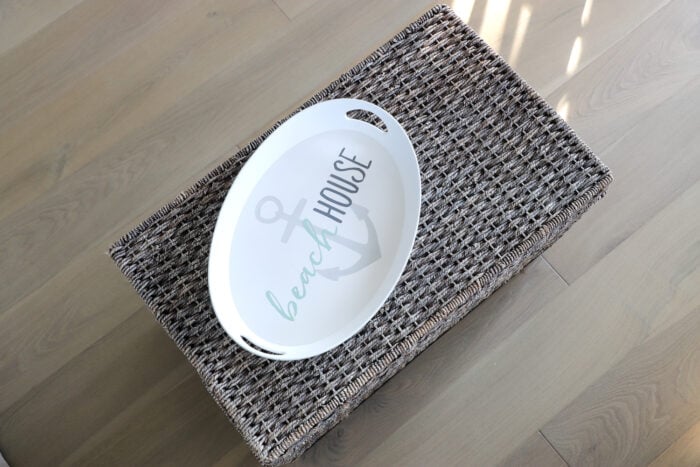 And since it is natural hardwood, there are no two alike anywhere. I just love that!
LIVING AREA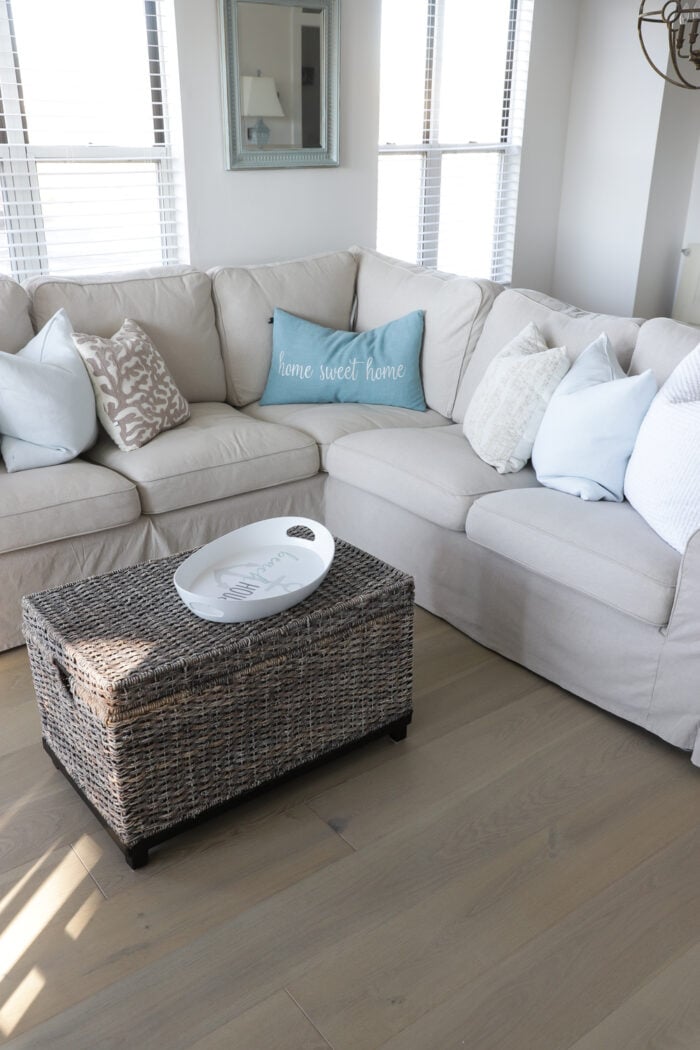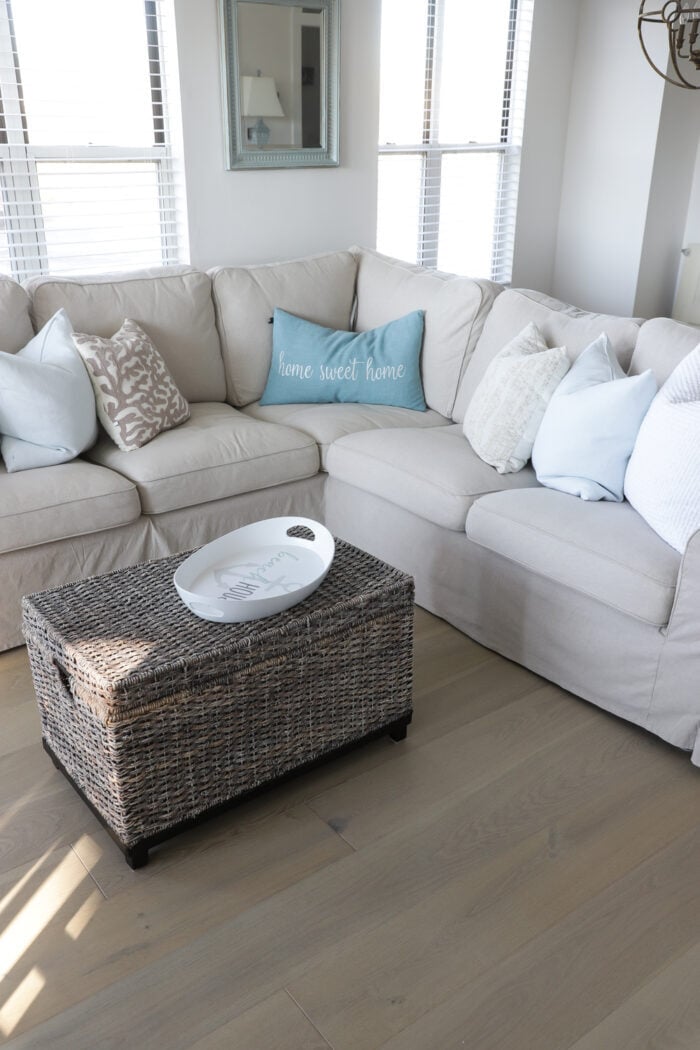 The natural variations add to the beauty of this flooring.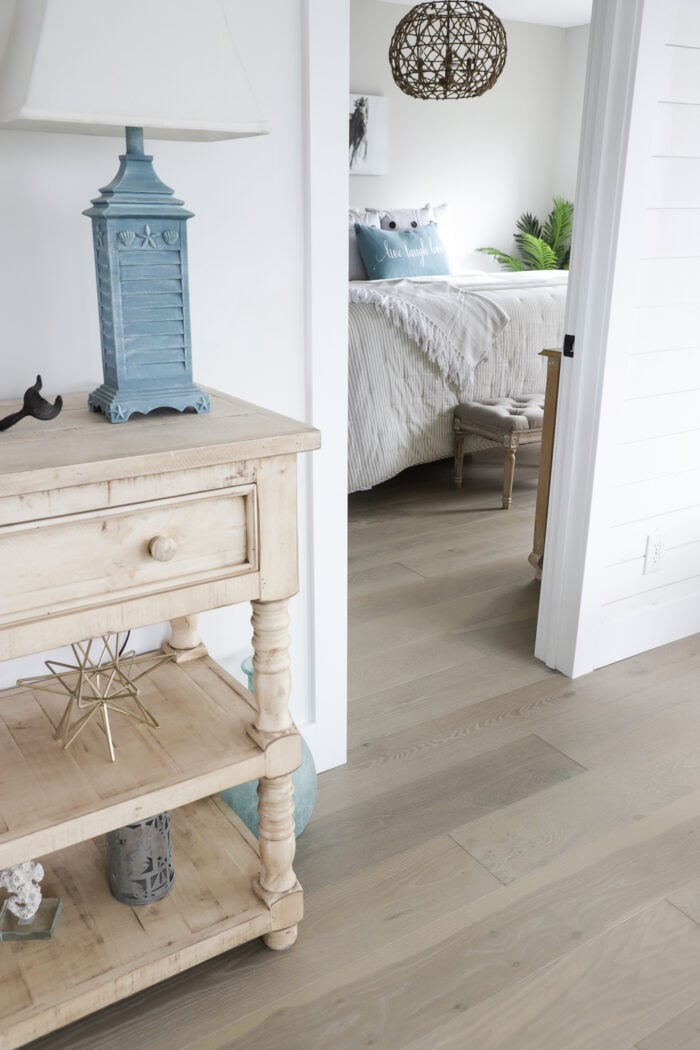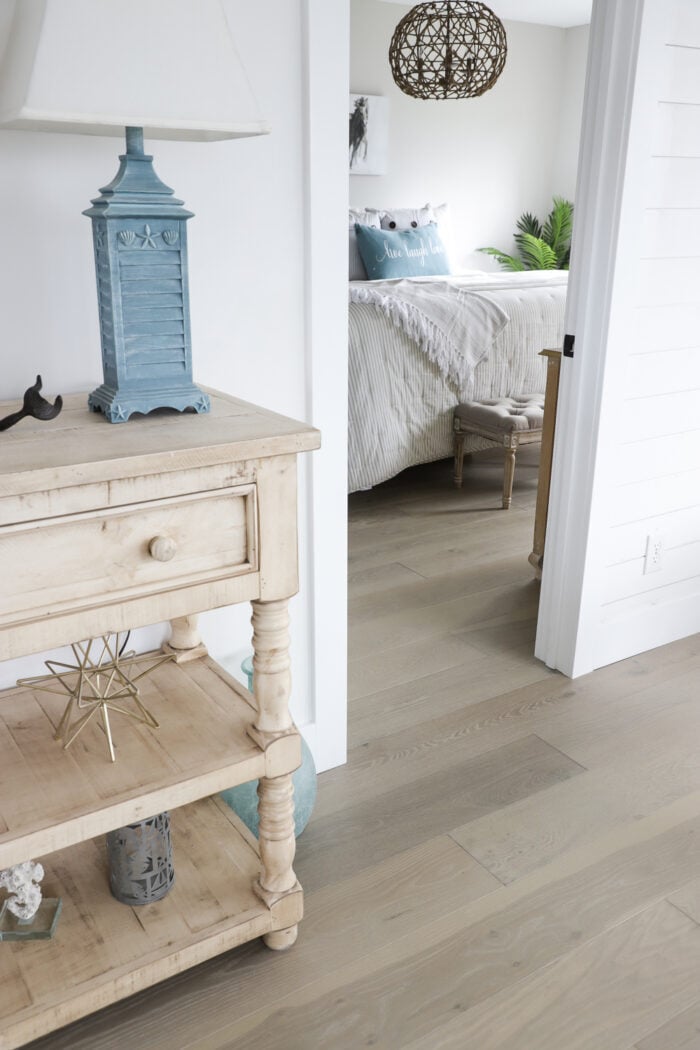 We still have a few things to finish up (crown molding, painting a few things, trim work, etc.) but it's mostly "done".
Oh…and the kitchen remodel which we hope to begin tackling after the holidays. We'll see! haha
BEDROOM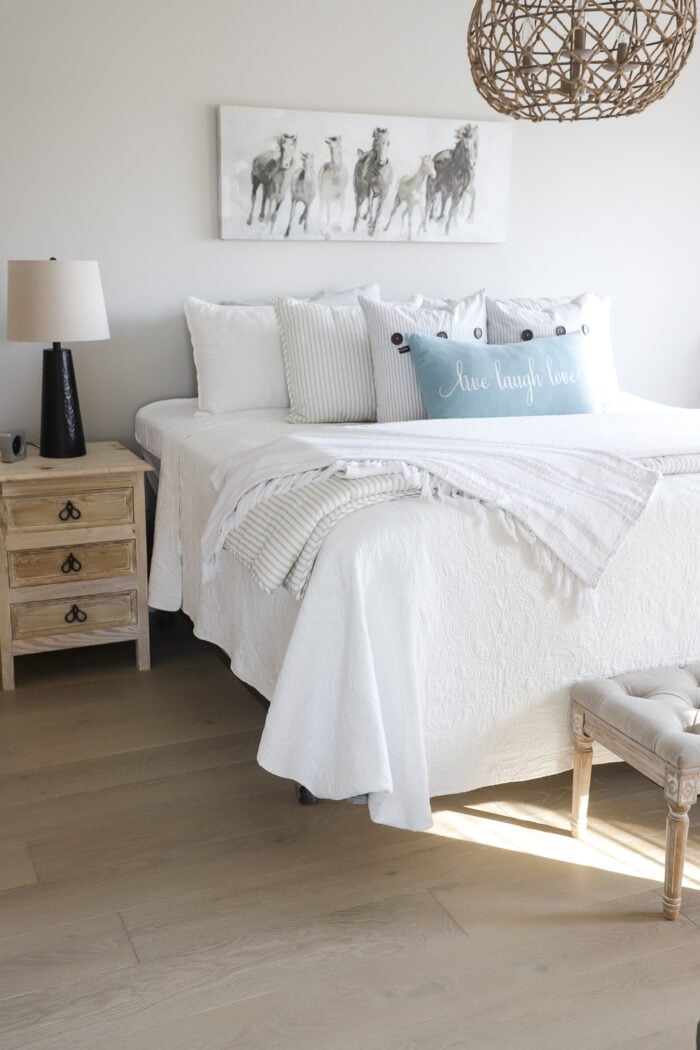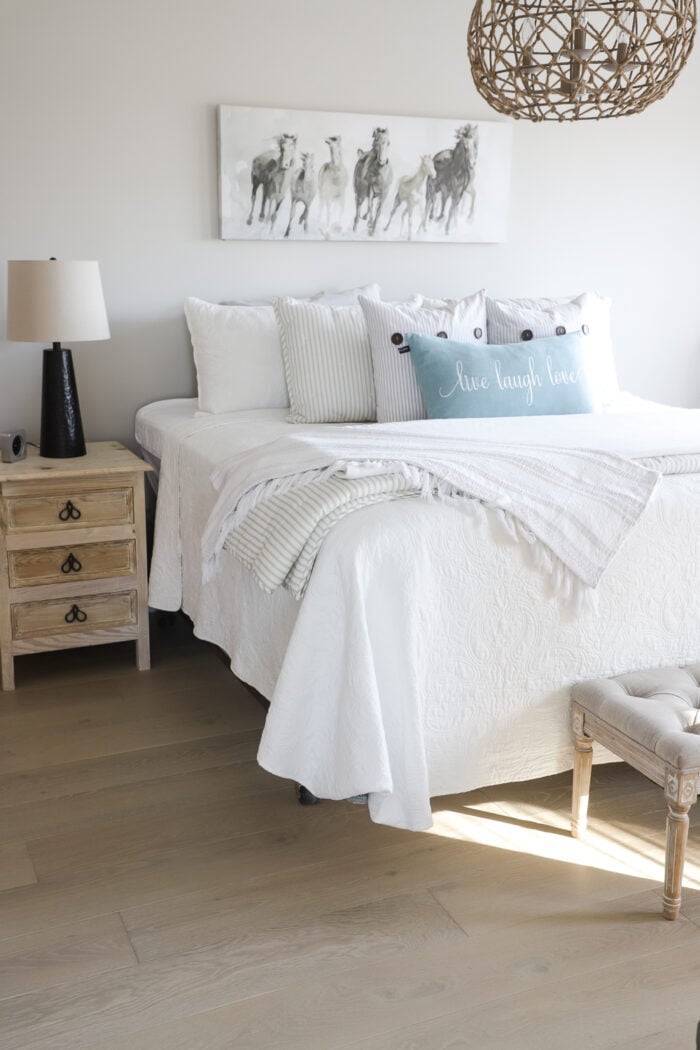 We are putting a ceiling fan in here and moving this light over the dining table. (which we have yet to find…we may make one)
But aren't these floors just stunning?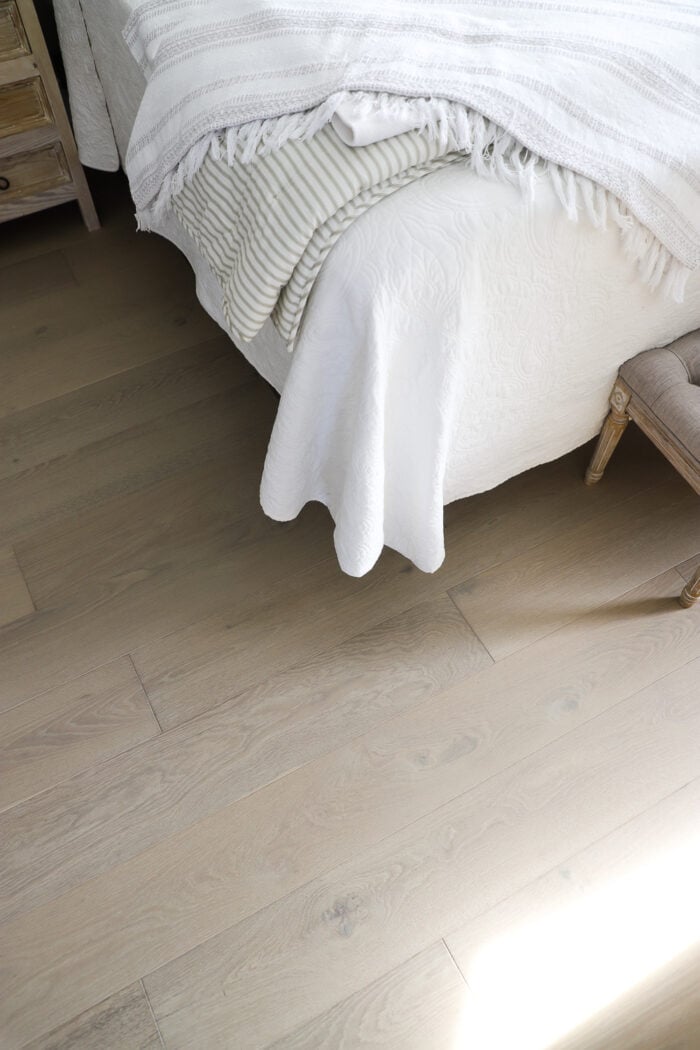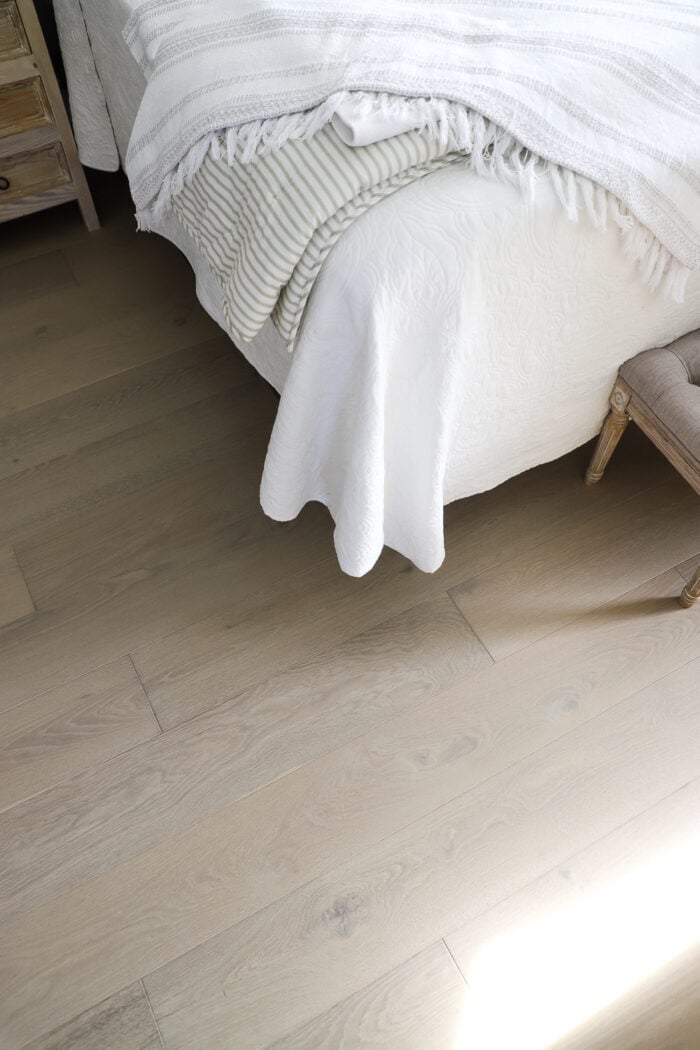 We are thrilled with them.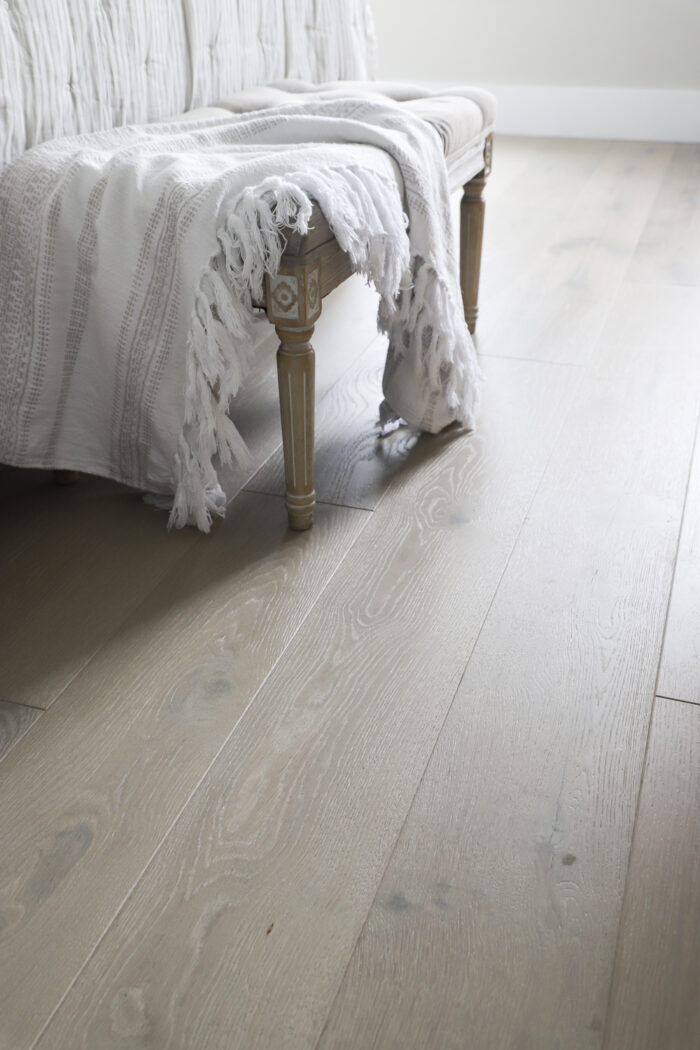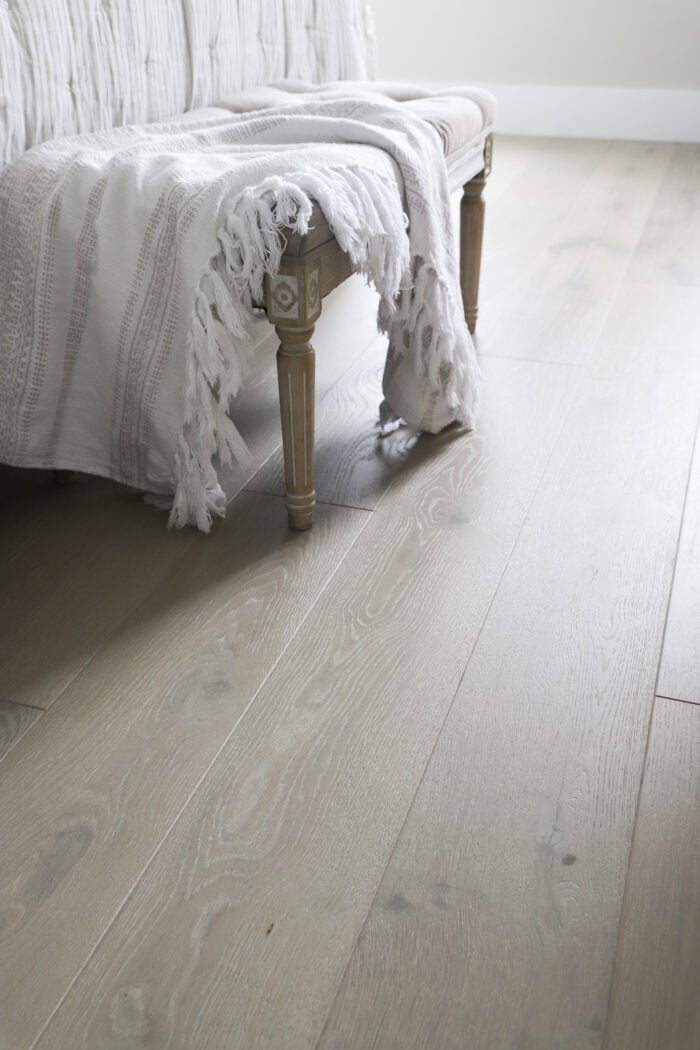 Waterproof is a huge bonus too! Especially being at the beach.
And since water is not a problem we used them all the way throughout our condo, even in the bathroom.
BATHROOM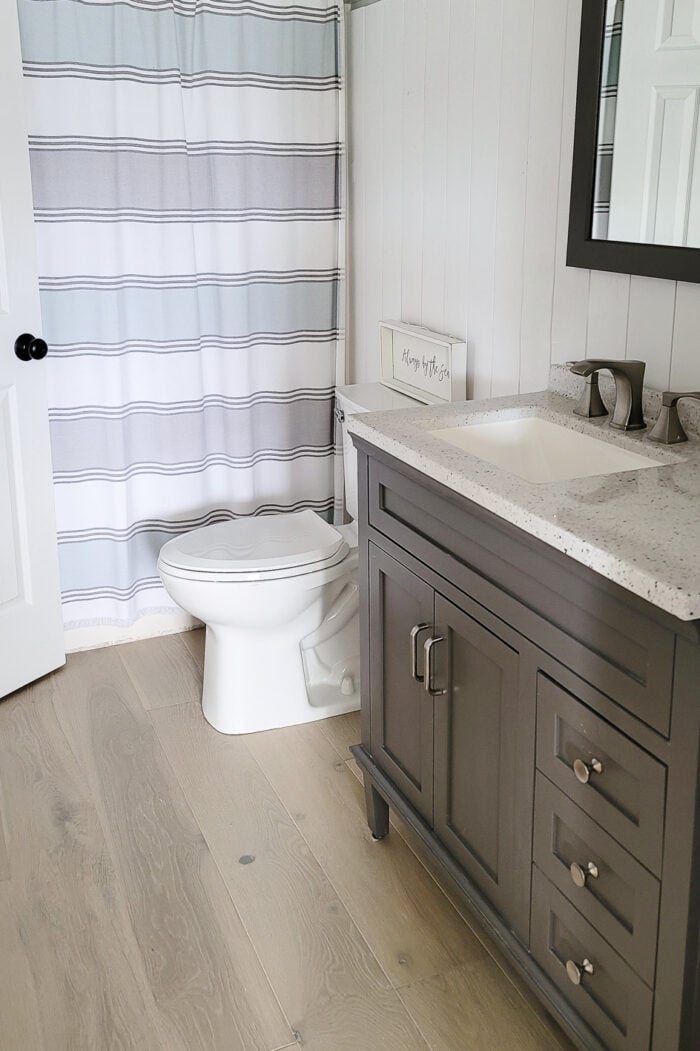 And on into the "bunk room" which no longer has bunks. What in the world do we call this little room now?
Trundle room doesn't have the same ring to it! ha!
BUNK ROOM (aka ??)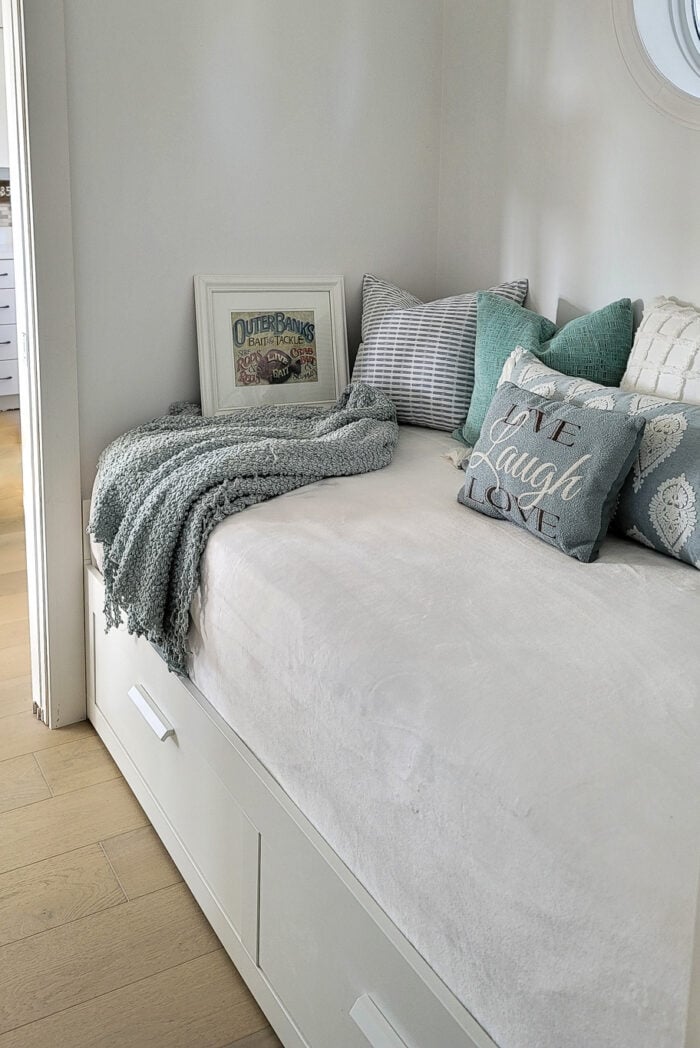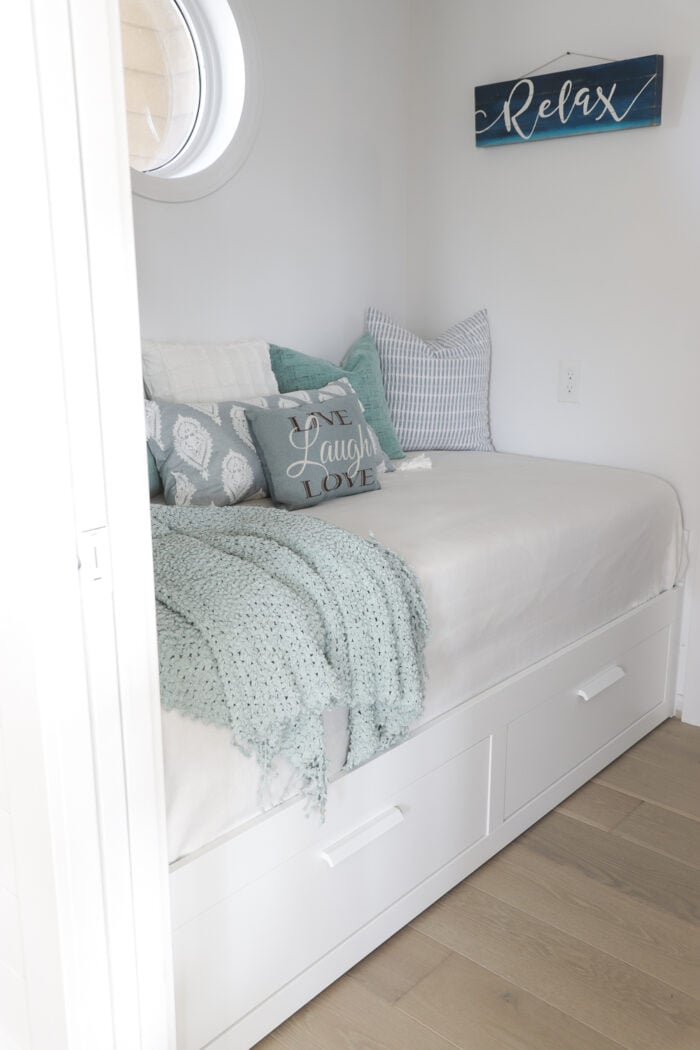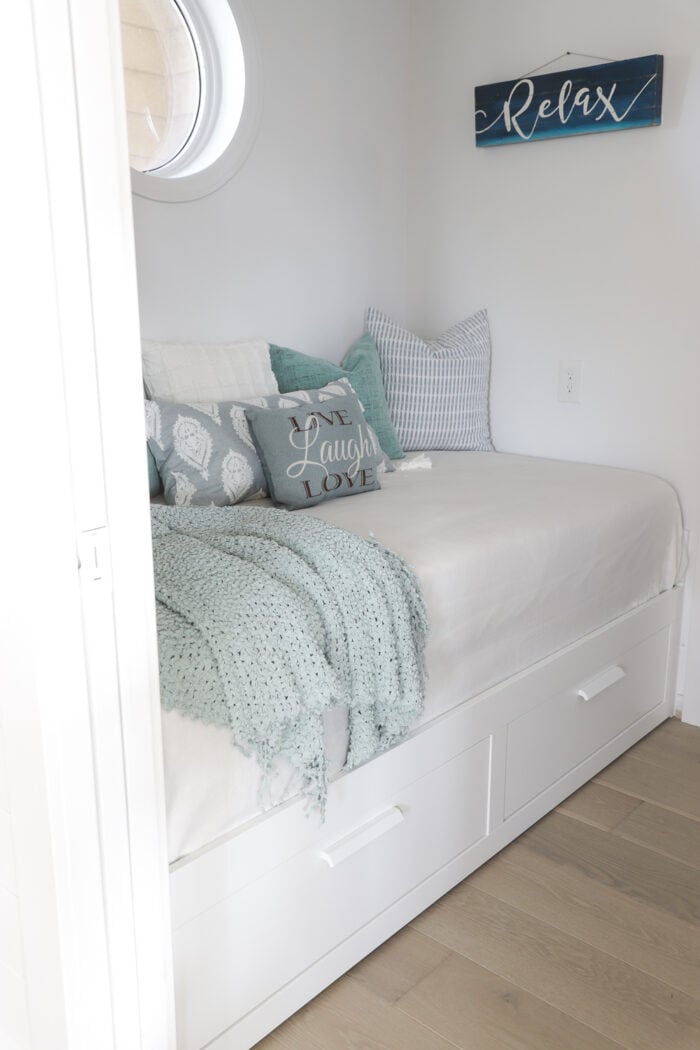 This is the coolest little bed, by the way. It opens up into a large bed.
I'll have more details/photos on it in the big reveal. (if you follow along on Instagram you may have seen it in action last weekend when we were assembling it)
KITCHEN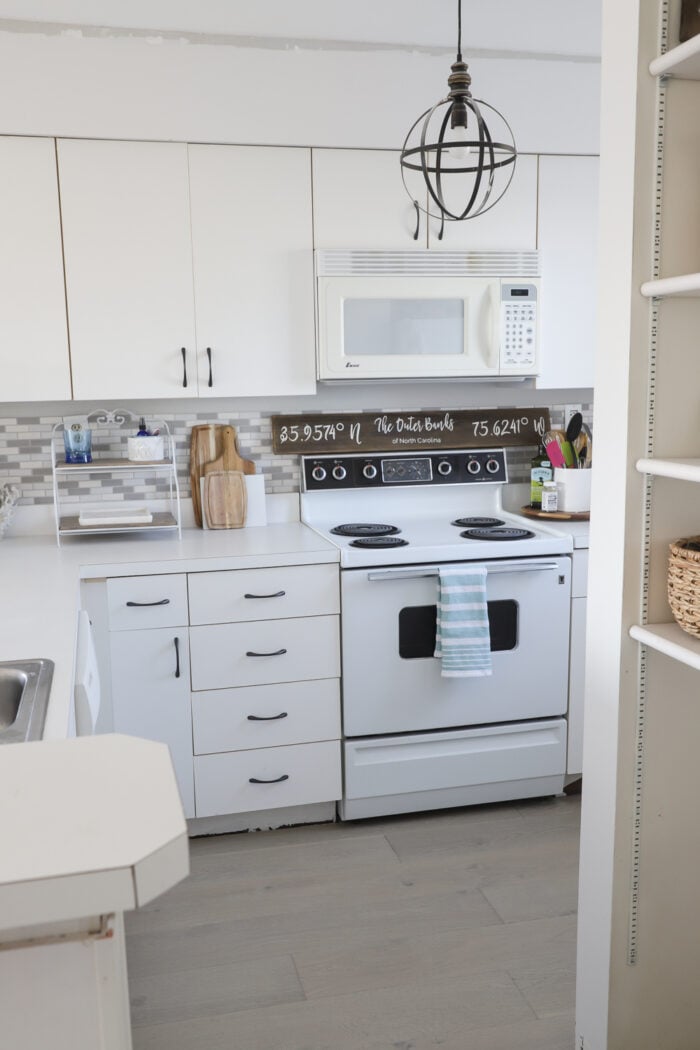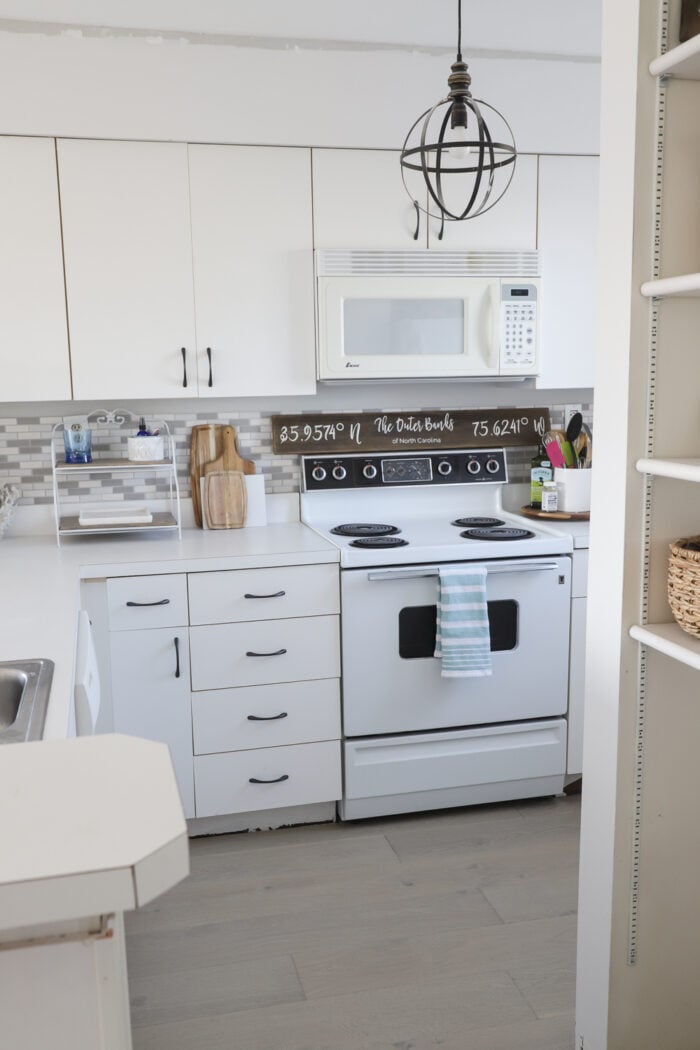 Like I mentioned, the kitchen is still waiting for its much-needed makeover. (new appliances, new cabinets, new backsplash, and new countertop)
The hanging light is going too…recessed in its place.
Do you remember that Outer Banks sign I made several years back?? I made it because we have wanted to purchase something down in the OBX for many years.
I tucked it away until we did.
So excited to be able to put it up on the wall here soon!
Ryder trying to steal the show again.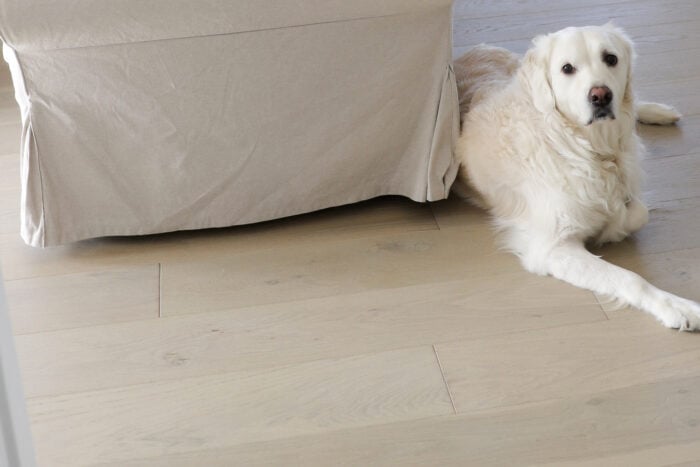 That face.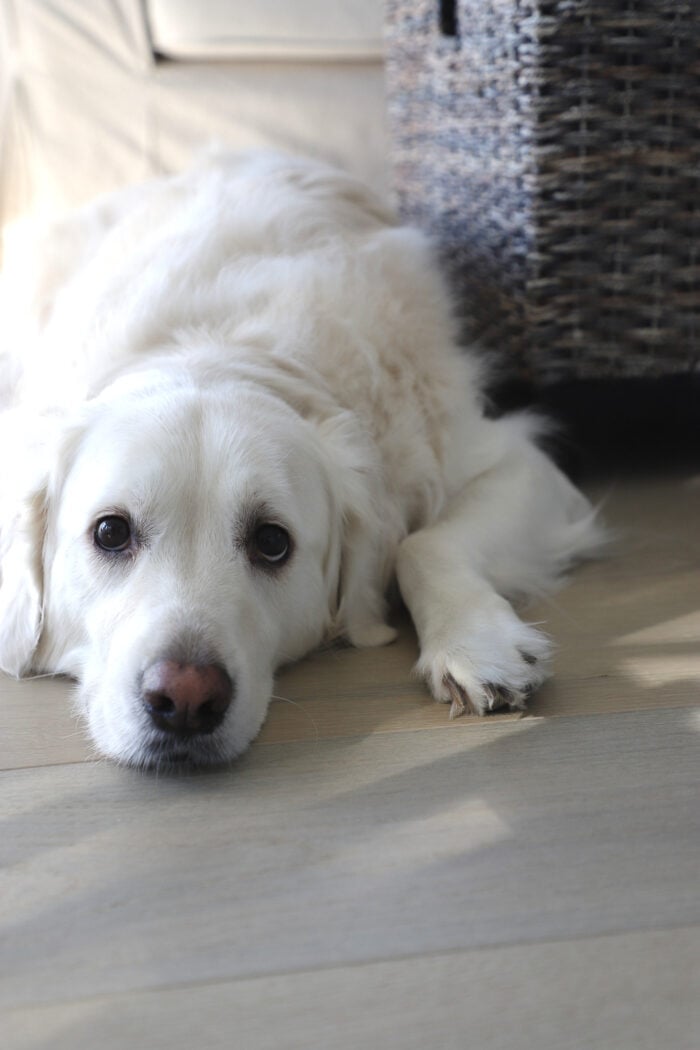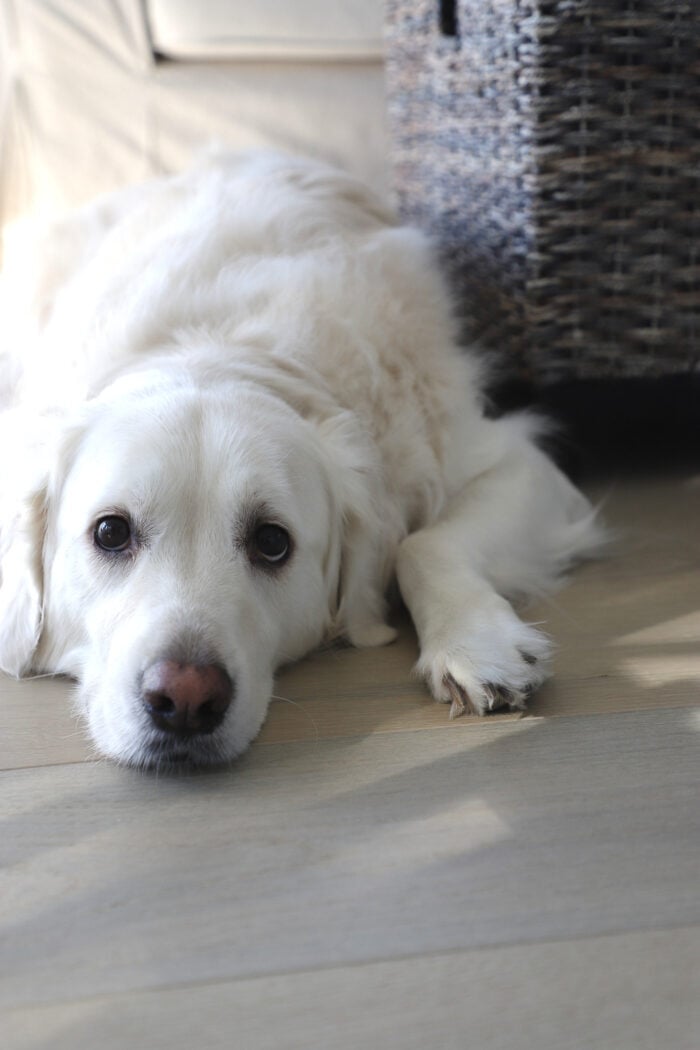 And that floor…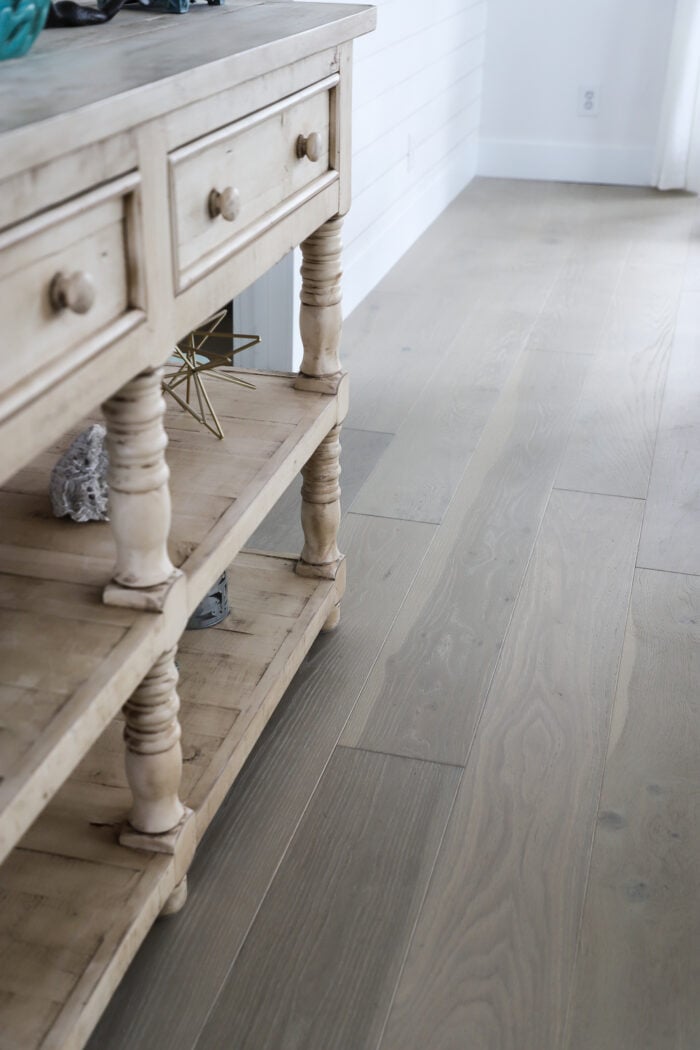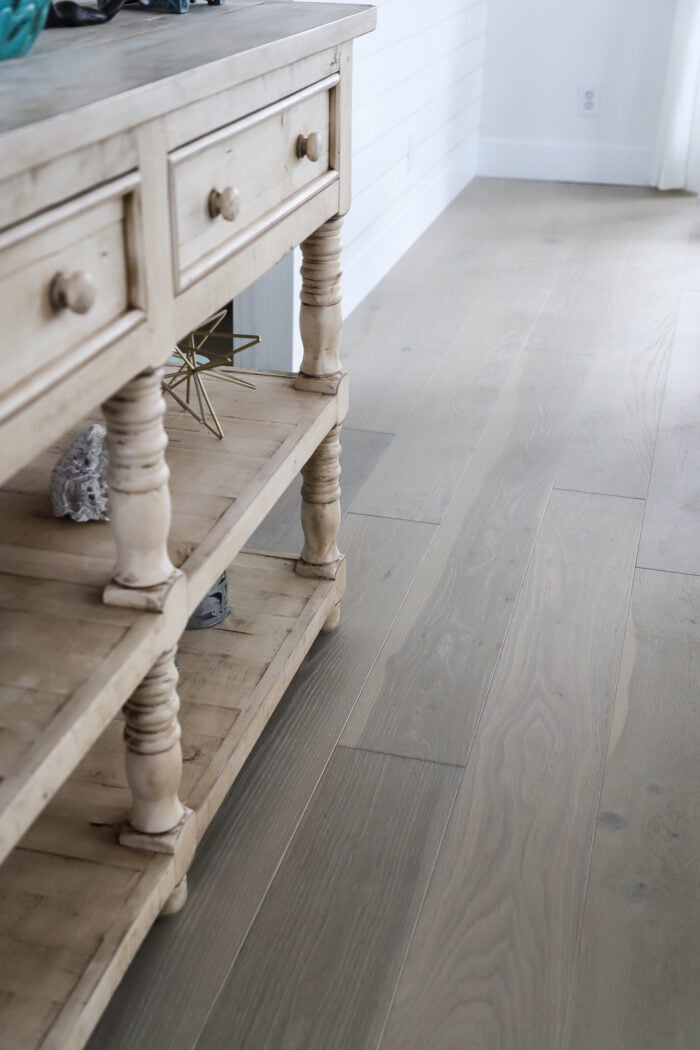 All the hearts for both.
Ryder says thanks for coming to visit…see you later!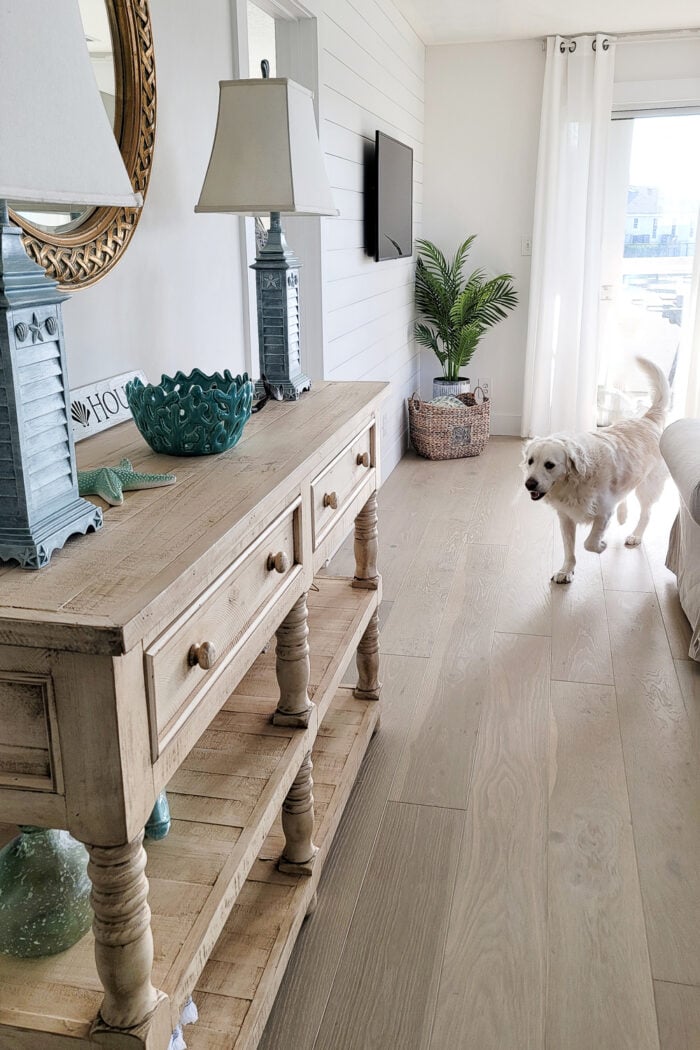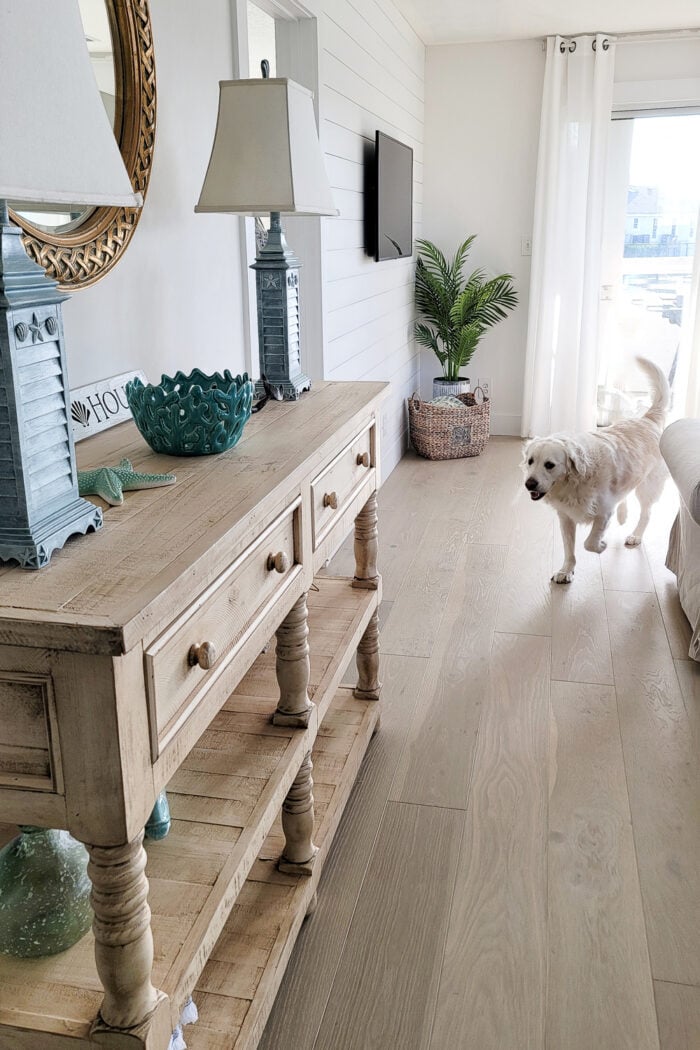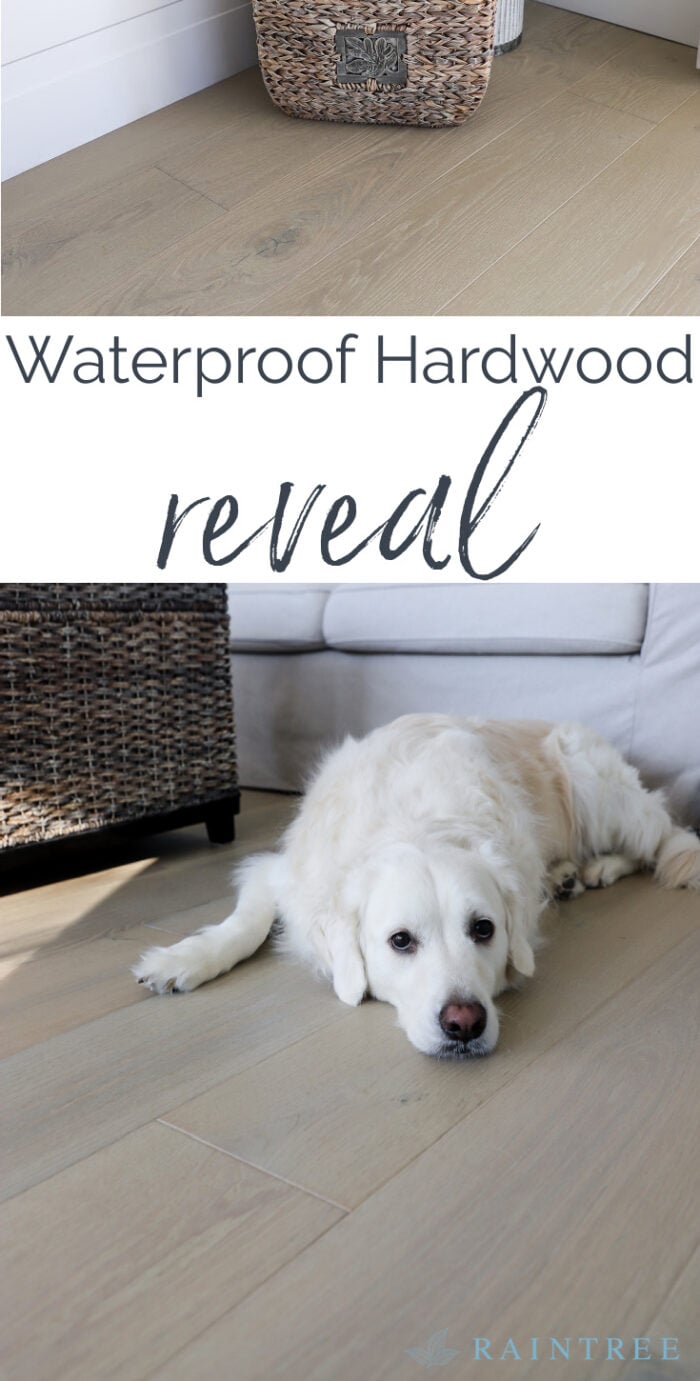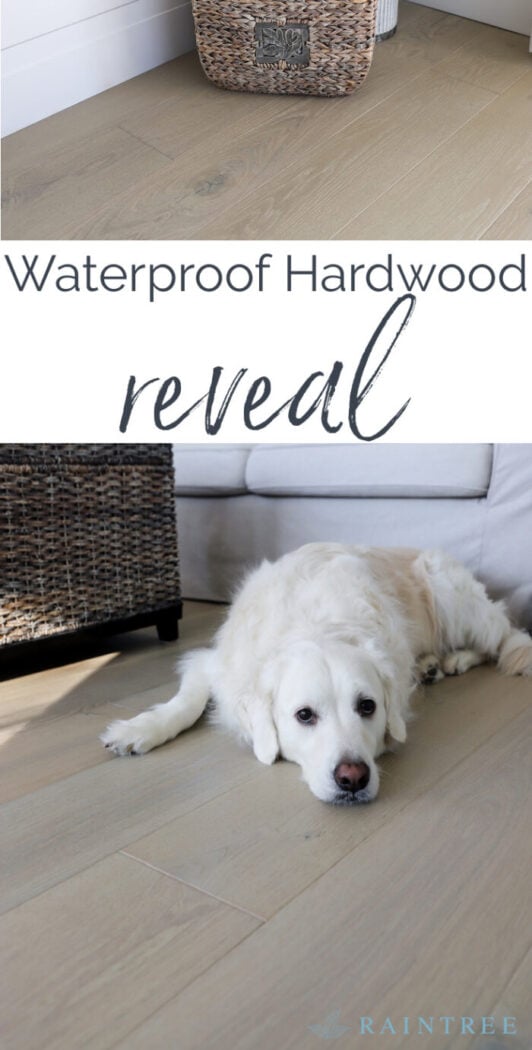 Don't forget! You can get free samples to check out this flooring too.
Get em, right here.
Be sure to follow along with Raintree Floors for new product news and design inspiration here: Blog / Instagram / Facebook / Pinterest / Twitter / Houzz
Have a wonderful weekend, friends!
xo