New Waterproof Hardwood Installation (and a sneak peek!)
This post may contain affiliate links. Please see disclosures here.
Install day is here! Today I'm sharing all about our new waterproof hardwood flooring installation.
This post is sponsored by Raintree Floors. I received "Raintree Floors" flooring products free of charge to facilitate my review. All opinions are 100% my own.
Hello, friends!
Did you see what happened last week? Did you catch it on my Instagram stories?
Flooring installation, that's what!
We are so thrilled, I can not even tell you how much. The floors are amazing and absolutely beautiful. The installation went so smoothly and it was so nice to stand back and have someone else take the lead and make it happen. It surely was a nice break for hubby and I. :)
Plus, it's always nice to have the experts do what they do best, right??
Not sure what all this flooring talk is about?
We partnered with Raintree Floors on beautiful waterproof hardwood flooring. (yep, you read that right!)
Want to catch up?? Go read this post real quick then come back here and see where we are now. >>> Waterproof Hardwood Flooring Update
New Waterproof Hardwood Installation
So before we get to the installation process and the gorgeous new floors, let's recap:
FLOORING SELECTION
We went to Raintree's website to check out their selection.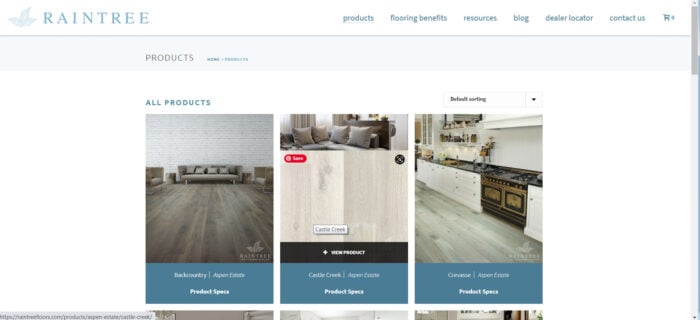 We narrowed it down to our favorites and got some free samples.
Want free samples so you can check out this amazing flooring too?
Click here to hop over and get your two free samples.
Next, we checked out the dealer locator to find a retailer near us.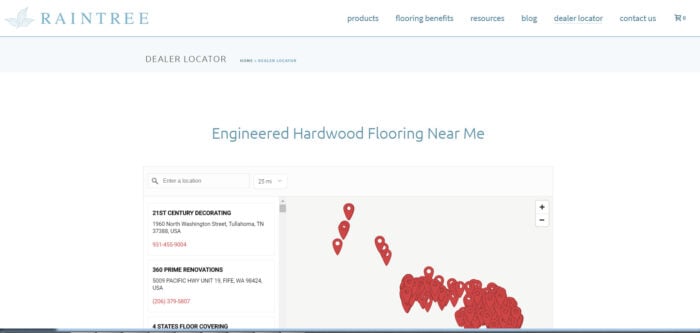 Click here to find a retailer near you.
And we found H & W Interiors in Kitty Hawk, NC which is where our beach condo is located.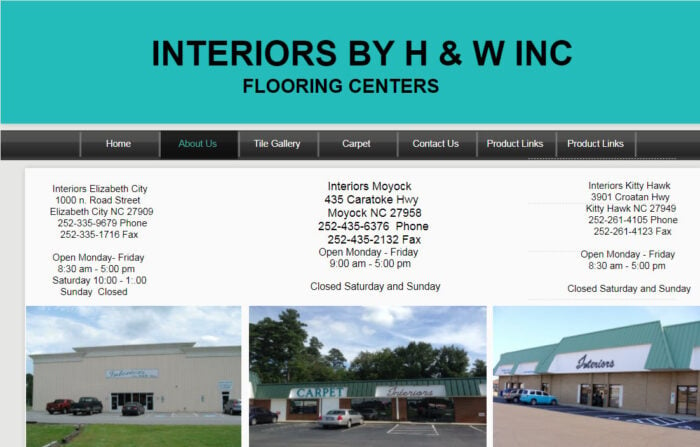 They sent Tricia out to measure for us. It's very important to get a professional to come out and measure your space.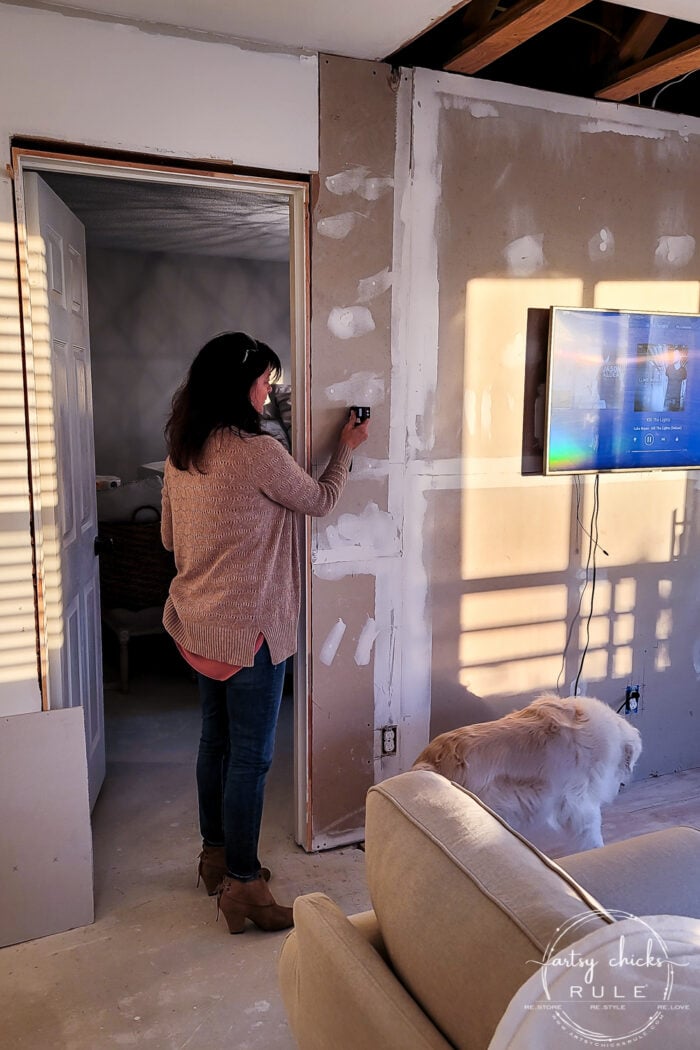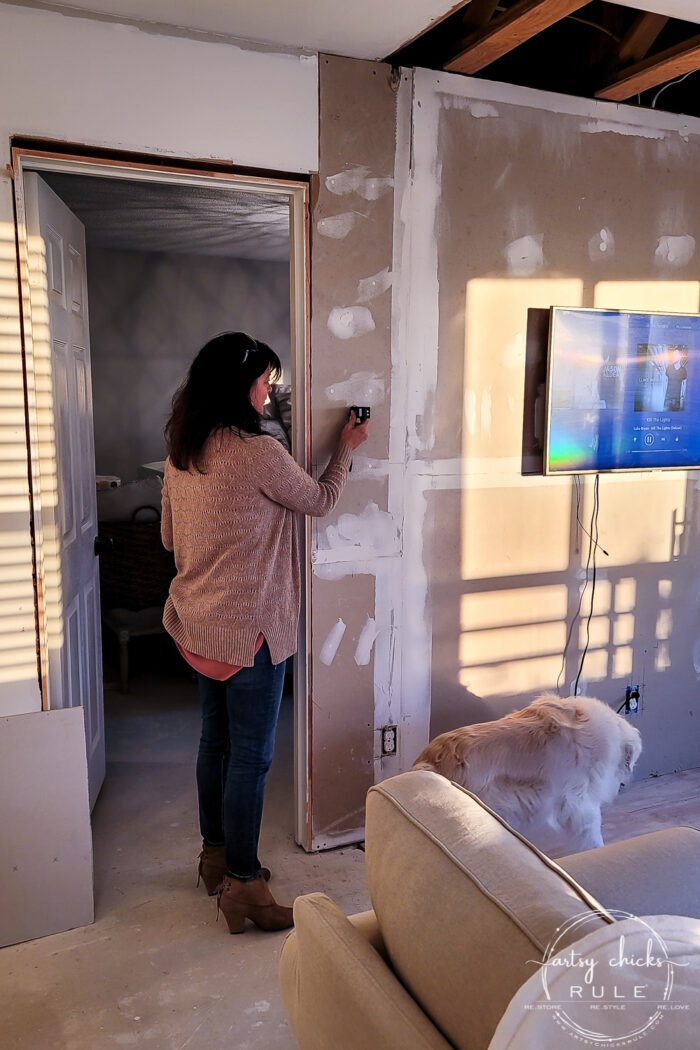 Then came decision time…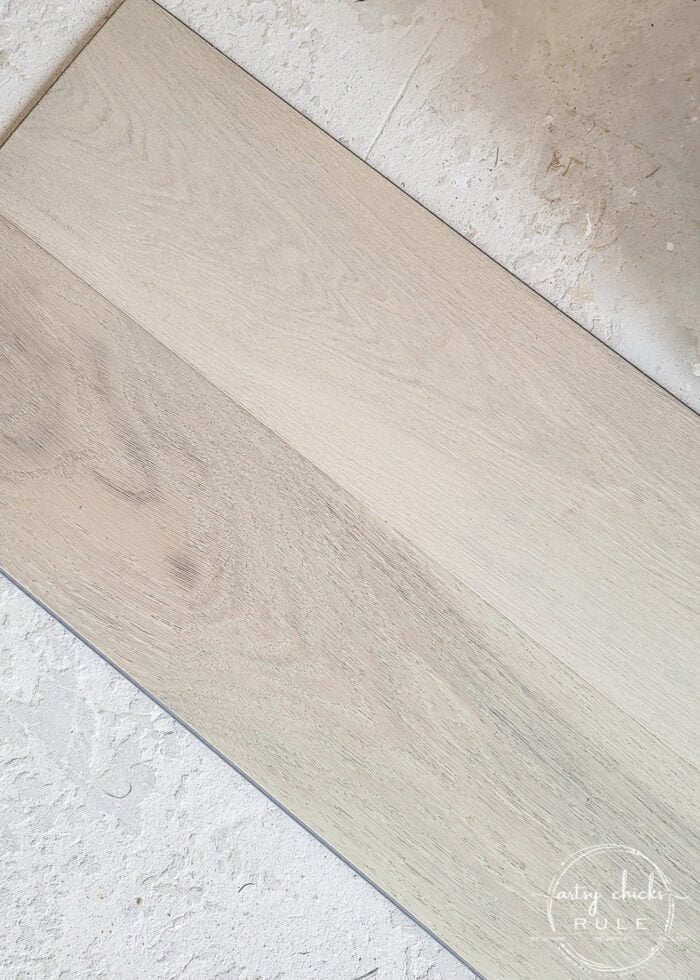 After seeing larger samples we decided to go with Egret from the Laguna Vibes Collection.
We loved the light, blonde-ish color, and relaxed vibe and thought it would go perfectly in our coastal "cottage". (aka beach condo)
Waterproof hardwood that is pet friendly, can be wet mopped, has maximum scratch resistance, has locking tongue and groove planks, and an acoustical layer on every plank for peace & quiet is the perfect choice for us.
Want to read more about the wonderful benefits of this waterproof hardwood? Click here.
Next up…
DEMO
My husband and I did the demo. You can also have that included in your install if you choose.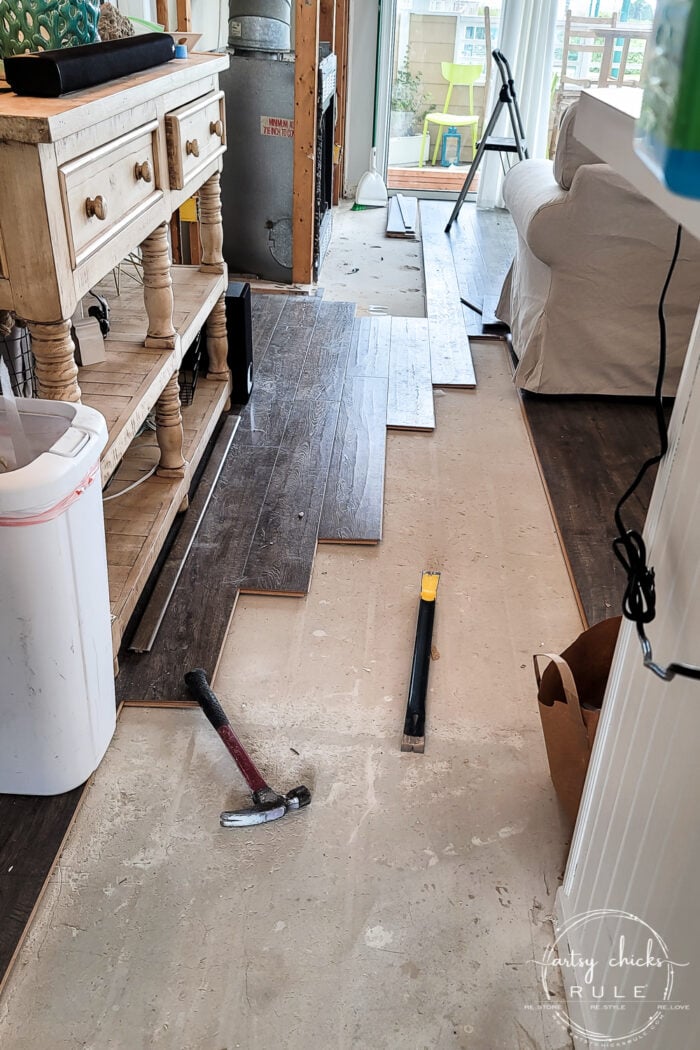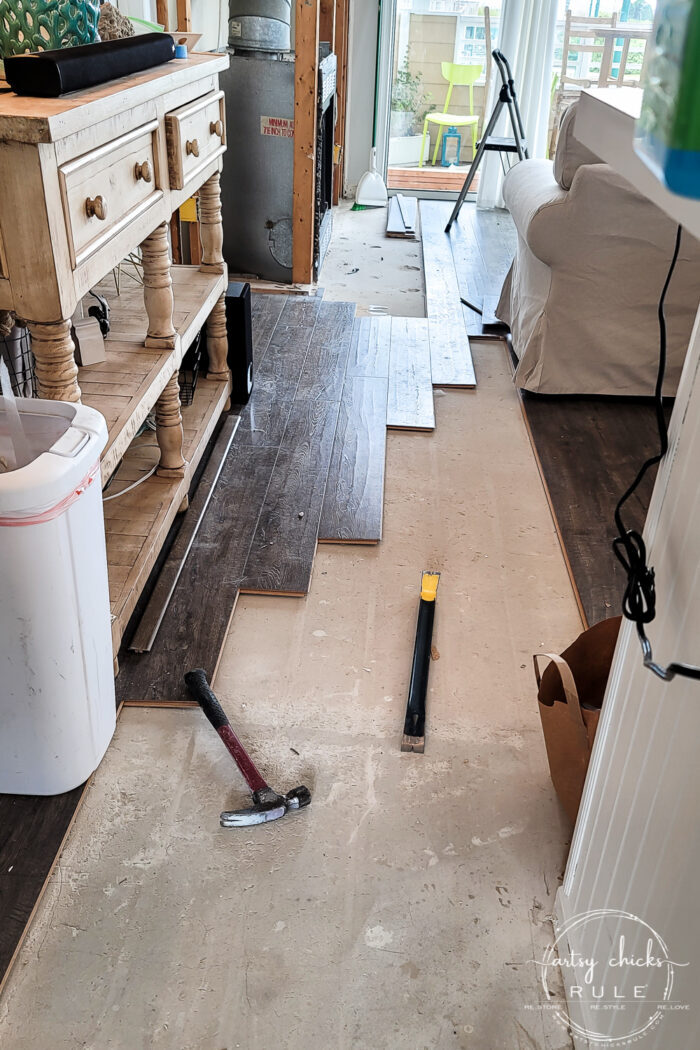 Our floors are gypcrete since it's a condo. And let me tell you, that stuff is a MESS!
So dusty and powdery. Just non-stop mess no matter how many times you sweep or vacuum.
Maybe it was the age of it (30 years), who knows? But we could not get it all up.
It just continued being a dusty mess. Ugh. I don't ever want to see that stuff again.
PREP FOR INSTALL
In prepping for install, we got everything up off of the floor, as much as possible.
We moved things to our small storage unit downstairs and even stored some things in our vehicles.
And even the bathtub…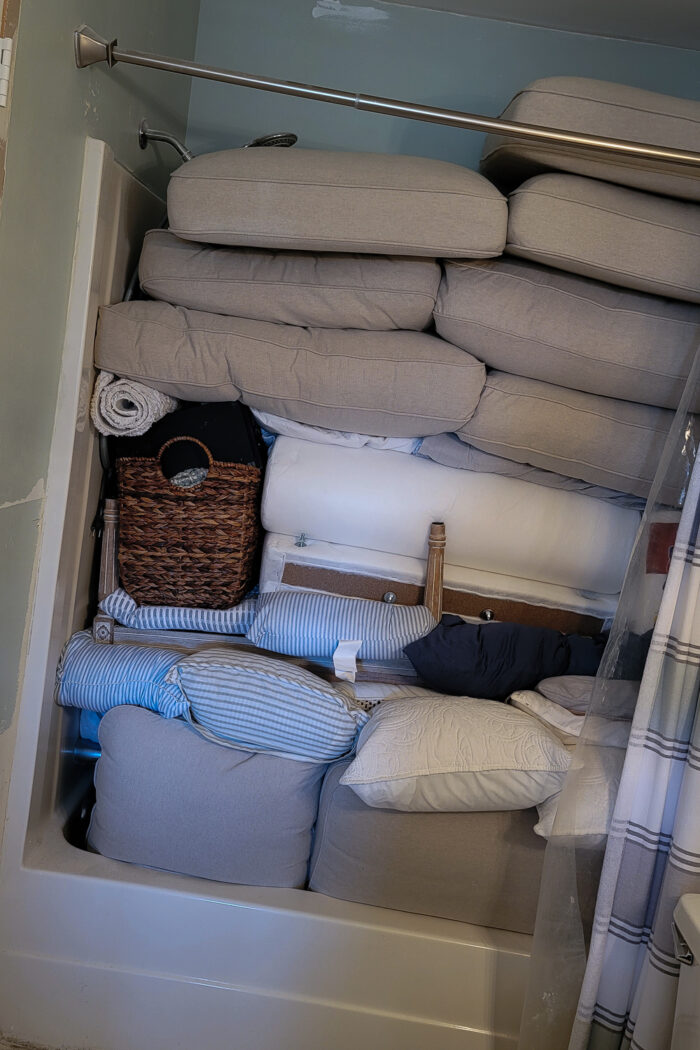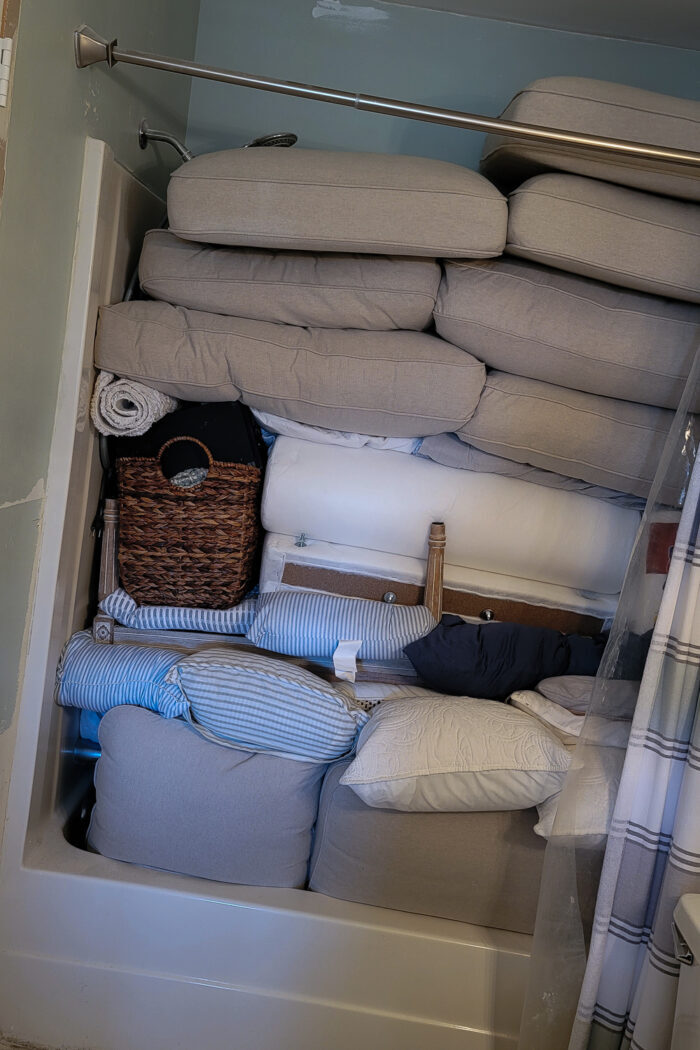 You can get really creative when you need things off the floor! haha!
Hey, it worked well, what can I say, my hubby's a good packer. ;)
All things off the closet floor. Again, using whatever space up high that we can.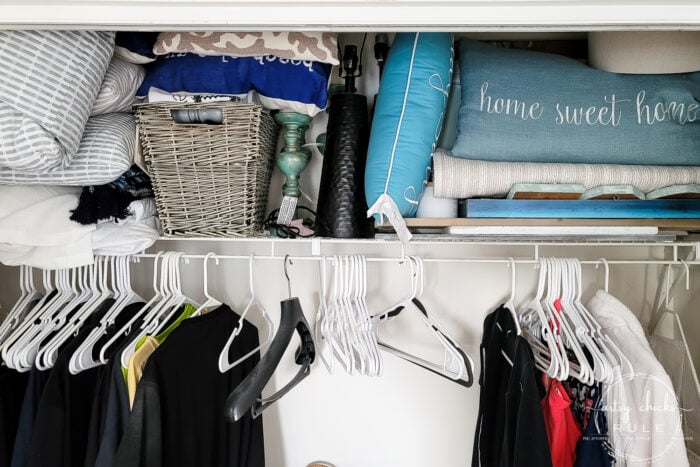 Moving things from one side of the house or room from where they will start is a good plan too.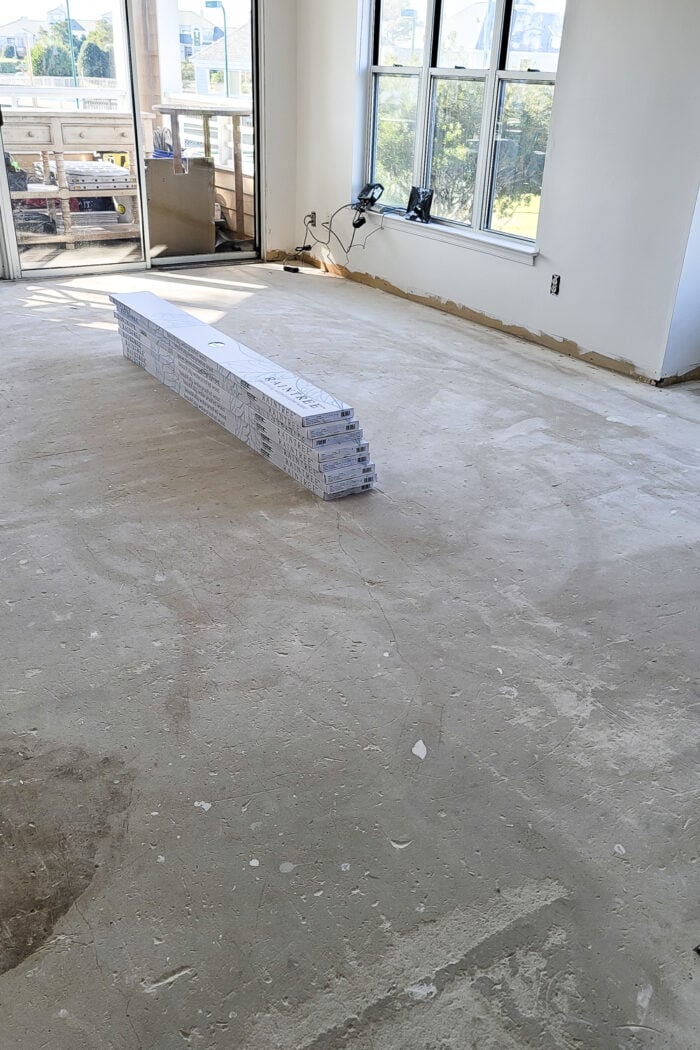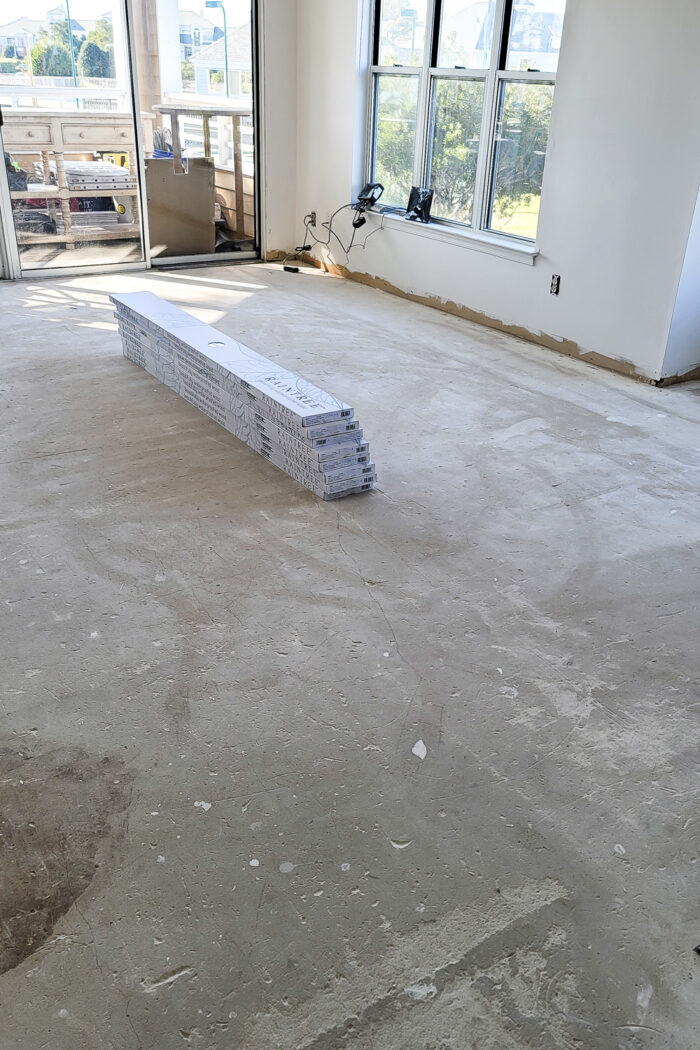 We moved everything to the bedroom and bunk room so this room would be completely empty to start.
Then we moved everything back over to that side and emptied the bedroom and bunkroom so these rooms would be ready for our installer. (again, you can have your installers move your things if you don't want to or can't move your own)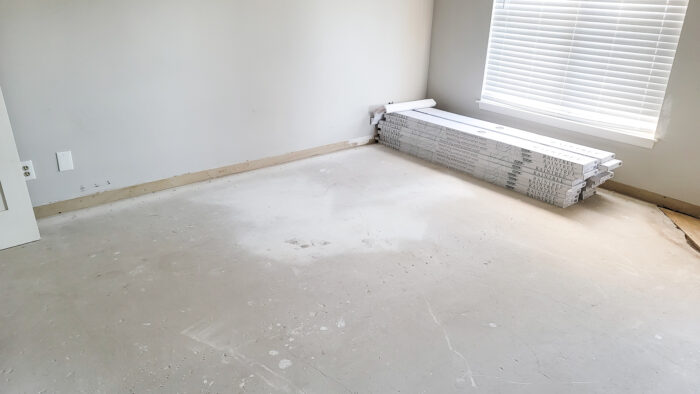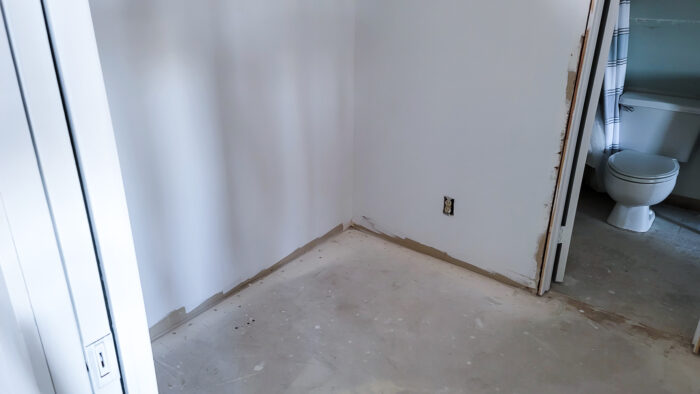 INSTALLATION
Yippee!!
Never have I ever been so happy for this day to arrive!
Hello, beautiful flooring boxes.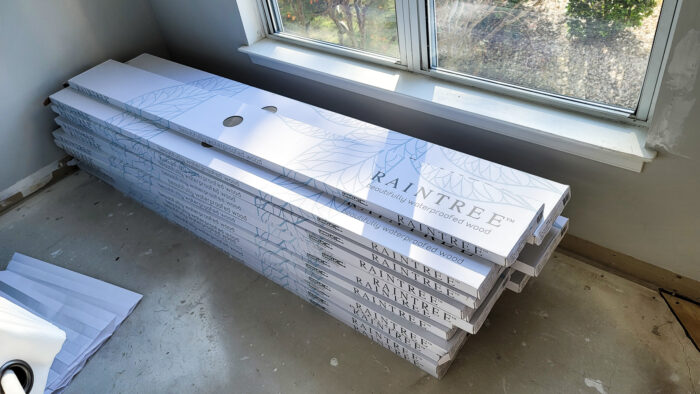 And hello, beautiful new floor.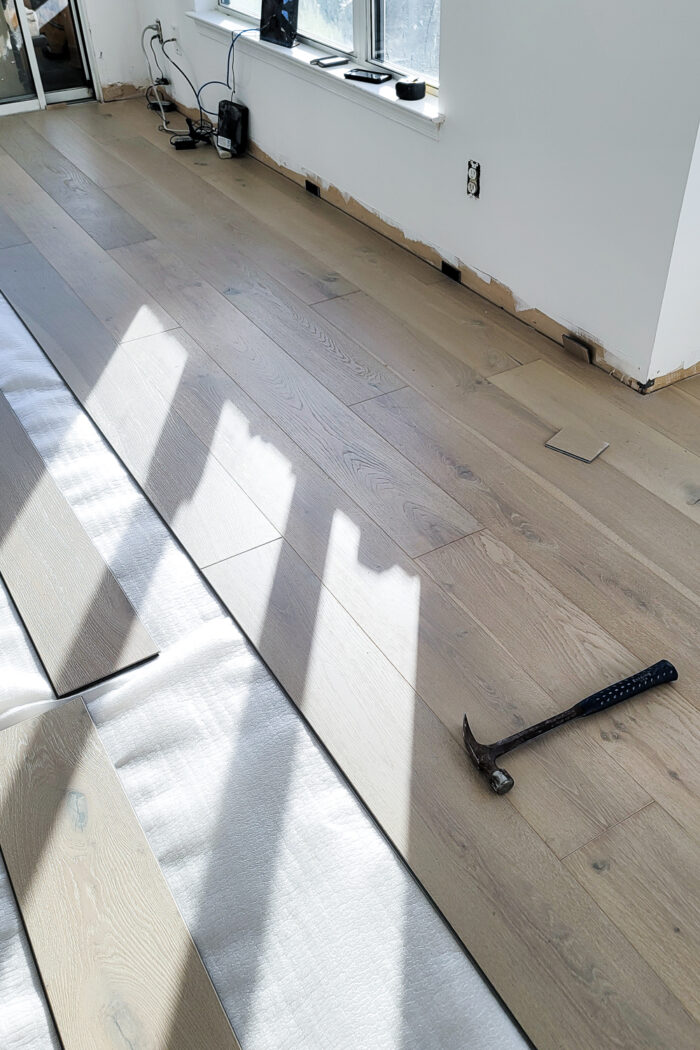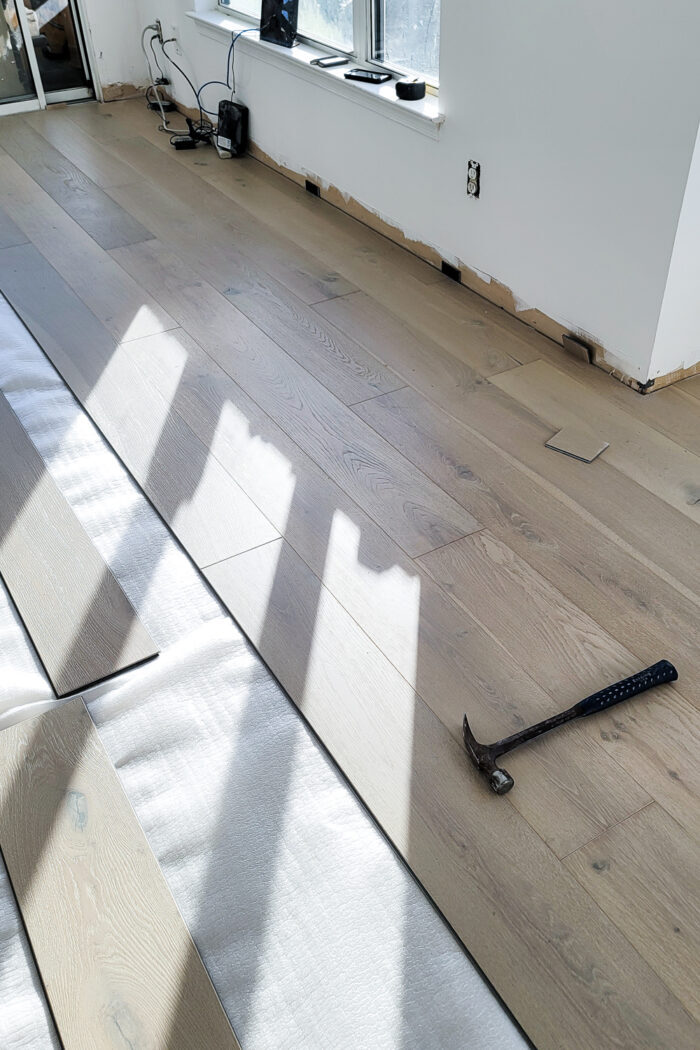 Rob, our installer from H & W Interiors got right to it.
I do want to note that these floors come with an acoustical backing all ready to go with tongue and groove interlocking planks. It's not needed or required, but we chose to have a protective layer in between them and that awful, dusty gypcrete flooring. (I think I am scarred for life by that base gypcrete flooring and the mess we lived in for weeks! Not kidding, lol!)
I have to show you this shot I took in the sunlight. Look at that glorious natural wood grain texture.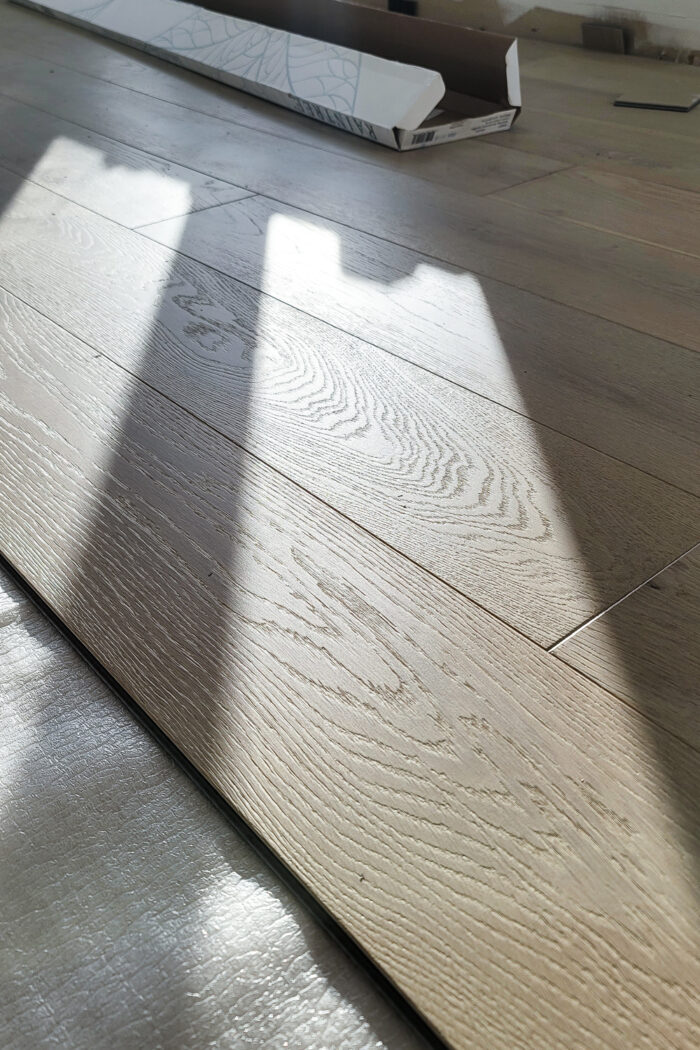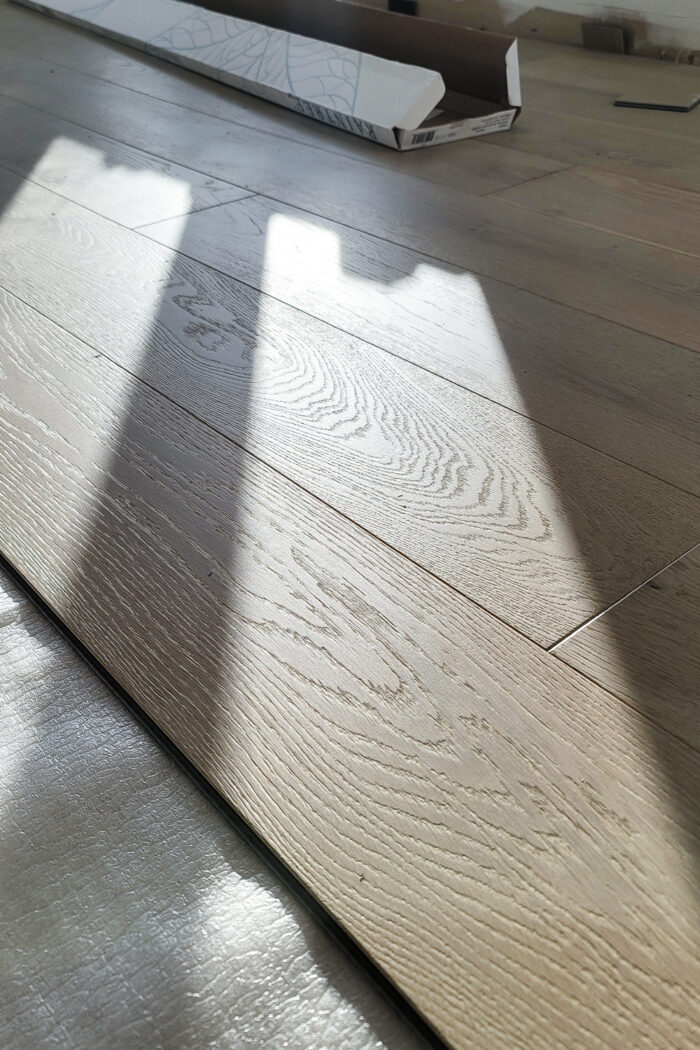 It's truly stunning. And I absolutely love that there are not any two pieces alike anywhere.
That's the beauty of natural hardwood flooring.
Part of getting a professional flooring install is having them make sure the floor is level everywhere.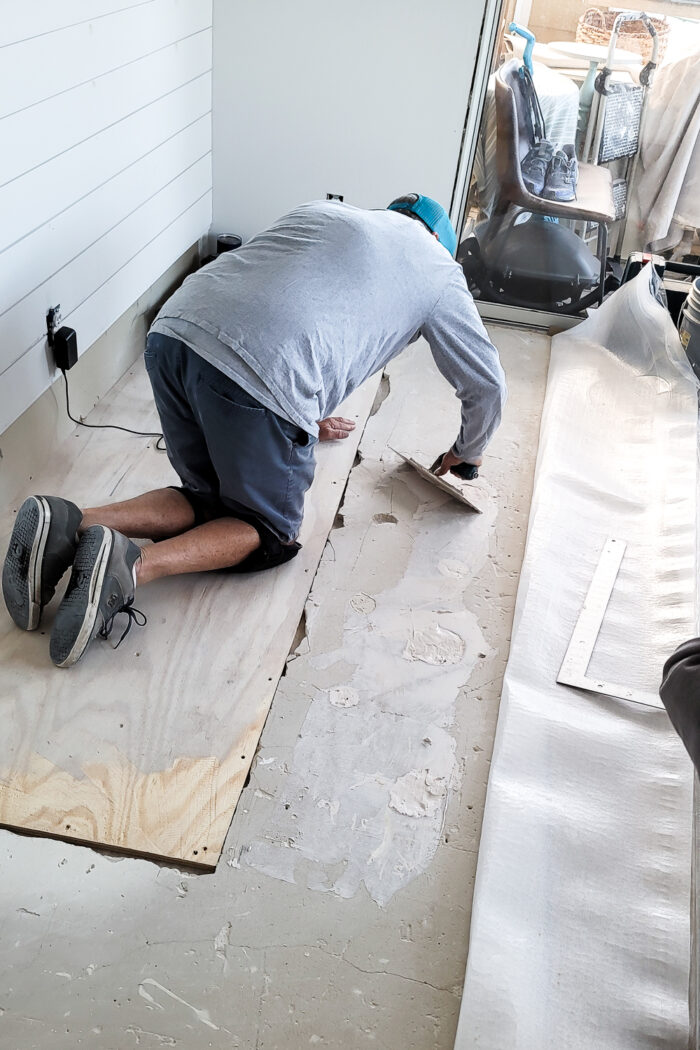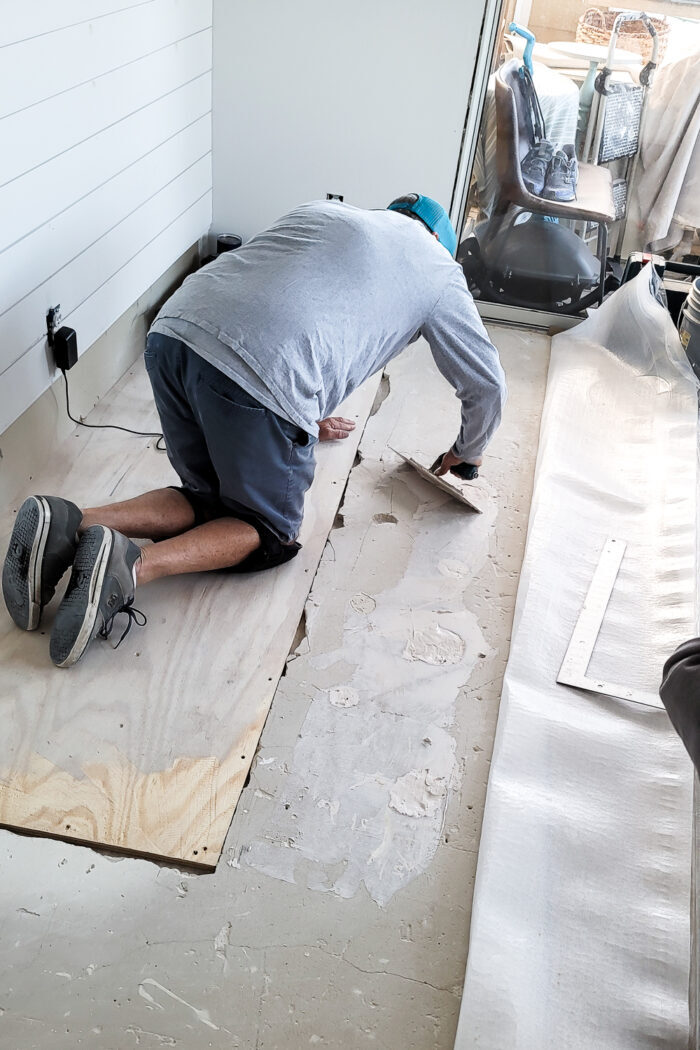 There were several places and areas that needed some leveling out and/or filling.
One was this space where we took out the fireplace and wall. We had to fill it in with some subflooring.
Which needed to be sanded to level as well as some filling in too.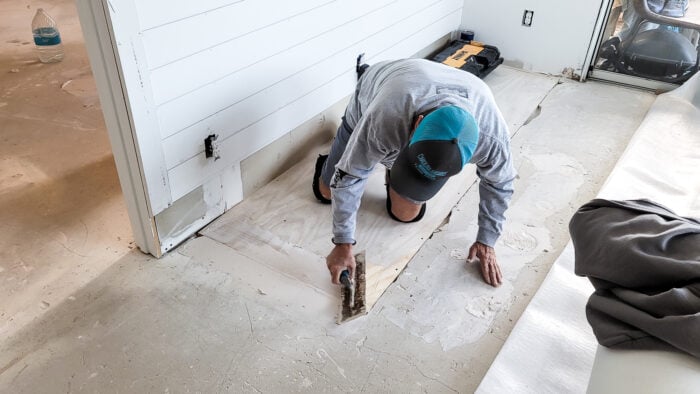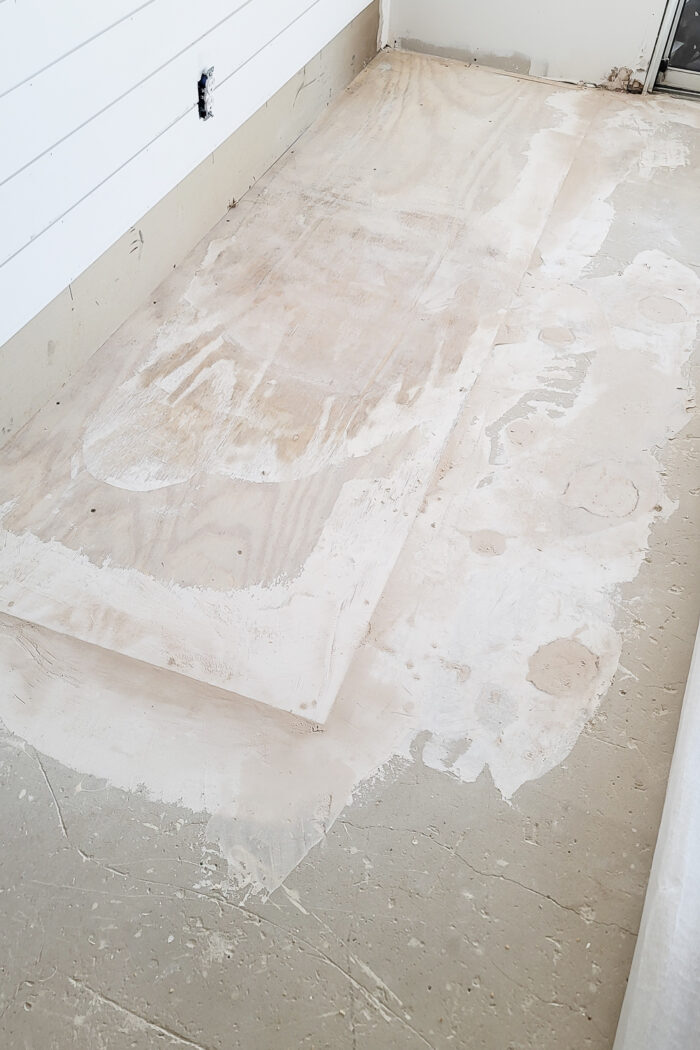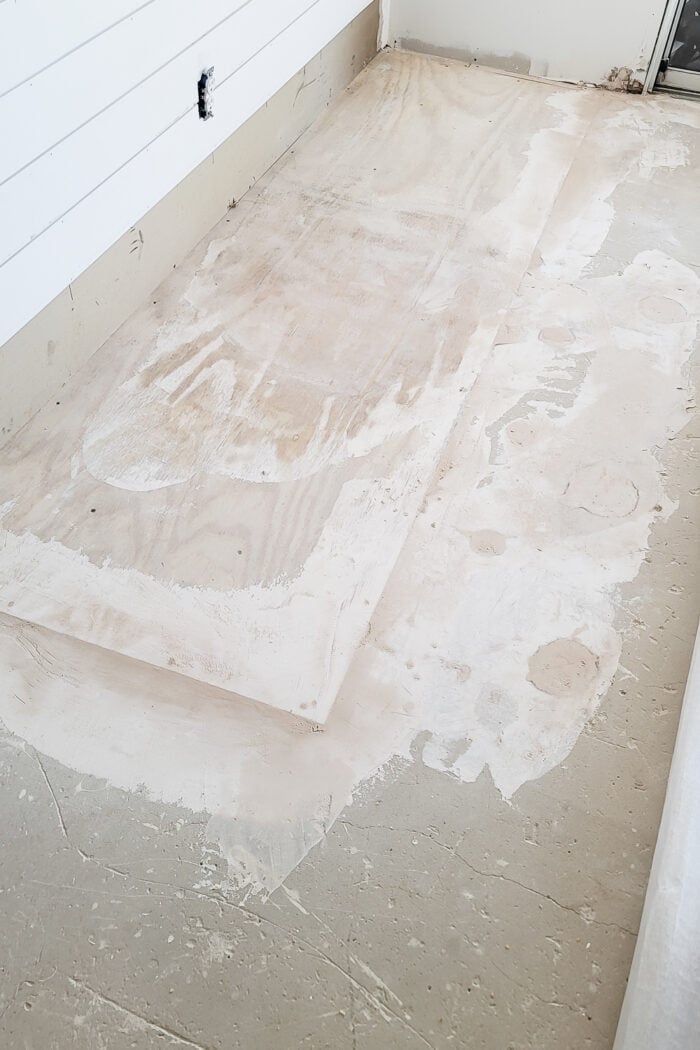 Our kitchen floor also needed some work.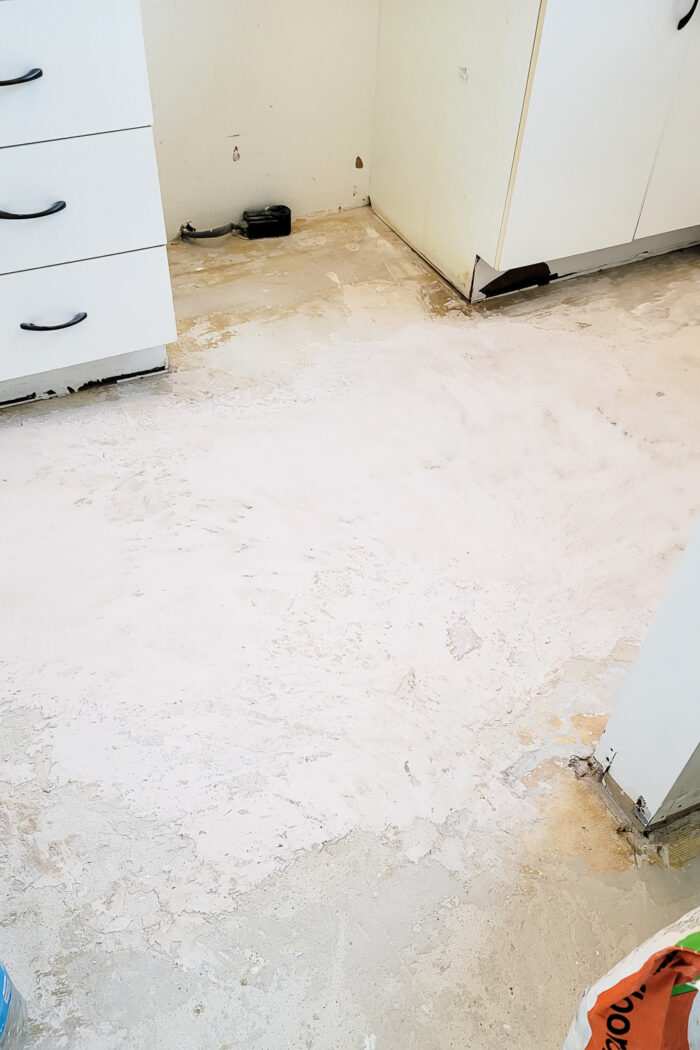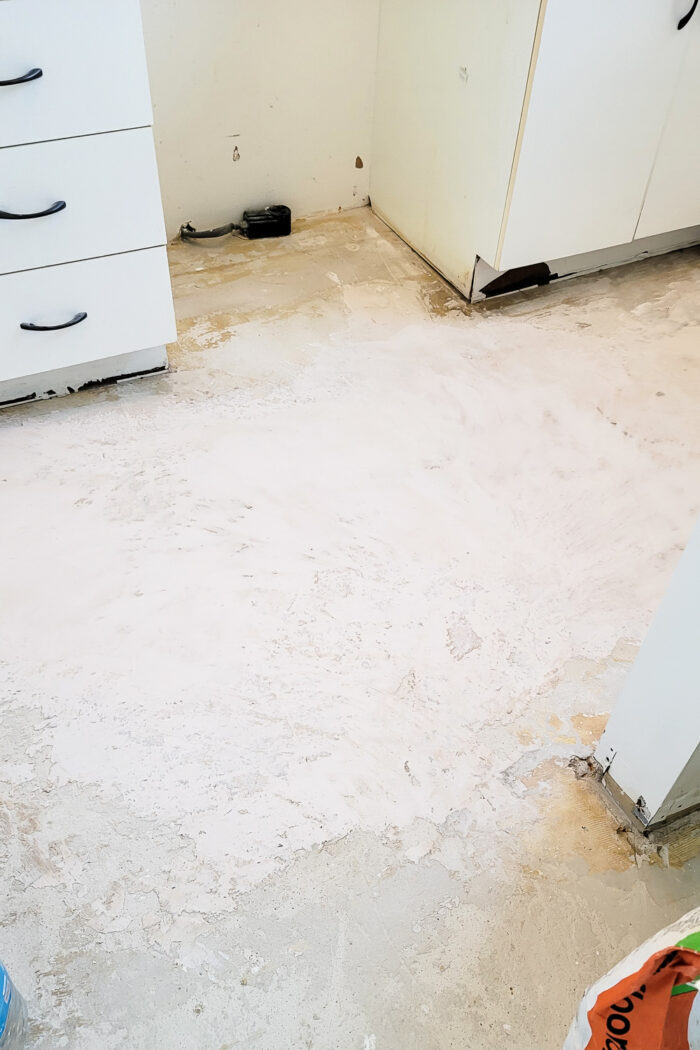 Nice and level now.
From these seasoned DIYers here, it sure was a treat to stand back and watch someone else do the job.
I enjoyed the whole process and seeing this little beach condo of ours being transformed before our eyes.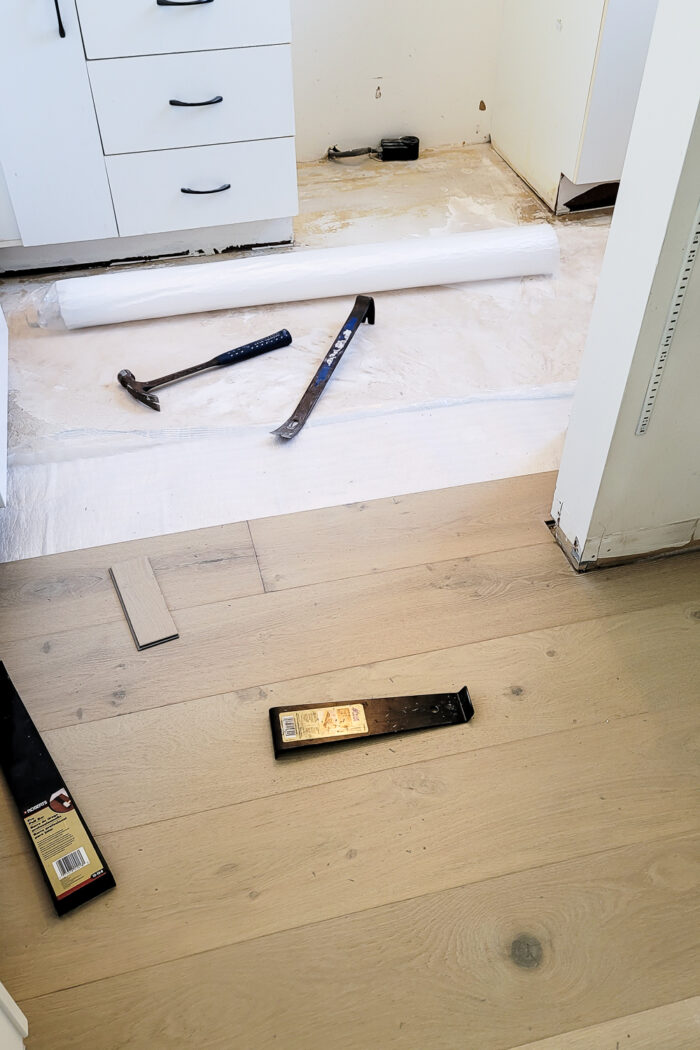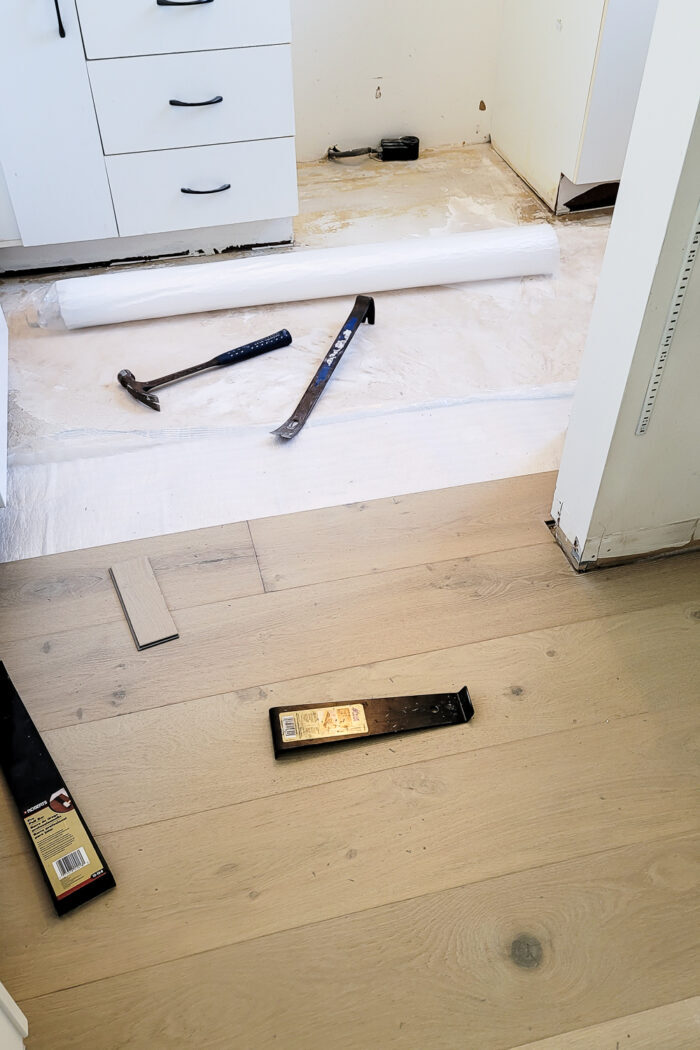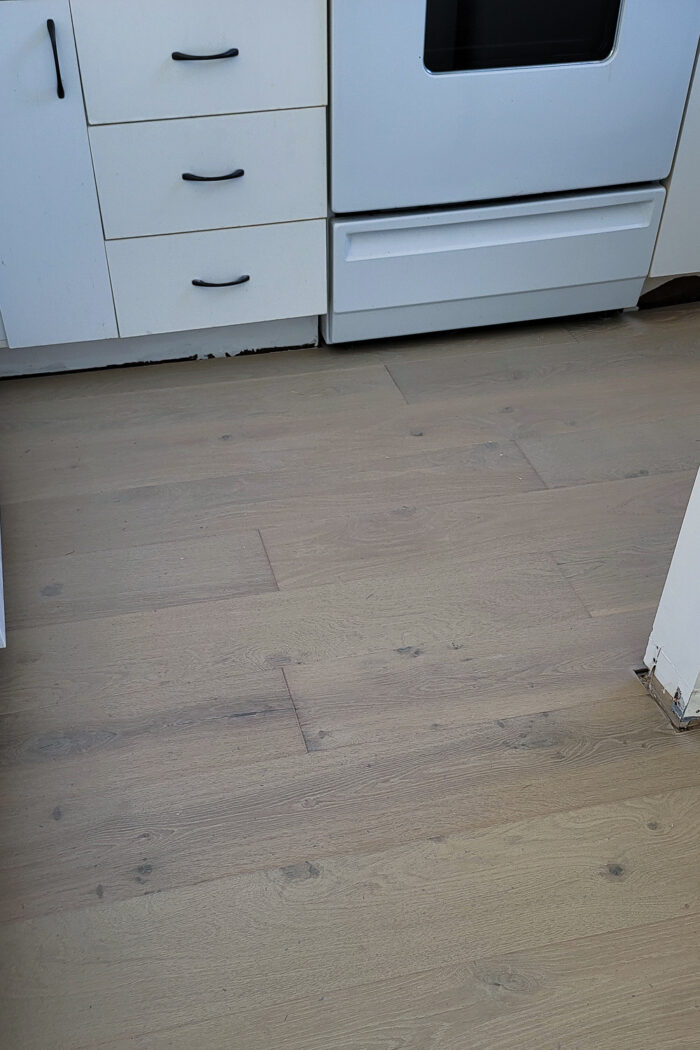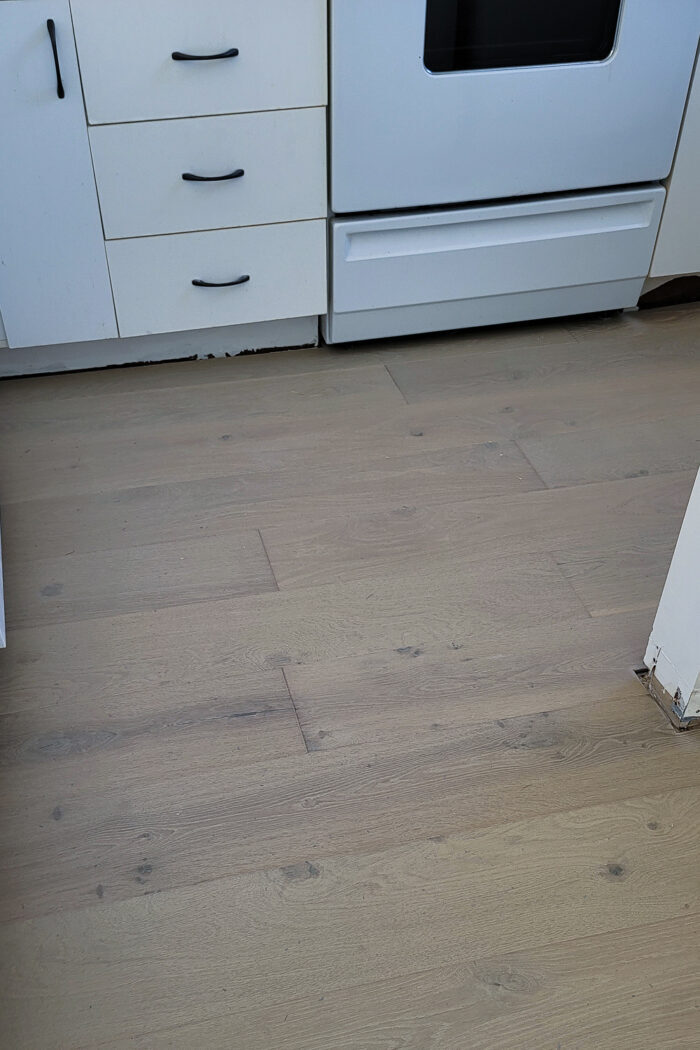 And done!
We have quite a bit more to do in the beach condo remodel before we do our BIG, big reveal but I want to show you how gorgeous these floors look in every room in the meantime. I do want to get the rooms back together a little more before I do though so stay tuned for that in about a week or so.
Want to see a sneak peek or two?
I can't wait till then so you are getting a few sneak peeks to hold you over. And me too because I'm impatient like that. lol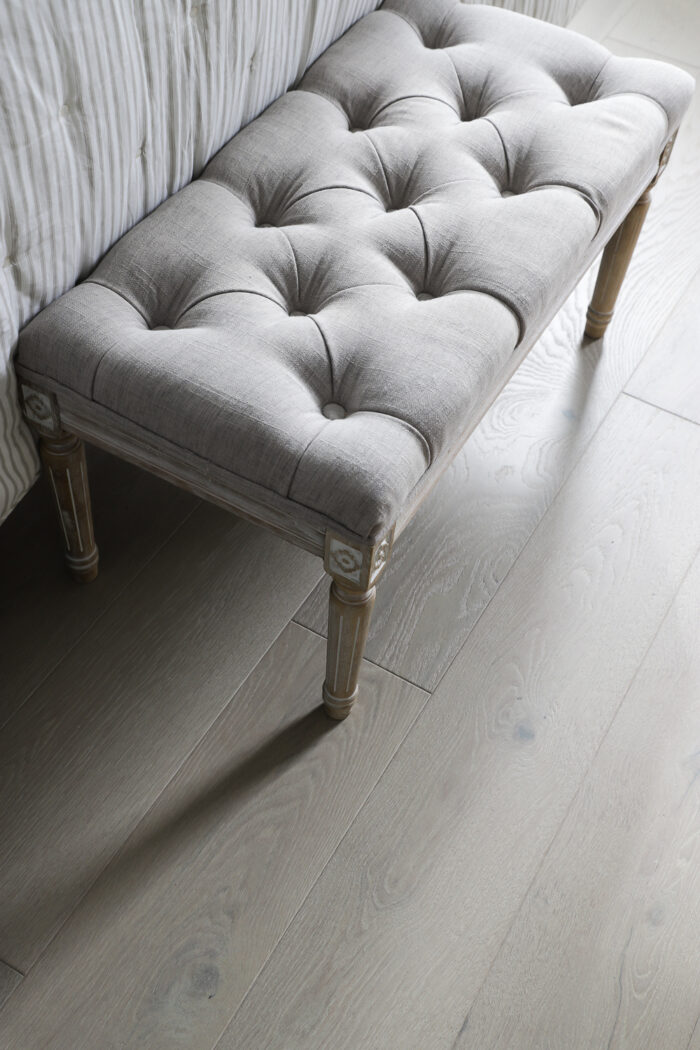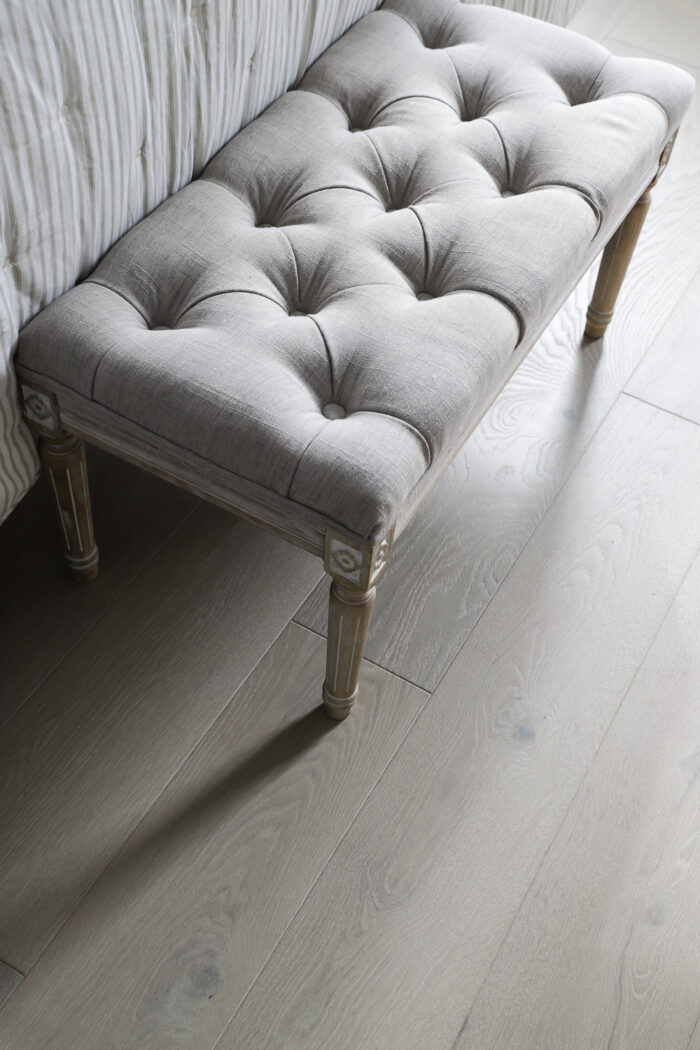 And I want you all to see this beautiful floor. I'm busting at the seams to share it.
Just to note, the install photos were taken with my cell phone.
These "sneak peek" photos were all taken with my camera and represent the color of the flooring much more accurately.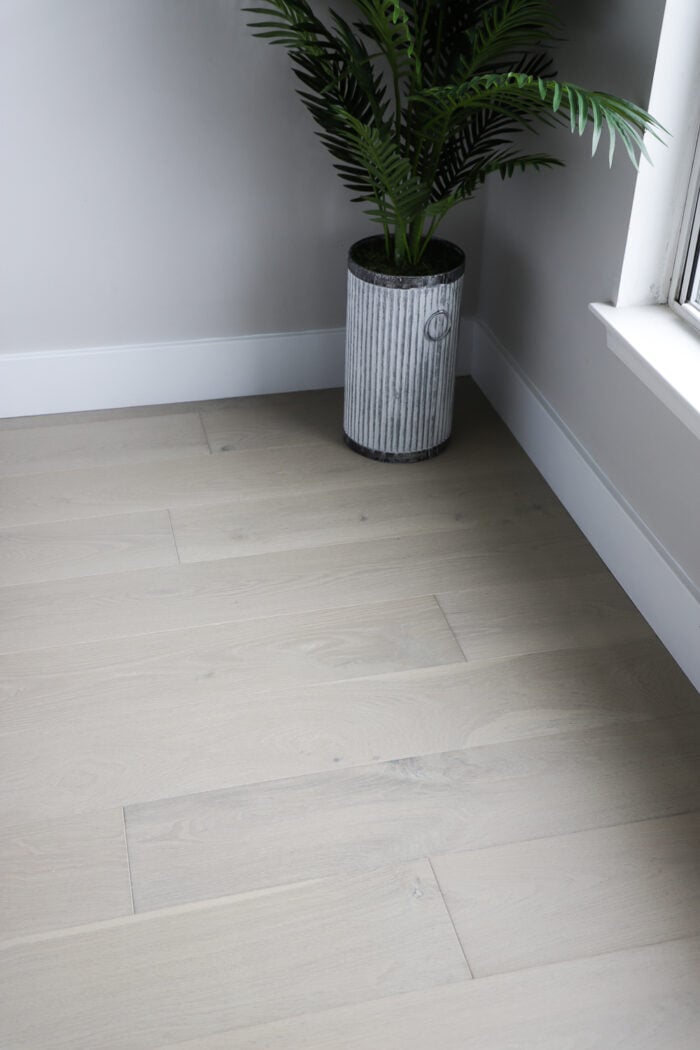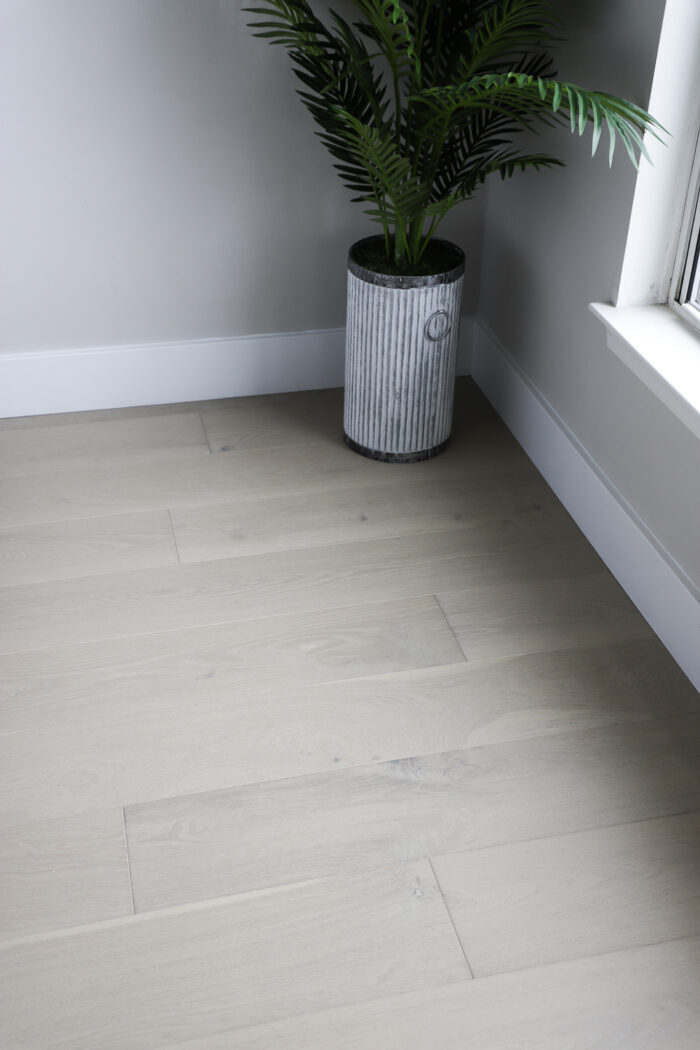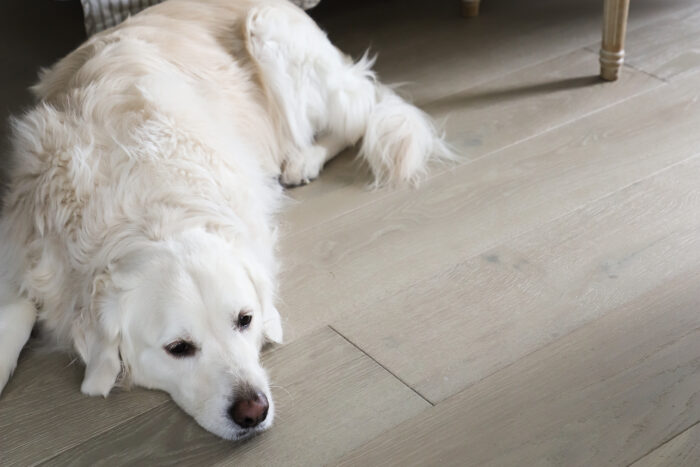 Because Ryder. I can't help myself.
I took bunches of him and our pretty new floors because he loves them too.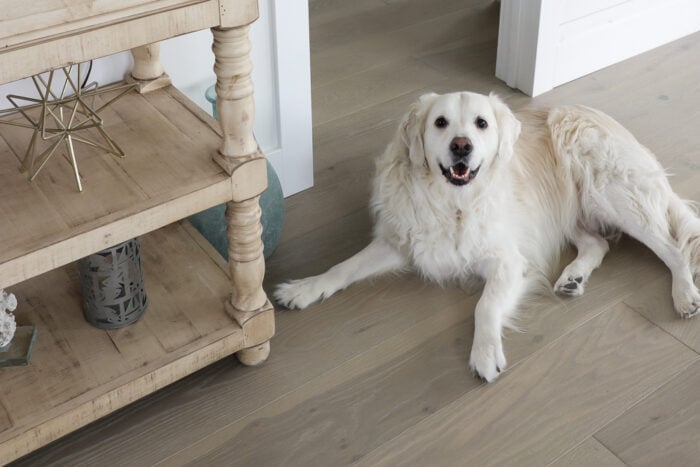 Hi, Ryder…you're such a good sport.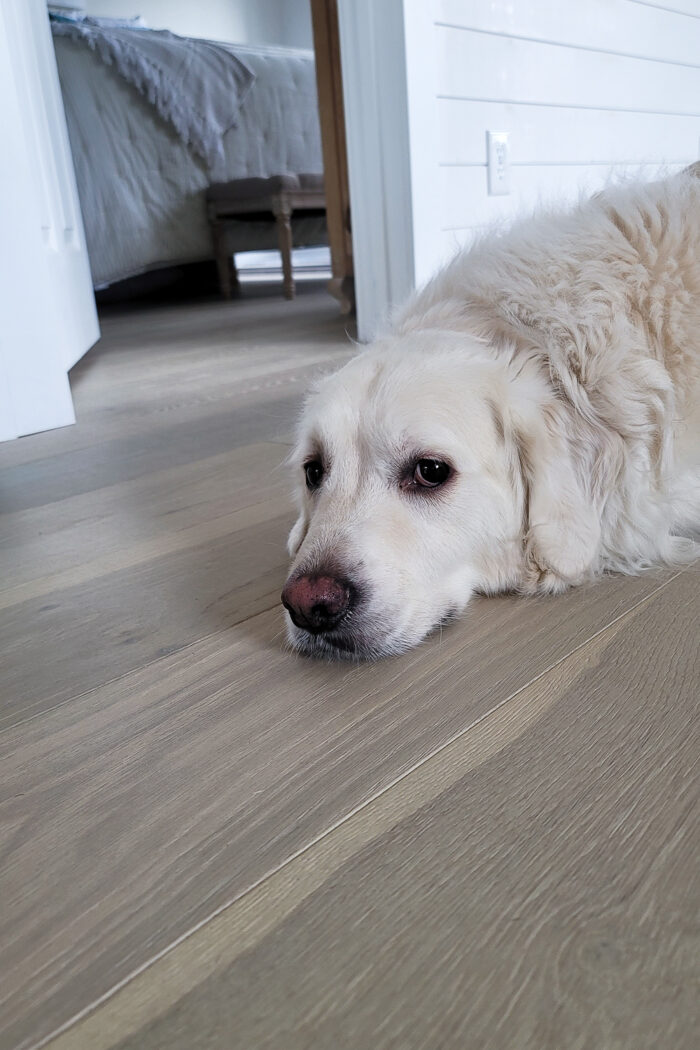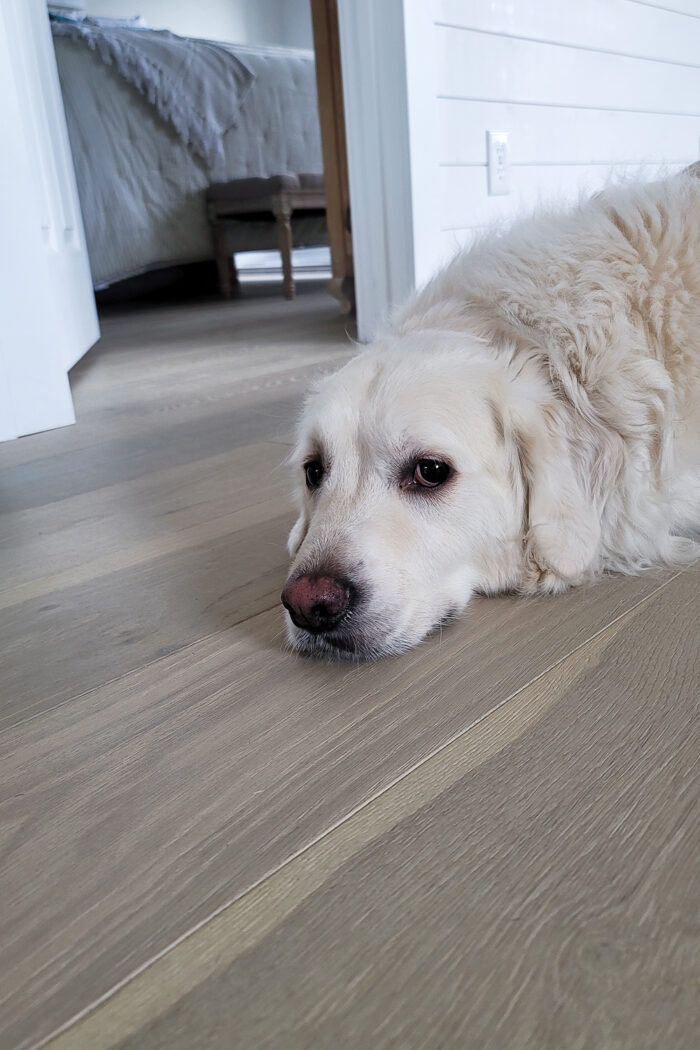 Here's what he thought of all my picture taking while he was trying to nap…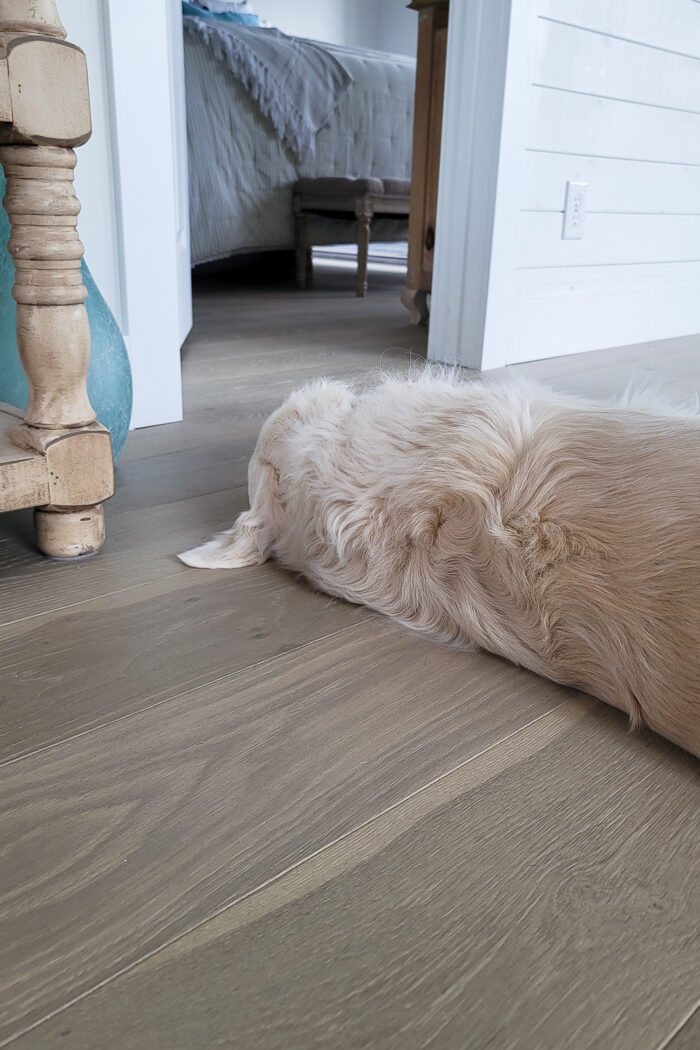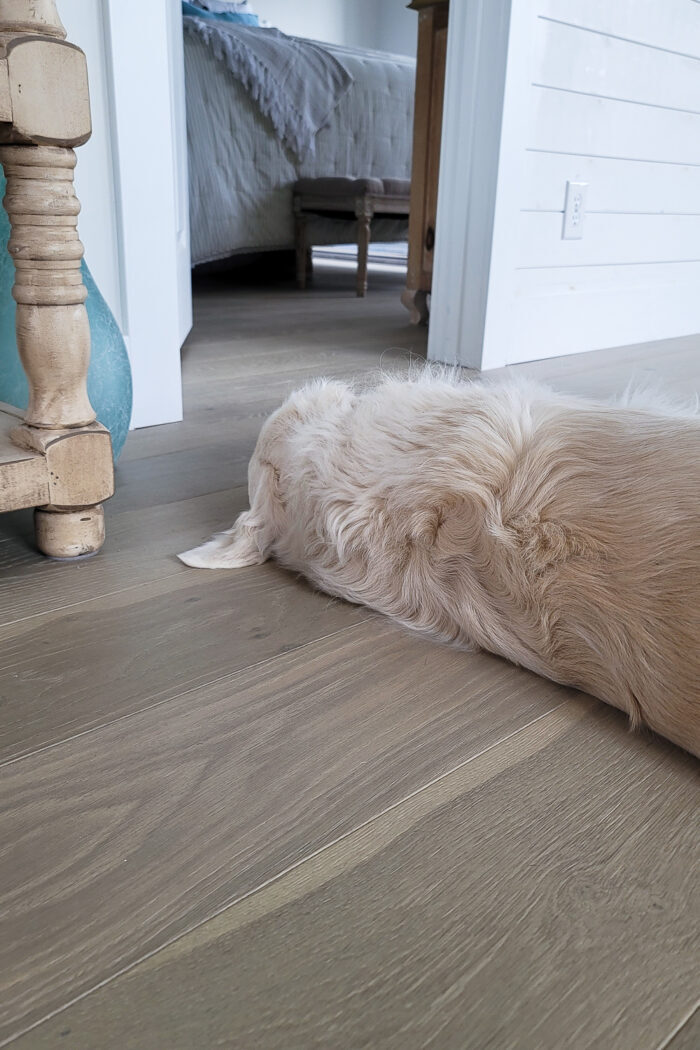 Hahaha! He literally rolled over and gave me his back. He was having no more of that.
Okay then, bye.
We're here to see the pretty new floors anyway. ;)
I'll be sharing the full install and all of our rooms soon! Stay tuned.
Don't forget, you can also get 2 FREE samples from Raintree Floors, just click here to go choose them.
Be sure to follow along with Raintree Floors for new product news and design inspiration here: Blog / Instagram / Facebook / Pinterest / Twitter / Houzz
xo