Waterproof Hardwood Flooring Update (beach condo remodel)
This post may contain affiliate links. Please see disclosures here.
Today I'm talking about our waterproof hardwood flooring update, the importance of finding the right retailer, and how to prep for flooring install.
This post is sponsored by Raintree Floors. I received "Raintree Floors" flooring products free of charge to facilitate my review. All opinions are 100% my own.
Hello, friends!
I've been hinting around at new flooring for our beach condo for a while now. Well, today's the day to tell you all about it!
I am so darn excited I can hardly contain myself.
As you know, we've been working at the beach condo every weekend prepping and getting things ready. And besides telling you all about the new waterproof hardwood flooring we are having put in, I also want to talk to you about the importance of finding the right retailer and prepping for the new floors.
All of these things are super important to a job well done. And a happy homeowner.
First, let's go back over our vision for the condo. It's changed since I first mentioned the remodel last year.
OUR VISION
I created a couple of mood boards to better visualize where we are going with the remodel…and decor. Colors, themes, etc.
It's still beach-themed, of course, but more neutral with interest coming more from textures than colors.
The main living area…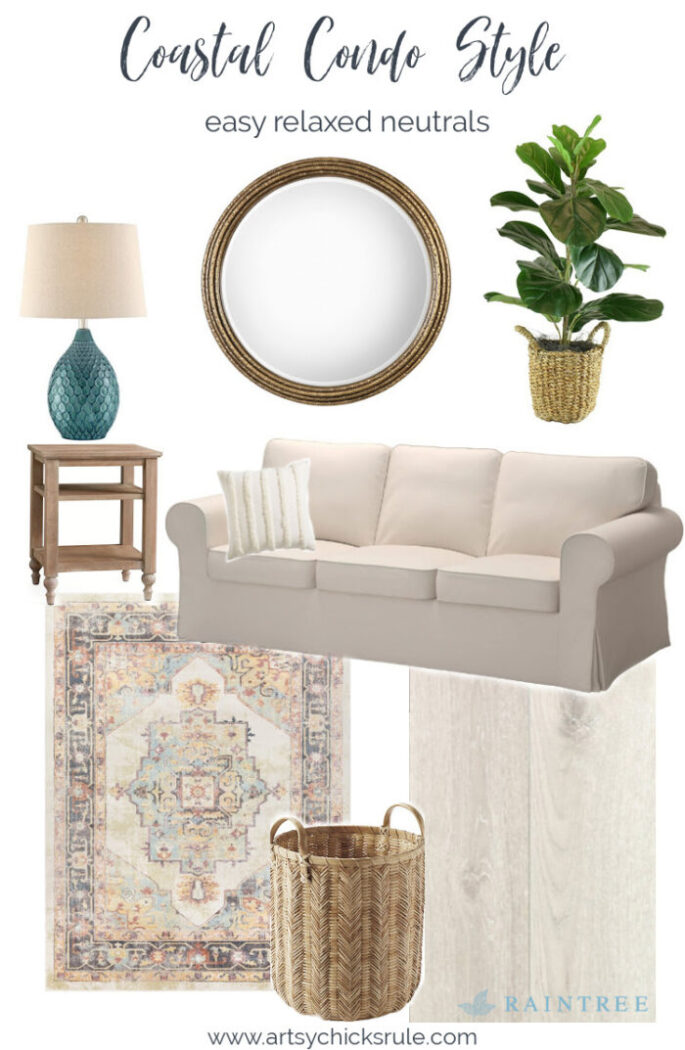 And the bedroom…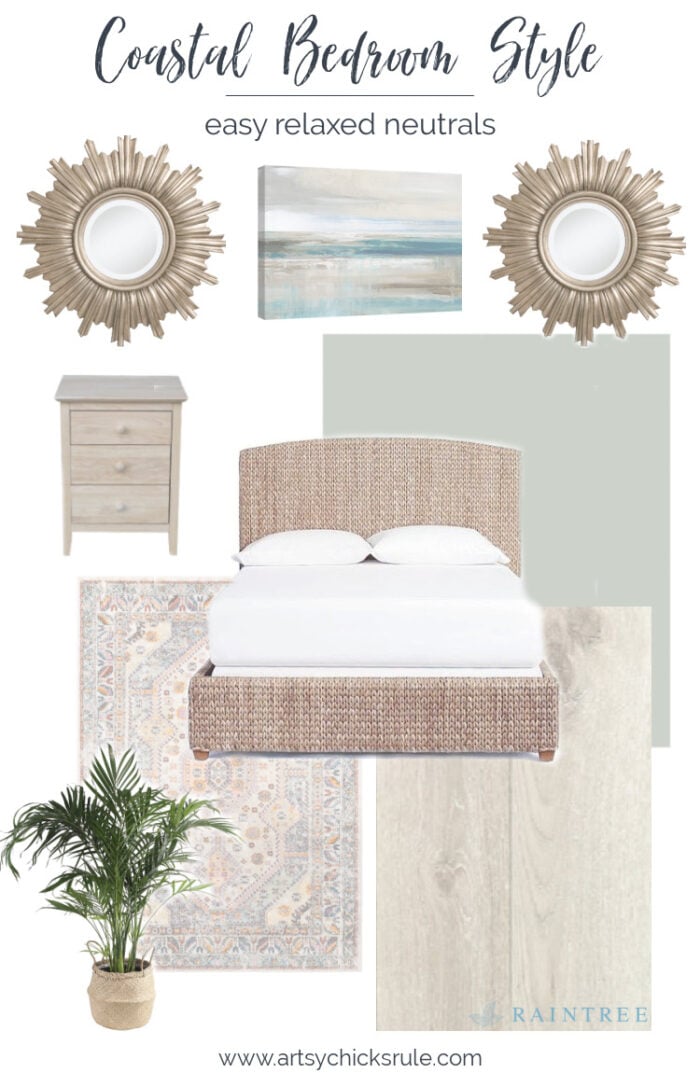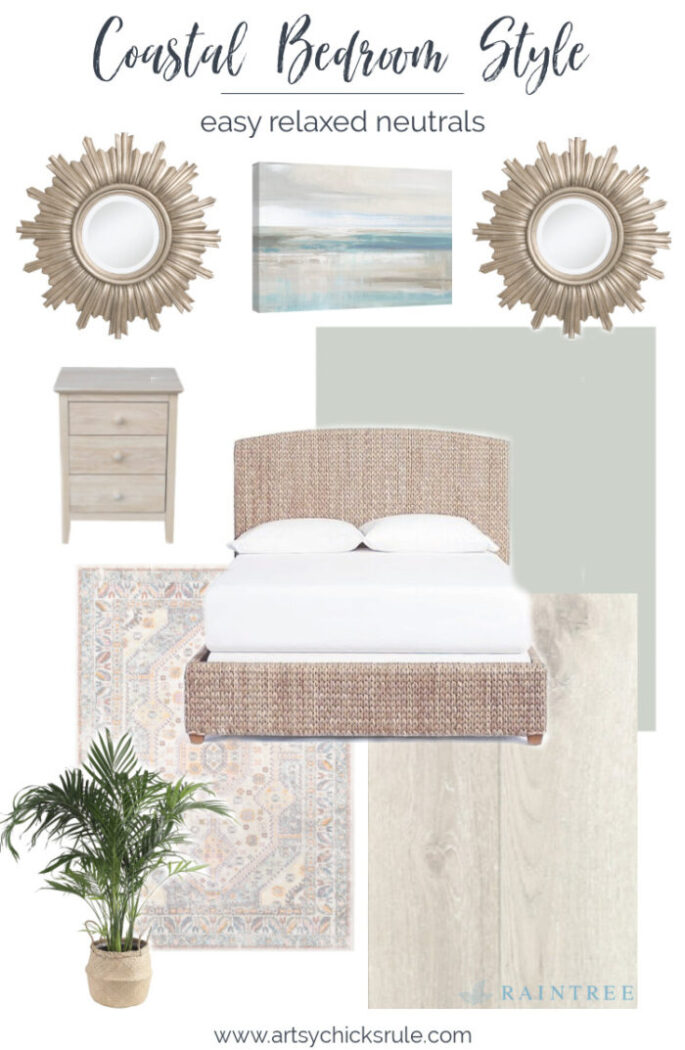 You can kind of see where we are going here. Light, bright, and airy. (and very beachy)
So when I considered new flooring, I knew I wanted something light. I also knew I wanted something waterproof.
That's where Raintree Floors comes in with their amazing waterproof hardwood.
RAINTREE FLOORS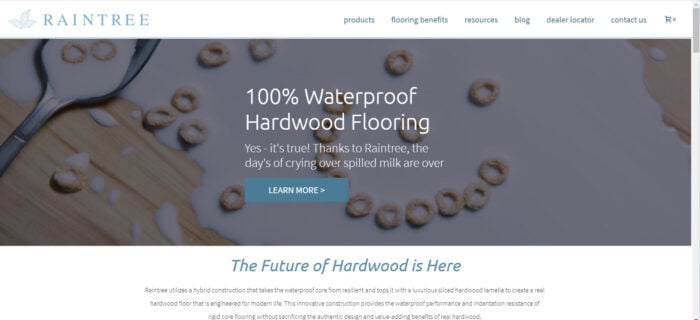 I mean, isn't that the best thing ever? I sure do think so.
It's the perfect solution for us with our condo at the beach. And the perfect solution for many wanting the beauty of hardwood and the durability of waterproof flooring.
I love that our flooring will have the natural variations of real hardwood because it is real hardwood. All without compromising. Win-win!
Raintree utilizes a hybrid construction that takes the waterproof core from resilient and tops it with a beautiful hardwood to create a real hardwood floor that is engineered for modern life. This innovative construction provides the waterproof performance and indentation resistance of rigid core flooring without sacrificing the authentic design, natural woodgrain variations, and value-adding benefits of real hardwood.
Raintree floors are durable and have maximum scratch resistance. The NINJA PET Guard TM protects the real wood wear layer with a proprietary urethane
topcoat that repels moisture and is reinforced with aluminum oxide for maximum scratch and wear resistance.
Pet friendly, scratch-resistant, can be wet mopped, glue-free installation, quiet and more.
You can read more about the benefits and features of these waterproof hardwood floors, here.
I began by perusing their website, checking out all of the choices, and then narrowing down to a few.
They currently offer three collections of beautiful, hardwood flooring: Aspen Estates, Nashville Scene, and Laguna Vibes.
These were my two favorites since they are both lighter in color.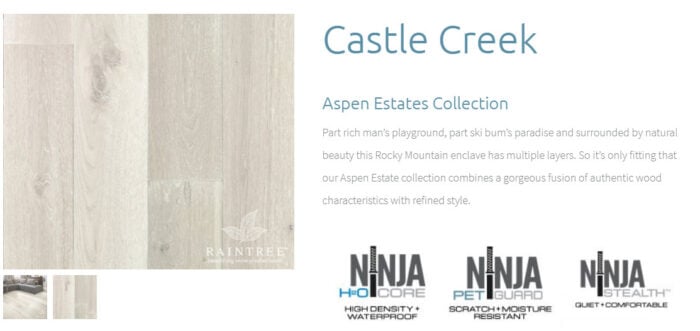 Castle Creek which is part of the Aspen Estate Collection.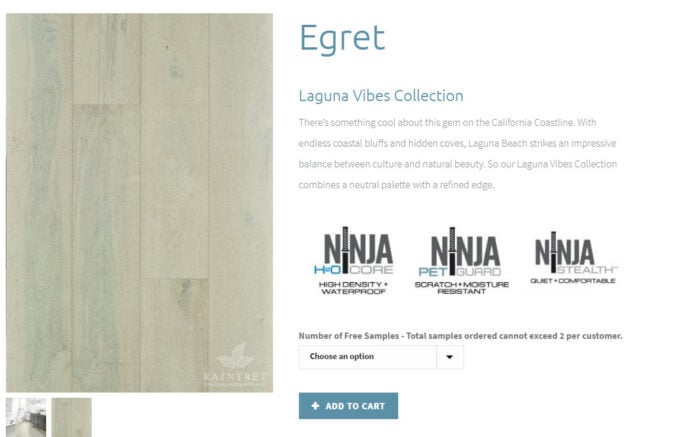 Egret which is part of the Laguna Vibes Collection.
But I also had my eye on Roving Elk.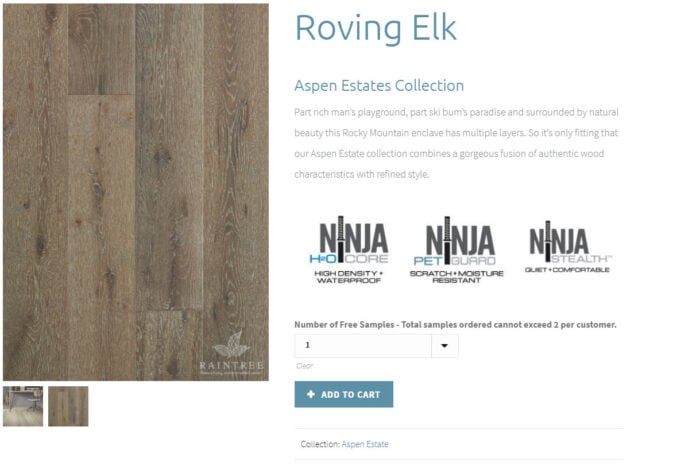 Which is also part of the Aspen Estate Collection.
Roving Elk is the second one in and it's just lovely. Oh, what am I saying, they were all lovely.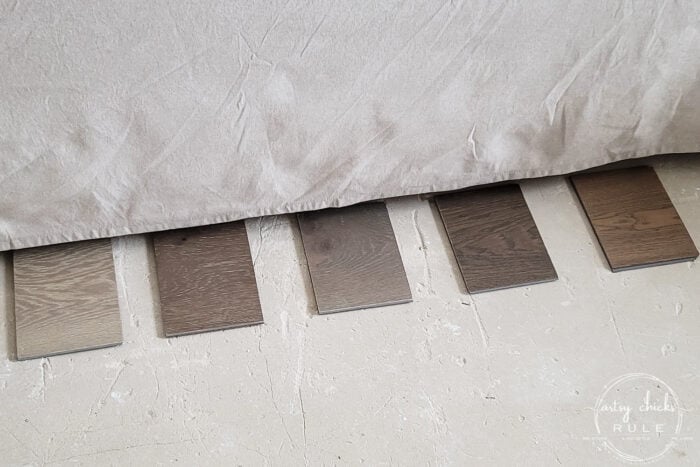 Want 2 free samples sent to you so you can check them out too??
Click here to choose yours.
After receiving the samples, the next step is choosing your retailer.
I love that Raintree has a dealer locator right on their website.
CHOOSING THE RIGHT RETAILER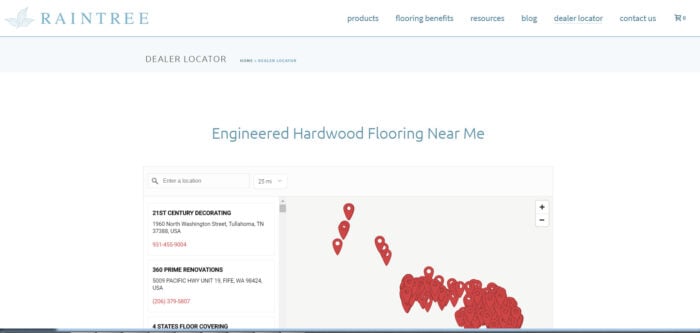 All you have to do is put your zip code in and you will see the retailers nearest you.
Click here to find yours.
Since our beach condo is in The Outer Banks of North Carolina, I was thrilled to find H&W Interiors to work with.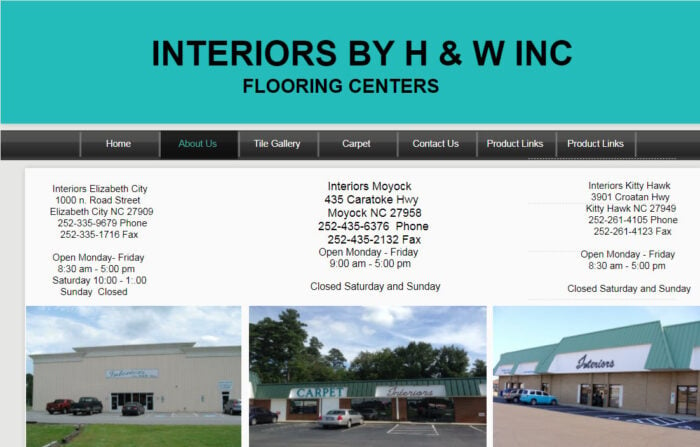 They have multiple locations, are locally owned, and have been in business since 1965. They strongly believe in customer satisfaction and have many years of flooring experience. Certainly what you look for in a flooring retailer!
A few more reasons it's so important to find the right retailer:
Flooring doesn't always appear the same in person as it does online. You will want to check it out in person before making a final decision.
Samples are great for narrowing it down but they don't take the place of the larger sample boards detailing the natural variations of multiple wood pieces.
Bringing those larger boards into your home to check them out in different lighting, etc, is key.
Another great point is getting the measurement from a trusted source and someone who knows how to do this. Tricia at H&W Interiors is who we are working with and she came out and got our measurements so we will be sure to have the correct amount of flooring for install.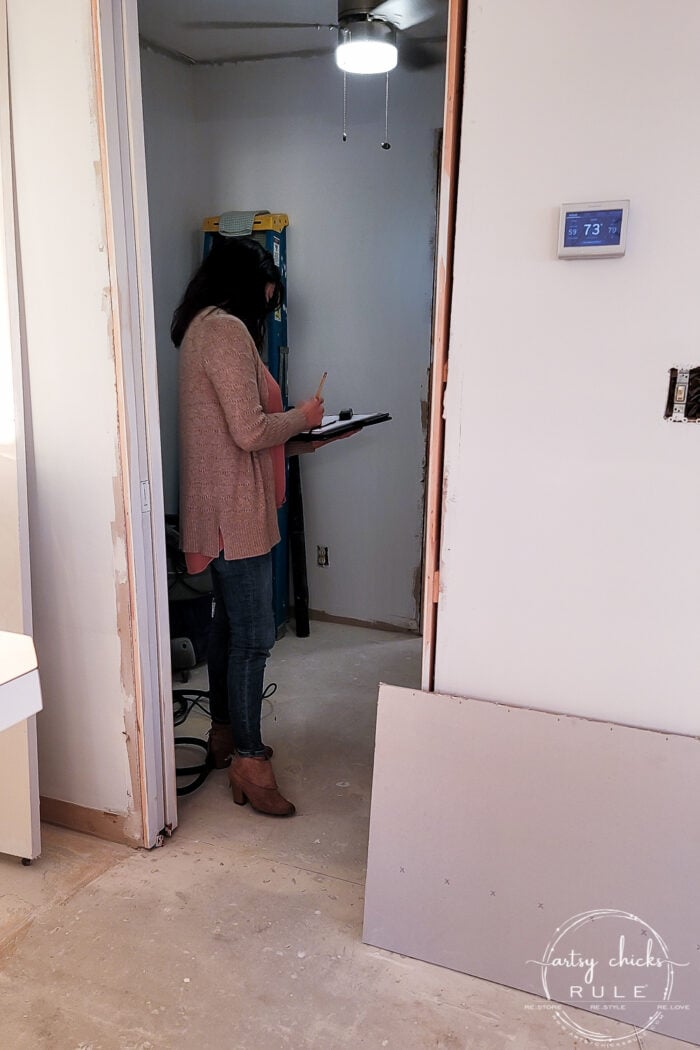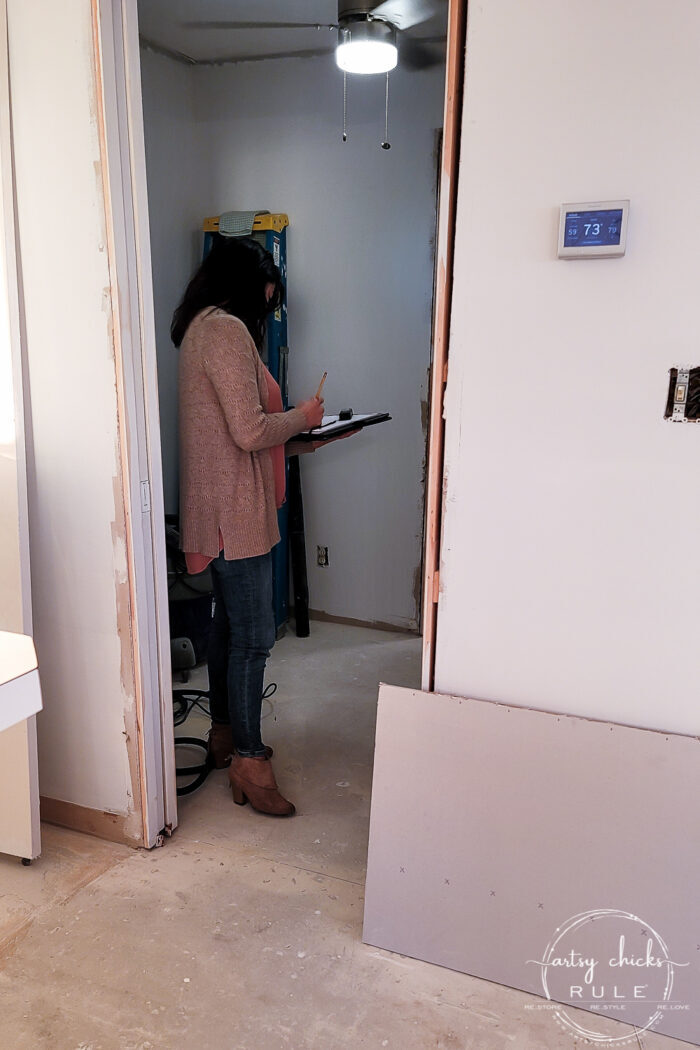 So, with the larger sample, we decided on…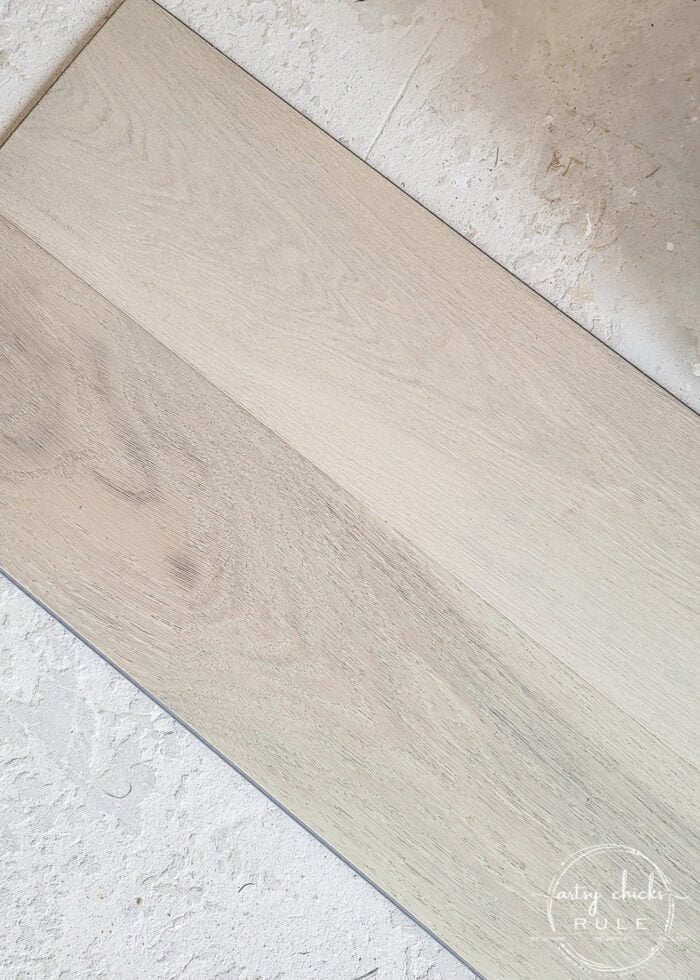 Did you guess it?
It's part of the Laguna Vibes Collection. This collection strikes an impressive balance between culture and natural beauty, combining a neutral palette
with a refined edge.
We absolutely love it and are so excited to get it installed. It's so light, bright, and airy.
Remember how dark the flooring was that we removed?
Which brings me to my last step before installation.
HOW TO PREP FOR NEW FLOORING
Remove old carpeting, tack strips, nails, etc.
Remove old vinyl planks, sheet vinyl, etc.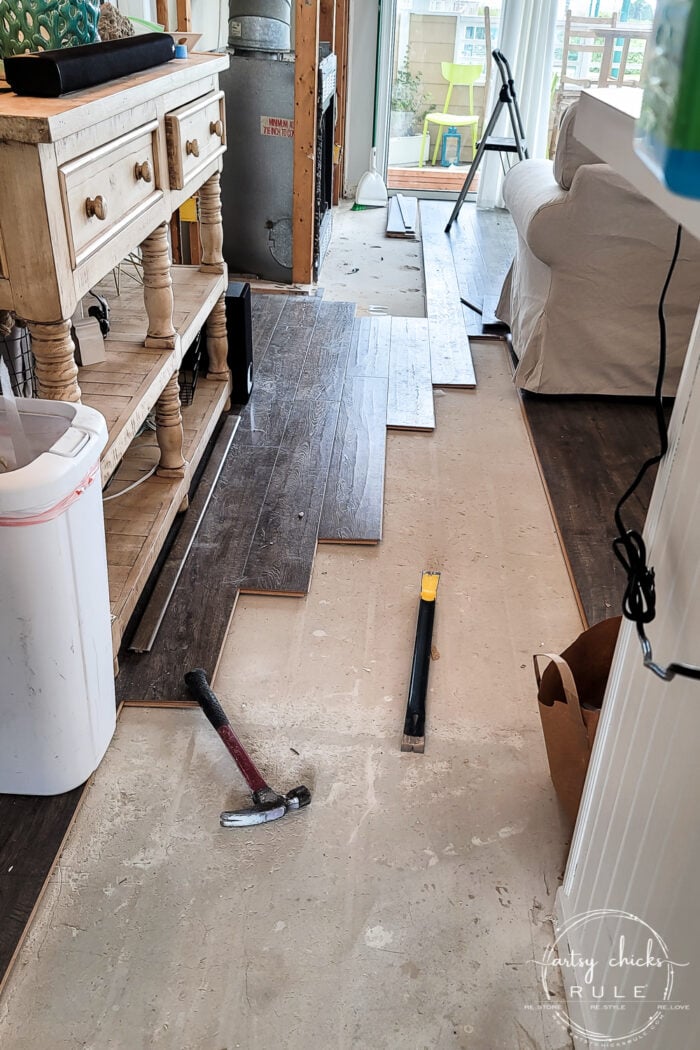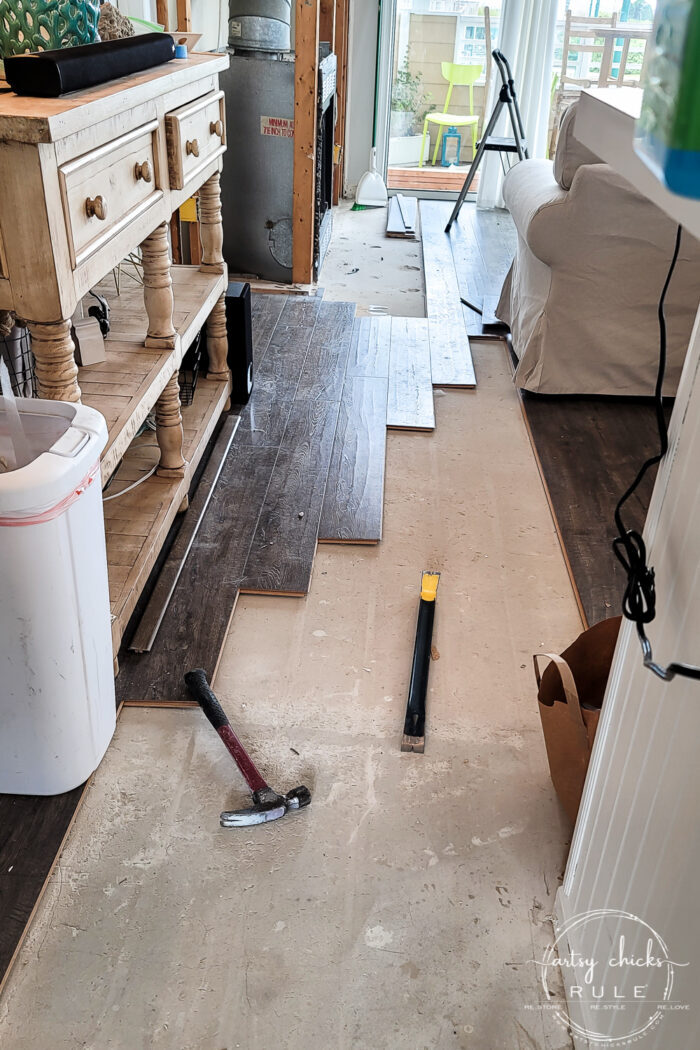 Remove shoe molding/quarter round if you have it. We actually removed it and the baseboard as we are replacing it with a new (and different style) after the flooring is installed.
(the three things above can sometimes be included in the install charge but we chose to do them ourselves)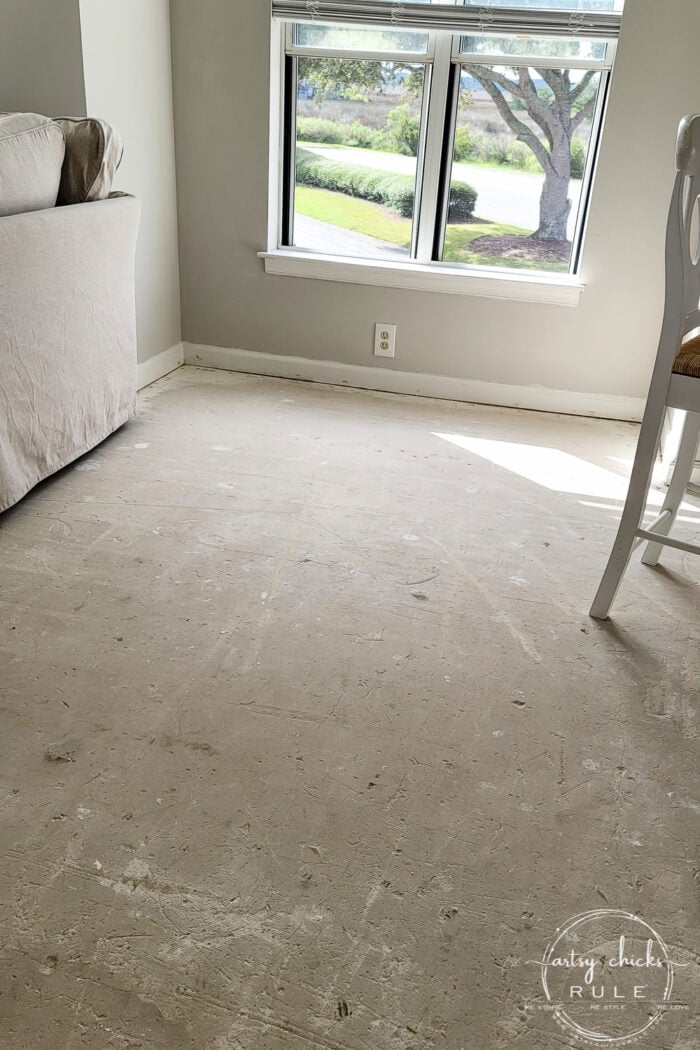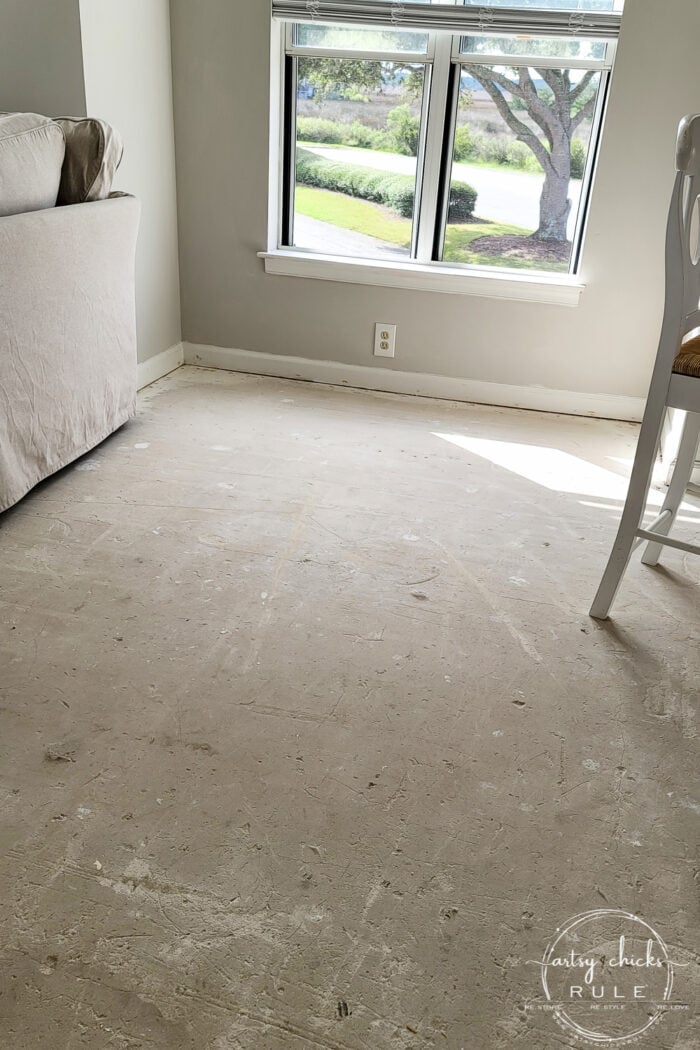 Remove any furniture pieces you can. We sold the table/chairs, took out the bunk beds, and removed the bar stools & coffee table.
They were all going anyway so we figured we'd get them out of the way now.
Larger pieces can usually be moved from one side to the other when the floor is being installed.
Take all small knick-knacks off of dressers, chests, nightstands, etc. Be sure to put lamps away.
Anything on the floor, put up higher in a closet or storage room that will not be getting flooring.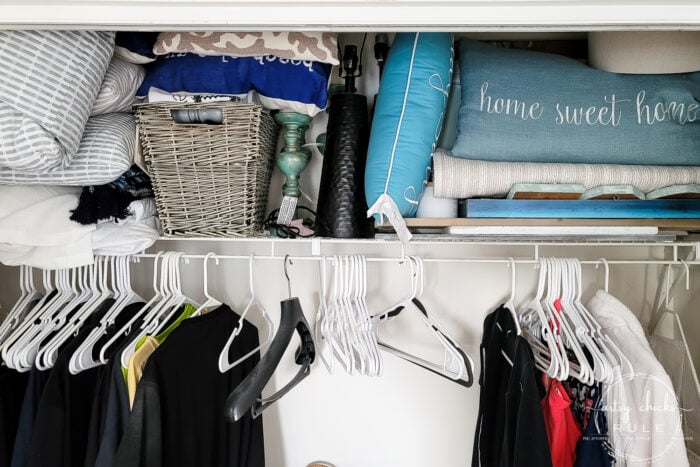 Take the bed linens/pillows off the bed for easier moving.
Basically, anything you can remove and get out of the way, the better and quicker the process will be.
Sweep, vacuum, and clean the subfloor well to prepare for the new flooring.
PIN it to save it!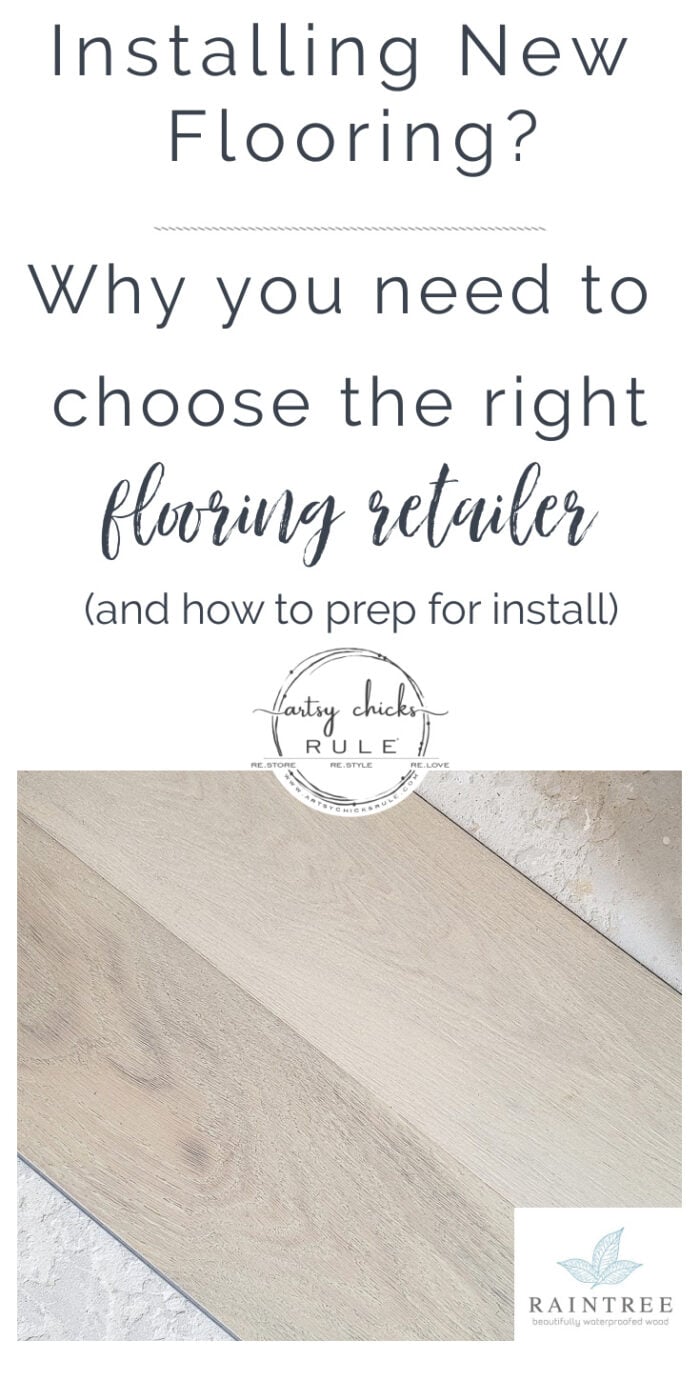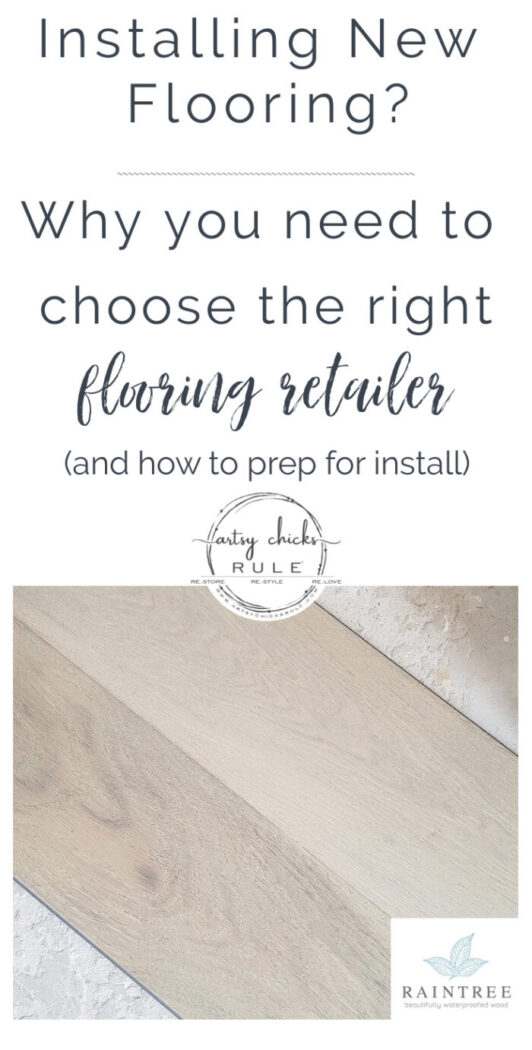 I hope you will enjoy following along with me on this flooring update and remodel. Lots to do still! But first, pretty new floors. :)
Next up…installation. Stay tuned and follow along with me on Instagram to see all the "behind the scenes" action.
Don't forget, you can also get 2 FREE samples from Raintree Floors, just click here to go choose them.
And tell me which ones are YOUR favorite below!
Be sure to follow along with Raintree Floors for new product news and design inspiration here: Blog / Instagram / Facebook / Pinterest / Twitter / Houzz
I'll see you on Tuesday with a brand new makeover! (finishing up my last haul)
xoxo