Faux Weathered Driftwood Tabletop
This post may contain affiliate links. Please see disclosures here.
This faux weathered driftwood look is SO simple to create!! Perfect for that coastal, beachy vibe.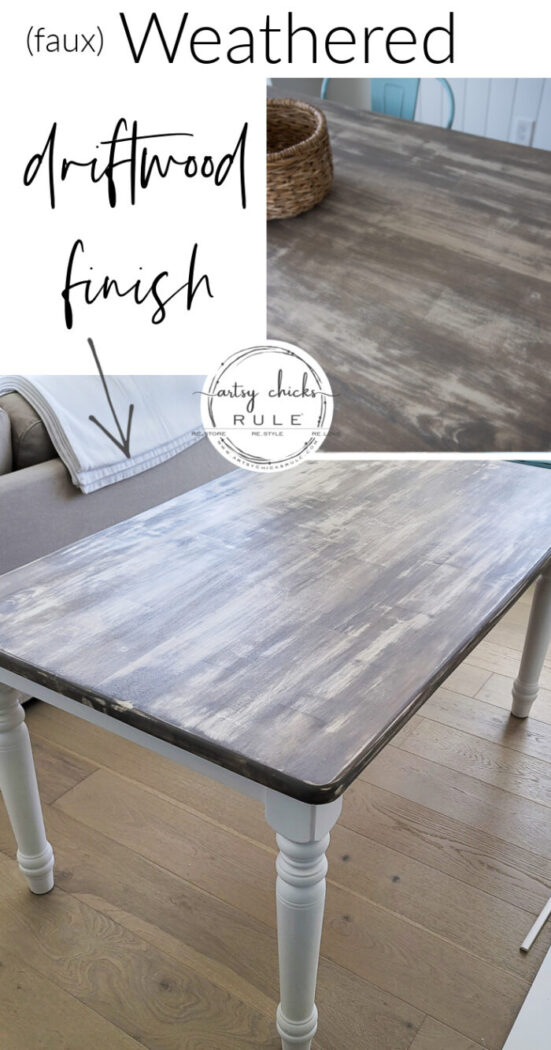 Hello beautiful friends!
I hope you had an amazing weekend. We had a nice long one at the beach condo and got lots of work done.
And we managed to squeeze in a beautiful sunset and a pool day! Yippee! If you follow along on Instagram, you might have seen the sunset. I shared it over there in my stories. It was a beautiful one and we watched it on the soundside instead of oceanside this time. It's just as beautiful!
(if you missed it, I just now added a few of them to my regular feed over on Instagram, go check them out!)
Okay, so today I had planned to share out screened porch our back but instead, I'm going to share what I did this past weekend. Eeek!! haha
Well, you know how you all thought I should do the Driftwood stain on this table? Now, if you did see my Instagram stories then you already know what I'm going to say. lol
I sanded it and put the Driftwood stain on.
And…
Well, I didn't sand well enough, which I actually was concerned I was going to do. haha So much so that I went over the whole table again with a bit rougher sandpaper and darn, I still didn't get it all off. So I'm not sure whether to call this project a "happy accident" or a "fail". haha!
Faux Weathered Driftwood Tabletop
But here is what I ended up with…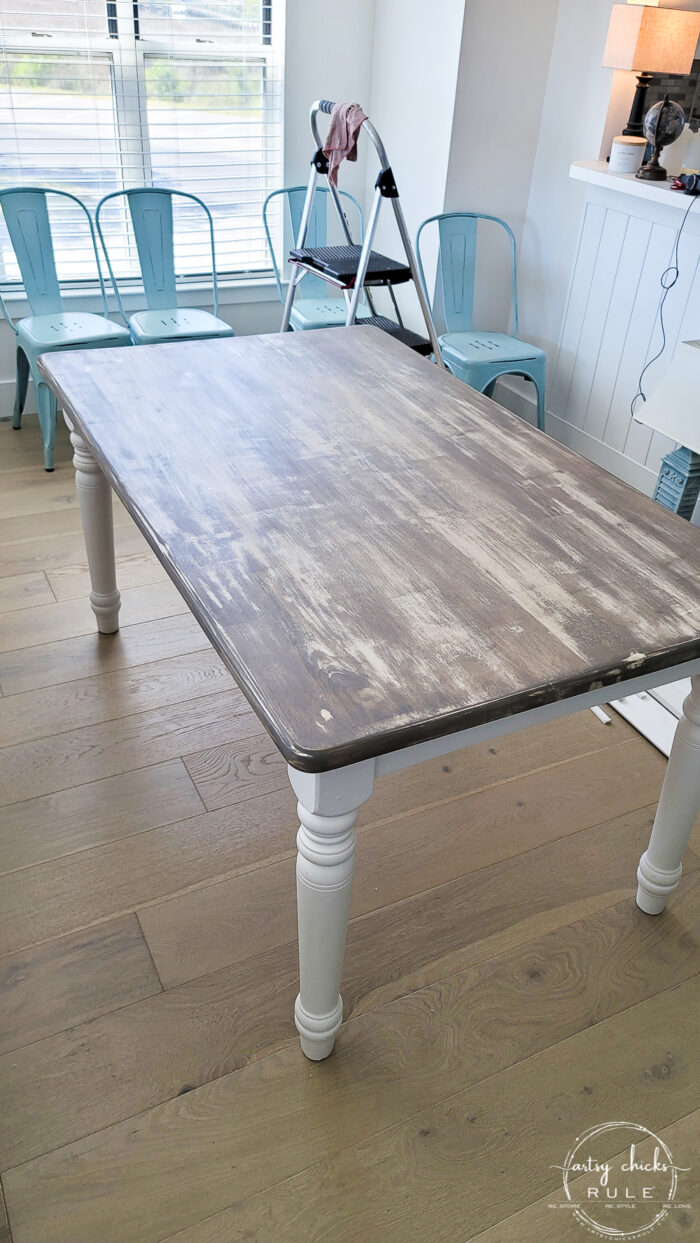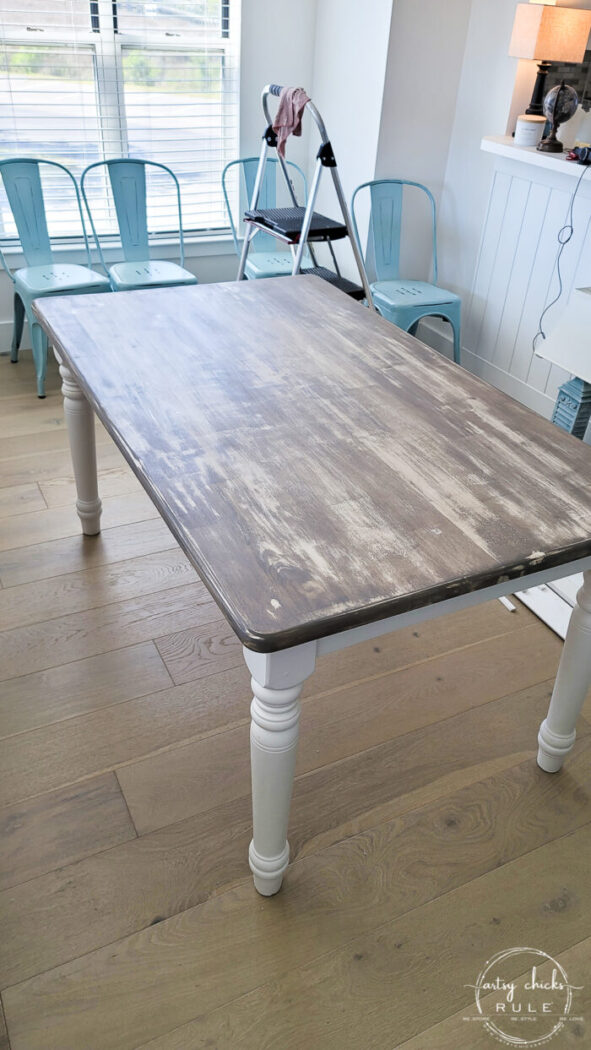 OOPS!
As you can see, the stain sunk in oh so nicely where I sanded well enough and well, not so nicely where I didn't. Boo.
I was so bummed but then stood back and thought…"hmm, that wasn't what I was going for but it looks like what some people do on purpose…especially on pieces down here in the Outer Banks"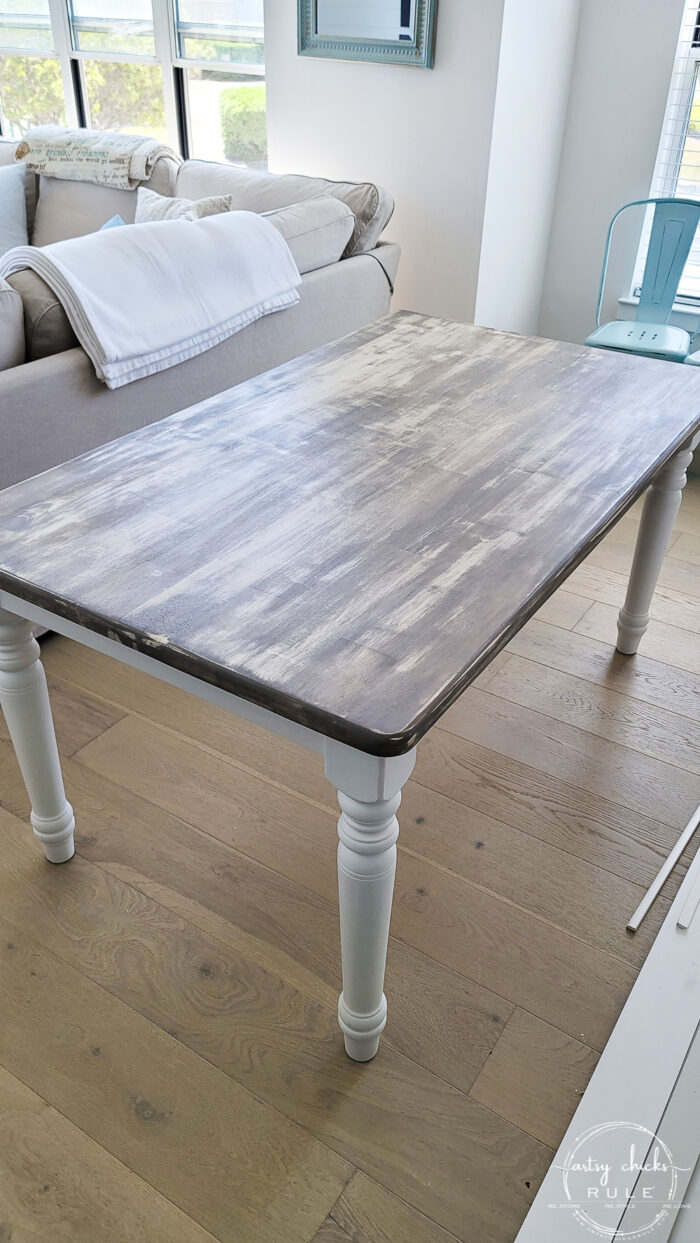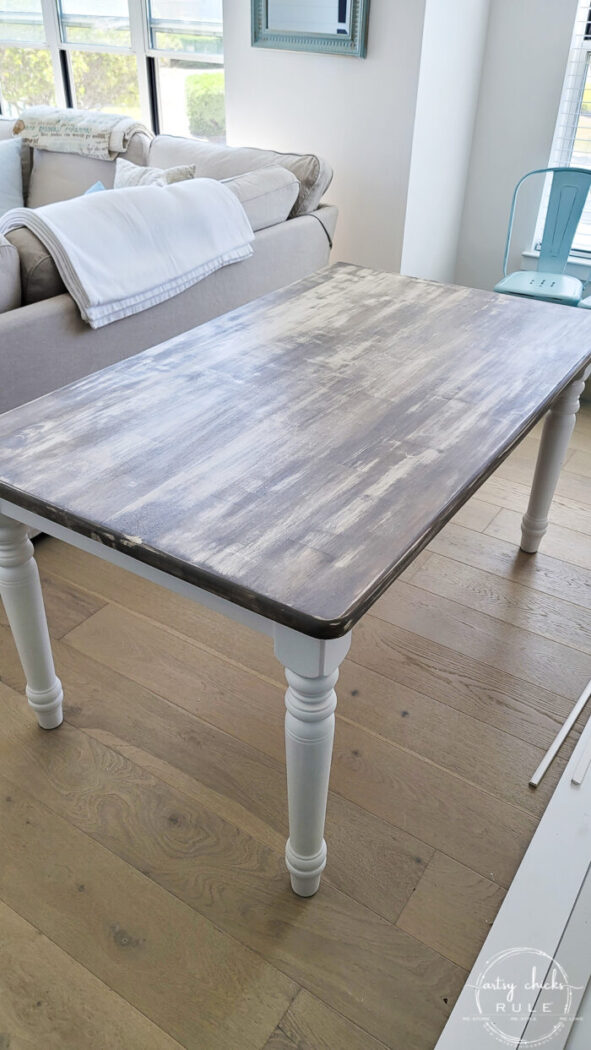 You see this sort of faux weathered driftwood style a lot down here. Very beachy.
Not at all what I was going for but I didn't hate it. (well right at first I did because ack! no…but then hmmm, maybe)
It's smooth like buttah too. hee hee
I considered just going right back at it and sanding to restain but I decided I didn't really hate it.
So I created a poll over on Instagram to see what say all of you. (77% leave it, 23% sand it)
And I asked on Facebook too. (go check it out, most said leave it)
It was overwhelmingly "leave it" on both IG and FB!
So I did. But I had pretty much decided to leave it anyway because it was definitely growing on me.
It may not go in every decor but it goes perfectly for the coastal beach vibe (and location) of our place.
You know me, I may change it in the future. But for right now, this is how it's staying.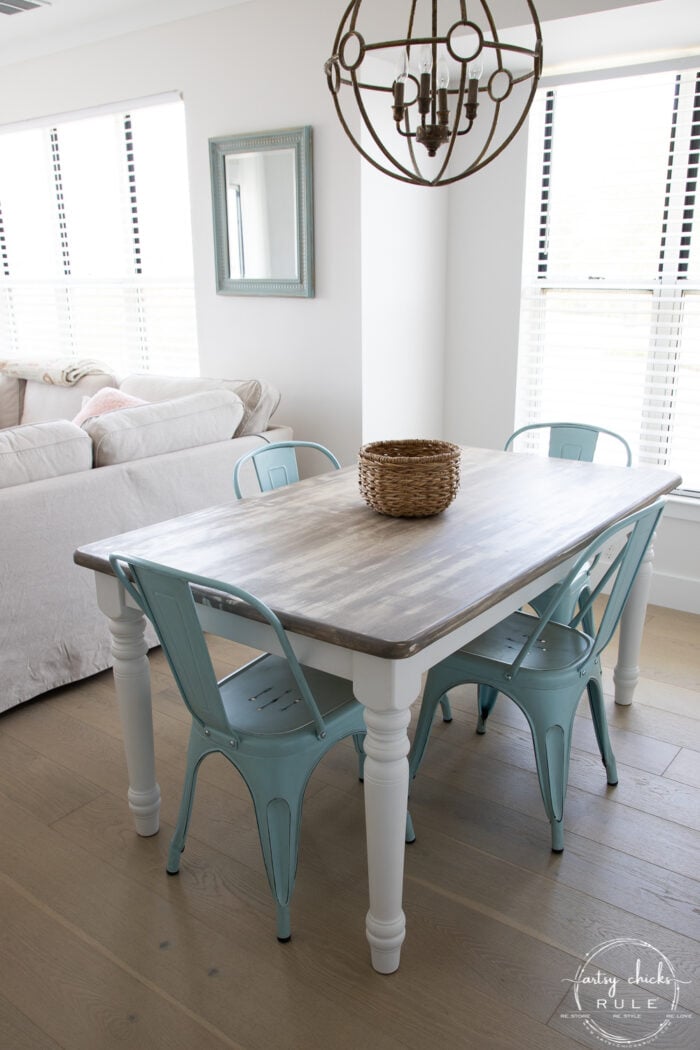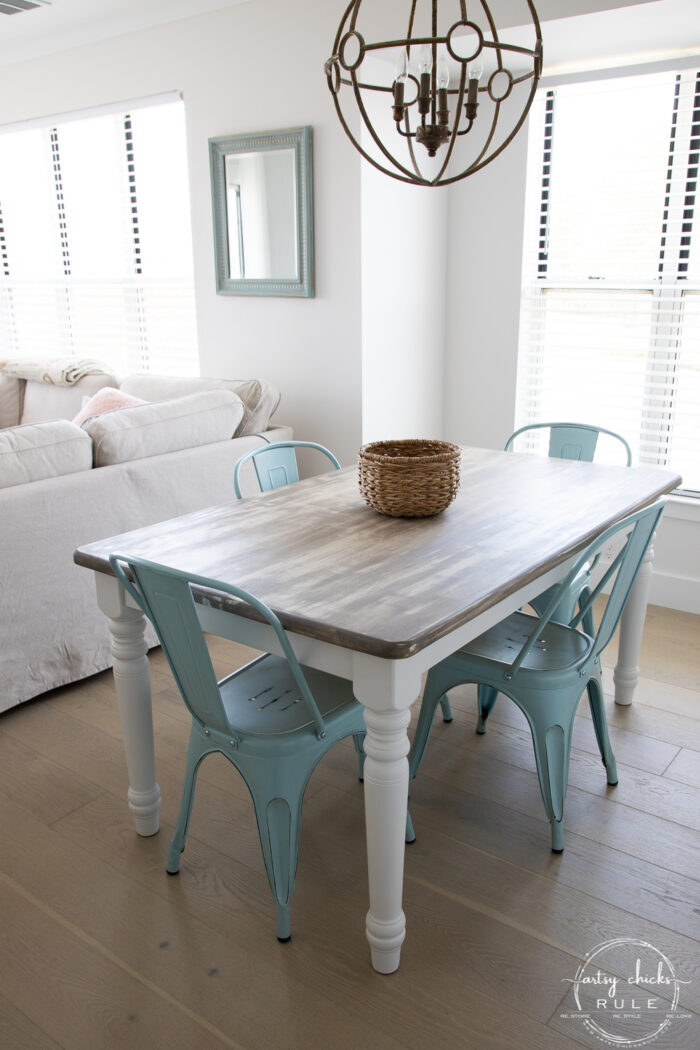 And as a reminder of what was…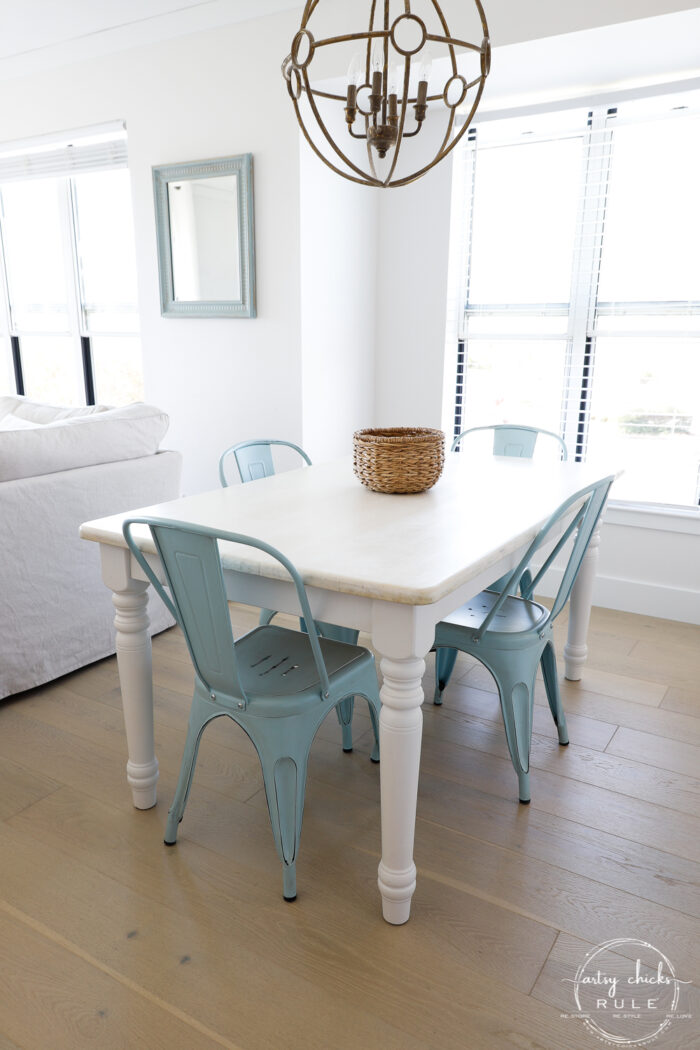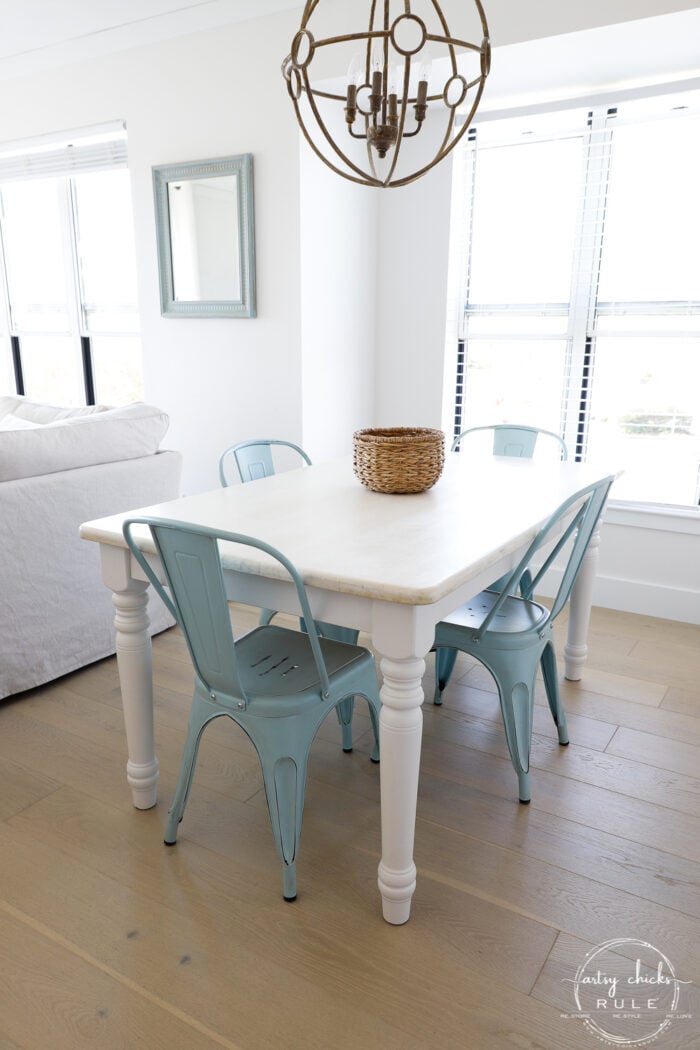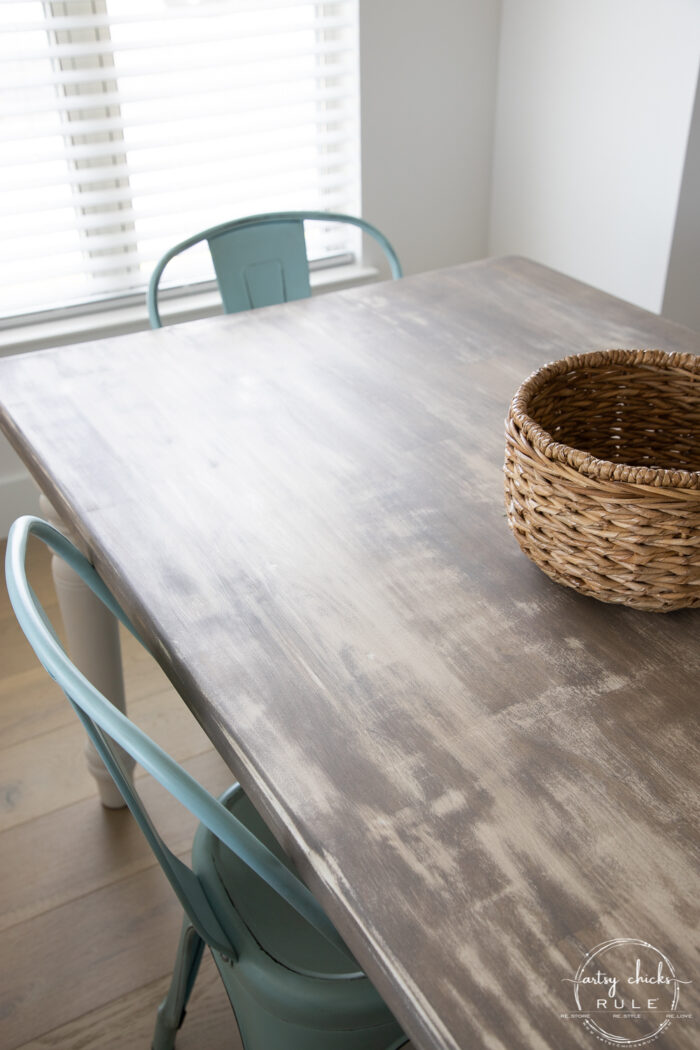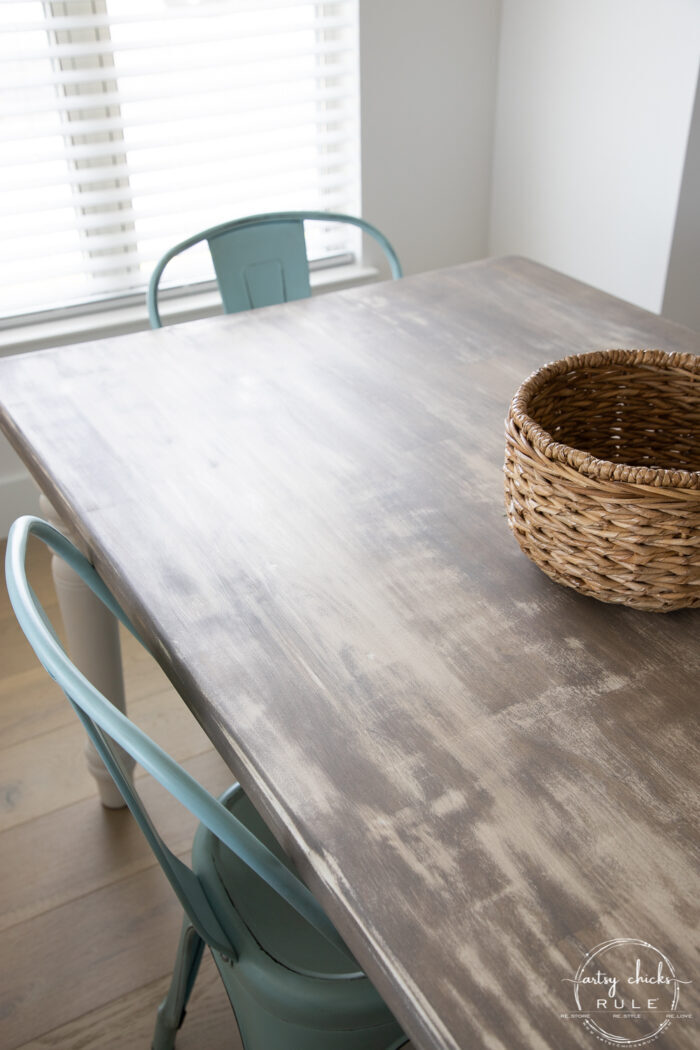 I do like it so much better than the lighter, bleached color.
And I feel like this actually has a ton of character now.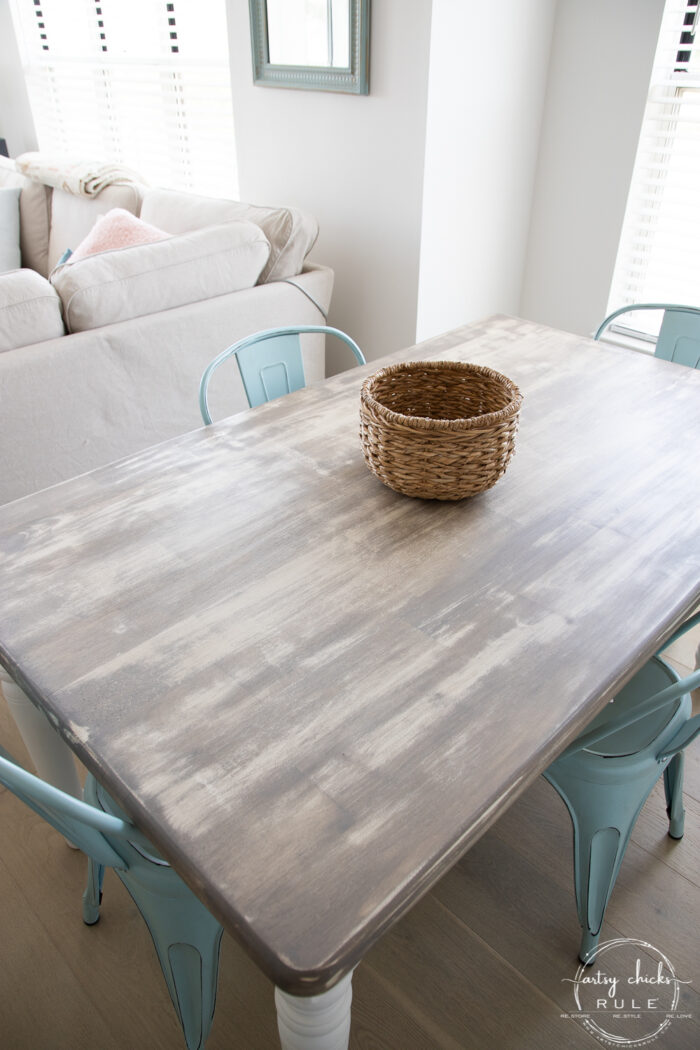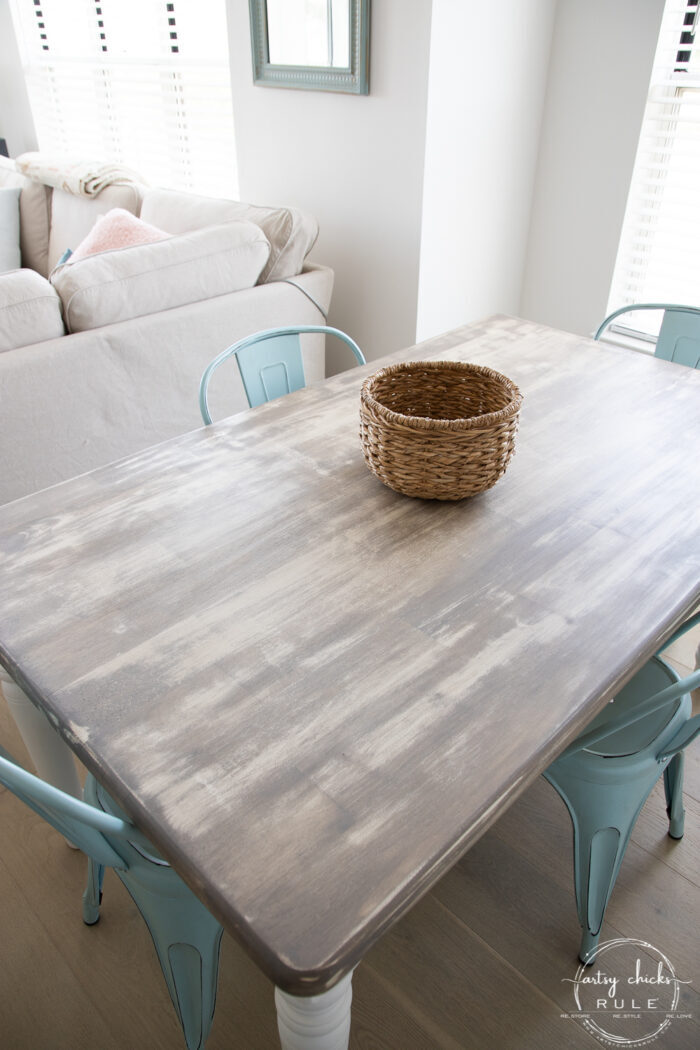 I guess I should give a tutorial of sorts for this weathered driftwood look…it's more of an "oops, happy accident" though.
Here it is…and it's SO simple!
Start with a lighter-colored base wood. (sand to remove stain, paint etc, as needed)
Apply poly topcoat, 2 would be best.
Once dry, lightly sand over the entire thing to remove some of the stain.
-How do you know if you've sanded enough? Yes, that can be tricky. Here's something you can try, take a wet washcloth to wipe it down after sanding. Where the water "soaks in" and the wood gets darker the poly has been removed. You should be able to see about where the stain is going to soak in. Need more areas sanded? Run the sander a few more times, then repeat.
Apply Driftwood Stain and Finishing Oil over the whole thing. Wipe away excess.
You can stop here as I did, as it is a "finishing oil" and is very durable OR you can let it cure for a few days and apply another topcoat of an oil-based poly. (or wait at least a week or longer to apply a water-based topcoat since the Stain and Finishing Oil is oil-based)
NOTE: Just to reemphasize, if you use a water-based poly, be sure to let it cure for at least 7 days first. You don't have to wait as long if you use oil-based poly. (Oil-based poly will more likely age and yellow over time so your lighter wood shade would reflect that. Just keep that in mind)
I am not adding any more coats. It feels nice and smooth and has a beautiful finish that is durable. No top coat needed!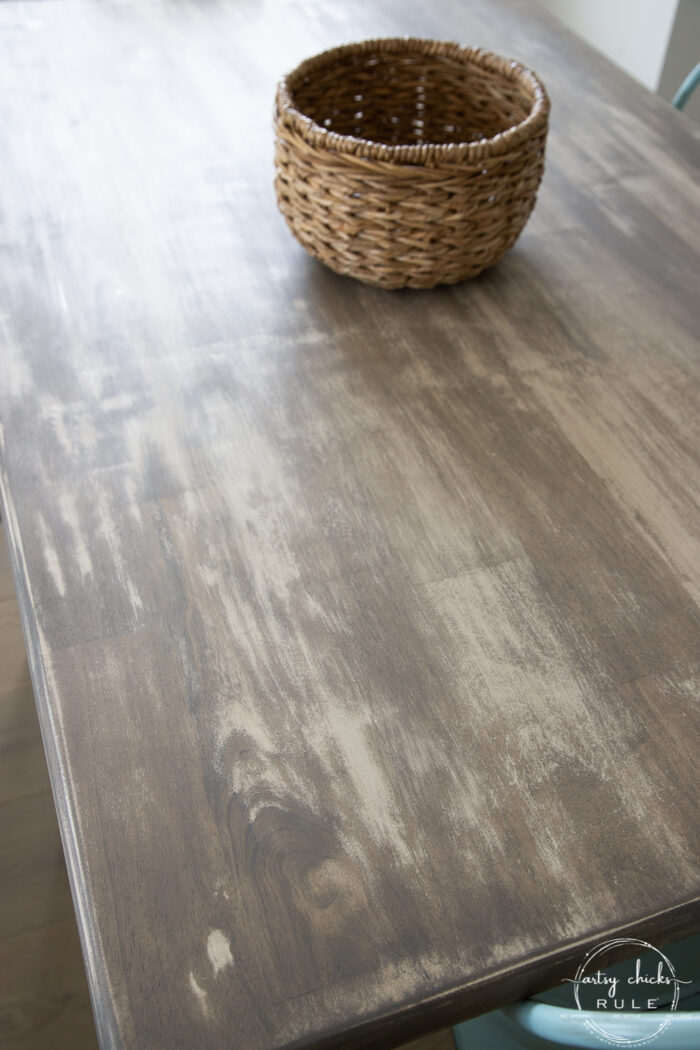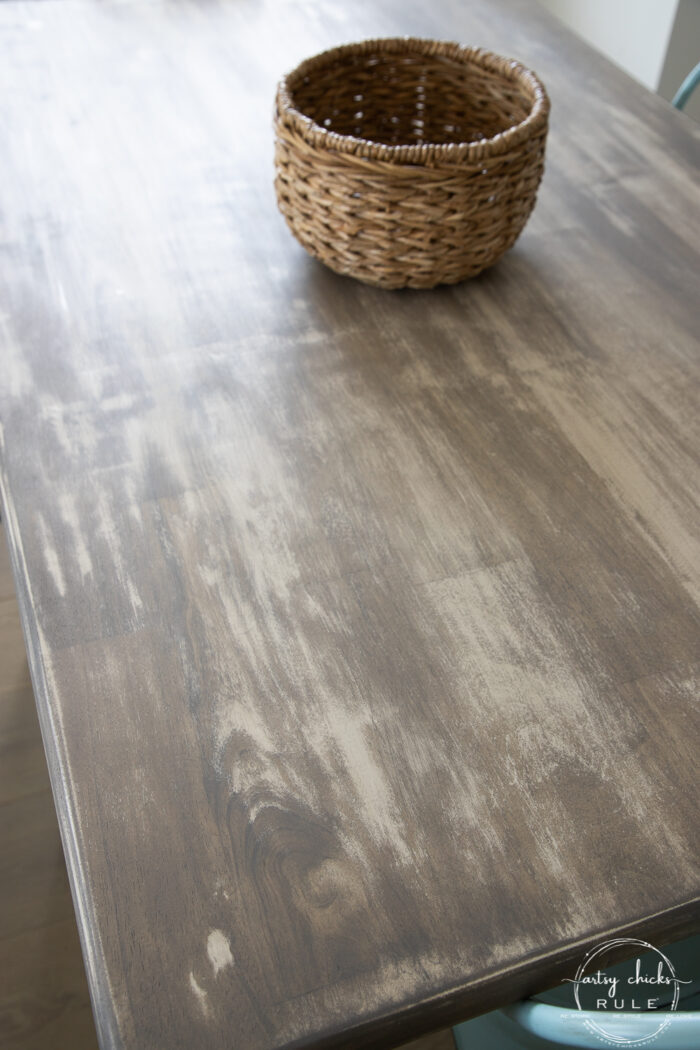 I think it's kind of fun.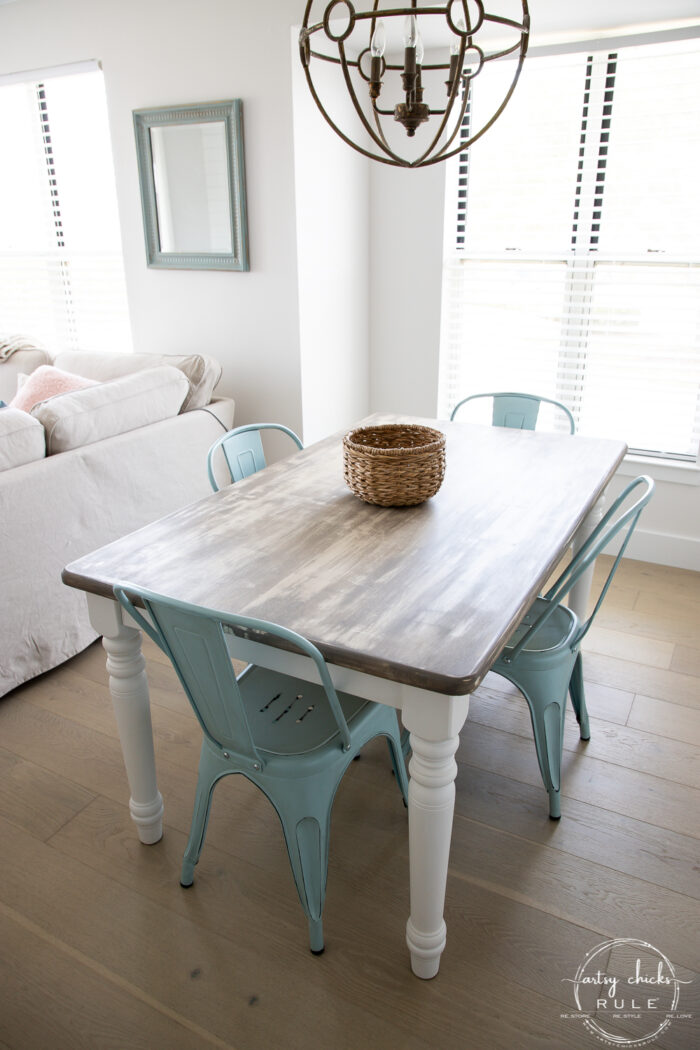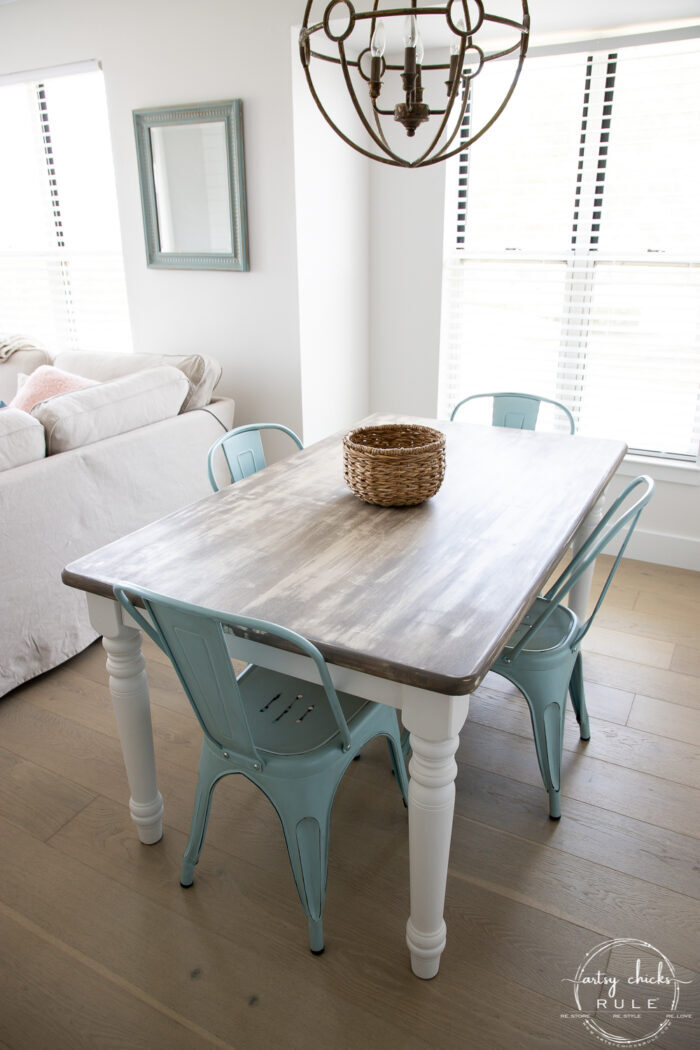 Oh! I also want to give you an update on a few things.
The aqua console got a little better styling. Not sure this is how it will stay but it's how I have it for now.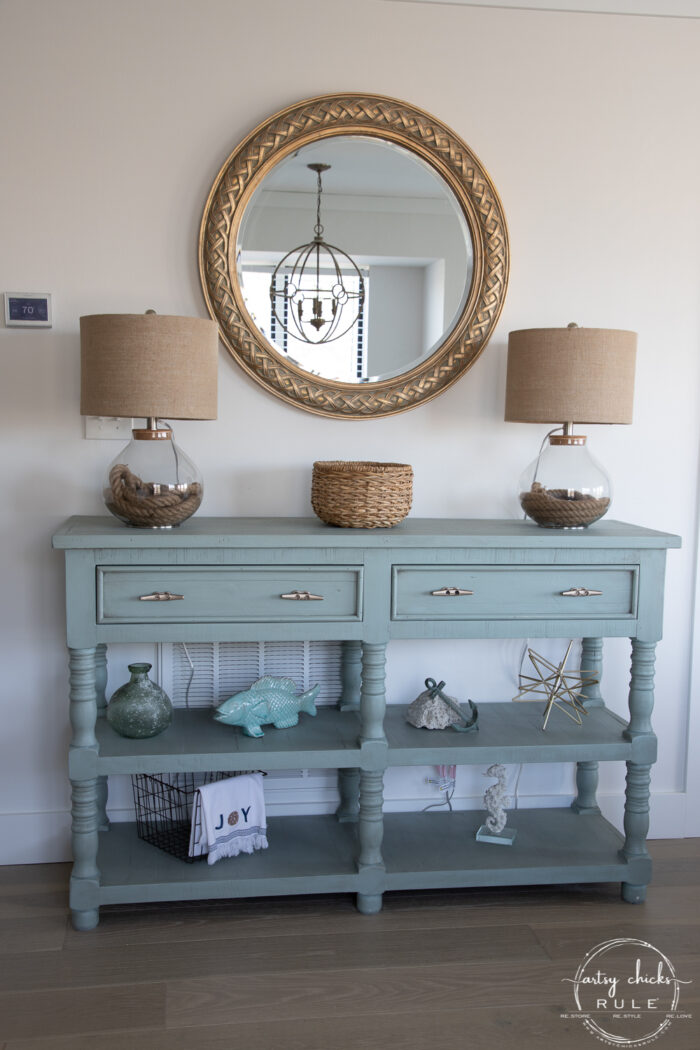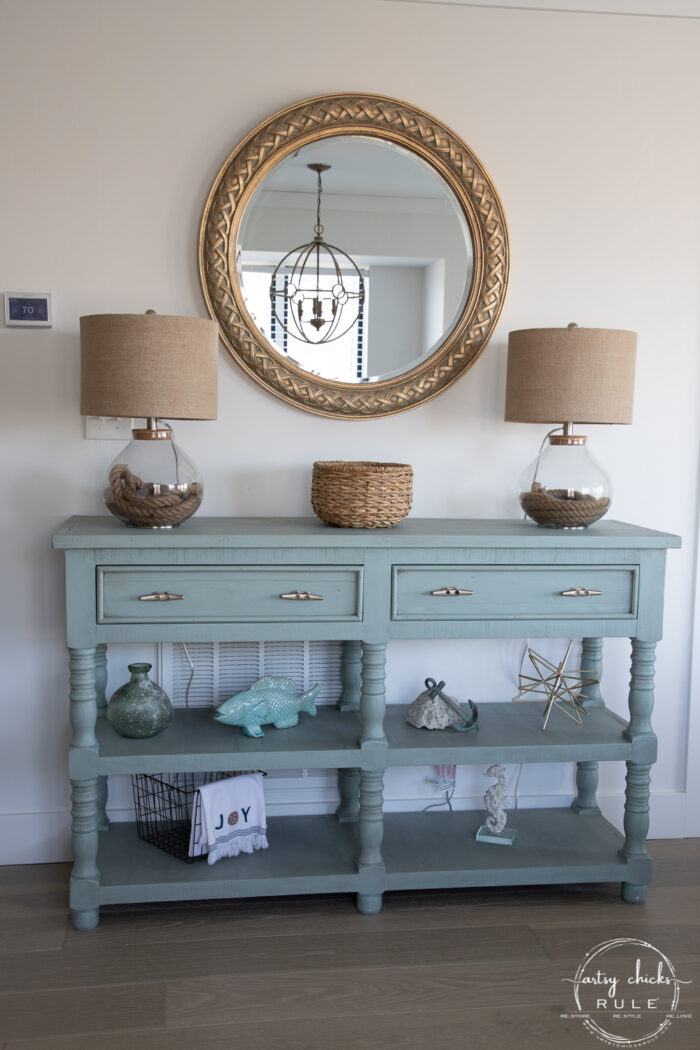 And I say that I'm not sure this is how it will stay and already know that these lamps are going elsewhere.
I have 2 lamps that I bought last fall for here and we finally unboxed them this weekend. They are awesome!
And they look amazing up on this console so that is getting changed I do know.
And I found this awesome little cabinet at Home Goods last week.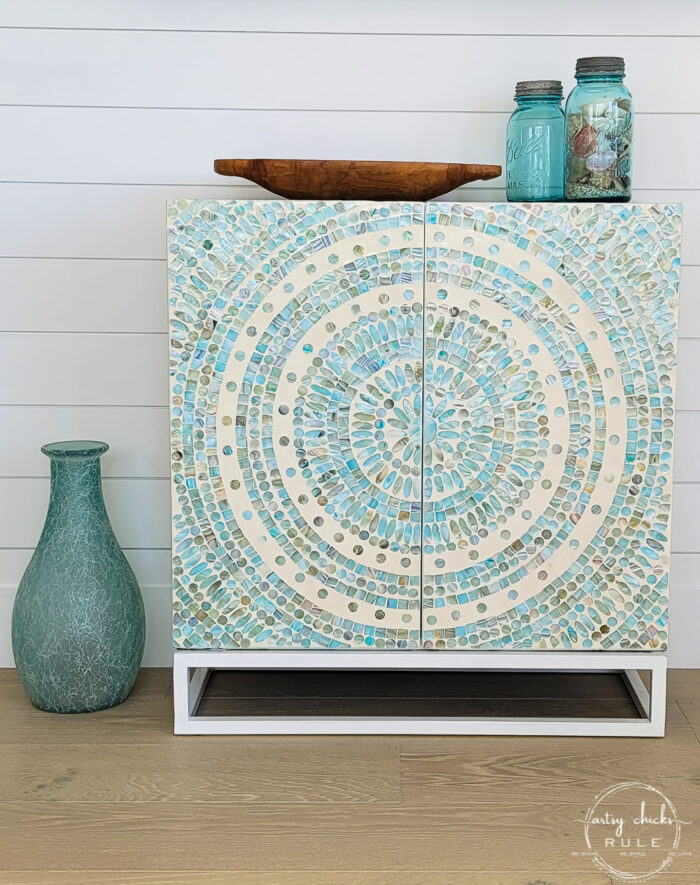 I had originally considered putting a longer console type of piece here under the tv on this shiplap wall but fell in love with this little cabinet.
They did have two but crazily enough although exactly the same, the other one was much darker so not something I could put side by side.
I think it might be best to just have one here though as I'm trying to keep the "open" feel and it might be a bit too cluttery with anything larger. Undecided on that though, because if I do come across one that matches this, I might try it. (by the way, it's tiled like this on the top and sides too…it's beautiful!)
And we finally laid our rug down in the main living area. Yippee!! (we are done with the crown, trim, caulking, and painting in here…only the small "bunk" room is left to do)
Here's a photo I took for Instagram of Ryder checking out our new rug. :)
(here's a link to >>> the rug)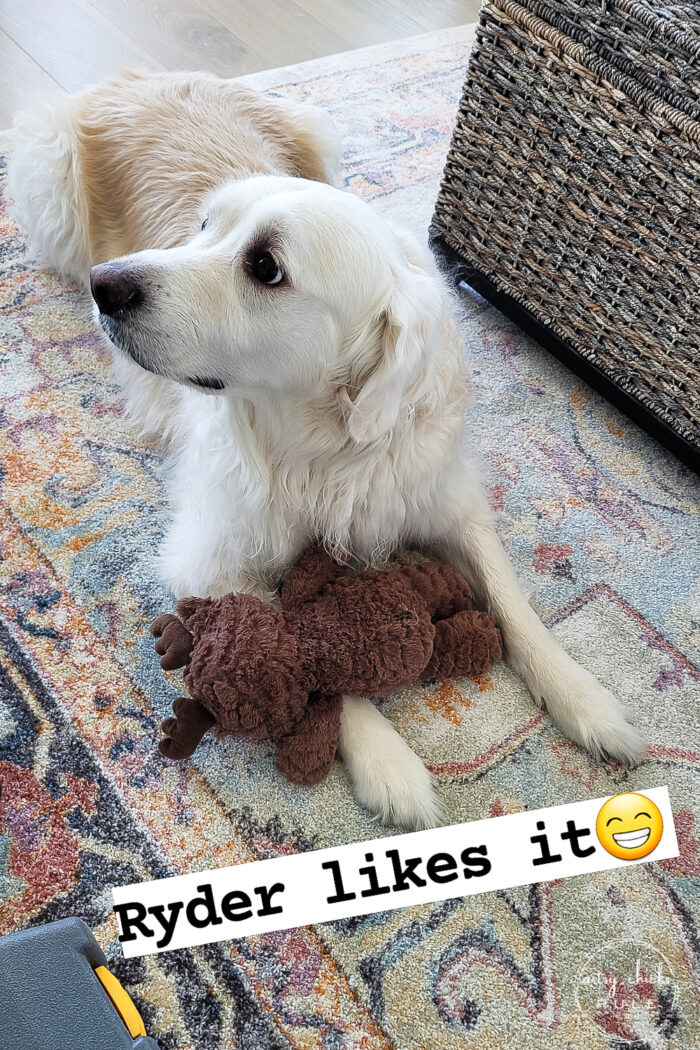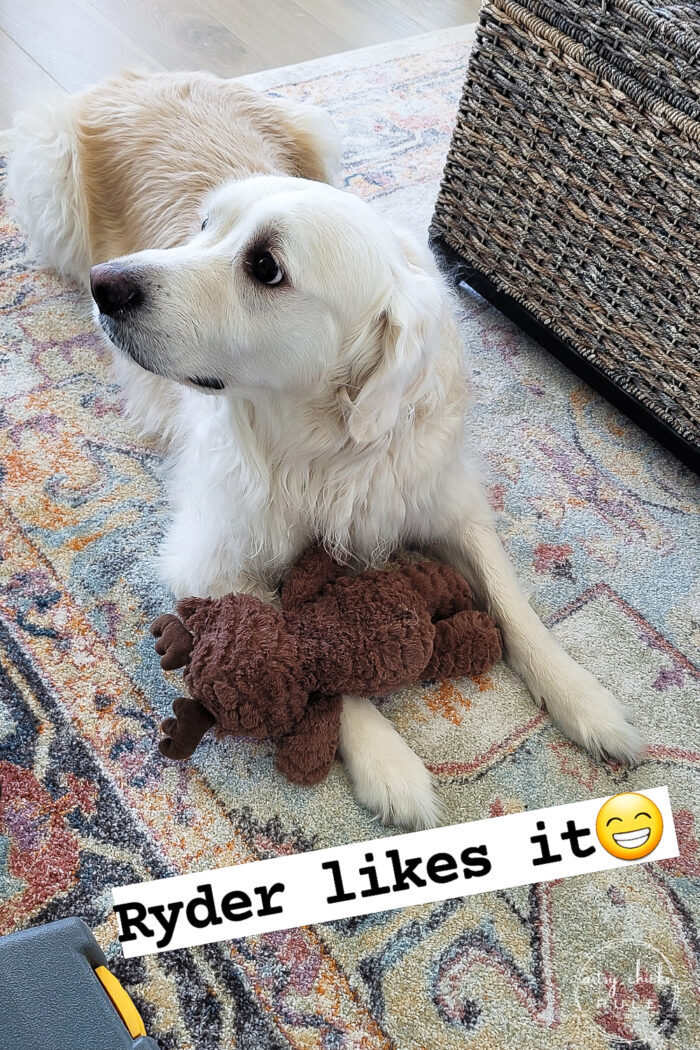 Things are coming together!! I'm so excited.
Once I finish touching up the paint on the "bunk" room crown molding, we will move on to the kitchen remodel.
I can not wait to get that done! Then we will finally be able to just come down and relax. Woohoo!
So tell me, what do YOU think about the table?? Sand it or leave it??
PIN it to save it!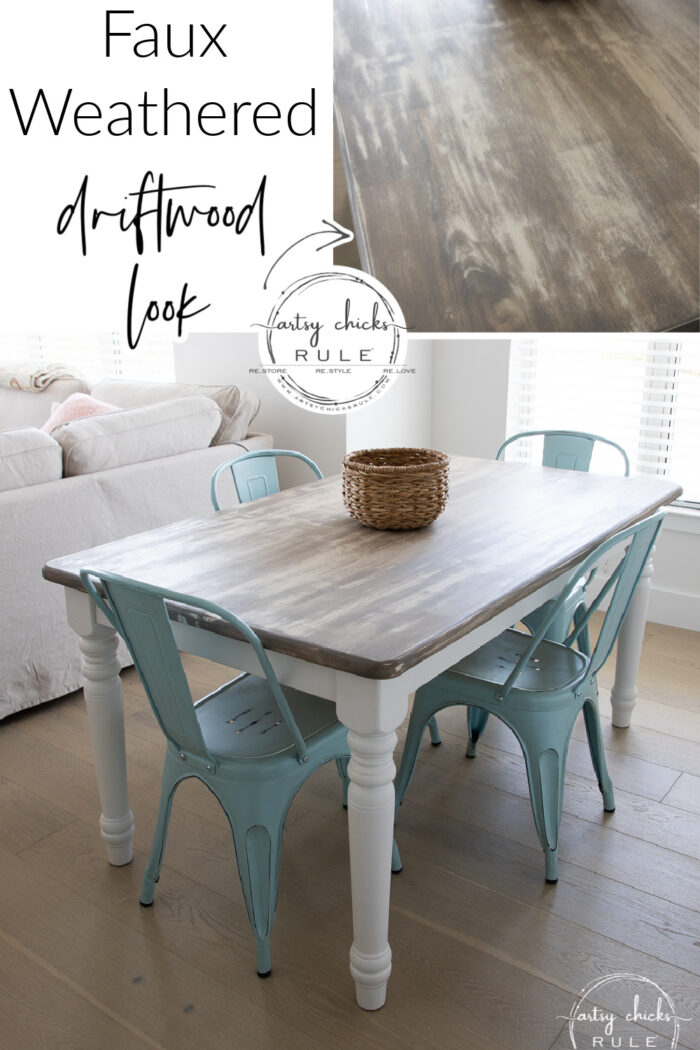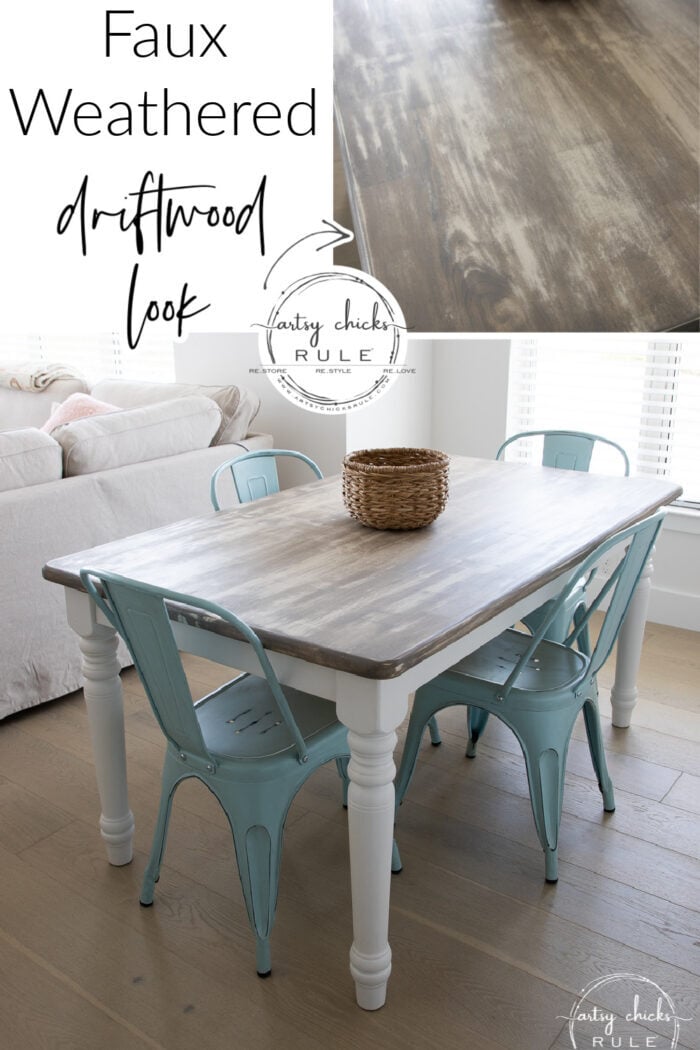 Don't you love when those "happy accidents" and big ole "oops" turn out okay? Or turn out to be a win?
Even better.
I'm still trying to decide if this is that…but I'm thinking it might just be! ;)
This one got a brand new look…for the living room!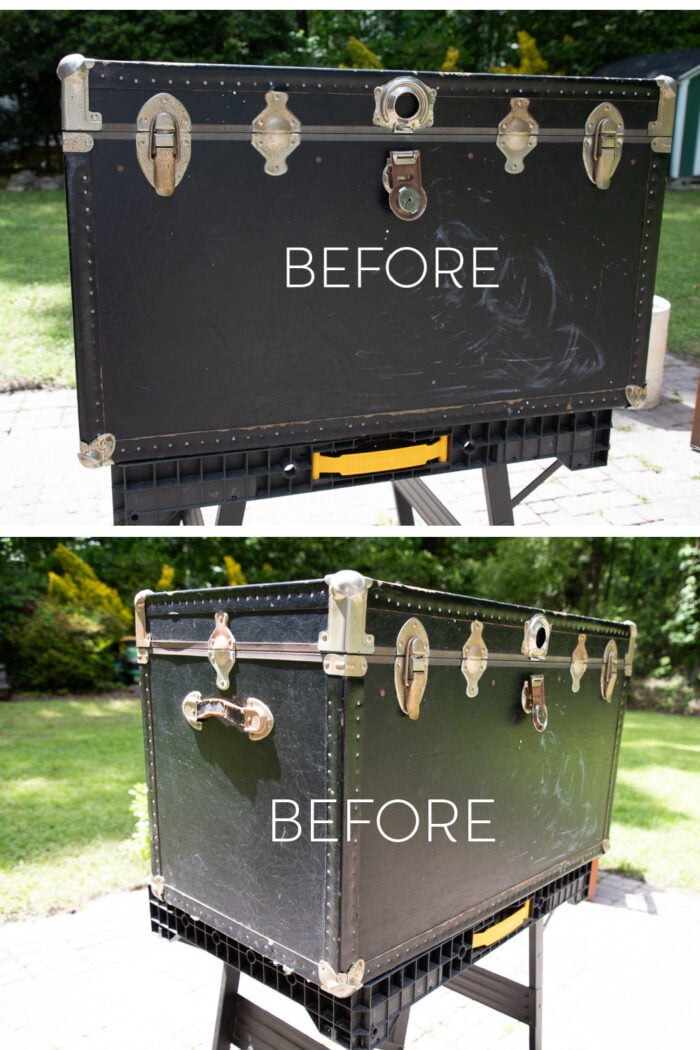 UPDATE!! See it now, here!
Have a wonderful week and I'll see you right back here on Thursday with our finally finished screened porch reveal!
xoxo